Recently, Facebook changed the rules for real estate advertising on the platform. The company implemented the special ad category, which restricts targeting for certain types of ads, including housing ads. Most notably, marketers can no longer target ad audiences based on demographics, behavior, or ZIP code.
Does that mean Facebook real estate ads are worthless? Not at all! Facebook ads are still a powerful way to get your ads in front of a relevant audience.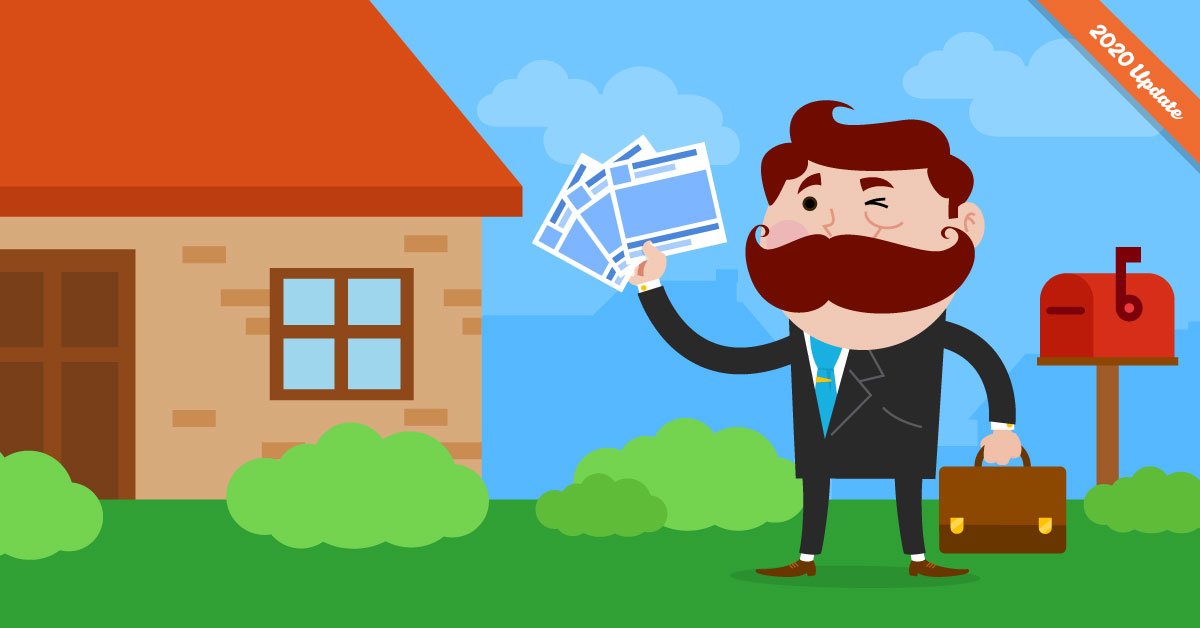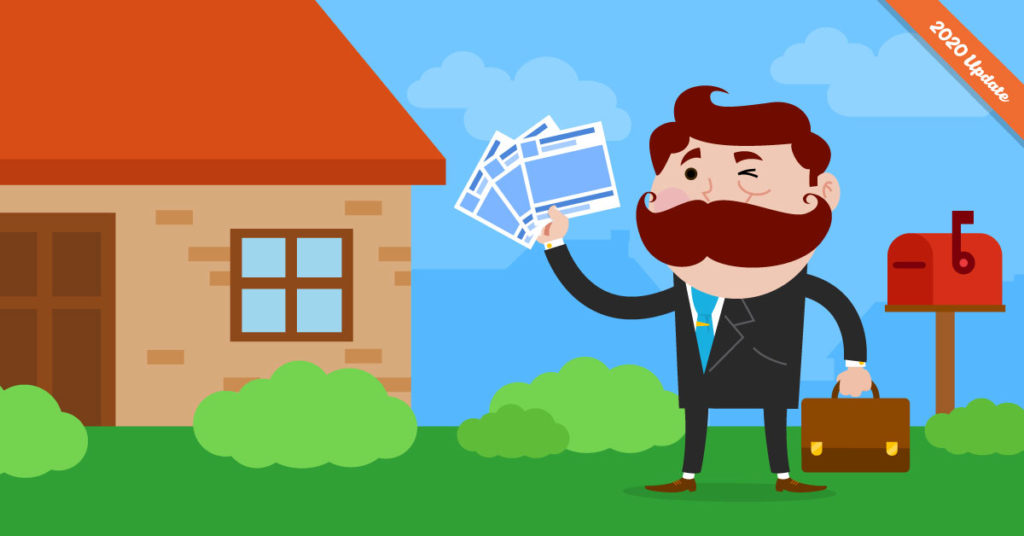 When Facebook implemented the special ad category, they changed their targeting algorithm as well. You can now create a Special Ad Audience, and Facebook will show your real estate ads to visitors with behavior similar online to that of your current customers.
Plus, you can still use some of the platform's other powerful ad-targeting features. This includes limiting the country and target group size for your ad to restrict it to more local viewers and targeting based on interests.
For any kind of property you're hankering to sell, it's still easier to find your perfect-fit customers on Facebook than on other platforms, be it digital or brick-and-mortar.
Check out our selection of the 42 best real estate Facebook ads, and discover how to bring on the personality and solve customer problems—right in your ad!
1. REMAX New Dimension – Describe a Home Scene
REMAX New Dimension taps into emotional marketing by conjuring up a happy holiday scene. In just a few words, the ad describes how the spacious house is perfect for gathering people together. Not only does it draw a picture of family and friends home for the holidays, but it also states there is plenty of room "for every…Thanksgiving side dish," subtly commenting on the large kitchen.
2. Zac McHardy: Show a Live Tour
Zac McHardy boosts brand awareness by using Facebook Live to tour a property. A live video tour helps a listing feel more authentic, building brand trust in ad viewers. While your audience might think a picture has been edited or cropped, a live video or Facebook Live ad shows them the house just as if they were touring it in person.
3. QuintoAndar – Retarget People with Previous Interest
QuintoAndar used dynamic ads to target people who looked at particular properties on its website. The company used the Carousel format to show off the listings that the person already looked at, plus others that could be of interest, increasing their chances of renting to those retargeted.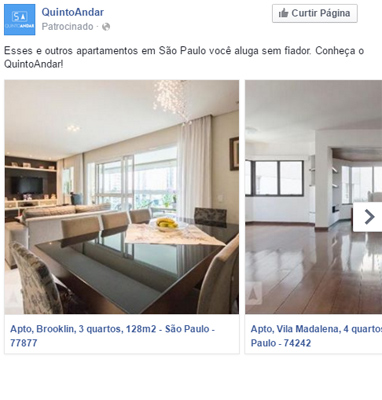 4. Levinson Real Estate – Offer Helpful Content
Levinson Real Estate Team goes beyond the traditional house pictures and listing information for their real estate advertising. They offer a useful infographic to help readers decide when to rent or buy. The ad uses a call to action to encourage engagement and drive leads, urging the viewer to "call us today" to learn more.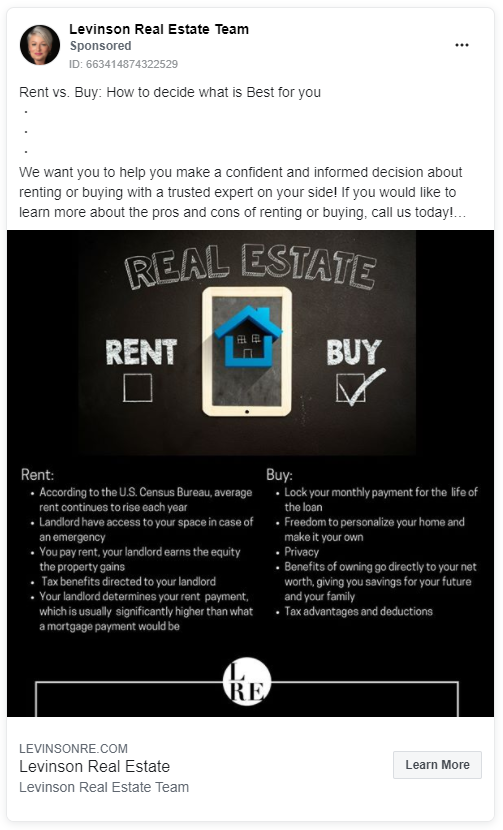 5. IGrow Wealth – Host an Educational Event
IGrow Wealth Investments increases brand awareness by hosting an educational event on property investment. By offering a "basics" webinar, the company can get its foot in the door with potential new clients at the beginning of their investment decision process. The brand makes it clear with the "Free" in the ad copy that people have nothing to lose by attending the event.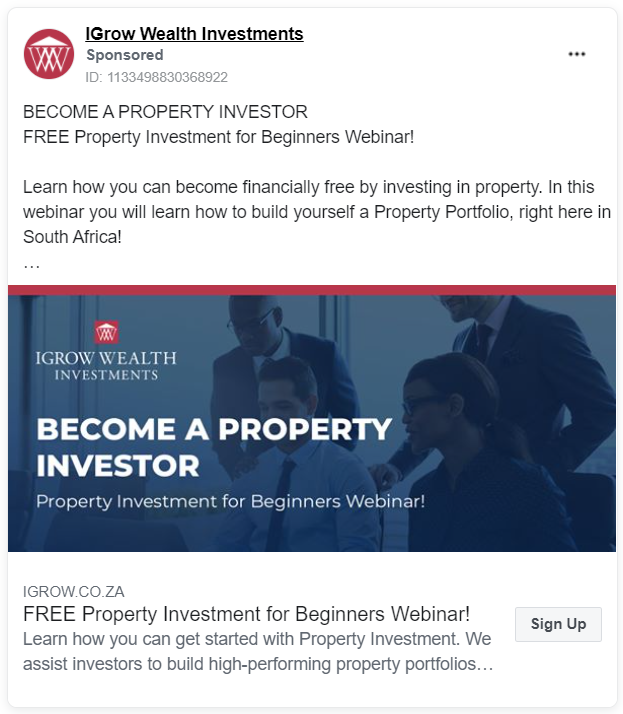 6. What the Sooke – Touch on a Common Pain Point
What the Sooke? by Tim Ayres, Realtor, created Facebook real estate ads that offer to answer a question shared by everyone looking to put their home on the market: What should I do to prepare? By providing a free PDF to address this pain point, the brand can generate leads and collect contact information from people who are likely looking to sell a home in the near future.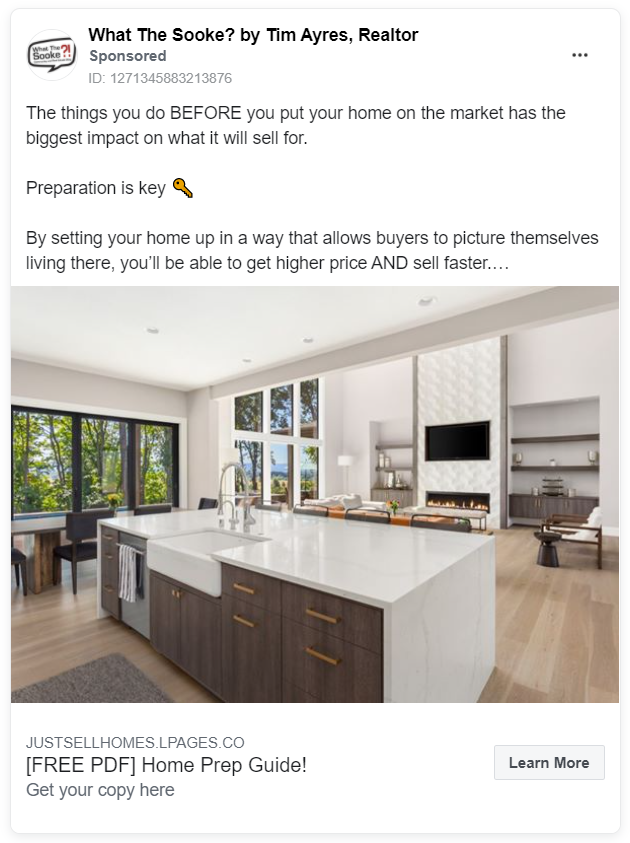 7. Apartment List – Show What Makes You Different
Apartment List uses a short video to mark its competitive advantage: a free app that lets users easily customize their apartment search. The ad's images reinforce the benefit of using Apartment List by illustrating how simple and versatile the app is.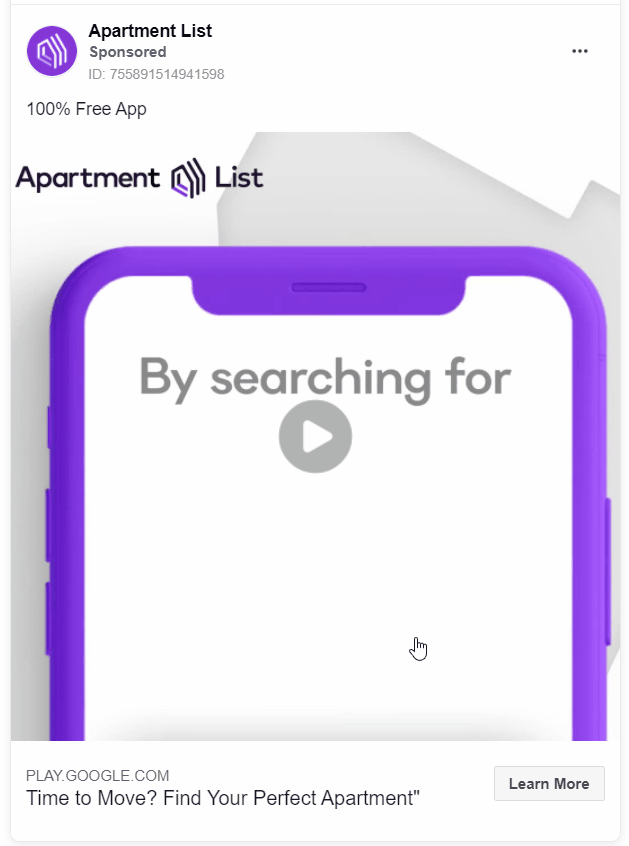 8. Selling Hudson – Show a Floor Plan
Real estate marketing involves a lot of pictures of the fronts of homes. Make your ad stand out by including blueprints or a floor plan. Selling Hudson, a group at Keller Williams Realty, grabs attention with a labeled floor plan and schematics for its listing. This helps attract people who have specific real estate goals, like square footage or layout.
9. Coldwell Banker Real Estate LLC – Highlight a Charity Partnership
Increasingly, consumers, especially Gen Zers, are looking for brands that support the causes they believe in. Coldwell Banker Real Estate LLC uses real estate Facebook ads to highlight its partnership with St. Jude Children's Hospital. The ads showcase the brand's charitable side and attract socially minded clients.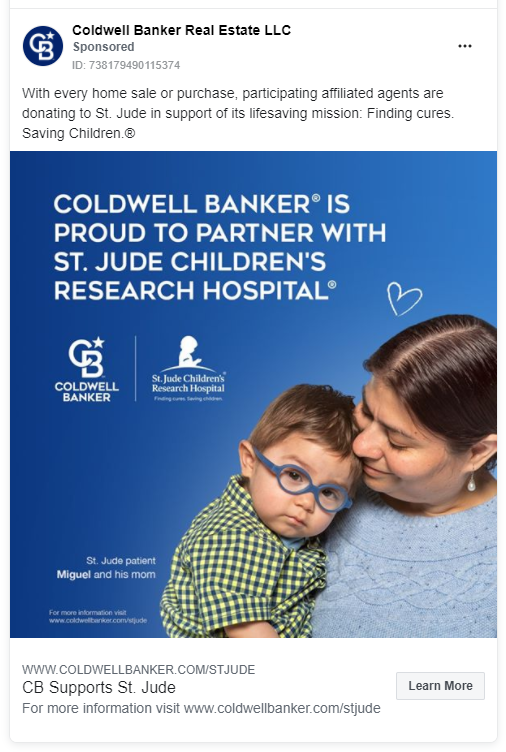 10. Howard Hanna – Highlight Your Benefits in Copy
Howard Hanna shows how real estate advertising can promote the company as well as individual listings. It highlights the pricing expertise and insider knowledge of its real estate agents right in the copy so that people can immediately see the advantages of working with the company.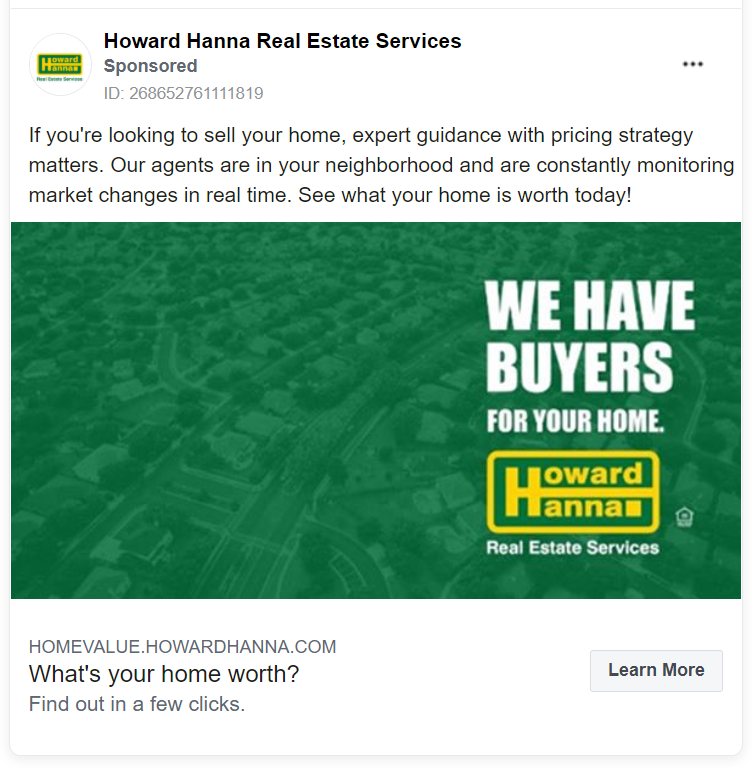 11. Mr Sell Team – Use a Cinematic Video
Mr Sell Team promotes its listing by using a high-production-value video. This elevates the real estate company's aesthetic and, by extension, its authority in a sea of ads that feature amateur videos.
12. Lisney – Promote Your Service for Free
Lisney generates real estate leads with the power of a free home valuation. Its ad promises to reduce the friction of selling a home by offering to take over an important step in the process. This acts as a magnet for potentially stressed people who are about to sell or are thinking of selling.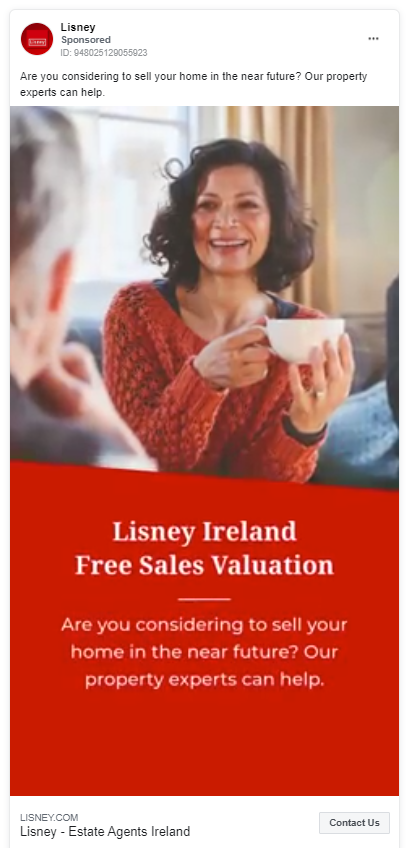 13. Zillow Premier Agent – Solve a Customer Problem
With the simple promise to "help facilitate safer touring," Zillow Premier Agent addresses a customer problem head-on. In two different parts of the ad copy, the real estate business emphasizes its solution: a free checklist of health and safety best practices for real estate tours.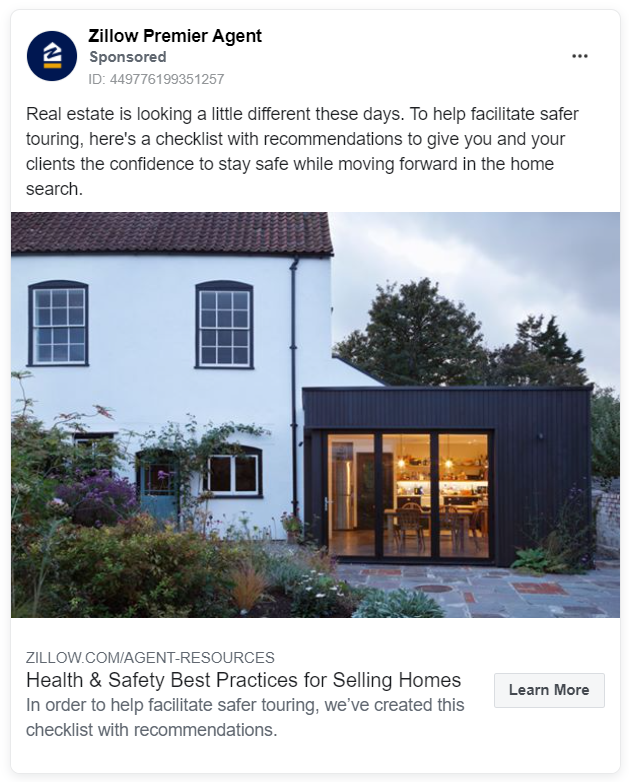 14. Weaver Homes – Set Up an Event
When people have a busy schedule or multiple showings to attend, an event ad makes it easy for them to sign up for your open house right away. Weaver Homes created an event ad for its Open House, which made it easy for interested parties to mark it on their Facebook calendar, notification and all.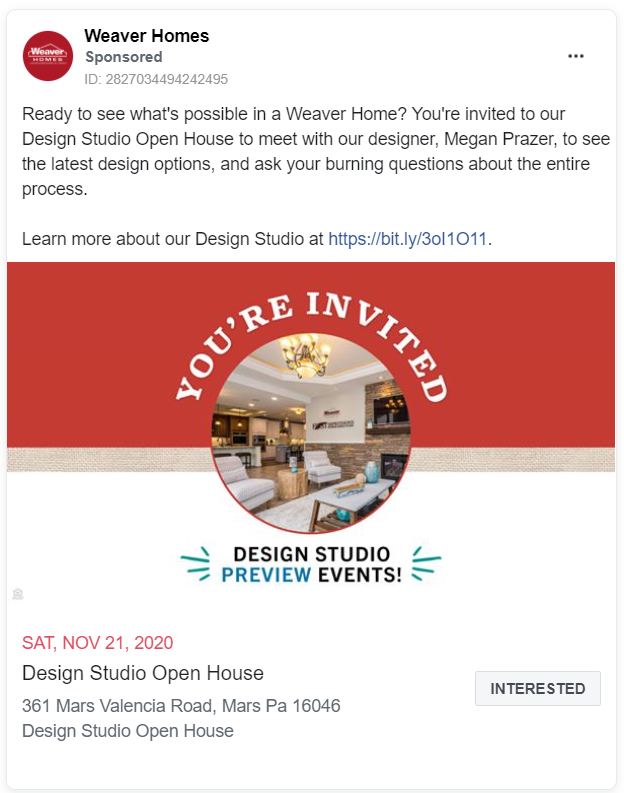 15. Sunway Property – Make a Limited-Time Offer
Sunway Property targets budget-conscious customers with time-sensitive promotions. The company taps into the fear of missing out (FOMO) by emphasizing that these offers are available only through the end of the month, and that viewers should book right away to avoid losing out on huge savings.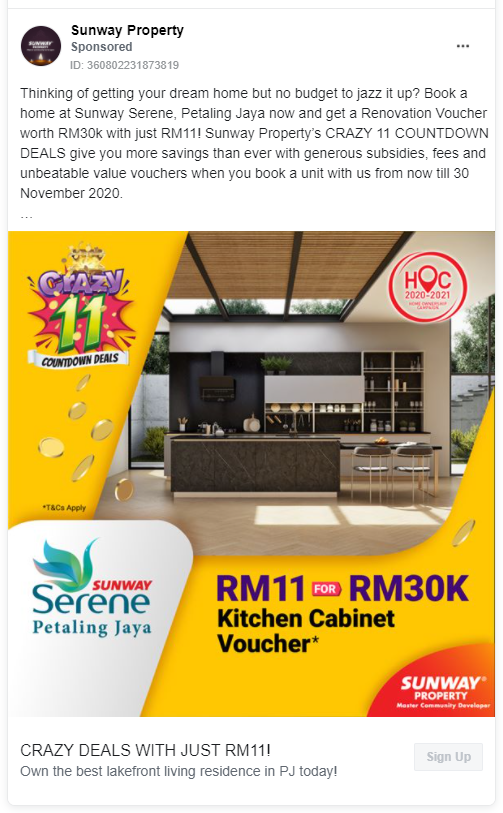 16. Pangea Real Estate – Create a Slideshow
Instead of a series of pictures like you might see in a Carousel or Collection ad, Pangea Real Estate created a video slideshow. Viewers see the business's top listing highlights without having to actively click through multiple pictures. This reduces the effort needed to see the full ad, increasing the odds that people will look at every slide. Keeping the video to 14 seconds means it works equally well as a standard Facebook ad and as a Story ad.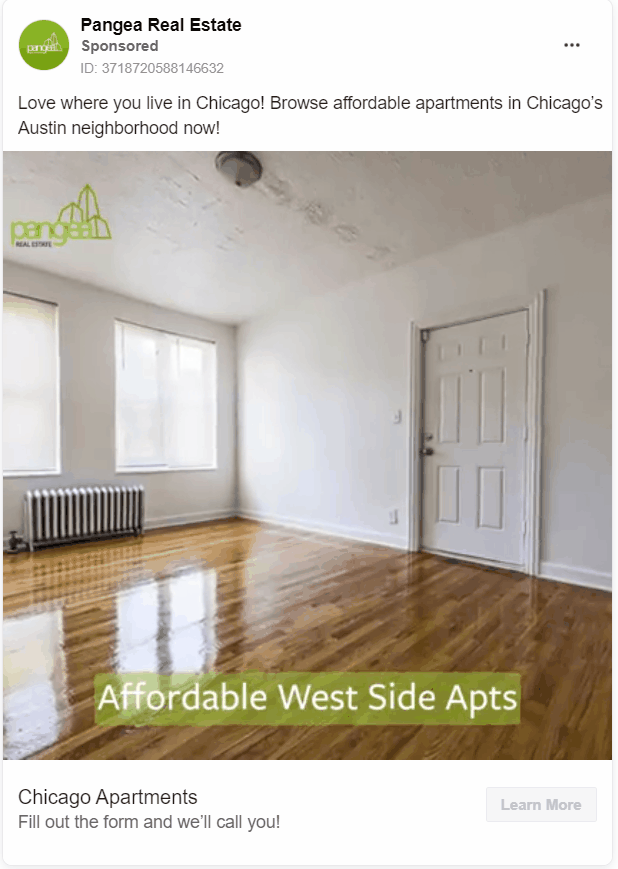 17. Century 21 – Use a Negative Headline
Century 21 First Story Real Estate uses a forceful slogan to make its value proposition clear to its audience. "Stop Searching, Start Living" makes use of the fact that negative headlines tend to garner more clicks by creating tension around a specific opinion—that time spent house searching might be time wasted.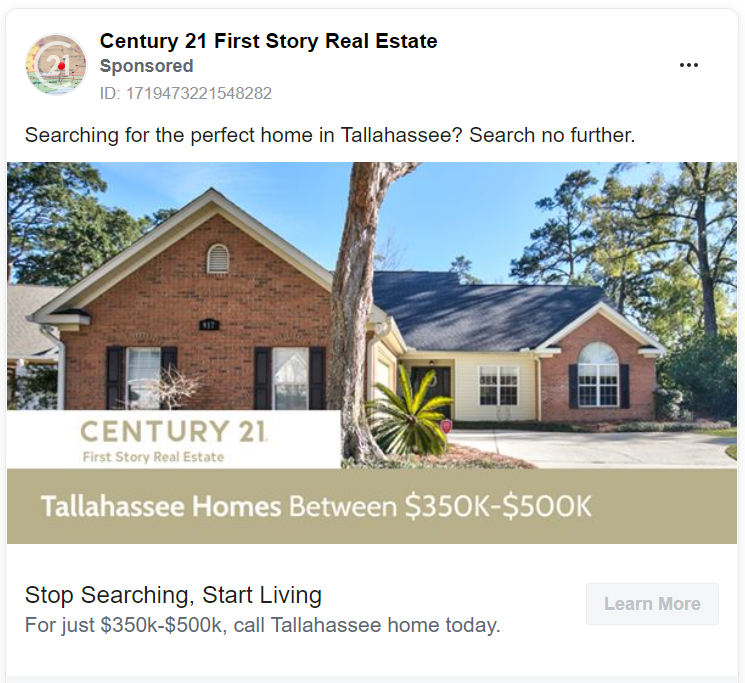 18. Realtor.com – Increase Your Social Following
Realtor.com ran an ad campaign dedicated to growing its social media base. The company paired a "like page" CTA with "follow us" in the ad copy to encourage viewers to follow the company page for home-related advice. Larger numbers of followers mean a wider audience for your organic posts, and a greater potential to increase brand awareness through shares, social referrals and post engagement.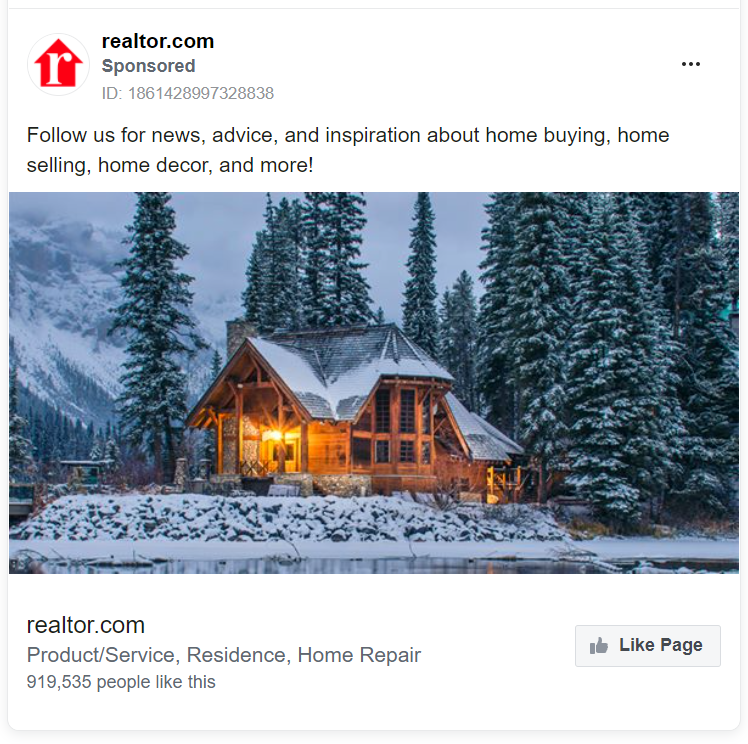 19. Florida Real Estate Market – Curate a Property List
Florida Real Estate Market provides a helpful list of all lower-budget homes in the ad-viewer's area. The offer not only beckons the viewer to click through for more information, but it also encourages them to provide their email address and receive a selection of real estate listings customized for their needs. This marketing strategy helps with lead generation, providing you with emails of people you know are interested in buying a home.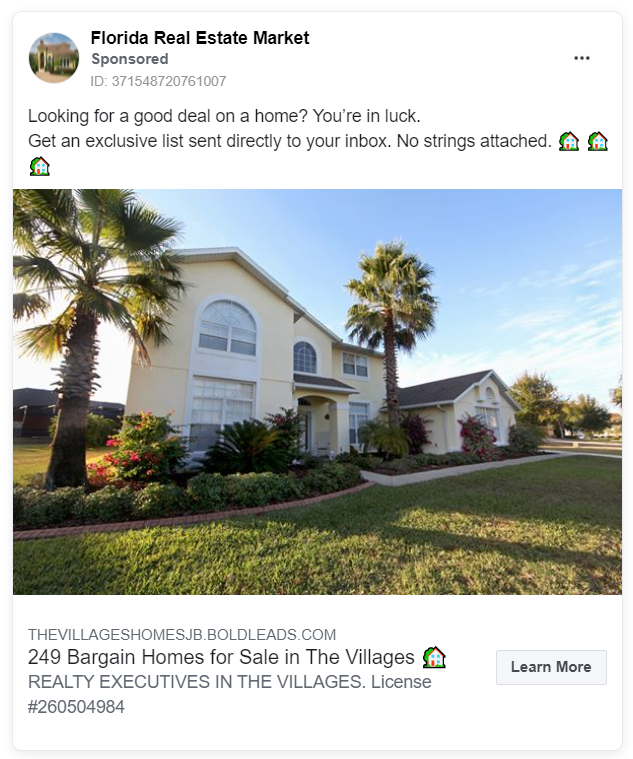 20. Sacramento Real Estate Photographers – Feature Cutting-Edge Technology
Sacramento Real Estate Photographers paired with a 3D imaging company to create 3D floor plans and home tours for their clients. By embracing new technology and promoting these unique offerings, the company highlights what it has to offer clients looking to photograph their listings.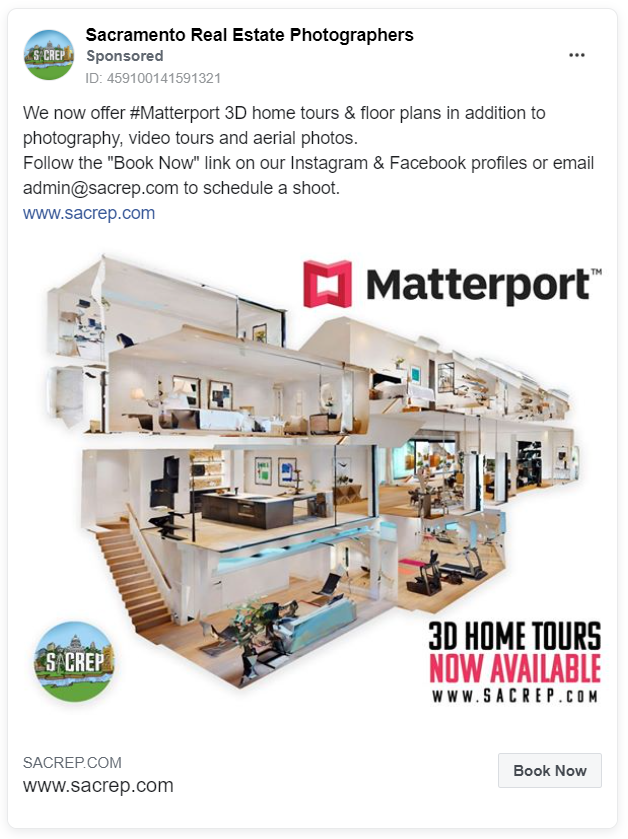 21. Better Homes and Gardens – Highlight Specific House Features
Better Homes and Gardens Real Estate uses interest targeting to design an ad that matches properties with standout features to people who would appreciate them. In the case of this ad, it's the house's location right on a golf course. Though Facebook's new real estate advertising regulations restrict many targeting features, you can still segment audiences based on interests, like golf.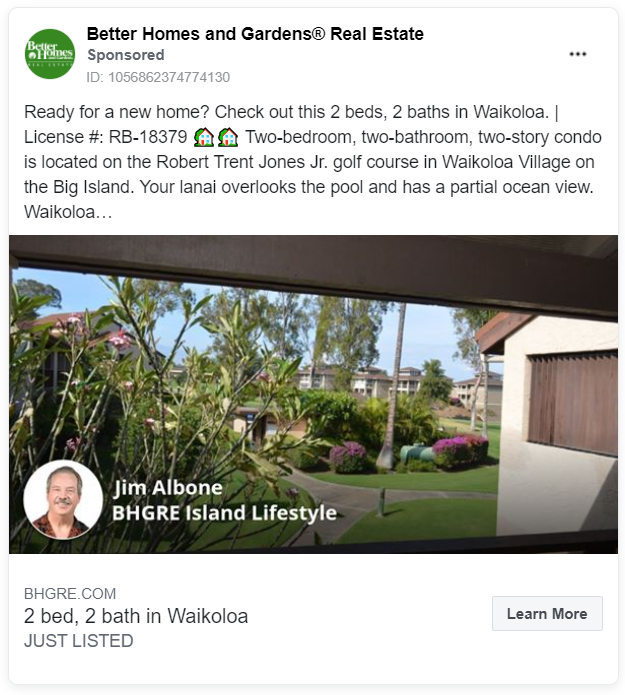 22. Thorpe Ventures Realty Group – Appeal to a Lifestyle
Thorpe Ventures Realty Group aims its ad at people looking to experience the "Corralitos lifestyle." The company uses its copy and its headline to emphasize the privacy and tranquility this house offers, appealing to people looking for a home that feels like a private getaway.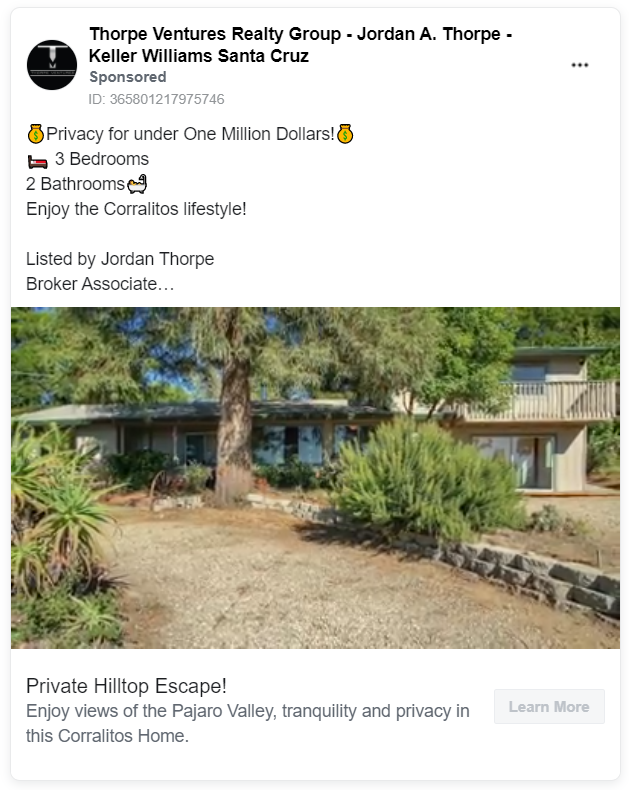 23. Daft.ie – Include Multiple Actual Listings
For a lot of real estate Facebook ads, the images tend to be stock photos of houses that are pretty but are long off the market. To communicate to your viewers that what they see is what they'll actually get, follow Daft.ie's lead and use a Carousel to showcase multiple current listings. Provide details like price, location and the number of bedrooms to give people a snapshot of whether the house is what they're looking for.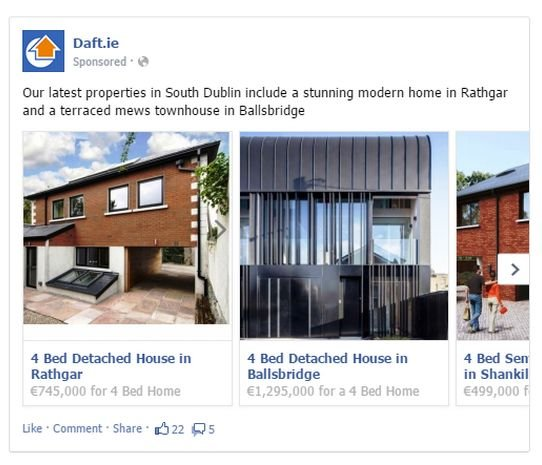 24. Reef Point Real Estate – Vary Your Listing's Photo Angles
People respond to a vast array of visual features when it comes to a house. You can take advantage of the Carousel format, as Reef Point Real Estate did, to provide different angles of the same listing. Some people will respond to the façade. Some will want to click through because of the kitchen. Carousel ads let you appeal to a broad audience of potential buyers with varied interests.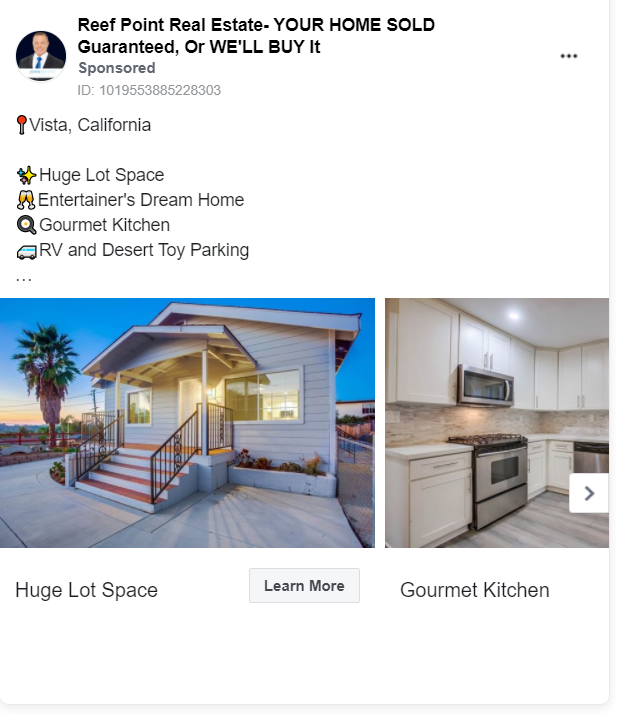 25. Ebby Halliday Realtors – Provide At-a-Glance Contact Info
Ebby Halliday features its agents by making their name and contact info easy to pinpoint. One of the most prominent parts of the Facebook ad is the headline, right next to the CTA. It's a standout place to put a name and phone number for easy reference. This technique is especially useful for real estate agencies that sell across multiple locations because it makes it more convenient for the viewer to find the correct real estate professional to contact for listings in their area.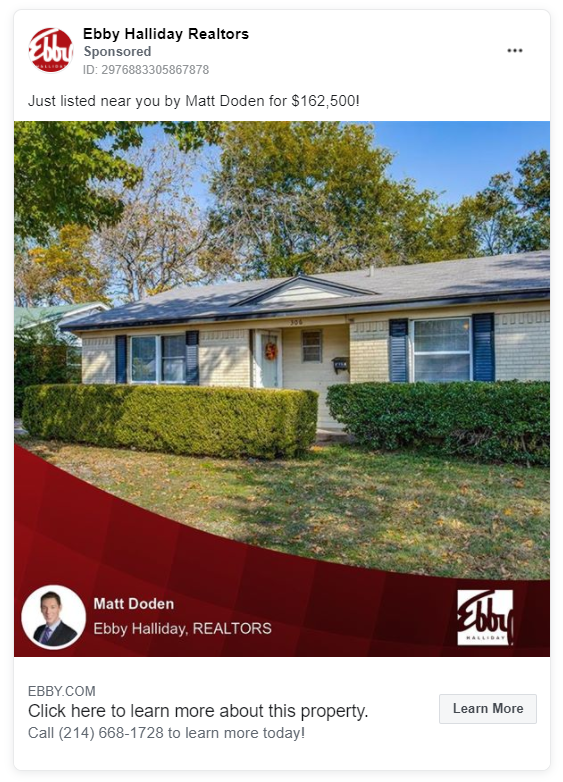 26. Eric Meldrum – Include Growth Metrics
Eric Meldrum, Realtor, grabs viewer attention with a relevant statistic about the local market. He states that "property values have risen 70%" in his area, simultaneously piquing the reader's interest and informing them about why they should look into selling their house.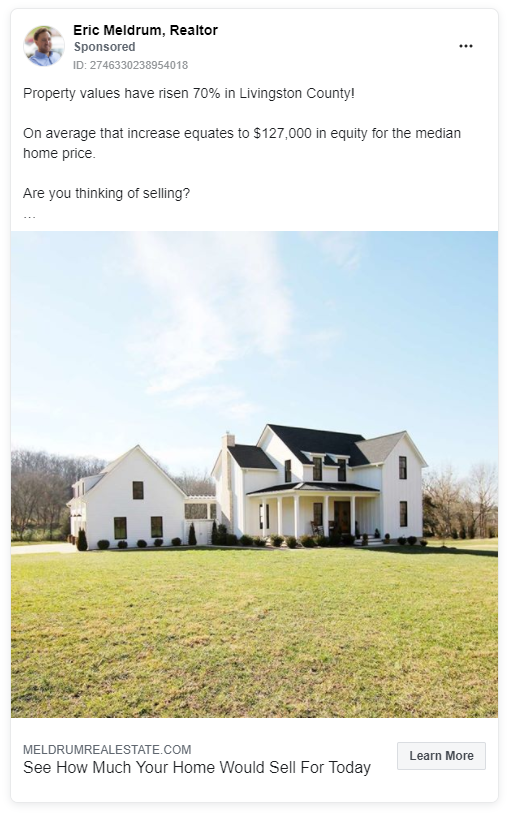 27. Berkshire Hathaway – Promote New Listings
Berkshire Hathaway HomeServices makes it easy for customers to identify brand-new listings. Not only does the company use a banner in the corner of the image, but it also includes "just listed" next to the CTA. The banner and all-caps text pull viewer attention to the fact that they most likely haven't seen this listing before.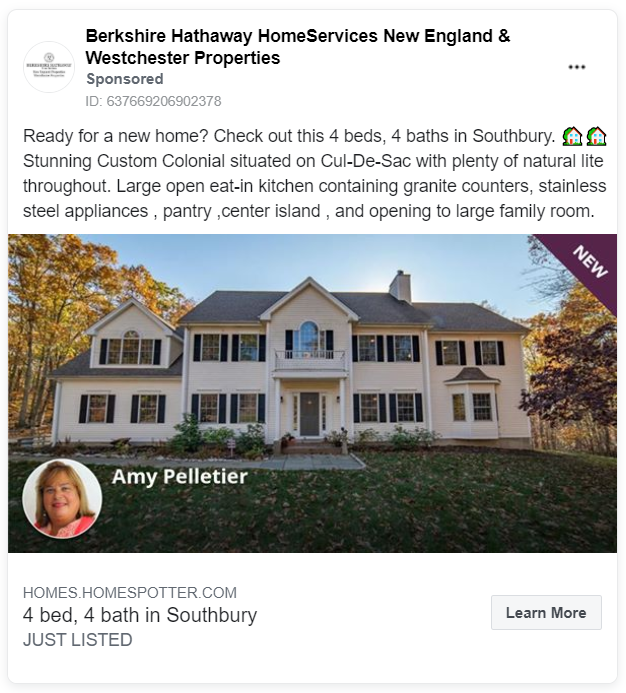 28. Bayleys Real Estate – Annotate Your Photos
A picture may be worth a thousand words, but sometimes even a photo needs a little help. Bayleys Real Estate adds circles to its aerial photographs so the viewer knows which house to look at. You might also use photo annotation to point out unique or hard-to-see details about the house, such as an above-garage suite or extra storage closets.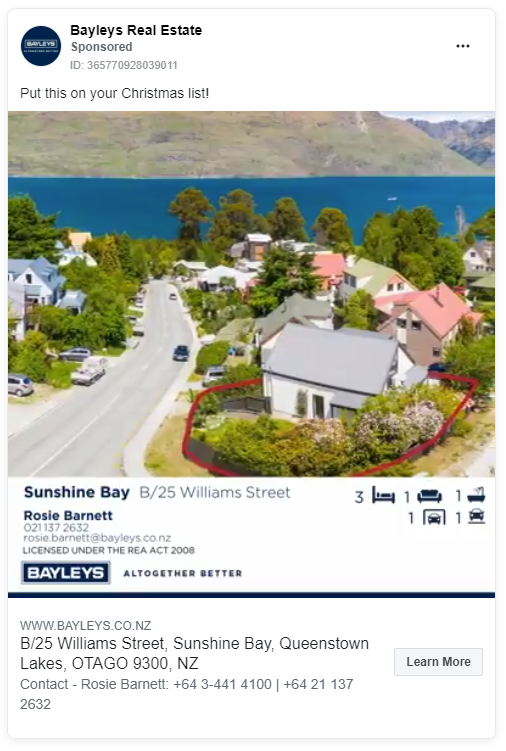 29. Adriana Trenev – Feature a Simple Graphic
Real estate industry ads don't have to be complicated. Adriana Trenev, a Silicon Valley Realtor, created a simple ad using a graphic of a calculator featuring a house. Paired with the phrase "Find out what your home is worth," this makes her value proposition immediately obvious to people who might be scrolling quickly through their feed. For more details, people can turn to the copy: Viewers can get a free report to find out their home's value.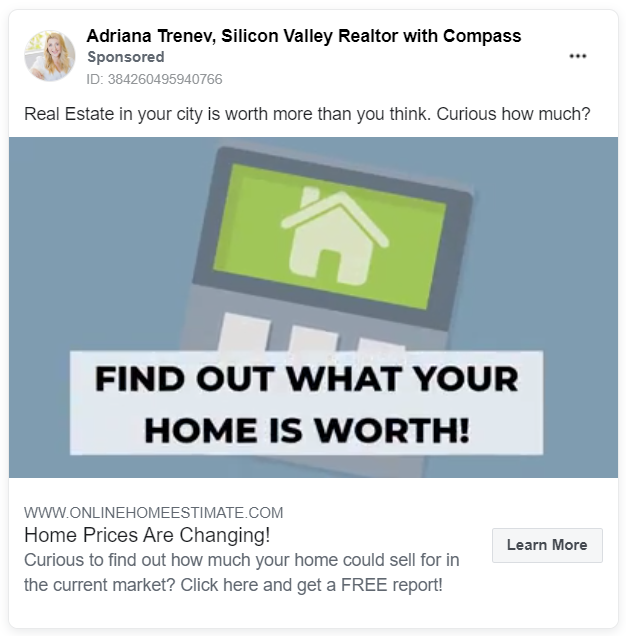 30. First Weber Realtors – Target First-Time Buyers
First-time home buyers are likely to need help choosing a home in their area of choice. For its single-image ad, First Weber Realtors targets new home buyers and promises to solve their problems by helping them "easily find and compare properties." First Weber uses the headline section of the ad to state why the viewer should consider becoming a homeowner at all: because they could pay less than what they currently pay for rent.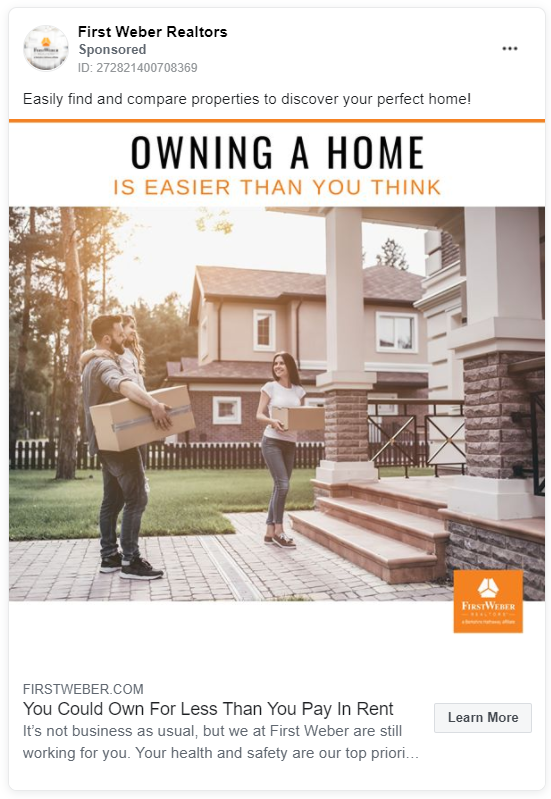 31. Andrew Guillot – Include Lots of Property Images
When it comes to a prospective home, people are likely to scrutinize before they buy. Realtor Andrew Guillot follows up on that need by providing 21 photos of the same listing within a Collection format, which allows people to see four of those photos at a glance. By putting the most enticing images in a Collection, Andrew Guillot shows the viewer multiple features and amenities they could get with this house, encouraging them to click through for more information or to put in an offer.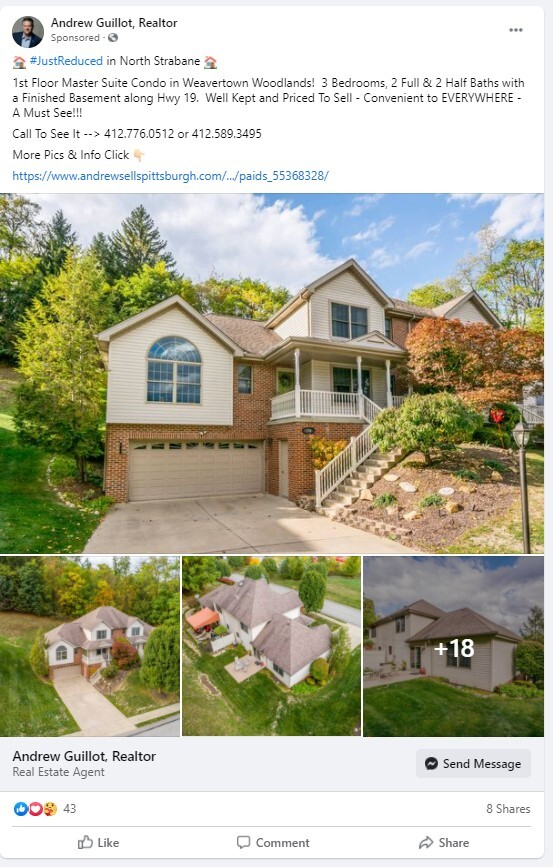 32. Balgores Property Group – Leverage the Customer's "Neighbor"
When it comes to valuing our homes, aren't we all looking to see what the house down the block sold for, and how quickly? Balgores Property Group leverages the customer pain point of a potentially drawn-out sales process by pointing out how fast the company sold other houses in the area. If we can sell your neighbor's house quickly, the ad is saying, we can sell yours quickly, too.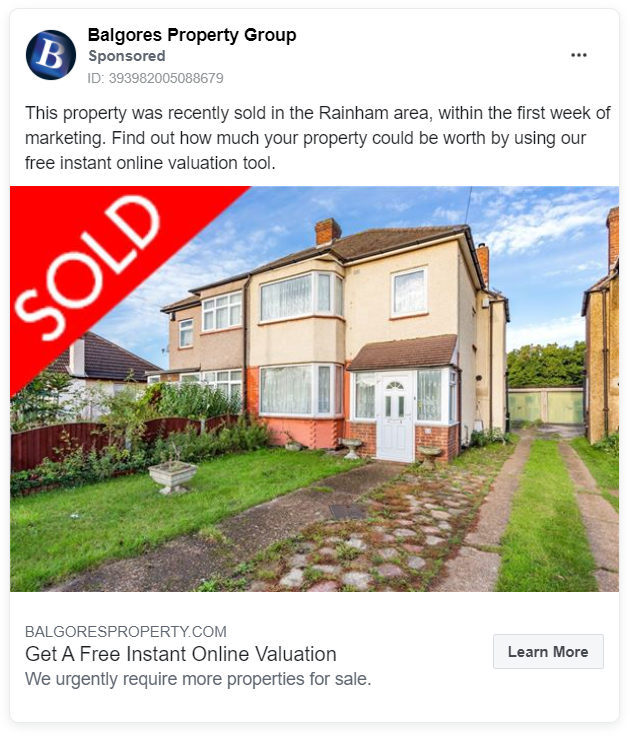 33. HergGroup Richmond-Metro – Give a Virtual Tour
The main function of a real estate marketing campaign is to get people to interact with a property in real life. What if you could convince someone to buy before ever scheduling in-person showings? With a virtual tour, HergGroup Richmond-Metro did just that. The company promoted the tour by inviting the viewer to "take a look without leaving your couch." If you don't have time to construct an entire home's tour, you can use Facebook 360 to tease a particular room.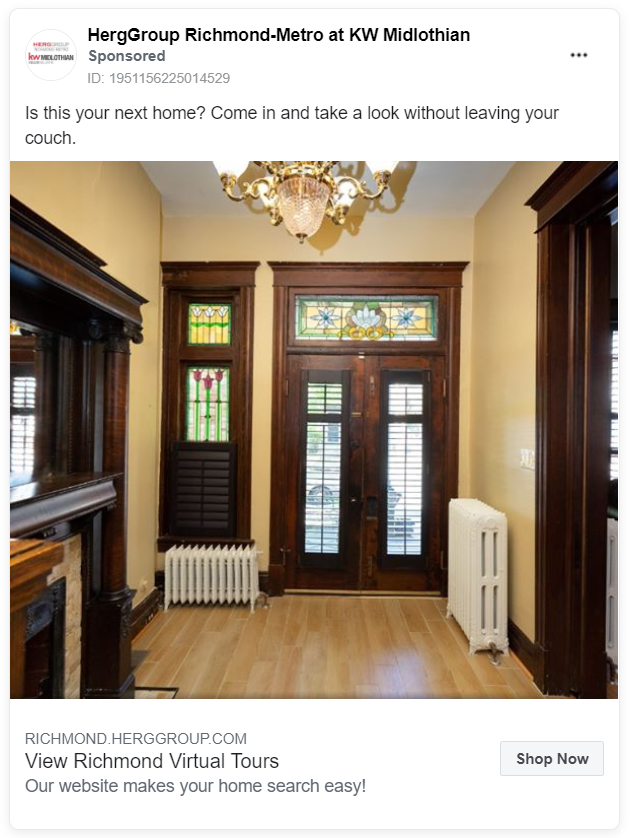 34. Beazer Homes – Specify a Price Range
A determining factor in buying a home is price. People filter their house search by price, which is why Beazer Homes mentions their curated price range of homes to reduce friction for a specific audience. That way, the prospective buyer looks at the ad and immediately clicks because the price range of homes provided is what they would have searched for on their own.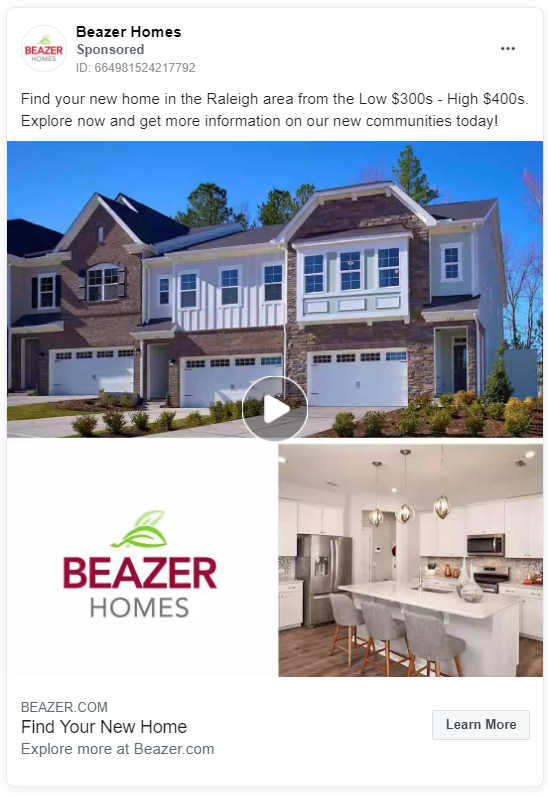 35. Nevada Real Estate News – Grab Attention with Emojis
If someone is currently looking for a home, they may see ads from multiple real estate agencies, plus they are looking at picture after picture of houses. Nevada Real Estate News makes its ads stand out by sprinkling in relevant emojis. The ad frames the word "luxury" in stars to emphasize the idea it conveys, and the pointing-down finger directs readers where to go for more information. Emojis help break up text and add a fun element to the ad copy.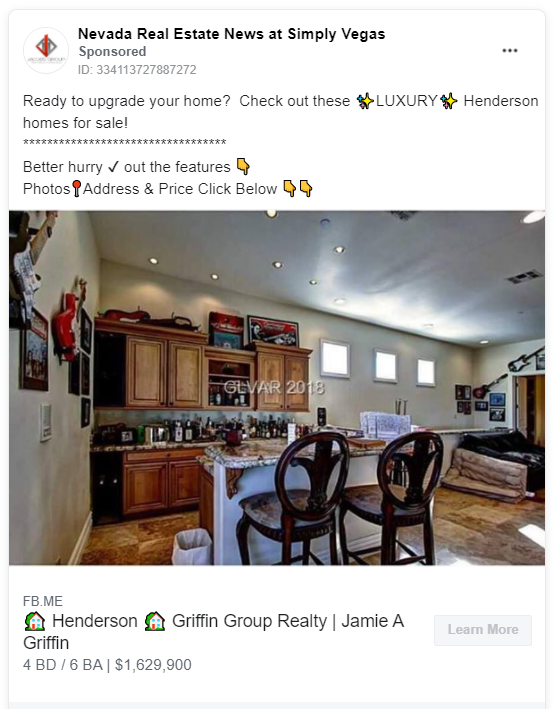 36. State Farm – Offer Quick Tips
When selling anything related to people's homes, it boosts brand awareness to provide relatable, down-to-earth advice about homemaking. In this State Farm ad, the insurance company features a "home hack" about adjusting your ceiling fan to keep the room warmer while using less energy. Offering an at-a-glance tip like this can also promote social sharing because viewers might send your ad to people they think could use the advice.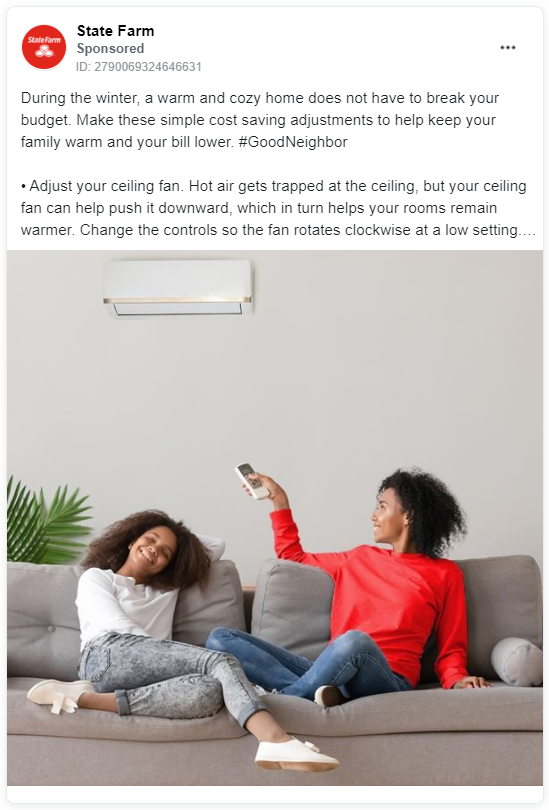 37. Portland and Vancouver Area Homes – Display an Area Map
People want to sell their homes for top dollar, and with a map of selling prices in their area, they can get a sense of what top dollar means for their specific neighborhood. Maps are a useful way to assess this at a glance, which is why this Portland and Vancouver Area Homes ad effectively grabs viewers' attention. It provides real value right within the ad image.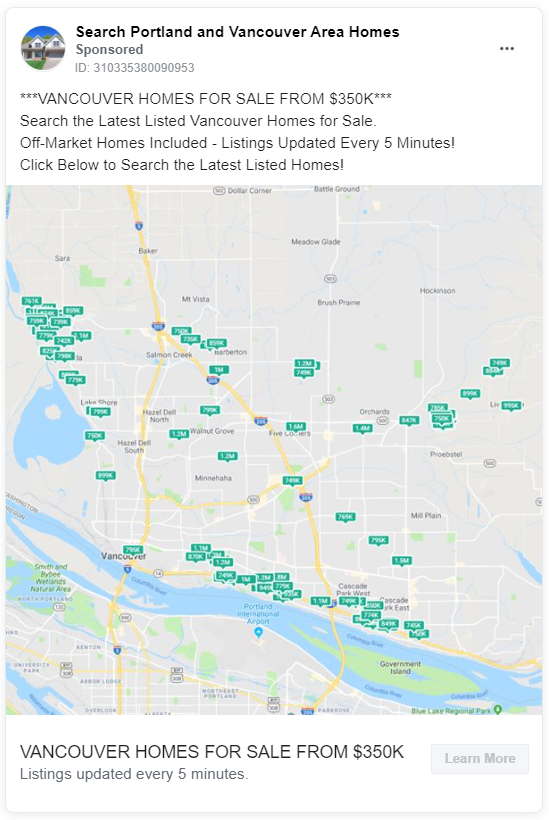 38. Kuper Sotheby's International Realty – Provide Full Details of a Home Listing
Kuper Sotheby's International Realty puts as much detail in the up-front ad copy as possible for its home description. That's to appeal to detail-oriented viewers who are looking for a particular home feature, like "gated," "custom cabinetry" and more.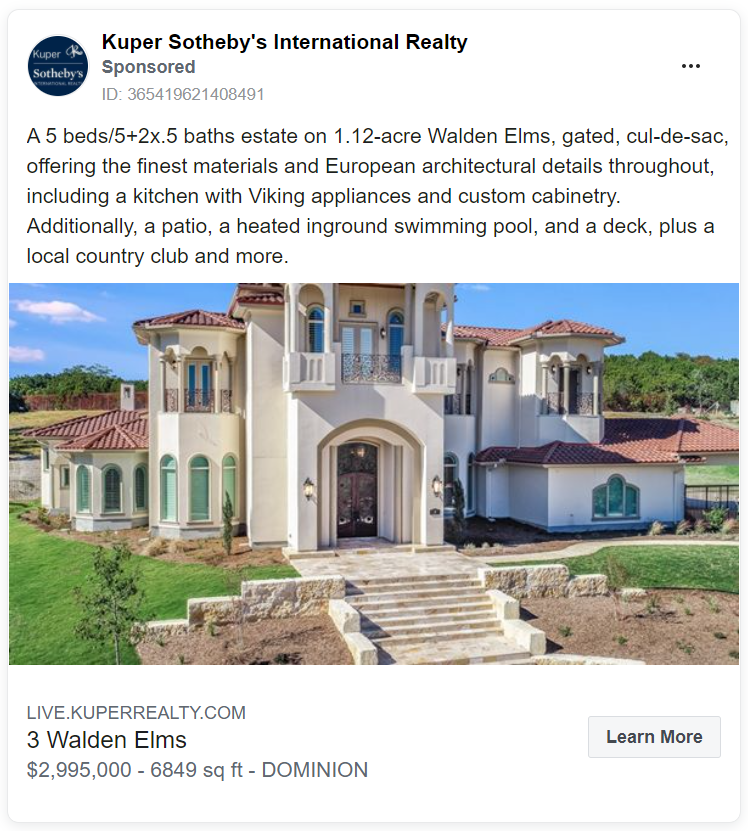 39. Redline Real Estate Group – Feature Customer Reviews
People believe user ratings more than any other kind of trust proposition, so if your agency has a lot of praise and the rating to show it, featuring that customer feedback is an effective way to establish legitimacy and stand out. Redline Real Estate Group used its real estate advertising to highlight the positive reviews its agents received. The ad emphasizes that the reviews were just from the past week, implying that Redline agents frequently get positive feedback from customers.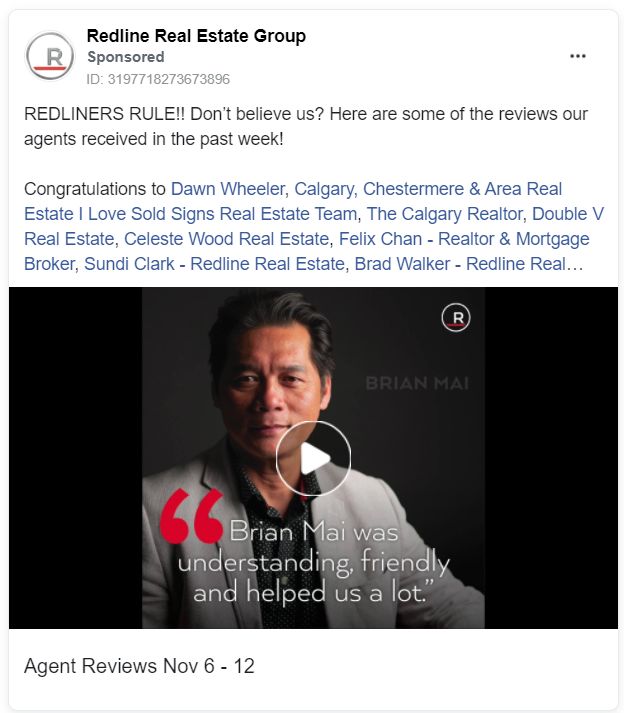 40. San Diego Realtor – Cultivate a Persona
Gabe Mendez (a.k.a. "San Diego Realtor" ) uses hype in his copy, like emojis and all caps, to craft a unique voice and build enthusiasm around the idea of buying a new home. He excitedly congratulates his clients, celebrating both their successful purchase and his own real estate team. His ads convey the ideas that not only can he help clients find their homes, but he will also be a friend and advocate along the way.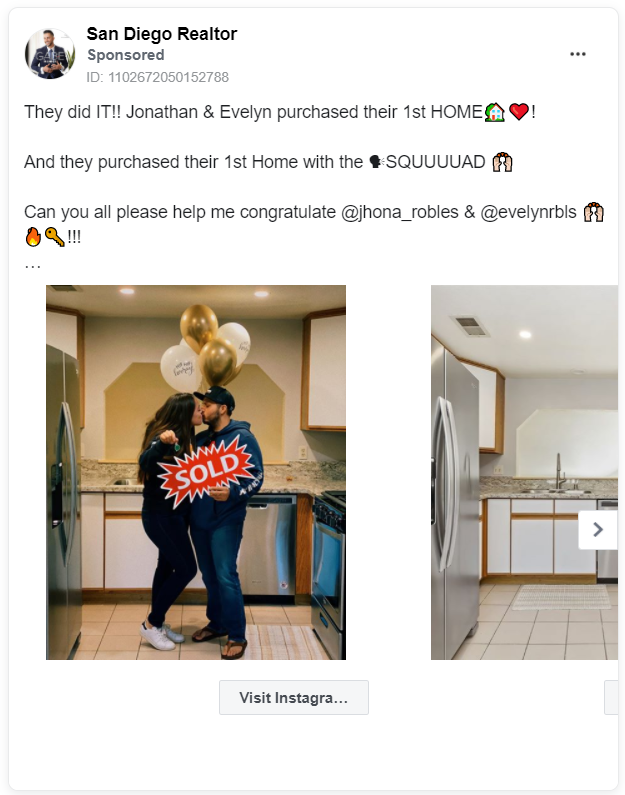 41. Parker & Brown Real Estate – Hype What's Upcoming
Competition is built into house hunting, and nothing drives up the competitive impulse more than a house that's not yet, but will be, on the market. Parker & Brown uses a "Coming Soon" banner to generate hype for listings before they hit the market.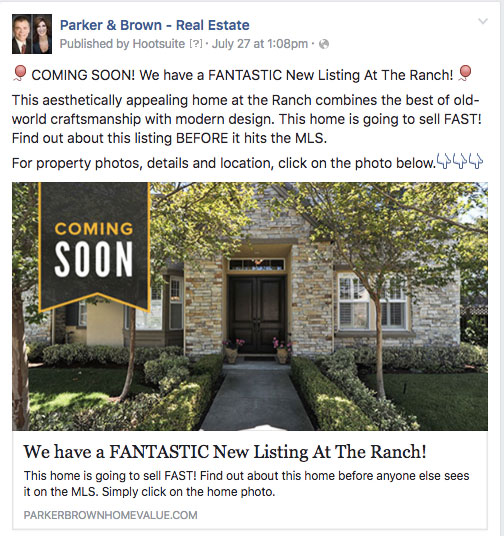 42. Troy Phillips – Show Your Listing at Different Times of Day
Most real estate ads feature a gleaming, well-lit property—during the daytime. Night and evening pictures bring out the unexpected personality in a listing. Troy Phillips, a South Carolina Realtor, created an ad featuring a high-quality picture of his listing at sunset. The eye-catching colors and contrast between house and sky snag the reader's attention and help the ad stand out from real estate advertising featuring standard daytime photos.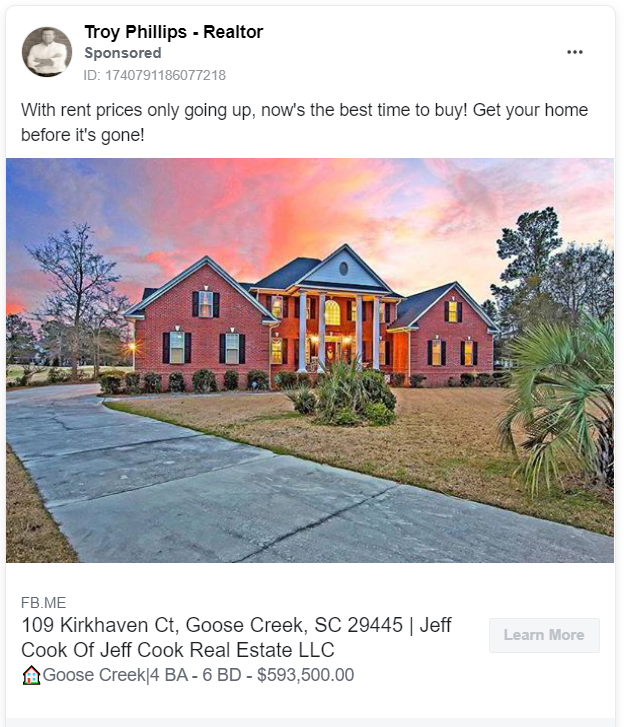 Create Real Estate Advertising That Shows Your (and Your Listing's) Personality
When it comes to making a standout real estate ad, it's all about promising information that solves customer problems—with personality. Successful real estate Facebook ads do more than just stick up a pretty picture of a house and call it a day.
These 42 ads all feature something unexpected that sets them apart and helps them stand out when they show up in a person's newsfeed.
We hope these examples have inspired you to design your real estate advertising campaign—with a twist!