If you've gone to create an ad in Facebook Ads Manager recently, you may have noticed a new ad classification: the Facebook Special Ad Category.
The social platform created this distinction for ads about housing, employment, and credit. With the new feature, these ads have limited audience-selection options to prevent discrimination.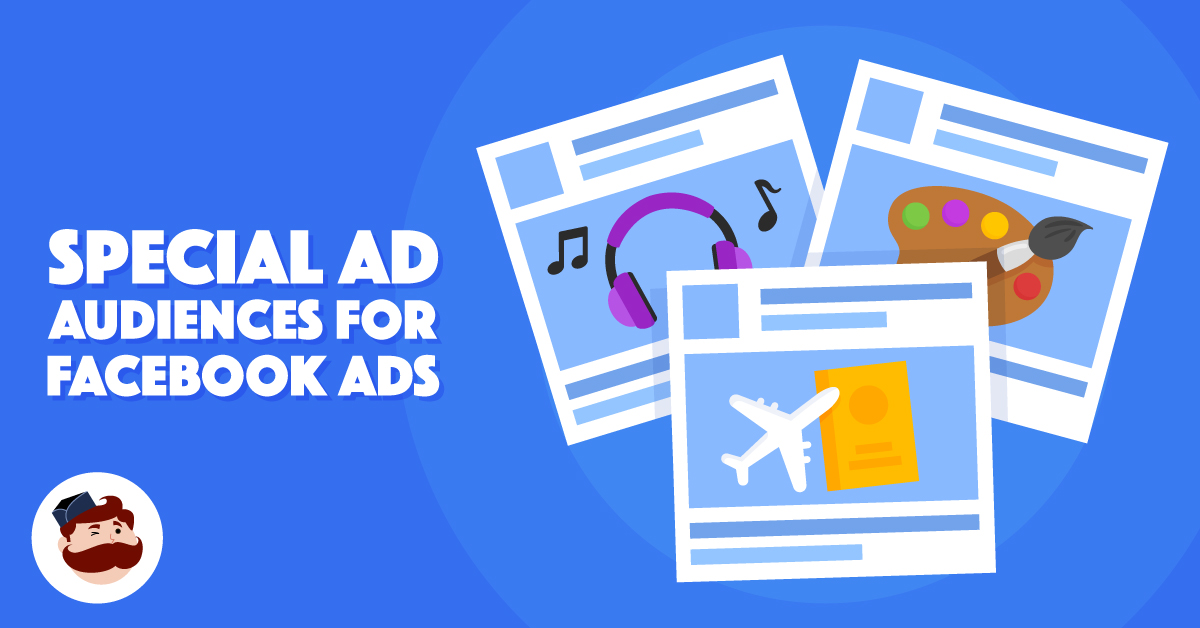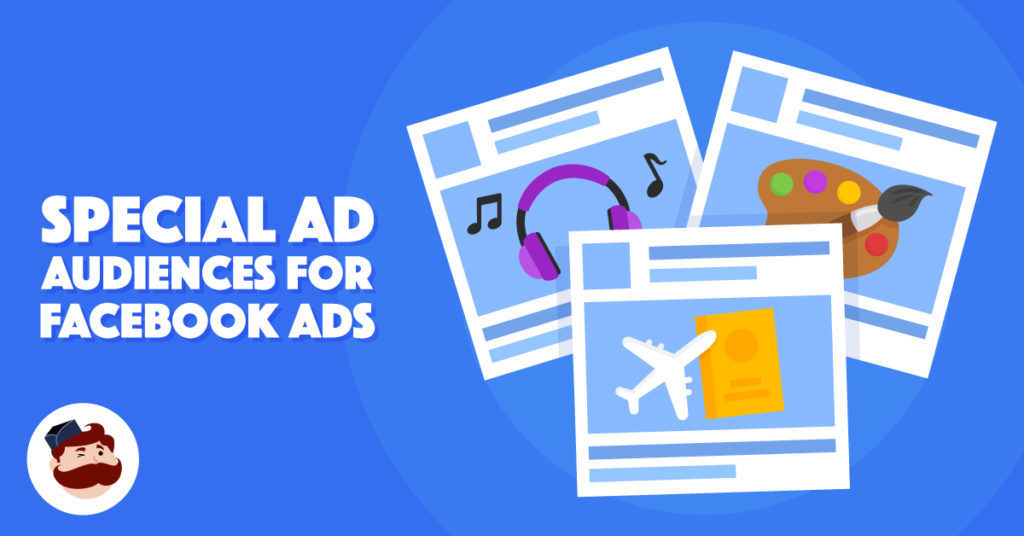 These restrictions may feel like a barrier, but these ads can be just as powerful as any other Facebook promotion with the right guidance.
In this post, we'll tell you everything you need to know about the Facebook Special Ad Category—including what types of ads qualify, how this classification will affect your ad, and more.
What Is the Facebook Special Ad Category?
The Facebook Special Ad Category is a new classification for ads that link to housing, credit, or job opportunities.
Facebook created the category to help enforce their policies against discriminatory practices in advertising and prevent discrimination based on demographic characteristics, such as age and gender.
According to Facebook, these three types of ads were chosen because of the long-running history of discrimination in the housing, credit, and employment areas and because of the importance that a person be able to get a job, have a place to live, and have access to credit.
If your ad falls under this classification, Facebook will limit the audience targeting options you have available and prevent you from creating a target audience based on age, gender, or zip code.
Restrictions to detailed targeting mean you won't be able to exclude specific audiences from seeing your ad, and you will not be able to target based on demographics or behaviors.
Without detailed targeting features, users aren't able to create Lookalike audiences for special category ads.
Instead, you can make a "Special Ad Audience," and Facebook will show your ad to people whose online behavior is similar to your current customers, without matching by demographics.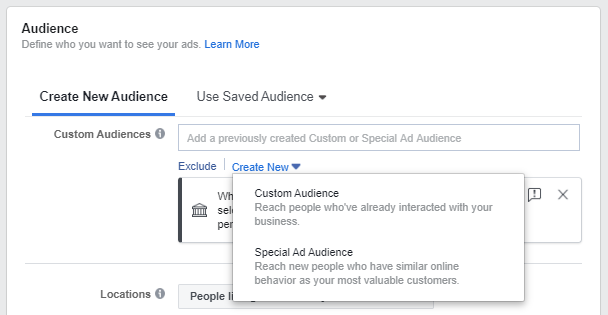 If you try to use a saved audience for your special category ad, you may find that you're able to apply only some aspects of the audience.
Any age, gender, or other demographic information in the audience will not be used, but remaining settings will be applied to your ad.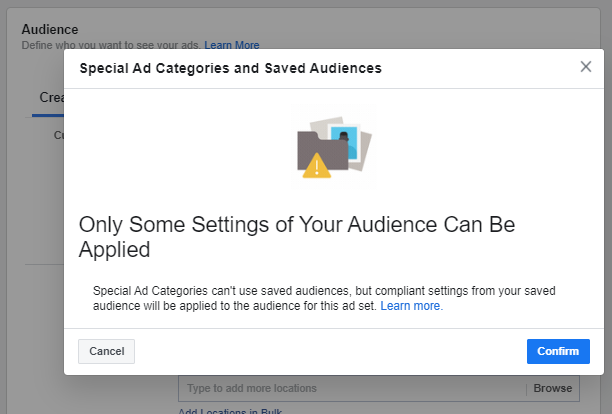 Aside from these audience targeting restrictions, special category ads are just like any other promotion on Facebook.
Pick the Right Category with AdEspresso
When creating a campaign that relates to credit, employment, or housing and targeting an audience in the US, you must now choose a special ads category that best describes your ads.
Audience selection tools for these special categories are limited to help protect people on Facebook from unlawful discrimination.
AdEspresso is committed to helping you choose the correct category for your campaign, prevent unlawful discrimination, and ensure compliance with Facebook's Advertising Policies.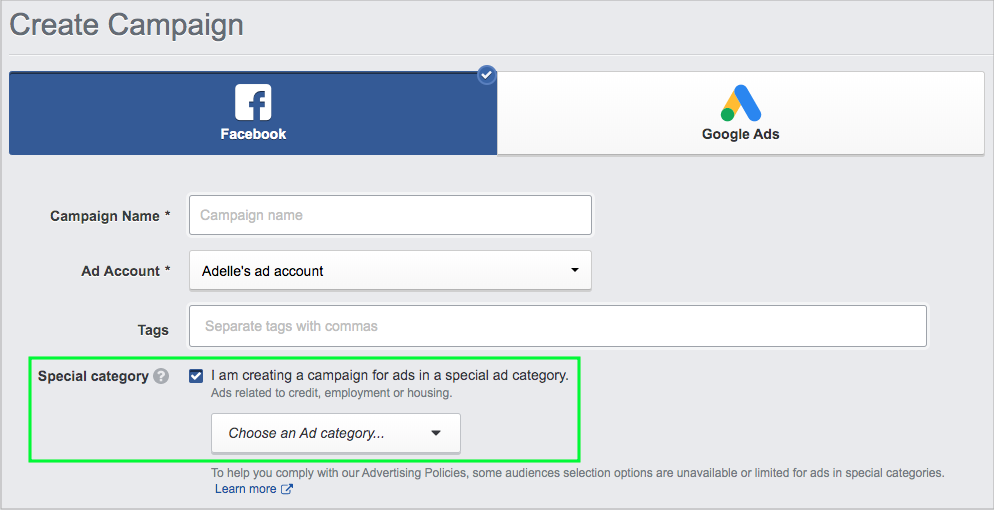 Learn how to create your Facebook campaign using these categories in AdEspresso here.
And this is just one of the main features of AdEspresso, the best Facebook Ad assistant you can have.
If you want to stay up-to-date with the latest new features as they are released, make sure to check our What's New page regularly.
So how do you know whether your ad qualifies for the Facebook Special Ad Category? Let's take a look at a few examples.
The 3 Special Ad Classifications on Facebook
The three types of ads affected by the Facebook Special Ad Category are ads related to housing, employment, and credit opportunities.
Housing
Knowing that real estate developers might discriminate by location, Facebook put ads that promote or link directly to housing opportunities or related benefits into their Special Ad Category. Affected ads include the following:
Sale or rental opportunities for houses, condos, apartments, or other types of housing
Homeowners or mortgage insurance opportunities
Housing loan ads
Home equity or appraisal services
Housing repair services
If your ad is designed to educate people about their rights and responsibilities with regard to fair housing practices, your ad does not fall into the Facebook Special Ad Category. You can use the Equal Housing Opportunity logo as part of your ad to differentiate it from other types of housing ads.
This ad from Weichert, Realtors, on the other hand, is a clear example of a special category housing ad. It promotes the sale of a home and links directly to the sale listing.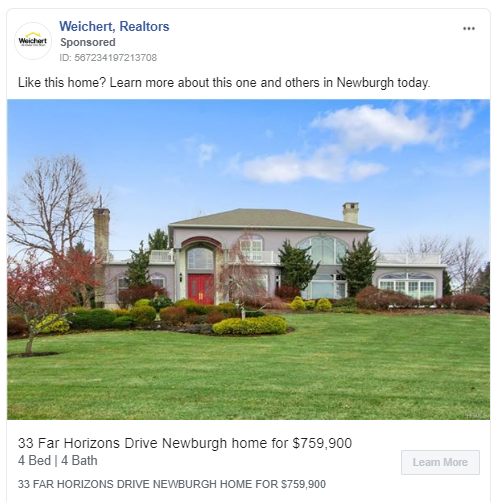 If you're still interested in location targeting, you can restrict the country on your Special Ad Audience to limit the reach to more local users. You can also restrict the size of your Special Ad Audience so you reach a less broad and more defined group of users.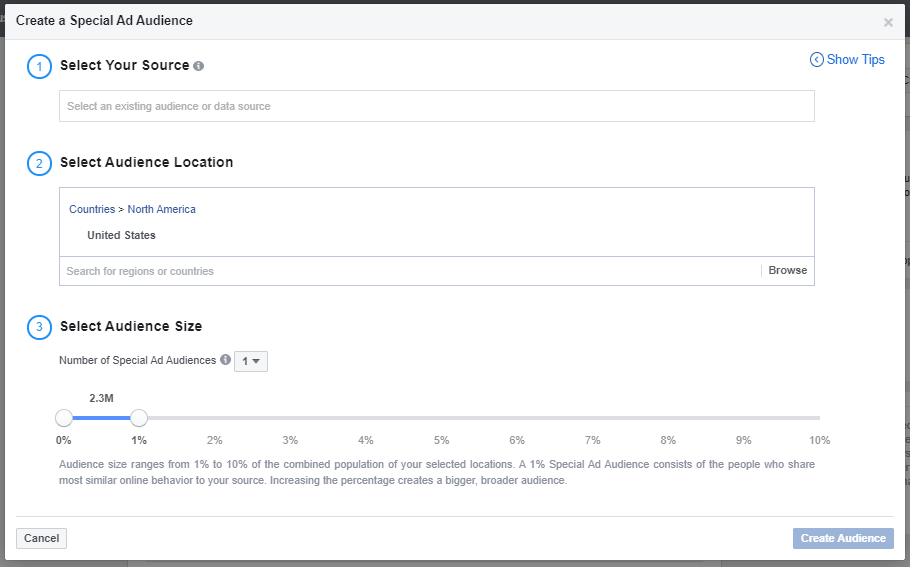 What if you pick an audience size that's smaller than your audience source? Not a problem. Facebook will be especially selective and show your ad to people whose online behavior most closely matches your chosen audience source.
Credit
Any ad promoting or directly linking to a credit opportunity or related service falls under the Facebook Special Ad Category. Credit opportunity ads include the following:
All credit card ads, regardless of whether they include a specific offer
Mortgage loan or refinancing offers
Personal, business, or auto loan service ads
For example, U.S. Bank posted an ad for their branded credit card that qualified as a special category ad.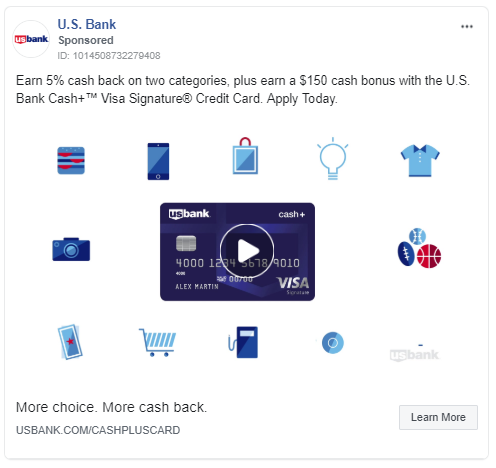 Even with special ad targeting restrictions, you can still use Facebook's "interest" targeting features for your credit promotion. Say, for example, you're promoting a credit card with a cashback rewards program. You could target users who have expressed an interest in cashback rewards programs or who have liked pages related to these programs.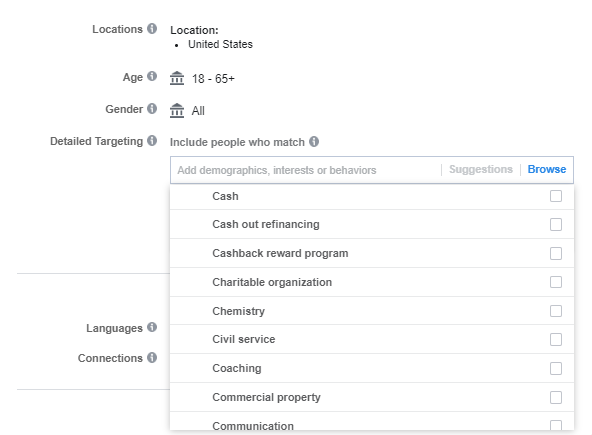 Interests aren't tied to demographics, so you're still able to use them as a targeting factor under the Facebook Special Ad Category.
Employment
The final special ad category classification is employment—ads that link to or describe job opportunities, including the following:
Full- or part-time jobs
Internships
Professional certificate programs
Ads for job boards or job fairs
Ads describing the benefits of working at a particular company, even if it is not a specific job offer
This promotion from the online school eCornell qualifies as a special category ad because it's advertising a professional certificate program.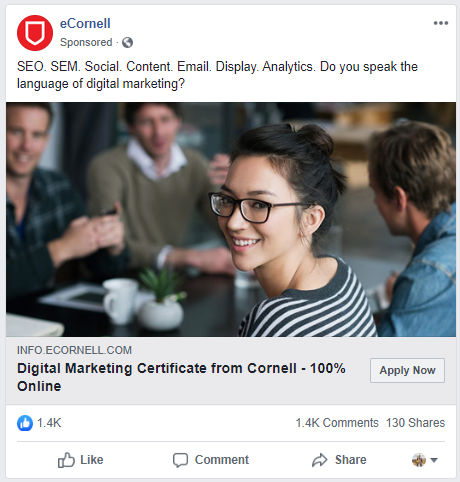 To work around special category restrictions for your job ad, consider targeting interests that relate to the industry of the role or certificate program. For example, eCornell might target based on an interest in marketing for their professional certificate. Or a public policy job ad might target users interested in the government and politics.
Housing, credit, and employment ads have to comply with the Facebook Special Ad Category targeting restrictions, but you can still narrow the reach of your ad by targeting interests and restricting your audience size.
Where Do I Select My Special Ad Category on Facebook?
In just a few steps, you're able to select the special ad classification when you create your ad in Facebook Ads Manager.
Go into Ads Manager, and click "Create," just as you would when making any standard Facebook ad.
The first screen will prompt you to check whether your ad falls under the Facebook Special Ad Category and to choose what type of ad you have.
The rest of your ad creation is the same as a standard ad, until you get to audience targeting. Then, you'll find demographic targeting options cannot be selected, including age, gender, and zip code. You can still target based on interests by selecting the "detailed targeting" option.
Once you've chosen your audience, the ad creation process runs normally. You select ad placements, budgeting, and scheduling with no further restrictions.
In order to comply with Facebook's advertising policies, any housing, credit, or employment-related ad must go through this process during ad creation. Fortunately, Facebook makes it easy by blocking off any disallowed targeting options.
Design Your Special Category Ad for Your Intended Audience
Running a special category ad may limit demographic targeting, but that doesn't mean it can't have wide reach. Developing engaging ad creative and copy through A/B testing can help you attract many valuable potential customers on Facebook. You can also boost the reach of your ad by adjusting your ad placements. Discover which sites your target audience visits the most, and place your ads there to connect with as many high-value shoppers as possible. Using techniques like these will help your housing, credit, or employment ad reach the audience you want, while working within the Facebook Special Ad Category.
Have you posted a special category ad? Tell us about your experience in the comments!