With 1.96 billion daily active users, Facebook is a goldmine for businesses that want to reach their potential customers.
In fact, over 200 million businesses use Facebook's free services, including Facebook Business Pages. A well-optimized Business Page can help you grow brand awareness on the platform and effectively market your business.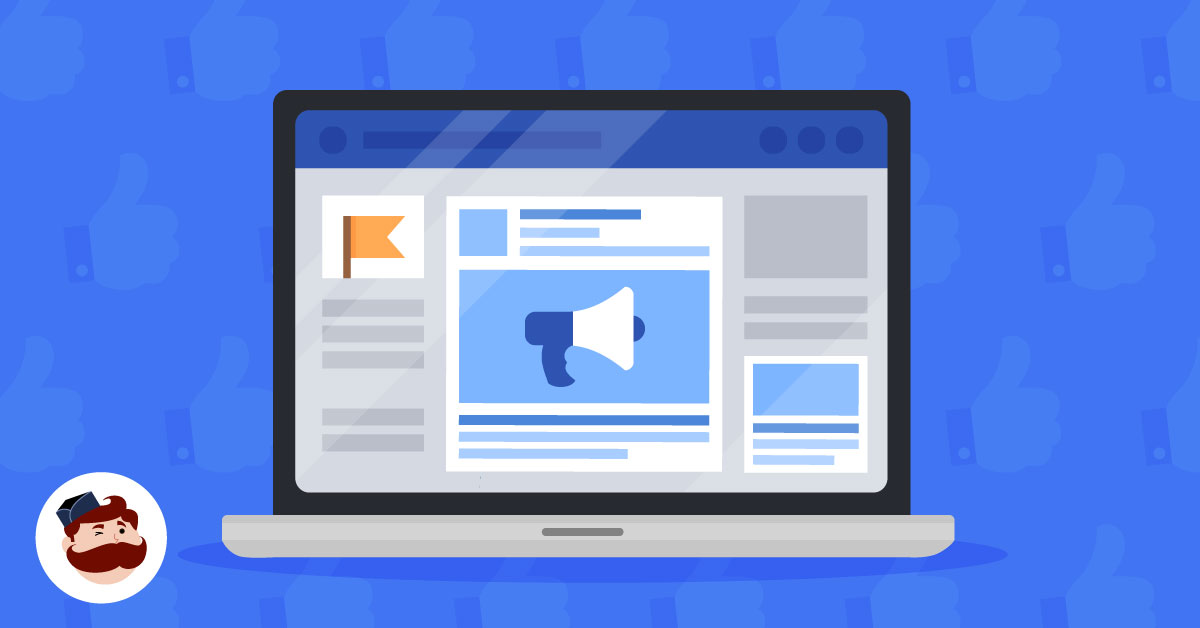 In this article, we go through the process of creating a Facebook Page for business. It's really easy, and chances are, you've already got everything you need to do it.
What is a Facebook Business Page?
A Facebook business page is a public Facebook account used by brands, organizations, public figures, and artists. Businesses use Facebook Pages to:
post status updates
share content
share contact information
promote goods and service
promote events
connect with existing customers
reach new audiences
Businesses can connect their Facebook Pages to their Facebook ad accounts and Facebook Shops.
How to create a Facebook Business Page
To create a Facebook Business Page, you have to your personal Facebook account. This is because every Facebook Page is managed by one or more administrators — all of whom are connected to the Page via their personal Facebook accounts.
Your personal profile is the door you pass through to get into your new Business Page.
Note: The information on your personal account will not be publicly visible on your business Page.
1. Sign up for your Facebook Business Page
Visit facebook.com/pages/create.
On the left panel, enter your business information. As you type it in, the page preview will update in real time on the right side of the screen.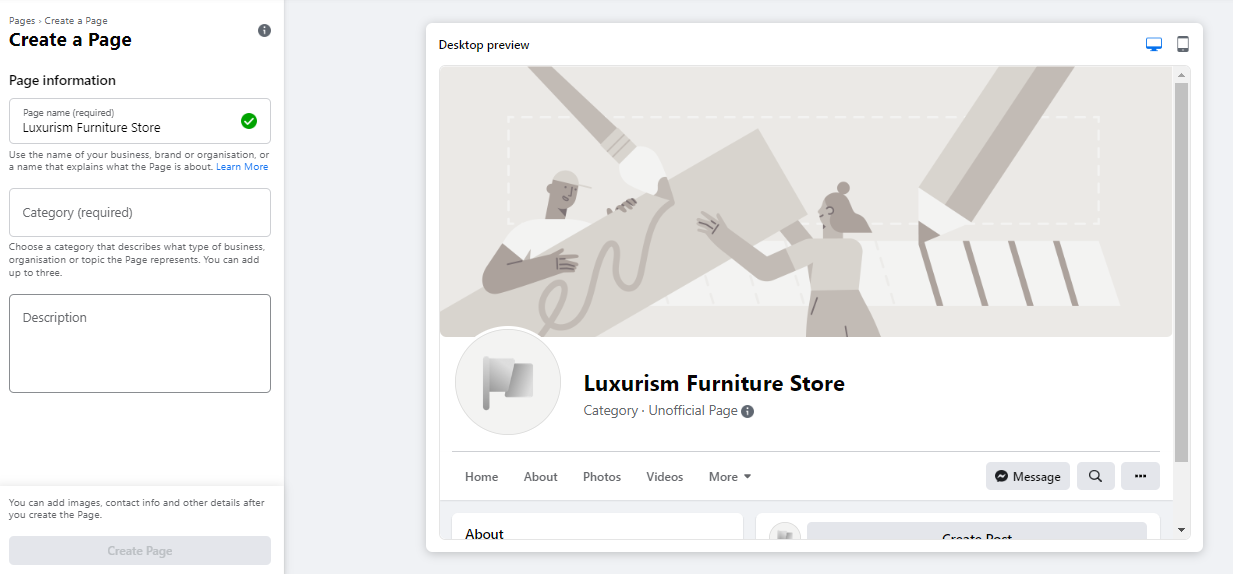 In the Page Name field, use your business name or the name people will likely enter into the search bar to find your business.
For the category, type a word or phrase that describes your business and Facebook will suggest some options. You can choose up to three categories.
After picking your categories, fill in the Description field with a short description of your business. This description will appear in search results. You only need a few sentences (255 characters max.)
When you're done, click Create Page.
2. Add pictures
After creating your business Page, you'll need to add your profile and cover images. These images should be high-quality and brand-centric as you want to make a good visual impression on your audience.
First, upload your profile image. This image stays beside your business name in search results and when you interact with your audience. It also appears on the top left of your Facebook Page.
If your brand is a bit popular, you can use your logo. If you're an artist or public figure, a picture of your face will work great. And if you're a small business, try using a high-resolution image of your signature offer. The goal is to help potential followers and/or customers recognize your Page instantly.
In our article on the best image sizes for all social media platforms, we explain that your profile photo should be 180 x 180 pixels. Facebook will crop it into a circle, so don't add any important details in the image corners.
After choosing a great image, click Add Profile Picture.
When that is done, you have to add your Facebook cover image, the most noticeable image on your Page.
This image should convey your brand personality, products, and/or services to your audience at first glance. Facebook recommends that the cover image should be 1640 x 856 pixels.
Once you've selected a good image, click Add Cover Photo.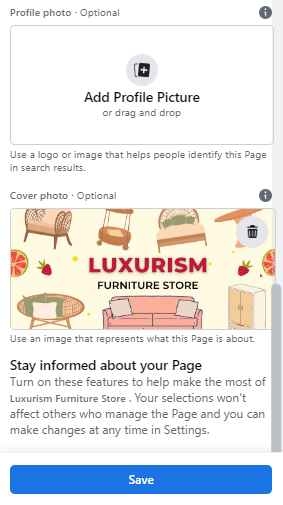 After uploading the images, use the buttons in the top right of the preview page to toggle between desktop and mobile views. You can tweak the positioning by dragging the images in the left column.

When you're happy with how your images display on both views, click Save.
And, you have a Facebook Business Page!
Note: At this stage, the Page is still sparse so you can't share it with your audience just yet. But don't worry, we'll fix that soon!
3. Connect your Business Page to WhatsApp (optional)
After uploading your profile and cover images, you'll see a pop-up box asking you to connect your business Page to WhatsApp. This is optional, but if you do connect it, you'll be able to add a WhatsApp button to your page and send prospects from Facebook ads to your WhatsApp.
To connect your business to WhatsApp, click Send Code. If you don't want to connect, click the 'X' to close the window. You'll get another pop-up box asking if you're sure. Click Leave.
4. Create your username
Your username, or vanity URL, is the way you tell people where they can find you on Facebook.
Your username can be up to 50 characters long, but you don't want to create a username that is too long for your audience to remember. So make it shorter. You can use your business name or a variation of it for your username.
Click Create Username on the Page preview to set your username.
Enter the username you want to use. If it's available, a green tick will appear beside it. When it does, click Create Username.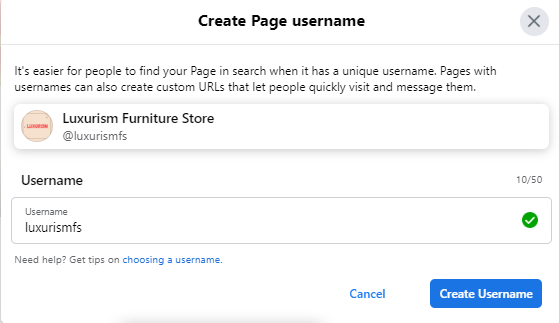 When you get the confirmation pop-up, click Done.
5. Add your business details
You might want to leave out the business details for later, but it's advisable to fill out all the fields in your Page's About section from the jump. This is because your About section is the first place a customer goes to get more information about you.
For example, if someone is looking for a business that has a physical address, they'll have to check your page to see if you do. If they can't find an address on your About page, they'll leave and check out other businesses (even if you actually have an address).
To fill out your About section, scroll down to the Set Your Page Up for Success section, and expand the Provide Info and Preferences item.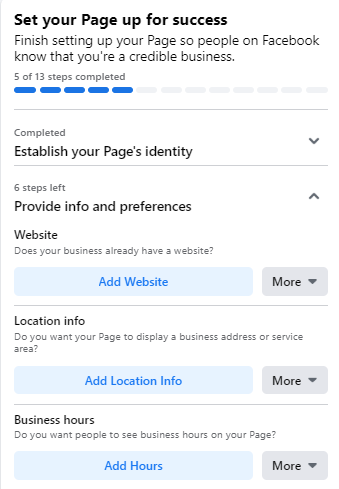 Start filling in your details by clicking Add Website. Next, enter your business address (if you have one), your business hours, and phone number.
Then, fill the Add an action button section.
Facebook's call-to-action (CTA) button makes it easy for customers to engage with your business. It encourages page visitors to learn more about your business, visit your online store, download your free eBook, or book an appointment.
To add your CTA button, click Add Button and choose the kind of button you want to display on your page.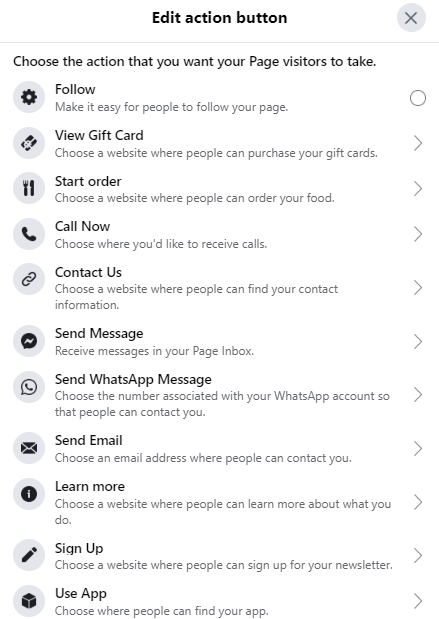 If you're not ready to complete all these steps right now, you can always come back to them later. To do that, navigate to the Manage Page menu on the left and scroll down to Edit Page Info.
If you want to take your Facebook Business Page offline while you fill in the details, you can unpublish your page. To do that, go to the Manage Page menu, click Settings, and then General. Click Page Visibility and change the status to Page unpublished.

When you're ready to republish your page, follow the same steps.
6. Create your first post
Now your Page is finally fully ready. Well, except for one thing.
Facebook posts.
Before inviting people to like and follow your Facebook Page, you should post some relevant and helpful content. You can either create your own posts or share content from experts in your industry.
For inspiration, check out this Hootsuite article on Facebook marketing.
You can also create a specific kind of post, like an event or job. To do this, click one of the options in the Create box at the top of your page.

Ensure that each post you publish offers value to your audience when they visit your Facebook Business Page. This will encourage them to stick around.
7. Invite an audience
Your Facebook Business Page tells people that you're a serious business and this will make them feel comfortable engaging with you.
But what is a page without followers?
Start by inviting your current Facebook friends to like your Page. To do this, scroll down to the bottom of the Set Your Page up for Success box and expand the Introduce Your Page section.
Click the Invite friends to see a list of your existing Facebook friends. Select the friends you want to invite, and click Send Invites.
If you have a website and/or Twitter account, you can use them to promote your new Facebook page. Add "follow us" logos to your email signature and promotional materials. You can also ask your customers to leave reviews on your business Page.
To grow your audience quickly, check out our post on how to get more Facebook likes.
If you're more of a visual learner (and I'm not judging), watch this comprehensive video to learn how to create a Facebook Business Page.
How to optimize your Facebook Business Page
Now that you have created a Facebook Page for your business, it's time to optimize your Page to maximize engagement and meet your social media marketing goals.
Here's a short video that explains the process of optimizing a Facebook page. We'll explain more about these steps below:
1. Learn from Page Insights
The more you know about your audience, the more content you can create to help and/or entertain them.
Facebook Page Insights is a goldmine of data about how your followers are engaging with your Page and content. To find Page Insights, go to the Manage Page menu and click Insights.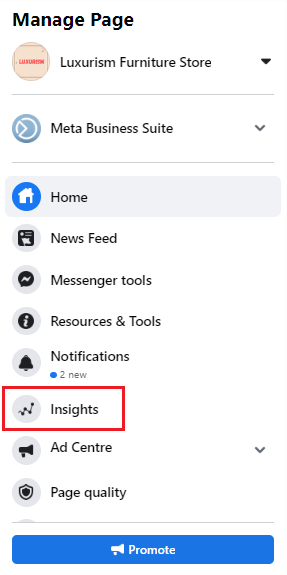 Insights give you information about how your Page is performing, including data on audience engagement and demographics. You'll also be able to understand how many people you're reaching with your content and how many comments/reactions you got on certain posts.
This data helps you tweak your social media content calendar to only include relevant posts.
A great feature of Insights is that you can see how many people clicked on your website, CTA button, address, and phone number. This data is segmented into demographics, such as age, country, gender, city, and device. This makes it easier for you to tailor your posts to your audience.
To find this information, go to the Manage Page menu and click Actions on Page.
To learn more, check out this Hootsuite article on how to use Facebook Page Insights.
2. Add a pinned post
If there is an important piece of information you want all your page visitors to see—a new launch, a promotion, or an event—put it in a pinned post.
Pinned posts stay at the very top of your Facebook Business Page, just under your cover photo. Putting a scroll-stopping item there will grab the attention of your visitors and make them stick around.
To make a pinned post, create a brand new post or scroll down your feed to find a post you'd like to pin to your page. Click the three dots on the top right of the post, and click Pin to Top of Page.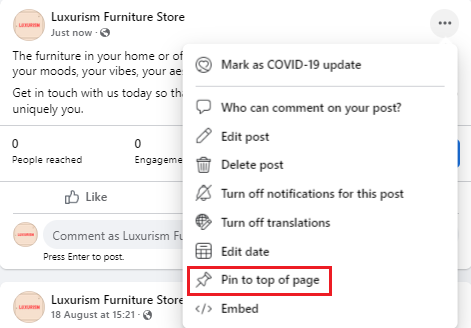 After pinning the post, it will appear under a PINNED POST heading at the top of your Page. However, you're the only one who will see the heading. Visitors will only see the post as the first one under Posts, with a blue thumbtack icon that indicates that it's a pinned post.
3. Like (and follow) other business Pages
Facebook is a social media platform, so it's only fitting that you use your Page to interact with others and build a community.
One way to do that is to connect with other pages that are related to your industry, but aren't direct competitors.
For example, if you run a boutique in a large shopping plaza, you could connect with other businesses in the plaza. They don't have to be boutiques though. That's how it is on Facebook—only that the connections are happening in a digital space.
To connect with other businesses, navigate to their Facebook Page. Click on the More icon (three dots) under the page's cover image. Click Like as Your Page. If you have two or more Facebook pages, choose the one you'd like to use to follow the other business. Then hit Submit.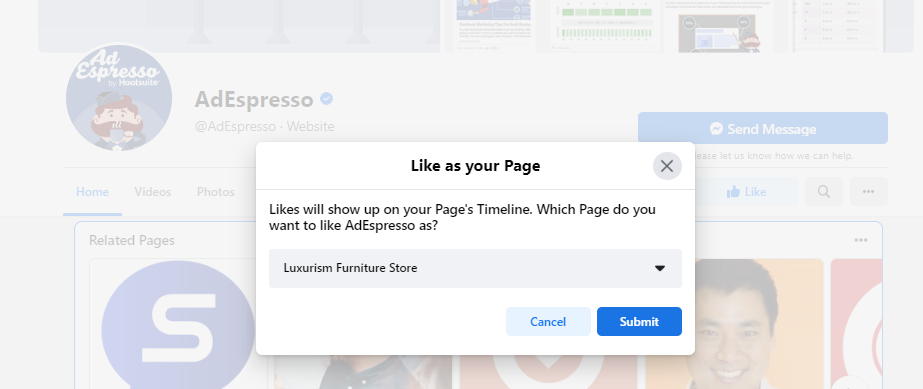 When you like a page, the owner/admin will receive a notification about it. This might make them check out your Page and/or give you a like too.
Since your Facebook Business Page has a different newsfeed than your personal account, you can engage with all the businesses you follow from your business profile. To see all the content from the Pages you've followed, select your Page and click News Feed in the left menu. If you haven't liked and followed any Pages yet, Facebook will give you some suggestions to help you get started.
4. Link to your Facebook Business Page from other web pages
Backlinks are integral to boosting your credibility and increasing your search engine ranking. They also help guide potential followers and customers to your page.
To get backlinks, include a link to your Page at the bottom of your blog posts and on appropriate pages on your website. And when you collaborate with other bloggers and companies, ask them to do the same.
5. Use templates and tabs
Tabs are the different sections of your Facebook Page, such as the About and Posts sections. You can decide which tabs you want to have and the order in which they appear on your page in the Manage Page menu.
If you're not sure which tabs to use, look at the templates offered by Facebook.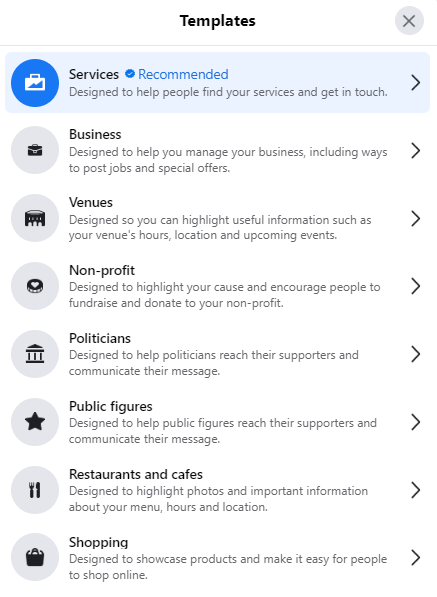 Each template has a set of tabs and buttons suited for certain types of businesses. For instance, the Business template includes tabs for Groups, Events, and videos.
To access templates and tabs, navigate to the Manage Page menu, click Settings, and then Templates and Tabs.
6. Check your settings
Your Facebook Page settings help you understand who manages your Page, who can see your posts, people and Pages who have liked (and followed) your page, and much more.
The Settings tab is just like behind-the-scenes for every customizable feature you have. To ensure that your Page is optimized the way you want, take some time to go through each setting.
To access your settings, go to the Manage Page menu and click Settings.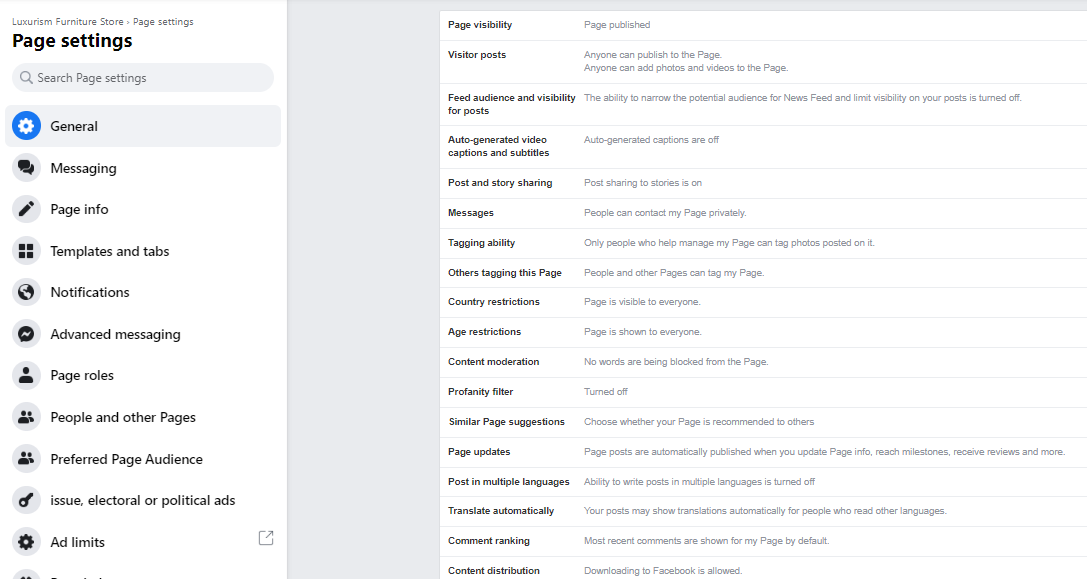 As your following grows and your business preferences and requirements change, update your settings. In fact, you can take things up a notch by setting up Facebook Business Manager.
This way, you can control who administers your Page and the roles filled by team members, freelancers, and agencies.
7. Join Groups as your Page
Facebook Groups are an organic way to reach people who are interested in your industry. Joining and posting content to a relevant Group as your Facebook Page shows interested people that you are a serious business.
It can be a bit tricky to join Groups as your Page, but here's a video that breaks it all down.
Once your Facebook Business Page is up and running, check out this Hootsuite guide to Facebook marketing to skyrocket your Facebook ROI.
Manage your Facebook Business Page as well as your other social media profiles with Hootsuite. From a single dashboard, you can create and schedule content, interact with followers, monitor online conversations, measure performance, and much more. Try Hootsuite for free today.