Social media marketing can help you build authentic, lasting relationships with your audience. But if you're not an avid user of social media yourself, getting started can feel overwhelming.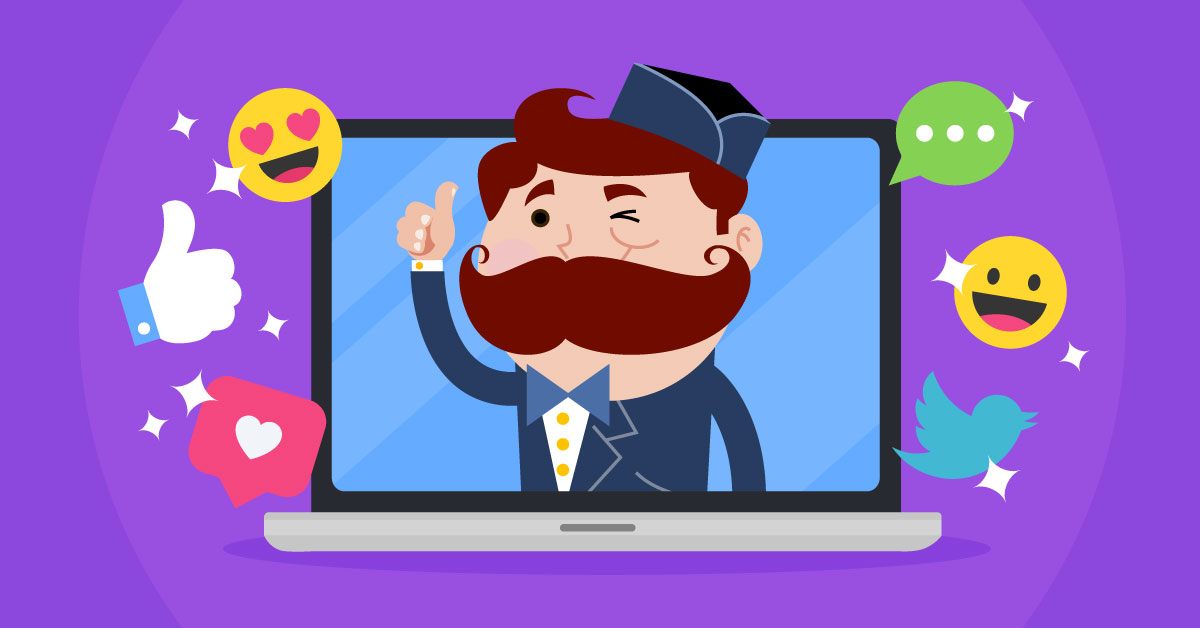 Here's everything you need to know to decide whether social media marketing is a good fit for your audience, complete with resources that will help you create a social media marketing plan in no time.
What is social media marketing?
Social media marketing is the use of social media channels (such as Facebook, Instagram, TikTok, or Twitter) by brands to reach their business goals.
Social marketing tactics can be used to:
Increase brand awareness
Engage with target audiences
Provide customer service to prospects and customers
Advertise products and services
Generate leads
Drive traffic to a website or online store
…and even sell products directly on social platforms.
The core components of social media marketing include:
Content creation: Writing posts and designing visuals to be published on a brand's social media profiles.
Scheduling and publishing content: Using a social media management tool to organize future posts, and keep track of when they'll be published and to which platforms.
Social listening: Tracking conversations people are having about your brand, your competitors, and your industry on social media to identify new opportunities and spot potential crises early.
Community management: Replying to comments and direct messages (DMs), reaching out to people, and hosting live audio sessions/chats with followers.
Advertising and paid promotions: Creating ad campaigns for targeted audiences and/or boosting organic posts on social media with a paid budget.
Influencer marketing: Partnering with with influencers and content creators to reach new audiences.
Performance analysis: Tracking performance metrics and creating reports on the success and ROI of social media strategies.
Popular social media platforms for marketing
Globally, the most popular social media platforms marketers use are:
Facebook
Instagram
TikTok
Twitter
LinkedIn
YouTube
Pinterest
Snapchat
There are, however, many newer or less popular social networks you can use if your target audience use them too e.g. Reddit and Tumblr. Some apps, like WeChat and LINE are particularly popular (for casual and marketing use) in specific regions.
Examples of social media marketing
No matter the size of your business, you can use social media marketing to achieve your business goals.
Need inspiration? Here are some brands that are doing a great job on social media:
1. Wendy's on Twitter
Wendy's is known for their hilarious social media posts. Their Twitter account, in particular, is where the brand's humor really shines.
Wendy's uses Twitter to share funny, on-brand jokes and engage with their followers (and potential customers).
New stuff sounds like my little brother trying to cuss for the first time.#NationalRoastDay https://t.co/Sv2EPndGfS

— Wendy's (@Wendys) January 12, 2022
2. Netflix on Facebook
Netflix uses Facebook to share snippets of existing shows, give their audience sneak peeks new shows, ask movie-related questions, and share funny memes. The company's Facebook Page is a place where their community can talk about the movies or TV shows they like, and catch up on new movies/shows coming to the streaming platform.
3. L'Oréal on LinkedIn
L'Oréal caters to their 85K+ LinkedIn followers by sharing educational skincare tips, shouting out team members, and talking about their environmental activism. They know what their audience expects from them, and they deliver every time.
4. Gymshark on TikTok
Gymshark is a fitness company, so it's only right that they post videos of people working out on TikTok. They do this to teach their audience new workout routines, as well as motivate them to achieve their fitness goals.
Gymshark also posts funny fitness-related videos that show their audience that the gym doesn't have to be serious and sweaty. You can have fun in the gym, too.
How to get started with social media marketing
Below, we share some resources that will help you learn more about social media marketing and build a foundation for success on social.
Whether you're an entrepreneur, small business owner or social media manager, this book is loaded with lessons and tips you can incorporate into your social media marketing efforts.
In this book, Swartz notes how easy it is to get lost in the ocean of new businesses that are constantly flooding the internet. She explains that, to stay ahead of the game, your social media marketing strategy should align with the rest of your online elements, including your website, online advertising, and newsletters.
This book covers:
Creating successful social media marketing strategies
Social media etiquette
Tracking your campaign performance
Tailoring social content for your audience and search engines
Segmenting your audience for maximum impact
Optimizing your campaigns for maximum ROI
The premise of The End of Marketing is that you should focus on engaging with your audience as much as you try to sell to them. People buy from people, not brands. So to succeed with social media marketing, find ways to humanize your brand.
In this book, Gil teaches his readers the marketing techniques that work best on social platforms like Facebook and LinkedIn, and the best marketing practices for social media, in general.
This book also covers:
Emerging social platforms and new features that engage both customers and employees
A toolkit to increase engagement and hack growth
How to crack social media algorithms
Mapping out brand messaging
Monitoring brand mentions on social media
How to connect with your audience successfully and get sales
How to build smarter paid strategies to achieve your marketing goals
If you're ready to start building your social media presence, head over to Hootsuite's resource hub to download all of the free templates, guides, and checklists you'll need to get set up.
The free template library includes:
A social media strategy template
A social media audit template
A social media content calendar template
A social media report template
A social media image sizes cheat sheet
A social media proposal template
… and over 50 more useful resources.