If you're a social media manager, you know how time-consuming it is to manage several social media accounts for a business.
But you don't have to scramble between platforms and browser tabs to get your job done. A good social media scheduling tool can centralize your work and save you a lot of time and effort.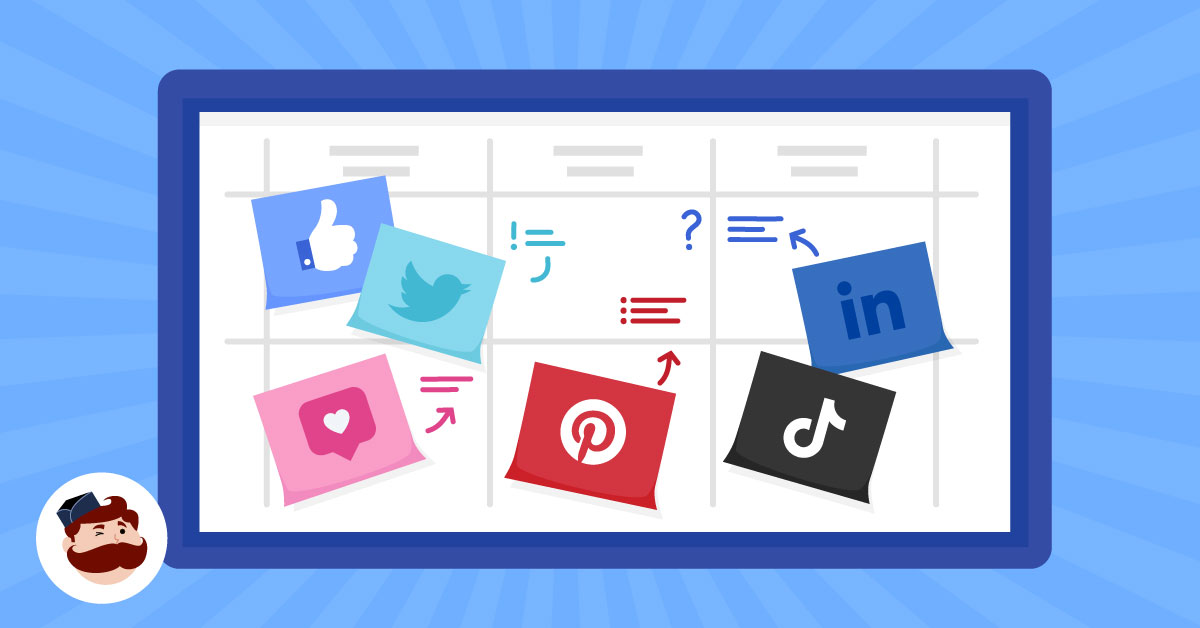 In this article, we're outlining 10 of the best social media scheduling tools out there to help you choose the best one for your business.
What is a social media scheduling tool?
A social media scheduling tool is a software that allows you to plan and schedule your social media content — usually across several social networks and multiples accounts — in advance, from one easy-to-use dashboard.
How do social media scheduling tools work?
Although each tool is slightly different, the basic process is the same:
Upload your content (media files like images or videos) to the dashboard via a desktop or mobile app
Add captions, hashtags, location tags, emojis, etc.
Set a future date and time for publication
Hit the "Schedule" button and sitting back (the social media scheduler will auto-publish content to social media at the defined time).
The benefits of social media scheduling tools
If you use many different social media platforms, social media scheduling tools will be a great addition to your toolkit. Here's why.
Save time. Scheduling tools help you save time by allowing you to prepare and schedule content days (or even weeks) in advance, so you can focus on other parts of your business.
Stay organized. These tools help you keep a bird's eye view and easily review your scheduled social content across all the platforms you use.
Reduce mistakes. When you schedule content in advance, you have more time to proofread and review the posts before they go live.
Post at optimal times. Most social media scheduling tools suggest the best times to post content.
10 social media scheduling tools for 2022
1. Hootsuite
Who it's for: Businesses of all sizes, freelance social media managers, social media and marketing teams, content creators
Hootsuite is a social media scheduling tool that helps businesses of all sizes plan, schedule, and publish social media content. No matter how small or how large your business is, this tool offers powerful features that enable you to grow your social media presence.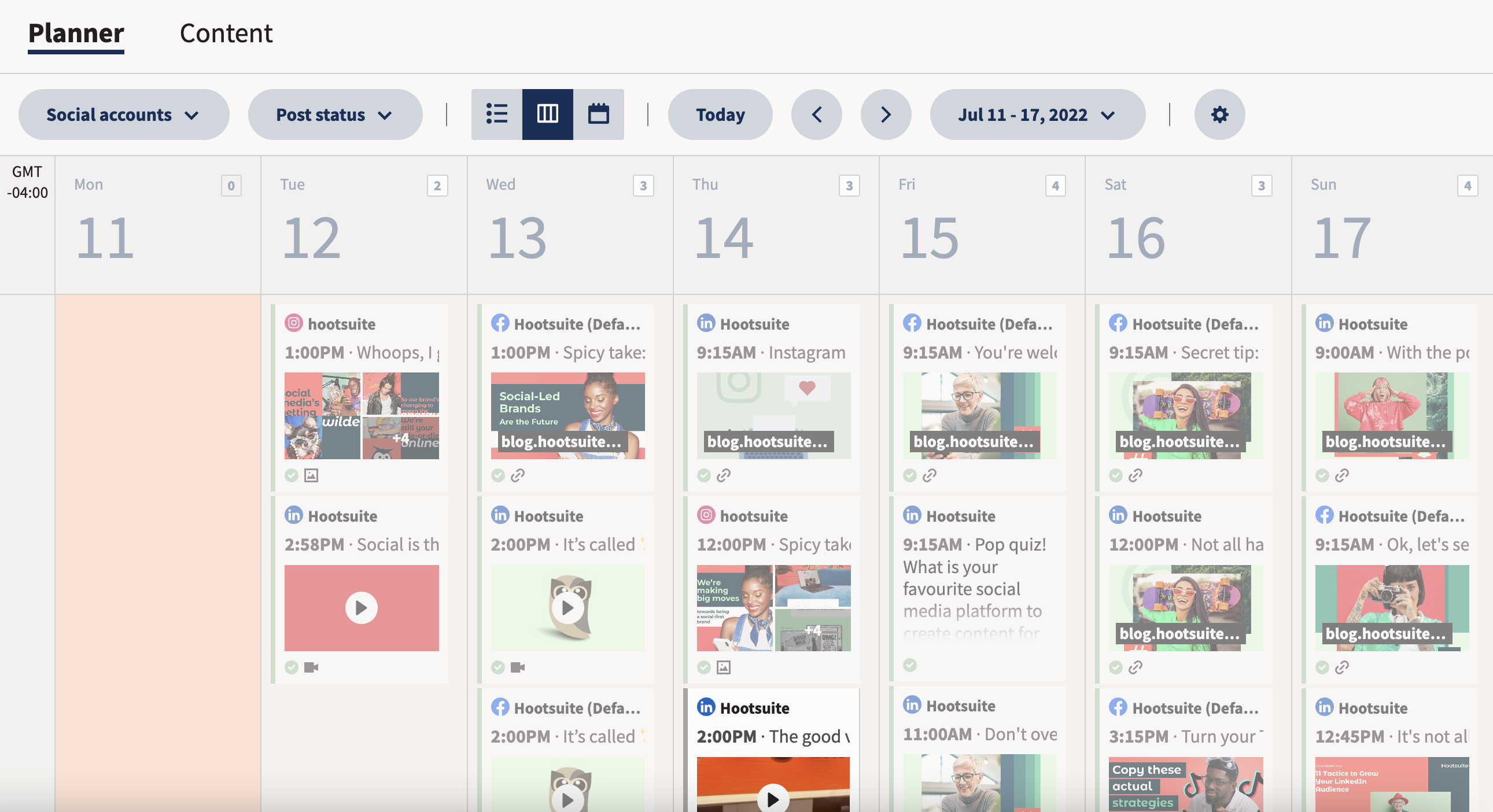 Hootsuite has a whole toolkit of handy scheduling features, including auto-posting, bulk scheduling, and recommendations on the best times to post (unique to your account and audience, based on your own social analytics).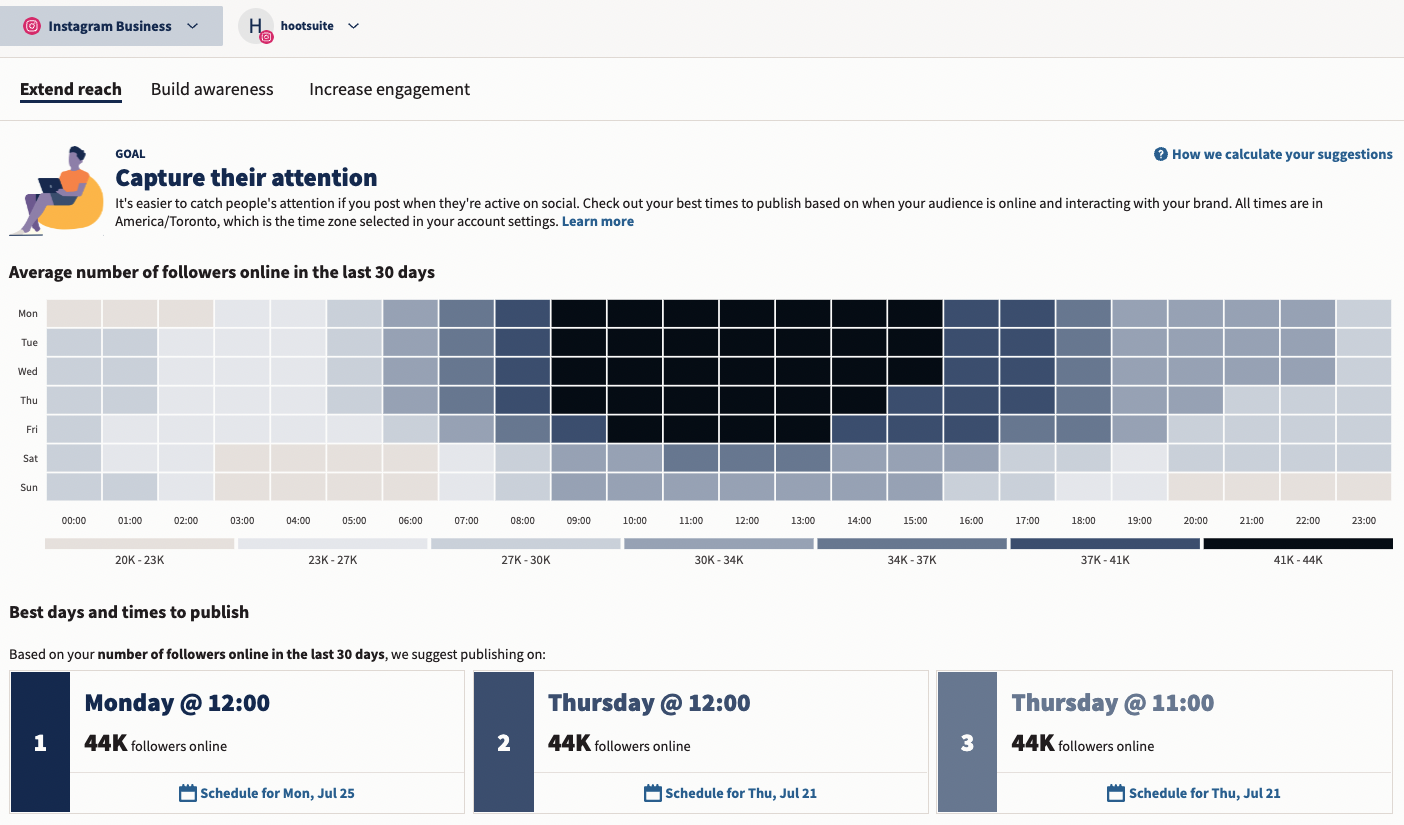 With Hootsuite, you can schedule posts for Facebook, Instagram (Posts, Stories, and Reels), TikTok, Twitter, LinkedIn, YouTube, and Pinterest. from one intuitive dashboard. (Click the links to find out how to schedule content for each platform). Think of all the time you can save not switching between 7 apps to post content!
Hootsuite also offers detailed analytics and social media performance reporting, as well as a calendar view and content creation tools that allow you to publish the best content possible.
Key features of Hootsuite's intuitive social media dashboard:
Post scheduling
Bulk scheduling
Auto-posting
Content library
Comprehensive analytics and reporting
Streams for social listening and brand monitoring
An integrated inbox for DMs and comments
Custom permissions and workflows
Ticketing system for teams
Extensive third-party app integrations
Pricing: 30-day free trial. Paid plans start at $49/month (Professional), $129/month (Team), $739/month (Business) and custom pricing for Enterprises.
Who it's for: Small businesses, marketing agencies, and teams
SocialPilot is a simple and affordable social media scheduler that allows you to post on major social media platforms like Facebook, Instagram, Twitter, LinkedIn, Pinterest, Tumblr, and TikTok, among others.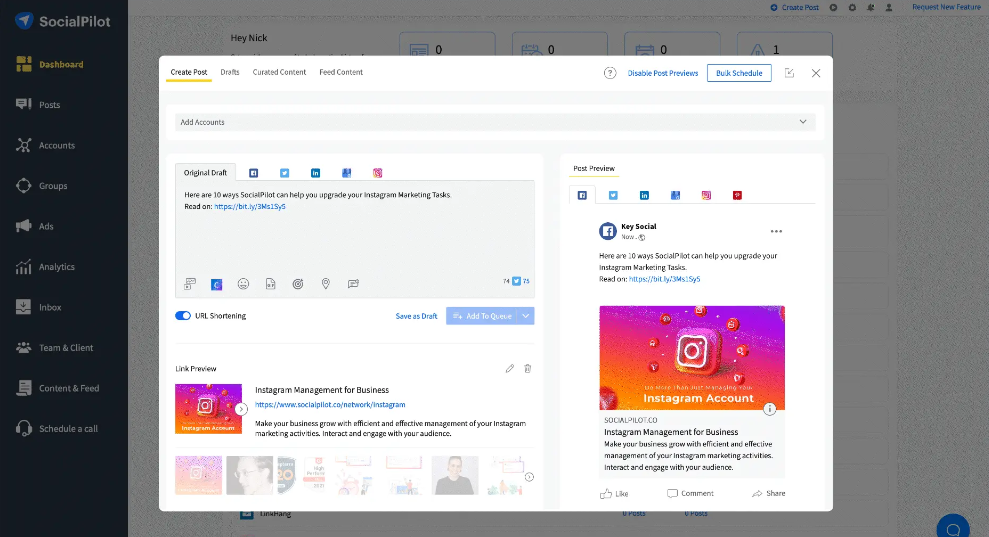 SocialPilot focuses on easing the publishing process and optimizing marketing efforts. With this tool, you can share up to 500 posts and link them to up to 200 social media profiles from a single account.
Unlike posting on the social platforms themselves, SocialPilot doesn't have character limits. So users can create and share posts freely.
Key features of SocialPilot
Customized posts
White label reports
Reporting and analytics
Social inbox
Collaboration features
Content curation feature
Bulk scheduler
Browser extensions
RSS feed integration
URL shortener
Third-party app integrations
Pricing: 14-day free trial. Paid plans start at $25.50/month (Professional), $42.50/month (Small team), $85/month (Studio), and $106.25/month (Agency), billed annually.
Who it's for: Solopreneurs, small businesses and agencies
SocialBee is an all-in-one social media scheduling tool that lets you curate content, schedule posts, and manage your online presence.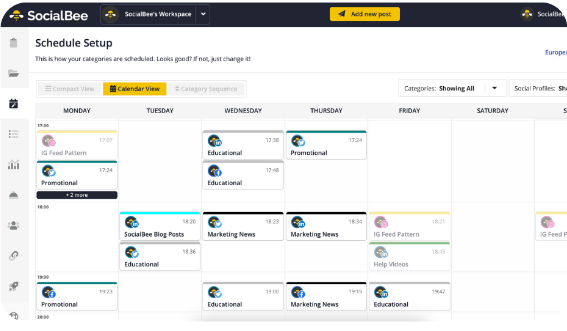 This tool helps you automate the entire process by assigning each post to a content category. So you can schedule content based on categories, instead of publishing posts individually. If you're running campaigns on a large scale, you can schedule and edit posts in bulk.
And if you post evergreen content, i.e. content that stays relevant forever, SocialBee recycles and reposts that content at intervals so you don't have to do it manually.
Key features of SocialBee
Advanced scheduling
Category management
Bulk editor
Import and upload
Collaboration features
Custom URL
Evergreen content
Reporting and analytics
Pricing: 14-day free trial. Paid plans start at $15.80/month (Bootstrap), $32.50/month (Accelerate), and $65.80/month (Pro), billed yearly for startups and small businesses
Who it's for: Twitter users
If Twitter is a huge part of your social media marketing strategy, Tweetdeck is the scheduler for you. As the name suggests, Tweetdeck allows you to schedule content to Twitter accounts only. No other social media channels are supported.
The process is simple. Log into Tweetdeck with your main Twitter username and password, add other existing accounts (if any), set up your tweet, pick a time and date, and wait for it to go live.
Despite this straightforward process, Tweetdeck boasts an extensive Twitter dashboard where you can see your live feed, mentions, notifications, and other activity. You can also organize your Twitter feed into different timelines, and manage trending hashtags and DMs.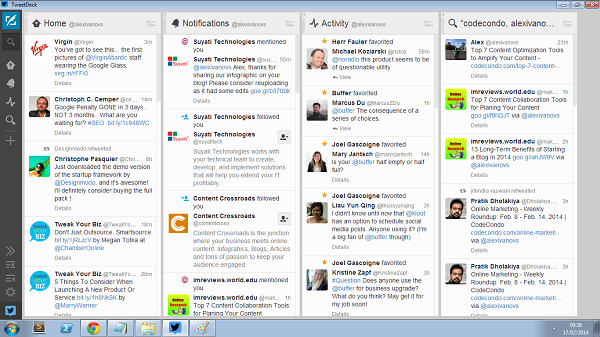 Key features of Tweetdeck
Schedule tweets for multiple Twitter accounts
Monitoring tools
Support for Twitter lists
Auto-updated lists
Notification alerts
Pricing: Free
Who it's for: Small businesses and agencies
Sendible is a social media scheduler that is designed to help small businesses and marketing agencies manage social media accounts for multiple clients.
Sendible has a user-friendly social content calendar that shows you which posts will be published and when. You can either publish posts individually or in bulk. And if you want to publish posts for clients' social media accounts, you can create post queues.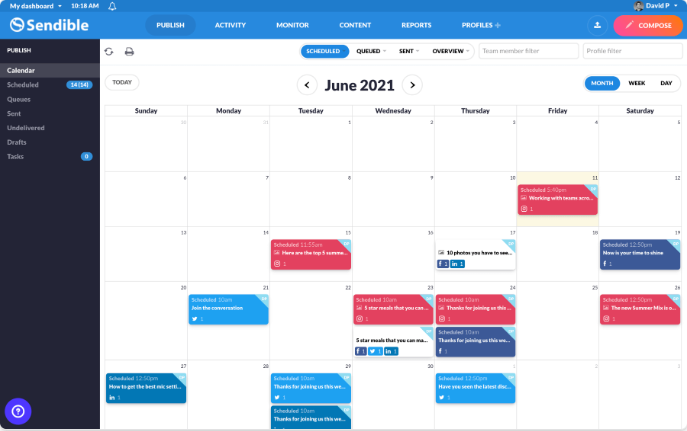 Sendible also offers a unified social inbox that allows you to manage comments and mentions from multiple platforms. You also get email notifications of mentions that align with your set criteria.
Sendible's extensive analytics and reporting features make it easy to track and record results of client campaigns. You can also measure brand sentiment with the social listening tool.
In addition to major social platforms, Sendible also supports blogging platforms like WordPress and Medium.
Key features of Sendible
Powerful scheduling
Social listening
Analytics and reporting
Customer engagement
Client management
Evergreen content management
Content curation
RSS feed integration
Pricing: 14-day free trial. Paid plans start at $25/month (Creator), $76/month (Traction), $170/month (Scale), and $340/month (Expansion), billed yearly.
Who it's for: Marketing teams and agencies
AgoraPulse is a social media scheduling tool that helps you schedule posts, engage with your audience, and measure your social media efforts.
With AgoraPulse's publishing tool, you're able to tailor your social content to each individual social platform, and organize them into a social media calendar.
AgoraPulse has a built-in CRM that helps you understand and manage your audience better.
Key features of AgoraPulse
Scheduling and queuing options
Calendar view
Team functionality
Track mentions and comments
Monitor trending hashtags
Keyword listening
Queue categories
Analytics and reports
PowerPoint and CSV reports
Pricing: 30-day free trial. Free forever plan. Paid plans start at $79/month (Pro) and $199/month (Premium), billed annually. Custom pricing for enterprise companies.
Who it's for: Small and medium-sized businesses
MeetEdgar is a unique tool that helps you schedule social media posts with minimal effort.
This tool has a category-based social media posting schedule. So you can group your social posts into different categories and schedule them.
MeetEdgar has a system where it recycles your evergreen posts forever so your content trail is never empty. This tool also helps you create new content. If you don't have a post ready, you can just link to a blog your reader will enjoy, and MeetEdgar will automatically pull a quote from the article and make it into a social post.
Key features of MeetEdgar
Category-based scheduler
Unlimited content library
Automated social sharing
Automatic post resharing
Auto-refill queue
Browser extension
RSS feed import
URL shortener and in-app tracker
Pricing: 7-day free trial. Paid plans start at $24.91/month (Eddie plan) and $41.58/month (Edgar plan), billed annually.
Who it's for: Freelancers, marketing teams, and agencies
Planable is a social media scheduler that enables businesses to create, schedule, and plan their social media content. This tool gives users a preview of what their posts will look like once they are published, which saves time and removes the need for multiple checks and edits.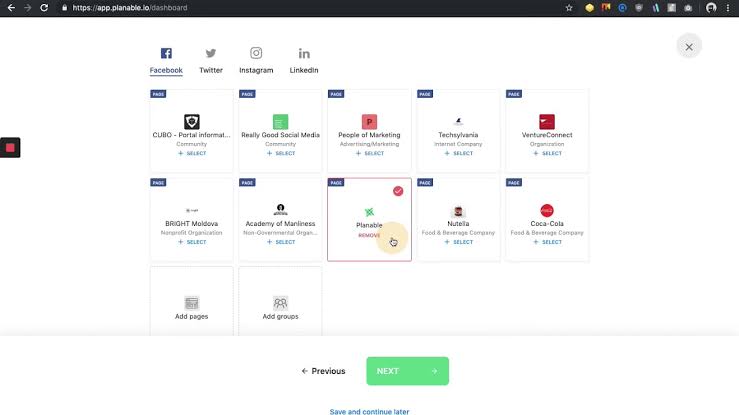 Planable focuses majorly on collaboration and teamwork, and that shows through its approval system for scheduled posts. Team members can use comments to refine scheduled content before it gets published. Then users can approve the posts or wait for client approval.
This leads to greater transparency and fewer disagreements within the team regarding the execution of their social media strategy.
Key features of Planable
Planning and scheduling
Direct social media posting
Social media post review
Advanced approval system
Immediate feedback
Pricing: Free forever plan. Paid plans start at $9/month (Basic), $19/month (Pro), and custom pricing for Enterprise, billed annually. Add extra workspaces for $200/workspace/year.
Who it's for: Pinterest users, bloggers, online businesses, eCommerce businesses
Tailwind is a scheduling tool created specifically for Pinterest, Instagram, and Facebook users. This tool was originally created just for Pinterest, so it offers advanced and personalized post scheduling, the ability to schedule pins for multiple boards, and interval planning.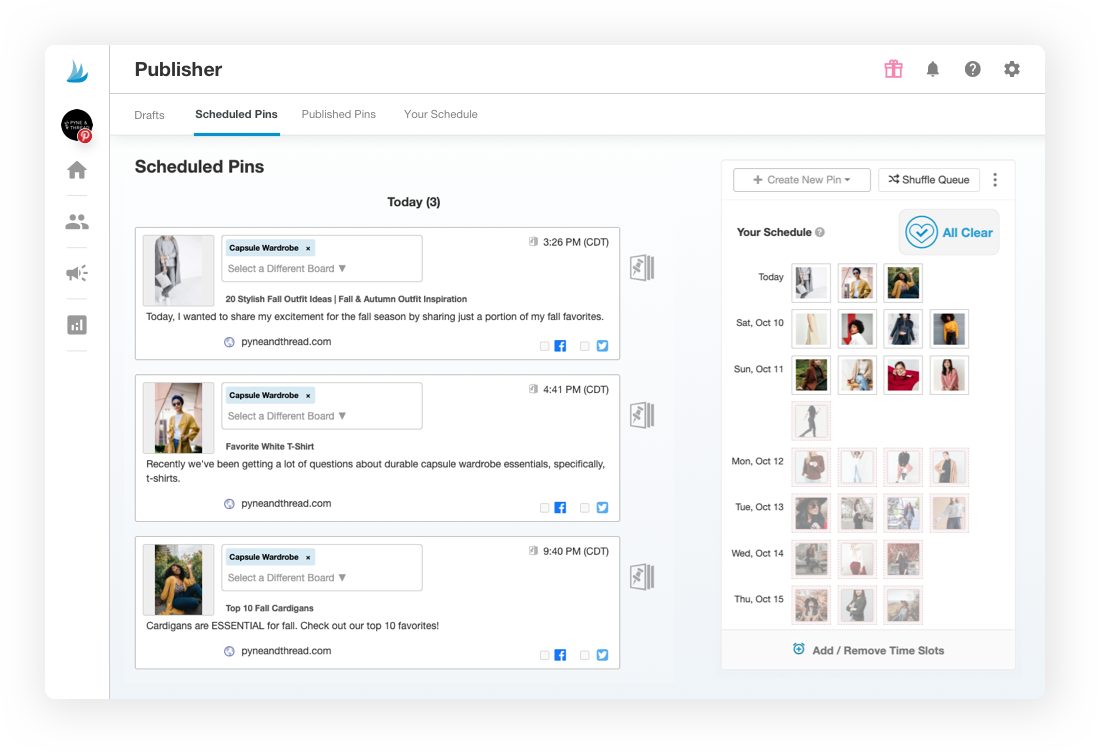 Soon, Tailwind expanded to support Facebook and Instagram scheduling, too. As you schedule and publish content, Tailwind will measure your results in real-time so you can tweak your strategy accordingly.
Key features of Tailwind
Content discovery
Post scheduling
Conversation tracking
Analytics and reporting
Pinterest content recommendations
Pinterest content promotion
Pinterest monitoring and trends
Instagram hashtag monitoring
Instagram UGC content management
Instagram listening
Pricing: 14-day free trial. Free forever plan. Paid plans start at $9.99/month (Pro), $19.99/month (Advanced), and $39.99/month (Max), billed annually.
Who's it for: Agencies
Pallyy is a social media scheduler that makes it easier for businesses to schedule visual social media content. This tool supports popular networks, such as Facebook, Instagram, Twitter, Pinterest, and TikTok.
Pally comes with extra features for Instagram users. This includes a grid layout for visual post planning, comment management, hashtag lists and a link in bio tool.
Pallyy also provides analytics data for some popular social networks like Facebook and Instagram.
Key features of Pallyy
Drag & drop social media calendar
Media library
Customizable templates
Canva integration
Pricing: 14-day free trial. Free forever plan. The premium plan costs $13.50/month, billed annually.