Just like with any other social media platform, getting verified on TikTok can improve your brand's credibility and positively affect how people see your brand.
The blue checkmark next to your TikTok username can give you more authenticity and street cred — it tells your audience that you're the real thing.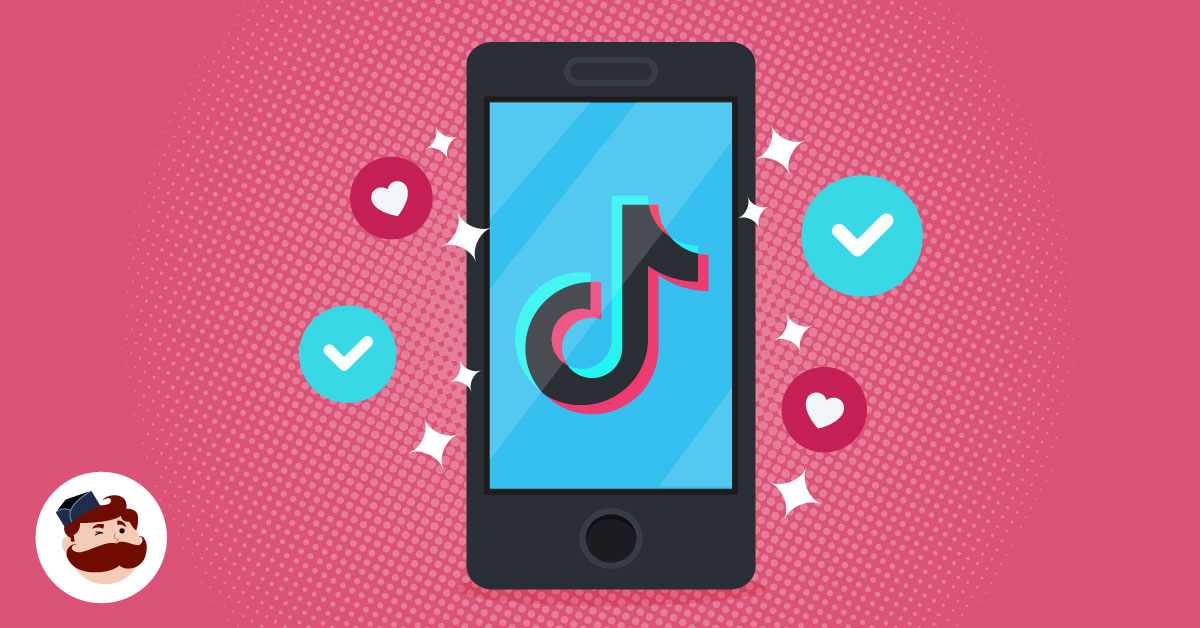 It's not that easy to get verified on social media — especially on TikTok. But it's not impossible either. In this piece, we'll discuss what it means to be verified on TikTok, why you should give it a go, and the steps to take to get that coveted blue check mark.
What is TikTok verification?
TikTok verification is the process of obtaining a badge that tells other users on the platform that an account belongs to the user, artist, or organization it represents. It is primarily used by public figures to confirm the authenticity of their TikTok accounts and distinguish themselves from impostor and fan accounts.
How many followers do you need to get verified on TikTok?
TikTok doesn't have a follower threshold you have to cross to get your account verified.
What TikTok does have is a strict—and secret—system of verification. Unlike other platforms, you can't request verification on TikTok, and there are no magic numbers or stats you must have to automatically get a blue tick. In fact, there are some accounts with thousands of followers that aren't verified yet.
TikTok's Creator Launch team proactively seeks out creators that publish high-quality, popular content, and rewards them with the checkmark. But if you're not popular, there are some things you can do to increase your chances of being noticed by TikTok's team.
How to get verified on TikTok
Apart from being popular, there aren't really any shortcuts to getting verified on TikTok. And if anybody asks you to pay money to get a checkmark, ignore them. You're being scammed! You can't buy a TikTok verification badge.
The good news is there are some tips that will help your account get selected by the TikTok overlords.
1. Find your niche
To establish a brand on TikTok, you need to post engaging content about a particular topic (or niche) consistently. Once you become known as a creator in that niche, it would be easier to attract and retain followers.
As you produce content, pay attention to challenges, hashtags, and even the music/sounds that are popular on TikTok. These things change often, but it pays to participate in trending challenges, and use trending music in your content. Capitalizing on the popularity of these things can help you reach more people and grow your follower base.

Once you have a good number of videos on your page, you'll want to analyze the performance of your content. What kinds of videos are performing well, and which ones aren't? This will help you figure out the sort of content people expect from you and the posting times that work well for your brand.
2. Publish viral content
You might have noticed that most TikTok accounts had at least one viral video before they got verified. When your content goes viral, it will appear on TikTok's "For You" page, which can alert TikTok's team to your account.
TikTok considers engagement rate and high activity when looking for accounts to verify. So if your post gets a lot of engagement, your chances of getting on TikTok's team's radar increase.
Now, there isn't a formula for going viral on TikTok, but here are some things you can do:
Be creative. Your video has to catch the attention of TikTok users within the first few seconds. To achieve that, you have to let your creative juices flow.
Tell a story. Dancing videos are great, but not everyone's a dancer. So instead of dancing, you can explain real-life situations with funny dialogue, and/or trending music and sounds.
Make short videos. TikTok evaluates the average watch time length when dishing out blue ticks. Viewers are more likely to watch a 10-second video in its entirety than a 60-second one.
Engage with your audience. Reply to comments on your videos. Follow people you want to collaborate with in the future. With every post, try to create a community.
3. Get featured in the media
Getting media coverage can further boost your TikTok profile. Whether it's a mention in an article or a guest appearance on a podcast or YouTube video, highlighting your media coverage can lend credibility to your TikTok profile and bring traction to your videos.
So work on getting into those spaces. Don't be afraid to approach other content creators for collaborations. Follow relevant trending topics. If people want to hear your thoughts on the latest happenings in your industry, there's a higher chance that you'd be featured in other media platforms.
4. Get verified on other social media platforms
Getting verified on other social media platforms like Facebook and Instagram can signal to TikTok that your account is worthy of the blue checkmark. Unlike TikTok, you can apply for verification on these platforms.
Each of these platforms have its own criteria you must meet to get verified.
Facebook verifies accounts that officially represent a brand.
Instagram usually verifies popular accounts that are likely to be impersonated.
Twitter verifies popular and active accounts that belong to one of six different categories. Sometimes, you may have to provide proof of authenticity.
If you are not verified on your other social media accounts, get cracking on those application processes. While you're at it, connect these other accounts to your TikTok account.
4. Follow the guidelines
Like any other social media platform, TikTok looks out for accounts that violate its rules and community guidelines. Accounts that don't follow the terms of service and community guidelines get flagged. Getting a flag on your TikTok account can ruin your chances of getting verified.
5. Don't focus (too much) on getting verified
I know this sounds counterintuitive, but the truth is: a blue checkmark is not really the thing to work towards. It's actually a consequence of striving to make high-quality, engaging, and relevant content for your audience.
So, as you create content, don't sacrifice having fun for a blue tick. If you follow these steps, you'll get there eventually.
3 benefits of getting TikTok verified
1. Exposure
TikTok's algorithm favors verified accounts. This means that accounts with a blue checkmark are more likely to appear on your For You page. This exposure results in increased followers and engagement.
2. Authenticity
A blue tick next to your TikTok username shows that TikTok has confirmed your identity. This makes it easy for potential followers to differentiate between your real account and impostor accounts.
3. Trustworthiness
When your TikTok account is verified, you're more likely to gain the trust of other creators with verified accounts. This means that your favorite influencers and celebrities on TikTok may actually interact with your posts. They might even reply to your requests for collaborations and partnerships.
Grow your presence on TikTok (and other social platforms) with Hootsuite. From a single dashboard, you can schedule and publish posts, interact with your audience and easily measure your performance. Try Hootsuite for free today.