The Beginner's Guide to Facebook Advertising

Chapter 3
A Breakdown of Facebook Ad Types
A Breakdown of Facebook Ad Types
In Chapter 3 of our Facebook Ads Guide, we're going to discover all the different Facebook ad types.
You'll find the answers to the following questions:
What basic ad formats are there on Facebook?
What Facebook ad types can I make from my Facebook Page?
What Facebook ad types can I make from my Ads Manager?
How can I use each Facebook ad type for my advertising goals?
By understanding your Facebook ad format and ad type options, you can design Facebook ads that cater to your specific audience and marketing goals — and make the most out of your Facebook advertising experience.
Basic ad formats
A Facebook ad format is the basic layout of your ad: a single image with text, a video, a full-screen interactive experience, etc. There are only seven basic ad formats, but with these seven, you can design a huge number of ad types aimed at different advertising objectives.
In the section below, we will introduce the seven ad formats before expanding into the many ad types that you can make with them.
Facebook ad types
Ads on Facebook are created based on objectives like brand awareness, conversions or leads. Each of these objectives has a corresponding ad designed to accomplish that goal; these are called ad types.
In this next section, we will go over the ad types you can make on Facebook. We have divided them based on where you make these ad types. With Facebook advertising, you can create ads in two places:
Your Facebook Page
Your Ads Manager
Typically, the ad creator on your Facebook Page is focused on simplicity and speed, whereas the Ads Manager ad creator allows you to go more in-depth. Understanding what you can do on both of these platforms is key to making ads on Facebook.
Ads created from your Facebook Page
The easiest way to make Facebook ads is directly from your Facebook Page. Just click on the Promote button, and you can start the process of getting your brand and products out there. You cannot create all ads from your Facebook Page, but you can create:
Boosted posts
Page Likes ads
Website Visitors ads
Website Purchases ads
Automated ads
Lead ads
Event ads
As you can also make lead ads and event ads on the Ads Manager, we will look at those ad types in the next section.
Boosted Posts
Every time you post something on your Facebook Page, Facebook offers you the chance to amplify the post's reach with a Boosted Post.
After you click on Promote, just choose Boost a Post to get your post in front of more people across Facebook's advertising network.
The Boosted Post will look exactly like an ordinary Facebook post, with a Sponsored note on top of the ad.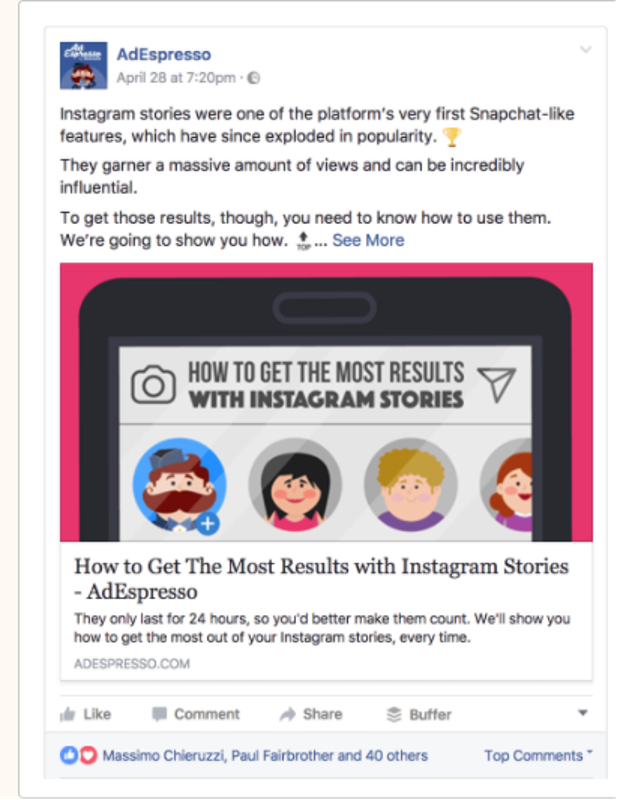 Page Likes ads
Page Likes ads are the go-to option for increasing your page likes. They can be displayed on all placements and include a visible CTA (call to action) that allows readers to immediately like your page.
You can make a Page Likes ad by clicking on the Promote My Page option on the Promote menu.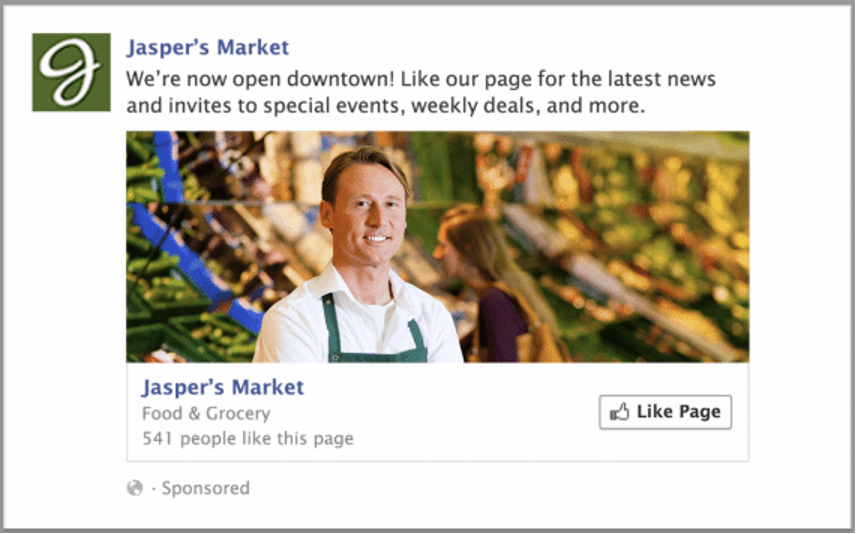 Website visitors ads
This ad type helps to promote your external website by sending people to your landing pages or blog posts. You can use website visitors ads across several placements, allowing you to reach a large audience.
You can make a website visitors ad by clicking on the Get More Website Visitors option on the Promote menu.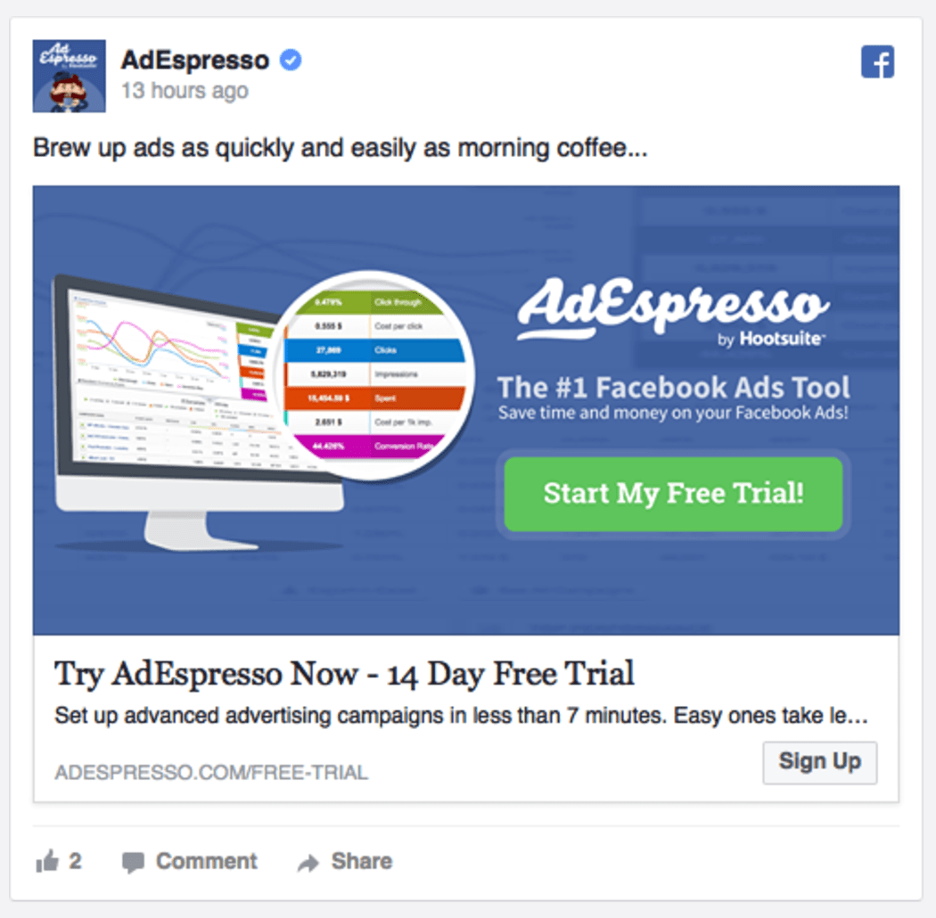 Website purchases ads
The website purchases ad uses your Facebook pixel data to target ads at people who have already shown an interest in the products on your website.
Before you use these ads, you'll need to set up your Facebook pixel so it can collect all of the data that you'll need.
You can make a website purchases ad by clicking on the Get More Website Purchases option on the Promote menu.
Automated ads
An automated ad is a perfect balance between a simple page boost and a full-fledged marketing campaign organized from your Ads Manager. Instead of having you do everything, the automated ad walks you through the process, using AI to help you get the most out of your targeting, placements, and ad budget.
You can make an automated ad by clicking on the Get Started With Automated Ads option on the Promote menu.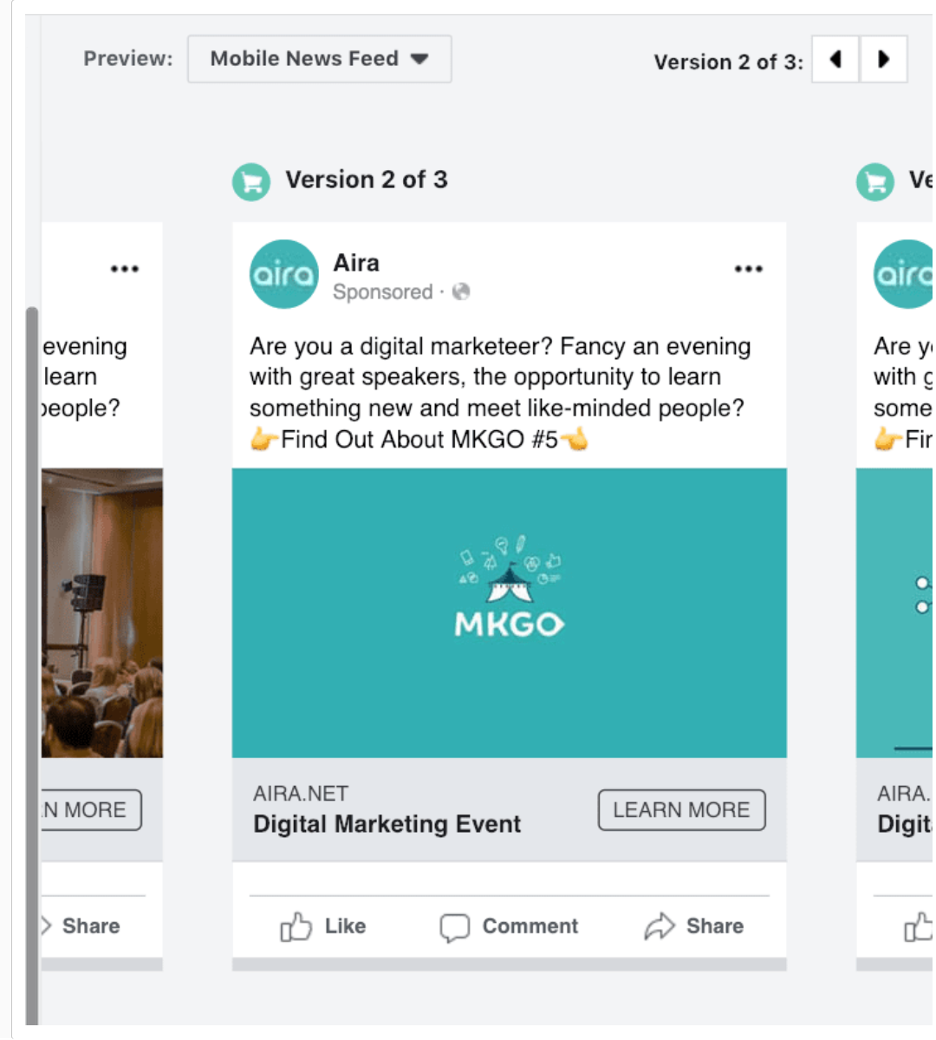 Messenger Ads
Supported placements: Messenger Inbox Messenger Stories
Messenger ads appear in the main tab of Facebook messenger, where people spend time chatting with friends.
A user will see your ad in the inbox amongst their conversations, and can click to initiate a Facebook conversation with your page.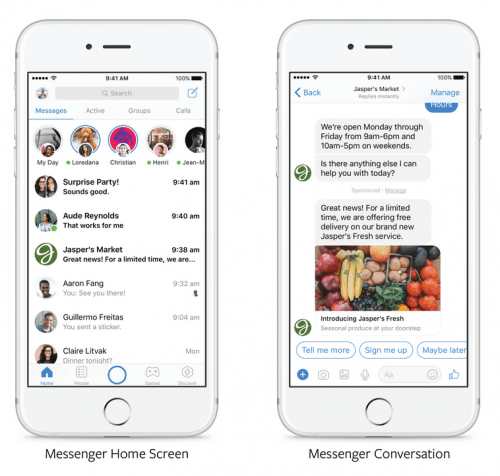 Specs:
Recommended image size: 1,200 x 628 pixels
Minimum width 254 x 133
Image ratio: 1.9:1
Text: 125 characters
Headline: 25 characters
Description: 30 characters
Ads created from your Ads Manager
The Ads Manager that we set up in Chapter 2 is the other place to design ads on Facebook. Ads Manager has more options compared to your Facebook Page. Also, if you want to create custom audiences or catalogs, that'll need to be done through Ads Manager, making this more of a one-stop-shop for all of your Facebook ad needs.
When creating from the Ads Manager, you can make:
Event ads (also available from your Facebook Page)
Offer ads
Lead ads (also available from your Facebook Page)
Dynamic creative ads
Dynamic ads
Mobile app ads
As you've seen, Facebook has a very broad offering of ad formats and ad types that can meet the needs of any business. Whenever possible, we suggest you test different ad formats and see which ones perform better for you. This will deliver the best results at the lowest cost.
For a complete overview of all Facebook ad types and specs, see this guide by Facebook.
Now that you have a clear idea of what you can advertise on Facebook, let's move on to Chapter 4 and learn how to bring each and every Facebook ad type to life with stunning ad designs and compelling ad copy!