Good advertising takes time, but maybe not as much as it once did. Technology allows us to streamline nearly every part of marketing, and advertising on social media is no exception. Meet Facebook Automated Ads, the automated ad creation system powered by AI and data at the world's largest social network.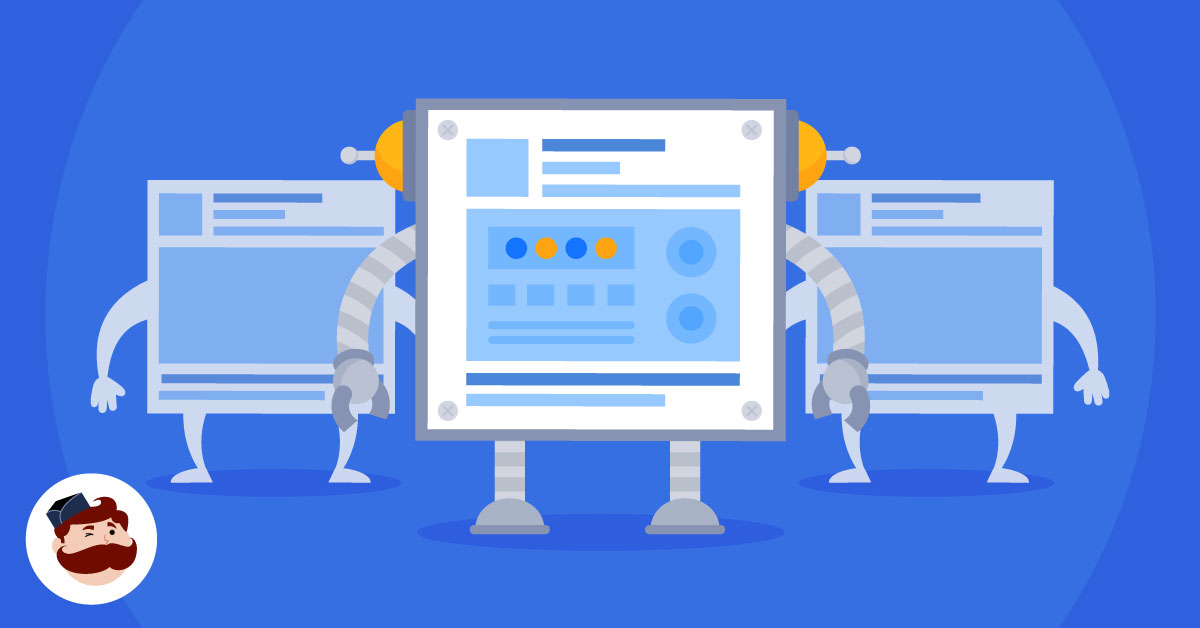 This article has everything you need to know about Facebook Automated Ads: what they are, how they work and whether they are right for you.
Facebook Automated Ads make Facebook marketing easy and effective. They don't require a complicated setup and technical know-how. Instead, Facebook Automated Ads reduce the ad creation process to answering a few simple questions about your business, inserting ad copy and images, and signing off on the finished product.
If you're looking to move past the Boost button and start driving more conversions for your business with minimal setup time, Facebook Automated Ads could just be what you've been looking for.
What are Facebook Automated Ads?
Facebook Automated Ads are ads created through a simplified process that uses AI and offers limited customization to make ad creation as easy as possible for users.
Using Facebook Automated Ads is like having a professional advertising expert leaning over your shoulder, helping you create the most effective Facebook ad campaign that you possibly can. It won't do everything for you, but it will take your ad goals, copy and design, and offer suggestions on what you should do to set your campaigns up for success.
Automated Ads can help you with your Facebook ad campaigns by:
Creating multiple versions of your ad for A/B testing
Giving you personalized ad recommendations from Facebook's AI
Helping you select your audience and budget based on your business and marketing goals
Providing campaign tracking metrics so you can understand how your ads are performing
Suggesting ongoing ad optimizations to improve your campaign as it runs
Automated ads hit that sweet spot of putting you in control of the creative process while guiding you towards the best outcome.
How do you set up Facebook Automated Ads?
You can set up Facebook Automated Ads by going to your Facebook Page and clicking the Promote button.

Next, you want to select Get Started With Automated Ads from the Choose a Goal menu.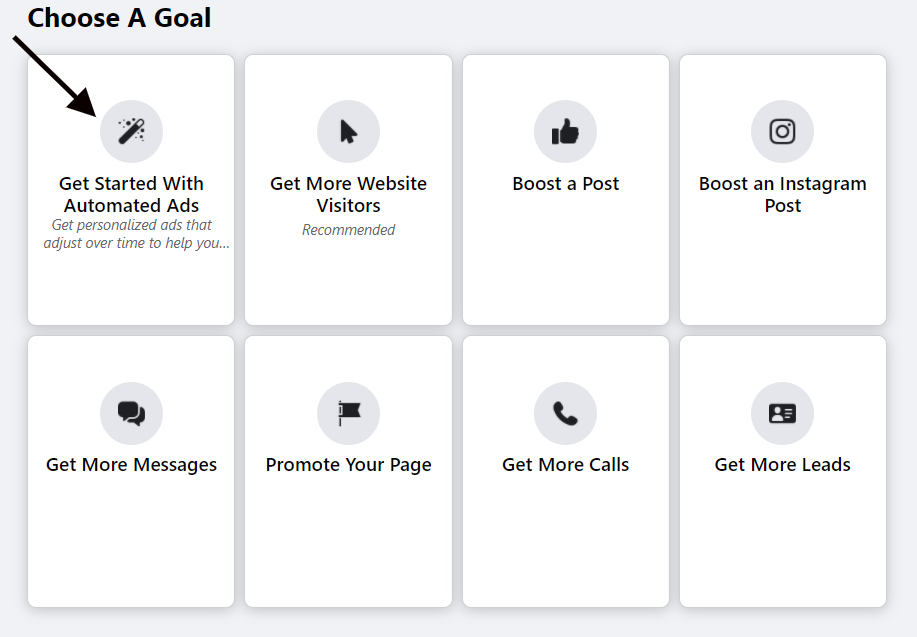 If you have multiple Facebook ad accounts, use the drop-down menu to pick the one you want to create an ad campaign for. Then, click Get Started.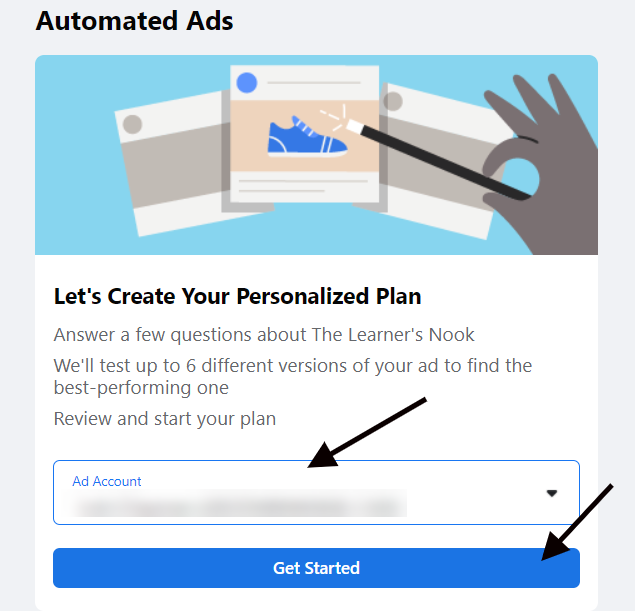 Now, you are going to answer some basic questions about your business.
These questions are pretty straightforward and are there to help Facebook understand how your business works so it can offer you the best advice it can.
With most of the questions, you can simply answer yes or no. For the question regarding interests, you are allowed to add ten interests that best represent your audience.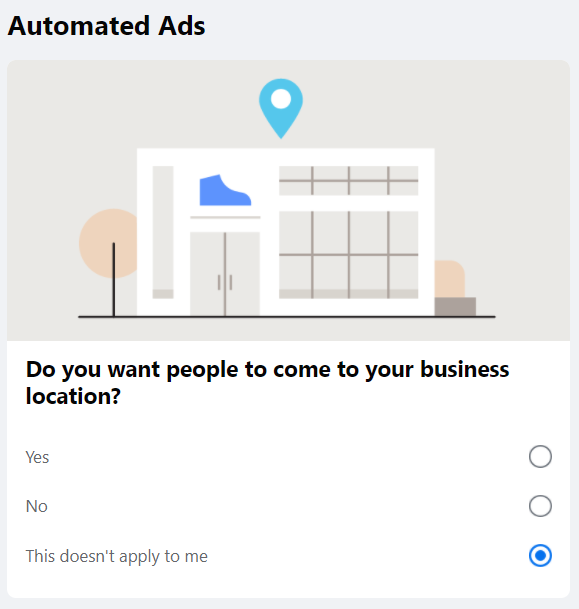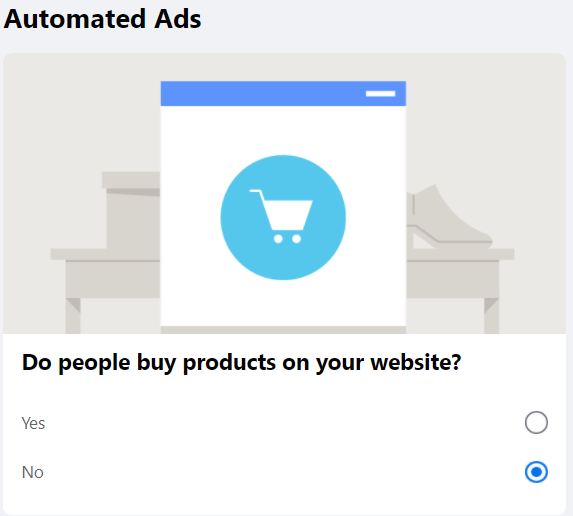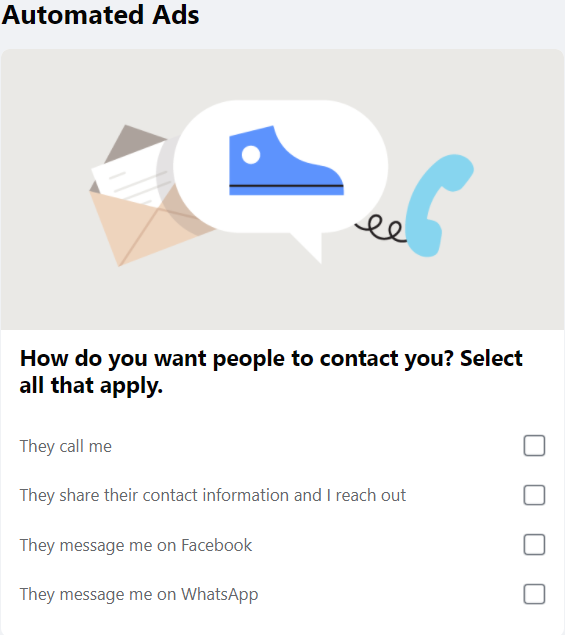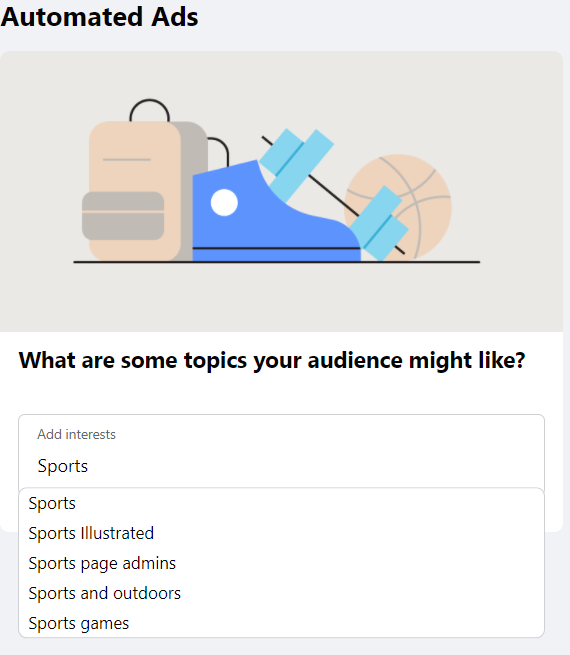 For the next section, you'll need to pick the different ad versions you would like Facebook to test and use.
You can choose up to six images. You can upload them, select from previously used photos from your Facebook or Instagram, or browse through stock images.
If you are unsure about what makes for a good Facebook ad image, you can read Facebook's advice or our expert take on ad design.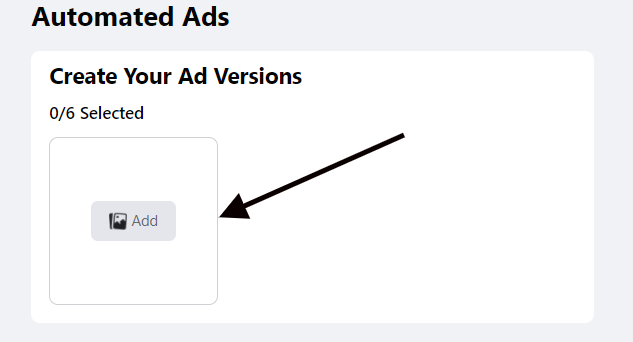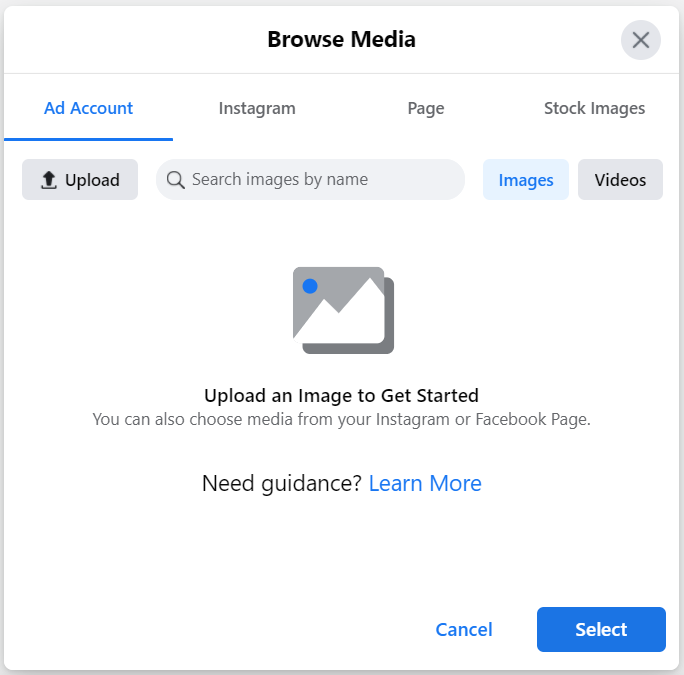 You are now on the final page, where you need to finalize what your ads will look like.
The first step on this page is to choose the goal for your ad campaign.
You can choose from:
Get more leads
Get more bookings
Get more traffic
Based on your answers in the previous steps, Facebook will recommend a goal for your campaign (see the star in the image below), but you are free to change it if it doesn't fit with what you need.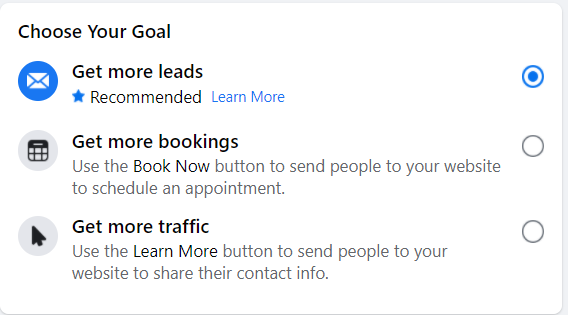 If you choose Get more leads, you will also have to fill in the lead form that will be used in your ad. You can select from saved forms or make a new one specifically for this ad campaign.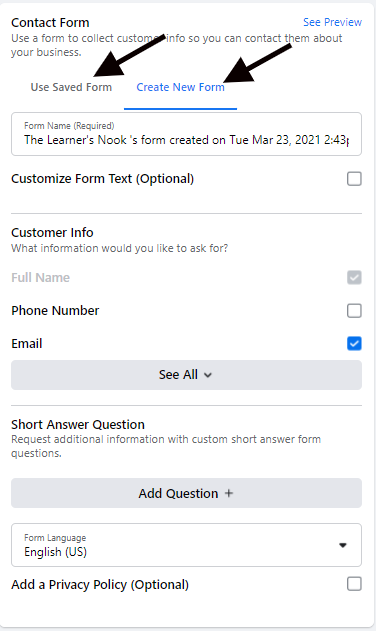 Next, you want to make sure that your ad design is right. To do that, click on each ad version to see a preview.
You can edit:
the image
the headline
the description
the button label (call to action)
You can also see a live preview of your changes on the right.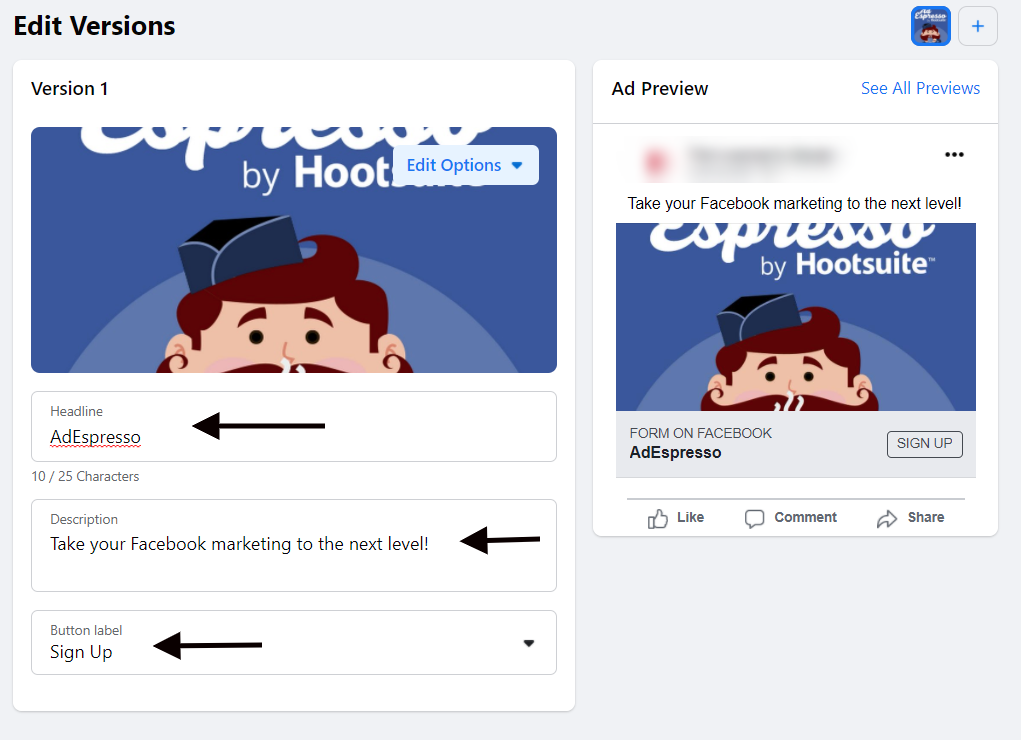 Finally, you'll confirm the ad settings for this ad campaign.
This includes:
Facebook will automatically select suggested ad settings for you, but you can make adjustments as needed. Campaign duration is not editable, but you are free to turn off the automatic ad campaign whenever you want after it has started.
When you are happy with your Facebook Automated Ads campaign, click Promote Now, and you're done.
Why choose Facebook Automated Ads?
In terms of effectiveness and ease of use, Facebook Automated Ads fall right between boosted posts and actual ads.
They don't require the work and experience that Facebook ads require, but they do give you more control than a simple boosted post:
| | | |
| --- | --- | --- |
| Boosted Posts | Automated Ads | Facebook Ads |
| | | |
| | | Setup can take a long time |
| Only for awareness campaigns | Only for leads, bookings or traffic | Can be optimized for many different goals |
| | Custom targeting with automated suggestions | |
Automated Ads are the perfect choice for people who do not have the time or experience to make Facebook ads themselves.
They offer more customization than boosted posts and a lower risk of wasting your money than poorly optimized manually set up Facebook ads.
While regular Facebook ads require you to choose from 11 different objectives, Automated Ads only offer 3 options (and Facebook recommends one for you).
Regular Facebook Ads have the option to create custom audiences based on customer lists, website data, etc. Automated Ads simplify this process by giving you a preset audience with the option of customizing it to your own preferences.
In general, Automated Ads guide users through the technical aspects of ad creation, making it easier for new ad creators to get the most out of Facebook ads without getting too overwhelmed by the details.
People who are already making Facebook ads probably won't need Automated Ads. But if you are looking to take that next step past Boosted Posts, then Automated Ads will be the perfect solution for you.
Other Facebook ad automation tools in AdEspresso
While Facebook Automated Ads do make advertising easier and more effective, the process of setting up customized ads can be simplified even further with AdEspresso.
Use AdEspresso to:
Split test multiple variations of your ad. Facebook only lets you test 6 versions of your ad at a time. With AdEspresso, you can upload multiple images, copy, headers and audiences, and let our split test system mix and match them, track the results and tell you which one is the most effective.
Use Grid Composer to easily make ads targeted at different audiences. With Grid Composer, you can add custom fields to select ads. For example, if you want to make a variation of an ad for each of your hotels across every city in the country, you can do so without spending weeks creating individual ads. Simply upload a city custom field, add the locations and let our system build the ads for you.
Take advantage of Dynamic Ads. With AdEspresso, you can automatically create targeted ads for individual users with Dynamic Ads. Upload your product catalog and your audience, and start a retargeting campaign across Facebook, Instagram and Google.
With tools for quick and intuitive ad creation, AdEspresso helps anyone run effective and affordable ad campaigns across not just Facebook, but much of the internet, too.
Are Facebook Automated Ads right for you?
Facebook Automated Ads are the perfect choice for people who are just getting started with Facebook ads and don't have the time or experience to set up custom Facebook ad campaigns themselves.
They won't be replacing custom Facebook ads anytime soon, but they are ideal for businesses that have had to rely on boosted posts. With more campaign objectives, targeting and editing options, Automated Ads make targeted Facebook marketing possible for anyone willing to give it a try.
But just because you don't know how to run a Facebook ad campaign now doesn't mean that you can't learn! Head over to the AdEspresso Academy to learn everything you need to know to build your very own Facebook ad campaigns — and, eventually, step up from Automated Ads to custom ad campaigns on Facebook.