Global ecommerce sales are expected to reach $5.5 trillion worldwide in 2022. This figure is expected to continue increasing over the next few years, proving that selling online is an increasingly lucrative business model.
However, selling online is not limited to online stores and shopping platforms like Shopify and Woocommerce. Selling directly on social media is a great — and more direct — way of reaching consumers.
This is social commerce. If you want to take advantage of this new, but lucrative revenue opportunity, please read on.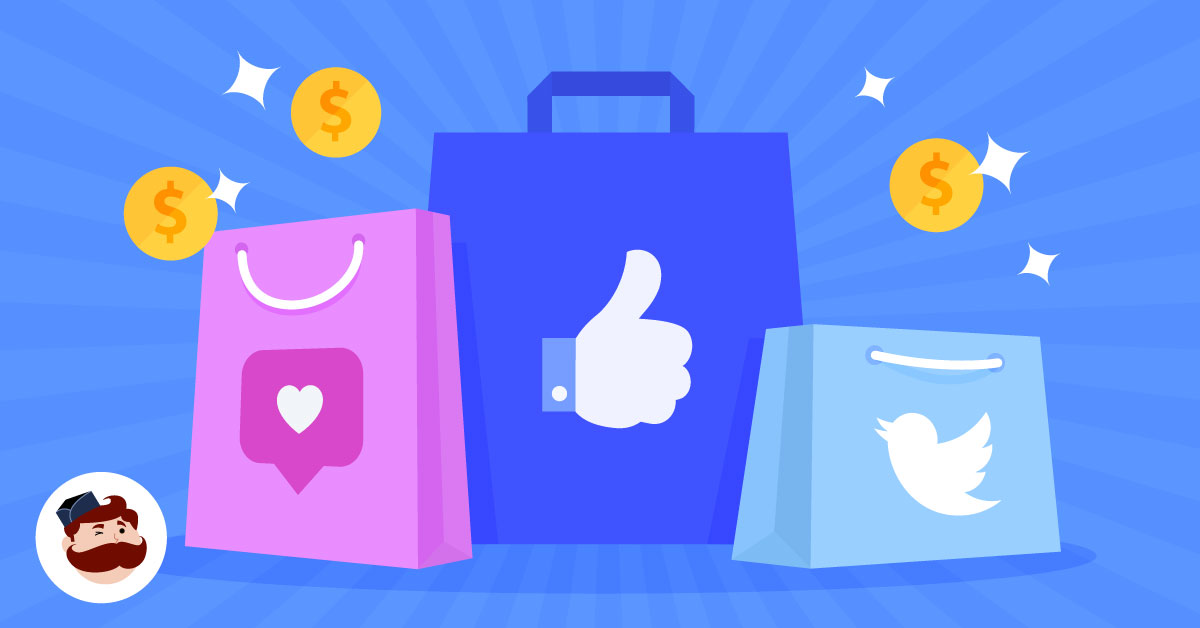 In this piece, we'll do a complete breakdown of social commerce:
what it is
how it differs from ecommerce
why you should try it
the best platforms to use
tips for making big bucks from social commerce
What is social commerce?
Social commerce is the process of buying and selling products or services directly within a social media platform.
This business model transforms social networks from just a point of product discovery by making it possible for social media users to seamlessly complete the entire buying process without moving to a different app or web page.
Right now, platforms like Facebook, Instagram, and TikTok have built-in social commerce features.
Here's how social commerce works:
You may be scrolling through your Instagram feed and see a pair of army green cargo pants you'd really love to cop. Near the image of the pants, you'll see a "Shop Now" button. When you click on it, the pants will automatically be added to your cart and you'll be able to checkout and complete the purchase right there on Instagram without needing to visit the company's website.
Or you could spot a lightning-fast, portable smoothie blender that your favorite fitness influencer is promoting on TikTok, and click "Buy". After paying for the blender, you can continue watching TikTok videos without any interruptions.
Pretty convenient, eh?
Now imagine being a business owner and selling your products right on the social platforms that your audience hangs out on the most.
Social commerce vs. ecommerce: What's the difference?
Social commerce and ecommerce are often used interchangeably but they're not the same thing.
ecommerce is a broad term that refers to the buying and selling of goods from an online store, ecommerce site, or branded app. Social media, on the other hand, allows customers to purchase goods and services within social media platforms, without ever having to leave.
Another misconception is that social commerce is the same as social selling. It's not. Social selling is the act of building relationships on social media to get more prospects. Check out this Hootsuite article to learn more about social selling.
5 reasons why you should try social commerce
If you're not sure if you should set up a shop on social media, here are five reasons why you should give it a shot.
1. Social commerce makes the shopping process more interactive
Shopping for products and services on social media is smoother and more interactive than a typical ecommerce buy.
With social commerce, shoppers can easily comment on a product they're interested in, review (and leave) comments, consult with their friends on potential purchases, and interact directly with their favorite brands.
Social commerce is just like shopping in a physical mall, except it's online.
2. Millennials and Gen Z like to shop on social media
If you're targeting people in the 18-34 age bracket, you'll find them on social media. Statista reports that 62% of people between the ages of 18 and 34 made a purchase as a result of branded social posts and/or content shared by influencers. If you realize that your products are well suited to people in this age bracket, try setting up a shop on their favorite social platform.
With a bit of marketing, you'll be able to get your products in front of their eyes and make some (or many) sales.
3. Social commerce removes friction
The beautiful thing about social commerce is that it removes all the drop points that exist in the typical ecommerce experience.
With regular ecommerce, the purchase process looks like this: A consumer sees your ad, visits your website, adds the product to a shopping cart, fills in their credit info, and checks out. This is a long process that gives the consumer many chances to change their mind about buying your product.
With social commerce, all a buyer has to do after spotting a product they like is to click on it and buy it. That's all. Social commerce makes it easy to move from product discovery to purchase, and reduces the chances of cart abandonment.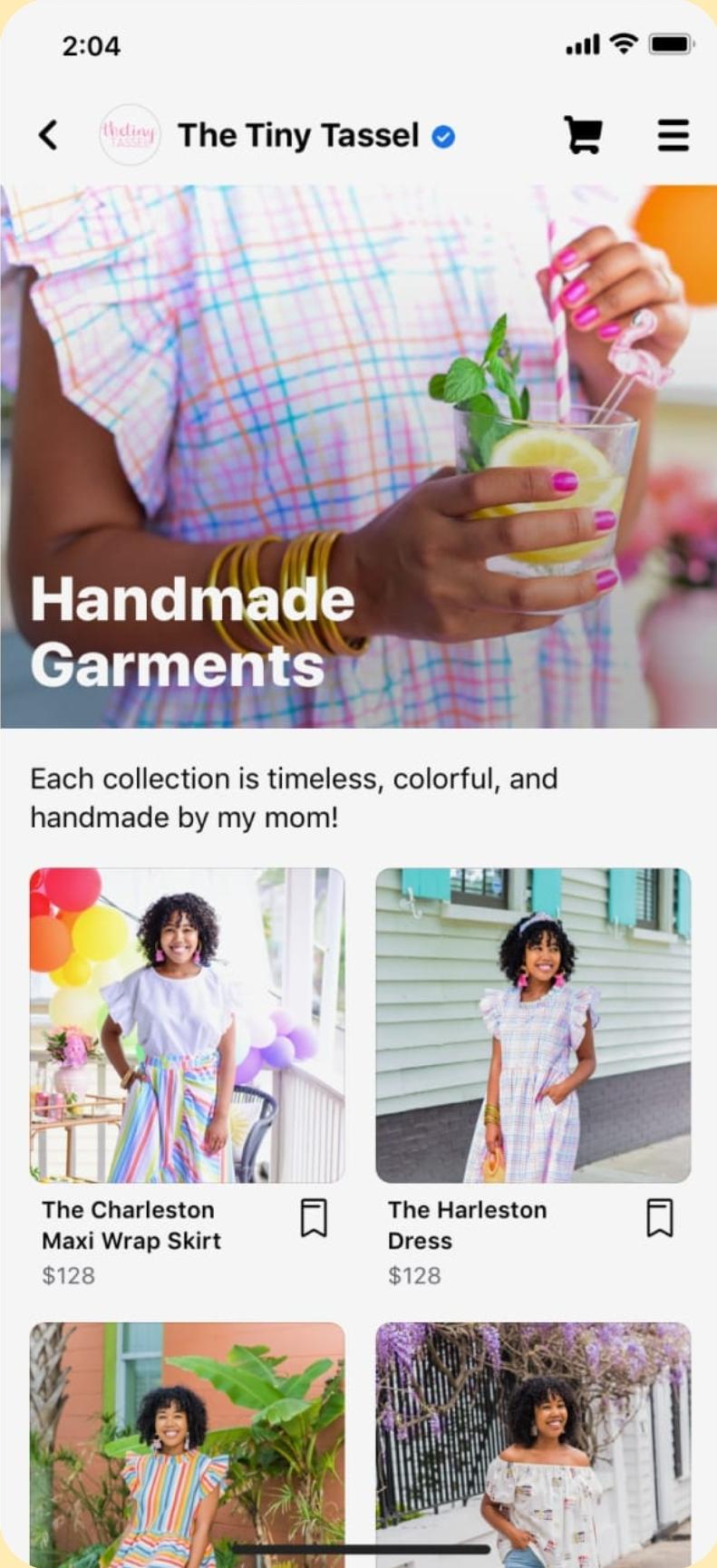 Source: Facebook
4. Social commerce automatically offers you a (free and easy) focus group
Apart from speeding up the purchase process, social commerce also offers you a great way to collect feedback from customers.
It's really easy, too. Since your products are already out there on social platforms, customers can review it and tell you what they like (or don't like).
Since you know exactly who your customers are and you're able to interact directly with them via comments or DM, you can just ask them to share their opinions on your product ideation, development, and inventory decisions.
5. You can sell directly to highly targeted audiences
Social media is a goldmine of customer data. And with access to that data, you can target your adverts to reach people who are actively interested in your offer.
Social commerce gives you the chance to put your ready-to-buy products in front of people who want them in a way that ecommerce cannot. This way, you can drive more sales and generate as much revenue as possible.
The best social media platforms for social commerce
Right now, there are five social media platforms that offer social commerce features: Facebook, Instagram, Pinterest, TikTok, and Snapchat. But as social shoppers and revenue increase, more platforms will likely add the "Shop Now" or "Buy" buttons to their features.
If you're interested in using this profitable business model, here are the social platforms you should try:
1. Facebook
Facebook's social commerce feature is called Facebook Shops. With Facebook Shops, you can easily sell your goods to your target audience. You can also supplement your Shop by sharing updates and interacting with fans via your Facebook Business Page.
Facebook Shops are not only free to set up, but they're also customizable. You can choose which products or collections to feature, and the fonts, colors, and images you want to use for your branding.
You can either create a catalog from scratch or import an existing catalog of products from your website or online store. If you have a store on an ecommerce store that is supported as a partner platform, you can sync your inventory list to Facebook in seconds. If not, you can upload your product information via a spreadsheet.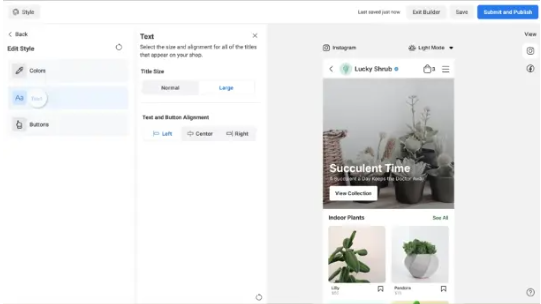 Your Facebook Shop will be accessible from your Page, Instagram profile, posts, shopping ads, and Stories. When it's time for people to convert, you can let your customers do an in-app checkout, go to your website or directly chat with your business via Messenger.
Another great thing about Facebook Shops is that you can set up a temporary shop to test out adding items, managing orders, and what the customer experience would look like in a real Shop.
Once you start selling on Facebook, you might notice your DMs and comment sections flooding with inquiries from your customers about your product and shipping. Replying to these messages individually can be strenuous and time-consuming. To save time while making sure that you replied to everyone, use an AI-powered customer service chatbot like Heyday.
This chatbot can answer repetitive questions for you right in Facebook Messenger, and mark messages that require answers from an actual person.
Check out this Hootsuite guide to learn how to set up your own Facebook Shops.
2. Instagram
Like Facebook Shops, Instagram Shops allow users to purchase products that you feature in your photos or videos right inside the app.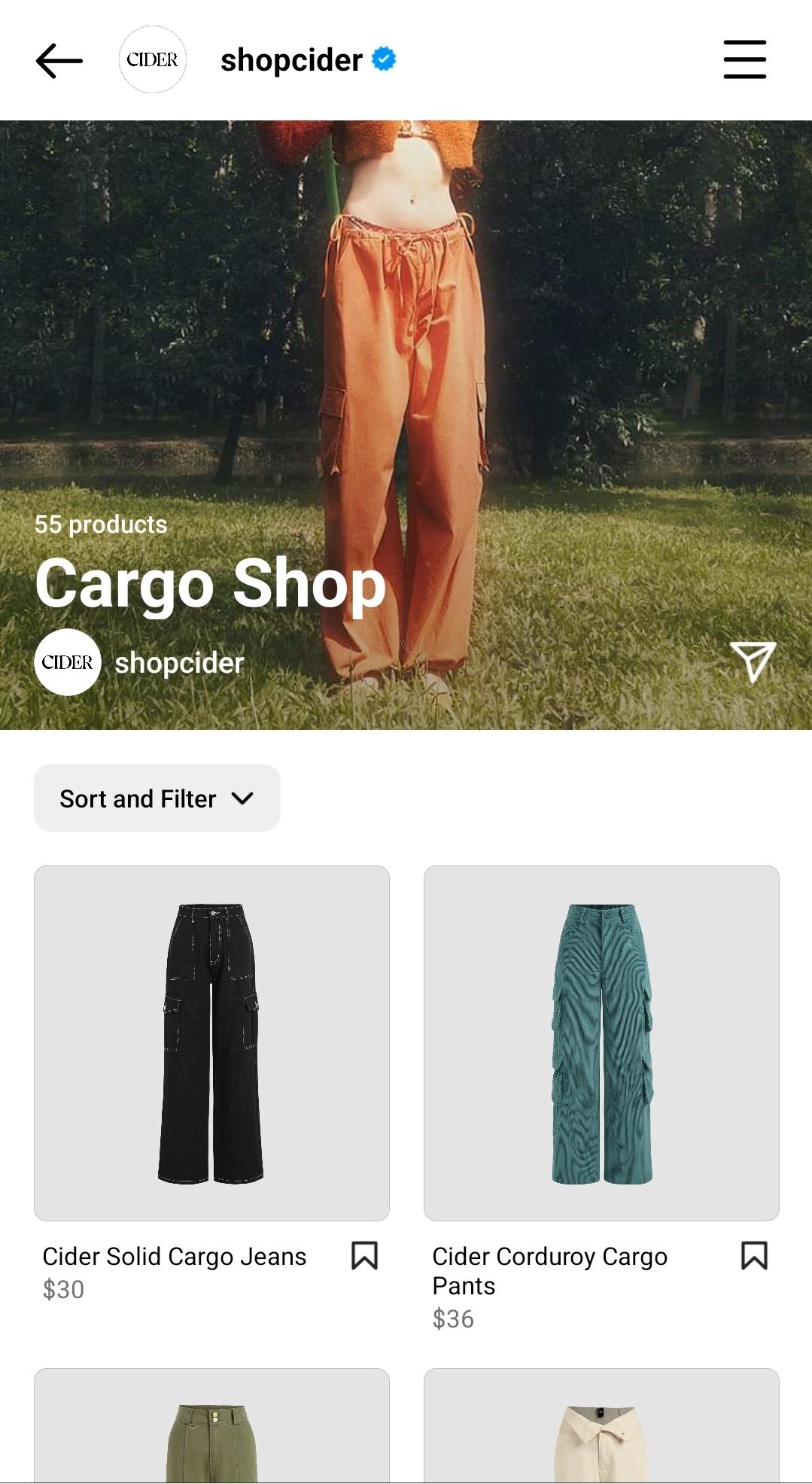 To set up an Instagram Shop, you need to link your Instagram business account to your Facebook business profile. Once you do that, you can set up a customizable store that acts as a collection of available products. Each product in your IG Shop will have its own product detail page that contains information about the product itself, pricing, and media.
There are many ways to sell on Instagram. Some of them are:
Use Shopping Tags. These allow businesses to tag their products in their posts or Stories. If your brand is U.S.-based, you'll also be able to highlight products in your bio and post captions.
Use the dedicated Shop tab. Here, users can look for, save, and purchase products tagged by content creators in influencer marketing campaigns or listed by businesses.
Create an as with the Shop tab placed inside it. This ad will have a "Sponsored" label and act like any other product listing in users' feeds.
Recently, Meta introduced a feature that makes it possible for people to shop through DMs.
To learn more about how to set up an Instagram Shop, check out this video:
3. Pinterest
Back in 2015, Pinterest was one of the first social platforms to provide a way for users to buy and sell products. They did this through regular pins that have fields for availability and pricing information. However, these pins aren't direct social commerce features because they redirect users to a product-centered landing page to complete the sale.
If you have a Pinterest business account, you'll be able to create Product Pins, which are displayed in your Pinterest Shop. If your customer lives in the U.S., they can click on the "Buy" button below a pin and complete their purchase without having to leave the app.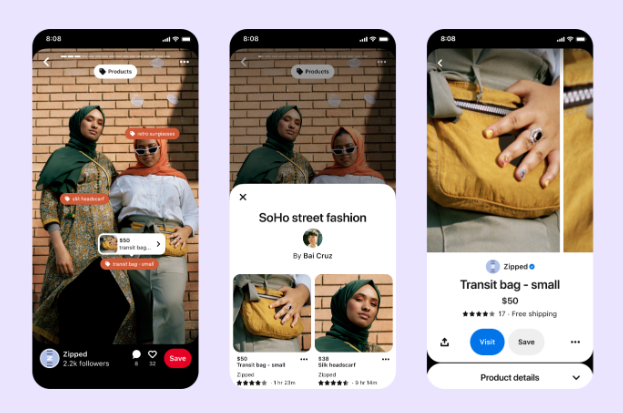 Source: Techcrunch
But customers outside the U.S. cannot purchase products within the app. Instead, they'll be redirected to an online store to complete their purchase. This might not be strictly social commerce across the globe, but that doesn't change the fact that 89% of Pinterest users are there to find things to buy. And the fact that Pinterest is a powerful search engine definitely makes that easier.
To make the most out of your Pinterest account, this Hootsuite post outlines eight business strategies to implement.
4. TikTok
Have you ever seen the hashtag, #TikTokMadeMeBuyIt?
This hashtag, which is used by users to show what they've purchased thanks to recommendations on TikTok, has been used 7 billion times. So if you have seen it, then you know that selling your products on TikTok is a no-brainer if you want to stay relevant with your audience.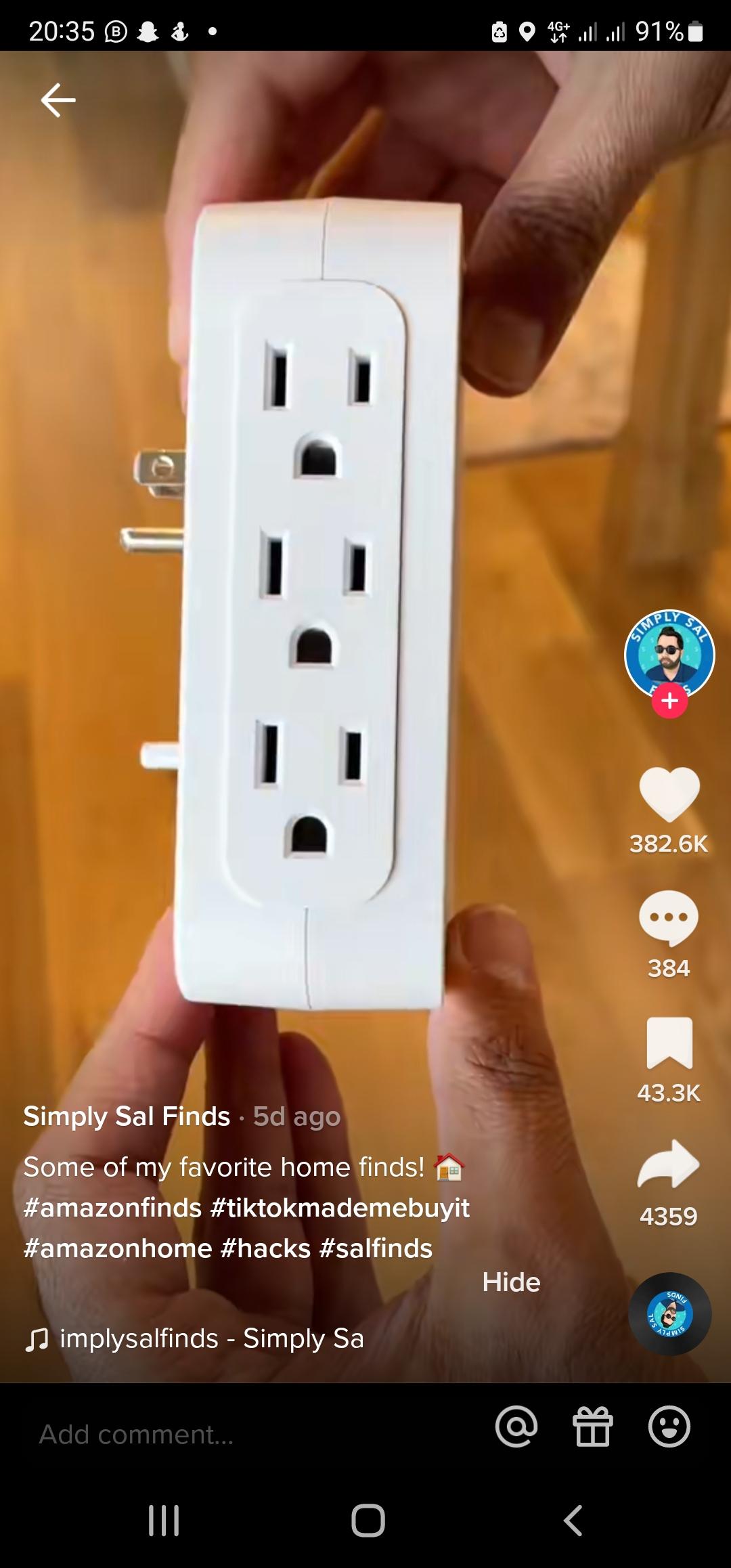 There are three ways to sell your products on TikTok Shop:
In-feed videos
Product showcase tab
LIVEs
Note: Recently, the social app canceled plans to expand TikTok Shop beyond the North American market, but it's still available in the UK and Asia.
5 tips (and tools) for effective social commerce
After setting up your social media shop, there are a few things you need to do to ensure that you make as much revenue from this channel. Below are some of them:
1. Listen to your audience
With social media, you have all the information you need to know about your audience. To make the most of it, listen to your audience.
Pay close attention to the comments and shares you get on your Shop. Respond to them or offer customer support when need be.
Tools like Hootsuite can help you monitor your audience across all social media platforms. This way, you'll be up to speed on customer feedback and industry news.
Check out our guide to learn more about social listening.
2. Engage with your audience
Put the "social" in "social commerce". Social commerce is more than just uploading your catalog and waiting for sales to rush in. You'll need to offer value, answer questions, and post interesting content to entertain your audience. They need to see that you're authentic and human.
You can also set up a chatbot to help people as they buy your products.
3. Ask for reviews
Collecting social proof is important if you want to build a profitable online business. According to a Power Reviews study, about 99.99% of consumers say they read reviews when shopping online.
So if you sell a product that people like, ask them for reviews. You could send an automated email asking them what they think of your product (after it's delivered), or you could offer incentives like a giveaway to encourage existing customers to give you testimonials about your products.
When you have some positive reviews, post them on your social feeds and include them in your emails. You could post a carousel of positive reviews, post user-generated content, or even host a Live video with satisfied customers.
4. Use Hootsuite to include products from your online store in your social media posts
Although this isn't exactly social commerce, Hootsuite users are able to post products from their online stores on social media via the Shopview app — provided they use ecommerce sites like Shopify, Bigcommerce, Woocommerce, and Magento. This is an easy way to use social media to improve your customers' online shopping experience.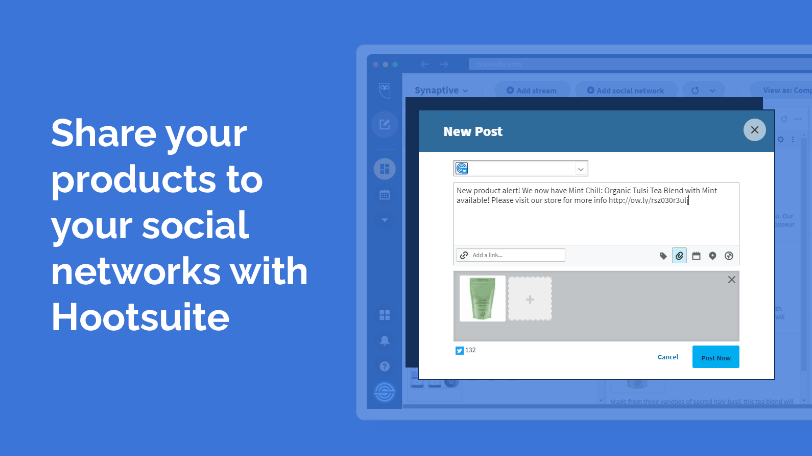 But you shouldn't stop there. To maximize your social commerce success, you need to build a robust advertising and social commerce strategy that will help your posts reach the right people at the right time.
To learn more about this, check out this Hootsuite guide to social media advertising.
5. Use an AI chatbot to streamline sales and customer service
Sometimes, the difference between a confirmed sale and an abandoned cart is a quick, professional answer. But, as mentioned earlier, it can be hectic to manually reply to all comments.
With the right tools, you can automate your customer service responses and ensure that your customers are attended to even when your team is not online.
Heyday is a conversational AI chatbot that connects your online store with your social media channels. This allows you to automate up to 80% of your customer service responses. So when existing or potential customers ask questions on social media about pricing or order tracking, Heyday will assist them in real-time. And if Heyday notices any complex questions, it sends them straight to your support team.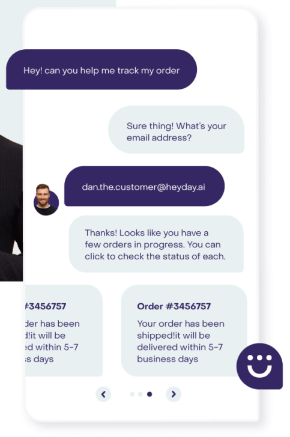 Another great feature of Heyday is that it can help you increase sales by instantly sending out price-drop and back-in-stock notifications to customers who have shown interest in a product. Get a free Heyday demo.