Facebook has a huge load of targeting and ad demographic options.
You can target audiences on Facebook with a dozen different ad formats and thousands of possible ad targeting parameters.
In theory, thanks to Facebook's billions of users, you can get in front of everybody.
But to get the most out of your Facebook ads spend you need to laser-focus your ads, because any audiences that are not likely to convert for you is a waste of your advertising dollar.
Interests- based audiences are one of the best (and easiest) Facebook ads targeting options as they allow you to target people specifically interested in a subject related to your product.
In 2018 lookalikes audiences were given a major update with the ability to create value based lookalikes based on the recency, frequency, and value of purchases passed to Facebook via the purchase pixel event.
It's one year now that marketers are still debating: is the human brain better than the Facebook algorithm at picking the right audience for your ads?
To find a "scientific" answer, we ran an experiment investing $1,000 of ad spend split evenly between interests and lookalikes.
When creating a Facebook advertising campaign there are essentially three elements we can control:
Objective, such as engagement, page likes, conversions etc
Audience, including age, gender, location, interest, custom audience or lookalike
Ad creative, examples include video or image, page post or instant experience
Naturally, there are other factors that influence the outcome of the campaign, such as the product, price, landing page, and customer service, but these are outside of the control of the Facebook campaign itself.
Because the audience is one of the three most important parts of campaign setup, a question we get asked all the time at AdEspresso is:
What audience should I use for prospecting? An interest or a lookalike?"
Interests have historically been the most popular as they have been available since the early days of Facebook advertising and there are thousands to choose from.
Lookalikes took longer to be adopted, as they were introduced in 2013 and, at first, were complex to use as they were only available in Power Editor.
Since then lookalikes have steadily gotten better as Facebook's machine learning algorithm has improved, as well as becoming easier to use.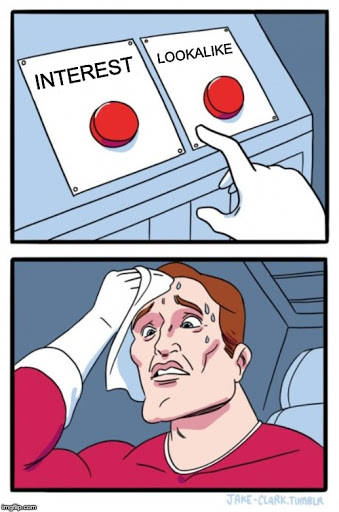 Different advertisers have different views on whether to use an interest audience or a lookalike one, so the aim of this experiment was to see settle the argument once and for all.
Experiment Setup
For this experiment we decided to run a conversion campaign to get registrations for our next webinar.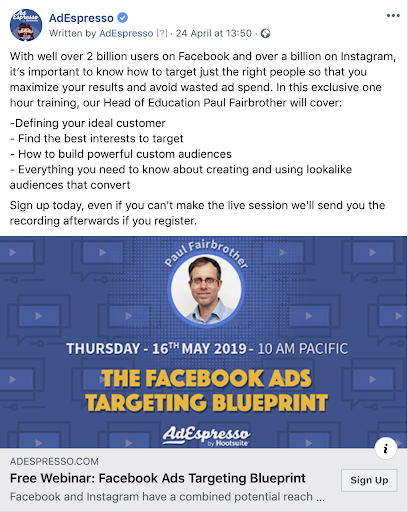 We used a Facebook image ad (above) which took people through to a landing page (below), and then we fired the Complete Registration pixel event when the user filled in their details, and this pixel fire was counted as the conversion.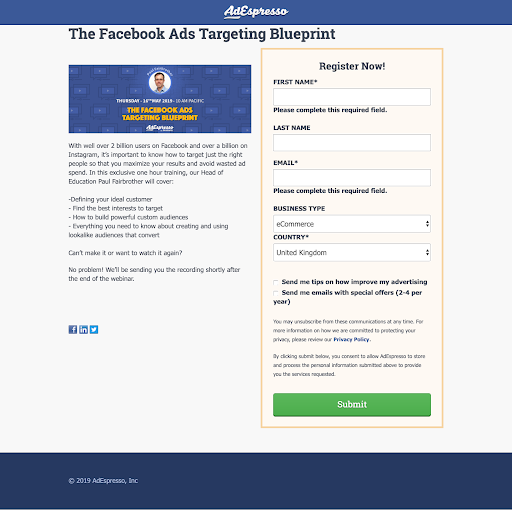 $500 per audience, spread over 8 days so $1,000 in total for the campaign
United States
male + female
21-64
current webinar registrants were excluded from the campaign
we optimized for conversions and paid for impressions using lowest cost bidding without a bid cap
Facebook newsfeed; mobile and desktop
a lookalike was created based on a 180-day custom audience created from the Complete Registration pixel event. We used a 1% US lookalike which contained 2.1 million people and when a 21-64 age range filter was included it dropped to 1.9 million. Here's how the audience looks: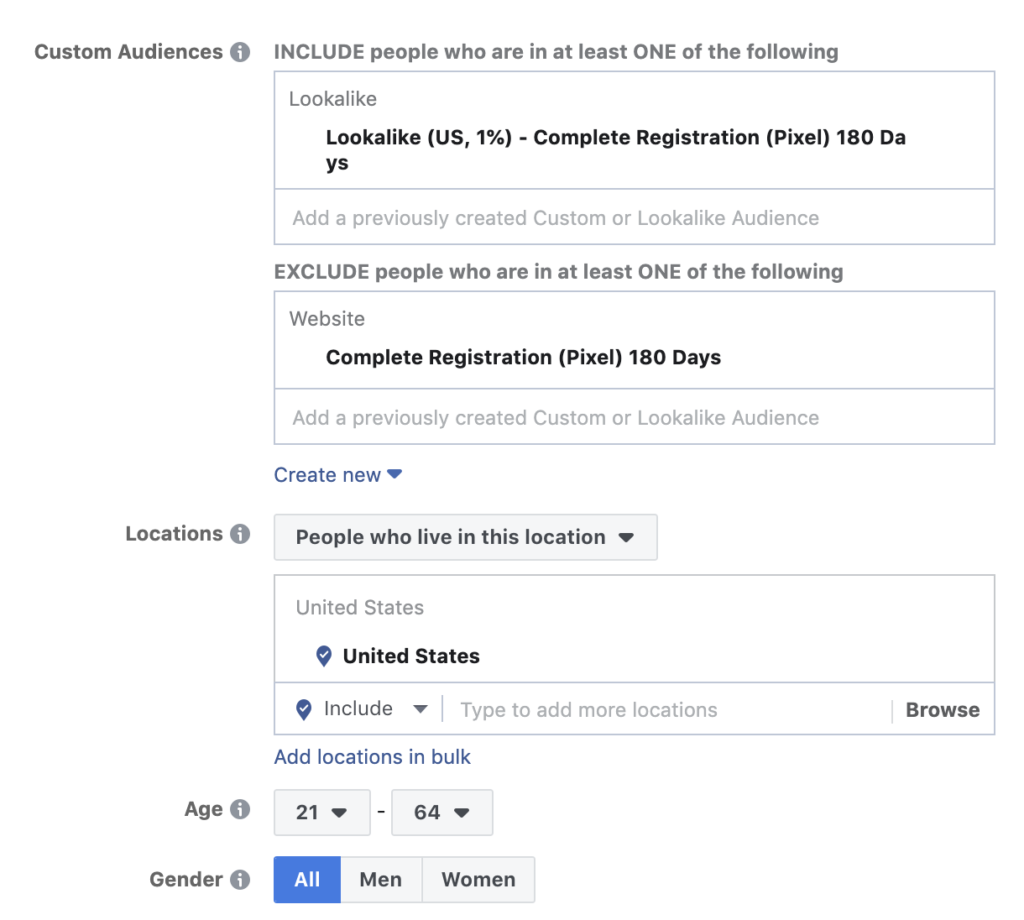 we used the Facebook Audience Insights Tool to pick the interests with the highest affinity score that gave an audience of 1.9 million, the same size as the lookalike audience. The interests we picked were: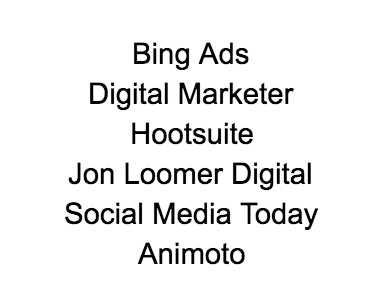 With the two audiences created, we wanted to check the audience overlap to ensure that they weren't too similar and that it would be a meaningful test.

The overlap was low at 11% so we would be running a meaningful test.
Experiment Hypothesis
To predict which audience would perform best, we created a poll in our customer only Facebook group, AdEspresso University.
The results were clear, with a 35 to 13 vote in favor of lookalikes.

The comments under the poll were more nuanced, with AdEspresso users saying they use a mix of both and to test.
So, our hypothesis was that lookalikes would give the lowest CPA but that interests would still give good results.
Because of this, we decided to do a simple A/B test with just two audiences, as split testing a range of lookalikes and interests might not give us enough conversions to tell what really works if CPA's were going to be similar.
Experiment Results
Overall the campaign was a success with a cost per registration of $2.94, giving us 340 conversions thanks to a high landing page conversion rate of 75.4%.
By giving lots of information up front in the ad and optimizing for conversions, it ensured that people only clicked on the ad if they were really interested in the webinar.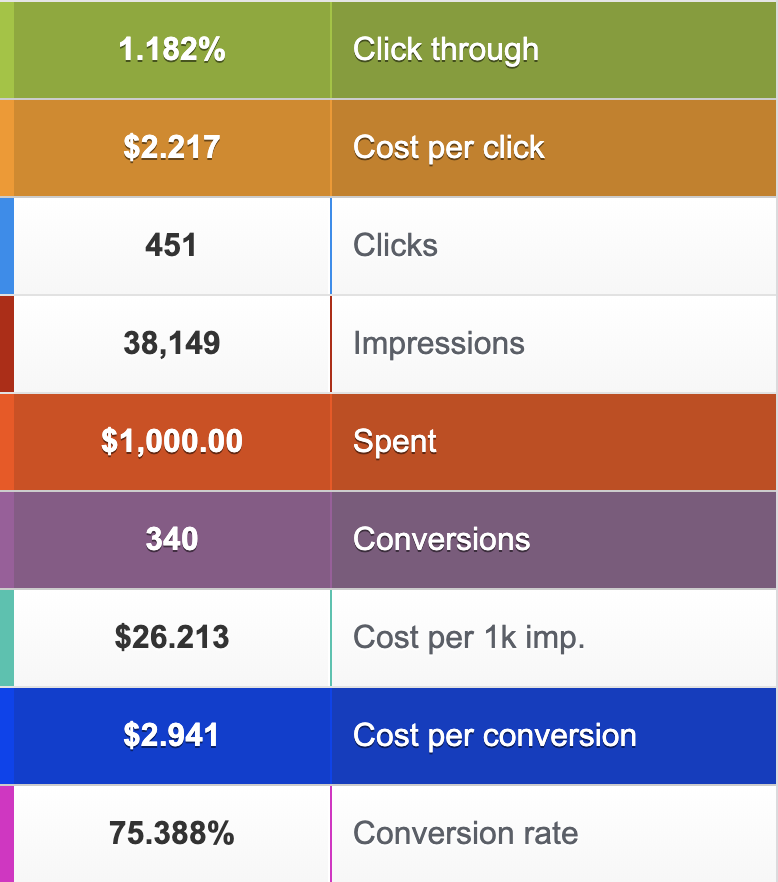 Next, let's split the results for cost per registration between the interest audience, the red line, and the lookalike audience, the blue line:

.
Here's the key metrics from the experiment:

Experiment Conclusions
The lookalike audience was the clear winner with a 13% lower CPA as well as a better clickthrough rate and cost per click.
The conversion rate for traffic from the interests audience was slightly better which stopped the difference in CPA from being higher.
The results back up our hypothesis, and also demonstrate that we were right to just do a simple A/B test as the results are close.
Although there was a clear difference, it should be mentioned that with a bit of split testing of individual interests it might be possible to bring the interest audience CPA down to a level comparable with that for lookalikes. So, although the lookalike audience was best, the interest audience still has some potential.
Final Thoughts
We're big fans of lookalikes and use them in approximately 60-70% of cold traffic campaigns when creating campaigns for clients, so this experiment proves that we're on the right track.
It's likely that lookalikes are best because Facebook can take into consideration thousands of data points for each user, both on Facebook and also utilizing the pixel data from hundreds of thousands or possibly even millions of websites.
Two key advantages of lookalikes are that they are so quick to create and also that they dynamically update over time so never need recreating.
The exception is using email custom audiences which produce static lookalikes, although they can be made dynamic by using AdEspresso's data sync tool.
Interests still have a lot of potential, and can be useful when starting a new ad account which hasn't built up any pixel data or leads yet.
As we saw with the low overlap rate, interests can also be useful to show ads to some fresh people on mature ad accounts where lookalike audiences have been saturated.
That's why interests are still an important tool to have in your toolbox.
What type of targeting methods do you prefer to use? What's the "go to audience" that you use the most? Let us know in the comments below.