The Evergreen Guide To Facebook Ad Optimization

Chapter 4
Optimizing Your Facebook Targeting – The Complete Guide
Facebook Ad Targeting Optimization
Finding the right target audience is one of the keys to masterful
Facebook ads optimization
. 
Facebook targeting comes with super advanced options, making it possible to target people with specific interests, your website visitors, or even people who are
similar
to your current customers.
In this guide, we're going to explore all the different Facebook targeting options and learn how to reach the right audiences.

Among other things, you'll learn:
How to create buyer personas for your Facebook ads
What are all the different Facebook targeting options
How to create a Facebook Saved Audience
How to create a Facebook Lookalike Audience
How to create a Facebook Custom Audience
How to optimize your Facebook audiences for higher ROI
Let's get started
When setting up a Facebook ad campaign, you first need to select the Facebook campaign objective and the page you'd like to advertise.
Up next, it's time to set up your audience targeting.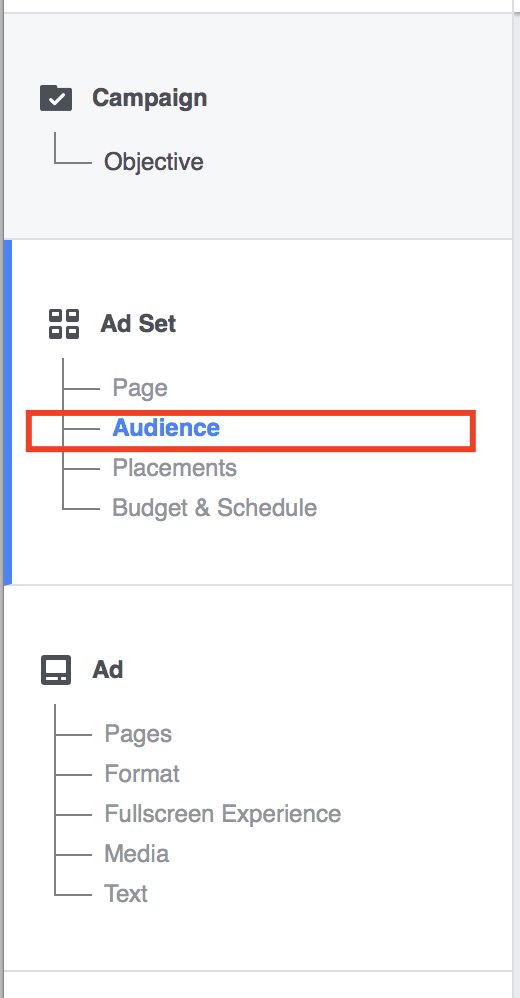 With all the tips and hacks that you'll find in this chapter, you'll be able to reach highly interested audiences with relevant offers!

Facebook Buyer Personas – Why Do You Need Them?
If you're unsure what's a
Facebook buyer persona
, here's how our experts explains it:
A semi-fictional representation of your ideal customer based on market research and real data about your existing customers."
Having clearly defined buyer personas is beneficial in several ways:
Hyper-targeted audiences – Defining your buyer personas helps to ensure that you're only targeting the most valuable Facebook audiences with the highest conversion potential.
Highly relevant ads & offers – If you know who your target audience members are and what they're interested in, you'll be able to create more relevant ads and messages.
Increased ROI – Once you're able to target people interested in your product/service and advertise relevant offers, you'll start to see more results at lower costs.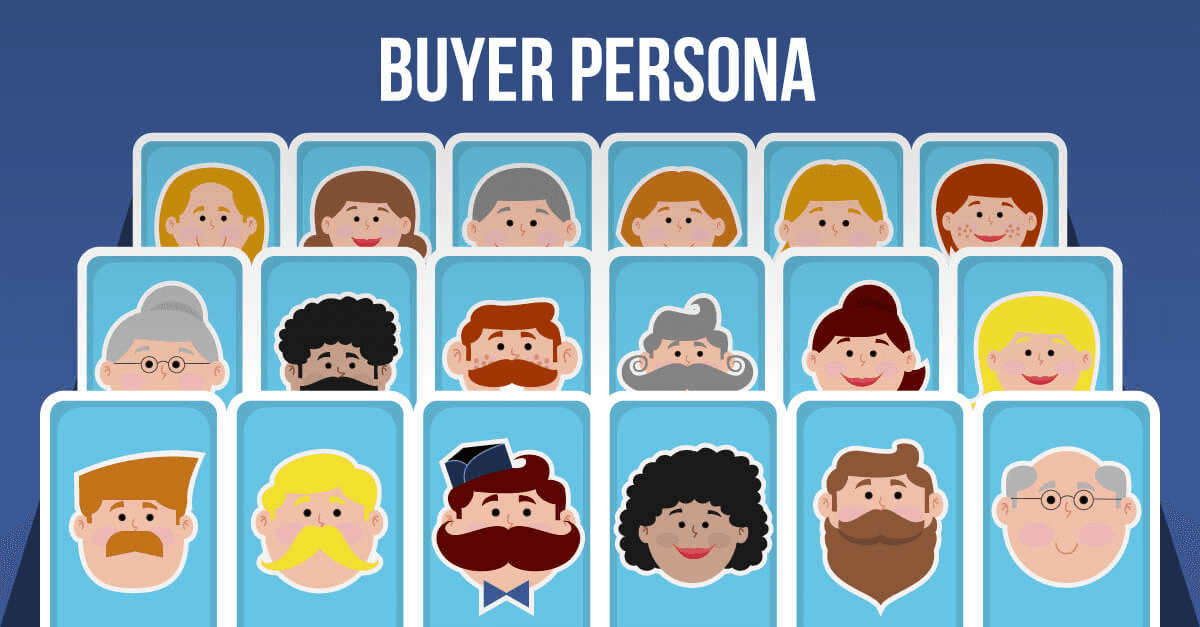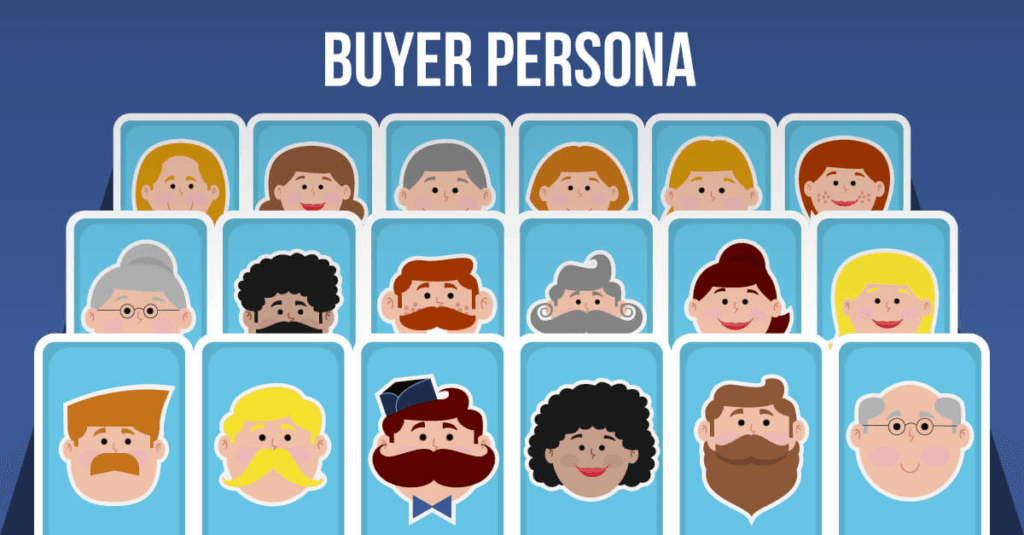 So how can you get started and create your first buyer personas?
How to Create Buyer Personas for Facebook
As Ana Gotter explains in this article about Facebook buyer personas:
A solid buyer persona is actually nothing else but a collection of the most common traits you find among your current clients."
But it's not only your current customers you should think about. Also, consider your ideal clients, those that you'd like to acquire in the future. To develop new buyer persona profiles, you can follow a simple process of defining your target customers' demographics, problems, needs, and interests.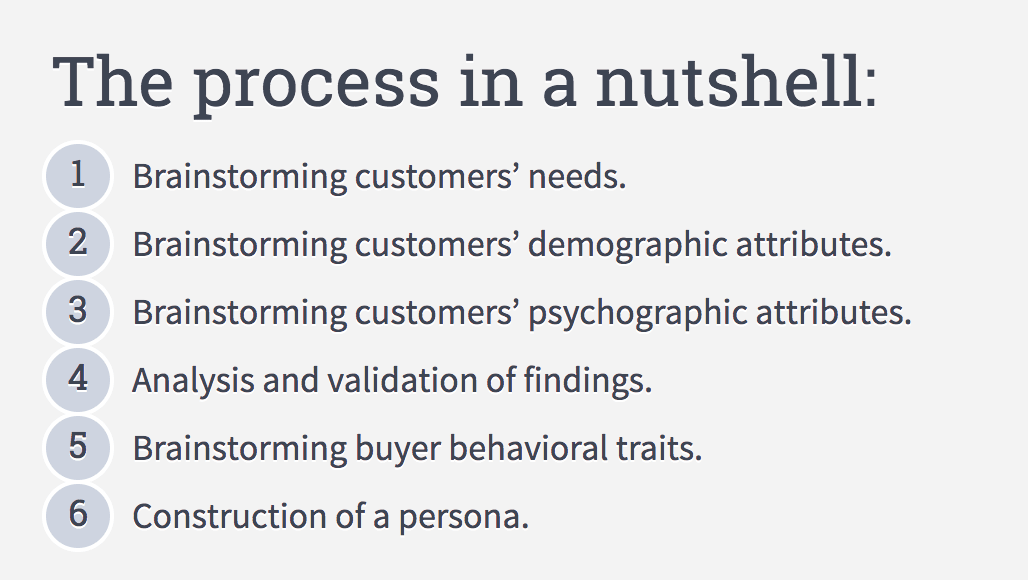 There are several ways to answer these questions. For example, you could:
Call your existing customers
Conduct customer interviews
Interview someone who could be your customer in the future
Analyze the existing customer data
Conduct surveys – both internal and external
Review your support calls and help desk messaging
Take a look at social media conversations happening in your industry
Read forums and Quora to find out about people's problems
Read industry blogs, especially the Comments section
You can also explore the Facebook Audience Insights tool to gather information on your customer personas.

By using the Audience Insights tool, you can reveal additional data points about your target audiences, such as:
Relationship status
Job title
Education level
Household income
Household size
Online purchase behavior
Spending methods
Lifestyle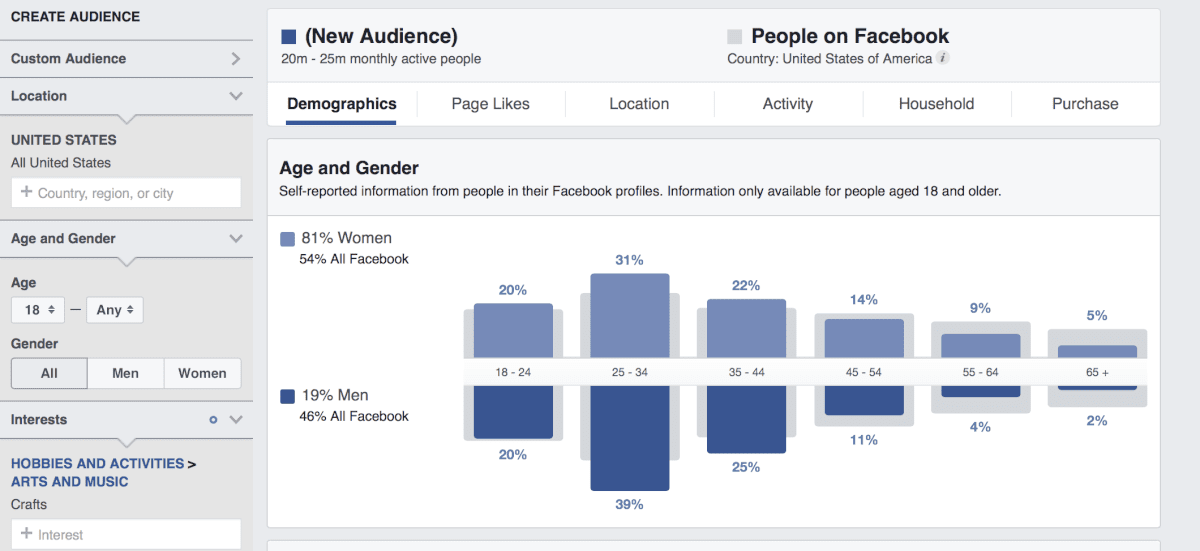 As you can see, there are a lot of different ways to find out what your buyer personas are thinking. Once you know what their interests and problems are, you'll be able to delight them with relevant content and Facebook ads.
We recommend that you create a Google Docs spreadsheet where you can organize and list all the traits and interests of different buyer personas. This way, you'll have a cheat sheet ready whenever adding new Facebook audiences!
Facebook Targeting Options
While Facebook targeting can seem a little daunting at first, don't worry. It's actually super logical and easily learnable.
When setting up a Facebook ad campaign, you can choose whether you'd like to use existing audiences or create new ones. Moreover, you can exclude specific audience segments to avoid targeting the people not meant to see this particular ad campaign.
Facebook has three main audience types:
Saved Audiences – audiences that you can define by choosing people's interests location, age, gender, used devices, income level, etc.
Custom Audiences – retargeting audiences that help you reach past website visitors and people who have engaged with your content or app.
Lookalike Audiences – audiences that help you reach the people who are similar to your existing customer database – making them highly likely to convert as well.
Each of these audience types gives you plenty of additional options for creating the perfect target audience for your Facebook campaigns.
We won't focus on explaining all of the Facebook targeting options in-depth in this guide. Instead, we'll be exploring the best practices and hacks for getting the most out of your Facebook audience targeting.
If you want to get a complete overview of Facebook audiences and targeting options, check our guide: The Beginner's Guide to Facebook Audiences and Targeting 
Facebook Audience Optimization Hacks and Tips
When analyzing the campaign's elements that have the biggest impact on
Facebook ad costs
, AdEspresso found that your target audience can make a huge difference.
Optimizing your Facebook audiences can help you increase the results and beat the competition.
Up next, we're going to explore six Facebook audience optimization hacks and best practices that you can apply to all your campaigns.
Audience Optimization Hack #1:
Turn On the Automated Audience Optimization
Did you know that Facebook has an Audience Optimization tool that can help your posts reach the people most likely to be interested? By enabling the Audience Optimization, you'll make it more likely that the right people will see your Facebook page posts.
You will find the Audience Optimization tool in the New Post publishing box on your Facebook page.

If your Facebook page has more than 5,000 likes, the Audience Optimization has already been activated, and the tool should be available for you to use. The option is currently available for Facebook pages using English.
If your page has fewer than 5,000 likes, click the "Settings" tab in the top right corner of your Facebook page.
From the "General" tab, you'll see a row for "Audience Optimization for Posts." Click on "Edit" and check the box to activate the Audience Optimization. Then, hit the "Save Changes" button.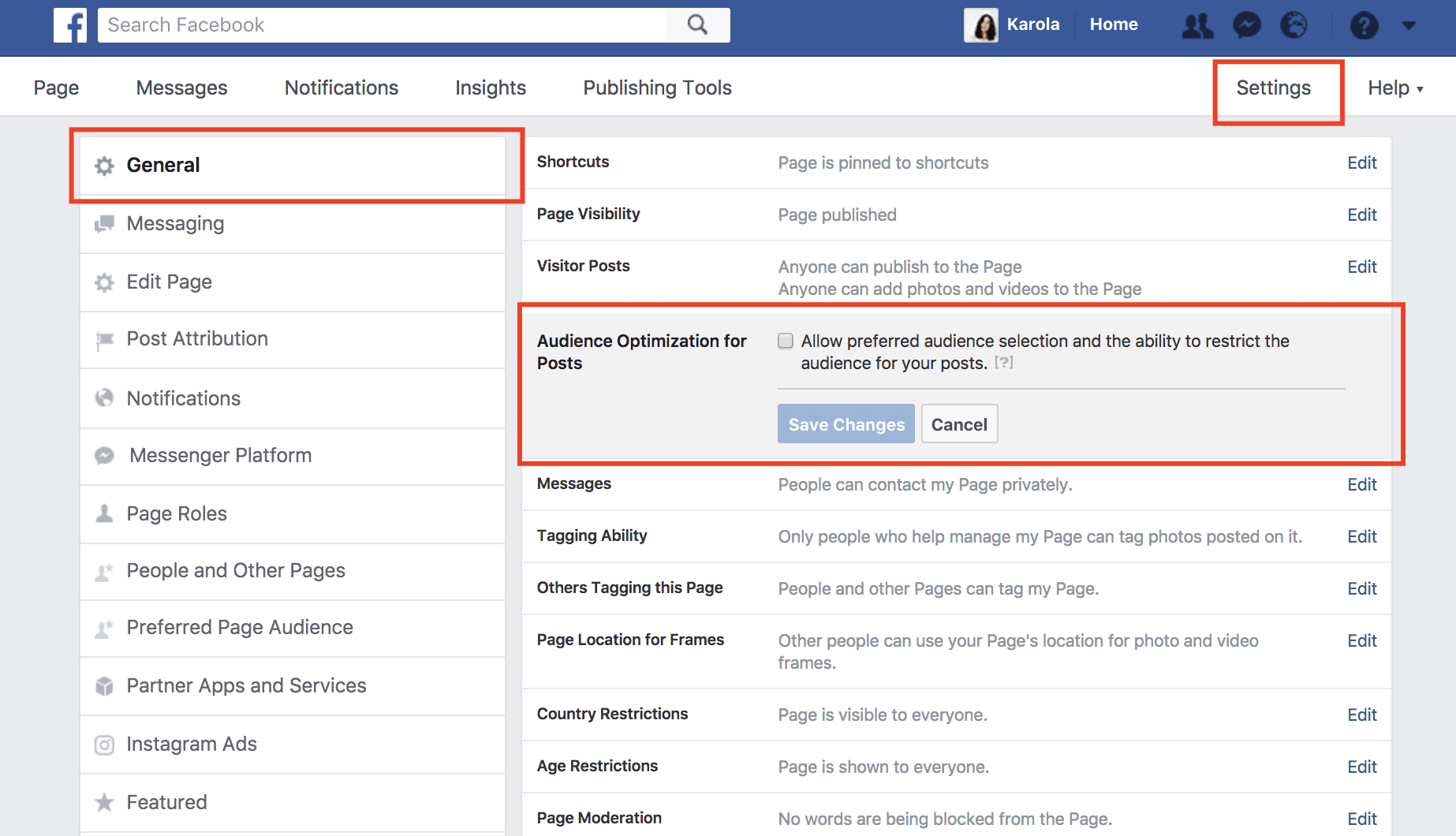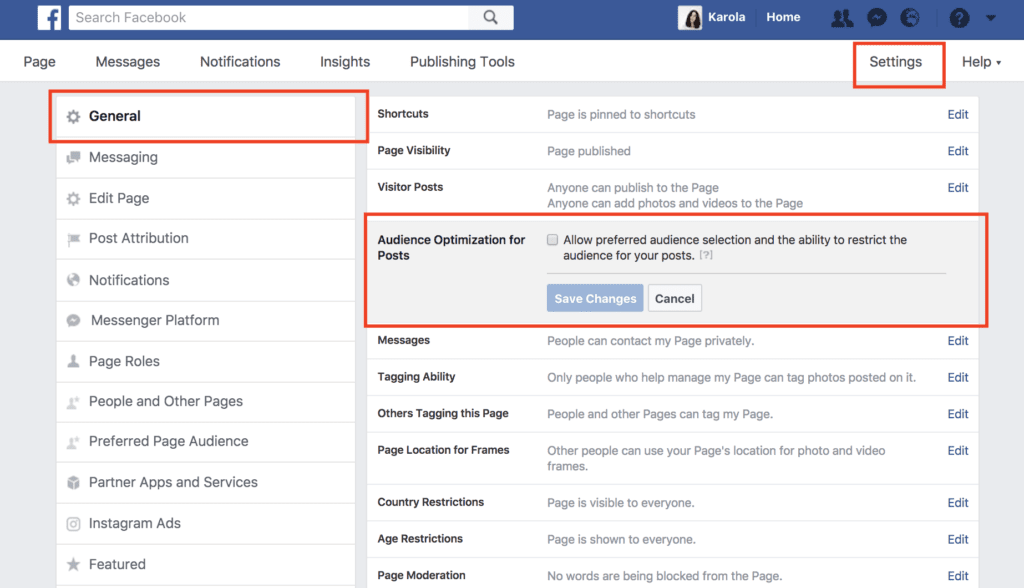 Once you click on the Audience Optimization icon when publishing a Facebook page post, a new pop-up window will appear. In there you'll be able to select which interests you'd like to particularly target with this specific post.
For example, if we were to share a Facebook Advertising Guide on AdEspresso's Facebook page, we could optimize this post's audience by targeting "Facebook advertising" and "Advertising" interests.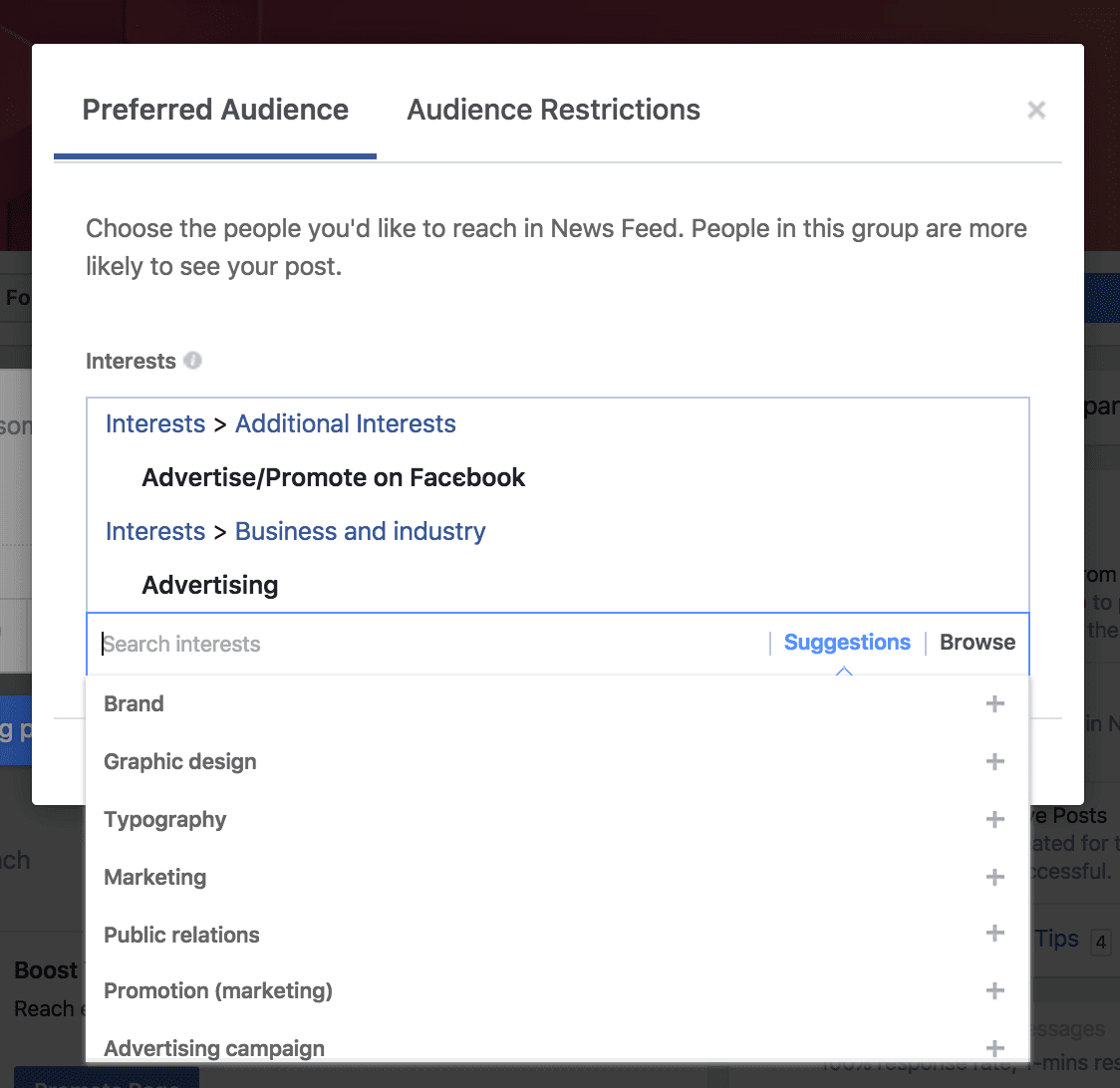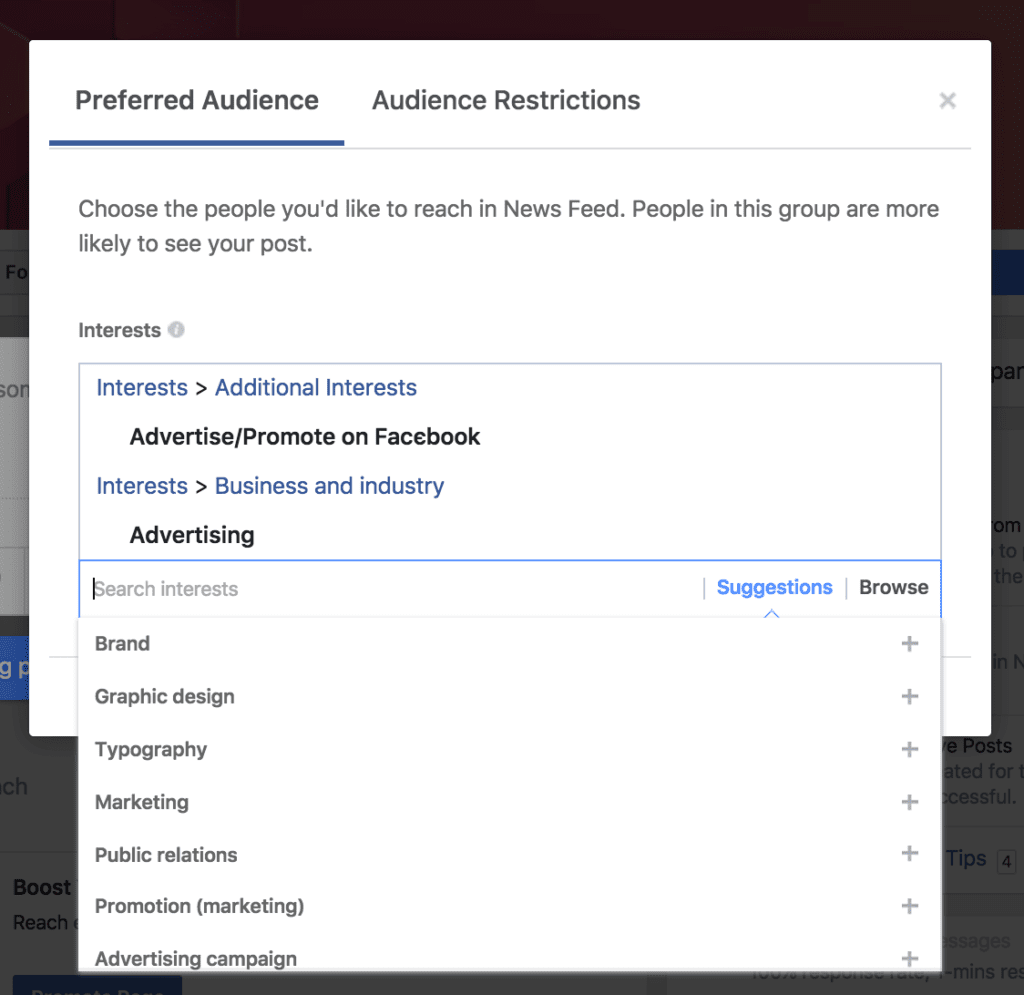 You can also set audience restrictions to tell Facebook who can see your posts. For example, you'll be able to set the age, language, and location of a post's target audience.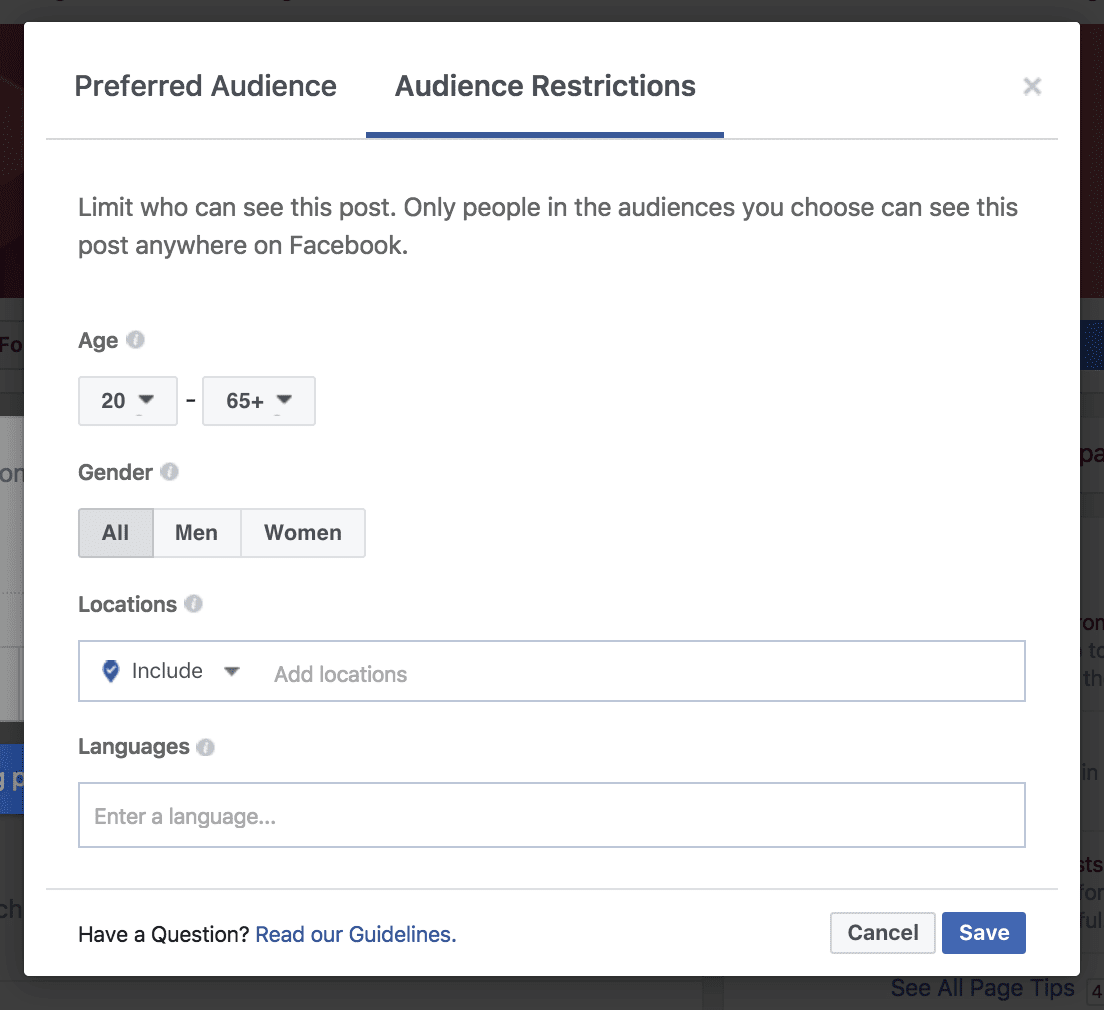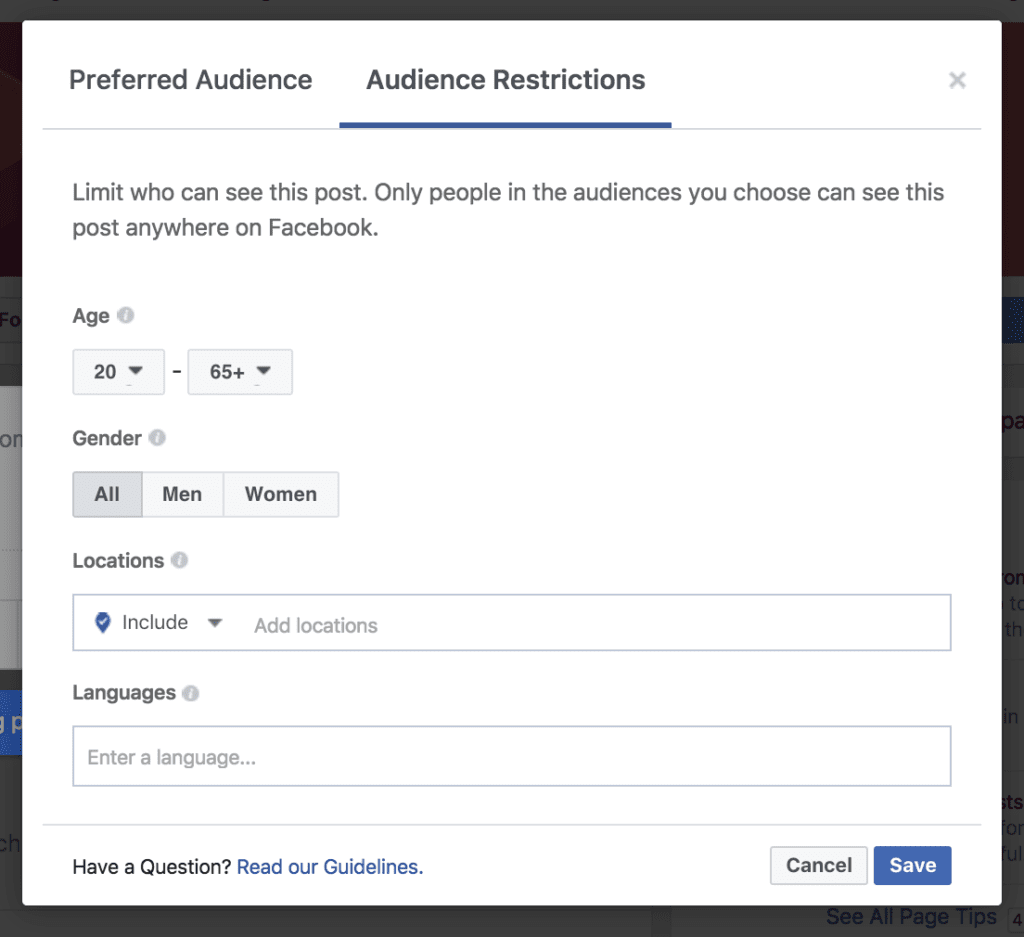 Facebook Audience Optimization is extremely helpful when creating Facebook posts in multiple languages. You could ensure that a post in Italian is only seen by people speaking the language, etc.
Remember: Optimizing your Facebook post's audience will NOT limit the post's reach.
The Optimized Audience is only telling Facebook which audiences you'd prefer to reach. This being said, it should not negatively impact your reach. In Facebook's tests, they've seen that the posts' reach remains about the same while their engagement rates go up.
Audience Optimization Hack #2:
Learn From Facebook Audience Insights
Facebook Audience Insights tool helps you better understand who is engaging with your content on Facebook. The more customer insights you have, the better you're equipped to deliver meaningful messages to people.
After choosing an audience set, you can then break down the data into a set of different categories:
Demographics — Age and gender, lifestyle, education, relationship status, job role and household size
Page likes — The top Pages people like in different categories, like women's apparel or sports
Location and language — Where do people live, and what languages do they speak
Facebook usage — How frequently are people in your target audience logging onto Facebook and what device(s) they are using when they log on
Purchase activity — Past purchase behavior (i.e., heavy buyers of women's apparel) and purchase methods (i.e., in-store, online)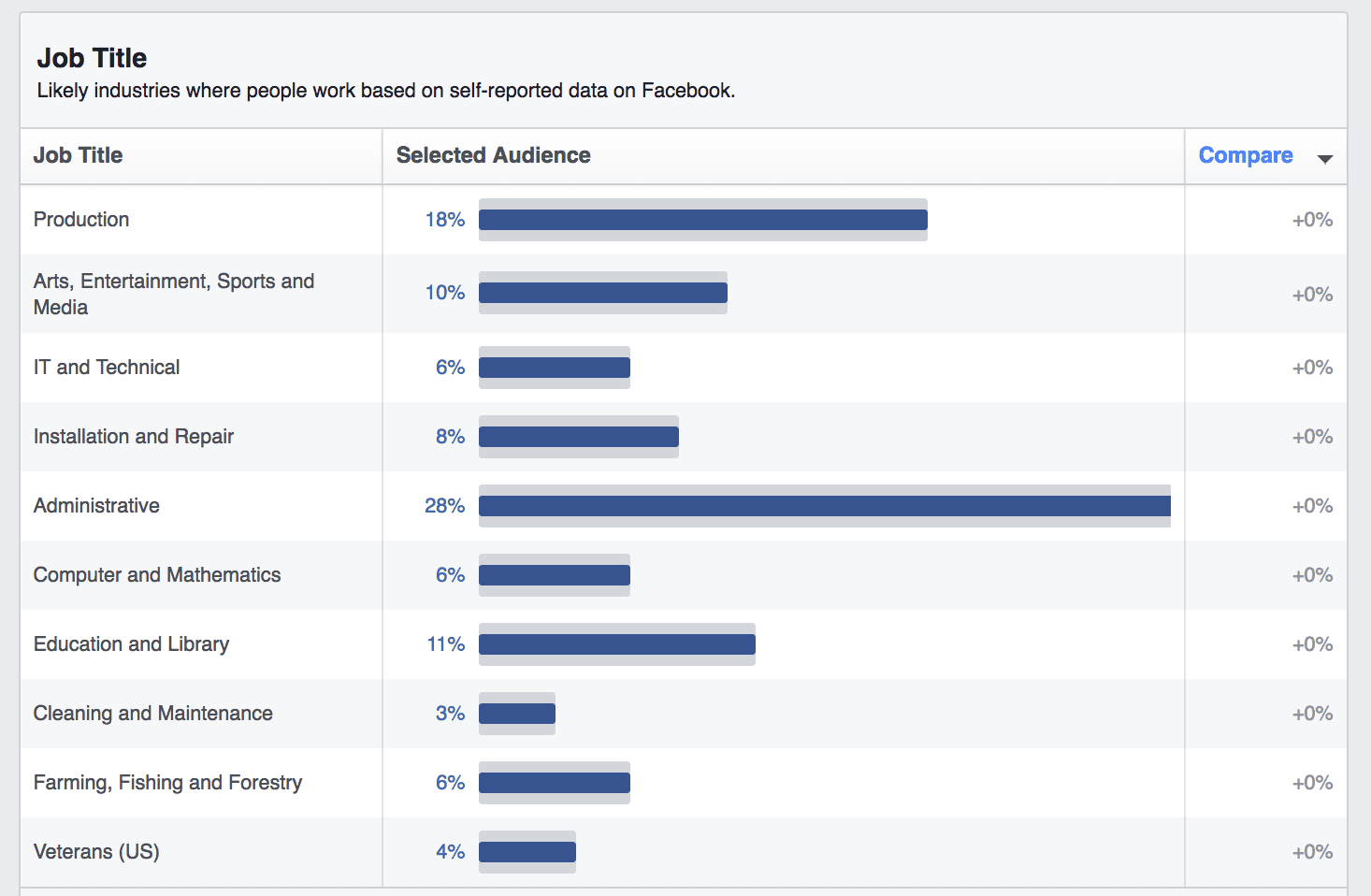 Moreover, you can view this information for three different groups of people:
People on Facebook (the general Facebook audience)
People connected to your Page or event
People in Custom Audiences you've already created (an audience made up of your current customers)
Use the insights from the Audience Insights to create even more targeted Facebook Saved Audiences.
Audience Optimization Hack #3: 
Create Multiple Targeting Layers
When setting up Facebook audiences with popular interests, you may end up with huge audiences of millions of people. There's a good chance that not all of those people are your potential customers.
So how can you narrow down your Facebook target audience to include fewer people who'd be more interested in your offer?
You can optimize your Facebook audiences by clicking on the "Narrow Audience" button under the Interests section.

Once you click on this button, you can add another layer of interests.
The people in your target audience must match at least one interest from both layers.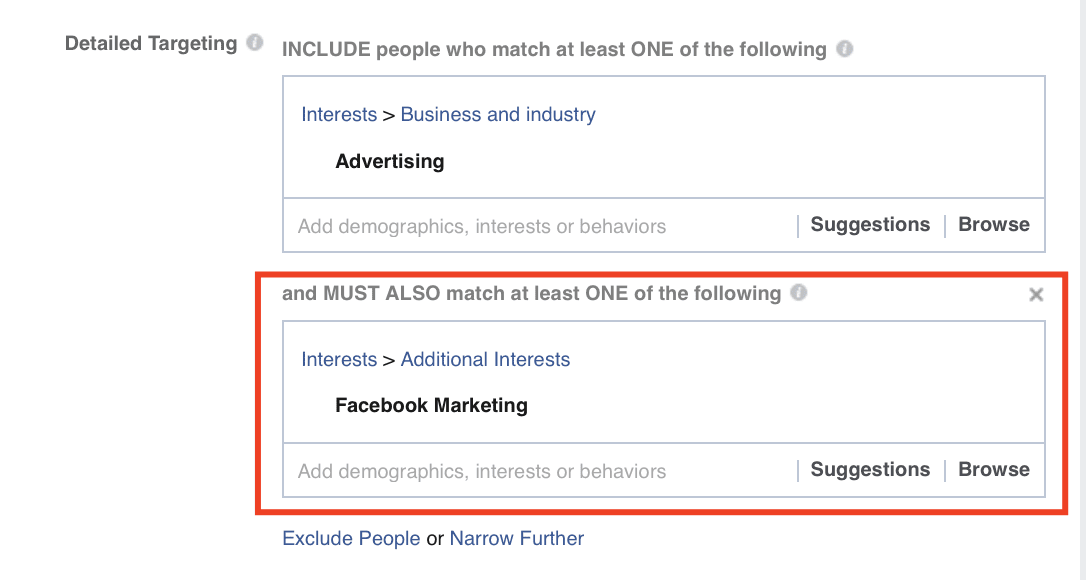 You can exclude people based on their interests or demographics.
Another way to create niche audiences, and keep your Facebook campaigns optimized, is excluding people with specific interests.
For example, AdEspresso may want to target everyone interested in advertising, but we might want to exclude the people interested in influencer marketing as that's not our main area of focus.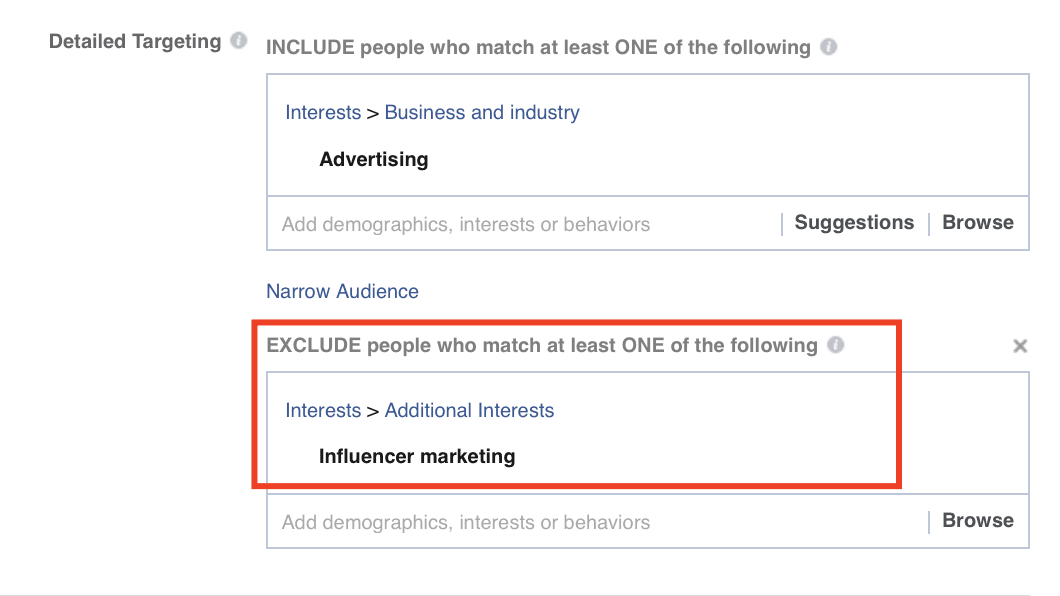 You can also exclude Facebook audiences based on their location.
For example, if you wanted to create two Facebook ad campaigns, one targeting the US in general and another one targeting New York, you could exclude New York from the general audience.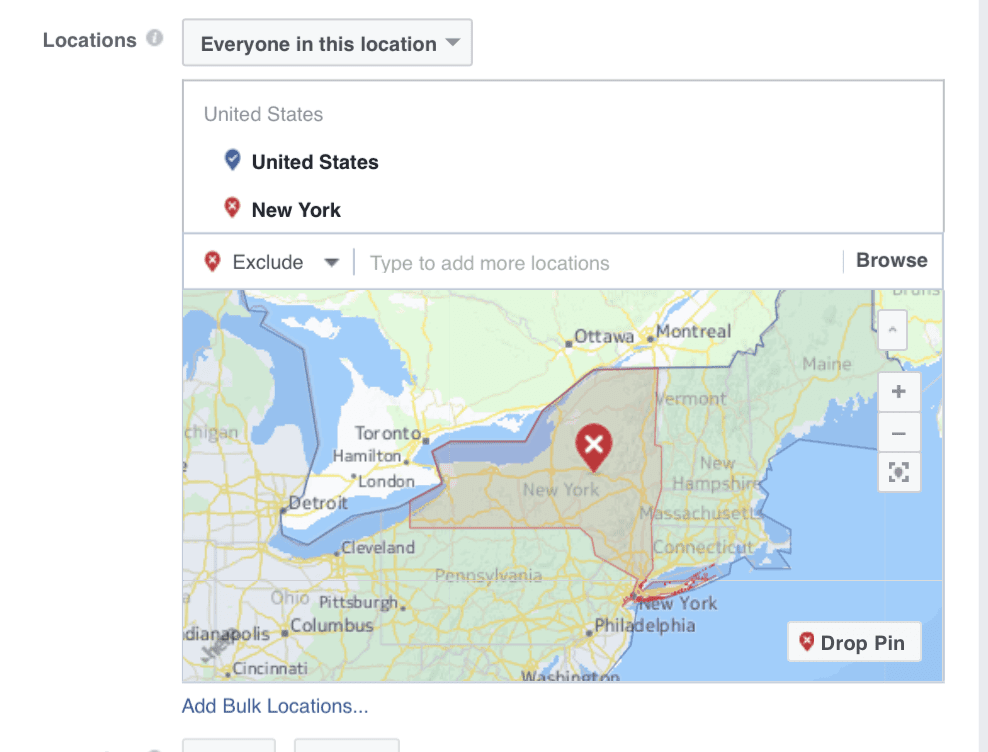 By using multiple Facebook audience targeting layers, you can create small niche audiences with a high ROI.
Audience Optimization Hack #4:
Create Remarketing Audiences
Not all Facebook audiences have the same ROI. In fact, the ROI of different audiences can differ tenfold. If you want to create new Facebook audiences that are also used by advanced social media marketers, you'll need to step up your game.
First, you'll have to install the Facebook pixel on your website. Next, you'll be able to create Facebook Custom Audiences of past website visitors and the people who have already engaged with your content.
According to Adobe, in the US 41% of overall revenue comes from repeat customers. Moreover, the average revenue per visit for repeat buyers is 497% higher compared to regular shoppers.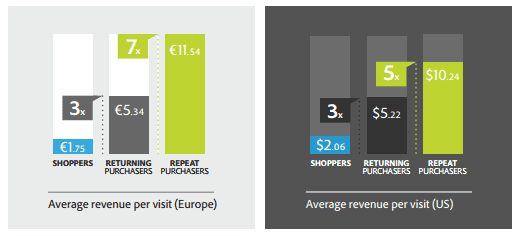 To optimize your Facebook campaigns for the maximum success, set up remarketing audiences and retarget those people with relevant offers to get them back to your website (so that they'd make the purchase).
Past landing page visitors – When retargeting past website visitors, your goal should be reminding them of your product.
People who have visited your Pricing page – These people were so interested in your product that they wanted to know the price. Which makes the highly likely to make a purchase / start a free trial.
Shopping cart abandoners – Try to get these people back to your store to complete their purchase.
Past purchasers – You should also retarget the people who have already purchased from you in the past – maybe they'll be interested in buying more.
Blog readers – Also, include into this audience eBook downloaders and other people who have engaged with your content. They're already familiar with your brand, so they're also more likely to convert on your offers.
To set up a Facebook Custom Audience, go to the Facebook Audience Manager and select "Create Audience" and "Custom Audience."

To learn more about Facebook Custom Audiences, read our guide: Facebook Ad Custom Audiences: Everything You Need To Know.
Audience Optimization Hack #5:
Mix Multiple Audience Types
This is one of our favorite Facebook ads optimization hacks of all time. When setting up Facebook audiences in the campaign creation process, you can use the targeting benefits of multiple audience types – at the same time.
For example, you can create a Facebook Lookalike audience and then narrow it down by filtering the target audience by demographics and interests.

To mix up multiple audience types' targeting options, you can also do this:
Go to Facebook's Audience Manager
Click on "Create Audience"
Select "Saved Audience" (you'll see a pop-up window)
Select a Custom or Lookalike audience from the menu
Narrow down the audience with additional filters
This Facebook audience optimization hack is super helpful when you want to reach your past website visitors or customers living in specific locations or with particular interests.
The next time you're creating new Facebook audiences, give it a shot!
Audience Optimization Hack #6:
A/B Test Multiple Audiences
You can't know what's working unless you've tried it.
Which is why it's always a good idea to experiment with your Facebook target audiences and see which ones have the highest ROI. For example, AdEspresso tested 3 difference Lookalike Audiences:
1% Lookalike Audience
5% Lookalike Audience
10% Lookalike Audience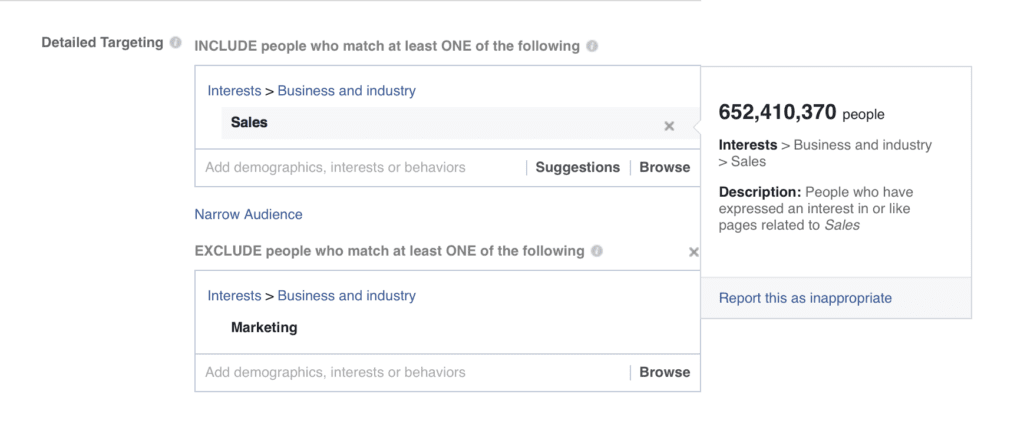 After analyzing each campaign's results, here's what we found:
The 1% Lookalike Audience had the cost-per-lead of $3.748
The 5% Lookalike Audience had the cost-per-lead of $4.162
The 10% Lookalike Audience had the cost-per-lead of $6.364
As you can see, there was a huge difference in the campaign results, depending on the audience we were targeting.
You could test multiple Saved Audiences to find out which interests or countries bring the best ROI. We also recommend experimenting with Saved Audiences vs. Lookalike Audiences – see which Facebook audience type brings more value.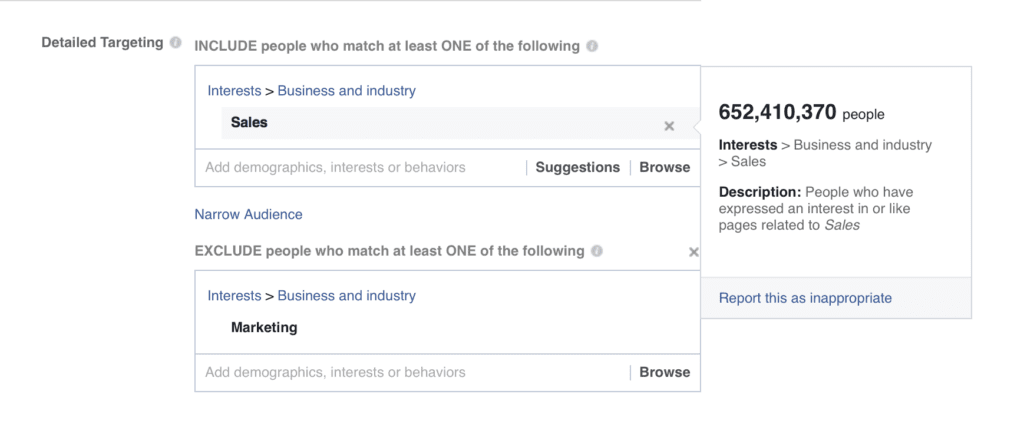 Facebook audience testing tip: Create 2-5 different target audiences with little or no audience overlap and use the EXCLUDE feature to exclude Custom audiences for other audiences.
Additional reading: