The Evergreen Guide To Facebook Ad Optimization

Chapter 7
Facebook Pixel -- The Complete Guide for 2018
Installing Facebook Pixel in 2018
Facebook pixel is used by marketers to drop a cookie on your website that will track all the visitors.
Installing the Facebook pixel gives you a better overview of your Facebook ads campaign results, and you'll be able to quickly create remarketing audiences.
While the Facebook pixel might seem confusing at first glance, you'll get so much value out of using it that it's worth the struggle.
Simply follow this guide to get started.

Among other things, you'll learn:
Why do you need the Facebook pixel
What are all the use cases for the Facebook pixel
How to install the Facebook pixel to your website
How to manage your Facebook Pixel and conversions
Ok, so let's get started! 
Top Benefits of Using the Facebook Pixel
There used to be multiple Facebook pixels, each tracking a different conversion. However, the times have changed. In 2015, Facebook took a huge step towards to simplifying the pixel and introduced a single powerful pixel that covers everything.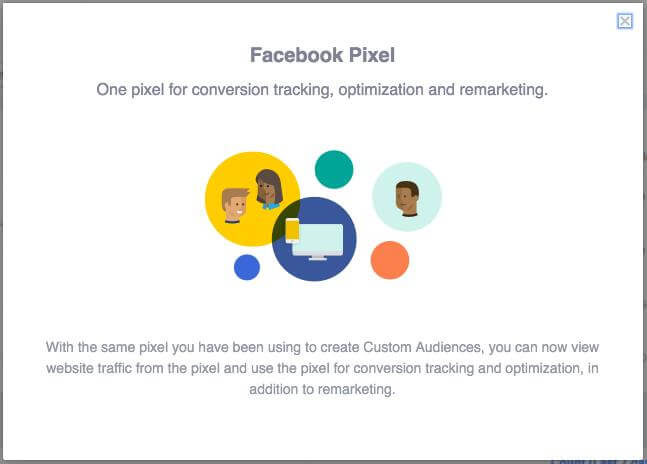 Facebook pixel is usually considered the tool for advanced Facebook advertisers. However, if you want to get better campaign results, having the pixel installed on your website is a must-have.
Facebook Pixel: First Steps
According to Facebook's guide, the pixel helps you to:
1. Make sure your Facebook ads are bringing results
After you've installed the pixel on your website, you'll be able to track whether the campaign is bringing conversions off the Facebook platform.
You can either use the Standard or Custom events to track different types of conversions such as app installs, purchase completions, etc.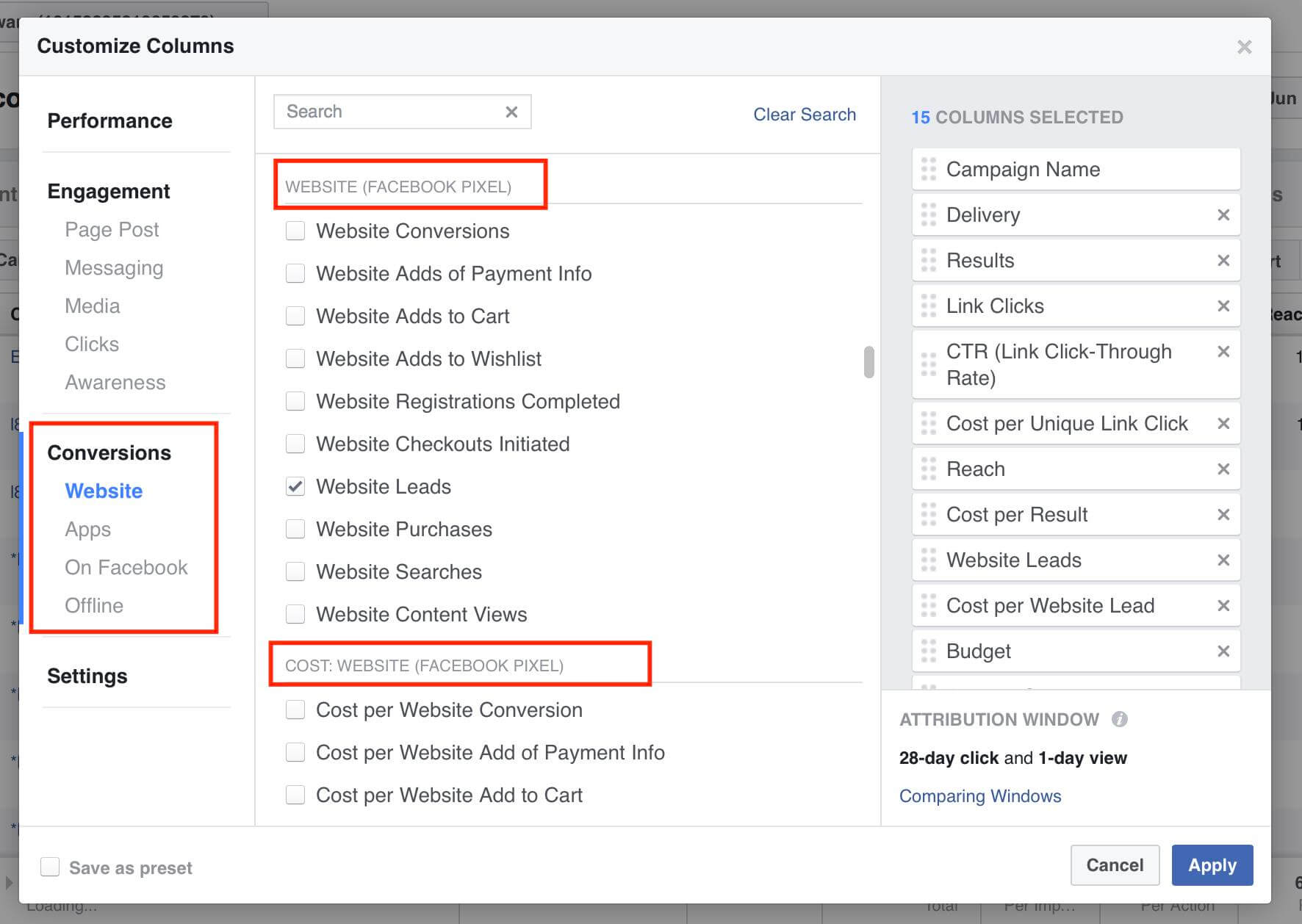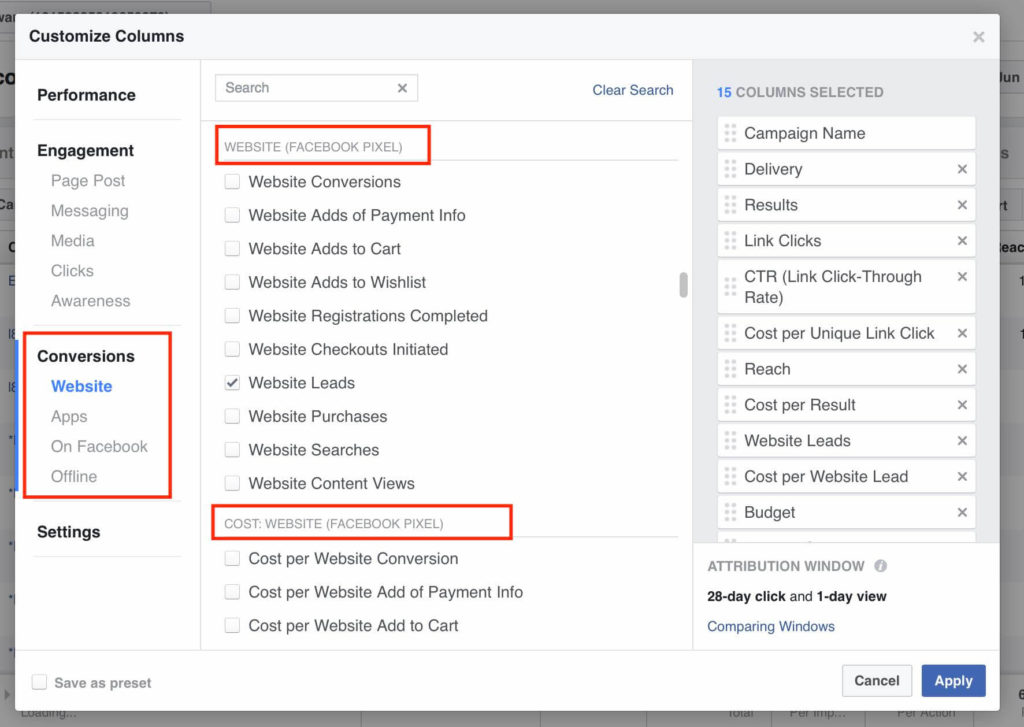 You can also add a monetary value to different conversions for a better overview of your campaign ROI.
2. Create advanced Facebook ads audiences
If you really want to create world-class Facebook ads, you need to use the advanced audiences – Custom Audiences and Lookalike Audiences.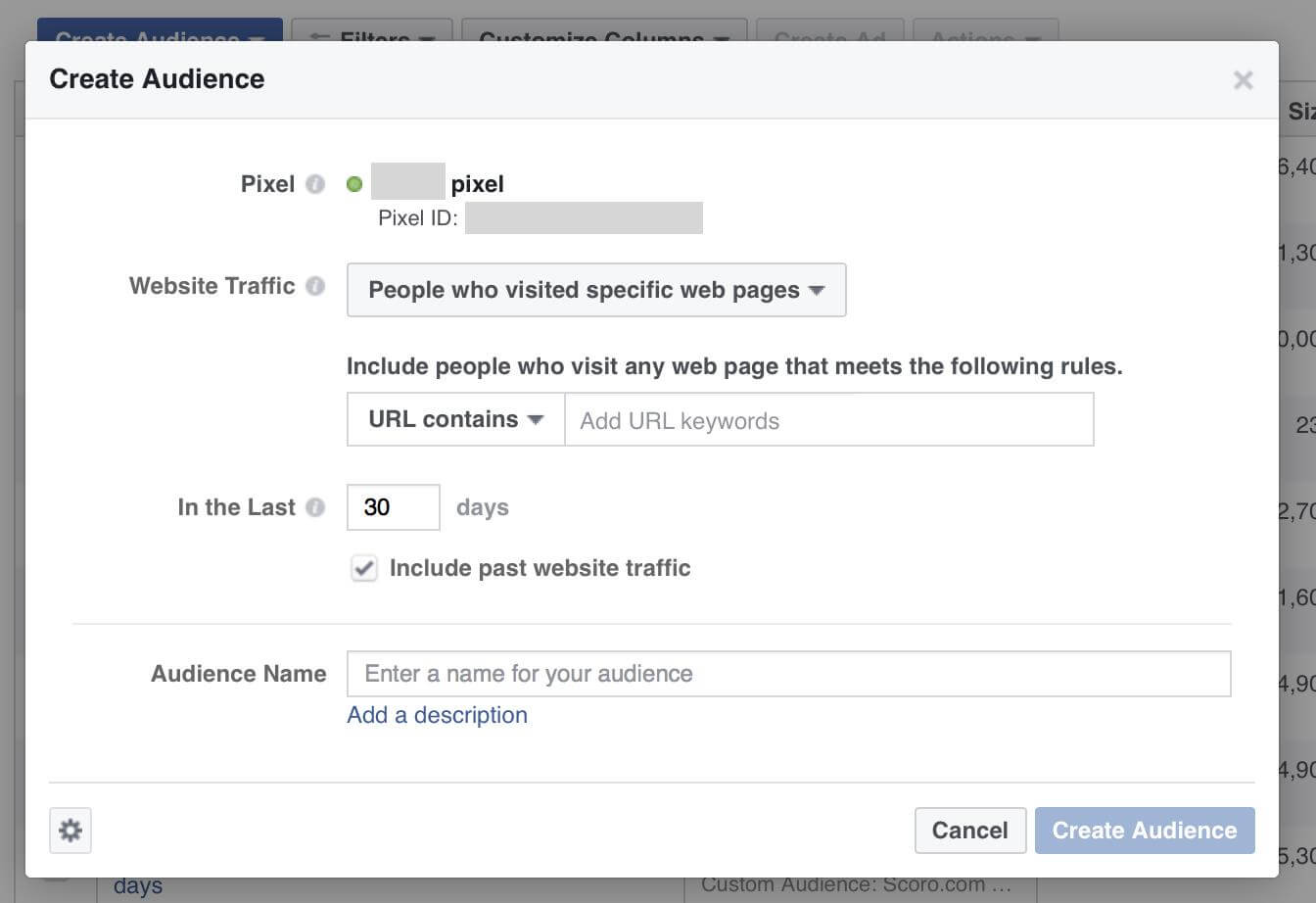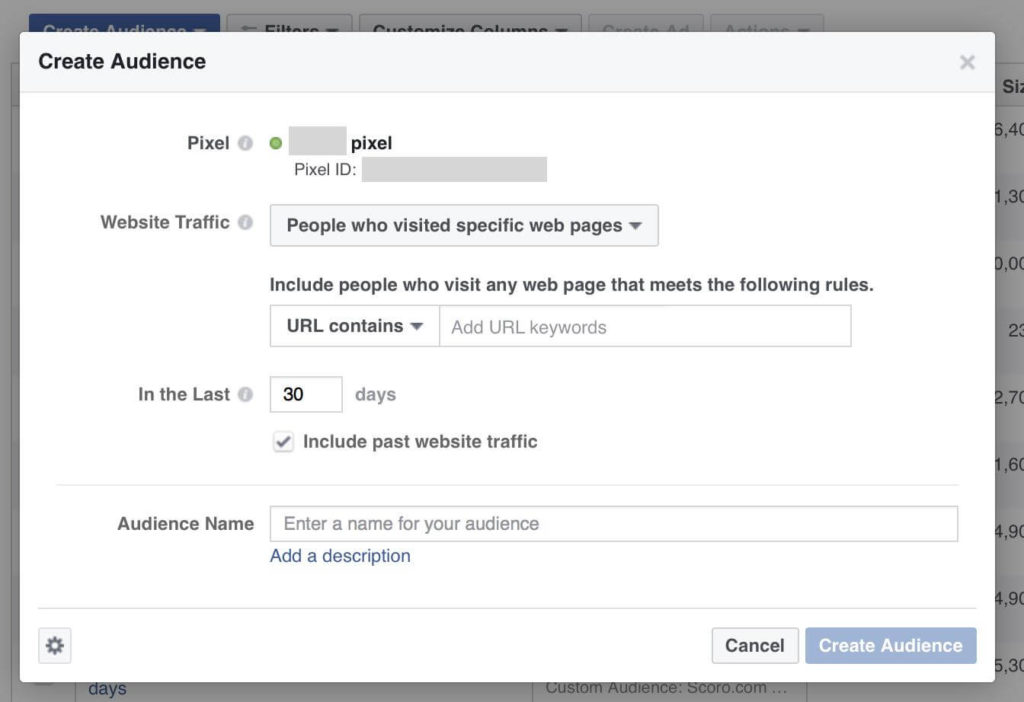 Facebook Custom Audiences open up a completely new category of target audiences – the people who have visited your website, engaged with your app, and completed specific actions.
After you've installed the Facebook pixel, you can retarget people who have visited your website between the past 1-180 days.
3. Unlock additional Facebook advertising tools and campaign metrics
Facebook pixel allows you to set up new types of conversions that will also enrich the reports you can see in the Facebook Ads Manager.
Moreover, you can use additional bidding methods and setup ad campaigns with the main focus of getting you more on-website or in-app conversions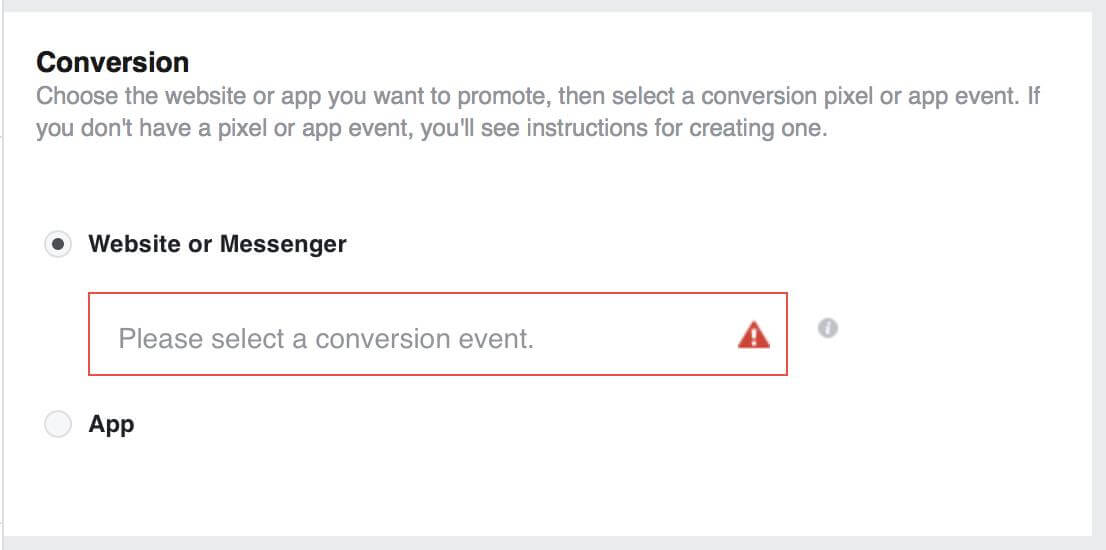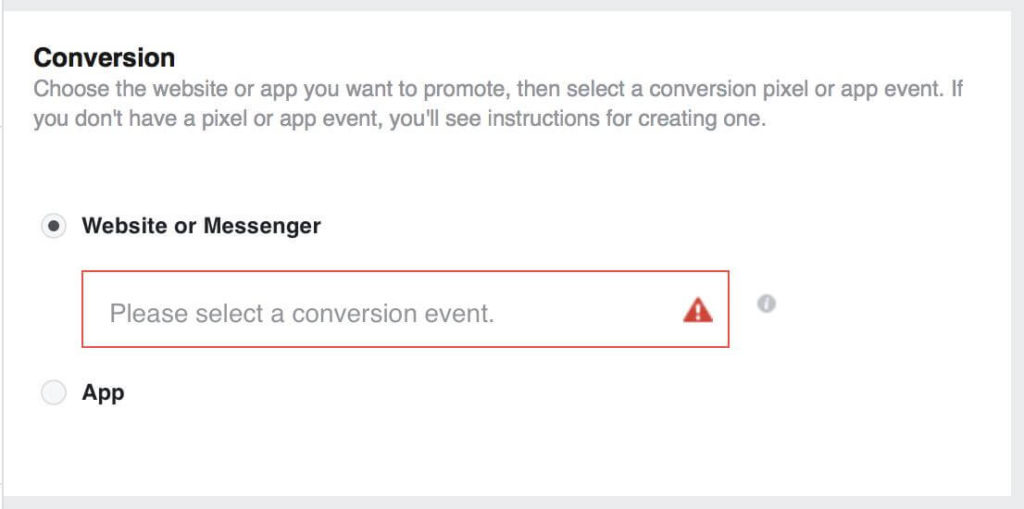 Let's take a look at how you can install the Facebook pixel to your website and WordPress sites.

The Step-by-Step Guide to Installing Facebook Pixel
Setting up your first Facebook pixel isn't as difficult as you may have imagined. It takes about 1 hour or even less to get started.
To see whether you have any Facebook pixels installed, go to the Facebook Business Manager's menu and click Pixels under People and Assets.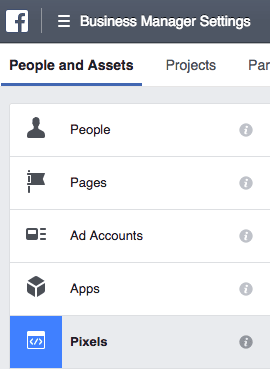 If you haven't yet created nor installed any pixels, you'll be prompted to add one. Simply click on the "Create a Pixel" button.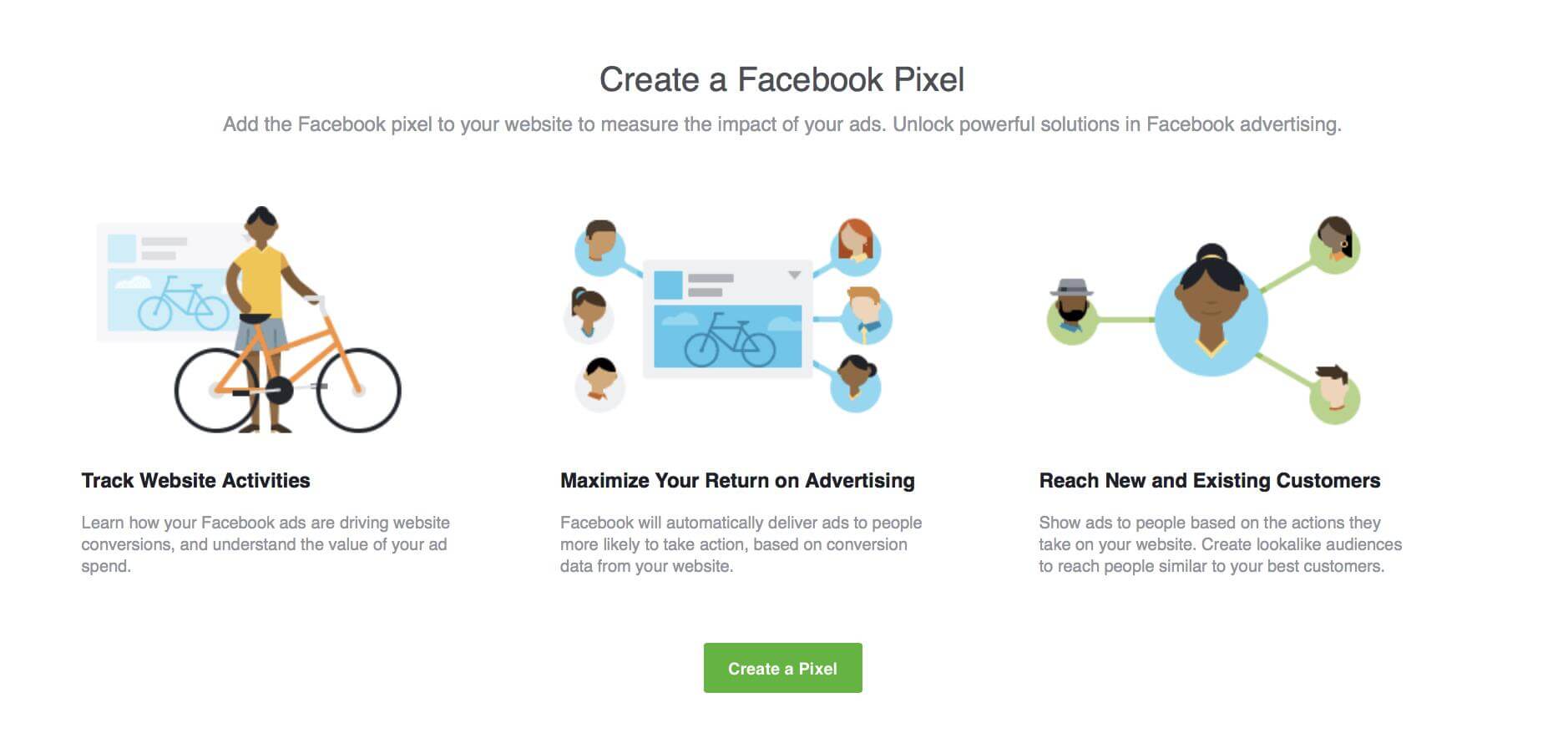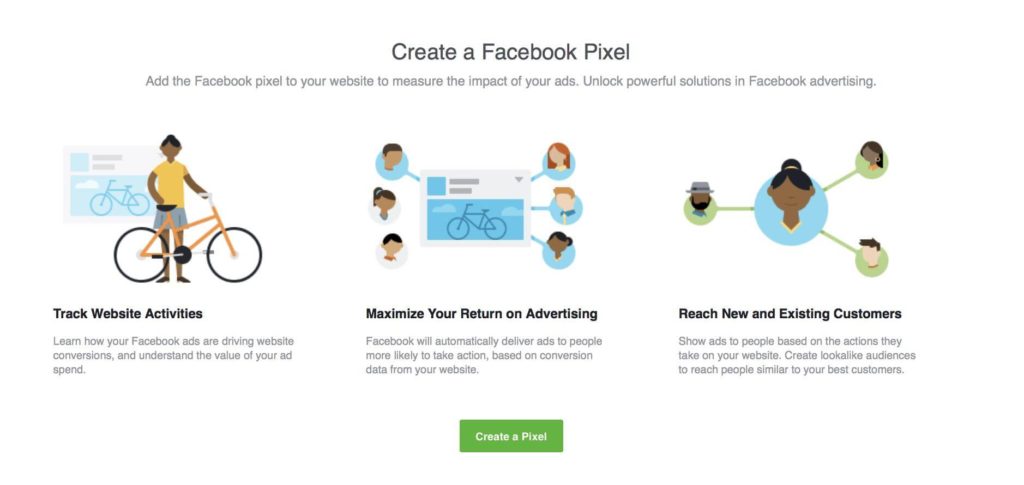 A new pop-up window will appear. Now it's time to give your first Facebook pixel a name and click on the "Next" button.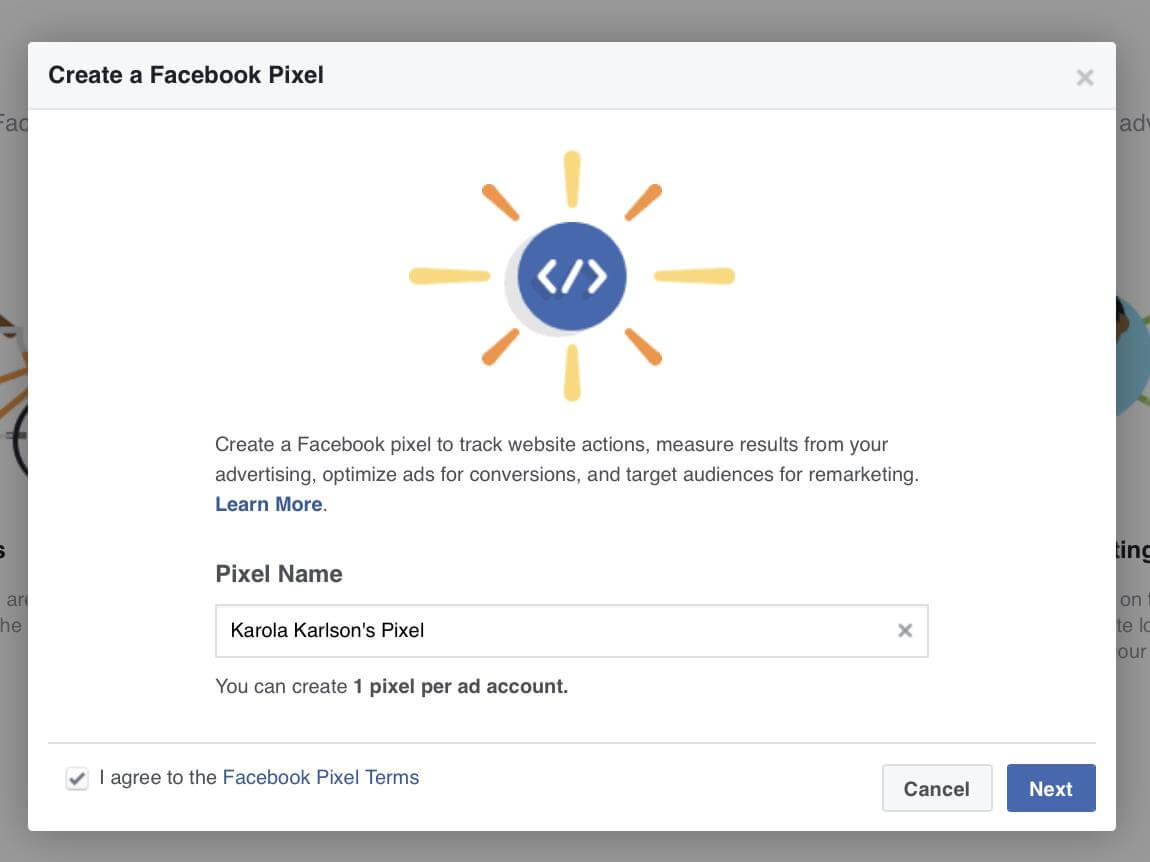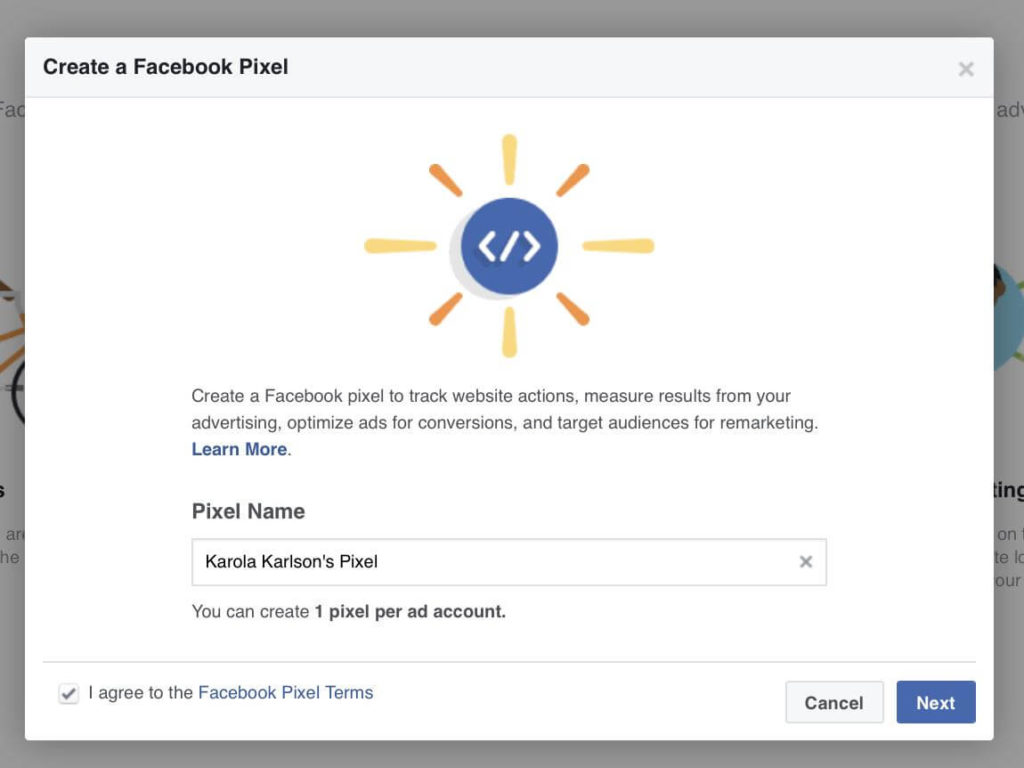 Next, you'll be asked to install the pixel code on your website. You have three options:
Use a Facebook pixel integration or Google Tag Manager
Manually install the code (AKA copy-paste the pixel code to your website code)
Email instructions to a developer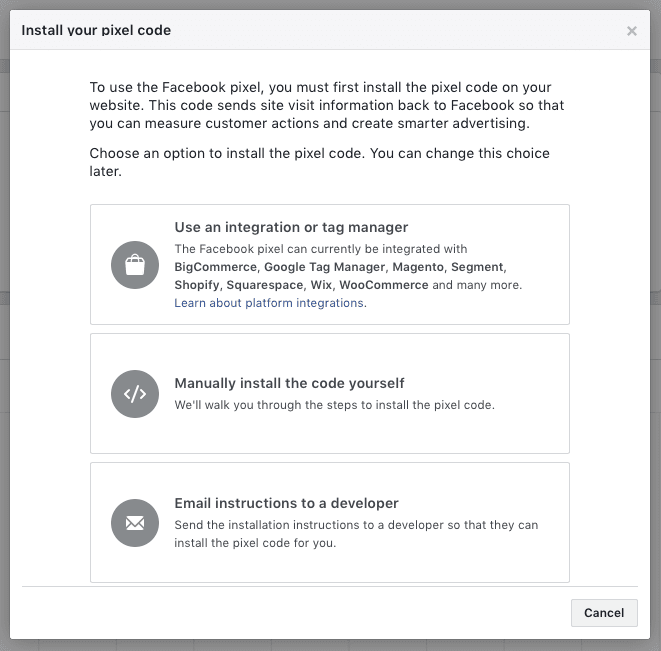 If you don't have any integrations set in place, it's easier to simply copy-paste the pixel code at the bottom of your website's header section, just above the </head> tag.
Make sure that the code is added on each web page, or in your website template to install it on your entire website.
You can also click on the "Email Instructions" button and send the full instructions to a developer you're working with!  😎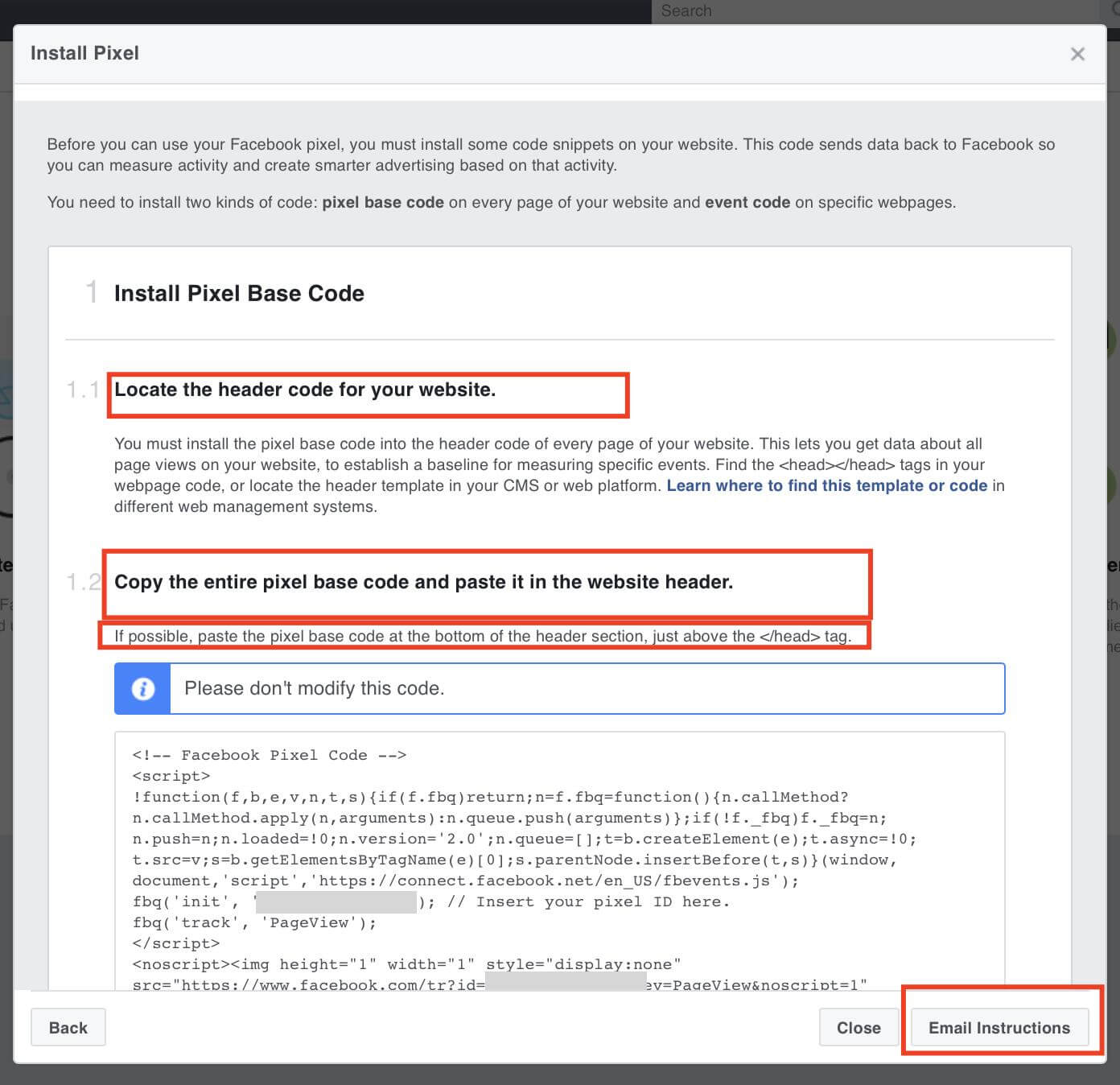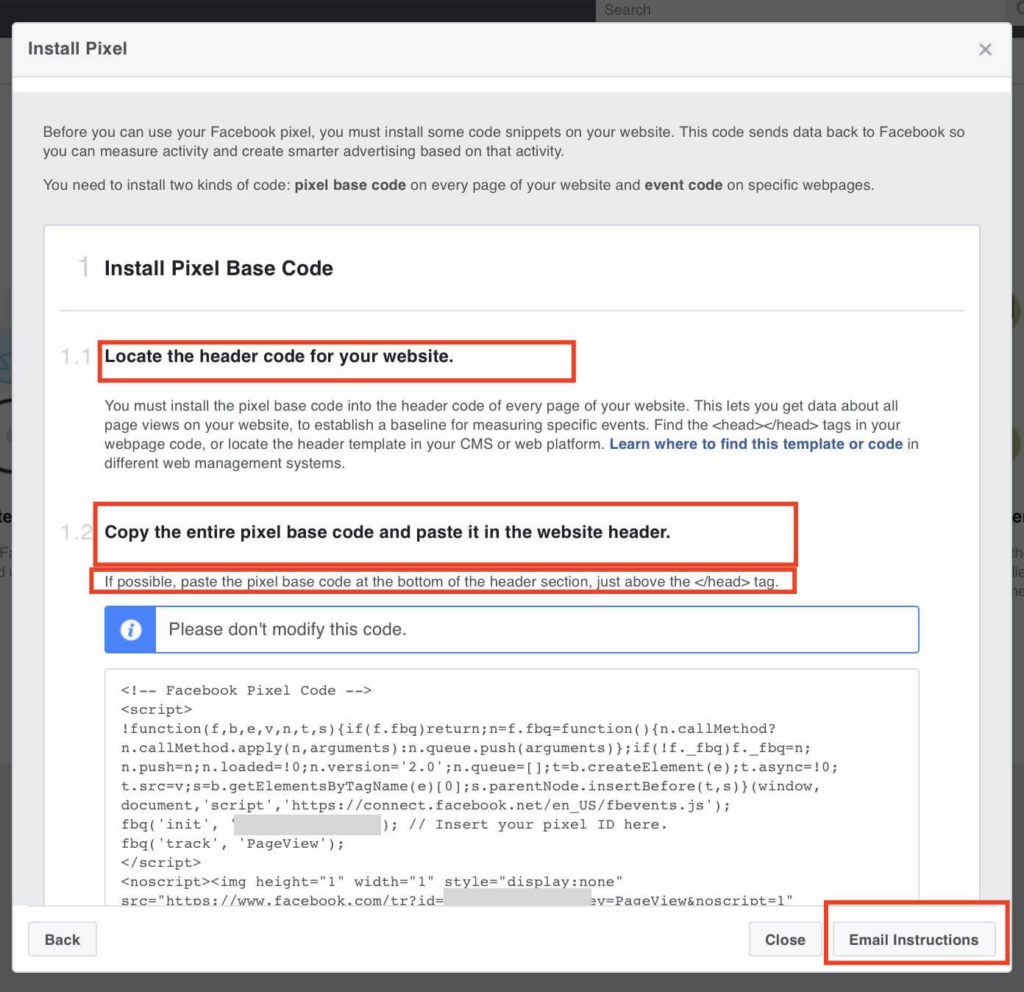 Pro Tip: Facebook recommends that you put the code in the header tags of the website HTML to ensure it's able to track all the important information across your entire website.
.
Adding Standard Events to the Pixel Code
In addition to tracking your website visitors, Facebook pixel lets you track nine different Standard Events that people make on your website.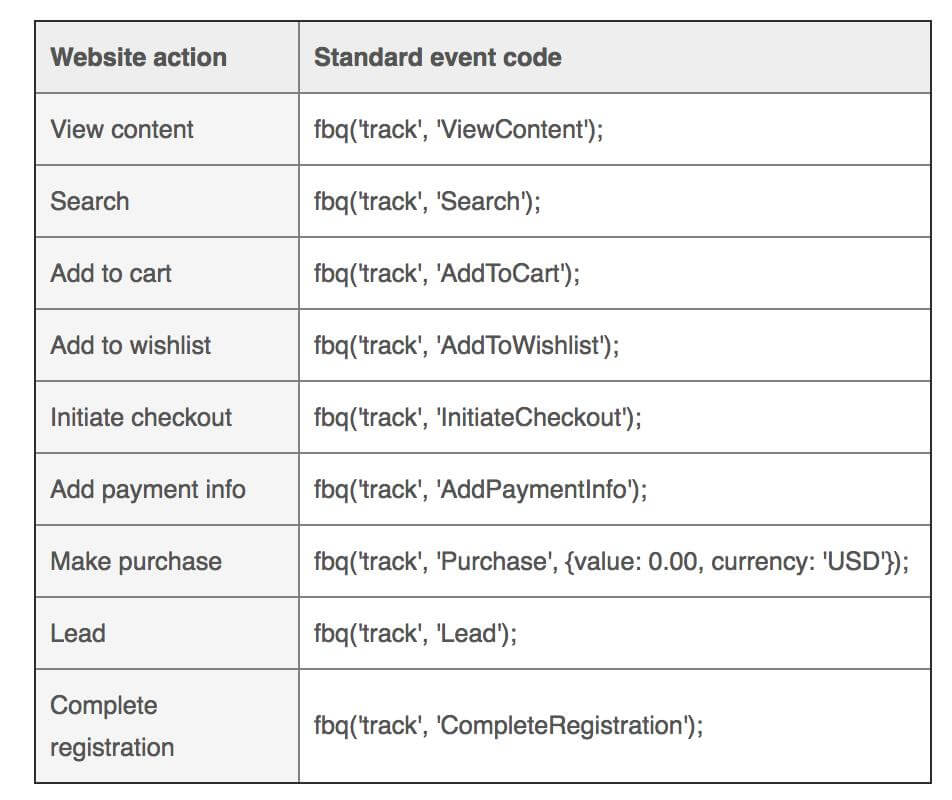 If you want to track one or more of these Standard Events, you'll need to add some additional code to your website's header section, just above the </head> tag.
Here's how the code will look:
Your website's original code: Paste the Facebook pixel code between the <head> and </head> tags of your web page.
Your Facebook pixel base code: what you installed in the previous step of this guide
Your standard event code: Within your Facebook pixel code, above the </script> tag, paste the Standard Event code. You'll need to add the Standard Event's code to every page you want to track.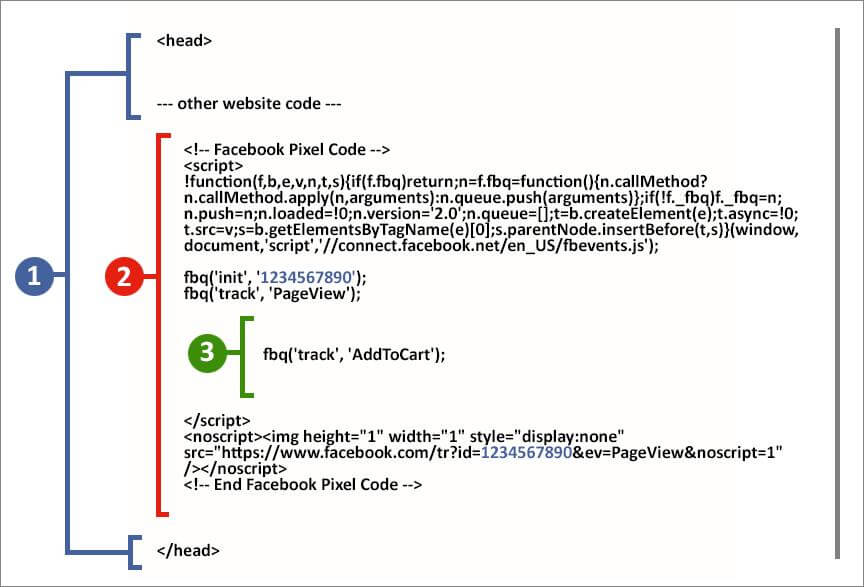 The key here is that every page of your website should have everything that's enclosed in section 2 (the base code), but different pages will have different snippets of code for section 3 (standard event code).
For example, here's how the code will look like on an add-to-cart page: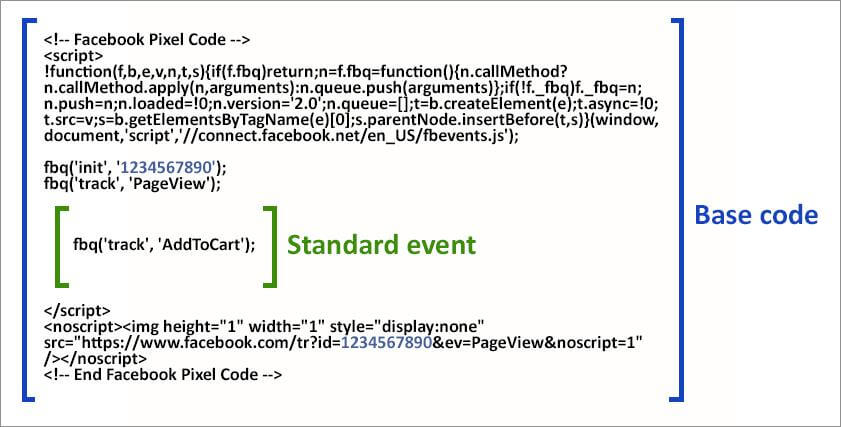 If you want to track even more specific events, you can set up some Custom Events. This is only recommended for advanced users.
See Facebook's guide to learn more about Custom Events.
Defining Your Facebook Pixel's Conversions
If you're using the Standard Events to track your campaign results, we've got some good news for you: Standard events are already measured as conversions by Facebook.
If you're using custom events, plan to use URL-based rules, or want to define a conversion as a specific subset of standard events, you'll need to take some additional steps.
How Facebook Pixel Can Use Standard Events As Conversions
Go to your Facebook Pixel tab in Ads Manager
Click Create Conversion > Track Custom Conversions
In the "Rule" section, click the dropdown and change URL Contains to Events (Note: It may take a moment for Events to appear)
In the field underneath the dropdown, select the standard eventIf the event has sent parameters with it, you'll be able to select the key pair value. If you do not see it but expect it, make sure the event is set up to send data in parameters
In the "Category" section click the Choose a Category dropdown and select the most appropriate choice
Name the new custom conversion.
Navigating the Facebook Pixel Page
Once you've set up your Facebook pixel, you'll start seeing new data come in.
You can access your Facebook pixel page in the Business Manager's primary menu.

Here's how your pixel page will look like: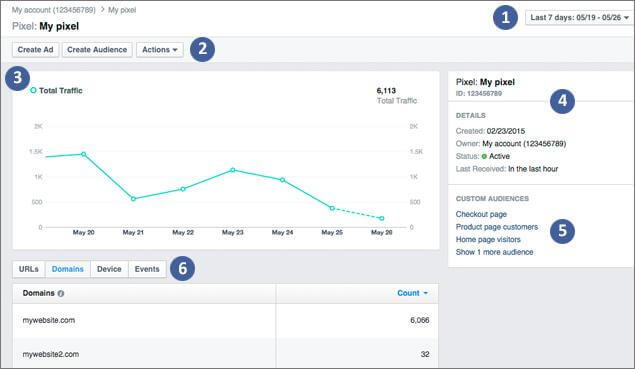 Time frame: Here, you can adjust the conversion tracking time frame
Toolbar: In the toolbar, you can create new ad campaigns and set up new pixel-based Facebook audiences.Under Actions, you can edit your pixel's name, view your pixel's code, email your pixel's code or share your pixel using Business Manager.
Traffic data: See how much traffic has bee recorded on your website. A dotted line means the data isn't yet filled for the current day.
Facebook pixel details: See basic info about your pixel, such as its status and last activity.
Custom Audiences: See all the Custom Audiences associated with your Facebook pixel.
Data filters: Click these buttons to break down your data by URL, Domain, Device or Event to see how much traffic you've received for each of these.

Quick Recap on Facebook Pixel
If you want to use all the features and campaign options in the Facebook Ads Manager, you must have a Facebook pixel installed.
The top benefits of using Facebook ads pixel include:
Tracking conversions that happen off the Facebook platform, e.g., on your website
Getting tons of additional insight to your Facebook campaign ROI
Creating advanced remarketing audiences and Lookalike audiences
To install the Facebook pixel to your website, you can copy-paste the pixel code to your website's code.