The Evergreen Guide To Facebook Ad Optimization

Chapter 3
Optimizing Your Facebook Campaign Objective
The importance of the right Objective
If you go to the
Facebook Ads Manager
and start creating a new Facebook ad campaign, the first choice you'll have to make is selecting the campaign objective.
Your Facebook campaign objective determines what optimization and bidding options you'll have throughout the campaign setup process.
It's like telling Facebook what it is that you wish to achieve, and the system will provide you the best tools to do it.

In Chapter 3 of the Facebook Ads Optimization Guide, we're going to explore:
How to set the right campaign objective
What effect the campaign objective has on your ad optimization
What are the different Facebook campaign objectives
What options and tools you'll get with every individual objective
How to Set the Right Campaign Objective
Facebook has -as of now- 11 different campaign objectives (some of them only usable if you've installed the
Facebook pixel
):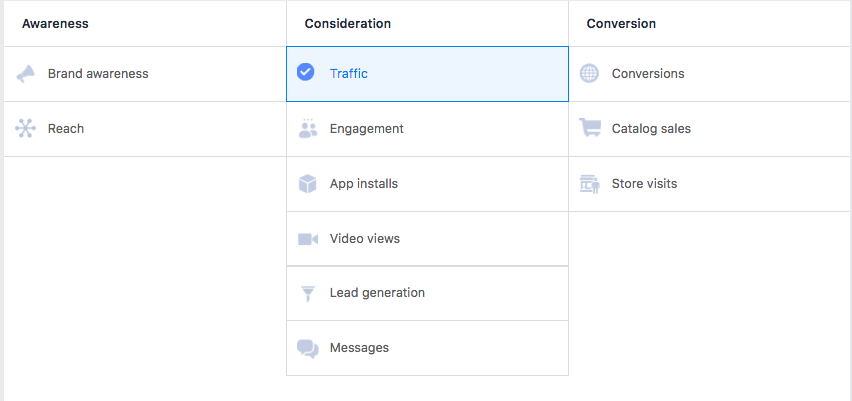 Choosing the right objective from the start is crucial, as it will later affect your ad delivery and bidding options. If you want to avoid the confusion and messy campaigns, you have to keep this in mind.
So how can you know which one to choose, especially if you're just starting out with Facebook advertising?
The rule is simple: To select the right campaign objective, choose the one that's closest to your current advertising goal:
Awareness: Objectives that generate interest in your product or service
Consideration: Objectives that get people to start thinking about your business and look for more information about it
Conversions: Objectives that encourage people interested in your business to purchase or use your product or service
If your goal is to get new leads, you could select the "Lead generation" or "Conversions" objective. If you want to collect more page likes, select the "Page likes" objective, etc.
You can also A/B test multiple campaign objectives by setting up more than one ad campaign.
Facebook Campaign Objectives – The Complete List
Once you've chosen a Facebook campaign objective, you'll have different delivery optimization options, depending on what you selected.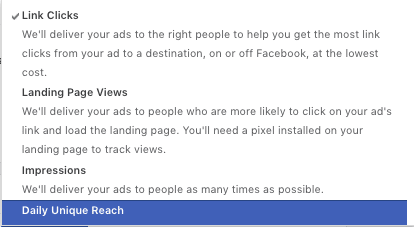 Ad delivery optimization lets you tell Facebook what results you'd like to get. Based on this information, Facebook will auto-optimize your campaign, so that it will reach the right people. Every Facebook campaign objective has different delivery optimizations options and supported ad types.
Up next, you'll find the complete list of Facebook campaign objectives, the Facebook ad formats supported by each, and some pro tips on Facebook campaign delivery optimizations options.
Facebook Campaign Objectives: Recap
There is a total of
11 different Facebook campaign objectives
, each of them relevant to specific advertising goals.
Before you set up your first Facebook ad campaign, think what your ultimate goal is: do you want to grow sales? Or are you more focused on increasing brand awareness? Are messages your thing? Or something else?
Only when you're aware of your Facebook ad campaign's goals, proceed to the campaign setup process and select the right campaign objective.
This way, you'll keep your Facebook ads optimized for your desired outcome.