Facebook is an incredibly powerful advertising platform. And with 24.2% of all Facebook pages (including personal profile pages) actively using paid media as a part of their ad strategies, it's also one of the most competitive advertising spaces.
Every campaign must stand out from the crowd to reach its goals.At this point you're likely asking yourself, how do I make my products stand out?
Facebook carousel ads and collection ads are the answer.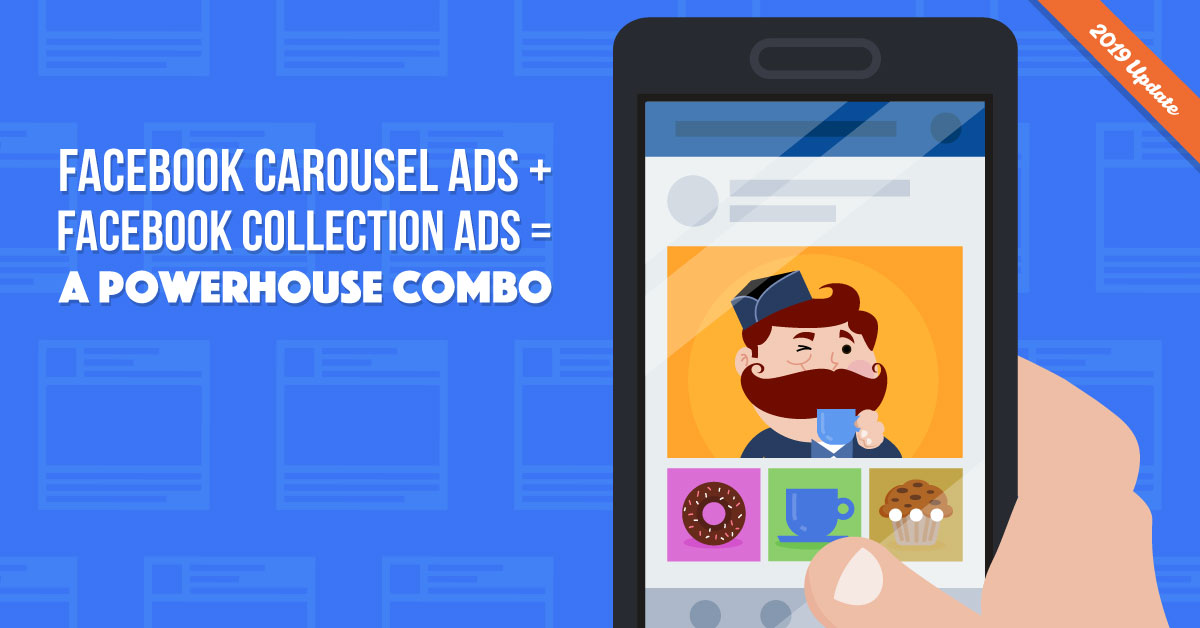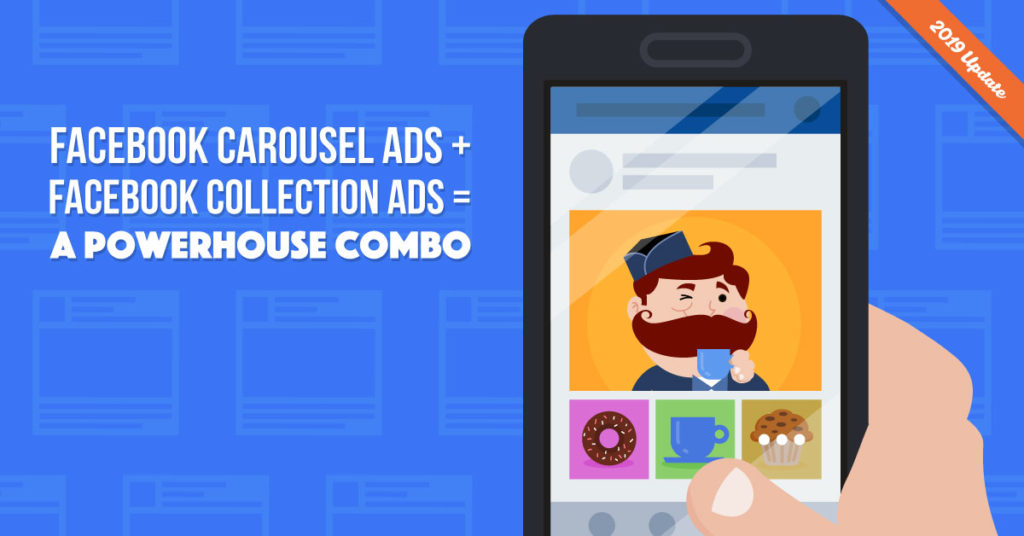 These multi-image/video ads can be tailored to just about any objective you want to use — they're great for boosting brand awareness, selling your products, and acquiring new leads.
Learn how to use Facebook carousel ads and collection ads with this guide, and you'll be able to build winning campaigns that stand out on users' news feeds.
Still wondering if these two Facebook ads types really work? Let's start with some numbers to wipe away any residual doubt.
Using Facebook carousel ads in their ad campaigns, e-commerce website Threadless was able to triple their revenue.
Facebook collection ads were a huge part of what helped menswear brand Combatant Gentleman double the number of purchases made through their campaigns.
Are you convinced, now, that you should give them a try? Let's keep reading then!
What Are Facebook Carousel Ads?
Facebook carousel ads include multiple images and videos (up to 10), which users can browse with a swipe-through menu.
Available across Facebook, Instagram, Messenger, and the Display Network, carousel ads help you offer a seamless ad experience across platforms as well as devices.
Carousel ads work perfectly on both desktop and mobile!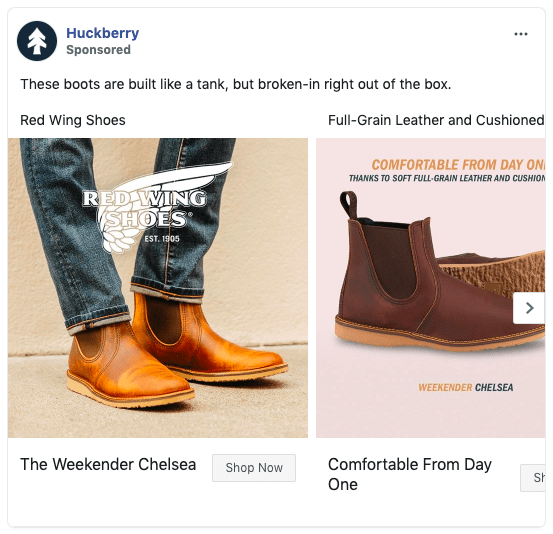 Example carousel ad from Huckberry.
With so much available space, carousel ads give you the freedom to show off your brand. Whether they're highlighting new products or showcasing different features of a single product, these ads are a step up from standard image or video ads.
Carousel Ad Specifications
Carousel ads let you include a number of different creative assets in one place. To ensure these ads display well across platforms and devices, follow these specifications from Facebook.
Number of cards per ad: Between 2 and 10
Image specs:

JPG or PNG
Maximum file size: 30MB
Includes less than 20% text (learn more)

Video specs:

Maximum file size: 4GB
240 minutes or less

Resolution: 1080 X 1080 pixels
Ratio: 1:1
Text (before truncated):
Copy: 125 characters
Headline: 25 characters
Link Description: 20 characters
Best Practices For Facebook Carousel Ads
Carousel ads are easy to create. There is a single post text section for your ad copy and each card acts more or less as an image/video ad. Building these ads is all about telling a cohesive story about your product or your brand.
Whether you're highlighting a single product, or several different products, each card should build on the previous one.
Make sure each image or video is visually distinct. This differentiation helps make the ad more engaging and entices viewers to click through to the next card.
Use the text of the ad to give a high-level explanation of the story you're telling.
The headline, description, and CTA should provide additional context about each individual card.
You don't have to use all ten cards in every carousel. Decide on how many cards to use based on the product you're promoting.
Looking for a template to get started? Check out our Facebook Ad Templates for Better Ads ebook to quickly create your first carousel ad.
Facebook Carousel Ad Example
This carousel ad from Huckberry, an e-commerce outdoor and lifestyle brand, highlights the features of their jacket to showcase value to potential customers.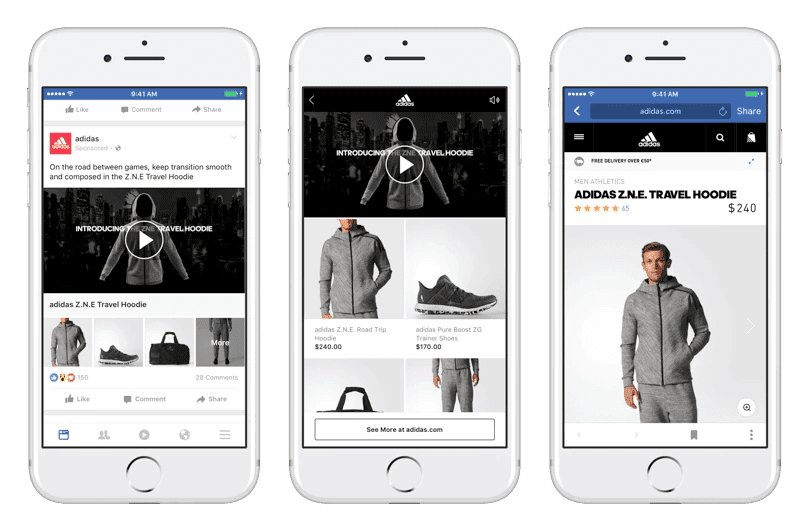 Relwen Quilted Tanker ad from Huckberry.
Huckberry starts off by introducing the product in the text, talking about the key features they're going to highlight throughout the carousel. Each card includes a headline, item description, and "Shop Now" CTA.
As you click through to the next card, Huckberry narrows the focus of their images to highlight various aspects of the jacket. For example, the second image uses the headline and image description to provide information on the product to potential customers. Specifically, the 100% polyester ripstop lining and 60 gram polyfill filling.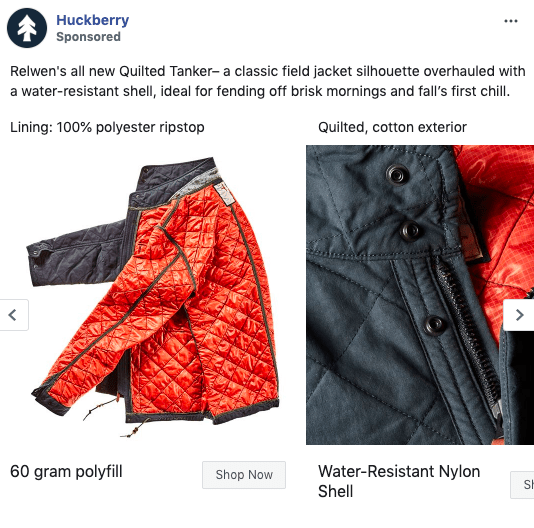 Relwen Quilted Tanker ad from Huckberry.
Using only four of the ten available cards for this carousel ad, Huckberry accomplishes a lot. The company introduces their product, highlights various features of it, and includes a color variant that's exclusive to their platform. You don't have to use every card whenever you create a Facebook carousel ad. The ad is succinct, easy to follow, and includes four opportunities for potential customers to click through to their sales page.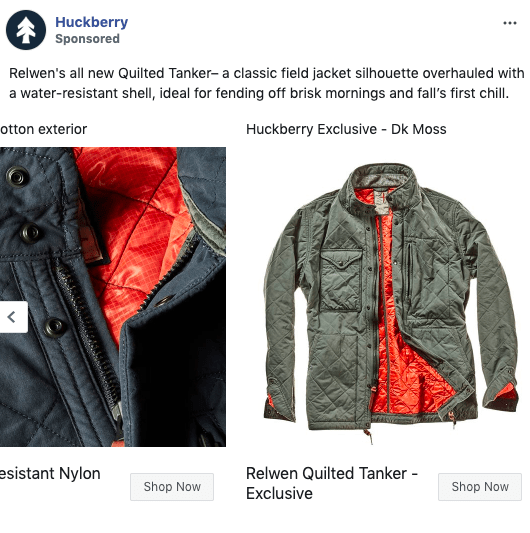 Relwen Quilted Tanker ad from Huckberry.
Don't let the simplicity fool you — this Facebook carousel ad packs a punch. By using a carousel ad, like Huckberry, you're able to showcase the value of your product with multiple engaging visuals and informative text.
What Are Facebook Collection Ads?
On the surface, Facebook collection ads look very similar to carousel ads. But while both are multi-card ad types, the collection ad is only shown on mobile and tailored more to e-commerce and product discovery. With a prominent primary video on top of four smaller product images, collection ads help you highlight products in a captivating, informative way.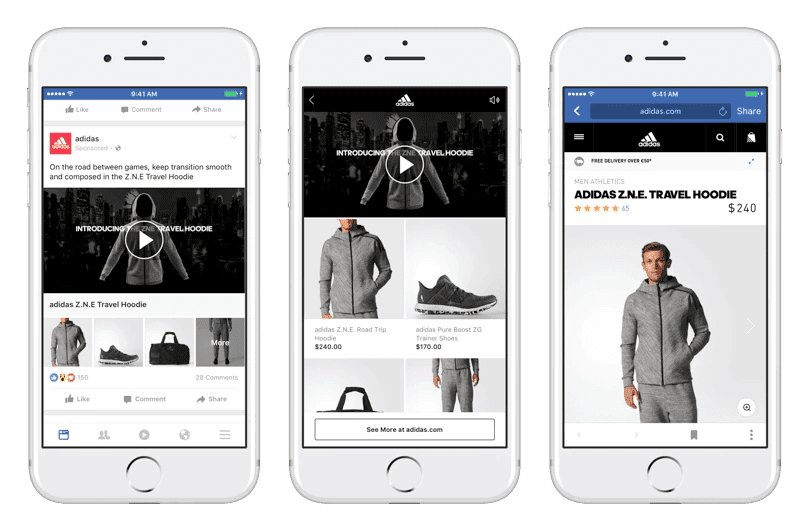 Adidas Collection ad via AdWeek.
There are four different templates available for this ad type, each focused on a specific acquisition or conversion goal. Each of them utilizes a post-click experience that carousel ads do not. Instead of driving potential customers back to your sales page, collection ads open up a store directly in the Facebook app, making it easier for someone to find the products they need.
Collection Ad Specifications
Collection ads feature a primary video or image above several smaller images. While this is customizable, there are specifications that need to be followed for the ad to display correctly on mobile.
Templates:

Instant Storefront
Instant Lookbook
Instant Customer Acquisition
Instant Storytelling

Images/Video:
Ratio: 1:1
Text (before truncated):

Copy: 90 characters
Headline: 25 characters
Best Practices For Facebook Collection Ads
Collection ads give Facebook users the ability to browse your store directly on their mobile device. You're combining the power of a carousel ad with a post-click experience that all happens within the Facebook app. There's really no better way to encourage potential customers to buy than making it easier for them to do so.
The cover image is the most important aspect of these ads and can mean the difference between a click or a user scrolling past the promotion. Encourage engagement by choosing a primary video or image that is attention-grabbing.
These ads go to an Instant Experience after users click through. Use this immersive, full-screen option to showcase more information about your products than a typical Newsfeed ad.
Make sure your ad copy and image content focus on showcasing the value your product provides to the customer. Facebook collection ads are more enticing when users understand how the product will benefit them.
Like carousel ads, make sure each card in your collection ad is visually distinct from the rest. This makes the overall ad more engaging.
Check out our Facebook Ad Templates for Better Ads ebook if you're looking for templates to create your first collection ad.
Facebook Collection Ad Example
Collection ads create a seamless purchasing experience for customers by keeping browsing and shopping within the Facebook app. The online clothing company Howler Brothers made the most of this ad type with this stunning campaign.
Howler Brothers Collection ad.
Using the text of the ad, Howler calls out the name of the product they're promoting, followed by a primary image that is a close up of their different shirts. When a user clicks through the ad they're taken to the Instant Experience, which opens up directly within the Facebook app.
Post-click experience for Howler Brothers Collection ad.
The primary image shows up here as well. This is the Instant Storefront template. It shows individual cards and includes an image, title, and price for each product. There's also a "Shop Now" CTA that sticks at the bottom of the device, making it easier to click through to the full product page for these items.
As Howler's campaign shows, purchasing through a collection ad is a streamlined experience. Customers don't have to travel far to find what they're looking for, thanks to the Instant Experience element, so they're more likely to make a purchase.
Using Facebook Carousel And Collection Ads Together
Any advertiser worth their salt knows that a great campaign is made up of several complementary ad types. Using Facebook carousel ads and Facebook collection ads together helps you achieve your goals while also providing a seamless shopping experience.
Let's take a look at how this might work in a campaign. Imagine, for example, you're an e-commerce store that wants to increase awareness and sales for their new product — an ergonomic desk chair.
To start off, you'll use a carousel ad to try and boost some brand awareness and talk through the various different features of your desk chair. Then, you can use an image or video ad to provide a little bit more context. The middle of the funnel is all about reinforcing your brand value. Once your audience is further along and nearing a purchase, you can start displaying a collection ad to give them the opportunity to buy.
Here's a simplified example of this progression:

Basic carousel ad, video ad, and collection ad campaign.
In this example, the carousel ad helps you tell a story about your products and your brand. We used it to boost brand awareness. At this point in the funnel, depending on your objective, carousel can be used for Traffic, Engagement, and Lead Generation objectives as well.
Collection ads are better suited for your end of the funnel objectives like Conversions, Catalog Sales, and Store Traffic. Depending on your store setup, this can also be an opportunity to use a Facebook pixel. Tracking potential customer movement on your website helps you create more targeted collection ads as well as more custom audiences.
Together, these two ad types help you create campaigns that showcase the value of your product and close the sale. There's no better combination to include in your campaigns when you're advertising a product on Facebook.
Why Facebook Carousel Ads and Collection Ads Are Killing it in 2019!
Giving advertisers the ability to get creative, Facebook carousel ads and Facebook collection ads are some of the most potent ads you have at your disposal. Using these two ad types together helps you connect with potential customers and level up your ads across the entire sales funnel.
Let us know in the comments how you like to use carousel and collection ads in your campaigns. They're an awesome tool for advertisers and we're sure you have tricks that can help make them even more useful!