By 2018 (that's in less than 4 months), 84% of all marketing communication will be visual.
And there's more than one good reason for the shift.
Visuals help businesses of any size communicate and connect with users and distinguish from competitors.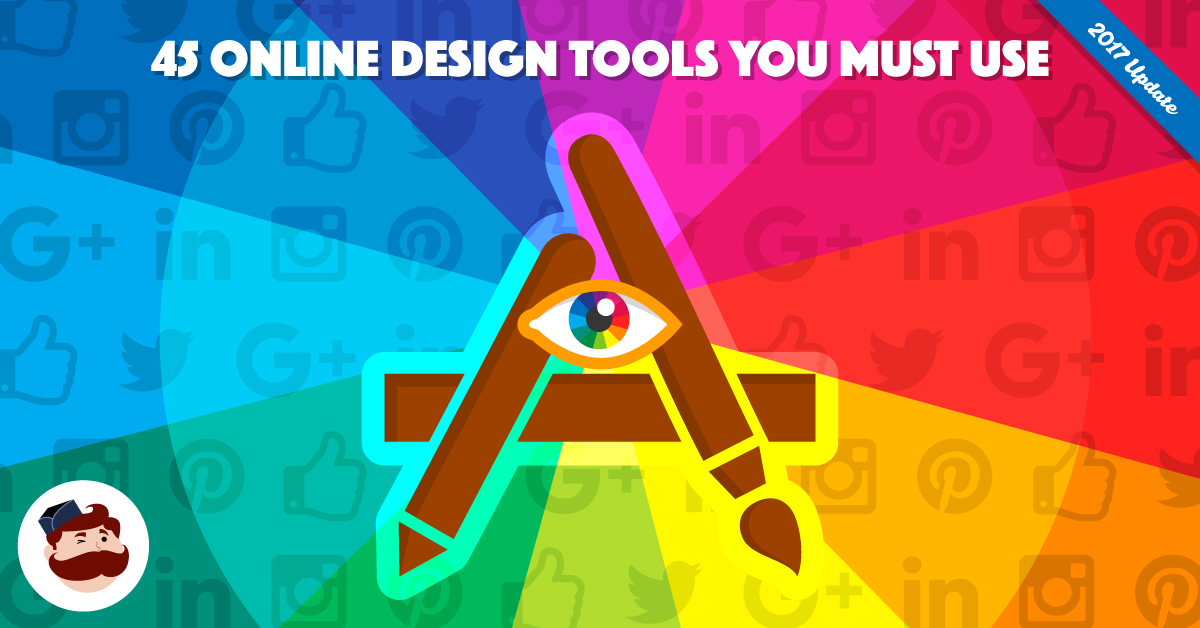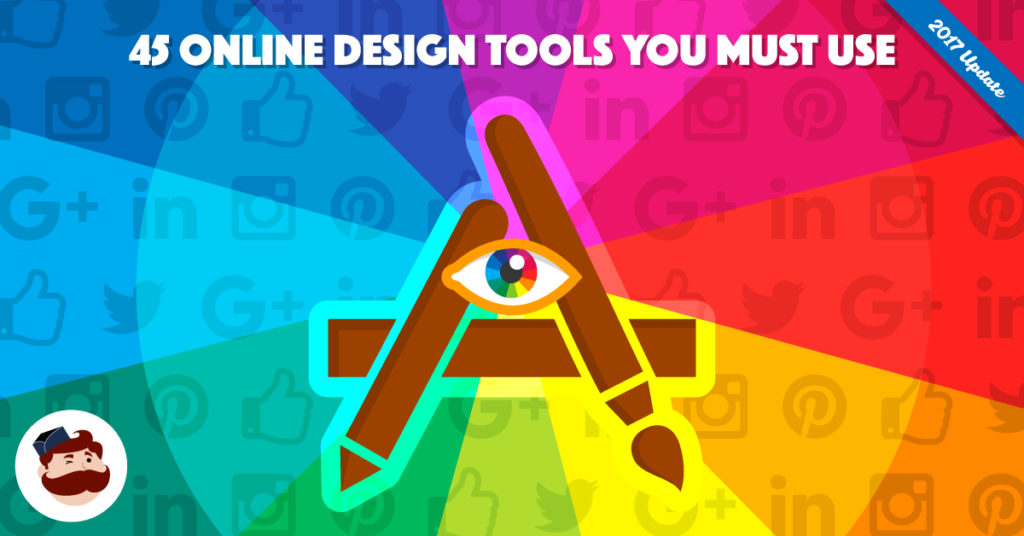 So, if you haven't done so already, get ready to jump on the visual-band-wagon.
You don't need to be (or hire) a designer.
You can get started (and do great things) with our selection of the best online design tools.
With the oncoming visual epoch, mastering the non-verbal communication can make a big difference. The right visuals help you:
The right visuals help you:
Communicate difficult concepts easily: The human brain can process a visual image in 1/10th of a second and understands visual information 60,000 times faster than words. That means you can communicate with employees, and customers more effectively with visuals than with anything else.
Emotionally connect with your users: Visuals and videos humanize your communication with users. Users want to see a face—to know that you're speaking to and care about them. Dropbox put a face on its product by investing in an easy $50,000 onboarding video. Soon after its upload, the company watched its conversion rate jump by 10%, bringing in 5 million more customers and $24 million in revenue.
Distinguish your company from competitors: When you see this on a paper coffee cup, you know you're drinking Starbucks. When you see this on the can of your fizzy beverage, you know you're drinking Coke. Starbucks and Coke have used visuals to create unique brand identities. To set yourself apart from your competitors, you'll also need to develop a symbol unique to your brand and relevant to your users.
Below, we'll get you started with 45 of the greatest online design tools to boost your company-customer communications.
Type: Video maker
Price: Free!
You don't have to be the next Spielberg to get yourself on camera. You can create high-quality, professional videos with no more than a laptop and cheap internet service.
You can do this with Wistia's Soapbox. The free Chrome extension makes creating, editing and sharing a breeze. Along with giving you a crystal clear picture (never knew I looked that great…), Soapbox records your screen and webcam simultaneously.
Soapbox also has a ton of features to personalize your video and make it Sundance ready. You'll be able to:
Customize the player color
Include a link at the end of your video
Create a custom video thumbnail
Crop the beginning and end time on your video to make timing precise
Re-edit videos after you've shared them.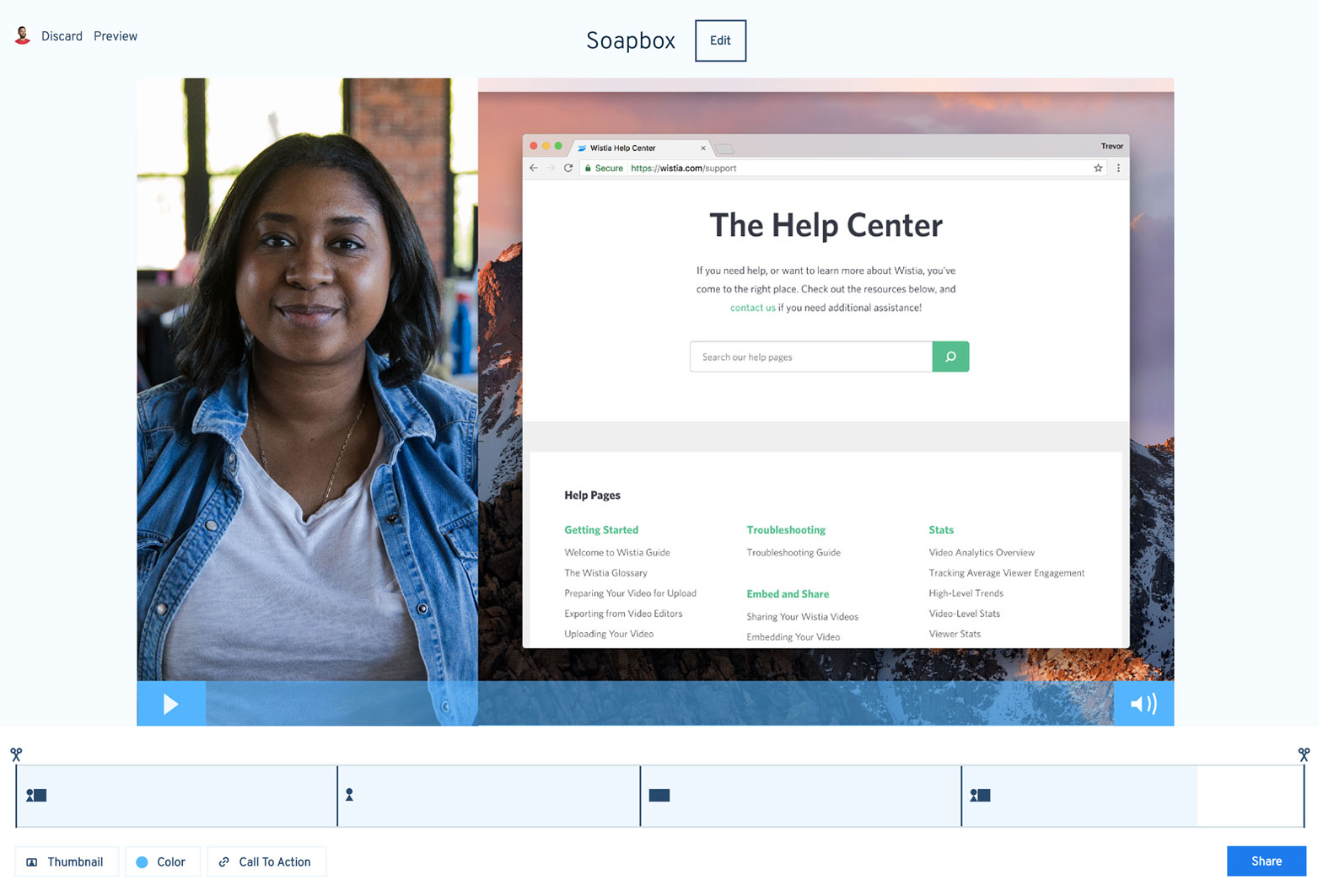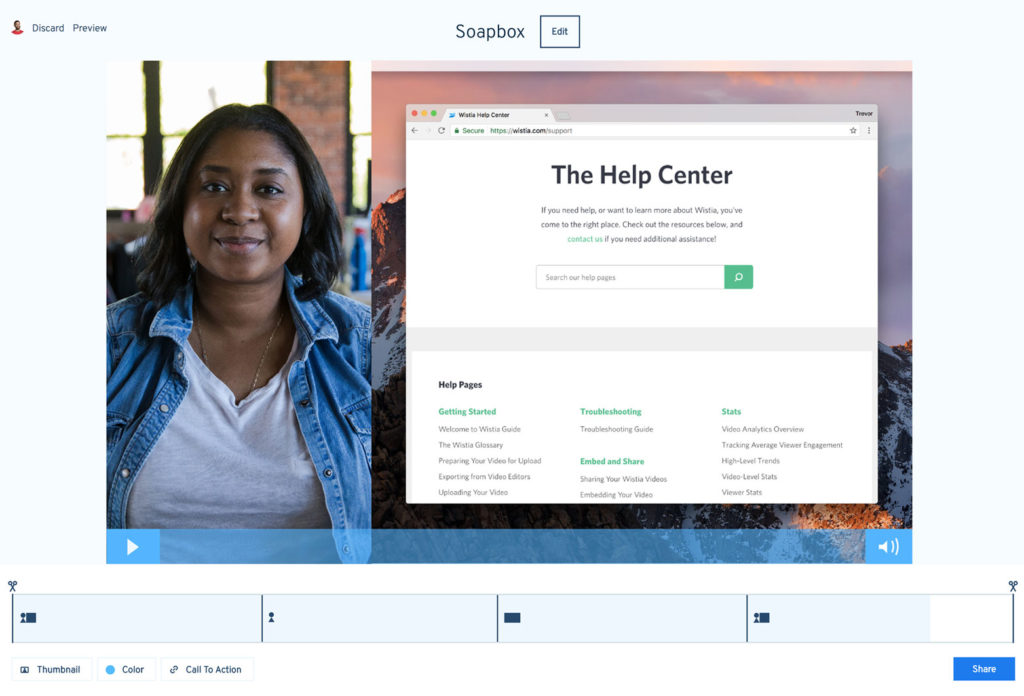 Soapbox's Help Center will quickly answer any question you have about your video production. (Source)
Along with its helpful features, Soapbox will also help you form the kinds of relationships you want with your employees and customers: those based on genuine human connection rather than on faceless communication.
Type: Image Creator
Price: Free for the Hobbyist plan, $9/month for the Pro plan, $18/month for the Unlimited plan
So maybe you're no up-and-rising Spielberg. Maybe you're not even the next modern-day Picasso. That's okay.
With Stencil, you can make state of the art images without an art degree. Check this out: the visual content creator helps you create detailed and colorful pictures within minutes. It streamlines the visual-making process with 1,110,000 background photos to choose from, 610+ templates, 100,000 quotes, 21,000 Google web fonts, 300,000 icons and graphics, and a lot more.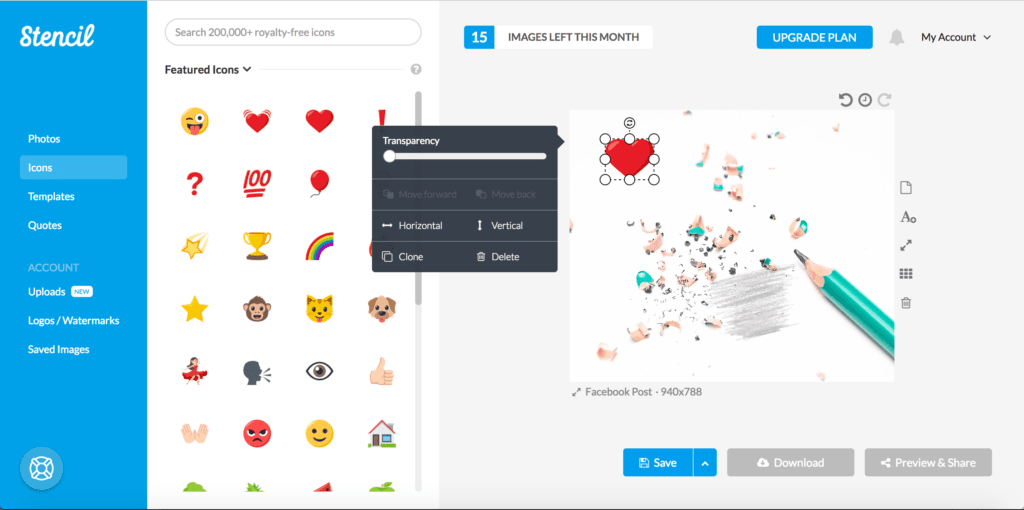 Stencil offers hundreds of thousands of graphics to spruce up your images. (Source)
This image creation tool is reasonably priced, charging nothing for the "hobbyist" plan, letting you make up to 10 pics per month.
That may be reason enough to start tapping into your artistic genius again, long too neglected since your failed attempt at a Frieda replica in college.
Type: Graphic design software
Price: $9.95/month (billed annually), $12.95/month (billed monthly)
Whether you work at a nonprofit, in the corporate world, or simply have an interest in really high-quality letterhead for your startup, Canva can give you what you're looking for.
The drag-and-drop image editor creating professional layouts helps you design anything from sleek company documents to nonprofit donation campaigns, making it one of the best free design tools for social media marketing design.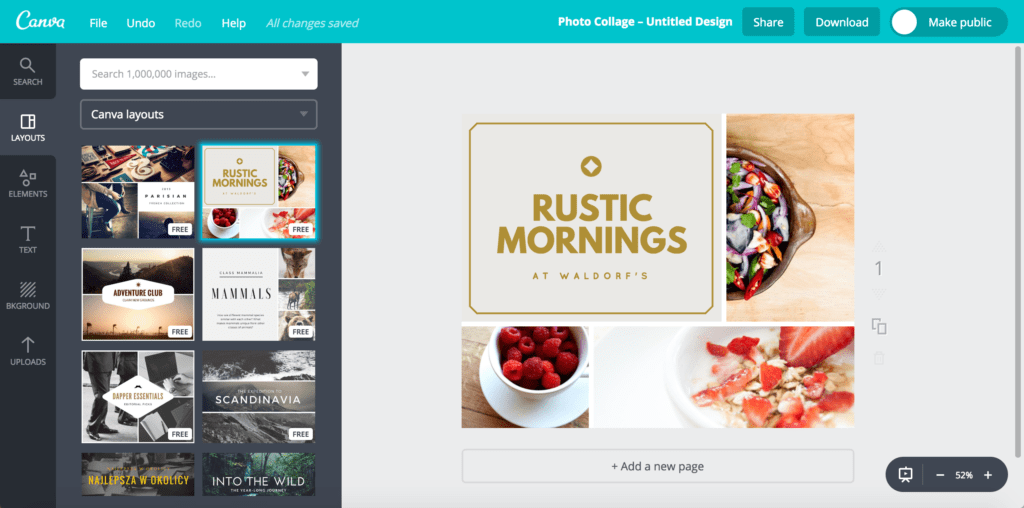 Canva's image editor also offers thousands of templates to choose from. (Source)
With powers to save and create your own brand templates, resize your designs, mix and match your own designs, you'll feel like the creative guru you always knew you were.
Type: Diagram creator
Price: $7.99/month for Professional plan, $4.99/month per user for Team plan, contact a representative for Enterprise plan
Touting themselves as "the widely used online diagramming app,"Gliffy has reason for its hubris. HubSpot and Pandora swear by the app and use it to make and collaborate on flowcharts, mindmaps, wireframes, sitemaps, org charts, and network diagrams. Offering Gliffy Online, Gliffy Confluence Plugin, and Gliffy JIRA Plugin, the app offers a few perks in all its forms:
It's easy to use: Any diagram can be made with an easy shape drag-and-drop
Its shape database is packed: Gliffy offers pretty much any shape you can think up for your diagram
You can share and collaborate with anyone on your diagrams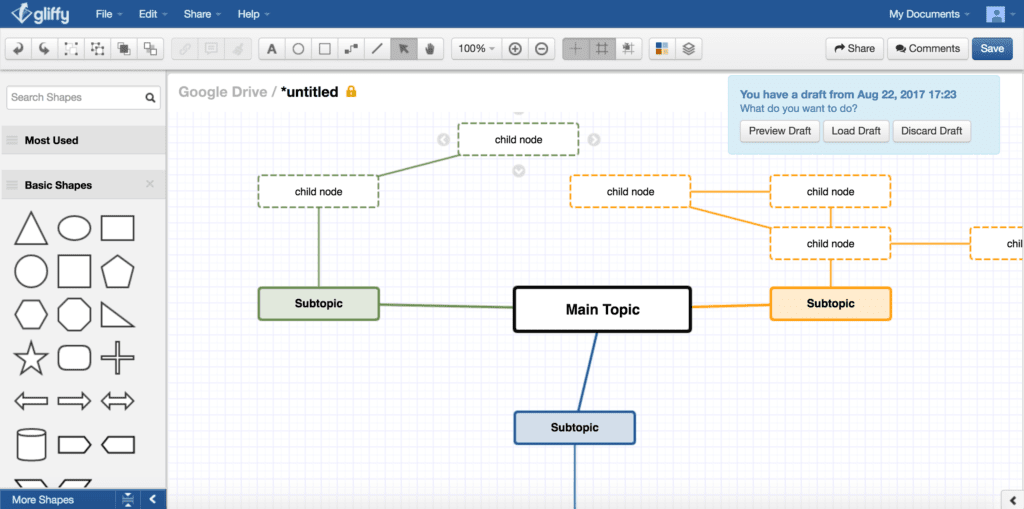 All it takes to make a diagram in Giffy is an easy drag-and-drop. (Source)
So start diagramming, sharing, and collaborating. With Gliffy, it'll take you half the time to produce a diagram with double the quality of any other software out there.
Type: Gif creator and database
Price: Free!
Giphy, the gif database and creator, is filled with millions of two-second videos to liven up your company and customer conversations. Its clean, user-friendly layout will get your artistic juices flowing and give you millions of examples to pull from to set the write tone in any post. The process is simple:
Post a youtube URL or upload a video file to the gif creation website
Assign a start time and duration for your gif
Write a caption to explain what's going on in the gif
Watch your masterpiece come to life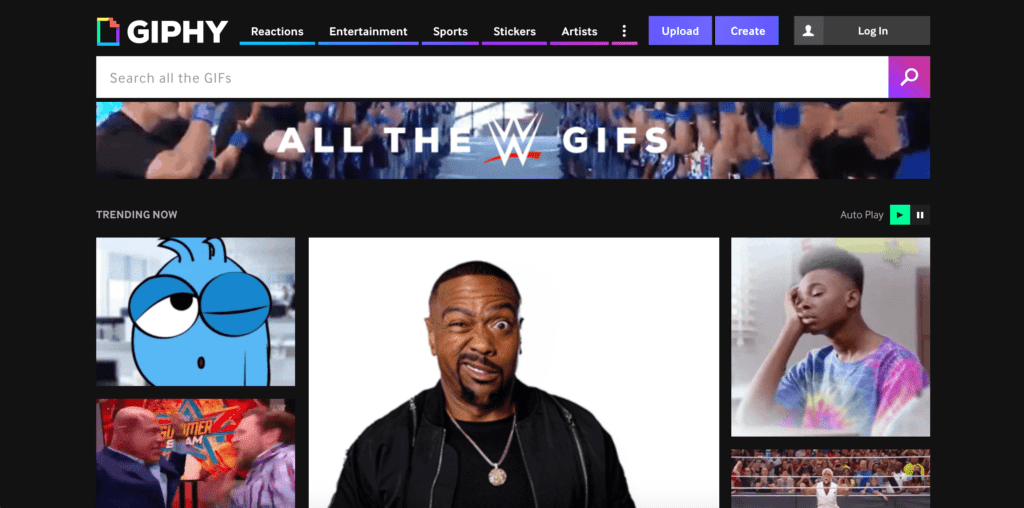 Giphy helps you better connect to your users with shareable, visual humor. (Source)
There's no doubt about it: with Giphy, if you can dream it, you can gif it.
Type: Personalized emoji creator
Price: Free!
Sometimes, it's okay to enjoy your dashing good looks. Sometimes, it's even better to make an emoji with said good looks. Sometimes, it's best to send your customized emoji to employees and customers to put a face on your brilliant content.
With Bitmoji, you can. The personalized (and free!) emoji platform allows you to design your digital avatar down to the laugh lines besides your lips and wrinkles above your brows.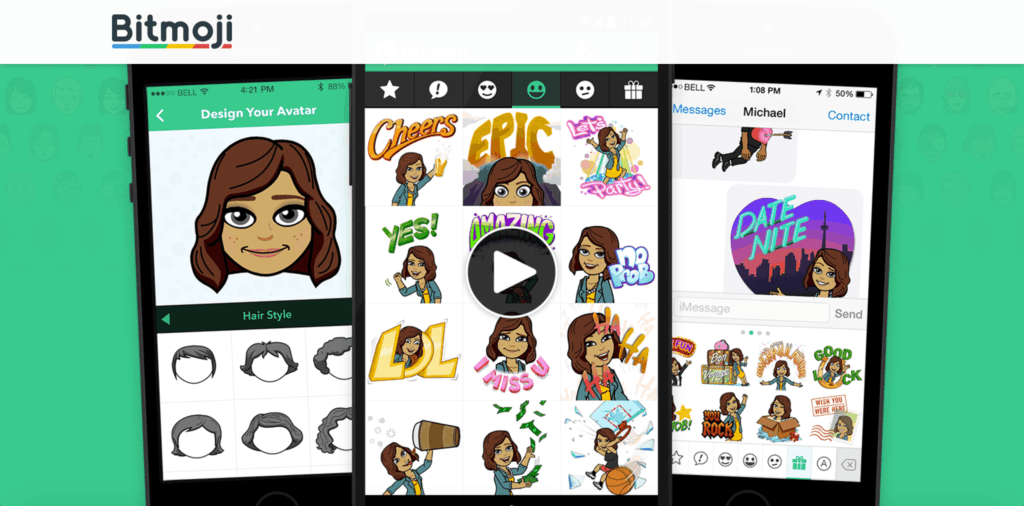 Bitmoji avatars can do just about anything you do in "real life," helping you stay connected and real with employees and customers. (Source)
Make no mistake, your digital persona will be you reincarnated in one epic character, doing anything from signing off on emails to friends and coworkers, to acknowledging a customer's long-time loyalty. In fact, through Bitmoji's Chrome extension, your avatar can express your thoughts and feelings anywhere you can write on the web.
It's a great way to put a face on your digital conversations in and outside your business, update them on what you're doing, and of course, remind them of just how stunning you really are.
Type: Photo editor and collage maker
Price: $3.99/month for Premium plan (billed annually), $8.33/month for Supremium plan (billed annually)
PicMonkey describes itself as a "photo editor, design maker, and idea realizer." What that means in human terms is that you have access to everything related to photo editing, collage-making, and graphic design.
When editing, you can fool around with:
Resizing
Adjusting exposure
Adjusting color
Sharpening
Rotating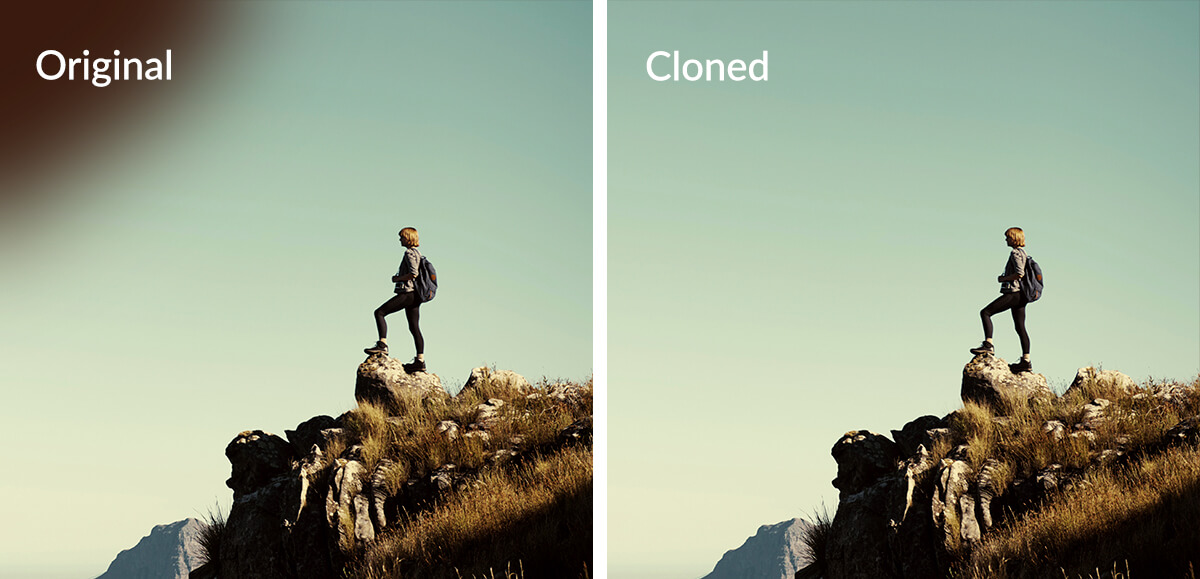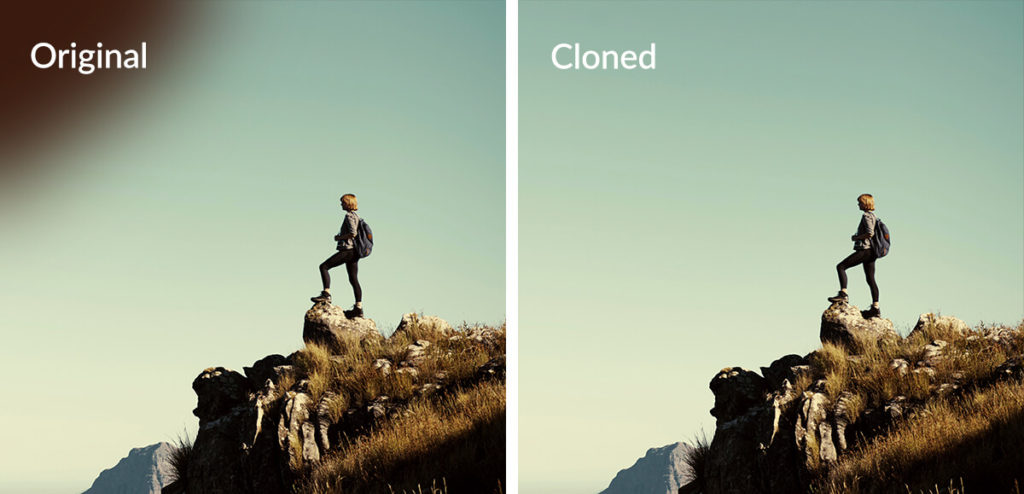 Clone, PicMonkey's touching up tool, can edit out any accidental fingerprint or embarrassing presence in what would otherwise be a pretty photo. (Source)
If you're more in the mood for making a killer collage for your company website, you can mix-and-match photos from:
Your computer
Facebook
PicMonkey's repository of thousands of photos and
Your private Hub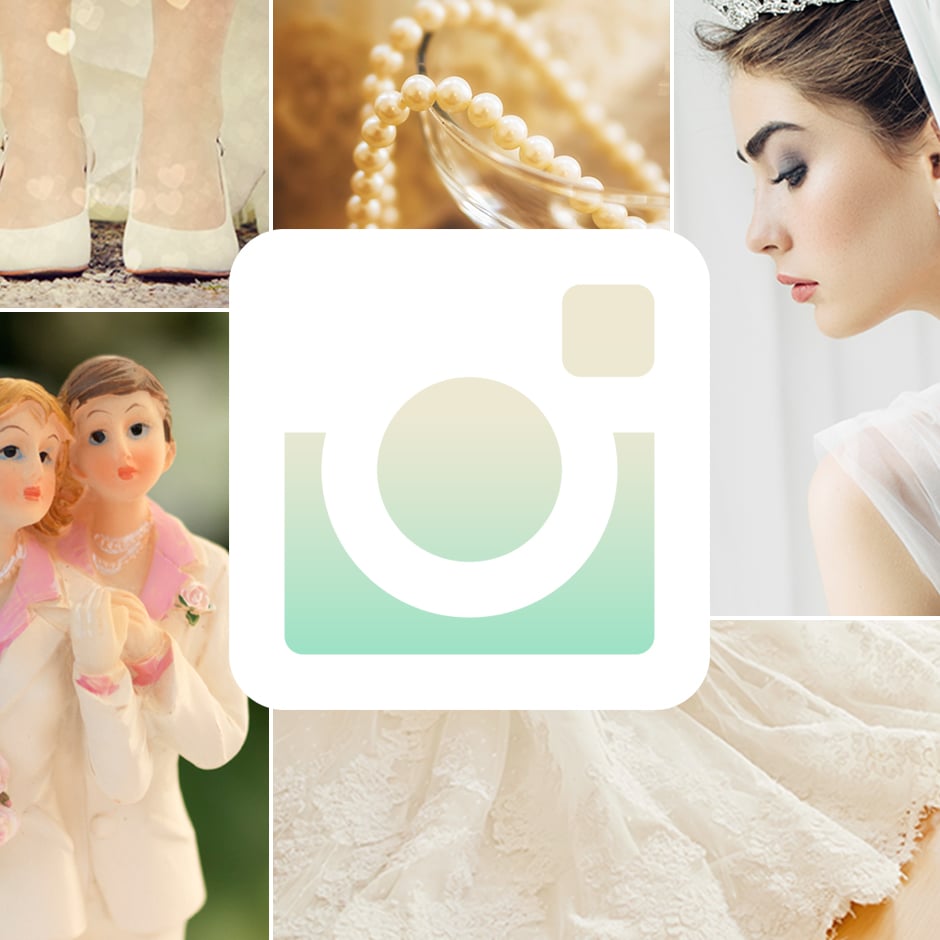 You can create your own rendition of the collage above by opening a collage, choosing a layout, editing your pics, and saving your artistic genius. (Source)
Finally, if you're really jonesing to get your graphic design on, you can create beautiful templates for business or personal events by:
Choosing a template
Adding fonts and graphics
Saving your design
Editing your creation whenever you want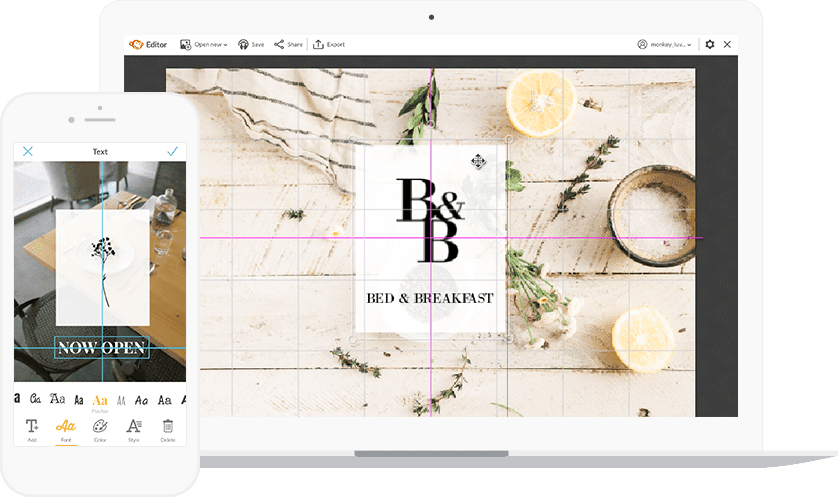 Always wanted to advertise that bed and breakfast of yours? With the help of PicMonkey and their template database, now you can in style. (Source)
So get to it! You've got photo masterpieces, heartwarming collage cards for loyal customers, and downright flawless business cards to make.
Type: Photo editor, collage maker,
Price: Free for Basic plan, $2.91/month for Pro plan (billed yearly), $4.95/month for Pro plan (billed monthly)
BeFunky's name is fitting. That's because its tools let you be as funky as you want with your photos—kind of like the person who shot this pic: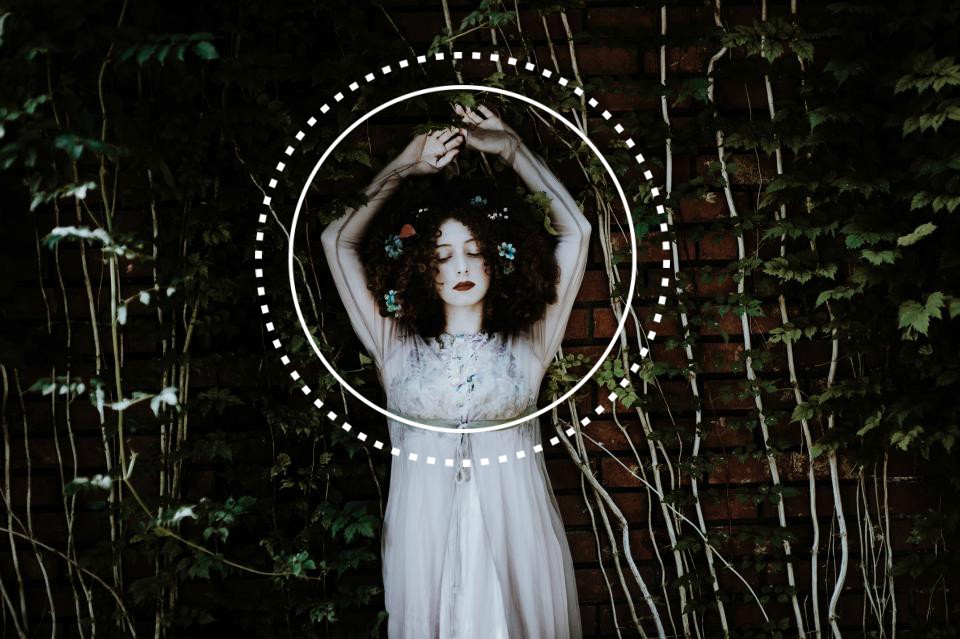 You can get super funky with BeFunky's geometry tool and insert shapes to enhance your photo. (Source)
Aside from making great gothic art, BeFunky's mobile app and online software can also help you make collages, invitations, business cards, menus, and other important docs. If you need to get some photo and video editing done, you can use BeFunky's software to do that as well.
And if you do use BeFunky's editing tools, you'll find that they are incredibly straightforward.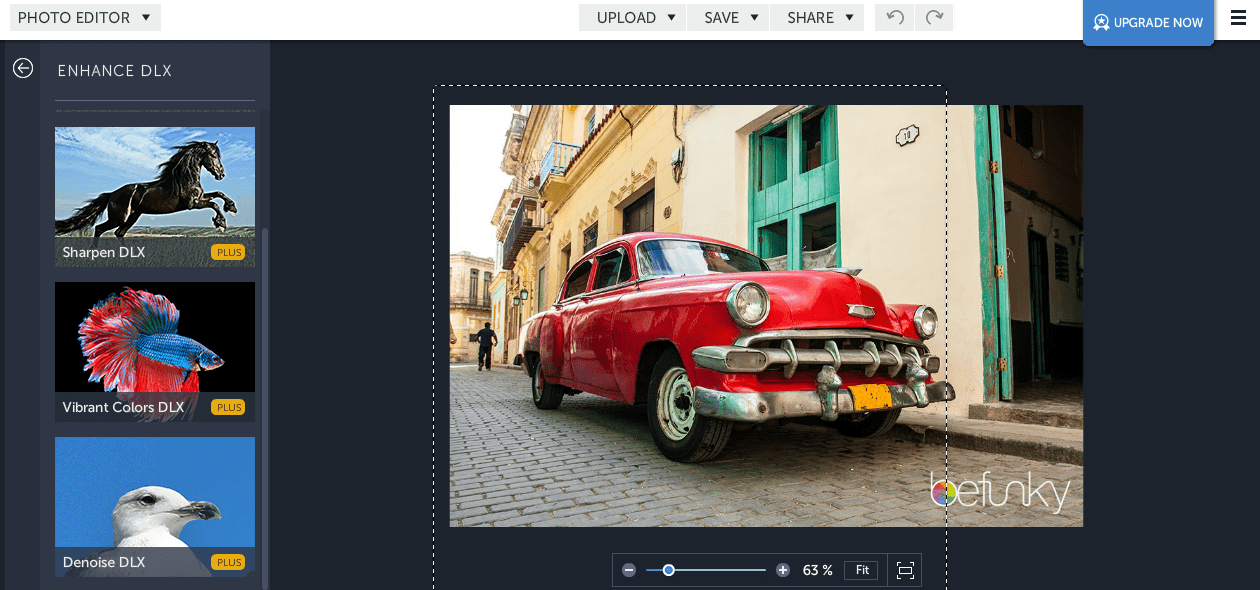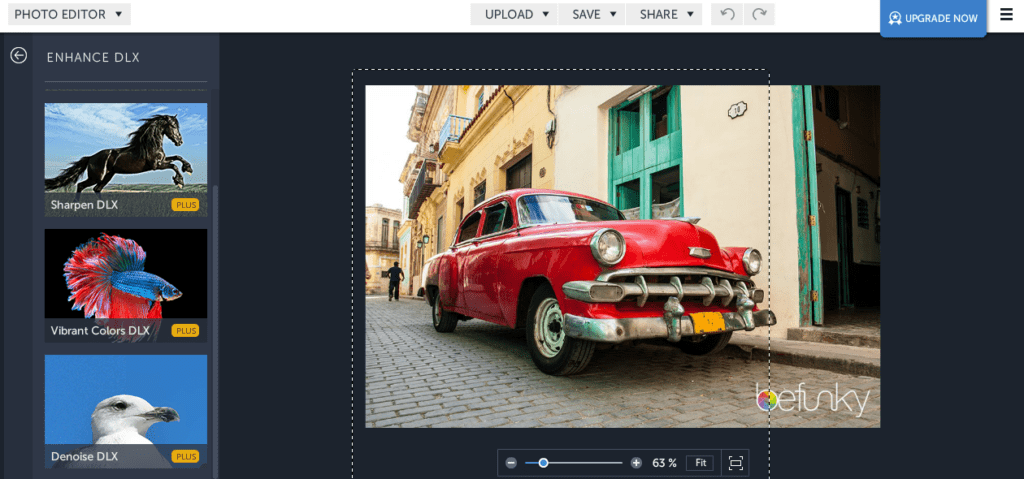 (Source)
You can edit photos in 3 easy steps:
1) Upload your photo to the BeFunky tool
2) Edit the photo (adjust color, saturation, and size, for example)
3) Save your photo
4) Share away
There's no escaping it: once you get hooked on BeFunky's features and accessibility, you'll let your creativity fly like you've never before.
Type: Infographic maker
Price: Free for Basic plan, $19/month for Premium plan, $49/month for Business plan
Ever wonder how to package a complex idea into a simple, attractive infographic? With Venngage, you can map, graph, and label anything from the most recent social media trends to elements of the ultimate growth hack.
If you're looking to make an infographic that will get people's attention, you can choose from thousands of templates for:
Business
Marketing
Education
Food and Drink
HR
Tech
Travel
Social Media
When it comes to making something engaging your users and employees will care about, Venngage is definitely worth a double-take.
Type: Chart and infographic maker
Price: Free for Basic plan, $19/month for Pro plan, $67/month for Business plan, call for Enterprise plan cost
If you're overburdened by meaningful data and insights (aren't we all?) that you pine to display in a pretty chart, graph, or map, Infogram is your go-to.
Regardless of your industry, Infogram, a user-friendly chart and infographic maker, knows how to take all the data and turn it into something meaningful.
It offers:
Over 35 interactive map prototypes
500 map prototypes
1 million images and icons
Editorial services to customize your graphic
The ability to import power from any cloud service
Export the maps, graphs, and graphics that you make into png, gif, and pdf formats for sharing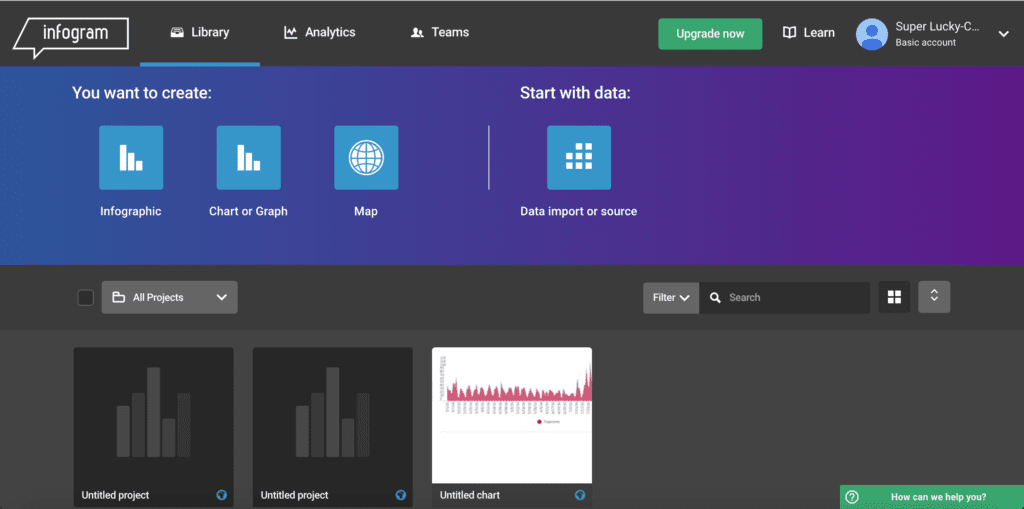 Infogram helps you present your data with stunning visuals. (Source)
So do the right thing and move your data one step closer to comprehensibility: make a pretty visual, graph, or map that your employees, customers, and readers will understand and appreciate.
Type: Infographic maker
Price: Free for basic plan, $15/month for Lite plan, $29/month for Pro plan, Pro Team plan coming soon
No matter your design background, Piktochart will help you make the infographics you need to communicate with your employees and customers.
That's because its visual creator offers the guidance for any infographic novice and the creative flexibility for the experienced.
You'll start to make your infographic by choosing one of Piktochart's templates. Next, you'll make the template your own by adding personal touches, including charts and graphs, icons, and photos and videos.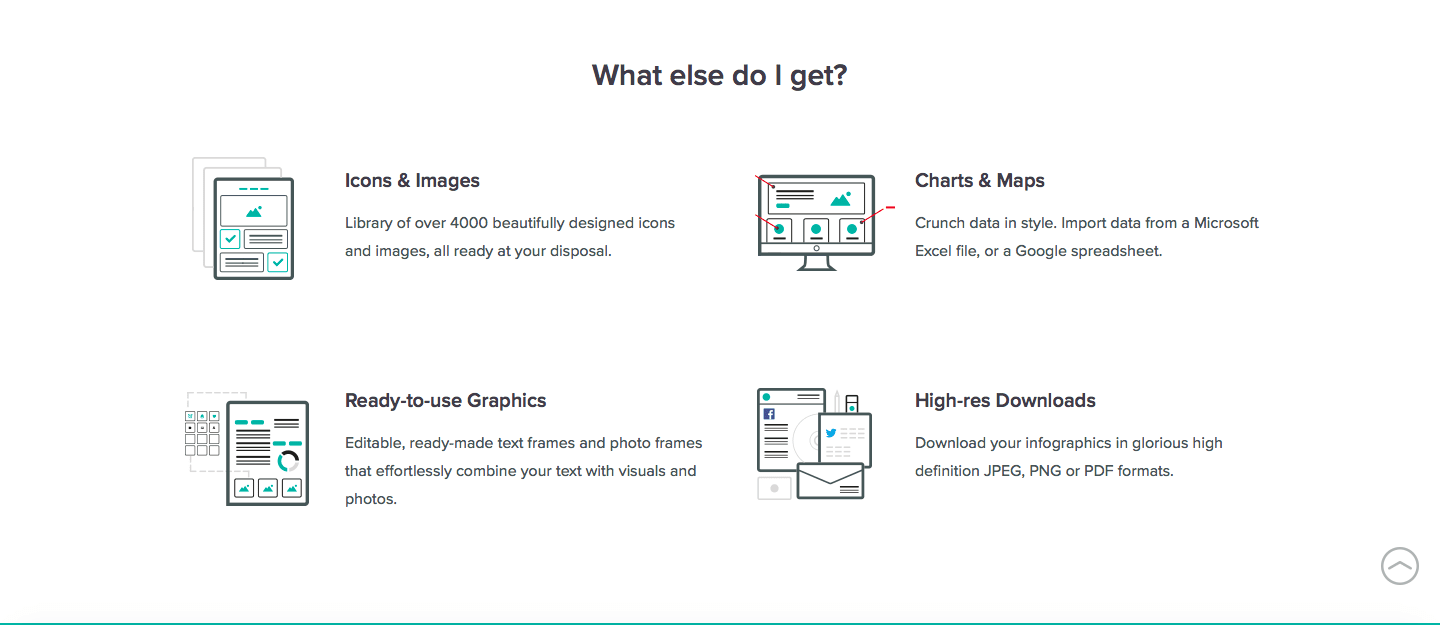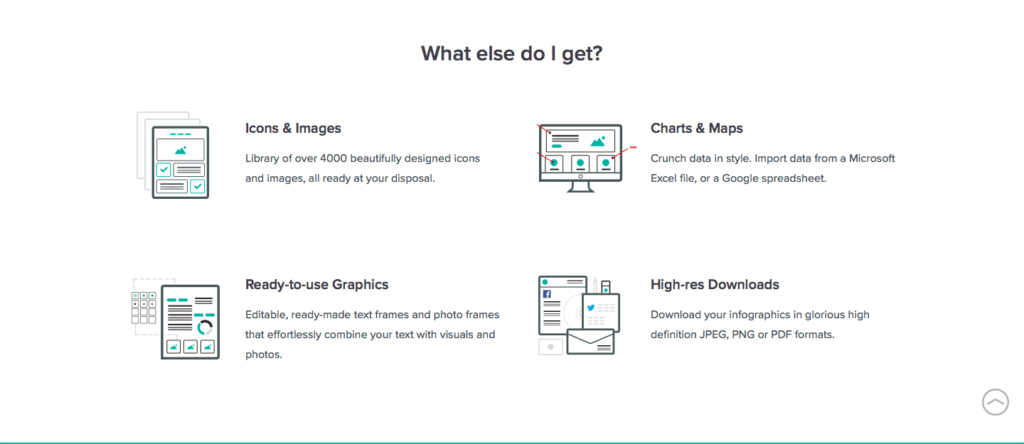 Piktochart offers the personalization tools and variety that will make any experienced infographic creator swoon. (Source)
Then, you'll share your creation virtually anywhere on the web, in person as a presentation, or as a printable hardcopy.
Type: Infographic creator
Price: $0/month for Basic plan, $10/month for Standard plan, $20/month for Complete plan, $60/month for Team plan
No design experience, no problem. With Visme, you can create infographics without any prior knowledge.
This is because Visme's easy infographic software lets you edit pre-existing templates, download them to your computer, and publish them on social media so everyone can fawn over your creative brilliance.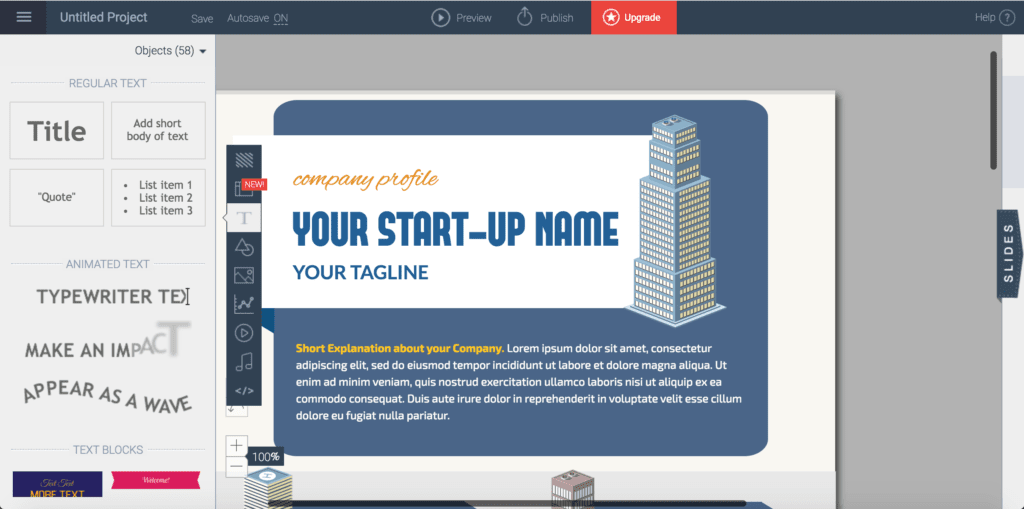 Along with other cool features, you'll have access to:
Over 500 templates in all formats
Complete control and customization
6,000 icons
Millions of images
The ability to link your graphics to relevant websites
Explaining that Visme has "made an immediate impact on Monumental Sports Entertainment's data visualization," and created "more engaged conversations" internally and with customers, Alex Kurr, Director of Marketing, makes a compelling case for why its 750,000+ customers stick around—and why you should care.
Type: Infographic maker
Price: Free for basic account, $36 for Pro account
Their mission is to "inspire and enable anyone to represent an idea in a visual way." More specifically, Ease.ly strives to transform any "thought, notion, opinion, plan, suggestion, view, proposal, design, intention, project, concept, vision, goal, and solution" into an understandable visual people care about.
And Ease.ly is doing just that.
Ease.ly offers a few key features that really get the job done:
User-friendly design tools
Access to 100,000s of images and infographic templates
Access to their on-call designers
Access to hundreds of articles and webinar
Their customers have taken note, and have created over 4 million infographics to date.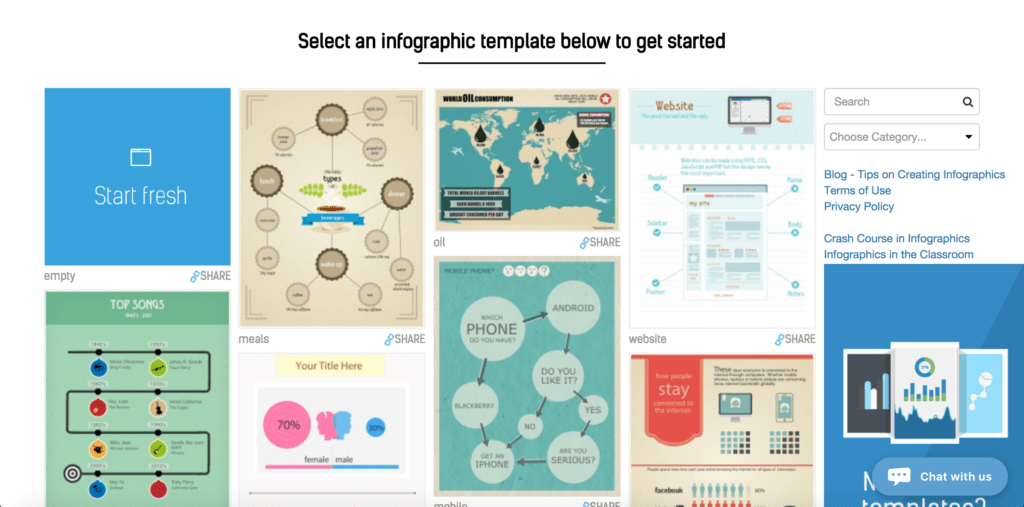 You can choose from thousands of templates in Ease.ly's template database. (Source)
So get to it! Get those brilliant ideas down in visuals and ready to share with the world.
Type: Quote creator
Price: Free
You know the accomplished feeling you get after traffic surges on your company's website—just because you posted an insightful quote?
With Quozio, you can have that feeling all the time. That's because Quozio allows you to search for any quote by your business role models, condense that quote into a stunning graphic, and share it on every social media platform your little heart desires.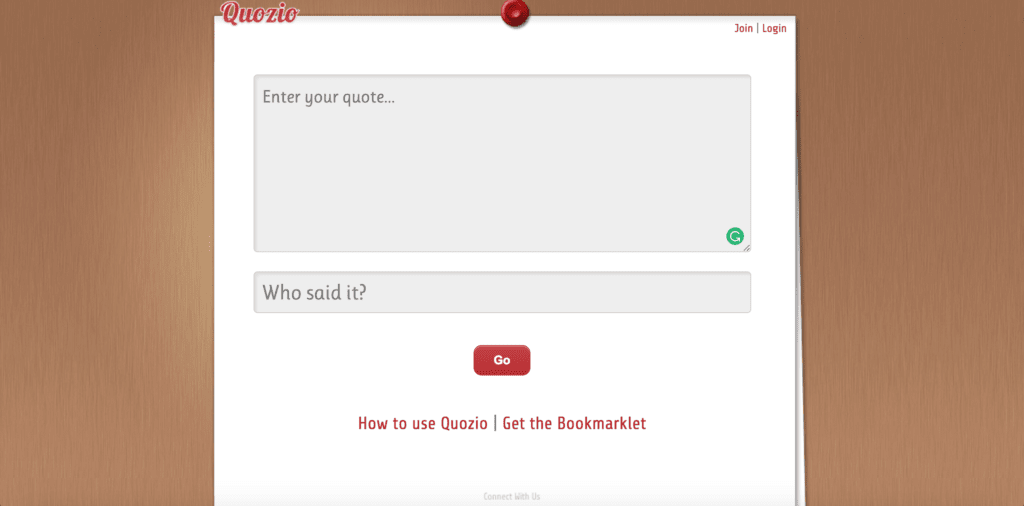 Quozio lets you search and create graphics of your favorite quotes. (Source)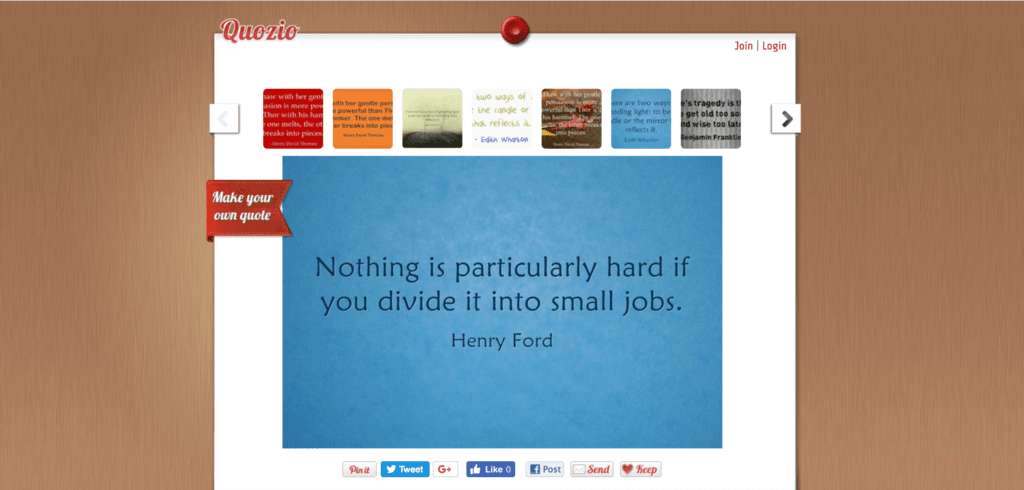 It also gives you ready-made backgrounds for your quotes if you need inspiration. (Source)
Now with your newfound quote-creating tool, go forth and spread words of brilliance, love, and happiness to all.
Type: Quote Creator
Price: Free!
Featuring wise words from Henry Ford, Yoda, and Julia Child—amongst others—the QuotesCover website inspires you from the outset. QuotesCover, a quotes creator, lets you design your own shareable images or choose from their own database.
If you need a little direction when creating your image, you can narrow down your choice by scrolling through QuotesCover's list of most searched topics, including "love," "anger," "courage," and "life."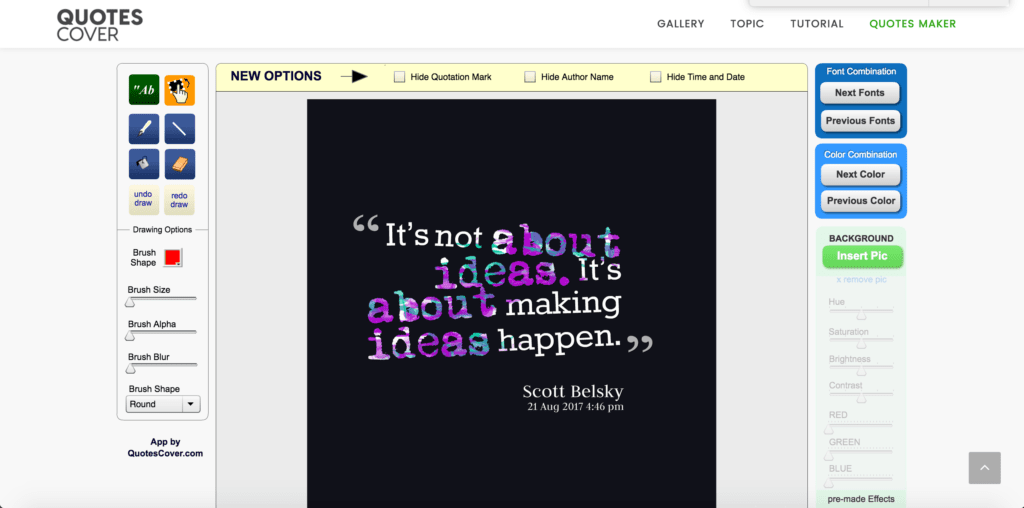 With QuotesCover, you can design your own quotes card or cherry pick one from its image database. (Source)
The landing page features a quote by Shakespeare, "be not afraid of greatness." With QuotesCover, you can do just that and empower others to follow suit.
Type: Editing, collage-making, and design software
Price: Free for basic, $3.99 USD/month Pro plan (billed annually), $8.99 USD/month for Pro plan (billed monthly)
With over 200 million users, Fotor has become a leading brand in the graphic design and photo editing world.
Along with its user-friendly, comprehensive editing, collage-making, and design software, there are a few reasons why Fotor has gained popularity:
It's entirely cloud-based. In other words, you can access your work pretty much anywhere. (Source)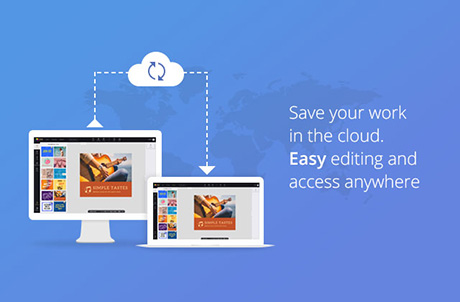 Fotor is the first of its kind to have advanced HTML5 technology. That means that it is the fastest running graphic design and photo editing software that you can find. (Source)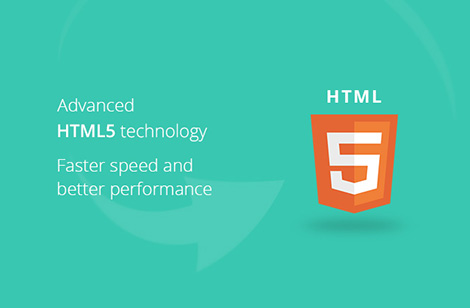 You can save your creations in JPG, PNG, HD, and PDF format—with up to 300 dpi. You'll be able to print your images in the highest possible quality. (Source)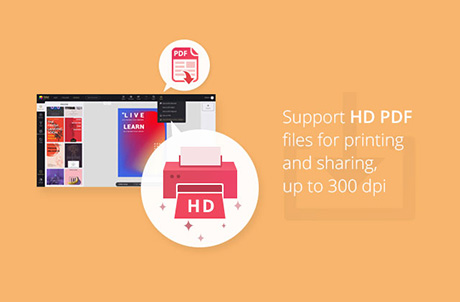 Fotor has already created 1 billion images. Check them out and make that 1 billion and 1.
Type: Card and collage maker
Price: Free!
Your client just got off the phone with you, reminding you that your company made another error.
Make it up to her with a personalized card, compliments of Photovisi. Or, make it up to her with a personalized photo collage and calendar—all of which you can do for free with Photovisi.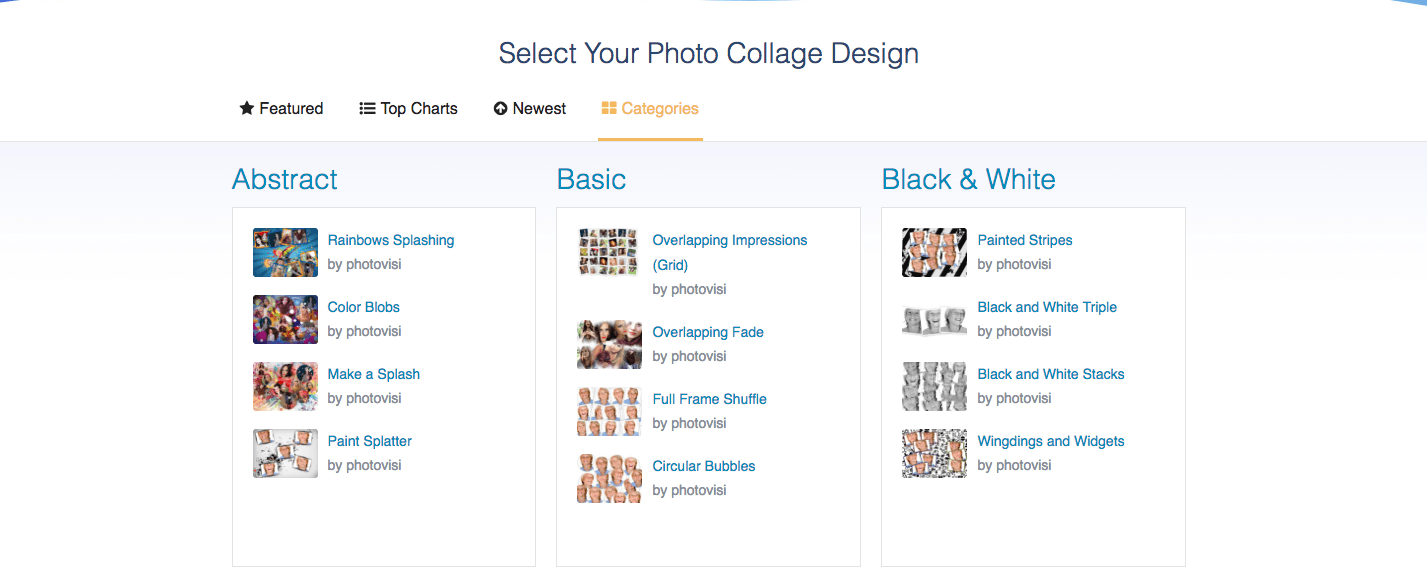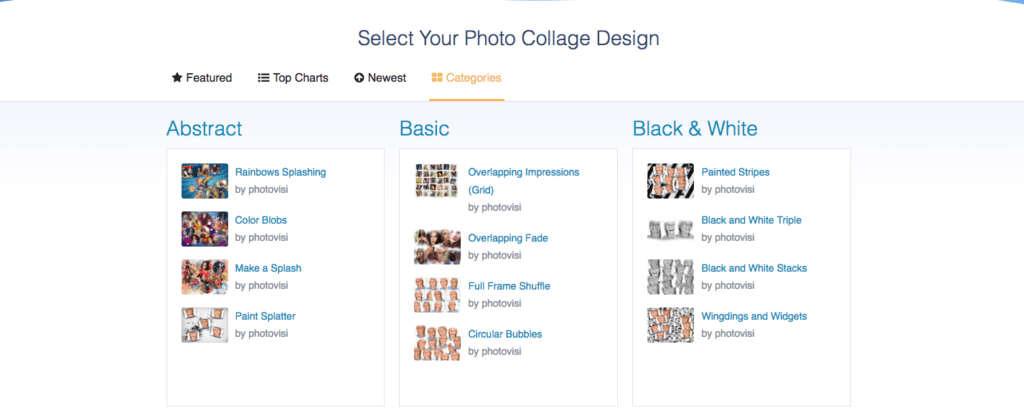 (Source)
If you need some help in the process, you can choose from Photovisi's list of over 100 template categories, including "abstract," "nature," and "magic." All you'll need to do once you've chosen your theme is add photos, share away, and watch your customer's heart melt.
Amp up your customer service with some extra love and check out Photovisi.
Type: Collage creator
Price: Free!
PhotoCollage gives you the perfect outlet to harness your creative impulses with its online photo collage maker.
The process to make a picture-perfect (pun intended) collage is easy:
Drag pics onto PhotoCollage's online canvas
Choose one of the thousands of templates in PhotoCollage's database
Add text to your collage
Share away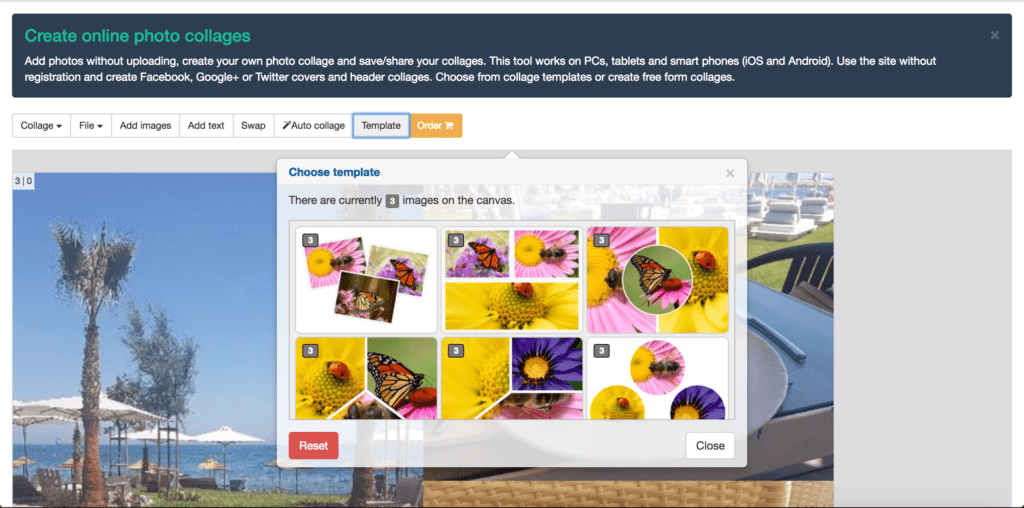 Making a photo collage is easily accomplished in fewer than 5 steps. (Source)
An added bonus? PhotoCollage works on desktops, tablets, and smartphones (iOS and Android). It also gives you access to a typography editor, word clouds, a photo resizer, online chart-making tools, and a photo enlarger.
Type: Photo editor, collage maker, and animation creator
Price: Free!
Google Photos offers a great resource to house all your photos in one place. Aside from organizing all photos from your phone, laptop, and digital camera (people still use those, right?), Google Photos also lets you make collages and animations with said photos.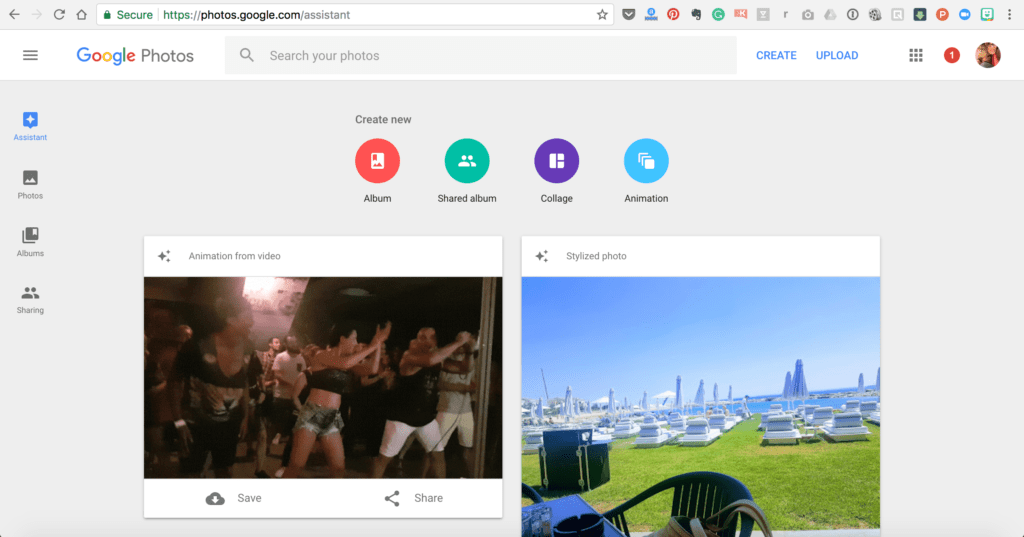 Better yet, once you've edited your photos, doctored them into collages, and made animations of your favorite childhood memories, Google Photos lets you share them with the world. (Source)
Your family will thank you.
Type: Social Media visual manager
Price: $6.25/month for Basic plan, $13.25/month for Pro plan, $33.25/month for Agency plan
Ever wonder how to transform your company into a Facebook giant? Bolster your business's social media presence and attract more customers than you can deal with using Pagemodo.
Pagemodo will help you:
Optimize Facebook advertising by making killer ads in Pagemodo's design studio, targeting key audiences, and tracking progress with easy analytic tools
Launch customized, business-professional Facebook pages
Collect leads with personalized tabs and contests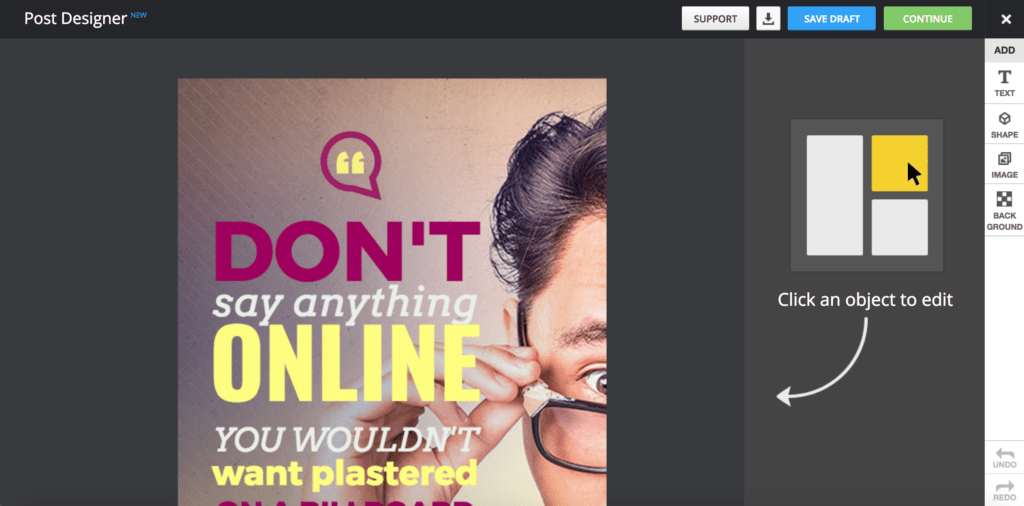 And when you get the results you're looking for, you'll join the ranks of over 3 million professionals who've done the same.
Type: Graphic Design App
Price: Free!
Three beautiful phrases welcome you to Adobe Spark's website:
Create in minutes
Share instantly
Get inspired
And you'll do exactly that with Adobe Spark. The graphic design app helps you create social graphics, web-stories, and animated videos for social posts—with templates that help you create optimized photos for each channel.
Their creation processes are also incredibly simple, all fitting into 5 or fewer steps.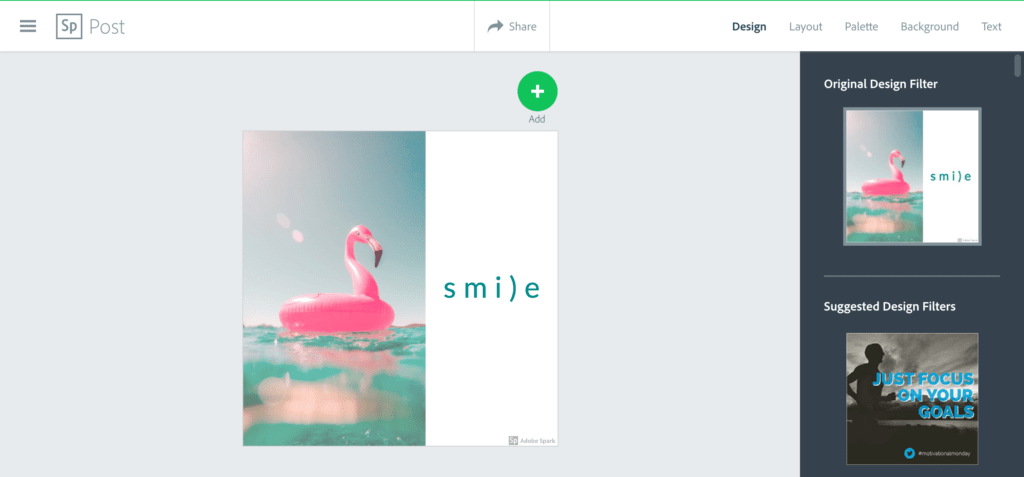 So begin with Step 1 by logging in and making content your friends will envy for years to come.
Type: Photo editor
Price: Free!
Ever wonder how to nail the perfect Facebook company profile picture? As implied by its name, Profile Picture Maker will show you the way to profile picture stardom.
Here's how it works:
First, choose your perfect selfie. Next, upload your close-up onto Profile Picture Maker's website. Then, design your masterpiece by resizing the photo, adding a themed frame (encircling your face with anything from wild turtles to ice cream sundaes). Finally, reveal your new persona with the world.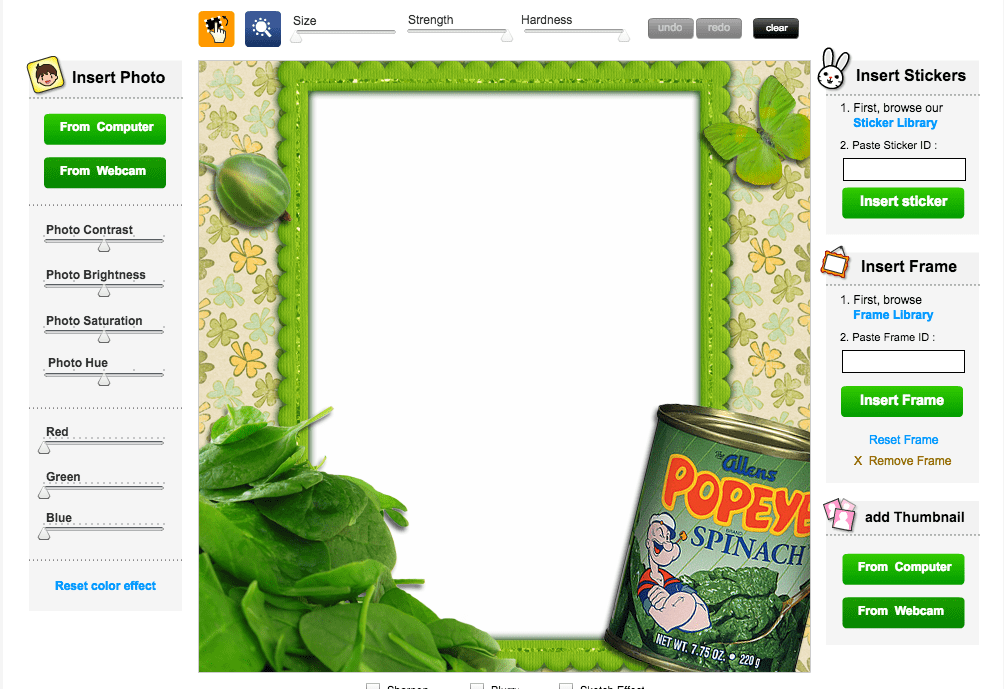 Profile Picture Maker lets you frame your face using customized themes. (Source)
So get ready to share your company's undying appreciation for Popeyes and find just the right frame to make your employee's eyes pop.
Type: Photo Editor
Price: Free!
Nevermore will you face the tragedy of a perfect Facebook photo lost due to poor sizing. With Timeline Slicer, you can crop any photo to fit Facebook's profile or cover photo size requirements.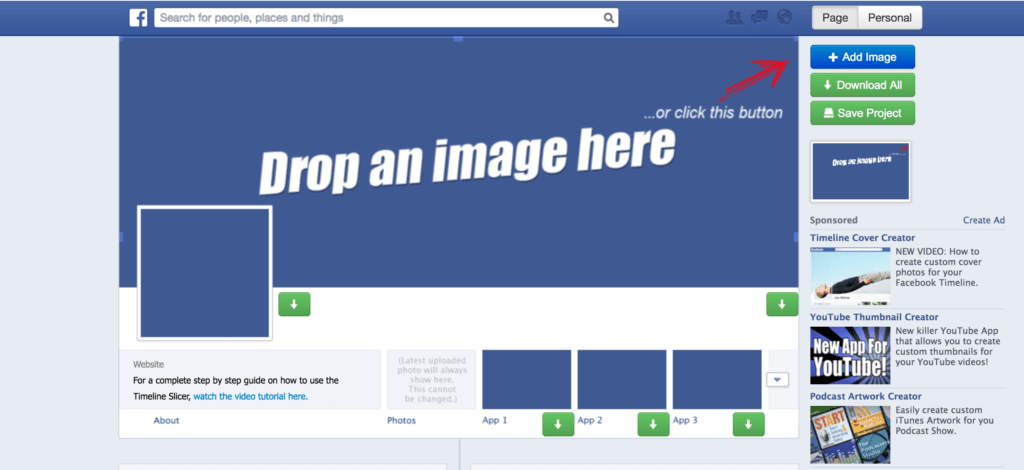 Timeline Slicer helps you cut your photo down to Facebook size in seconds. (Source)
The tool is also easy to navigate. You simply upload your photo to the website's photo editor, choose the dimensions you'd like your photo to have, slide the pic in the photo slicer until it captures the images you want to include, and cut it down to size.
Amp up your selfie game and start posting away with Timeline Slicer.
Type: Video creator
Price: Free!
No internet, no problem. With Jing, a video creator, you can record your computer screen and webcam shots off-line. You'll also be able to compile these recordings into a shareable video, of course only after your internet is back on.
You can make your videos following 4 straightforward steps:
Capture your screen and webcam shots on or offline
Upload your recordings to Jing's website and compile the shots into a video
Share the link to your video with everyone
Bask in the glory of everyone admiring your handiwork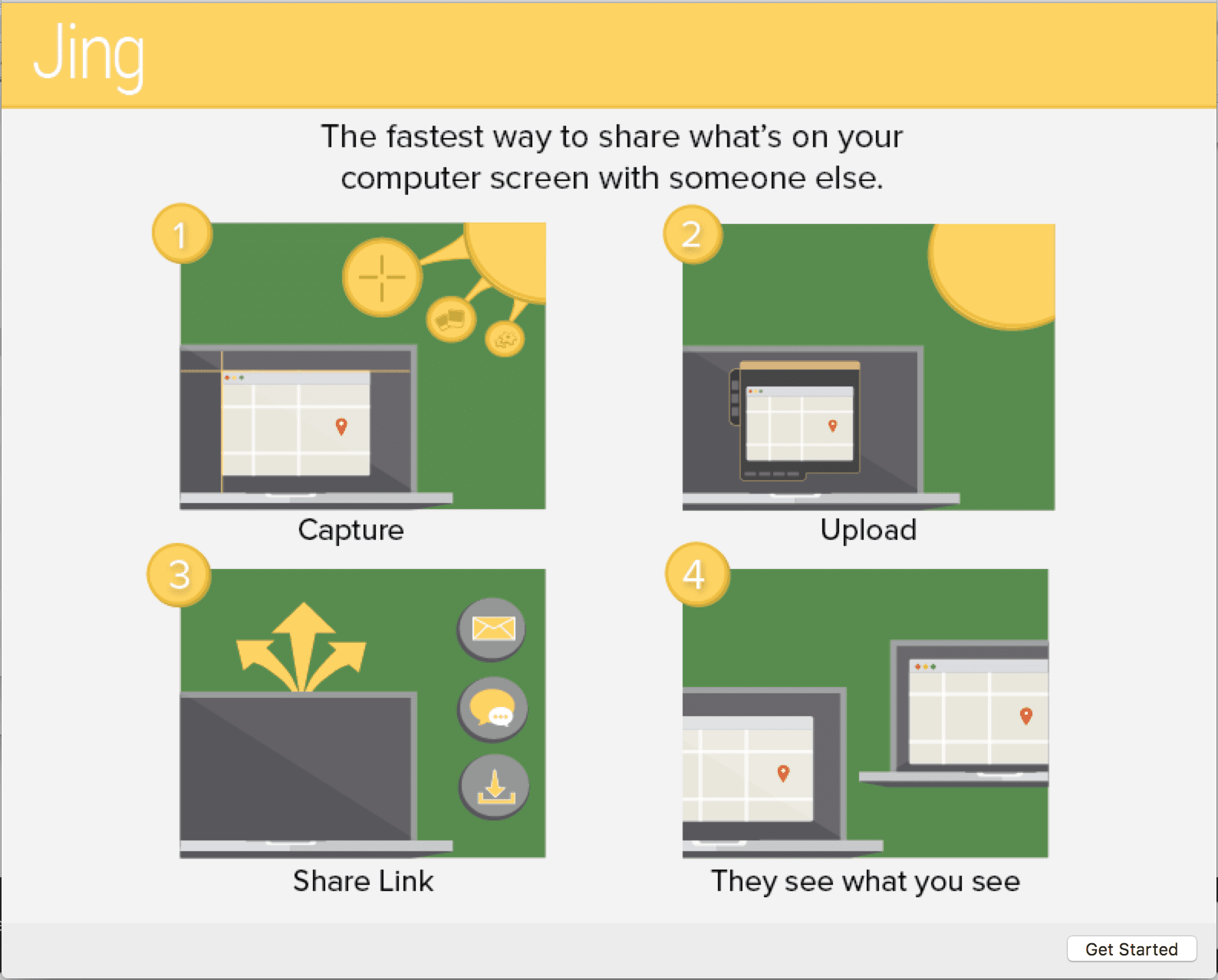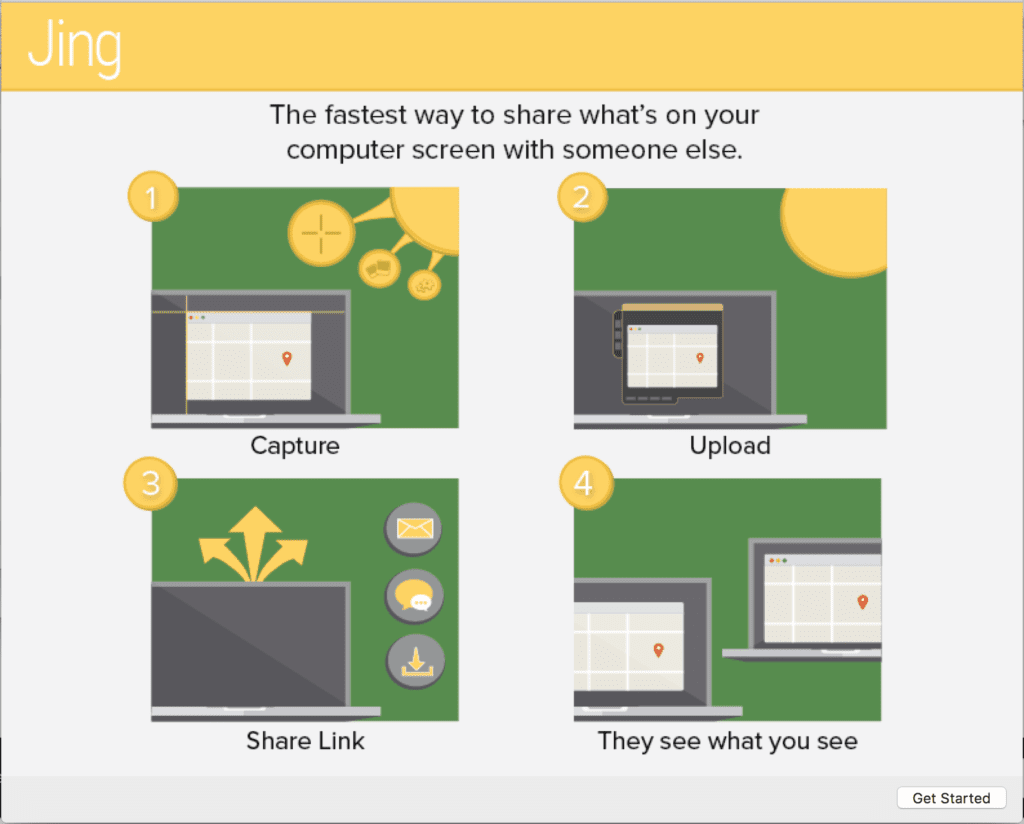 Making your shareable videos is easy as pie with Jing. (Source)
So stop worrying about your shoddy internet service and start making and sharing videos that'll make people swoon.
Type: Screenshot capturer, editor, and sharer
Price: Free for Noobie plan, $99/month for Pro plan, $999/month for Super Affiliate plan, contact representative for price of Custom plan
Awesome Screenshots describes its product as "the easiest way to communicate with images." We'd have to agree—it's pretty awesome.
With Awesome Screenshots, you can accomplish a few nifty things:
Take screenshots
Permanently store and organize your screenshots
Get "point specific feedback" on your screenshots
Share your screenshots with others for collaborative projects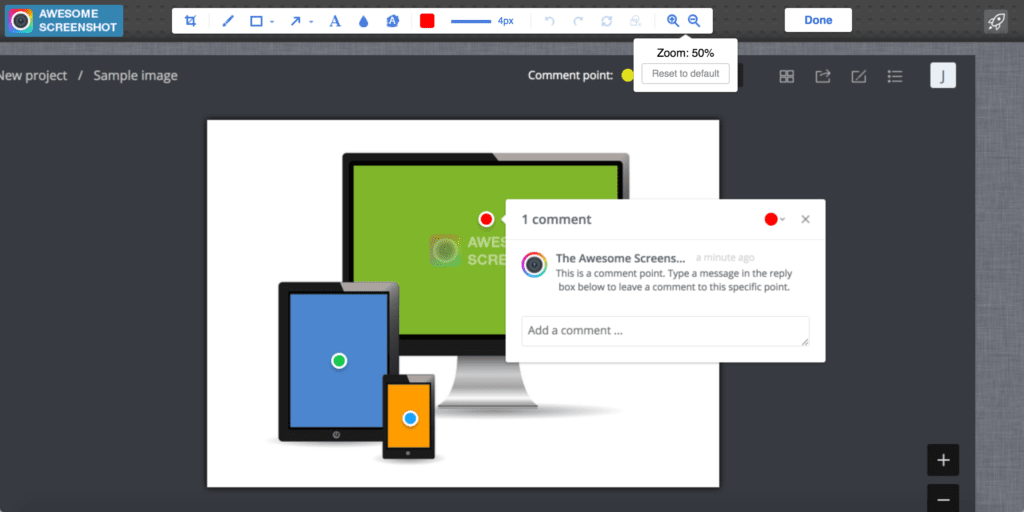 Awesome Screenshots' comment-point capabilities facilitate conversations about key components in your screenshot. (Source)
Awesome Screenshots also has several collaborative features. Using their comment-point capabilities, you can draw attention to a particular area of your screenshot, accept comments about that area, and discuss away.
Type: Photo editor (Social crop sizes & watermarks)
Price: Free!
Want more likes, retweets, and comments on your social media posts? Better images are a good place to start!
With Enhance by Hootsuite, you can create compelling images that are perfect for sharing across Instagram, Facebook, Twitter, LinkedIn, Pinterest, and more.
Hootsuite Enhance is a brand new way to edit your photos for social media. It's designed to make it quick and easy to help your photos get the most attention possible.
Here's what Enhance can do for you:
Cropping: The different images rules of each social platform give you headaches? Let Enhance work, and you'll rest assured that your images are cropped and sized perfectly for each one. No cheat sheets needed!
Editing: Do you want your images to be them polished, on-brand, and exciting for your audience? With Enhance you can easily add filters, borders, stickers, text, or watermarks!
Searching: Not sure what to post? Need some new visuals? Use Enhance to quickly find stock photos you can use for your business.
Sharing: Once your image is ready to go, share it straight to the social network of your choice—including Facebook, Twitter, Instagram and more—or use Hootsuite to schedule it for later.

This is the easiest-to-use social media editing app I've found so far. Nice filters and adjustments available, and very compatible with iPhone photos.
Enhance requires iOS 10.0 or later. It is compatible with iPhone, iPad, and iPod touch. Start cropping, saving, and sharing your company images on the websites that'll get you the most bang for your buck—without having to ever worry about size requirements.
Type: Photo editor
Price: Free!
Simple Image Resizer is exactly what it sounds like: a simple image resizer.
You'll be able to upload images and resize them by specifying three things:
the image percentage you want to cut or add
the dimensions you want the image to have
the form you want to save the image in (png, gif, bmp, jpg, or tiff)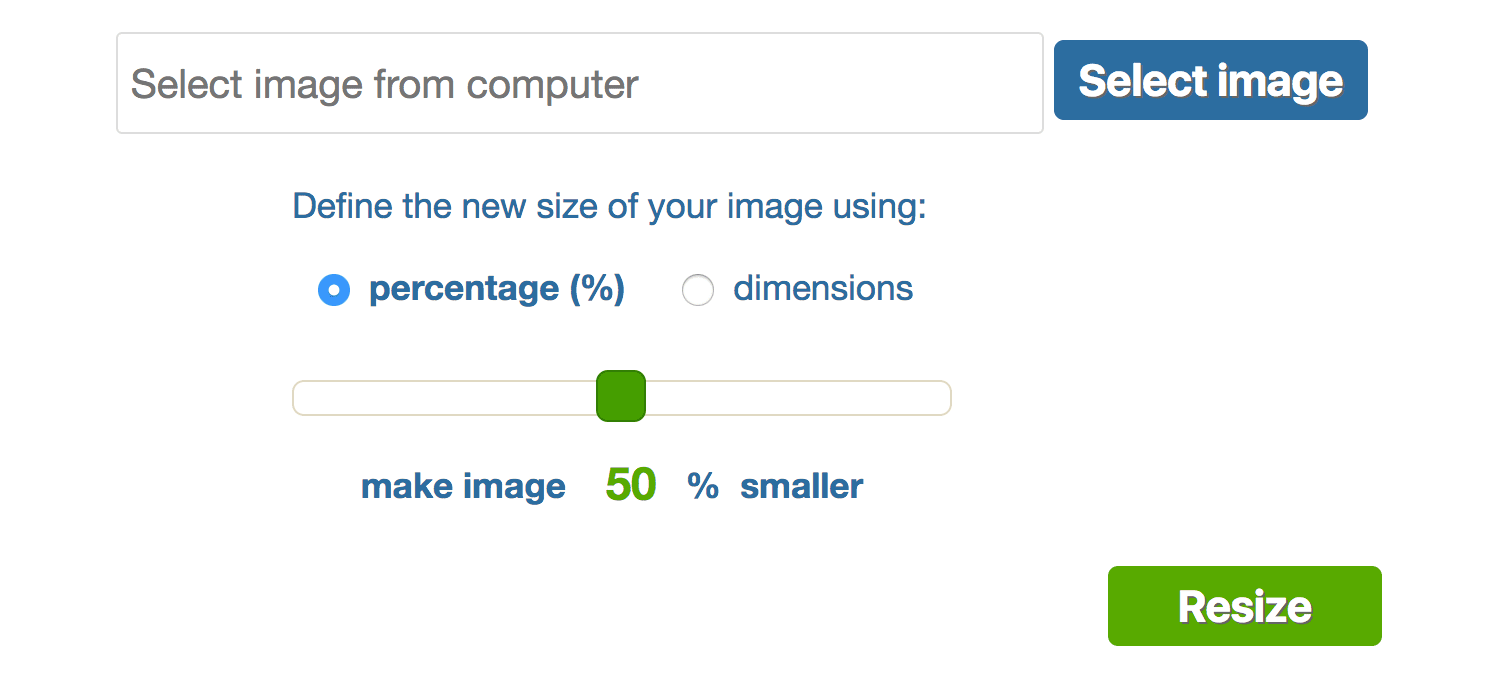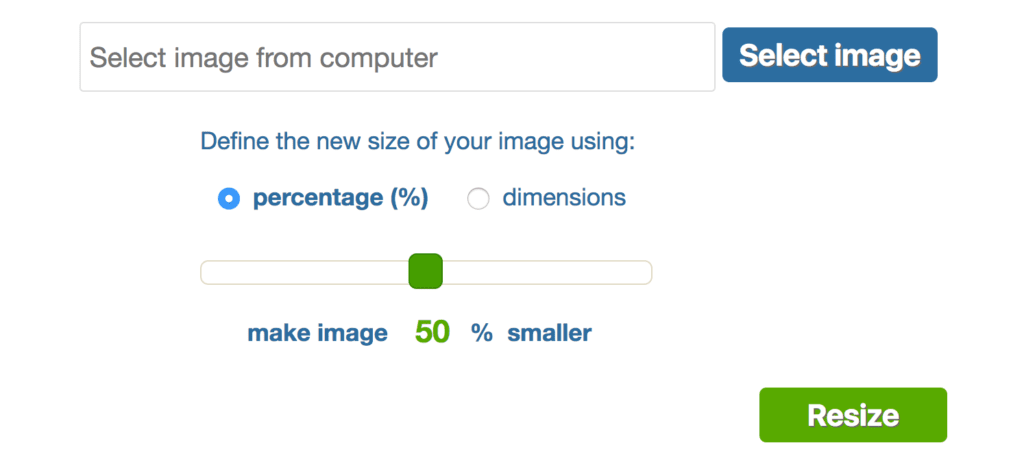 Simple Image Resizer streamlines your photo-editing with three key steps. (Source)
If you know the dimensions you want, the entire process should take no more than two minutes. That's definitely worth using the tool, free or otherwise.
Type: Photo editor
Price: Free!
The running record of photos Picsresize has edited is now at 145,186,538. But don't count on this number staying idle because the Picresize's website is constantly autoupdating, and the stat seems to increase every second.
That's because it's an accessible, free tool to cut your photos down to scale.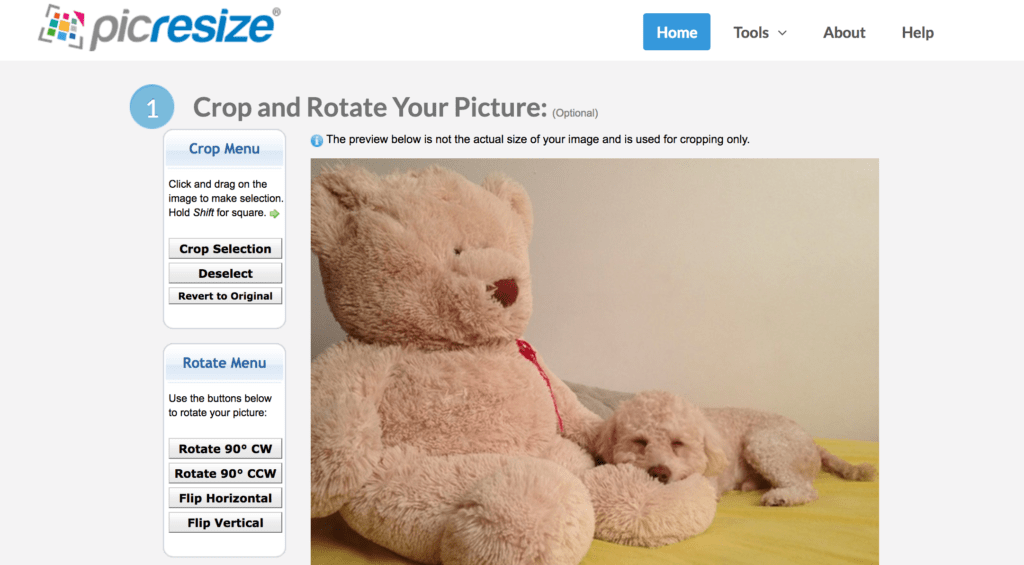 (Source)
All you have to do is upload a photo to the website, specify how much smaller you'd like your photo, choose a special effect to make your photo pop, designate the format you'd like to save your photo in, and watch the magic happen.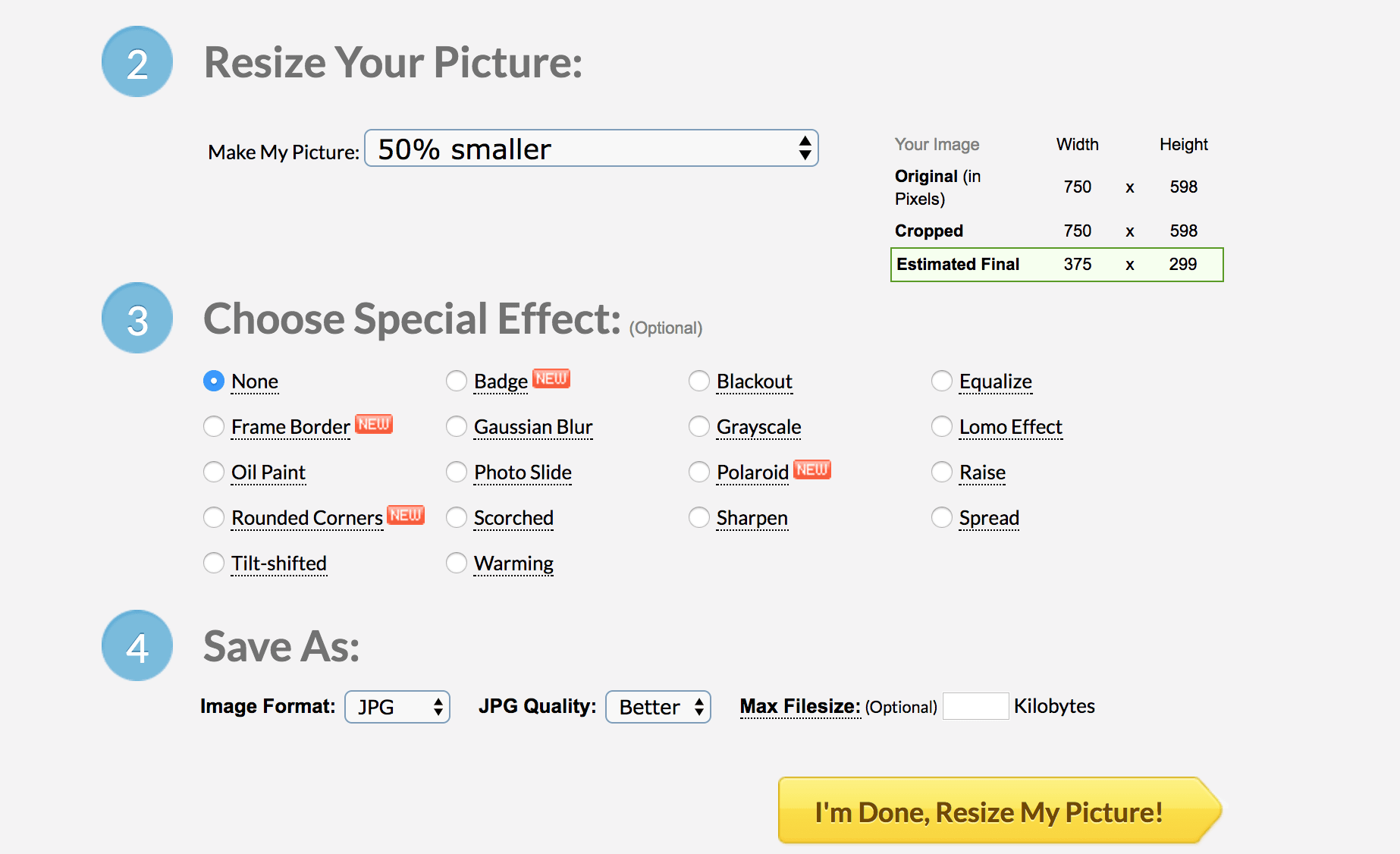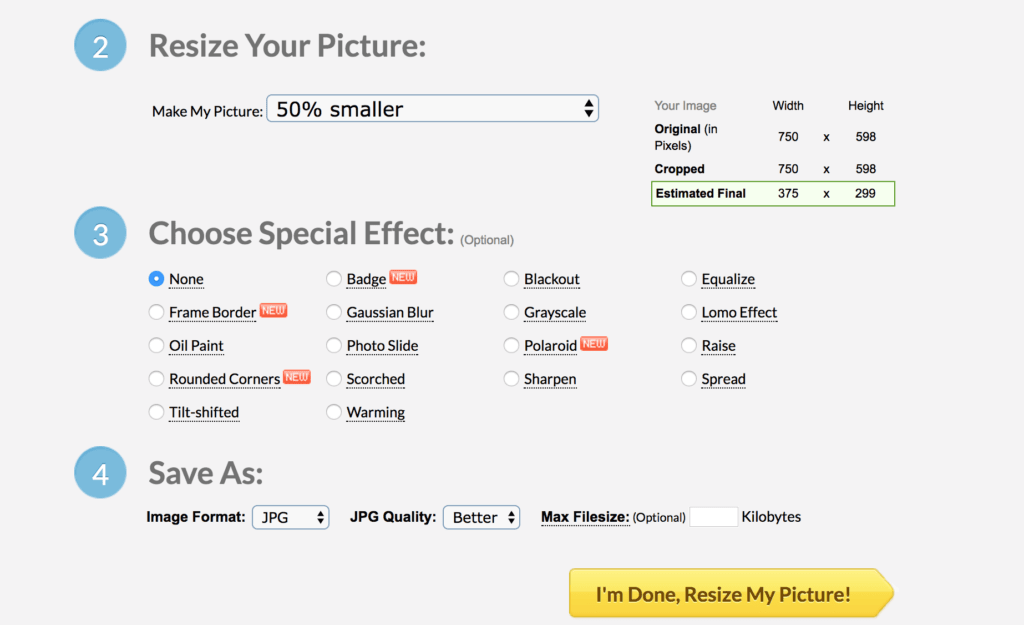 (Source)
Hop to it! You have photos to perfect!
Type: Gif, slideshow, and video animation creator
Price: Free!
Gifmaker.me really is all about you. That's because the site is respectful both of your creativity and your wallet—giving you the flexibility and choice you need to create high-quality, music-accompanied, personalized gifs, slideshows, and video animations cost-free.
Regardless of what you choose to make on Gifmaker.me, the process to creation is easy. In each process, you'll start by uploading a few of your favorite photos and then adjust the end-product as necessary using the control panel.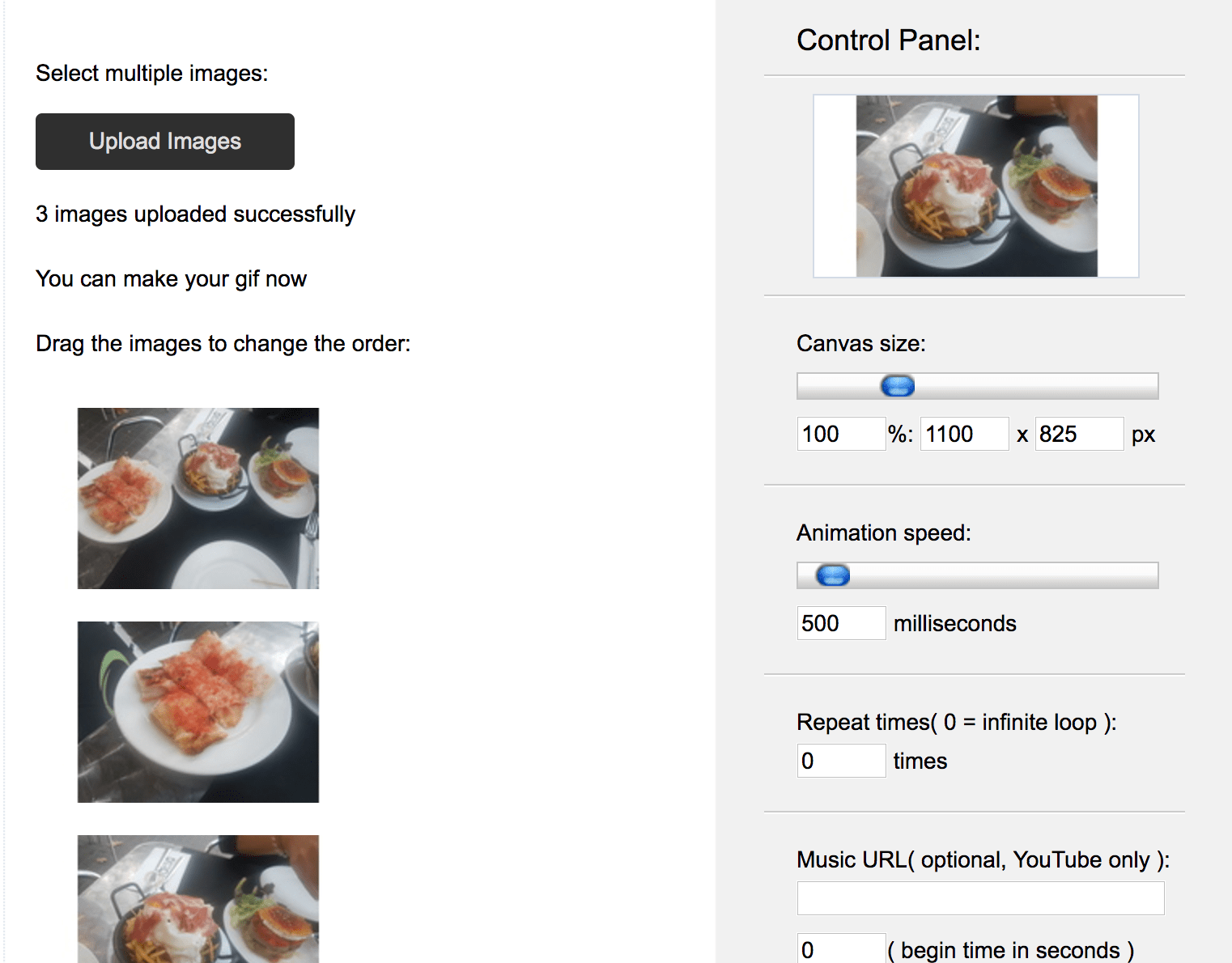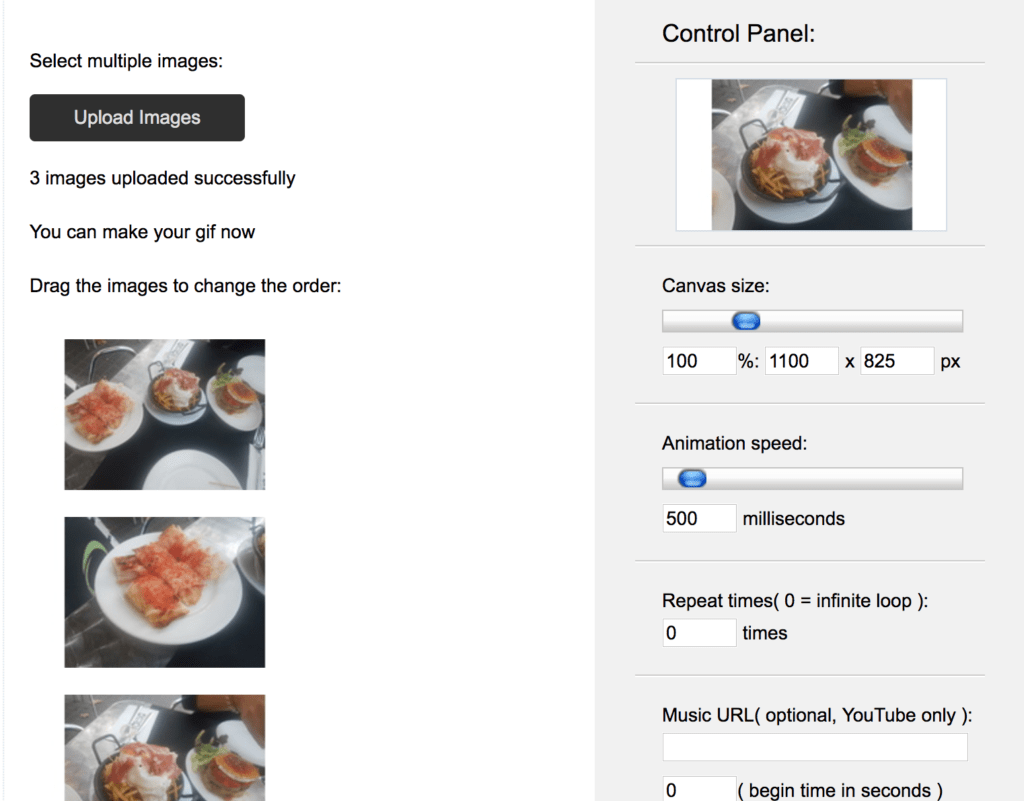 Gifmaker.me features user-friendly, clean control panels to make sure your video animations are everything you wanted them to be. (Source)
Take Gifmaker.me's video animation control panel for instance (shown above). You'll notice that each panel option is written in easy language and altogether offers a variety of strategies (adjusting canvas size, animation speed, musical background, etc) to customize your animation.
The best part? You'll find the same variety no matter what you make on Gifmaker.me's website, helping you to show your personal style without breaking the bank.
Type: Gif, meme, website, and graph maker
Price: Free!
Capture the perfect moment of your video in a gif, meme, or graph with Imgflip! The website helps you condense any video into a gif or image in a few easy steps:
Upload a video or insert a video URL
Cut-down the video to the time-frames you want (for gifs)
Cut-down the video to the time frame you want (for memes or graphs)
Customize your gif and image with text, timing specifications, and other personalization tools
Share your creation with everyone you know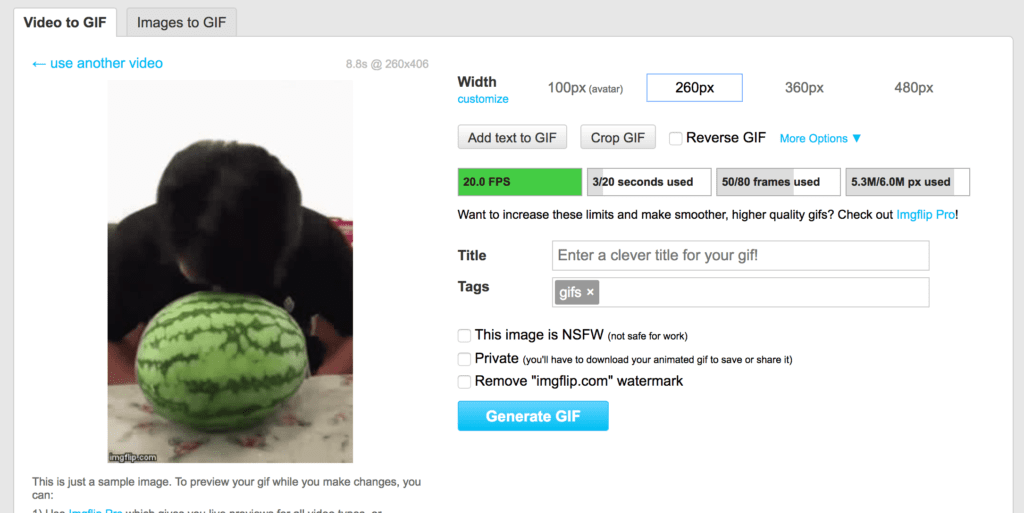 Imgflip's gif maker offers a clean control panel to cut your videos down to size and capture the exact right moment. (Source)
So start slicing, dicing, and sharing with Imgflip!
Type: Gif creator
Price: Free!
Ever watched a video and thought to yourself "I could really make a great gif with that?" Now you can with Makeagif.
In fact, Makeagif lets you create a gif from pretty much anything. You can perform all of the following conversions:
Youtube → gif
Facebook video→ gif
Video → gif
Webcam → gif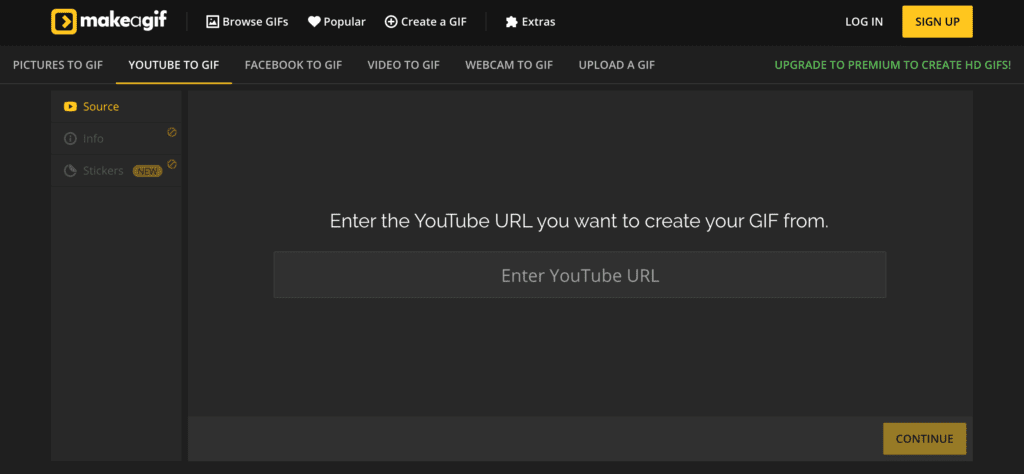 Converting videos to gifs is easy as pie with Makeagif. If you're converting a video from the web, all you'll have to do is insert its URL to start. (Source)
Get ready to capture the moments you love, share them with others, and prove in fewer than 3 seconds that you have a killer sense of humor and grasp of important information.
Type: Event video booth provider
Price: Free App, $2,500/night for a booth rental
With Hypno, there's a new and better way to capture the great (and at times awkward) moments with your loved ones besides the once-beloved party photo booth.
You can now memorialize the happiest (and again, awkward) times as videos and gifs with Hypno's app and gif/video booths.
Along with having fun on your own with Hypno's app, you can also rent its party booths to make any corporate event pop. Event attendees use the booths the same way they would a photo booth, but now have the additional ability to edit and customize their gifs and videos. After the booth has taped the footage it needs, users can add transition effects, graphics, animations, and sync the final product with music of their choice.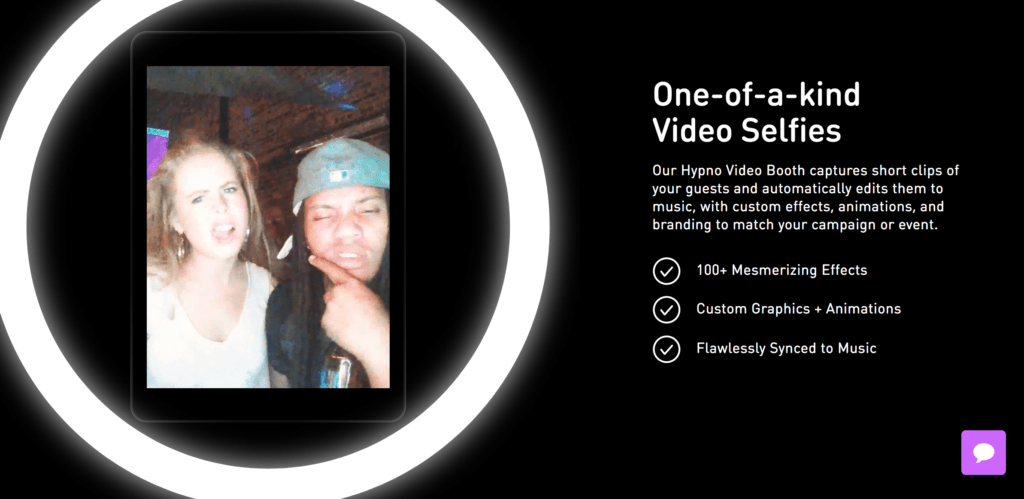 You can personalize your company events and ensure that everyone remembers the great times they had with Hypno's event booths. (Source)
Start livening up your company events, proving the party animal you are to employees and customers, and helping them to remember your product and good times for years to come With Hypno.
Type: Video creator
Price: Free!
Instagram just became a little more addictive. That's because Boomerang, its video app, now helps your business stand out and make eye-catching posts on its Instagram.
The app works by stitching together successive photos to create a mini video that plays forward and backward.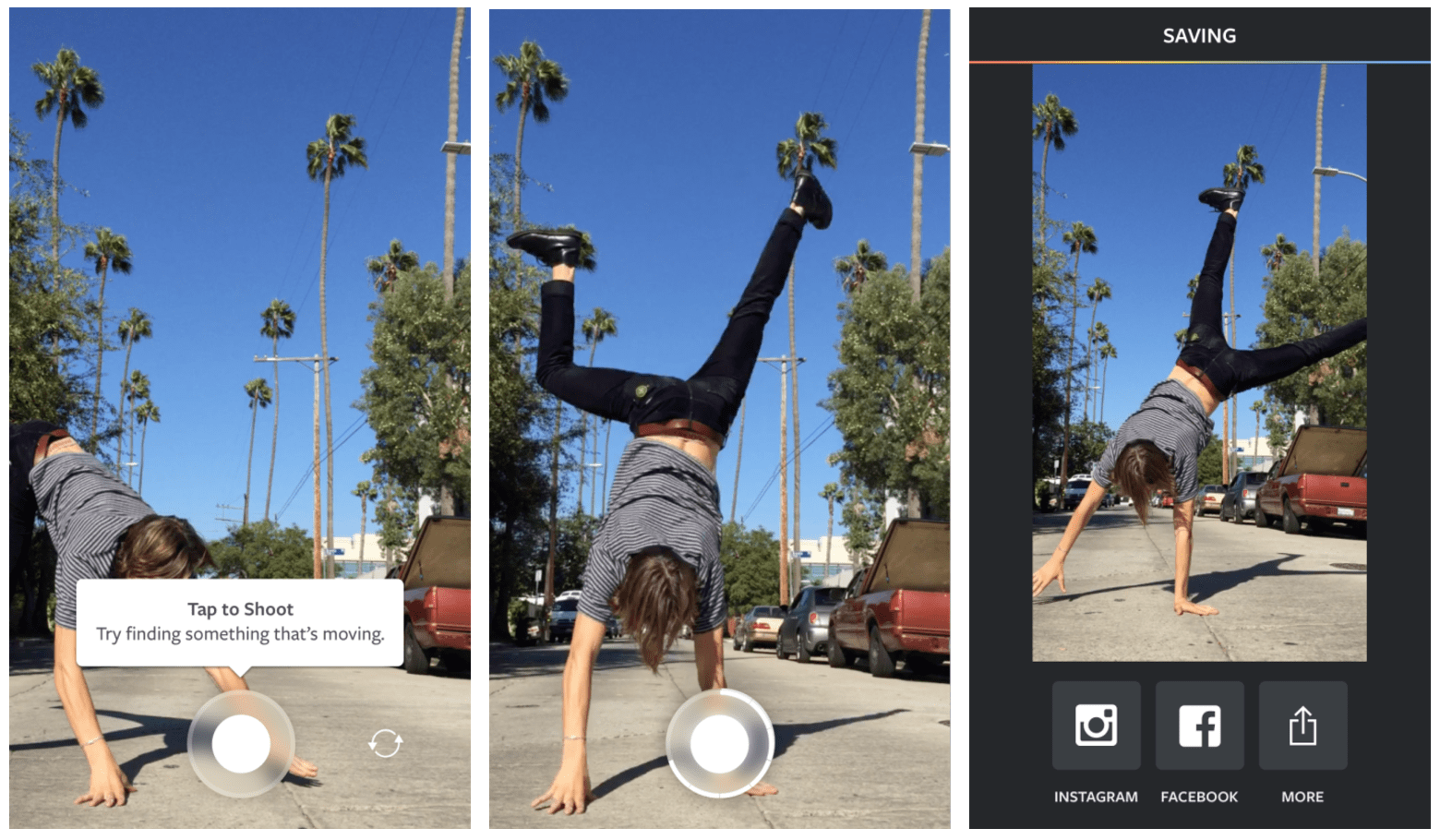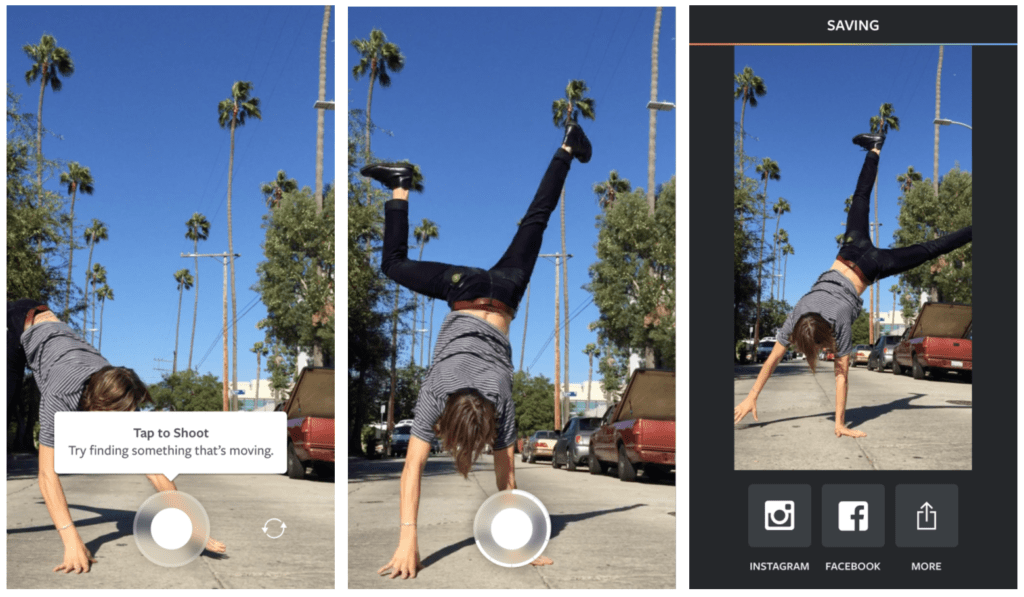 Boomerang creates captivating videos by stringing a dozen of pictures together into a cohesive clip. (Source)
A few of the app's core benefits include:
The ability to take videos using your phone's front and back camera
You can make all videos using just one button
You can save videos and share them whenever the moment's right
Start dazzling your followers and boost traffic to your account with customized, trendy, and high-quality videos.
Type: Meme and gif creator
Price: Free!
MemeCenter, a meme and gif creator, offers you a great way to boost your online following and plant a smile on the followers you already have.
Here's how it works:
Create content: Use MemeCenter's easy gif and meme creator to make something you're proud of
Post your content: Post your meme or gif onto MemeCenter's home page, so that users can experience your creative and comical genius
Share your creation with everyone: MemeCenter lets you share on any social media platform.

Making memes and gifs on MemeCenter can be done in 3 simple steps. (Source)
Get going. You have places to be, people to meet, and gifs to make.
Type: Screen recorder with web technology
Price: Free!
Kap is a great resource for screen recording. Especially if you're looking to make informational content, you can show users how to navigate complex processes with Kap's help.
That's because Kap allows you to tape anything your doing on your computer, save your recording, transform this footage into a gif, and share it with the world.
The first step is downloading Kap's software on your computer. Next, you'll decide what to tape and will press the red play button in the center of the control panel. You'll then see a dotted box appear on your screen. Everything in this box will be recorded, so it's important to position the box strategically so you record exactly what you want. You'll run the recording until you see fit, press stop, and get ready to share.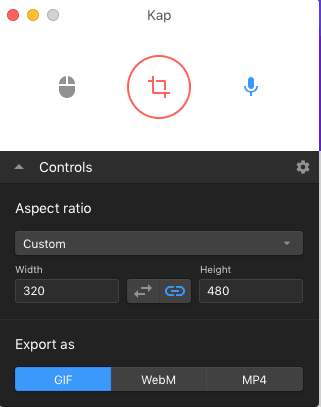 Kap's control panel offers easy access to screen recording, allowing you to adjust start and top times, aspect ratio, as well as the width and height of your recording box. (Source)
Kap lets you export your footage as a gif, WebM, or MP4. These export capabilities make sharing your content easy across multiple platforms, making the creation and sharing of informational content as effortless as it should be.
Type: Logo creator
Price: Free!
Having already made 2,029,476 custom logos, Logo Garden offers a few key features to help you get the ball rolling with your own.
Although their logo-creation process is similar to other tools in this post, they offer some capabilities that aren't quite as unanimous.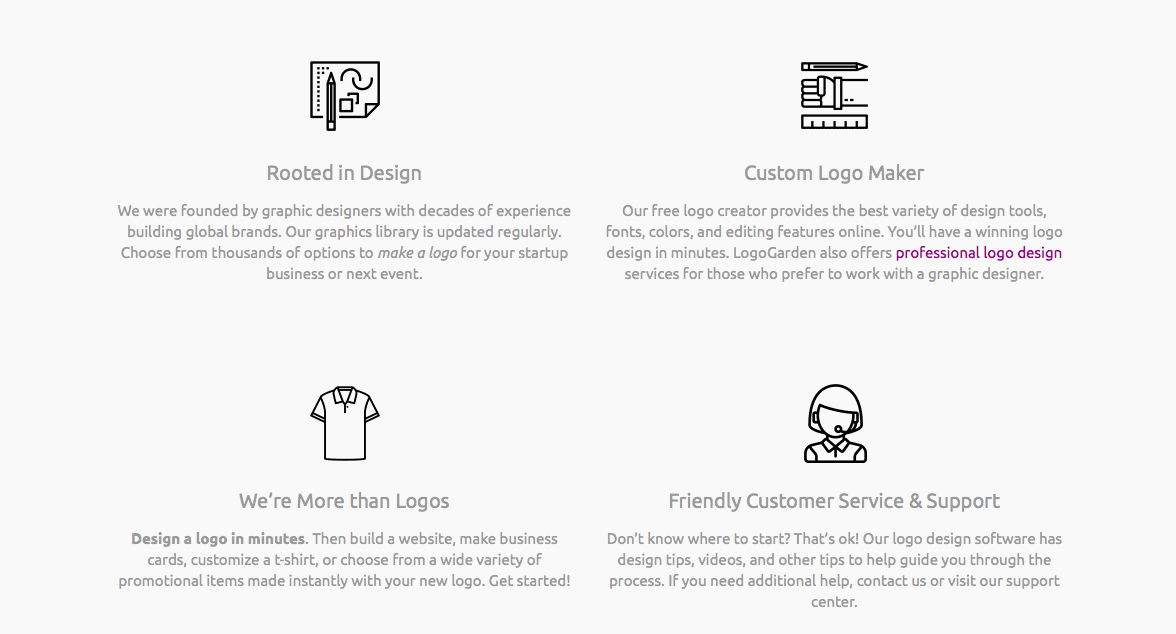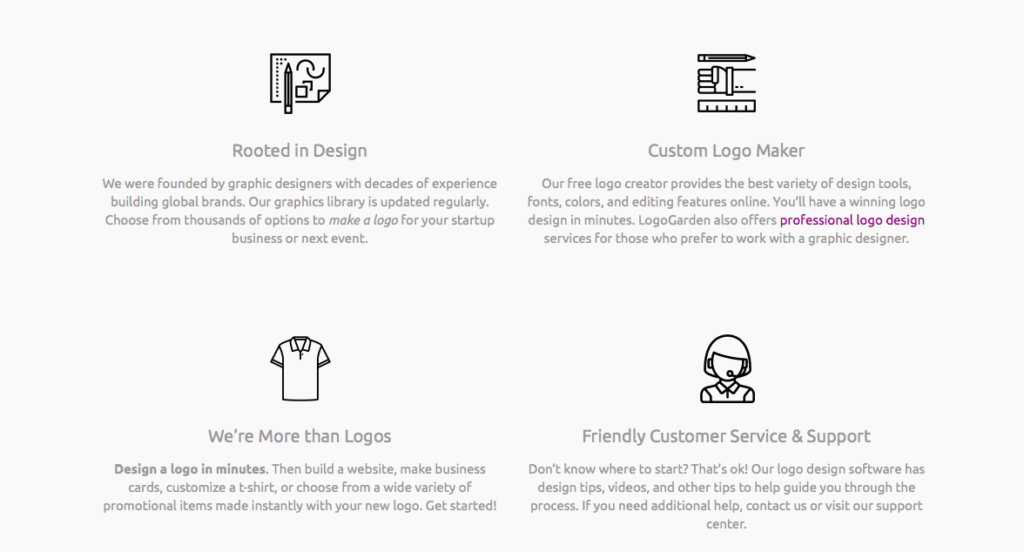 (Source)
Because the company was founded by graphic designers, everything from its layout to its graphic library is meant to attract viewers and keep them engaged with content. Logo Garden also distinguishes itself in its exceptional customer service and support. It offers a robust and easy video library and blog to learn how to best use their tools.
Type: Logo maker
Price: Free for Free plan, $24.99 for Basic plan, $39.99 for Premium plan
If you're in the beginning stages of designing your company logo, Logotype Maker is a great place to start.
Logos are extremely important for digital brands. According to the e-commerce multichannel management company Sellbrite, a logo is one of the most important elements of your brand's social profile when you're selling online because it makes you immediately recognizable. This helps you build familiarity and trust with potential customers.
With Logotype Maker, you can start to build this familiarity by creating a logo from scratch. The tool offers thousands of templates to help you brainstorm and visualize your company symbol.
Even better, every template is organized into business categories so that you won't have to scroll through thousands before finding something relevant.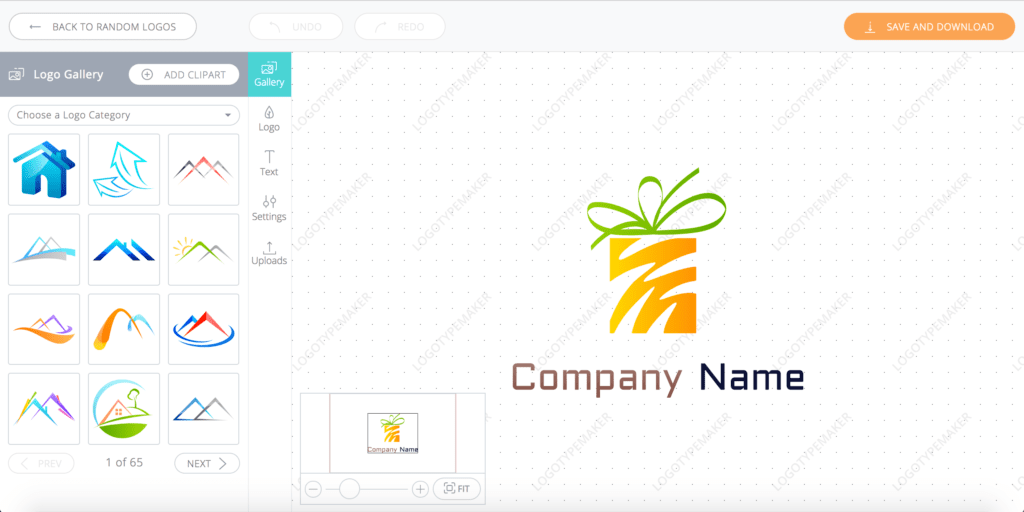 Logotype Maker provides thousands of templates to help you narrow down your options. (Source)
Once you do find the template that clicks, you'll input your company name in customized font, change the background color, add in shapes as you see fit, and voila.
You're golden.
Type: Logo maker
Price: Free!
Claiming to make website-creation as easy as "heating up a slice of pizza," Ucraft, a website creator, has now launched its free logo maker.
Designed for a novice logo maker, the accessible logo software also leaves room for plenty of pizza-eating. That's because it helps you:
narrow down your search for the perfect icon with its sample database
accompany the icon with customized text
alter the background color/gradient of your logo
visualize your finished product in real-life contexts (on a business card, website, or clothing)
with little to no technical effort.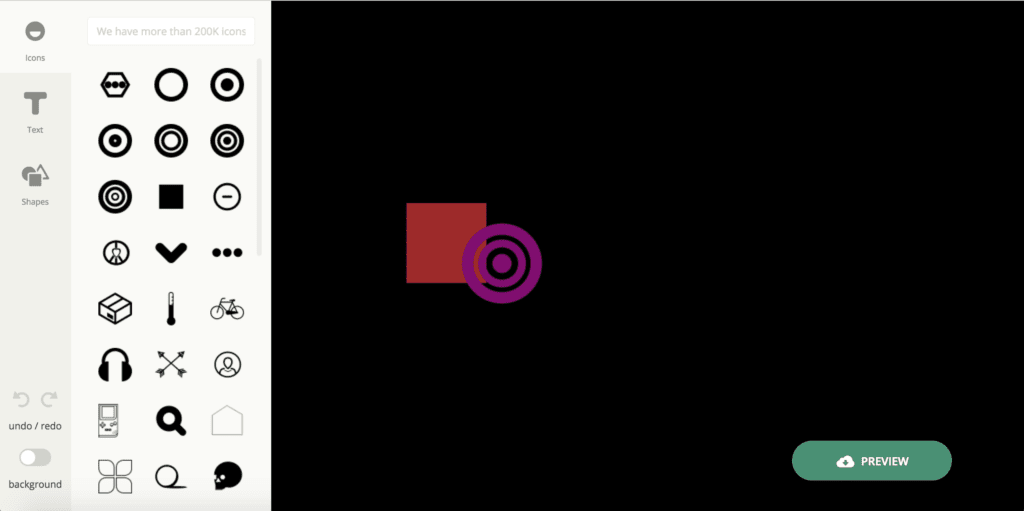 Logo Maker has several key features to help you customize your logo. (Source)
Once you start using its software, you'll find that creating a beautiful logo with Logo Maker is as easy as pie (pizza pie, that is).
Type: Logo creator
Price: Varies depending on product
Calling themselves the "logo creation wizard," Logaster helps you design logos in 4 easy steps:
Input your company name and industry
Choose a logo concept (a template that makes sense for your industry)
Edit the logo concept (changing its color, shading, etc) and view your creation in a realistic context (on a business card)
Save your logo creation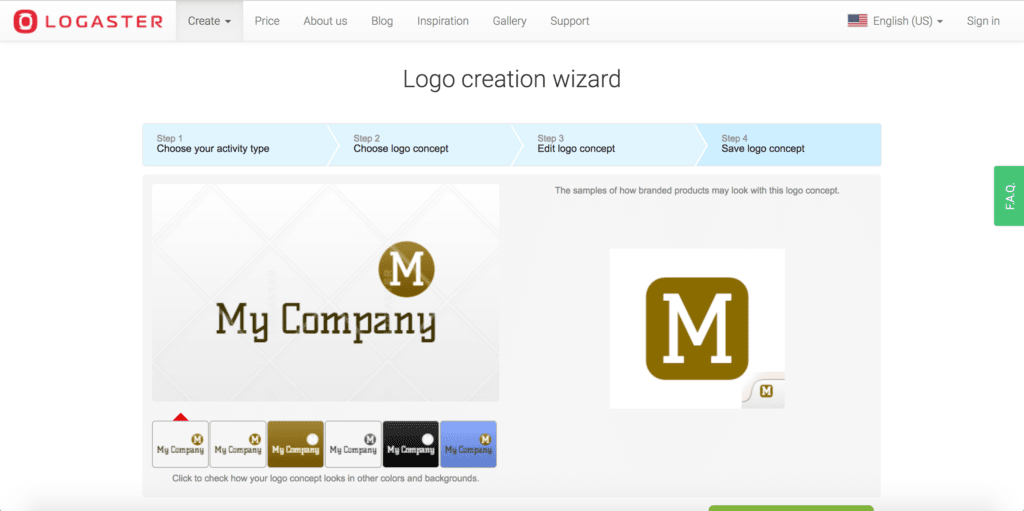 Logaster's simple logo creator is best for the company just wetting its feet in the graphic design world. (Source)
Type: Logo creator
Price: $20 for Basic plan, $65 for Premium plan, $165 for Enterprise plan
Designing your company logo with Logojoy is in fact a joyful experience. That's because the entire process is intensely creative.
You'll start by perusing their logo template database and saving any detail, color, or design that peeks your interest. Based on your selections, Logojoy will generate a customized list of suggested logos for you. You'll narrow this list down by favoriting more colors and designs. Once you've parsed the list down to two or three logos, you'll see real life mock-ups of each logo (on business cards and company letterhead for example), and decide which logo is "the one."
When you do, the last step is to customize the logo even further with new fonts, colors, and layouts.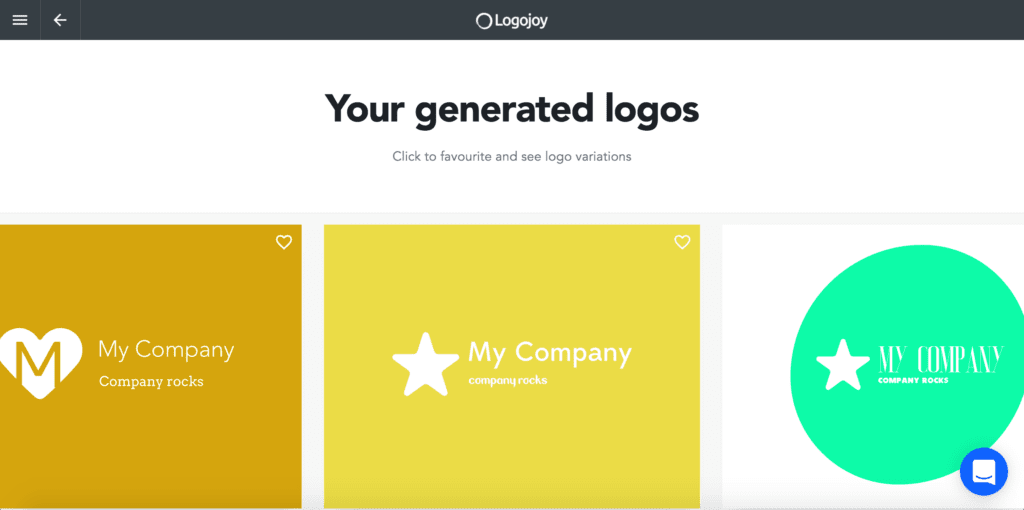 Logojoy continuously uses your interests to generate new customized logo lists to help you narrow down your search. (Source)
Type: Logo creator
Price: Free! (obvi)
As you might guess, Free Logo Design is a free logo maker. It's also so much more than that.
To date, Free Logo Design has garnered the business of over 1,187,386 entrepreneurs. That's because it lets you create killer professional logos in minutes using your own design or one of their templates.
Here's how it works:
Choose a name for your business
Choose one of their thousands of logos
Personalize your logo by changing key features of the template
Download your logo in high-resolution for $59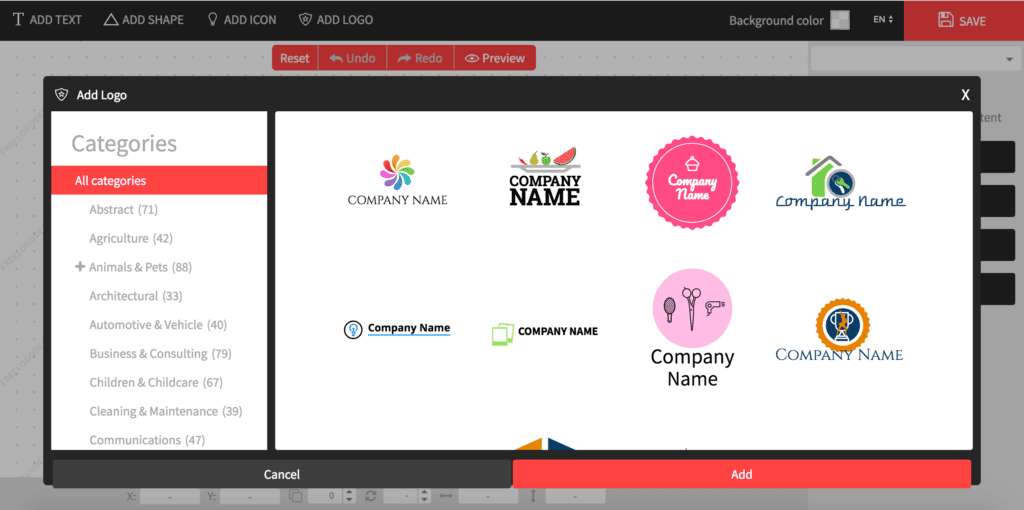 Designing your logo is easy-peasy using one of Free Logo Design's templates as inspiration. (Source)
If you like it, put a logo on it. Make your business official with an official-looking logo from Free Logo Design.
Your updated status: Social Media God
Congratulations on your new status as the ultimate social media/infographic/meme/gif/video/anything visual guru.
Whether you're looking to boost your company's online persona, design a flawless website to boost traffic, or throw a killer corporate party your employees and customers will never forget, these online design tools will help you do it.
And that's no small success.