Writing great Facebook ad copy, like writing great books (or blog posts), is a craft.
David Ogilvy was considered a master of his craft. He understood before anyone else the importance of writing a good headline, for that's the first thing readers see and determines whether they read more.
It was true in the age of "paper" it is still true in the era of Social Media.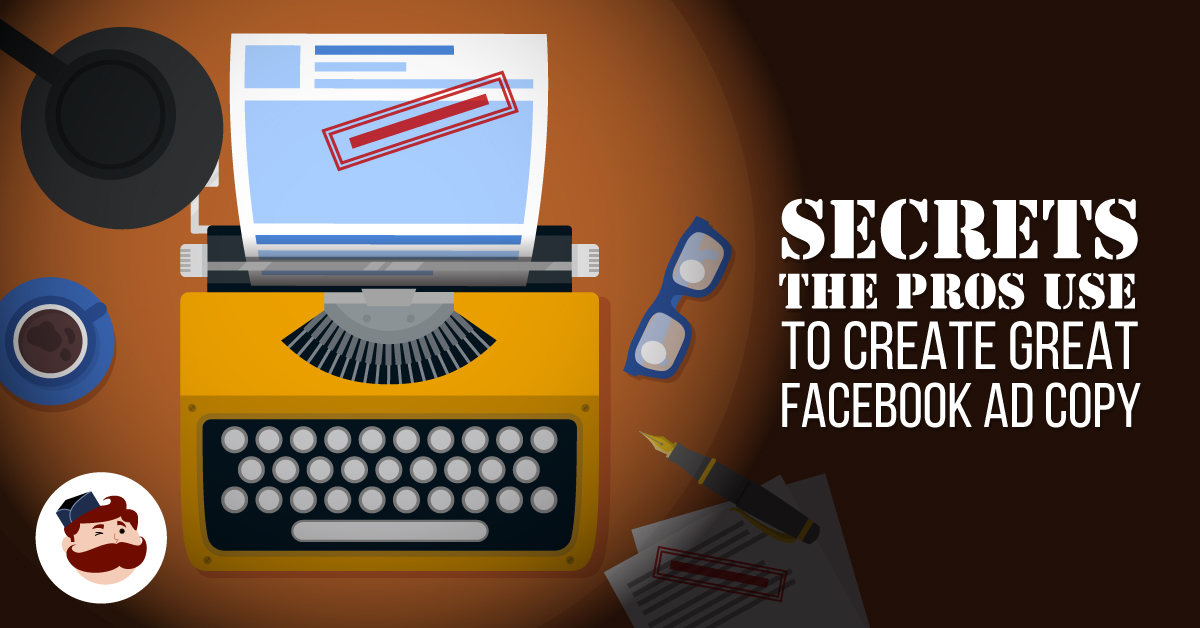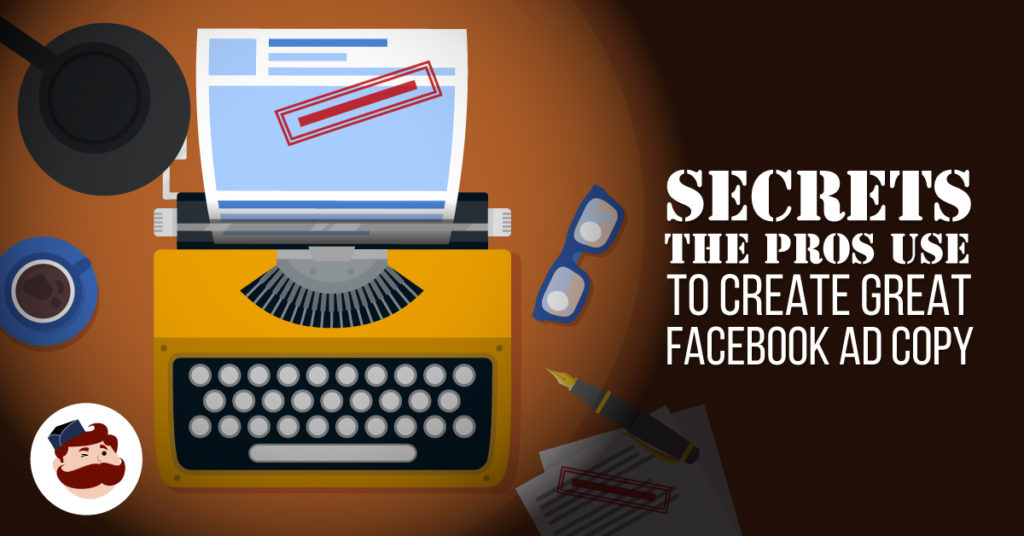 By using the right mix of techniques and strategies, you're closer to writing Facebook ad copy that shows readers why your product or service is better than the rest.
Here we examine nine techniques used by the experts to get readers to take action.
Known for his advertising acumen, David Ogilvy, the tycoon founder of Ogilvy & Mather and considered the father of advertising, spearheaded countless ad campaigns that intrigued and hooked readers. Simply put, he was the "quintessential Mad Man." Think Don Draper, but better.
He describes his 1959 ad for Rolls-Royce as his greatest headline ever. It reads,
At 60 miles an hour the loudest noise in the New Rolls-Royce comes from the electric clock."
Could any of us say it better?
Not having Ogilvy's creative genius, what can we do to make sure that our Facebook ad copy work? Here's what the best advertisers and social media marketers do today.
1. Ensure your copy matches your funnel focus
In the world of Facebook ads, content isn't king. To prove it, the social media giant used a 20% rule that required no more than 20% of ad copy to appear on ads. They only got rid of the rule last year.
With the emphasis on using as little copy as possible to entice readers, ad copy has to target specific types of users.
Advertisers— and the marketers they work with— have to decide if they're targeting Top of the funnel readers or bottom of the funnel readers. If the goal of your add is to boost the hype around your product and get leads, there's no point focusing on copy meant to lift sales.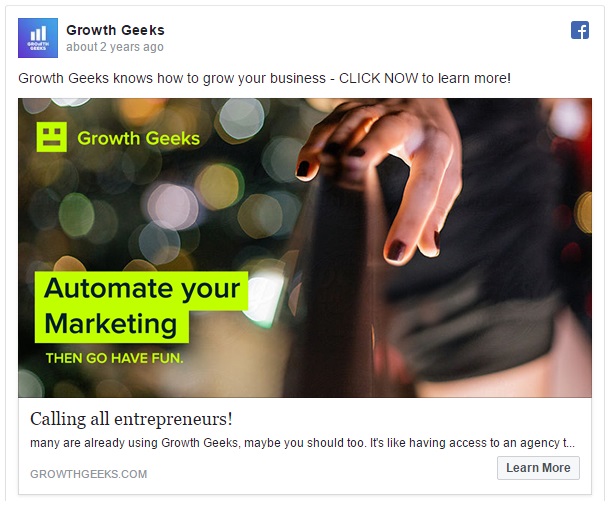 In this ad, the focus is on top of funnel readers— entrepreneurs— who need a marketing automation tool. Instead of highlighting cost benefits, it encourages them to learn more about the tool first. This is great for lead generation.
Key takeaway: The result of focused targeting is an on-image copy that doesn't waste any time getting to the point and speaks directly to specific readers.
2. Embrace A/B split testing
Every target group has segments within it. For example, if you're targeting women ages 18 – 34 they're not all going to respond to your ad the same way. If you're running a fashion ad for this group, your audience is millennial women, but the younger readers might prefer shopping online vs. in-store.
A good way to make sure your Facebook ad copy is received well across your entire audience is to test different versions of it. Based on click-throughs, you can tell which version resonates with most readers.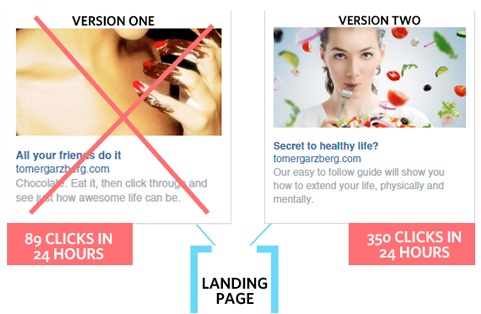 [Source]
With this example, more readers clicked on version two of the ad, making it a better option to lead with.
You can also test CTAs to see which one influences readers the most and prompts them to take immediate action.
Key takeaway: Once you've determined which copy and CTAs result in the most response, run with that combination to maximize reader engagement during your campaign.
3. Use hypertargeted copy with Facebook Pixel
In the early days of advertising, everyone saw that same ad regardless of their unique needs. Whether it was a newspaper ad for detergent or a billboard for a new car, there was no differentiation. Fortunately we have moved away from that approach and now live in a time where
Fortunately, we have moved away from that approach and now live in a time where Facebook Pixel is quickly becoming a helpful tool designed to enhance user experience.


With the tool, advertisers and marketers can drill down to granular levels of data to uncover specific needs for specific target groups. With the information they uncover, they can serve up dynamic and applicable copy and relevant CTAs.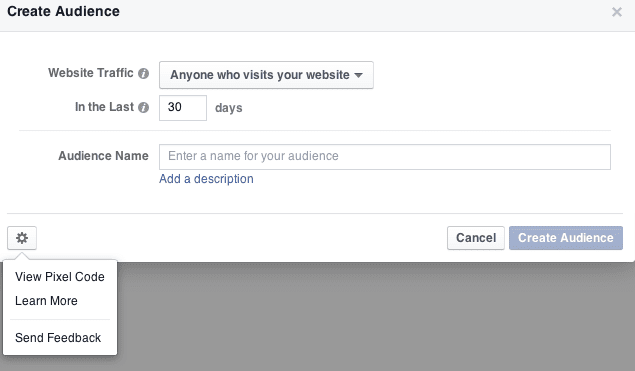 By targeting your ad copy you'll notice a boost in click-through rates because readers are exposed to exactly what they need.
4. Ensure your copy and visuals are aligned
Can you picture a McDonald's ad without a burger or the iconic red and yellow logo? It's kind of hard, right? The same thing applies to your ad copy and the images you choose to use.
Your copy needs to somehow relate to your image.If readers can't quickly and easily understand what you're trying to tell them, they're not sticking around for long to find out.
Just like it doesn't make sense for McDonald's to talk about their great burgers but position that copy against a random kitchen backdrop, it won't work for you. There's no connection and it only serves to confuse readers.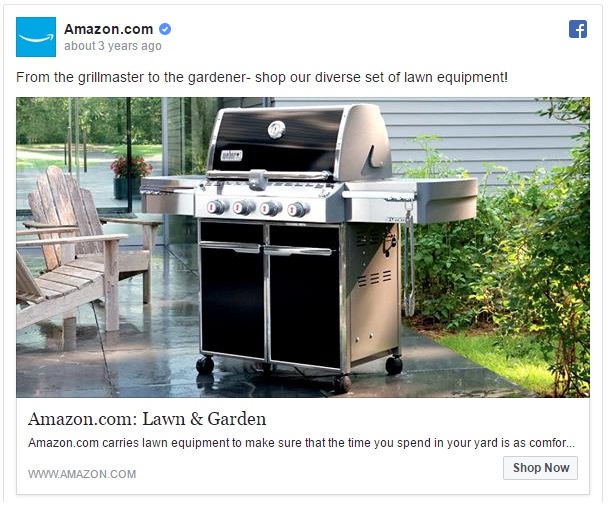 This Amazon ad is understandably trying to put a new spin on lawn equipment, but a BBQ generally isn't what most readers equate to lawn equipment. Shifting the focus of the copy or using a lawnmower, would have made it immediately clear to readers what the ad is about.
Key takeaway: Your readers will have a better understanding of what you offer if your ad copy is supported by a strong, related image.
5. Focus on clicks not your brand
It doesn't matter how great the product or service you're trying to promote is. The truth is, when readers first encounter your ad, they don't care about that. You've taken time to plan your image and brand but this isn't what attracts new readers.
To grab their attention, your copy has to clearly explain the value your product or service offers.
Instead of bombarding them with messages about how great you are, your copy should instead focus on how you'll help them and the positive impact you'll have on their lives.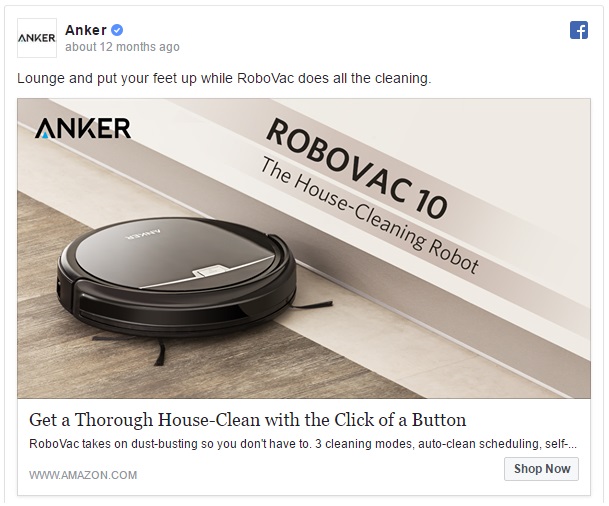 This ad focuses on the value the product gives users. Rather than talking about cutting edge technology it simply highlights the time-saving benefits. Who wouldn't want to lounge while something else cleaned?
Key takeaway: Reserve the formal introduction for after your readers experience how great you are. At this point, they're automatically going to want more information from you.
6. Test your copy with Facebook's Relevance Score
To figure out the right copy for your ad, you've probably spent lots of time analyzing the market. You know what your competitors are doing and have chosen a target audience you can cater to. But the question is, "how do you make sure your ad copy is relevant to your chosen target audience?"
The answer lies in Facebook's Relevance Score tool. It analyzes your copy in real-time to determine how relevant it is to your chosen audience.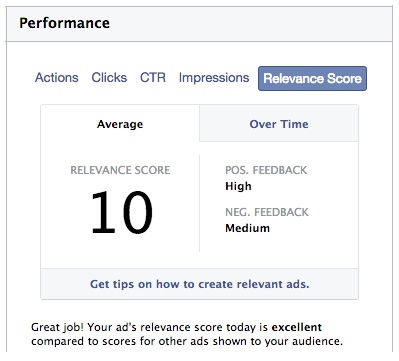 [Source]
With it, you can A/B test copy, optimize current content and determine whether the ad is a good fit with the target audience. Based on the results, you'll either need to adjust your copy and retest its relevance or publish it.
How to check the relevance score
It's extremely simple. Both in the Ads Manager and AdEspresso. Simply access the Ads Manager select your campaign, then an AdSet you want to analyze and in the list of Ads you'll be able to see Facebook's relevance score for each one. Clicking on the Ad and then on the "Relevance Score" Tab will show more details:
You can also see the volumes of Positive and Negative Feedback.
Checking your Relevance score in AdEspresso is even simpler than that! As soon as you access your campaign's dashboard you'll be able to see the trends of your campaign's relevance score and engagement over time.
You can of course also see the relevance score for each ad in your campaign by clicking "All Ads" in the campaign's menu.
Since we display on the same page both AdSets and Ads, you'll also be able to see a bird-eye view of the average relevance score of each AdSet.
Key takeaway: Keep in mind that the sole purpose of this tool is to establish relevance. It in no way implies quality. A good indicator of quality is the response rate your ad copy receives so keep an eye on conversion rates.
7. Promise something in return, tangible or otherwise
Before customers engage with a product, they want to know how it plans to solve their specific needs. If they're looking for a fitness product to get in shape, they want to know that it'll help them get the job done in a certain amount of time.
Advertisers should offer up their value proposition along with some type of bonus. If the ad campaign focuses on top of funnel customers, offer a downloadable e-book in exchange for an email address.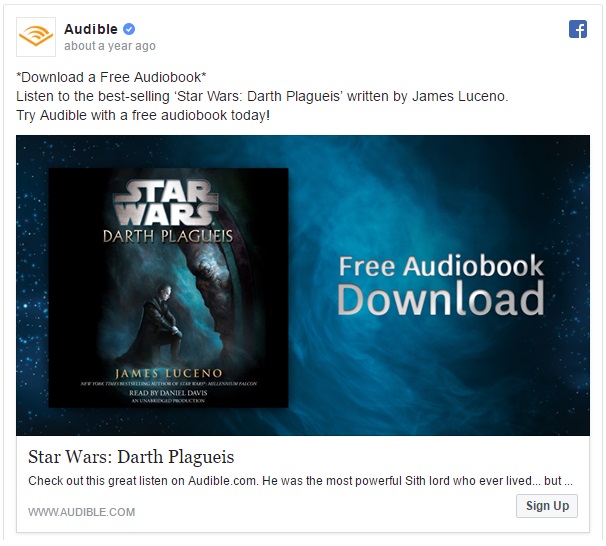 The value found with a product like Audible is the time it saves. Users can download and listen to a wide range of audiobooks while going about their daily routines. With this particular ad, readers are encouraged to try the service with a free download.
Key takeaway: Customers are willing to come back to your product when your copy makes the benefits clear to them.
8. Leave room for curiosity
There's no surprise here but we're curious creatures. When something sparks our interest— be it a new app, product or service— we want to know more. Your ad copy can harness our innate curiosity by capturing readers' attention.
To do so, advertisers have to use copy that finds a balance between vague and specific. You don't want to be so vague that readers don't understand your ad, but also you don't want to be so specific you turn them off of learning more.
Your ad copy has to provide just enough information to cause intrigue and get readers to click on the ad.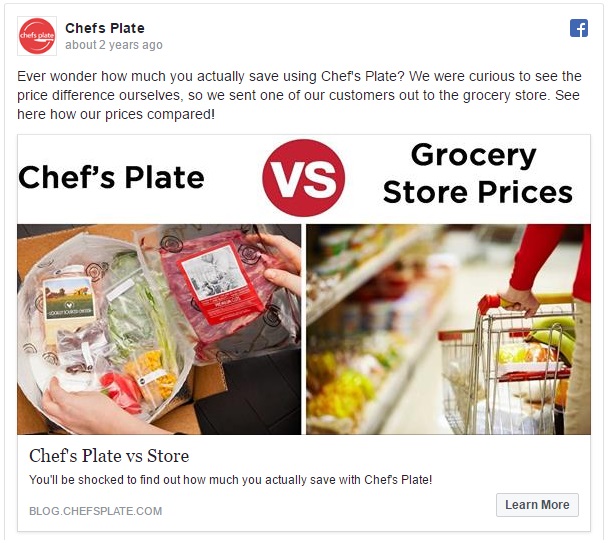 The copy in this ad does a good job of forcing readers to think about how much they spend on groceries and how a meal kit delivery service can be better for their wallet. A powerful word like "shocked" promises something intriguing and pique's curiosity.
Key takeaway: When it's done properly, you'll know you've tantalized your readers if there's more engagement from them. Lead generation gets a boost as more readers click to find out more.
9. Embrace urgency and scarcity
Nothing gets interested readers to take action like the thought of missing out on something good. After all, we've all heard of FOMO— fear of missing out. It's mostly thought of in relation to social media— who hasn't spend countless hours scrolling through their Facebook news feed?— but how do you apply this concept to Facebook ad copy?
To start, create urgency by offering a limited time offer that provides tons of value for a discounted price. Readers who are already curious about the product or service you're advertising will flock to the website from the ad to take advantage. Here's a great article that explains How to Use FOMO Marketing on Social Media.
Key takeaway: To create scarcity, your Facebook ad copy should combine it with urgency. For example, "only for today, the first 100 customers save 50%." If you're able to find the right mix of urgency and scarcity, your ad will have accomplished getting users to take action.
Bringing it all together
Copy is one of the most important features of a successful ad. Of course the images that you use play a huge role in that success, but copy allows you to communicate to your readers. It's your chance to briefly explain who you are, what you do and how you plan to help the reader.
On Facebook and Instagram, space is limited and you only have a short amount of time to grab reader attention. So you have to be creative with how you do that. Get to know your target readers really well so that you know what types of copy gets— and holds— their attention.
These tactics are designed to give you options for how to approach your Facebook ad copy. Don't be afraid to use more than one if it means publishing ads that get results; mainly high conversion rates, increased lead generation and a jump in sales.
Don't be afraid to use more than one if it means publishing ads that get results; mainly high conversion rates, increased lead generation and a jump in sales.
And don't forget to let us know how it goes, by leaving a message in the comments!