Want to know how you can get more Instagram likes on your posts? I bet you do!
The answer is simple: whatever you do, don't buy them. Seriously, don't. When you buy likes, you're violating Instagram's Terms of Service, which can get your account flagged, or even suspended.
Instead, take your time to create high-quality content that your target audience is willing to double-tap.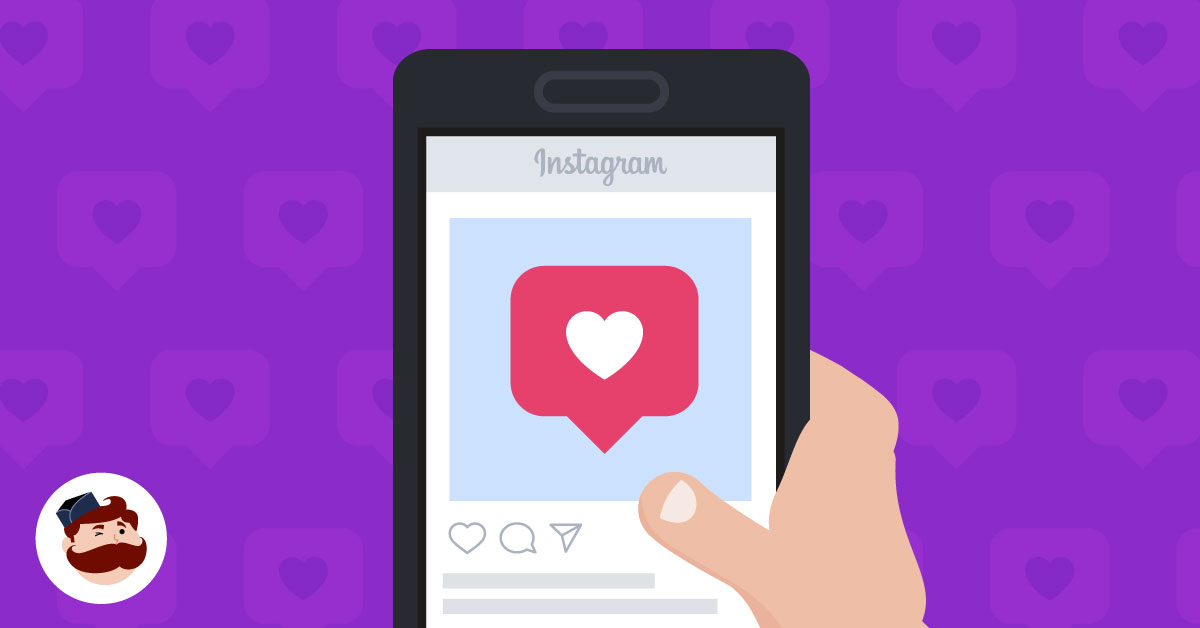 But it takes a lot of work to make posts that people value, so we're giving you 12 tips to help you get your Like count up.
Dive right in, and find out how to get legit Instagram likes.
Do Instagram likes still matter?
Short answer: Yes. If you have an Instagram account, likes matter a lot.
In 2019, Instagram started experimenting with not showing the number of likes a post got (i.e. like counts) in certain regions.
Adam Mosseri, the Head of Instagram, said that this decision was part of Instagram's effort to protect the mental health of its users. By not showing like counts, Instagram strove to make the user experience on the platform less competitive and healthier.
According to Instagram, they "want your friends to focus on the photos and videos you share, not how many likes they get."
This decision had mixed reactions: some users felt that not knowing the like counts of other users relieved the pressure to keep up, while others felt like they were being shut out from popular things.
So, in May 2021, Instagram decided to give users the option to hide their like counts—either on all posts or on just their own feed.
The thing is, whether we can see Instagram likes or not, the Instagram algorithm will continue to push posts that have a ton of engagement (including likes).
So, if you want more people to click the like button on your Instagram posts, here are 12 things you can try.
If you're not a huge fan of articles, check out this video that summarizes most of the tips in this list:
1. Use the right hashtags
Instagram hashtags are a great way to increase your reach and grow your Instagram audience. When you use a hashtag, your post (or Story) will appear on that hashtag's page.
It can also show up in the feeds of the people who follow that hashtag (even if those people don't follow you—yet!).
Cartoon Network tagged this post with hashtags like #mychildhood and #nostalgia. Not only are these hashtags relevant, but the post will also appear on the respective hashtag pages.
View this post on Instagram

Whether you're using product hashtags, acronym hashtags, or seasonal hashtags, experts agree that you shouldn't use more than 10-11 hashtags per post.
2. Write compelling captions
Instagram has a very generous 2,200 character limit, but this doesn't mean you should max it out. You can go for a mysterious one-liner or a short tagline that summarizes what your brand is about. But if maxing it out works better for you, go for it!
The thing is, no matter the length of your Instagram captions, they need to be engaging enough for users to 'like' the post.
Great Instagram captions are filled with relevant information and personality that compels your audience to take action when they see it.
National Geographic pens the most enthralling lengthy Instagram captions for each of their posts. The vivid way they provide context to their images, while teaching their audience something new can help drive engagement rates.
View this post on Instagram
This Hootsuite post compiles 264 examples of compelling Instagram captions to inspire you.
3. Tag relevant users
Whether you're tagging a brand you're wearing, a collaborator, a friend, or a person you look up to, the intent is to show how much you value them.
When you tag a person/brand on your Instagram posts, it's not only your audience that will see it. Sometimes, that person's (or brand's) audience will see it too.
Ebonee Davis, a fashion model, tagged her makeup artist and hairstylist that helped her get ready for an event. It was a way to show her gratitude, but there's also a chance that she might get a bit of attention from those Instagram users and their own followers.
View this post on Instagram
4. Tag your location
Tagging your location is more than just showing off great places you've visited. Geotagging your location on your posts can also help more people find you.
This is even more helpful if your brand has a physical location, as you'll be able to build a community with your (potential) regular customers.
The Duppy Share made sure to tag their location in this post about the combination of spiced rum and ginger beer. Who knows what rum and/or beer-lover will visit their bar to get a taste?
View this post on Instagram
Note: Make sure your physical coordinates are accurate so that you'll appear on the map.
5. Post at the right time
Although Instagram doesn't typically post chronologically, its algorithm favors recency. This means that if you want the right people to see your content, you should know the time they'll be online.
The best time to post differs with each brand, so you can take a look at your analytics to know what times you posted content that had great engagement.
However, we did a few experiments to find the overall best time to post on Instagram and we found that, in general, 11 am on Wednesdays is a great time to post.
You can start there and adjust the times as you figure out what works for your unique audience.
6. Post eye-catching photos
Before photography was a marketing tool, it was an art. And sometimes, we aim to post photos that have a higher quality than we're able to capture.
That's okay, but Instagram doesn't really care for "decent" shots. You have to up your game.
This might require you to take a photography course, spend some money on better equipment or learn some hacks that pro photographers use to get high-quality images.
Apple has one of the most visually captivating Instagram profiles I've ever come across. Each stunning image was expertly shot on an iPhone as confirmed by their branded hashtag #ShotoniPhone.
View this post on Instagram

To help you get started, the team at Hootsuite shared some tips and tools for editing images on Instagram like a pro.
7. Interact with other users
Instagram constantly strives to satisfy the needs of its users, so it serves posts from accounts that relate closely with each other.
So if you want to grow your audience (and your like count) on Instagram, go out of your way to like, comment, and share posts from other Instagram accounts.
8. Post user-generated content
Sharing content created by your followers/fans is an excellent way to generate engagement—and conversions!
On the part of the follower, it's thrilling when a brand you like features you on their Instagram account. But for the brand, user-generated content serves as social proof that shows your other followers that your product/service is top-notch.
It also shows that you're connected to your community.
Much of Fenty Beauty's Instagram profile is made up of reviews and makeup looks created by fans of their products. Just like this one below:
View this post on Instagram
9. Post behind-the-scenes content
As you show your followers your shiny new product, it's okay to get vulnerable and show them the work it took to build that product or keep the business running.
People like seeing how things are made, so giving your audience a peek into the nitty-gritty aspects of your work—photoshoots, packaging, distribution, etc.—is always a smart choice.
In this Reel, Cold Stone Creamery takes their followers behind the scenes to show them how their Oreo® Overload Creation™ iced cream is made.
View this post on Instagram
10. Try some memes
Do you like things that make you laugh? If yes, chances are your audience does too. So…make them laugh with funny memes, sayings, comics, and GIFs.
You don't have to tell random, disjointed jokes, though. Your memes and GIFs should align with the voice of your brand and the audience you're trying to reach.
A company that is great with memes is Wendy's. They expertly weave in brilliant brand-centric memes with official announcements and user-generated content.
View this post on Instagram
11. Watch what your competitors are doing
If your Instagram account is set up to see likes, you might be able to see what's working and what isn't for your competitors. If it's working for your competitors, chances are it'll work for you too.
That's where social listening and competitive analysis come in.
When you do social listening right, you'll be able to identify trends and gauge sentiment across the industry. Apart from hearing what other people think of your brand, you'll also hear what people think of your competitors. This way, you'll be able to step in when your competitors drop the ball.
12. Run a like-to-win contest
It can take a lot of time and effort to plan a contest. But if you want to get a ton of engagement within a specific time period, a like-to-win contest is one of the easiest ways to do that.
The trick to ensure that you're offering a prize that:
Your audience will like
Will attract real prospects, not opportunists.
So don't give away money, iPhones, Versace bags, or trips to the Maldives.
In this contest, Kind of Simple Designs is offering interior design enthusiasts a free gallery wall with print sizes of their own choice. All they have to do is like and follow Kind of Simple Designs Instagram account, and tag their friends.
View this post on Instagram

The team over at Hootsuite shared a couple more ideas for Instagram contests in this article, as well as step-by-step guidelines on how to make one a success.
Hootsuite is also a great tool to save time managing your Instagram presence. It makes it easy to schedule and publish Instagram posts, interact with your audience, and measure your performance from a single, intuitive dashboard. Try Hootsuite for free today.