Want to know how you can stay one step ahead of your competitors and succeed at social media marketing?
A social media competitive analysis, that's how!
A competitive analysis shows you how strong your brand's social media strategy is compared to that of your competitors. It also helps you discover new social media opportunities and potential threats to your business.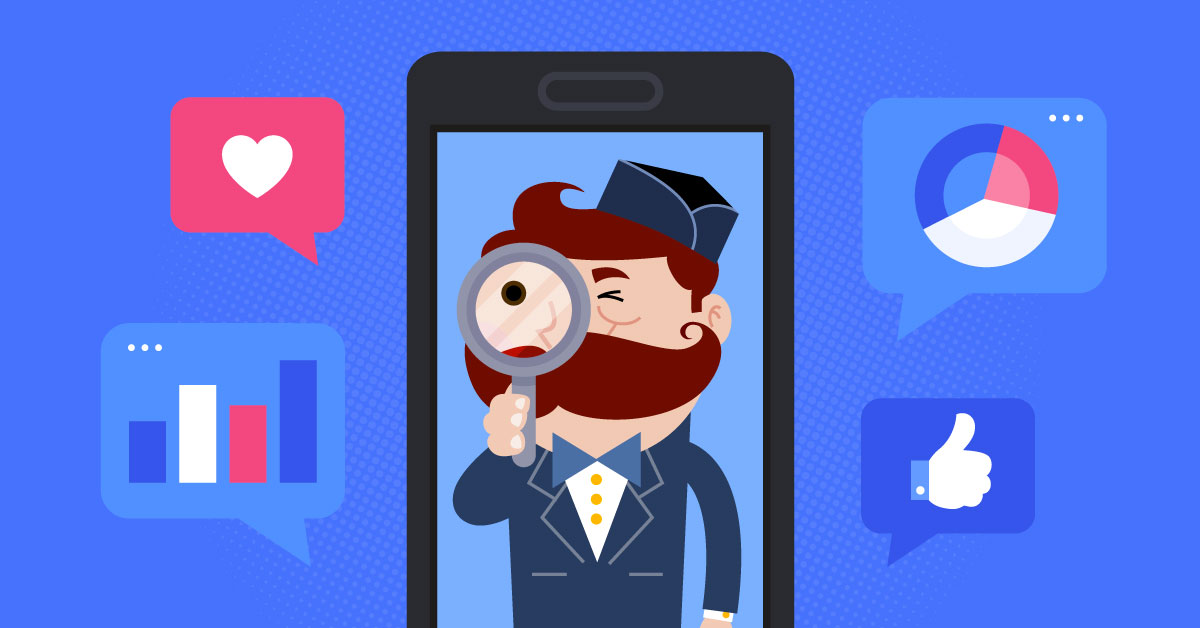 In this guide, we will show you how to conduct a social media competitor analysis, step by step. We'll also give you the best tools and a free template to help you get started.
What is a social media competitive analysis?
A social media competitive analysis is the process of examining your competition's social media activity to understand their strengths and weaknesses, and how you stack up.
By researching and evaluating your competitors' social media strategies, you can discover valuable insights on your target audience, and figure out what they like — and what they don't like.
A social media competitive analysis will also help you figure out:
Who your competitors are on social media
Which social media platforms they use
How they craft content for their social networks
How much engagement their content gets
How your social media marketing efforts compare to your competitors'
The gaps in your social media marketing strategy
Potential threats to your brand on social media
Why should you do a competitor analysis on social media?
As we already mentioned, a competitive analysis on social media can give you plenty of insights into your audience (which likely overlaps with your competitors' audiences).
These insights can guide your social media marketing strategy. They include:
Ideas for the best times to share content on social media (because it's likely that your audiences are online at similar times)
Social media marketing tactics that work well (and those that don't) for your competitors' audiences
Unique content and tone of voice inspirations for what may resonate with your audience
New market trends and topics
The pain points of your target audience
Niches or opportunities that other brands in your industry aren't taking advantage of yet
In all, sleuthing on your competition's social media activity will help you better understand the market and set the right objectives for your brand's social presence.
But you have to put in the work to get the most you can out of it. You can put together a single social media competitive report (for example, if you're just starting out on social) or hire someone to track your competitors' activities on social platforms on a regular basis.
For many businesses, the sweet spot is a monthly or quarterly analysis. But whatever cadence you choose, the insights you'll get will be priceless.
How to do a competitive analysis on social media in 4 steps
To make the social media competitor analysis process easy, we have broken it down into four simple steps that will work for any business.
Before you get started, grab a copy of this social media competitive analysis template our friends over at Hootsuite put together. It is free, and it will help you keep track of your work.
Step 1: Identify your competitors
It's impossible to analyze your competitors on social media if you don't even know who they are and which social platforms they use. Here's how to find them:
Find your competitive keywords
Even before you start, you probably have an idea of the keywords you want your business to rank for in search engines.
For instance, if you work in an interior design studio in Boston, you'll likely want to rank for keywords like "fashion stores in Boston" and "Boston clothing stores". But if your store sells affordable clothing, then you know that stores like Hermés and Gucci are not your direct competitors.
Understanding your priority keywords will help you recognize who your online competitors really are.
A great place to start to identify target keywords for your brand is Google Ads Keyword Planner. This free tool can analyze your website and give you a list of relevant keywords with their average search volume and competition level.
For example, here are some of the keywords that Keyword Planner found for AdEspresso: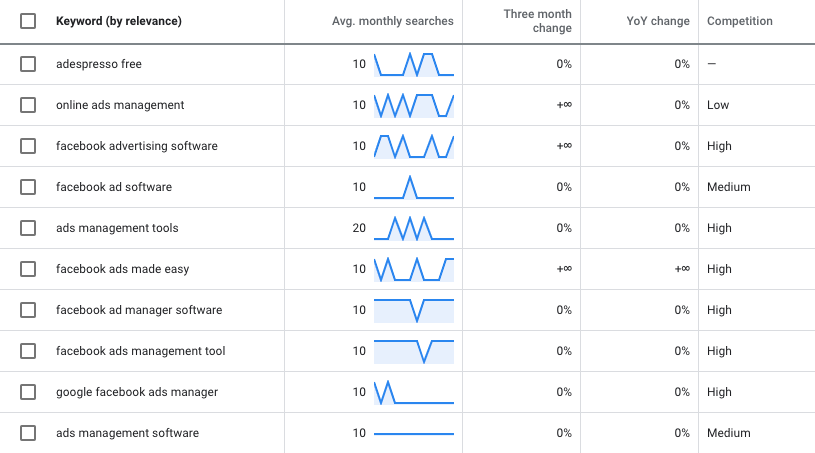 If you already know your target keywords, just enter them into the tool to get related keywords. You can use these related keywords to narrow down your list of potential competitors, so that you'll analyze businesses that are truly competing against yours.
Check who's ranking for those keywords in Google search
The easiest way to find your competitors is through Google.
Choose 5 to 10 keywords that are most relevant to your brand and type them into Google. Look through the search engine results pages (SERPs) to figure out the businesses that rank high for those keywords.
Pay close attention to businesses that pay for Google Ads to appear at the top of organic search results, because they are investing money to achieve their marketing goals. Even if these businesses don't rank high on SERPs yet, you should check out their performance on social media.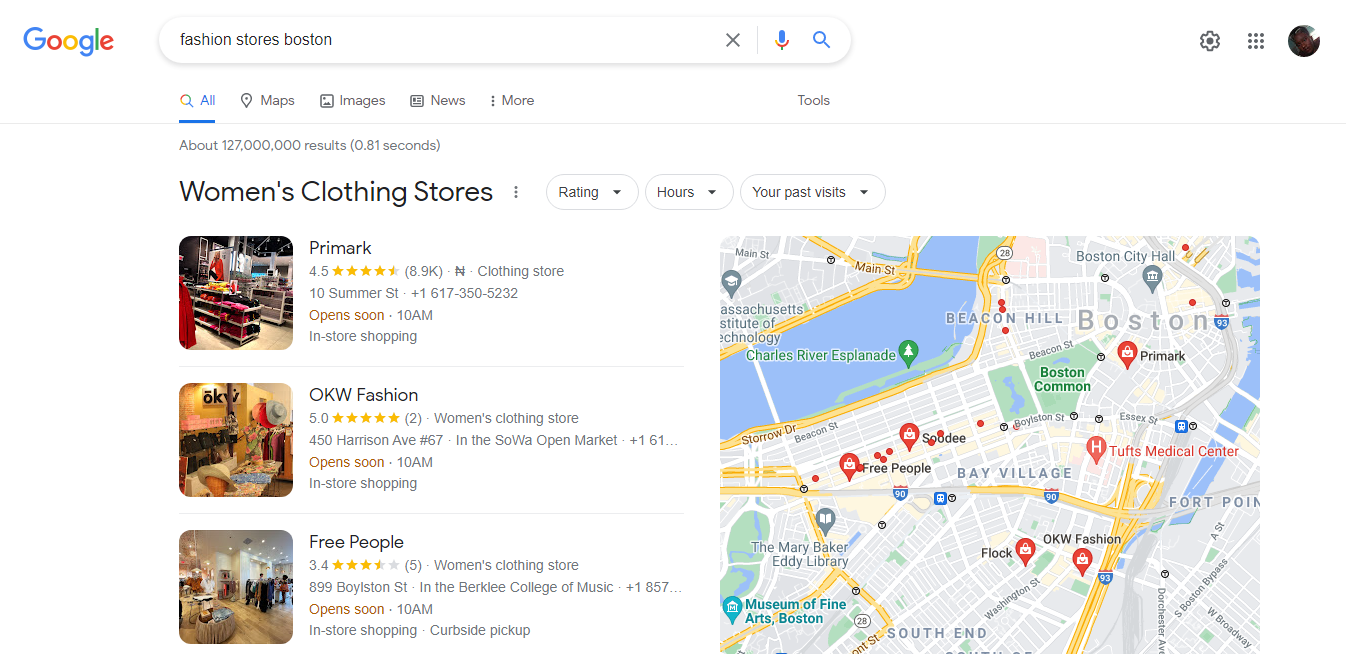 Visit the websites of the brands that seem like potential competitors. Most brands put links to their social media channels in the header or footer of their websites.

Enter those links into your competitive analysis spreadsheet as that's what you'll be examining next.
Check who appears in social searches for your top keywords
Just because certain brands rank high for your keywords on search engines doesn't mean that they rank well for those same keywords in social networks.
Since you're conducting a social media competitor analysis, you want to focus on competitors that rank well in social search results.
For instance, to find competitors on Facebook, enter your keyword into the search box and click on Pages in the left column.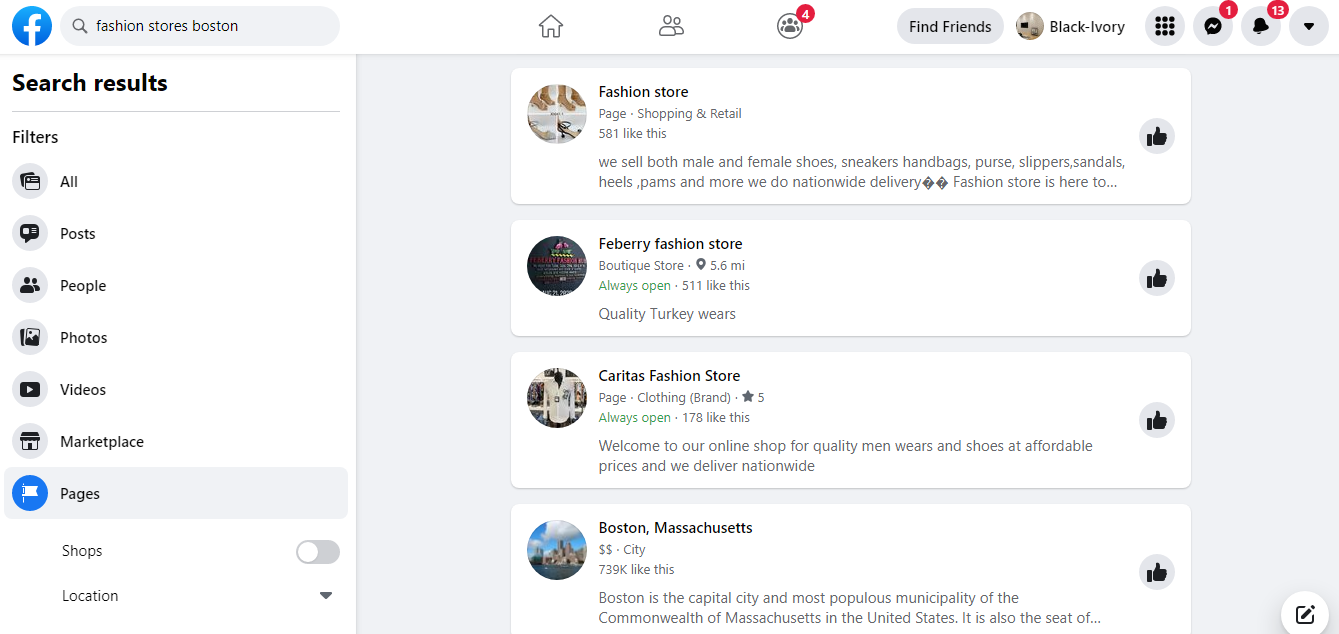 To learn more about how to search through different social networks, check out Hootsuite's post on the best tips to do social media research.
Find out what brands similar to yours your audience likes
Another way to find competitors is to check for similar brands your audience follows on social networks. Facebook Audience Insights and Twitter Analytics are good for getting these insights.
For example, if you're looking through Twitter, you don't need to check your entire audience. Instead, you can check the brands your top followers are connected to. Here's how to do that:
Open Twitter Analytics
Scroll down to find your Top Followers for the last several months
Click View Profile for each of these Top Followers
On their profile, click Following to see the full list of the accounts they follow
You can also click Tweets & replies to see the accounts they interact with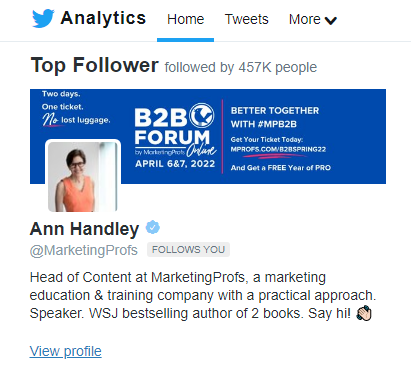 Whenever you see a similar brand that your audience interacts with, add them to your list of competitors.
Choose up to 5 competitors to focus on
At this point, you probably have a long list of potential competitors—way more than you can deeply analyze. So trim your list down to the top five brands you most closely compete with on social media.
Step 2: Gather your data
Once you know who your top five competitors are, you can start studying what they do on social media.
Remember those social media links you got from the brands' websites? Visit those profiles and note down the following in your social media competitor analysis template.
Which social media platforms are your competitors active on?
How many followers do they have, and how fast does their following grow?
What's their content strategy? How well do they balance text, photos and videos?
How often do they share content?
How much engagement do their posts get?
Which posts have the highest engagement (likes, shares, comments, etc.)?
What tone of voice do they use? Casual, conversational or formal?
What's the purpose of their content? Is it entertaining, educational, promotional, or something else entirely?
Do they practice influence marketing? If they do, what kind of influencers do they partner with and how much engagement do these campaigns get?
How many hashtags do they use?
Which hashtags do they use most often?
Look up all of these things on your own channels too. This will help you with the analysis in Step 3.
It can be time consuming to gather this data manually, so no shame in using specialized social media management tools for some help (check out the ones mentioned below).
Step 3. Run a SWOT analysis
Once you have all the data you need, the next step is to evaluate it to understand how your business stacks up compared to your competitors. In this evaluation, you'll need to take a deep look at your business and make note of the following:
S – Strengths
W – Weaknesses
O – Opportunities
T – Threats
Your strengths and weaknesses are internal factors. To identify these, you have to look at your business and pinpoint where you're excelling and where you're falling short.
Opportunities and threats, on the other hand, are external factors. You have to critically assess your competition to identify ways to improve your strategy and pin down the potential problems you might encounter.
A good SWOT analysis involves more than just looking at how many times you post in a week or the number of likes your posts get. It's a deep examination of your brand's overall social media marketing strategy.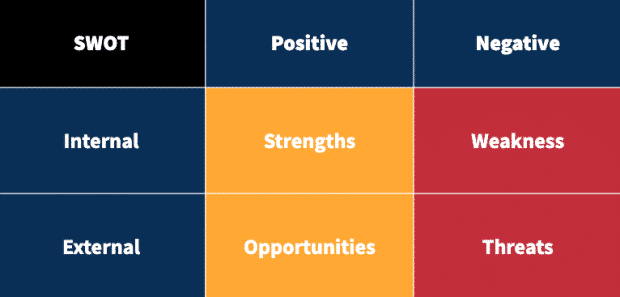 Source: Hootsuite
Strengths
Strengths describe where your brand does very well — or better than most your competitors.
To identify your strengths, check if you:
Write your posts in your brand voice
Make your branding clear across all your social channels
Use graphics that reflect your brand colors
Have an engaged community on social media
Have posts that have gone viral (and try to identify what made them go viral)
Have more followers than your competitors, etc.
Weaknesses
Once you've given yourself a pat on the back for all the things you're doing well, it's time to identify weaknesses that stop your business from reaching its full potential on social media.
To identify them, look at areas where your business is lagging behind competitors. These are the aspects you want to improve on through A/B testing and making changes to your social media strategy.
Ask (and answer) questions like:
What social platforms do your target audience spend time on: Facebook, Twitter, Instagram, LinkedIn or someplace else? Are you ignoring any important platform? Or are you using platforms that aren't beneficial to your business?
Are you posting regularly? Or has your schedule been inconsistent?
What metrics could you improve upon? Impressions? Engagement?
Are your competitors doing better than you on any specific social platforms? What are they doing differently?
While asking yourself these questions, understand that you can have both strengths and weaknesses for each social platform. For instance, your Instagram follower count might be higher than your competitors, but they might have better engagement than you.
That's why it's important to be specific. Distinguishing between these metrics will help you identify opportunities for and threats to your business.
Opportunities
Now that you know where you fall short compared to your competitors, start looking for opportunities you can take advantage of.
These opportunities can be areas you want to improve based on the data you've collected, or they can be based on changes in the online world (e.g. platforms introducing new types of content).
For instance, as, TikTok is blowing up, and many brands and creators are jumping on the opportunity and working the platform into their social strategies.
Here are some things you should pay attention to:
Have any new social media features or platforms launched recently? If your competitors haven't started using them, you could be the first to start.
Have you been getting traction from organic social media only? If you haven't run social media ads, try testing a campaign to improve your performance
Does your audience engage more with short videos rather than long ones? Consider adding Instagram Reels or YouTube Shorts to your content mix.
Threats
Just like opportunities, threats are external factors. To identify social threats to your business, look at what could negatively impact your social performance over time.
Here a few potential threats:
Competitors who are new to your niche and growing quickly
Changes to social trends that may affect your business' visibility
Customers that say negative things about your brand
In some cases, you might notice that some threats already exist. For instance, a competitor that has few posts on Facebook but has a high engagement rate might be a bigger threat than a competitor with many Facebook posts but low engagement.
That's why you need to watch the industry for impending changes that can cause your competitors to outshine your brand.
Step 4: Keep your analysis up to date with social media monitoring
To keep your social media competitive analysis up to date, you need to continually add new information about market trends and any new competition. You should do this regularly, as part of your quarterly or annual reports.
Crafting an effective social media monitoring strategy will help you get real-time information to integrate in your next competitive analysis.
It helps you track conversations about your brand and your competitors and respond to the engagement you receive on social platforms, blogs, websites, forums, review sites, and other digital channels. This can help you easily identify potential opportunities and avoid making mistakes.
Write down any important data you discover through social media monitoring in the Notes column of your competitive analysis template. Next time you do a review, include that information into your opportunities or threats.
5 top social media competitor analysis tools
In Step 2, we explained how to gather data on your competitors directly from social media platforms. However, doing it manually can be quite tedious.
To streamline your social media competitive analysis, use these specialized tools.
With Hootsuite Streams, you can track keywords, hashtags, and competitors across all social networks. All you have to do is add all your competitors' social accounts to one Stream and sleuth on them whenever you want.
While this tool is great for keeping track of your competitors, it can do so much more than that. This video shows you how to use Hootsuite Streams to improve your social media strategy.
It's no use spying on your competition if you're not going to analyze and report the information you collect.
That's what Brandwatch is here for. This tool allows you to analyze your brand's social share of voice (SOV).
SOV refers to how many conversations people have about your business online compared to the conversations they have about your competitors. The more people talk about you, the greater authority and visibility you have amongst social media users and potential customers.
SOV is one of the most important metrics to track, and Brandwatch presents this information in the form of easy to read graphs.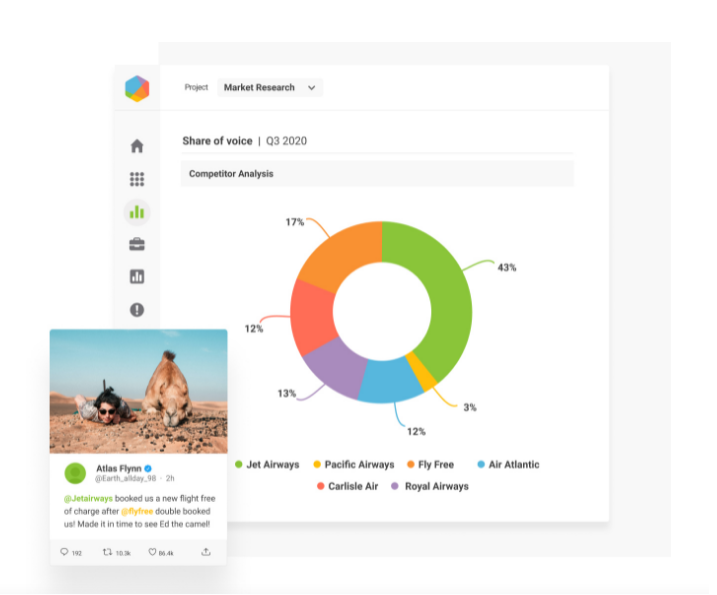 Source: Brandwatch
Brandwatch integrates with Hootsuite, too. This video shows you how both tools work together to help you collect and analyze important competitive information.
Synapview is an application that lets you automatically discover your competitors' social media accounts so you can track them.
With this tool, you can monitor your competitors, hashtags and keywords across multiple social networks, including Instagram, Twitter, YouTube, Pinterest, Reddit, and blogs.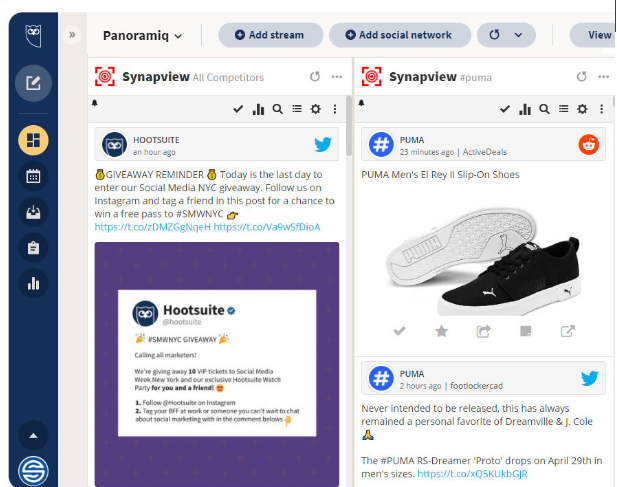 Source: Synapview
Mentionlytics is a powerful social media monitoring tool that lets you track every conversation about your business, your competitors or keywords on social platforms like Facebook, Twitter, Instagram, Pinterest, YouTube, etc. and other web sources, including blogs, news, forums, etc.
With this exceptional coverage, you can always know what people are saying about your brand. In fact, Mentionlytics has a "sentiment analysis" feature that helps you see what and how people are having these conversations.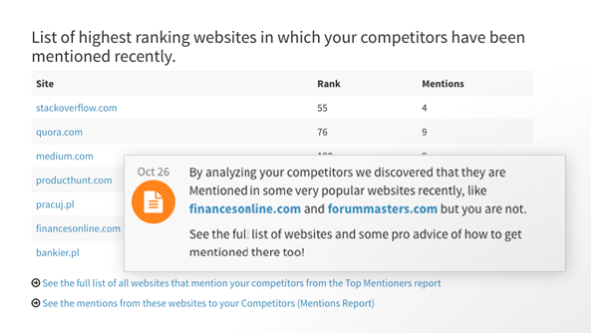 Image source: Mentionlytics
Mentionlytics also integrates with Hootsuite, so you can follow business conversations and schedule posts from the same workspace.
Talkwalker is a social listening tool that has a huge library of insights with more than 150 million sources, including social networks, forums, blogs, news, videos, and reviews. This means that you can keep track of your competitors and industry trends beyond just social media.
Talkwalker has a "virality map" feature that gives you details about different trends around the world so that you can improve your marketing campaigns The real-time analytics and reporting also shows you how your business or content are performing on social platforms.
Get a free social media competitive analysis template
All the information you gather during your social media competitor analysis should be kept and tracked in a sheet or report you can share with other stakeholders in your business.
You could create your own spreadsheet to do this, but if you'd rather move fast and dive right into collecting insights, analyzing data and implementing your findings, download the free social media competitor analysis template made by Hootsuite.
This template has all the necessary columns so you can just start plugging in the data you collect. What's more, it has a tab for your S.W.O.T analysis, too, so you can track your strengths, weaknesses, opportunities and threats easily.