Building a solid Instagram following requires compelling and relevant content. But if you don't post your content at the right time, your followers won't see it or engage with it.
But what is the best time to post on Instagram to ensure that your audience sees your content? What's the best day of the week to get the most likes, comments and shares?
Don't worry — you don't have to think too long about this. Keep reading to find out the overall best time to post on Instagram for each day of the week, and how to find your unique best time to post on your brand account so that you'll reach your audience when they're active on the platform.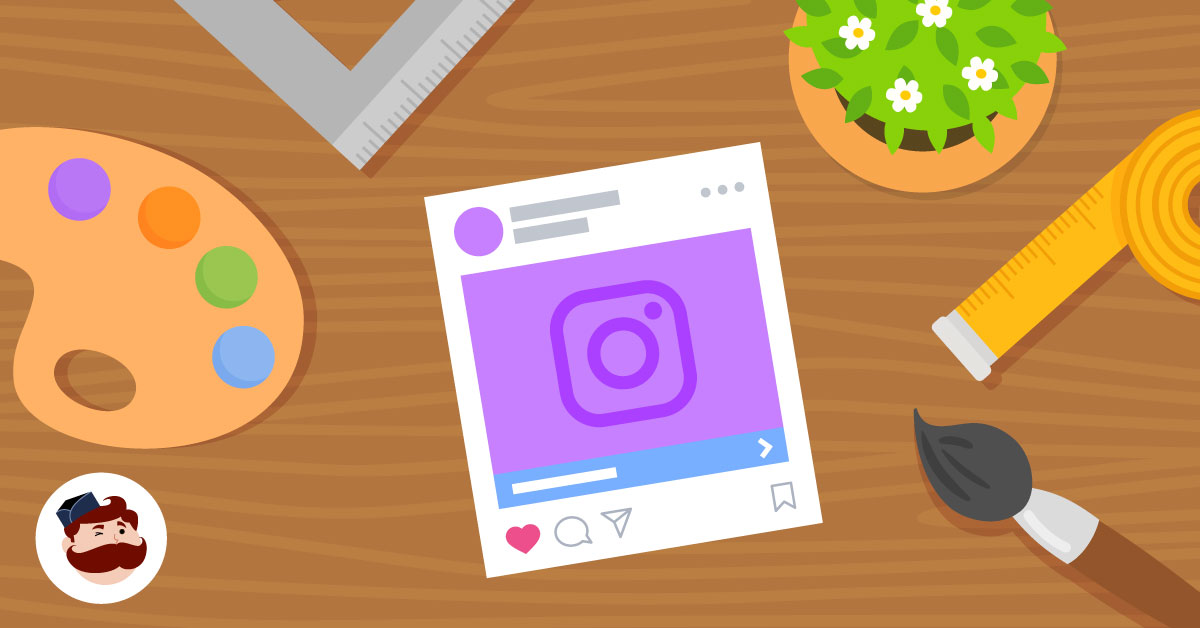 Is there really a best time to post on Instagram?
Short answer, yes. But as you might've guessed, it's a bit more complicated than a simple yes.
Let me explain.
Asking "When's the best time to post on Instagram?" is like asking how much Instagram Ads cost. There are many factors to consider before you can give a sensible answer. And even then, the answer is not definite.
The best time to post on Instagram depends on factors like:
Days of the week
Month of the year
Seasonal trends
Interests of your target audience
The goals of your posts
The kind of post (regular feed post, Story, IGTV, Live videos, or Reels)
The industry or niche of your business
The signals used by the almighty Instagram algorithm (ugh… don't even get me started on this one)
Every brand, including yours, caters to a unique target audience with unique preferences and social media behavioral patterns. So your "golden" post time on IG might not work for a different brand.
That being said, there are some best practices you can follow that can help you get your content in front of more eyes.
They are:
Post when your followers are online. This is a no-brainer. If your followers are asleep when you post, how will they engage with your content?
Post often. By "often", I don't mean 12 times a day. But Instagram's algorithm prioritizes recency. So, all things being equal, a newer post will show up first on an Instagram feed before an older one. Recency is one of the easiest and quickest ways to grow your Instagram audience. But there are also many tips on getting free Instagram likes, so check that out if you're interested.
Know your goals. What do you want to achieve through your Instagram marketing strategy? Do you want to increase awareness, get more engagement, drive traffic, increase conversions, or something else entirely? Figure out what success means to you, and check when your posts last achieved that success. Your past wins can guide you to know when you should post content on Instagram.
What is the overall best time to post on Instagram?
The team at Hootsuite analyzed over 30,000 Instagram posts from all kinds of businesses. They also took data from their own social team's experiments posting content to 200k followers to pinpoint the average best time to post on Instagram:
11 am on Wednesdays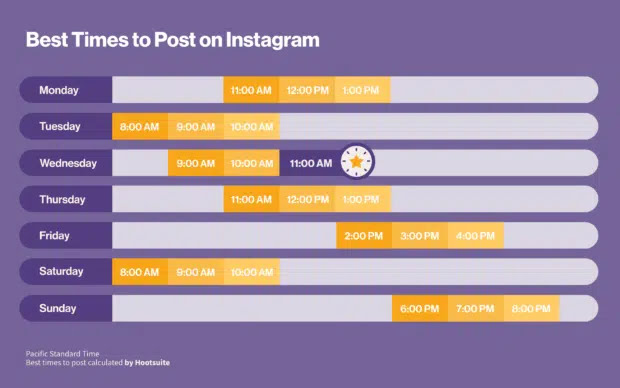 They discovered that Instagrammers are most likely to be online mid-day and mid-week. This only makes sense — it's best time to take a break from school or work and school through Instagram.
Weekends, on the other hand, usually have low engagement. That's probably because people like to do more in-real-life activities on weekends, rather than sit on a couch with their eyes glued to their phone screens.
But… I would assume that, as a business, you plan to post more than once a week. So here's a rundown of the best times to post on Instagram for each day of the week.
| Day of the week | Time |
| --- | --- |
| Monday | 12:00 PM |
| Tuesday | 9:00 AM |
| Wednesday | 11:00 AM |
| Thursday | 11:00 AM |
| Friday | 2:00 PM |
| Saturday | 9:00 AM |
| Sunday | 7:00 PM |
Monday
The best time to post on Instagram on Monday is 12:00 PM. At this time, most of your followers are having their lunch breaks and might choose to unwind by scrolling through Instagram. They mostly just want to catch up on the latest news from their friends, favorite influencers and brands, so post content that is easy to digest and share.
Tuesday
The best time to post on Instagram on Tuesday is 9:00 AM. On Tuesday, engagement is strong in the morning between the hours of 8-10 AM, but the peak time to post is around 9:00 AM.
Wednesday
The best time to post on Instagram on Wednesday is 11:00 AM. Yeah, it's also the day that gets the highest engagement, so you can schedule important posts like product launches, discounts, brand announcements, etc. on this day.
Thursday
The best time to post on Instagram on Thursday is 12:00 PM. Actually, engagement is steady from 11:00 AM to 2:00 PM on Thursdays, so try posting Instagram Stories with engagement magnets like polls, quizzes, and questions.
Friday
The best time to post on Instagram on Friday is 2:00 PM. But engagement is consistent from as early as 7:00 AM to 2:00 PM. This long time frame provides an opportunity to post long-form content like IGTV videos or Instagram live streams.
Saturday
9:00 AM is the sweet spot for posting on Instagram on Saturdays. Normally, engagement goes down on weekends but 9:00 AM comes before people start engaging in their offline weekend plans.
Sunday
Compared to the other days of the week (including Saturday), engagement is very low on Sundays. But if you post between 12:00 PM and 8:00PM, you will generate some engagement. This engagement peaks at 7:00 PM.
If you're just starting on Instagram or you don't have a definite posting schedule yet, try posting content around the times we outlined about, and check how well it works for you.
As your account grows, you should run A/B tests to find a better posting time fit for your audience's Instagram behaviors.
The team at Hootsuite is pretty strategic with how they post on their Instagram account.
Hootsuite's Social Marketing and Employee Advocacy Strategist, Brayden Cohen, says, "Typically, we like to post early in the morning and mid-afternoon. For Instagram, that means we try to post anytime between 8AM-12PM PST, or else 4-5PM PST on weekdays."
In regards to Hootsuite's North American B2B audience, Cohen revealed that Hootsuite's posts perform best when they post in the early mornings or lunch-time hours in the Pacific time zone, and between 9:00 AM and 5:00 in the Eastern Time zone.
Hootsuite Analytics provides an activity heatmap so you can see when Hootsuite's Instagram audience is active.

Cohen and the social media team also use Hootsuite Impact to analyze post and campaign performance. According to Cohen, "the data there tells us if we should continue focusing on the same strategy or pivot anything going forward."
On deciding when to post on Hootsuite's Instagram account, here's Cohen's process: "We use past performance as the guiding star, and then review when the audience is online as a second opinion. If our content isn't performing well after that, we'll test different times to post to see if that changes the post performance."
This shows that your Instagram content calendar should be backed by verifiable data, just like the rest of your marketing strategy.
All in all, an Instagram content calendar should be as data-driven as the rest of the marketing strategy.
Here are some important Instagram statistics that can help you put things into perspective and create a rad posting schedule:
What is the best time to post Instagram Reels?
Instagram Reels are the hottest thing on the block right now, and they're becoming a big part of influencers' and brands' marketing strategy in 2022.
And why not?
Data shows that Reels can get up to 300% more engagement than regular IG videos. So if you want to grow your Instagram account, posting reels is an excellent way to go.
The team at Hootsuite have been posting Reels to their Instagram account with 170k followers for more than two years. In that time, they've realized that the best time to post Reel's is 9:00 AM and 12:00 PM, Monday to Thursday.
Tips for finding your best time to post on Instagram
Check your best-performing posts
Reviewing your top-performing Instagram posts and analyzing the time of day you posted them can help you figure out the optimal time for you to post content on the platform.
To do this, you have to first determine what kind of performance you want for your brand. Do you want to increase awareness or would you prefer to drive engagements?
If you want to increase brand awareness, you can measure the performance of your posts by the number of impressions they got. But if you want to drive engagements, focus on posts that have the most likes, comments, and shares.
You can find your top-performing posts by evaluating your Instagram insights. Or you can do it manually by sifting through all your posts on a weekly or monthly basis.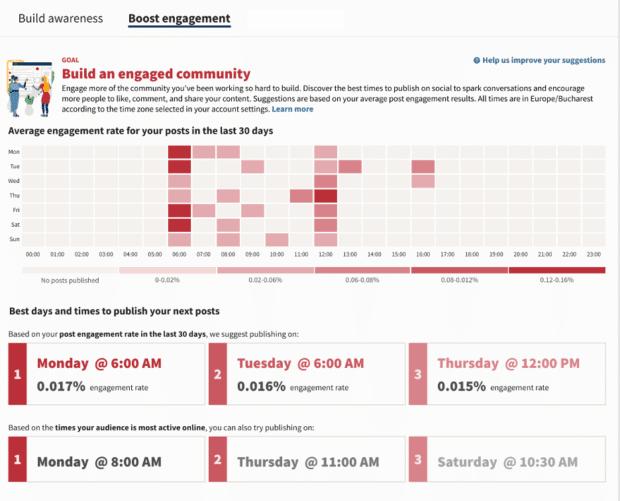 But why do it manually when a social media management tool can do all the heavy lifting for you?
For instance, Hootsuite's Best Time to Publish feature suggests the best times and days to post on Instagram based on your previous performance. It assesses your posts from the last 30 days, groups them by day and hour, and calculates the average impressions or engagement rate to identify the best times your posts had the best reach/engagement.
Determine when your audience is most active online
Another thing you should look for in your Instagram analytics is the times your audience is scrolling through the platform.
If you want to achieve success on Instagram (and any other platform, really), you need to know your audience. If you're targeting beauty enthusiasts, their social media behaviors might be extremely different from bodybuilders who wake up at 5 AM to hit the gym.
Hootsuite's Best Time to Publish feature will automatically break down your audience information into a heatmap.

This will help you run tests and predict times when your Instagram audience is online. It will also suggest times that you haven't posted at in the past 30 days so that you can switch up your posting schedule.
Monitor the times your competitors post content
After evaluating your content, try to monitor any business account or profile that is producing similar content or targeting the same audience as you. These are your competitors.
Depending on your industry, your competitors may have already determined the best times to post content on Instagram. Conducting social listening—or even a whole social media competitive analysis—can help you stay up to date on the posting times that work for your audience.
Pro-tip: Many brands post on the hour mark, so you can try posting a few minutes before or after a certain hour to avoid competing with these brands.
Post in your audience's time zone
If your audience is spread out across the globe or if you're located outside the "usual" time zones, your best time to post might be 3:00 AM.
Instead of setting some wildly inconvenient alarms, try automating your posts with an Instagram scheduler. This ensures that your posts go live at the right time every day.
Here's a short video showing how to schedule your Instagram posts with Hootsuite's scheduling feature:
Monitor your results and adjust when necessary
Getting success from Instagram takes more work than choosing the right filter and saturation. But studying your analytics once a week/quarter to determine the best time to post ensures that your content is making it to as many (relevant) eyes as possible.
Brayden Cohen from Hootsuite's social media team says, "We look at our top-performing posts weekly to see if there's any insights that will help us rework our strategy or posting cadence. But we generally only change the times we post once a quarter, if even."
Cohen also pointed out that the pandemic, which started in 2020, affected work schedules so much that many people now spend less time on a commute or a traditional lunch break. Many people now spend more time on their phones, which is the reason there's an increase in Instagram usage worldwide.
As the world changes, your audience's social media behaviors change too, so remember to monitor your results and tweak your posting schedule as necessary.
Post consistently
To maximize your success with Instagram, you need to be strategic with how you post. While you might not see a jaw-dropping increase in impressions or engagements just by posting at different hours than you used to, using the data consistently will show a difference over time.
Posting content consistently shows your audience that you're credible, trustworthy, and you want to have a relationship with them. When you connect with your audience, Instagram's algorithm notices and eventually, it will help you along.