If you've ever done any research on building effective Instagram strategies, you've probably come across something about the all-mighty (and ever-changing) Instagram algorithm.
Much like the Facebook algorithm, the Instagram algorithm is a mix of factors that helps the platform decide which posts should appear at the top (and at the bottom) of a user's feed.
So, no matter how exquisite your content is—perfect image, sharp video, genius caption, #expertlycurated hashtags—you still have to appease the Instagram algorithm before anyone sees your content.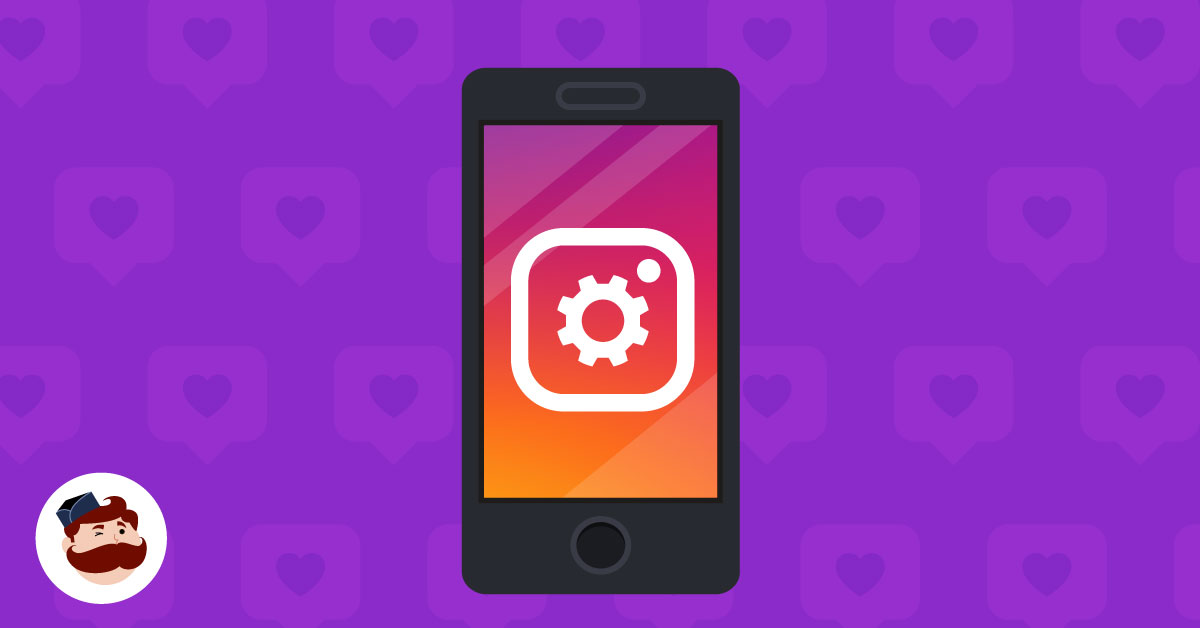 Keep reading to find out everything you need to know about the Instagram algorithm, so you can ensure that your Van Gogh-level social content gets some much-deserved attention.
What is the Instagram algorithm?
The Instagram algorithm is a set of rules and signals that rank content on the platform: across users' feeds, the Explore Page, post feeds, etc. The algorithm analyzes every piece of content posted to the network, taking metadata, hashtags, and engagement metrics into account. Based on this information, it distributes content to make sure that users have easy access to what they are most interested in seeing.
Note: For the last few years, the algorithm determined what users see in their feeds — there was no way to override it. Just recently, Instagram introduced two new feed settings:
chronological order
a curated list of recent posts from favorited accounts
Read more about the latest changes to Instagram feeds here.
Even with these changes, the majority of your audience still uses the default feed, so you need to understand the kinds of content the Instagram algorithm prioritizes and the kinds it kicks to the curb.
How does the Instagram algorithm work?
In a 2021 blog post titled, "Shedding More Light on How Instagram Works", Head of Instagram Adam Mosseri wrote, "We use a variety of algorithms, classifiers, and processes, each with its own purpose. We want to make the most of your time, and we believe that using technology to personalize your experience is the best way to do that."
Every time a user opens Instagram, the algorithm immediately sweeps through all available content, and uses these classifiers to decide:
The posts that appear at the top of the newsfeeds, and the order in which they appear
The posts that will feature on the Explore tab
The order in which Reels, Stories, and Live videos appear in the feed, and their respective tabs, etc.
Each section of Instagram will consider details about how you relate with your followers, how relevant your content is, and how timely your posts are. Despite this, the specific factors that determine your feed posts, Instagram Stories, Explore Tab, and Reels are slightly different.
Your relationship with your followers. Did your followers search for you by name? Do you follow each other? Do you leave comments on each other's posts or DM each other? Do you tag each other in your posts?
The relevance of your content. The Instagram algorithm measures user affinity and tries to deduce what's in an image or video to give people the content they want.
The timeliness of your posts. Normally, newer posts appear on the feed before older posts.

Apart from these core signals, here's what Instagram algorithms evaluate to automatically curate the perfect content mix for each user.
How the Instagram algorithm determines the order of feed posts and Stories
For feed posts and Stories, the Instagram algorithm combs through the content of the accounts you follow and tries to deduce how likely you are to engage with a post based on the following key factors:
Information about the post. When did it go live? How many likes does it have? Does it have a tagged location? If it's a video, how long is it? These signals help the algorithms determine how popular and relevant the post is.
Information about the poster. Instagram algorithms track how many times you've interacted with a person (e.g., likes, comments, profile views, etc.) to deduce how interesting they are to you.
Your activity across the platform. What kinds of posts do you interact with the most? The kinds of content you engage with give Instagram an idea as to other posts you might be interested to see on your feed.
Instagram's algorithms use this information to calculate how likely you are to interact with a post and in which order the posts will be displayed on your feed.
How the Instagram algorithm arranges content in the Explore tab
Just like feed posts and Stories, the algorithm organizes posts in the Explore tab based on previous posts that you've engaged with. The difference is that the Explore page algorithm selects almost exclusively content from accounts that you don't even follow or know about.
The most important ranking factors for the Explore tab algorithm are:
Information about the post. How popular is a post? How many people liked, commented, shared, and saved the post? How quickly are people engaging with the post?
Your history of interacting with the poster. Most of the content on the Explore tab will be from new accounts, but sometimes the algorithms will place content from an account you've interacted with before (even if you don't follow it).
Your activity on the platform. What kind of content have you liked, commented on, saved or shared before? Your activity affects what the algorithms deem fit to show you on the Explore page.
Information about the poster. If an account has a lot of engagement from users in the past couple weeks, that shows Instagram that the account posts content that other people might like.
How the Instagram algorithm works for Reels
With Instagram Reels, the algorithms curate content from both accounts you follow and the ones you don't follow, provided that the content is similar to what you've engaged with before.
Here are the ranking signals that Instagram's algorithms look out for when curating Reels:
Your activity on the platform. Instagram algorithms consider the Reels you've liked, commented on, shared, and saved recently. This helps it determine what is relevant to you.
Your interaction history with the poster. Instagram algorithms also check if you've engaged with the poster's Reels in the past. If you have, you'll likely see the creator's Reels again in your feed.
Information about the Reel. The Instagram algorithm tries to determine what the Reel is about based on the audio track, popularity, and the pixels and frames of the video.
Information about the poster. Does the poster have an engaged audience? Does their content get likes and shares constantly? If the poster's Reels go viral often, it means that IG users love their content, so Instagram will share more of it on people's feeds.
Now that you know how the algorithms determine which content shows up on your Instagram feed, use this information to your advantage.
Pro-tip: Start posting Reels (if they fit in with your social media marketing goals). Reels receive about 22% more engagement than regular videos on Instagram.
7 tips for working with the Instagram algorithm
To improve your ranking on Instagram users' feeds, you need to post quality content that will entertain, interest, and inform your audience.
Here's how you can grow your reach and prompt the latest Instagram algorithms to push your content in front of new eyes:
1. Schedule your posts at optimal times
If you look closely, you'll realize that audience engagement is a common (and powerful) signal to Instagram algorithms. So posting your content at the right times can make a big difference to your reach.
Instead of trying to figure out the best times to post on Instagram on your own, Hootsuite suggests the best times for you to post, based on your previous performance and your audience's online behavior.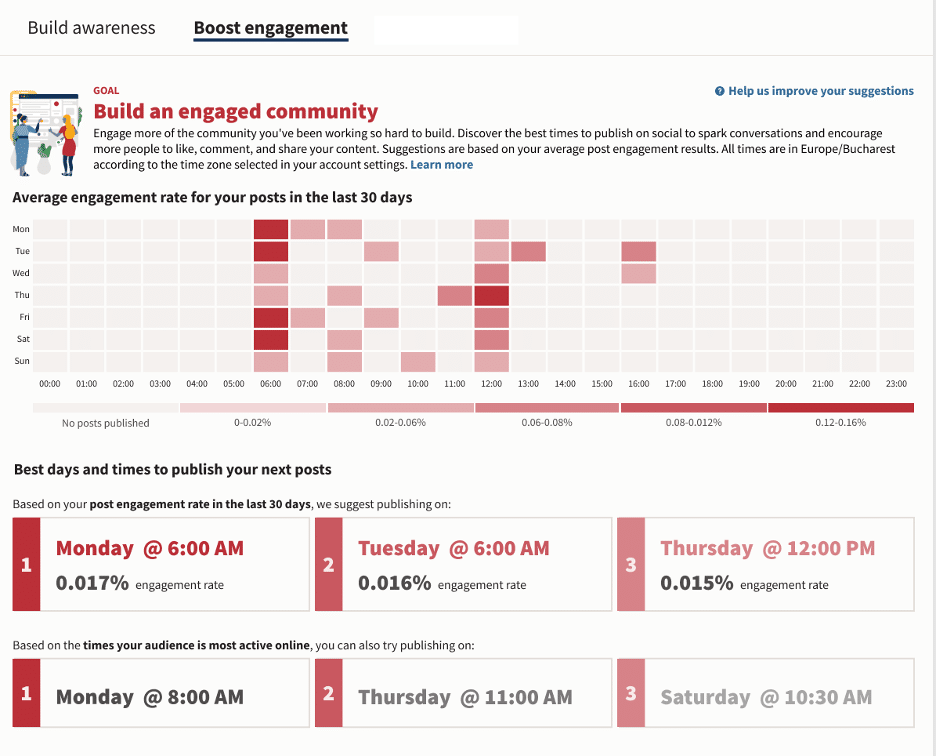 Here's a guide that shows you how to schedule Instagram feed and Stories posts with Hootsuite.
2. Incorporate Reels into your Instagram marketing strategy
As mentioned earlier, Reels get more engagement than regular Instagram videos. This means that posting Reels can help you increase your visibility across Instagram.
Want more proof of this? Check out the result of the Reels engagement experiment that the team over at Hootsuite conducted.
Recently, Instagram's @creators account informed people that Reels currently have actual human beings combing through them to serve up the best ones.
If you want your Reels to get noticed, here's what to do (and not do):
Shoot videos in a vertical position.
Don't use low-resolution videos.
Use all the added features — music, filters, camera effects, etc.
Don't recycle watermarked TikTok videos.
Keep your Reels short and fun. Instagram's algorithms love (and rank) fun posts.
3. Use hashtags to increase visibility
Instagram's algorithms can understand and appreciate this picture of an adorable cat in a raincoat (which sucks), but it can understand the #dogsofinstagram hashtag in the post.
View this post on Instagram

Adding descriptive and accurate hashtags to your posts is an effective way to increase your reach on Instagram. If the algorithm can recognize what your post is about, it can share it with people who are interested in that topic more easily. What's more, hashtags are free (unlike Instagram ads).
Using hashtags correctly involves more than slapping #followforfollow or #instagood on all your posts. Instead, do some research on posts in your niche and use hashtags that actually describe what your post is about.
4. Increase engagement with Instagram stickers
Engagement is really important for the Instagram algorithm.
But what if you're not getting the engagement you want? Well, the solution to that might be as simple as slapping on a sticker. With Stories, emoji sliders, polls, and question stickers, you can ask your followers and fans to share their opinions.
You can also ask direct questions and encourage conversations with the caption (or within the post itself).
View this post on Instagram
Comments, after all, are the best way to show the algorithms that your posts get engagement from your audience (likes, shares, and saves are great too) so ask your audience to weigh in whenever you can.
Just so you know, "good" engagement on Instagram is somewhere between 1 and 5%. But the average engagement rate on Instagram for business accounts was 0.83% in 2021.
If you want to improve your engagement rate, here are some things you can do (besides using stickers, that is):
This article contains some more tips for increasing your Instagram engagement.
You can also dive into this guide to social media engagement, find some inspo for your next Instagram caption, or learn how to write an effective call-to-action for your social media posts.
5. Post consistently
Whether you want to grow your followers, increase your reach or boost engagement (and these three things are connected), you need to post consistently.
Businesses post 1.6 posts to their feed every day on average. But if this sounds too much or too stressful for you, focus on showing up consistently as opposed to sharing many posts. Posting engaging content to Instagram every weekday is enough to grow your account.
During Instagram's Creator Week in June 2021, Adam Mosseri, CEO of Instagram, revealed that posting 2 feed posts per week and 2 Stories per day is enough to build an Instagram following.
View this post on Instagram
Pro-tip: To be consistent on Instagram, you need a plan. That's why it's vital that you have a social media content calendar and schedule your posts ahead of time with Hootsuite.
I mean, look at how nice your Instagram posts would look when outlined in Hootsuite Planner — for weeks and even months in advance!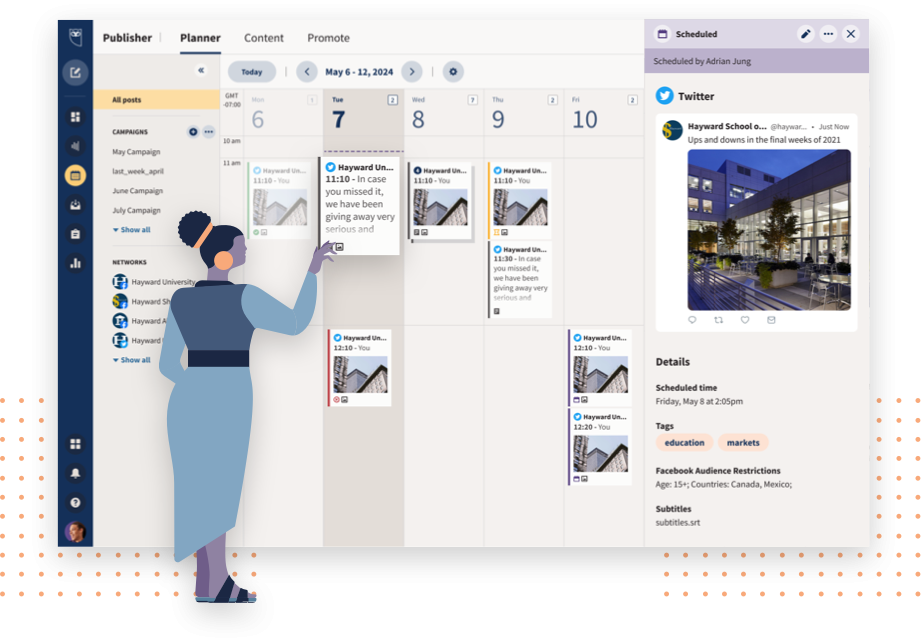 6. Respect the community guidelines
Whether you're posting feed posts, Stories or Reels, Instagram's algorithms will reduce the visibility of your content if it goes against the app's Community Guidelines.
If your posts spread misinformation, are political in nature, incite hate and violence against a group of people or animals, or are even just poor quality, your content may not be distributed widely.
Pro-tip: If you suspect that you've been shadowbanned, this is probably why.
7. Automate your analytics reports
Tracking and monitoring your performance on Instagram is one of the best ways to find favor in the sight of the algorithms.
Understanding what's working and what isn't will help you fine-tune your marketing plan, and save time and effort in the future.
You can measure your Instagram performance with an Instagram analytics tool. A good analytics tool will go beyond vanity metrics and help you understand more about your audience and the sort of content they want to see on their feeds.
An Instagram analytics tool can help you find out:
When your audience is online so you can schedule your posts at those times
Which posts are getting real engagement
Which hashtags are performing well
No matter how tight your schedule is, receiving automatic analytics reports will help you do all of this and more.
Take some time once a month, at least, to look at the numbers and see how you're doing in terms of content, hashtags, and posting time.
A great social media analytics tool like Hootsuite will keep you up-to-date on everything from campaign click-throughs to audience sentiment analysis to customer service response times.
Have a quick look at Hootsuite Analytics, which shows you the most important metrics you should track as well as statistics from your other social accounts so that you can easily make comparisons.
Pro-tip: If you noticed any huge spikes or dips in your stats recently, Analytics is the first place a social media manager would go to determine if something changed in the Instagram algorithm — and start tweaking their strategy accordingly.