Social media marketing is an excellent way to increase brand awareness and build a solid reputation. But as you market on social media, you need to pay attention to how people think and speak about your product or service, your customer support, and other things that can affect the reputation and credibility of your brand.
That's where social listening comes in.
With social listening, you're able to continuously track your brand's online presence and know what potential and existing customers are saying about your business on social media. You can also find out what people think about your competitors in the market.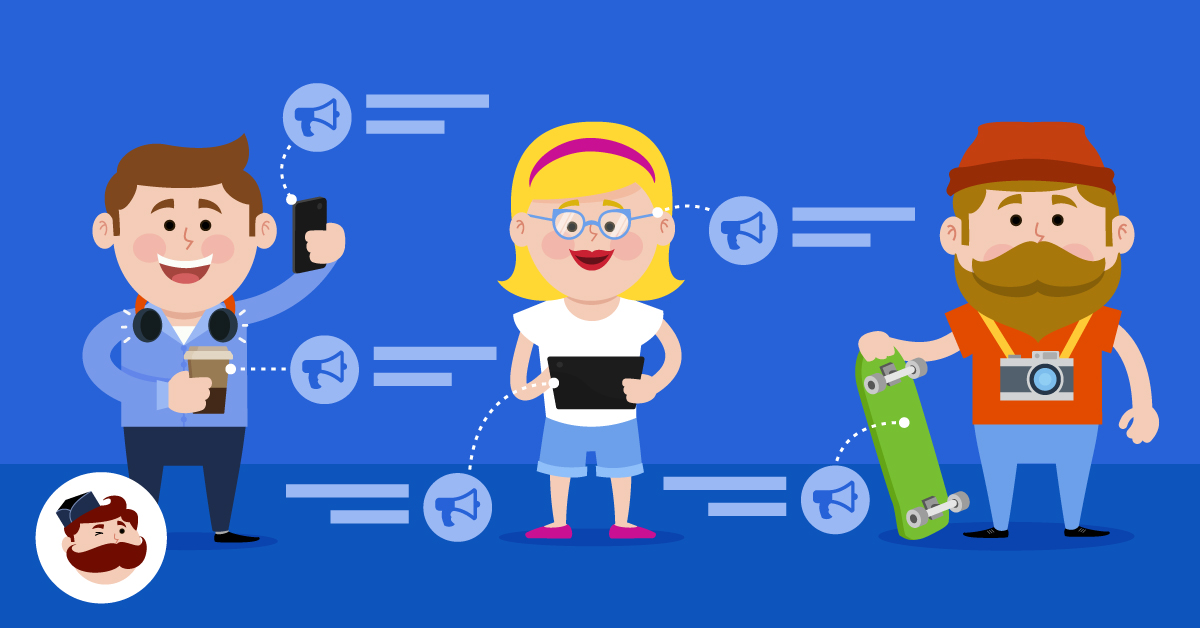 This valuable data is available in real-time — but only if you know how to get it. Keep reading to find out how to set up an effective social listening strategy for 2022 and beyond.
What is social listening?
Social listening is the process of monitoring social media networks to identify and analyze what users are saying about a company, product, service or brand.
Social listening is a two-step process:
Step One: Track social media platforms for mentions of your brand, products, services, competitors, and keywords related to your business.
Step Two: Analyze the data to gain insights and act on opportunities (or threats). This could be something as minor as sending a virtual "thank you" note to a satisfied customer or something major, like adjusting your entire brand messaging.
When you know people's opinions about your business, you'll be able to create the sort of content your followers are actually interested in, come up with relevant ideas, alleviate doubts about your products/services, and improve customer experience.
Here's a video in which Hootsuite's Social Listening & Engagement Strategist Nick Martin explains social listening in 6 minutes:
What's the difference between social listening and social monitoring?
Social listening and social monitoring might seem similar, but they're actually two different concepts.
With social monitoring, you're collecting and measuring brand mentions, competitor mentions, relevant hashtags, and industry trends. It also includes monitoring A/B testing campaigns and measuring ROI. Ultimately, social monitoring helps you prove how valuable your social media marketing efforts are when you're trying to determine your annual budget.
Social listening, on the other hand, involves looking beyond the numbers to consider the sentiment behind the data. While social monitoring shows you what people are saying about your business, social listening explains why they're saying those things about you.
Here's an example:
Social monitoring
Say your business makes shoes, and you just launched a line of platforms. You're now monitoring Twitter for mentions of your new product. Once someone mentions your new shoe, you can choose to respond, but you don't have to.
You have no strategy to execute here. The main thing is that you know what the person (and other people) are saying about your new product.
Social listening
After monitoring social media for mentions of your new shoe model, you gather the data to perform a sentiment analysis of what users are saying about your product. Now you know:
whether people like the new platform heels (or not)
what they like (or hate) about them
the occasions they like to wear them to
new ideas for your next product
Then, you use this analysis to inform and refine your brand strategy.
Instead of just counting how many times people mention your new product on social media, you try to learn things from their conversations to drive real-life business growth.
Note: Social media sentiment analysis is an important part of social listening because it helps you understand why people feel the way they do about your product. When you're aware of shifts in social sentiment, you'll be able to respond immediately and appropriately to sudden changes.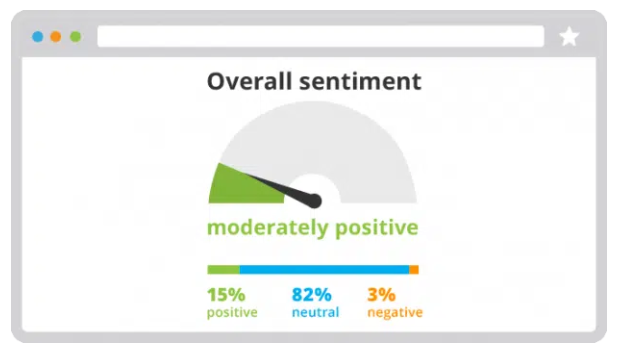 How a social listening strategy can help your business
If you're not performing social media listening, you're missing out on a ton of valuable data that can guide your product marketing strategy. If you care about your customers, then you need to listen to what they say about your brand and industry online.
Here's how social listening can help your brand:
1. Understand and engage with your audience
Listening to what users say about your brand online can help you understand what your customers want from you.
For instance, a customer might post on Facebook about how your product made their life much easier. Or you might stumble upon a Twitter thread where people are looking for products or services similar to yours.
Just like how Clearscope retweeted Matt Giovanisci's tweet where Matt advised marketers to use Clearscope to optimize their content.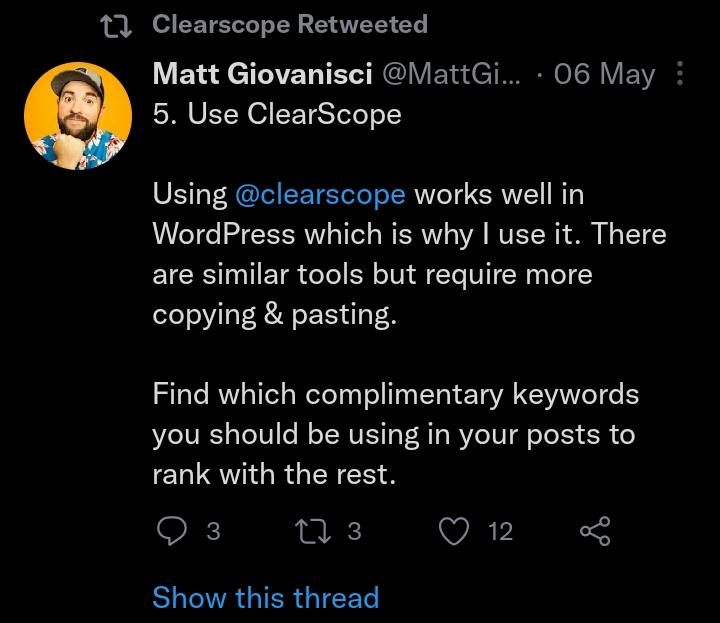 2. Industry and competitive analysis
Social listening doesn't stop where users talk about your brand. You also need to know what people are saying about your competitors and your industry in general. This helps you see where your brand fits in the market.
With social listening, you'll be able to know what your competitors are doing in real-time. Are they launching new products? Crafting new marketing campaigns? Revamping their brand positioning?
Monitoring these conversations as they happen can help you spot a gap in the market that your brand could fill.
3. Product intelligence
Monitoring social conversations about your industry reveals a lot of data about what's working—and what isn't—for existing and potential customers. This information can help you improve your customer service, develop better products, and build more effective marketing strategies.
You'll learn the things customers don't like about your existing products—and your competitors' products. Then you can modify these features (or take them out completely) to solve customers' problems. You could even get new product ideas.
For example, Ahrefs replied to Tall Paul's tweet where he talked about the influence of Ahrefs' blog on his career.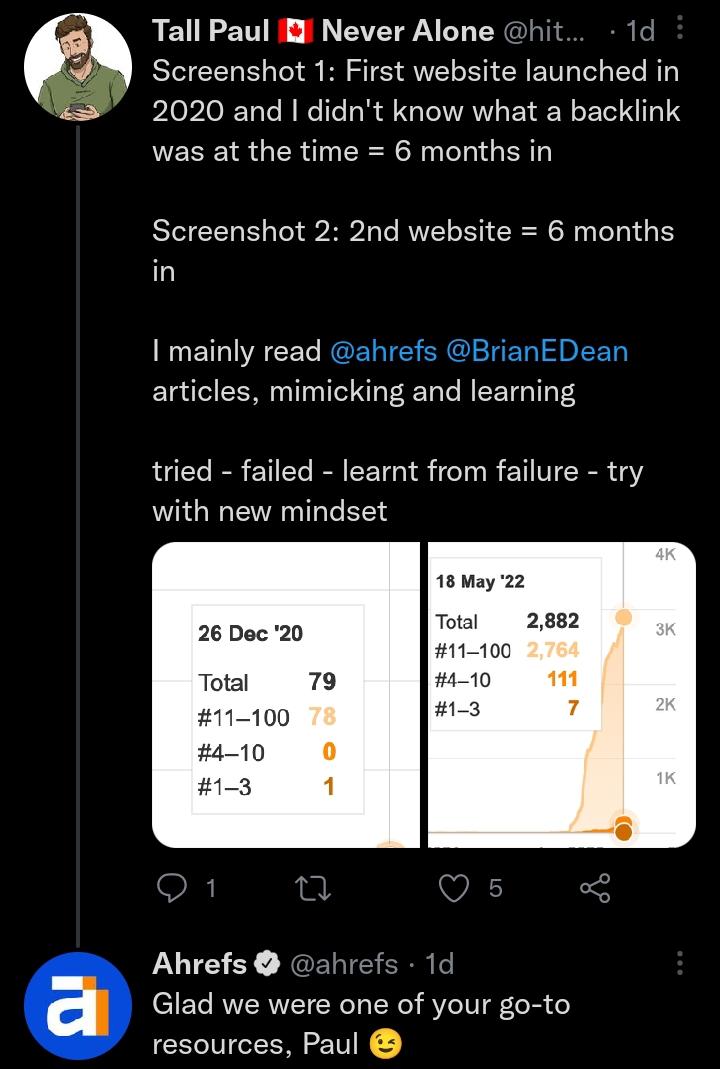 4. Avoid crises before they happen
Social media listening allows you to analyze social conversations about your brand in real-time. So you'll know immediately if there's a positive or negative change in how much people feel about your brand.
If you're getting more (or less) engagement than usual, you'll know the reasons why that is happening.
Since you're tracking conversations about what your audience likes and what they dislike, you'll be able to use those insights to guide your strategy across all your social media channels.
Social listening also helps you address PR crises before they escalate. If the sentiment is negative, analyze social feedback to find the reason(s) for the change. As you do so, try to identify ways you can prevent that from happening in the future.
If the source of a low sentiment is a problematic post or an insensitive tweet, you'd know to take it down.
5. Fill your funnel
Hard sells are a turn-off for potential customers. People love it when you try to help solve their problems, but you should be careful not to barge into social conversations and try to shove your product/service down people's throats.
Social listening helps you discover questions and conversations about your industry on social media networks. These present an opportunity to introduce your brand to people or to share your expertise. But you shouldn't take advantage and try to sell yourself right away.
Instead, regard social conversations as a way to forge relationships with potential customers that you can nurture till they convert into actual customers.
Reach out to them and share helpful information. This will position your brand as the best resource when it's time for the person to make a purchase decision.
6. Identify opportunities for collaboration
As you track social conversations about your industry, you'll be able to know who the thought leaders and important creators are in your niche. These are people you should connect with because they can greatly influence people's opinions about you.
When you openly support people in your industry, there's a good chance they'll support you in return. So instead of barging in on an existing community, try to connect with people who already have a solid place in the conversations you want to be a part of. You'll be able to join relevant communities in a helpful, rather than salesy, way.
You'll also find people who are already fans of your brand and are saying positive things about you on social media. Reach out to these cheerleaders and find ways to collaborate with them.
5 social listening tools for 2022
Doing social listening manually is time-consuming and strenuous. That's why social listening tools exist—they make it much easier for you to execute a social listening strategy.
Here are the top five social listening tools:
With Hootsuite, you can set up Streams — custom feeds that collect conversations, brand mentions, messages, keywords, and hashtags across several social media channels. You can also respond to mentions immediately from one easy-to-use dashboard, rather than logging in to different social networks. Streams make it easy to monitor your competitors and build relationships with social media influencers and brand advocates.
You can also use Hootsuite for social media analytics and reporting, to get a big picture overview of the mentions you track and trends in sentiment.
Talkwalker helps you analyze blogs, social networks, news sites, forums, review sites, and videos all in one dashboard.
This tool draws data from over 150 million sources so that you'll be able to monitor brand-centric conversations and analyze the reach, engagement, comments, and sentiment behind them.
Talkwaker can also help you latch onto the latest trends in your industry to boost the effectiveness of your marketing strategy.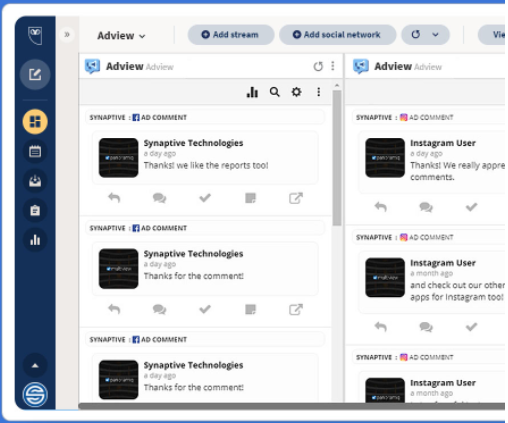 Unlike other social listening platforms, Adview helps you perform social listening on Facebook and Instagram ads. You can easily monitor up to three Facebook Ads accounts.
Adview integrates with Hootsuite. Once you connect Adview to your Hootsuite dashboard, you'll be able to reply to comments made on all your Facebook and Instagram Ad accounts from one place.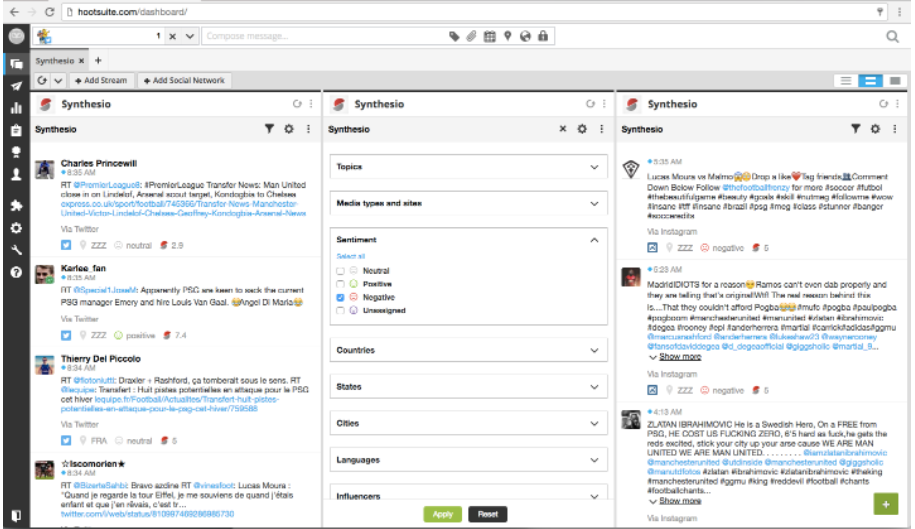 Synthesio uses the crawling web method to track relevant data and conversations on specific topics in segmented audiences.
Synthesio allows you to segment your data by gender, location, language, influence, demographics, sentiment and more. The data also comes with a social reputation score so that you can easily get an idea of how much people love and trust your brand.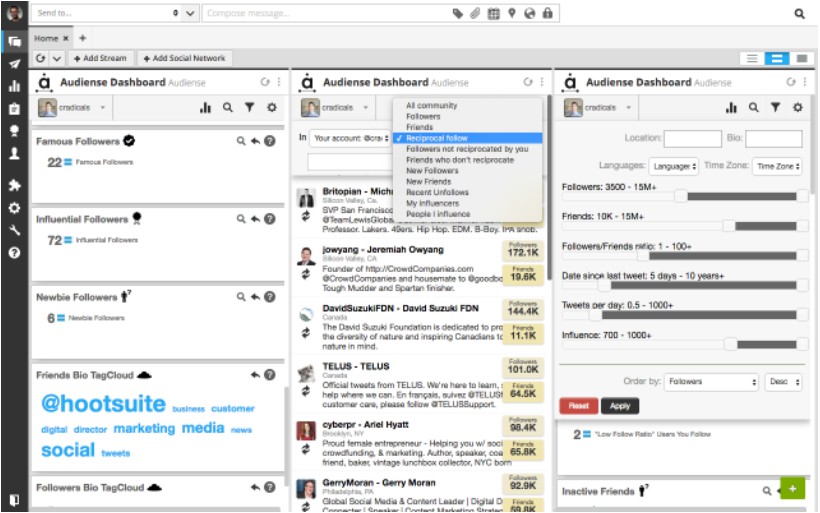 Audiense allows businesses to identify their audience, no matter the size. The tool creates detailed reports that tell you what your audience are discussing, what they like, and how they think.
Audiense helps you discover and connect with very specific audiences to ensure that you're reaching the right people for your brand.
5 social listening tips
1. Identify pain points
When you start social listening, you need to focus on the problems that your audience is experiencing.
People often talk about their pain points on social media. Listening to what they have to say will help you identify gaps in what your brand and your competitors are offering.
2. Monitor the right keywords and topics
The difference between good and bad social listening is the keywords and topics you choose to monitor.
Typically, keywords and topics evolve over time, but you can use social listening tools (more on this below) to uncover the keywords and topics that your audience talks about on social media. You'll also begin to understand the kind of data that is useful for your brand.
Here's a list of important keywords and topics you should monitor from the get-go:
Your brand name and handles
Your product name(s)
Your competitors' brand names, handles, and product names
Your (and your competitors') branded hashtags
Unbranded hashtags related to your industry
Campaign names or keywords
Industry buzzwords
Your (and your competitors') slogans
Names of important people in your and your competitors' companies (CEO, spokesperson, etc.)
Common abbreviations and misspellings for all of the above.
3. Listen in the right places
An important part of social listening is knowing where your audience is having conversations. This means that you should go broad for your social listening program (at first).
Brand- and industry-centric conversations on LinkedIn are likely going to be much different than the ones on Facebook, Twitter or Instagram. And sometimes, you might realize that people talk a lot about your brand on Twitter, but they almost never mention you on Instagram.
You need to know the platforms where people are having conversations about your brand and your industry, and how those conversations differ across platforms.
4. Learn from your competitors
Copying your competitors' strategy is a no-no. But there's always something to learn when you listen closely to what other people say about your competitors on the internet.
Social listening can show you what people love (and hate) about them, what they're right and what they're doing wrong. You'll also know when they're criticized on social media or in the press.
It's better to learn a difficult lesson when your competitors make mistakes than to learn that lesson from experience.
5. Keep alert for changes
As you start compiling data from your social listening campaign, you'll begin to get a sense of the general conversation and sentiment around your brand. When you know how much people mention you and what the overall sentiment is, you'll be able to easily spot changes.
Sudden or major changes in engagement or sentiment usually mean that the overall perception of your business has changed. You need to know why so that you can tweak your business strategy appropriately. This may involve correcting a misstep or making a public apology.
Note: If you don't act on the data you collect, you're performing brand monitoring on social media, not social listening.
Social listening isn't just about tracking metrics. It's about analyzing those metrics to get insights into what your existing and potential customers want from you, and how you can satisfy their needs.
Ensure that you analyze trends and patterns over time, rather than just noting the number of brand mentions and comments you get. These insights are powerful and can help inform your future strategy.
With Hootsuite, you can easily monitor keywords and conversations about your brand on social media, so that you can take action on the insights you collect. Try Hootsuite for free today.