Using the right Instagram hashtags is an effective way to grow your followers and get more eyes on your Instagram posts in 2022.
But to get results, you have to be thoughtful about how you use hashtags on Instagram. If you're not careful, you may end up spamming potential followers and getting your account penalized by Instagram's algorithms.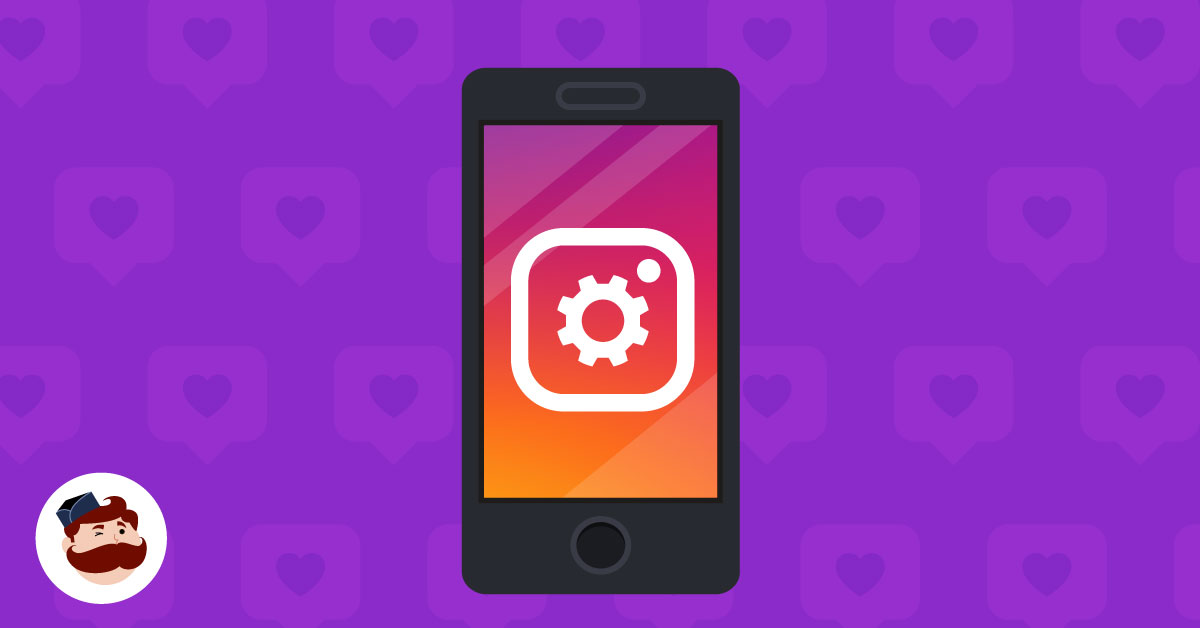 In this guide, you'll learn what Instagram hashtags are, how they work, how to find and use them effectively, and how to include them in your social media marketing strategy.
What are Instagram hashtags?
A hashtag is a word or group of words (and numbers) with a pound sign (#) preceding it, that looks like this: #InstagramHashtags. Hashtags are used to organize content and make posts more discoverable on social media.
When used on Instagram (or other social media platforms), hashtags turn into a clickable link. When someone clicks on or searches for a specific hashtag, they will see a page that shows all the content tagged with that hashtag.
In addition to adding hashtags to your Instagram posts, you can also follow hashtags to discover content that you like. Hashtags are also a great way to get your content in front of users who are interested in your industry, product or service.
Why use Instagram hashtags?
Using relevant hashtags on your posts, Stories, and Reels is one of the best ways to expand your Instagram audience. When you use a hashtag on a post, that post will appear on the hashtag's page. People who follow or search for that hashtag will be able to see your post even if they don't follow you!
Apart from discoverability, you can also use hashtags to build communities, run campaigns, find user-generated content (UGC), and research your audience, amongst other things.
That's why it's important to have a solid Instagram hashtag strategy. If you don't have one, you'd miss out on many opportunities to drive engagement and conversions for your brand.
Most popular Instagram hashtags
Using extremely popular hashtags in your posts isn't always the most effective way to increase engagement.
The fact that a lot of people follow (and use) that hashtag means that your post might get lost in the ocean of posts that have that hashtag on it. That's why Instagram suggests using a combination of both niche and popular hashtags to reach both specific and broad audiences.
Below are the 50 most popular hashtags on Instagram right now:
#love
#instagood
#fashion
#photooftheday
#art
#photography
#instagram
#beautiful
#nature
#picoftheday
#follow
#happy
#cute
#travel
#style
#followme
#instadaily
#tbt
#repost
#like4like
#summer
#beauty
#fitness
#food
#instalike
#selfie
#me
#photo
#girl
#friends (436M)
#fun (435M)
#smile (433M)
#family (419M)
#life (417M)
#music (410M)
#ootd (409M)
#makeup (378M)
#explore (360M)
#likeforlike (360M)
#dog (346M)
#model (345M)
#motivation (317M)
#sunset (306M)
#amazing (301M)
#follow4follow (297M)
#igers (294M)
#foodporn (287M)
#beach (287M)
#instamood (272M)
#followforfollowback (251M)
Types of popular Instagram hashtags
When crafting your Instagram hashtag strategy, you need to know the different types of hashtags you can use so you can cover all bases.
Below are the nine types of Instagram hashtags:
Product (or service) hashtags: These are hashtags that describe your product or service, e.g. #skincare or #restaurant.
Niche hashtags: These hashtags go a little deeper and show exactly where you fit in your industry, e.g. #naturalskincare or #seafoodrestaurant.
Special event or seasonal hashtags: These hashtags describe real seasons or holidays, like #winternights, or those National [Something] Day holidays, like #nationalpizzaday or #nationalsiblingday.
Industry (or community) hashtags: These hashtags help you find and join the communities that exist on Instagram. Examples are #dogsofinstagram or #interiordesignersinparis.
Daily hashtags: Every day of the week has its own hashtags. There's #mondayblues, #throwbackthursday, #sundayfunday, amongst others. Here's a list of the most engaging daily hashtags you can choose from.
Location hashtags: Whether you geo-tag your Instagram post or not, you should consider including a hashtag that shows your location, like #bostonclothingstore or #texasbeer.
Acronym hashtags: The most popular acronym hashtag is arguably #TBT (throwback Thursdays). There are other acronym hashtags like #GRWM (get ready with me), #YOLO (you only live once), and #OOTD (outfit of the day).
Relevant phrase hashtags: These hashtags are a mix between product hashtags, community hashtags, and niche hashtags. They're phrases people on Instagram use to connect to their communities in a more intimate way, like #iamwriting #hewhosculpts.
Branded hashtags are hashtags that brands use in their posts, for example #hootsuite. We'll discuss those later in this article.
How many hashtags to use on Instagram
Instagram allows users to include up to 30 hashtags per post, and up to 10 hashtags on a Story. If you try to include more, your caption or comment won't post.
However, just because Instagram allows you to use that many hashtags doesn't mean you should. There's no definite right number for every business or even each post. Experts agree that 11 hashtags are enough to drive engagement. Most Instagram users add between 1 and 3 hashtags in their posts. And last year, the Instagram-owned @creators account shared advice stating that 3-5 hashtags per post is the sweet spot.
View this post on Instagram
You'll need to test these numbers to determine how many hashtags give you optimal results.
How to hide hashtags on Instagram posts
After crafting an exquisite Instagram caption, you might not want to end it with a slew of hashtags. Fortunately, there are some easy ways to hide your hashtags.
Here are some of them:
In a comment
Write your Instagram caption as usual, but don't include your hashtags.
Once you publish your post, tap the speech bubble icon under your post to leave a comment. Type or paste the hashtags you want to include in the comment box and click Post.
On mobile phones, users won't be able to see your hashtags unless they click View all comments. On desktops, however, your comment will stay at the top position. So it's better to use this method if you're targeting mobile Instagram users.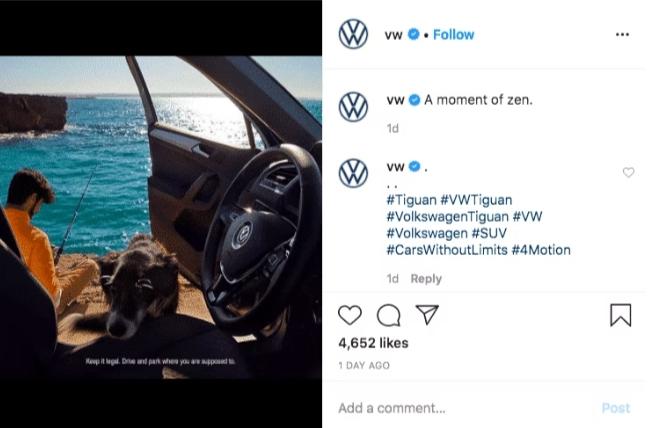 In the caption
It is also possible to hide hashtags within your Instagram caption itself.
At the end of your caption, tap Enter or Return. If you don't see an Enter or Return button, press 123 to bring it up. Type a punctuation mark (use a period, dash or bullet), and hit Enter again.
Repeat these steps at least three times.
Instagram hides captions after three lines, so users won't be able to view your hashtags unless your followers click More… Even when they do, your hashtags will be separated from your caption visually so they won't distract the users.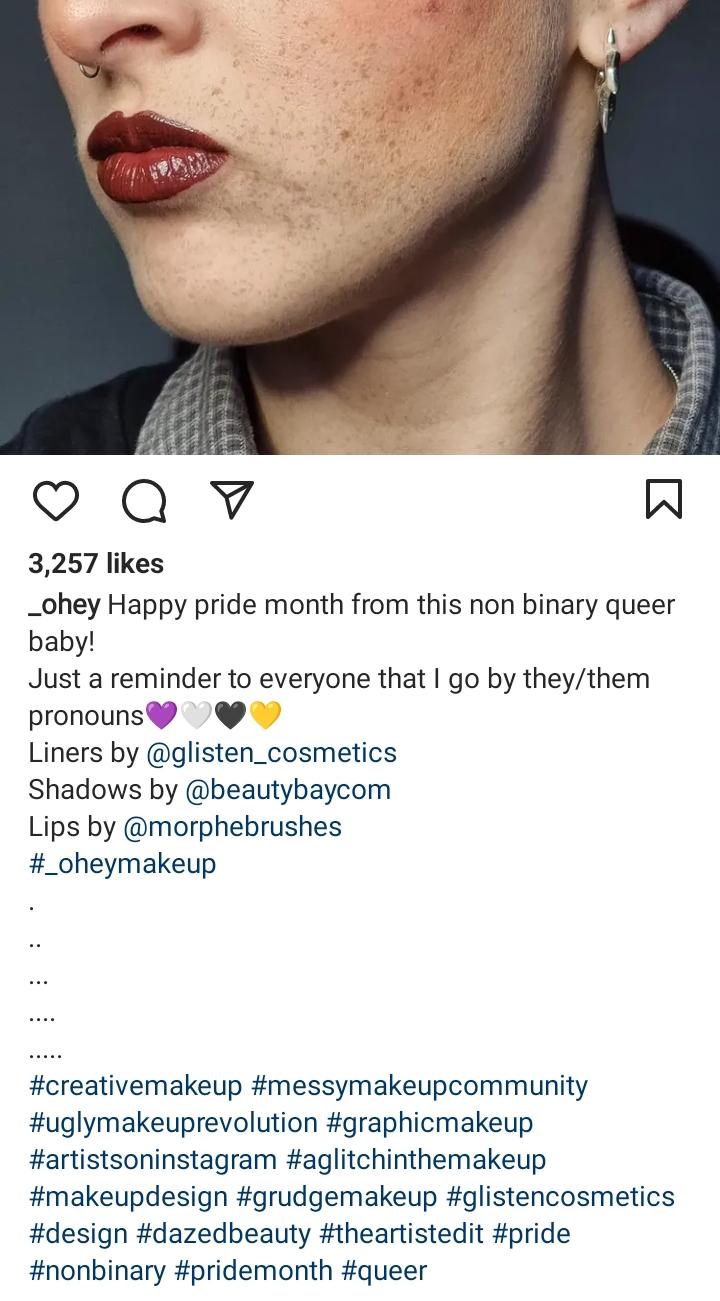 How to hide hashtags in Instagram Stories
You can also hide hashtags on Instagram Stories.
First, you can pinch and shrink your hashtags to reduce their appearance and make them very small. You can also tap the hashtag sticker to replace the white background with a semi-transparent one.
If you want to hide your hashtags completely, you can paste a sticker, emoji or GIF over them.
How to find trending hashtags on Instagram
Unlike Twitter, Instagram doesn't show a list of trending hashtags. But if you search for a hashtag on Instagram, you'll see how many posts have that hashtag. A list of other popular hashtags that use similar words also pop up (with their post counts).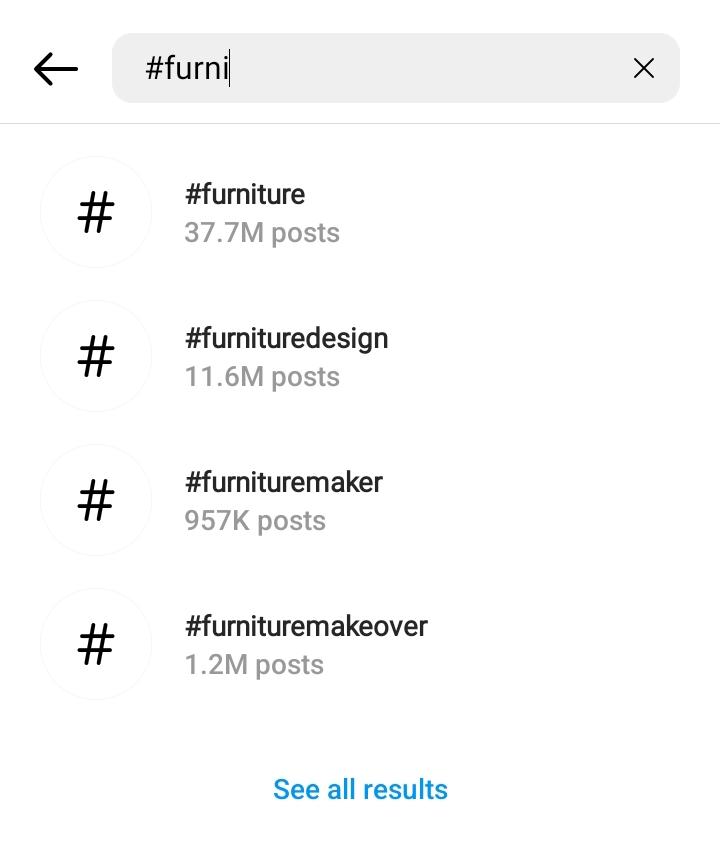 If you want to find hashtags on desktop, enter the # symbol followed by the keyword into the search box. On mobile phones, enter the keyword in the search box, and click Tags.
If you study your Instagram feed closely, you'll be able to quickly spot trending hashtags as they emerge. But don't be quick to use hashtags just because they're trending, though. You should only use a trending hashtag if it fits well with your business strategy and the specific content you want to post.
How to find the best Instagram hashtags for your brand
If you've experimented with hashtags for a while, you may have come across one of those Instagram hashtag generators online that give you hashtag suggestions. The truth is, those suggestions will likely not be as effective as when you do the research yourself.
Here are some ways to come up with Instagram hashtags that will actually increase your reach and drive engagement for your brand.
1. Check out your competition
While you want to avoid copying your competitors' Instagram marketing strategy, it's a good idea to study the hashtags they use. This way, you'll be able to identify the hashtags that are working for other brands in your industry.
You might also discover some new hashtags to add to your list. Or if you don't want to compete for the same audience, you can search for other hashtags to use.
2. Use Instagram's "Related Hashtags" feature
When you visit a hashtag page, look above the Top and Recent tabs and you'll find a list of related hashtags you can scroll through when you swipe left.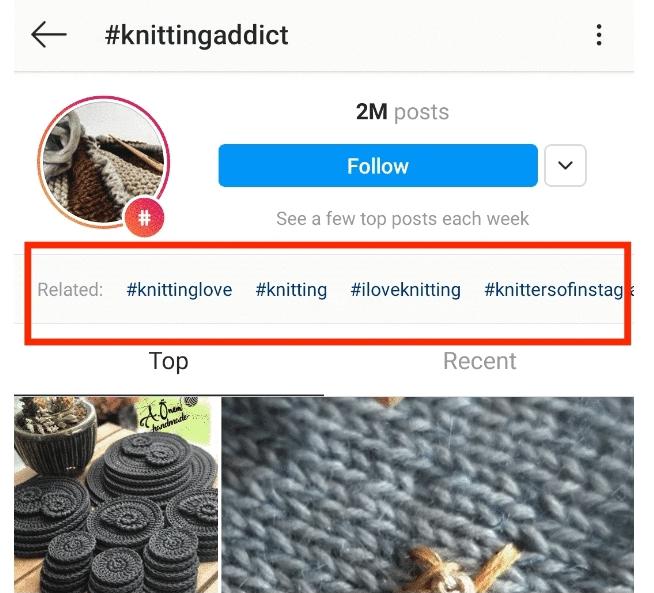 This is a great way to find relevant hashtags that might be less broad than the popular keyword-based hashtag you searched for initially. With these hashtags, you'll be able to target a small, but more dedicated audience (and less posts to compete with). And, to be honest, these are the best hashtags to use.
3. Check which hashtags your audience is using
If you're a business, chances are your target audience (and other people like them) is already using hashtags related to your industry. Finding and joining these existing communities on Instagram is an excellent way to increase your audience and reach people who'll likely be interested in your brand.
So pay attention to your top followers and check the hashtags they're using. Instagram's search tool can give you some information about which hashtags your audience cares about. When you do an Instagram hashtag search, the search tool will show you if anyone you follow also follows that hashtag.
Note: This only works on the mobile app.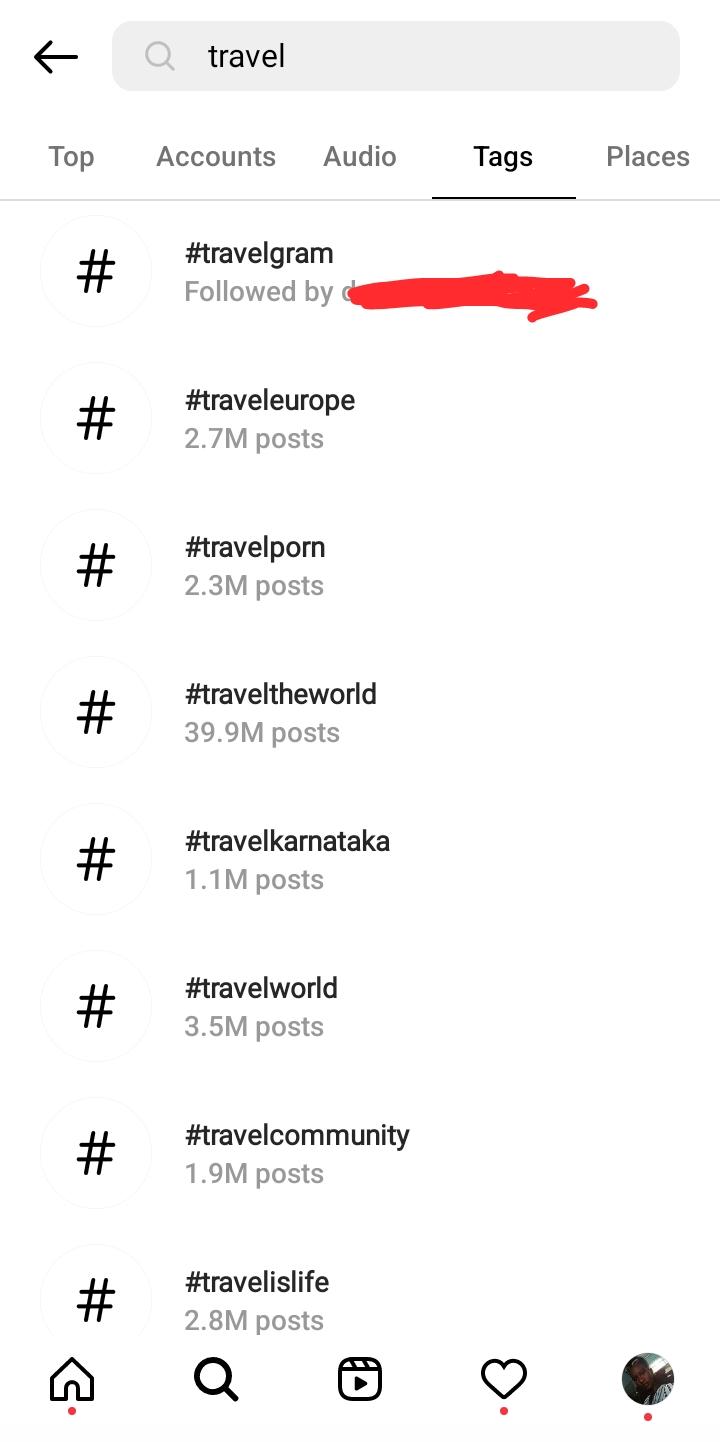 5 ways to make the most out of Instagram hashtags
1. Create a branded hashtag
A branded hashtag is a tag you create yourself to promote your brand, product or campaign.
After creating a branded hashtag, you can inform your audience about it by including it in your Instagram bio and highlighting it in your captions and Instagram Stories.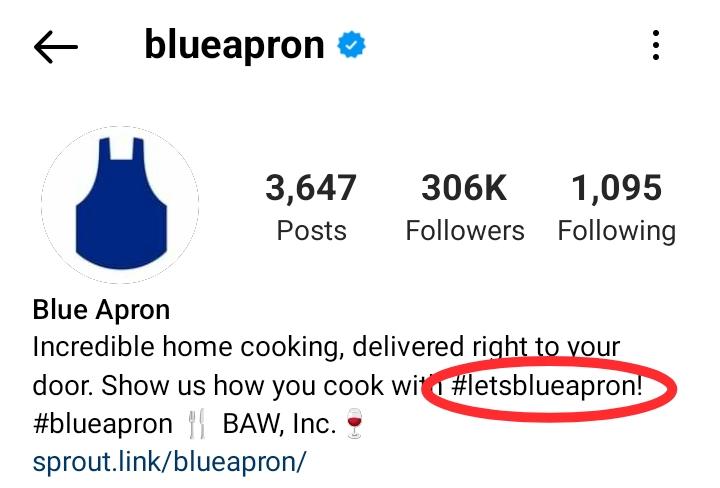 You can even run a contest with your branded hashtag to collect user-generated content and make the hashtag even more popular.
You should also follow your branded hashtag This allows you to monitor how people use your hashtag, and identify opportunities to repost great content and/or connect with influential people in your industry.
To follow a hashtag within Instagram, just click it, and then tap the blue Follow button on the hashtag page.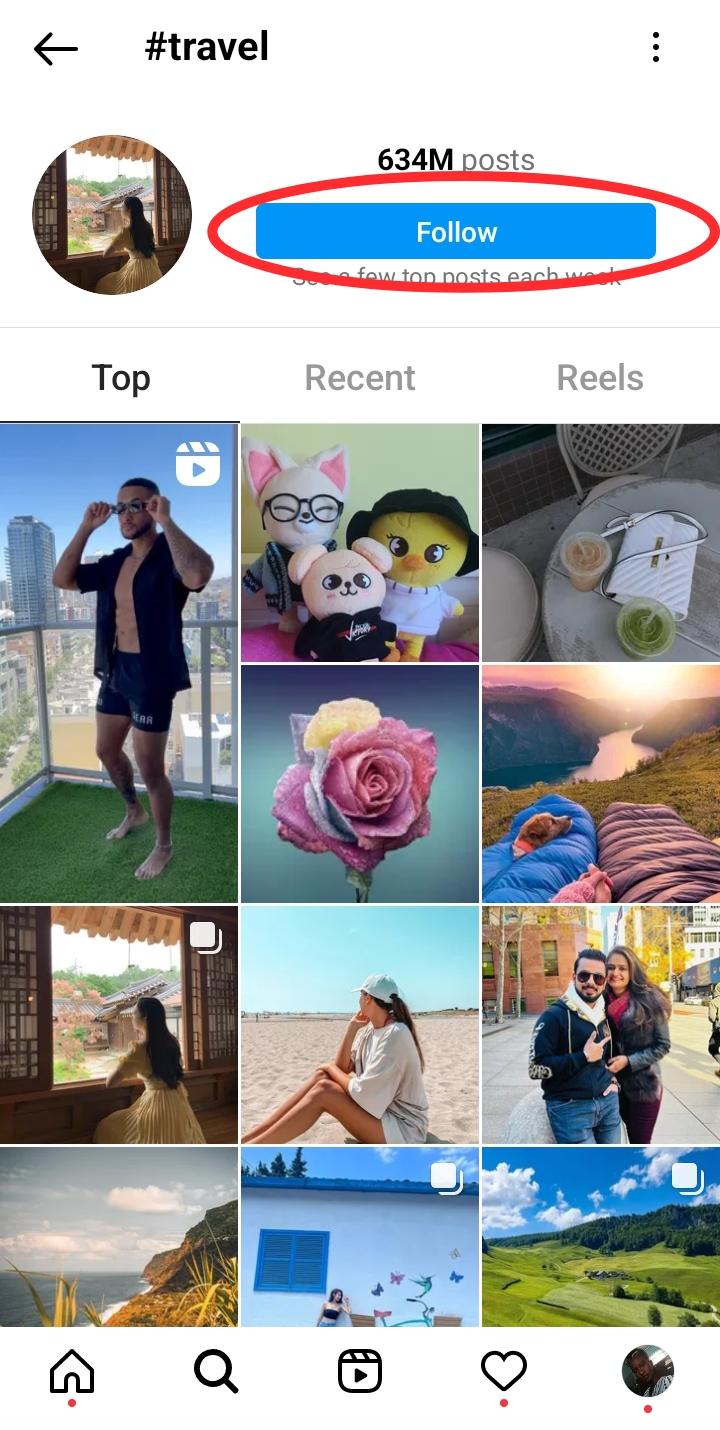 2. Use Instagram Insights to see the most effective hashtags
If you have an Instagram Business account, you have access to Instagram's native analytics tool, Insights, that show you how many impressions your posts got from hashtags.
To find this data, select the specific post and tap View Insights below the post. Scroll up to see all the insights for that post, including the number of impressions it got from hashtags.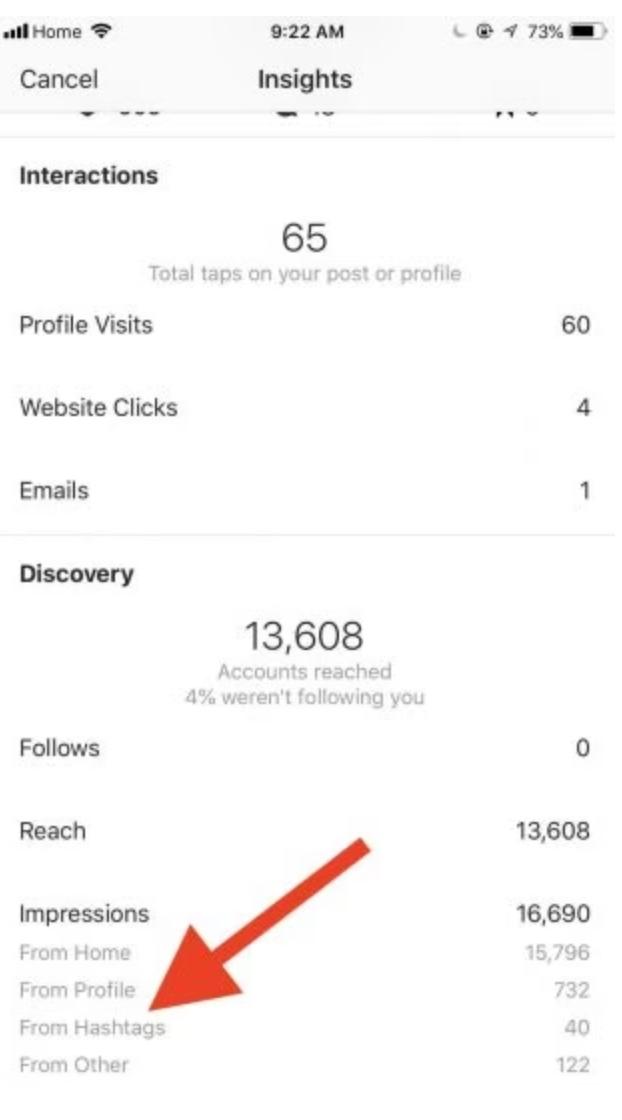 This data helps you identify the hashtags that are most effective at increasing reach.
3. Don't use irrelevant or redundant hashtags
It might seem easier to just copy and paste the same long list of hashtags on every post, but that does more harm than good.
Instagram's guidelines clearly state that "posting repetitive comments or content" is wrong. If you use the same hashtags for all your posts, Instagram will penalize your content.
When you make a post, only use relevant hashtags. For instance, if you tag a post with #skincare, your content should be something that beauty enthusiasts will want to like, comment on, and share.
Instagram marketing is not about getting seen by many people, it's about getting seen by the right people. So take the time to pick the right keywords for each post.
4. Understand how hashtag pages work
Hashtag pages are a great way to get your content in front of a new audience, especially if your posts are featured in the Top section.
Hashtag pages show all the content associated with a particular hashtag. So if someone searches for a hashtag, and your post is the most recent one with that hashtag, it will be the first post the person sees in the Recent section.
But as you might know, it's much easier to stay at the top of the Recent section if you use a niche hashtag, as opposed to one of those ultra-popsr ones listed at the top of this guide.
Note: The Recent section is sorted based on when each post originally went live. So if you add hashtags later, whether you edited the caption or put them in a comment, that won't push your post up in the Recent section.
5. Save hashtags for future use
If you use the same hashtags often, you can save them in a note so you can copy/paste them. This reduces the time you'd take to type them in over and over.
And yes, I did say that you shouldn't use the same hashtags on all your posts earlier. That still holds true.
However, it's a good idea to have a list of relevant hashtags you use often. You can even create different lists of hashtags that are relevant to the various kinds of posts you create. Just make the list in your Notes app, and copy/paste them to your Instagram post when you're ready.
Be sure to remember that all the Instagram hashtags you use on a post must be relevant to the content and shouldn't be too redundant. Don't copy/paste your entire list onto every post.
Manage your entire Instagram presence and save time with Hootsuite. Schedule posts and Stories, find the best hashtags, interact with your audience, track your performance, and more. Try Hootsuite for free today.