Investing your ad spend in a strategic mobile advertising campaign can be an effective and profitable digital marketing strategy, no doubt in large part because mobile users spend 71% of their mobile usage time browsing the internet.
So, if you're looking to get into mobile advertising to optimize your business's spending, you're in the right place.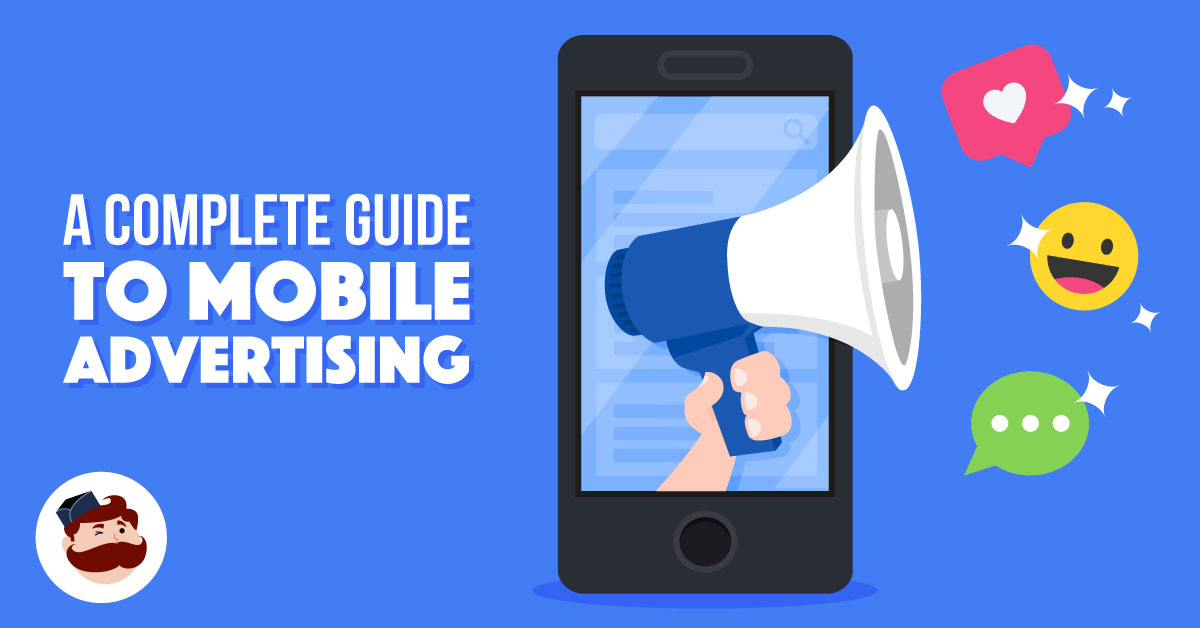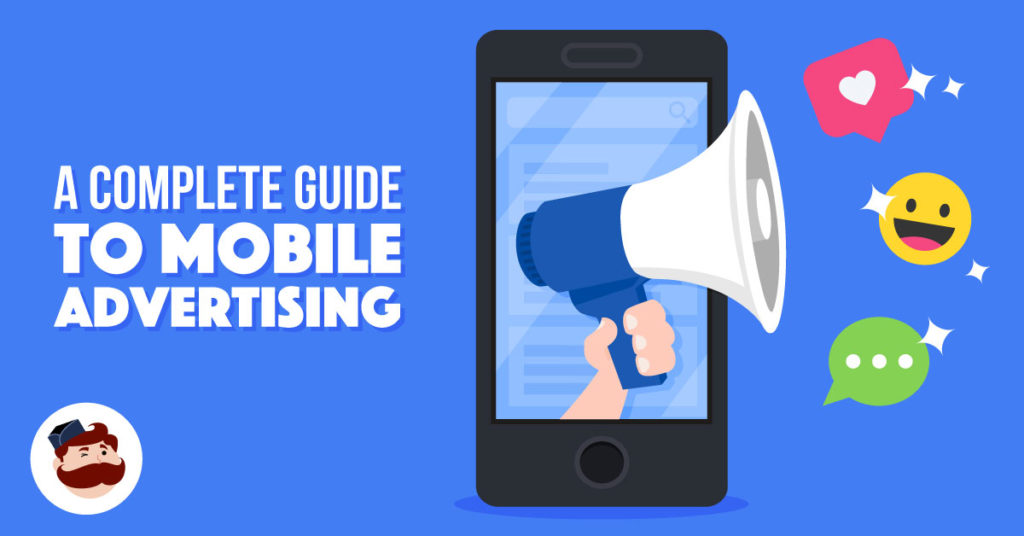 In this post, we're going to cover the four most important mobile advertising platforms and provide proven tips on how you can use these platforms to reach a targeted mobile audience and drive business growth.
This guide will give you tips and strategies for creating mobile ads that increase your return on ad spend (ROAS).
It's a big topic, though…
So we'd better get started right away!
Mobile Advertising: What is It and How Does it Work? 
Mobile advertising is the creation of online advertisements that are specific to mobile users.
And because of your prospective customers and clients' increasing use and reliance on mobile phones, mobile advertising isn't going away:
Still, there are some critical differences between advertising on desktop and advertising on mobile.
Mobile advertising works by understanding that mobile users' intentions are different from those of desktop users.
92% of people who made a mobile Google search ended up making a purchase related to their search. Mobile searches come with higher intent.
Digital marketing campaigns that tap into that difference will do well, while campaigns that overlook it will perform poorly.
The 4 Most Popular Mobile Advertising Platforms and How to Use Them 
Let's dive into the top mobile advertising platforms available to your business. We'll look at exactly how you can drive business growth by tapping into their unique capabilities.
1. Google Mobile Search Ads
When a customer searches for something on their phone, it's (generally) not because they want to take a deep dive into research but because they have a question that needs a quick answer.
This makes Google mobile search ads a great place to position your product.
But if you just do the bare-minimum (set up your ad campaign with automatic bidding and do very little targeting), it's not likely you'll see a strong return on your ad spend.
Here are some tips on how to run an effective mobile ad in Google Search:
Create a sense of urgency in your ad copy.
Match the customer's immediate need with an immediate call-to-action. Think of a family out shopping for their next TV or a group of friends trying to find the best tacos. You want your copy to cater to this urgent need.
If you're running sales that end soon or happy-hour specials, put that information in the ad copy.
Ad customizers let you tailor your ad based on the user's location, device, and time. For example, if you're an eCommerce store selling household goods with retail locations in LA and New York, you can customize your ad to reflect this. Now, if someone in LA or NY searches for your target keyword, the ad comes back to direct the customer to one of your stores.
Here's how that looks to a user. I googled "best mattress near me."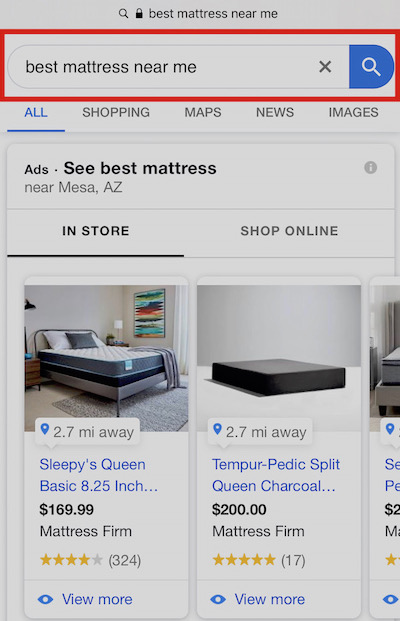 The first thing that pops up is Google Shopping ads – ads that show prices, reviews, and how close specific stores are to my current location..
Then if I keep scrolling, I come across the first Google search mobile ad: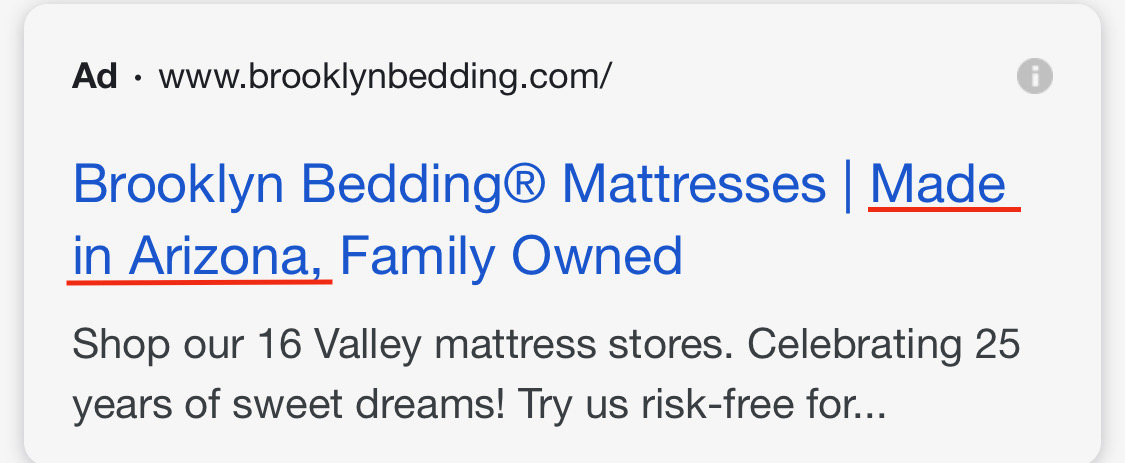 Look at how the copy, specifically the "made in Arizona," resonates with my search intent. I was looking for mattresses in Arizona, and I found a mattress company that makes its beds in Arizona.
Using ad customizers to cater your ad towards search intent can lead to a higher click-through rate (CTR).
Make sure the ad takes the user to a mobile-optimized website.
Mobile-focused copy and ad strategies are pretty much pointless unless you also take your user to a mobile-friendly landing page.
For example, when I click on that Brooklyn Bedding mobile search ad from earlier. I am taken to this easy-to-use directory page: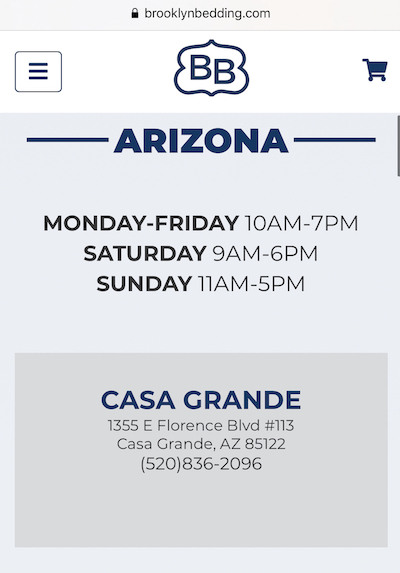 This landing page is very effective because it matches my search intent and is easy to navigate from my smartphone. I had wanted to find the "best mattress near me," and now I have a list of mattress stores broken up by city with their relevant information on display.
Utilize mobile-specific ad extensions.
Ad extensions are clever ways to give your customer more information before they even click on your ad. The better the ad extensions are, the more likely the customer will act upon your ad without even visiting your page.
There are several ad extensions for Google Search ads, but we want to highlight location extensions and call extensions when we're focusing on mobile search ads.
Location extensions show your business's address in the Google search ad. Even better, this address is a clickable link that will show your customer how to get to your business. All of this, and they haven't even left Google.
Call extensions make it easy for your customers to contact you.
In this example of a mobile ad, the customer who is looking up florists can call (with a simple click of the Call icon) Avas Flowers and inquire to see if they have the certain arrangement they're looking for.
Both of these extensions work to increase the likelihood of a customer engaging with your business, and they do that by matching the mobile search intent (the customer has an immediate need) with your business information.
To learn more about how to use Google ads, check out our complete Google ads guide.
If you're more interested in getting your ad as a banner on other sites, check out our post on setting up a Google display ad within Google's Display network.
2. Facebook and Instagram Mobile Ads
Whether or not you should run mobile Facebook ads through their ad platform depends on your demographic and user behavior in Google Analytics. It also depends on your intent. Companies looking to see a direct relationship between mobile Facebook ads and product sales might be disappointed.
This is because some data supports the idea that customers on desktop are more in a buyer's mindset. In fact, desktop sessions end with users having a 24% higher unit per order than mobile users.
But this doesn't mean there's no value in mobile advertising on Facebook. It just means it serves a unique purpose that, when utilized correctly, can lead to positive results.
First, you can always set up your ads to run on both the Mobile News Feed and the Desktop News Feed (see below).
Then Facebook will monitor results. As one ad starts to show more engagement than the other, Facebook will start focusing on that ad.
There are pros and cons to this "wait-and-see" method:
It saves you time on building a strategy because you simply just create two versions of the ad and let Facebook decide – based on the number of ad impressions – which ad (the mobile or desktop) is working.
But it also means you're just rolling the dice and trusting Facebook's algorithm. You could easily play devil's advocate and say just because an ad has a slightly higher number of impressions in the first week does not mean it'll be the best ad for increasing your return on ad spend.
To set up a Facebook mobile advertising strategy that is not built solely on luck, keep reading.
Tips on Running Mobile Ads on Facebook
Use mobile Facebook Ads to generate leads.
Mobile Facebook ads are a great way to generate leads. This is because of Facebook's Instant Form, which intuitively works by filling out as much relevant information as it can on behalf of your customer (such as name, age, location).
Read more about increasing lead generation through Facebook ads. 
Target people who search your site on mobile devices.
Thanks to Facebook's involved targeting options, you can really get granular with your data and run mobile ads on Facebook that will only be seen by the right audience.
You do this first by understanding who your target audience is. Log into your eCommerce's Google Analytics and drill down by behaviour and demographic.
Let's say you noticed most of your users visit your site on mobile devices. Now you have good reason to run mobile ads on Facebook.
You can even target your ad by selecting a specific mobile device.
In case you noticed a trend that more of your users are iOS or Android users.
To learn more, check out our comprehensive post on running Facebook ads.
What about Instagram mobile advertising?
Instagram mobile advertising has a lot in common with Facebook mobile advertising. Both platforms are actually managed through Facebook's ad manager.
But there are critical differences to keep in mind.
Instagram users tend to be younger, with 72% of users between 13 and 17 years old.
How content on the app is consumed:
Instagram, unlike Facebook and Twitter, started as, and remains, an image-first social media platform. Users think in terms of image posts, visual stories, or Instagram Live video feeds. While videos and images are powerful tools to make Facebook posts more engaging, they are literally the only type of post that you can make on Instagram.
When you're wondering whether or not you should be running ads on Instagram's mobile advertising platform, ask yourself if your key audience uses the app (younger) and if your product is visually focused.
To learn more, check out our guide to Instagram advertising.
3. Snapchat mobile ads
In our experience, eCommerce companies and marketing teams tend to under-utilize Snapchat, a popular, video-first social media platform.
It could be because they aren't familiar with the app (if you want to learn all you need to know, check out our guide on marketing on Snapchat). It could be that the ads seem more expensive than their worth.
But given Snapchat's highly specific demographic (87% of its users are 35 years old or younger) and their level of engagement (68% say they use the app daily), Snapchat is a mobile advertising platform worth considering as you grow your mobile marketing efforts.
Tips on Running Mobile Ads on Snapchat:
Create geofilters with event-based advertising.
Snapchat Geofilters work because they are highly-engaging graphic overlays that are only available when a Snapchat user is in a specific location.
If you're hosting a major event, creating geofilters is a way to advertise that event and get your customers to engage with your brand.
Increase engagement with sponsored lenses.
This sponsored lens was an ad for Michael Kors sunglasses. It let users try on different pairs of sunglasses to see how they'd look.
We really like this sponsored lens advertising campaign because it taps into behaviors users already understand (trying on sunglasses and looking at yourself), and it ties perfectly back into the business goals.
In fact, this lens was viewed 104 million times, which led to an 18% increase in ad awareness along with a 6% lift in purchase intent.
To learn more, check out our guide to Snapchat Ads.
4. Twitter mobile ads
Unlike Facebook and Google, and much like Instagram and Snapchat, there's no significant difference between desktop advertising and mobile advertising when it comes to Twitter.
This is because 80% of users use Twitter on their smartphones or tablets. So, if you're advertising on Twitter, you should already be in the mobile advertising mindset.
Over 60% of Twitter users are between the ages of 18 and 49. Plus, there is some evidence that supports Twitter as a social media platform for customers who are interested in engaging with their favorite businesses, as 63% of people on Twitter follow small businesses.
Tips on Running Mobile Ads
as Promoted Tweets on Twitter
Use videos in your promoted tweets. 
People watch 2 billion videos on Twitter per day, which is a great number considering it's actually cheaper to run a video ad on Twitter when you factor in the engagement you get in return. Plus, tweets with video get 10x more engagement than just basic tweets.
Promoted tweets are a great example of native advertising. A promoted tweet looks very much like a tweet, just with a small little disclaimer revealing it as a mobile ad.
The main difference between a promoted tweet and an organic, natural tweet is that a promoted tweet gets broadcasted into Twitter streams or Twitter search results.
Because of this, promoted tweets have a good chance of increased engagement, especially when you use videos in your ad.
Select your target audience for the ad:
On Twitter, you can specify the ideal gender, age, location, language, device, and audience interest (such as keywords focused around topics and events).
We recommend you focus on targeting by interests and followers.
It's similar in theory to the process of creating a lookalike audience on Facebook.
Basically, you create a list of usernames on Twitter (these would be people who are already your target audience), and then Twitter finds users whose interests are similar to theirs.
It's a great way to grow your target audience while continuing to see positive results in your ad impressions.
To learn more, check out The Complete Guide to Twitter Ads.
[/box]
Conclusion 
The mobile advertising industry is built upon the trends in data that show mobile use is on the rise, and mobile users behave and act differently than a desktop user.
This may not sound groundbreaking, but in our experience, the best mobile marketer is one who understands their medium (social media platforms) and matches it with user intent to create a rewarding experience.
Hopefully, this guide to mobile advertising helped give you an idea of where to go next. 
The world of mobile advertisements is substantial. There isn't just a mobile advertising expert; there are now mobile advertising experts who specialize in creating and executing digital strategies on Twitter and those who specialize in mobile search ads on Google.
Luckily, At AdEspresso we understand mobile advertising and are here to help your business see revenue come in from your ad efforts.