A couple of years ago, Snapchat ads were expensive, inaccessible for most businesses, and ridiculously priced when compared to similar alternative ad platforms.
Thanks to Snap self-service Ads Manager, now businesses of all sizes and budgets are able to advertise on Snapchat. Instead of working through an auction partner like before, businesses can now buy and manage their ads through the Snapchat site or app.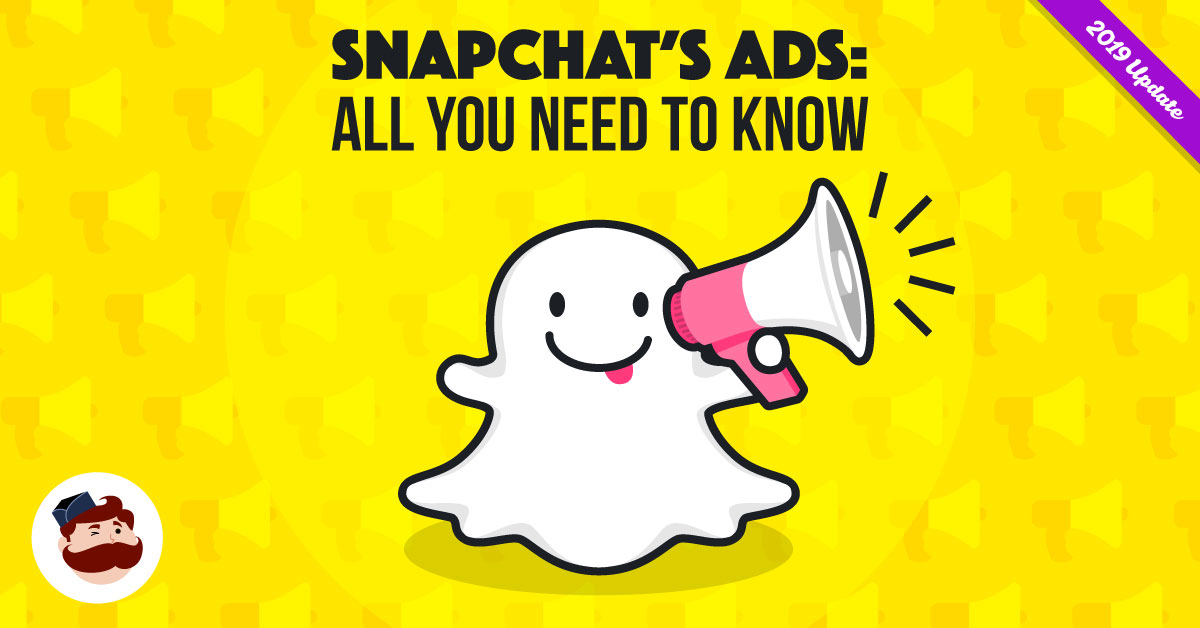 In this guide to everything you need to know about Snapchat ads, we're going to look at who uses this platform and why that's important to your advertising efforts.
We'll explain the different types of Snapchat ads available and when to use them, how to sign up for Ads Manager and create ads, how to manage and view your ads' performance metrics.
Ready? Let's get started.
Snapchat Demographics 101
To get the most out of your ad campaigns — reach lots of people and convert more leads — your Snapchat ads have to resonate with the people most likely to use the platform.
So, before we dig into the available Snapchat ads and how to use them, let's take a step back for a minute and look at who uses the app.
Facebook and YouTube are still the most popular platforms by far, but an increasing number of young people use Snapchat. Pew Research Center data show that 78% percent of young Americans (18-24 years old) use Snapchat (the number goes down to 54% in the 25 to 29 years old group).
A whopping 70% of users are women.
As Snapchat continues to grow, more of its users are spending more time in the app.
For example, 63% of Snapchat users say they use the site daily:
Successful Snapchat ads — adverts that result in clicks, engagement, and conversion — have to achieve 3 main goals:
Cater to audiences aged 29 and under
Incorporate the app features this demographic uses regularly as a way to improve engagement
Be shown at a frequency that matches the amount of time users spend online
Combined, these goals have the potential to help you create ads that stand out to your audience and get noticed.
Now that you know who uses the platform, let's turn our attention to how to use Snapchat ads to target your audience.
The Three Types of Snapchat Ads
Snapchat currently offers three primary types of ads: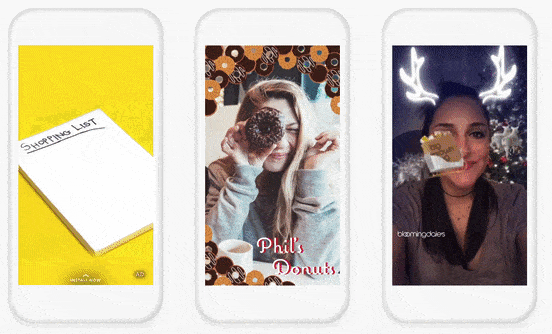 If you've used Snapchat before, you're probably familiar with Lenses and Geofilters, since they're the most popular types of Snapchat ads.
Some companies have seen great success using them for advertising — most notably, Taco Bell, in a massive campaign for Cinco de Mayo that was viewed 224 million times.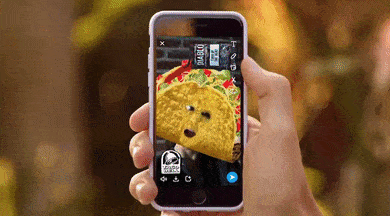 There are so many ways to use each of these Snapchat ad types that it can get confusing.
We've put together a guide for you that explains how each Snapchat ad type works, how much each type costs, what each ad type comes with, and when to use each one.
Snapchat Sponsored Geofilter
This Snapchat ad type is an illustrated overlay that varies, depending on where users are located and what they're up to.
They're a powerful marketing tool, considering filters are viewed at least 2.16 billion times a day! No need to say that adding custom messaging or branding to your filters will greatly help to showcase your company.
Geofilters can be added to privately sent photos and videos or to publicly shared posts in Stories. You decide how long filters are available, based on your campaign goals.
If you're hosting an event, create a geofilter that activates based on the event's location. That way, attendees can access the filter when they post pictures from the event. This helps you spread brand awareness among your attendees network.
Geofilters can be purchased directly from Snapchat's sales team or through its advertising API.
When you buy directly from a Snapchat sales rep, you can add a Smart Geofilter to connect the ad to specific locations. When people use Snapchat within the geographical region that you've selected, the option to use your filter will appear when they take a photo or video.
You can also create on-demand geofilters that are quicker to create and cost less, too.
If you've just launched a new store or product, activate a filter that's available to users near your store's physical location. These filters can be available for a few hours or a few days, based on how much traffic you're aiming to get.
Snapchat Sponsored Lenses
This Snapchat ad type is a filter that's designed to alter users' faces or their surroundings with animations. Users spend a lot of time testing and experimenting with different lenses, which might be why 70 million daily active users use them.
Plan your lenses around major events, holidays, or major industry campaigns that resonate with your audience. Because of how expensive these ads are, they are usually used by large brands, political campaigns, and other high-profile events.
Lenses can be purchased directly from Snapchat's sales team. These are the most expensive Snapchat ads because they cover such a large area and are seen by millions of people.
These ads can range from between $450,000 to $700,000 per day, depending on when you run your campaign.
Incorporate Nationwide Sponsored Lenses into your campaign so that your lenses are visible to anyone across the country. This is expensive, but if you have the budget, there's potential for a high ROI.
Use World Lenses filters — similar to augmented reality — so that users can trigger and interact with 3D graphics in the world around them.
Snap Ads
The Snapchat ads are vertical videos that run up to 10 seconds and are shown with Snapchat's original Shows, curated Our Stories, media companies' Publisher Stories and between peoples' publicly posted Stories.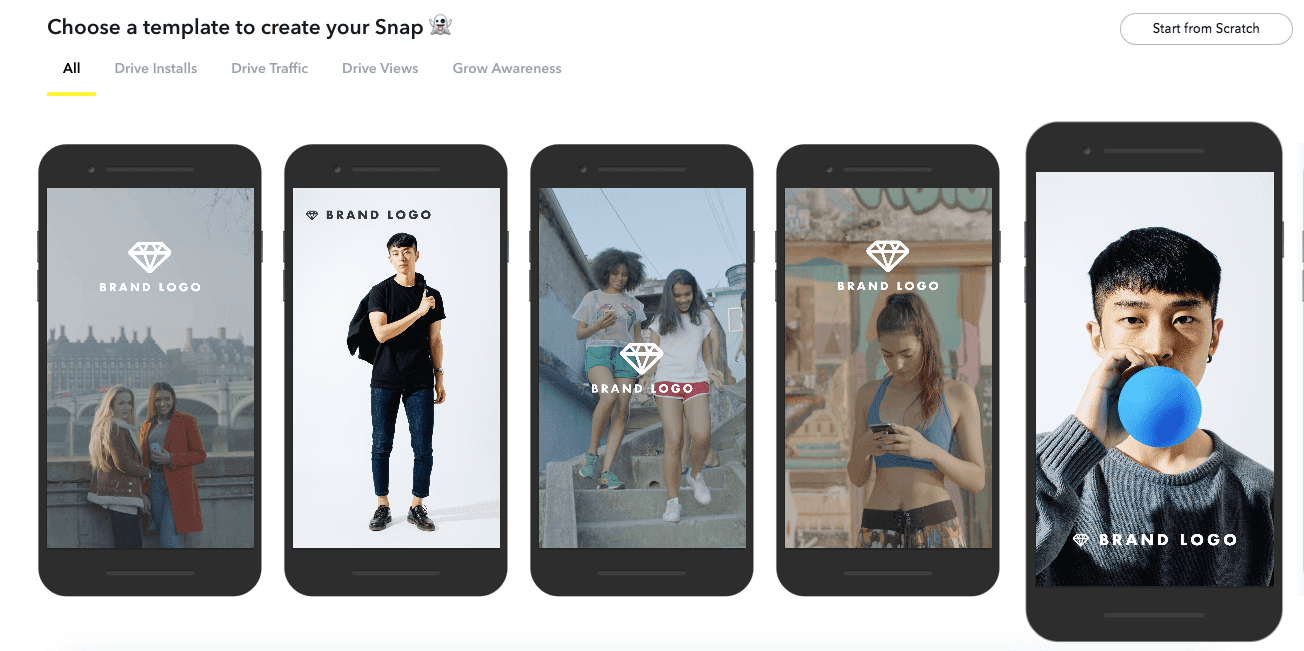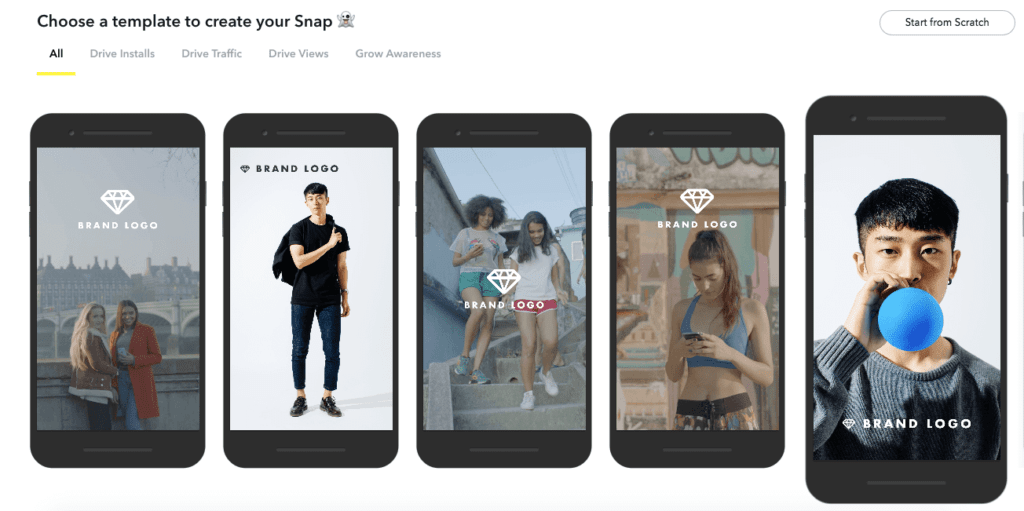 Use these when you want viewers to take specific actions, like click to your sales page, install a new app, or access more product information. Because the videos are so short, you can create a series of videos and upload them together to create what seems like a longer video but helps you tell a more complete story about your brand.
Snap Ads can be purchased from the Snapchat sales team, through Snapchat's advertising API, and now, through Snapchat's self-serve Ads Manager. This ad type is great for small businesses because of how easy and flexible it is to use.
Snap Ads include three types of attachments that can be purchased through the Ads Manager:
While your ad is running, users can swipe up to link to an app installation page in Apple's or Google's app store.
The benefit here is that users don't actually leave Snapchat to do this, and the app downloads in the background as users continue to browse.
This Snapchat ad type is typically used by brands that want to promote big-ticket items, like movies, or raise brand awareness, or showcase how to use the brands' products.
Users watch a short 10-second preview video and swipe up to watch an extended version.
Your ad acts as in intro, with a call to action at the bottom to swipe up to "Learn More." Users are taken to a mobile web page where they can read more about what you're advertising.
The introduction of Snapchat's self-serve Ads Manager is a huge deal because businesses can now buy Snap Ads at affordable prices directly from the Snapchat site.
As recently as last year, businesses could purchase the three Snapchat ad types only from Snapchat sales reps or through third-party software providers that work through Snapchat's advertising API.
As a business, you couldn't start using Snap Ads unless you were spending a minimum of $1,000 per day.
Now, with Snapchat Ads Manager, you can pay per thousand impressions or pay per goal — ad units you'll be familiar with if you've run Facebook or Instagram Ads. No more minimum spend — no more need for a line of credit.
Snapchat ads are open to the little guys.
The Benefits of Snapchat Ads
While Snapchat's stock price may not be living up to everyone's highest expectations, Snapchat's advertising program has some interesting elements that — depending on your business — might be worth taking advantage of.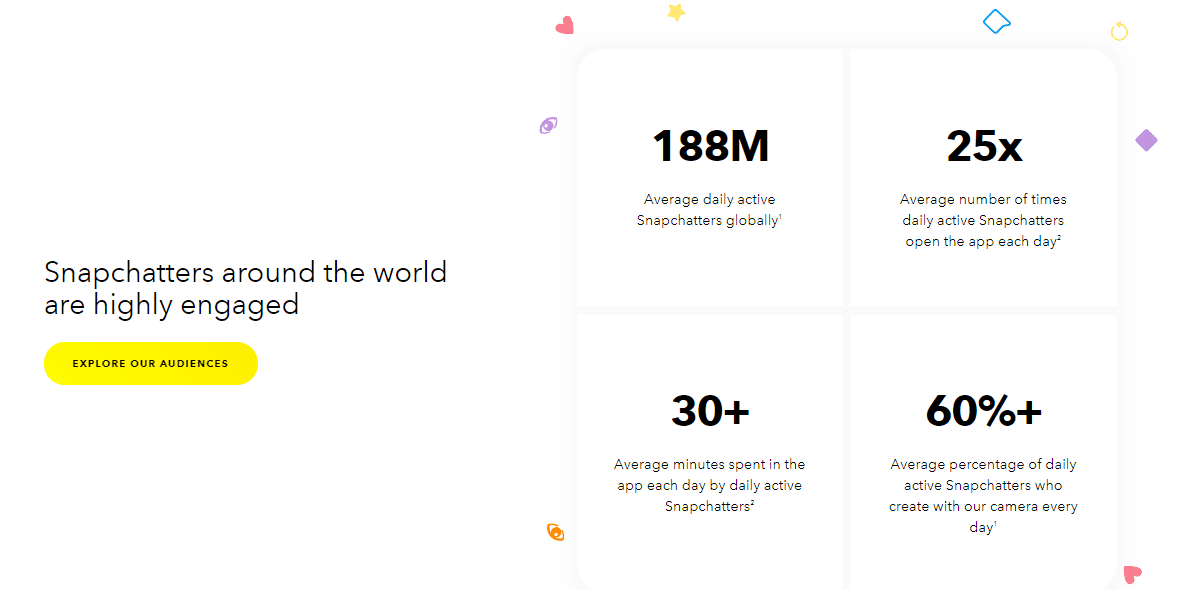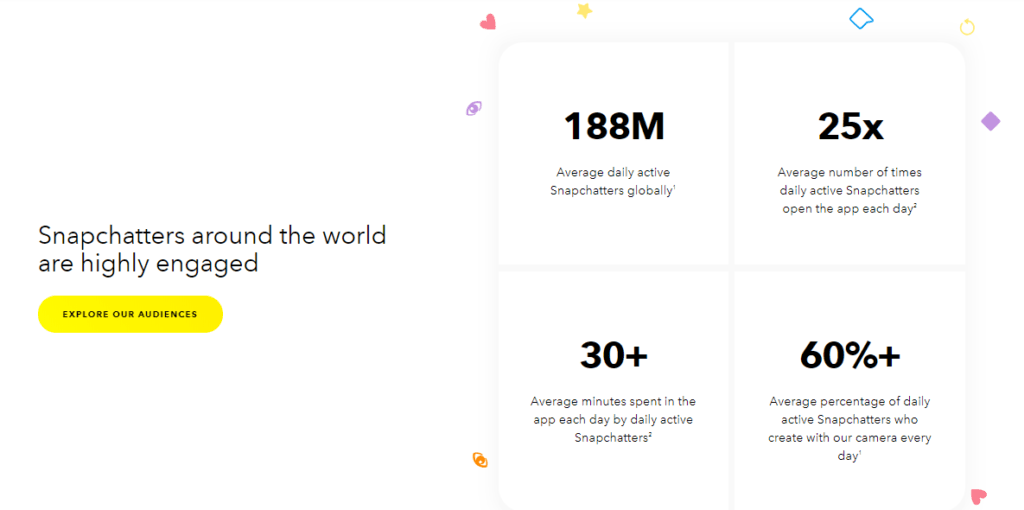 Benefit #1: Measure Engagement By Region
For businesses that can afford Geofilters, for instance, they can be an effective way to boost and measure sales by region, and Snapchat has some powerful geographical targeting features that are a good way to drive foot traffic.
For example, Wendy's used Sponsored Geofilters to promote their jalapeño chicken sandwich. Within a seven-day period, their Snap Ads resulted in a confirmed 42,000 people visiting Wendy's restaurants.
Recognizing the power of using Geofilters to increase foot traffic, Snapchat released a dashboard that calculates incremental visitors and visitation, plus demographics like age, gender, and region.
So in the case of Wendy's Geofilter, the restaurant chain could break down their 42,000 visitors by their geographic location.
Along with using Geofilter ad data to understand traffic at multiple locations, Snapchat Geofilters are a great way to boost traffic at individual locations.
As an example, The Bungalow — a popular seaside California bar with two locations — created two Geofilters that could be used only at its locations.
The result? Over 300,000 views and a 30% conversion rate.
More than one in three people who saw The Bungalow filter at their locations used it, allowing the bar to widely promote their brand.
Benefit #2: Boost App Installs
For businesses with young, tech-savvy audiences, Snapchat is one of the most effective advertising platforms for encouraging app installs.
Using the App Install attachment with a Snap Ad, businesses can prompt users to swipe up on the ad, directing the user to an app installation page.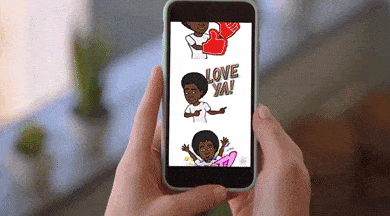 After launching their Snap Ads App Install campaign, Acorns — a business that helps people invest their spare change — saw their highest view-to-install ratio ever.

Getting these results from Snap Ads is cheaper and easier than ever before with the Snapchat Ads Manager.
Benefit #3: Incorporate storytelling to improve engagement
As you learn more about your audience and their needs, use storytelling to present your solutions and let your brand's unique "personality" stand out.
The point of storytelling is to take a step back from focusing on selling and instead help your audience get to know you better and want to do business with you.
Your audience is savvier than before and knows when you're trying to sell them something.
You can use Snapchat storytelling to "take [your audience] on a journey. Sell them a lifestyle". 
Did you know that 71% of shoppers agree that they're more likely to purchase from a brand that they know and trust?
The marketing team at Urban Outfitters knows it for sure. With over 9 million followers across all of their social media accounts, the brand has figured out how to tell stories in a way that helps them connect with their audience.
Urban Outfitters, a lifestyle retailer selling clothing, home accessories, and more, publishes a lot of behind-the-scenes content and showcases events. They aren't just selling, they're sharing content that tells a story that their primary customer base — millennials — can relate to.
As a result, this approach makes Urban Outfitters more personable, which in turn contributes to creating customer trust and loyalty.
For example, they use their own branded hashtags, they ask users to share their own content, and feature audience members on their community page.
Keep reading to learn about signing up for this tool and all of its awesome ad-creation and performance-metrics features.
How to Sign Up for Snapchat Ads Manager in Five minutes
Just like with Facebook, Snapchat Ads Manager lets you create, manage, track, and optimize your ads. It's free to sign up and get started, which has made it easier for small and medium-sized businesses to create Snapchat ads.
Signing up for the tool is quick and easy.
If you already have an account, click here to sign in: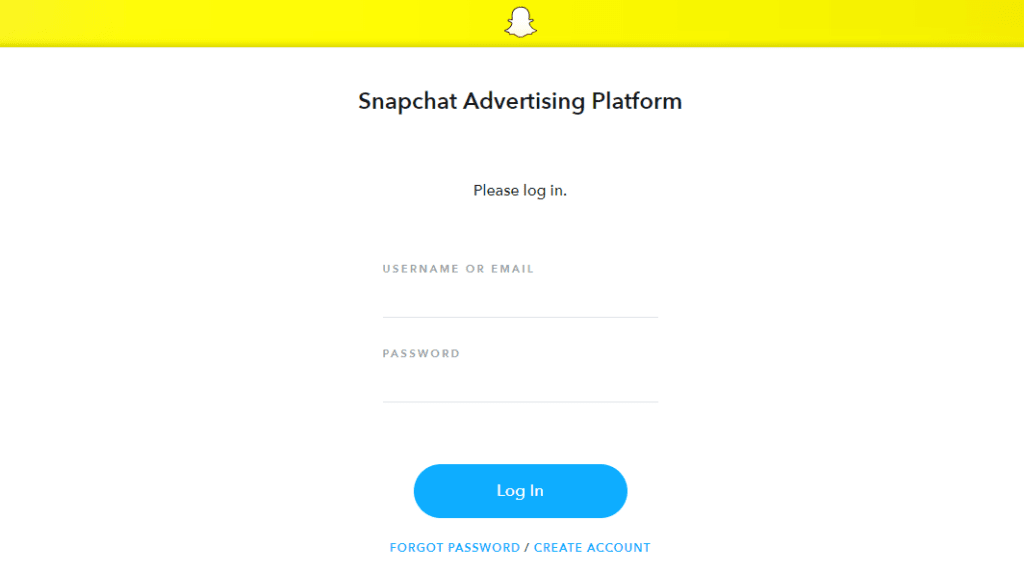 If you don't, click here to create your account: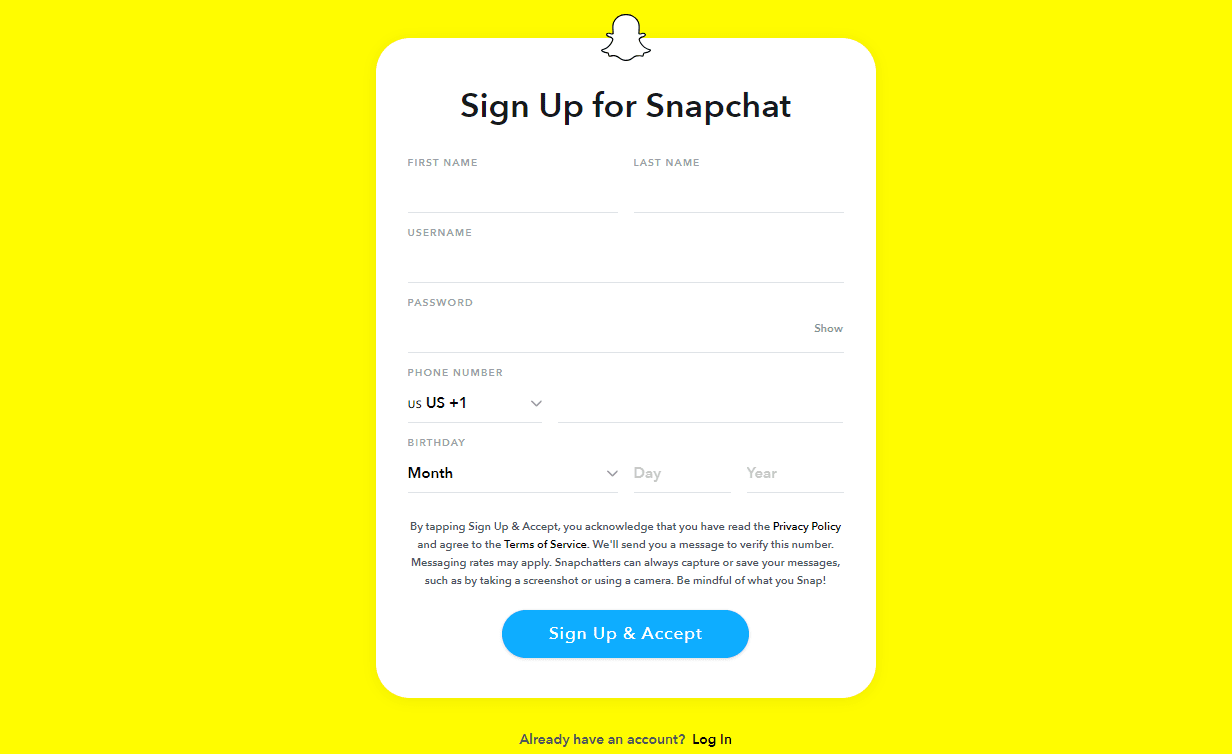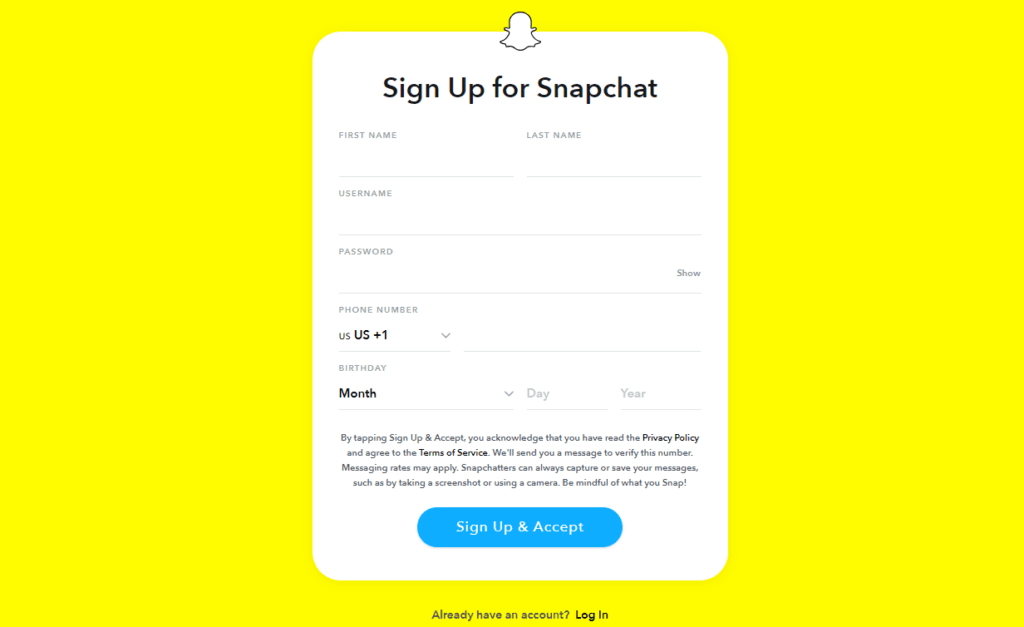 Log in and then enter your business information to create a business account: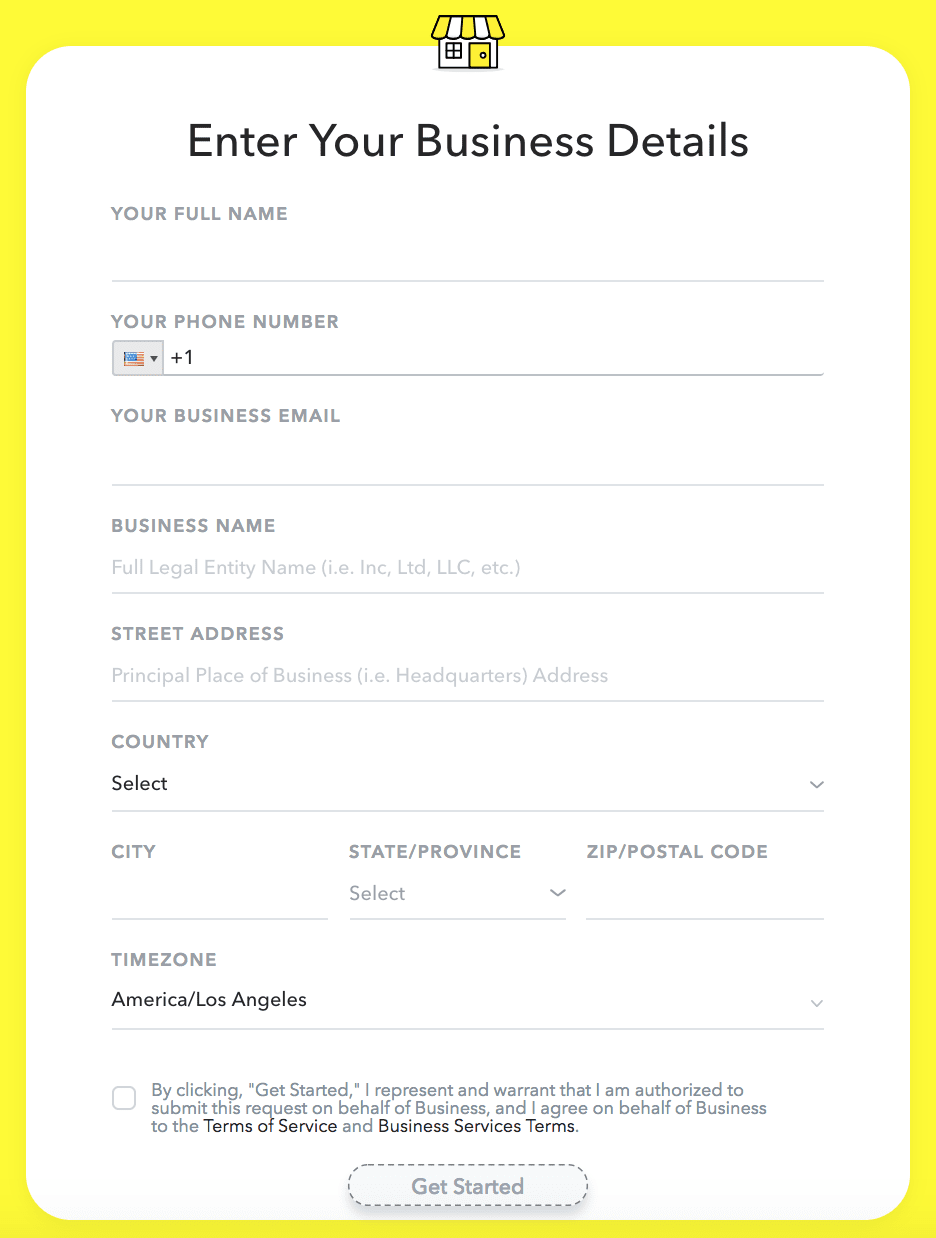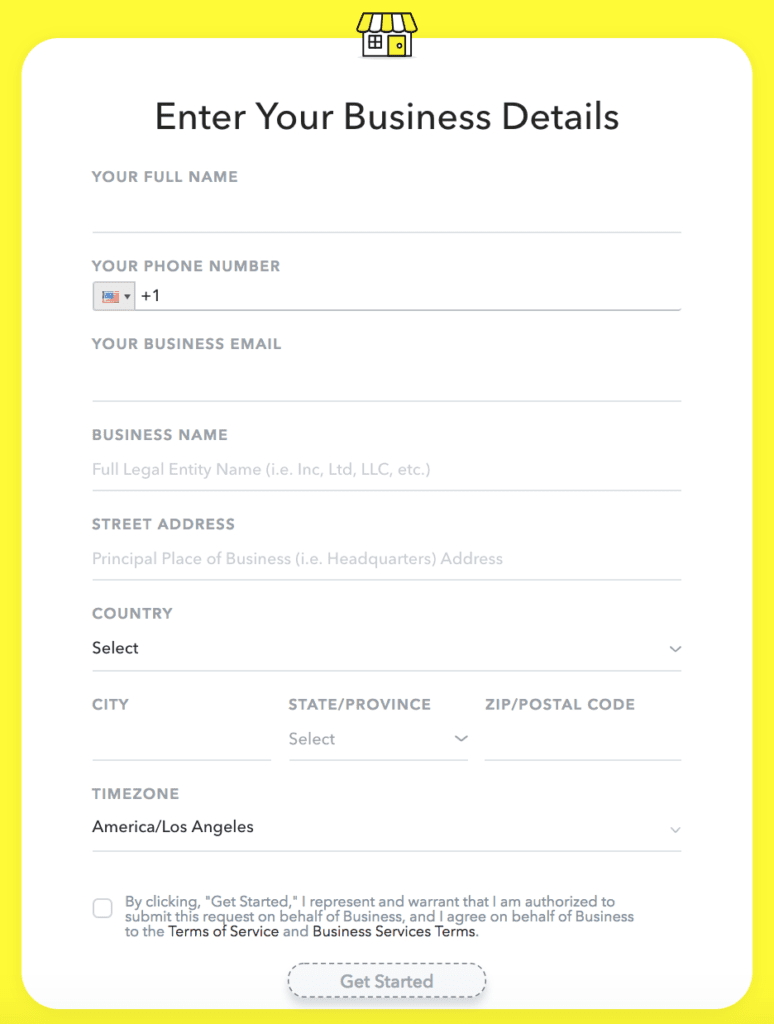 Next, enter your payment information — for when you're ready to start sharing ads. You can add a credit card or PayPal details or request a line of credit.
Creating Campaigns in Snapchat's Ads Manager Dashboard
Now you have access to Snapchat's Ads Manager:
Now you can create your first campaign based on your needs and the audience you want to target.
Step #1 – Set a campaign objective
The first step in creating your campaign is to set the objective of the Snapchat ad.
You have five campaign objectives to choose from:
Drive Traffic to My Website
Drive Installs of My App
Re-engage My App Users
Drive Video Views
Grow Awareness


Next, give the campaign a name.
To stay organized, it might be helpful to come up with a naming convention for your campaigns. Something like [(Client name) – (Objective) – (Schedule)]
Then, set the schedule. You can set a campaign to start immediately with an indefinite run, or set a start and end date.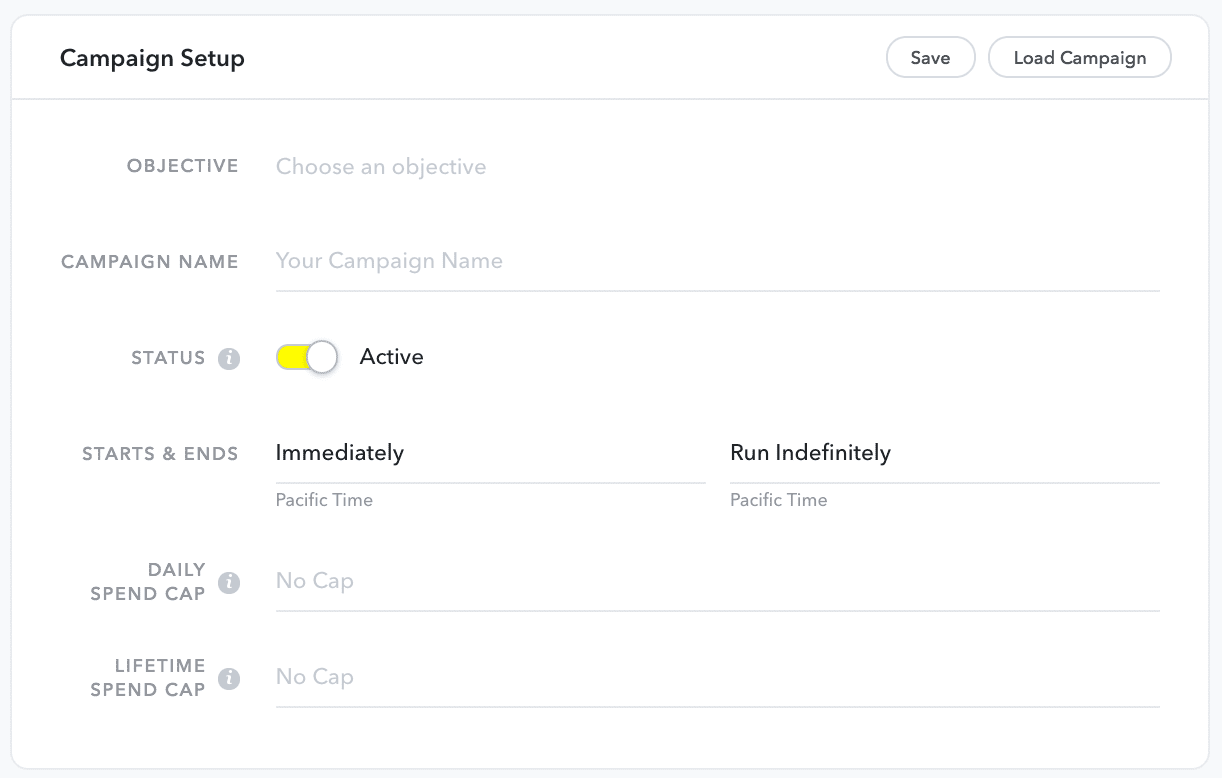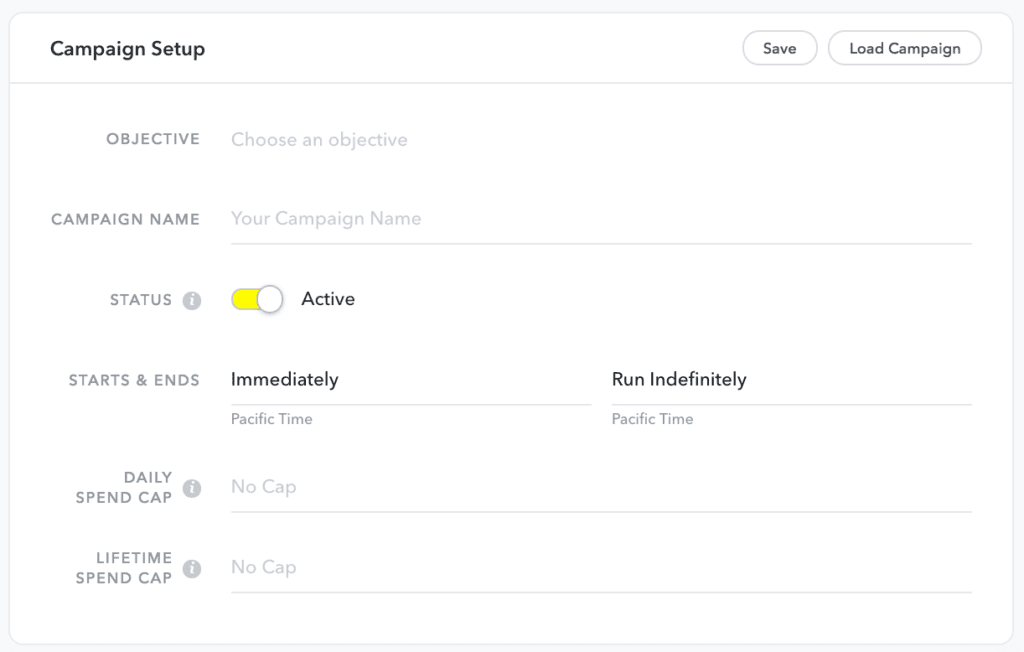 Finally, set a budget and click "Build your ad sets" at the bottom of the page.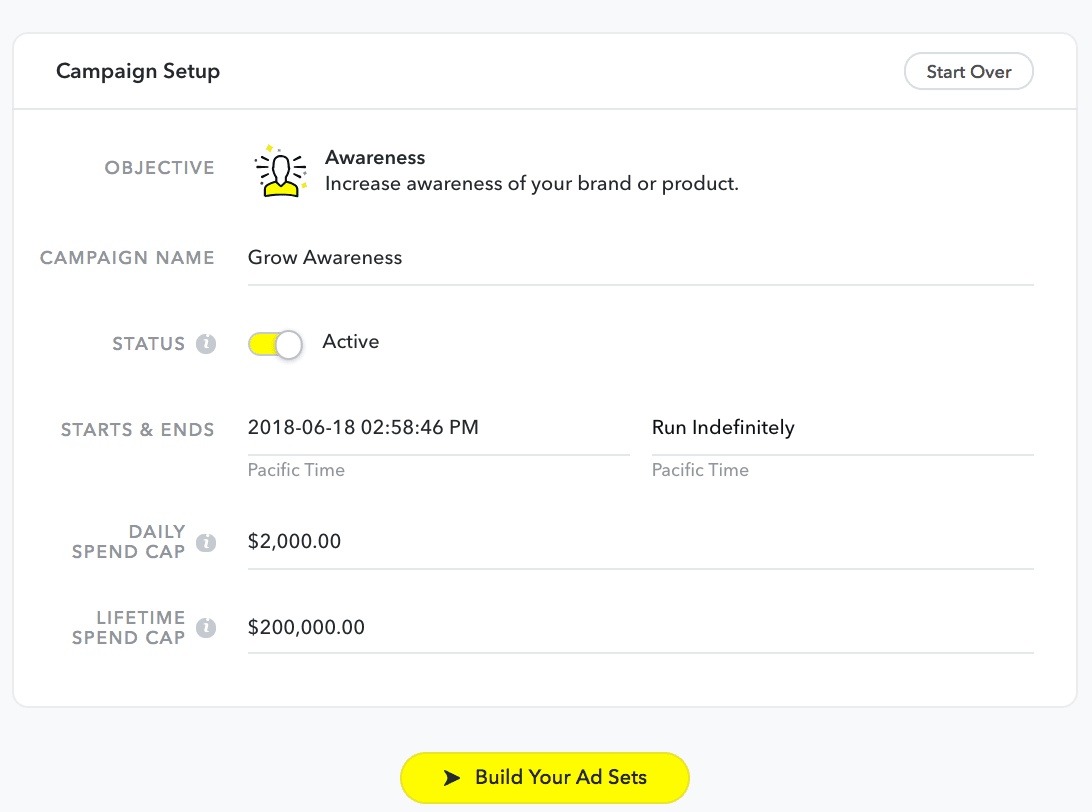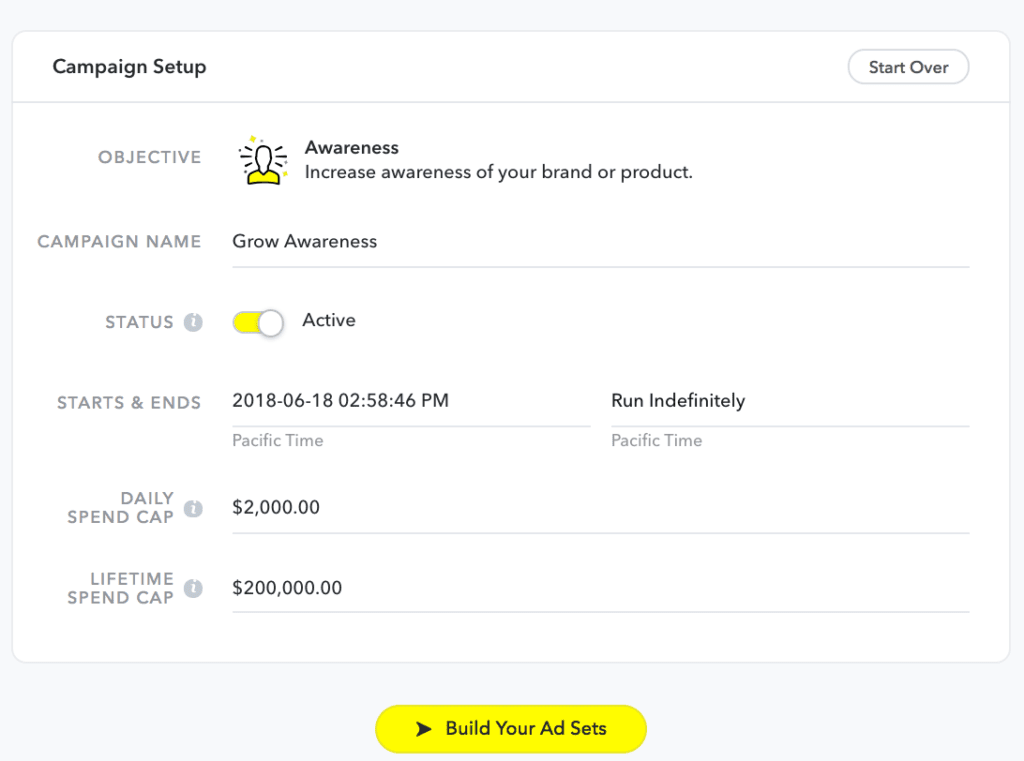 Step #2 – Create A Snapchat Ad Set
Snapchat ad-creation tools let you structure campaigns in a way that is measurable and testable so you're able to determine which ads are the most effective.
Snapchat ads are organized under a hierarchy of campaigns in ad sets and ads.
On the ad sets page, you choose your ad set audience, budget, and schedule.
Your ad set audience is created based on your selections from five categories:
Geography: You select a single country and the areas within it that you want to target.
Demographics: Select audiences by age, gender, language, and advanced demographic categories, like household income.
Audiences: Choose audiences by their consumer behavior and lifestyles; plus, you can choose custom audiences that are built from your Snapchat customer lists or groups that are similar to your Snapchat customers.
Placements: Choose whether you want your ad in all of Snapchat or just delivered to Snapchat's curated content (Snapchat's Stories, Publisher's Stories, and Shows).
Devices: Select which operating system, connection type, and carrier you want to target.
To build your ad set, give it a name and then select the audience you want to target.
You have the option of choosing from a list of predefined audiences or creating your own custom audience.
Next,
choose your ad format.
This determines
where your ad will appear in Snapchat: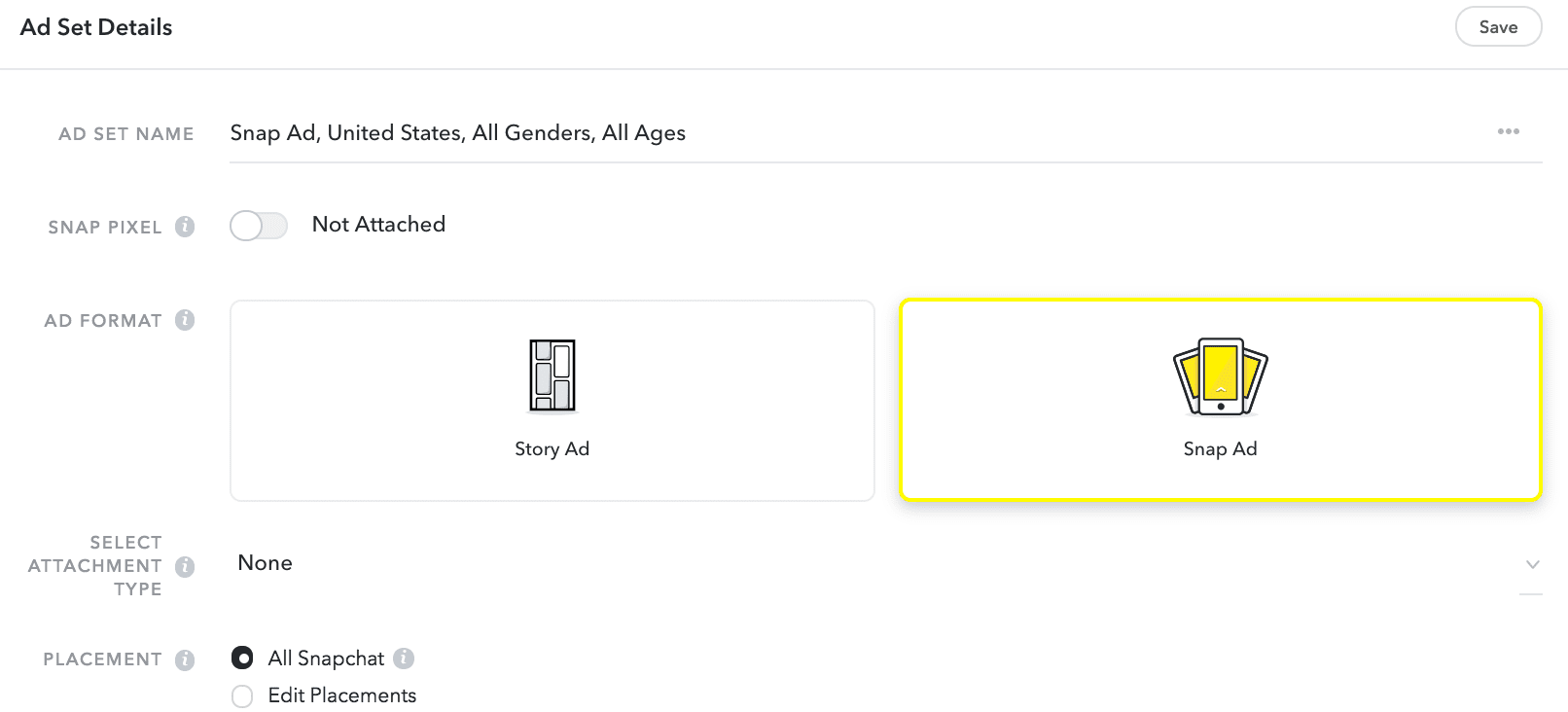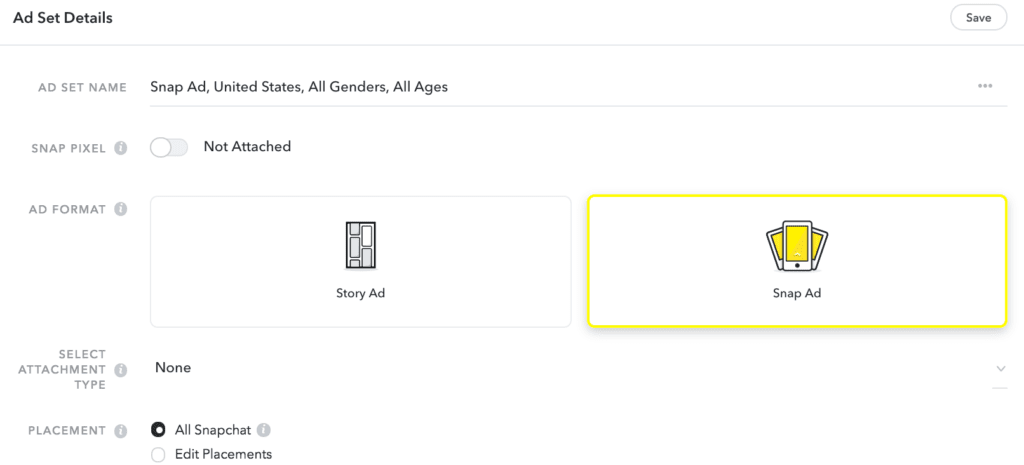 The "Budget and Goals" selection lets you choose your daily budget, goal (swipe up, app install, impression), and bid amount.
Snapchat charges based on the number of times the ad is shown, not based on your goal progress. It does optimize your ad delivery for your goal action and bid amount, though.
The final ad set step of choosing your schedule includes the same two options as campaign schedules — start immediately and run indefinitely, or set start and end dates. If you'd like, your ad sets can have shorter schedules than their campaigns.
With these details set, you're now ready to start designing your ad!
Step #3 – Build your ad
The first step is to decide on your ad creative: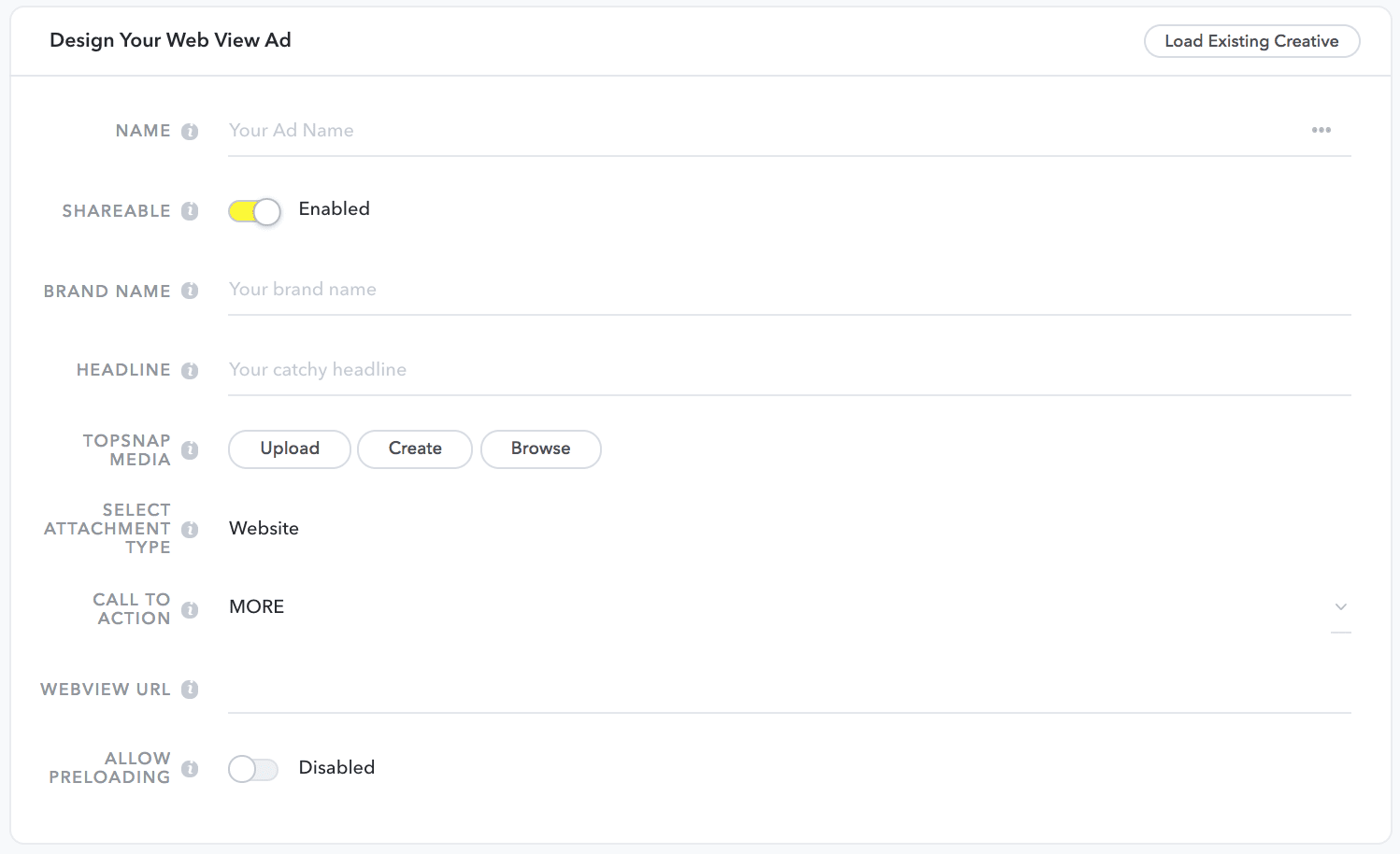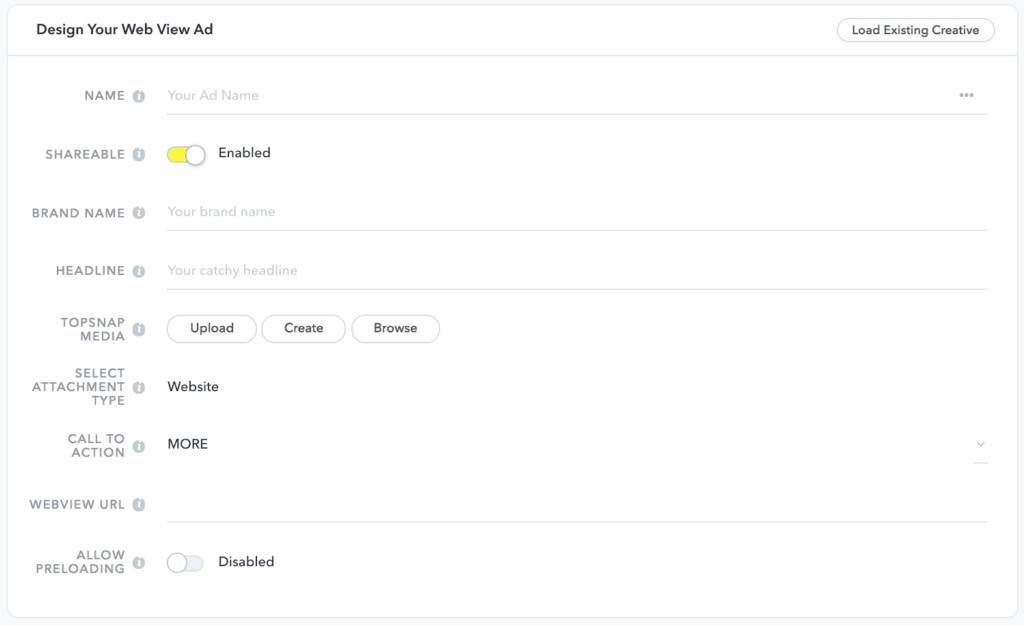 As you can see, you can create your own, upload an image, or use an image from Snapchat's Creative Library.
Fill in the rest of the information, and decide on which Snapchat ad type you'd like to use: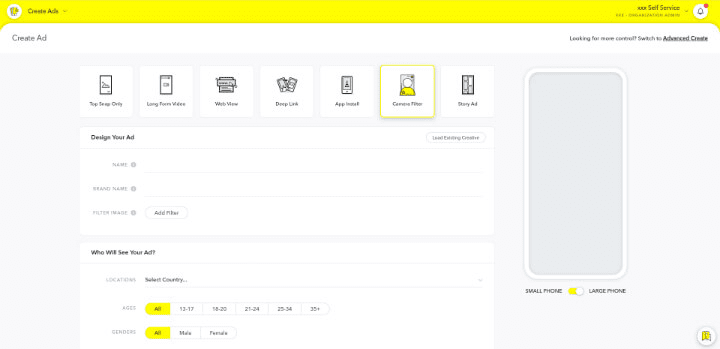 [Source]
You have seven ad types to choose from:
Top Snap only: a video that doesn't include an attachment
Web view: an attachment to drive traffic to your website
App install: an attachment that links to an app installation page
Long-form video: a video teaser that can be swiped up to view a longer version of the video
Deep-link: allows you to link to different kinds of web content
Camera filter: filters that appear, based on a user's location
Story ad: ad content appears as a branded tile format
Once you've selected your ad type, fill in basic ad info and upload or create your ad content.
Depending on the ad type you've chosen, you may have to fill out additional info.
Step #4 – Publish Your Snapchat Ad
If you don't have a media file or a vertical video handy, you can use Snapchat's awesome Snap Publisher tool.
Just click "Create" next to Media File and you'll be redirected to Snap Publisher.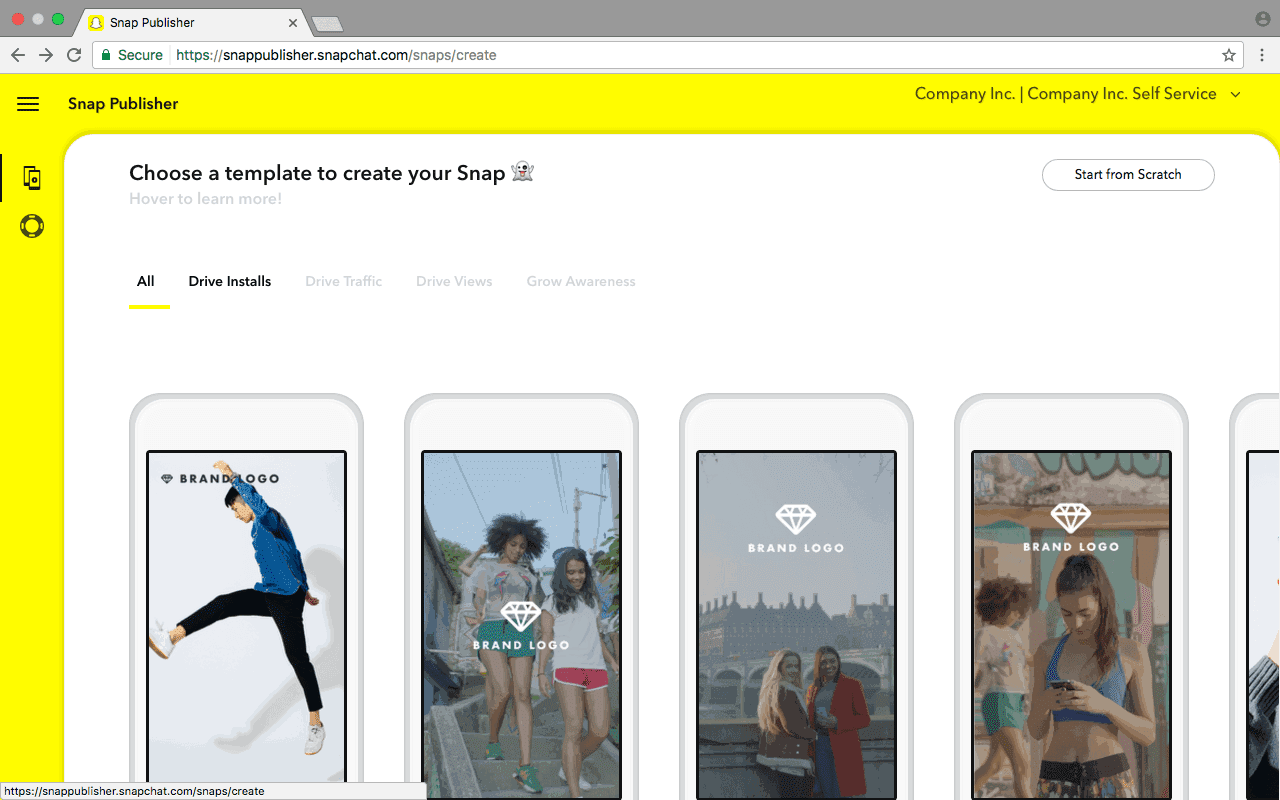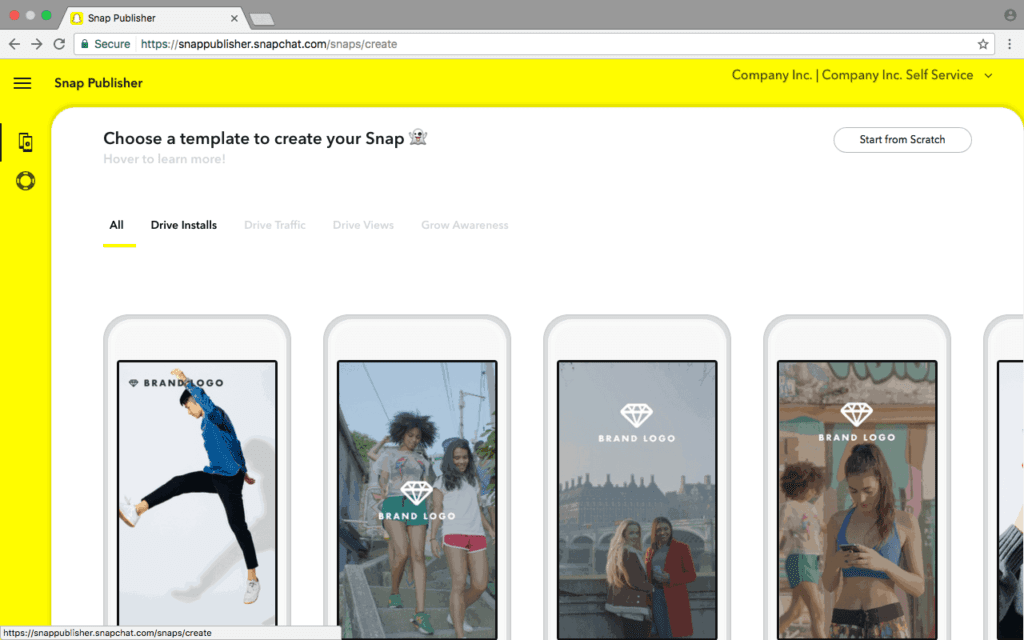 What makes Snap Publisher an especially effective tool is its organization of templates by goal: drive installs, drive traffic, drive views, and drive awareness. Not to mention, the templates are all stunning.
Once you've uploaded your ad content and reviewed it, run your campaign by clicking "Publish Campaign."
Your ad campaign is now ready!
Tracking Your Snapchat Ad Results
You've launched your Snapchat ad campaign — now it's time to see how it performs.
You can quickly and easily view ad-performance metrics either on the Ads Manager portal on Snapchat's site or on the app's Mobile Dashboard.
For the Ads Manager portal on the site, the Dashboard view displays selected performance metrics, based on which campaign objective was set.
Across all campaign objectives, the most commonly shown metrics are basic:
Spend: the total amount spent on the campaign to date
Impressions: the total number of times your ad was viewed
eCPM: average cost per thousand impressions
Some metrics are more unique to objectives, like swipe ups or video views.
For these, Snapchat offers a handy metrics glossary, excerpted below:
Completions: number of Snaps watched to 97% of their duration
Average Screen Time: how long people spent watching your ad across all impressions
eCPV (effective cost per video view): the average cost per qualified video view, with a view counting as two seconds of watching or a swipe up, whichever comes first
Swipe Ups: number of times people swiped up to view your attachment
Swipe Up Rate: average number of swipes per impression (as a percentage)
eCPSU: effective cost per swipe up
From the Ads Manager Dashboard view, you can also view results by date range.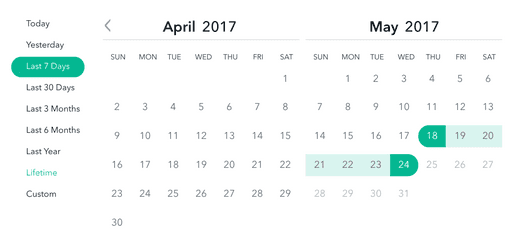 And in the lower "Results" portion of the Dashboard view, results can be broken down into individual campaigns, ad sets, or all ads.
You can also
export any data
that you want — you can
customize the metrics that you want to see,
determine the duration of time for which you'd like the report, and export the result as a CSV or PDF: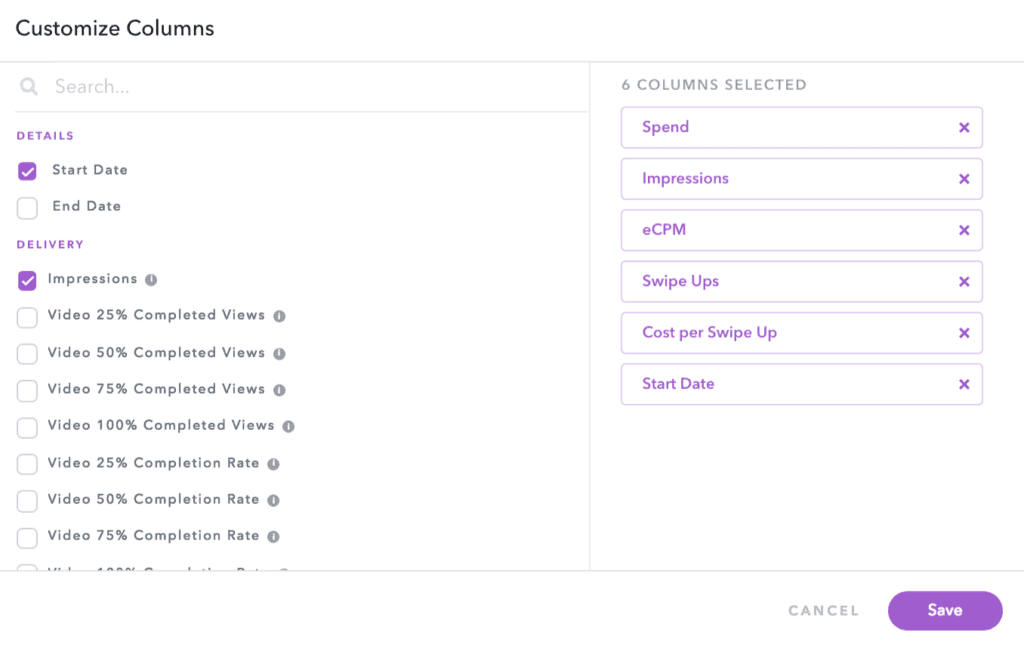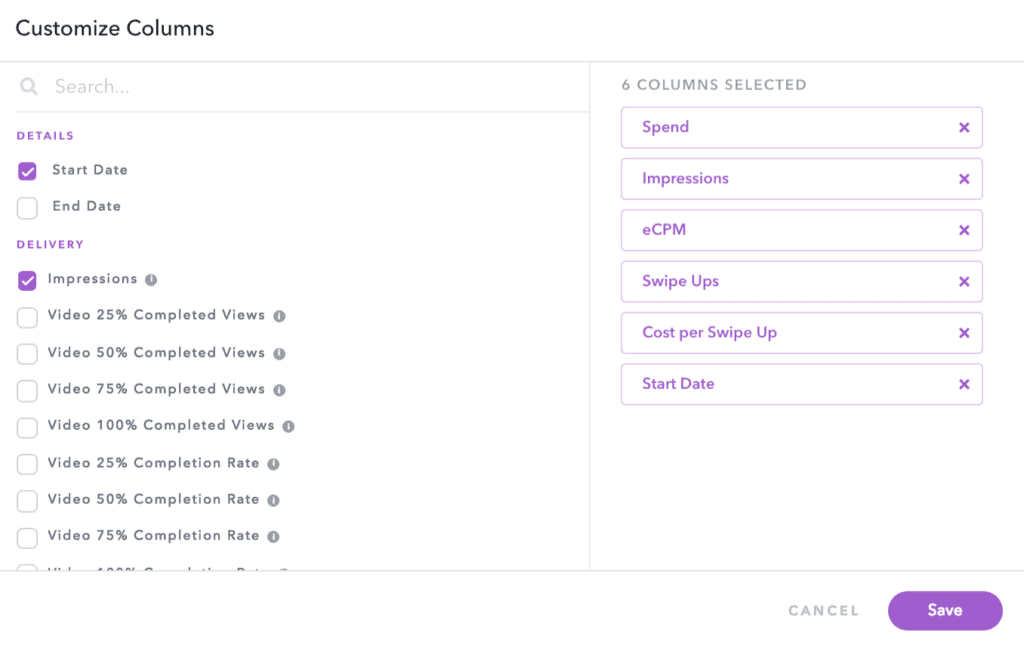 Snapchat ads also offer a Mobile Dashboard on the app for accessing ad-performance metrics on the go.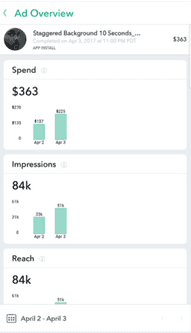 From the app, you can get notifications about performance metrics and review live performance metrics.
The same metrics categories that are displayed on the Ads Manager site's Dashboard view are displayed on the app.
From the Mobile Dashboard, you can also review pending, rejected, and completed ads, not just active ones.
To access these metrics on the app,
tap on Snap Ads under Settings and select your company account.
Snapchats Ads Manager vs. Facebook Ads Manager
Snapchat's self-serve analytics tools are definitely an improvement over the weak in-app metrics and third-party monitoring tools offered before.
But how do Snapchats ad analytics stack up against competitors?
Let's take a look.
Both Facebook and Instagram ad metrics are viewed on the Facebook Ads Manager, a tool that can be used either through a browser or through the Ads Manager app.
Facebook Ads Manager and Snapchats Ads Manager share a lot of the same useful features:
Facebook Ads Manager is a bit more robust in regard to metrics since it allows users to break down their reports into even more advanced metrics, like age, gender, and time of day.
Snapchat lets users target specialized categories when creating an ad, but its reporting columns still don't show these advanced metrics.
For viewing ad metrics on the go, Snapchat has an advantage over Facebook by making the Mobile Dashboard accessible through the Snapchat app. With Facebook, you have to visit a separate Ads Manager app to view your ad metrics.
Having marketers access their metrics through the Snapchat app is a great way for businesses to stay familiar with the user experience on Snapchat.
Creative Ad Specs You Need to Know
If you decide to invest in Snapchat Ads, one of the first things that you'll want to tackle is getting the ad creatives in order. It's often useful, after all, to have these fully ready to go before you even start planning an ad campaign.
Coming from Snapchat itself, there are a few technical requirements you'll want to keep in mind when diving in on those creatives.
Remember that it's easier to get it right the first time instead of having to go back and edit it later. Here's what you need to know:
Full-screen canvas ads should have a 9:16 aspect ratio and be 1080 x 1920 pixels
MP4 and MOV video files are accepted, and it's recommended to use a H.264 encoded option
You can use still images, motion graphics, stop motion videos, lives, cinemagraphics, GIFs, and slideshows for most ad types that focus on content (as opposed to geo filters or lenses)
The length of an ad should be between 3-10 seconds long (the exception here is the long-form video ads, which need to be a minimum of 15 seconds long)
The maximum accepted file size is 32MB (the exception being long-form ads again, which can have a max file size of 1MB)
Deep-link ads require an iOS App ID, Google Play App ID, and Deep link URL so that you can send users to a specific point in your app
Keep in mind that whenever possible, you should get as close to the highest resolution for images and videos as possible. This will ensure that the content looks great even if it's blown up on a larger mobile device like a tablet, making the content more effective.
4 Tools to Help You Create High-Converting Snapchat Ads
Snap Ads are traditionally the types of ad campaigns that most brands and advertisers gravitate most towards. These are relatively easy to create, and they have a good history of yielding high-engagement rates for the platform. That being said, there are a number of different ad types on Snapchat, and many brands will want to test them all.
While it can be a little exhausting trying to come up with the creatives to engage users consistently and at every stage of the sales funnel, there are a few tools out there that can help speed up the process, no matter what specific type of ad you want to use. There are plenty available, but these are my tried-and-true, go-to tools:
which has drag-and-drop design software and a full list of templates that you can use to create those interesting, graphic-heavy and full-of-personality visuals that your audience wants to see. Snappa only does still images, not video, but it's a great resource if that's what you're looking for.  Other alternatives similar include Canva and Easil.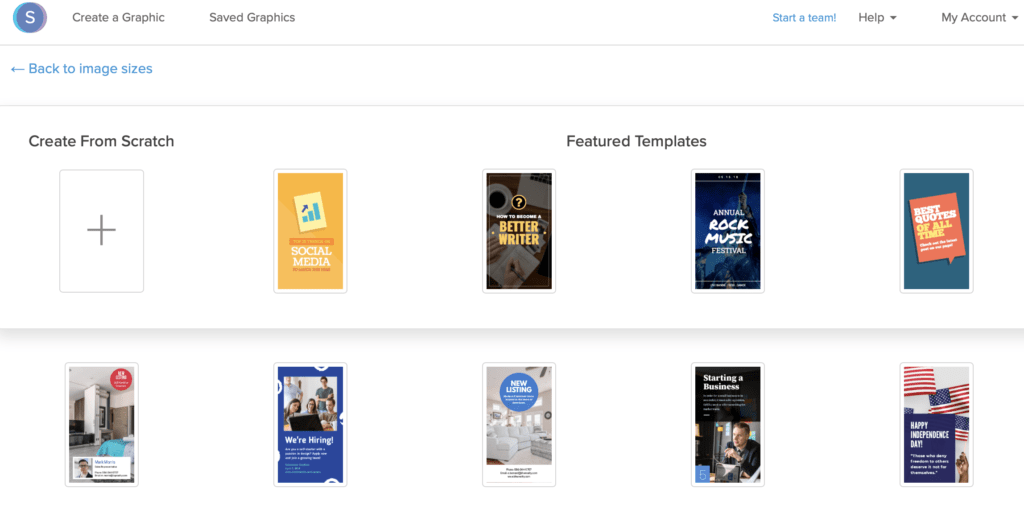 which is marketed for Instagram Stories, but the same content can work for your Snap Ads, too. It's a free tool that's the video template version of Snappa/Canva/Easil; you just need to add in images or video clips to the template to create a seamless, high-engaging video.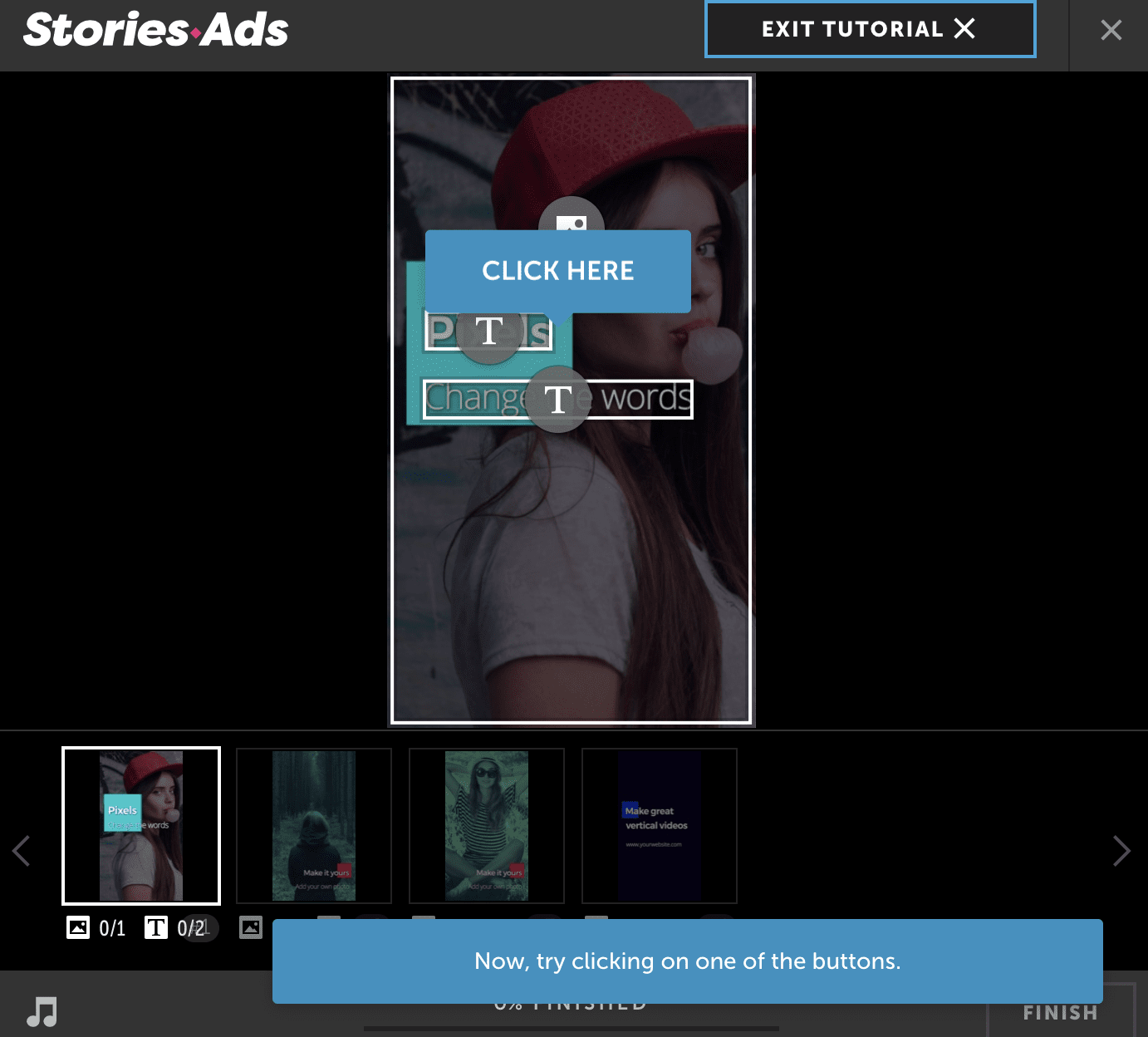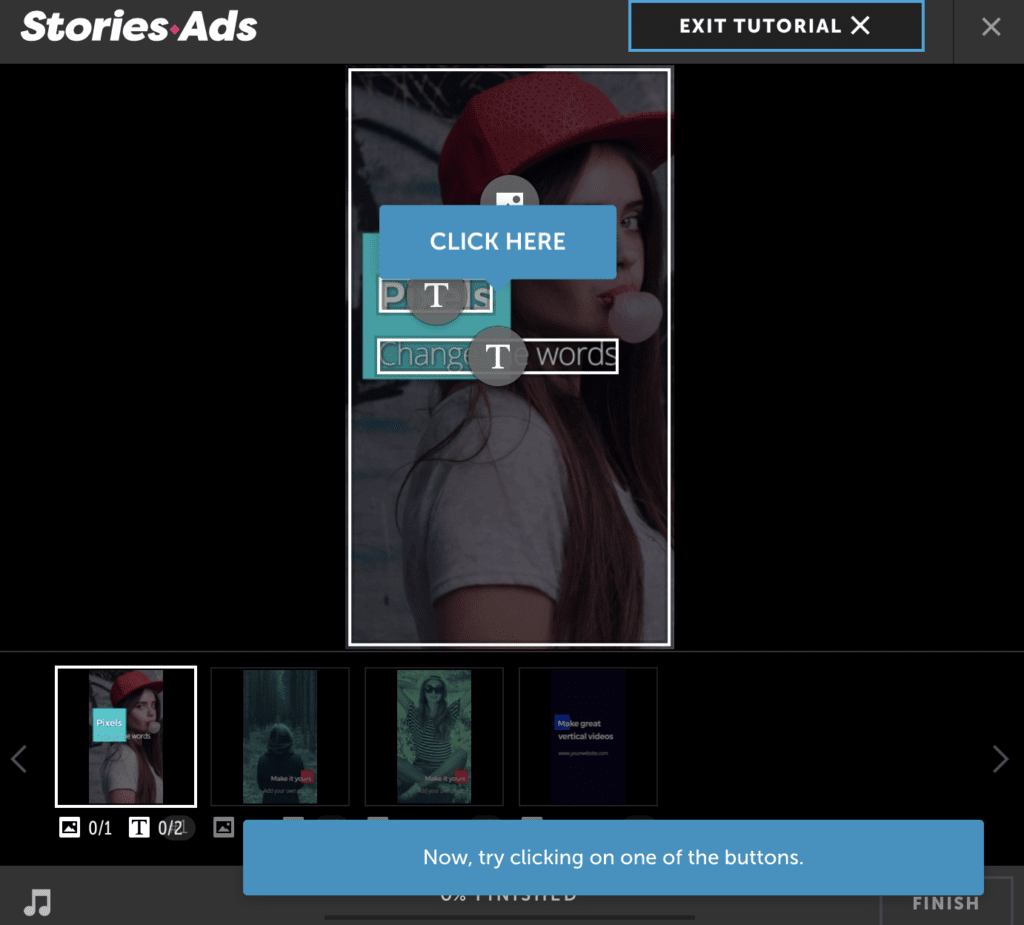 which is a little like a paid version of StoriesAds. More customization options are available here, and you can completely arrange the video templates however you see fit. Want to add in extra text or emojis? Do it! Like Snappa, this tool also comes complete with enormous stock photo libraries and makes it easy to import images and videos from your other social channels.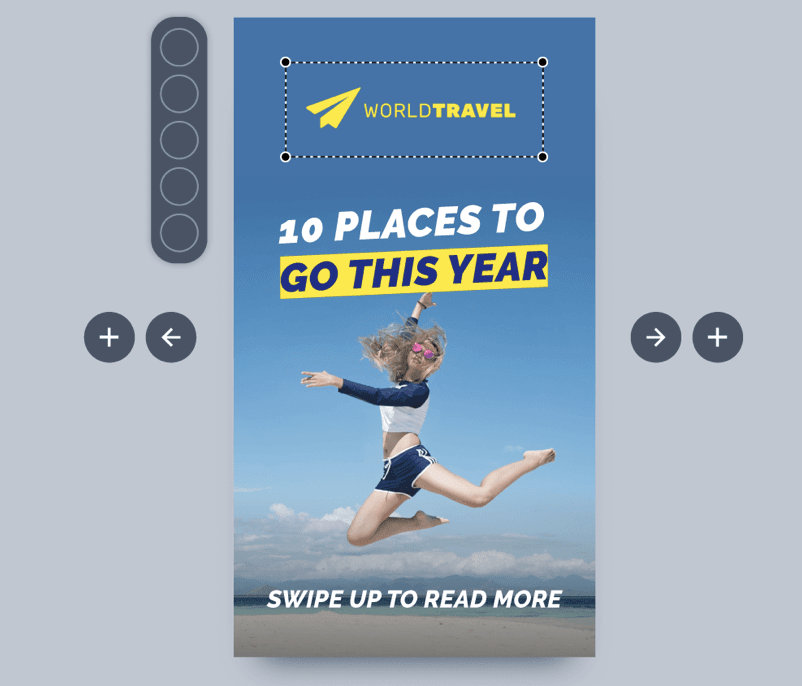 which makes it easier than ever to create outstanding quality Geofilters, no graphic designer needed. They've got templates ready to go, and use much of the same drag-and-drop technology we've seen so far with our other tools.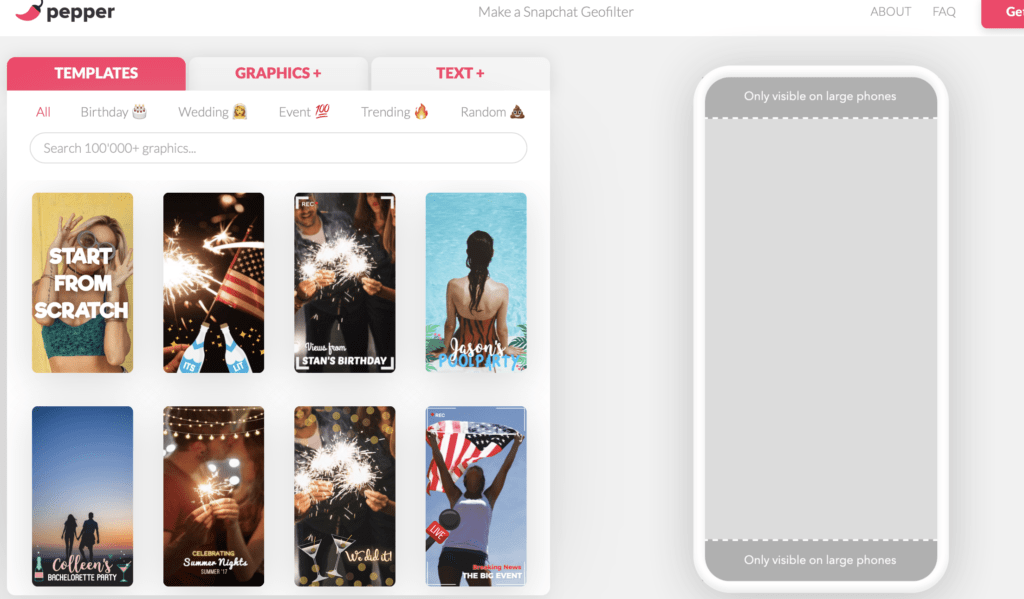 Snapchat Ads Best Practices
Snapchat Ads can be lucrative; there are plenty of case studies that have demonstrated this, coming from small and large brands alike. While a lot of it comes down to strong campaigns and being able to connect with that younger demographic, there are several best practices that you can use to increase the likelihood of overall success.
Here are some of our most reliable tips to keep in mind:
Consider using more Collection Ads.
Collection Ads seem to be a little like Facebook's carousel ads in terms of results, and some research has found that advertisers using this ad format have seen between 4.1 to 17 times higher engagement rates than they had with standard Snap Ads. Incorporate more of the Collection Ads into your campaign mix whenever possible and see how they work for you.
This is always a solid best practice in marketing, but we've noticed that sometimes this is forgotten about on Snapchat for some reason (possibly because it requires changes in the full ad creative, not a simple tweak in ad copy). Make split testing a core part of your strategy. Not only will it help you keep your ad campaigns fresh and users engaged, but it's also the best way to see what works best on this platform. And that's important to bot immediate and long-term success.
Don't get comfortable with overlapping platform content. 
Story Ads on Instagram and Facebook may look the same, but different audiences respond to different messaging, so keep that in mind. You can create content used for cross-platform advertising, but pay close attention to each platform's analytics; what works well in Instagram's Story Ads may not in Snapchat, and vice versa.
You should absolutely, hands-down be strategic. That's crucial for the success of your campaign. You should also have fun, however. Let your hair down, and show off the quirky side of your brand. Toss in emojis, use fun text, and stay as casual as possible. People won't engage with content on Snapchat if it doesn't engage them, period.
You don't have that long for traditional Story Ads, but ideally, you'll keep it even shorter than the not-so-long max length. According to Snapchat themselves, it's best to keep conventional Story Ads between 3-5 seconds long for maximum conversion potential.
Create hyper-targeted campaigns.
Remember that the more targeted your ad campaigns are, the more relevant they'll be to your audience. This gets their attention more, getting them to stop and pause and increases the likelihood they'll want to convert on whatever you're offering. It's well worth the effort to create extra ads for segmented audiences as opposed to hoping one overly-generalized ad will hit the mark.
The Next Steps
Since launching their self-serve Ads Manager, Snapchat ads have been easier than ever to work with. Signing up is free and takes less than five minutes, making it friendly for businesses of all sizes and budgets.
Snapchat's analytics tools do have room for growth, but the new Ads Manager and Mobile Dashboard are still exciting additions for businesses.
Unlike Snapchat's old advertising practices that were expensive and time-consuming, the new tools make ad creation and metrics monitoring easy and goal-driven for better campaign results.
There's only one way to discover if Snapchat ads will boost your business's ROAS, give it a try! Now you know how to do it.
How is Snapchat working for you? Share your thoughts, comments, and experiences in the comment section below!