With the explosion of social media (currently at 3.5 billion daily active users and counting), mobile advertising has become the most important marketing channel to master.
The average US adult spends 2 hours and 55 minutes on their smartphone every single day. And that's across all ages, including users that don't even own a cell phone or still use a Motorola flip phone.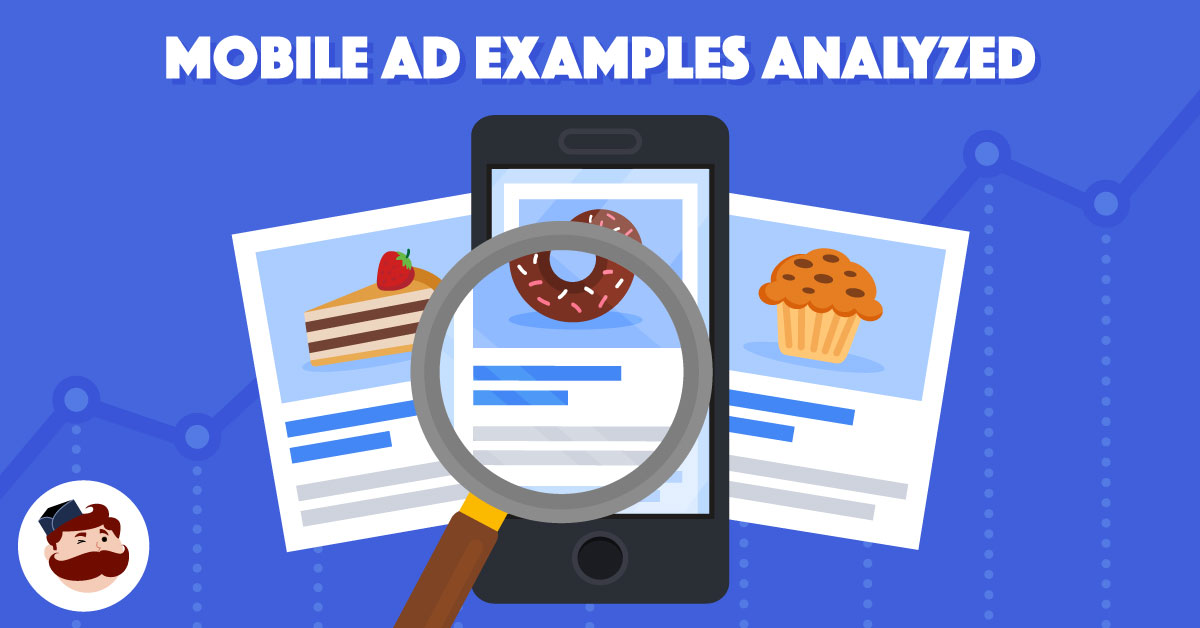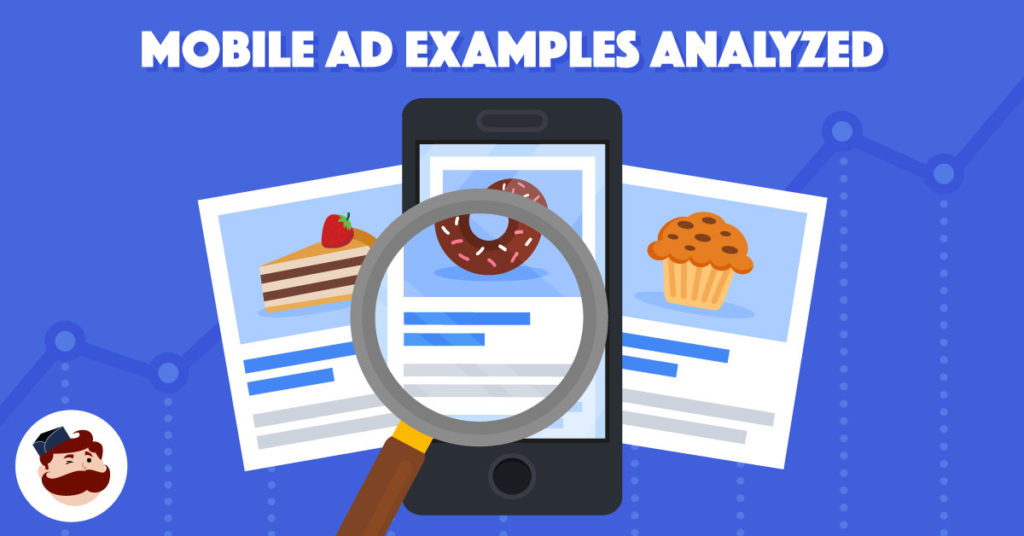 So you need to start optimizing your marketing efforts for mobile viewers, but you can't just resize your desktop ads and expect to succeed. It's not that simple.
Mobile devices have unique dimensions and features (like touch screens), and mobile users have different expectations and usage patterns than desktop users.
Mobile ad optimization is more complicated than you might think. But, to succeed in 2020, you need to dive right in.
In this article, we'll give you a comprehensive look into mobile advertising and analyze 11 mobile ads that do everything right.
Why Is Mobile Advertising Important?
With new and better phones, desktop computer use is starting to trend downwards, while mobile usage is rising steadily.
And it's not just that people use their phones a lot.
Over the last few years, with larger screens and more apps, the smartphone has started to take over a lot of the tasks that used to be done on desktop computers.
Shopping, for instance.
Online retail is moving to mobile in a big way, with mobile eCommerce (or m-commerce), expected to exceed half of total eCommerce revenue over the coming years.
So unless you want to leave a significant portion of potential revenue on the table, mobile is a medium that you cannot ignore.
Finally, the majority of online searches now happen on smartphones, with over 61% of Google searches in Q4 2019 happening on mobile devices.
Even for PPC, mobile has become the most important medium.
Is Mobile Advertising Effective?
The short answer is, yes, it's effective.
Just running a Google search ad for mobile can increase your brand awareness by 45%, in addition to leading to direct conversions and sales.
A case study analyzing over $1.5 billion in mobile advertising found that it generated close to $3 billion in revenue, an ROI of almost 200%.
But that's only the average. When done right, the sky's the limit for your mobile ad campaigns.
With the right creative and targeting, you can see much higher ROAS than just $2 for every $1 invested in ads — like in this case study in which a company got a 9x return with ad design optimization.
The Different Types of Mobile Advertising
There are a number of different ad formats across many different mobile apps, platforms, and advertising networks.
Let's take a closer look at the most important types of mobile ads.
Social Media Ads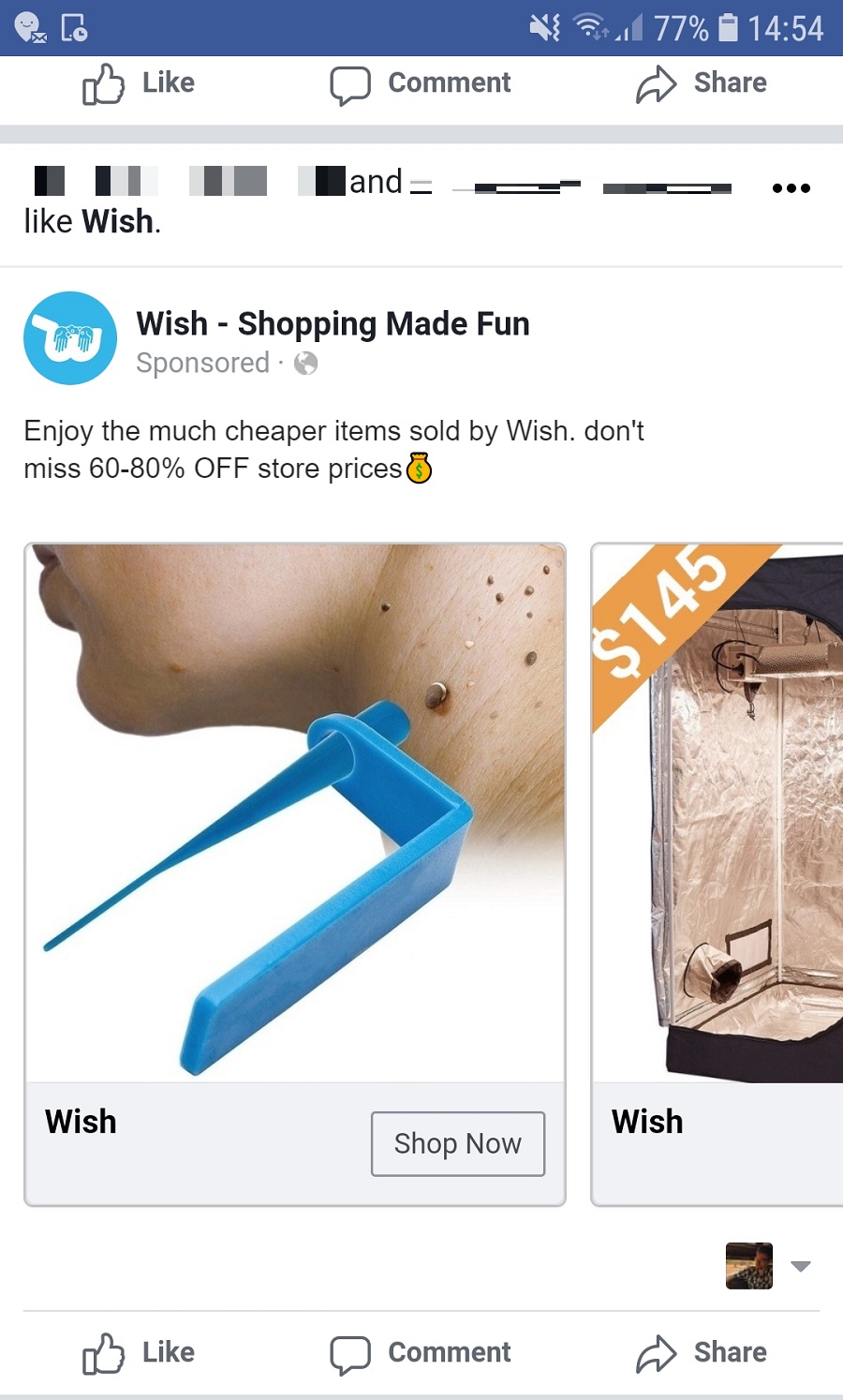 From the standard Facebook Ad and Instagram Ad to Twitter, Snapchat, Facebook Messenger, LinkedIn, and other platforms, Social Media is one of the biggest mobile channels for advertising.
Everyone that has ever opened the Facebook app or logged in on their desktop has seen an ad for Wish, which is a testament to the enormous branding power of social media ads.
The potential reach of Facebook Ads alone is 1.9 billion people from all stages of life. Add in a few other platforms, and you can reach more than half all living people on earth!
Mobile Display Ads (Mobile Banner Ads)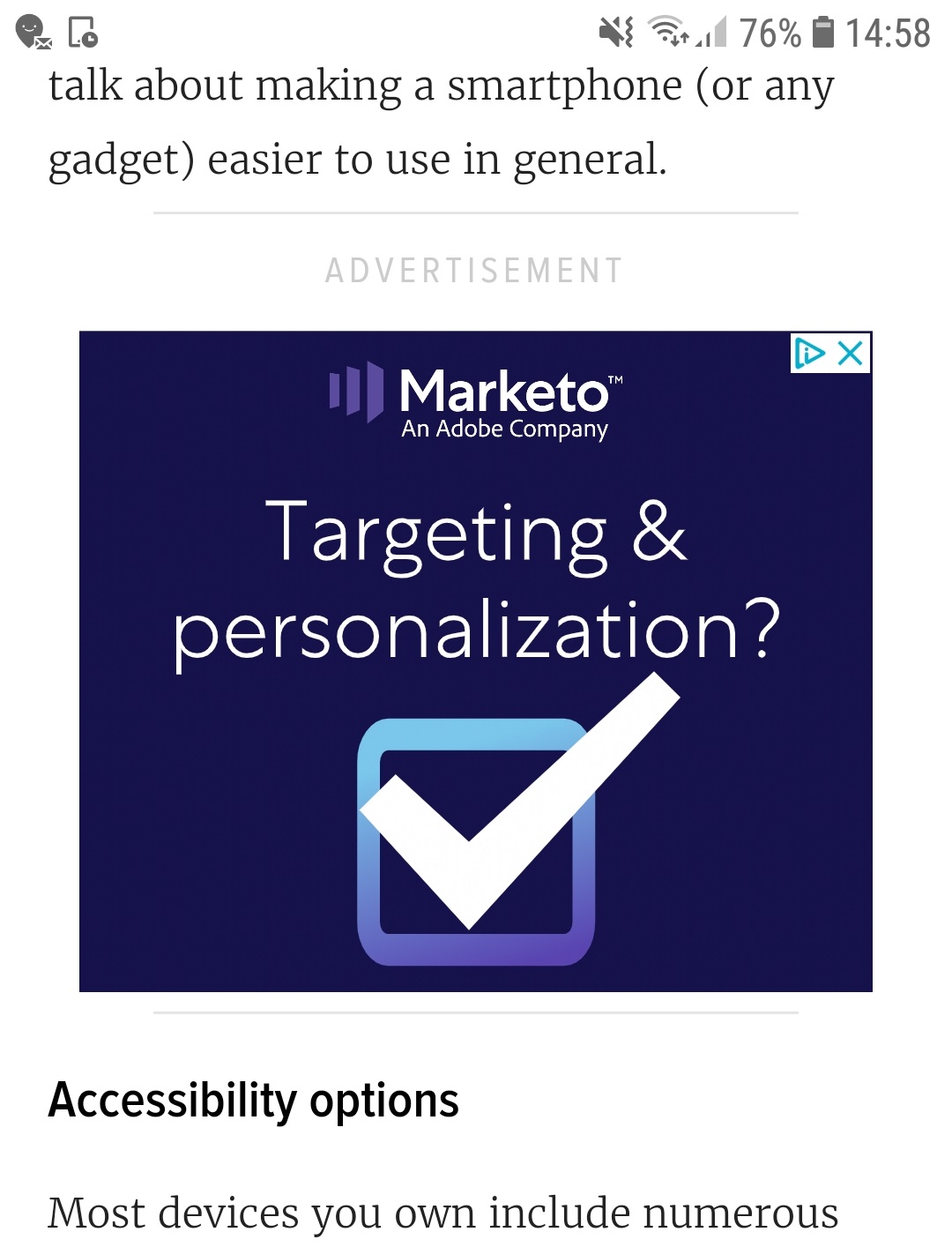 Display ads are banner ads shown across a network of websites. Display ads on mobile are simply website banner ads that are shown to smartphone users.
The Google Display Network is the largest display and mobile ad network, with the potential to reach 90% of internet users across over 2 million sites and apps.
In-App Display Ads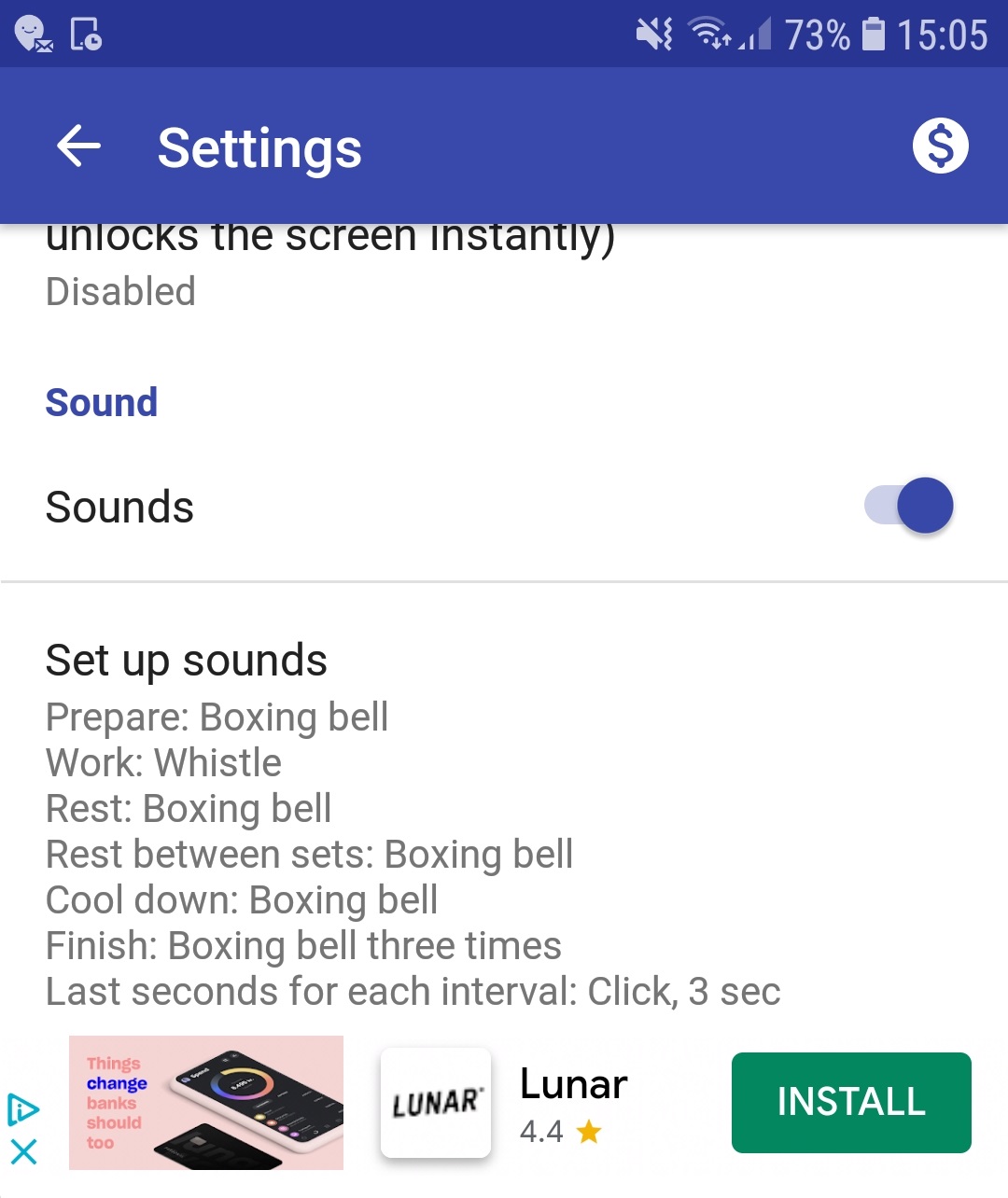 In-app ads are just what they sound like. Display ads that are shown inside other apps while you are using them.
In the example above, an in-app ad is shown at the very bottom of the screen when editing the Tabata Timer app's settings.
Interstitial Ads
Interstitial ads are to mobile banner ads and in-app ads what story or canvas ads are to Facebook and Instagram ads.
They are full-screen ads overlaying and completely covering the regular app or browsing experience. You can either wait to pass, press a button, or swipe away to close.
Video Ads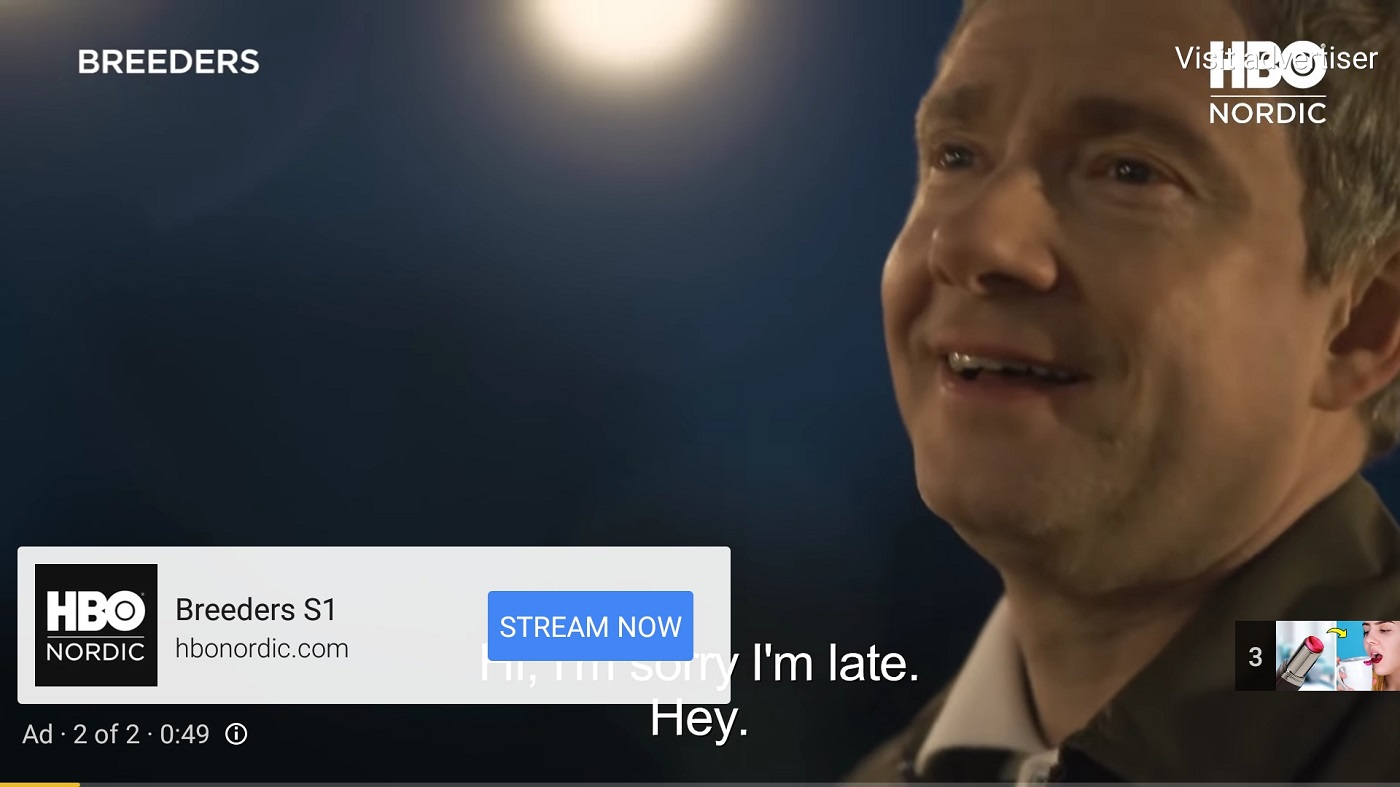 Video ads on mobile are available on a number of different platforms, including social media apps, interstitial ads, and, of course, YouTube.
Youtube Bumper Ads, a new unskippable 6-second ad format, have become incredibly popular for driving brand awareness on mobile.
11 Next-Level Mobile Advertising Examples You Can Learn From
Now that you know a lot more about mobile advertising, it's time for us to do a deep dive into 11 examples of great mobile ads across a variety of platforms and formats.
1. Instagram Story Ad: British Airways
British Airways used Instagram Story Ads and video to show a first-person tour view of various areas and activities in London.
Not only did the videos themselves do a great job drawing the user in, but there was an interactive element to the ads. Instagram users could tap the screen to choose whether they wanted to see scenes of the bustling nightlife or daytime sightseeing.
When designing ads for mobile, you should consider that it's an interactive medium, unlike TV. Allowing your audience to engage can be a powerful marketing tool.
2. Snapchat Ad & Filter: Lucky Charms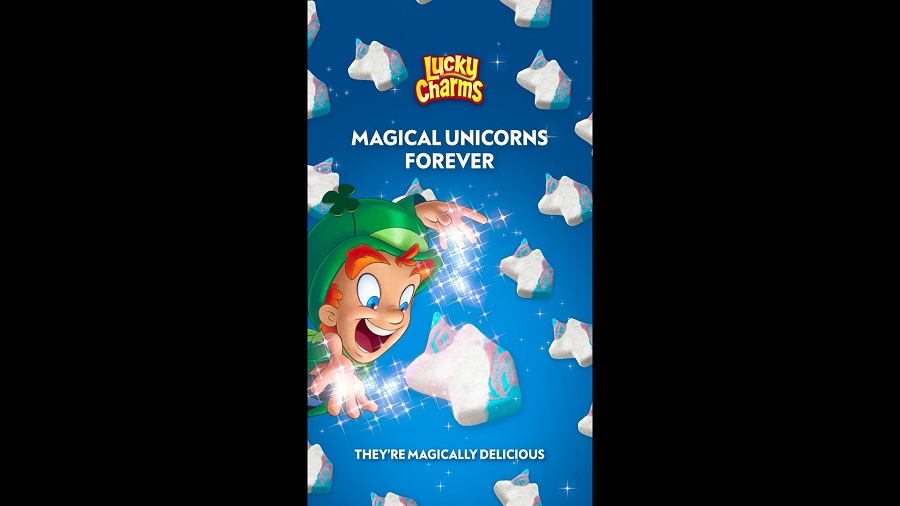 For St. Patrick's Day, Lucky Charms wanted to do something special. The company decided to partner with Snapchat and design an interactive, gamified filter, to promote their new magical unicorns cereal.
The campaign resulted in over 12 million Snapchat users using the filter, giving Lucky Charms a massive earned reach on the platform, and excellent branding lift.
Over the course of the campaign, the company saw a sales lift of 3.4%, with over half being new or lapsed customers.
3. Instagram Stories Carousel: Hugo Boss
Hugo Boss designed an enticing mobile campaign taking full advantage of the Stories Carousel format that's available on both Instagram and Facebook.
The first part instantly catches the attention of the user with great use of the portrait view, and rhythmic expansion and contraction of the perfume bottle outline.
The rhythm seizes the user's attention and makes them stay for the next parts of the ad, which sells the target audience further on the new scent.
Often, creating an engaging experience means creating a visual journey that draws you in, rather than trying to throw together an interactive element.
4. Facebook Collection Ad: Adidas
To launch its new Z.N.E. travel hoodie, Adidas crafted a Facebook collection ad. The ad didn't just highlight the latest product — it also showcased matching products that would appeal to the same demographic.
But instead of just a boring collection of images, it uses video to grab the attention of users, focusing on the cool new features like hidden pockets, and more.
If a user clicks the video, at any point, the experience will become full-screen, highlighting the related products with larger images, as well as increasing the size of the video player.
Mixing media, like still photos and videos, can lead to a new, deeper experience.
5. YouTube Ad: Samsung
Samsung understands that attention spans are extra short on digital channels like mobile. With that knowledge, the ad uses the setting of a classroom ringing for a break to grab everyone's attention, before transitioning into an endearing lip-sync performance of the incredibly catchy song "Yadada."
Even if you run a non-skippable YouTube ad, remember that users can still mute your ad, set their phone down, or simply look away.
You only have a few seconds to grab their attention. Never forget it.
6. YouTube Ad: Geico
Another video ad example, this time from Geico. It starts with a setting that's very relatable for most members of the Geico demographic — a minor disagreement between a couple regarding what's the most important during the holidays.
It then keeps the users' attention with a twist around the 5-second mark, keeping the viewers on the hook.
Using elements like surprise or humor is necessary to keep users watching an ad that goes beyond a few seconds.
7. Multi-Channel Campaign: Duolingo
In 2019, Duolingo nailed April Fools day with an organic and paid campaign on Facebook, Instagram, YouTube, and Twitter — amassing over 6 million views in total.
The ad takes the concept of push notifications to the next level, with a fake premium feature called the "Duolingo Push," where the Duolingo mascot, Duo, will show up, in person, to motivate language learners to keep their streak going.
They even set up a dedicated mobile-friendly landing page, taking the joke to the next level.
You don't need a massive video production or advertisement budget to create a successful social media campaign.
If you get creative and use the right touch of humor to tackle different holidays or recent events, your company can win a lot of extra "free" reach as people will have a reason to share your advertisement organically.
8. Facebook Story Ad: Waking Up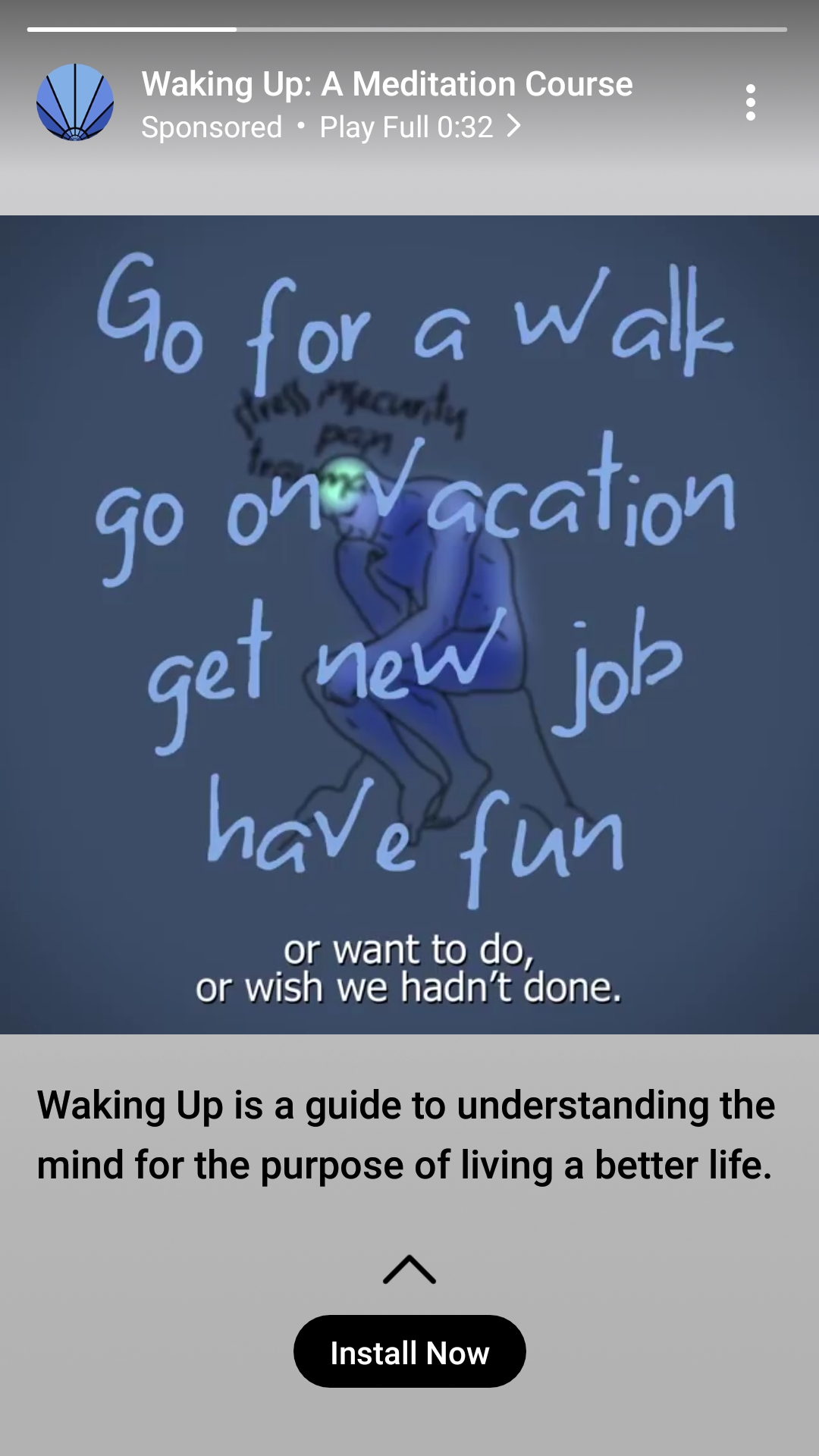 Waking Up, a meditation and mindfulness course and mobile app, does a great job with this simple Facebook story ad.
Instead of trying to grab the attention of the user with bright colors or sharp edges, the visual matches the mellow tone of the audio, setting the stage for the user to enter a more somber mood.
If a specific emotional state makes it easier for customers to relate to your product or service, that's what you should aim to initiate when you design an ad.
9. Web Display Ad: HBO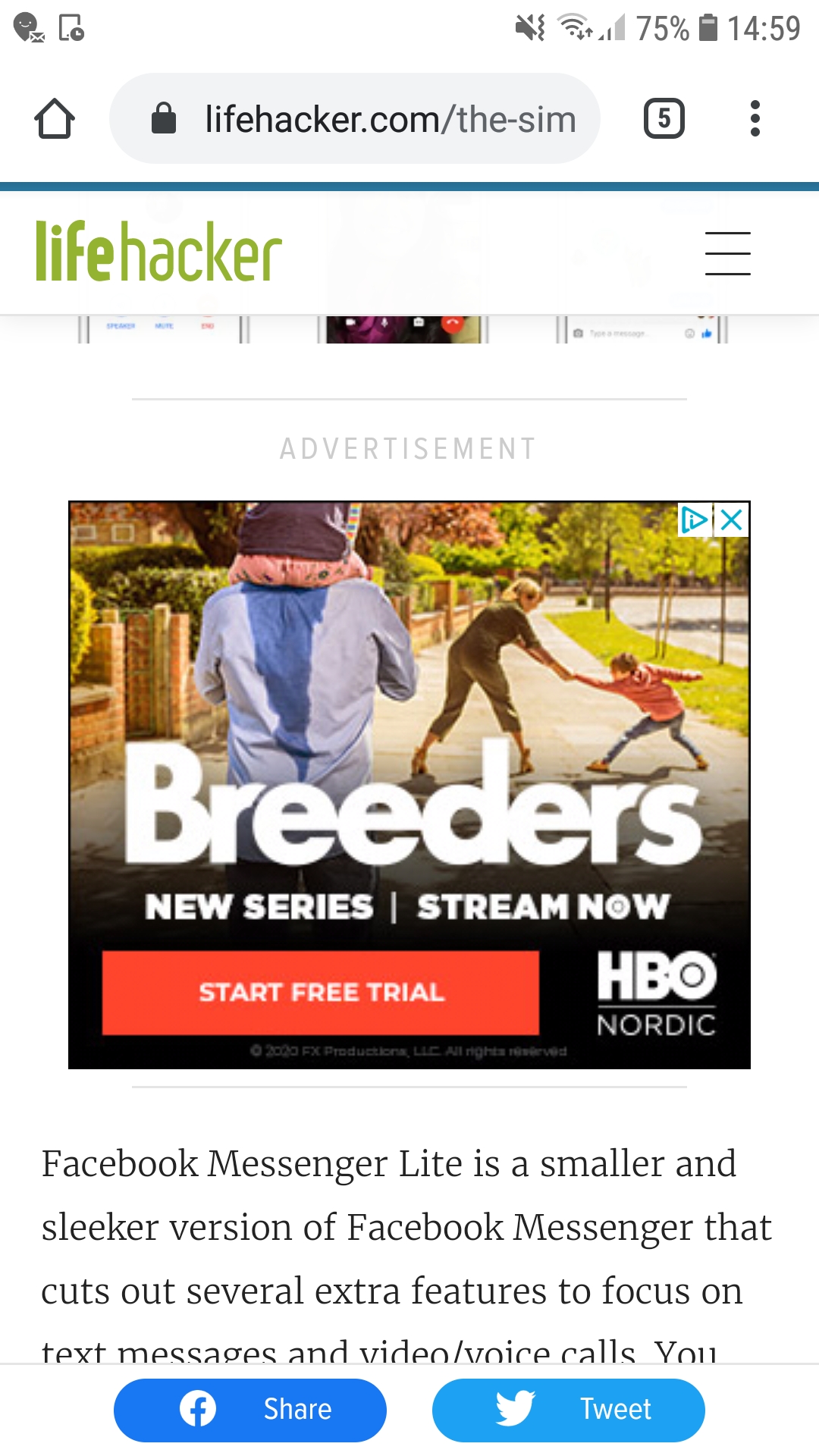 HBO's banner ad for their new series "Breeders" is a perfect example of an effective banner ad.
An attention-grabbing graphic
Short and to the point copy that's easily readable on mobile
A bold CTA
Clear logo and branding to increase awareness
Not to mention, this is part of a multi-channel campaign across YouTube, websites, and social media.
If you want to maximize the ROI of your campaign, you need to follow suit. Don't just run search ads, social media ads, and video ads separately. Use pixels and tags to create custom audiences and target the same people across channels to create a cohesive journey.
10. Facebook Ad: Kinsta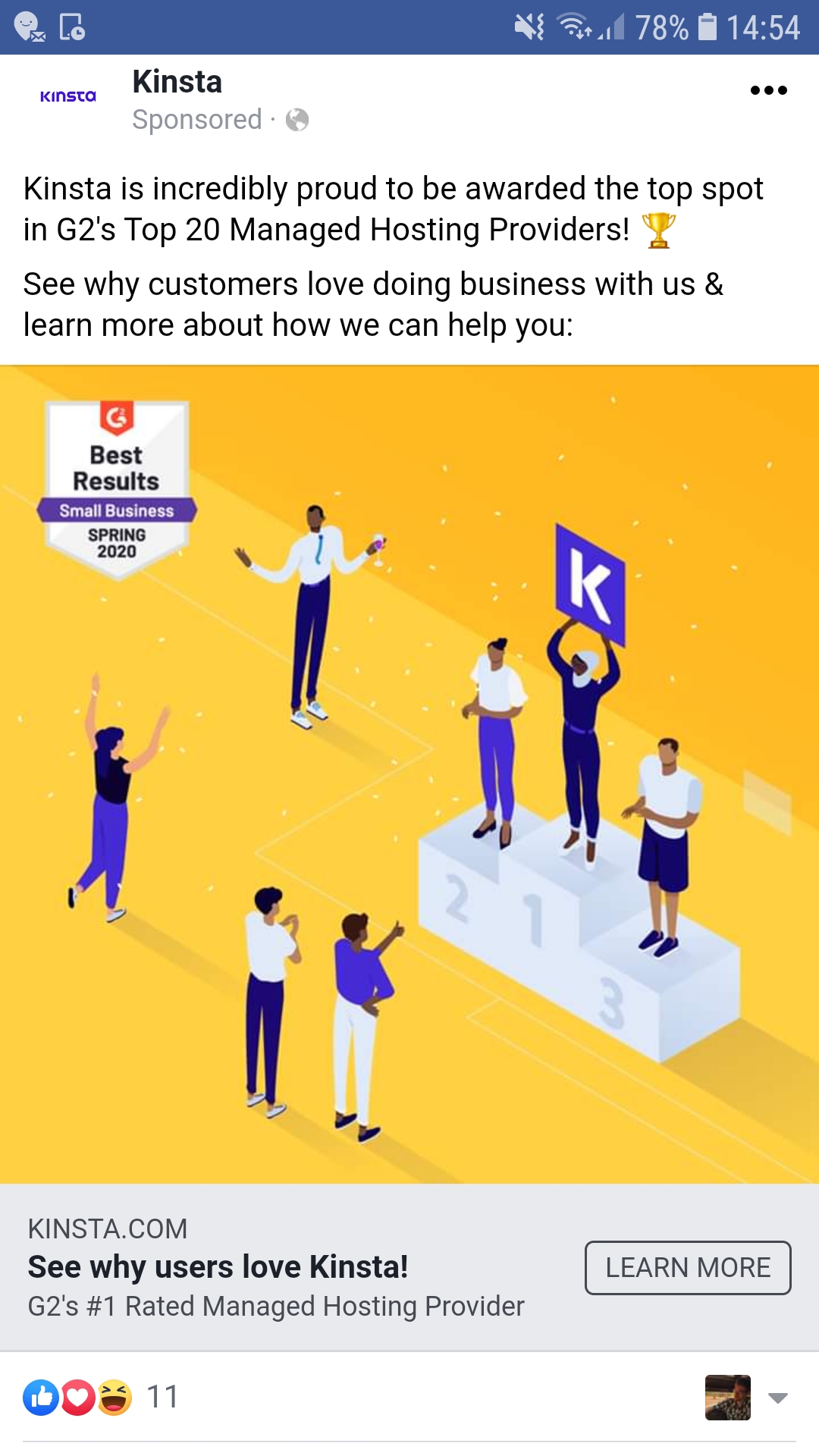 This standard timeline ad from Kinsta is a great example of middle-of-the-funnel marketing.
First, it uses an engaging graphic that follows their creative brand guidelines and perfectly complements the ad copy to capture the attention of FB users.
Then, it drives home the social proof of winning an award in the headline, subheadline, and copy itself.
Sharing awards, real customer stories, case studies, and testimonials can be a great way to win the trust of potential customers who are still on the fence.
11. Twitter Ad
This Twitter ad from Progressive does three things exceptionally well.
First, it positions Progressive as an honest brand, happy to tell you when their competitors are cheaper.
Second, it grabs the attention with a creative graphic, and human faces showing lots of emotion.
Third, the ad matches the "culture" of the platform — by not taking itself too seriously as a brand, and using humor and honesty, creating the perfect mix for a successful Twitter campaign.
When marketers talk about native advertising, this is what they mean. The ad isn't just asking for a buy, it's actually entertaining the user and providing useful information as a regular tweet would.
Final Thoughts
Most people spend more time on their smartphones than they do watching TV or using their computer.
So naturally, if you want to succeed in the modern marketing landscape, you need to find a way to reach and connect with your target market through mobile channels.
By creating natural, native ads for each platform, and using visuals, humor, and music to grab and hold attention, you can reach a new market without having to invest a lot of money.
But still, with many different platforms to choose from, and hundreds of ad formats, the world of mobile advertising can be hard to navigate without a guide.
If you need more information on any platform or format, you can search our academy at any time. We have hundreds of up-to-date guides and articles on Facebook Ads, Instagram Ads, Google Ads, YouTube Ads, and more.