In this article, we're going to discuss what social media analytics tools really are, why you need them, and which solutions are the best on the market.
Social media marketing is a great way to build an audience, drive traffic, and generate leads for your brand. However, if you don't have the data to inform your strategy, you're just winging it.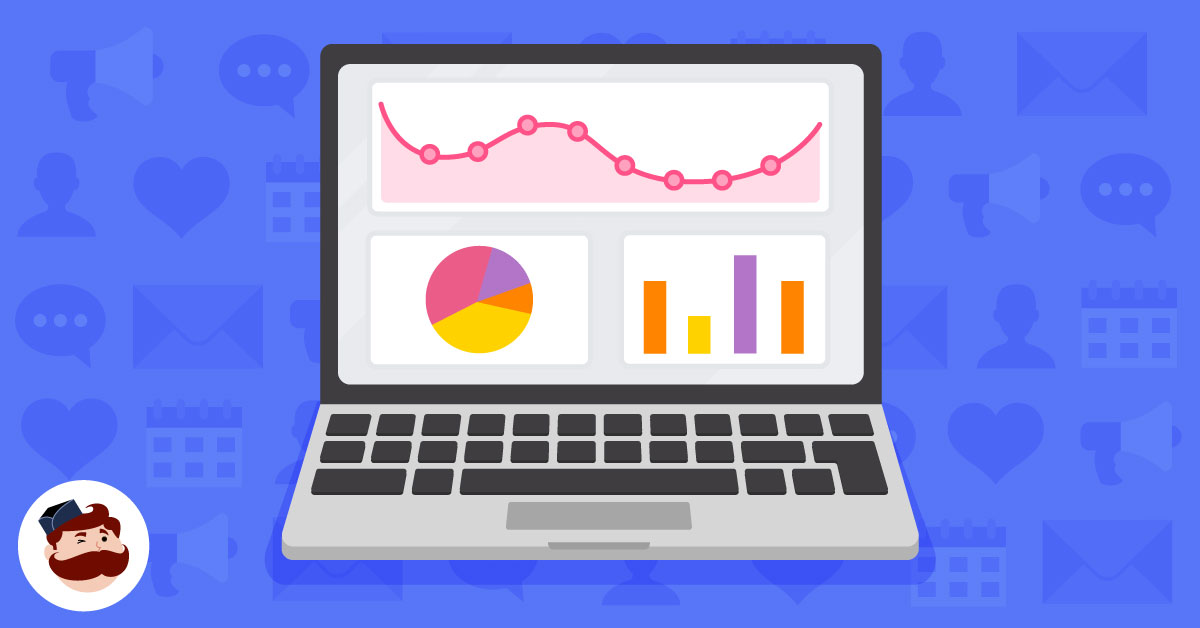 Social media analytics help you identify what you're doing right and what you're doing wrong in an effort to reach your target audience. But gathering that data manually can be incredibly time-consuming. Thankfully, there are many tools that provide insights and reports on almost every social media metric available.
Let's dive in.
What are social media analytics tools?
A social media analytics tool is software that is designed to collect and analyze performance data from all relevant social media channels. These tools help marketers and brands monitor, analyze, and improve the outcomes of their social media marketing efforts. This way, they'll know what's working and what isn't in their social media campaigns.
Social media analytics tools usually have visual dashboards and reports that help users make sense of the ocean of data they pull. Some even allow users to pick specific metrics and KPIs to track, instead of tracking everything under the sun and making the dashboard convoluted.
Most social media networks have their own built-in analytics, but social media analytics tools help you break down the data from multiple social channels in a single dashboard. This means you don't have to hop around from platform to platform to analyze your data.
Why you need social media analytics tools
Analytics tools for social media help you collect and analyze data from social media networks. When you understand how your social channels are performing, you'll be able to make the right changes to your social media marketing strategy.
But let's break down three major reasons why you need social media analytics tools.
Understand your audience. Some social media analytics tools have features that monitor your target audience and track the online conversations they're having about your brand, product, or service. This data will help you understand who your audience is, what they need, what they think about your business, the kinds of content they want to see, and the times they come online.
Increase brand awareness. Social media analytics tools can track metrics associated with the popularity of a brand on social media. These metrics include reach, engagement (likes, comments, shares), volume of brand mentions, and clickthrough rates.
Competitor analysis. In addition to understanding your own performance, social media analytics tools can help you track your competitors' performances across major social networks too. This way, you can see your competitors' online activity, marketing campaigns, brand reputation, and more. Then, you can use this data to make your strategy better.
10 best social media analytics tools
Who is this for: Businesses of all sizes across all industries.
Hootsuite is a social media management and analytics tool that helps you plan your content, increase your reach, and drive business results through social media marketing. With Hootsuite, you can schedule posts in advance, engage with your audience, and track your performance across all major social media platforms.
One of the best features of Hootsuite is its intuitive dashboard. Hootsuite integrates seamlessly with all social platforms, including Instagram, Facebook, Twitter, LinkedIn, TikTok, Pinterest, and YouTube. So no matter how many platforms you use for social media marketing, you don't have to visit each platform to view your analytics. You can view them right there in the dashboard in real-time.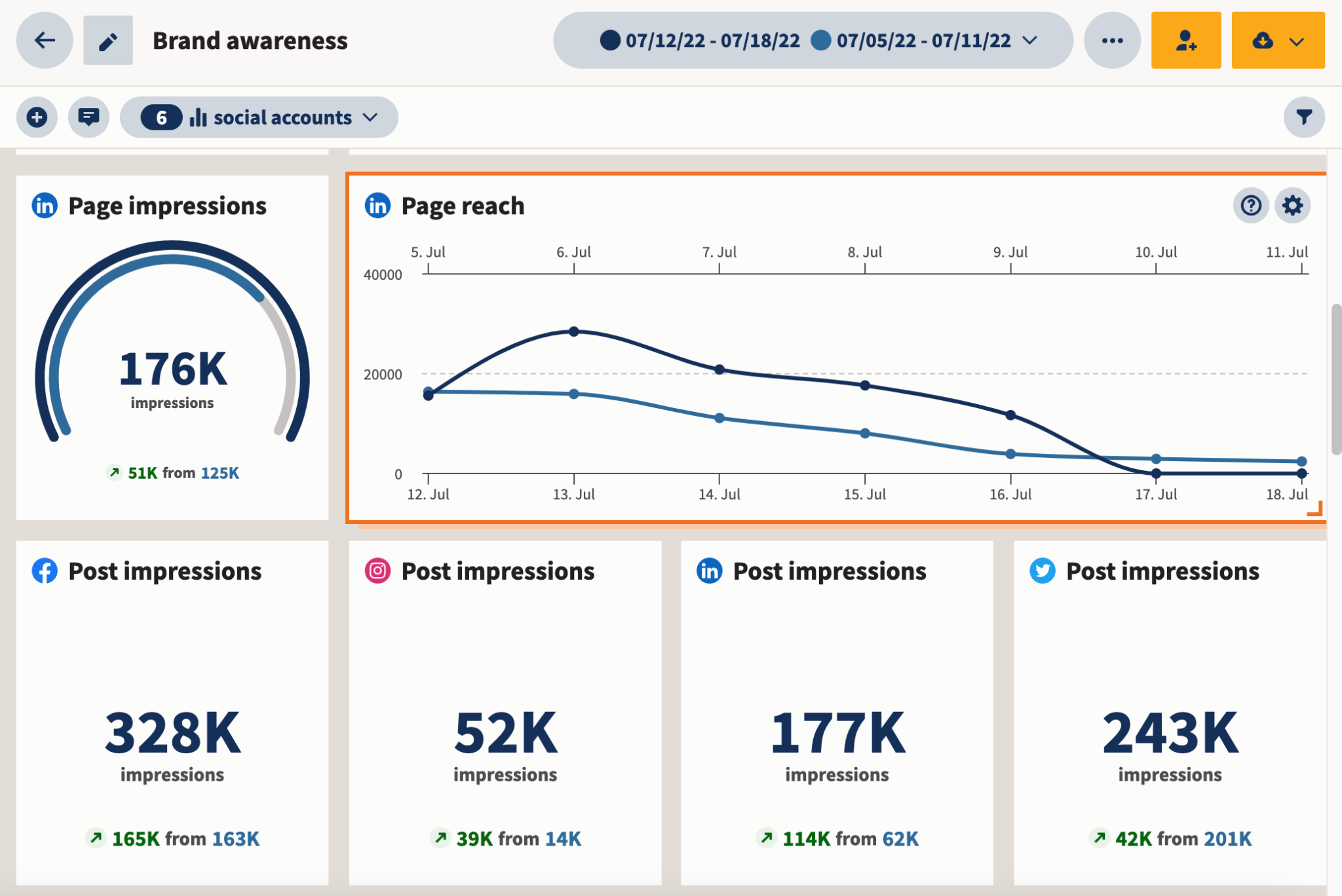 As you measure your performance in Hootsuite, you can create comprehensive reports to show your clients, boss, team, and/or stakeholders how your social media efforts contribute to the growth of the company. You can customize your reports by choosing from 200+ metrics, and export them in PowerPoint, PDF, or Excel formats.
The metrics you can track with Hootsuite Analytics include:
Clicks
Comments
Reach
Engagement rate
Impressions
Shares
Saves
Video views
Video reach
Follower growth over time
Negative feedback rate
Profile visits
Reactions
Overall engagement rate
Hootsuite Analytics also features personalized recommendations for the best times to post on Instagram, Facebook, Twitter, and LinkedIn. It looks at your unique historical social media data and recommends the most optimal times to post based on three different goals:
Engagement
Impressions
Link clicks

What else is good? Hootsuite integrates with social listening tools like Brandwatch and Talkwalker, so you can monitor brand mentions, determine brand sentiment, and spy on your competitors. This way, you'll be able to gauge your brand's reputation and spot opportunities to grow in your industry.
Pricing: Free forever plan. Paid plans start at $49/month (Professional), $129/month (Team), $739/month (Business), and custom pricing for Enterprises. Learn more about Hootsuite pricing.
Who is it for: Enterprise-level brands
Keyhole is a tool that helps you monitor your campaigns, brand mentions, and industry-related online conversations. On Keyhole's dashboard, you can track hashtags, accounts, and keywords. You'll also find information about your impressions, reach, top social media posts, share of voice, and more for your brand and your competitors.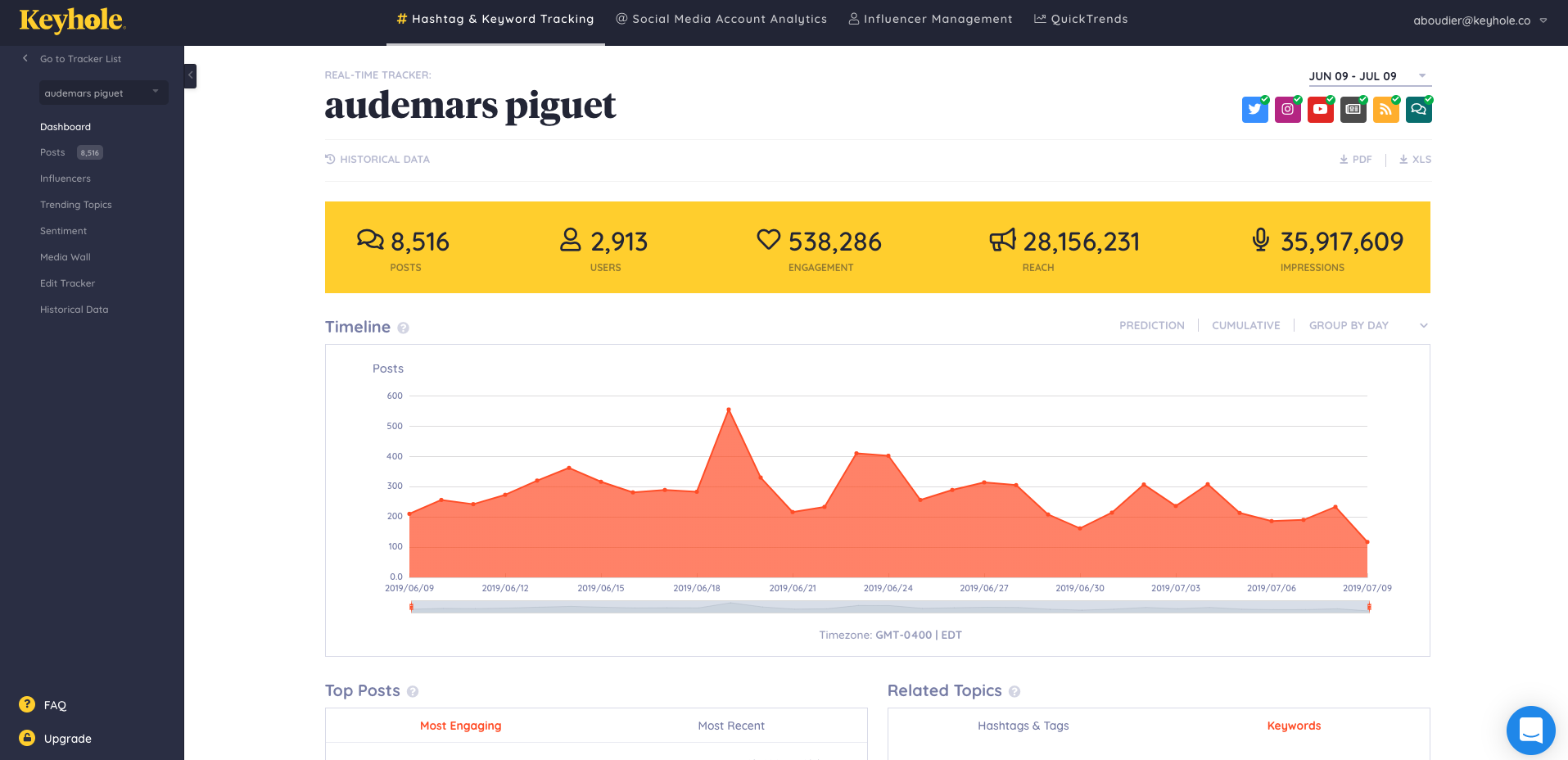 You can also use this tool to identify influencers with the highest number of followers and engagement rates, to help guide your influencer marketing strategy.
Pricing: Custom pricing
Who is it for: Agencies, media companies, and brands of all sizes
Quintly is a robust social media analytics tool that monitors your engagement on all major social channels.
This tool offers over 350 metrics to help you set up and measure your social media goals successfully. You can deploy pre-made or customizable dashboards to track these metrics and get reports on your performance. You can export this data in various formats, including PDF, CSV, PPTX, and XLSX.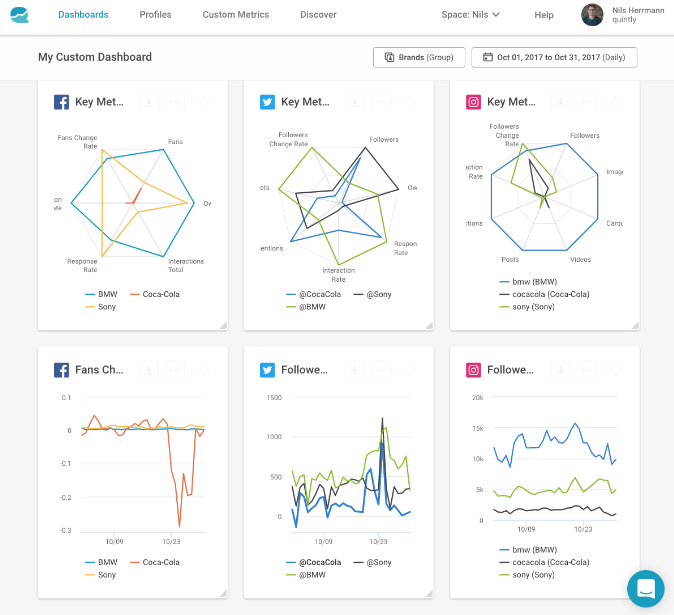 When you add multiple accounts on Quintly that belong to either you or your competitors, you'll be able to benchmark these channels against each other and discover what works (and what doesn't). This can help you tweak your social media strategy to become more effective.
Pricing: Cost of using Quintly depends on how many profiles you want to analyze and how many people will use the platform
Who is it for: Agencies, consultants, and brands of all sizes
Cyfe is a business dashboard that helps you monitor all aspects of business growth marketing. This means that, in addition to social media, Cyfe also tracks web analytics, SEO, sales, advertising, and email, amongst other things.
Cyfe pulls data from a myriad of popular services using a pre-built widget. These services include major social media networks, email marketing platforms, content management systems, financial sites, and many others.
On the social media dashboard, Cyfe allows you to track how your brand or clients are doing across social media in real-time, and measure the ROI of your social efforts.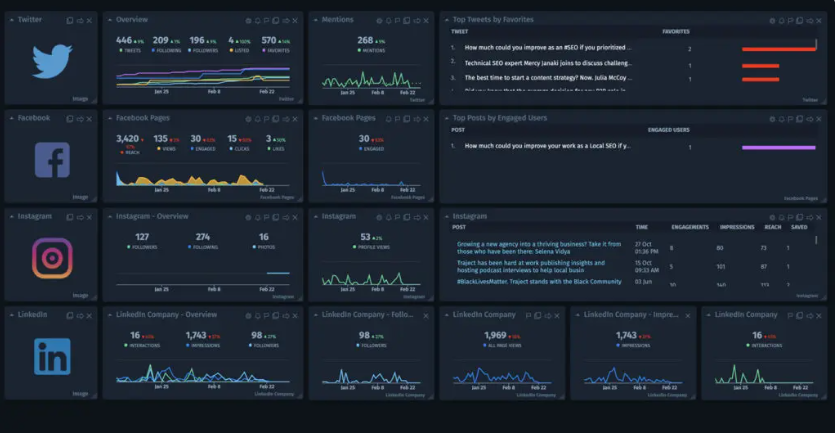 With its Twitter search widget, Cyfe allows you to monitor your brand mentions and competitors' social media activity.
Pricing: 14-day free trial. Startup plan ($19/month), Standard plan ($29/month), Pro ($49/month), and Premier ($89/month)
Who's it for: B2B companies, marketing agencies, and PR firms
Influencer marketing is one of the most effective ways to reach new audiences. But before you work with an influencer, you'll want to get an idea of just how much they can help expand your business.
That's what TapInfluence helps you do.
TapInfluence is a platform that helps you find the right influencers to work with. It gives you data like the followers, reach, engagement rate, and potential cost of working with certain influencers. This tool outlines all the necessary metrics concerning each social media influencer so that you can determine if it makes sense to reach out to them or not.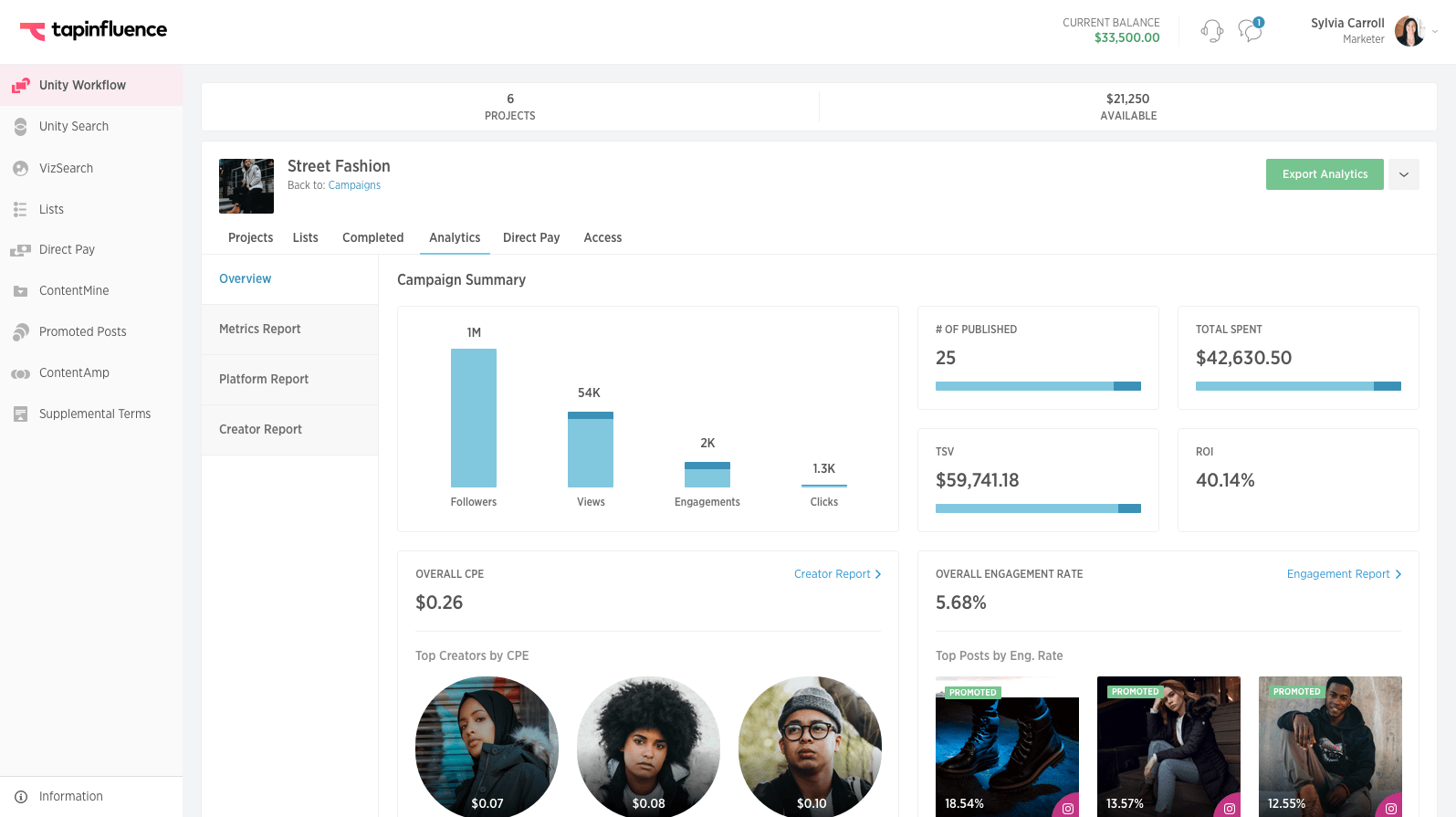 When you do start working with an influencer, you can use TapInfluence to track metrics like click-through rates, campaign performance, and project performance to see if your influencer marketing efforts are yielding positive results. You can export this data to further analyze it.
Pricing: Custom pricing
Who's it for: Digital marketers
RivalIQ is a social media management tool that focuses mainly on competitive analysis, social media audits, social media reporting, and influencer tracking.
This tool gathers insights on your competitors—their top posts, worst-performing posts, hashtags, and tagged posts, amongst other things. It analyzes these insights to show you what is working for your competitors and what isn't. In fact, RivalIQ will send you alerts when your competitors post high-performing content, so you can get relevant content ideas.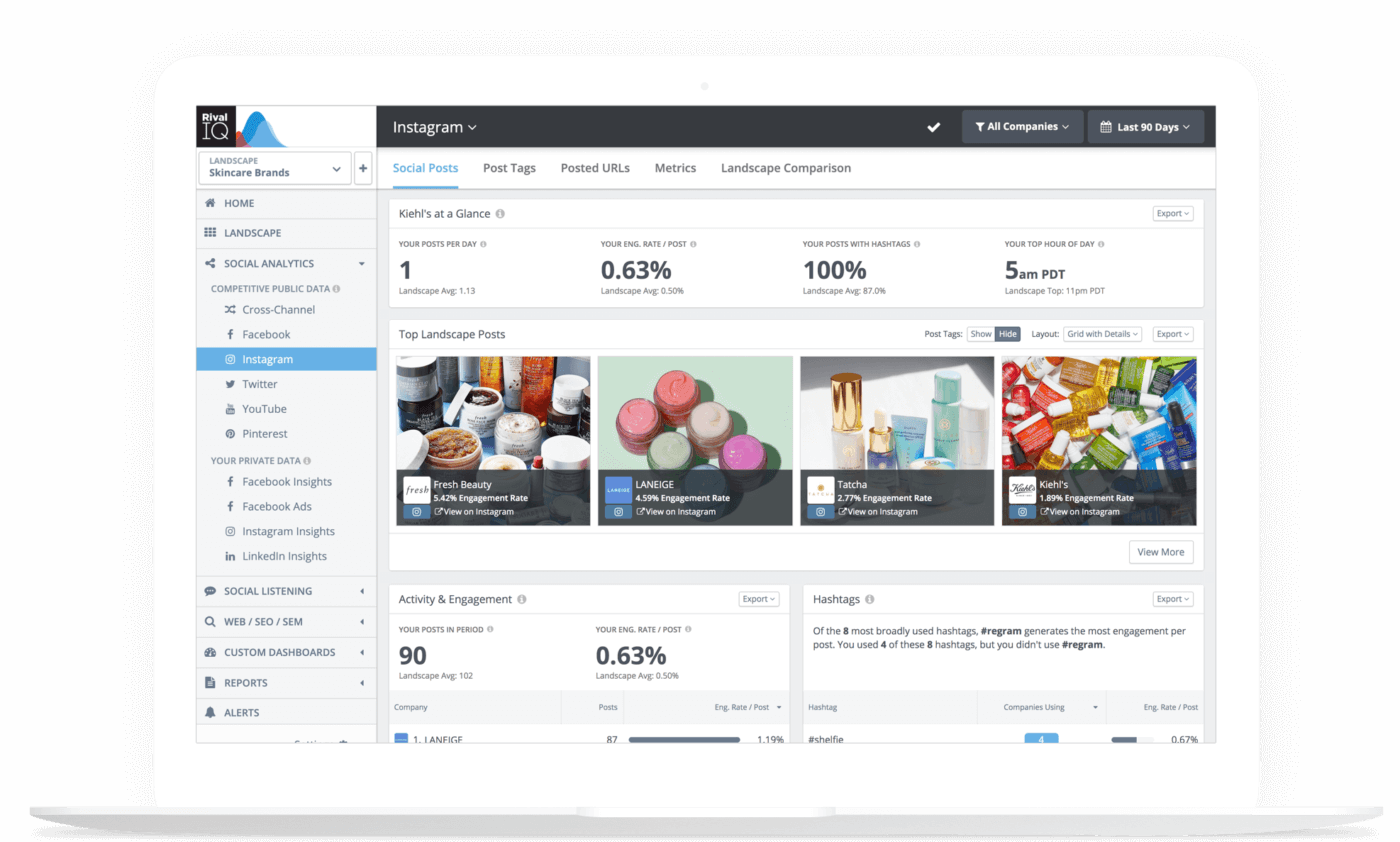 RivalIQ even goes as far as analyzing your competitors' Facebook and Instagram ads, and features historical data going back as far as 24 months. This way, you'll get an idea of your competitors' marketing strategies and learn from their tactics.
Pricing: 14-day free trial. Drive plan ($199/month), Engage plan ($279/month), Engage Pro plan ($439/month) – Billed annually
Who's it for: Content marketers, SEO, PR, PPC, and social media professionals
BuzzSumo isn't really a social media management tool, but it does analyze the social engagement of a piece of content. So if you see how many likes and shares your latest article (or your competitors' articles) got on Facebook or Twitter, BuzzSumo is where you go. This way, you'll be able to see which posts receive the most engagement and use that data to inform your content strategy.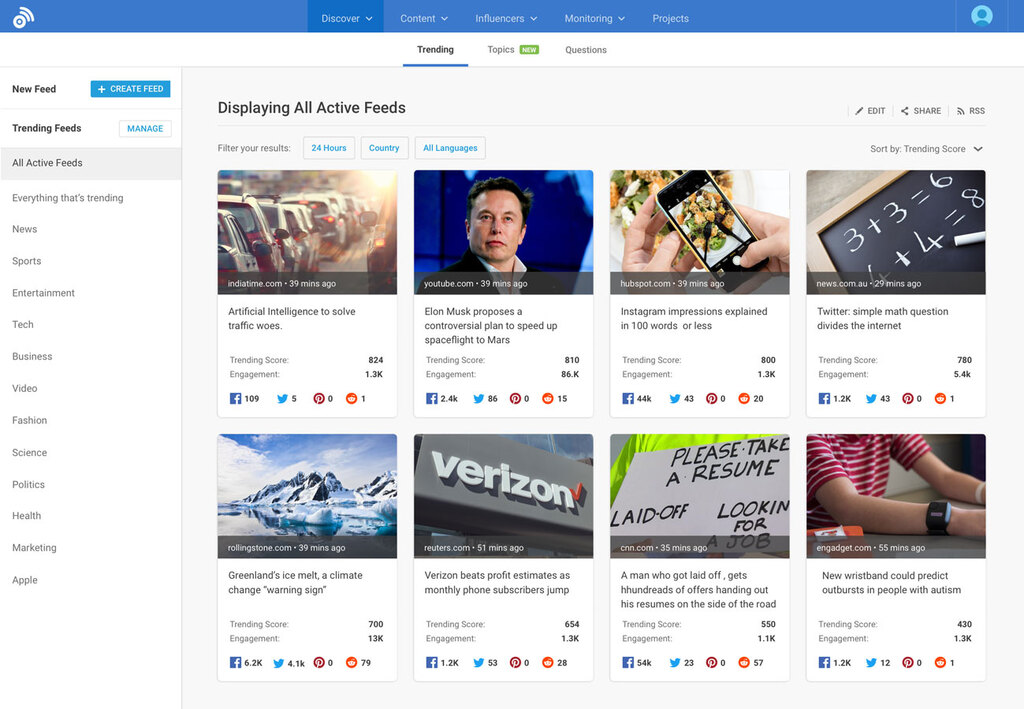 Apart from showing social engagement data, BuzzSumo can also monitor the performance of content that is ranking for relevant keywords. This allows you to see how your content marketing campaign is holding up against the competition.
Pricing: Free forever plan. 30-day free trial on paid plans. Pro plan ($79/month), Plus plan ($139/month), and Large plan ($239/month) – Billed annually
Who's it for: Agencies, researchers, and marketers
As you may have guessed, Audiense helps you learn more about your audience. With this tool, you'll be able to identify relevant audiences (including social media audiences), discover actionable insights, and develop strategies to scale your business.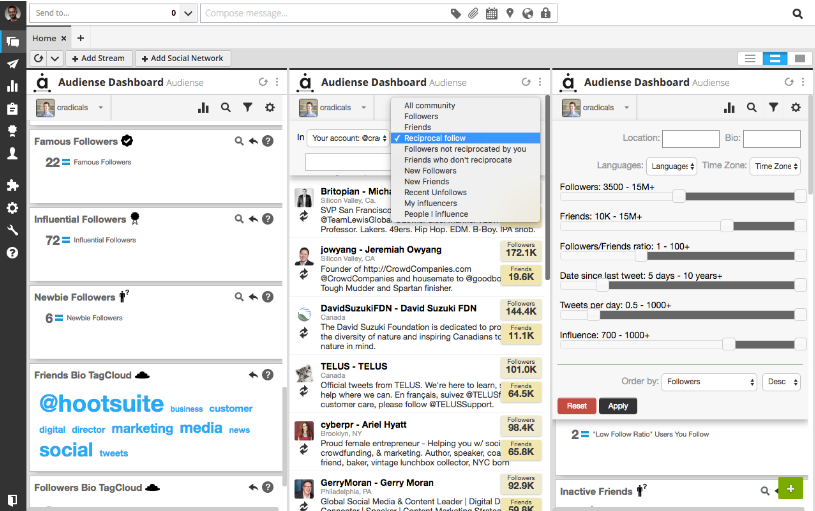 No matter how specific or unique your social media audience is, Audiense will visually break down the location, interests, languages, influence, etc. of your audience. You can create and export a report of this data. In your report, you'll have access to filter options to ensure that you analyze the segment of your audience that matters most to you. Then you can compare those segments with other audiences, and create benchmarks with other segments or your competitors' audiences.
Pricing: Free forever plan. Paid plans – Twitter Marketing ($39/month) and Audiense Insights ($696/month) – Billed annually
Who's it for: Twitter marketers, small businesses
Followerwonk is an analytics tool that works only for Twitter. With this tool, you can analyze your Twitter followers by who they follow, their location, and their bio. You can also compare people's accounts, gather data on Twitter influencers, and compare your brand's connections with your competitors' connections to spot opportunities to increase your reach.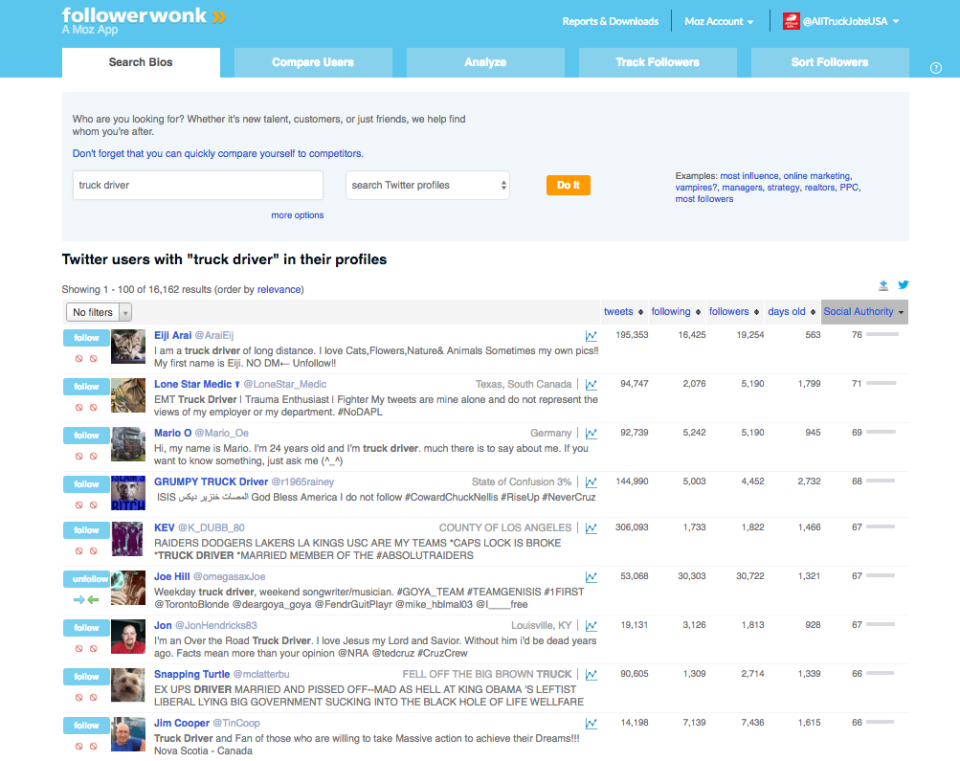 When you enter a Twitter username (either yours or your competitors) in Followerwonk, you'll get stats on how many followers, social authority, and the total tweets that account has. You'll also see when the account owner typically posts and when their followers are usually online.
Pricing: Free forever plan. Paid plans – Target plan ($23/month) and Multitask plan ($63/month) – Billed annually
Who's it for: Content marketers, BI professionals, social media marketers, and online businesses
If you run a website, you've probably heard of Google Analytics. And chances are, you never thought of this robust tool as a social media management tool. But, in a way, it is.
Google Analytics shows you data about your website. Part of this data includes how people arrive at your site–search, email, referral platforms, and, you guessed it, social media.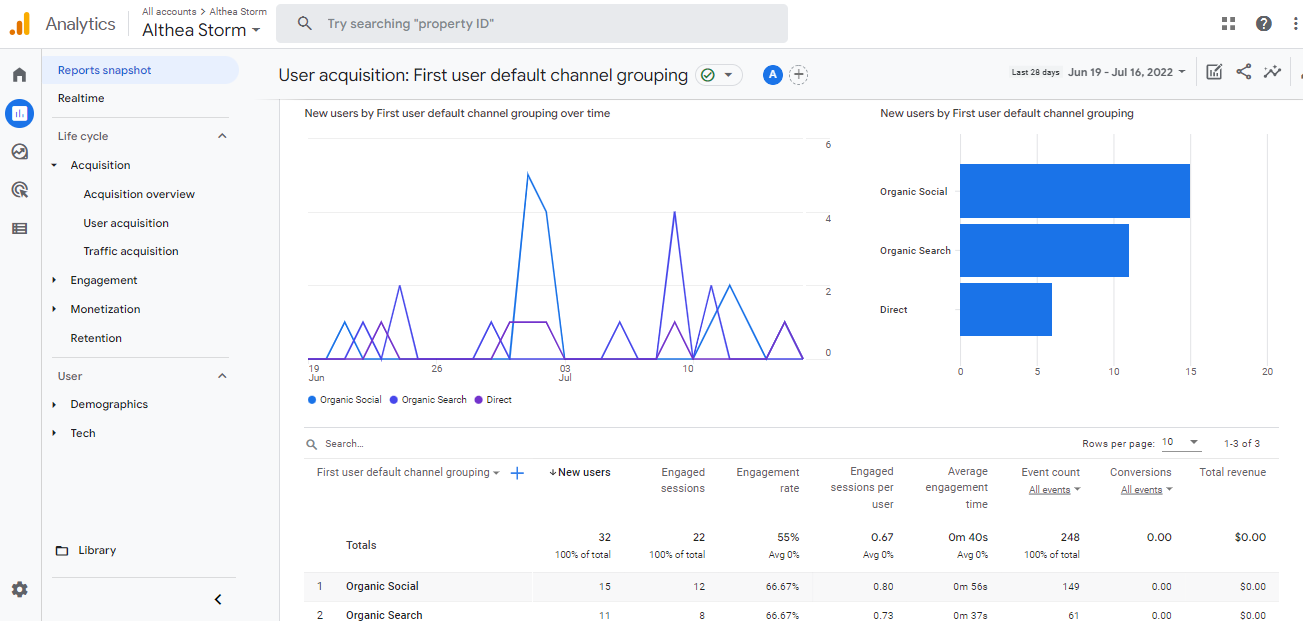 With Google Analytics, you can:
analyze the impact of social media as a source of traffic and a marketing channel
See how users from social media navigate through your website
find social media communities where people are engaging with your content
You can tie this data back to your social media objectives using goals and conversions.
Pricing: Free
Choose the best social media analytics tool for your business
Social media marketers need their data. Data is the difference between running marketing campaigns that generate positive ROI versus flying blind with your marketing efforts.
Social media analytics help you gather a wealth of information that can assist you in improving your marketing strategy. And there are many tools that make gathering this data easier. The key is to find one that is right for your needs and gives you the necessary reports for your business.
If you're a big company, Keyhole or Quintly are great choices. If you mostly use Twitter, then Followerwonk is your guy. Options like Audiense, BuzzSumo, and Google Analytics are great for content marketers. If influencer marketing is a huge part of your growth strategy, TapInfluence will work well for you.
But if you are a fast-growing brand and you're looking for a social media analytics tool that can accommodate all your needs as you grow, Hootsuite is the one for you.