So, you've found the right audience for your Facebook ads, you've split tested the ad text, image format, and even the call to action button to reduce your costs! But what about your Landing Page Optimization?
If you're running a lead generation campaign, testing the landing page that you're sending the traffic to can make or break your success!
Often Facebook marketers obsess over every aspect of the ad campaign that they can control, but then don't pay any attention to where that traffic goes.
So, in this experiment, we wanted to put $1,000 of ad spend behind a campaign to see how the conversion rate and cost per lead are affected by A/B testing different landing pages.
Experiment Setup: The Landing Page
We use HubSpot as our marketing hub, and this includes the option to build landing pages to capture leads.
Within HubSpot, there's a feature to A/B test landing pages and then split the traffic evenly between the two versions, and we used this to create two lead capture forms.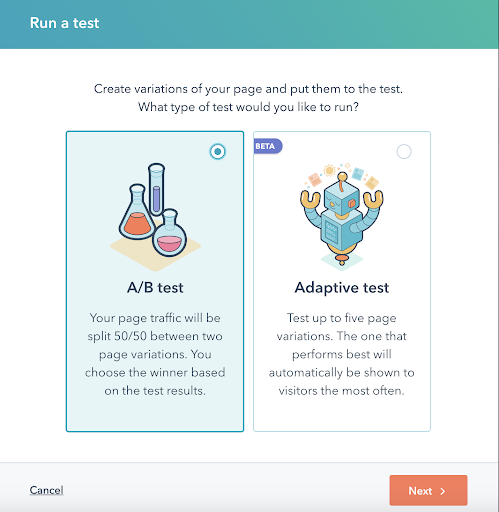 The goal was to get signups for our Mastering Facebook's Campaign Budget Optimization webinar and two versions of the form on the landing page were created.
The first asked for four pieces of information when signing up for the webinar:
First name
Last name
Email address
Country
A second,
more detailed
form (with 8 fields to fill)
was then created as a
variant to test.
This form asked for:
First name
Last name
Email address
Business type
Company size
Google advertising budget
Facebook advertising budget
Country
In summary, we were testing Version A which contained 4 fields against Version B with 8 fields.
To monitor the results, we used the HubSpot Campaigns feature to build a tracking URL so that we could look at the conversion rate for each variant from the Facebook ad campaign.
Experiment Setup: The Facebook Campaign
The goal of the Facebook campaign was to promote our upcoming webinar by using a standard image ad to send traffic to the landing page: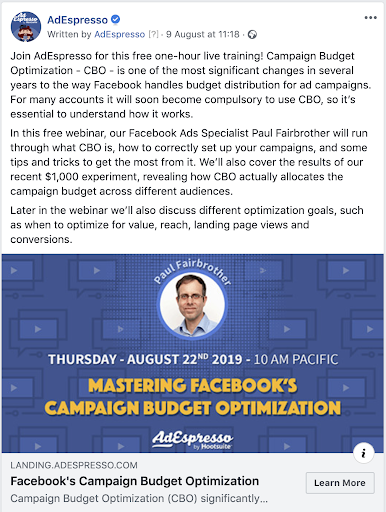 We created a campaign optimized for conversions and used a 1% lookalike audience in the US, which was created from a seed audience of previous webinar registrations.
For the ad placement, impressions were served on Facebook's mobile newsfeed. Previously these options have performed well, allowing us to maximize the number of leads and therefore giving us more data to work with.

$200 daily budget for 5 days, $1,000 in total
Facebook mobile newsfeed
US audience aged 21-64, using a 1% lookalike based on previous webinar registrations with an approximate audience size of 2.1 million people. Current webinar registrations in the last 180 days were excluded.
Lowest cost, no cap
Experiment Hypothesis
Our prediction was that more fields to fill in would reduce the conversion rate and increase the resulting cost per lead.
This is based on data aggregated from over 30,000 lead campaigns: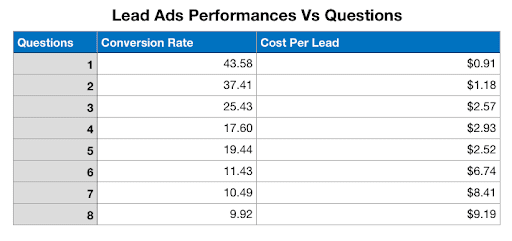 According to the above chart, increasing the number of questions from 4 to 8 should increase the cost per lead by more than three times. However, it could also depend on how much personal information is being asked for in the form.
We avoided asking for details such as phone number, ZIP code or date of birth and instead asked for company information, so we predict the extra fields won't increase the cost per lead as much as it would in B2C (business to consumer) campaigns where extra personal information is being obtained.
Finally, we wanted to eliminate any variables from the Facebook campaign, so we just ran the one campaign containing one ad, and let HubSpot divide the traffic evenly.
If we ran a separate Facebook campaign for each landing page version, these could produce slightly different traffic costs and quality of clicks, so we eliminated this by using just the one ad.
Experiment Results
These are the results for Version A, the short form with 4 fields:

And these are the results for Version B, the longer form with 8 fields:

In total there were 198 conversions from the $1,000 ad spend, with an average cost per click of $2.99 and CPA of $5.05.
Let's split the results between the two forms:
Version A: 4 required fields:
CPA = $4.76 and the conversion rate from landing page view to submission was 62.8%
Version B: 8 required fields:
CPA = $5.38 and the conversion rate from landing page view to submission was 55.6%
Version A had a 12% lower CPA than Version B
The statistical analysis gave a 91% confidence rate in the results.
Ideally, we would aim for a confidence rate of over 95% (i.e. there is less than 5% chance of the results being due to random variation) but 91% is close.
Pro Tip: Always run your own tests for as long as you can to reach or get close to statistical significance.
Experiment Conclusions
The 12% reduction in CPA observed by testing the landing page is in a similar range to the 13% CPA difference observed when testing images v lookalikes, the 16-25% difference for interest expansion and 10% reduction when optimizing the image format.
Although we have seen larger changes in CPA such as when testing different lengths of ad texts, overall it demonstrates that A/B testing the landing page is as important as running split tests on the Facebook ads and the campaign audiences.
Naturally lead quality is as important as lead quantity, so it's worth tagging the leads from each form and following them through your sales process to check the conversion rate from a lead to a sale.
It's likely that the best quality leads are from those willing to hand over more information, so there are times when paying more for a lead is worthwhile.
Also, if you want to call the leads or send them details through the post, more information will have to be captured on the lead form.
So, it's important to look at the entire sales funnel and reduce the cost per lead where possible, but be careful not to sacrifice lead quality by just focusing on lead quantity.
Be careful not to ask for too much personal information, unless it's lower in the sales funnel when you've already built up trust.
Asking for a telephone number, address or date of birth is a big ask from cold traffic, so pay attention to what questions the form asks, not just how many questions there are.
Finally, with a majority (93%) of Facebook ads traffic coming from mobile, test the landing page on a range of devices and ensure the forms are easy to complete.
For instance, a checkbox or dropdown menu could provide an easier user experience than having to type in information on small screens.
Now it's your turn. Have you tested your landing pages? How much difference do you see when optimizing your pages? What lead capture method works best for you? Let us know in the comments below.