With about 1 billion monthly active users, Instagram is an excellent platform to engage with your audience and tell them more about your business. And it's not just because of the sheer size of the platform's userbase — people engage with brands on Instagram 10x more than they do on Facebook.
A fun and effective way for brands and marketers to expand their reach and tap into new engaged audiences is through Instagram sponsored posts.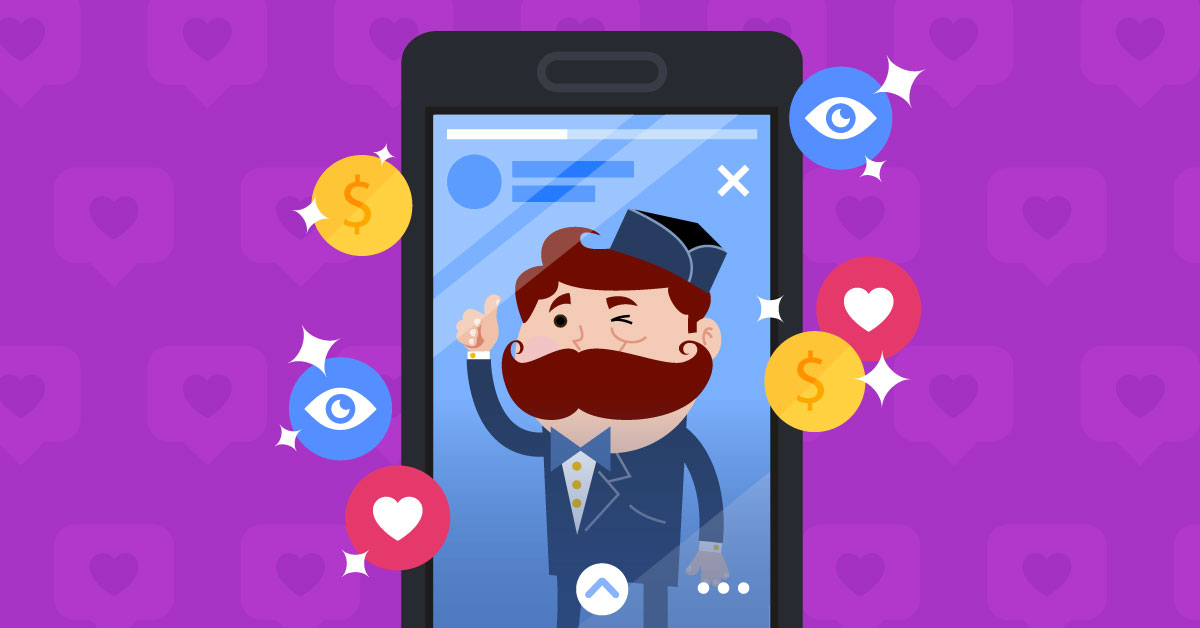 In this article, we discuss what Instagram sponsored posts are, how to get paid sponsorship opportunities, how much Instagram sponsored posts cost — and more! Let's get to it.
What is an Instagram sponsored post?
An Instagram sponsored post is a type of ad. The person (or business) posting a sponsored post puts a budget behind it to reach a wider audience.
There are two different kinds of sponsored posts: those that brands pay Instagram for (a.k.a. promoted posts), and those that brands pay influencers for (paid sponsorships).
Promoted posts, boosted posts, and Instagram advertising: Just like the other major social media platforms (Facebook, Twitter, LinkedIn, etc.), Instagram has a native ad management tool. Brands can use it to create custom target audiences based on age, gender, interests, and location and serve sponsored content to these custom audiences.
Paid sponsorships: This is when a brand pays a user to promote them via Instagram posts. Typically, this user (or influencer) has a personal brand and an engaged follower base of their own. When an influencer finds a brand in their niche that wants to sponsor them, they can charge a certain amount of money to create an organic post that features the brand's products or services. This way, the influencer exposes the brand to an audience it might not otherwise have had access to.
In this post, we're focusing on paid sponsorships—the kind where a brand pays an influencer to promote their products and services.
As influencer marketing became an established, valuable area of digital marketing in the last few years, influencers were not being transparent about their partnerships with brands. To reduce this, Instagram put out its branded content features, which allows influencers to tag the brands they're partnering with on the platform.
What do Instagram sponsored posts look like?
Have you come across posts like this on the Instagram app?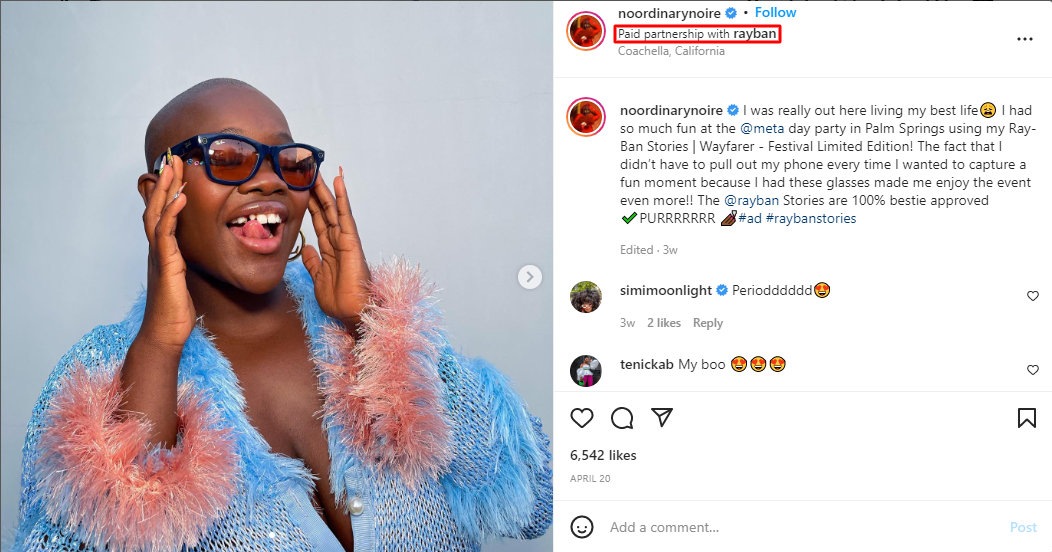 This is an Instagram sponsored post. Paid sponsorship posts like this are usually indicated with a "paid partnership with [brand name]" tag that comes immediately after the user name.
Posts like this give the brands access to the organic insights of posts that they're tagged in. They can see the date the post went live, the reach, and the engagement the post got. This data can help brands decide which partnerships bring the most return on investment (ROI).
If you are an influencer, you must disclose all your sponsored posts. Not only does it prevent Instagram from taking down your posts, it also keeps you in the good graces of the Federal Trade Commission (FTC). The FTC demands that influencers disclose sponsored posts to protect all parties involved from potential fines or liability.
The transparency that comes with disclosing paid sponsorships also fosters trust between the brand and influencer.
How to get a sponsored post on Instagram
If you want brands to sponsor your Instagram posts, here are some steps you should take:
1. Define your niche and brand
The best way to get brands to notice you is if you post content in their niche. Choosing a niche helps you figure out the kinds of content to create and the sort of audience you want your posts to reach. There are many Instagram niches you can focus on including:
Food
Fitness
Health and wellness
Beauty and fashion
Sports
Technology, etc.
Whatever niche you choose, you need to define your brand.
Personal branding refers to your overall aesthetic. What colors do you want to use for your posts? What's your brand messaging? What do you want your feed to look like?
As you try to answer these questions, bear in mind that good influencers have unique posts. Their posts are so distinguishable that an Instagram user can easily recognize the influencer's posts even when another account shares it. As that user continues to see similar content from that influencer, they'll grow to view the influencer as an expert in their field.
Pro-tip: In addition to making your Instagram feed cohesive and eye-catching, you can also create a website or online store that has the same aesthetic and messaging as your IG feed. If you choose to create a website, make sure to buy a custom domain name consistent with your brand and connect it to a CMS like HubSpot. This will help you keep your website secure and easily customize your site to match your brand.
2. Understand your audience
If you understand your audience, you'll be able to know if you're a good fit for a brand. You'll also be able to identify which brands will benefit greatly if they partner with you.
To know your audience, start by gathering data on your demographic of choice: their age, gender, geographic location, and interests. What kinds of post do they engage with most? What times of day are they online?
The information you gather will help you convince brands to partner with you. You'll be able to explain to potential sponsors the kind of audience they can reach if they work with you.
Telling brands that they'll reach an audience of middle-aged men, primarily from California, who use Instagram after work hours and prefer fitness content is more effective than simply saying: "You'll reach men.". You'll also be able to explain to them the kind of audience they'll reach if they work with you.
Explaining that a brand will be able to reach middle-aged men, primarily from California who often use Instagram after work hours and prefers fitness content is more powerful than saying, "You'll be reaching men."
3. Post consistently
The frequency at which you post content on Instagram is just as important as the quality of content you post. We found that posting once a day is a good enough frequency to grow your Instagram account. We also found that 11 am on Wednesdays is the best time to post on Instagram.
Posting every day (or every business day, at least) is important because Instagram's algorithms favor fresh content, and you want to keep yourself at the top of your audience's mind so that they won't unfollow or forget about you.
But you need to figure out what frequency and times work best for you and your audience. If your audience doesn't engage well with your posts on Wednesdays, post at a different time that they're online. It takes trials and errors, but with time, you'll eventually figure it out.
4. Use hashtags
Hashtags are a great way to make your content more discoverable. Instagram allows you to use up to 30 hashtags per post, but using that much doesn't guarantee optimal engagement.
The trick to using hashtags properly is to use hashtags that are relevant to your content. Those hashtags also need to be niche.
For instance, #interiordecor has 16,700,000 posts, while #interiordecorideas has only 50,000 posts. The more niche the hashtag is, the easier it will be for your posts to get discovered.
Pro-tip: You should also use geotags as they help brands find you if they want to reach an audience in a specific location. For instance, if a jewelry store notices that you often post fashion tops from the New York area, and they want to reach people in that region, they're more likely to work with you than with someone else who isn't in New York.
5. Tag brands in your Instagram posts
Now that you've defined your niche and brand, and you've posted some high-quality content, you're ready to start working with brands.
First, start small. If your niche is fashion, don't go straight to Vogue or Armani. Instead, try to tag all fashion brands you've seen on Instagram already. Buy their products and tag them when you post images of yourself rocking those products.
Take @its_priscy, a brand influencer, for example. She posted this image of herself wearing a wig by Cassie Hair. The image has a great resolution and fits with her brand. She also tags @cassie_hair in her description.
Even if you're not paid by the brand, tagging them will put you on their radar.
6. Include your contact info in your bio
Your Instagram bio is the best way to show brands that you want to become an influencer. Adding your website, email address, or even a press kit makes it easy for potential sponsors to contact you about partnerships.
For instance, @t0nit0ne adds her website and email to her Instagram profile. This makes it easy for brands to contact her for paid sponsorship opportunities.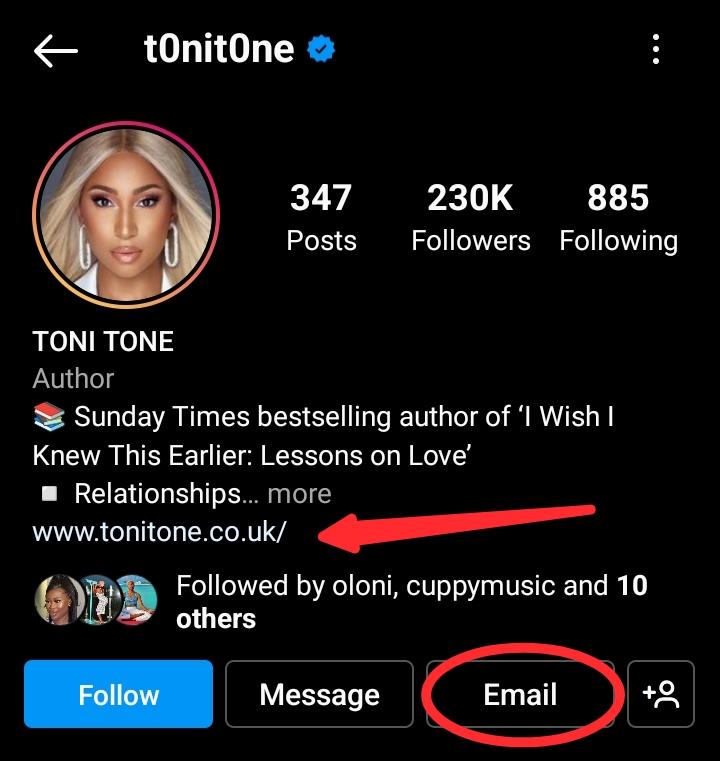 Pro-tip: If you have a website or blog, try adding a Press Page to your site so that brands can know what you offer.
Once you start working with brands, you can add them to your Press Page to showcase your experience and professionalism.
7. Pitch paid sponsorships
You can't sit around and wait for sponsorship offers to fall in your laps. You have to actively look for them. Reach out to brands and offer your services to them. If you have the right pitch, you might be able to get gigs without waiting for brands to find you first.
Before pitching brands, try to find brands that clearly spend time and money on their Instagram account. A good telltale sign of this is if they run a lot of Instagram ads. Then, research similar influencers in your industry that sponsor these brands.
Once you have your list of potential partners, send these brands a pitch. In your email, clearly tell them who you are, what you do, and your achievements as an influencer (if you have any). Then explain why you're the right influencer for that brand, and include your follower count and average engagement rate.
You can also send the brand a DM straight from Instagram, but it might get lost if the brand gets a lot of DMs every day.
Note: It's better to pitch smaller brands first before moving on to bigger ones. This gives you a better chance of getting gigs and will allow you to build a portfolio.
8. Charge what you're worth
When brands reach out to you for a partnership, know how much you'll charge them. There's an industry standard depending on how many followers you have (we'll cover that shortly), but your prices could vary depending on how much engagement you get on your posts.
You should also know how to use Instagram's many features to create a good deal. For instance, for $500, you could make six Instagram Story posts and put a link to their website in your bio for, say, a day.
Once your pricing structure is set, you'll understand exactly how to sponsor posts for brands that you're working with.
How to sponsor a post on Instagram
If you're a brand looking to work with an Instagram influencer, here's what to do.
First, you need to reach out directly to the influencer. You can email them or send them DMs to ask about paid sponsorship opportunities. Some influencers will ask for payment upfront, while others (usually smaller influencers) will accept free product samples as payment for sponsored posts.
Once you and the influencer have worked out the scope of the sponsorship and sorted out payment, you can start setting up the branded sponsorship on Instagram.
Here's how to do this:
Go to Settings and find Business.
Then, click on Brand content.
Click on Approved Business Partners to add the influencer's account as a partner.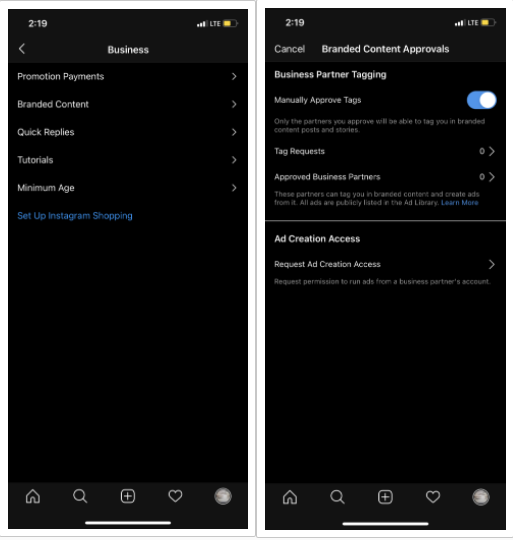 You can also approve all tags manually so that you'll be able to accept the sponsored tag before it goes live. This way, you can monitor content and make sure the influencer is posting what you need.
Once your partner tags you in their post, you'll get a notification with an option to approve. When you approve the tag, the post will show up in your Insights and you can monitor it from there.
If you want to delete a sponsored post on Instagram, you can just remove the tag from the post. Or you can choose not to approve it from the get-go.
How to create a sponsored post on Instagram
Now, let's look at things from the influencer's end.
To create a sponsored post on Instagram, you need to set up a branded sponsorship with the business. You can only make a post after the brand has added them as a partner (see steps above).
When creating the post, it's important to follow the brand's guidelines (if they gave you any). You can also run the post by the brand first (both visuals and copy) to ensure that they're okay with it.
When you want to upload a sponsored post on Instagram, start by uploading the post, Story, or Reel as you normally would. For Feed content, go to Advanced Settings and select Tag Business Partner. This enables you to tag the brand so that they can approve the post before it goes live.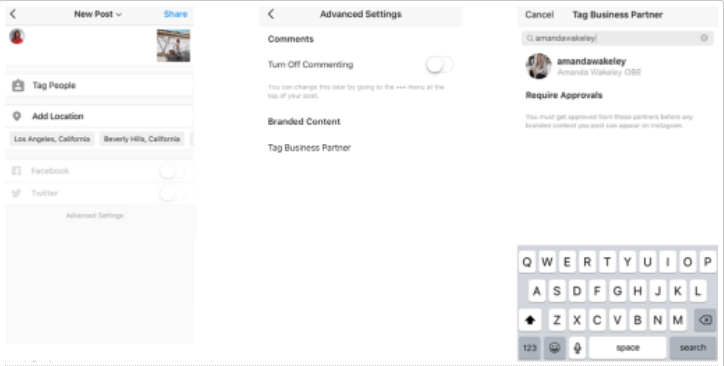 For Stories, you'll follow the exact same steps. The only difference is that you'll have to click on the link on the icon toolbar so that you can tag the brand.
How much do Instagram sponsored posts cost?
As mentioned earlier, the amount of money to charge for your services varies depending on your follower size, influencer's status, and industry. Someone who has 1 million followers, an engaged audience, and a reputation as an expert can (and should) charge much more than a blogger with 5K followers.
According to Influencer Agency, you can charge these price ranges based on follower count:
$800-1500 for 25 – 50K followers
$1500-2000 for 50 – 100K followers
$2000-6000 for 100 – 150K followers
$6000-10000 for 250K – 1M followers
$10000+ for 1M+ followers
These are just estimates, though. If you're a brand, the best way to find out how much you should pay for a sponsored post is to directly email the influencers you want to work with.
How to create Instagram sponsored posts in Facebook Ads Manager
With Facebook Ads Manager, business partners can promote branded content even if they didn't create it. To do this as a brand, you need to create a new ad in Ads Manager and choose your objective. Then, click Use Post at the top right corner of your screen.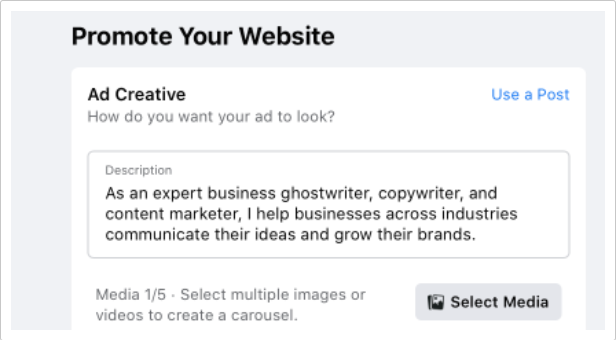 Once you select that, you'll be able to see all the existing content you can use, including posts that business partners have given you permission to use. After creating your ad, submit it. This way, your content can receive a larger audience than it would have if it was organic.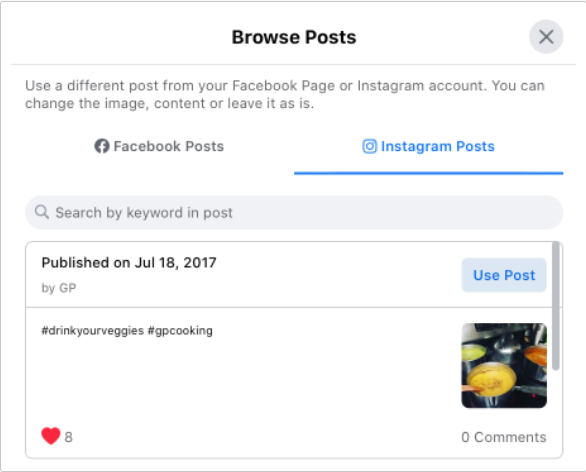 Now that you know what Instagram sponsored posts are, how to attract brands to sponsor you, and how to create sponsored posts, it's time for you to start reaching out to brands (if you're an influencer) and influencers (if you're a brand).