Wondering how to get more followers on Instagram? You're not alone.
Whether you're trying to grow your own business or personal brand, or you just want more people to see your creative genius, there are a lot of benefits to increasing your Instagram following.
After all, some 500 million people use Instagram daily, and close to 80% of them search the platform for a product or service. That's a lot of eyeballs that could be potentially looking for your content.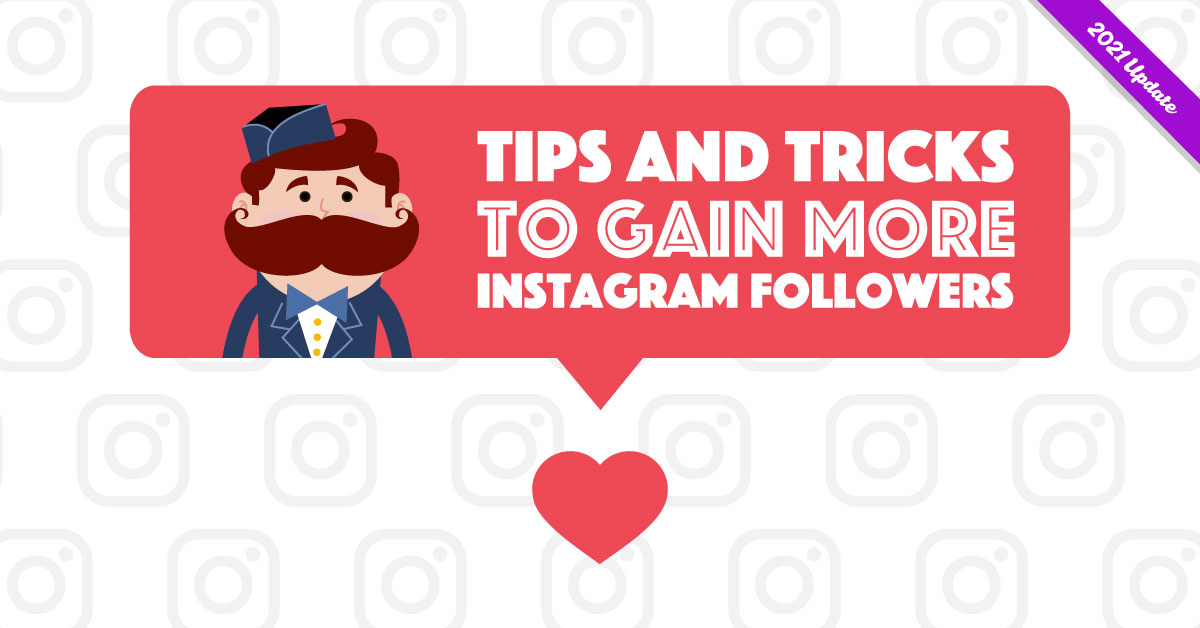 To help you along the way, we've compiled a list of 20 tips and tricks you can use to build your audience on Instagram.
Why does Instagram follower count matter?
Instagram is perhaps the most important social media platform when it comes to building a brand. A high follower count:
Helps you get your content in front of more people
Serves as social proof, adding credibility to your business
Lets you build and enforce a positive brand image by posting the things that your many followers want to see and interacting with comments and DMs
Take digital media company Brit+Co. With close to 350,000 Instagram followers, the American business has been able to establish a big, active audience.
Brit+Co has done this by positioning itself as an industry leader when it comes to online DIY classes and other creative endeavors. Fittingly, the company's feed heavily features fun, colorful images and quirky messages.
View this post on Instagram
Should you buy Instagram followers?
The short answer is no. The slightly longer answer is that buying followers or likes will actually hurt your brand. Best case scenario, you'll end up with a high follower count and a non-existent engagement rate. Worst case scenario, Instagram will suspend your account for violating the platform's guidelines.
It turns out the Beatles (and this dad) were right.
View this post on Instagram

Check out this experiment from our pals at Hootsuite to learn more about what happens when you buy Instagram followers.
Here's how you can organically grow your number of followers instead.
How to get more followers on Instagram: 20 tips
1. Define your target audience
You can keep track of who is looking at your content through Instagram Insights, the platform's analytics tool. Just keep in mind that you can only use the tool with a Business or Creator account.
There are a number of other tools you can use and metrics you should track to find out who is looking at your posts. Once you know who is looking at what, it's easier to create targeted content.
2. Use high-quality images
Instagram is driven by visual content, so it stands to reason that many of the photos on the platform are of the highest quality possible. Check out National Geographic photographer Cory Richards and how he grabs attention on the platform.
View this post on Instagram

Obviously Richards is a professional photographer. Not all of your photos are going to be of that quality. But Instagram is filled with excellent images, and you can't be out here throwing up out-of-focus shots.
Follow these tips to take professional-looking pics, even if you're working with a smartphone camera.
3. Use the right hashtags
Hashtags are an easy and important way to expand your Instagram audience. When you use a hashtag, your post will appear on the page for that hashtag, possibly bringing more viewers with it.
Check out this video from Hootsuite to see how you can get the most out of hashtags on Instagram:
It's smart to be up on the most recent trending hashtags and try and use hashtags that work well with each other.
This post by Nude Beverages gathers together relevant hashtags that play off each other and target a specific audience:
View this post on Instagram
4. Engage with your followers
Part of cultivating an audience requires interacting with it. It helps to develop a repertoire with followers that shows that you genuinely care about them. White2Tea, a direct-to-consumer tea brand, pulls that off in this post promoting a seasonal special offer:
View this post on Instagram

Their comments are simple, yet thoughtful and bring a personable touch to a corporate account.
5. Use Instagram ads
While you should never pay for followers or likes, you can pay to get your message out to the right people. The idea is simple: if you think people will be attracted to your brand, throw out some ads and see if any reel them in.
Studies have shown that Instagram Ads can reach up to 1.2 billion people. Some, of course, are better than others.
For best results, experiment with different ad formats and placements. Your ads can show up in people's feeds, Stories, Reels, and even on the Explore page.
6. Create captivating and fun Instagram Stories
Yes, you always want to be creating content. But you also want people to spend time with all of your stories and not be flipping through mindlessly — so find the sweet spot between "not enough Stories" and "too many Stories."
You should also be using tags in your Stories, including products, other accounts and your location.
7. Launch contests and giveaways
Another way you can build an audience on Instagram is through launching contests. You can promote Instagram giveaways and contests both via posts and Stories to encourage users to interact with your content and win prizes.
Consider the contest by Tofino, B.C. luxury hotel Pacific Sands Beach Resort.
View this post on Instagram

One of the more coveted hotels in Canada, Pacific Sands offered up two nights for free to followers. The conditions? Contestants had to tag as many friends as possible in the comments. They were granted one entry for every tag, for extra initiative.
Pacific Sands also partnered with Vessi and offered their waterproof shoes as part of the package. Of course, entrants also had to follow Vessi's account. Talk about a win-win-win.
8. Put some work into your bio
Your bio is the first thing people see when they come to your Instagram account — so make it count. Use this space wisely to reel in new visitors (and convert them to followers) and offer something useful to people who already know your brand (think: your store address or hours of operation, or a link to your newsletter).
Beauty brand Lush Cosmetics skips right to the point, imploring followers to join them on their journey:

9. Don't be boring
You can't be afraid to show a little personality on Instagram. Even brands that aren't exactly the most colorful and interesting of all time know to show off some style. New customers are always just around the corner on Instagram, so you have to put your best face out there at all times.
The accounting industry isn't exactly sexy, but Bench Accounting's profile is filled with colorful images and playful graphics. And their videos lend their Instagram account a friendly, vibrant feel.
View this post on Instagram
10. Tell a story with longer captions
Sometimes you need to keep it simple. But that's not always the case. There are many situations in which it makes sense to tell a long story that can vividly bring life to a photo.
Patagonia's feed is filled with examples of how longer captions can help tell a story more effectively. Yes, a picture says a thousand words, but sometimes you need the actual words too.
View this post on Instagram
11. Figure out the best times to post
People interact with Instagram throughout the day. The ideal time to post depends on when your audience is most active on Instagram. That will differ between demographics and individual accounts. But according to the latest research, you can't go wrong with posting on the platform at 11:00 am on Wednesday.
It makes sense—everyone needs a little something to get them through hump day, right?
12. Follow and engage with other brands
Even with an Instagram Business account, you can follow other brands and comment on their accounts.
View this post on Instagram

In the above example, verified songwriter Day-One comments on a popular post by Apple, which has 26 million followers. Day-One is just being authentic and asking a question, but so many users see his comment and likely click on his profile because of it.
13. Use Instagram Video for long-form content
Formerly known as IGTV, Instagram Video can be a useful tool in your kit. The feature lets you post videos of up to 60 minutes that can be good to announce something or for interviews and product reviews.
14. Use Instagram Reels for short-form content
As opposed to Instagram Video, Instagram Reels is for shorter video content. The feature was introduced as an alternative (a.k.a. competitor) to TikTok, and it has proved to be helpful for businesses trying to broaden their reach.
Reels can be up to 60 seconds long, just enough to get across an important message or funny anecdote to your followers.
Instagram has been prioritizing Reels for most of 2021, and rumor has it using the format is the best way to quickly reach a new and engaged audience.
View this post on Instagram
15. Use Instagram Live to interact with guests
Yep, another video feature on Instagram! You likely saw Instagram Live a lot during the pandemic, as the feature allows for up to four users to broadcast together. It's a great resource to use to interact with other brand owners and collaborate with them.
Celebrities from Oprah to John Legend have used Instagram Live to great effect.
16. Pull off an Instagram takeover
Instagram takeovers are a fun way for a brand to give the keys to someone else (e.g. a fan or an influencer) to create unique, special content. Don't think of it as giving away your prized possession—you're merely lending it out. And hopefully finding new ways to improve your content strategy (and engagement rates) in the process.
A classic example of an Instagram takeover would be Adidas's #ORIGINALis campaign. The shoe brand gave over its account to celebrities like Snoop Dogg, Desiigner and Dej Loaf to play around.
View this post on Instagram
17. Use geotags
Geotags can be added to feed posts and Stories. Why are they important? Because they can help people find your account when they're searching Instagram by location.
Scroll through GoPro's account, and you'll see that they use geotags on many of their posts.
View this post on Instagram

When a user clicks on the geotag for Guadalupe Island in a different post or searches for that location on Instagram, they'll be exposed to GoPro's post. It's a free way to have your posts discoverable in an additional way.
18. Tag people in captions
It should probably be a no-brainer to tag the people you feature in your photos. It acknowledges your relationship, but can also help you get more exposure.
When posting about others, tag them both in the photo itself and in the caption.
Look how the NHL tags all relevant parties in the caption, likely increasing the amount of eyeballs that will see this post.
View this post on Instagram
19. Create Story Highlights
Instagram Stories disappear from your feed after 24 hours, but you can pin Story Highlights to your profile page, so users who are new to your brand can view your top Stories.
Ice cream company Ben & Jerry's does this well, separating their stories into four distinct categories users can browse.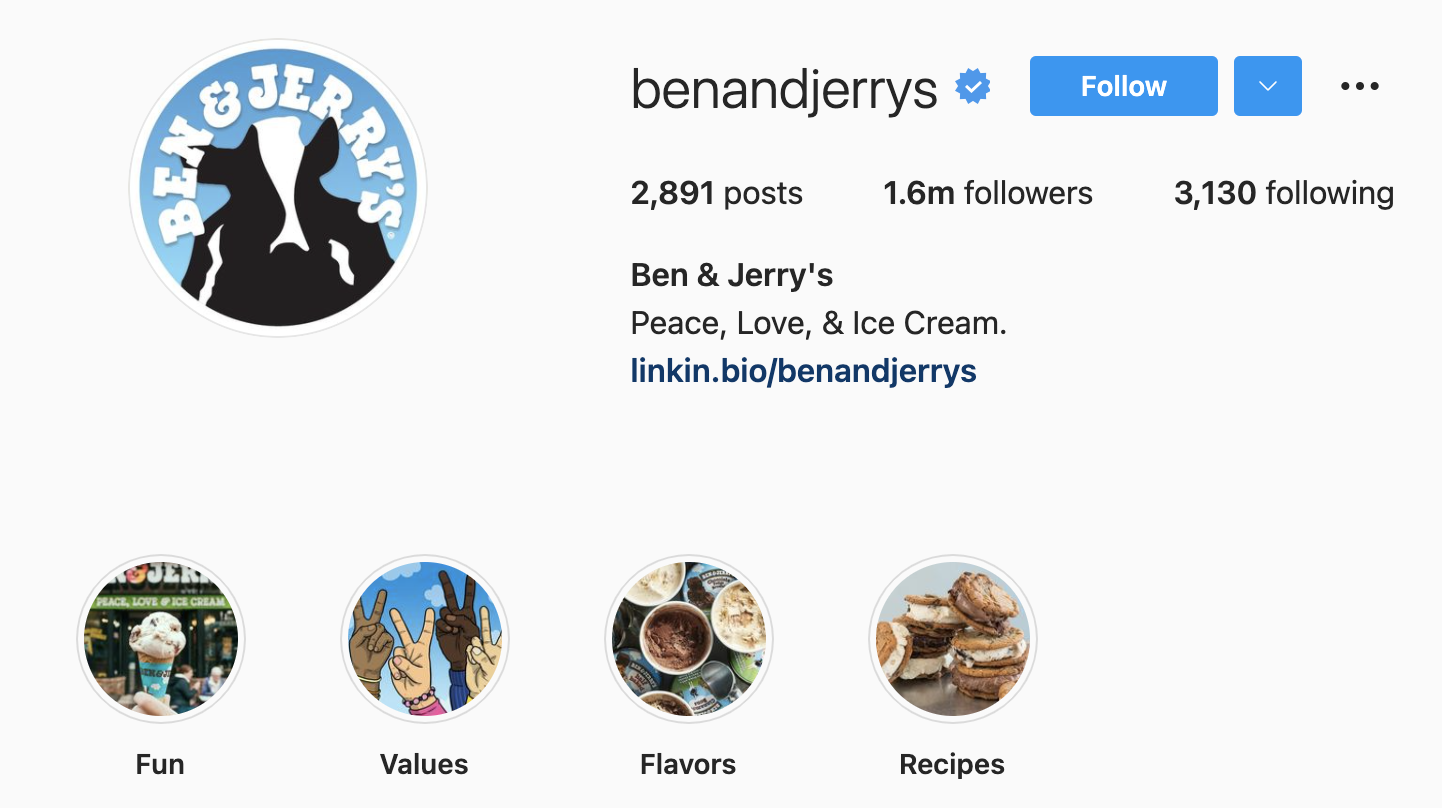 Instagram Stories see higher engagement than regular posts. Story Highlights help you give a longer life to that valuable but ephemeral channel.
20. Post consistently
Being on Instagram is all about visibility. So it makes sense that you'd want to post more often, so users see you more often.
During Instagram's Creator Week in June 2021, Instagram chief Adam Mosseri suggested that posting 2 feed posts per week and 2 Stories per day is ideal for building a following on the app.
View this post on Instagram
Start building a large (and engaged) Instagram following
Use these strategies, and you'll be able to leverage your growing audience for increased brand awareness and loyalty. A larger audience means you're able to share information about your products with more potential customers.
Not to mention, a significant follower count makes your business look credible to users, so it may very well encourage people to explore your account and follow it.
Once you gain more followers, you have the power to significantly boost brand awareness on Instagram. You're able to share information about your products with so many potential customers at once and share it with their networks.
So what are you waiting for? Get to it!