Instagram Story ads are continuously growing in popularity and there's a solid reason for this trend.
More than a billion people use Instagram every month, and 500 million use Stories every day. From a marketing perspective, it's obvious why Instagram Stories are a great tool for any business. If you're not making the most of Stories as a placement for your ads, you're missing out on a lot of advertising potential.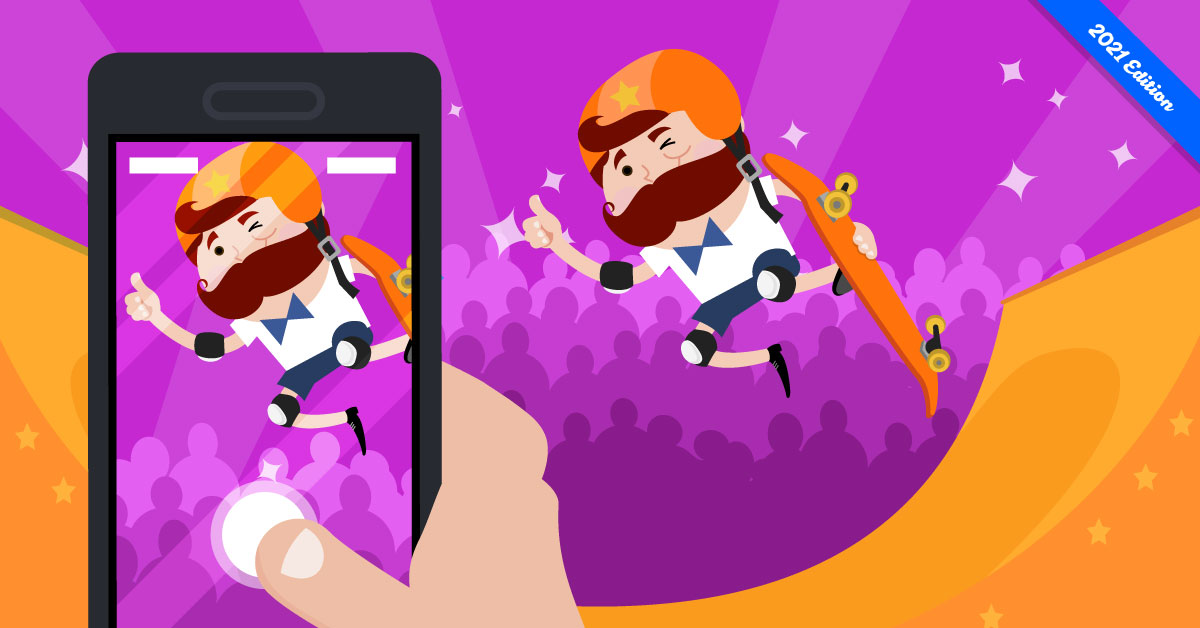 This guide covers the ins and outs of Instagram Stories advertising and includes inspiring Instagram Story ads examples that you can learn from.
What are Instagram Story ads?
Instagram's Story ads are full-screen, vertical photo or video ads that are served to target audiences while they browse Instagram Stories.
Advertisers can include custom swipe-up CTAs in Instagram Story ads (however, the swipe-up feature is about to be replaced by stickers). Available objectives include brand awareness, reach and conversions (more on this in the setup section).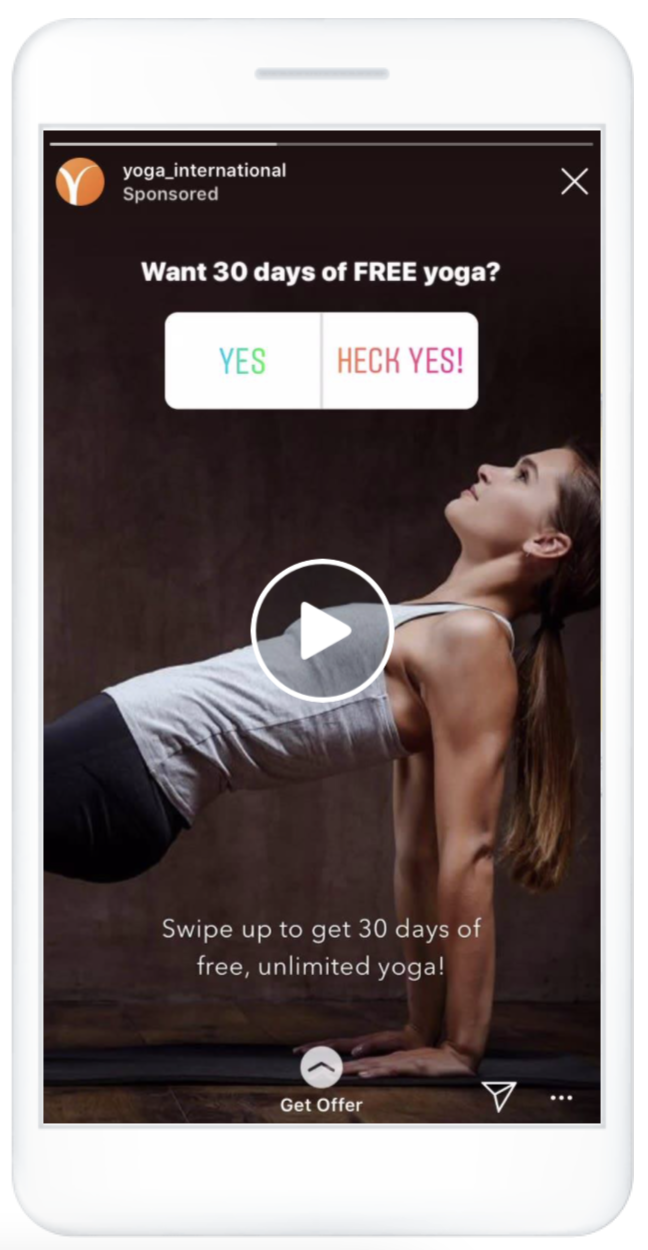 Source: Facebook
Instagram Story ads don't disappear after 24 hours like organic Story content does. Instead, you get to choose how long your ad campaign will run.
Advertising on Instagram Stories gives you the opportunity to be creative, and the ads are immersed seamlessly into viewers' viewing experience.
Instagram Story ads best practices
To create an effective Instagram Stories ad, you need to think strategically and plan ahead.
Here are a few best practices to keep in mind when creating your Stories ads that will help you stand out and attract viewers.
Get straight to the point
On Instagram, and especially on Instagram Stories, content is consumed very fast.
Your ads need to capture your audience's attention immediately to stand out from the endless stream of content. Suspense will do you no good in Instagram Story ads, so kick your video ads off with your value proposition.
Strategically showcase your logo
If you're pouring in an effort to create an attractive Story ad, you shouldn't forget to reap the benefits of brand recognition. There's a simple way of doing this: by featuring your brand logo in your Stories.
Here are some tips to keep at the top of your mind while employing this practice:
Ensure that no object or elements of visual design are in the way of the logo being seen.
Be product or service-centric with your Stories, more so if the product/service in question already has the logo included.
Avoid flashy design elements so that your brand name/logo can stand out in the Story.
Make your ads engaging
While, in general, photo posts perform best on Instagram, you can shake up your content by telling your stories with videos or animations every now and then.
Businesses also try to make their Story ads more memorable by adding other interactive elements, like hashtags, mentions, stickers or polls. Try these features for your own stories and keep track of the ones that perform best for your audience.
Use text
To emphasize your ad's message, include some text in your creative. Captions and descriptions will make the ad more accessible to everyone: users with hearing impairments and those who watch Stories with the sound off.
Include clear calls to action wisely
Your Instagram Stories ads won't be effective if you don't include clear CTAs. Your viewers should know what you want them to do. Phrases such as 'shop now,' 'learn more,' and 'swipe up' work well to encourage your audience to take action.
How to create Instagram Story ads
Follow these step-by-step instructions to start creating your own Instagram Story ads in no time.
Step 1: Create a new campaign
Head over to the Ads Manager and click Create to start creating a new ad campaign. You can give your campaign any name you'd like —make sure to choose one that describes your campaign well (for example: 2021 Back to School Promo).

Leave the Buying Type on Auction.
Then, select your campaign objective. Here are the objectives available for the Instagram Stories ad placement:
Brand awareness
Reach
Traffic
App installs
Video views
Lead generation
Messages
Conversions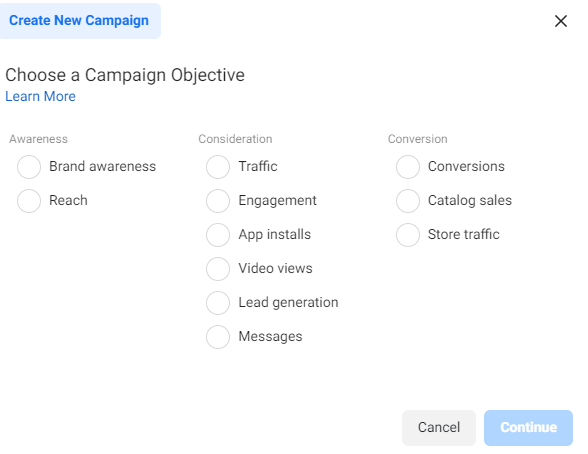 Once you've chosen your objective, enter an ad and ad set names. Then, click Save to Draft.
Step 2: Set up ad set details
First, decide where you would want to direct traffic from your ad. 'Website' is the default setting, but you can also direct traffic to an app, Messenger or WhatsApp.
In Budget & Schedule, determine what your daily or lifetime budget is.
Then, it's time for targeting. You can manually set up your target audience, or choose a custom or lookalike audience you've already created from the dropdown list.
Learn more about targeting Facebook and Instagram audiences here.
Next, you'll move on to Placements. Here, select Instagram Stories. You can also choose to run your ads across multiple placements. If your creatives are made specifically for Stories (i.e. you're using full-screen, vertical images or videos), Facebook Stories and Messenger Stories could be a good fit.
Finally, you will reach the Optimization & Delivery section of your ad set. If you're just starting out with the Stories placement, leave it set to auto-bid to let Facebook's algorithm optimize delivery for you.
Step 3: Customize your creatives
The last step is making sure your creatives are set up for success on Instagram Stories.
This is where you upload and crop your video or image files, add text, customize background and font colors, add music and calls to action.
As you customize your ad, the preview on the left side of the dashboard will update in real-time. Make sure you're looking at the Stories-specific preview: below the Ad Preview toggle switch, click the Instagram logo and select Instagram Stories.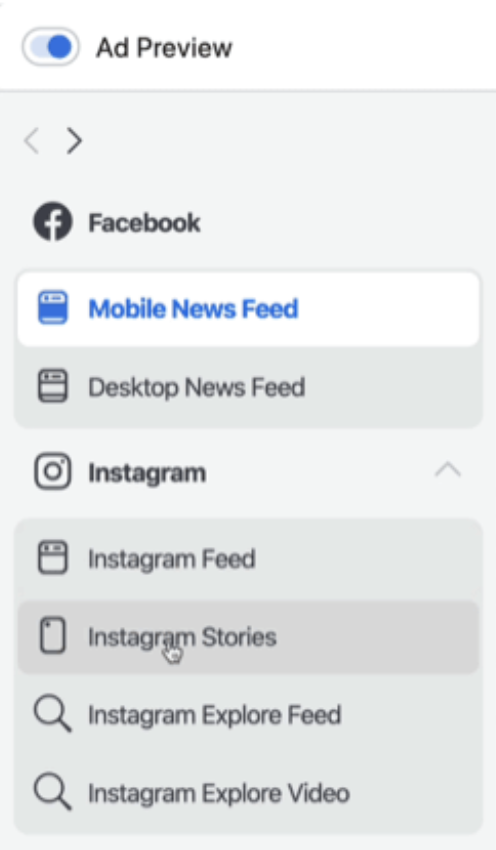 Step 4: Review and schedule your ad
Finally, review all your settings and creatives. Pay special attention to your budgeting settings, your start and end dates, and your landing page's URL.
Examples of great Instagram Story ads
It's time to take a look at some real-life examples of successful ads that will help you get inspired. All of the brands listed below followed best practices and came up with engaging, effective Instagram Story ads.
When planning your ads, keep in mind what worked for them and think of how you can work their strategies into your unique ad designs.
Audible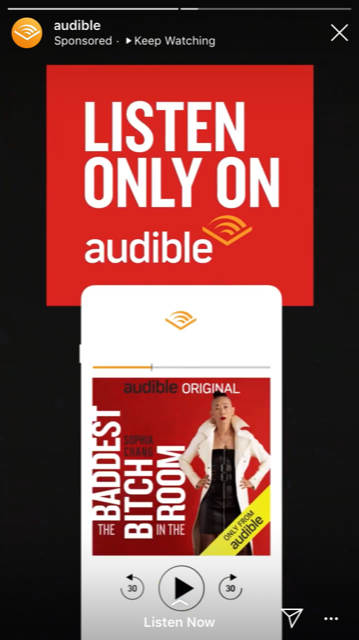 Source: Instagram
Audible went all out in this ad to be clear about the value that their platform provides users. The call-to-action placed emphasis on the fact that the platform offers exclusive content, not available from other audiobook providers.
Qantas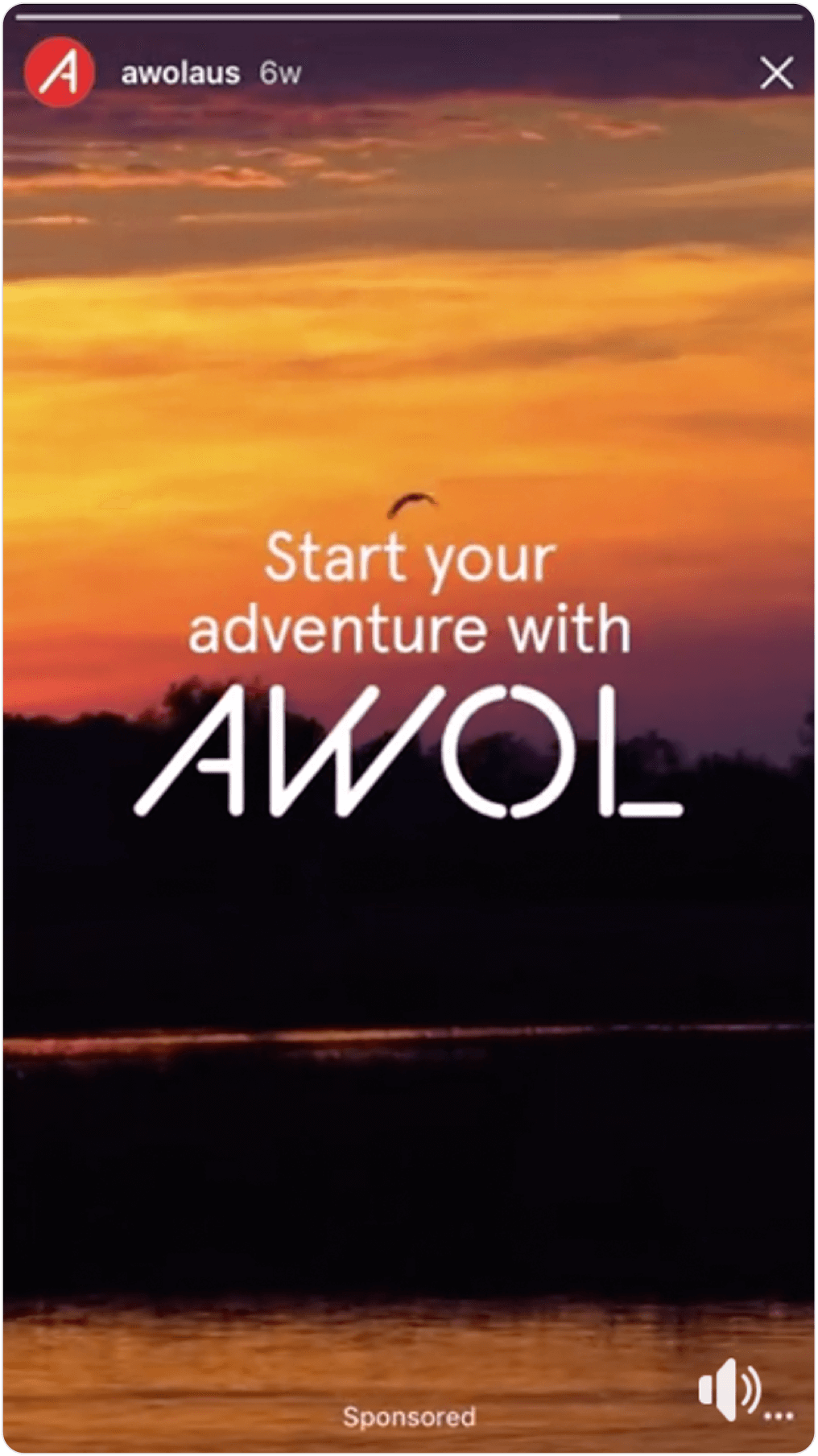 Source: Instagram
Qantas took their knowledge about Millennials and Gen Z-ers and made the most of it when creating an ad for their brand AWOL.
They know that young people rely on Instagram for holiday destination ideas. According to a study in the UK, almost half of Gen Z is inspired to travel thanks to influencers on Instagram.
Qantas used the Instagram Stories placement and featured stunning visuals in their creatives to attract their audience. They inspired their viewers to think of the adventure ahead, encouraging holiday bookings from a wanderlust demographic.
Ben & Jerry's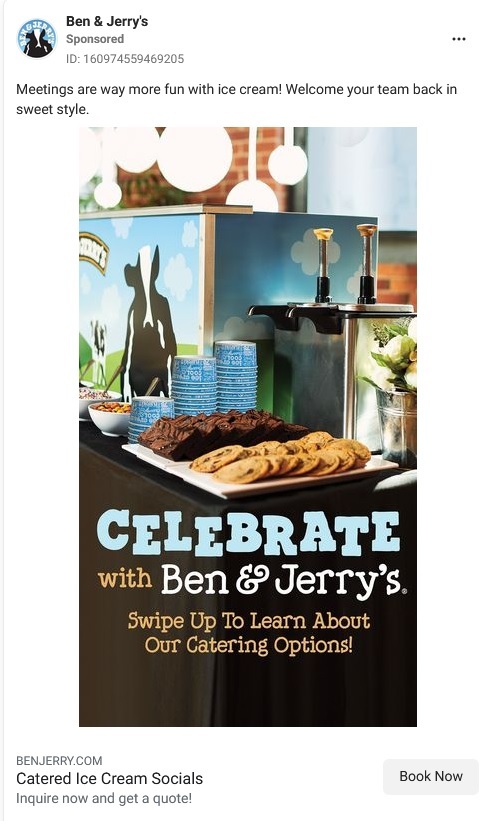 Source: Facebook Ad Library
Ben & Jerry's are known for their colorful, fun ads.
In this example, they speak to people who are getting ready to return to working from their officec post-lockdown and will want to celebrate the occasion.
With that in mind, Ben & Jerry's launched a series of tasteful and fun back-to-work ads reminding people of their catering services (and ice cream of course).
Knowing how to combine world and seasonal events with brand messaging can help you truly connect with your audience. Keep your eyes open for opportunities in your niche or prep for upcoming occasions ahead of time.
Create awesome Instagram Story ads
Creating engaging and effective Instagram Story ads isn't as daunting a task as it might seem. With good planning, creativity, and awareness of best practices, you can make Story ads that will hook your viewers and keep them interested enough to click (or tap).
Just remember to:
Keep your story ads interesting with interactive elements
Be consistent with your tone and visuals
Experiment with video
Add call-to-action elements
That's it! Now it's time to launch your own, awesome Instagram Story ads and watch your brand grow!