We've all been there before. Your boss is breathing down your neck to boost the business page with more likes. "Our competitor has thousands of likes!" they say, and you know they want results fast.
So you give in to the temptation, even though you know it's wrong—you buy Facebook likes.
Can people be blamed for wanting more likes? Of course not. When users see that a Facebook business page has a lot of likes, it signals that the brand is worth exploring.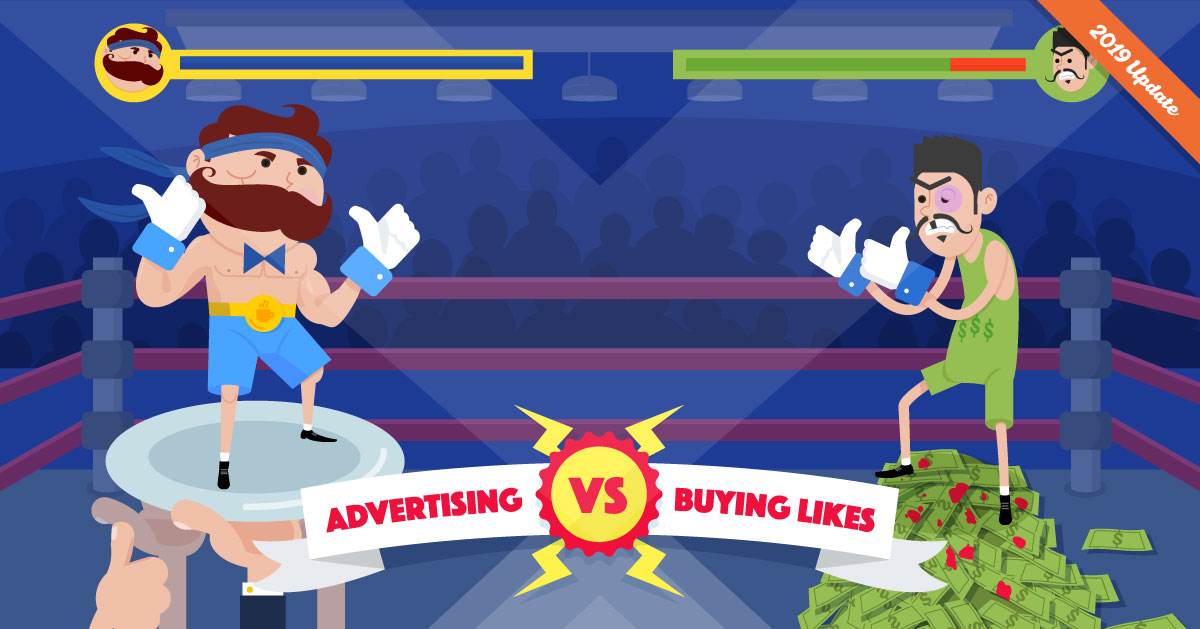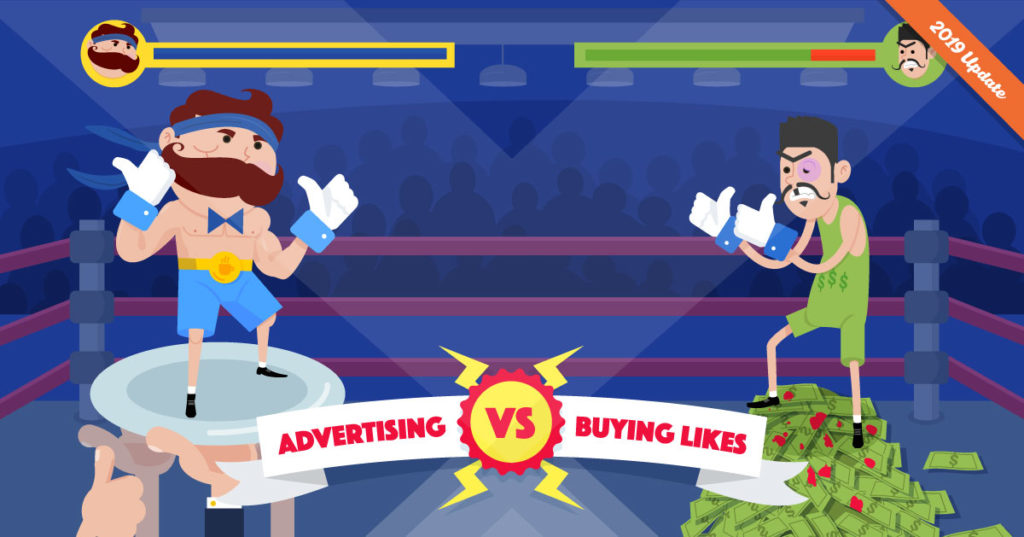 But buying Facebook likes is an outdated and ineffective strategy for creating social proof.
Not to mention, buying Facebook likes is damaging to your brand in the long term. Facebook will surely catch on to your misdeeds and take action against any fake accounts.
We've put together this article (+ an experiment with Facebook likes) to dissuade you from taking the shortcut of buying Facebook likes.
To truly reap the benefits of Facebook likes, you need to put in the work and gain them organically. That means connecting with Facebook users and providing so much value they can't help but like your page.
There is no turnkey solution.
And social media users today are smart enough to see a scam when they encounter one.
Why Buying Facebook Likes Hurts Your Brand
Facebook officially took action against buying likes in 2015 by updating its algorithm to automatically recognize and remove suspicious engagement activity. Since then, they've removed millions of fake or inactive Facebook accounts.
Beyond this Facebook policy, buying likes has a larger negative impact on your marketing and advertising efforts.
Buying likes damages the credibility of your brand. It signals to your audience that you're not willing to put in the work to build an actual relationship, which can cause decreased engagement over time.
When you buy likes, it erodes the trust followers have in your brand, skews the results of your advertising, and lessens your understanding of your audience.
Buying fans is like paying people to be your friends. What do you think is going to happen when you'll stop giving them money? They'll go away to the next person that will give them money. There are things you can't buy, like friendship, trust or genuine interest in what you do. These things you have to earn.
What make Facebook ads way superior than buying fans is that the ad is proposing to become fan, they have a choice. That makes a big difference. As these ads can be laser targeted (like to your website visitors), the people who "opt-in" to become fans are a gazillion time more likely to engage with you.

Emeric Ernoult – Agorapulse
Your ad spend will drive little value:
Likes you purchase traditionally come from fake user accounts, which will never actually engage with your content beyond that first like.
Not only does this drive down the popularity of your content overall, it means you're potentially paying for ads that will have no possibility of conversion.
I had a disagreement with one of my former clients (a multi-million dollar company) who decided to buy fake Facebook likes. WAfter purchasing fake likes, their Facebook page's interaction plummeted. There was (and now still is) pretty much zero engagement. The only comments are from the employees or family. Their last comment (in Feb 2016), was 'Looking Great [name]! I am [employee]'s Mom!'.

Josh Rubin – Post Modern Marketing
Understanding your audience becomes impossible:
Buying Facebook likes floods your audience with fake user accounts that will skew your analytics and make it impossible to build effective custom audiences.
You'll never be able to get an accurate account of who your followers are or what their interests might be.
And if these accounts are caught by Facebook, there goes your like count as well.
Our words are not convincing enough? Here's what Facebook Ads and Social Media Guru Mari Smith has to say:
I have a *strong* aversion to purchasing Facebook likes (or any social followers). The vast majority are fake accounts and it's just unethical that companies are selling such a service. Besides, Facebook is fairly relentless about periodically deleting fake accounts.

However, even if there are a few bona fide brokers offering genuine fans for sale, then who exactly are these fans? Are they people with nothing better to do with their time that they're signing up with the brokers and getting paid a micro fraction per Page they like? Or is there some software program that magically 'forces' people to like Pages without them knowing it? Hm. So then you'd be building a Facebook audience with people who were paid or forced to like your Page. It makes no sense to me.
These factors come together to make your life as a marketer and advertiser much more difficult if you decide to buy Facebook likes.
You'll waste time and money trying to figure out who your audience is, which means the content you create will never truly meet the actual audience's interests or needs.
And Facebook likes might be getting a big update in the near future.
2019 Updates for Facebook Likes
In May of 2019, Facebook announced that they would start testing the removal of all like counts on the Instagram platform in an effort to combat envy and self-censorship in users.
This action removes the number of likes on a post, replacing it with the most common reaction types.
In September, Facebook announced that this experiment would move to their platform as well.
With this potential shift away from the public like counters, buying likes makes even less sense as a long-term strategy.
You're better off thinking about how to build a social media strategy that works towards fostering strong and long-lasting relationships with your audience.
What Happens When You Buy Facebook Likes (An AdEspresso Experiment!)
We put together an experiment to see if buying likes actually had any positive impact on advertising and marketing efforts. Let's start with the methodology.
How We Built Our Facebook Like Buying Experiment
Back in 2014, we created three Facebook pages. And yes, we created cat meme pages! Not just because cats are fun and adorable, but because we needed a topic that would generate measurable engagement even with low numbers.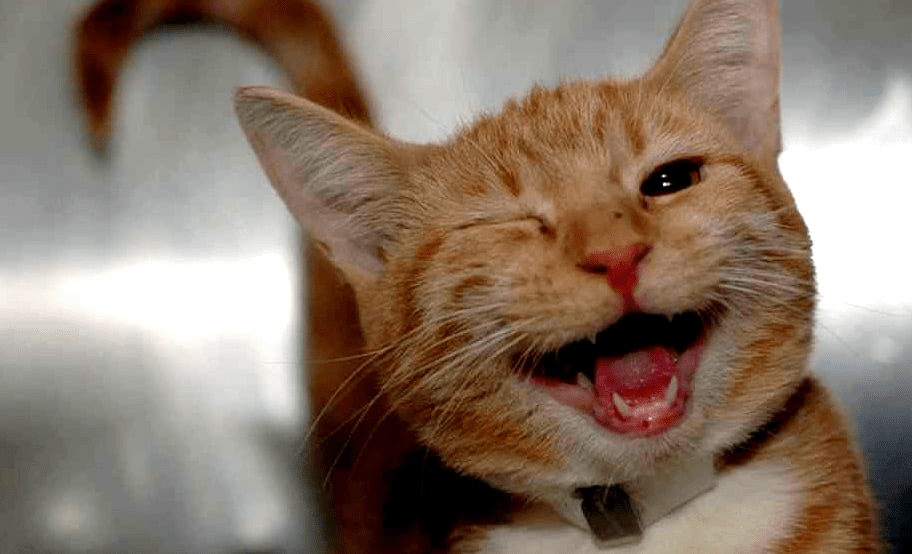 Page 1 was supported by traditional Facebook advertising and page 2 and 3 were boosted though purchased Facebook likes from two different companies.
Each page is more or less identical, just with a slightly longer name. We published the same kind of content on the pages at the same exact time for a month-long period.
Meow Cats – Likes generated with Facebook Advertising
Meeow Cats – Likes bought online from seller n.1
Meeeow Cats – Likes bought online from seller n.2
We won't name the companies who sold us our likes to make sure we didn't give them any free advertising. They were the two Google results when searching for "Buy Facebook likes" on Google. You'll still see five different platforms on the first page if you do this search today.
What Happened in our Experiment
For the traditional advertising page, we targeted 20 different countries with different economics and cultures and included interest targeting from the beginning of October to the first week of November. For the other two pages, we purchased 500 Facebook likes from each company. We were told these likes would come from anywhere around the world.
Before we get into the results, a quick disclaimer—company n.2 was slow at delivering likes, so users only saw 135 of the 164 total posts we made on each page.
Here's what we found:
Meow Cats
Facebook Ads
Meeow Cats
Seller N.1
Meeeow Cats
Seller N.2
Initial Likes
748
858
595
Final Likes
816
799
492
Likes Organic Gain/Loss
68
-59
-103
Cost
$65.76
$11
$42
Avg. Post Reach
229.75
23.82
33.69
Avg. Post Impressions
411.41
63.64
63.31
Tot. Post Reach
36,989
3,859
4,548
Tot. Post Impressions
66,237
10,309
8,547
Avg. Post Comments
0.94
0
0.04
Avg. Post Likes
26.35
0.12
0.54
Avg. Post Shares
2.80
0.01
0
Tot. Post Comments
152
0
5
Tot. Post Likes
4,243
19
73
Tot. Post Shares
451
1
0
Total Engagement
4,846
20
78
Cost per Action
$0.01
$0.55
$0.54
Cost per Like
$0.08
$0.01
$0.09
Our ad campaign for the Meow Cats page ran for one day and delivered us 748 initial likes. Like buying company n.1 delivered 858 and like buying company n.2 delivered 595, both over the 500 likes we purchased. Let's look at the cost per like across the different pages.
Facebook Ads for Meow cats: $0.08
Company n.1 for Meeow Cats: $0.01
Company n.2 for Meeeow Cats: $0.09
At first blush, Meeow Cats is the winner with a grand total of $11 spent for 858 likes. But let's dig a little deeper. When you look at the engagement metrics, Meow Cats (the only one to use ads, not purchased likes) comes out ahead as the most successful page. Every post created was seen by 229 users on average and the page itself generated, on average, 26 likes per post, 2.8 shares and one comment.
Both Meeow Cats and Meeeow Cats had a weak average of less than one like per post. Meeow Cats didn't get a single comment and Meeeow Cats had 0 shares as well. Overall, a very poor showing. If you want to dig into the data yourself, take a look at the full report here.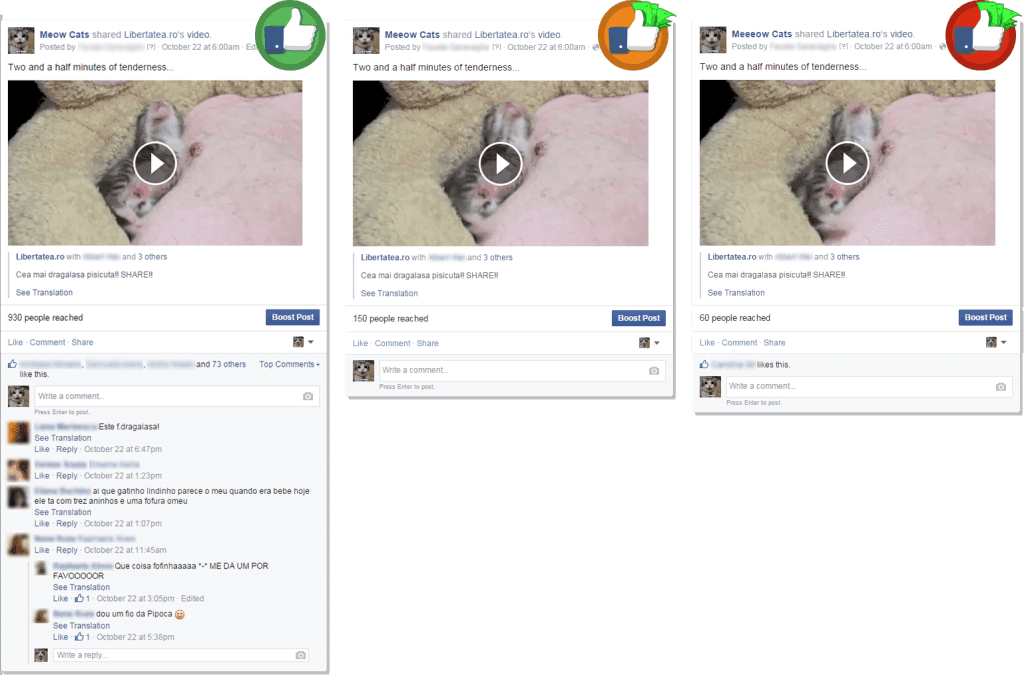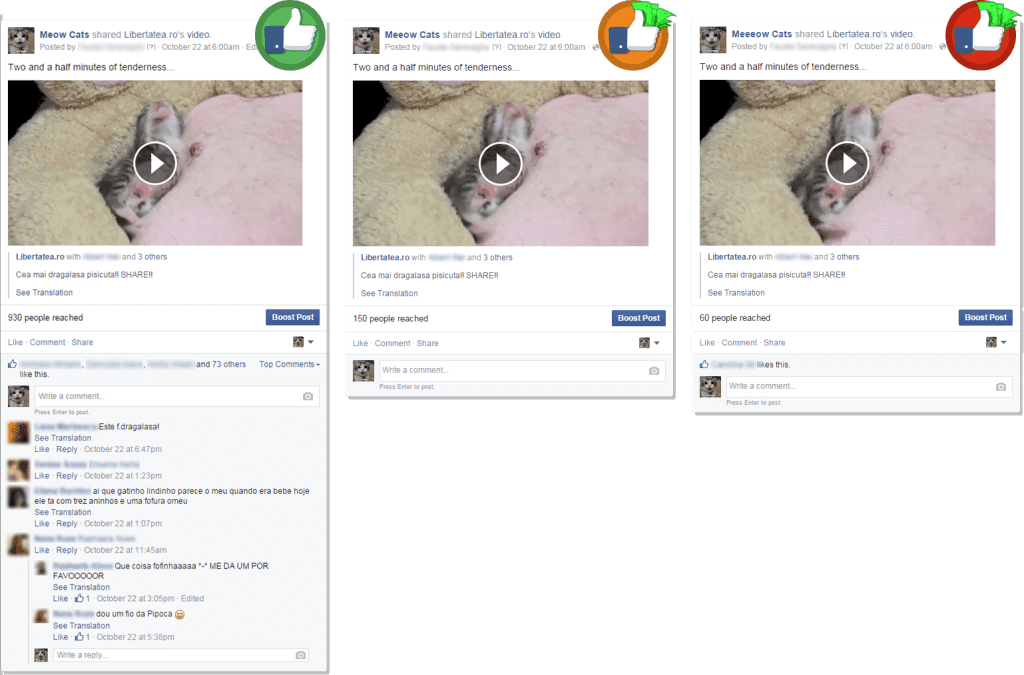 The page where we used traditional Facebook advertising saw high engagement from followers, whereas the pages with purchased likes saw little to no real engagement.
We wanted to see how buying Facebook likes contributed to long-term engagement as well. So we came back in 2016.
Tracking Long-Term engagement
You might think that purchasing likes could give your business page the kick-start it needs to build a more engaged audience over time. But that couldn't be further from the case.
On revising these pages in March of 2016, we found that Facebook had deleted a lot of the likes we purchased.
That said, there was still enough there to test overall follower engagement. Without purchasing any additional likes or running additional ad campaigns, we published an identical video across all three pages at the same time, boosting it on each page for $5 (a total of $15).
Here's what we found: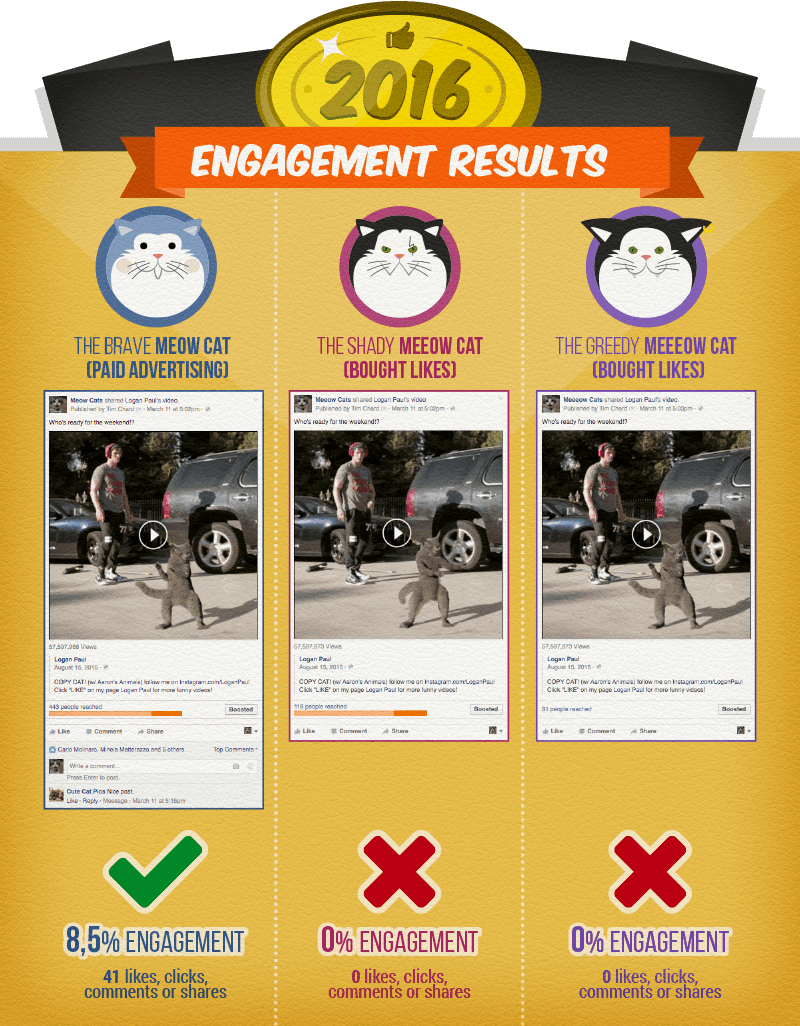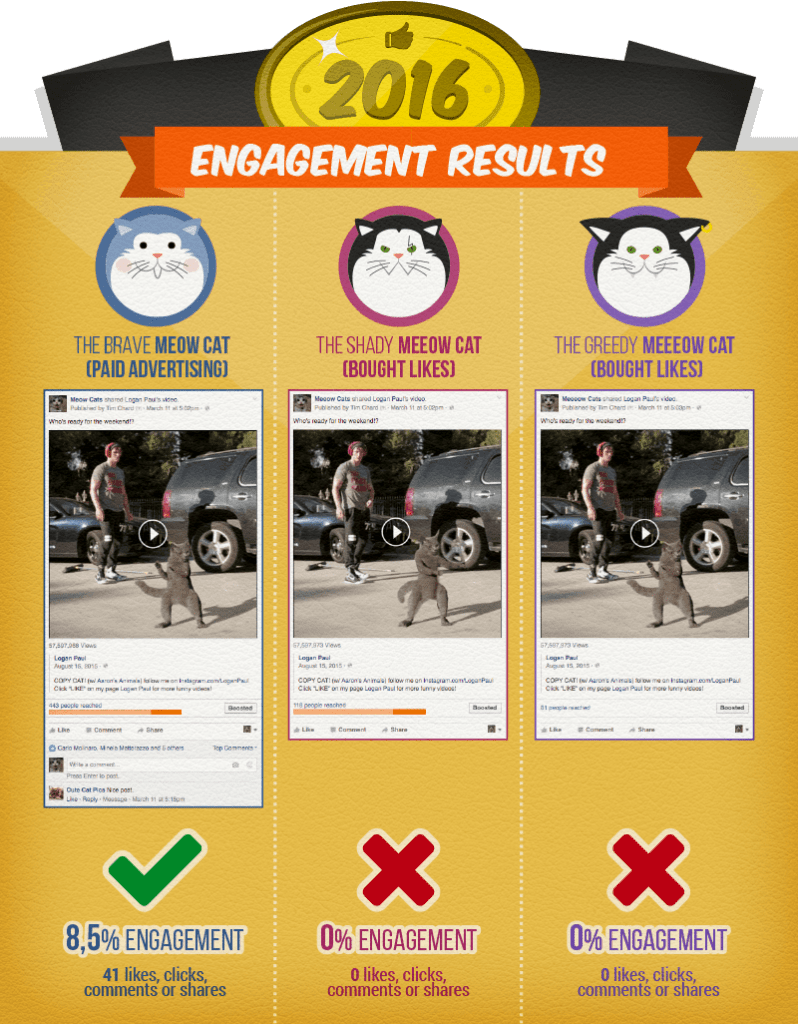 Again, the results speak for themselves. Even after almost two years, Meow Cats received an 8.5% engagement rate with 41 likes, clicks, comments, or shares. Both Meeow Cats and Meeeow Cats saw NOTHING!
So there you have it. Buying Facebook likes doesn't help you boost engagement or build an audience for your Facebook page. Sure, you'll see a momentary bump in likes themselves, but what does that really get you?
What You Can Do Instead of Buying Facebook Likes
As you're building an audience, there are a number of different strategies you can use to gain a legitimate page, likes, and followers.
Find the right time to post content to your Facebook page.
People spend approximately 35 minutes on Facebook every day, so the window of time to attract them isn't very long. Track when engagement is highest on your current content and look at audience metrics from Facebook Insights to see when people are actively using the platform.
Use ads to boost awareness of your brand and of your content.
We saw how well this tactic performed in our experiment. Even after close to two years, the followers we gained through advertising campaigns continued to engage with our content. If you haven't created a Facebook ad before, check out our Facebook ad templates to build your first one quickly and easily.
Followers and customers are some of the most valuable resources you have for understanding who your audience is. Targeting Facebook users with similar interests or shared qualities helps you get more bang for your buck.
Encourage conversations by commenting, reacting, and engaging with posts from your target audience.
Facebook is a social platform, so you need to make sure that you are actively participating in the conversations your followers are having.
Put in the work to build an audience that's genuinely interested in your brand. The users you attract will be eager to engage with your content in the long term, unlike the fake accounts that deliver purchased likes.
You Don't Need to Buy Facebook Likes to Build an Audience
When you buy likes for your Facebook page, it doesn't do your business any good. Instead of focusing on strategies that can grow your business, you're spending money on "followers" who will never engage with your content or purchase your product.
Building an audience the right way takes patience and hard work, but the payoffs are that much better in return. You'll find that these followers are more engaged with and interested in your products and your brand.
Spread the word!
Found this data useful? We've made it super-simple for you to spread the word and embed them in your blog.
Here's an awesome infographic that you can use, just copy and paste the html code after it!

Embed code (just copy and paste in your blog):