Using CPM marketing (cost per 1,000 impressions) to judge the success of your ads is like using an abacus to do the math.
At one point, they were each the best tool available for the job. But new technology has made them obsolete.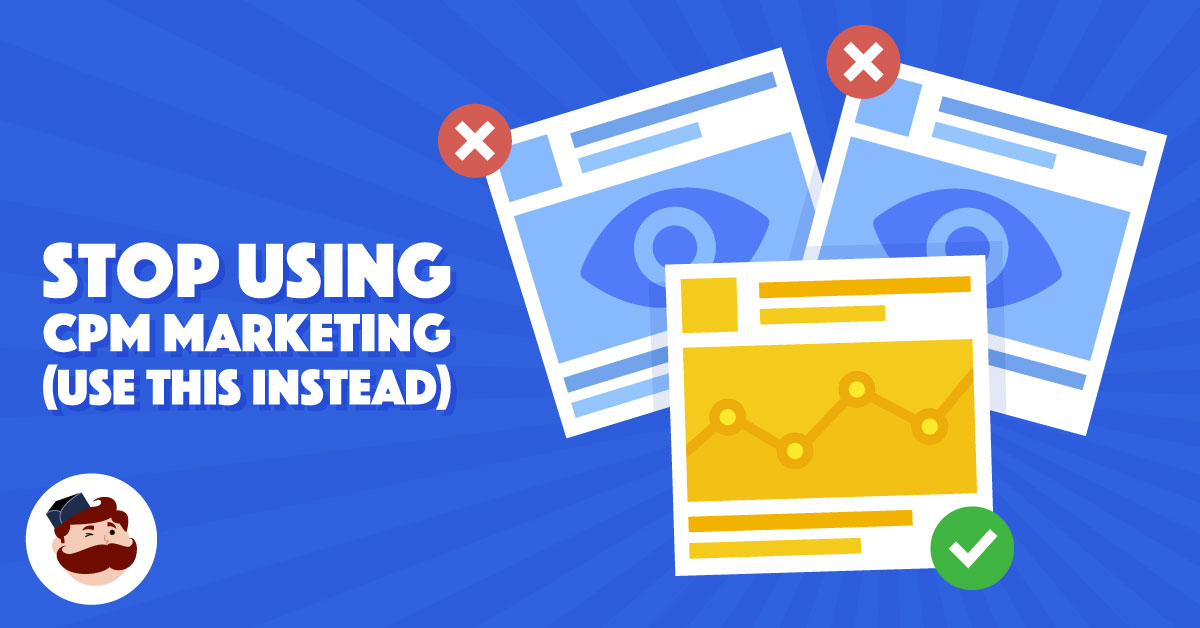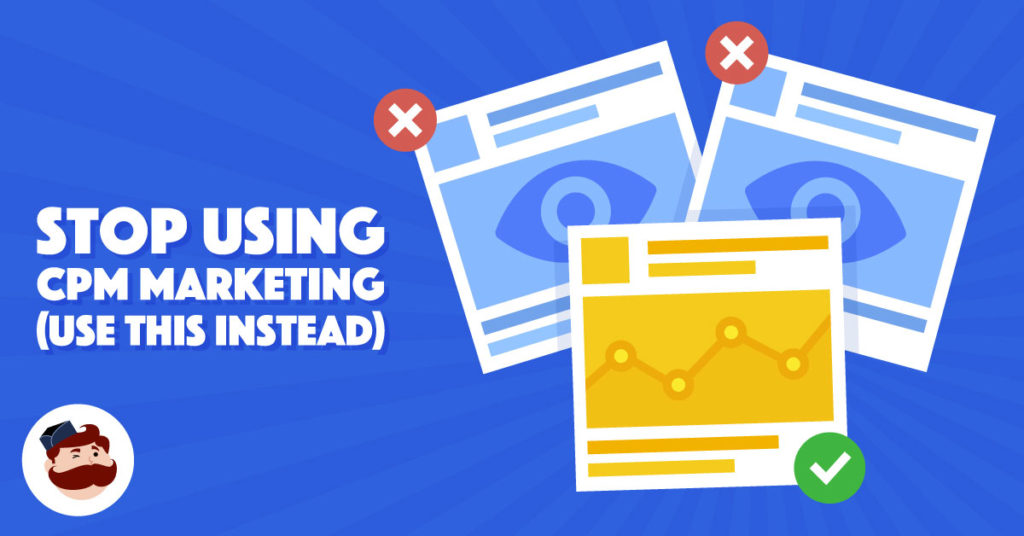 It's time to use more modern methods of measuring ads (and a modern way of doing your taxes, if you still use an abacus).
In this post, we'll explain where CPM falls short as a North Star marketing metric. Then, we'll show you three options that are better at telling you whether an ad achieved your marketing goals.
For decades, CPM was the best way to tell if your ad dollars were well spent.
If you placed an ad on a billboard and a bunch of people drove by, your ad worked. If you needed to improve ad performance, you just found a busier street.
Online platforms like Facebook and Google have changed all that.
Now, you can track your audience's reactions to your ads—giving you a much better idea of whether the ad helped you reach a goal like generating awareness or leads.
Why CPM Marketing Doesn't Make Sense
CPM is the average cost per 1,000 impressions of an ad (the "M" stands for mille, which is the Latin word for 1,000).
The problem with CPM marketing is that impressions tell you only that your ad was displayed, not whether your audience saw or responded to it.
Plus, CPM isn't an accurate calculation of impressions, to begin with.
Judging the success of your ads by their CPM is like thinking you've found a great location for your physical store because you see lots of people walking by—except no one ever comes inside, and it's actually just one guy running back and forth all the time.
CPM only accounts for only gross, not unique, impressions
CPM marketing accounts for only gross impressions, which gives you a false idea of how efficiently your ad generated awareness.
The problem is, gross impressions tell you the total number of times your ad was displayed but doesn't tell you how many people may have seen it.
A unique impression, meanwhile, counts only the first time your ad is displayed to a particular visitor.
So if you were to spend $5,000 on ads, and your ad counted 1,000 gross impressions, that might mean only 100 people saw your ad 10 times each. Whereas, if your ad counted 1,000 unique impressions, you'd be certain 1,000 people saw your ad at least once.
This makes a difference on your bottom line, too.
Using the above example, under gross impressions (aka CPM), your spending to reach each customer would be $50. Under unique impressions, it would only cost $5 for each person to see your ad.
CPM won't help you calculate ROAS
Return on ad spend (ROAS) is how much revenue your business gained from every dollar you spent in marketing (ROAS = revenue/ad spend).
Understanding ROAS is important because ROAS tells you explicitly whether the money you spent on advertising helped your business grow.
Knowing your CPM doesn't help you accurately calculate ROAS because:
You can't attribute revenue to an impression.
If an ad is displayed, and the visitor doesn't react to it, there's no way to tie their future purchase to that ad. It's just like the person who drove by your billboard. Did they go buy your product after seeing your ad? You'd never know.
You can't tell how many people were exposed to your ad.
Even if you knew you'd made a certain amount of revue every time your ad displayed for a new customer, you couldn't calculate ROAS using CPM because, as we mentioned above, you can't tell how many unique customers were exposed to your ad.
Impressions don't tell you whether your audience is impressed
Since an impression doesn't require any action from your audience, CPM marketing doesn't tell you anything about the quality or effectiveness of your ad.
For example, did you know that Facebook counts a video ad impression even if a visitor doesn't watch the video?
It's true. Here it is, straight from Facebook:
[A] video is not required to start playing for the impression to be counted."
You can have 10,000 impressions on your video ad but have no idea how many of those visitors even watched it.
Also, just because an ad displays on someone's screen doesn't mean they've seen it. Heat maps show us that there is screen real estate that visitors never look at.
Have a look at this heat map of a Google SERP:
If your ad's not in the "hot" zone, it may as well be invisible.
With a solid ad-bidding strategy on Google and Facebook, it's possible to get a low CPM with an ad your audience doesn't even see.
If you're measuring your ads by CPM, you may be paying for a lot of people to very efficiently ignore your ads.
3 Metrics You Should Use Instead of CPM Marketing
Once you've ditched the abacus, you'll need a new way to do math.
These three key performance indicators take advantage of Facebook's and Google's ability to track visitor actions.
Each tracks something more valuable than gross impressions and gives you a clearer picture of the return on your ad investment.
Cost per link click
Cost per link click (CPC) is the average price you pay every time someone clicks a link in your ad. CPC is the best metric for marketers looking to drive traffic from search and social to their website.
Clicks are valuable actions that are worth tracking. When someone clicks a link in your ad, you can do the following:
CPC marketing is also good for advertisers who need to control their budgets. By bidding on clicks instead of gross impressions, you're paying for only the visitors who actually end up on your website. In fact, we found that campaigns prioritized for CPC were the cheapest way to drive traffic to your website from Facebook.
Cost per engagement
Cost per engagement (CPE) is the average price you'll pay each time someone takes any action on your ad.
An engagement can be clicking a link or sharing, commenting, or liking an ad. CPE is a great metric for marketers running a branding/awareness/educational campaign.
Engagements prove that your ads are effective at generating awareness.
A like, comment, or share says your ad was thumb-stopping. Plus, the social proof of an ad that gets visitor activity will lead other people to notice and engage with the ad.
Clothing brand Chubbies has realized the importance of engagement on their posts, so they overtly ask for visitors to like them. Of course, including a cute dog picture doesn't hurt.
By focusing on engagement, you can also make your ads more cost-effective. That's because ads with higher engagement deliver less expensive clicks, impressions, and even leads.
Here are the results of a test we ran using $1,000 worth of Facebook ads.
Ads that had more engagement, listed here as social proof, beat their less engaging counterparts in every category.
Cost per 1,000 people reached
Cost per 1,000 people reached is the price you'll pay to place your ad in front of 1,000 people. It differs from CPM in that reach tracks unique impressions.
Earlier we gave an example of calculating CPM. We showed you that if you pay $5,000 per 1,000 gross impressions, you might really be paying $50 for a single person to see your ad. With cost per 1,000 people reached, you know exactly what you pay to get your ad in front of each individual customer.
Cost per 1,000 people reached is a better metric than CPM for measuring how efficiently you're getting attention. Facebook agrees. "On Facebook, reach can be a more insightful metric than impressions, because it gives you a measure of how many people were exposed to your message and how efficiently you reached them."
By focusing on reach over CPM, you won't dilute your awareness metric with visitors that see your ad over and over. In other words, you'll stop counting the guy that keeps "running back and forth in front of your store."
Ditch CPM Marketing and Listen to Your Audience
The best marketing is a two-way conversation.
When you place an ad, that's your side of the discussion. Your customers respond by taking an action, such as liking or clicking the ad.
If you follow metrics that track your audience's actions, you'll get to hear what they have to say.