The last quarter of 2022 was busy at Meta. The company launched new Reels and Groups features, an updated ad interface, important brand safety updates, and so much more. Marketers and advertisers are heading into 2023 with more automation, powerful new capabilities, and a streamlined experience across Meta platforms.
Keep reading to find out what changed in December — and what you can expect from Meta in 2023.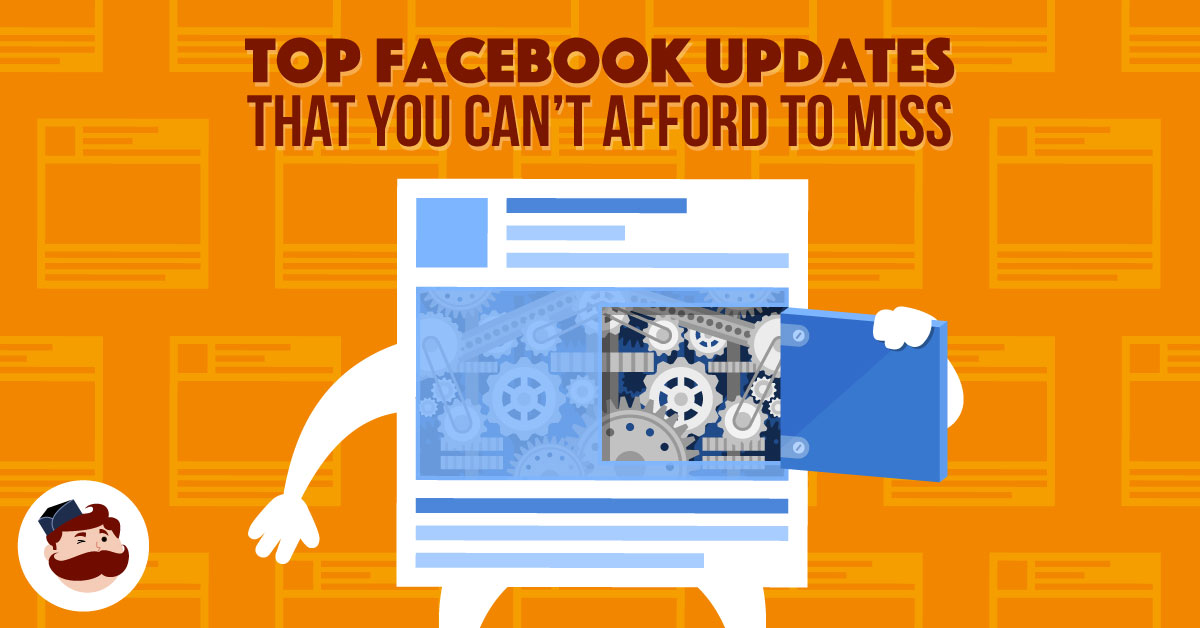 Facebook reveals advertising best practices
With Facebook Ads always changing, it can sometimes feel like Meta is moving the goalpost while you're just trying to figure out best practices. Fortunately, every so often the company releases best practices for advertisers backed by their own internal data.
In December 2022, Facebook announced a list of essential tips that will help advertisers boost the ROI of their campaigns. Here are the main takeaways:
Shoot for a weekly ad frequency of 1 or 2; it's 4x more effective than less than .5 (or one ad every two weeks).
Use Facebook's automatic ad placements; 8 or more placements is 3x more effective than campaigns with only 1-3 placements.
Display a visible brand logo in your creatives to increase your ROI by 5x, ideally within the first two seconds of the ad.
Create mobile-optimized ads for 1.9x more ROI (think vertical images and videos).
Emphasize the "newness" of your offering to attract more attention.
Use sound as an ad enhancer, but remember that your ads have to be comprehensible to users who browse Facebook with the sound off on their device.
Read the full report here.
Instagram launches native content scheduling
Earlier this year, Instagram launched native post scheduling on desktop. Some users, however, prefer to work entirely within Instagram's mobile app.
In order to account for that, Instagram just recently released a new tool allowing Business and Creator accounts to schedule Reels, photos, and carousel posts as far as 75 days in advance directly from the Instagram app.
To use this feature, open the Instagram app and create a post or Reel. Once it's ready, click on "Advanced settings" on the last slide before publication. There, you'll find the "Schedule" option, and you can select a time and date for your content to go live.
Once scheduled, you can edit, reschedule, or delete posts at any point. Scheduled posts can be found in the "Scheduled posts" section in the drop-down menu for professional accounts.
There's one important caveat here: Certain features like product tagging, cross-posting to Facebook, and boosting posts will not be available for scheduled content. You'll need to consider scheduling those live.
What we expect in 2023
We've seen a ton of Instagram and Facebook updates in 2022, and we're incredibly excited to see what's coming our way next.
While there's no way to know for sure, we wanted to share a few trends we're confident will continue in 2023.
Continued emphasis on Reels
Reels have become a vital part of Instagram, just like Stories did before. The format has been a major source of traffic, revenue, and engagement for the app, and we've many Reels-related updates last year.
We expect that Reels will continue to be a focal point for Meta in 2023, with new advertising and eCommerce features coming our way.
More new Facebook Groups features
Groups are an important engagement tool on Facebook right now. The feature offers a valuable way for people to network, nurture interests, and form online communities.
In 2022, Meta continuously improved moderator tools for Groups, and subscription-based groups now offer brands a new way to monetize their Facebook presence.
And, importantly, Groups are still very visible in users' newsfeeds. All of this leads us to the conclusion that Facebook will try to attract even more businesses to Groups in 2023.
A bigger push for Advantage+ campaigns
Meta's Advantage+ campaigns are the newest generation of automation-heavy ad campaigns that leverage Facebook's incredible machine learning capabilities to get brands better results.
There are different types of Advantage+ campaigns, and Meta has been actively working on advancing these offerings.
We're excited to see where Meta takes the potential of this advertising product in the next year.
More investing into the Metaverse
Mark Zuckerberg has spent over $36 billion on the Metaverse so far, and it's clear that the Meta CEO is not planning to slow down any time soon. He's been an enthusiastic investor in the project, looking for new opportunities to create spaces that bridge the gap between real life and digital life.
Virtual and augmented reality technology is center stage here, though it hasn't seen overwhelming commercial success so far. We're excited to see how Meta will grow this virtual space in 2023.
---
Top Facebook Updates November 2022
New brand safety milestone achieved 
Meta has put a ton of effort into improving brand safety features over the last few years. In November, the company received accreditation from the Media Rating Council (MRC) for content-level Brand Safety on Facebook. Independent auditors reviewed brand safety policies, processes, and controls across the social network. 
The accreditation recognizes Meta's Partner Monetization Policies, Content Monetization Policies, and associated content-level brand safety and suitability controls applied to Instant Articles and In-Stream video — across desktop, mobile web, and the mobile app. 
The accreditation reviewed the following:
Enforcement of partner monetization and content policies through machine learning and human review

Quality assurance of business partners and performance measurement

Controls available to advertisers across the suite of tools

Brand safety disclosures and reporting 
Meta also announced that they're testing a content-based inventory filter for both the Instagram and Facebook feed. The goal is to continually improve brand safety and suitability solutions, with the hope of extending the MRC accreditation to new features as they roll out on a wider basis. 
Instagram launches music in feed posts
As of this month, Instagram allows users to add up to 90 seconds of music to their in-feed photo posts. 
You read that right: Photo posts, not just videos.
In the announcement, Instagram shared that "Music is a huge part of expression on Instagram, and we're excited to provide the ability to add music to Feed photo posts like you can with Reels and Stories." 
As of right now, it doesn't look like carousel photos support music, but this is still an exciting update that allows brands to use music to capture user interest and create more engaging content with otherwise static posts. 
Meta offers small business support for the holiday season 
Knowing how important social media can be for small businesses during the high-traffic, high-sales- holiday season, Meta has released some new support resoures in November.
These are the ways Meta is supporting small businesses through the holidays:
Small business holiday marketing guide

, that includes insights from 2019, 2020, and 2021. (Need more holiday marketing advice? Check out

Hootsuite's webinar here

.) 

Try My Reel,

a series of easy to use Reels templates created by influencers specifically for small businesses. They can be found in the Reels template library.

#BuyBlackFriday

, which is being brought back for the third year in a row. This program offers free guidance and training to Black-owned businesses through the holiday season. Learn more

here

. 
---
Top Facebook Updates October 2022
New IP reporting API
Protecting intellectual property (IP) on social media is more of a concern than ever now that creators make so much profit on social platforms and it's common for other users to copy and share popular content — accidentally or otherwise.
To combat this, Meta just announced a new IP Reporting API that's designed to protect original content across Facebook and Instagram. It allows rights holders (a.k.a. the original content creators) to report content that they believe violates their intellectual property rights.
The new API was designed to be streamlined, integrating with the Graph API that allows users to easily fill out report forms.
Meta is also improving the Brand Rights Protection feature, which helps brands protect their content by identifying counterfeit products, copyright infringement, impersonation, and trademark violations. It can also be used to search for content that meets any of this criteria and report it accordingly with a request to have it removed. It's accessible through the Business Manager.
NewBrand Rights Protection features that have rolled out this year or are rolling out soon include:
Automated takedowns for eligible brands, which allows brands with a strong reporting history to have reported content automatically be approved; ongoing audits will be conducted to ensure this feature isn't abused.
Allow lists, which allow brands to upload a list of accounts that are authorized to share their content.
Automated recommendations, which enable Meta to automatically recommend commerce listings, Pages, accounts, and ads for brands to review based on previous reports, reference images, and allow lists.
The ability to search and report Groups, Pages, profiles, accounts, and posts on both Instagram and Facebook.
Increased search functionality, including searching by image on more types of content like posts, URLs, and IDs.
A new Insights dashboard, which shows the past 90 days worth of actions taken from the reports you've submitted in the Brands Right Protection feature .
New features for brand collaboration through Instagram Creator Marketplace
Instagram started testing their Creator Marketplace in July of this year, and businesses in the US can now register to join as access rolls out.
As Meta expands access, they're also releasing a few new tools within the Creator Marketplace designed to improve the collaboration experience for both brands and creators.
The new features include the following:
Brands can make projects discoverable by creators who meet certain criteria
Creators can let brands know the different opportunities they're interested in
Brands can message multiple creators at once through a prioritized partnership inbox to close deals quickly, and they can send projects with fixed offers that creators can review and accept immediately
Creator portfolios that detail their story and highlight why they're a good fit for brand partnerships (including sharing previous work from past partners)
Creators will soon be able to provide brand partners with a unique code to run creator content as ads
You can sign up to request access to the Creator Marketplace here.
New Instagram ad surfaces
Over the last month, Meta started rolling out new creative tools and surfaces for ads to give brands more flexibility in reaching their target audiences.
The changes include the following:
Music optimization for Reels Ads, including free, high-quality songs that you can add to Carousel Ads on Reels
Ads can now appear in the Explore page and in profile feeds, with the latter currently being tested for non-teen, public profiles; Instagram is looking into ways to share the revenue from this placement with profile owners
AI-powered multi- advertiser ads, which utilize machine learning to deliver more relevant ads to users who engage with ads in their feed
The open beta of augmented reality (AR) ads
New Facebook Group features coming soon
At the Facebook Communities Summit in October, Facebook revealed a handful of new Group features designed to improve user engagement.
These are the new features that were announced:
Reels in Groups, which allow Group members to upload and share Reels within a Facebook Group
Facebook Event Sharing through Instagram, which allows Group administrators to share their Group's Facebook Events to their Instagram account, expanding reach across platforms
And these are the new features currently in testing:
Expanded Group profiles that will have more room for information in the "About" section and "open to messaging" tags that users can add to their profiles
The ability for admins to highlight top-contributing members and track engagement with a points system
A new "socializer" role for members, which recognizes members who help welcome new users to Group communities or who encourage participation
An Admin Assist feature, which streamlines Group administration and moderation tasks like handling false information; it will come with a daily digest report that will detail all automated actions taken
A Flagged by Facebook Override feature, which allows certain admins in specific Groups to override a Flagged by Facebook status on posts in the Group, especially content flagged as bullying or harrassment
These are significant quality control measures that will hopefully make Groups more engaging for users and easier to manage for admins.
Instagram tests multiple links in bio
Hootsuite noted that Instagram has been testing the option to add multiple links to user bios. The test isn't in wide release, but some creators have already been seen utilizing the feature. If rolled out, this would make it much easier for brands and creators to share links to different core content instead of having to choose just one link.
---
Top Facebook Updates September 2022
Growth-focused AI, messaging, and video features coming soon
In September, Meta announced that they're rolling out new ways for advertisers to reach customers on the platform.
These changes include:
Royalty-free audio for Reels Ads. With the goal of making it easier for advertisers to create Reels ads, Meta is rolling out a dedicated collection of free sounds for Carousel Ads on Reels. Advertisers can manually select a song or let the app choose one automatically, based on the content of the ad.
Post-loop Reels ads in testing. Meta is testing 4-10 second skippable video ads that will play after a Reel has ended. After the ad, the original Reel will resume and loop again.
Image carousel ads for Reels in testing. These are horizontally-scrollable ads that can include 2-10 images. They will be displayed at the bottom of Facebook's Reels content.
Advantage custom audience. This is a new targeting automation product that uses an advertiser's Custom Audience to reach both new and existing customers. It's similar to Lookalike audiences, but goes beyond the 1%, 5%, or 10% similarity ranges of Lookalike audiences. It will also prioritize the delivery of ads to people within your Custom Audience, driven by AI and machine learning.
AI comes to Messenger. Brands can now run click to Messenger Ads that will reach the people most likely to make a purchase in a communication thread with your brand.
New Lead Generation ad format that funnels customers to either Messenger or a form, depending on what the user is most likely to interact with.
New ad placements and formats on Instagram. Ads are coming to Explore home, along with the profile feed that people see after visiting another account's profile and tapping on their post. Ads in Explore are already rolling out; feed posts are in testing.
AI-powered multi-advertiser ads. When people engage with ads, Meta will deliver similar ads that the user is likely to be interested in based on machine learning. Multi-advertiser contextual ads on Instagram outperformed other campaigns in their initial tests.
Open beta test of Augmented Reality (AR) ads launching. These ads will be available in both the feed and Stories. Users will be able to interact with them in new dynamic ways, e.g. seeing how furniture would look in their home or how a bracelet would look on their wrist.
Content-based inventory filter in testing. Meta is testing their inventory filters for both Facebook and Instagram feeds to improve brand safety and suitability tools; these will be broadly available in early 2023 if everything stays on schedule.
New Call Ads updates announced
Meta has announced some significant updates to their Call Ads, optimizing the format to reach more potential customers and find better quality leads.
One of the first updates is a feature currently being tested that will allow customers to request a callback from a business in Messenger. Using it will help businesses show customers that their time is valued and eliminate the frustration of waiting on hold.
Source: Meta
We're also getting the following new optimization and integration features for Call Ads:
Call Ads in Sales Objective. Call ads will now be an optional format under the Sales/Conversions objectives.
60-second call in Lead Gen, Traffic, and Sales objectives. This update allows businesses to optimize their ads to reach people who are most likely to engage in a sixty-second or longer phone call in order to increase the quality of leads.
Pre-call business feature in the Ads Manager. Businesses can provide additional context in their ads like a link to their website or landing page to educate potential leads. This can help leads gain context before calling, which may weed out contacts that aren't a fit for your business.
In-app calling in testing. This feature will allow users to place calls to businesses in-app, which can improve Facebook's internal tracking and reporting options. No call content will be captured.
Local delivery option for Collaborative Ads released
Grocery stores and restaurants understandably need to reach local traffic. To help these industries get the most out of Meta advertising, Facebook is globally rolling out a new local delivery feature for Collaborative Ads.
These ads will allow local businesses and consumer packaged goods brands to generate awareness for their goods and give people the option to order those products from a local delivery service. The ads will only show products that are listed as in stock with current pricing. The buying experience will be quick and easy, offering a streamlined path from product discovery to purchase.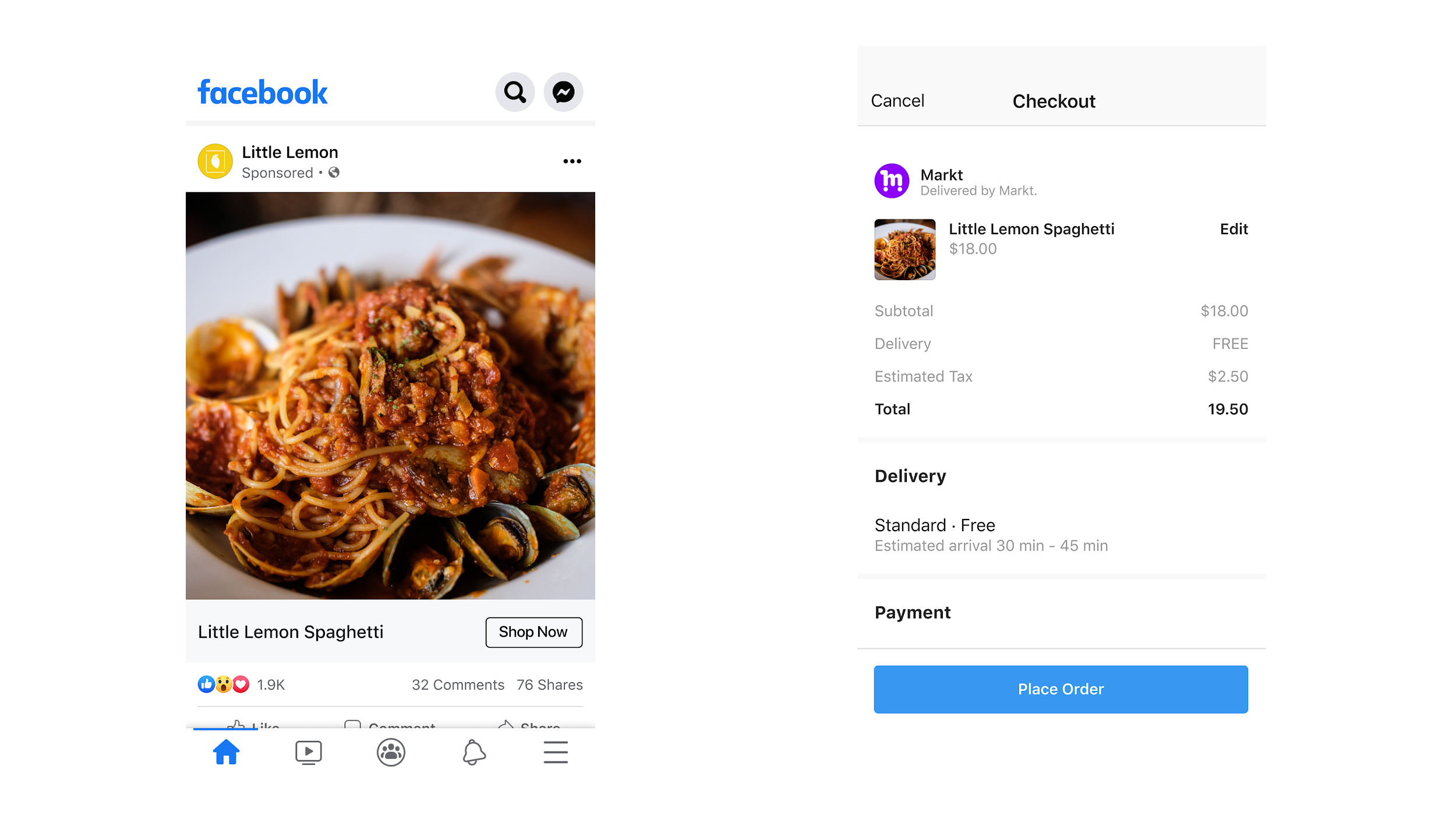 Source: Meta
Get paid in Instagram DMs
Instagram has rolled out new payment options, allowing businesses to accept payment right in their DMs. Customers can pay invoices without switching apps or sites, allowing them a more convenient shopping experience while also granting businesses flexibility in how they do work.
This feature is only available to eligible sellers who use a Professional Account on the Instagram mobile app.
There are two ways businesses can accept payments in chat.
The first is to go to your dashboard and then find and click "Get paid in chat."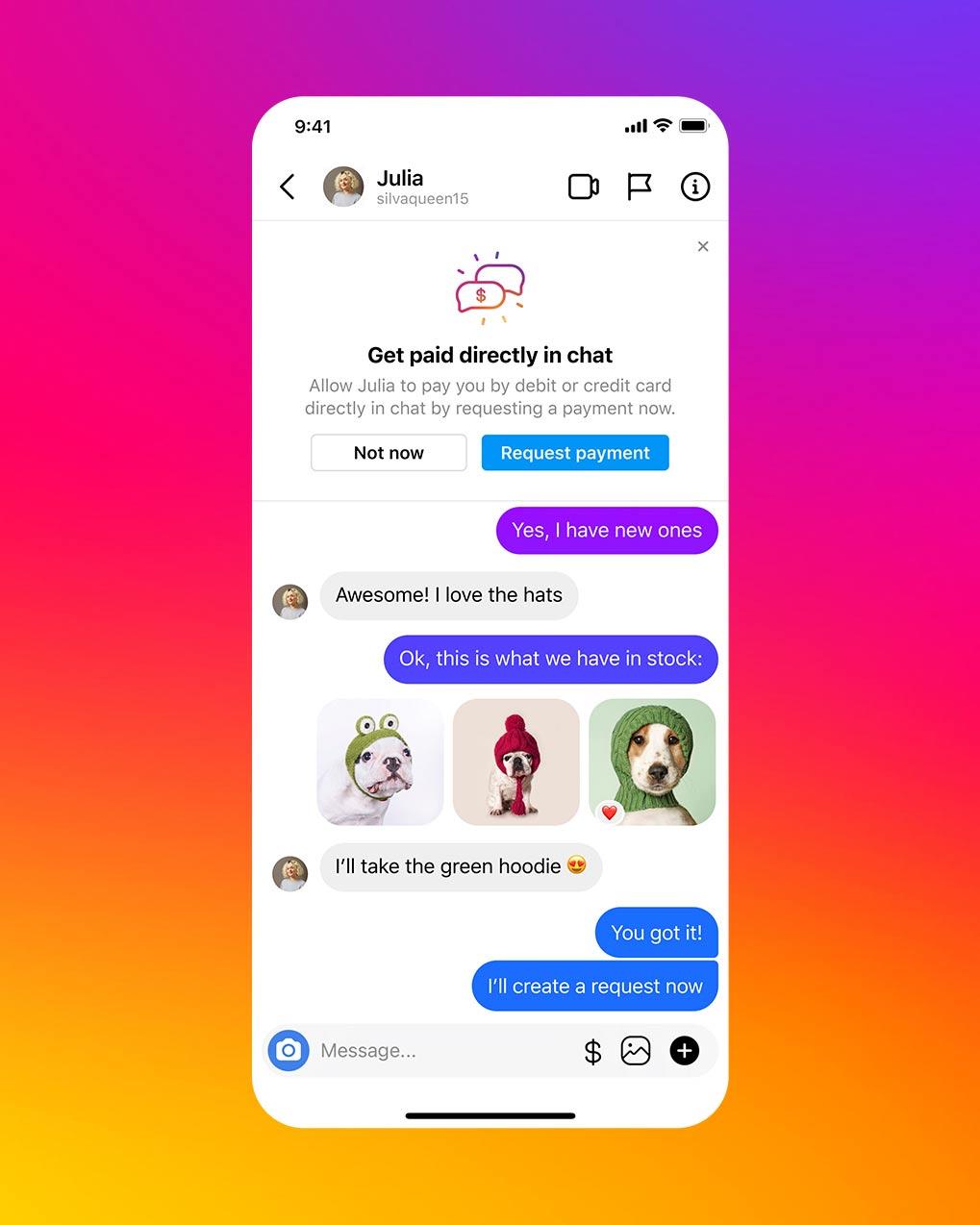 You can also go to a DM thread with a customer and tap the $ icon in the typing box.
To set up this payment option, you'll need to enter your personal information and bank account details.
There aren't any fees to accept payments in Instagram's Direct Message chat, and there's 24/7 access to customer support if needed. The customer's purchases will be protected, and they can use Meta Pay, credit card, or PayPal.
---
Top Facebook Updates August 2022
Facebook Live Shopping shutting down
Meta announced that the Live Shopping feature will shut down on October 1st of this year. (Live streaming itself, of course, will still be available.)
Live Shopping allows users to live-stream shopping events like sales or merchandise launches. Live viewers can make purchases as the stream goes on.
The platform has said that consumer viewing behaviors are shifting. As a result, they're focusing more on Facebook and Instagram Reels.
The feature wasn't super popular, so this change may not impact you. But if you have any Live Shopping campaigns planned, make sure you run them in September.
New automation tools
Machine learning and automation are a huge focus in online marketing and advertising.
Meta announced several new automation tools to increase growth and sales. These tools will appear within their Advantage+ solutions.
There are a few updates here, all of which revolve around Meta's Advantage expansion, so let's take a look at each.
Advantage+ Shopping campaigns
Advantage+ Shopping campaigns rolled out on August 15th. They use automation to eliminate the manual ad creation process. These campaigns can create and split-test up to 150 creative options at once. This feature should help advertisers create profitable campaigns that convert faster.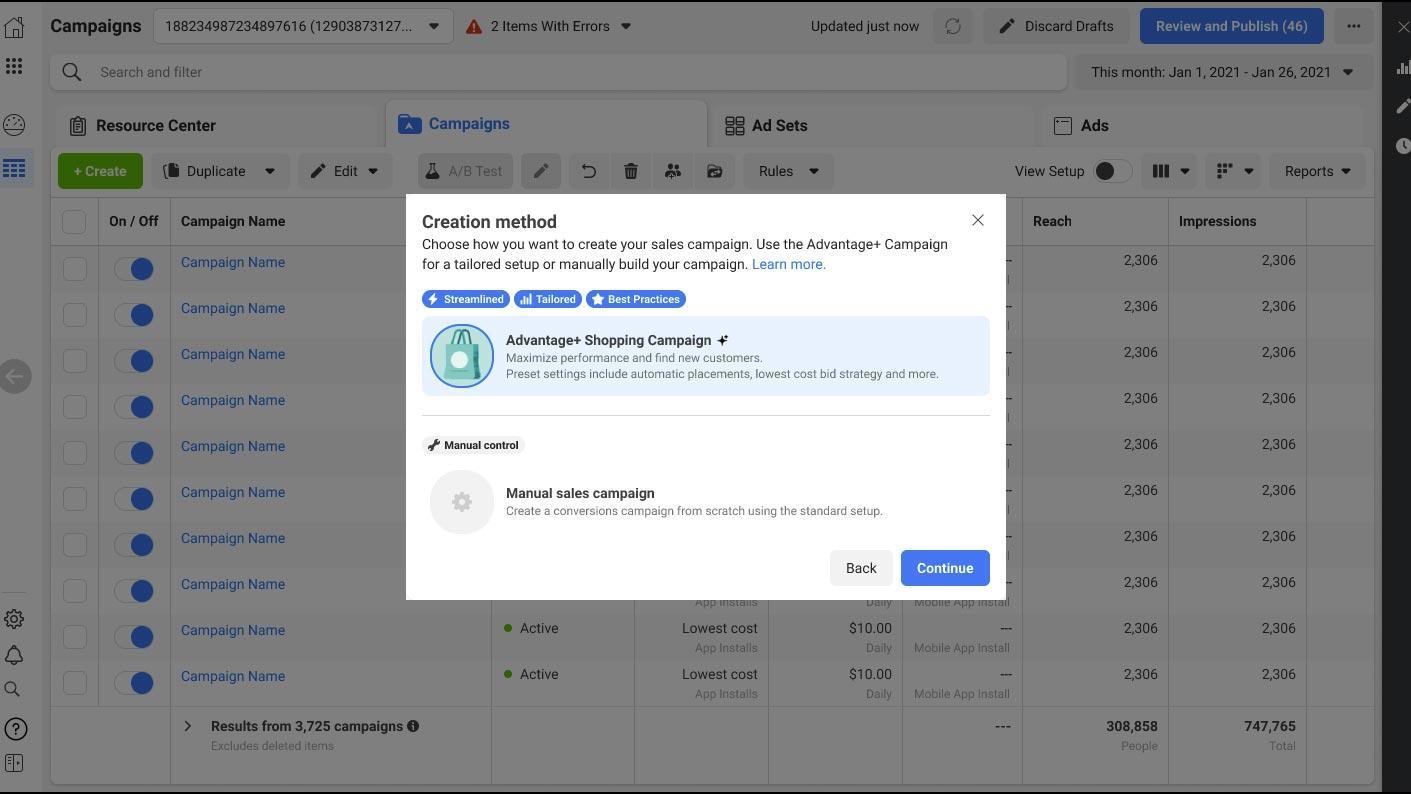 Image source: Meta
Meta shared that these new shopping campaigns saw significant cost-savings and conversion results. In 15 A/B tests, the new campaigns led to a 12% lower cost-per-purchase conversion than standard ads.
There's more coming for these campaigns, too. Later this year, U.S. businesses with a checkout-enabled Shop can use their Facebook Shop in ads. Machine learning will direct users to your Shop or your site, wherever the user is most likely to convert.
Automation Advantage features
In August, a few new tools launched to help small business owners create automated ads.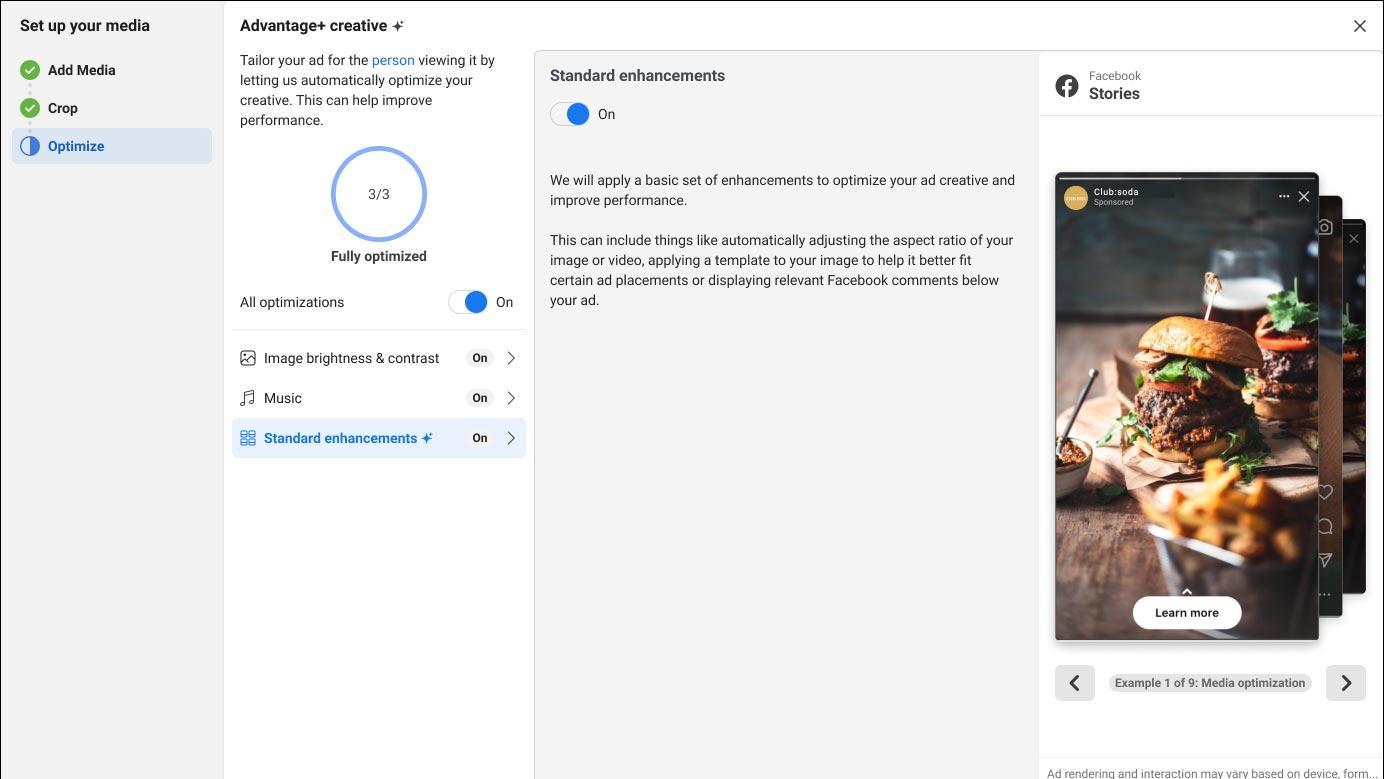 Image source: Meta
Advantage+ creative adjusts creative for each individual who views an ad. Each person will see a version of the ad that they're most likely to respond to.
Advantage audience creates a personalized audience based on your specific Page. The audience adjusts as Facebook learns more about how your audience converts.
Advantage+ app campaigns have also received several new features to maximize app installs. Updates include more creative flexibility, 7-day click attribution capabilities, and more detailed reporting.
New B2B targeting options
B2B advertising through Meta has always been more challenging than B2C marketing. Especially when compared to B2B-oriented platforms like LinkedIn.
Meta has just released new features seeking to change that, though. They've announced improved B2B targeting options based on on-platform job titles and interests. These new audience segments include the following:
IT decision-makers. This segment targets ads based on job titles.
Business decision-maker titles and interests. This segment uses job titles and interests to target business decision-makers.
Business decision-makers. This segment uses job titles and industries to target decision-makers. The group includes users in engineering/IT, operations, HR, strategy or marketing.
New active business. Three new segments allow you to reach admins of engaged businesses that were created in the last 6, 12, or 24 months.
More Reels features roll out
We've known for a while now that Meta was going all-in on Reels. It's no surprise that we saw more Reels features come our way this August.
First up: Users can now schedule Instagram and Facebook Reels through Creator Studio. Before this change, you could only schedule posts and videos through Creator Studio. (Pro tip: You can also use Hootsuite to schedule and manage your Reels)
Next, Meta added an "Add Yours" sticker for both Instagram and Facebook Reels. This sticker was previously only available in Stories. Viewers use the sticker to add a video response to a prompt or theme.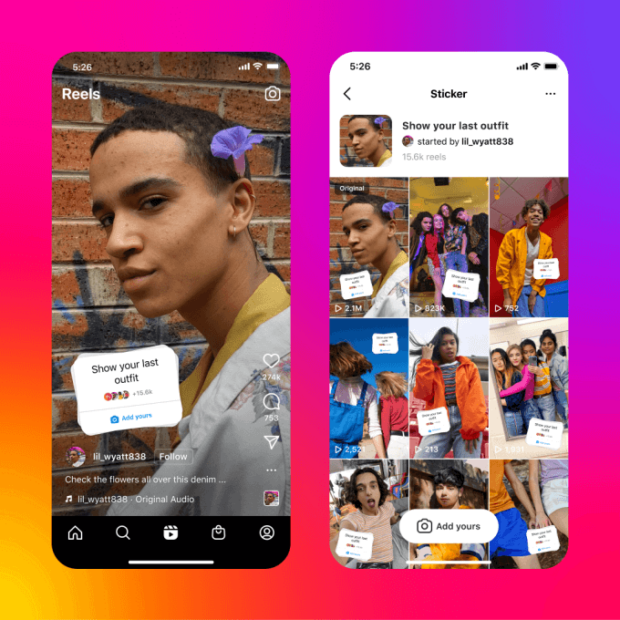 Third, we've got cross-posting! Instagram users can now cross-post their Instagram Reels straight to Facebook. You'll see a "Share your Reels to Facebook to grow your audience" prompt when you go to post a Reel on Instagram. You can choose to share all content or use the feature on a video-by-video basis.
Finally, we got improved Insights for Facebook Reels. These more detailed analytics are now available in Creator Studio. They include metrics like reach, average watch time, and total view time.
---
Top Facebook Updates July 2022
New videos on Instagram automatically shared as Reels
We've seen a significant focus on Reels on both Facebook and Instagram over the past few months. Sure enough, we've gotten more Reels updates in July!
Standard video posts will now be full-screen experiences. All new video posts under 15 minutes long will automatically be shared as Reels. As part of this change, the Videos and Reels profile tabs are going to be merged.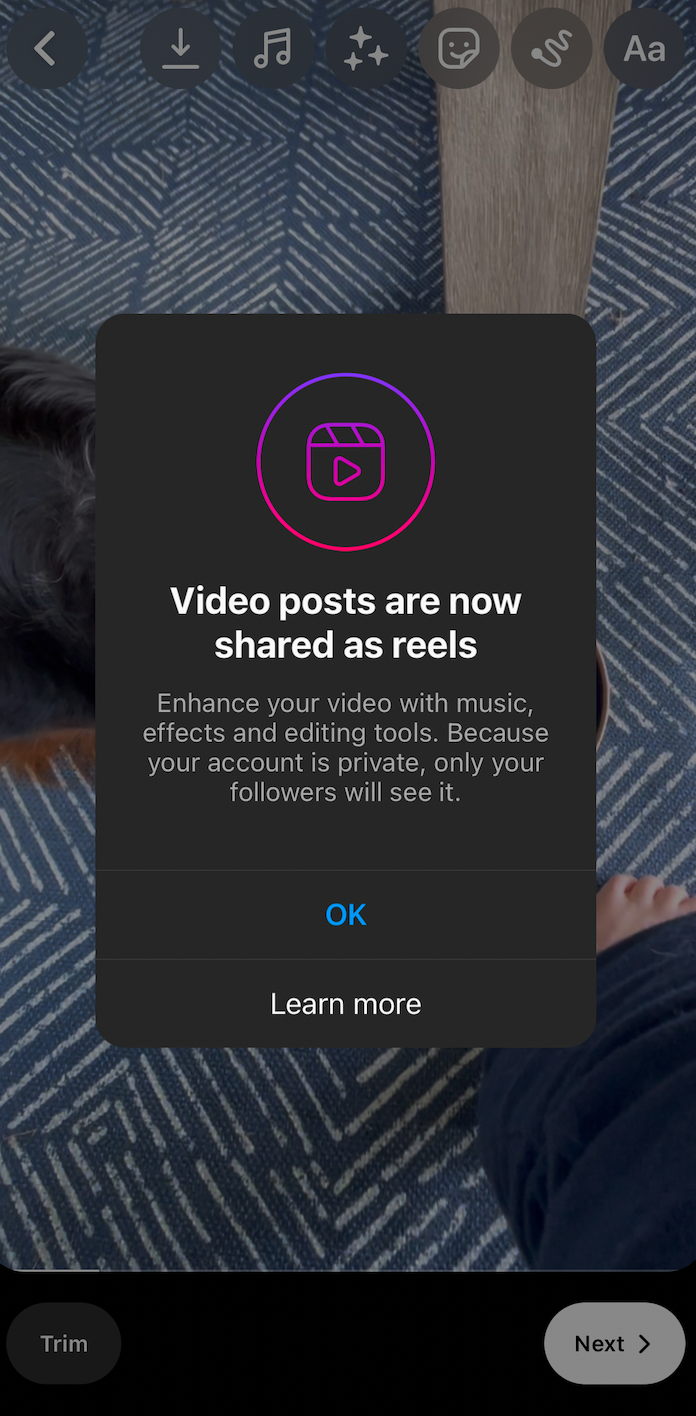 This means that moving forward, all of Reels' advanced editing features can be used for all video posts.
Note: In-feed videos that were uploaded prior to this change will not be converted to Reels.
Meta launches Small Business Studios
Meta has announced the launch of Small Business Studios, a resource centre for businesses and marketers looking to grow on the platform.
On top of a library of on-demand video course, the Small Business Studios will include:
A tour of 5 major cities in the US focusing on education for small business owners and peer networking
One-on-one, 30-minute Meta marketing support from experts for everything from troubleshooting technical issues to building brand strategies
The live tour has already started in Detroit (July 20-21), and will be visiting Columbus (August 3-4), Kansas City, MO (September 21-22), Austin (September 28-29), and San Diego (October 12-13).
New option to boost Reels
Reels are becoming a core focus for brands and casual users alike, and now you can easily boost them within Instagram's app.
Boosted Reels will show up in user feeds, Stories, and Reels tabs.
To boost a Reel, find the Reel you want to boost in your profile grid, and then tap Boost Post. You'll be able to enter in a few promotion settings and define your budget for the campaign.
To be eligible for boosting, your Reels must meet the following criteria:
The video must be less than 60 seconds long
The file must have a 9:16 aspect ratio (vertical full screen)
The Reel cannot use any third-party IP, including copyrighted music, interactive stickers, camera filters, or GIFs.
New Creator Marketplace gets invite-only launch
Meta has been talking about their Creator Marketplace for a little while now, and we're finally getting our first real look at the dashboard as it moves into testing for a small group of invite-only brands in the US.
The Creator Marketplace is a new feature within Meta's Business Suite that will allow brands to find creators they want to partner with. Creator profiles will include short descriptions, recent posts, and core metrics like follower count, engagement, and average reach.
The marketplace makes it remarkably easy for brands to find the exact type of influencers they're looking to work with.
Creator profiles can be filtered by gender, age, location, and interest. The same filters can be applied to creators' audiences.
The Creator Marketplace is more than a discovery tool. The dashboard also includes communication and collaboration features. Brands can message creators, outline campaigns, and request deliverables from one place.
Meta rebrands Facebook Marketing Experts as Meta Pro Team
The Facebook Marketing Experts program designed to offer high-quality support to businesses using the platform has been around for a while. Now, Facebook is expanding the program and rebranding it as the Meta Pro Team.
Here's what this new rebrand includes:
Expanded access to free live support to provide one-on-one guidance for business users
Specialized expert help in topics like ad optimization, technical troubleshooting for ad and account issues, campaign strategies, unlocking billing, and more
Technical support for the pixel, Conversions API, and more.
---
Top Facebook Updates June 2022
Enhanced monetization features for creators
Mark Zuckerberg recently announced that Meta is rolling out more ways for creators to earn more money on Instagram and Facebook.
Creators can continue to hold onto their earnings. Zuckerberg shared that revenue sharing is off the table until 2024. This includes revenue earned from Badges, Subscriptions, and paid online events.
Meta also announced the following changes:
Facebook Stars are rolling out to all eligible creators. (Previously, only specific creators could access this feature.)
Reels monetization will be available for more creators through the Reels Play Bonus program. Creators will be able to cross-post and monetize their Instagram Reels on Facebook.
Interoperable Subscriptions are coming. Soon, creators will be able to offer paying subscribers on other platforms access to subscriber-only Facebook Groups.
Creator Marketplace is being tested on Instagram. This feature will help creators connect with brands for partnership opportunities.
Meta's Digital Collectibles test is expanding. This will allow more creators to display their NFTs in-app. This feature will be tested by a small group of U.S. creators on Facebook after coming to Instagram. Meta also plans to test NFTs in Instagram Stories.
Users can create Reels from existing videos
Meta continues to focus on Reels, with new updates that make it even easier for users to start creating.
Users will now be able to create Reels from existing videos when using Creator Studio. This update was spotted by Matt Navarra.

Image source: Matt Navarra
This update allows users to repurpose existing content as short-form videos. You can share clips from your videos as Reels or Stories.
This latest is one of many new Reels features this year. Scroll down to see all the other recent Reels updates that we've gotten this year.
Meta introduces API access for Reels
We've got another Reels update— and this is a big one.
Meta is introducing API access for Reels. This will allow third-party developers to offer publishing, analytics, comment moderation and more.
This is huge news for brands like Hootsuite. Adding Reels capabilities to their top-of-the-line social media management platform will be a big win.
Right now, about 25% of Instagram user accounts have access to Reels API on the platform. It's expected that the rollout will be complete by July 6th.
Instagram rolls out new supervision & time management tools
Child and teen safety on social media is a major concern. In response, Instagram has rolled out new tools to help younger users engage with the platform in a safer, more responsible way.
To start, parents and guardians can do the following:
Learn when their teen reports an account or post, along with details about who was reported and what type of report was filed
Set parameters for the day or week when they choose to restrict the teen's app usage
Send invitations to their teens in order to initiate supervision tools
Instagram will also send notifications to prompt teens to diversify the content they're consuming. These will show up if they often look at the same kind of content on Explore. The notifications can also help raise awareness of the amount of time users spend on the platform.
These changes will start rolling out in the U.S., the U.K., Japan, Australia, Ireland, Canada, France, and Germany over the next month. They'll come to the rest of the world by the end of the year.
Instagram users can pin grid posts
Instagram confirmed that "pinned" posts were in development, and now they're here!
As it rolls out, users will be able to pin three pieces of previously posted content to the top of their profile grid. This allows you to control what users interact with the first time they find your account.
Pinned posts can showcase recent promotions, introduce your brand, or highlight high-value content.
To pin posts, head to the post or Reel in question. Next, click on the three dots next to the post, and then you'll see the option to "Pin to your profile." That's all you need to do.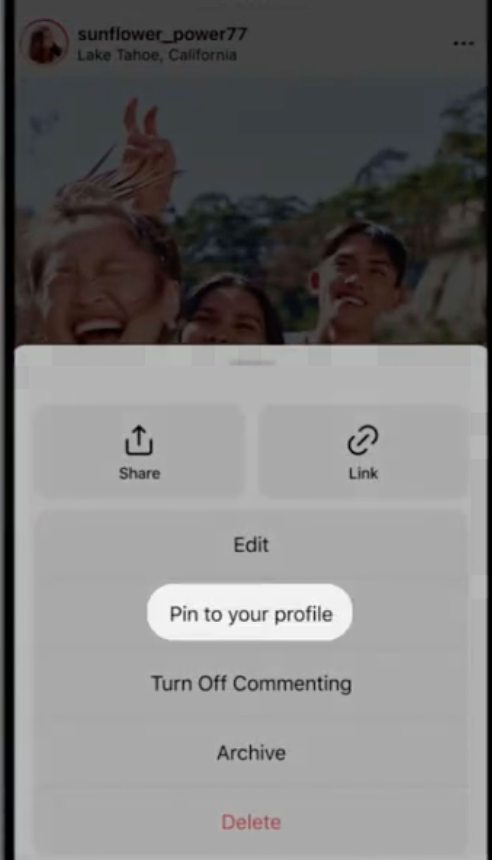 Instagram also seems to be working on a customizable grid. This feature would allow creators to rearrange posts on their profiles. A custom grid would open up new design possibilities and may impact the visibility of different posts.
---
Top Facebook Updates May 2022
More transparency for social, political and electoral ads
Facebook has faced a lot of a controversy over the past few years, as transparency around social, political, and electoral issues on social media platforms has become an important topic in the public debate. Many people started questioning the ethics of ads from these categories, in particular.
As a result, Meta has recently rolled out new transparency tools for social, political and electoral ads.
Starting in July 2022, the Ad Meta Library will include summaries of targeting information for these ad categories. The data will be made available to vetted academic researchers. The goal is to study social media's impact on society (with measures to protect individual users' privacy in place).
The disclosed targeting details will include:
demographic information including age, gender, interests
how much of their budget individual advertisers dedicate to each target demographic
whether an advertiser is using custom and/or lookalike audiences
New conversation management tools
Live chat is one of the most popular ways for users to communicate with businesses. A significant number of customers rely on messaging brands on social media platforms— particularly Facebook, Instagram, and WhatsApp— to get prompt assistance.
Understanding the business significance of direct messaging, Meta has been working on new conversation management tools for brands. In May, the company implemented new additions designed to make managing and monitoring conversations a Facebook Business Page much more efficient. Let's look at each.
Streamlined creation for ads that lead to WhatsApp
Messenger Ads on Facebook allow businesses to create ads that, when clicked, take users directly to the brand's WhatsApp account to start an instant conversation.
Facebook is streamlining the creation process for this ad category. Soon, it will be possible to create ads directly from the WhatsApp Business App, without having to go through Facebook's Ads Manager system.
While many marketers will still want to use Ads Manager for more complex campaigns, the simplified process is a good fit for businesses unfamiliar with and intimidated by Facebook's advanced advertising platform.
WhatsApp messages are coming to your Meta inbox
Businesses using Meta's Inbox (part of the Meta Business Suite available to all Page owners for free) can access and manage messages from Facebook Messenger and Instagram Direct in this single location. WhatsApp is now being added to the Inbox as well.
Inbox promotional messages in testing
Facebook is currently testing a new option that allows businesses to send promotional messages to customers who opt in. These text ads can be sent via Messenger and include information about products, events, or special deals. Customers receive notifications and see promotional messages alongside other — organic — incoming messages in their inbox.
This feature will allow brands to use Meta's inbox for more than just responding to customers. Businesses will be able to re-engage prospects and do proactive outreach. And since users have to opt-in to receive sponsored messages, the advertising format is unlikely to come across as spam.
Expansion of lead generation and customer acquisition tools
Meta's suite of tools has long been valuable for lead generation. Now, the company is launching new tools to further support brands in their customer acquisition efforts.
The new tools will help improve end-to-end lead generation management, making it easier for brands to generate leads, nurture them, and convert them into customers.
They include the following:
A "quote request" option for Instagram. Businesses will be able to add a "Get Quote" button to their profile and use "Get Quote" stickers in Stories. The customizable lead form attached to the button and sticker will ask customers detailed questions to improve the accuracy of quotes. The feature is currently in testing.
Partner integrations. Lead information from Meta can now be downloaded directly to a CRM of your choice with new partner integrations, making it easier for your sales team to reach out to leads fast.
Creative flexibility with Instant Forms. Instant Forms will be easier to create and personalize, with new visuals and content options. Adding visual information about products to Instant Forms is expected to increase conversion rates. It may also be used to help build brand or product awareness.
Filtering leads with Instant Forms. Soon, Pages can use the answers to multiple-choice questions in Instant Forms to determine which leads may or may not be a good fit, and filter them them accordingly.
Gated content. Previously, businesses had to email users access to gated content (like webinars or ebooks) after a lead form was filled out using of auto-responders and third-party integrations. Now, businesses can create gated content that will be downloadable or accessed directly from the Lead Ad Form.
Instagram may start hiding stories
Social media expert Matt Navarra spotted that Instagram seems to be testing a new Stories layout. The new format will hide "excessive" posts, showing only three Stories from an individual user by default — unless viewers tap a "Show All" prompt.
This can be concerning for brands, who have long used the continuous-play Stories to capitalize on a focused audience. As a result, we could see brands getting more strategic about Story upload times and which Stories to frontload to increase CTRs.
Full-screen videos and photos tested in Instagram feed
Head of Instagram Adam Mosseri recently said that "the future of photos and the future of video is mobile-first."
We've seen how well full-screen, vertical mobile content can do across Instagram Reels, Stories, and TikToks. It looks like standard in-feed Instagram photos and videos may soon follow suit.
The platform is testing 9×16 feed photos and videos, which dominate an entire mobile screen.
Keep an eye out for this change in future months, and start recalibrating to account for the new dimensions with your photos and videos. Consider getting a store of educational infographics ready— the new format will likely be particularly useful for them.
---
Top Facebook Updates April 2022
New monetization options in Horizon Worlds 
Meta has announced new programs designed to increase creator activity in Horizon Worlds, their virtual reality experience for Oculus.
The new monetization options coming to Horizon Worlds include: 
A "Horizon Worlds Creator Bonus" that incentivizes creators with monthly payments for their progress towards specific goals, like creating worlds that retain or attract large audiences 

New tools that will allow creators create and sell virtual effects, like fashion accessories or filters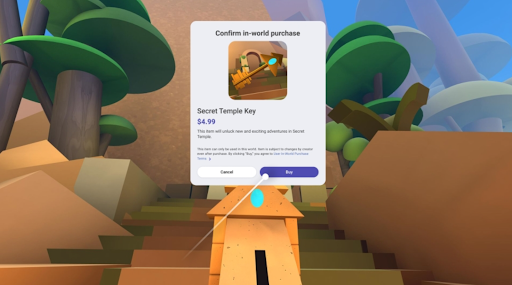 Source: Meta
These options are an addition to the $10 million Horizon Creators Fund announced in October of last year. 
Right now, this program is only available to a small number of eligible creators in the United States, but Meta says it's a crucial part of their "long-term vision."
It's worth noting that Meta has invested millions into its VR platform, and it looks like Horizon Worlds will be even more of a focus for the company in the coming months and years. 
Instagram post-pinning feature in testing 
You know how Twitter and Facebook Groups allow you to pin posts you want users to see at the top of your feed?
A similar feature is currently being tested on Instagram. Users with access to the feature will be able to pin posts to the top of their profile, making their favorite or most popular posts immediately visible to new followers. 
Users who have this feature can access it by clicking on the three dots at the top right of a post and selecting the Pin to your profile option.
Wondering how brands and creators can take advantage of this feature? Here are a few ideas:
Keep new product announcements at the top of the feed

Make sure high-engagement opportunities (like contests) are immediately visible to users who view your profile 

Highlight user-generated content (UGC) that drives significant results 

Share top-performing content to engage new followers as soon as they visit your profile 

We don't have any news just yet about when this feature might roll out to more accounts, but if the tests go well,  we'll likely know more within a few months! 
Instagram Reel length now 90 seconds 
Since their introduction in 2020, Instagram Reels have boomed in popularity and become an incredibly valuable tool for brands. Hootsuite's experiment showed that using Reels can increase an account's overall engagement and follower count.  
And we've got good news — now, there's even more Reels to love! The max Reel length has increased from 60 seconds to 90 seconds long. 
As Reels is the fastest-growing content feature on both Facebook and Instagram, this isn't a huge surprise. Still, it will be interesting to see whether or not creators take advantage of the longer video time option. Many Reels don't use the full 60 seconds as it is, knowing that sometimes shorter, more engaging videos may have higher video completion rates.
That being said, the longer time frames will likely be valuable for creators and businesses who share tutorial-style content, especially if they need that extra time to be thorough. 
New tagging options on Instagram 
We've got two significant updates regarding tagging on Instagram: the platform is expanding both account and product tagging features.  
Instagram has now expanded product tagging to all users in the U.S. For example, as a private user with only a hundred-something followers, I can now tag the new pair of shoes I just rocked on my vacation. 
While this may not sound like a big deal, it's important to keep in mind that referrals from friends and family are the most trusted marketing medium out there — people trust products, businesses, and creators that their personal connections love. This expanded tagging ability could lead to an increase in brand awareness and product purchases. 
In the same week that expanded product tagging launched, Instagram also began rolling out "enhanced people tags." 
Here's how it works: Users have always been able to tag other accounts in video and photo posts, Stories, and Reels. They can still do that, but now, creators can select a category for themselves that will appear as an "enhanced tag" next to their name. 
Creators who are songwriters, for example, can select the "songwriter" category, and it will show up next to their name when tagged by other users. Here's what it looks like: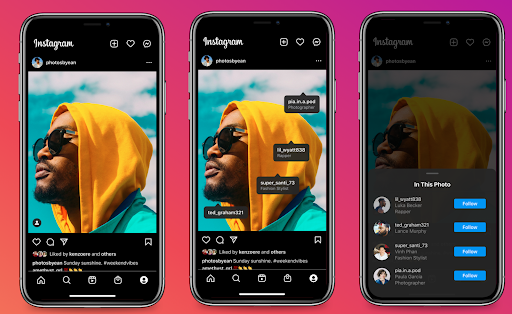 Source: Instagram
Enhanced people tags can help attract user attention and establish a creator's brand identity. They tell users exactly what you have to offer as a creator and may help drive more traffic your way. 
These changes are exciting but not shocking, as Instagram and Meta overall have invested a great deal of time and funds into attracting creators to the platform and retaining their loyalty. 
---
Top Facebook Updates March 2022
New Meta Advantage Suite for ads
Meta is consolidating all of its automated ad products under a single platform called the Meta Advantage Suite.
This will include two groups of products:
Those marked "Advantage" allow you to automate aspects of campaigns you previously had to set up manually, like detailed targeting options.
Those marked "Advantage+" allow for full automation through the entire campaign setup process, including placement choice.
The tools are designed to help marketers reach new levels of optimization, personalization, and efficiency, and improve the advertising experience for both brands and advertising audiences.
Some of the core features include:
Advantage Lookalikes and Advantage Detailed Targeting (currently known as Lookalike Expansion and Detailed Targeting Expansion), which allow Meta to reach broader sets of people outside of the initial set targeting settings to find high-converting users
Advantage+ App Campaigns (currently known as Automated App Ads)
Advantage+ Placements (currently known as Automatic Placements)
Advantage+ Creative (currently known as Dynamic Experiences)
Advantage+ Shopping Campaigns (known as Automated Shopping Ads), currently in beta testing.
Read more about the Meta Advantage Suite here.
Brand safety updates announced
Facebook has been introducing brand safety features over the last few years to give advertisers and businesses more control over where their content appears on the platform.
These are the new brand safety updates currently in development:
Third-party brand suitability verification in feed. Facebook has selected Zefr as a partner to provide reporting on the context in which ads appear in the feed on Facebook. They'll be working to find new ways to verify and measure the suitability of ads next to adjacent content (like the video played after an in-stream ad). This can benefit both the content creator and the advertiser.
Content-based feed controls for businesses. This will help advertisers avoid showing up next to content that doesn't align with their brand's core values.
New Group admin tools on Facebook
Facebook Groups has been a huge focus for Meta for the past few years, and it doesn't seem like that's changing anytime soon.
To further improve the community-building tool, Meta just announced new Group admin tools:
Automatically declining incoming posts that have been identified by third-party fact checkers as containing false information
Expanded "mute" function and allowing admins to "suspend" group members from posting, reacting, entering Rooms, or participating in Group chats
"Admin Assist" feature to automatically approve or decline member requests based on pacific criteria, like whether or not they've answered all member questions
Updates to "Admin Home," including a new overview dashboard to quickly review notifications, search tasks, and view insights
New QR codes that admins can download and share where and how they like to send users to the Group's About page; this is an easy way to grow your Group quickly
Option for admins to send Group invites through email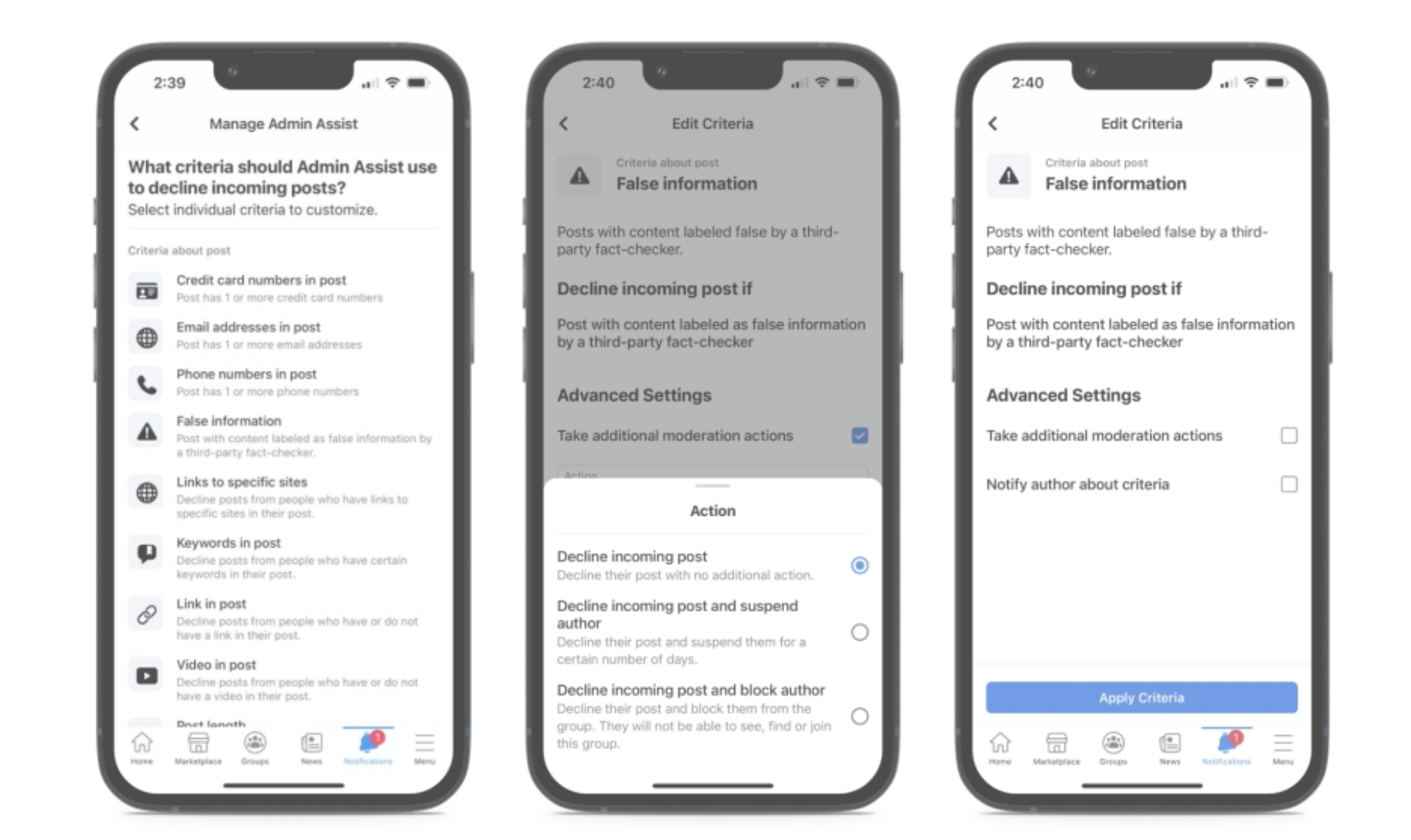 Image source: Facebook
Chronological feed is back on Instagram
This month, we got the announcement that the chronological view feature has returned to Instagram… but only for users who want it.
The chronological feed view shows users content from accounts they follow in chronological order. It doesn't use the platform's overarching algorithm that takes user preferences and behaviors into account when arranging content on feeds.
Following the update, users can view a "Following" feed to see posts from accounts that they follow in chronological order. If you select "Favorites," you'll see content from users that you consider to be your favorites. You can find these by visiting the home page in the app and tapping on the Instagram icon in the top left.
The main feed, however, will use the same basic algorithm that prioritizes what users have engaged with in the past. There are no controls yet for Stories.
Executive suggests Instagram hashtags don't impact reach… much
This month, Adam Mosseri (Head of Instagram) announced in a Story that hashtags don't actually help accounts get more views on their content — much to the surprise of social media marketers around the world.
"They do help us to understand what a post is about, which means it might be more likely to show up in a place like a hashtag page, for instance, but in general, no, I wouldn't try to think of hashtags as a way to get more distribution."
The idea behind this is simply that your content having the right hashtags may not make it more likely to show up as "suggested" content in users' feeds. But don't discard your hashtag strategy altogether — it may make your content more likely to show up on a hashtag page.
What's our opinion? Hashtags may not make or break your reach performance, but using them certainly won't hurt.
Auto-generated captions on Instagram
Captions increase the usability and accessibility of video content, and Instagram has been investing heavily in both accessibility and video content in recent years.
As a result, they're now making it easier for users to add captions to their content with auto-generated captions for feed videos. During the initial rollout, the feature will be released in 17 different languages (and more will be added later). Auto-generated captions can be turned off.
We're excited to share auto-generated captions for IG Feed videos.

Adding captions makes Instagram more accessible for those in the deaf/hard-of-hearing communities🧏🦻. You will have the option to turn captions on (or off).

Available in 17 languages (with more to come). pic.twitter.com/DiaFa95o7U

— Instagram (@instagram) March 1, 2022
Instagram launches Creator Lab
In March, Instagram announced the release of a new resource center for content creators called Creator Lab. It currently features 18 videos up to five minutes long. In the videos, successful creators share what they wish they have known sooner in their content creation journeys, with tips for new creators on getting started.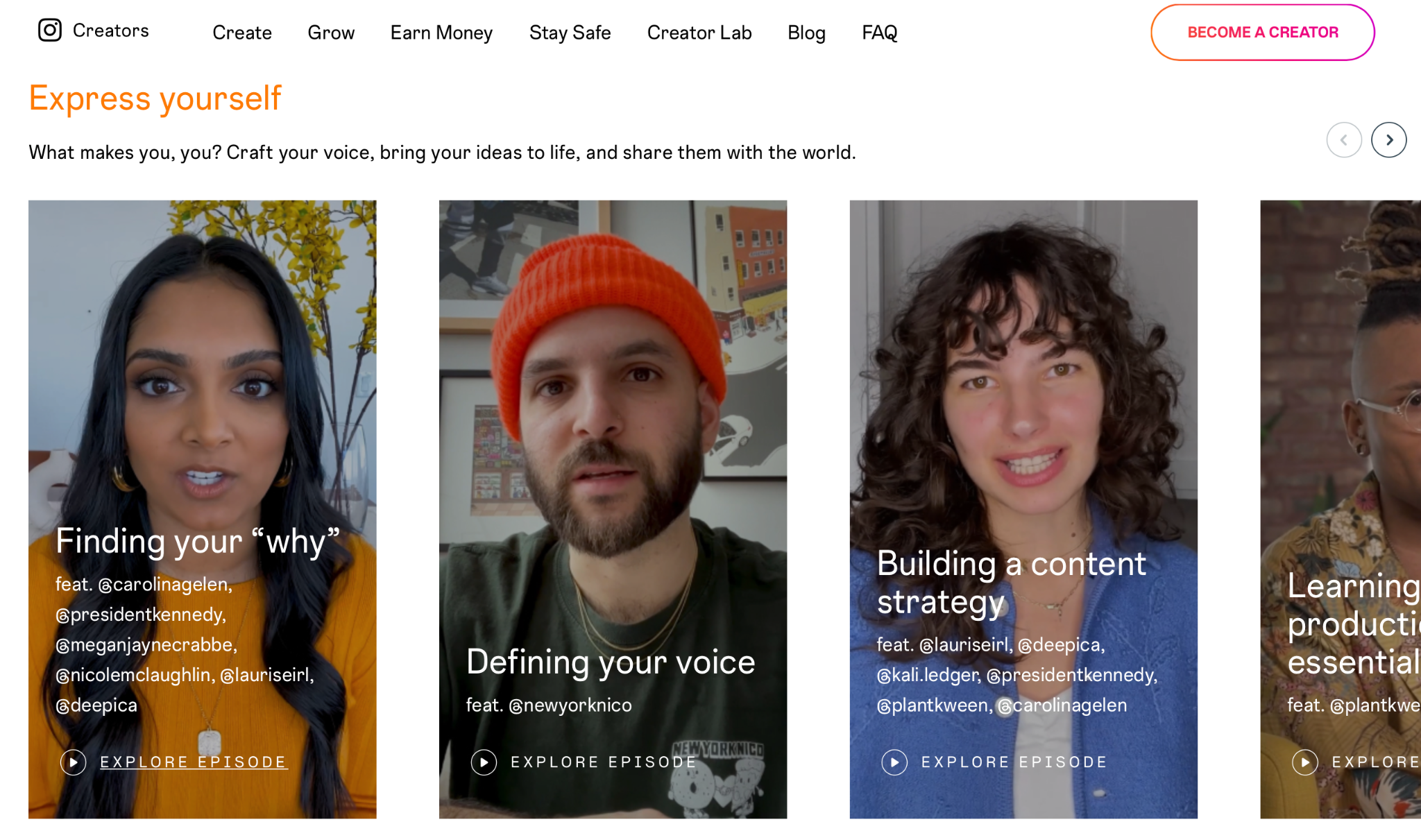 What do you think? Which of these announcements are you most excited about? How do you feel about on-platform eCommerce safety? Share your thoughts in the comments below! 
---
Top Facebook Updates February 2022
Facebook rolls out Reels globally (and starts monetization tests) 
The popularity of Facebook Reels has been growing since their initial release in the summer of 2021. Facebook is now making Reels available globally, to all users, on both iOS and Android— just in time for monetization options. 
In the coming weeks, Facebook will be picking up the pace of testing Facebook Reels Overlay Ads in Canada, Mexico, and the US. Additional countries are expected to follow soon. This advertising format will allow creators to monetize their Reels and give advertisers an exciting new ad placement.
The placement will include ads with clickable banners at the bottom of the Reels or stickers that can be placed anywhere within the Reel.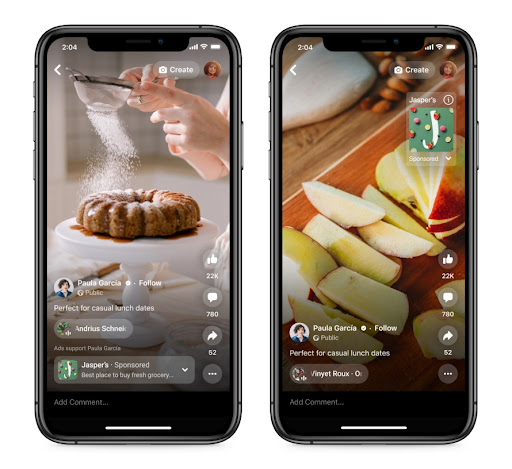 Source: Facebook
Facebook also announced they will be testing a monetization feature called "Stars on Reels." It will allow users to buy and send "Stars" to creators; for every Star sent, the creator receives one cent.
Facebook removes profile videos 
For several years, Facebook allowed users to have videos as their "profile picture" instead of a still image.
On February 7th, Facebook removed the feature from the platform. If a user hasn't replaced their profile video with an image, the cover image of the video automatically became their profile picture. 
Streamlined likes on Instagram Stories 
Earlier in February, Instagram said that they're releasing a new feature that allows users to "privately" like Stories.
Previously, creators received notifications via direct messaging when someone reacted to their Story.   
❤️ Private Story Likes ❤️

Starting to roll out today, you can now send some love by liking people's stories without sending a DM.

Likes on stories are private and do not have counts. Rather, they appear as hearts next to people's handles in your Stories view sheet. 🙏🏼 pic.twitter.com/l56Rmzgnnw

— Adam Mosseri (@mosseri) February 14, 2022
Moving forward, users can tap a heart icon at the bottom of the screen when viewing a Story. These likes won't be sent via a direct message, and instead will show up as a heart symbol next to the user's name when the creator is looking at their Story's View data. 
The goal is to help clean up users' inboxes, and only include actual messages in the DM section of the app.
Instagram launches "Your Activity" feature 
Instagram announced the release of a "Your Activity" feature that will allow users to see and manage their activity in one central location within the app. 
This will include managing, deleting, and archiving all content (including posts, Stories, and Reels) in bulk actions. Users will also be able to manage their own interactions such as comments, likes Story sticker reactions, and more. Sorting options will include time frame and activity type.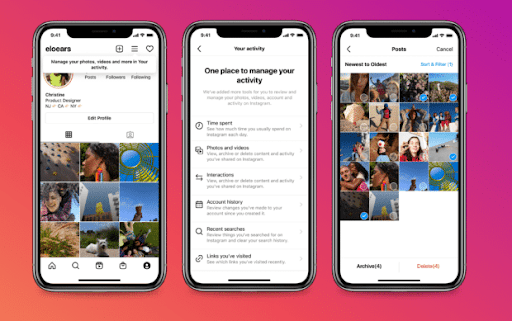 Source: Instagram
New 3D avatars come to Instagram
Users in the US, Canada, and Mexico can now use 3D visual avatars of themselves in their Stories and DMs on Instagram (in addition to Facebook and Messenger). 
The update also includes new customization options. Users can choose from more face shapes, expressions, and skin shades to create avatars that more closely resemble them. 

Source: Instagram on Twitter 
Meta also released NFL outfits for avatars in anticipation of the Super Bowl, which is something we can likely expect to see more of in the future. 
A global rollout is expected to follow within the next few months.
What do you think? Which of these announcements are you most excited about? How do you feel about on-platform eCommerce safety? Share your thoughts in the comments below! 
---
Top Facebook Updates January 2022
A safer shopping experience
Social commerce is becoming more and more popular, with both Facebook and Instagram allowing for on-platform native shopping. Facebook understands the importance of creating a safe and trustworthy shopping experience for everyone involved, so they've made some changes to their social commerce toolkit.
They've shared the policies that brands need to follow in order to use Meta's shopping features. All people selling on Facebook (including Marketplace merchants) must follow Commerce policies, and additional policies may apply depending on how you're selling.
If you run ad campaigns, you need to follow Advertising policies, and anyone who uses the Commerce manager or an on-platform shop must abide by the Merchant Agreement.
Meta centralized all these guidelines in a comprehensive resource hub.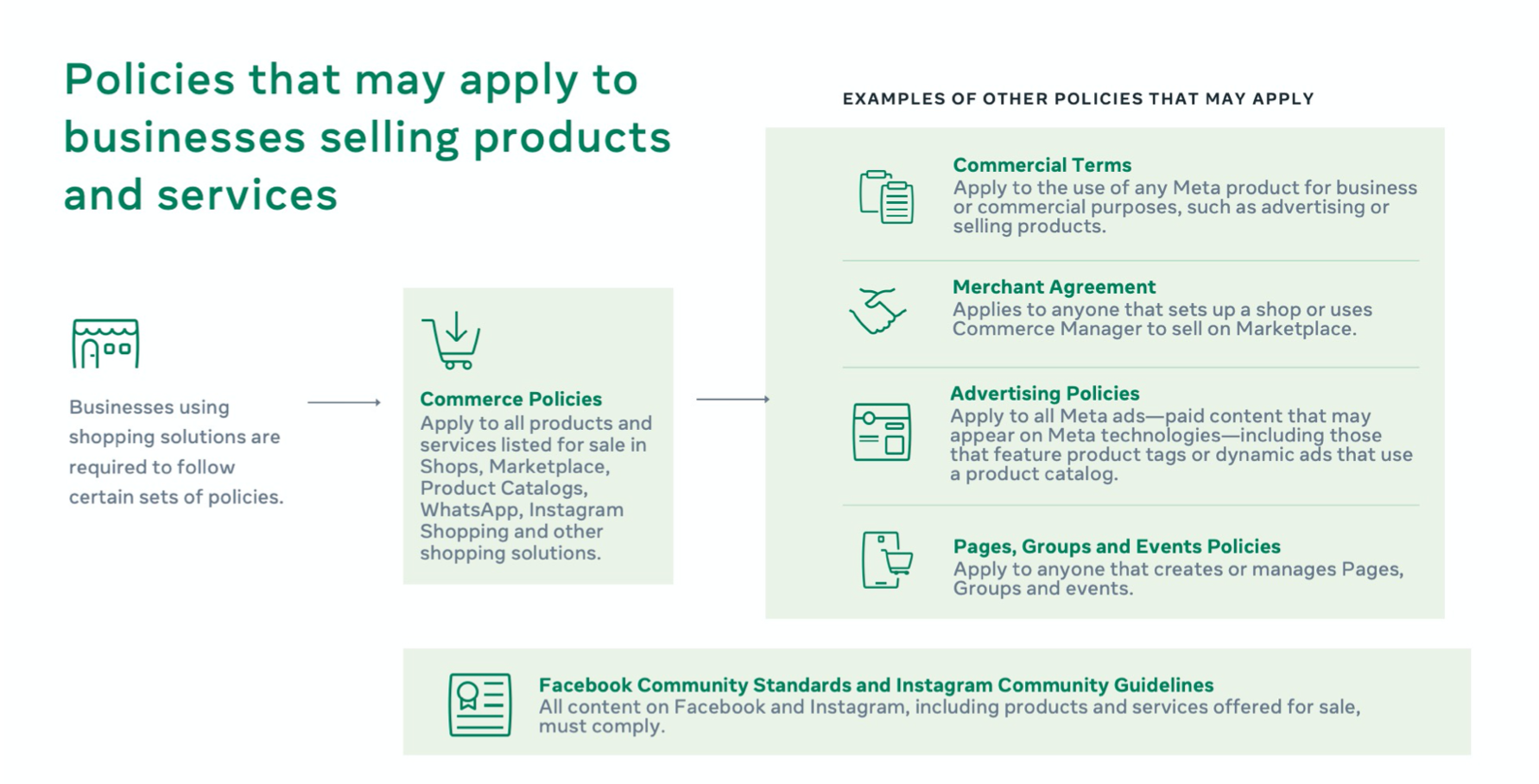 They've also shared the following information in regards to customer safety:
Violation of policies may result in listing removal, product tag rejection, and revoked access to shopping features.
Facebook collects feedback through customer surveys and business reviews to both improve the system and look for sellers that need to be removed.
Facebook Pay has anti-fraud technology to protect businesses and consumers alike, including the option for people to use pins, fingerprints, or face IDs to send money.
Meta has heavily trained review and enforcement teams alongside specialized detection tools to find compromised accounts or fraudulent activity.
They use automated systems to find and block listings selling counterfeit items.
Specialized teams that work with law enforcement respond to legal requests to prevent the sale of stolen goods.
Users can report suspicious behavior even if they aren't the buyer themselves.
Subscriptions for creators
Facebook launched Subscriptions in 2020, allowing creators to essentially create content-focused businesses on the platform. This feature is now getting a few updates on Facebook, and it's also coming to Instagram.
Some of the recent updates on Facebook have included:
Subscription creators can download email lists of new describers who have agreed to share this information as of December 2021, allowing creators to grow their business off-platform.
Creators can now create and use personalized links to promote subscriptions.
In the next few months, creators will gain access to new metrics that shed light on their estimated earnings and give more information in regards to where sales come from; they'll also include information about estimated taxes and how much they pay in fees.
Instagram subscriptions will work like Facebook's, allowing users to subscribe to their favorite creators. The user gets access to exclusive content and perks, while the creator generates monthly income. It's a win-win for both parties.
As of January, Instagram has begun to test subscriptions with a small group of creators (which includes @alanchikinchow, @sedona._, @alizakelly, @kelseylynncook, and @elliottnorris if you want to see the feature now).
They'll be able to set a monthly price of their choice, use a "Subscribe" button on their profile, and offer the following subscription benefits to followers:
Creators can broadcast exclusive Lives to subscribers for more direct engagement.
Creators can create Stories just for their subscribers.
Subscribers will have a badge next to all comments and messages when creators view engagement for easy identification.
The test is small, but Instagram plans on a wider rollout in the coming months.
New resources to support Black-owned small businesses
Meta has found that Black-owned small businesses have higher closure rates and higher lost sale rates than many of their peers,  so they have created dedicated solutions to support them.
In January, Meta has announced new programming, tools, and resources exclusively for Black-owned businesses that will be available starting February (Black History Month).
The platform will also host weekly events with influencers, business owners, and industry experts. These events will continue beyond February.
The company has also announced a list of small businesses that will be participating in a special partnership to promote Black and Latinx-owned businesses with the help of Meta's Sheryl Sandberg and Grammy-award-winning entertainer Ciara. These businesses will get 6 weeks of direct support from Meta to learn how to create effective marketing campaigns, and they'll receive $100,000 in ad credits and creative support.
Meta shares Instagram trends
In January, Meta shared a list of best practices and content formats currently trending on Instagram. If you want to keep up with the times, try working them into your Instagram strategy.
The top Instagram trends include:
Telling the story behind your products in the form of a "how it's made" video or a live Q&A
Minimalist beauty ("clean" and "natural" makeup products) and bold, maximalist fashion
Short-form videos built upon trending audio clips (most popular in Reels)
Creators gaining celebrity status
Massive interest in holistic wellness and mental health care
What do you think? Which of these announcements are you most excited about? How do you feel about on-platform eCommerce safety? Share your thoughts in the comments below! 
---
Top Facebook Updates December 2021
Comment Moderation for Creators (Including for Live Chat) 
Creators often make heavy use of Facebook's live video tools to expand their reach and monetize their content. And while the abundance of engagement that comes with live videos can be great, it can also be a headache when trolls and spammers join the conversation. This is true for both live video and standard content. 
Facebook is introducing new tools to help with that, allowing creators to block a user and any new accounts they create in addition to hiding unwanted comments.
Creators can also set up keyboard blocking to filter out variations of words, numbers, symbols, and alternative spellings that they want to keep from their comments.
Finally, creators will be able to set up advanced Facebook Live comment moderation for more control over who is engaging with their content and how. They'll be able to remove profanity, ban or suspend users, and even determine who can comment on the live videos.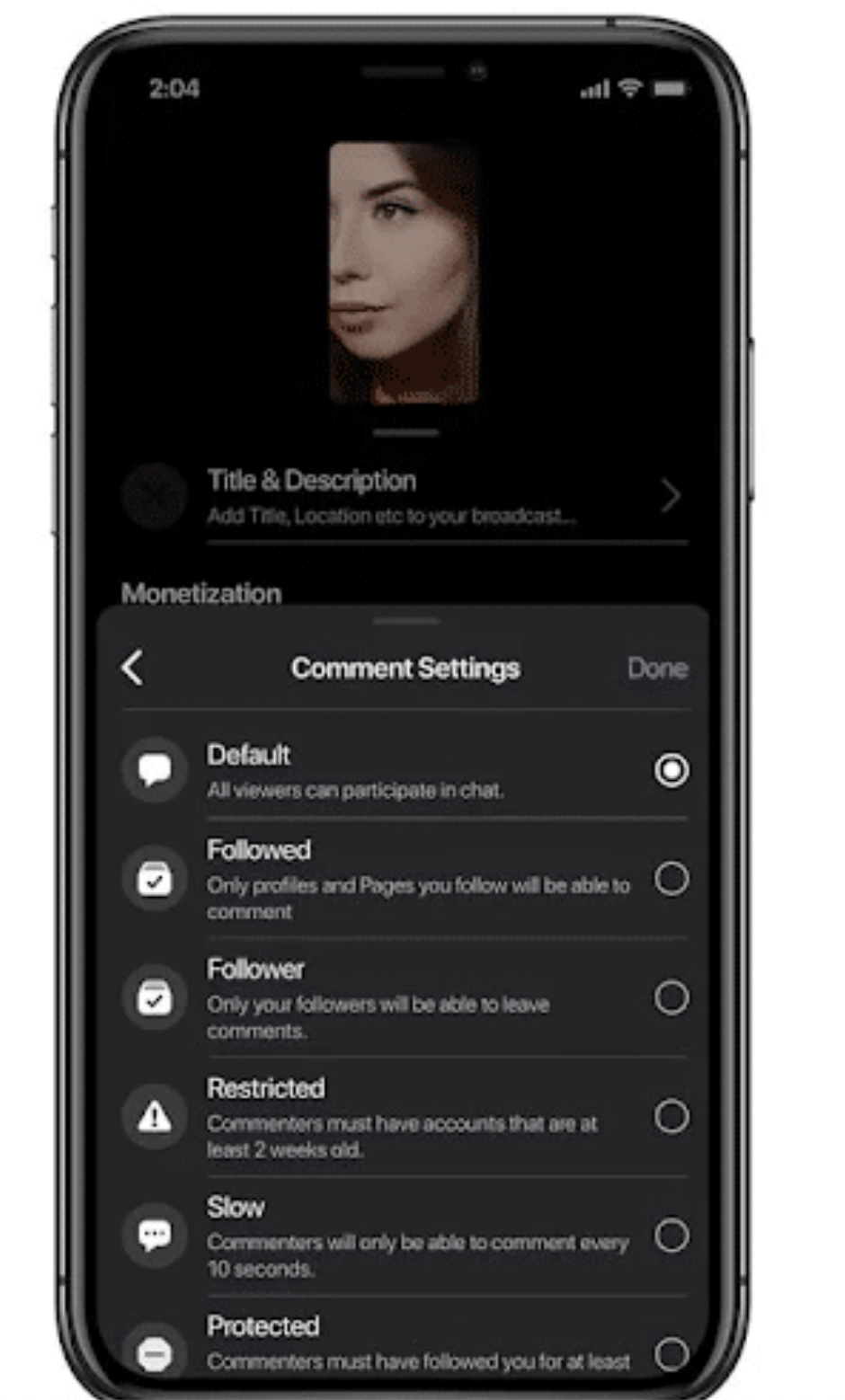 Expanded Eligibility for Cryptocurrency Brands to Run Ads 
Facebook has always regulated ads about cryptocurrency, requiring businesses to apply for ad eligibility. One of 3 different licenses was required in order to run crypto-related ads. 
As the cryptocurrency landscape has expanded and stabilized in recent years, Facebook has decided to expand eligibility to cryptocurrency brands by increasing the number of regulatory licenses accepted by the platform. Now, Facebook says that they'll be looking at 27 different regulatory licenses, a list of which will be published on their policy page.  They'll also be using a "variety of signals to confirm eligibility."
Facebook said that advertisers who were previously approved won't be impacted or need to reapply. They also said that the products and services that require pre-approval won't change. Products or services meeting the following criteria will require written permission:
Platforms, apps, or products known as cryptocurrency exchanges and trading platforms, including spot trading, margin trading, futures trading or other trading instruments that involve cryptocurrency assets
Platforms, apps, or products that offer cryptocurrency borrowing or lending
Cryptocurrency wallets that let users buy, sell, swap or stake their cryptocurrency tokens
Software or hardware related to cryptocurrency mining
Social Issue Ads Selling Products & Services 
Facebook has long had special requirements in place for ads pertaining to social issues, which has triggered some pushback over the years. Facebook has now made changes to reflect that.
Moving forward, ads that have a primary purpose to sell a product or service (as opposed to engaging in advocacy) will not be categorized as social issue ads. 
All social issue ad advertisers need to go through an ad authorization process, and have a "Paid for by" disclaimer in order to promote social issue topics. This will not apply to ads that are sales-focused rather than advocacy-focused, even if there are social issue components or to the ad.
A Facebook representative said: "Our goal with our Ads About Social Issues, Elections or Politics policy remains to give people more information about ads that may influence public opinion through discussion, debate or advocacy for or against important topics, like health, tax policy, environmental issues or civil and social rights."
According to Facebook, advertisers will no longer be required to complete the authorization process or include a "Paid for by" disclaimer to run if the ad meets these three criteria:
A product or service is prominently shown in use or named in the ad
The primary purpose of the ad is to sell a product or promote a service, even if the ad content discusses a. social issue
The ad content contains a call-to-action to purchase or use the product or service.
Here's an example.
If your organization is running an ad asking users to donate or sign up for a local environmental clean up, that's a social issue ad. You're not selling anything; advocacy is the focus.
If, however, you're selling plastic-free, plant-based cleaning tools with a strong environmental push talking about how it takes care of our environment, that's not a social ad, and you're good to go down the regular advertising path.
More In-Feed Control For Brands & Users 
Facebook is exploring new ways for both businesses and users to control their newsfeeds.
Some of these changes include:
Testing new ways for users to adjust ranking preferences to customize their own Newsfeed, including giving them the option to increase or reduce the amount of content they see from friends, Pages, Gropus, and family members.
The existing controls will be easier to access, including options like: favorites, snooze, unfollow, and reconnect (limited testing will begin over the coming weeks).
Topic exclusion controls that allow advertisers to select topics to define how their ad will (or won't) appear on Facebook; when an advertiser excludes one or more topics, the ad won't be delivered to individuals engaging with the topics in their newsfeeds. This can help avoid inappropriate placements in groups and regions touched by political upheaval, tragedy, or conflict.
Facebook is also working to collaborate with third-party brand safety partners to find a way to verify where the content adjacent to an ad in the News Feed aligns with a brand's suitability preferences. This will be exciting to watch in 2022.
Instagram Feed Options 
Instagram is currently experimenting with new ways for users to control how they see their feeds, including options like allowing you to "Favorite" certain accounts to see their posts higher up.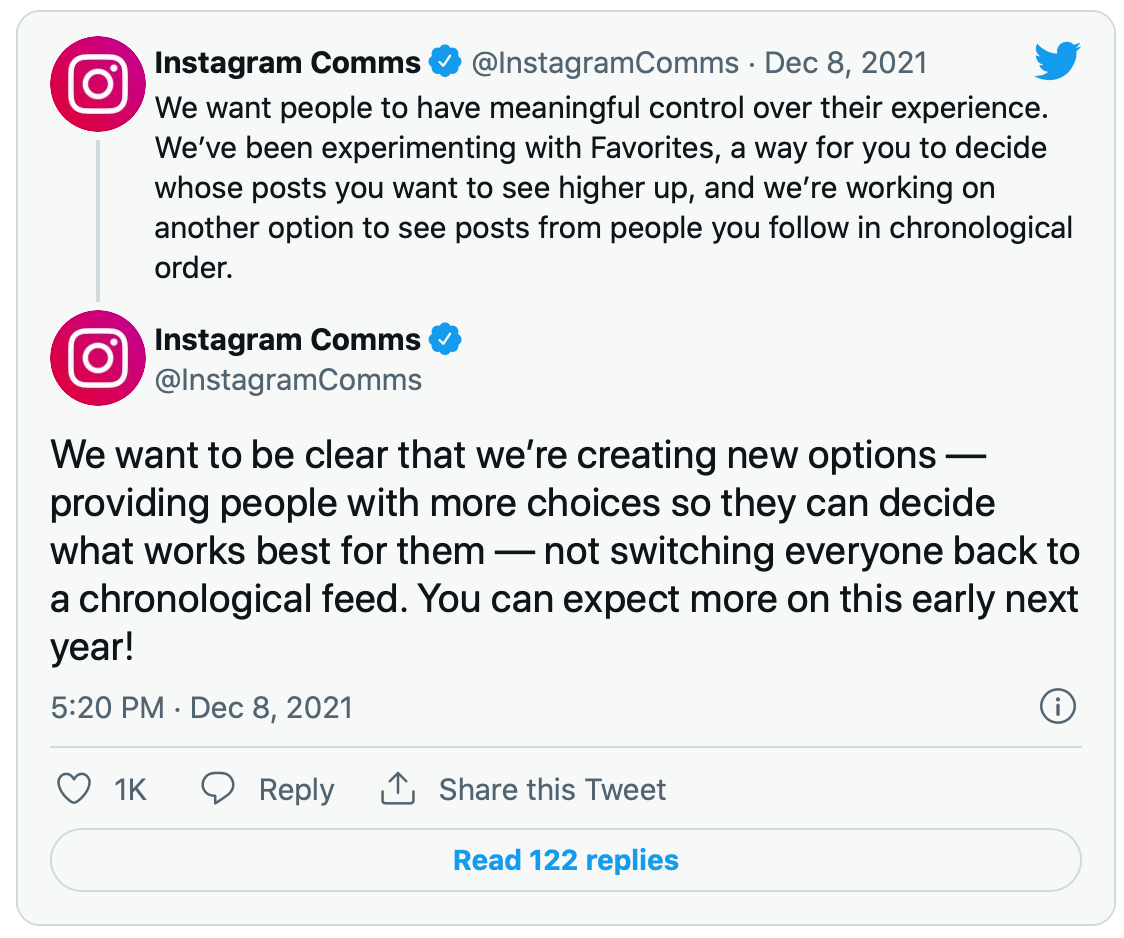 We don't know much more about this yet, but there have been mentions of opting into a chronological-based feed in addition to the favorites feature. We'll keep an eye on this in 2022, too.
Final Thoughts 
And with that, we've wrapped up another year! We know that Facebook (and the whole Meta-verse) is working hard to continually deliver stronger experiences to customers, businesses, and advertisers alike. It's been a great year, and we can't wait to see what 2022 has in store for us! Have a great holiday season, everyone, and don't forget to check back in January for the new updates to get us started for the new year! 
What do you think? Which of these Instagram and Facebook updates are you most excited about? What do you want to see in 2022? Share your thoughts and questions in the comments section below! 
---
Top Facebook Updates November 2021
Facebook Rebrands 
At the very tail end of October, the Facebook company launched a major rebrand that changed their corporate name to "Meta." This new name gives us a clue as to Facebook's future plans to go more into the metaverse, which is a virtual space that allows users to digitally interact with each other and the environment around them. 
Facebook itself (the social network) is still "Facebook," but Meta is the parent company for all of the Facebook suite of tools and apps, including Messenger, Instagram, WhatsApp, and Oculus.
Announcing @Meta — the Facebook company's new name. Meta is helping to build the metaverse, a place where we'll play and connect in 3D. Welcome to the next chapter of social connection. pic.twitter.com/ywSJPLsCoD

— Meta (@Meta) October 28, 2021
Facial Recognition is Shut Down 
Facebook has announced that they're discontinuing their facial recognition system. This includes deleting the individual templates of over a billion users who have used the feature since it launched in 2010. 
This update was tied in with the Meta rebrand, and Facebook stressed that it was due to privacy concerns of users. 
Jerome Presenti, the company's VP of Artificial Intelligence stressed that it was important to weigh the positives against growing concerns in society, especially with no regulations that offered clear rules for usage. 
While the facial recognition feature is currently being discontinued, that's not permanent. They still plan to develop the tech further, and want to re-introduce it once the AI personal recognition niche is  better regulated with transparency, control, and privacy measures in place.
New Facebook Group & Community-Building Features 
Facebook Groups is still clearly a priority in the metaverse, with the most significant new updates coming for the social media networking site this month.
The Updates We Have Now 
These new updates included new options for Group admins, including the following: 
The ability to customize the look of Groups by changing the Group's color themes, fonts, and post backgrounds 

You can now create unique Group culture by selecting different reaction emojis 

Enable presets for post formats, badges, and admin tools 

Send customized welcome messages to new users automatically 

Pin announcements in a "Featured" section for maximum visibility, which will be at the top of what users see when they first navigate to a group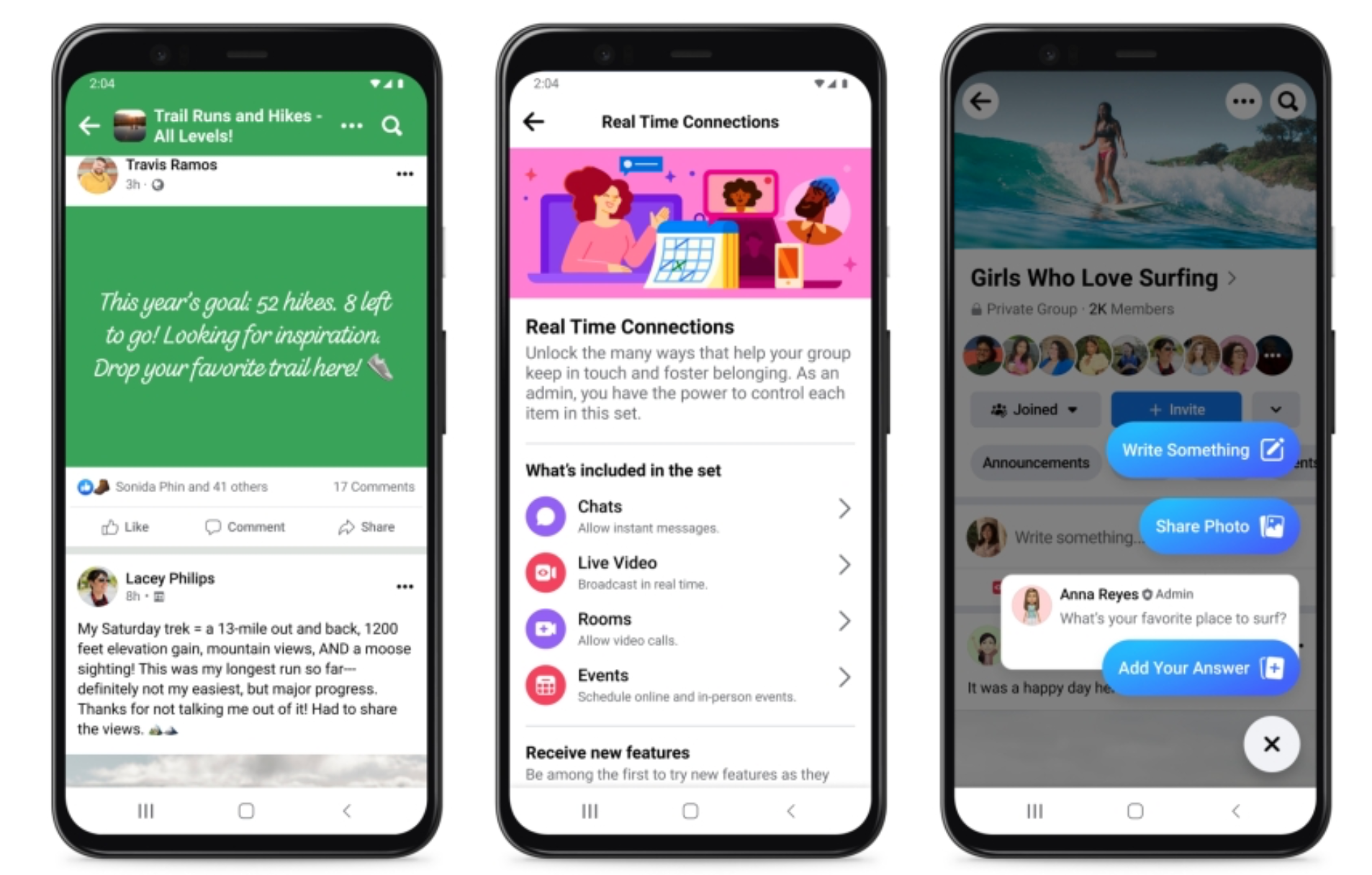 They also want to continue to increase engagement from the member side of the equation, too. There is a new easy-access post button that follows users as they browse the Group to make it easy for them to create a post the second they're ready, instead of needing to scroll to do so. Sometimes it really is the little things that matter.
The Updates Coming Soon 
Facebook is also testing new features for Groups, the majority of which we'll probably find in our marketing arsenal sooner rather than later in 2022 if they perform well. These include:
The ability to create subgroups for different niches like topics, occasions, regions, or other niches so that people can dive deeper into the discussion they want to find 

Set up Shops for Group merchandise, allowing you to effectively monetize a Group

Setting up paid subgroups that members can pay to subscribe to, which could be used to offer exclusive content or more direct interaction (like getting high-level advice from a marketing team) from specific team members 

Create community fundraisers for Group projections, or to show appreciation for moderators running a Group (another monetization option) 
Potential Features in Development 
In addition to sharing what's in testing, Facebook also shared information about what's coming down the pipeline. These in-development features include:
Specific community awards like "Fun," "Uplifting," or "Insightful" that users can add to specific posts to increase the visibility of the content

Community chats that allow users to connect on Messenger in real-time

Recurring event options for easier planning for regular get-togethers, whether they're in-person or virtual
New Feature Access on Instagram 
Instagram was a little light on the updates this month, but what we really saw were a few minor updates or larger roll out to existing features that some users already had. These are the highlights:
Final Thoughts 
That's it for this month as far as Facebook updates and Instagram updates go! The biggest updates that we got were focused around Groups, which isn't surprising since it's been a core priority for several years now. We'll keep an eye on those "coming soon" features, so make sure that you don't forget to come back and check out our December updates soon! 
What do you think? Which of these updates are you most excited for? What do you want to see next? Let us know in the comments below!
---
Top Facebook Updates October 2021
Changes to the pre-campaign estimates for Facebook ads 
Facebook has updated how they're going to display pre-campaign audience reach estimates for their ad system. Previously, you were given an approximate number of people an ad could reach, like 100,000. Now, you're going to see an estimated audience size range, like 100,000-200,000.
The ranges will. be available in the Audience definition section of the ad creator: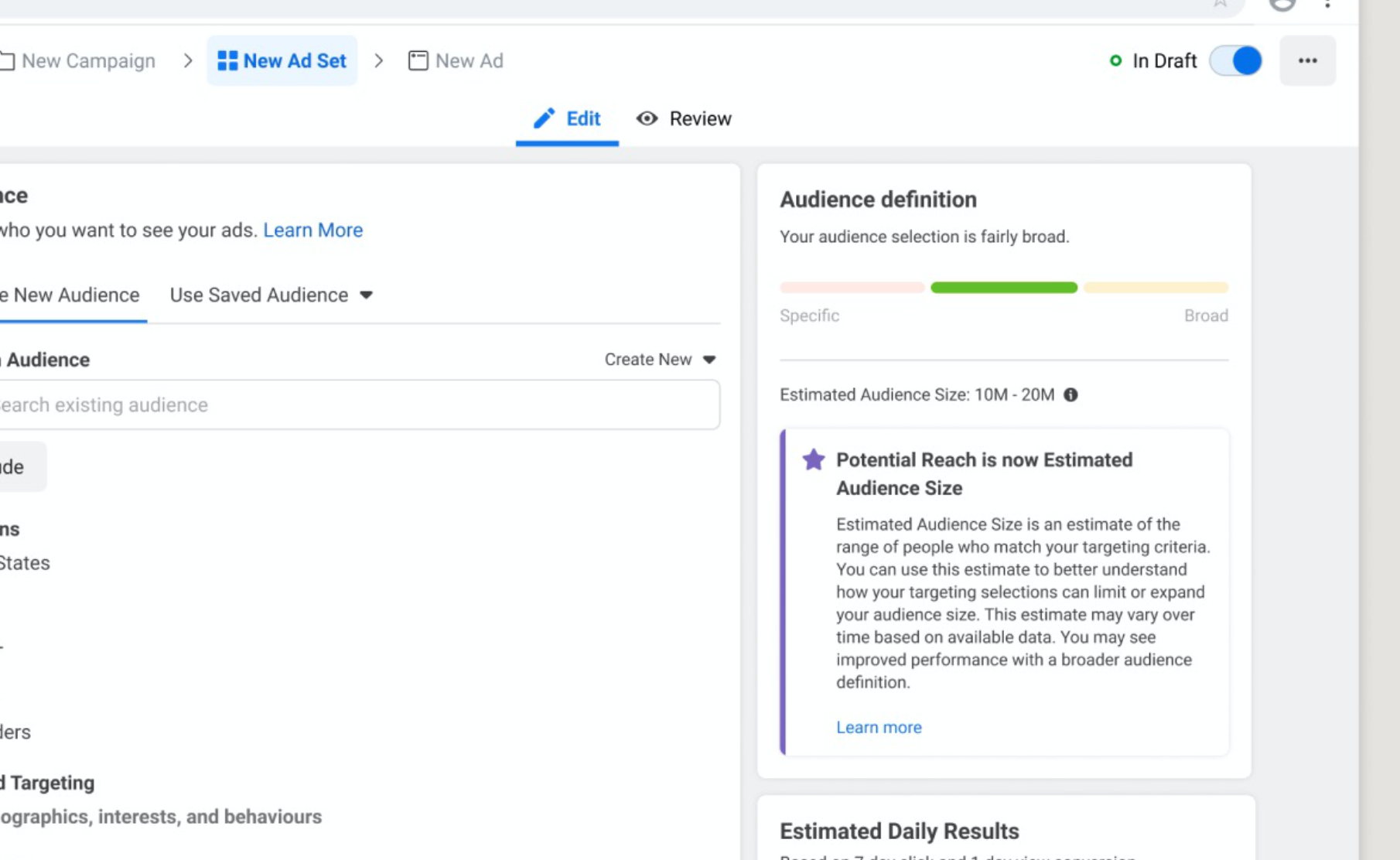 While a range may seem less specific than a single number, it can remind marketers that they are dealing with estimates.
This update won't impact campaign delivery at all; the way the estimate is displayed is all that's changing.
Update to how Facebook counts user accounts 
In addition to changing how audience size estimations are displayed in the ad system, Facebook is also changing how they're counting accounts. 
Previously, an individual with a Facebook account and an Instagram account (whether they were "connected" or not) was counted as a single user. Moving forward, if those accounts are not connected in the Accounts Center, they will be counted as two separate users for purposes like ad displays and push notifications.  This will be true even if someone uses the same email address or phone number to sign up for both platforms.
Facebook and Instagram accounts that are connected through the Account Center, however, will still be counted as a single user.
This update will be rolling out over the next few weeks. At this point, you may see a shift in your campaign planning estimates and potentially performance reporting. It's likely that you'll see a slight boost in the Estimated Audience Size and reach across the two platforms, as some users will be counted twice.
Facebook launches Reels in the US 
Instagram Reels have become wildly popular over the last year, generating higher engagement rates than most other content formats on the platform. The NFL's account even saw a 67% engagement increase on their Reels compared to their other content. 
And now, Reels have arrived to Facebook on Android and iOS for US users.
Reels are full-screen vertical videos you can create in-app that typically incorporate music or audio clips. Users can engage with the content by liking, sharing, or commenting.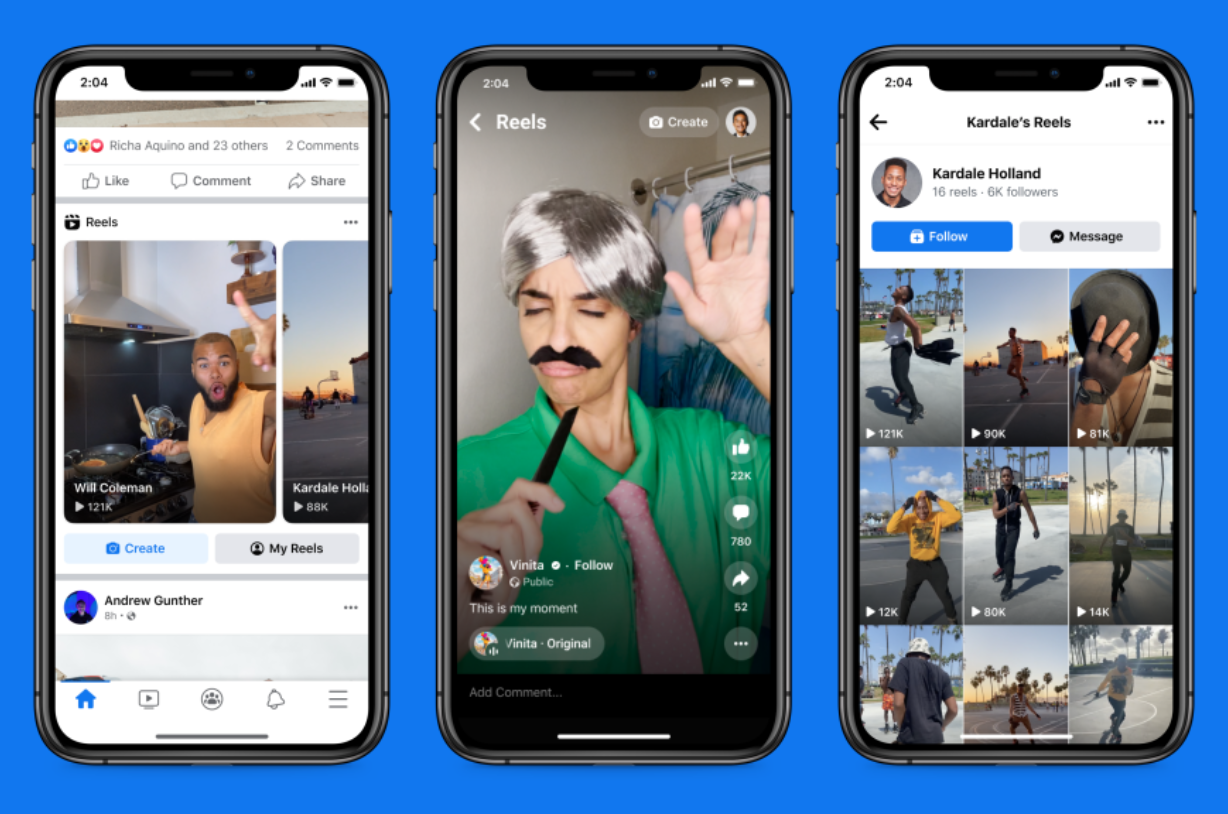 Source: Facebook
Reels are great for not only engagement, but also for discoverability. Plenty of users scroll through the Reels tab and end up discovering new accounts to follow. It's part of what makes the feature so valuable on Instagram.
On Facebook, users will be able to browse Reels content in their main feeds, and admins will be able to create and share Reels in Groups.
By default, Reels are published as public for all users over 18, so that's something to keep in mind if you're creating content meant only for your audience.
IGTV merges with Instagram feed videos
As of October 5th, IGTV and feed videos are a single format called Instagram Video. Combined, they will live in a new Video tab on your profile, making it easier for people to check out all of the great video content you're creating in one place.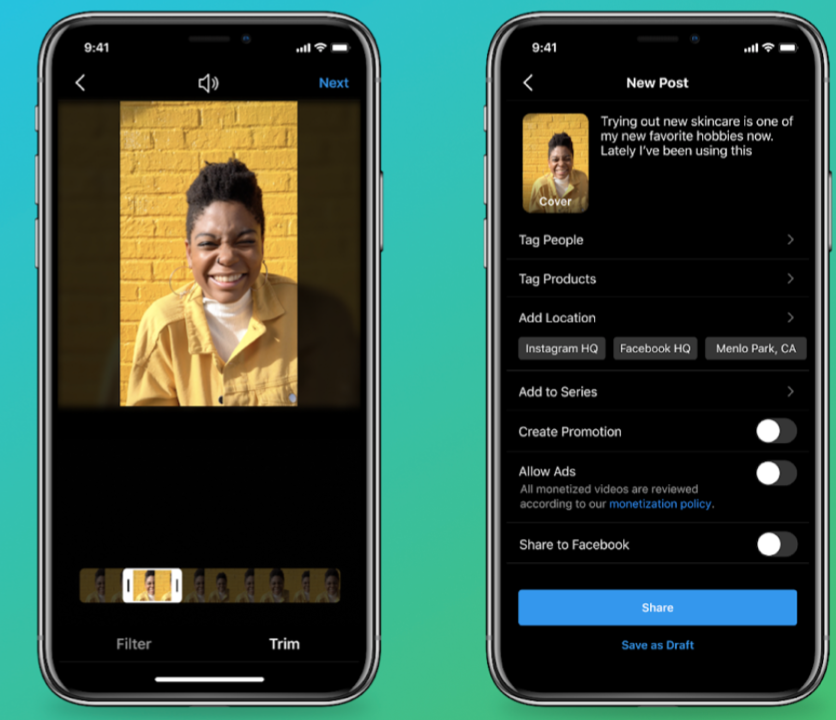 Source: Instagram
Here's what you need to know about the new format: 
You'll still upload videos from the camera roll the same way,  creating a new Post
Video editing features like trimming, filters, and tagging for locations and people will be new optional features
Videos can be cross-posted to Stories, shared via direct message, and shared to Facebook
Video previews will be 60 seconds long in-feed, unless the video is eligible for ads (in which case it will be 15 seconds)
Feed post insights and video insights will be combined into a single dashboard for easier monitoring
IGTV ads are now called in-stream video ads
Instagram boosted posts can now direct customers to WhatsApp 
Want to drive customers to connect with you on whatever platform they prefer, including WhatsApp? Now you can.
You can add a WhatsApp CTA button to your Instagram profile that, when clicked,  will open the app so users can message you there directly. You can connect your Instagram account with your business's WhatsApp account just by adding the WhatsApp business number to your Instagram account in the app's settings.
The goal is to create a more seamless experience for users, giving them the opportunity to engage with brands and advertisers where they're most likely to do so. Many customers, after all, still prefer to communicate with brands over WhatsApp instead of Instagram direct. Giving them that option can lead to more conversions.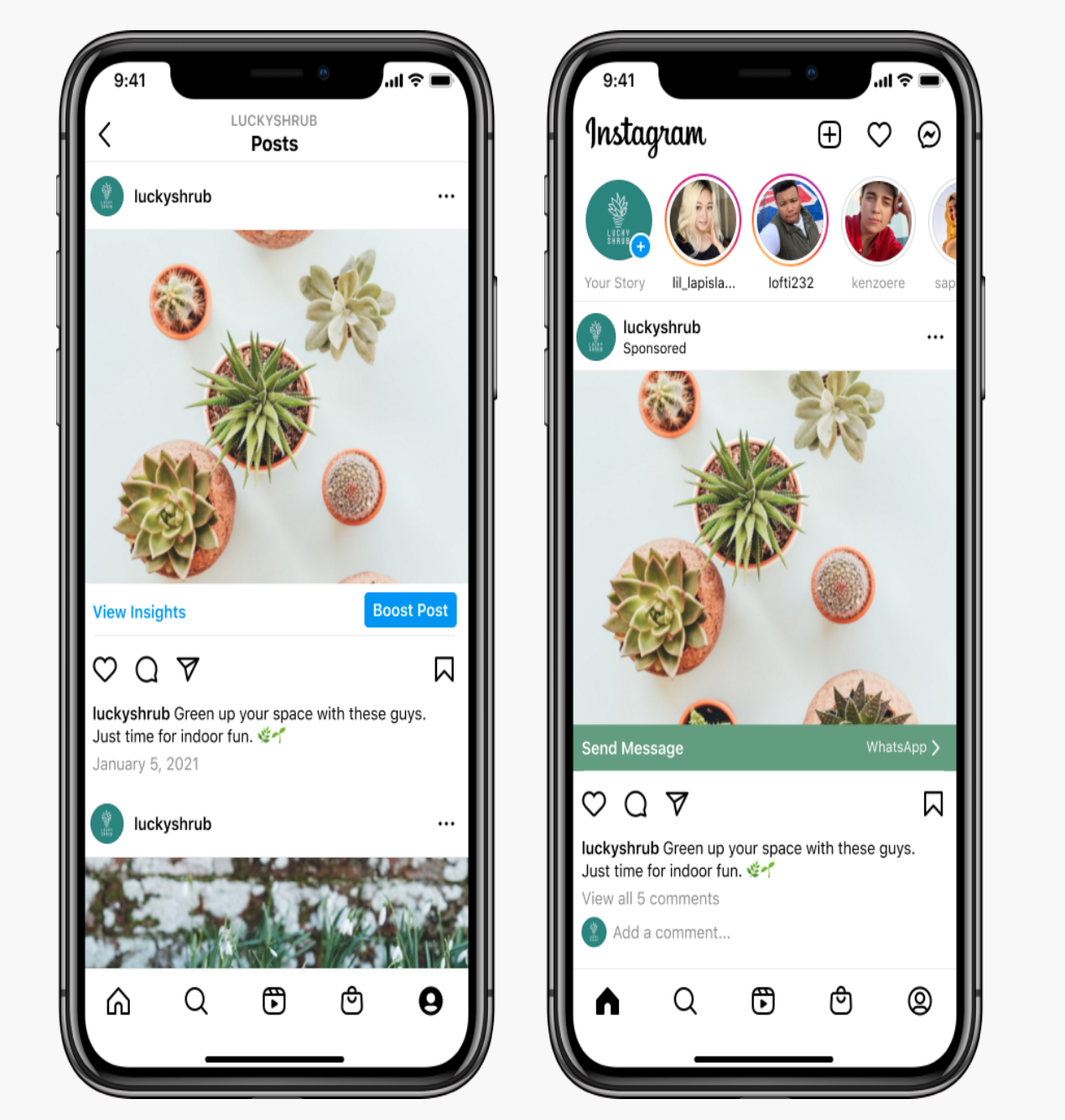 Final thoughts 
While the month started off with a major outage, the new feature announcements that followed are what businesses should be paying the most attention to. We're personally excited to test the WhatsApp "Send Message" CTA on Instagram and to see how Facebook Reels take off in the coming weeks and months. Make sure you stay tuned to see how these features develop and what's coming next!
What do you think? Which Facebook updates were you most excited about this month? What do you want to see next? Share your thoughts and questions in the comments below! 
---
Top Facebook Updates September 2021
We've entered the fall season of 2021, and this year has flown by lightning-fast — almost as quickly as the speed of Facebook updates.
The end of August and the beginning of September are no exception, and it's given us one of our longest lists of Facebook updates so far this year. Among the new features are new products for personalization, a Business Suite update, and new features for Messenger.
There's so much to cover, so let's take a look at the Facebook updates from September 2021 that you need to know.
Ads are Coming to Instagram's Shop Tab 
All of our Facebook advertisers (which is the majority of our readers) will love the first Facebook update of the month: Ads are coming to Instagram's shop tab, which can be run through the Facebook Ad system.
Facebook has been rolling out a lot more ad placements on Instagram, including the fairly recent Explore section ads, so this is essentially an extension of that feature. 
The difference here though is that your ad is being placed in a particularly high-value, high intent location. Users don't just want to browse to discover new content to keep them entertained; they're actively looking for items to purchase.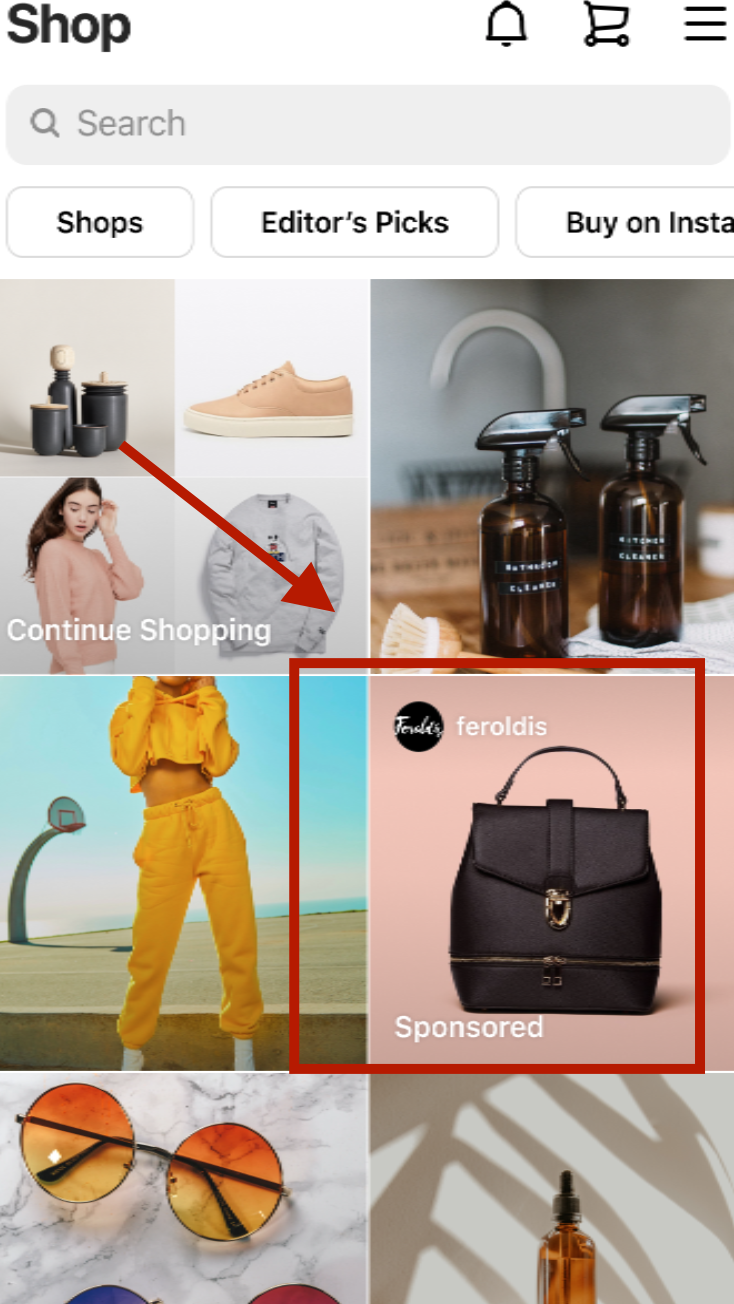 The ability to have your ad show a relevant product to customers who are wanting to purchase something can be incredible potential exposure for brands and will likely lead to more conversions. 
These ads are starting to slowly roll out in countries where Instagram's Shop tab is available, so keep an eye out over the next few weeks and months to add it to your list of potential placements.
Facebook Business Suite Update
Facebook is putting enormous time and financial investments into new tech like automation for business, with the goal of simplifying digital management. Their Business Suite is in the process of rolling out some significant updates in line with that goal. 
They've announced a new feature called File Manager, which allows businesses to create, manage, and post content within the Business Suite in a streamlined way. 
There's also now a unified Inbox in the Business Suite that allows businesses to manage emails and send out remarketing-focused emails.
And finally, there's a split-testing feature that will allow businesses to create and compare multiple versions of a single post to see which resonates most with their target audience.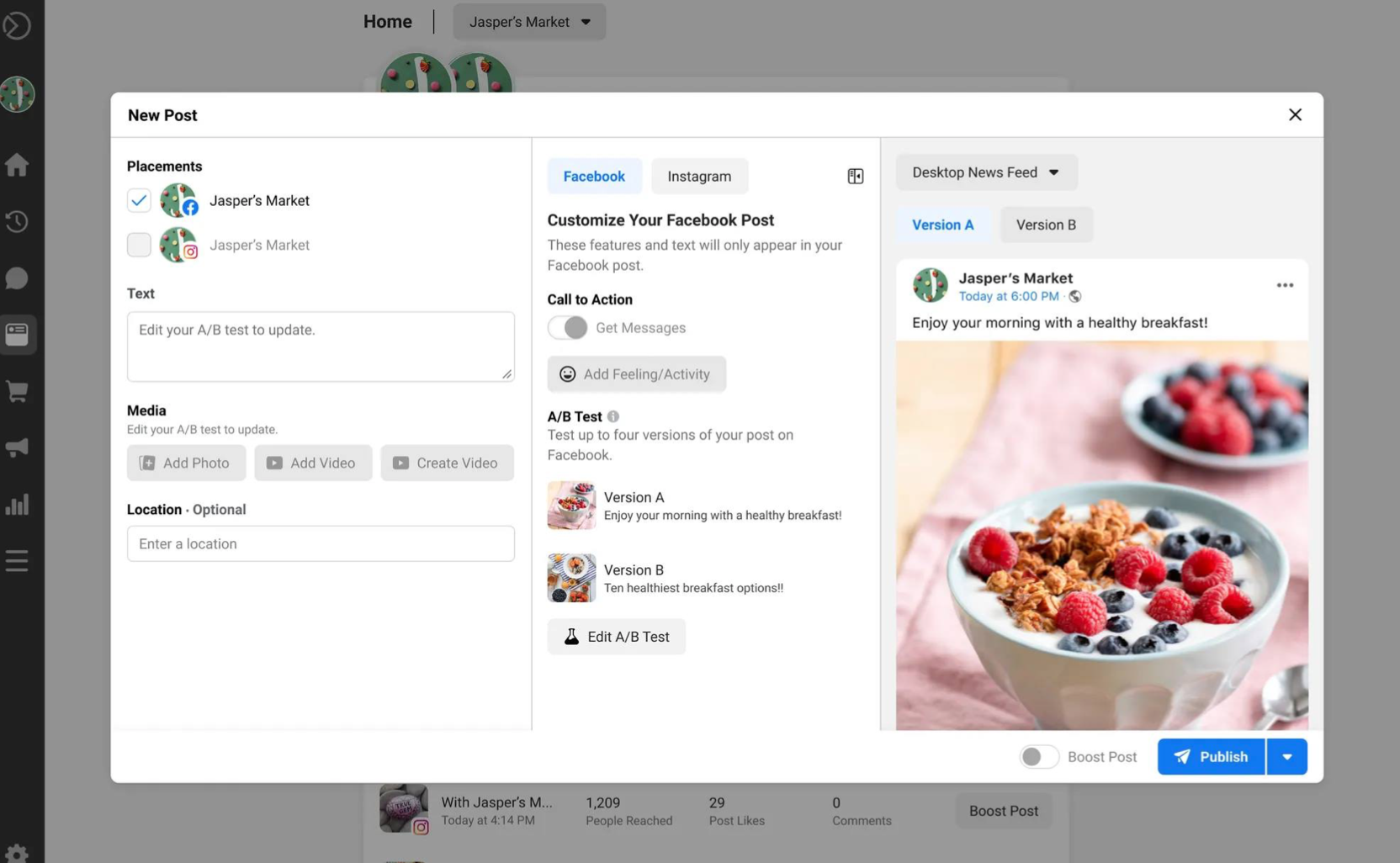 These are outstanding business management features, and it's the first time we're getting something as significant as split testing when it comes to organic content, which will be invaluable in helping brands assess what their audience responds to and optimize it accordingly moving forward.
Facebook Rolls Out New Messenger Features 
Businesses can deliver full-funnel service to customers, connecting with them no matter where they are in their buyer's journey. Facebook has been working on a number of features to make that easier and more effective for businesses. 
This has led to some new Messenger features, including the following:
An update to Messenger Ads that allows advertisers to select "all messaging platforms" as potential candidates for how users can message them after clicking on an ad. Facebook automatically pulls up the chat option in the ad based on where a conversation is most likely to happen for that particular user.

Brands and creators on Instagram will be able to add a click-to-chat button leading to WhatsApp from their Instagram profile 

There's a new Page CTA button called "Quote Request" that allows users to request a quote from a brand through Messenger. This is currently in testing and will allow businesses to select four to five questions to ask customers before starting a conversation to give them an accurate quote when starting the conversation. 

There are vague paid and organic features announced for Instagram that will start testing soon, which should allow businesses to find and qualify leads on Instagram. We'll likely know more about this in the following months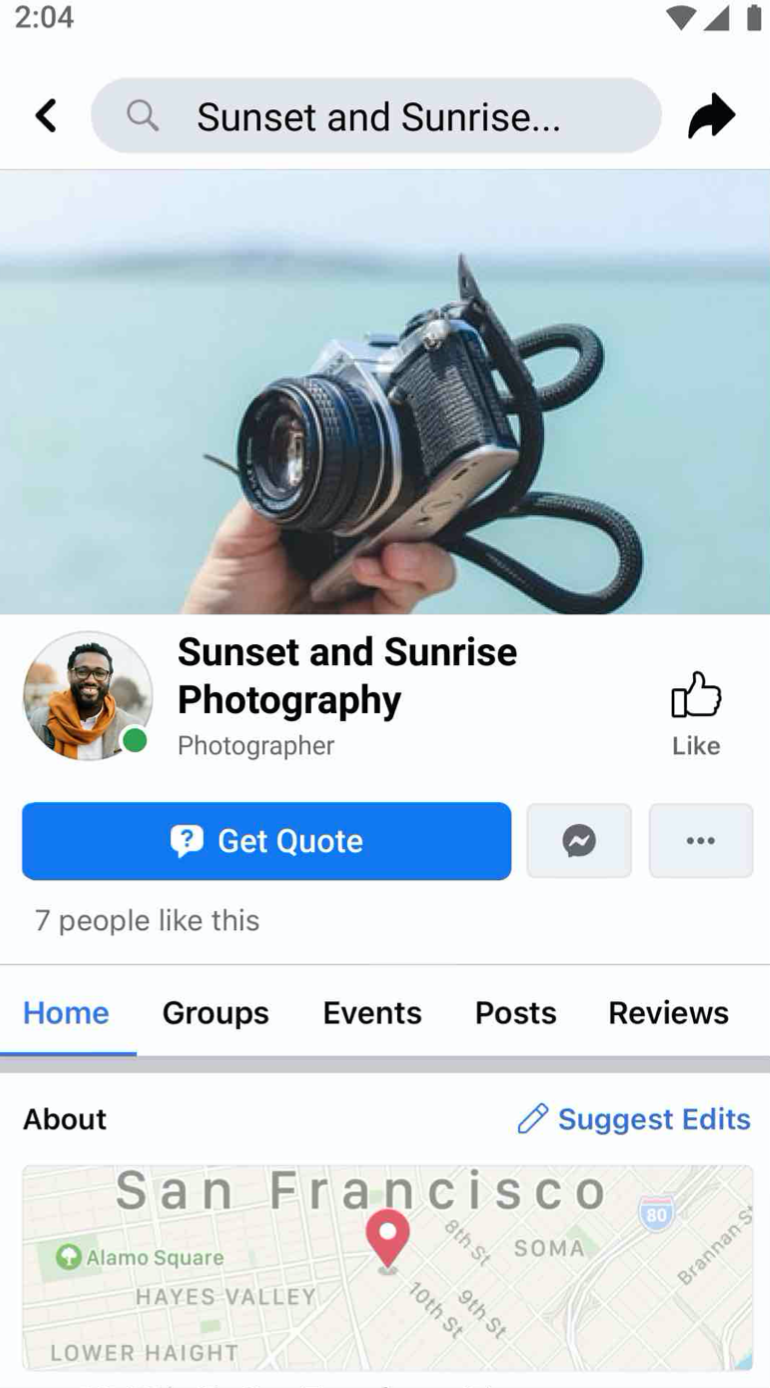 Rollout of Facebook Reels 
Facebook Reels are here! Or, at the least, they're definitely coming soon for US users that don't have them yet.
Facebook announced that Reels were in the process of rolling out on August 19th last minute, bringing a hyper-popular, TikTok-styled video feature from Instagram to its sister company. 
Reels has been insanely high-engaging on Instagram, so there's a chance this could be a way to potentially combat the decline of organic reach on Facebook with engaged audiences moving forward. 
Since Reels Ads have also been happening for Instagram, expect to see this additional placement roll out soon on Facebook, too.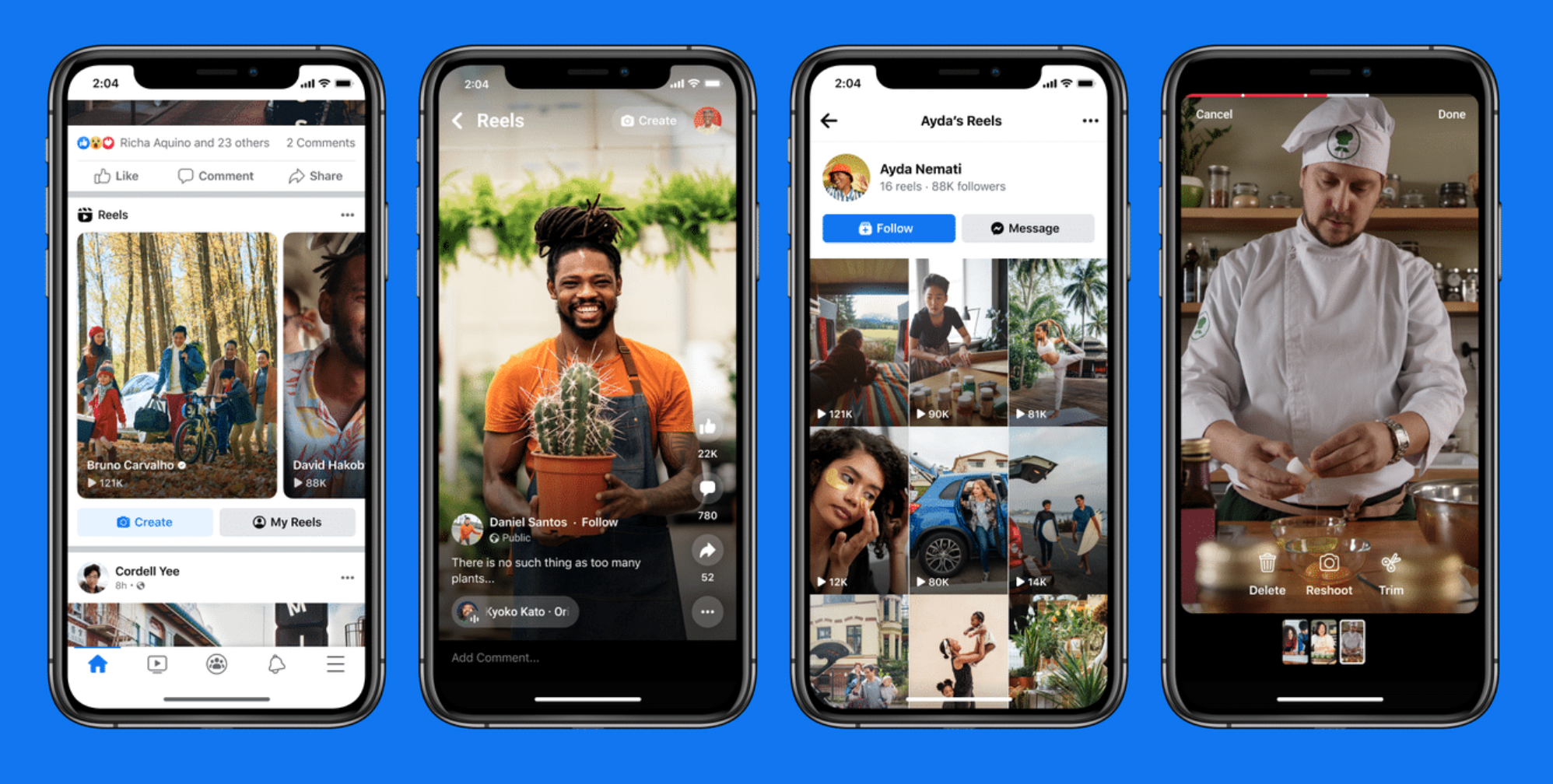 Right now only a select number of users have the feature, but rollout is happening on both Android and iOS in the US as we speak. To get ready for this new feature, check out Hootsuite's guide on Instagram Reels for the best tips and strategies now. 
In Testing: Facebook Work Accounts 
There's a new feature that we know Facebook is planning on testing throughout the duration of 2021 that's currently called "work accounts."
We don't know much yet, but we know a small group of businesses are currently testing a feature that will allow social media managers to access the Business Manager separately from their personal account using single sign-on access. 
Social media managers everywhere can breathe a sigh of relief that this is in the works! Keep an eye out in early 2022, when more news is expected.
Final Thoughts 
That's it for this month! Late August and early September gave us some really exceptional new features, the most notable of which for many brands include the new Business Suite updates and (a personal favorite) the ability to add a "Get Quote" CTA to your Facebook Page. Make sure you tune in next month to see what else is new and to hopefully find out a bit more about those work accounts!
What do you think? Which of these updates are you most excited about? What do you want to see next? Share your thoughts and questions in the comments below! 
---
Top Facebook Updates August 2021
New Ads in Instagram's Shop Tab 
This month, Facebook's team launched new ads in Instagram's Shop tab globally. 
The ads appear as tiles on the Instagram Shop tab's home page, where users can click to see a product details page. This will show them more about the item, including additional images and information. Customers can also take a look at other products from the brand on this tab.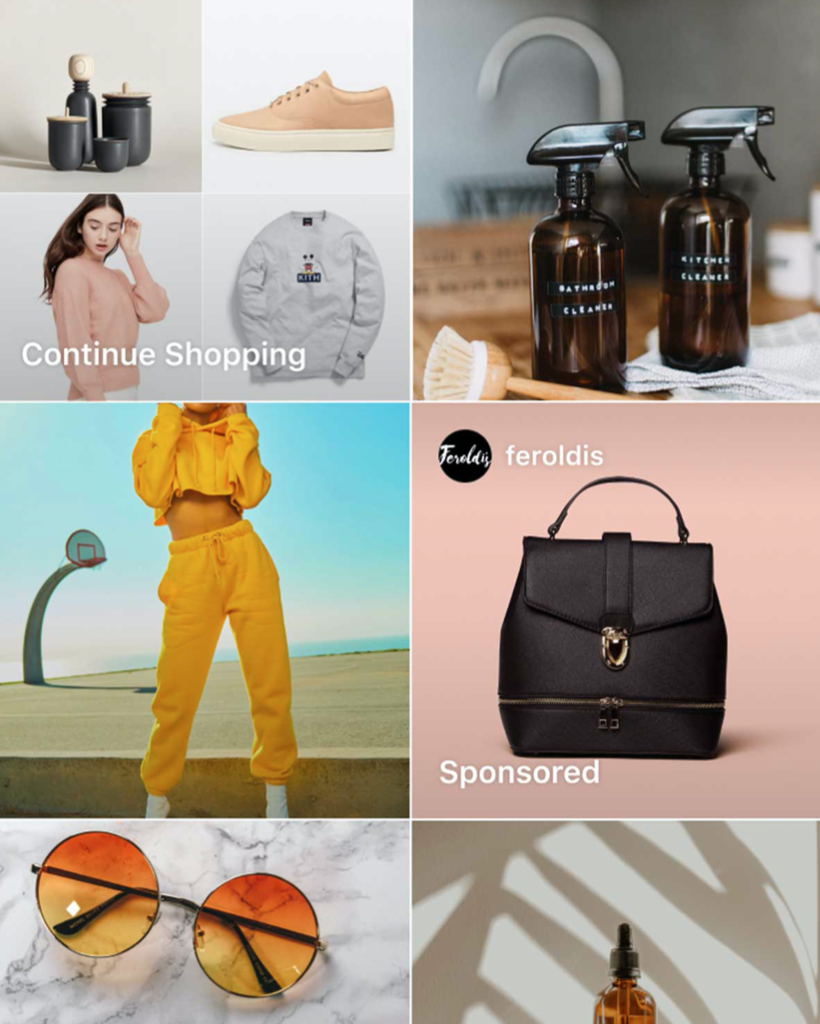 This is an extremely shop-focused development, with users being able to save items they like to their wishlist that can in turn be shared with friends. It's one of Instagram's most aggressively sales-focused features to date, and it's a great ad format that eCommerce businesses should strongly consider testing.
If you don't have these ads yet, they are still rolling out to advertisers, so be patient; you'll likely have them in the coming months if you're advertising in countries where the Shop tab is available to users.
New Horizon Workrooms for Oculus Users
Working from home has its pros and cons, and more workers than ever found this out firsthand last year. Facebook has developed a new feature for Oculus users to offer a new kind of solution.
Facebook's Horizon Workrooms for Oculus allows colleagues to work together in the beta version of a virtual reality world. Teams can brainstorm through a whiteboard meeting, hear from your team, or have additional conversations.

While Facebook's team supposedly loves it and this is a cool feature, we do want to acknowledge that it's not going to be a game changer since most businesses do not have Oculus technology for themselves and employees, and Zoom works perfectly fine. Still, it's a good idea of what may be happening through Facebook's Oculus platform in the future, which is pretty cool. You can see more about how it works here.
Get Inspired by Fellow Businesses on Instagram 
When people are trying to implement a new social media strategy, I've found that they understand the strategy in theory but are completely stumped on how to implement it. They don't understand what exactly they should post, and what their audience will want to see.
Instagram has a new tool to help with that. In their relatively new Professional Dashboard, there's a new "Stay Informed" section that allows creators to "See How Other Businesses Connect with People" through a guide.

They can see real posts and ads from other businesses that are successfully gaining traction on the platform, and seeing a list of high-performing posts all together can help them get the inspiration they need for their own content.
Facebook Campaign Ideas Generator Launches 
Need more help generating campaign ideas on Facebook and Instagram? Facebook's new Campaign Ideas Generator is a useful new tool that can give you more inspiration with additional resources and even pre-made assets that are tailored to small business needs. 
All you need to do is select your business type and the tool will provide campaign ideas, valuable industry insights, and tips for how to succeed. They even have holiday- and seasonal-specific content to help you further. 
Here's an example of what this looks like. I say that I'm an automotive company looking for ideas any time of the year, and I get this:

There are ideas for using raffles, setting up Custom Audiences, and focusing on Messenger Ads, alongside data about how people interact with auto companies on Facebook and resources to implement the campaigns well.
Brands and strategists alike can take advantage of this tool for some added inspiration, because you never know what you might learn that can help you create a new campaign you may not have thought of otherwise. It's free, and accessible here.
Changes to How Advertisers Can Connect with Young Audiences 
While security for all users has always been a concern on Facebook, it's been a significant concern for users under the age of 18. 
In a few weeks, advertisers are only going to be able to target ads to those under 18 based on age, gender, and location. Users under 18 will not be able to be targeted based on interests or their activity on other apps and sites, which was previously available. This will be true for ads appearing on Facebook, Instagram, and Messenger.
This is a massive change, especially following the already-major changes from the iOS14.5 upheaval. It will become much more difficult to target these users, and brands won't be able to reach them with these targeting options until they're 18. 
As a result: Brands that are targeting young audiences, take note of this change and keep a careful eye on your campaigns because this is happening soon. 
Final Thoughts
Facebook and Instagram have had an exceptionally busy month, giving advertisers and brands a great deal to plan for. Some of the new features could have significant impacts on our campaigns (like the new ad placements) while others offer new ways to do the work we already have been focused on. 
Top leaders from the platform have consistently reinforced that more efforts are being made to increase personalization and user privacy at the same time, strengthening the platform while keeping it secure. This is likely one of the areas we might expect to see more updates moving forward through the rest of the year. As for the rest of the features coming our way, there's no way to know just yet, so keep a close eye on our blog so you never miss a single Facebook update.
What do you think? Which Facebook updates have you been most excited about this month? What do you want to see next? Let us know in the comments section below! 
---
Top Facebook Updates July 2021
New Facebook Pay Checkout Option for Businesses
Facebook Pay has been around for a hot minute now, but it's been for onsite exchanges between users, businesses, and nonprofit organizations. 
Now, Facebook Pay is extending off-site to participating platforms. Just as users are able to take advantage of paying through fast-pay options like PayPal on third-party sites, this will provide a near-immediate checkout process that could help increase both desktop and mobile purchases.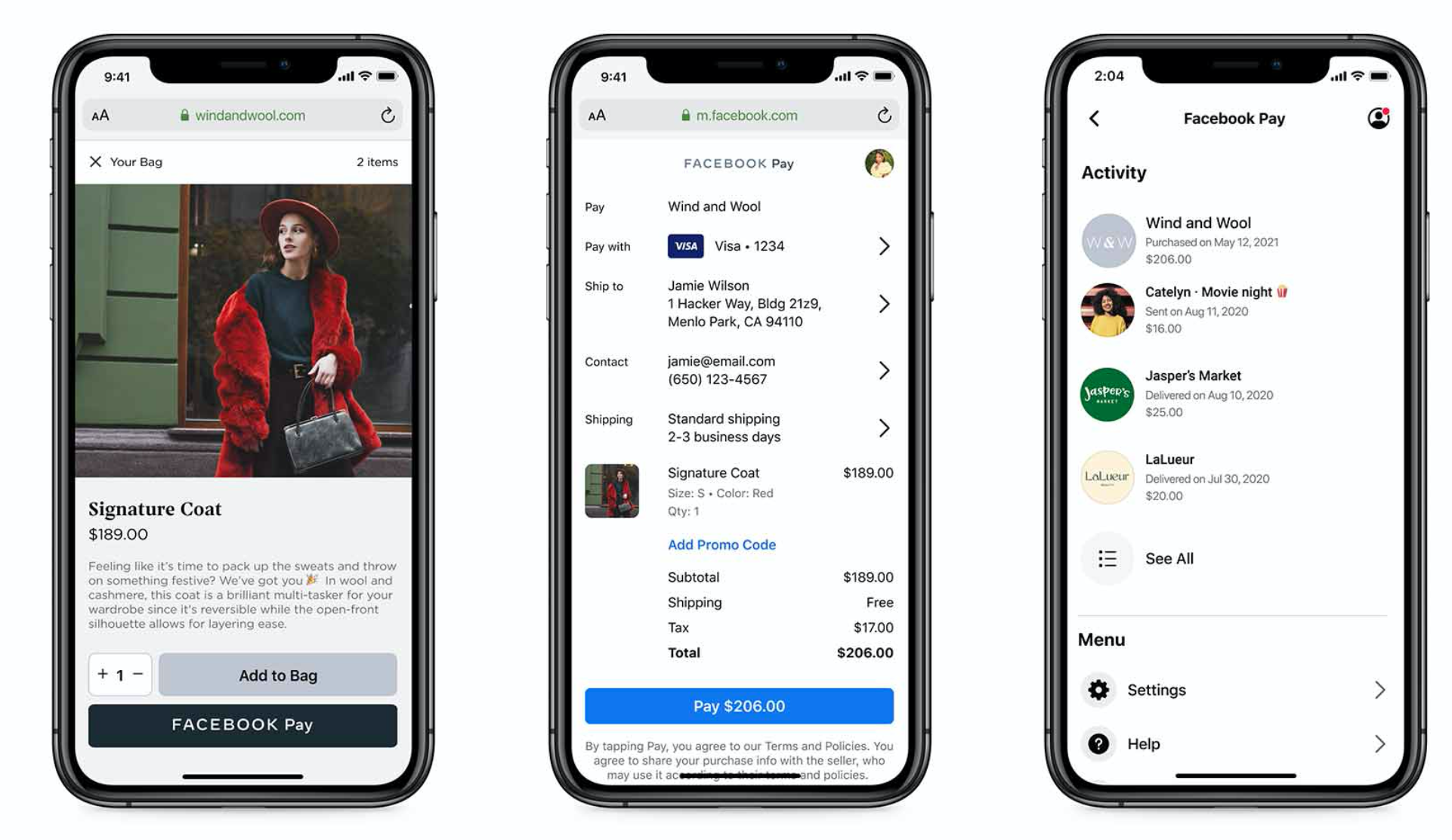 Shopify merchants are going to be the first ones with access, though other platforms will eventually gain access, too. If you want to learn more about Facebook Pay in the meantime, see more here. 
Next Era of Personalized Experiences 
Here at AdEspresso, we (like many other SaaS tools and online publications) spend a ton of time thinking about where Facebook plans on going next. It's always helpful when they decide to shed some light on that for us.
Dan Levy, Vice President of Ads & Business products released a statement this month sharing where Facebook plans to go moving forward with personalization. These were the highlights: 
New privacy-enhancing technologies that will minimize the amount of personal information Facebook processes while still showing relevant ads

Product and business discovery features, like an in-testing newsfeed experience that allows users to tap to explore content from businesses in topics like beauty, fitness, or clothing

Small business badges will be tested to be placed on ads to encourage purchasing 

A modern eCommerce system is in development to help meet the demand for on-platform product discovery and shopping (which we can see with some of the AR tools in the next section)

New Business Suite tools to help businesses improve, optimize, and potentially even automate their marketing, including expanding their Messenger functionality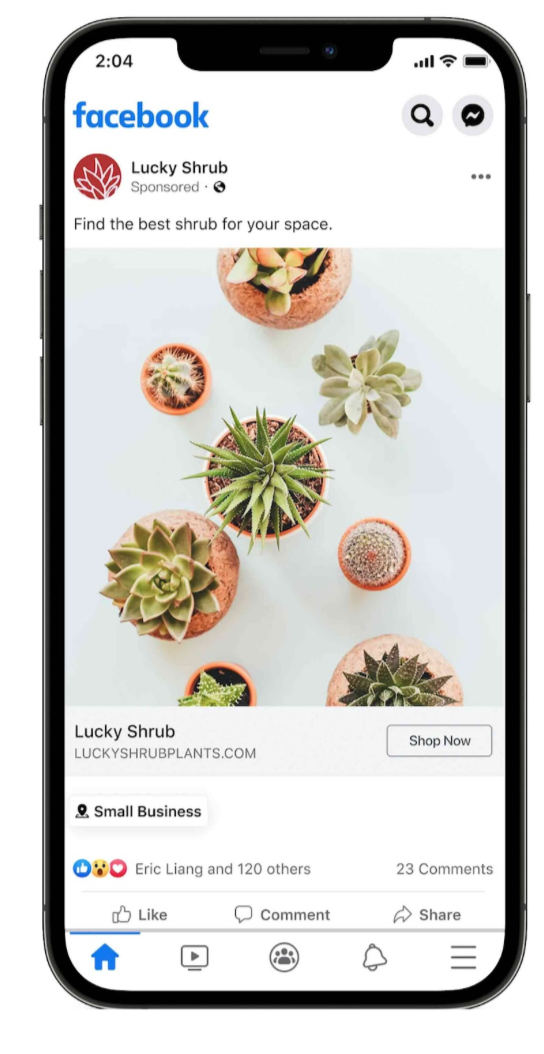 New AR Options and Expansions 
Facebook has had some downright useful AR options that they've been testing that are getting closer to wider release.
One popular one is their "Try On" feature, which was in testing with limited partners and allowed businesses to use AR technology so that users could "try on" lipsticks, bracelets, and clothing to see how it looked on them or to see how decor looked in their home. This will now be expanding, as Facebook will work to roll it out to more businesses.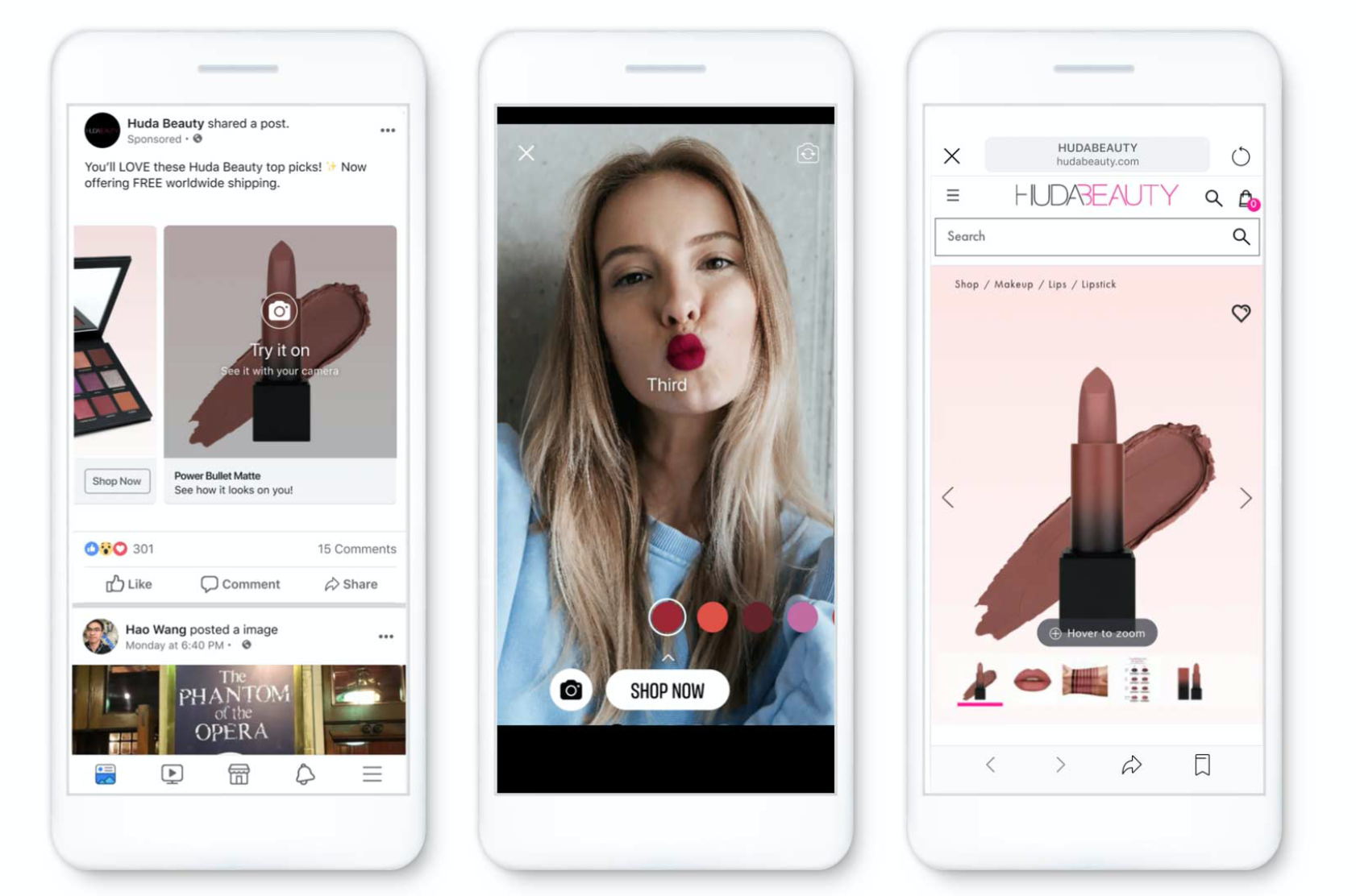 In order to help with this, Facebook is working on their backend infrastructure to better scale the AR offerings more effectively moving forward. Brands will be able to bring AR into their catalogs by piloting APIs for Beauty Partners. Laura Mercier, Lakme, and NYX Professional Makeup are currently testing the features with lipsticks, and more features are coming this summer. As the tools are fine-tuned, brands in the similar spaces will be able to leverage the technology themselves.
Right now Facebook is starting with the beauty industry, but they're looking forward to eventually adding similar functionality for both home decor and electronics, where limited testing has been successful. This will likely be a relatively slow release overtime, but one that will definitely be worth waiting for. Testing is underway, and they're looking to expand the programs this year.
The Try On feature will eventually be available for use as an ad format, which will likely be unbelievably useful at driving sales.
New Ad Policies Around Prescription Drugs 
We know that this isn't directly relevant to many of our readers, but for medical businesses and the agencies who help them advertise on Facebook, pay close attention to this one.
Facebook has tightened regulations about how prescription drugs are advertised on the platform.
This is what you need to know:
You cannot sell prescription drugs on Facebook
You cannot promote the use of illicit drugs or illegal drug use
Online pharmacies and telehealth providers must submit written certification from Legiscript prior to promoting prescription drugs on Facebook
Only online pharmacies, telehealth providers, and pharmaceutical manufacturers can promote products in the US, Canada, or New Zealand and they cannot target people under 18 years of age
These are only the newly updated policies. You can learn more here.
Investing $1B In Creators 
Instagram is going to be investing over one billion dollars in creators on the platform by the end of 2022. 
Through the use of their Bonus programs, eligible creators can get paid for hitting certain milestones when using the native creative and monetization tools. These programs will be seasonal, and the goal is to have them expand over time.
The current bonus opportunities are available by invitation on Facebook now, and include:
In-stream bonus, which pays out earnings to eligible creators using in-stream ads
Stars bonus, which pays out monthly bonuses to eligible video and gaming creators who hit specific Stars milestones over the next three months
IGTV ads bonus, which allows creators to earn a one-time bonus for signing up for the IGTV ad platform
The badges in Live bonus, which rewards eligible creators when they reach badge milestones like going Live with another account
The Reels Summer bonus, which will launch soon to pay creators for high-performing Reels content
There are plans for more bonus programs that will roll out throughout the end of the year, but they haven't been announced yet.
Creators who want to learn more or sign-up for monetization and bonus programs on Facebook, click
here.
It was a big month for Facebook Updates, so July definitely delivered. There are so many great features emerging for all business accounts, even if they'll take a little while to reach us. Make sure you tune in to stay up-to-date on these new features as they emerge, and to see what bonus programs are available for creators on Instagram!
What do you think? Which of these Facebook updates are you most excited about? What do you want to see next? Share your thoughts and questions in the comments below! 
---
Top Facebook Updates June 2021
New AI-Based TextStyleBrush 
This is a small but really cool and really useful Facebook update, so we're starting here! 
Facebook has just announced their new TextStyleBrush, which uses AI technology to essentially copy the font and style of text from an uploaded image and then recreate it on the platform. They only need a single word in order to recreate it. This could be an exceptionally easy way for businesses to take their brand's font and text styles and adapt it for additional uses.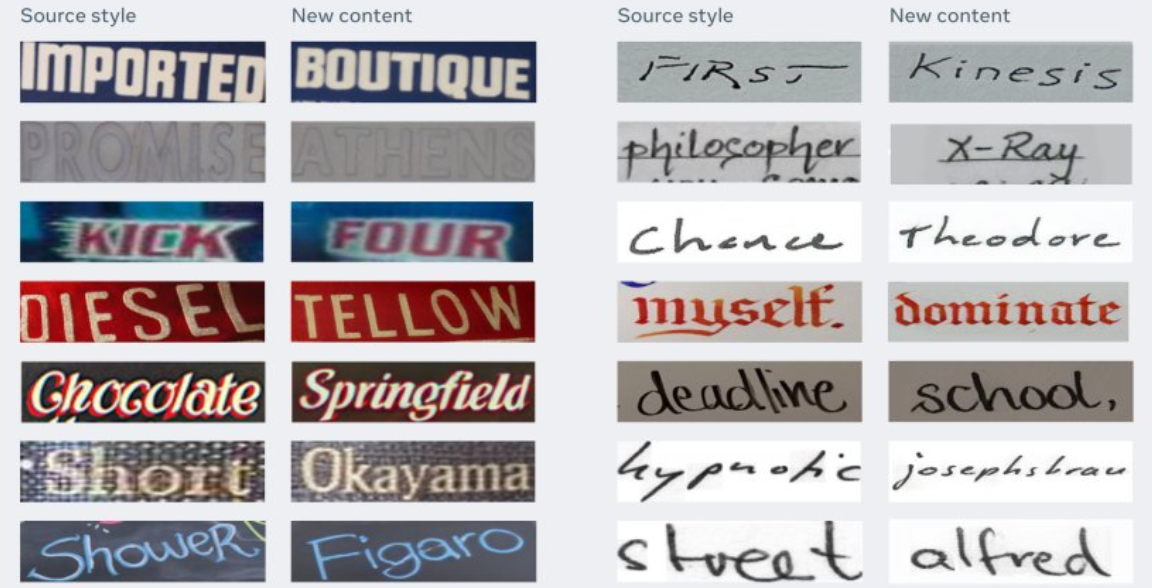 In their announcement, Facebook noted that they're continually working towards advancing AI in safe, responsible, and transparent ways. Which brings us to our next update…
Facebook is Cracking Deepfakes 
You may have recently heard the news that Facebook is aggressively working to find ways to detect deepfakes before the threat becomes more prevalent.
There's good news: They've made some progress.
In a recent announcement, Facebook shared that while deepfakes can trick the human eye, there are attributes that reverse engineering can identify that flags it is false. 
This is outstanding, as the platform has taken a lot of hits as being a prime breeding ground of misinformation. While it won't stop people from creating the deepfakes, the ability to spot what is and isn't real (even just when Facebook can tell and remove or flag a video for users) is exceptional. Their reverse engineering accounts for multiple different models of deep fake creation.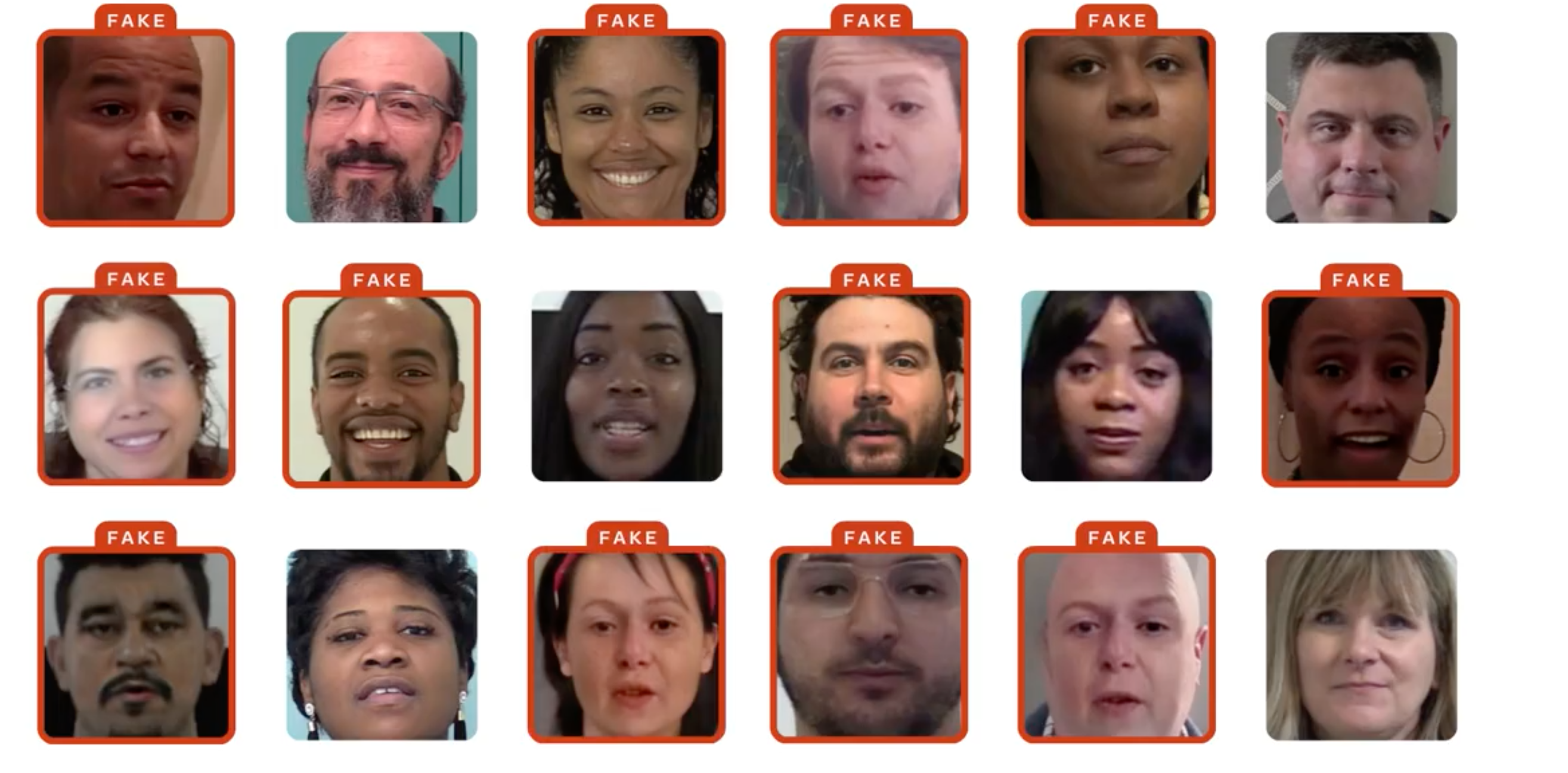 This is a step forward in the technology world, and it's arrived not a moment too soon.
In Testing: Headset VR Ads 
While only a relatively small subset of users are engaging with Facebook's VR platform Oculus, that small niche is still a relatively large number of users. And now Facebook is looking for monetization options through their ad system. 
Facebook is currently testing ads for their headset VR experience. These ads will show up "in-world" for users. You can see this in the image below, which shows how ads can be placed into the experience in an interesting but not obtrusive way. Since it's important for developers to have monetization options, this is an easy one that won't negatively impact the user experience.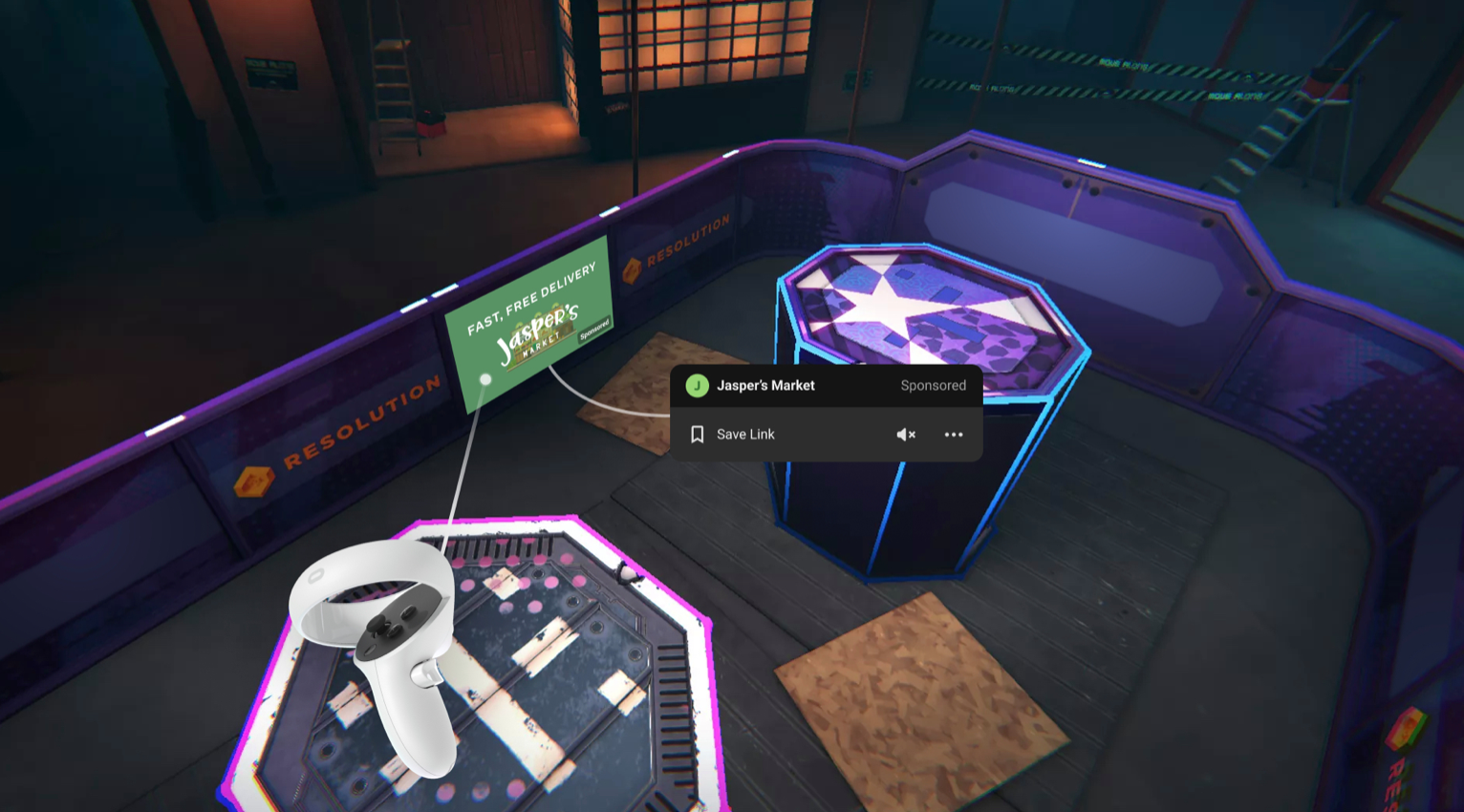 Right now, VR ads are only being tested with a handful of apps. As the tests go well, it's likely that Facebook will continue to roll out the feature. They've also said that they're working on new, unique-to-virtual ad experiences that are not ready for tests just yet. We'll keep an eye out for what these could be and we'll give you more information as it becomes available.
Messenger API for Instagram is Here 
The Messenger API for Instagram was launched on June 2nd at F8 Refresh. It allows businesses to use the same engagement platforms they're using for other channels to respond to direct messages on Instagram. 
Many brands have experienced an enormous influx of private messages and Story responses on Instagram over the past few years, which became increasingly difficult to manage when team members needed to log into the account and check those messages. It was crucial they did so, however, since Instagram couldn't be connected to other social media management platforms like Hootsuite originally, and since so many users were making high-intent messages asking about products before purchase.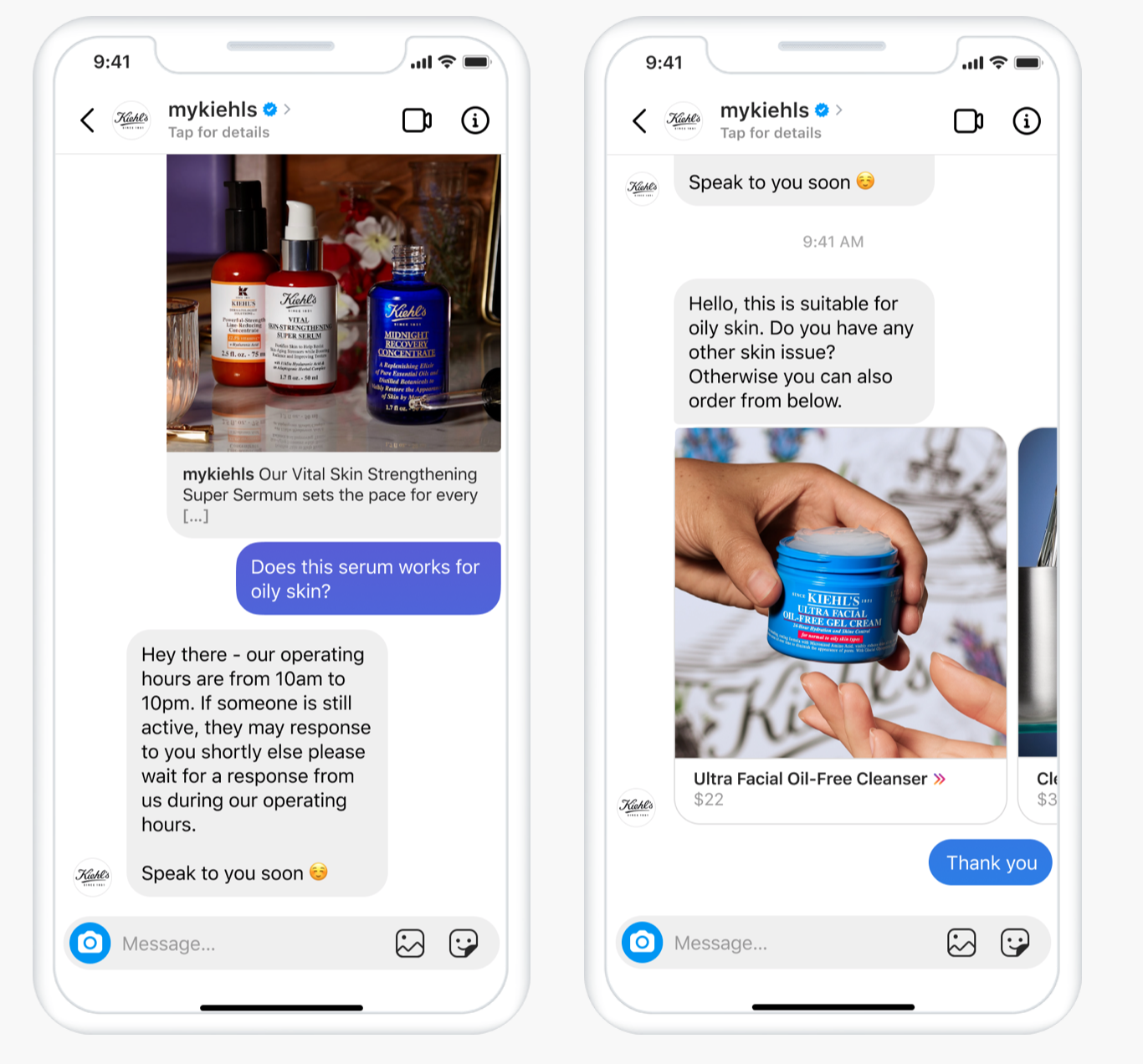 The ability to respond to Instagram messages from different third-party platforms is about as game-changing as it gets for brands who are selling at a high volume here, especially with more features available with additional tools.
Interested in streamlining your business communications from Instagram? Check out Hootsuite's Instagram messaging integrations.
New Ads for Instagram Reels 
Last month we shared that Instagram's hyper-popular Reels feature got Insights. This month, it was announced that we're getting Reels Ads.
Reels Ads have been tested in several countries over the past few months, and Facebook finally decided it was time to roll them out to a wider audience.
Like with standard Reels content, these ads will loop and can be up to 30 seconds long, making them longer than your standard 15-second Story Ad video or 5-second Story Ad image. You'll also have room for "post description" at the bottom of the ad, and users can see likes and comments on the Reels Ad like they would a standard in-feed ad.
These ads can appear wherever you see Reels content, including in the Reels tab, the Explore tab, in Stories, and in your feed.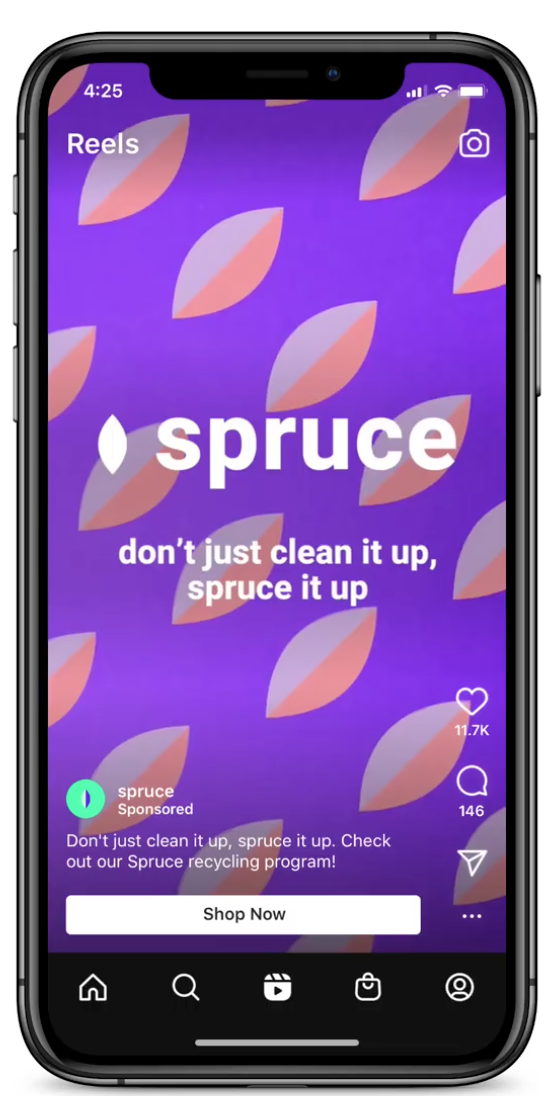 We're exceptionally excited to see how Reels Ads perform, as they're combining high-performing features from in-feed ads and Stories Ads on an already high-engaging part of the platform.
Affiliate Monetization Options Announced for Creators 
Instagram has just announced new monetization options for creators that marketers everywhere will be thrilled about: Affiliate selling. 
This feature will start testing in a few months, and it's a completely new approach to selling other brands' products on the platform.
Now, you can either sell your own products as a business or promote products for a brand as an influencer through a paid partnership. These are closely monitored and can require brand approval.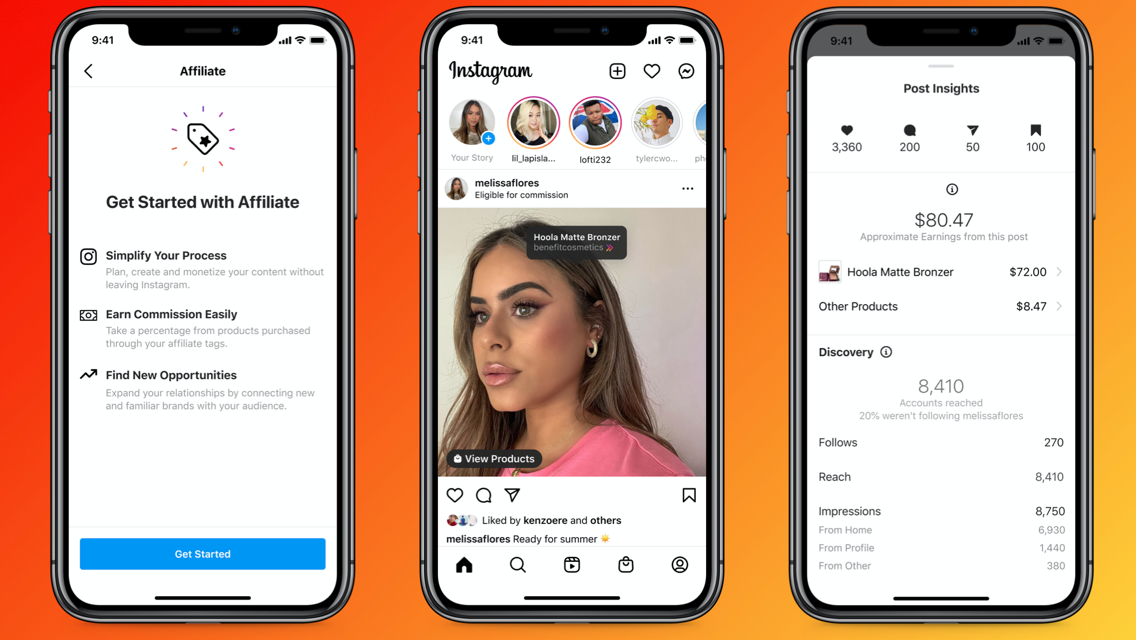 This won't be the case for affiliate selling, at least as of now.
Influencers will be able to discover new products available on checkout and then share them with their followers. They can then earn commissions for the resulting purchases, all within the app.
Creators can make more passive income fairly easily, and brands can get extra visibility and sales without spending their marketing funds on promoted partnerships. It's a win-win.  
While the tool isn't available yet, we can't wait to see how it works during testing. Keep an eye on this post monthly to see more information when it becomes available.
Final Thoughts 
Facebook and Instagram can keep marketers and small businesses on their toes, trying to guess at what new Facebook features will be coming around the corner next. This month, the new addition of two types of ads (one in testing and one being rolled out) is particularly exciting, but the AI and deepfake developments are great to see, too. This was a great month for Facebook updates, and we can't wait to see what's next.
What do you think? Which of these Facebook updates are you most excited about? What do you want to see next? Share your thoughts and questions in the comments below! 
---
Top Facebook Updates May 2021
Facebook Breaks Down its Ad Policy Review Process
We know that Facebook's system looks at all ads you submit, reviewing them before they run. People have long been confused why ads that seemingly follow the rules are sometimes rejected while obvious scams somehow make it through.
To increase transparency, Facebook just recently broke down how their ad review process works, and it was extremely enlightening.
First, they reminded users that it's not just the strict advertising policies that apply to Facebook Ads. You also need to check to ensure that each ad complies with branded content policies, commerce policies, event policies, and more (if applicable). You've got to be following all of Facebook's rules in the ad platform.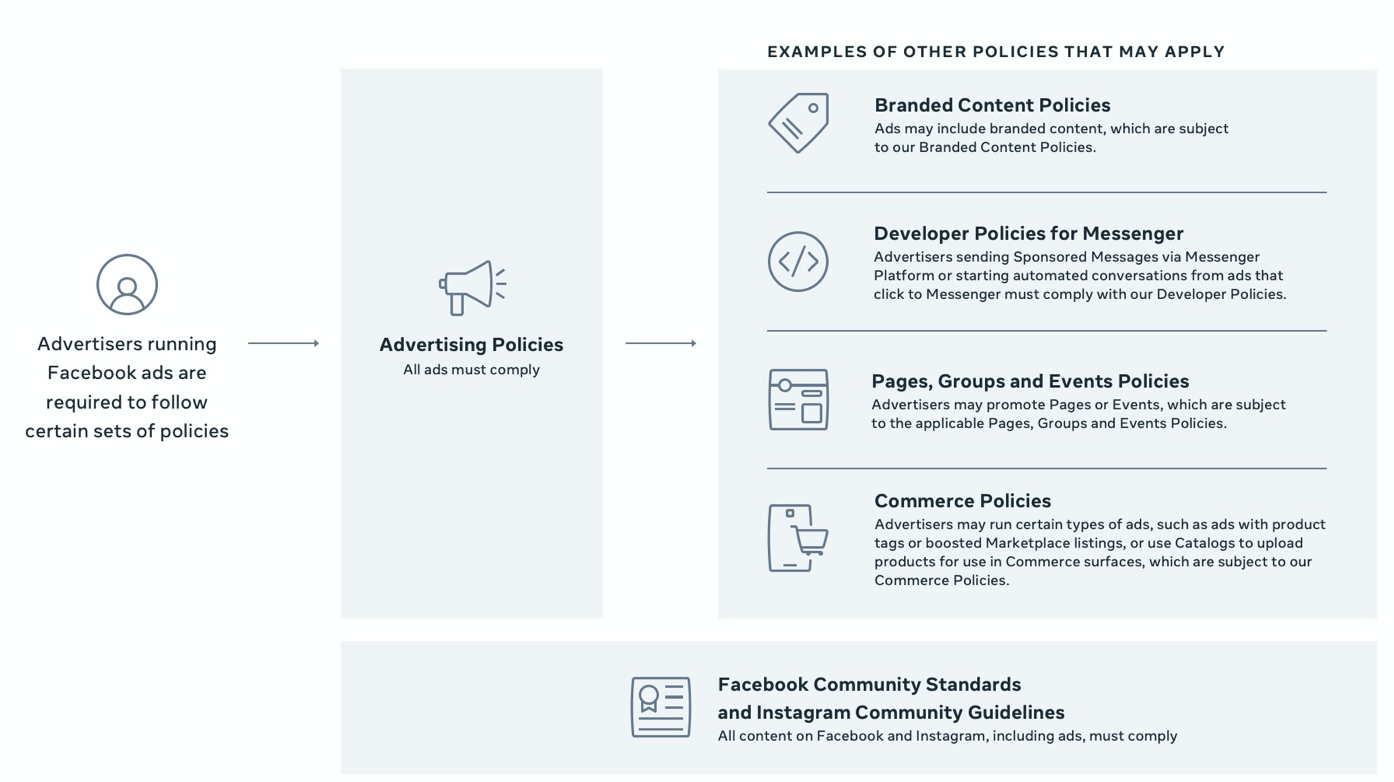 They also explained that, as many of our users may have noticed, most ads are typically approved within 24 hours. I've had ads approved in as little as five minutes, as I'm sure many of our readers have, too.
When an ad is first submitted, they'll use an automated review that uses machine learning and algorithms to flag potential issues. The approved ad can run, and may be subject to human review later. If the ad is rejected, you can appeal and submit it to human review. They remind users that if an ad is rejected, they can always edit it and resubmit.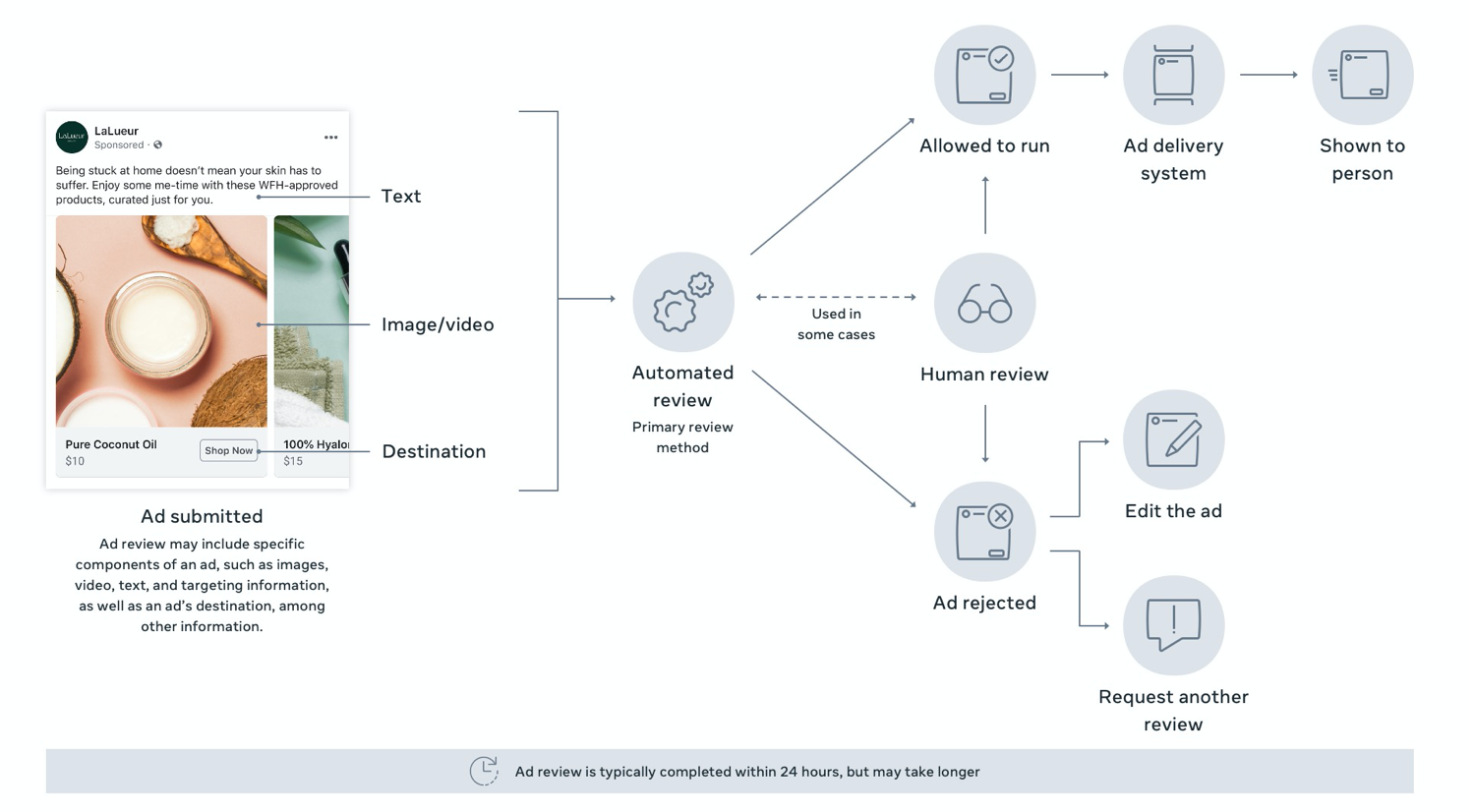 Facebook also warns advertisers that in addition to reviewing individual ads, they look at an advertiser's profile overall.
Have you made attempts to get around the ad review process in the past, or to find loopholes? Are a large number of ads being rejected, or reported by users? Facebook may take action against advertisers who consistently violate their policies, including suspension or banning.
Facebook Reports Efficacy of Platform Safety & Integrity Measures
Over the past few years, many users have  worried about Facebook's use of their personal data, as well as issues with transparency, hate speech, and misinformation.
While all of these issues are still in play and impacting users, the good news is that Facebook's updated platform safety and integrity rules are making a positive impact.
In the first quarter of 2021, we saw the following improvements:
Violent and graphic content decreased to .03%, down .05% from the last quarter
Hate speech also decreased from .07-.08% to .05-.06%
The rate of content "actions" taken was 10x higher, and we've seen the proactive rate shift from 24% to 97%.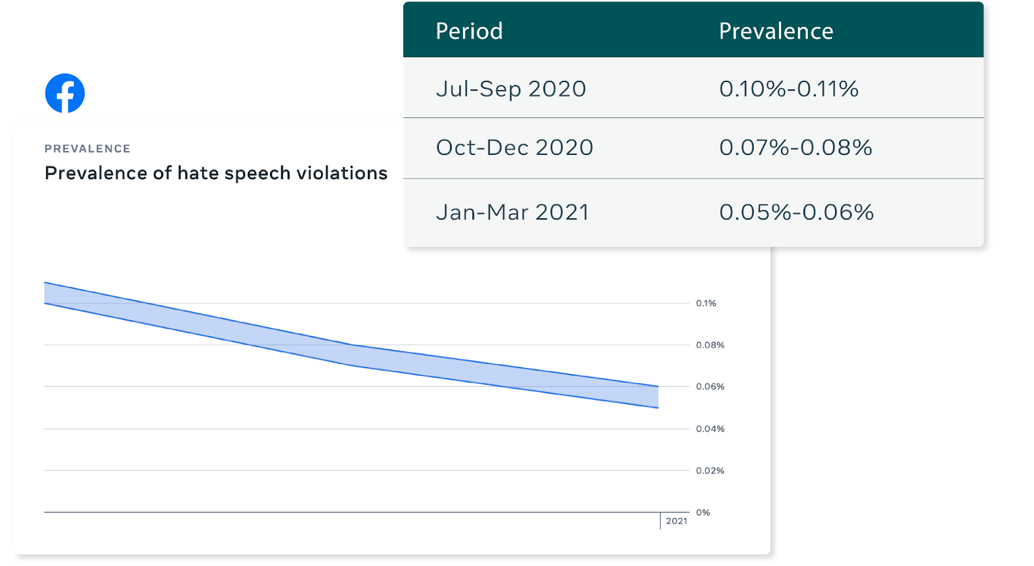 This is great news for brands, because it creates a more positive and safe platform for all users.
New Instagram Insights for Reels & Live Video
Instagram Reels and Live are two exceptionally valuable features on Instagram. They're currently both popular and capable of driving reach, engagement, and even brand awareness.
It's great news, therefore, that we're getting new native data for both to assess their performance and impact on our overall marketing strategies. This will be found under Instagram's Insights, which you already have access to as a Business or Creator account.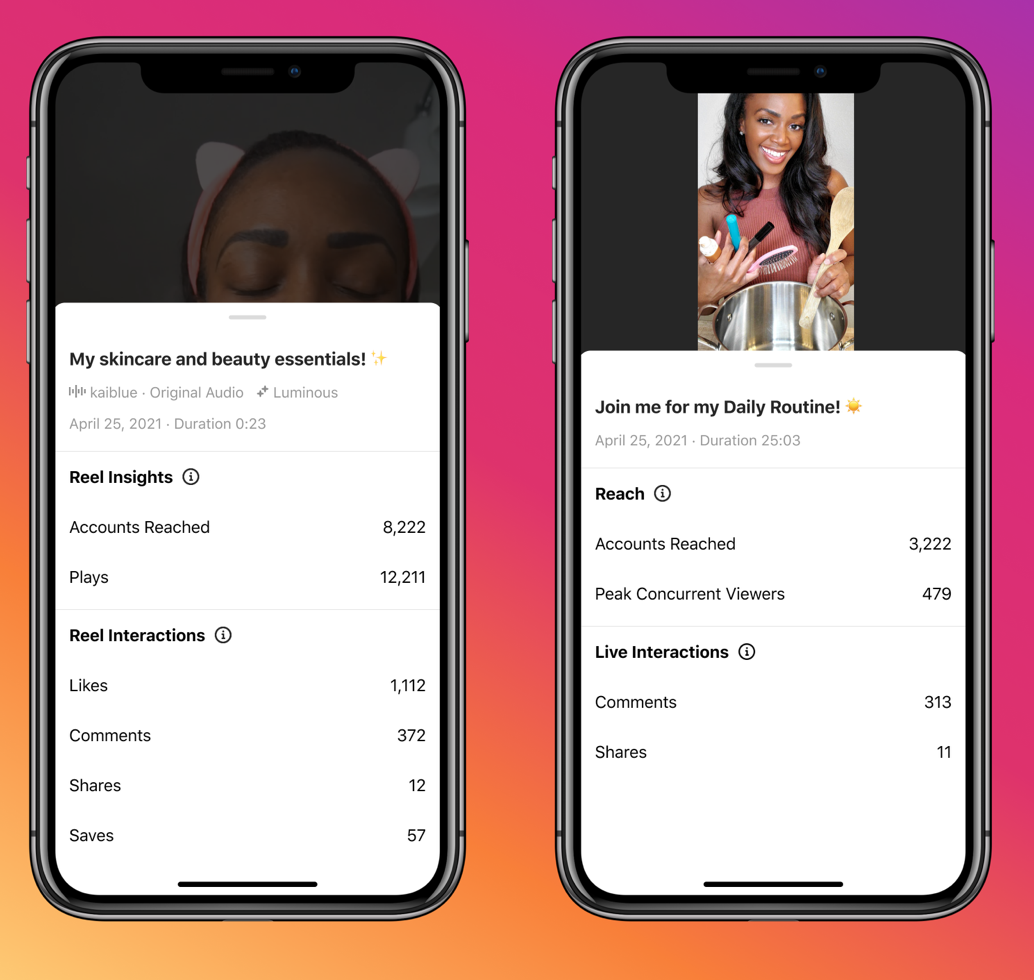 Reels will get the following metrics:
Plays
Accounts reached
Likes
Comments
Saves
Shares
Live videos will get the following:
Accounts reached
Peak concurrent viewers
Comments
Shares
These metrics will also be added to the Account Insights, to get a better big-picture look of the campaigns' impact.
And more good news: Over the next few months, Instagram is working to roll out new preset time frame options to let marketers view beyond 7 or 30 day periods. Insights will also be supported on desktop. Stay tuned for that!
New Tools for Asian & Pacific-Islander Owned Businesses
A recent study showed that API-owned businesses have been the most harshly impacted of all demographic groups during the pandemic, seeing a 20% decrease in working business owners from February to December of 2020.
Starting on May 17th, Facebook invited users and businesses to support the Amplify API program. They offered content and training opportunities tailored to API-owned small and medium-sized businesses, and committed to spotlighting and showcasing small businesses from around the API community.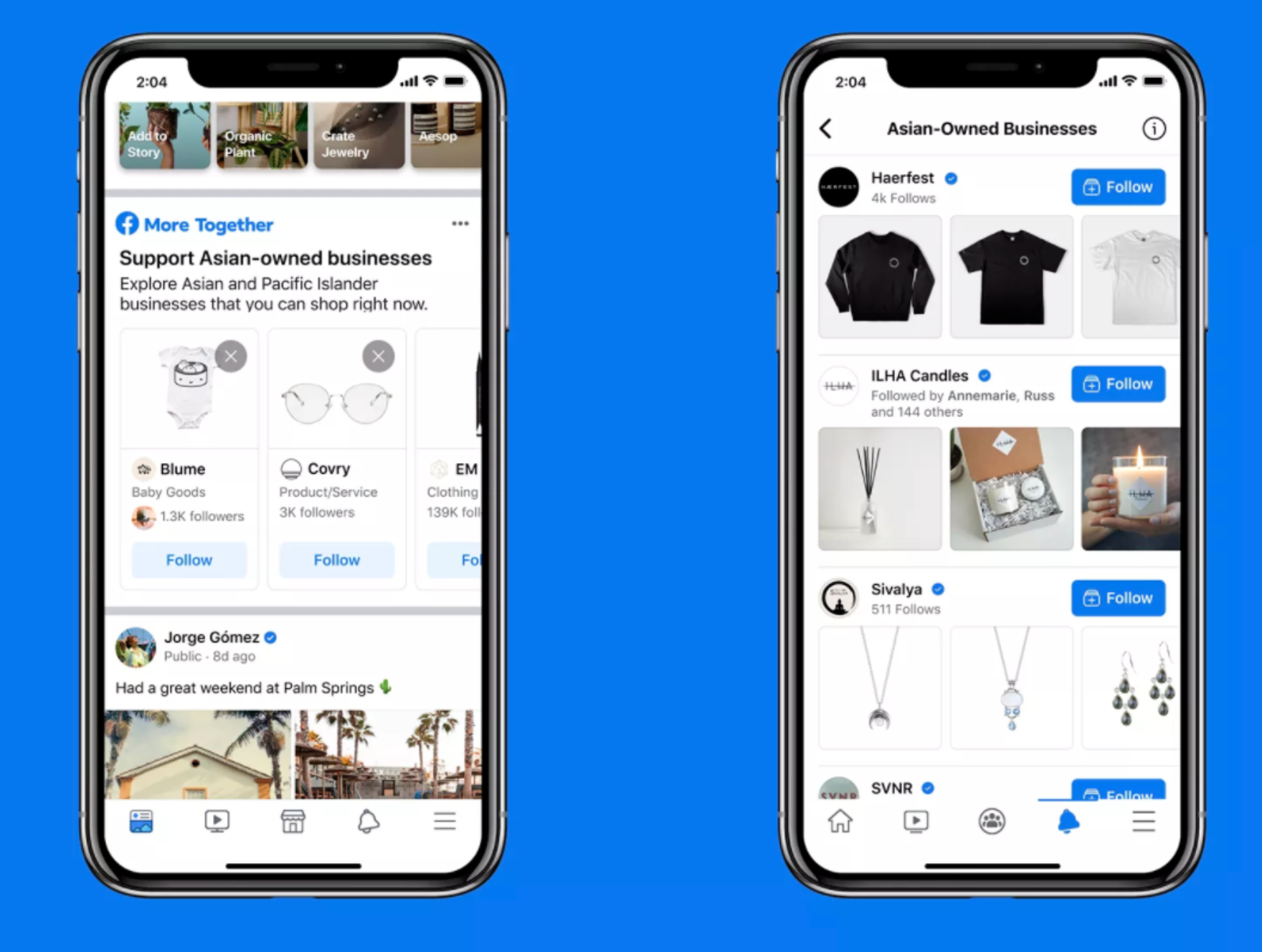 Live Shopping Fridays Announced
It feels a little like QVC's infomercials have come full circle, but we're unbelievably excited about Facebook's new announcement of "Live Shopping Fridays."
Starting in mid-May and running every Friday through July 16th, beauty and fashion brands will go Live and showcase beauty and fashion products and tutorials in real time. You can find these streams on participating brands' Pages or by browsing the Shopping tab.
Users will be able to buy products featured in-stream by tapping on them while viewing, and they can purchase without ever leaving the app.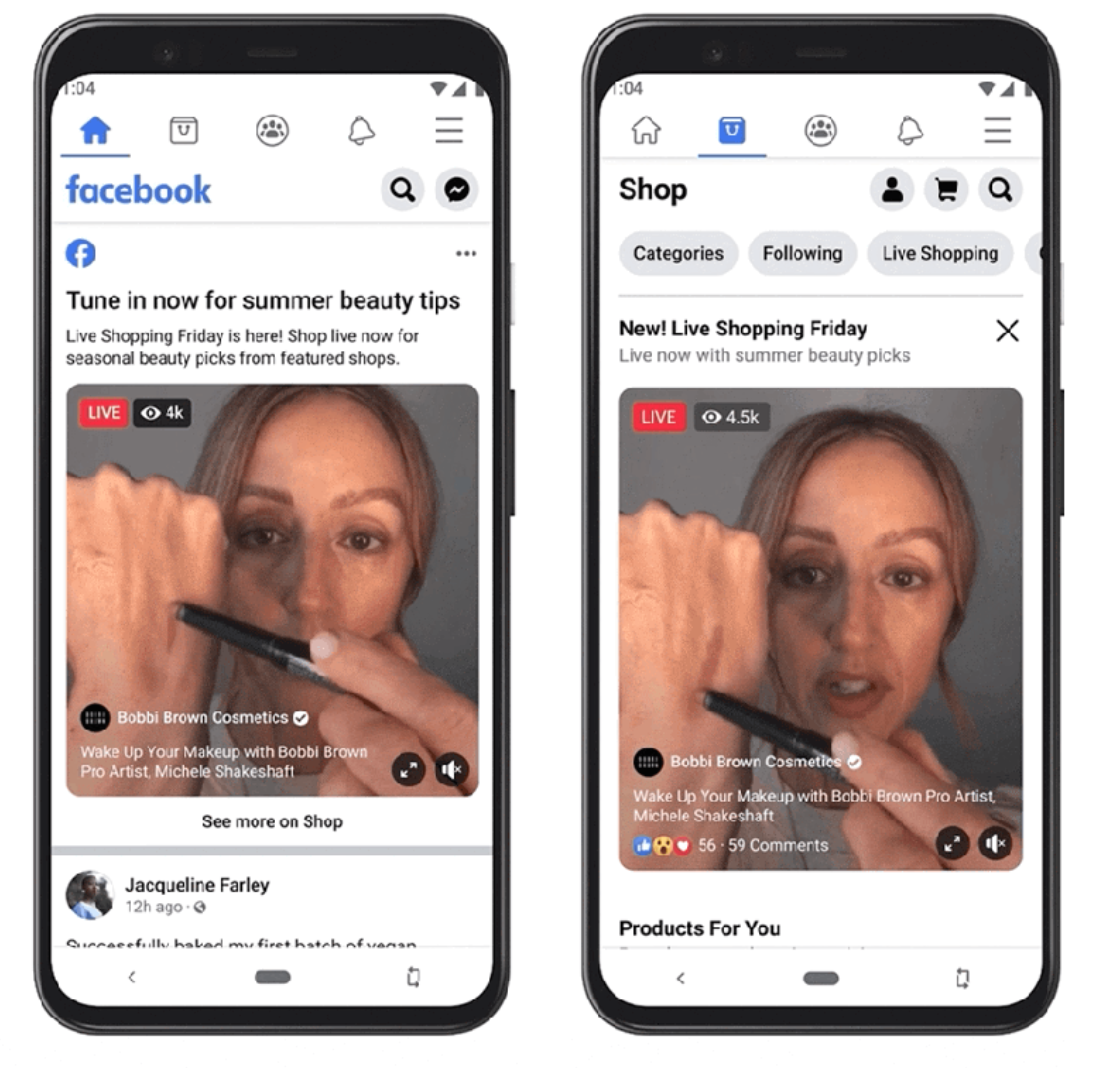 These are the current topics and dates on the map:
Glow Up – May 21, June 11 and July 2 12:00PM – 1:30PM PT/3:00PM – 4:30PM PT
New Fashion Finds – May 28, June 18 and July 9 12:00PM – 1:30PM PT/3:00PM – 4:30PM PT
Self Care Spotlight – June 4, June 25 and July 16 12:00PM – 1:30PM PT/3:00PM – 4:30PM PT
While only major brands like Abercrombie & Fitch and Bobbi Brown Cosmetics are participating this year, it will be interesting to see if more advertisers will gain access to live shopping features on a more regular basis. Stay tuned!
Final Thoughts
While this was a relatively slow month for Facebook updates overall, the information and new features that we have gained are valuable.
A breakdown of the ad review process is a good reminder for users who are unfamiliar with how it works and the consequences of trying to game the system, for example.
The biggest standout feature here for Facebook alone is the Live Shopping Fridays, and it will be fascinating to see how effective these campaigns are and whether we see a more semi-permanent shopping feature roll out to more advertisers overtime.
In the meantime, this is also your reminder to check in with your ad campaigns since the iOS 14.5 and the ATT are in full swing. Watch those campaigns closely, and look at new ways to adapt if your campaigns take any hits outside of the expected reductions in efficacy of website and data tracking for reporting purposes. Learn more here.
What do you think? Which of these updates are you most excited about? What do you want to see next? Share your thoughts in the questions below!
---
Top Facebook Updates April 2021
The ATT Is Here
Apple's AppTracking Transparency update has been the talk of the town for a few months now. Since the app would require that all apps obtained user consent to collect user data (instead of having users opted-in as a default option that they'd need to proactively opt-out of), we knew early on that this could have an enormous impact on Facebook Advertisers who use this information to serve better ads and on-platform experiences to its users.
On April 26th, the ATT was officially launched. Apps must get user permission to track data, and they also explain why you want to track additional user information (like their emails) when submitting your app to Apple for review.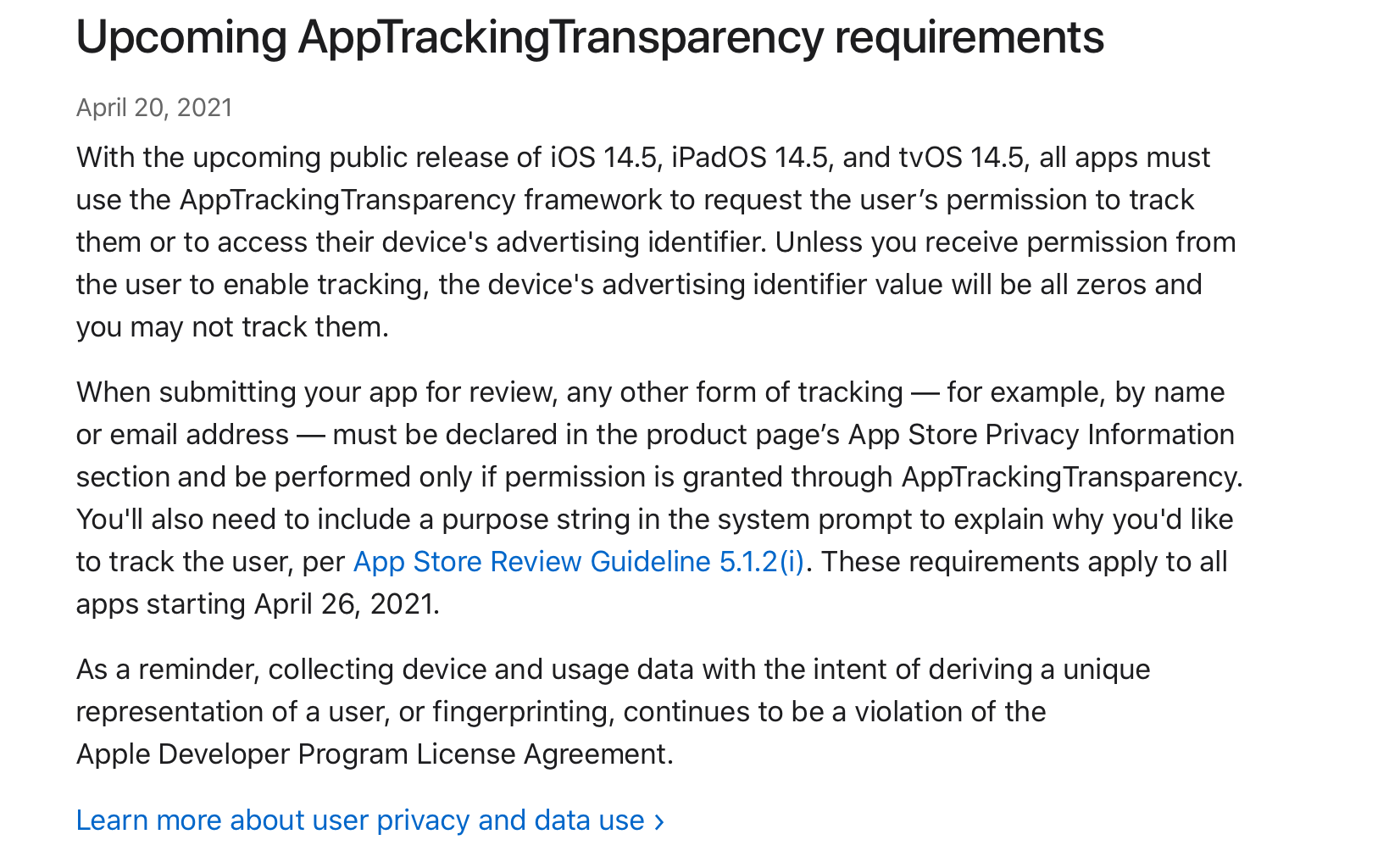 This update is likely to impact custom audiences from site and app activity, and Facebook has acknowledged that it may impact the accuracy of both tracking and ad optimization. While this will only be true for mobile iOS users and their activity in-app, this may still have a wide-reaching impact. You can learn more about how to prepare here.
Facebook Addresses COVID-19 Misinformation
Unfortunately, misinformation on Facebook is nothing new, and it has potentially reached an all-new level of dangerous during COVID-19.
Last month, Facebook shared what it's been doing to address misinformation about COVID. So far, they've created a global network of over 80 independent fact-checkers who review content across over 60 different languages, aided by AI advancements. AI tools have been removing COVID-19 misinformation flagged by global experts, removing a total of 12 million pieces of content about the virus and its vaccine.
While this is controversial amongst some users, it's interesting to see how Facebook has responded to misinformation and understand the process behind it. We can assume that this is how they will handle misinformation regarding objective, science-based information in the future.
New Business Suite Features
Facebook's Business Suite launched last year, and it's like a central hub for your Facebook and even Instagram marketing.
Last month, they rolled out new features to the business suite, including the following:
The ability to schedule and post Stories to both Facebook and Instagram, which is fairly groundbreaking
The option to edit scheduled posts
The ability to create, edit, and manage albums
Saving posts in a draft mode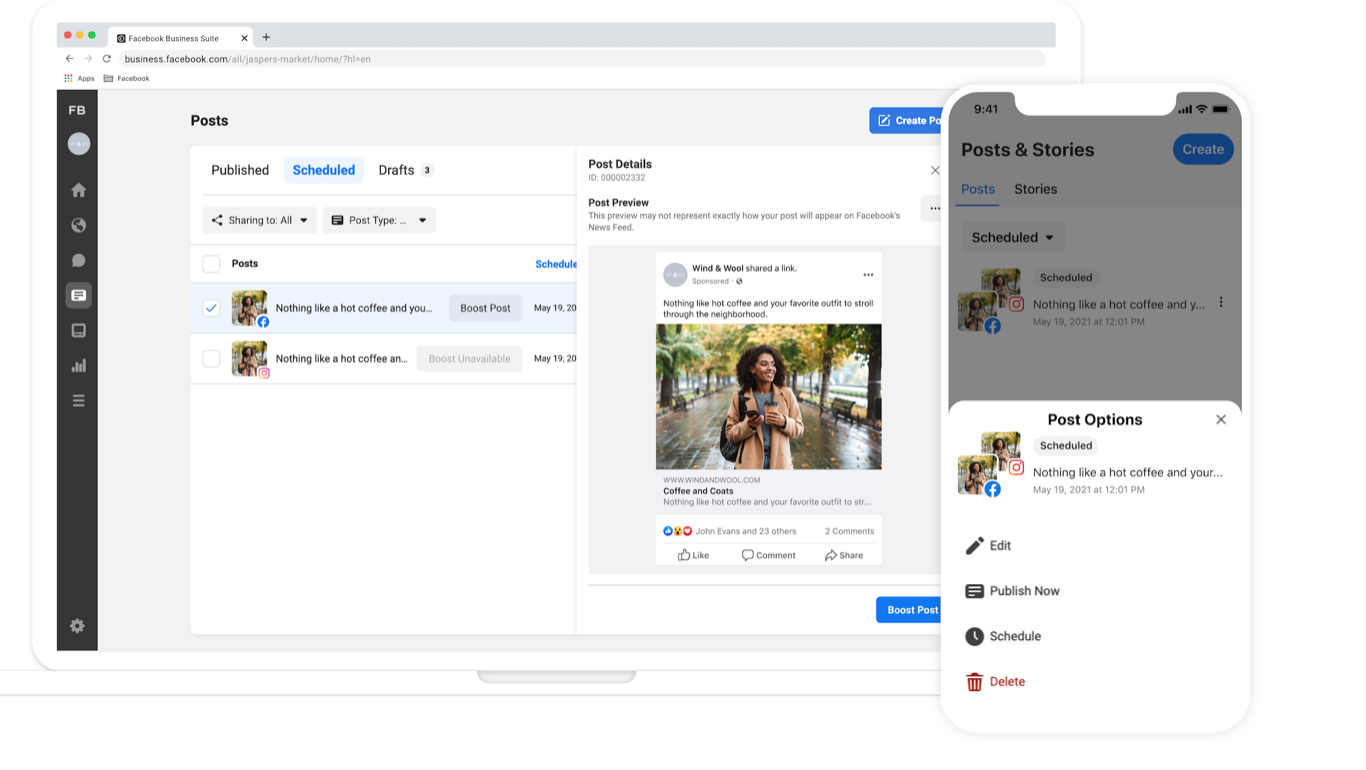 The Stories posting and scheduling feature is the biggest standout here, as that's something that most users don't have access to just yet.
New Dynamic Ads for Streaming
If you did a double-take when you read "dynamic ads for streaming," you aren't alone, but it's a really exciting new feature.
These ads are meant to help video streaming brands show off their content to their target audience. When they see the ad, they can swipe through the slides to see different personalized suggestions that are relevant to them. They're similar to Facebook's traditional dynamic ads, only they show off different media titles instead of products.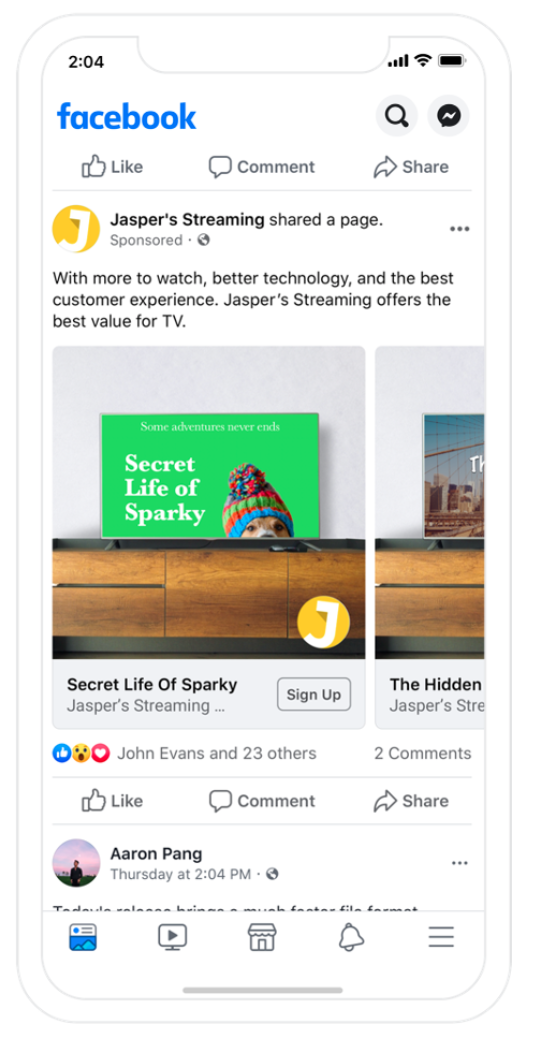 Here's why this is a big deal: Before this update, streaming creators typically had to promote different media titles separately.
Hulu would create entirely separate campaigns, for example, for The Handmaid's Tale than they would for Shrill. Now, however, they can create a single campaign if they choose and let Facebook's incredible optimization features do the heavy lifting (ATT's impact notwithstanding, of course).
What do you think? Which of these Facebook updates are you anticipating most? What were you hoping we'd see, and what do you want to see next? Share your thoughts and questions in the comments section below!
---
Top Facebook Updates March 2021
March of 2021 was another exceptional month for Facebook updates, giving us three great new changes: more IGTV ad expansions, additional brand safety controls, and online courses for community managers were all released.
IGTV Ad Expansion
IGTV ads were first announced and rolled out on a small testing basis last year, and in March it was announced that they'd be rolling out to more users across the globe. These ads use a revenue-share model, and have been slowly improved over the last year. The mobile-first and immersive ads appear when people click to watch IGTV videos from previews in their feed, helping to capture more high-intent users who will sit through the ad.
Now, select creators in Australia and the UK will gain access, which is a good sign for even more significant expansions soon to come. This opens up more ad placements for users, and can allow creators to earn passive income on the platform, making it a win-win for everyone. The fact that it's so high intent by capturing users who already clicked to watch the video will likely help boost video completion rates, too.
Updates to Brand Safety Controls
Brand safety controls have been a cherished feature for many advertisers on Facebook for some time, and in March we got a few new great options to help with this.
First: With the Rights Manager, copyright owners can opt to claim and collect ad earnings on copyrighted content that's published by other Pages, as long as both aligns with the partner monetization policies.
This means that when someone shares your content, you can still profit accordingly instead of automatically having it blocked for copyright issues.
Second: They're integrating "publisher allow" lists and inventory filters into the Ads Manager's reach estimator. This can help you assess what your campaigns' reach is after you've narrowed down which creators your ad content can appear in.

Third: There are new IP protection tools, to help protect your intellectual property across all of the Facebook suite of tools. This will help protect your brand and combat the promotion and sale of counterfeit items.
This is exceptionally great news, as this has been a problem for hot products for some time. The new measures include a notice-and-takedown program to machine learning investments that will help identify and suspend counterfeits.
As part of this program, they're working on updating their Commerce and Ads IP tool. You can apply to access this tool here. The updates include image search functionality and more expansive search results.
Community Managers Online Course Expands Globally
Facebook has outstanding courses to walk businesses, brands, and social media marketers through the marketing and advertising process. Facebook Blueprint is an excellent example.
Their online courses for community managers are no exception, and these have now expanded globally. The program, which details how managers can build and grow their communities, was originally released last October only in English. It's now available in additional languages, including Thai, Arabic, French, Spanish, German, Indonesian, and Portuguese.
What do you think? Which of these Facebook updates are you anticipating most? What were you hoping we'd see, and what do you want to see next? Share your thoughts and questions in the comments section below!
---
Top Facebook Updates January 2021
February was a slow month for Facebook updates, so we're rolling straight into January 2021! Here, we're going to look at topic exclusion testing, the new Instagram professional dashboard, and new tools to disclose partnerships.
Since Instagram is closely tied into Facebook as its sister app, we're going to cover these changes here so you're up to date across both platforms.
In Testing: Topic Exclusion Controls for Advertisers
Facebook is currently building and will soon be testing new advertiser topic exclusion controls, which is an extension of their brand safety measures. The goal is to allow advertisers to prevent their ads from appearing in the Newsfeed next to certain topics, based on their brand suitability preferences.
A vegan company, for example, might not want to have their ad displayed next to a post from a Page that offers bulk orders of meat. Seeing the two back to back could create an association the brand doesn't want.
This isn't entirely unlike how brands can choose to have their video ads excluded from showing in content of certain creators or creators in certain industries to prevent associations they want to avoid.
The idea here is that advertisers can select topics like "Crime and Tragedy" to avoid.
The building and testing of these features is complex, and it will take some time to get it right; expect to hear more later on this year.
New Instagram Professional Dashboard
Have you noticed that Instagram's dashboard for business and creator accounts looks a little different?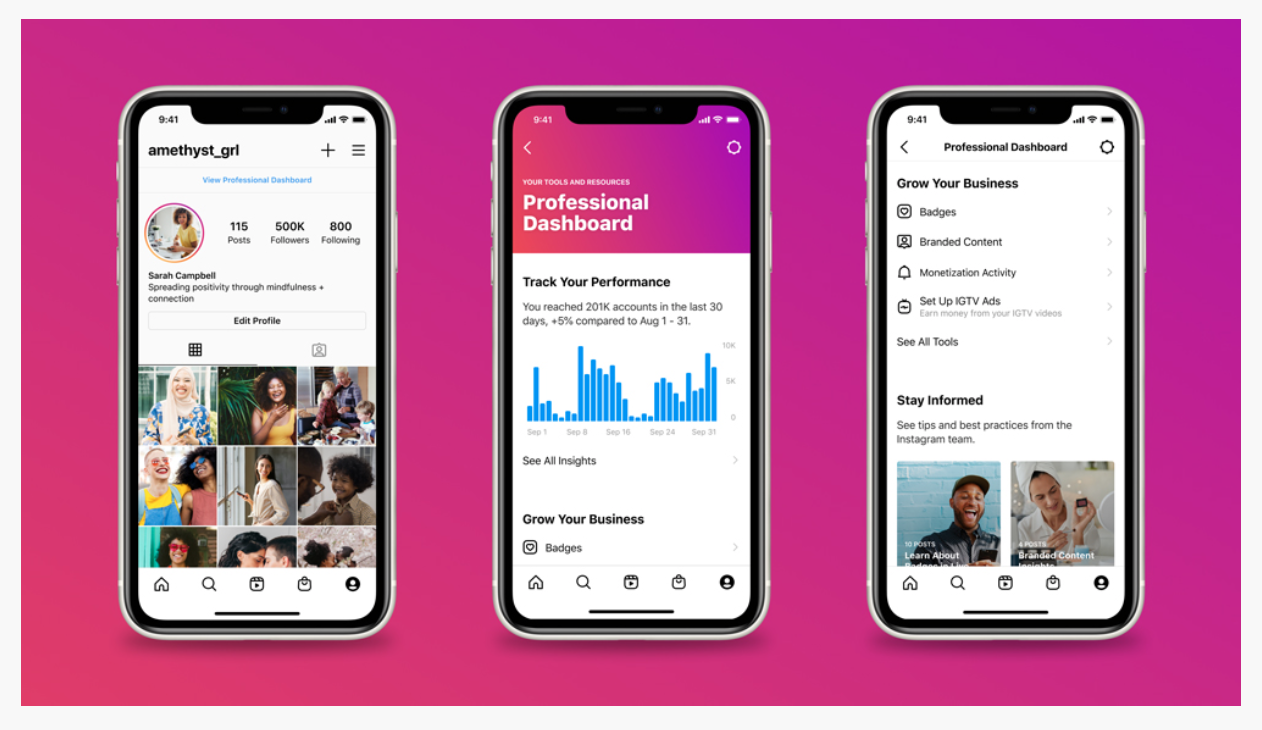 The dashboard got a big update in January of this year. These are the three big changes and key features to know:
You can track performance by measuring trends and insights with a core focus on vital data
You can gain access to tools that help you grow your business account more efficiently, including assessing monetization status and eligibility, setting up branded content, and giving out badges to loyal and engaged followers
Get access to everything you need for an Instagram education, including resources that share tips, strategies, guidance, and inspiration to grow your account further
While some of these resources were already available across Instagram, they were now brought to one central location. The hope is that it will be easier for business accounts to access and discover tools that are well-suited to assist them. And Instagram did note that they plan on adding to this tool overtime, so keep an eye out.
Business Equality Resources & Tools Announced
In 2019 and 2020, business equality, diversity, and inclusion were cornerstones of discussion in America. Facebook, like many other companies, has made steps to improve the inclusivity of the platform by creating a new resource center focused on Business Equality.
This resource center features the following:
The most up-to-date trainings, programs, resources, and tools that all businesses can use to foster business equality in day-to-day operations
Programs like SheMeansBusiness and Boost with Facebook, which may include spaces for diverse or minority people to gain resources they need and network
Advertising tools like Ads for Equality that are meant to eliminate harmful bias in advertising
Examples of businesses and organizations who have started on the journey, so other businesses can follow suit
Keep in mind, though, that these resources are not the end-all-be-all; there are limitations to what they can do, so consider consulting a specialist to help your business and marketing team in these areas if needed.
New Tools for Partnership Disclosure Released
Partnerships on Instagram is practically a core part of the platform at this point, but that comes with needed regulations to help everyone stay above-board both in terms of following Instagram's guidelines and standard promotional laws, too.
It's important that a creator's audience knows when a brand is involved in creating that #sponsoredcontent. The transparency builds trust and promotes transparency. The branded content tool helped with this, and in January, Instagram rolled out a few new features to enhance it further.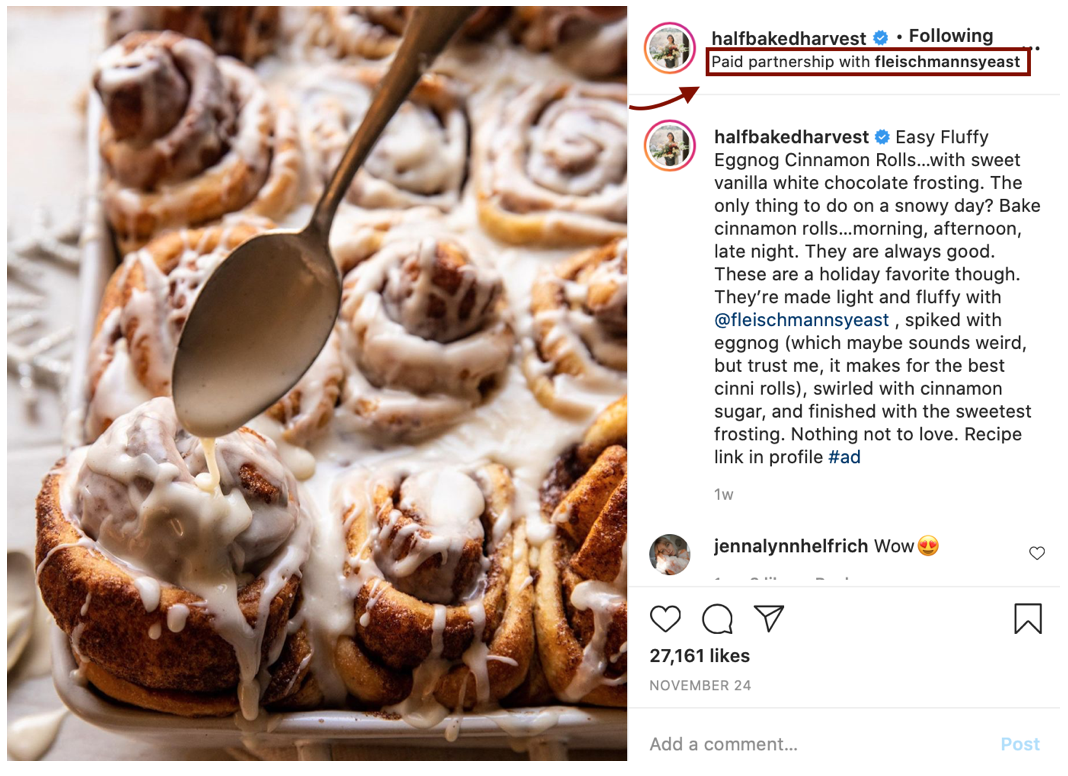 These include the following:
Branded content tags that have been expanded to Reels and Live content on Instagram, allowing every type of content to have that lovely "Sponsored" tag to identify paid content. Keep in mind that all branded content on Instagram must use these tags. You can learn more about how to use it here.
Encouraging disclosure and communication with creators, including through direct messaging on platform if needed.
A Trademark Reporting Channel, where creators can report content that they believe infringes on their rights. This may include untagged branded content if it violates trademark.
What do you think? Which of these Facebook updates are you anticipating most? What were you hoping we'd see, and what do you want to see next? Share your thoughts and questions in the comments section below!
---
Top Facebook Updates December 2020
There were three core updates from this month: New features for car dealers, social good resources, and the original announcement of iOS 14 and how it would impact business ads.
New Features for Auto Dealers
Selling cars is no easy task, especially when you're trying to generate demand. The good news is Facebook has created some hyper-niche on-platform products to make it a little easier. If you sell cars or work with a client that does, this is great news.
Right now, US-based dealership Facebook Pages will get access to:
A new "Manage Inventory" tab on their Pages, where they can create and promote vehicle listings on-platform
A streamlined process to create auto industry ads (AIA), where you can promote your current inventory quickly through on-platform catalogs and pre-filled templates
A new "Vehicles" tab on the Page, which will show your existing inventory through a standard Facebook shop interface

Especially now, as COVID-delays may cause a shortage in new cars hitting the market, this is something auto dealers and their marketers should take advantage of.
Business Resources for Social Good
December can be a time of great joy for many, but it can be incredibly difficult for those who are struggling. With a greater emphasis on social good in recent years, Facebook created a website designed to help businesses advance their social impact. We're well past the holiday season now, but most information is still relevant. You can see the site here.
The site features purpose-driven brands to give you some inspiration for new directions your business could take, whether it's hosting a fundraiser or doing "buy-one, give-one" deals on products.
The site has resources for the following:
To help businesses build communities around causes using native platform tools
See how to build your brand awareness while promoting social good (not in a self-serving way, ideally)
Connecting with communities and customers more meaningfully, especially when working with key moments like Giving Tuesday, Pride Month, or Ramadan
Facebook First Announces The Impact of iOS 14
Anyone else remember the feeling of panic that set in when we first learned about iOS 14? While I am thrilled about users having more control over how their data is used, there's no denying that this can directly impact Facebook Ads.
Facebook first confirmed the expected impact of iOS 14 (which eventually morphed into the ATT) in December of 2020.
They spoke out about the iOS update vehemently at the beginning, saying it would have a harmful effect on small businesses who relied on Facebook advertising and the free internet. They said it was about profit, not privacy, forcing businesses to turn to subscriptions and in-app payments for revenue while free services will have to start charging to stay on the market.

They have since updated their original post on April 26th, and stressed that Facebook will be providing an education screen before Apple's prompt to explain how tracking is used before they decide to opt-out. For more information about how the changes are expected to impact businesses and advertisers, see here.
What do you think? Which of these Facebook updates are you anticipating most? What were you hoping we'd see, and what do you want to see next? Share your thoughts and questions in the comments section below!
---
Top Facebook Updates November 2020
There was one update in November 2020 that we're going to look at: Additional expanded branded content capabilities on Instagram.
Additional Branded Content Capabilities
In November, we got a number of different updates to branded content features on Instagram, which can spill over to Facebook when you consider that you need to take each platform's requirements into account when creating cross-platform campaigns.
Because the changes are extensive, let's look at each one at a time.
Branded Content Ads Receive a New Optional Creation Process
Previously, Branded Content ads could only be run by promoting existing posts from creators. Now, Instagram allows advertisers to create Branded Content ads without the creators posting organically on the platform first.
This allows for more flexibility, especially if the brand wants to be the one running the content, though it has creator control in mind. Creators can pause and approve ads published from their handle as they choose. You can see the dashboard in the image below: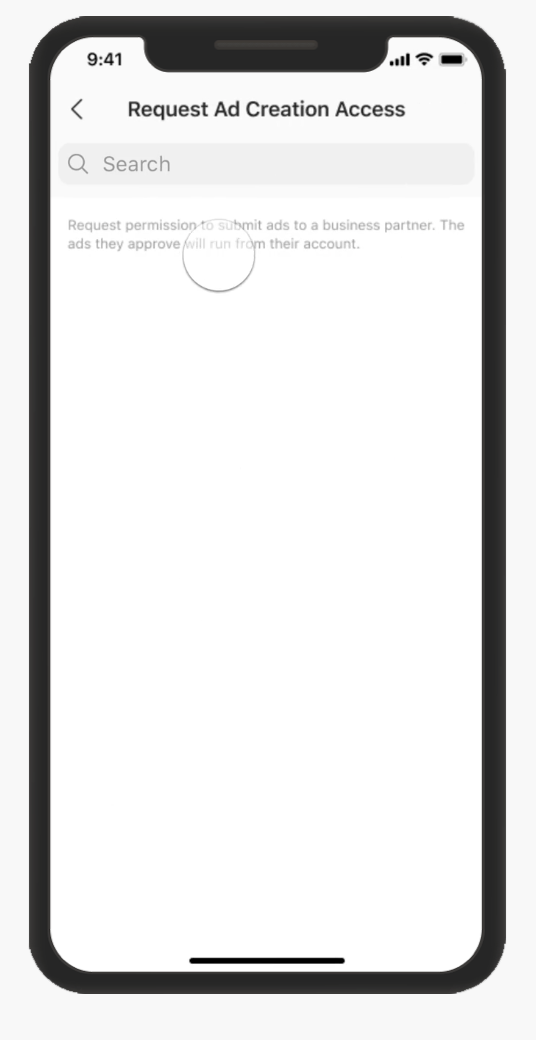 Branded Content Ads Released for Stories
In November, Stories Ads gained the ability to feature branded content. Even better, they included tappable, interactive elements like location tags, hashtags, and mentions. Brands could promote this content for authentic, mobile-shot ads that have been proven to perform well.
Branded Content Ads Get Product Tags
Businesses gained the ability to promote branded content posts that contain product tags.
Previously, posts from creators that had product tags couldn't be promoted through the ad system.
This was one of the more significant changes to the Instagram platform in late 2020, and this increased the selling power of influencer campaigns significantly. If you're investing in influencer and partnered campaigns, after all, you want to get the best ROI possible with a more seamless, in-app shopping experience.
Age Restrictions Put in Place for Branded Content
This was another great update we were excited for. Businesses and creators can set minimum ages that determine who sees their branded content on Instagram. They can rely on a default minimum age, a minimum age for specific countries, or a custom combination of the two.
An influencer in the US, for example, might restrict anyone under 21 from a sponsored post promoting a local bar, abiding by drinking age requirements.
What do you think? Which of these Facebook updates are you anticipating most? What were you hoping we'd see, and what do you want to see next? Share your thoughts and questions in the comments section below!
---
Top Facebook Updates October 2020
October was a big, substantial month for both Facebook and Instagram updates. Here, we had an expansion of badges in Instagram live for creators, the new Messenger API supporting Instagram, a collaboration manager update for Groups, and a new community management certification.
Expanding Badges to More Creators in Instagram Live
Earlier in 2020, Instagram rolled out a test program that allowed select influencers to offer badges to live viewers. These could be purchased as a way to support the creator, as they get a share of the profit. The badges can then be displayed on their profile, and even be used to get features like a special heart to interact with, or having their comments stand out.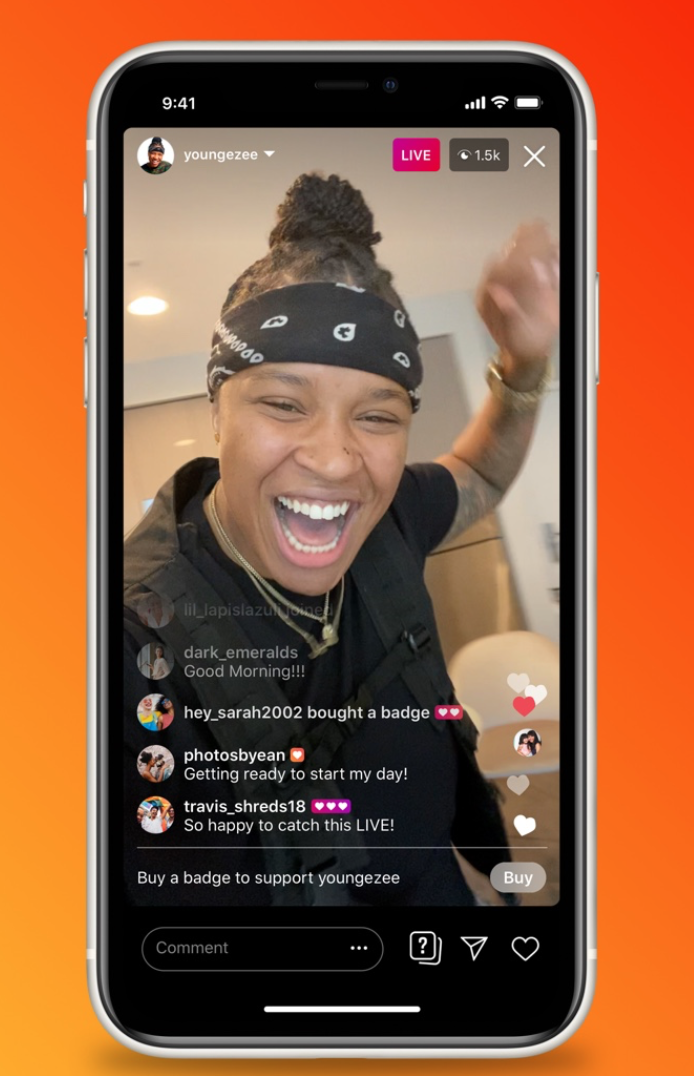 In October, over 50,000 creators received access to the feature, and in November they temporarily matched badge earnings to support creators during the tough economic times. In addition to expanding more within the US, badges were expanded to France, Italy, Germany, the UK, Australia, Japan, Mexico, Turkey, and Brazil.
If there are any creators out there reading this: If you have the feature, take advantage of it. It's a great way to earn extra profit without a lot of significant effort, but make sure that you're interacting heavily with the users who have purchased badges when they're commenting on your lives and your content in general.
The Messenger API Integrates with Instagram
Earlier in 2020, there was a ton of talk about how Facebook was revamping their Messenger API to integrate with their suite of tools, including Instagram and potentially WhatsApp.
Last October, we finally got access to that long-awaited feature. The API allowed businesses participating in their beta program to integrate Instagram messaging with the business suite, or even with their own CRM.
A business, for example, could receive a direct message on Instagram about a Shopping product they had questions about. This could tie into the brand's CRM to look at the customer's history with the brand. It also can facilitate increased responsiveness, and allow for third-party social media management tools like Hootsuite to offer in-app response features that had previously been off the table.
Personally, we were greatly excited about this; a large number of small brands and large corporations alike use social media management software to boost response times and customer satisfaction; this update makes that easier than ever before.
New Expansion of the Brand Collabs Manager to Public Groups
The Brand Collabs Manager is essentially a marketplace where brands can promote their services or products to connect with potential influencers. They can then collaborate on campaigns that help both parties on Facebook or Instagram.
It was launched in 2018, and last year was expanded to some public groups to allow brands to connect with relevant audiences in engaged, trusted spaces on the platform.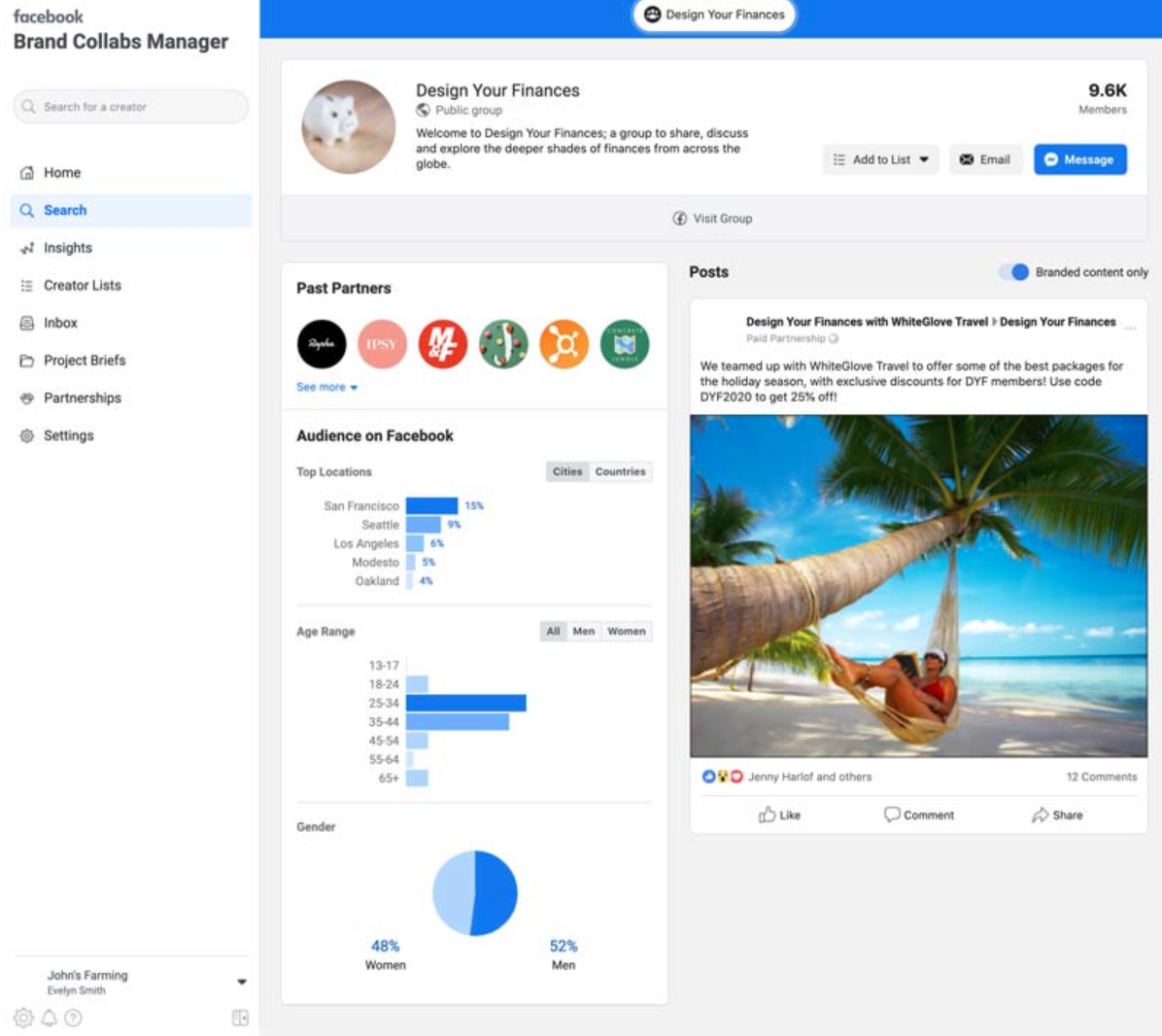 Group admins can now create Branded Content with partnerships. The content will be disclosed as such, but it's a great way to monetize Facebook Groups. Since Groups already have high organic reach and are typically incredibly high-engaging, this was a valuable option.
When using these features, however, make sure that you don't overdo it. If your Group becomes nothing more than a stream of endless sales pitches, your members will start to tune out. They need to get value out of it, too, so put connection, support, and interaction as the core focus and use this as an add-on benefit with moderation.
Community Manager Certification Released
With a bigger-than-ever focus on not only social media management but community management and Facebook groups, it's not much of a surprise that Facebook rolled out a community management certification course.
Unfortunately, maintaining a Facebook group and an online community is a whole different skill set than the ones you use to create high-converting ads or even click-worthy posts. It focuses much more on fostering engagement and interaction than driving immediate off-platform action. It's a long-term game that requires the right strategies.
We strongly recommend having someone on your team take the course, which goes over the following:
How to define and establish a community, including setting goals and guiding principles
Developing strategies to manage and build your community, brand, and partnerships
Creating relevant content that's community-oriented
Engaging with and moderating a community
Measuring community success and Group performance
Certification badges are received upon completion and are valid for two years. Those who complete the course also gain access to a private Facebook Group specifically for certified community managers.
Final Thoughts
There you have it. It's been a long few months both in Facebook world and the outside world, but Facebook at least has given us some great updates to improve the efficacy of our marketing campaigns.
The biggest and most substantial change to watch right now is the impact that the ATT will have on advertising. Keep a close eye on your campaigns for the next few months and be prepared to adapt as needed.
And don't forget to check back next month; we're excited to start updating this post again, and we'll let you know what's new through the month of May!
What do you think? Which of these Facebook updates are you anticipating most? What were you hoping we'd see, and what do you want to see next? Share your thoughts and questions in the comments section below!
---
Top Facebook Updates September 2020
We've finally arrived at fall in this absolutely bananas crazy year, putting us three-quarters of the way through 2020.
That alone is worth celebrating given everything the world has gone through, but we've also got another reason to be excited: It's time for our September Facebook Updates edition!
And this month, there are plenty of updates to be excited about, and a few that admittedly are a little less thank exciting. (Don't worry, we'll get the not-so-fun news out of the way first.)
We've got everything from ad limits for Pages,  a new business suite, expanded brand safety options for in-stream ads, and so much more.
Ready to see what's new? Let's get started.
New Ads Limit Per Page
Alright, let's go ahead and get the worst news out of the way first, because there's a solid chance that if you already know about it, this is why you intentionally came to find this particular blog post.
Facebook announced almost exactly a year ago that they'd be imparting an ad limit on each individual Page, restricting the number of campaigns they run.
By restricting volume, Facebook -says- this will help advertisers keep costs down and performance up as the system's machine learning and personalization options mean that high volumes aren't necessary anymore.
We now have more information about the ad limits, which will roll out between February and the summer months in 2021.
While last year it was expected that only major corporations running more than something like 100k ads per month would be impacted, it's clear that this isn't quite the case.
These will be the new ad limits that determine how many ads can actively be running at a single time:
250 ads per Page for small to medium Pages
these are pages with less than 100k in ad spend in their highest spending month over the past twelve months
1,000 ads per Page for medium and large Pages
these are pages with ads costs ranging from $100k to $1M in their highest spending month in the past twelve months
5,000 ads per Page for larger pages
these are pages with $1M to $10M in their highest spending month over the past twelve months
20,000 ads for "largest" Pages
these are pages with over $10M in ad spend in their highest month over the last 12 months.
It is true that machine learning, improved algorithms, and options like dynamic ads make it possible for businesses to run fewer campaigns overall, and maybe restrictions on ad volume will make it easier for ads to be approved faster or more reliably (no promises though, of course, we all know how unreliable that system can be).
Overall, it's not exciting to have limits, especially if you're looking to scale, though adjusted ad spend would assumably increase volume potential overtime.
One thing to note now, though; if you're on the verge of the next tier and want those extra ads, pay attention to that now. You've got until at least February.
Facebook Prepares Partners for iOS 14
There's been a ton of talk about the upcoming iOS 14 update, which (amongst other changes) will ask users to opt-in to data collection instead of requiring them to be proactive and look up how to opt-out themselves. While this is good in theory for user privacy, it's not so great for advertisers.
If a large number of your audience automatically opts-out to anonymous data collection, it means that you won't be able to show them retargeting campaigns based on actions taken on your site or landing pages.
Website-based retargeting will likely take a massive hit as this update rolls out, especially since mobile usage is so popular and often surpasses desktop usage when it comes to browsing.
Facebook has said that they're preparing businesses for the update, and have noted that they won't collect identifiers for advertisers (IDFA) on their own apps.  
They'll also be reminding users about how their information is used on Facebook, and highlight their Off-Facebook Activity feature. This shows them a summary of the off-Facebook activity businesses send to Facebook, so they can disconnect it.
Here's how Facebook recommends that their partners prepare:
They ask that relevant businesses create a new ad account dedicated to running app install efforts for iOS users
They remind advertisers to be prepared that Audience Network monetization will likely decrease
Facebook stresses that ad performance will likely take a hit in some places; we recommend watching your campaigns extremely carefully during the change so you can adapt quickly if needed
Facebook Business Suite Announced & Rolled Out
On to happier news!
Facebook's new Business Suite has been both announced and rolled out, and many of you have likely discovered it already!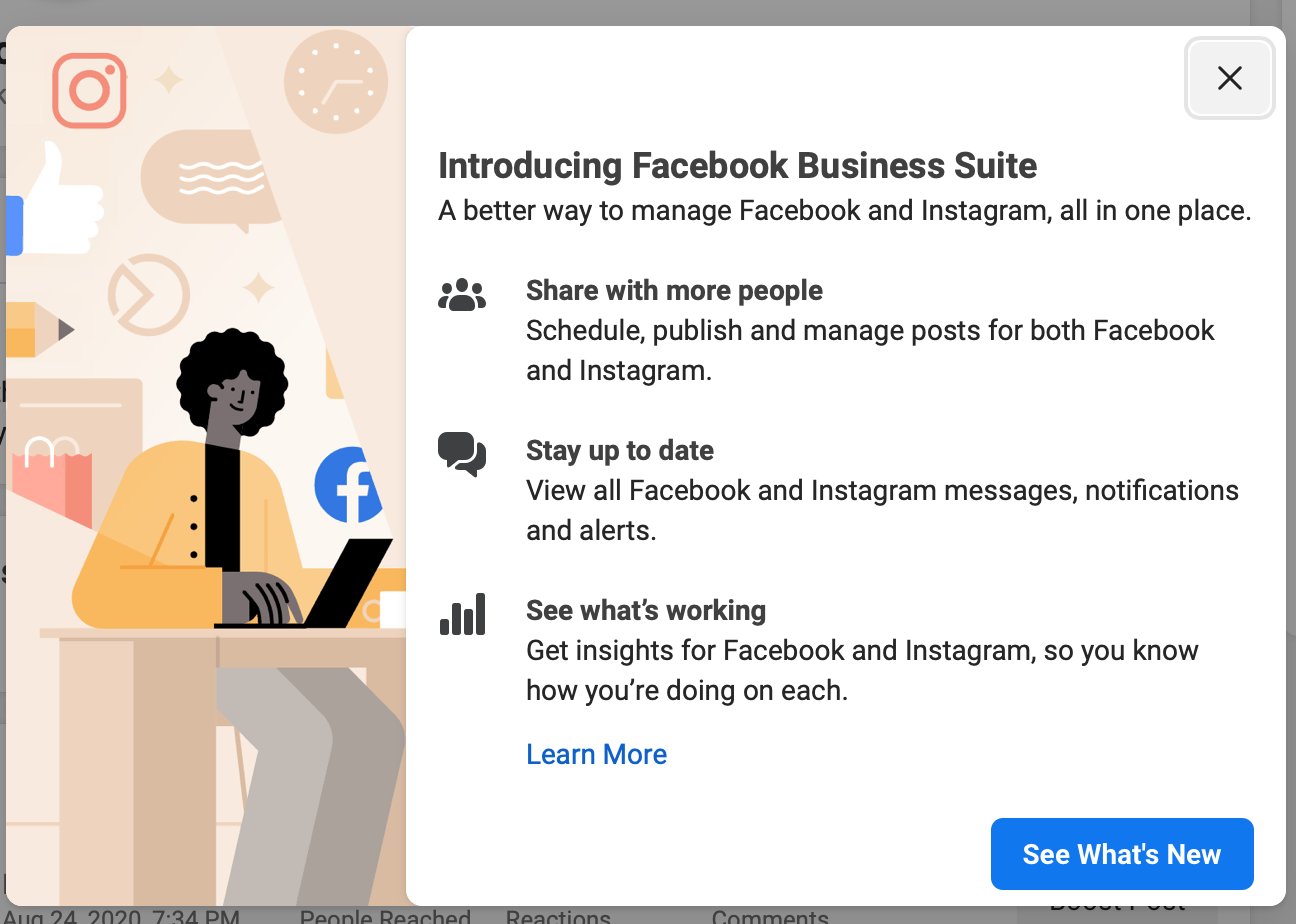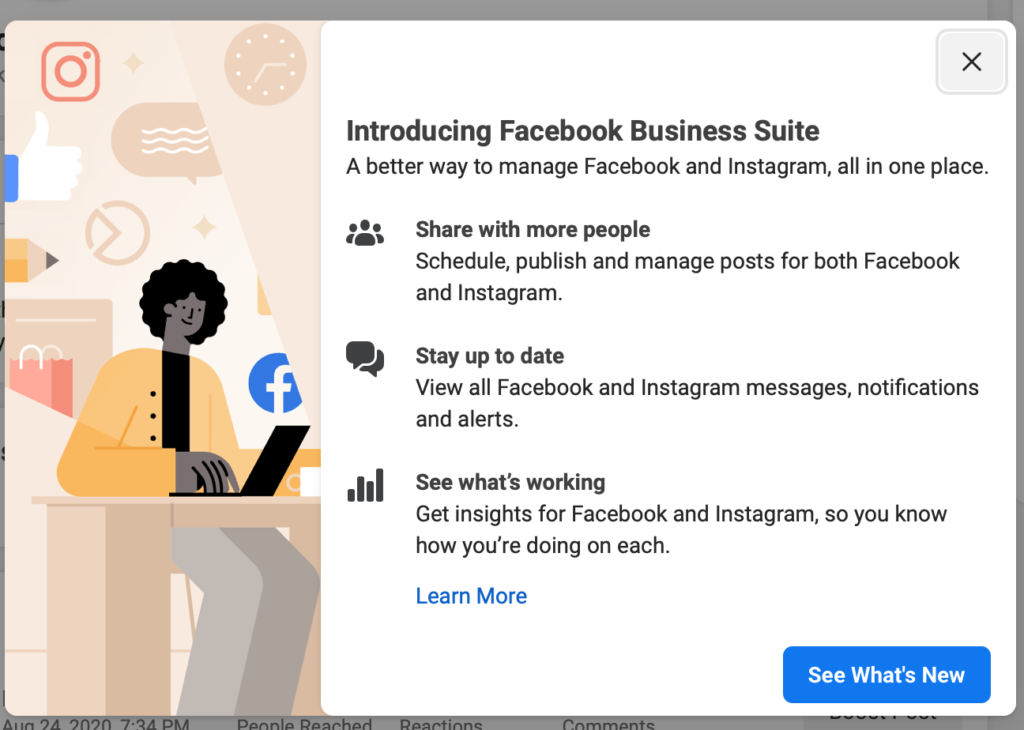 The Business Suite is a single dashboard for your linked Facebook and Instagram accounts that allows you to post, message, advertise, and view insights all in one place.
It's designed to make the social media management process easier, at least for two platforms. (Only third-party tools like Hootsuite extend across non-Facebook social media platform management).
If you want to schedule posts that will go out to both your Facebook and Instagram followers at the same time, now you can.
The combined insights feature is also useful for big-picture views on your performance for the two platforms, especially in terms of comparing what works on each and what doesn't.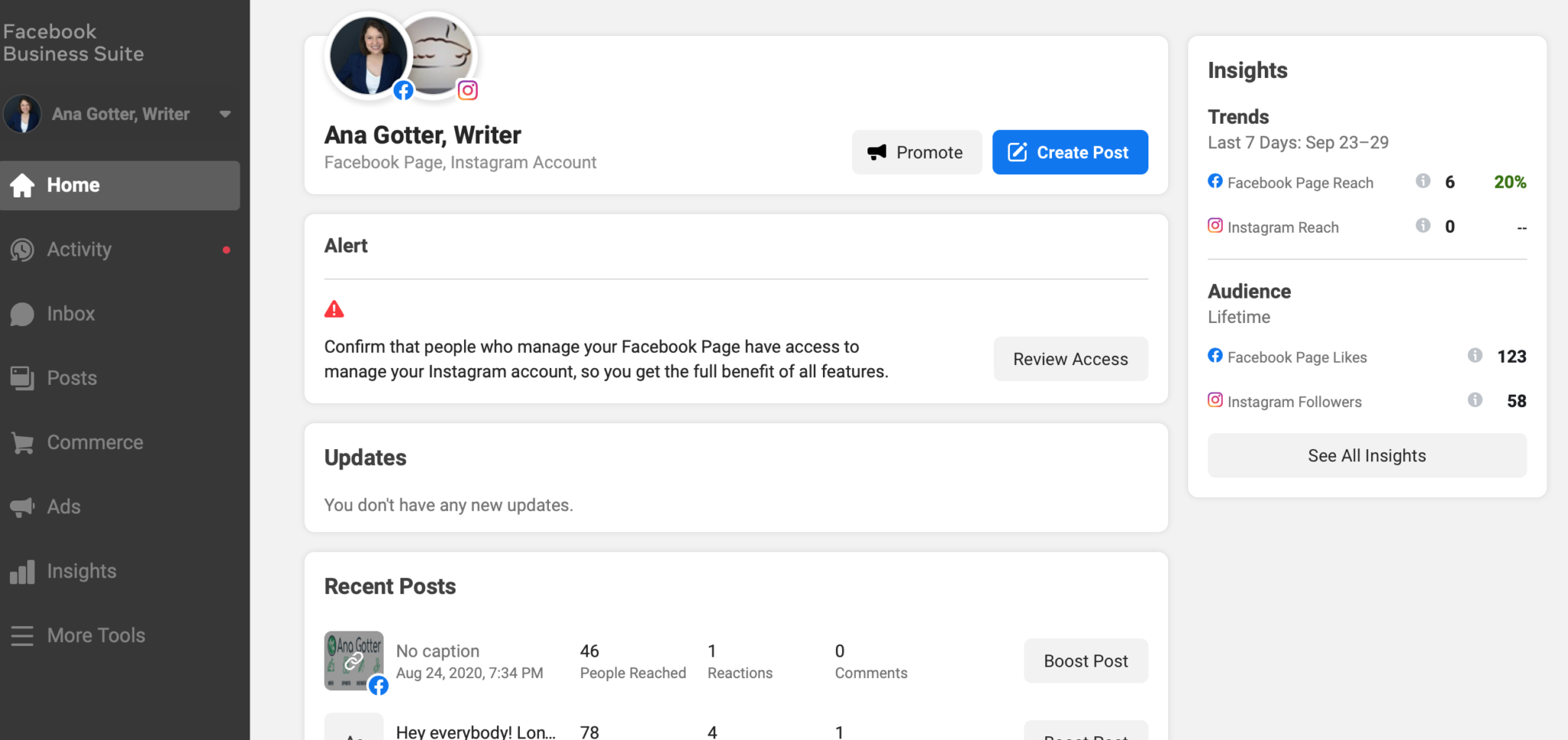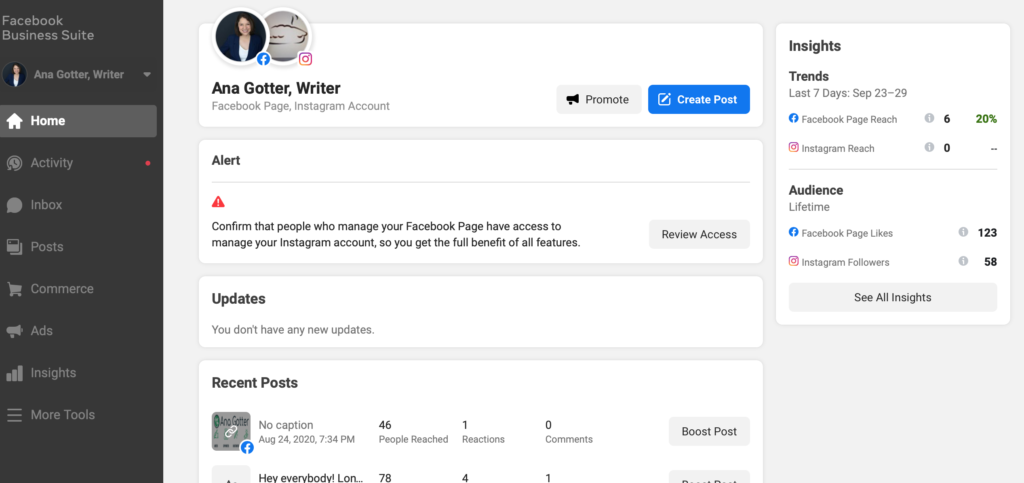 You don't need to do anything special to access the new Business Suite; if you're eligible to access it, you'll be redirected when you visit business.facebook.com.
On mobile, if you're using the Pages Manager App, you'll see the option to opt-in; if you aren't, the Facebook Business Suite App is available on Android and iOS app stores.
Data Checkups Coming Soon
Facebook has made efforts to keep the platform transparent and to protect user privacy as much as possible. They track plenty of data, after all, but it is anonymous; brands can't see the names of users who visited their sites, for example.
Facebook has thus announced that they're launching a Data Use Checkup, which is an annual workflow for developers and businesses on the platform that will allow them to review the permissions they have access to.
They'll also be asked to commit that their data use and API access comply with the terms of service and developer policies within 60 days.
As long as you're on the straight and narrow, you should be good to go here, but keep an eye out for this and make sure you're familiar with all the latest policies.
Improvements Made to Auto Inventory Ads
Auto Inventory Ads (AIAs) have been around for a little while now, and Facebook has recently made some great improvements to them. These ads, if you aren't familiar, are designed specifically to be relevant to those interested in buying a car.
These ads have now been expanded, allowing advertisers to send traffic to a mobile-optimized, on-platform shopping experience.
They see dynamic Vehicle Detail Page (VDP) on Facebook, which pulls information from the dealer's auto catalog. Here, users can research vehicles, look at additional inventory, and connect with dealers directly through a lead form, phone call, or Messenger.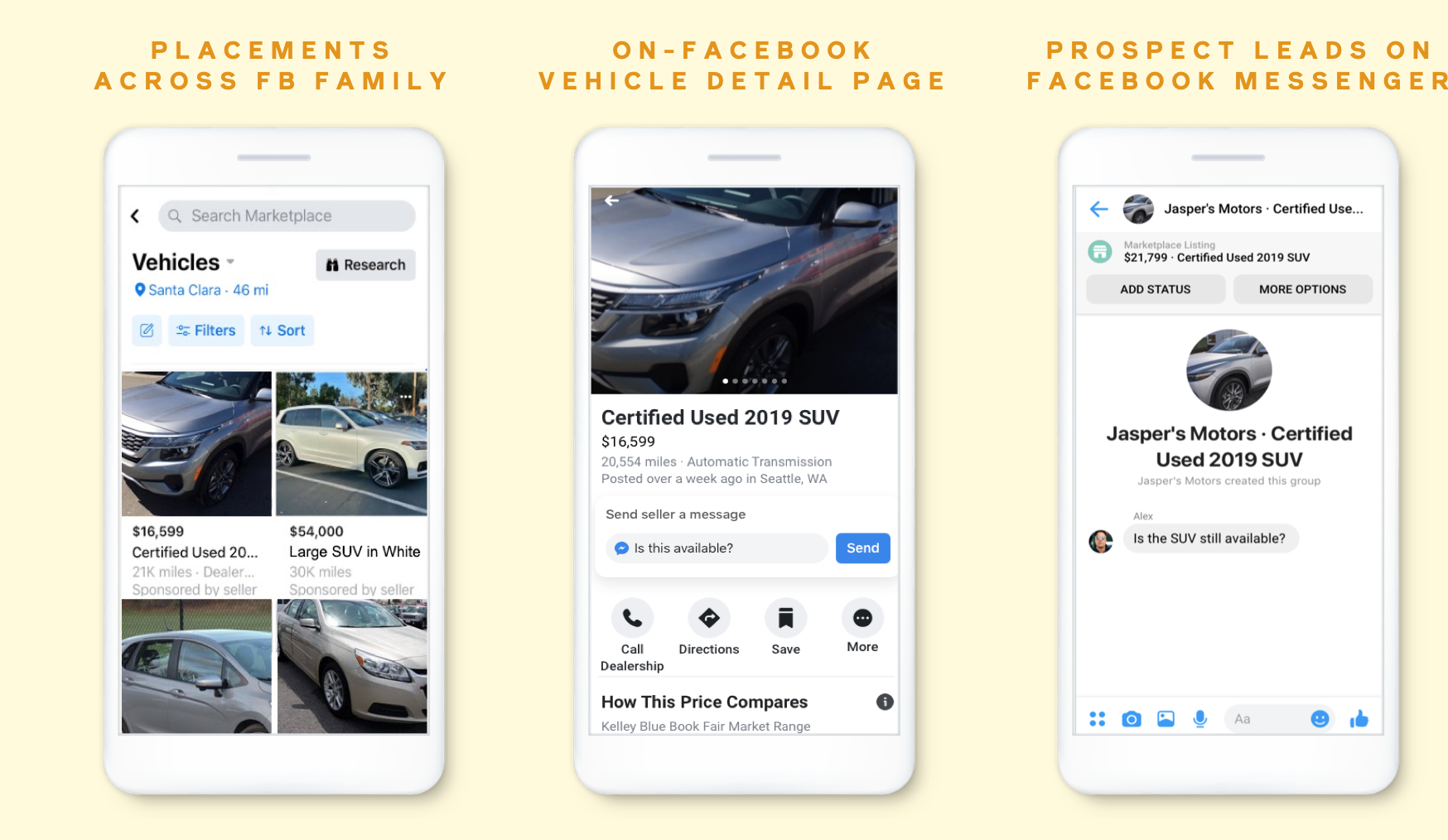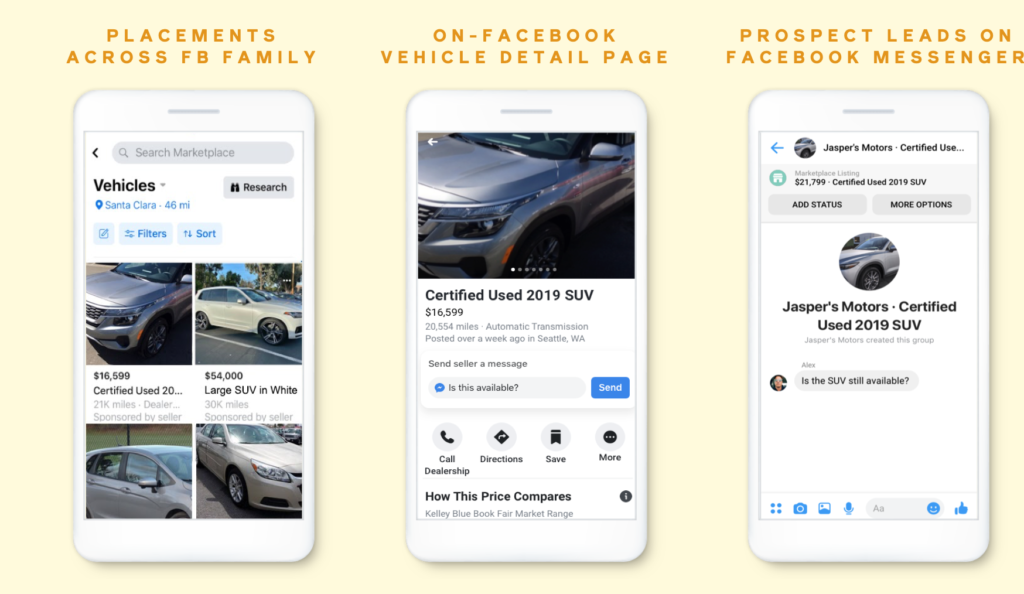 Expanded Safety for In-Stream Options
In-Stream has been a great opportunity for brands to have advertisements that users are kind of forced to watch while they wait for the content they chose to watch.
There have always been brand concerns, however, about what video their content is associated with, especially following major YouTube incidents a little while back when ads were shown on openly-racist videos.
There are plenty of associations you just don't want, and having ad revenue go to these users can hurt you.
Facebook has rolled out plenty of "brand safety" options in the past, and now we have two new ones:
which offers a "granular exclusionary tool" that allows you to assess suitability at the content level. It's fueled by machine learning, but you can ensure your videos won't appear on content relating to any of the four following topics you choose: news, gaming, religious and spiritual content, and politics.
Publisher "allow" lists for in-stream auction
which let you name a specific list of individual publishers you who would be willing to have your ad shown alongside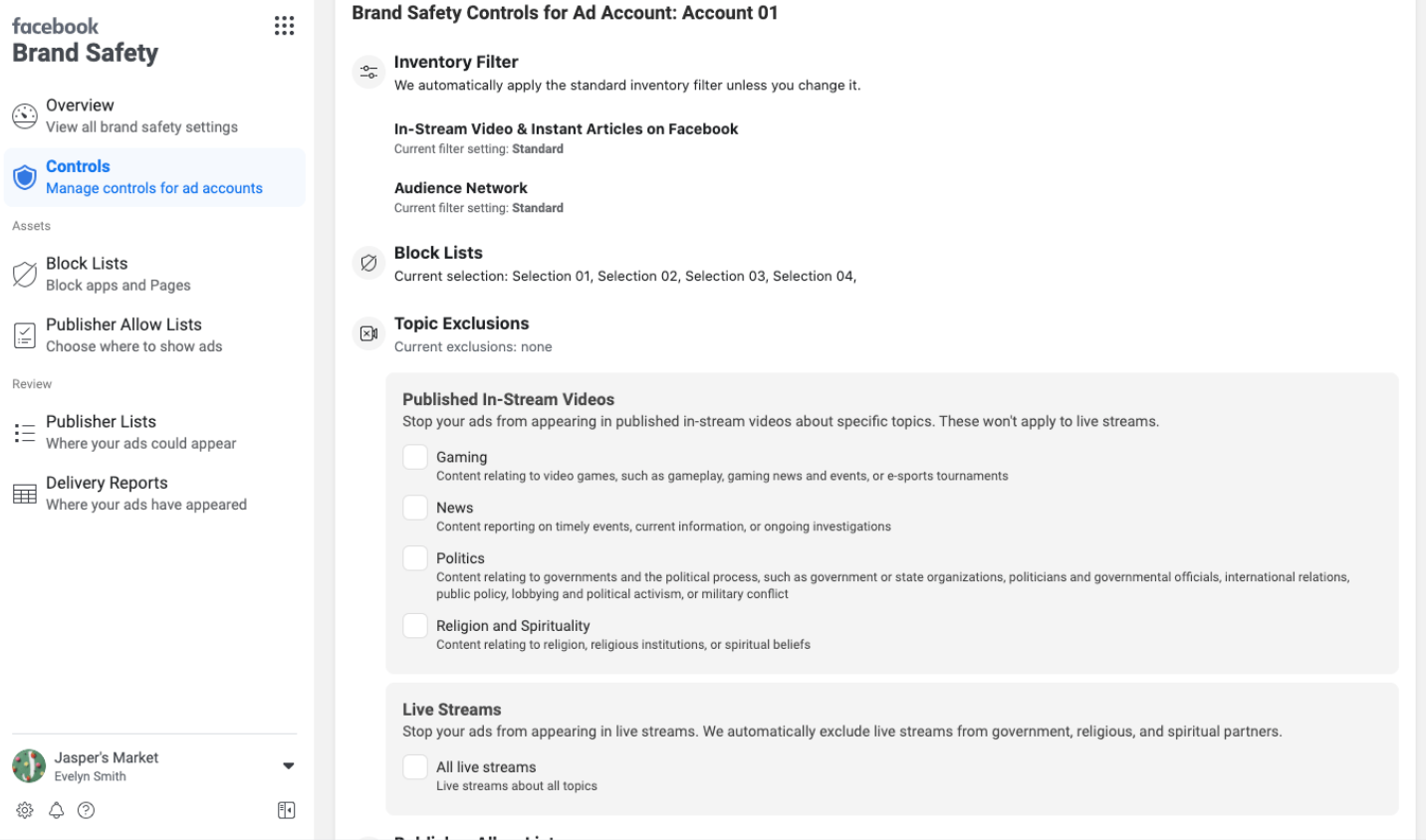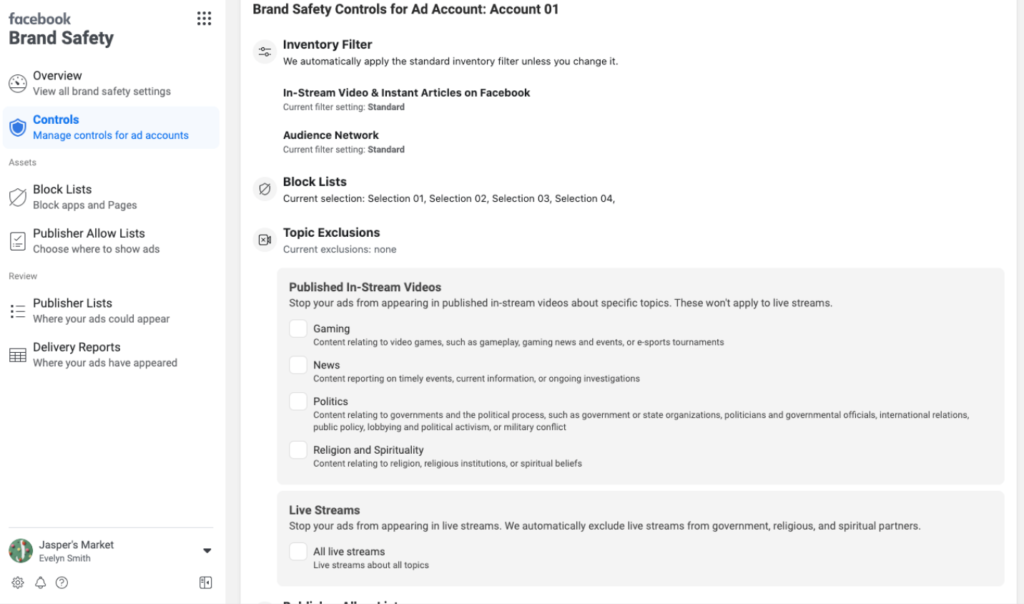 You can learn more about how to protect your brand while advertising here.
Final Thoughts
This month's lineup of Facebook updates is fascinating; some are about giving more control to advertisers, while others implement restrictions (intentionally or otherwise).
Either way, it's essential for brands and marketers to be up to date on everything that could impact their organic and advertising campaigns moving forward.
It will be fascinating to see what the rest of this way-too-long-year has in store for us, and how the platform will continue to evolve to offer new features while adapting to tighter security and privacy restrictions.
Check back next month– you know we'll fill you in on everything you need to know.
What do you think? Which of these Facebook updates are you anticipating most? What were you hoping we'd see, and what do you want to see next? Share your thoughts and questions in the comments section below!
---
Top Facebook Updates August 2020
There's a lot to cover this month, so let's get started discussing all of the important Facebook updates for August 2020 and what they mean for you.
New Sponsored Posts for Groups
2020 is the year of Facebook Groups. Facebook groups are getting priority in newsfeeds, and users are joining and engaging in them in record numbers.
One of my favorite new Facebook updates this month is all about Facebook Groups, too. They're now looking at potential revenue opportunities for those who run engaged, thriving communities.
You can already run ads your Groups feed, but soon you'll be able to create brand partnership posts in groups.
Their branded content tags are now being extended to public groups, allowing admins of a group to create sponsored posts in partnership with or on behalf of advertisers.
For businesses and brands who are running groups to build loyalty and hopefully drive sales, this could be a great way to monetize the groups further.
Many businesses running groups, after all, may need to dedicate at least one team member to group management on a daily basis, especially once the groups pick up steam.
If you're able to increase direct revenue from groups, that may help increase the ROI of the group overall.
One thing to be careful of; users, in general, are wary of ads, so if they see an overwhelming number of sponsored posts, they could lose trust with your brand.
Make sure you're only using this feature sparingly if you do use it.
New Educational Features Roll Out
Facebook has just rolled out a new "Educational Hub" just in time for students heading back to school– remotely or otherwise.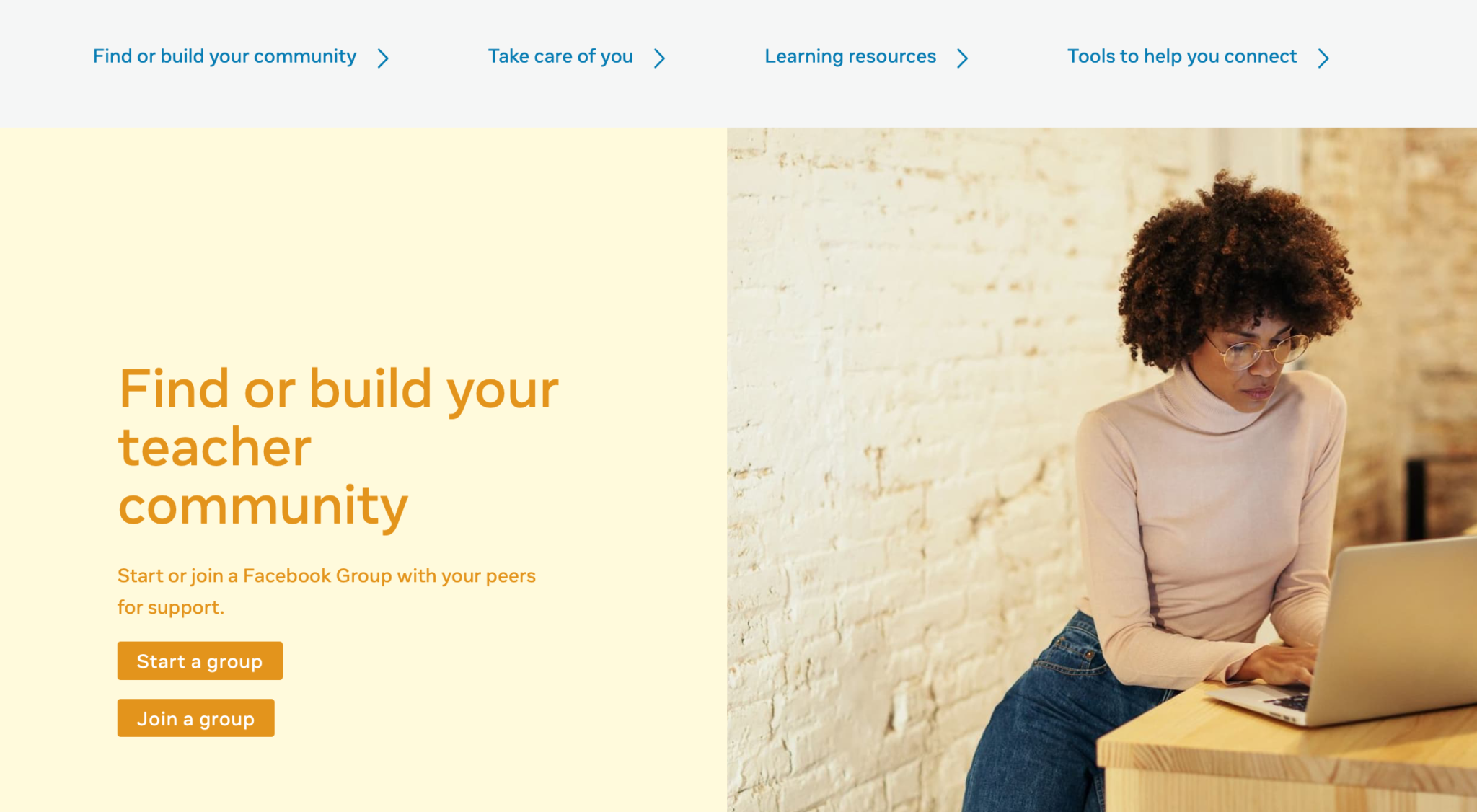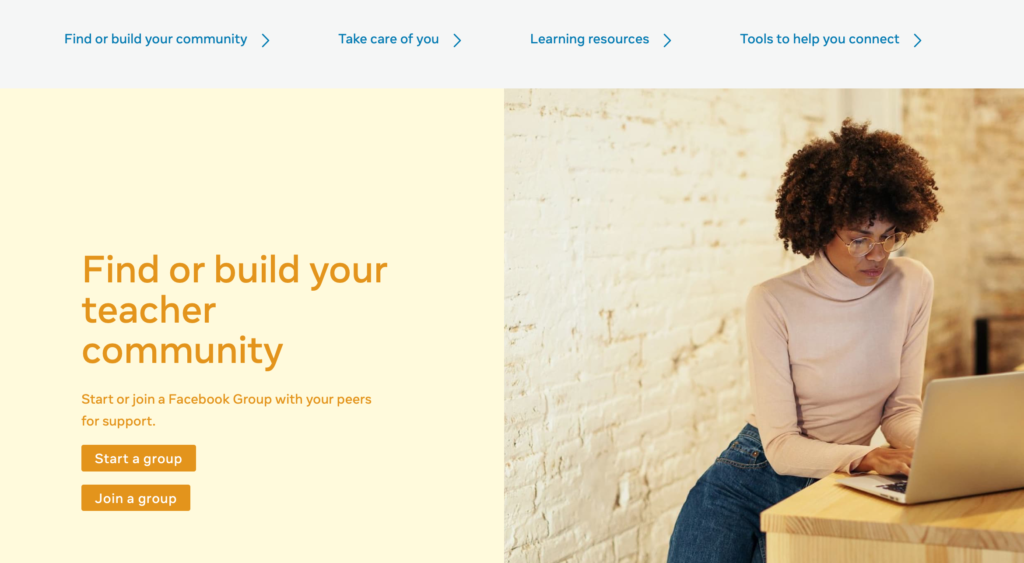 The Educator Hub contains a large number of educational resources designed to help parents, teachers, and students alike.
The resources include the following:
Anti-racism resources
Self-care strategies and mental health resources (which are likely particularly important during social distancing during the pandemic)
"Get Digital," a digital literacy program that includes lesson plans, online conversation starters, and online activities for students
Group-focused options, including the option to start or find a group of like-minded teachers, students, or parents
Whether a family has students enrolled in a homeschool group or remote learning or a teacher is teaching in-class or from home, this could be worth checking out.
It's a free resource, which can be accessed here.
New Improvements for Accessibility
Accessibility is a big concern, as plenty of users may need assistance using social media sites from accessibility devices like screen readers or by using keyboard-only navigation (no mouse).
Social media sites haven't historically been the most accessible, but Facebook is taking steps to improve that on their platform.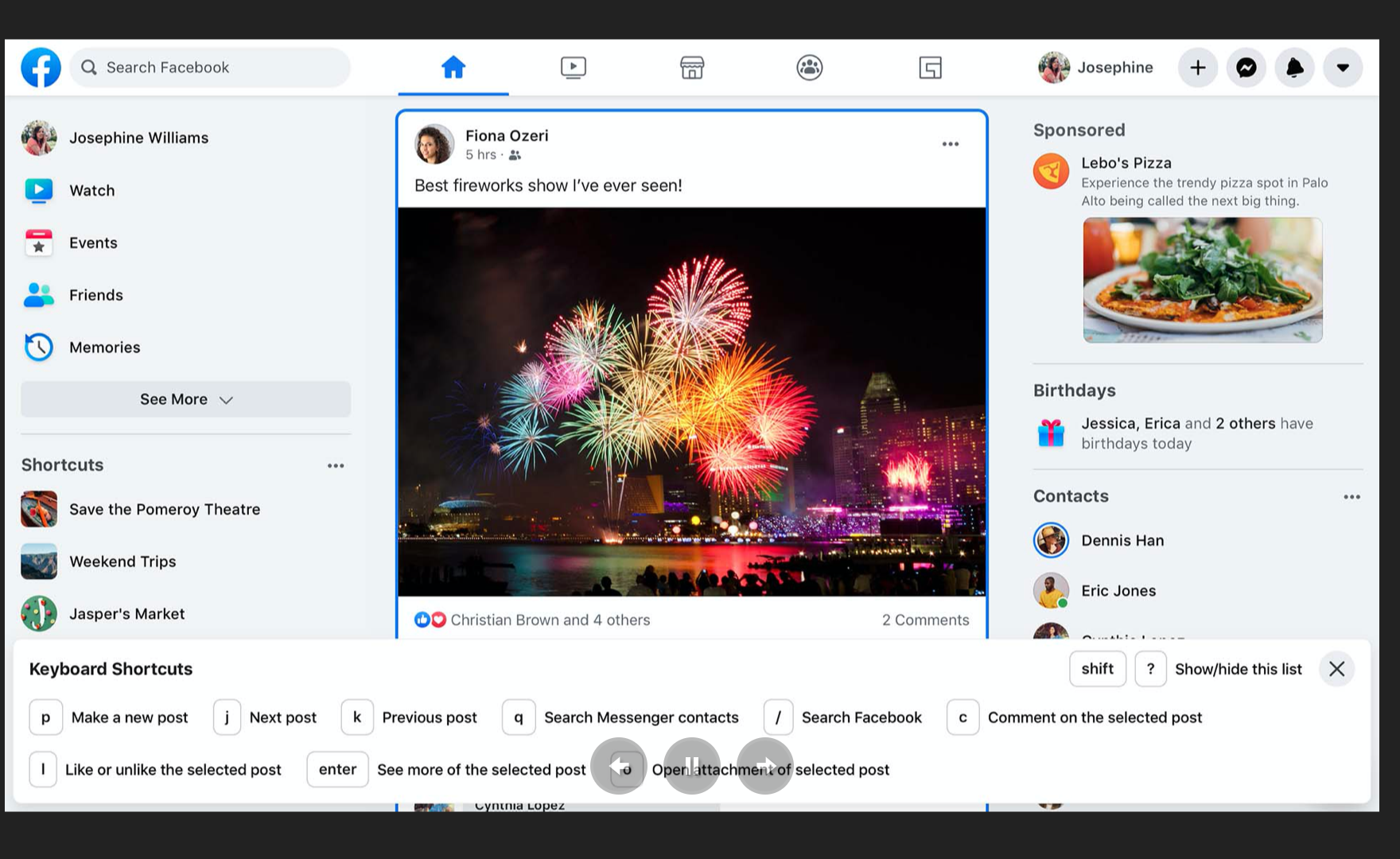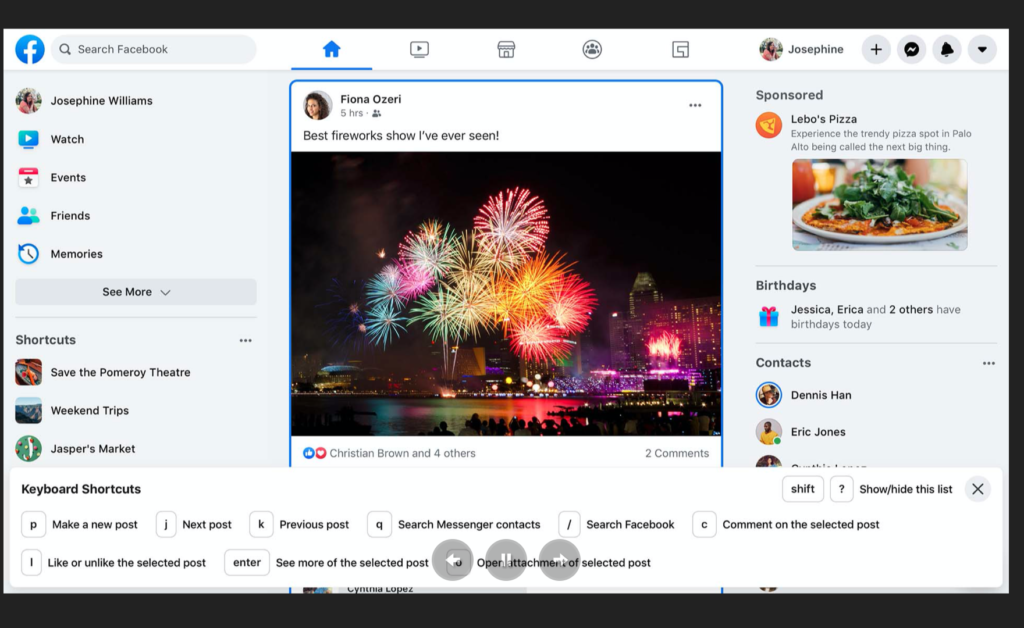 Here are the new accessibility improvements recently made by Facebook:
Scalable font sizes, increasing readability
A new API to ensure that contextual headings are always implemented correctly in descending order, allowing them to actually be usable
Resolved and debugged keyboard commands so that full keyboard navigation is possible
Overlay and markup that would flag features that may be problematic for those with low sight (like Stories)
Reusable components based on the ARIA Practices Guide
Businesses don't need to worry about being impacted by these updates, but it's great news overall. The more accessible the platform is, the easier it will be for you to reach your true full target audience.
New Page Follow Settings Give Users More Control
Facebook is testing out different notification options that make it easier for users to get updates from Pages and brands that they most want to see.
When following a Page, users can choose to be notified for highlights or all content of posts, videos, live content, and offers.
If you want to closely follow a local restaurant, for example, so that you're notified the second they upload a post in case it's featuring the week's specials, you can do that.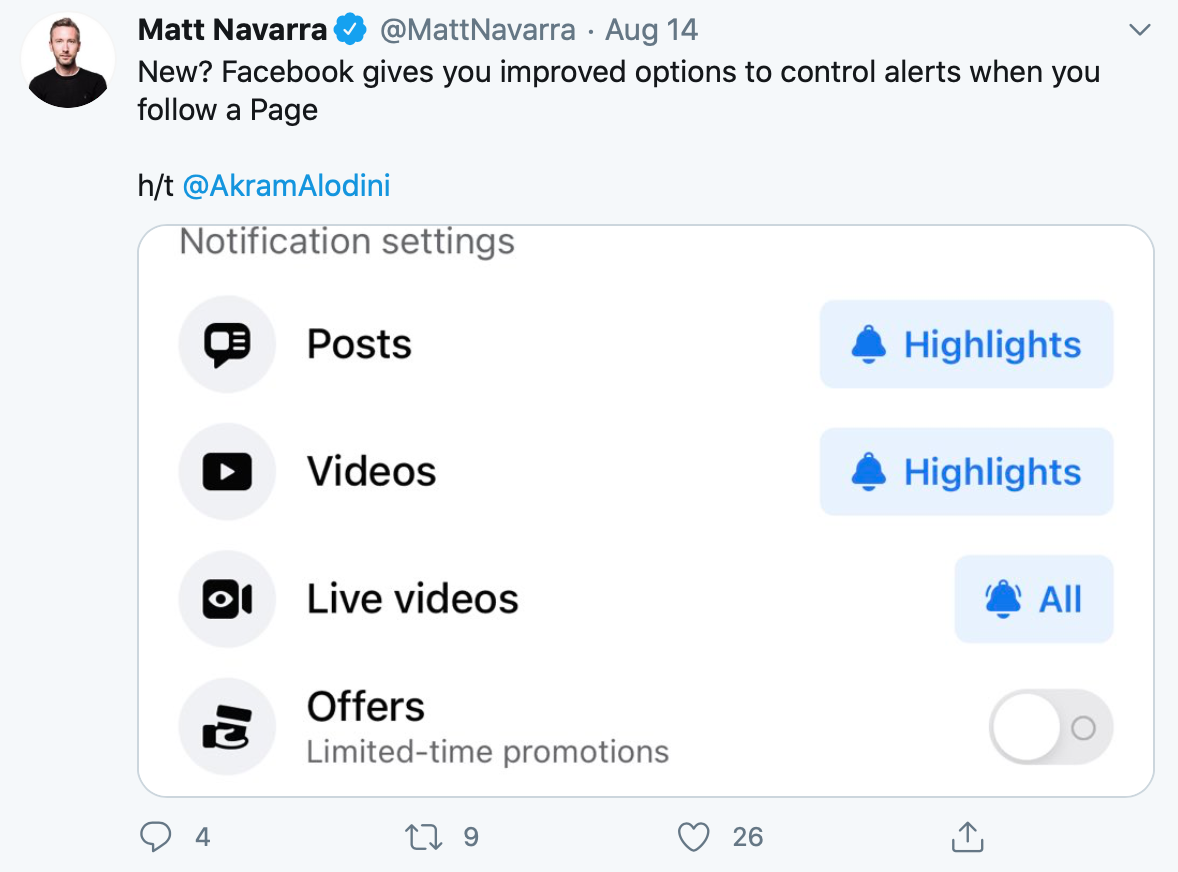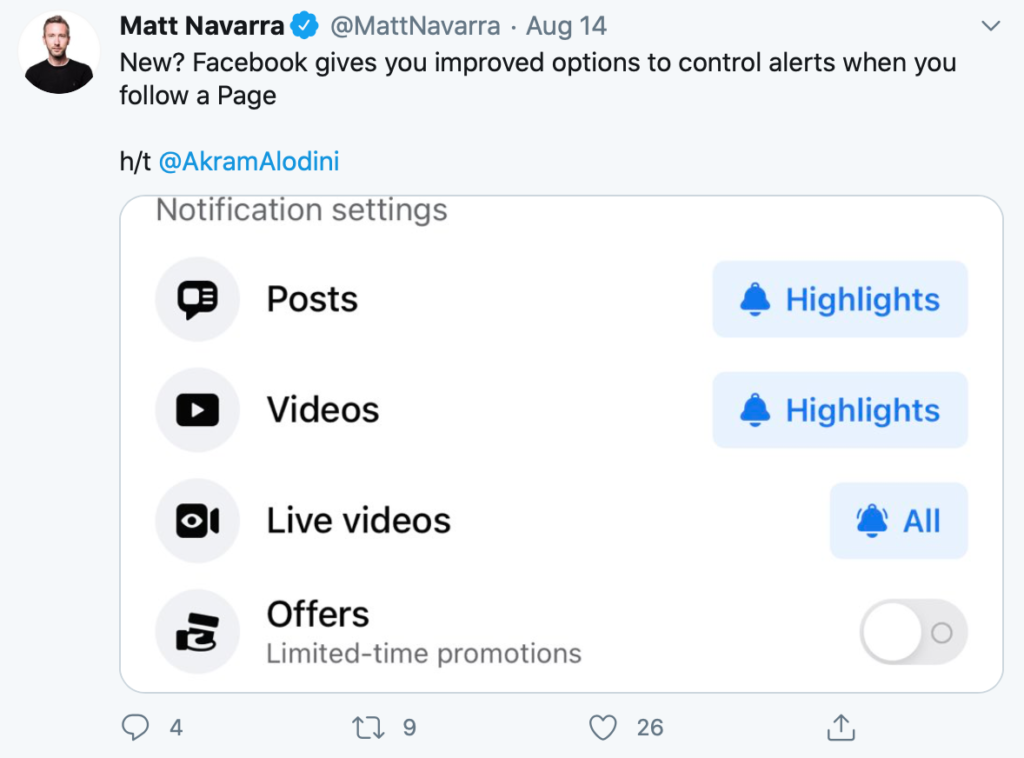 Many users actually want to see more crucial content from their favorite businesses and have started to realize that with declining organic reach, that just isn't happening. Plenty of users may choose to opt-in for these purposes.
As this rolls out, take a close look at your analytics.
If some post types have significantly higher engagement that spikes, this may be what users are subscribing to. Creating additional similar content could help you reach quickly.
New Paid Online Events for Creators & Businesses
Small businesses are struggling all over the world right now; there's no doubt about that. In order to help small business recovery, Facebook has just created a new feature: Paid Online Events.
Designed to help businesses, creators, educators, and publishers to generate direct and quick income during COVID, this feature allows Page owners to create online events that users can pay to attend.
Creators can promote the event, collect payments, and host the event itself through live video all on the platform. They're also currently testing paid events with Messenger Rooms for an added layer of interaction.
There are plenty of great uses for this feature.
A local restaurant can offer an online cooking class, showing how to make a popular dish or how to plate dishes like a pro. A graphic designer could offer a coaching class to people who want to own their own graphic design businesses but don't know where to start.
Think about what expertise your business offers and how you can profit accordingly.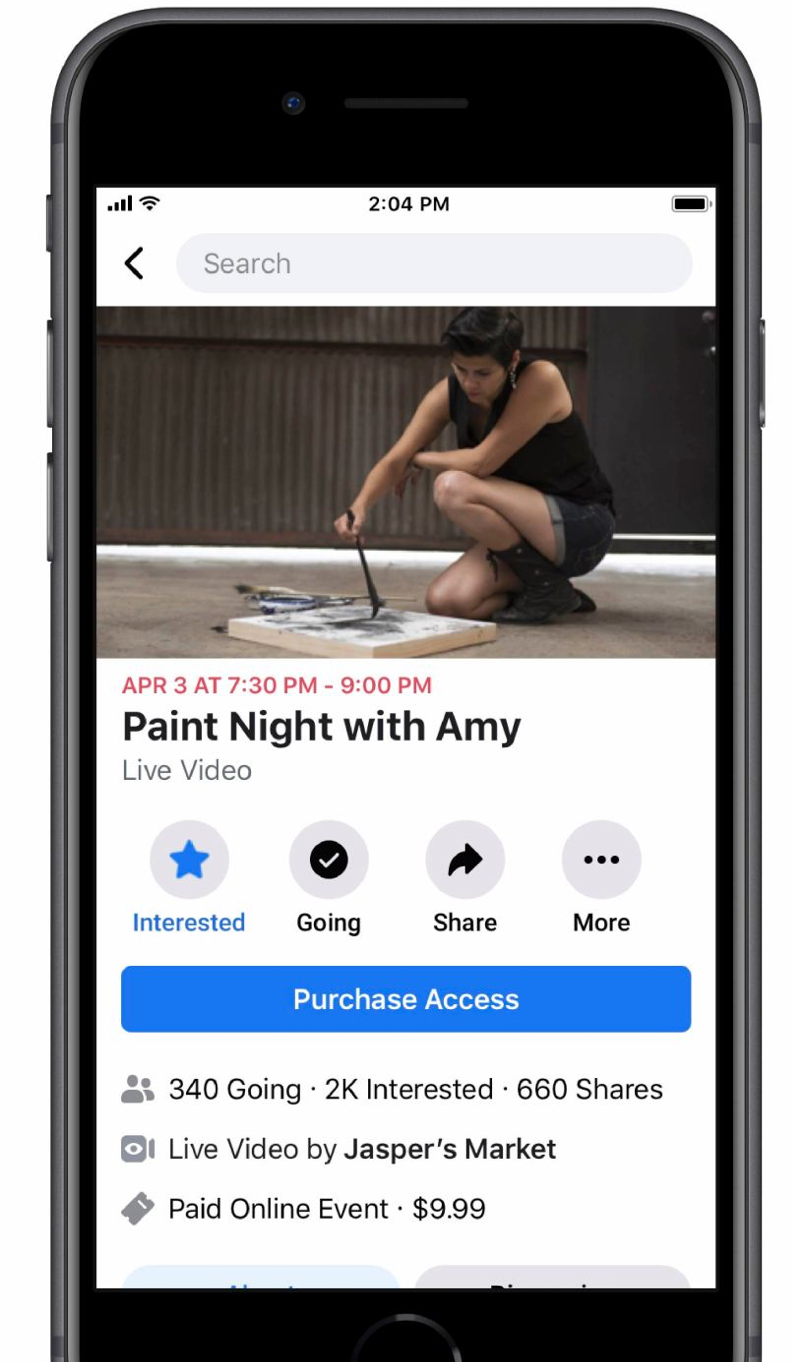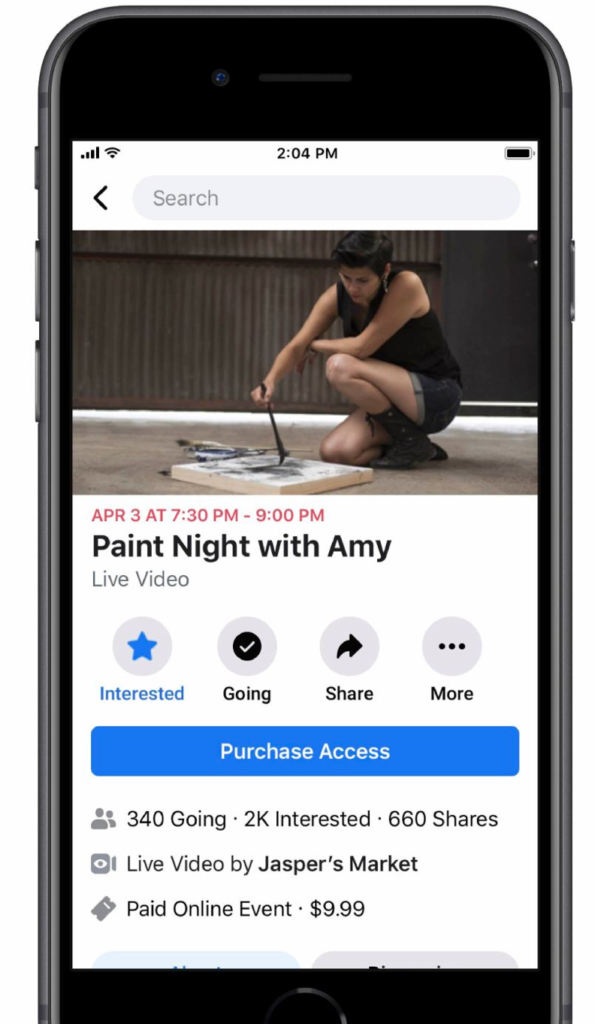 Facebook will not be collecting on any fees for paid events for the next year, so take advantage and strike while the iron is hot!
Removal of 1,000 Targeting Options
Facebook has recently removed just over 1,000 of their previously existing targeting options.
While this seems like a strange move for a platform that's known for its insanely hyper-specific ads, it makes sense; they're removing the targeting features because they're either not used frequently, or because they're so similar to other targeting options that they don't make an impact.
Facebook gave one example of removing the interest "Key West" because it's a duplicate version of "Key West, Florida," which will be kept in place.
Keep an extra close eye on your campaigns for the next few weeks. On the very off chance that your campaigns are impacted, this will allow you to react immediately.
New Timely, Cultural, & Political Updates
The last few years have been extremely tumultuous politically, and Facebook has been at the center of some controversy as problems with transparency and misinformation have run rampant.
Facebook has rolled out a number of significant updates this month. They'll really mostly impact you as a user unless the specifics apply to your business, but we still wanted to outline them here.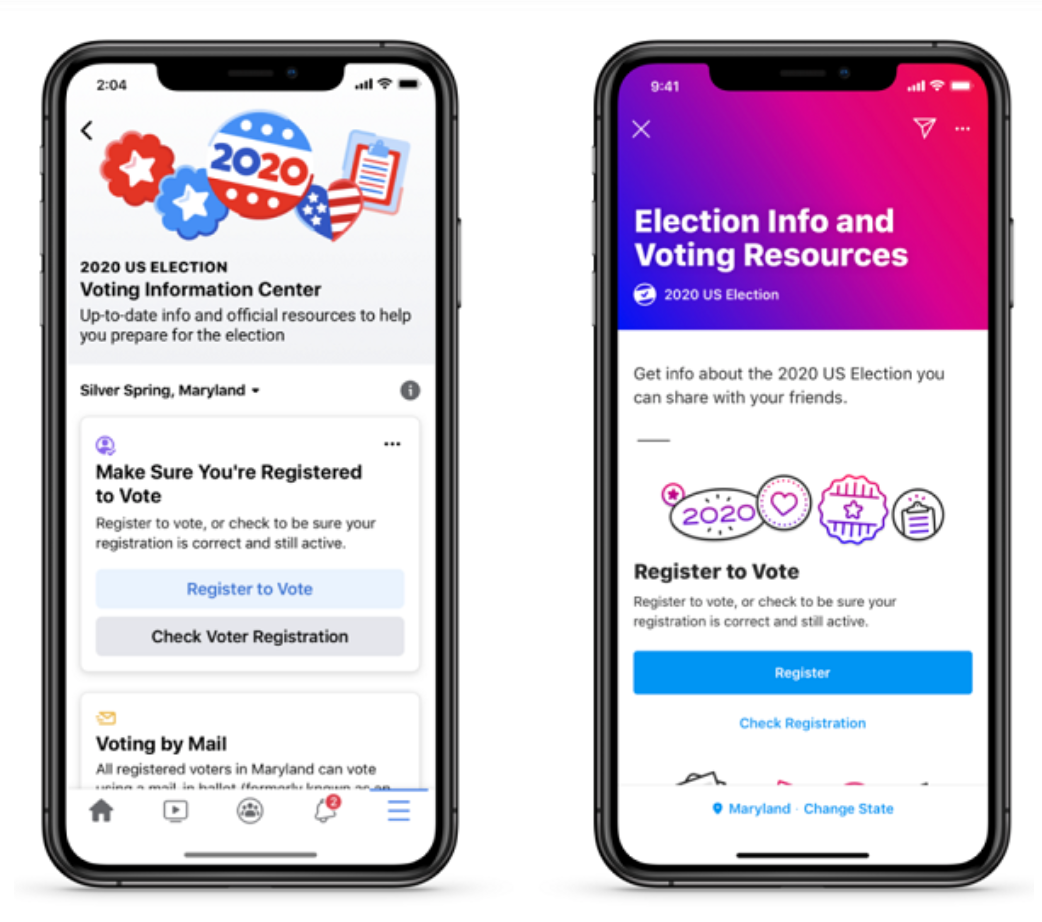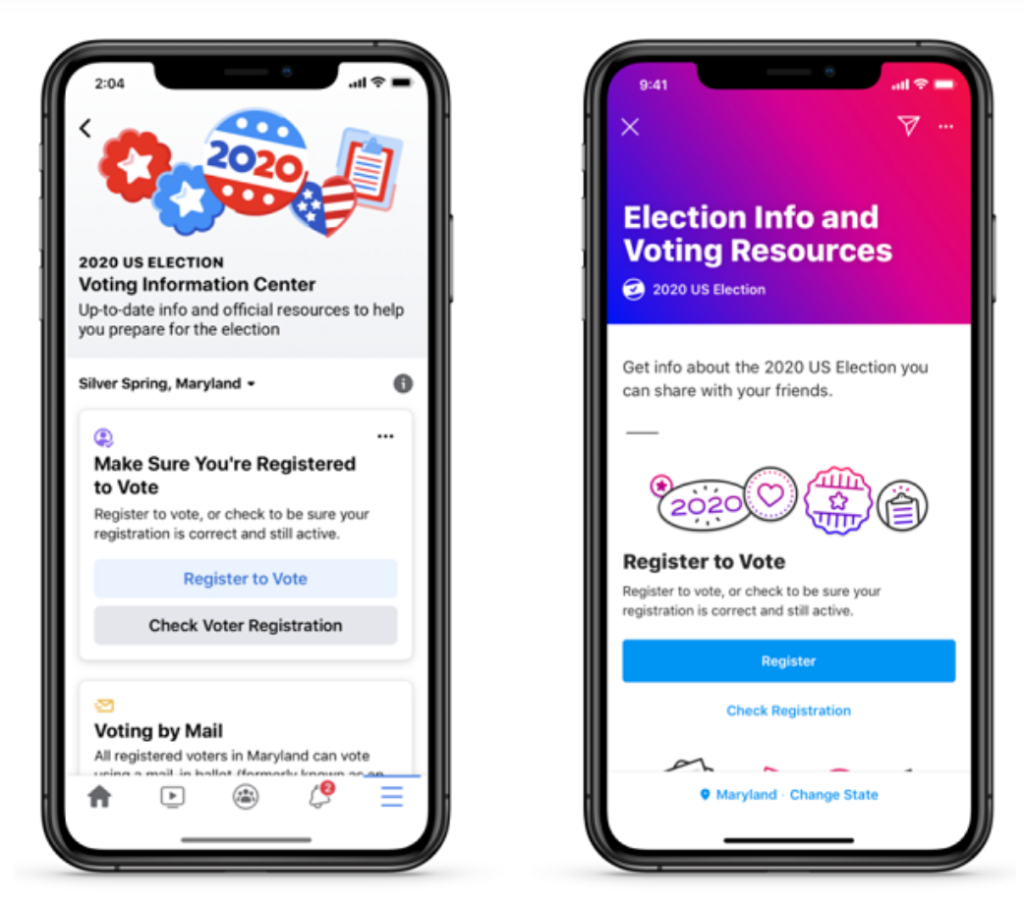 These are the big updates you need to know:
Facebook has launched a $25 million program to support Black creators.
The program is open to creators who are at least 18 years old with a minimum of 10,000 followers on either Facebook or Instagram.
Facebook launched "Black Business August" to highlight Black-owned businesses.
They've also rolled out business education content in support of Black-owned businesses, which included business panels and free online courses.
Facebook has a Voting Information Center, encouraging 4 million more Americans to vote.
It encourages users to register, and reminds them of when their primary or election dates will be.
There's a new tool to track political ad spend via the Ad Library.
Researchers, journalists, and users in general can use the ad library to see how different campaigns and accounts are spending their money on political campaigns. This can promote transparency.
Facebook created a new informational prompt that shows up when users share COVID-19 content.
This will point users to official health resources, providing more context about potential posts.
Final Thoughts
There's been a lot to digest regarding transparency updates over the past year on Facebook, and with an ongoing pandemic and a major election in the US this year, that's unlikely to change.
We can likely expect more transparency- and authenticity-driven features in the next few months, along with hopefully additional features to support more of the small businesses who need it most.
We can't wait to see what features come next! Make sure you subscribe to our blog so you never miss an update, and check back next month to see what's new in September!
What do you think? Which update or change are you most excited about? What do you think will make the biggest impact on your business? Share your thoughts and questions in the comments below!
---
Top Facebook Updates July 2020
This month's Facebook updates do include a few new features (like Live broadcasting from Messenger rooms), but they focus most heavily on creating a more secure, authentic, and truthful user experience.
Eager to know which Facebook updates have been announced (or rolled out) in July 2020? Let's dive in and take a close look at each one and how they might impact you.
Go Live from Messenger Rooms
You can create "rooms" on Facebook Messenger, which allows you to invite up to 50 people into what's essentially a chat room.
This feature rolled out relatively recently, and now we're gaining a new extension of it: The ability to broadcast live from rooms on Messenger.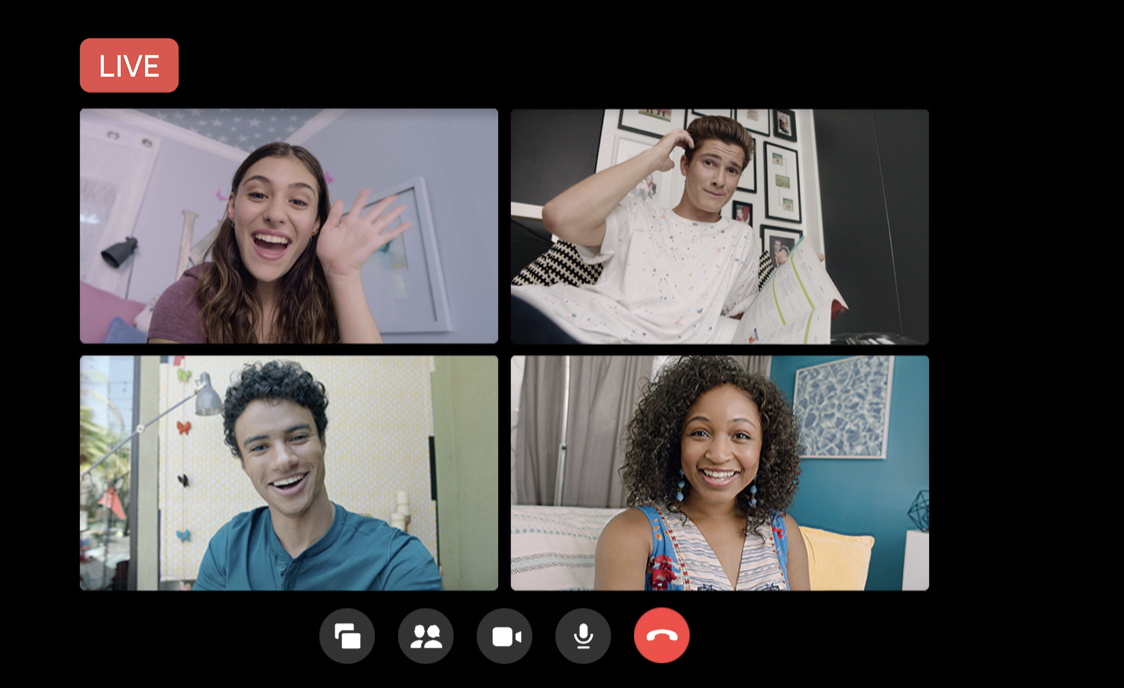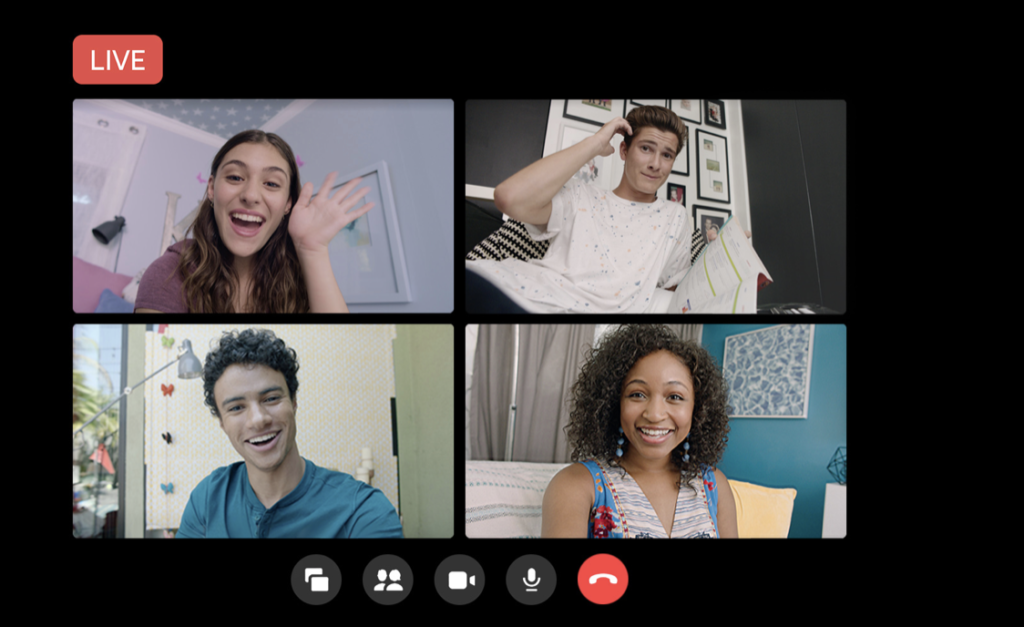 This is an interactive feature, and it's designed to be a joinable video call. Any invited users are able to join the call, even if they don't have a Facebook account as long as they have access to the Messenger room.
You can keep these broadcasts private, or, as a room creator, broadcast the room to your profile, Page, or even a group you run and invite viewers to watch.
This is a great feature to use, especially as many people are more physically isolated due to the coronavirus.
Your business can use this feature to create engaging, multi-person live videos that your audience will respond to (or even participate) in real-time!
Since live video sees significantly higher engagement than most other types of content on Facebook, this is a great feature that you should test out.
New Privacy Settings & Messenger App Lock
This new Facebook update is all about increasing security for users, and it comes with a multi-faceted approach.
The first is the "app lock" feature, which allows you to lock access to the Messenger app even someone else has access to the phone itself.
If someone needs to borrow your phone to make a phone call, for example, you can "lock" the app so that they're not able to see any of your messages even though they're holding your otherwise-unlocked phone in their hands.
If you're managing a business's communications, this is particularly important, but it's great news for all users.
You'll need to use features like Touch ID or face recognition (whatever you have enabled) in order to unlock the app again. This feature is already available on iOS and will roll out to Android within the next few months.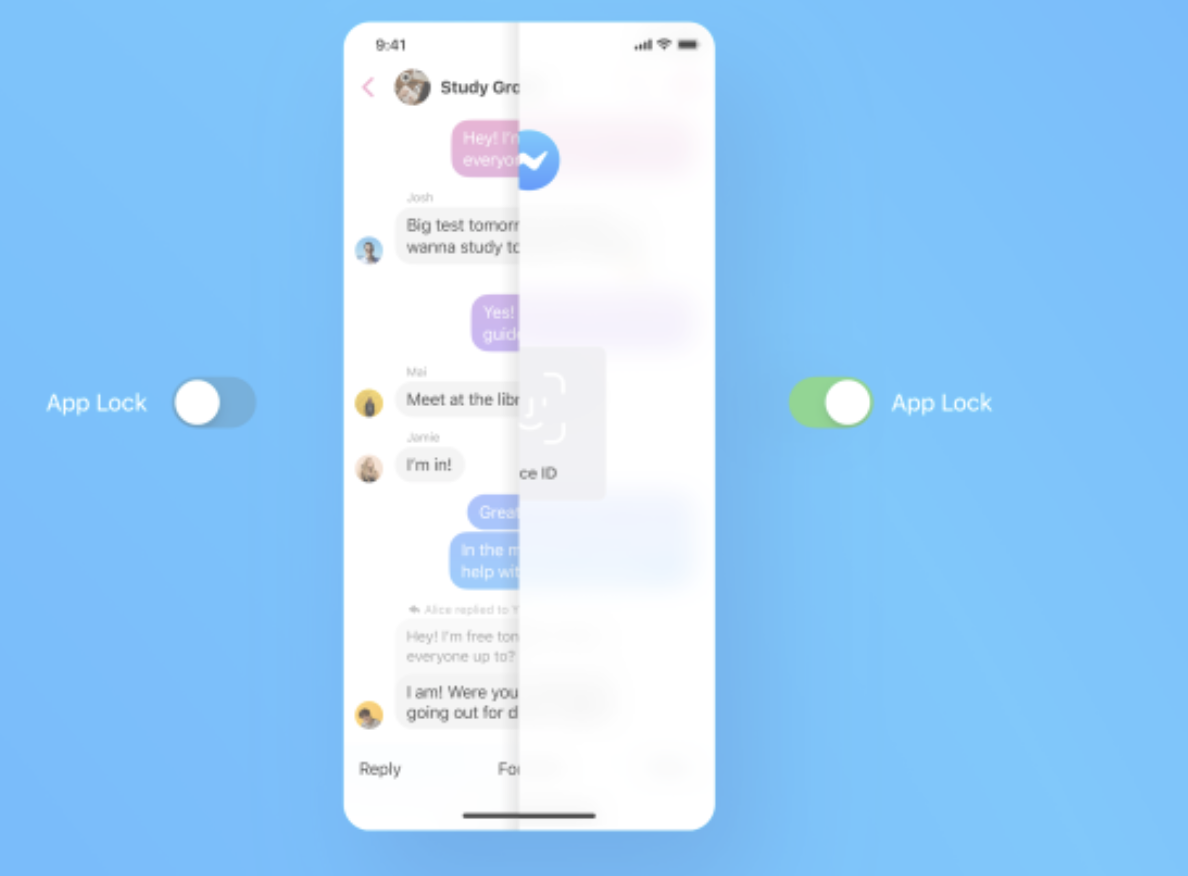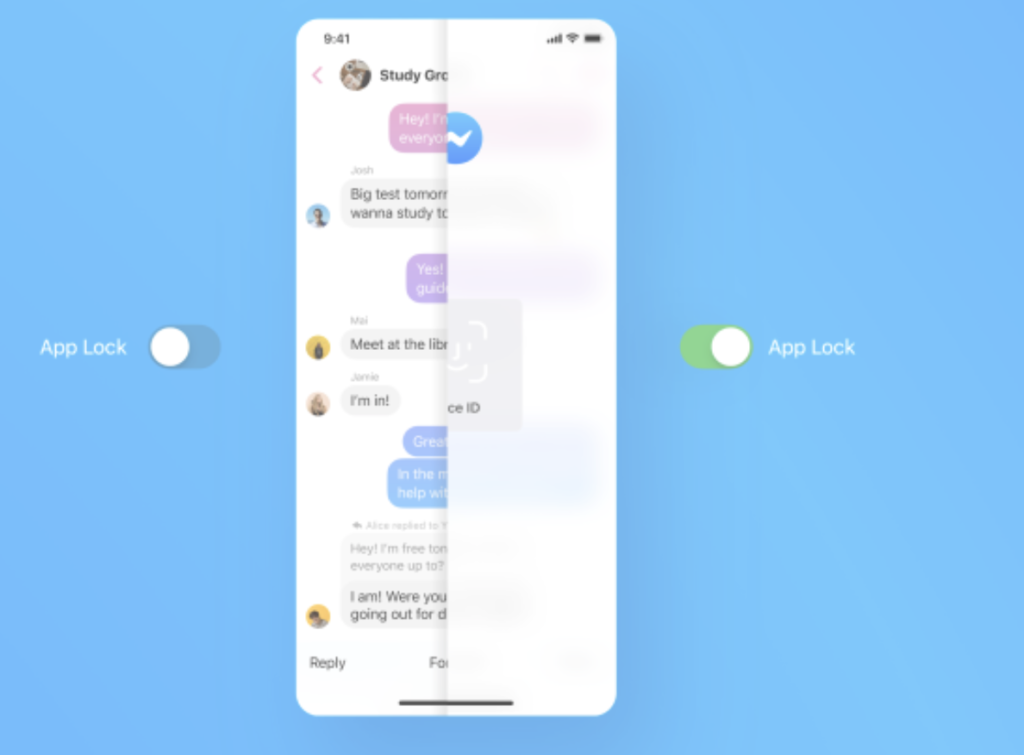 Which sort of brings us to the second feature that will be coming soon with this update: The ability to gain more control over who is messaging you or calling you on Messenger.
Facebook is working on a set of new controls so that you can determine who can message or call you directly, which messages are sent to a requests folder, and who is unable to message you at all.
These will resemble Instagram's own message controls.
New Options for Connecting with Businesses on WhatsApp
Plenty of users will reach out to businesses on WhatsApp, making it an important platform for brands to consider joining.
And now, there are new features that can make connecting with your customers on this platform easier than ever.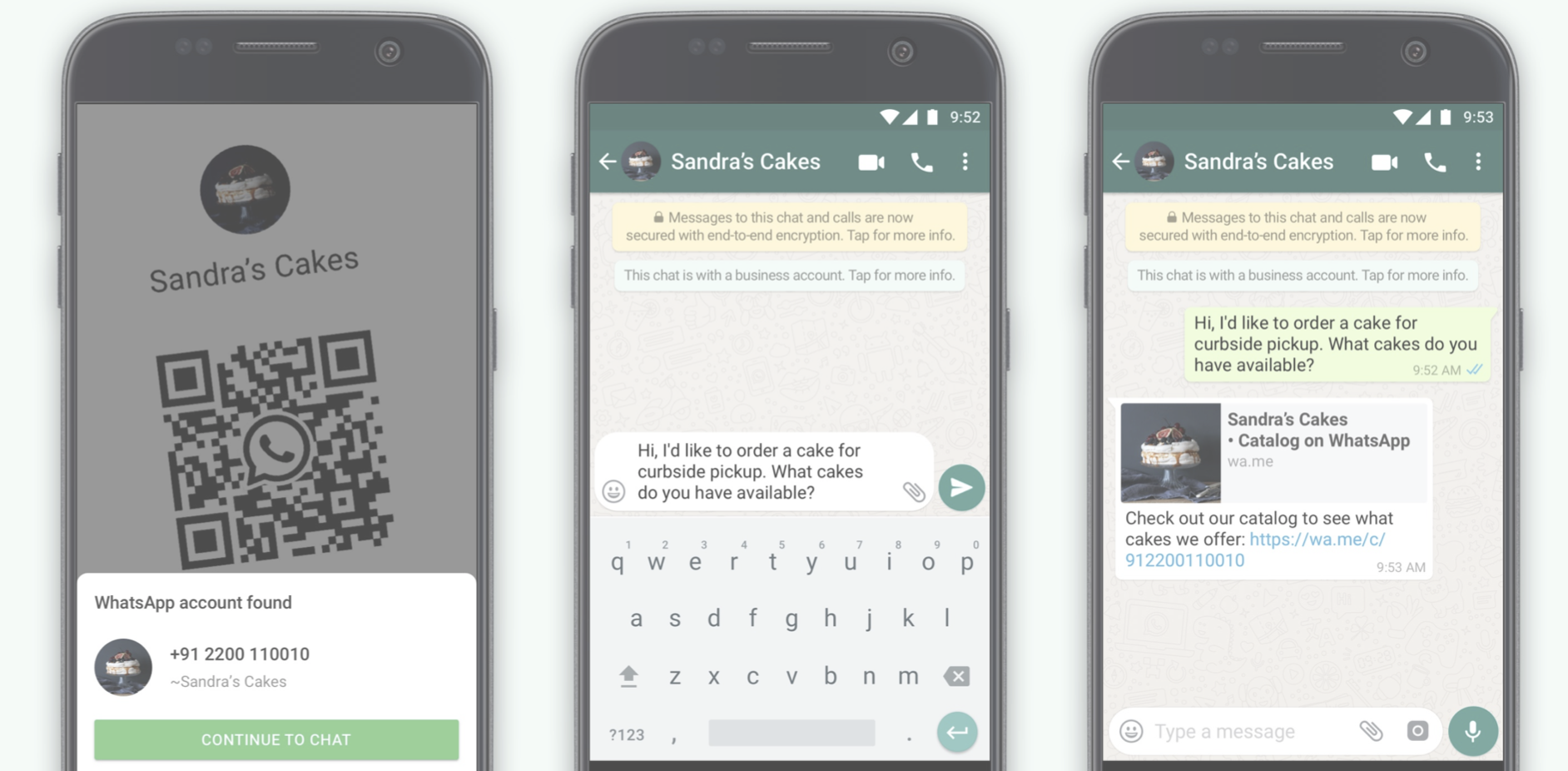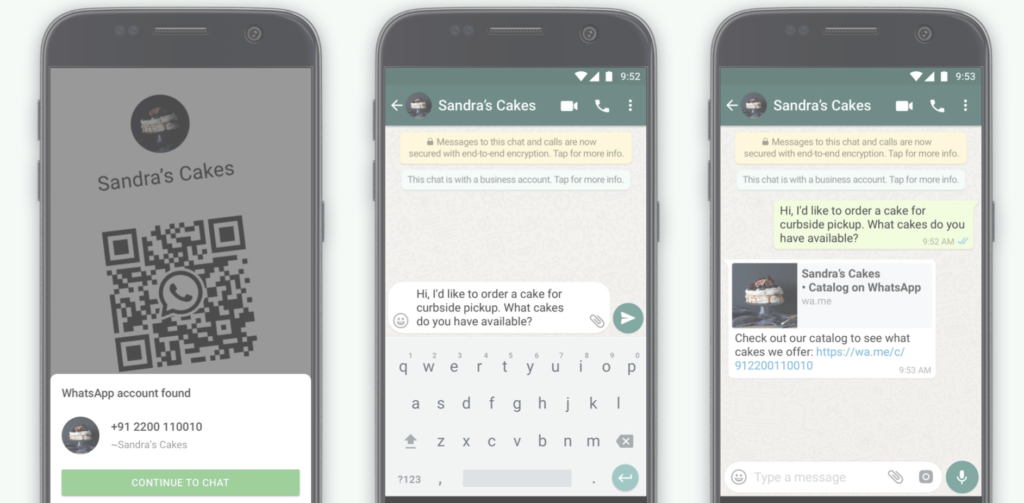 For starters, you can feature QR codes on your site, in a chat, on product packaging, or in-store. When users scan these QR codes, they'll be able to immediately initiate a chat in WhatsApp with your business.
The easier it is for users to connect with you, the better.
You can also now share your business catalog or featured items as links on WhatsApp, which can be used to answer user questions, promote your products, offer suggestions, and drive sales.
If you're an eCommerce business with a catalog on Facebook and you're invested in using native shopping features, this could be a great way to use WhatsApp to build product awareness and sales in one nice, neat, convenient package.
Facebook Removes "Coordinated Inauthentic Behavior"
After the 2016 US election, there's been huge concern about the intentional spread of misinformation and manipulation of users on Facebook. Facebook has taken a number of steps to resolve this, including rolling out new transparency tools.
They've also been on the lookout for "inauthentic" behavior, especially when it's consistently coordinated.
This month, they've announced that they've shut down four networks that violated Facebook's policies against all foreign interface and coordinated inauthentic behavior. The accounts originated in the United States, Canada, Ecuador, Brazil, and Ukraine.
The inauthentic behavior included the following:
Using a combination of established and fake accounts to manipulate user trust, promote their own content, and drive users off-platform to third-party political sites.
Former government officials in Ecuador and political consultants tried to hide their identities and mask as local independent news journals
In Florida, users linked to a hate group previously banned on Facebook tried to set up fake accounts to pose as state residents to evade enforcement and manage a network of pages while purchasing followers from Egypt and Pakistan.
This hopefully is only good news for businesses out there, as it means Facebook is coming up with new ways to keep the platform safe and they're enforcing their policy guidelines. And since Facebook is prioritizing original news reporting, probably, this will help keep misinformation at a minimum.
Final Thoughts
Facebook knows that the pressure is on for them to step up their game and do their part to reduce the misinformation and manipulation that can take place on the platform.
They're taking this seriously, looking at both major enforcement options to shut down coordinated networks of policy violators and small, seemingly minor security updates like the option to lock your phone.
These are the most exciting updates because they'll hopefully have a positive and significant effect on the platform as a whole, but the new WhatsApp and Rooms Live features are pretty great, too.
We're excited to use them, and we hope you are, too.
What do you think? Which tools are you most excited about? What new features do you want to see next? Share your thoughts and questions in the comments below! 
---
Top Facebook Updates June 2020
This month, we don't have many new exciting, flashy features for businesses, but we do have some big important updates about the platform itself.
With that being said, let's go ahead and take a look at what's new and what it means for you.
It's been interesting to watch what updates Facebook has released when; in addition to your standard new and exciting features (like the new styles of shops rolled out on Instagram), they've also been working hard to shift users' perception and safety on the platforms.
They're opting for more transparency and more authenticity, and are taking their role in helping to prevent misinformation seriously.
We've seen this as they've tried to put a stop to incorrect information on anything related to politics to the coronavirus.
Facebook Complying with CCPA
The California Consumer Privacy Act (CPPA) grants California consumers the right to control their personal information. This includes knowing who has and is using their information for marketing purposes, and the right to ensure that their information isn't used for those purposes without permission.
All businesses that sell to consumers in California want to ensure that they're maintaining the standards of that privacy law, and Facebook has stepped up to make that much easier.
Now, businesses can limit how Facebook uses the data that they're sending to Facebook by using the "Limited Data Use" feature.
This feature must be enabled to apply, but once it is, Facebook will process information about California consumers as the business's service provider. This will take California's specific privacy laws into consideration. There is a transition period, which will take place this July.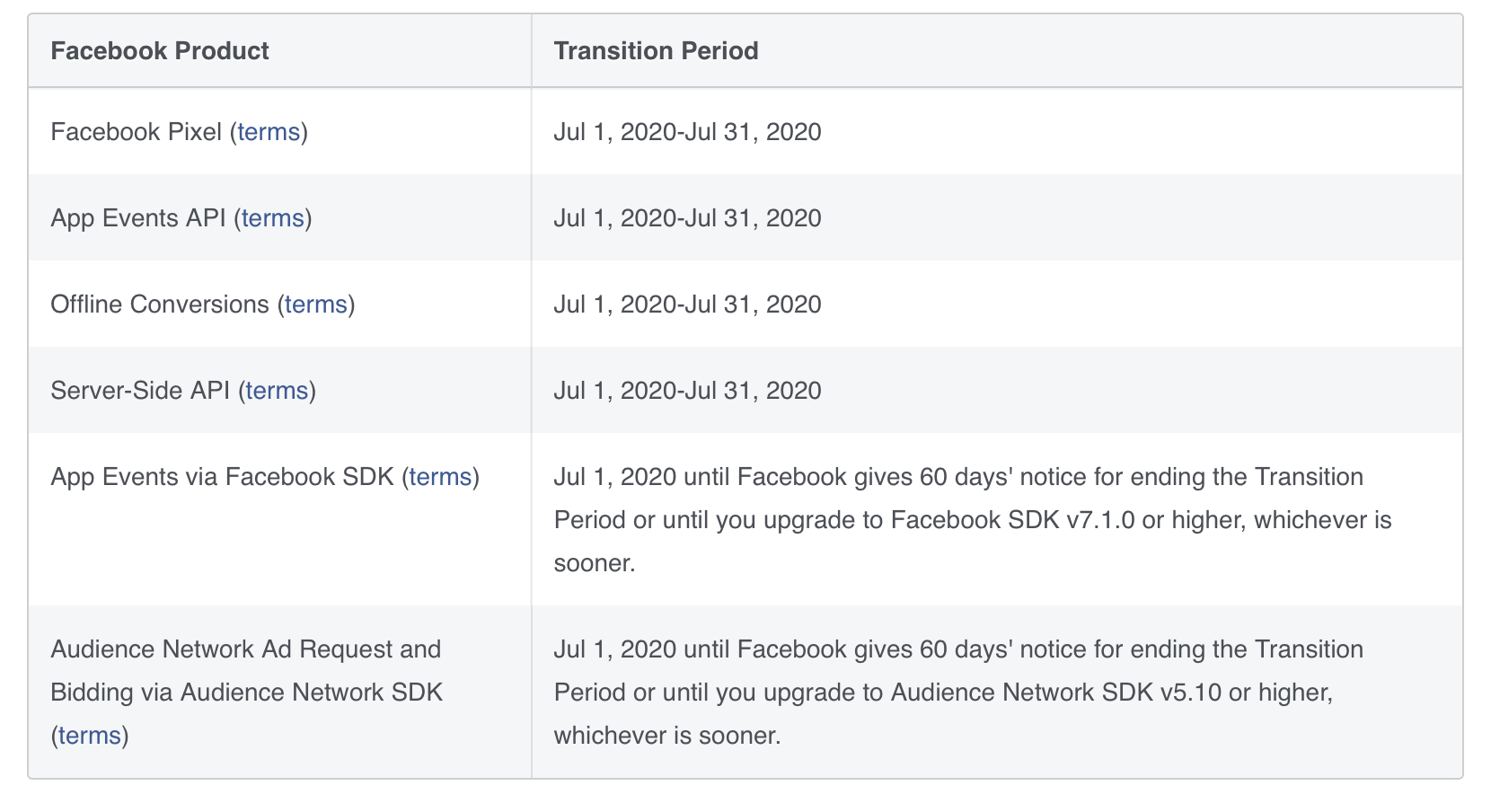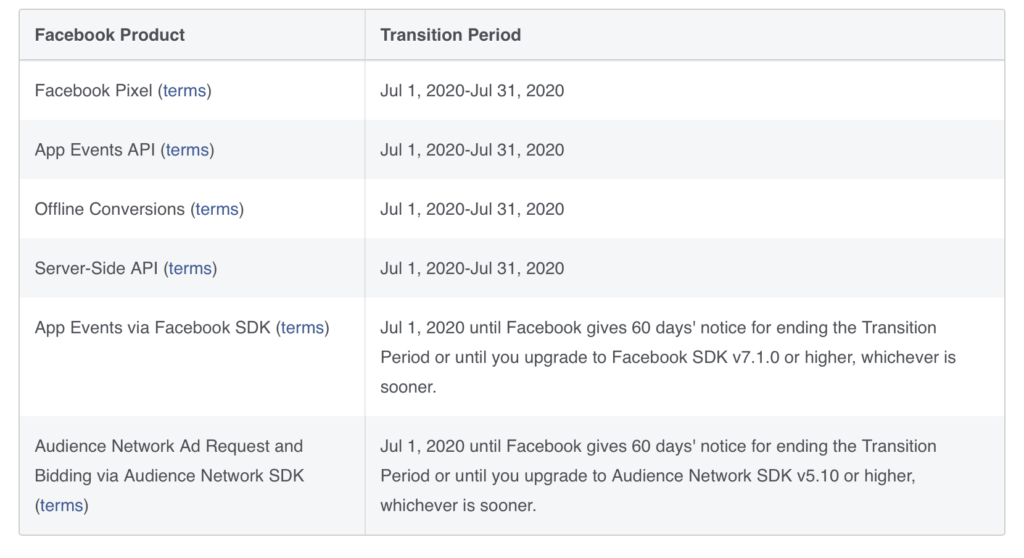 Facebook does note that businesses may see a dip in campaign performance, and note that both retargeting and some tracking and measurement capabilities will be limited.
That being said, if you're selling to consumers in California, using this feature can help protect your business and their privacy. That's always worth it.
Facebook Seeking to Advance Racial Justice
We've seen a number of businesses come out strong over the past two months, making it clear where they stand about racial injustice. Facebook has just recently done so, and they've listed clear steps they'll be taking.
These steps include:
Improving their policies, products, and programs.
They'll be investing in people and technology designed to "proactively detect and remove hate speech hand other violating content." They'll also be reviewing policies around how to handle violating content, around voter suppression, and around discussions and threats of state use of force. They'll also be working to amplify Black voices and ensuring there is more diversity on their own teams.
Investing in communities of color. 
Facebook says they'll be investing over $1 billion USD to support Black and diverse communities and suppliers within the US. They've specified that this year, they're committing an additional $200 million to Black-owned businesses, creators, and organizations.
Launching a new destination. 
Facebook is creating a "new destination" called Lift Black Voices, which is designed to amplify Black voices and to share educational resources and storytelling through fundraising.
These changes likely won't directly impact many businesses day-to-day, but hopefully, they'll have a strong impact over time that can improve the platform for all users and businesses– especially those who need it most.
Facebook Shifts Commerce Eligibility Requirements
Instagram has announced that they're adjusting their commerce eligibility requirements.
And this matters for this post because while it will impact businesses on Instagram first, they have stated that these requirements will eventually go on to apply to Facebook businesses, too.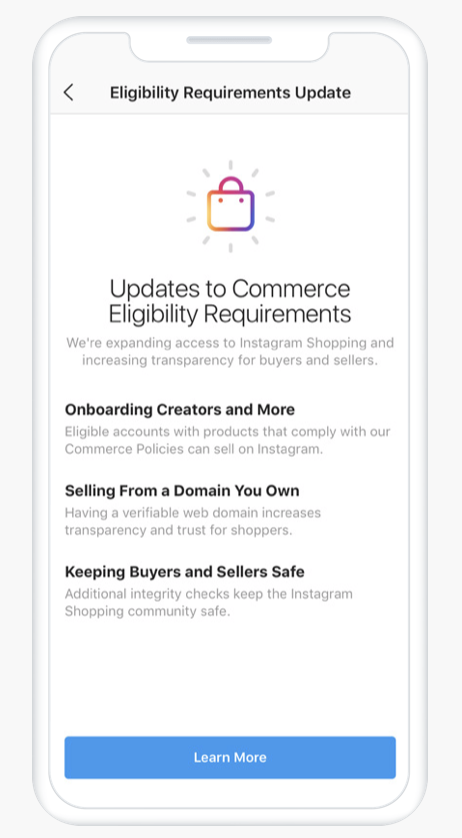 Now, any eligible business or creator account with even one eligible product can use shopping features and tags. These will drive users to your site to make purchases, and for US businesses that are in the checkout test group, customers can purchase directly in-app.
You're no longer needing to set up a Facebook store and wait for approval on both.
These new changes will go into effect on July 9th for Instagram where Instagram Shopping is supported and remember that eventually, this will move to Facebook, too.
Collections Lists Are Now Sharable Publicly
Facebook's Collections list allows you to add "items" (including links, photos, and more) to a list that you can access later on, almost like archived content.
Now, these lists are going to be publicly shareable, allowing you to share the lists with just yourself, contributors, friends, or the public.
This could open the door for business partnerships and influencer collaborations.
Local businesses in a community, for example, could compile a list of "great events around Texas" that promotes an event at each business, and influencers and creators can promote each other's content.
And if you're looking to sell items on the marketplace, you can even create a list of what you've got for sale.
These lists are extending to all users, and we're excited to start testing out some use cases soon.
New Fan Subscriptions for Game Streaming
Facebook is underway on a big push to get more gaming streamers on their platform.
(If anyone follows the gaming world, games like PubG are soon dropping Mixer as a streaming platform and starting up on Facebook, for what it's worth).
They're now expanding their streaming subscription options, allowing viewers to "support" gamers financially.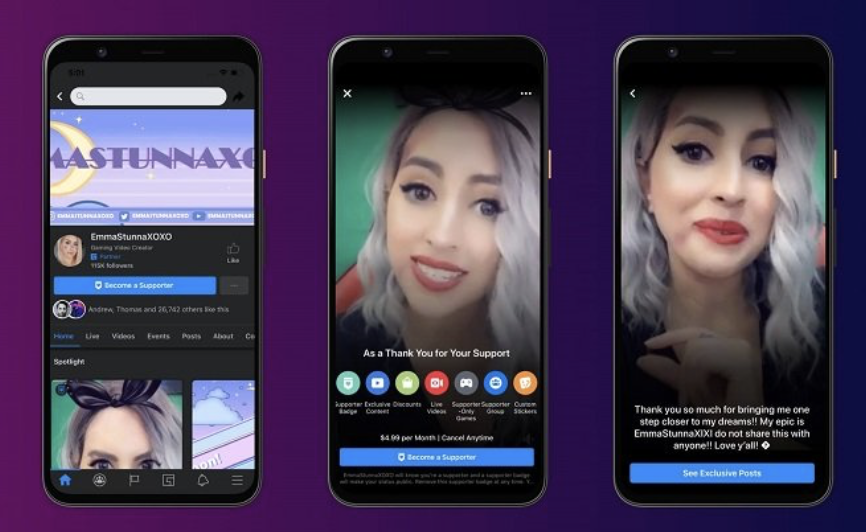 Facebook will soon be enabling more streamers to access this subscription option, rolling out to creators in Brazil, Australia, Thailand, Canada, Mexico, the UK, and the US. All gamers who see 250 weekly returning viewers in these areas can join the "Level Up" program to take part.
As they're ramping up monetization for gaming streamers from supporters, they're also looking at other methods of monetization, too.
They'll be testing several different types of ads during gaming streams, including live ads that show up as pre-roll or midroll, or image ads that appear before the stream while it's airing.
This will certainly offer up new placements, but since streaming happens live, it will be interesting to see how these ads impact engagement. Gamers and creators will likely get a cut of the ad revenue here, giving them even more incentive to build an audience here.
Final Thoughts
It's fascinating to watch Facebook's priorities and usage shift over the past year.
There have been big pushes for more transparency and more responsible and ethical business practices, but at the same time we're seeing some great monetization and selling features rolling out to new creators and businesses, too.
As a reminder, we also know that Facebook is still working on full messaging integration with Messenger, Instagram Direct, and WhatsApp, so expect some changes there soon, too.
What do you think? Which features are you most excited about? What do you want to see next? Share your thoughts and questions in the comments below!
---
Top Facebook Updates May 2020
Whether you're back open for business entirely, still waiting at home for the "all clear," or hovering somewhere in the middle, we're sure that you'll love the new Facebook updates that were rolled out or announced this month.
We've got new shops, support for small business features, and so much more!
New Facebook Shops
We had to start with the biggest update that brands can start leveraging right away: Facebook's new, native, mobile-friendly shops.
Facebook has had on-platform shops before, and if you're familiar with them, the basic idea is the same. You can upload products and information about them onto your on-platform store, creating and featuring the collections of your choice.
The new shop features, however, go far beyond what the previous version ever offered.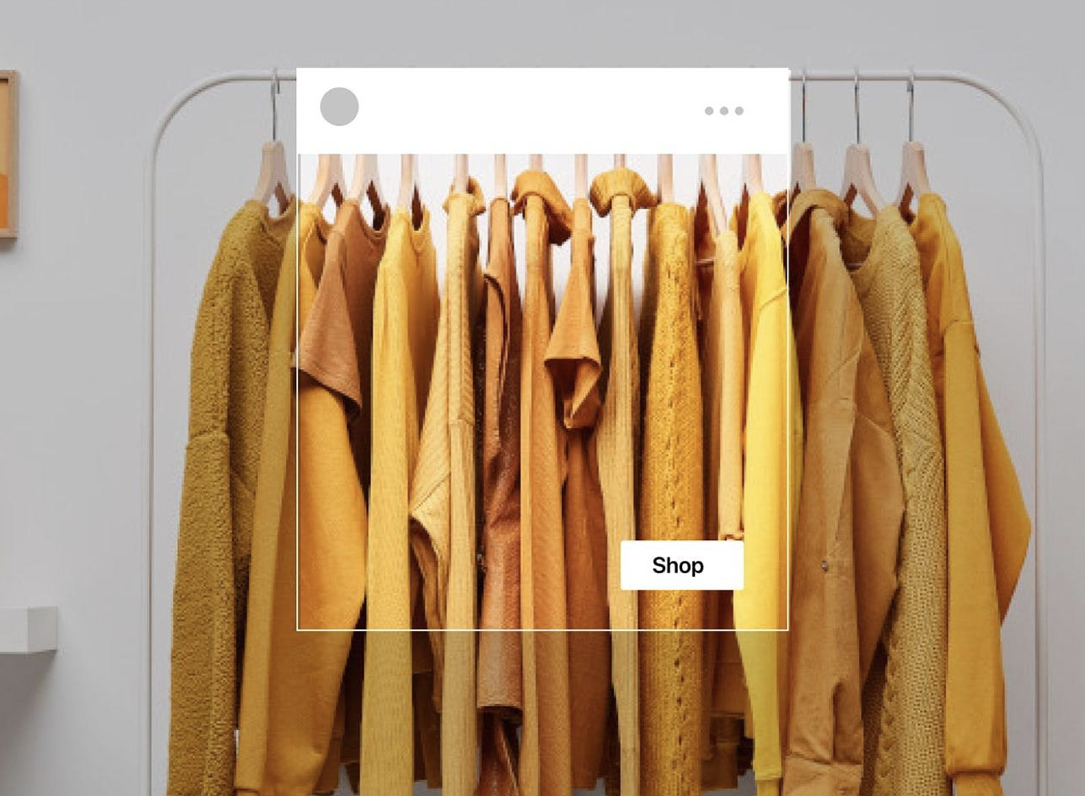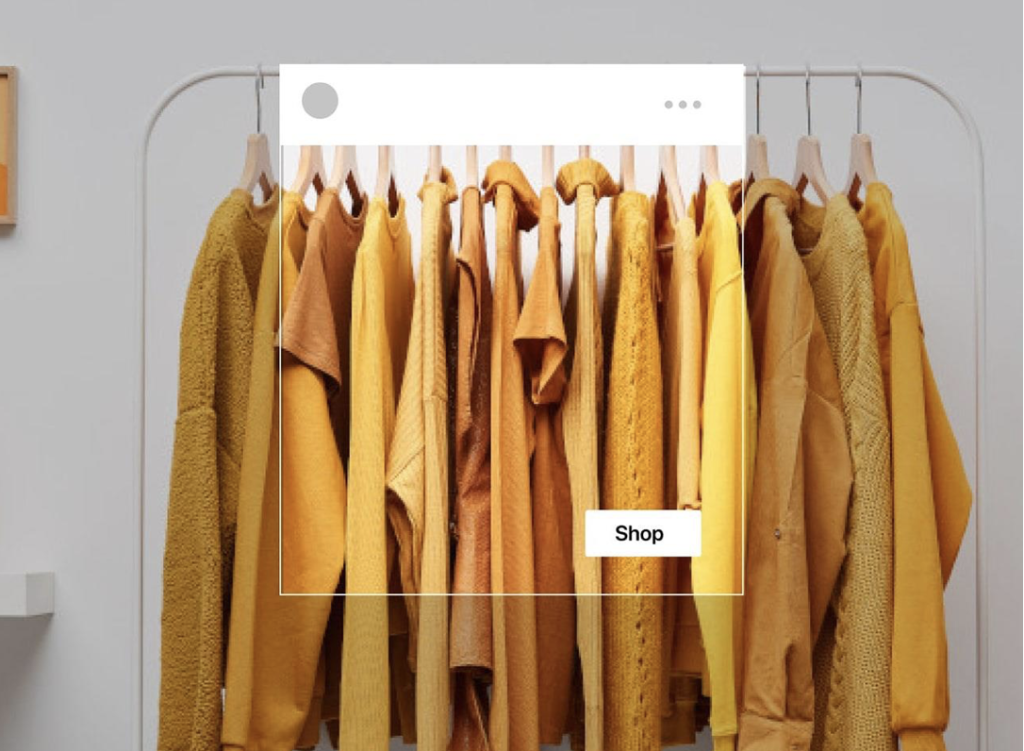 You can customize the look of your virtual storefront, for example, with customizable fonts and coloring, and users can convert and checkout without ever having to leave the app.
The new shop is definitely an improved version of Facebook's previous rendition, offering more control to businesses and more convenience to customers.
They've also announced that they have plans down the line to roll out additional features, like live shopping options and loyalty programs to incentivize additional purchases.
If you're an eCommerce business or selling merchandise online, this is something to consider.
"Support Small Business" Hashtag Rolled Out
Facebook knows that small businesses everywhere are hurting right now, with many taking big financial hits. They've recently worked hard to roll out new features designed to promote and support small businesses that you can hopefully benefit from!
They've created a #SupportSmallBusiness hashtag on the app, encouraging users to show their love for small businesses. Similarly, creators can use "in support of" tags to promote small businesses to their followers.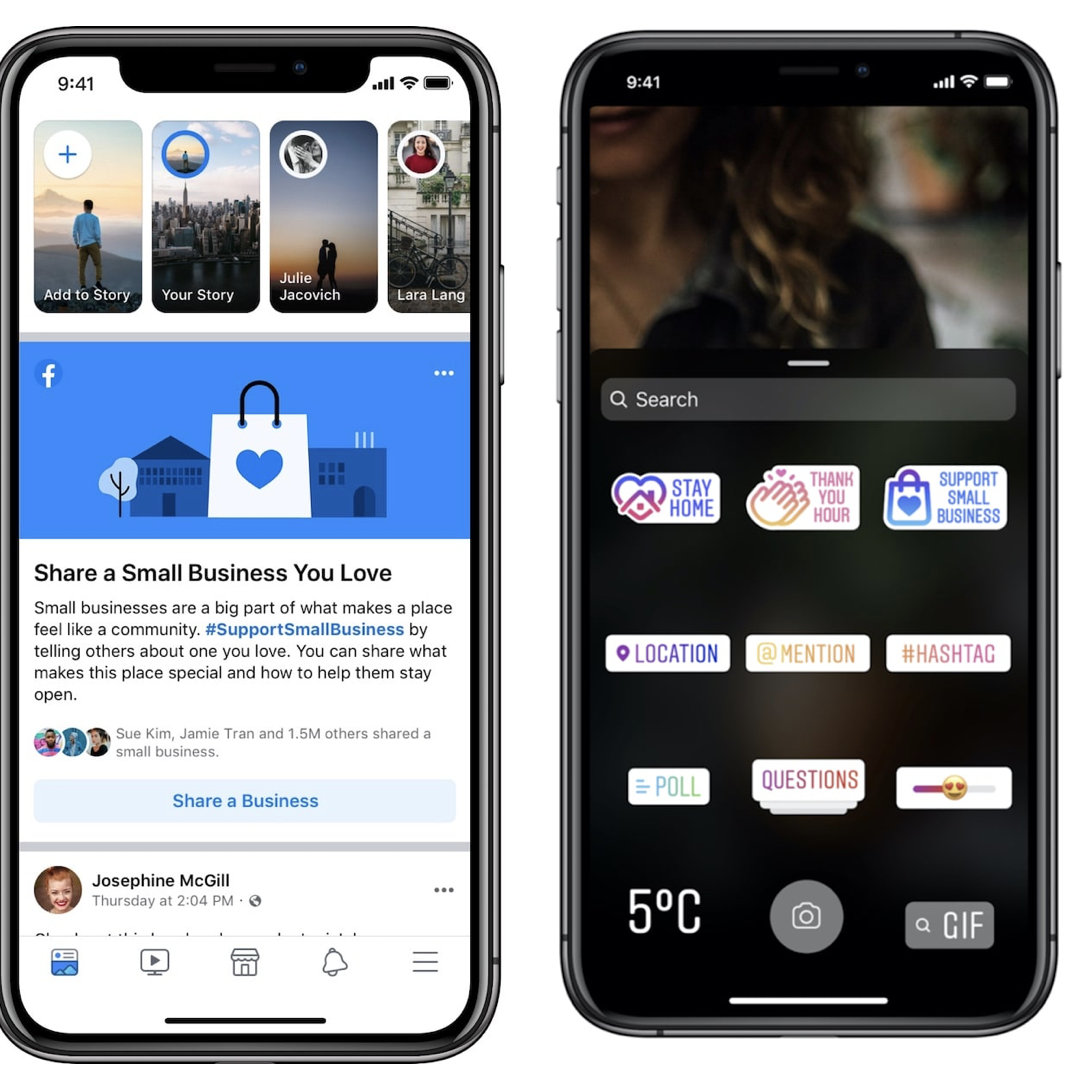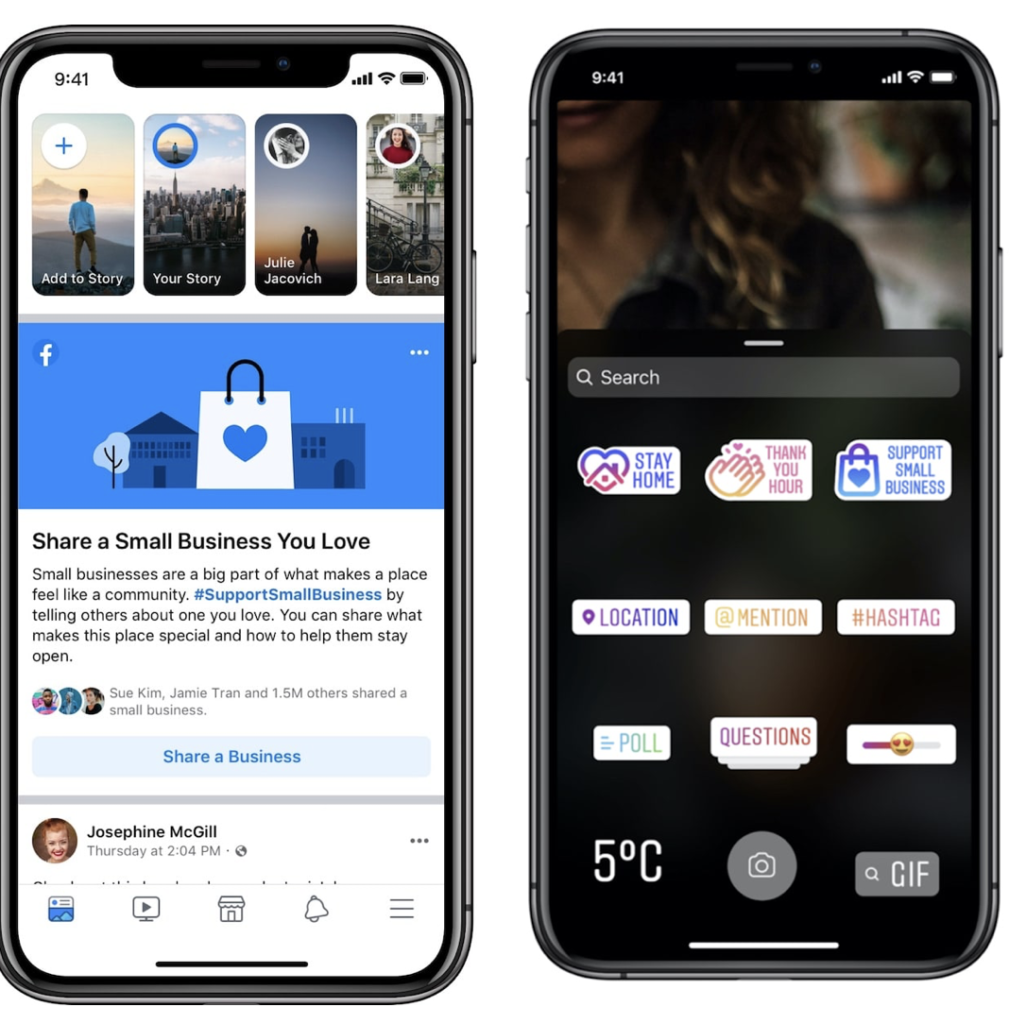 They're also prioritizing their "Businesses Nearby" feature to help users discover local businesses and neighborhood shops, encouraging them to get in touch or purchase in the process.
Facebook Launches Group Chat "CatchUp" App
Knowing that more users have been forced to shift to entirely or almost-entirely online communication, they've been working to keep up. In response to this, they've just rolled out their new sister "CatchUp" app, which was designed to facilitate group chats.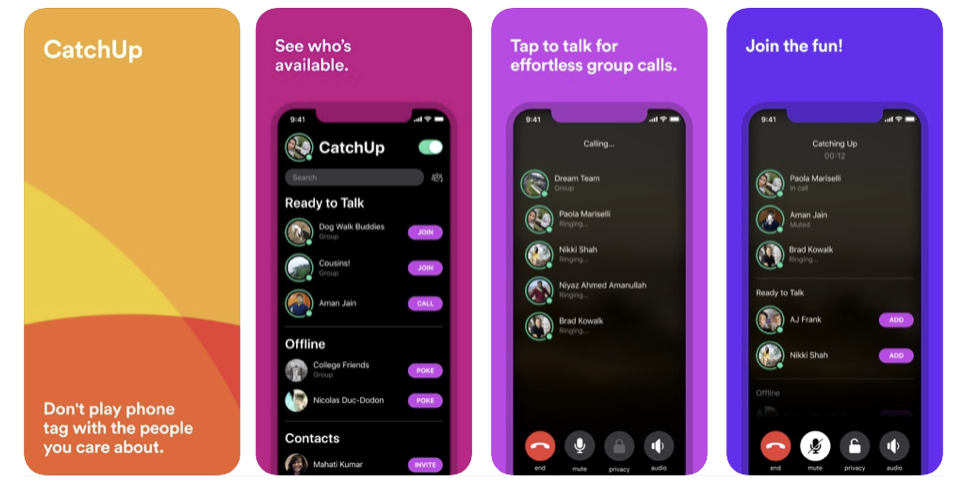 This is basically Messenger Rooms for voice calls, allowing you to call users one-on-one or in groups.
Overall, this is one app that won't affect marketers much at the moment, but it's good to be aware of. It will be interesting to see if it takes off; many users are already using other tools to have one-on-one calls and group calls, so we'll keep an eye on this one and see how it does over time.
Warning Prompts Added to Messenger Threads
Scamming has unfortunately run amock on the platform for over a decade now, and Facebook is making clear efforts to try to stop this (or at least significantly reduce it).
This includes new warning prompts that pop up with Facebook's algorithms flag suspicious activity from someone contacting you through your inbox.
They'll ask if you know the person, and if you say no, they'll go over steps you can take and inform you about common scams. They always encourage you to refuse requests for money.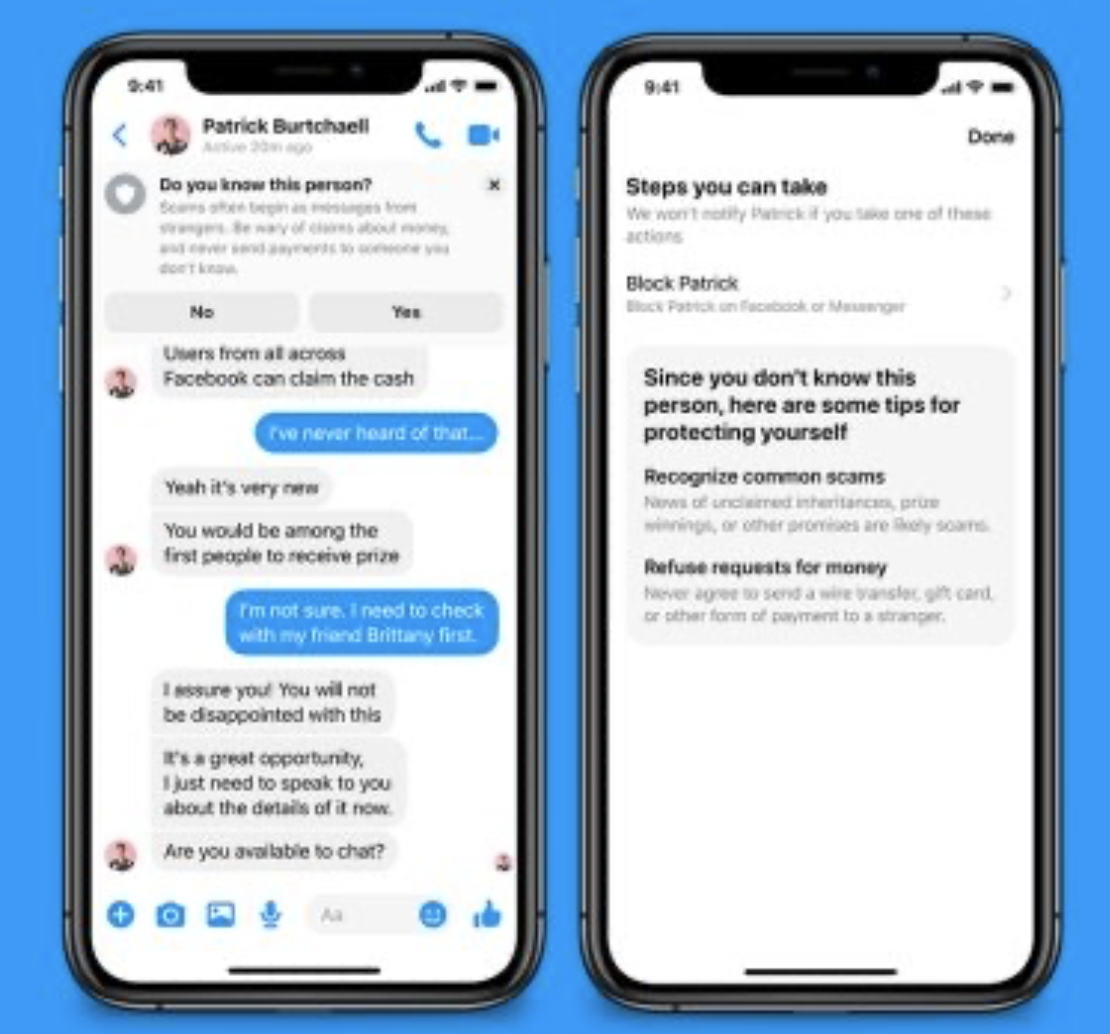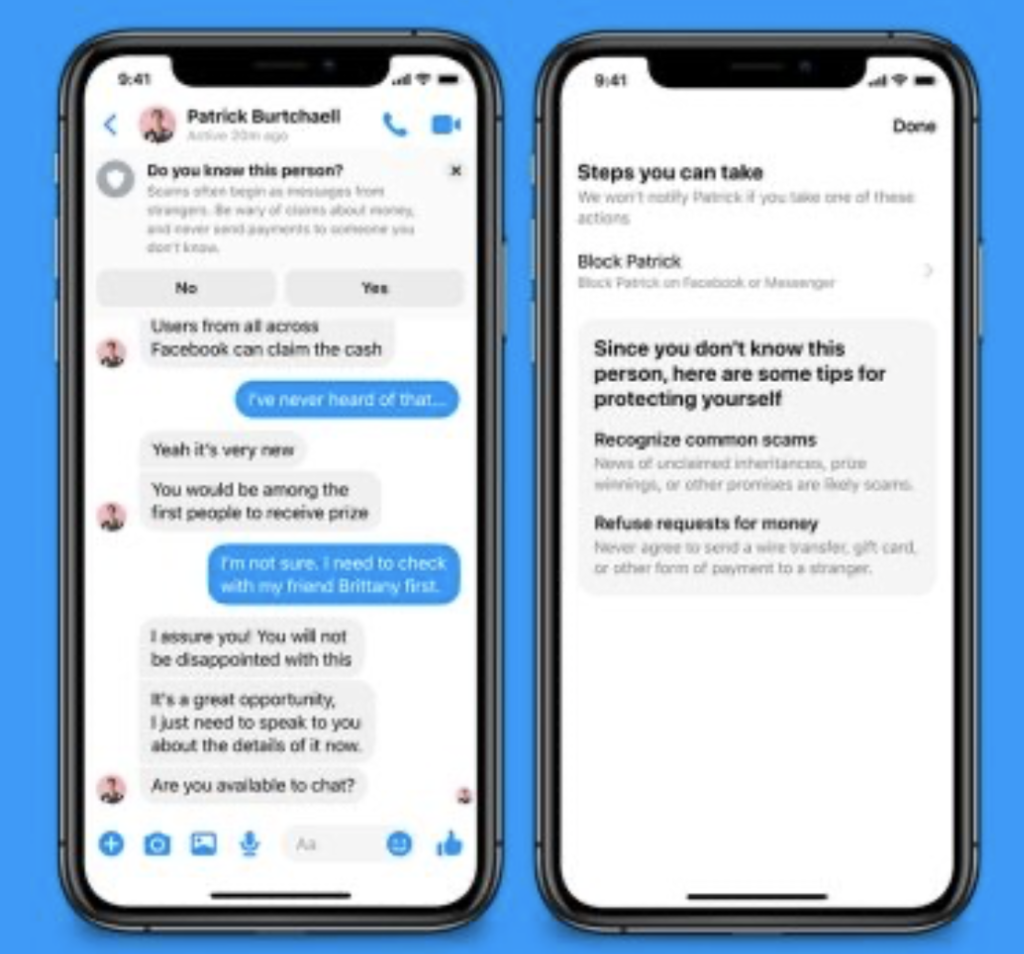 The algorithm uses machine learning and looks for common signals that indicate fraudulent or scamming behavior. The signals include the user sending out a large number of messages to people they hadn't interacted with before or using specific keywords in those messages.
In addition to general safety measures, there's a big focus on protecting minors. They're using machine learning to watch for behavioral signals that are questionable, like adults sending a large number of messages or friend requests to people under the age of 18. This new feature will work alongside protections the platform already has, working to educate the underage users to be cautious. It also allows them to take action before ever responding to a message.
Facebook does want users to be safe, knowing that if they're not, the platform could be in trouble.
15 New Courses on Facebook Blueprint
We're big fans of Facebook Blueprint, especially since many of our advertisers and clients are learning how to run successful, engaging campaigns themselves. This is a native and outstanding resource, and it's free!
Blueprint just rolled out 15 new courses, including the following:
Decide Who You Want to Reach
Map the Customer Journey
Set Marketing Goals
Select Your Marketing Channels
Tell Your Business Story
Create and Manage a Content Calendar
Create Authentic Messages
Stay Connected to Customers Online
Bring Your Business Online with Instagram
Attract an Audience on Social Media
Engage with People and Build an Audience
Plan What to Post on Instagram
Communicate with Customers on WhatsApp
Set Up Digital Gift Cards for Your Business
If any of these new courses sound like they could be beneficial to you, we strongly recommend that you check them out! Learn more here.
Final Thoughts
Facebook's new shop feature is the big highlight of this month's updates, and we can't wait to see how our customers here at AdEspresso start using it. (The feature has slowly started rolling out, so many of you will start to see it and have access relatively soon!)
Facebook's additional, moral-focused features that support small businesses, educate advertisers and protect vulnerable users from scams and potential harmful individuals are also great and shouldn't be overlooked.
These are all positive changes that impact users and advertisers in great ways.
That's always something to be excited about, especially since the better the user experience, the more we get to interact with them on-platform moving forward.
What do you think? Which of these updates was your favorite? What are you most excited about, and what do you want to see next? Share your thoughts and questions in the comments below!

---
Top Facebook Updates April 2020
This month's Facebook Updates won't disappoint you.
We got new accessibility tools for live streaming, the updated Messenger interface, "quiet time," and a new download data tool that will impact the user and marketer experience alike.
Let's take a look at all of these new changes and what they mean for you.
New Live Streaming Accessibility Tools
Online content has had a huge push for inclusivity and accessibility in recent years, and it's great to see this now crossing over into Facebook's live stream.
So far, Facebook has only had video live stream options, where video content is shot and broadcasted in real-time. While most users loved it, this content provided a huge barrier of entry to those who are hard of hearing and or those who rely on screen readers.
Now, Facebook has announced that they'll be releasing an "audio-only" live mode that will come with the option for automatic captions. They've also shared that they'll offer new ways to access live streams outside of Facebook itself, though we don't know more about that yet outside of the fact that even those who aren't logged in will be able to see the content if they choose.
This is great news overall. Automatic captions can have a strong tendency to be less than reliable (especially if there's mumbling / a background noise/ even the slightest accent involved), but they're still allowing hard of hearing users to be able to follow along with the basic conversation. Brands should consider taking advantage of this new format and testing it out to see how well it works for them. When in doubt, you can treat it like a short podcast, and we all know how popular podcasts have been in recent years!
New Desktop Messenger App Rolls Out
Facebook's Messenger app for desktop is brand new, and it allows users to engage in group chats and group videos from their computers and laptops.
This is a new standalone Messenger app designed specifically for desktop. You can still use Messenger in the browser as you currently do; this is separate.
This app rolled out largely because Facebook wanted to find new ways to help their users connect with each other while also potentially weeding out information. The idea is that the more connected people are, the easier the shelter-in-place orders will be, and why not keep them connected on Facebook and in Messenger (especially since they can make profit with Messenger placements).
You can see what the new app looks like here:
This feature will be most valuable for personal uses, but businesses can use it to communicate with small groups of clients on the platform if they choose. They can also use the feature for internal communications if needed.
New "Quiet Mode" Rolled Out
Facebook recently started rolling out "Quiet Mode," which simply allows users to silence all notifications. The idea is to encourage them to actually walk away from their screens (phones and desktops alike).
For many, this is a relief. When users are stuck at home with shelter-in-place orders, it's easy to get sucked into Facebook and social media sites a little too often. And while it doesn't seem like it's in the platform's best interest to encourage those to turn away, it's actually a very good thing. There have been concerns over social media's impact on users' mental health in general, and these concerns have been elevated during times of crisis. Facebook encouraging users to limit their time on the platform can result in the user experience improving, meaning that they're happier to engage with great content (like that from your brand!) when on the site.
As a business, be prepared for some users to take longer to respond to you both publicly and privately if they're using this feature.
Right now, it's still rolling out on iOS, and it will likely be available for Android users starting in early May.
Updated Data Download Tool
If you read last week's Instagram Updates post, this section will look a little familiar.
This month, Facebook worked to offer even more transparency to users in terms of why they're seeing the ads that are showing up in their feeds. They released an updated version of their existing data download tool that allows users to download three new sections of information on their own activity.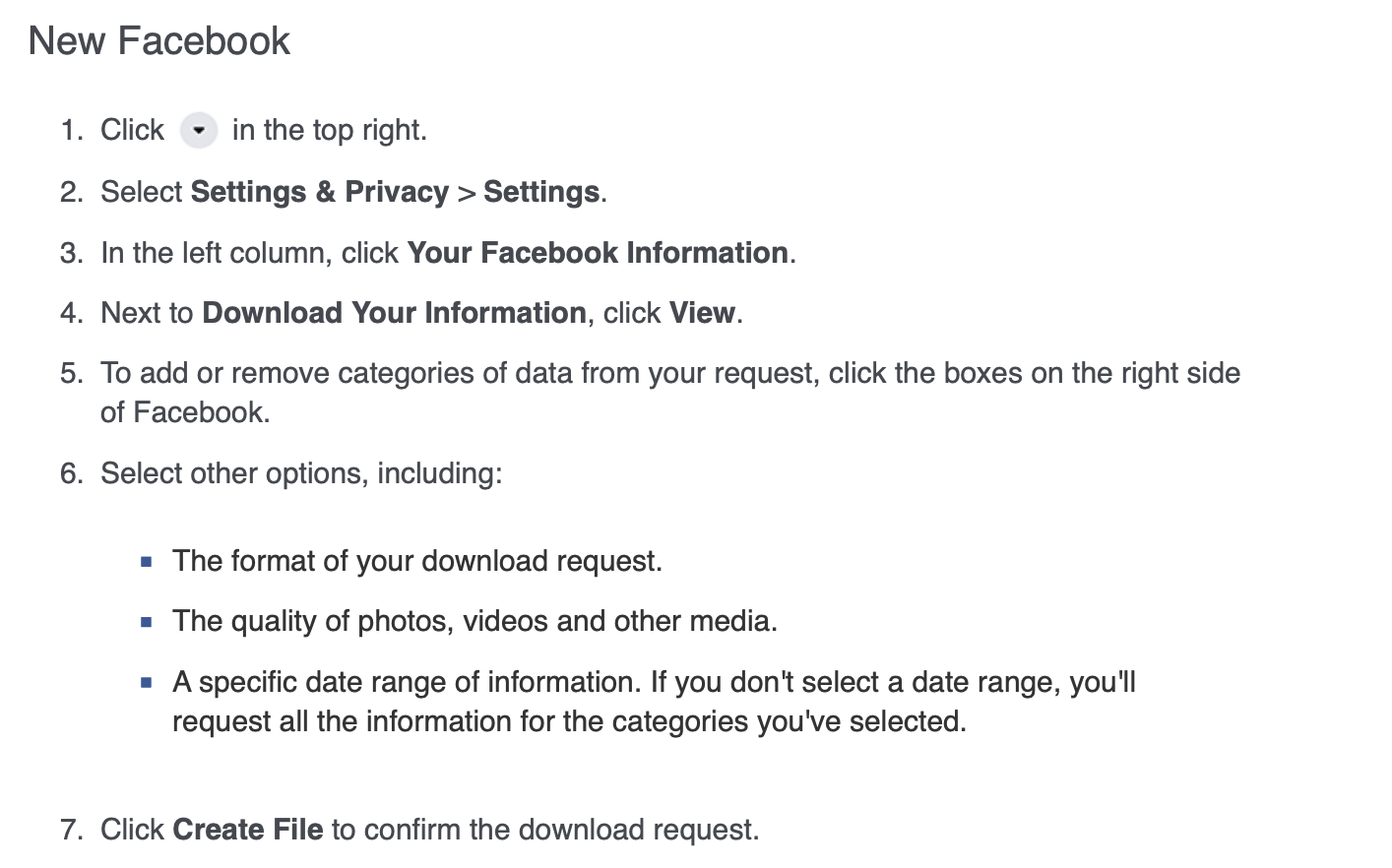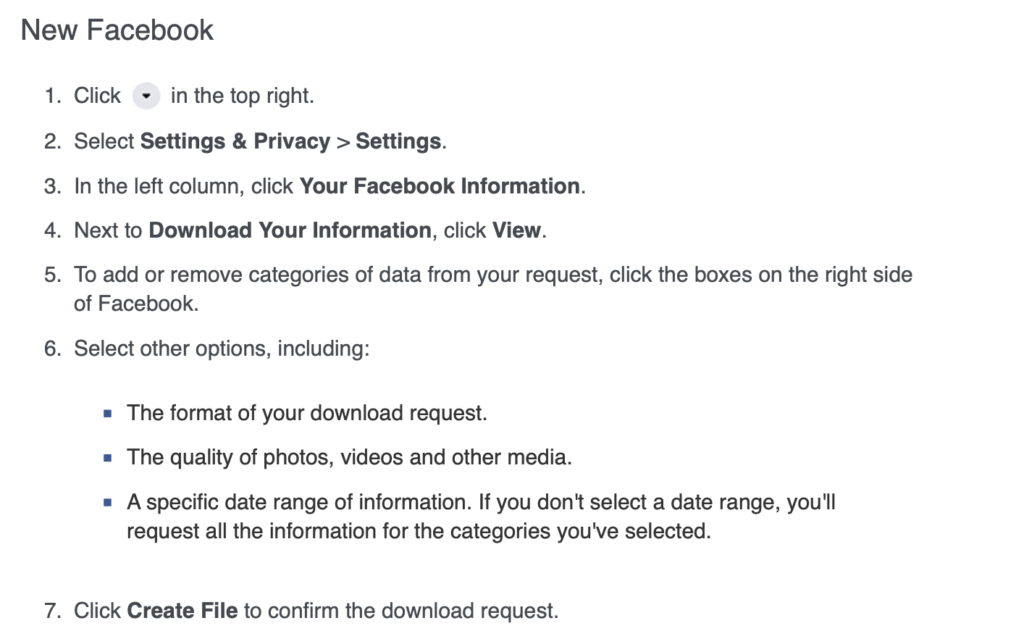 The new reports show:
Interactions on both Facebook and Instagram from the user, including their own profile updates, Page content, post likes, comments, and more.
Inferences on how Facebook is pairing up the user's specific behaviors with content it deems relevant.
A list of categories assigned to Instagram accounts you interact with, showing users specifically what types of content Instagram thinks they're interested in when determining what to show in the Explore section of their app.
Once again, brands aren't necessarily benefiting from this nearly as much as users are. That's okay; building trust with users so they can understand what they're seeing and why is important right now, especially when so many users are distrustful of ad targeting capabilities amidst privacy concerns. This could actually help build more trust between consumers and advertisers by shedding some light on the process.
While not an official intended use, advertisers can check out their own data and see if they get any new ideas for how to target users based on their own interactions with the platform. Many brands happily view content related to their own industry, for example, so you may get some new inspiration for categories on Instagram to consider.
Final Thoughts
Right now, it's not surprising to see a number of social media platforms shifting their focus quickly to try to offer new ways to support users, brands, and marketers during the time of the crisis, especially since nobody knows exactly how long it will last. It makes sense that we'll continue to see features geared towards this purpose in the immediate months, especially as many small businesses struggle, misinformation continues to circulate, and users are looking for more meaningful ways to stay connected.
During the next few months, it may be more important than ever to stay up to date with what's happening on your primary social media platforms, especially since these new features may be so valuable. Social is a crucial platform right now for businesses working hard to stay connected with their customers, so take the time to keep investing into your social strategy and management. It will absolutely be worth it.
What do you think? How do you feel about these new updates? Is there anything you were hoping to see that got pushed back? What are you hoping gets released next? Share your thoughts and questions in the comments below!
---
Top Facebook Updates March 2020
This month, Facebook has made a few changes on their platform as a result of the coronavirus (which we'll take a look at first), but they've also been hard at work on a number of different features that will impact how users and brands alike are interacting with the platform.
We can expect that as we're all dealing with the coronavirus and its impact to see some shifts in marketing best practices, a slight slow-down of the release of in-testing features, and some adjustments to the platform (particularly ad campaigns) that may somehow be related to the virus.
We're here to discuss all of it, so let's get started.
Facebook Announces Changes Related to COVID-19
This is one thing we see people asking about a lot, so let's get it out of the way: How the virus might impact Facebook marketing?
Right now, there are a few ways COVID-19 could impact your campaigns.
Here are the basics:
Facebook has announced that due to changes in the moderation process and with staff out of office, there may be delays and errors in ad reviews.
Make sure that you're creating your ads and submitting them for approval long before you actually need them so you have time to adjust, edit, or appeal them if needed.
Facebook has created a ban on any ads and commerce listings that seek to capitalize on fears related to the virus.
Any supposedly magic cures, hand sanitizer, disinfecting wipes, and test kits cannot be advertised at this point in time. Absolutely no face masks can be advertised. This is really about preventing exploitation more than anything
Facebook is currently testing new features to reduce misinformation about the virus on both WhatsApp and Messenger.
Some of these misinformation campaigns (including "cures" and rumors about government actions) have gained incredible traction in messaging apps, so giving users the ability to quickly research claims seen in Messenger online before believing it and resharing it may be effective.
You can see what this would look like here:
Facebook Releases New "Mood" for Stories Frames
The Facebook Stories camera has a new "Mood" mode, which enables users to create a GIF-centric frame for their Stories.
Users can look up a GIF, select it, and it will be framed with statements like "mood" or "LOL" underneath them.
Here's how Facebook's NEW 'Mood' creation mode for stories works… pic.twitter.com/YbU4l8Ih8d

— Matt Navarra 😷 (@MattNavarra) March 18, 2020
These are designed to be quick and easy to create, and they're utilizing the popularity of GIFs in Stories right now.
We recommend that brands use them to explain their feelings or excitement about the news they've already discussed in a Story immediately leading up to it, like an announcement of a new product or a share of a customer review.
Facebook's Rolling Out New Design for Messenger
Messenger is getting yet another overhaul.
Facebook is rolling out a new update for Messenger which looks to simplify and focus your messaging experience.
After first announcing its intention to simplify Messenger back in 2018, Facebook is now close to launching the next stage.
The biggest change, according to TechCrunch, is that the new update will eliminate the in-app Discover section. All that's left will be "Chats" and "People" for your main navigation options.
Overall, this likely won't impact most brands too significantly, though some did benefit from the Discover section's potential boost in visibility.
Stories also seem to be missing.
Facebook Allows You To Convert 2D Images into 3D Images
Facebook's 3D photos feature now has a new capability that many marketers may want to take note of. The system is now able to evaluate any image and simulate depth within it.
Static, flat, VERY 2D pictures can now have the appearance of 3D graphics.
These pictures aren't truly 3D, but it does make them more attention-grabbing in the feed and can look higher quality.
Users can also use their mouse to "tilt" the image, almost like they could with a 360-degree photo.
While you can use Facebook to create actual 3D posts (and these will be a superior quality), this is a good smart answer for brands who want to change up their images quickly.
Facebook Testing the Ability to Cross-Post Facebook Stories on Instagram
We already have the ability to create Stories on Instagram and then share them to Facebook, too. All you've got to do is hit the little Facebook icon and boom, shared; you don't need to recreate the Story on both interfaces, and it's a great time saver.
Until now, this feature has only worked one way.
Facebook is now testing the option, however, to create Stories with them and then share it by cross-posting to Instagram. This was recently spotted by the incredible Jane Manchun Wong, who noticed the coding in the backend of the app.
While this may not necessarily be an enormous game-changer, it will be a great asset and increase potential convenience for brands and marketers.
Since more heavy integration is expected between the messaging apps, this cohesion makes sense.
Final Thoughts
Facebook marketing is always rapidly evolving. Right now, the coronavirus has us all on edge and taking precautions, and even if it's slowing down other development even a little, it's good to see that Facebook is taking its role and responsibility here seriously.
The company knows that their platform has been used (both intentionally and unintentionally) to spread misleading information and potentially take advantage of people, so they're doing their part to ensure that this isn't happening now.
As we move through the next month, remember to focus on valuable, empathetic marketing on Facebook, and look for shifts in consumer behavior.
Your audience is likely to be online more, so this isn't a time to slow down the messaging, but they may respond more to certain types of content than others now, so be on the lookout for that.
What do you think? How have recent world events and these latest updates changed how you're marketing on Facebook? Which updates are you most excited about? Share your thoughts and questions in the comments below!
---
Top Facebook Updates February 2020
This month, Facebook celebrated its 16th birthday, and it's a powerful reminder of how much marketing and the platform itself has evolved over the last decade and a half. A lot has changed since Facebook first rolled out and resembled the original Myspace in concept almost more than it resembled its current iteration. This isn't surprising since so much can change on Facebook even on a month-to-month basis.
And this month was no exception.
In the past thirty days, Facebook has announced some new features, rolled out a few more, and set up partnerships with third-party companies to improve the user experience on the platform.
There's a lot of updates to cover, so let's start with one of the biggest announcements of the lot: the Clear History tool has now been rolled out to all users.
Facebook Rolls Out "Clear History" Tool to All Users Worldwide
We've talked a lot about Facebook's Clear History tool for a while now and what it means for marketers, and it's officially here in a big way. It's been rolling out for a little while, and it's now available to all Facebook users around the globe.
As soon as it becomes available to them, users will see a Privacy Check-Up, with one section explaining how to use the tool.
Users can see the data Facebook has stored about their off-Facebook activity and clear it if they choose, wiping it from Facebook's system.
As we've discussed before, this can impact retargeting. If droves of users all over the world– and a large chunk of your target audience– decides to clear their history, cookie-based retargeting will become tricky.
Keep a close eye on your campaigns, and consider setting up ad funnels that leverage on-platform activity.
Facebook Releases "One Time Notification" API for Messenger
Businesses have 24 hours to respond to a user after that user has gotten in touch with their Page; they can't message the individual outside of that period unless they're using ad campaigns.
The exception here is if users choose to enable "one-time" notifications through Messenger for relevant updates from the business.
Businesses can now set up notification tools within Messenger that users can enable to receive relevant-to-them updates at a later time.
If customers are interested in a product that's out of stock, for example, they can opt-in to in-stock notifications. You can also allow users to enable notifications for when their purchase ships, or before a coupon code expires.
There's a lot of flexibility in how you use this feature, but it's an enormous asset as it can keep you at the forefront of customers' minds.
Facebook Expands Fact-Checking with Reuters Partnership
Almost everyone is familiar with the major transparency and misinformation issues Facebook has been known for within the past few years. Incorrect information is spread constantly on the platform, and though they turned a blind eye for years, they've taken an effort to change that since the 2016 election and all the fallout that happened with the platform since.
They've expanded their fact-checking efforts by establishing a partnership with Reuters, which will help Facebook attempt to detect, flag, and address any misinformation on the platform.
This is great news for marketers, because the more users feel they can trust the information they're seeing on the platform, the better.
You want users to be able to trust what they're seeing from your brand, and an overall improvement in authenticity on the platform can help.
Facebook Releases Creator Studio Mobile App
This month, Facebook released a new Creator Studio mobile app, which is a separate mobile tool designed to help manage your Pages on the go.
This mobile app will have many of the same features as the Creator Studio, just presented in a mobile-friendly package.
You can still manage, upload, and publish content, check your insights, and engage with your audience from a simplified, streamlined dashboard.
For brands who are using the Creator Studio to manage their Facebook and even Instagram campaigns, this is a must-have app.
Those who are already using third-party tools with mobile apps like Hootsuite may not rely on it as much, but it could still be valuable to download just in case it's ever needed.
Audience Network Losing Mobile Web Placements
So much of Facebook's updates seem to be about expansion, but sometimes the best thing the platform can do is let go of features that aren't working anymore. That's the case with mobile web placements from the audience network, which will be shut down as of April 11th.
Facebook has stated that:
These placements represented very small pieces of the audience network success", and that "their removal will not have a material impact."
By April 10th, make sure that your campaigns are changed over. Remove these placements from your campaigns to keep things simple, and focus on other placements instead.
Since most businesses focus more heavily on in-feed and more native ads, this won't affect the majority of campaigns, but you may see a small fluctuation around mid-April in results if you were all-in on these particular placements.
Final Thoughts
There you have it, ladies and gentlemen! Another month is almost over, and Facebook certainly hasn't disappointed.
As we continue to move forward through the year, one thing we know we'll likely see a lot more of will be intentional efforts to increase transparency, authenticity, and accurate information on Facebook.
This was a major concern in the 2016 election and it's proving to be an issue in the upcoming 2020 US election, too, and Facebook is taking it seriously this time. While many restrictions may only impact political campaigns, there will likely be a few that impact us all.
In the meantime, make sure you check out the new changes and check back in with us next month to see what else is new!
What do you think about this month's Facebook updates? What are you most excited about, and which updates do you think will be most significant to the platform? Share your thoughts and questions in the comments section below!
---
Top Facebook Updates January 2020
Facebook slowed down a bit towards late December when it came to major updates, but that doesn't mean they left us empty-handed for January!
Even though no highly-anticipated features dropped so far this month, they still quietly rolled out some great new Facebook updates that positive impact brands.
We've also got some news on policies moving forward, so in this post, we're going to look at everything that's changed on Facebook since our last post and what it means for you.
Messenger's New Policy Start Date Delayed
If you're asking yourself "What Messenger new policy," then count yourself lucky.
Facebook has announced new policies for the Messenger platform that directly impact how business Pages can interact with customers. These include the following:
There's a revised standard messaging window, which is now 24 hours. 
Facebook wants businesses responding to messages within 24 hours since it's what users expect, and now the pressure is on to do so.
We're getting streamlined message tags 
This will allow for personalized one-on-one messages outside of the standard messaging window in four specific use cases: post-purchase updates like shipping notifications, event reminders, account updates, and personalized responses from a human agent. The latter is currently in beta.
The News messaging is here (beta)
This new feature will allow registered news agencies to set up subscription messaging in a way that other businesses can't.
Launch of a new API for one-time notifications 
Some users want notifications on Messenger that they've opted in for, including one-time notifications for price alerts, back-in-stock alerts, and an alert that tickets or products are now available for sale. These are obviously beneficial for businesses, too. There will be a new API that will support these use cases, but only if the individual has explicitly requested the specific, relevant-to-them notifications.
NOTE: This policy was originally scheduled to go live on January 15th. It has since been pushed to March, with the "one-time notification" API likely rolling out sometime in February, so be ready for that.
You can read more about these policies here.
New Page Management History Tool Available
Matt Navarra recently flagged a brand new feature for Facebook Pages which is currently called "Page Management History."
This tool is particularly useful for Pages being managed by multiple individuals, because it will show every single action made on and by your Page, when the actions were taken, and who enacted them.
Want to know who was a little bit rude to a customer, or who doled out wrong information? Looking to see who your shining stars are in terms of engaging customers? This tool can help you do that at a glance.
You can find this tool on your Page under the "Settings" tab, with the "Page Management History" all the way at the bottom of the menu. Right now, the history dates back to November 2019.
Updated Political Ad Policies
Tired of seeing so much content discussing politics or social issues on Facebook and Instagram?
While you will have to unfollow your aunt who shares political articles six times a day on your own, Facebook is now offering a control that allows users to reduce the number of political and social ads. They simply need to go to their "Ad Preferences" and opt to see fewer ads on these topics.
This won't affect most of our readers as marketers, but it will likely impact you as a Facebook user.
Facebook has recently updated their policies on political ads by giving users more control of what they see. They have stated that they will not limit the targeting on political ads, but that they're giving more control to users when it comes to what they want to see.
And if users want to check up on any political ads that are being run, they pushed out an improved version of their Facebook Ads library to make it a little more user-friendly in terms of search. It's easier to find content based on keywords and key phrases now.
Special Category Ad Requirements Take Place in February
When you're creating ads on Facebook, U.S.-based advertisers see an option to mention that you're running ads in a "Special Ad Category." These ads include those related to housing, credit opportunities, and employment.
Starting on February 11th, Facebook will require all U.S. advertisers to categorize their ads accordingly as well as to identify any active campaigns created before December 4th, 2019 if they belong in the Special Ad Category.
At this point, impacted advertisers are also going to need to update their targeting settings to meet current compliance standards.
All other businesses will simply ignore this, and make sure that they have the "Special Ad Category" option unchecked for all your campaigns.
Conclusion
Facebook didn't drop any insane, out-of-this-world features over our break; they released one useful new update, and mostly focused on fine-tuning their policies and adjusting timelines.
This is what we expected to see, and with all the new changes we're starting to see brew under the surface, it won't be long before we're writing about more substantial new features and changes happening on the platform.
In the meantime, please make sure that you're up to date with all of the policy changes happening on the platform, and that any social teams you're working with are as well.
These will impact how your business is marketing on the platform, so you need to be ready, because they're coming quickly.
What do you think? Which of these policy changes and updates will impact you most? Do you think the Page Management History feature will be useful to your business? Share your thoughts and questions in the comments below!