When IGTV was first announced, plenty of brands were extremely excited about the potential there. Once they actually got their hands on the tool, however, many started to falter.
They uploaded a video or two, but struggled to get traction even while a few select competitors were posting videos that received thousands of views and some decent engagement.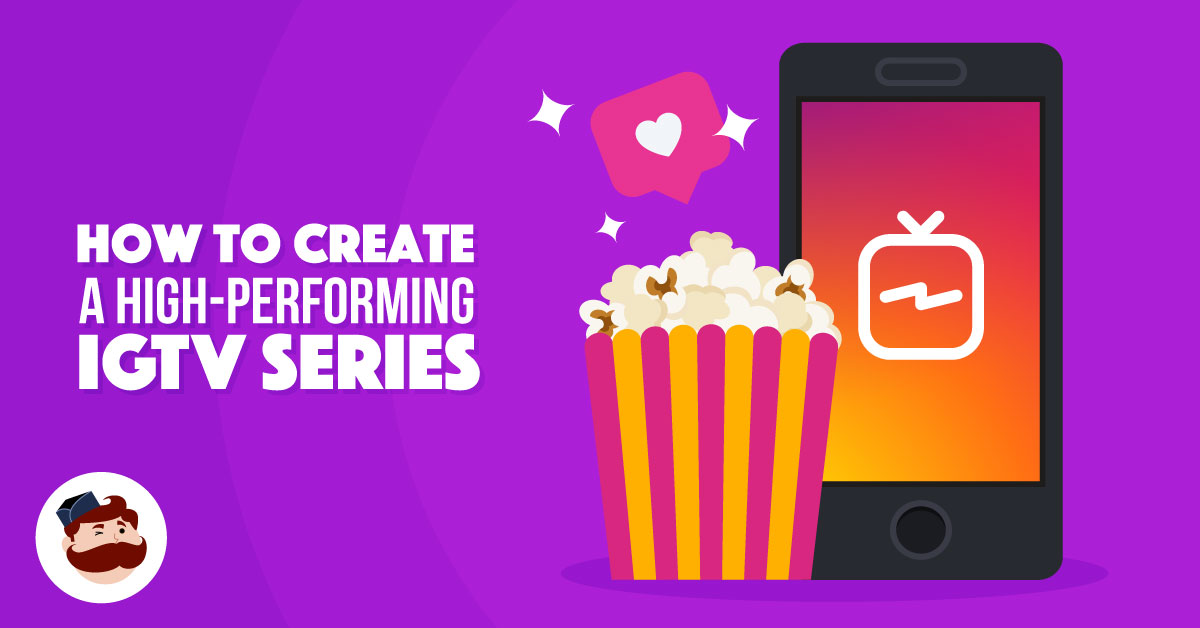 Success on IGTV comes down to a few crucial factors: Strong promotion, decent followership, and having great content that your audience loves.
These factors all rely heavily on each other, and fortunately, IGTV's relatively new "Series" feature can give you the momentum you need to keep viewers engaged.
In this post, we're going to look at how to create a high-performing IGTV series that can help you promote your brand with new and existing audiences alike.
Should I Even Be Using IGTV?
For those of you who are unfamiliar, IGTV is Instagram's sister app that focuses on longer-form, mobile-friendly vertical video. You have "channels" instead of profiles, and videos can play one after another, almost like a conventional TV station.
When you saw this post, there's a chance that at least some of you thought "why bother?"
A lot of brands struggled with IGTV, especially if they really only gave it a go when the platform first rolled out. Users just didn't pick it up and run with it the way some had expected, and brands had trouble getting traction and views on the platform.
IGTV is not one of the highest engaging platforms that have ever existed, but here's the thing: It's directly connected to Instagram, which does have higher-than-average engagement and an extremely enthusiastic user-base. When you're using the integration to its fullest potential, you can finally see some of that momentum.
It's also useful to note than an additional platform where you can reach your audience is typically going to be an advantage.
This is a great advantage to create longer content that your audience would love to see, and since it's on a dedicated platform, they're more likely to check the content out when they actually have time to sit and watch it.
There are some brands that you'll see in this post that have thousands of views on their IGTV videos, even those that are less a week old.
What Is the New IGTV Series Tool?
IGTV rolled out their "Series" feature last year, and since some brands aren't regularly using the platform, it definitely feels new to them.
Series are almost like Playlists on YouTube or even Facebook.
You can upload disjointed videos on IGTV, creating whatever content you can dream up and simply sharing it, or you can create IGTV series, which are essentially playlists of similar content grouped together. Series can be viewed both from IGTV and from your Instagram profile, giving you outstanding visibility and helping you to capture user interest.
When you're using series, it encourages users to keep watching to see other related content, especially since the series videos will play one after the next, just like a playlist.
It also gives your channel a purpose, which is valuable for both your direction and for branding purposes. And once users are invested in your content, it increases the likelihood that they'll keep coming back.
One and Only Bridal, for example, has a series titled "New Arrival Try-On Series." As new dresses come into their boutique, they'll show them on one of their team members try on the dress so they can show it in motion and take about its unique features.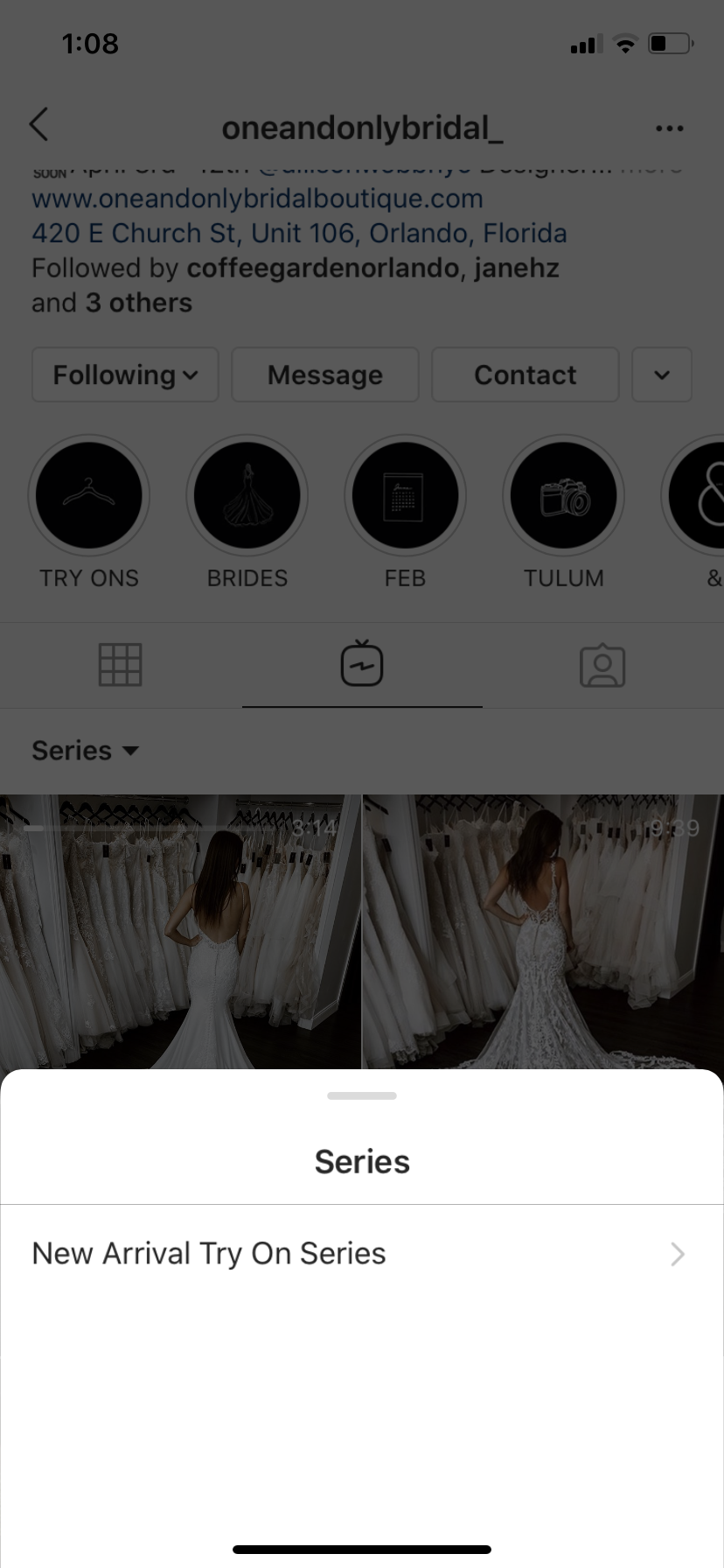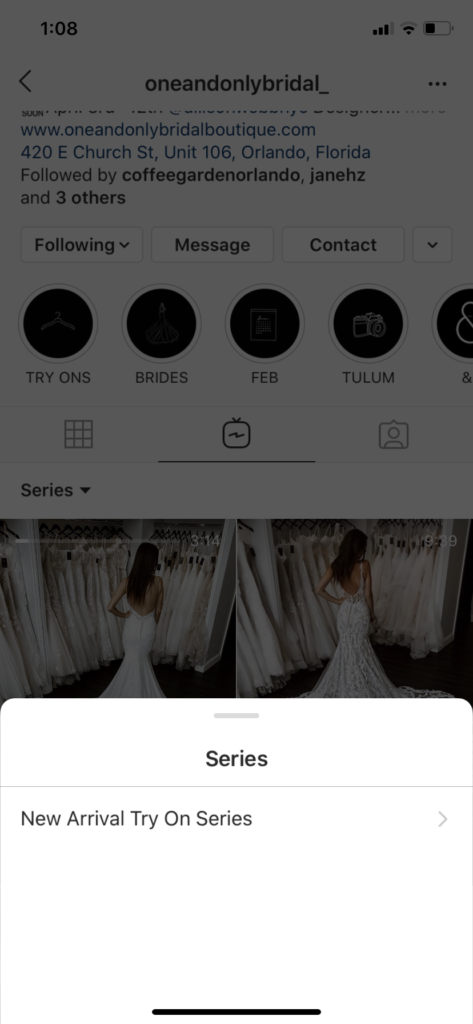 They only have three videos so far in the series, but it clearly works well for them; their most recent video is only five days old an had almost 2,000 views.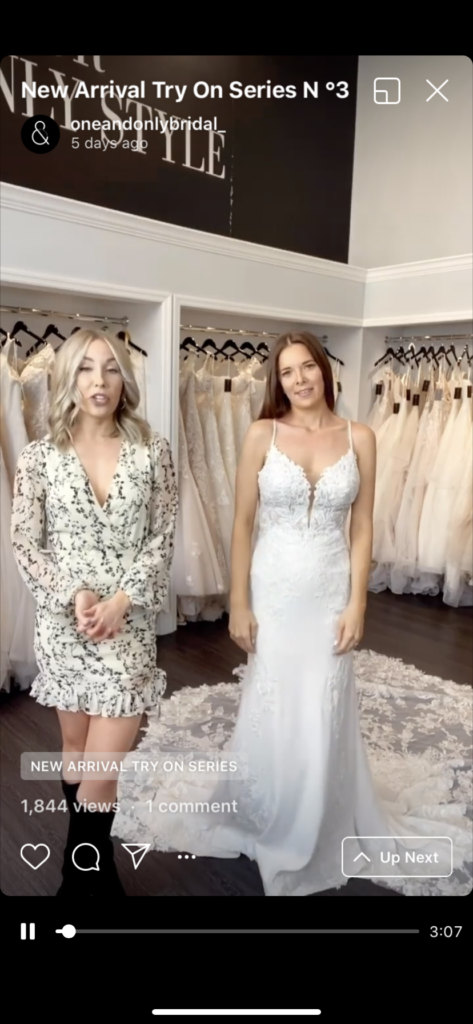 This is incredible for brand awareness, and it keeps them at the top of brides' list if they actively searching for a wedding dress; they're getting to see the brand's product, expert sales team, and getting to know the members of the team so they can feel more comfortable.
How to Create a Series on IGTV
Creating an IGTV series is quick and easy, making it even more of an advantage for brands.
Start by uploading the video that you want to share on IGTV.
You'll be asked to choose or upload a cover image for the video (which you should always take the time to do so you can capture interest while users are browsing on the platform).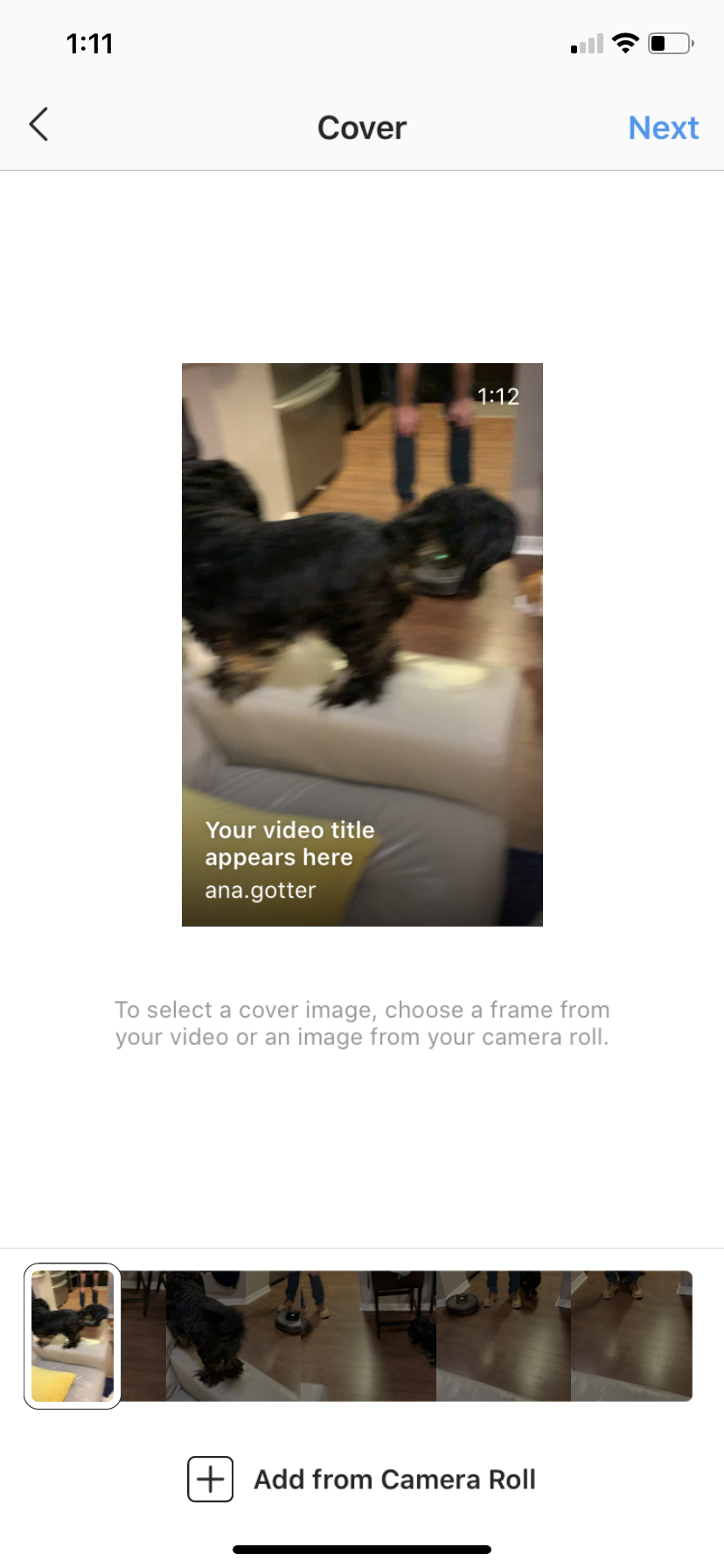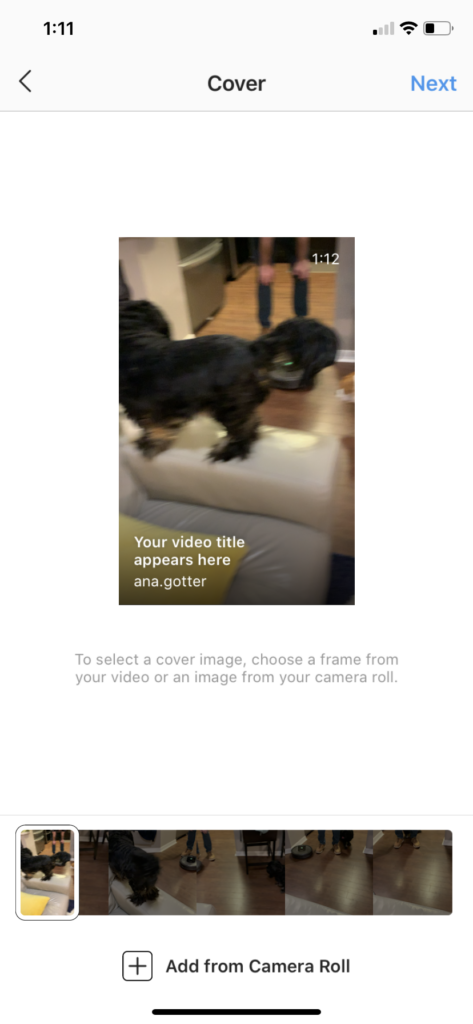 On the next screen, where you share your video title and description, you'll see the option that says "IGTV Series– Add to Series."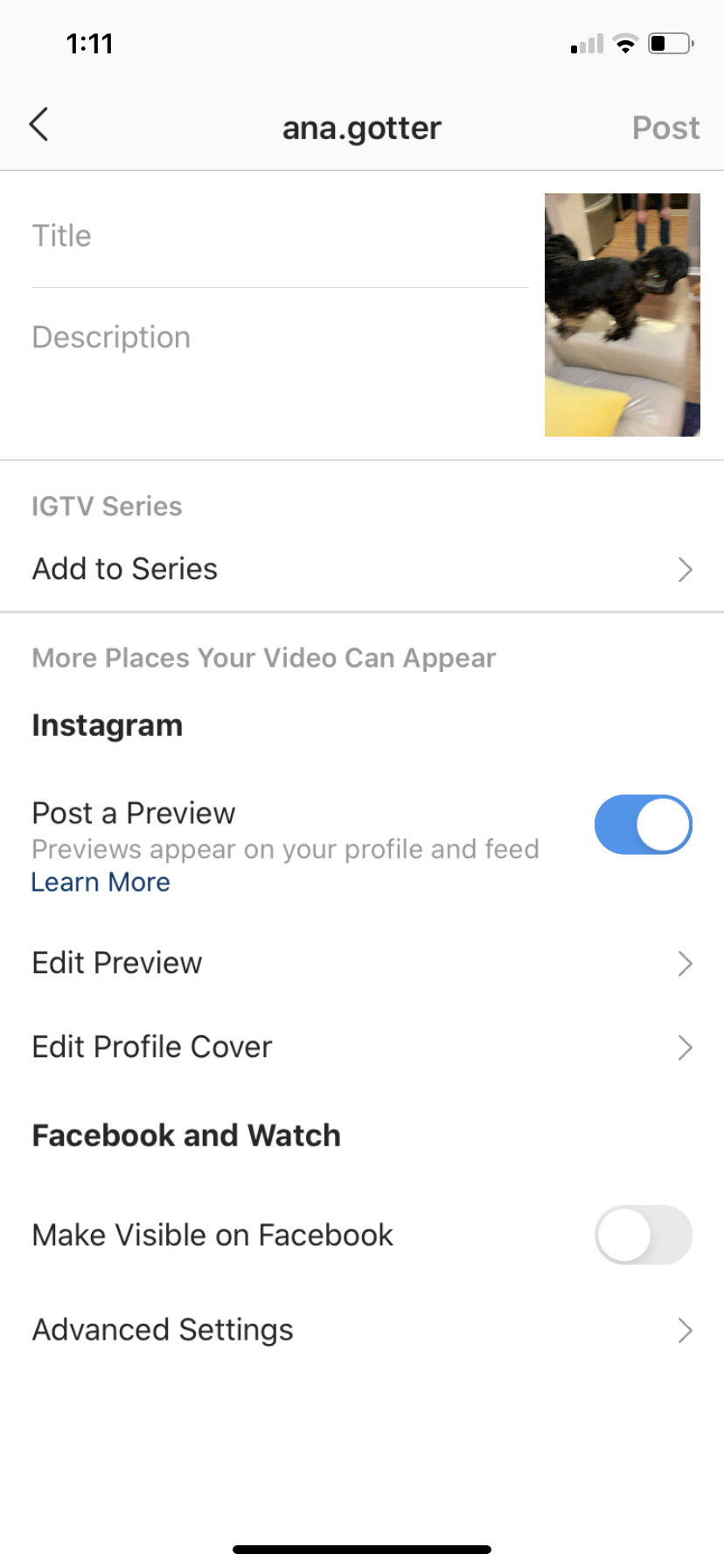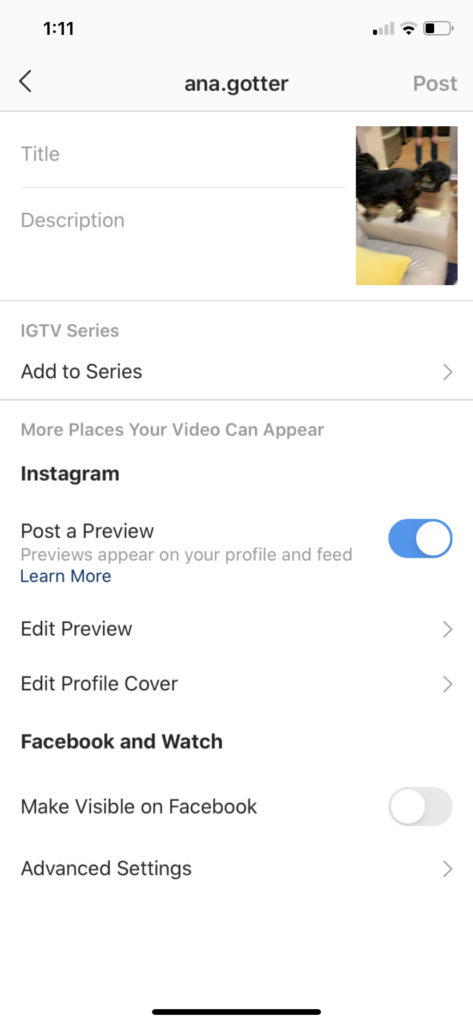 When you click that arrow, you'll either have the choice of adding your video to an existing series, or creating a new one.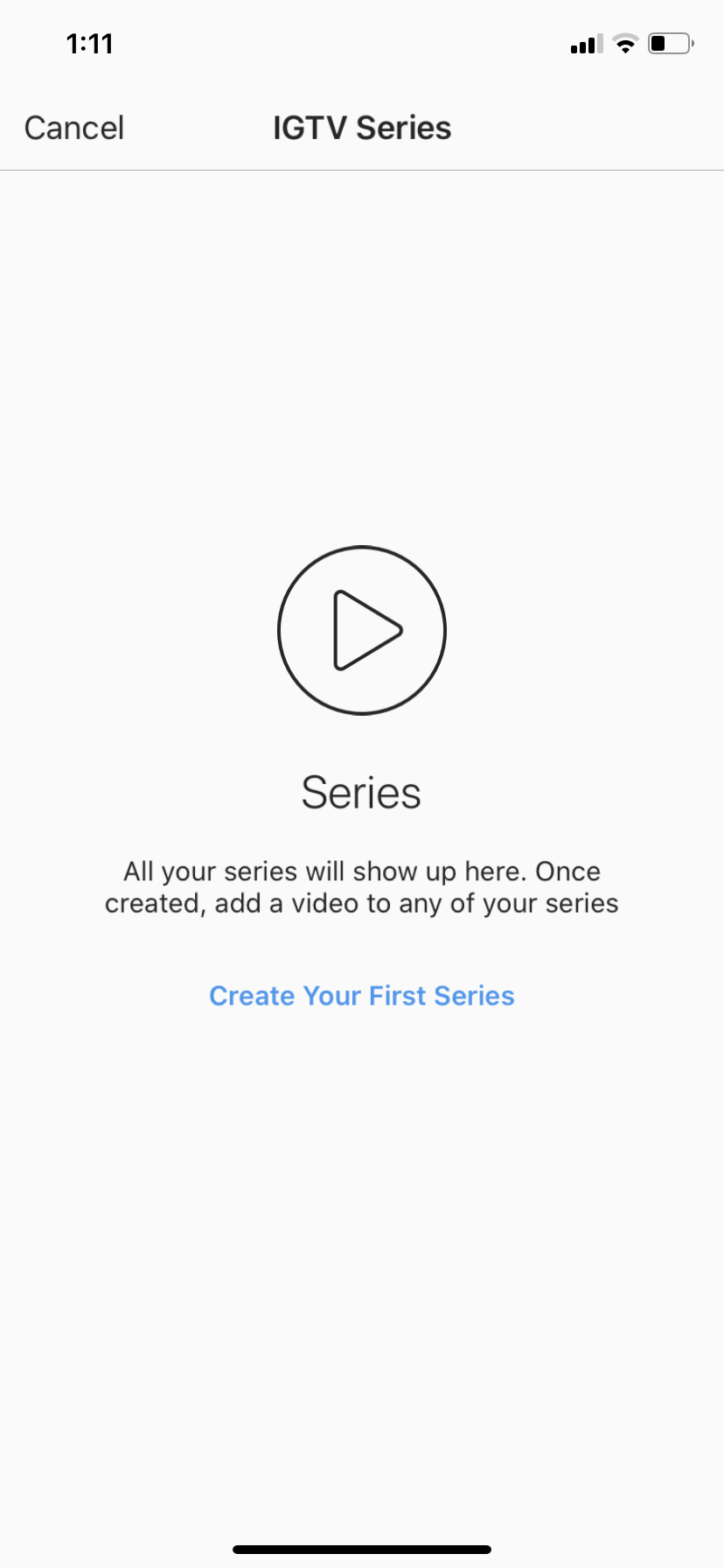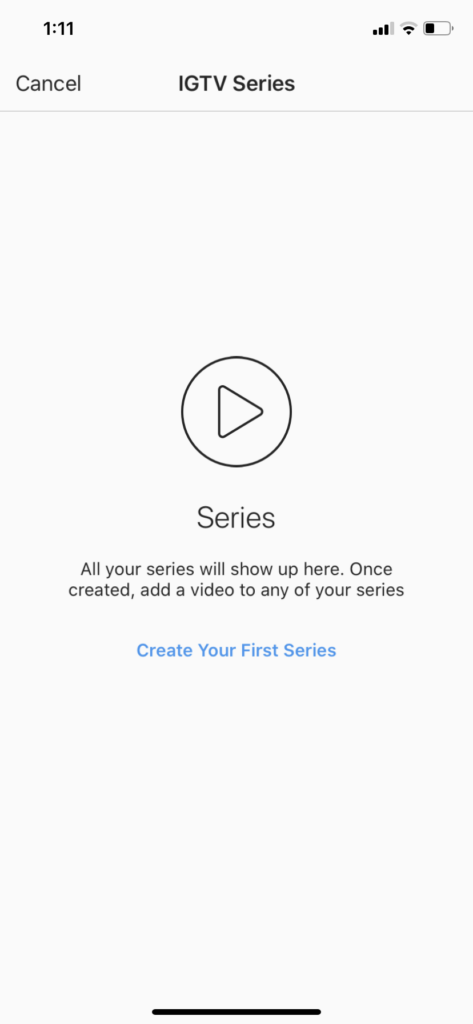 When you create a series, all you need to do is give it a title ("My dogs' adventures") and a description ("see how a two-person, three-dog household functions!").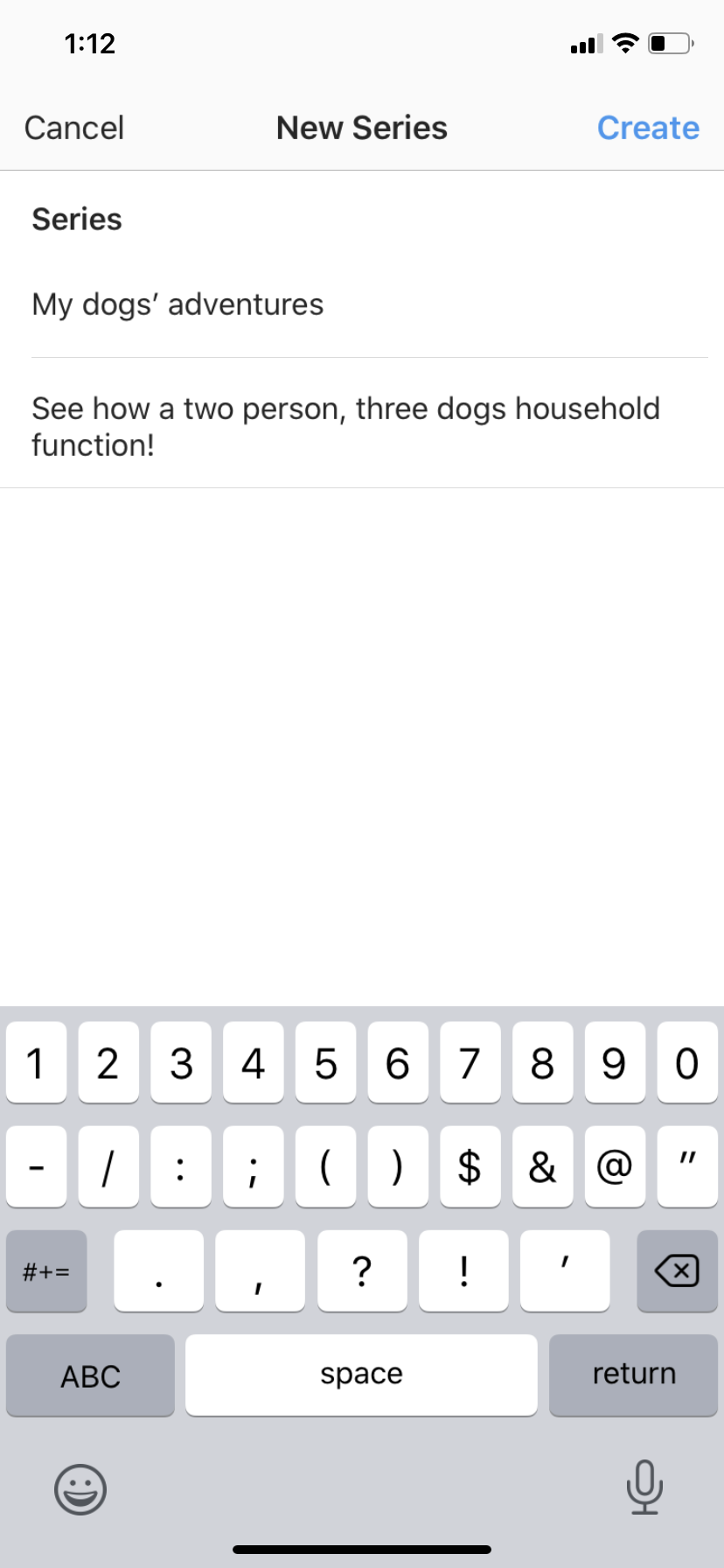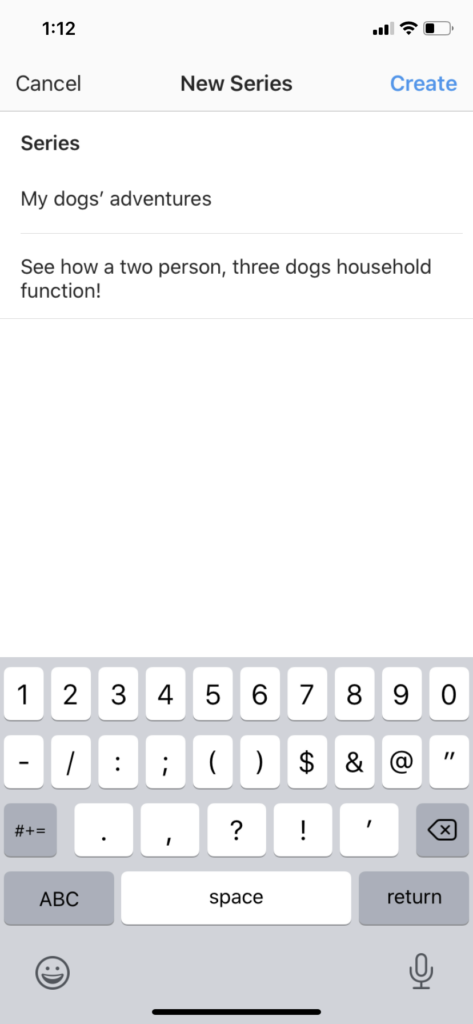 You want to keep the title descriptive and short (think "Chef's Tips" or "Turtle Care 101"), and choose interesting descriptions that explain the series and get users excited about it.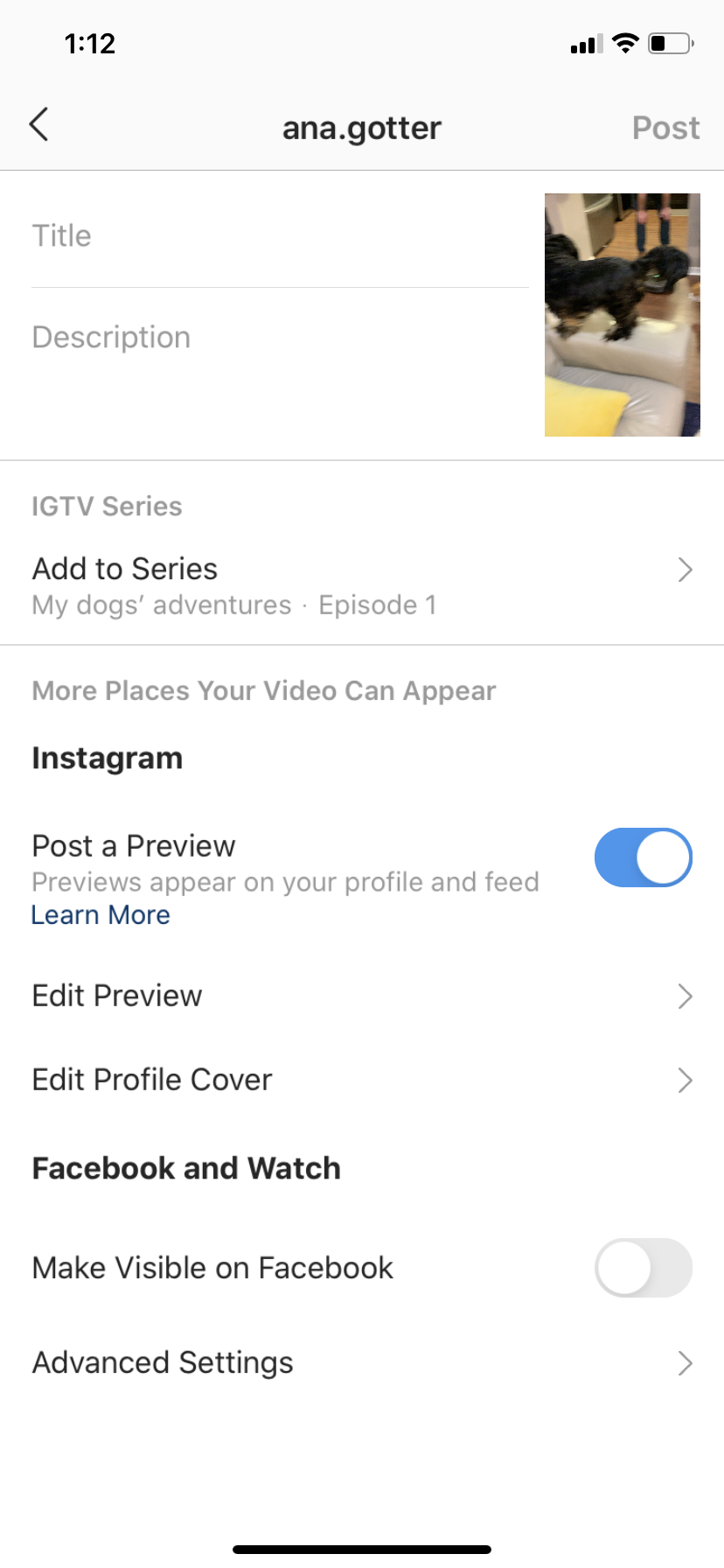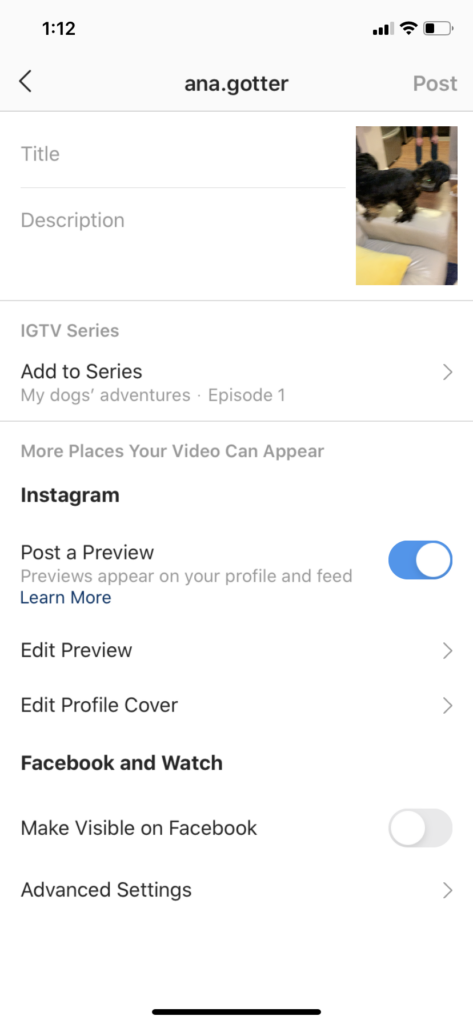 Once your series is up and running, you can continually add new videos to it at any point!
4 Tips to Creating a High-Performing IGTV Series
You're ready to create your first series, or maybe you already have– excellent!
In addition to a great title and description, however, you'll also want to follow some simple best practices to ensure that your IGTV series is a high-performing one that can net significant views, engagement, and brand awareness overall.
Let's take a look at four easy strategies to help you improve the performance of your series on IGTV.
1. Create Distinct, Cohesive Series
When you're creating an Instagram series, you want to develop a single strategy for serial content that will keep users coming back to watch more. This means that you want to niche down your series and theme it well.
Purple Carrot, for example, has two series; one is for "chef's tips" to help their customers get the most out of their meal kit and sharing cooking tips. This offers value to their target audience and allows them to show off their expert knowledge.
They have a separate series called "Taste Tests," where different individuals take turns testing different foods and describing it to users.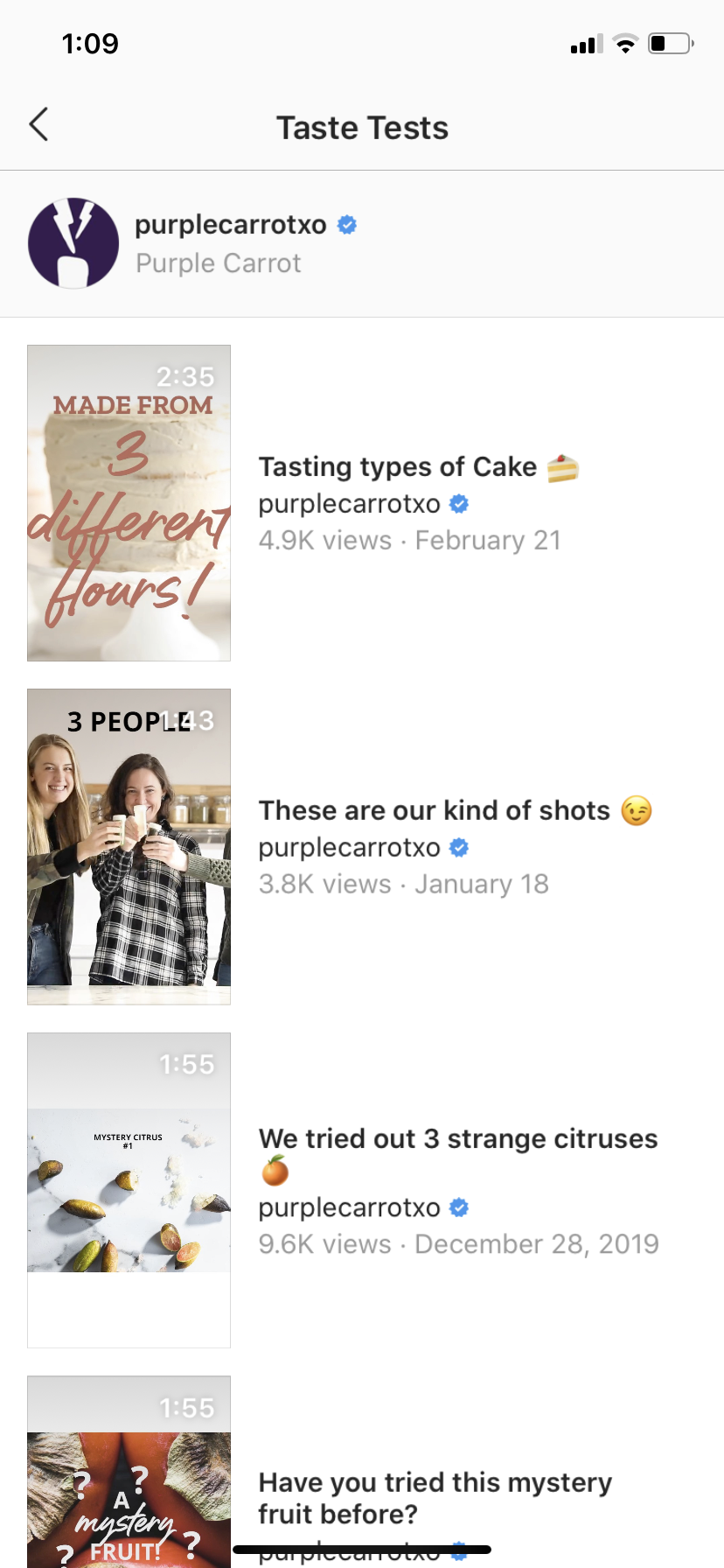 They've got videos of taste tasting cakes and shots and citruses and new fruits, and with thousands of views on each one (and almost 10k views on that citrus video in particular), it's clearly working for them.
When creating your series, think about what your audience wants to see, and how you can break it down into small, interesting, digestible chunks.
A dog trainer, for example, might have a series where each video demonstrates how to teach your dog basic obedience tricks like "sit" and "leave it." They could have a separate series where they talk about tackling different types of aggression or anxiety, and a third where they share basic dog care tips that pet owners may not know.
Each video could be three minutes or less, and the value it offers to their target clients would be exceptional.
2. Promote Your Series Videos on Instagram Regularly
This is so important.
In order to successfully drive enough video views to your IGTV content, you need to promote it effectively.
Your best option for doing this is to share a preview of your video on Instagram's in-feed content with your followers.
These previews are everything.
Many users, after all, still aren't actively logging into IGTV; they're being drawn there by content that interests them, and then they'll hang around for a little while once there.
You need to leverage the engaged audience that you have on Instagram, showing them a brief snippet of your video, getting them hooked, and then letting them know they can click the IGTV button on the video to see the rest.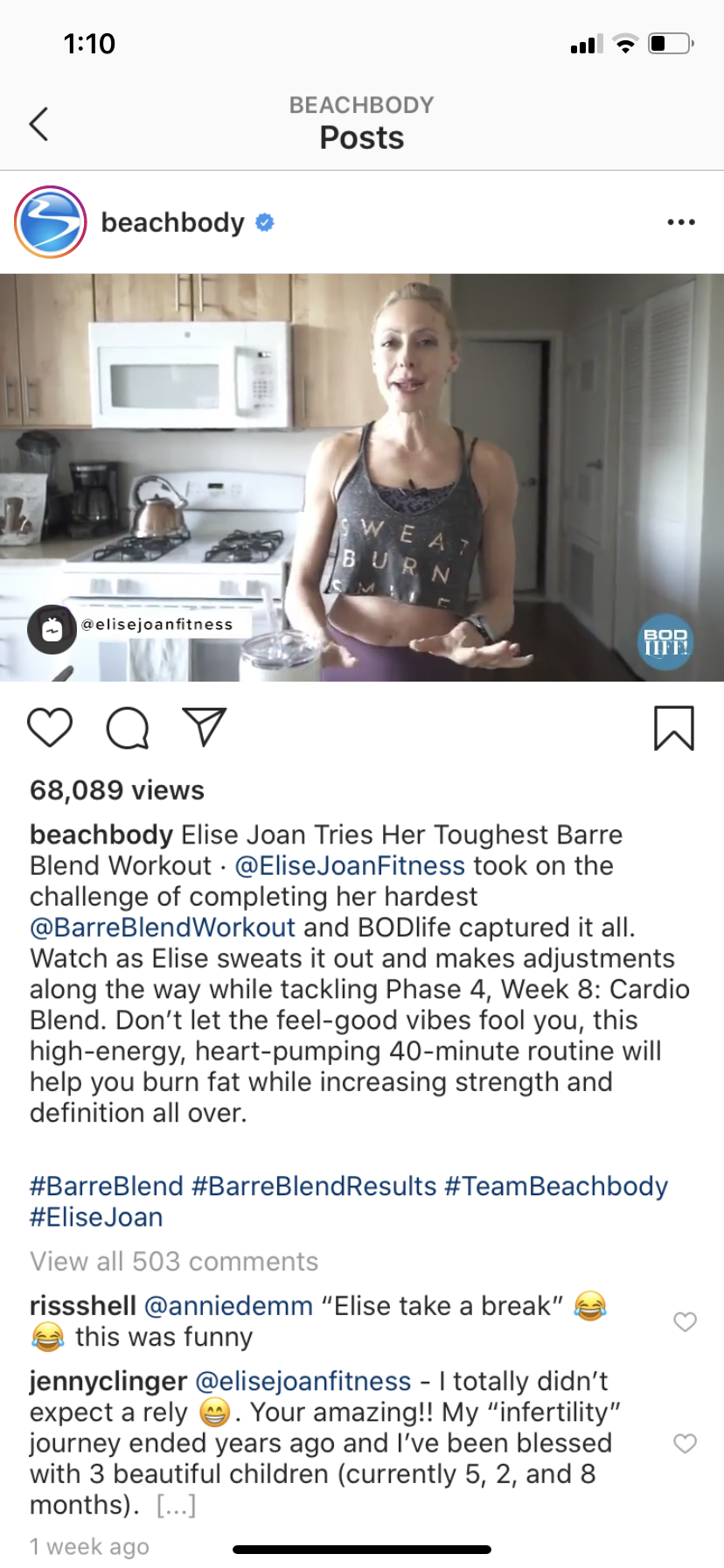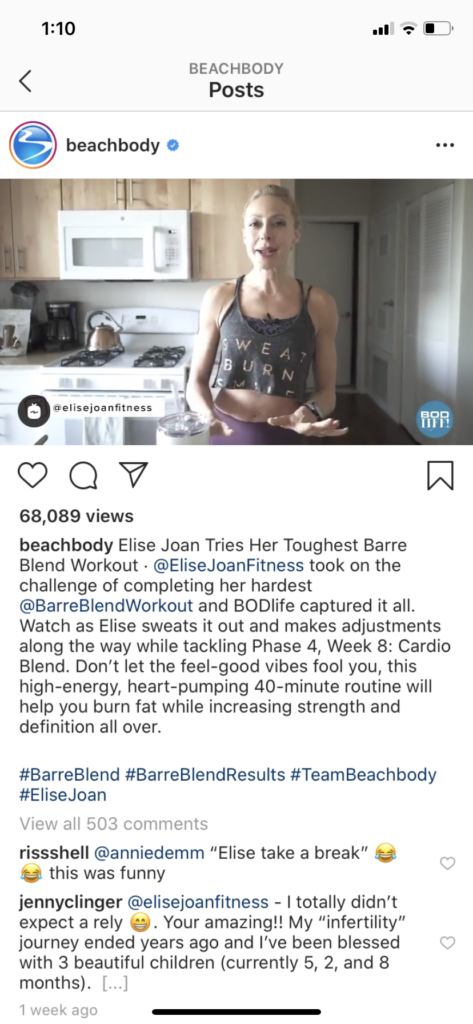 BeachBody used this strategy and received almost 70,000 views on their preview video for their IGTV content, which is outstanding. That's significantly more people than would have likely known about their IGTV content otherwise, giving them a ton of momentum.
Creating a video preview is exceptionally easy. All you need to do is toggle the "Post a Preview" option to on.
Instagram will automatically share the first portion of your video as a preview, but you can edit the preview manually if you choose to show users something else.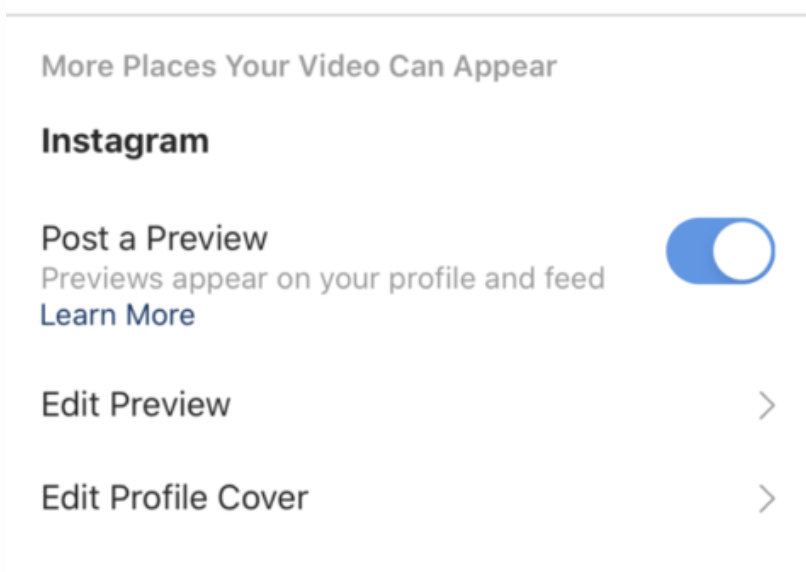 Once you've selected to post a preview and have edited it if desired, that's all you need to do; Instagram will handle the rest and automatically publish the post once you publish the IGTV video.
3. Use Attention-Grabbing Hooks for Every Video
You want every single video to start strong, both in the preview on Instagram and the video itself on IGTV. Ideally, within the first ten seconds, you want to explain what you'll talk about and why it matters to your audience.
This can be fun and quirky, or simple and straight forward, but either way, you want to get users on board quickly so they'll stick around to watch the rest.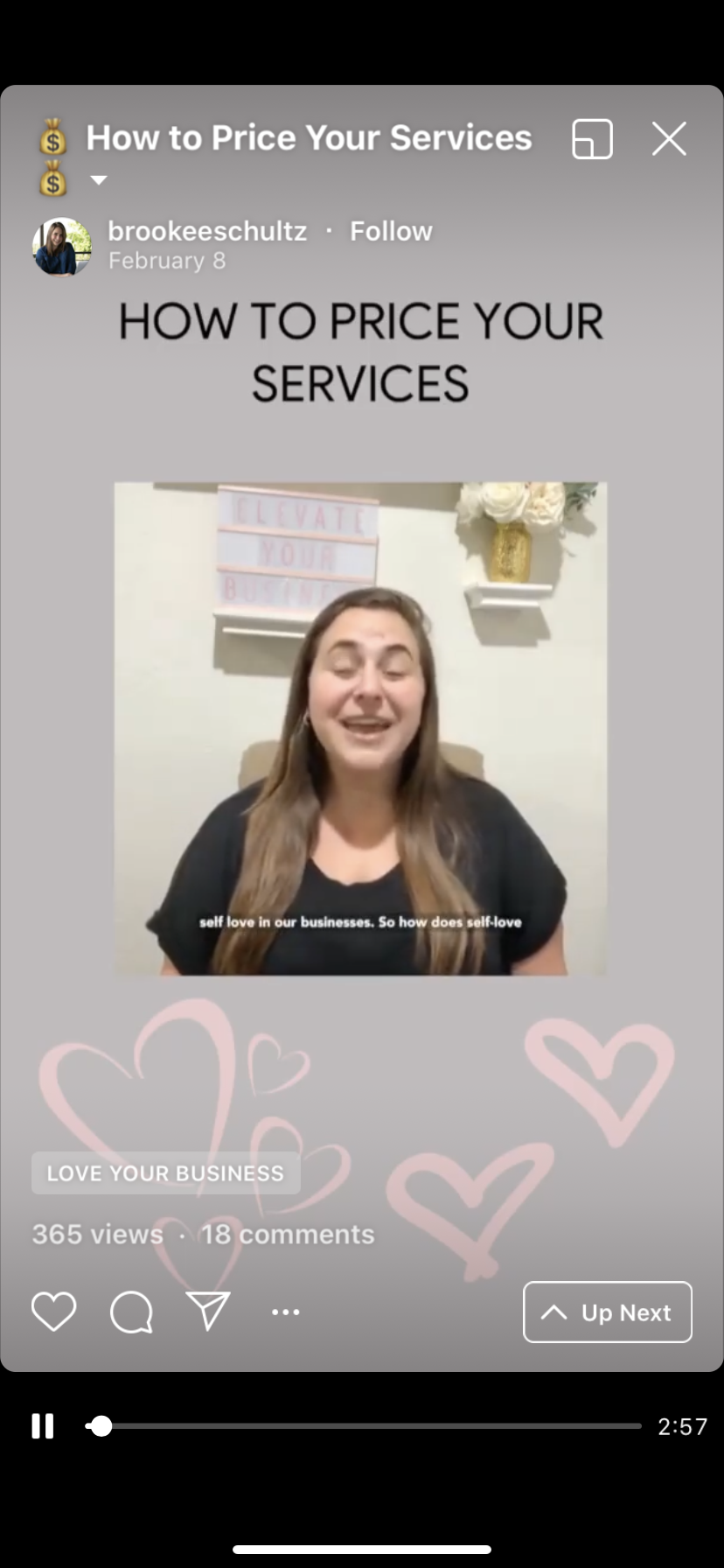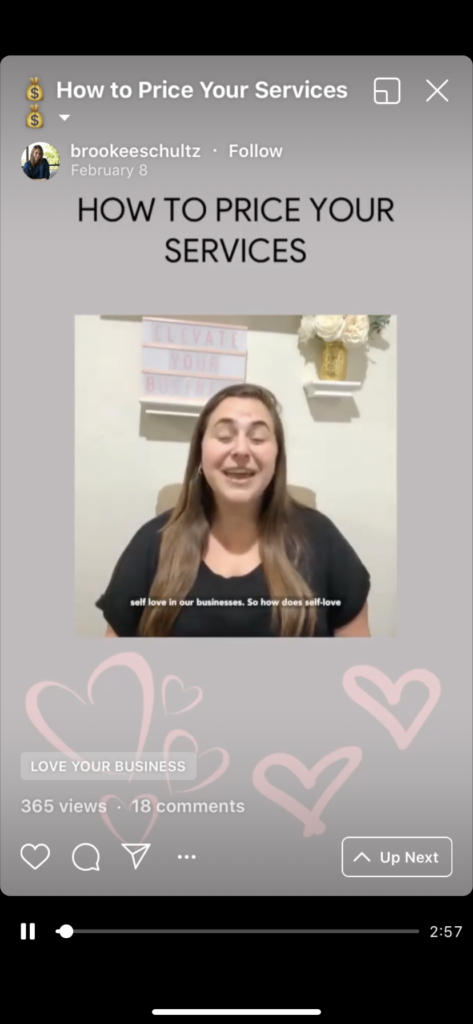 In the example above, Brooke Schultz's video is about how to price your services. She starts by stating that pricing right is actually an act of self-love, ensuring that you can live comfortably, which everyone deserves to do.
It's a great opening for the video, especially since some business owners can worry about pricing too high and what it means for their customers. This is a great segue into the video itself, where she shares tips about pricing.
By starting with an appeal to a pain point and creating that emotional response, she's increasing the likelihood that people will watch, even if they otherwise may have said: "eh, no one will pay higher than my current rates, who cares."
This is great for Brooke Schultz video's views and engagement, and she has a particularly high engagement rate here.
4. Don't Try to Max Out the Time Stamp
You've got ten minutes of video time potential on every IGTV video you upload. Here's the thing, though; just because you have ten minutes doesn't mean that you should actually use it.
You want to treat IGTV videos like you would on all other platforms; breaking down longer videos into shorter digestible chunks is often smart, as it gives you more content that's also more likely to have higher viewer retention rates. Your channel looks fuller, and audiences watch more, it's a win-win.
Say what you need to, don't milk it, and be as concise as possible while still keeping things entertaining.
You'll notice that most of the video examples here (and most videos on IGTV in general) are four minutes and under. Even two minute long videos are perfectly acceptable, so remember that brevity almost never works against you.
Final Thoughts
IGTV isn't necessarily an "end all, be all" social platform that will quickly drive conversions out the wazoo. Instead, it's more like a slow burn that can be used to nurture relationships with current and potential followers.
It's great for brand awareness and trust, and long-form content presents a valuable opportunity to really demonstrate your expertise and share great knowledge with your followers.
The integration with Instagram is essential; if you're truly treating it as a standalone app, you'll struggle to get momentum.
You need to be using Instagram to drive followers to use your videos. Once you have the visibility, you're in great shape, and IGTV becomes a useful tool for education and entertainment.
For best results, just make sure you're creating distinct series to keep viewers engaged and watching; you want to keep users watching once you get them there, after all! .
What do you think? Do you use IGTV for your business? What results have you gotten, and which strategies have been most effective for you? Share your thoughts and questions in the comments below!