If you're looking to increase your social media reach, you've no doubt heard about both organic and paid social media. There are certainly examples of accounts that use one or the other as their primary method of posting.
But the plain truth is that you shouldn't choose between organic and paid social media tactics. Both approaches can help you get to where you want to go. In fact, it will only help your case to use a combination of the two. More people and brands do so than you probably think.
2022 is on track to be a record-breaking year for ad spend on social media. According to research, global ad spend is projected to exceed 173 billion (sic!) dollars.
In short, that's gigantic. And it proves that social media ad spending is here to stay.
Of course, there's another side of that coin too. Often, the only way that you're going to develop an audience is through organically building brand awareness and earning trust. It's hard to do that just purely through advertising.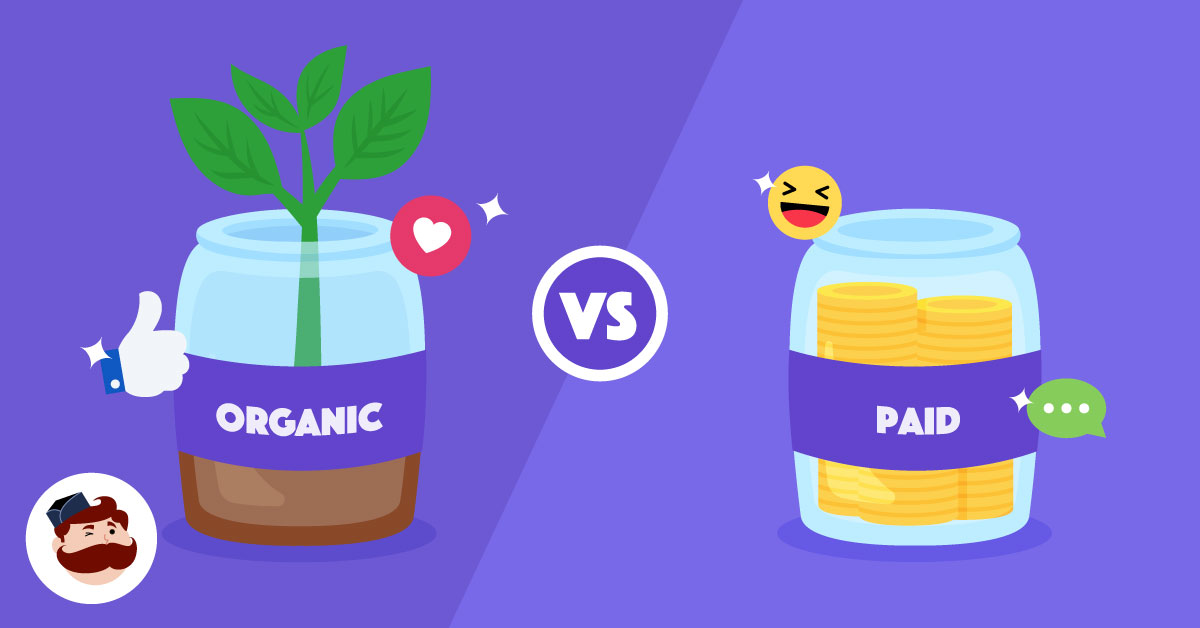 Let's go through the pros and cons of organic and paid social media tactics, and how you can use both to your advantage.
What is organic social media?
Organic social media is the free content (posts, photos, video, memes, Instagram Stories, etc.) that all users, including businesses and brands, share with each other on their feeds.
It's the most commonly used form of social media activity. Brands and users like you and I use it to engage with their followers and show their personality.
When you post organically to your account, you get your content in front of what's called your organic reach. That's the percentage of your followers that will end up seeing the post.
The other ways people will see your organic social media posts include:
Your followers' followers (if people share your posts or interact with them)
People following the hashtags you use.
Brands and individual users use organic social media for a number of different reasons. Here are a few, and some examples of how businesses execute on them.
Build a personality
No one wants a business to act like, well, a business. Instead, we want them to have some sort of personality. Some way of emoting that reaches us as consumers, yes, but more importantly, as people.
The best brands on social media have a distinct voice that they use to great effect. It gets to the point where people have an idea of what to expect from them.
Good morning! Today's #WordOfTheDay is 'enigma' https://t.co/NfSvd0xJDL pic.twitter.com/bBPGN5dj7b

— Merriam-Webster (@MerriamWebster) December 12, 2021
In this example, Merriam-Webster is doing exactly what you'd expect from a dictionary. It's engaging people using words. The account's popular "Word of the Day" feature often delights followers and gives them something to expect and look forward to.
Start conversations
A great way to engage with followers is to directly consult with them and take their temperature on a question or issue. You're looking for engagement first and foremost with this approach, and posing a question to your following is a good way to get it.
Who is your favorite hockey player who didn't become a star?

— The Hockey News (@TheHockeyNews) August 14, 2019
Sports fans are some of the most engaged people on social media, and the magazine The Hockey News does a good job at keeping them involved. They say print is dead, but The Hockey News has over 290,000 followers on Twitter.
Help customers
Sometimes, customers reach out to brands on social media because they genuinely need help with something. And smart brands engage willingly and effectively with those customers.
Here to lend a hand. Is the run showing on your watch still? Mind sending over the following?

– Nike Member email
– Phone type + OS
– Watch series + OS
– Version of the NRC app installed on each device
– Screenshot of the run that hasn't synced over https://t.co/dsJjx1OYXB

— Nike Service (@NikeService) December 18, 2021
Nike Service has over 200,000 followers on Twitter and is dedicated to helping Nike customers with any problems they have. That's a smart way to serve customers.
There is, of course, a downside to organic social media. Organic reach has been in decline for years. That's because all the major platforms use ranking algorithms, so only a small percentage of your followers will see your organic posts.
On Facebook, for instance, about one in every 19 fans will see a page's non-promoted content. These days, it's harder than ever to get your brand's content seen by your own audience, let alone new eyes.
This is where paid social media comes in.
What is paid social media?
Quite simply, paid social media is a form of paid advertising native to social media platforms. Networks like Instagram, Facebook, Linkedin, Twitter, TikTok and Youtube all have built-in advertising platforms with advanced targeting features.
Paid social media helps enhance brand visibility and can get you to reach goals that many brands covet. Some of these include increasing website traffic, brand awareness, engagement, conversion and so on.
Paid social media is now the leading paid content distribution method in North America. Yes, much of that is due to business-to-consumer ads. But even the business-to-business market has been thriving. A very hefty 83% of B2B brand marketers currently use social media advertising to connect and engage with their target markets.
Here are some of the reasons and ways businesses and organizations use paid social media, and some examples of how it's done effectively.
Raise brand awareness
Getting new followers is the name of the game for any brand or personal social media account. And in order to do that, you have to get your message in front of potential followers.
Tactics for doing that are going to vary based on the industry you're in, but generally,
you want to give people an enticing reason to follow along.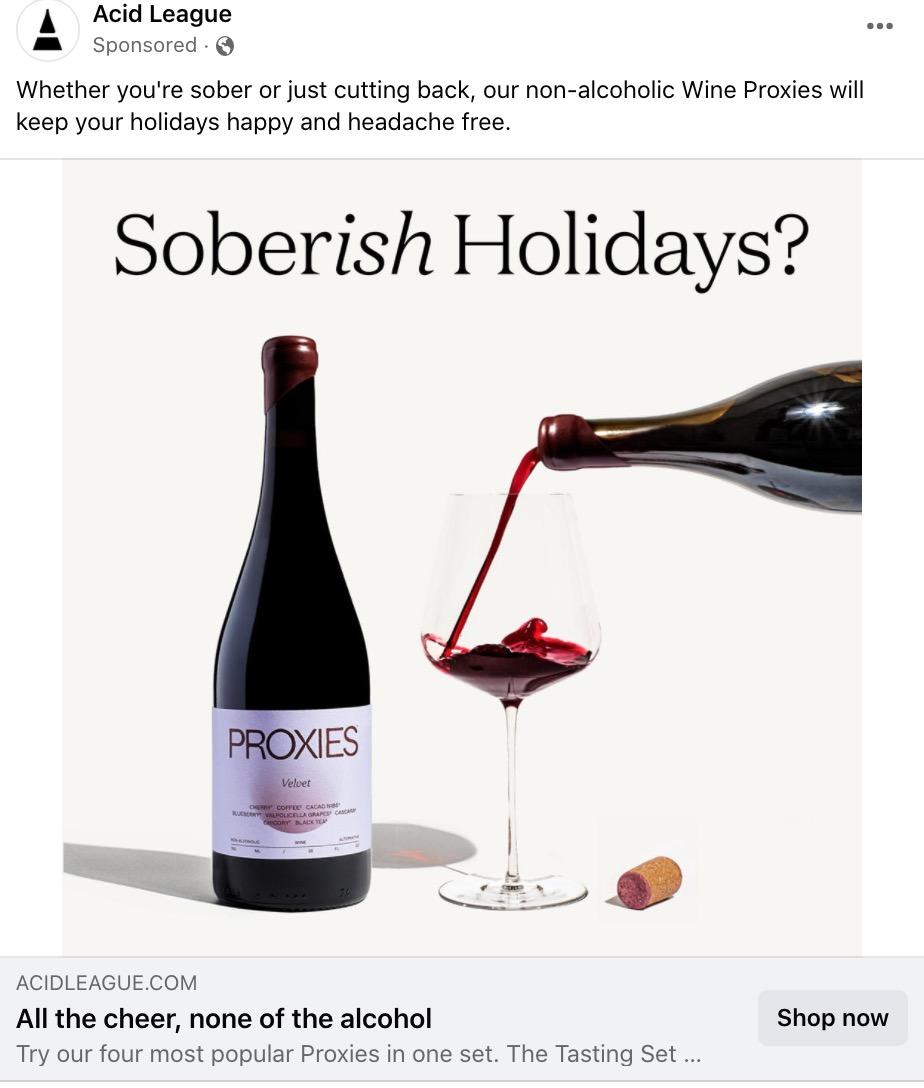 Acid League's target audience here maybe isn't massive, but their ads are certainly very appealing to that demographic. The company is using the holiday season to market its non-alcoholic wine and does so in a clean, fun and smart way.
Immediately, it's clear what Acid League is offering. And if you've ever thought about taking a sober period through what can be a very alcohol-heavy time, it'll have appeal.
Promote the newest deal, content, event, etc.
The thought of decarbonizing your home might seem daunting, so we broke it down for you.

— The Wall Street Journal (@WSJ) November 17, 2021
Here, the Wall Street Journal takes on a popular but hard to understand topic — household carbon footprints. The promise to break it down into simple terms will likely resonate with some readers. The tweet is also accompanied by an intriguing graphic, helping its clickability.
Generate leads
Generating sales leads is an important part of any paid social media strategy. It's important to know who your potential customers might be and try to target them.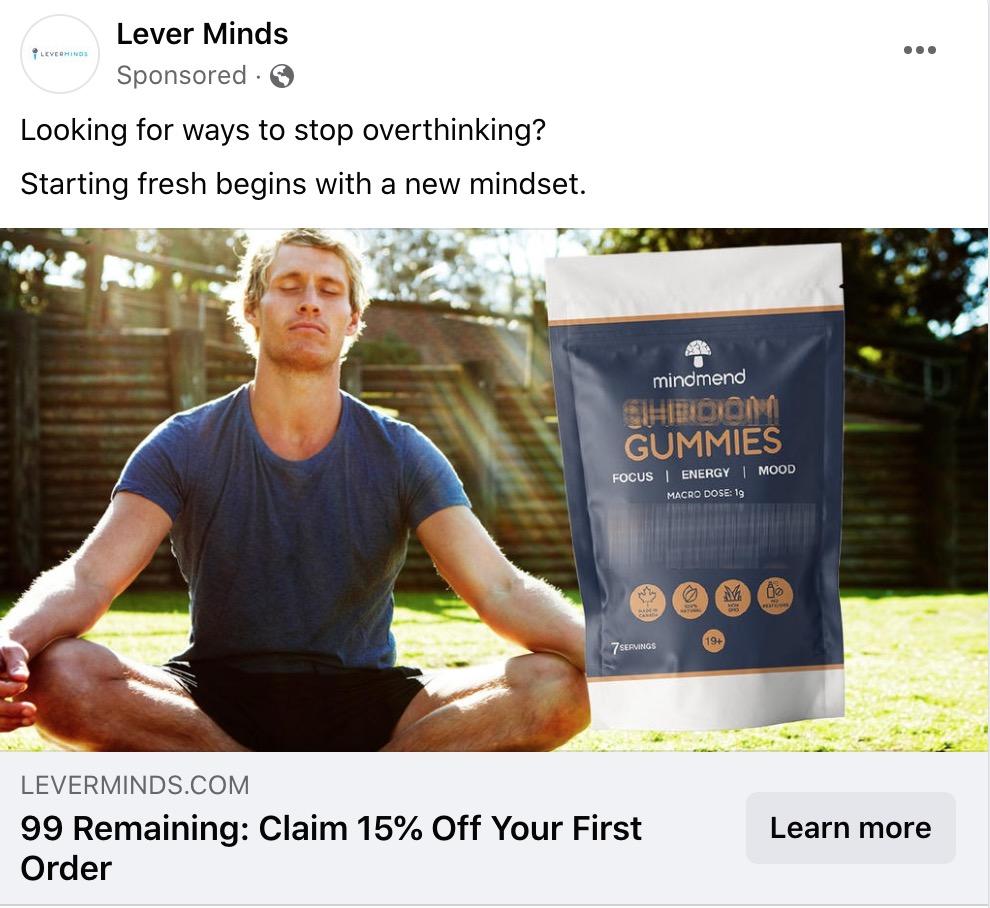 Obviously, shroom gummies won't be for everyone. But Lever Minds' click-throughs from this campaign will give them a good idea of their core demographic, and it will provide them with a solid basis for targeted paid social campaigns with a conversion focus.
Drive conversions (including e-commerce sales)
Driving conversions is similar to generating leads in that both are sales-focused. By putting your best foot forward and making your brand as attractive as possible, you increase your chances of guiding prospects down your sales funnel. You have a few seconds to make an impression as eyeballs roll by.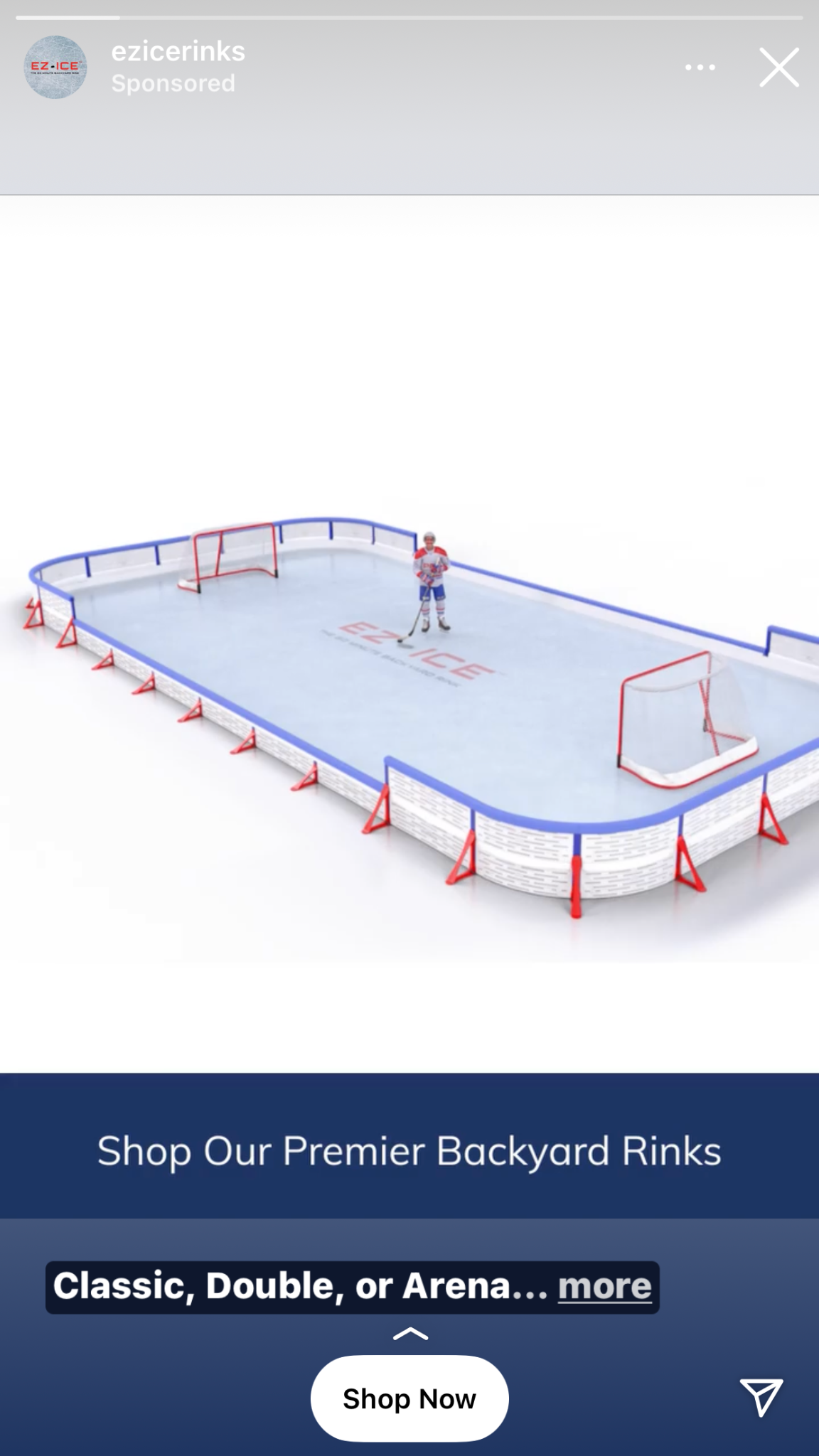 Here, Ez Ice puts together an interesting, effective Instagram Story that is no doubt attractive to anyone who's ever thought about installing an ice rink in their backyard.
Organic vs paid social media
It should be fairly obvious at this point that the best way to effectively run a brand's social presence is to combine both organic and paid social media strategies.
Although organic reach is in decline, the benefits of organic social media are huge. It's your chance to develop an authentic relationship with potential customers. You can't simply chase dollars around all day. You also need to come across as a fully-formed brand that can show off a unique personality. That'll help your company or organization get people to engage with your brand on deeper levels than occasionally clicking on your paid posts.
How to create an integrated organic and paid social media strategy
Now that we've gone through what organic and paid social are and how to best utilize them, let's talk about combining the two. Here are a few ways you can put Batman and Robin to shame and create your own dynamic duo.
Boost your top-performing organic content
If one of your organic social media posts is doing really well, it just makes sense to try and get it in front of as many people as possible, right?
And that's where combining strategies comes in. You can easily boost organic posts on Facebook, Instagram and LinkedIn. And it's a smart thing to do. Certain organic posts will be more popular than others, that's just how it works. So you should capitalize on them.
Join our fully remote Engineering team and update your profile location to: Internet, Everywhere.

— Shopify (@Shopify) July 13, 2021
Think of it as kind of like a try out. You can kick around some paid social media ideas with your organic posts, and only dedicate a small budget for boosting before you create a full-fledged ad strategy. A general rule with every post you make: track them with the best analytics available.
Pro Tip: With Hootsuite's Boost tool you can customize triggers to automatically boost posts that are snowballing (for example, whenever your post gets shared 100 times.)
Not all promotional posts have to be paid
With most posts, the end goal is to try and promote your business. So even though the word "promote" itself goes hand-in-hand with spending money, it's not always about that.
For example, if you're making an important brand announcement about a new product or a pivot, it's better to stick with organic social media. It feels more authentic to reach out to your followers with that kind of news instead of everyone on the internet.
When Sony acquired anime production studio Crunchyroll, the entertainment giant announced the news via organic social posts.
Great day for anime! We're thrilled to announce that Sony Pictures has completed its acquisition of @Crunchyroll through the @Funimation Global Group.https://t.co/13yln6gngC

— Sony Pictures (@SonyPictures) August 10, 2021
This method can bring you closer to your followers and give you a chance to authentically interact with them.
Optimize your posts with A/B testing
An A/B test is a method of comparing two variations of an ad or other material so you can see which version performs better. Also known as split testing, A/B testing involves changing one small element at a time (like a headline or graphic) to refine your results.
For example, you can see if an Instagram Story or a Reel gets across your message better and in a more succinct way. A common practice is to A/B test every social media post you make.
Before you throw down your entire social media budget on an ad, it helps to run versions of it by smaller audiences to see their reaction.
You can also test it among different audience demographics (age, location, etc.) before committing to a larger spend. You're looking to give the audience the best experience possible while also saving some of your own money. Sounds smart, right?
Check out: Our complete guide on A/B testing here.
Use retargeting
An easy and smart digital marketing tip to employ is to re-target users who left your site without converting. Retargeting starts with a small tracking tag embedded in your website's code. You can then target these prospects on other websites, including social networks.
Ever notice how if you visit a brand's website, their ads seem to follow you around? Yeah, same. But it can work, right? If it didn't, no one would do it. Instead, it's a major trend.
Learn more about Facebook retargeting ads.
Use the data from one side to help the other
More than just boosting the organic posts that are doing well, your whole social media marketing strategy should act like a team. Meaning that it should work together, of course. (So not like, say, the Jacksonville Jaguars.)
But you should be using all the stats and data you have from both sides to help the other. That means targeting similar audiences with paid social media posts as the ones your organic content is resonating with.
Most platforms are even able to create lookalike audiences based on your best customers. A lookalike audience will be composed of people with similar demographics and behaviors, but who haven't been introduced to your brand just yet.
Automate as much as possible
Hey, if you can limit the amount of work you have to do, why wouldn't you? Combining paid and organic social media is a lot of work. That's the bottom line.
But the benefit to one day being taken over by machines is that we can use them right now to help out. So you should be trying to automate as much of your everyday workflow as possible.
That means:
Scheduling organic posts in advance
Streamlining the approval and copyediting process
Setting up customized triggers for boosted posts
And, quite simply, using a social media management tool like Hootsuite, instead of jumping from platform to platform while managing paid and organic social media.
Work smarter, not harder. That's what combining these two strategies is all about anyway.