Social media marketers know the value of relevant statistics. Data-driven insights can point a campaign or ad strategy in the right direction and set it up for success.
The social media landscape is constantly evolving and shifting, and so are social media users. To make sure you're reaching the right audiences with the right communications, you need to be aware of who uses social media, and how.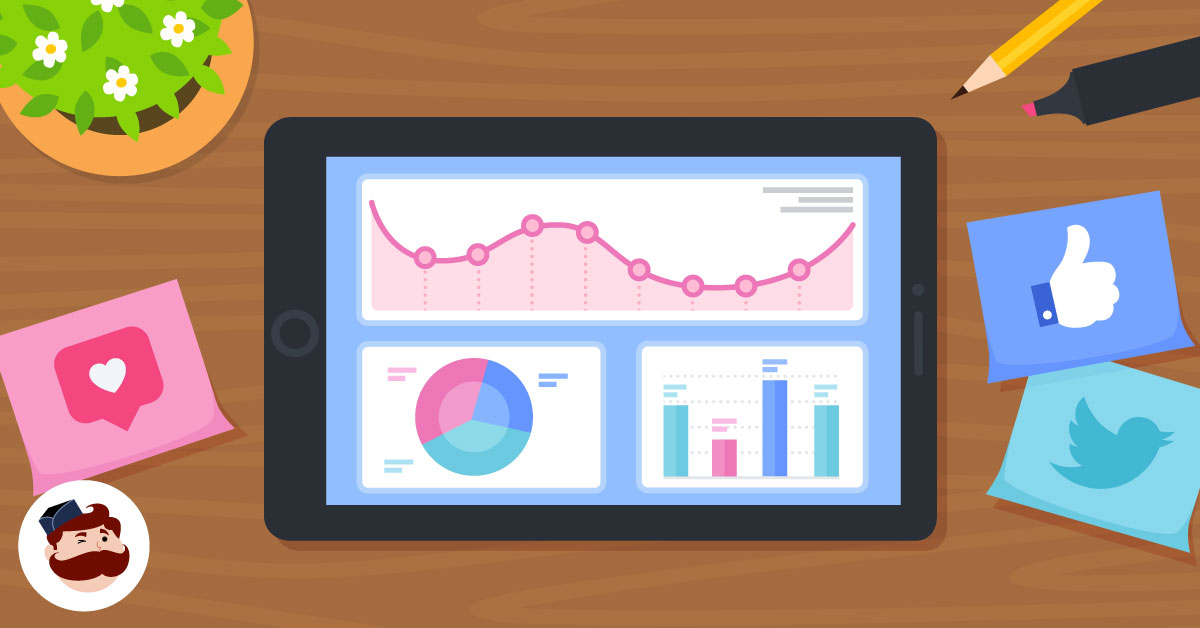 The statistics shared here focus on all the major social media platforms and aim to give you a good understanding of what's happening on social in 2021.
General social media advertising statistics
To get you started, here are some general social media statistics!
1. On average, social media users spend over two hours on social media every day
Social media platforms, in general, grew in popularity since 2020. The global pandemic was likely a big influence on how much time people have been spending on social media recently.
On average, users spent 145 minutes per day on social media platforms across multiple devices in 2020.
2. The click-through rate (CTR) for social networks increased in Q2 of 2020
The success of social media advertising has increased since 2019. Social networks are showing a steady increase in click-through rates, as seen when comparing 2020 evaluations with that of 2019.
It is likely that this 1.3% increase is partly a result of higher-quality marketing efforts and a growing interest in this form of advertising.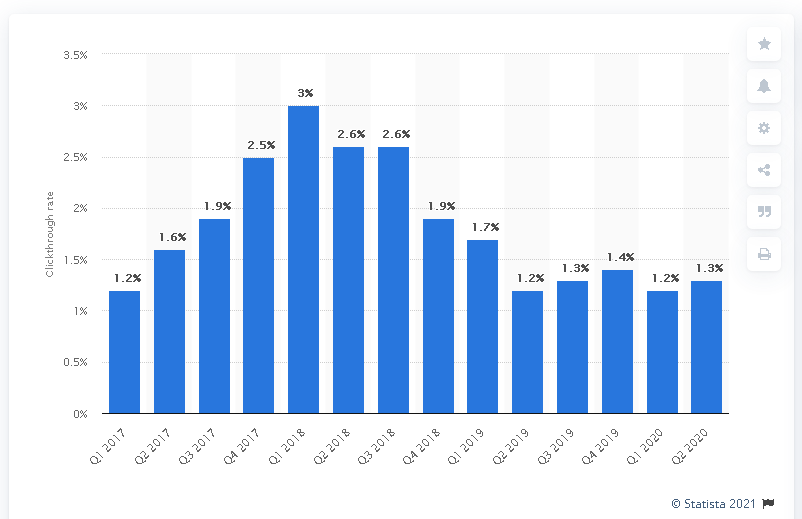 Source: Statista
3. Social media advertising is the leading paid content distribution method in North America as of July 2020
The world has become more digital, and along with that came an increase in the use of social media advertising tactics.
83% of B2B brand marketers are now using social media advertising to connect and engage with their target markets.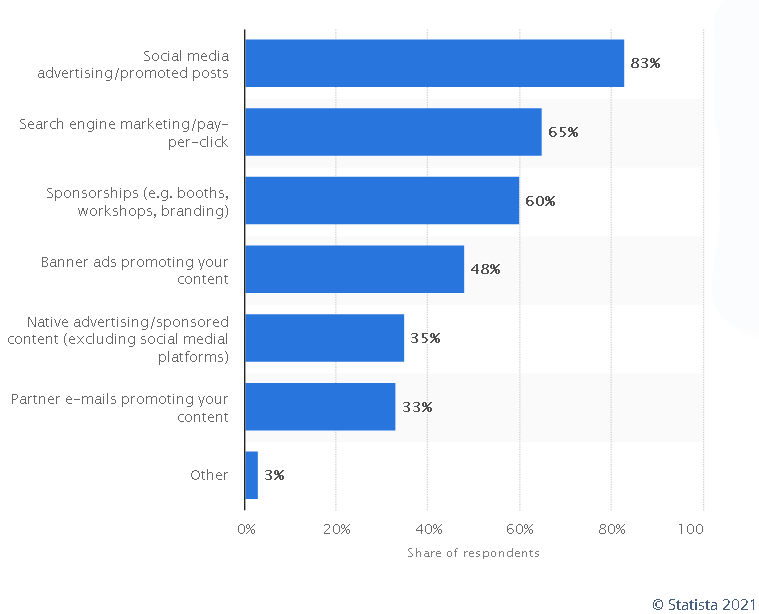 Source: Statista
4. Social media ad impressions are increasing by 20% every year
According to Statista reports, more and more people are receptive to social media advertising. This especially applies to passive advertising techniques like the use of Stories and videos.
Social media ad impressions increase by 20% year on year, showing that there is no excuse for brands to not embrace advertising on social to expand their market reach.
5. The number of social media users increased by 1.3 million a day in 2020
Although the COVID-19 pandemic sent the world into chaos, social media platforms enjoyed a lot of attention.
An average of 1.3 million users joining social media platforms every day means 15 new users every second. Let this illustration of the potential of social media marketing sink in.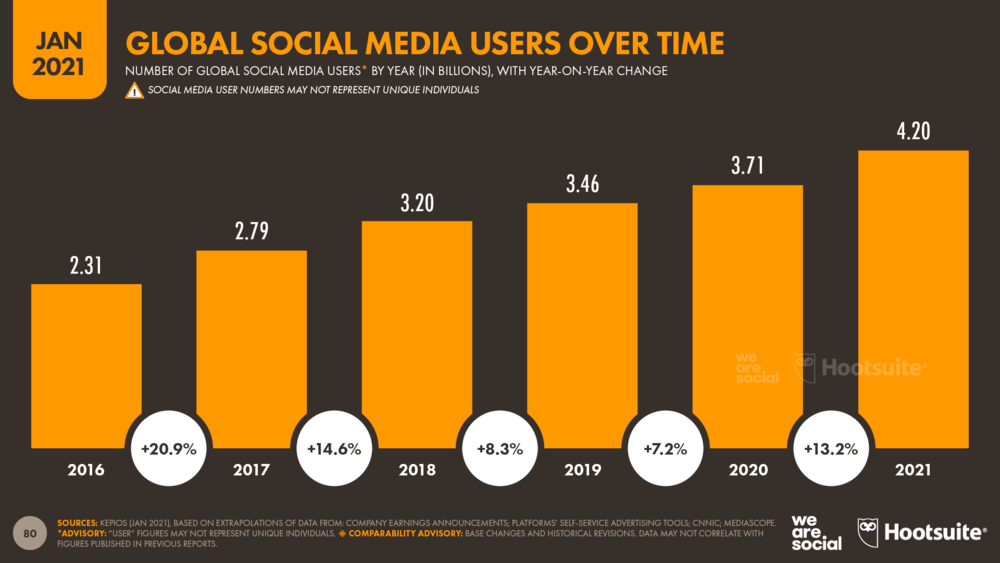 Source: Hootsuite
Instagram advertising statistics
Instagram's ad statistics indicate that this social media platform's popularity is only bound to grow this year.
1. Instagram is one of the top five most-downloaded apps on Google Play and the App Store
Although Instagram isn't as popular as Facebook, it is very close. It had approximately 13 million downloads in the US in the second quarter of 2020 alone.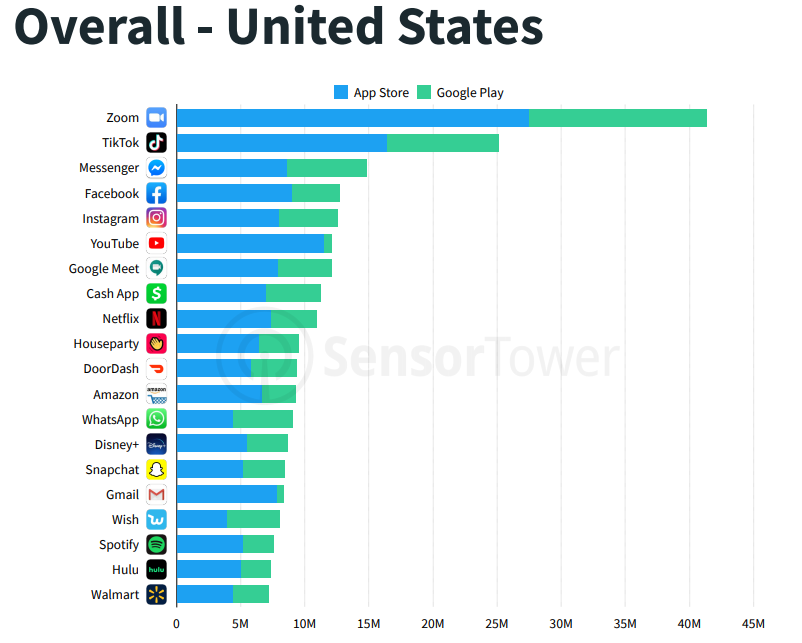 Source: Sensor Tower
As of April 2021, it's also the fifth most used social media platform worldwide with 1.28 billion active users. Instagram's popularity makes it an important part of many brand's social media advertising strategies.
2. Instagram Business accounts enjoy an average of 1.46% of growth in monthly followers
Instagram may not strike you as the best place to have an official business account, but it's great for marketing purposes.
The platform is a great place to engage with your audience, and with its current steady growth, there is a lot of potential to be made use of.
3. Western Europe Instagram growth reached 17% and continues to increase
Social media users in Western Europe showed a lot of love for Instagram in 2020, and the platform continues to grow in popularity.
The pandemic played a role here as well – eMarketer predicted only 5.2% of growth for 2020. But more than 130 million users in the region have joined Instagram – a welcome development, for sure.
4. Influencer marketing accounts for 20% of budgets of 39% of brands
Instagram is the perfect platform for influencer marketing, and more and more brands are making use of its potential.
According to recent data:
39% of brands are planning to spend about 20% of their budgets on influencers
23% of brands are planning to spend 20-30% of their marketing budget on this form of marketing
9% of brands plan to spend more than 40% of their budget on influencer campaigns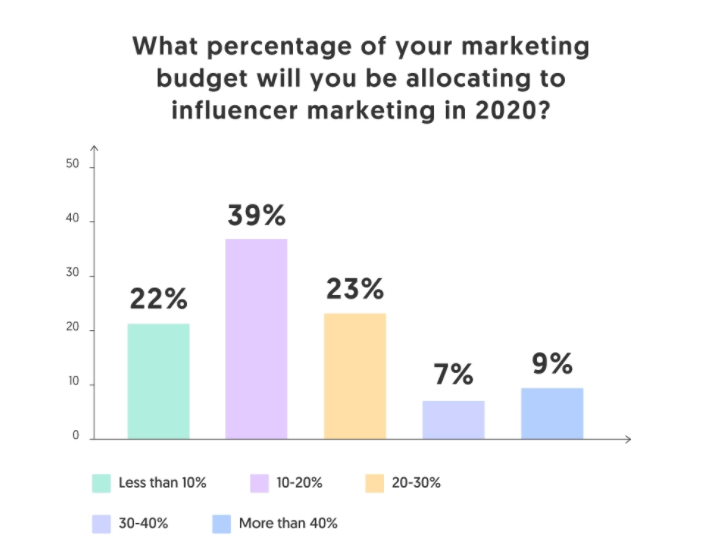 Source: InfluencerMarketingHub
5. In 2020, Instagram brought in $13.86 billion of ad revenue in the US
In 2018, Instagram ad revenue in the US stood at $6.8 billion, which increased to $9.5 billion in 2019. The growth continued and reached more surpassed $13 billion in 2020, and it's expected to increase to $18.16 billion in 2021.
Facebook advertising statistics
These Facebook advertising statistics illustrate why Facebook remains the biggest social media platform in the world.
1. Facebook reported more than 1.8 billion daily active users in Q1 of 2021
There's no denying that Facebook is still the king of social media – it is consistently the most popular platform in the world, with approximately 1.8 billion daily active users.
On top of so many users, the platform had 10 million active advertisers in the third quarter of 2020.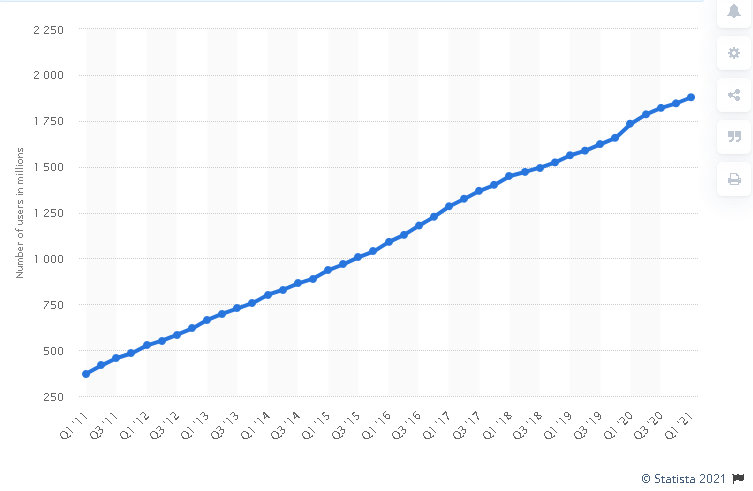 Source: Statista
2. On average, Facebook users spend 19.5 hours a month on the platform
The latest statistics indicate that Facebook is one of the social media platforms where people spend the most time.
Facebook is also the most used social media platform worldwide as of April 2021, with almost 2.8 billion active users.
3. Facebook's ad revenue reached a record $20.7 billion in 2020
In the last quarter of 2020, Facebook's ad revenue increased by 25%, with more advertisers joining the platform throughout the COVID-19 pandemic.
4. Approximately 160 million businesses use Facebook and its associated apps every month
Businesses with good marketing thrive on Facebook. Almost one business for every 55 people on Earth uses Facebook and WhatsApp, Messenger or Instagram to communicate with customers.
5. Mobile display ad spend was a whopping $61 billion in 2020
Advertising on Facebook remains the biggest moneymaker for the platform. It's also a good source of business for brands.
Many businesses recognize the value of mobile display ads as well, and brands around the world spent a total of $61 billion on this format on Facebook in 2020. This was a 22% increase from the previous year.
If the platform continues to make advertising easy, the amount earned will also continue to rise for everyone involved in the coming years.
Twitter advertising statistics
Twitter engagement is growing day by day. Today it's become one of Facebook's biggest competitors, as you'll see in the following Twitter ad statistics.
1. Twitter's advertising audience stands at 187 million
Despite not being quite as popular as Facebook when it comes to marketing, Twitter is still a valuable platform. It saw a healthy, 29% year-on-year increase in users, resulting in a total of 187 monetizable users on the platform in Q3 of 2020.

Source: Hootsuite
With so many eyes ready for advertising content, it makes sense for brands to consider branching out to Twitter.
2. 40% of Twitter users' purchases are influenced by Tweets
Influencers are active on Twitter, and they can sway users quite effectively – according to research, almost half of all Twitter users admit to purchasing products they've seen recommended on the platform. Marketers should not ignore this kind of impact.
3. As of 2020, most Twitter users are Americans
Americans seem to love Twitter more than other nations, with about 68.7 million of them using the platform. More than half of that number are daily users, and 84% are active on a weekly basis. Approximately 96% of US users use the platform at least once a month.
Japan and India are close in their support for Twitter, where love for the social media site is ever-increasing.
5. Users spend 26% more time viewing ads on Twitter than on other social platforms
The amount of time that Twitter users spend viewing ads on the platform is 26% higher than the other social platforms available.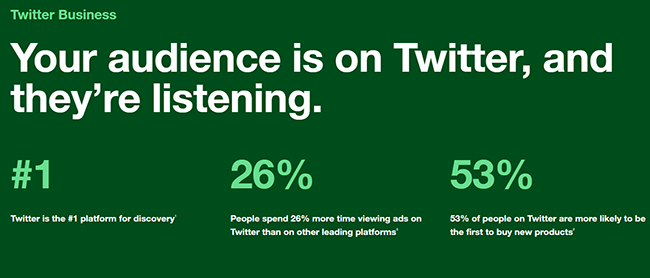 Source: Twitter
Couple this with the fact that Twitter users now spend an average of 10 minutes of their day on the platform and social media advertisers have themselves a very attractive reason to use Twitter advertising.
Snapchat advertising statistics
If there's one thing that is obvious from these Snapchat statistics, it's that there's more to the platform than cute filters.
1. Roughly 283 million people use Snapchat on a daily basis
Snapchat is undoubtedly still very popular, currently sitting at 238 million daily active users.
As of June 2020, Snapchat boasted an increase of 17% compared to the previous year. The platform's users are very active while online as well, with four billion snaps being created every day.
2. Users opened Snapchat more than 30 times a day in Q2 of 2020
Snapchat's popularity seems to have influenced how much people think about the app. Users have spent a lot of time opening Snapchat and checking in to see what's going on.
3. Snapchat users spend about 49.5 minutes a day on the app
Snapchat is immensely popular with its users, and they can't seem to get enough of the app. On top of opening it so many times, they tend to spend almost 50 minutes per day being active and communicating.
Users send about 34 messages a day, on average, and browse content for the rest of their time online.

Source: BroadbandSearch
4. Snapchat has been downloaded more than 300 million times in 2020
Snapchat is still one of the most popular social media platforms in the world, especially among the younger crowd. 48% of Snapchat users are within the 15-25 year age bracket.
Most of the app's 300 million downloads came from Google Play, which is about five times more than the downloads from the Apple App Store.
5. Snapchat AR is used by more than 180 million users
One of the biggest attractions Snapchat has to offer is easy access to AR (augmented reality) features. This, along with interactive filters and lenses, has played a significant role in Snapchat's popularity.
On average, about 75% of all Snapchat users use Snapchat AR daily. Brands often use this feature for promotion and advertising.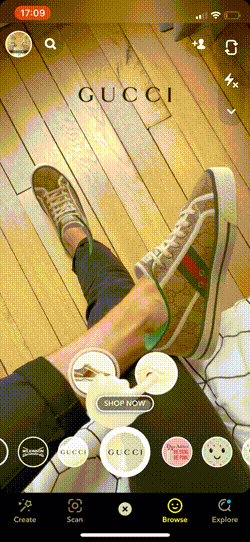 Gucci partnered with Snapchat to create an AR shoe "try-on" campaign. Snapchat users were then able to purchase shoes directly through the filter, using a 'Shop Now' button.
LinkedIn advertising statistics
These LinkedIn ad statistics show just why professionals and marketers love it so much.
1. LinkedIn boasts 722 million members in the professional world
Although social media platforms such as Facebook and Instagram have many more users, LinkedIn has a very specific user profile — it's primarily used by businesses and professionals. That puts their user base of more than 700 million into perspective.
Of these users, 43% are female and 57% male. The platform doesn't report any other genders yet.
2. 180 million of LinkedIn's users are thought leaders
While LinkedIn isn't exactly the social media platform where you'd expect influencers, they're not so scarce. Millions of professional influencers engage with their audiences on the site.
3. LinkedIn Ads have the potential to reach 663.3 million users
According to a LinkedIn audience overview study from January 2020, approximately 663 million of the platform's users can be reached through ad campaigns.
This impressive forecast is only bound to increase as the number of registered users on the site goes up. By fine-tuning your ad campaigns to target the right B2B audience, you can make the best of LinkedIn's reach.
4. There is potential to reach 727 million LinkedIn users through advertising
The potential of LinkedIn Ads is not to be underestimated. While just over 663 million users have been reached by LinkedIn advertisers by January 2020, a report by Hootsuite and We Are Social indicates that the platform's potential reach is 727 million.
YouTube advertising statistics
YouTube's recent ad statistics are a good indication of just how big this social media and video-sharing platform is, and why its continued growth is promising for marketers.
1. YouTube boasts more than two billion monthly users
YouTube is one of the biggest social media platforms, with over two billion logged-in monthly users. While Facebook may have more monthly active users, this number does not include users who enjoy YouTube content without creating accounts. YouTube likely has more active users, but it's difficult to track the exact number without them registering.
2. YouTube is used by 74% of adults in the US
YouTube is more popular with American adults than Facebook, the latter reaching roughly 68% of that demographic. Instagram only reaches about 40% of adults in the US, which is another great testament to YouTube's popularity.
That's a billion and a half more than YouTube made from ads in 2020. More people are buying more ads in more formats.
For example, the number of advertisers using YouTube's TrueView for Action increased 260% in 2020
Source: eMarketer
4. In 2021, the number of YouTube viewers has increased up to six times in some countries
In 2021, YouTube viewership has significantly increased all over the world. On average, people spend about 23 hours a month on the platform, with mobile phone views accounting for 70% of YouTube watch time.
5. YouTube is available in over 100 countries and in 80 languages
Much of YouTube's popularity has to do with its availability. It is enjoyed by people in more than 100 countries and in 80 languages, making it a global force.
6. YouTube was the 4th most-downloaded iPhone app in 2020
YouTube was the highest-grossing app in the US, in terms of revenue in 2020. Worldwide, it ranks third.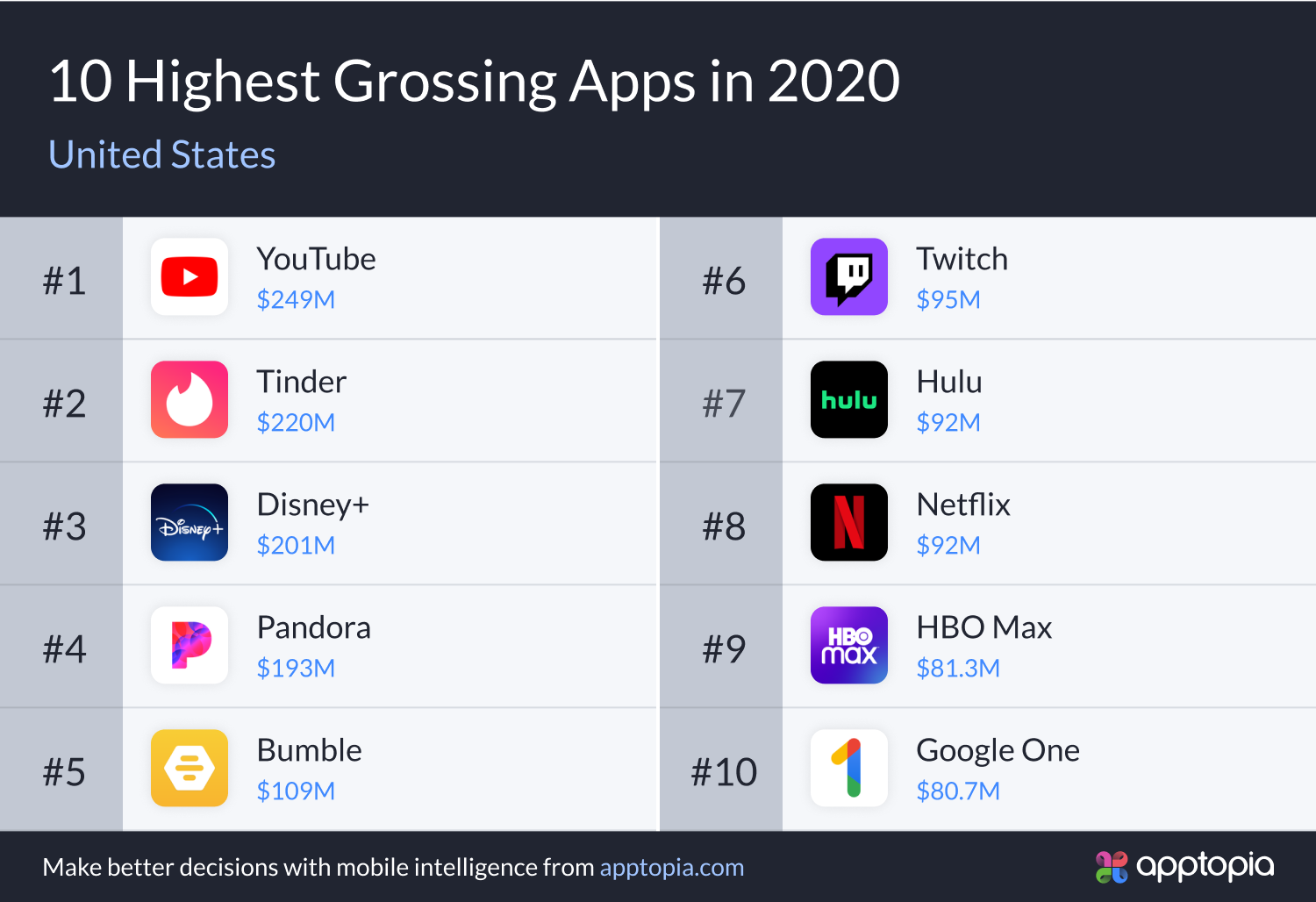 Source: Apptopia
With regard to video-on-demand, it was the 2nd most downloaded app in 2020 worldwide, second only to Netflix.
YouTube's reach, however, goes far beyond entertainment as many brands leverage the video streaming platform to run wide-reach ad campaigns. Its popularity continues to increase.
Pinterest Advertising Statistics
Many marketers overlook Pinterest in their social media strategies. Check out these Pinterest ad statistics and you'll see the potential of this unique platform.
1. An average of two million people pin content daily on Pinterest
With two million users pinning content, there are more than 100 billion pins currently existing on Pinterest.
2. Pinterest saw $443 million generated from ads in the third quarter of 2020
Pinterest has been released in more countries over the past few years, and that's boosted the platform's ad generation.
Most recently, the company announced plans to expand its in-platform shopping features to cover Australia, Canada, France, and Germany later in 2021. It also plans to expand Idea Pins across countries in Asia, South America, and Europe, such as India, Indonesia, Spain, and Brazil.
Like most brands in this time, Pinterest was met by the challenge of market uncertainty and more modest projections of its revenue. The social media giant didn't go untouched by the effects of the pandemic, but still, managed to bounce back in Q3 of 2020 and recorded $443 million in sales.
3. Pinterest is used by over 1.5 million businesses every month
Pinterest offers a great platform for advertising, and that's likely why 1.5 billion businesses seize the opportunity so eagerly.
4. Pinterest board creation increased by 35% every year
As Pinterest gained more users, the number of boards created on the platform also went up with a 35% year-on-year increase, indicating healthy growth.
5. Pinterest shoppers increased by 50% in the first half of 2020
Pinterest's growing popularity also resulted in more on-platform shopping. There was a 50% increase in the number of Pinterest users visiting shops on the platform. The potential that Pinterest shopping holds to brands is undeniable.
Give your social media advertising plans wings!
Social media advertising is an ever-expanding industry with a lot of potential for massive growth. To be successful, brands need to keep up with changes and trends as they happen. Use these stats to shape a brilliant, data-informed social strategy.