Nonprofit marketing is a rewarding job. You're working to support a good cause and make the world a better place.
But nonprofit marketing can be tricky because it's a bit niche. There's plenty of advice out there about marketing a product or service, but not very much about how to promote a nonprofit.
A quick look at search volume can shed some light on this.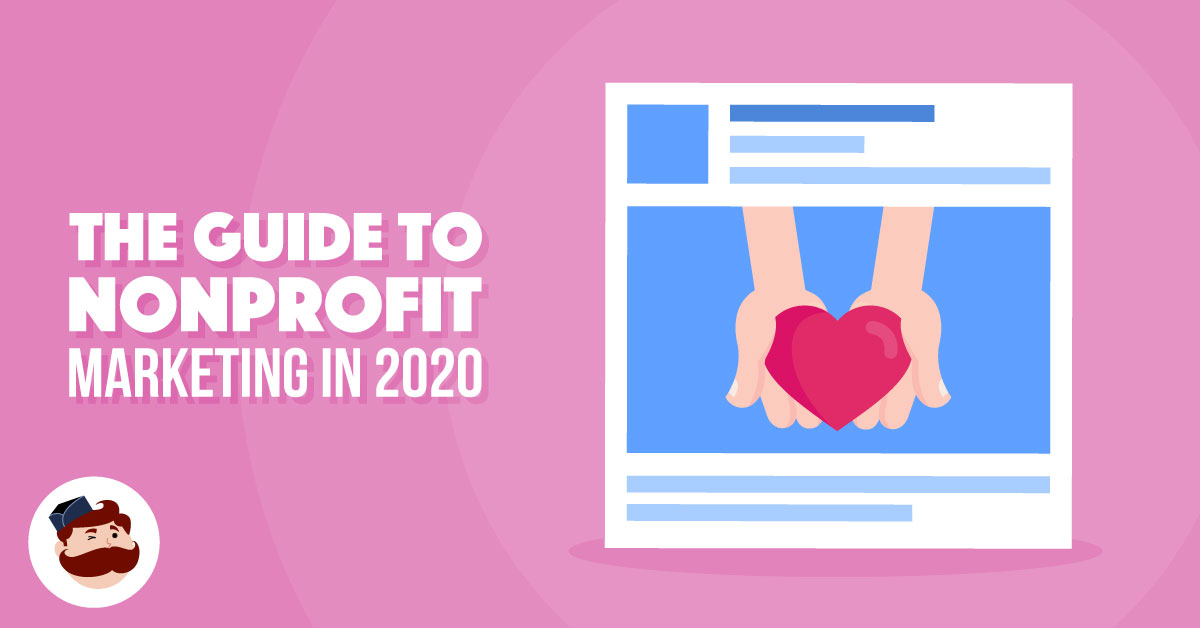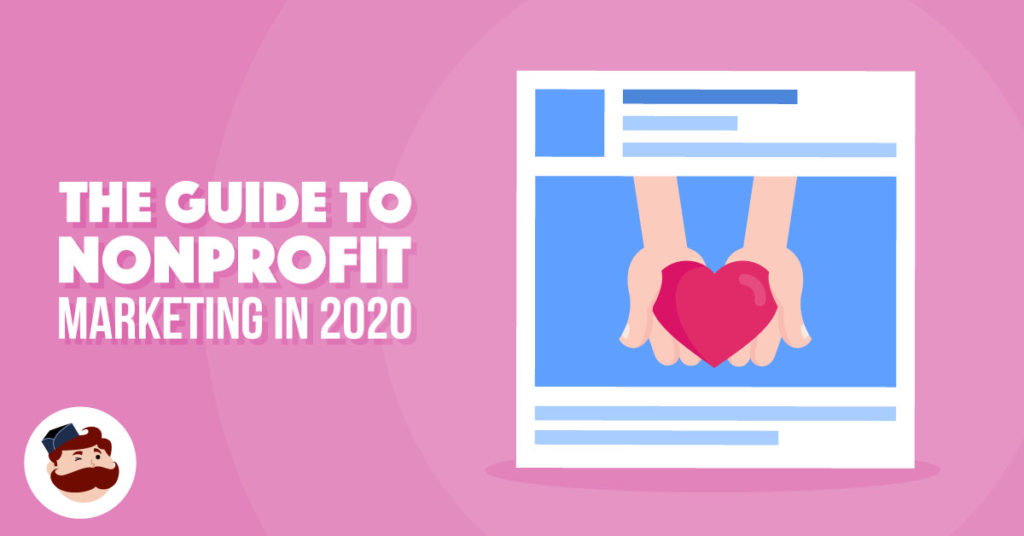 "Nonprofit marketing strategies" has just 30 searches per month. Compare that with "eCommerce marketing" or "b2b marketing strategies," each of which brings in 1,300 searches per month.
With more traffic for these keywords, there are more resources out there for traditional marketers than for nonprofit ones.
We're here to help with a guide focused exclusively on nonprofit marketing.
In this post, we'll break down the latest 2020 marketing news that nonprofits need to be aware of.
Plus, we'll show you five strategies you can use to boost your nonprofit marketing results, with examples you can follow.
The Nonprofit Marketing Trends You Need to Know in 2020
These recent social media trends and updates have opened up new opportunities for nonprofits to share their story and connect with donors in unique, powerful ways.
Instagram TV
Instagram used to allow videos only up to a minute long, but the launch of Instagram TV (IGTV) made it possible to post videos up to 10 minutes long, or up to 60 minutes if you run a larger, verified account.
Recently, Instagram announced that previews of IGTV videos will show up in users' main feeds. This means your IGTV posts have greater reach than ever before. Use the longer video format to share more in-depth stories about your nonprofit's mission and how you're making a difference.
To keep users coming back to your channel, structure your content into a series. Charity: Water has an IGTV series in which they show how they are bringing clean water to places that need it most.
By using IGTV, Charity: Water shows their efforts and successes in more detail.
Not only does this give users a better idea of what the nonprofit does, but it also shows donors exactly where their donations are going in a specific and personal way.
Instagram Stories Donations
With Instagram Stories, users can now add a "Donate" sticker to their Instagram stories to raise money for a charity. This update makes it easy for your nonprofit to raise awareness and funds for the organization, and for your supporters to do the same.
To qualify to raise funds this way, your nonprofit has to apply and be approved by Facebook.
No Kid Hungry uses the new button as part of their fundraising efforts on their Instagram Stories.
No Kid Hungry chose a simple, eye-catching photo, and the description on their donate sticker clearly states what donations are going toward: Ending childhood hunger in America.
No Kid Hungry Instagram story grabs users' attention and gives them a reason to click the CTA and donate.
You also have to go through an application process if you want to put a "Donate" button on your Facebook page. If you want to sign up, your Facebook page must be registered as a nonprofit, and you must meet Facebook's criteria.
For example, U.S.-based nonprofits must be registered as a 501(c)(3) organization and have a tax ID number. For more details, or to apply, visit Facebook's help page for nonprofits.
The Transparency Trend
Now more than ever, consumers want brands to be authentic and transparent. This is especially true for nonprofits.
In a Give.org survey, 70% of respondents said it was critical that they trust an organization before donating. The same study found that one of the top ways to promote trust was for the nonprofit to be transparent and share its accomplishments.
Donors want to see where their money is going and what you are achieving.
Use the connective power of social media to take donors behind the scenes and show them your charity is worth supporting.
For example, if you are positively rated by a nonprofit rating organization like CharityWatch, share it so potential donors can see.
Build these updates and trends into your nonprofit's marketing strategy to capture more donors in innovative, unique ways.
5 Nonprofit Marketing Ideas to Try Today
You've just learned three new trends in the nonprofit marketing space. But you still might be wondering about creating individual campaigns.
What should your marketing be about? How should you nurture potential donors?
To help, we've put together five marketing ideas that you can try today to attract more donors, along with examples from current nonprofits.
1. Show Your Story
People want to know the story behind nonprofits before donating. If they don't know what your organization stands for, why would they donate to you?
Tell your story by using visuals like images and videos to grab attention and quickly draw people into your post. Images and visuals are processed up to 600 times faster than written text. That means when potential donors are scrolling through their Instagram or Facebook feeds, visuals are vital to getting your message across and increasing awareness of your brand.
A good place to start is filming a mission statement video—one that explains why your nonprofit was started and what it hopes to accomplish. You could also take photos and videos of the people who benefit from your nonprofit to show potential donors the positive impact of your organization. Share all of this media on social platforms to build a positive reputation.
Doctors Without Borders did an Instagram post sharing their "A Year in Photos"collection.
The nonprofit quickly captured user attention with eye-catching photos and then directed them to more pictures illustrating how much Doctors Without Borders had done throughout the year.
2. Use Facebook's "Create Fundraiser" Feature
Let your supporters promote your nonprofit and raise money for you by enrolling your organization with Facebook. By signing up to accept donations, you'll have a "Create Fundraiser" button for your page, allowing followers to raise money for your nonprofit.
It's becoming more and more common for people to use this feature on their birthday. In fact, Facebook now prompts users when their birthdays approach. Over $3 billion has been raised for causes using the Create Fundraiser feature.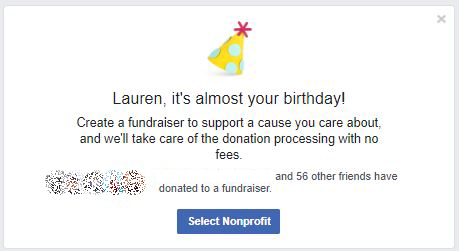 You can see the button on Animal Aid Unlimited's Facebook page.
Having other users create a fundraiser for your nonprofit taps into
social proof
—
90% of people
trust friends and family more than reviews or advertising, so people are more likely to donate to your nonprofit when they see their friends and family donating.
3. Share Your Impact on Current Events
Post about how your organization is having a positive impact on recent news events to show potential and current donors why your work is relevant and important.
Social media is a powerful outlet to educate users about current events and how they relate to your organization. The humanitarian organization UNICEF recently posted about the ongoing crisis in Syria.
Not only is UNICEF teaching people about a current issue, but they are also encouraging people to donate by pointing out that UNICEF is working to help children in this terrible situation.
4. Optimize Facebook Ads for Conversions
Using paid ads with a "Donate Now" CTA is still a strong way to encourage donations, but it is even more effective if you optimize the Facebook ad for conversions. With this optimization, Facebook will show your ad to people who match your target audience and are likely to donate.
Optimizing for impressions will show your ad to as many people as possible, while optimizing for conversions increases your chances of getting donations.
In fact, a Save the Children case study shows optimizing for conversions can increase donations while decreasing cost per acquisition. The organization saw four times more donations and a 76% decrease in cost per acquisition when they optimized for conversions instead of traffic.
5. Attract Interested Users with Content Marketing
Your ideal donor is someone who cares deeply about your issue and is likely to search for content related to your mission. If you create blog content that is search-optimized for those topics, you'll attract high-value visitors to your site.
The value of this type of nonprofit marketing is clear: inbound marketing generates 54% more leads than outbound, and it's less expensive than other forms of marketing.
Start by writing top-of-funnel content related to your organization. If you're a rainforest nonprofit, for example, you might post about the best ways to save tropical rainforests. A hub-and-spoke content approach is useful when you're starting out, because search engines have a harder time finding and ranking stand-alone posts.
Next, use Google Analytics to figure out which keywords related to your organization have high search volume. Once you have a list, the idea is to include that phrase throughout your post in meaningful ways. To learn more about optimizing posts for keywords, check out this resource. Once you optimize your posts for relevant keywords, you'll start bringing interested traffic to your site.
The bereavement-recovery nonprofit Open to Hope, for example, shares stories and advice from experts and people dealing with grief.
Their content directly supports their mission by helping people who are struggling with grief. It also draws people to the website who may be searching for this type of article without knowing about Open to Hope.
Build a Stronger Nonprofit Marketing Plan in 2020
With so few resources available, nonprofit marketing isn't as clear or well-defined as traditional marketing. Instead of looking for a road map, it's up to you to create your own marketing playbook by seeing what works for your nonprofit.
Start with the marketing ideas in this guide, and then experiment and refine your tactics based on what campaigns are working.
The more your marketing resonates with your donors, the more likely you are to see donations.