Since the launch of Instagram Stories in 2016, the format has taken off among advertisers.
To help you take advantage of the feature, we've highlighted 20 of the best Instagram Stories examples that reveal advertising best practices from leading brands.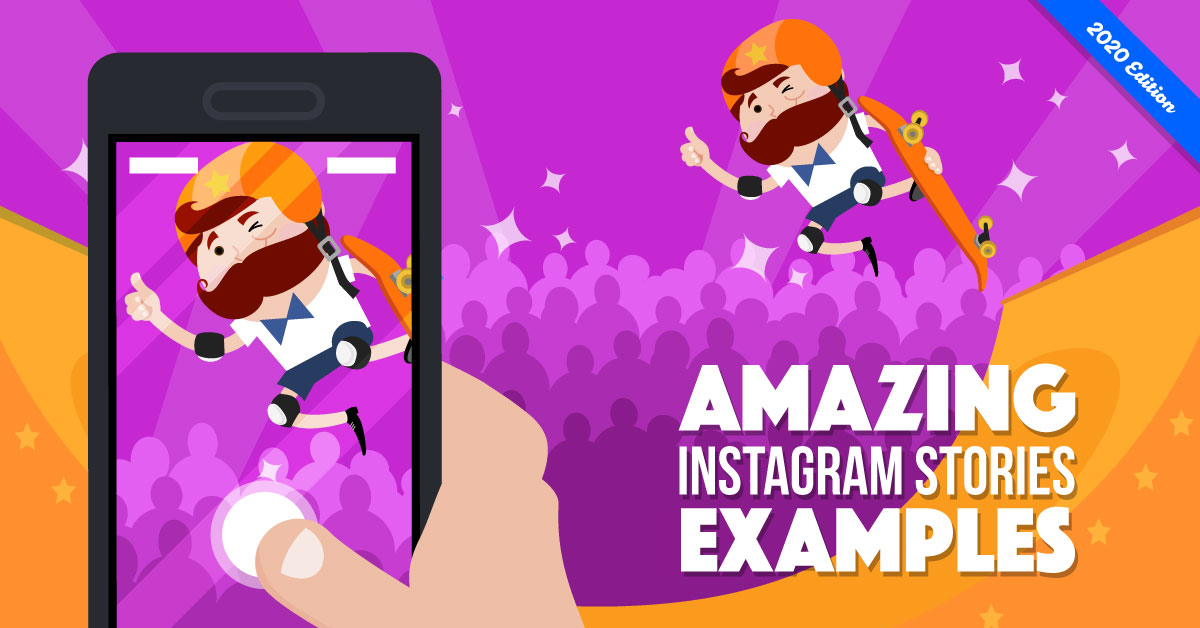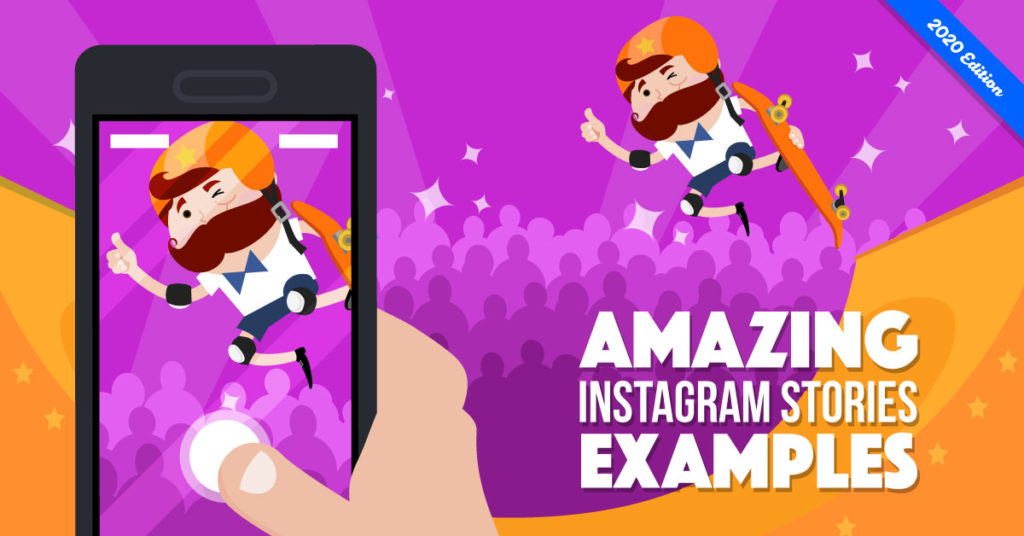 Never used Instagram Stories ads before? Don't worry! We'll walk you through setting up your first ad.
We also included some proven strategies and pro tricks that you can use right now to engage your audience and grow your business.
So, one out of two businesses on Instagram posts stories on a regular basis. If you are not that one, here's why you should start to consider posting Instagram stories right away.
Now that you are convinced, are you starting to worry about how to start? No panic, AdEspresso is here to help!
Our expert selected the 20 Best Instagram Stories Examples, and they added tips & Tricks you can copy too!
Bookmark this post and use these ideas as a source of inspiration when crafting your own Instagram Stories ads. Doing this will save yourself hours of googling, help achieve your campaign objectives, and amplify your growth!
How to Set Up Your Instagram Stories Ads
Setting up your Instagram Story ads is similar to setting up other Instagram ads.
First, make sure your Instagram account is connected to your Facebook business page — then, follow the steps below:
Using Facebook's Ads Manager, Create an Ad in a new Campaign.
Select your Objective (limited to Reach, Mobile App Installs, Video Views, Traffic, or Conversions for Story ads).
After you've set your Objective parameters and given your campaign a name, define your audience. (Use or create your own new, custom, saved, or look-alike audience, similar to any Facebook Ad.)
Under "Edit Placements" Select Instagram Stories.
Choose "single image" or "single video" format.
Then, upload and preview your image or video file. (Make sure to double-check that your specs are correct.)
Finally, select a call-to-action (CTA) based on the goal you hope to achieve (e.g., "Learn More" to drive web traffic), and publish.
And now, grab a drink (an espresso? 😉), get comfortable, and take some time to get inspired by 20 of the best Instagram Stories ads we've ever seen!
20 Amazing Instagram Stories to Inspire You
Below are 10 examples that amazed and impressed us, plus 10 bonus samples to provide you with even more ideas.
All these brands showcase a range of successful techniques to excite and engage their audiences.
These practical yet imaginative tips will help take your Instagram Stories to the next level — optimizing them to meet and even exceed your Instagram ad campaign goals.
1. Daily Harvest — Keep It Short, Sweet, and Valuable
Daily Harvest delivers unprocessed foods in convenient frozen forms. This Instagram Stories example opens the target audience's eyes to new possibilities within frozen foods via a series of mouthwatering images: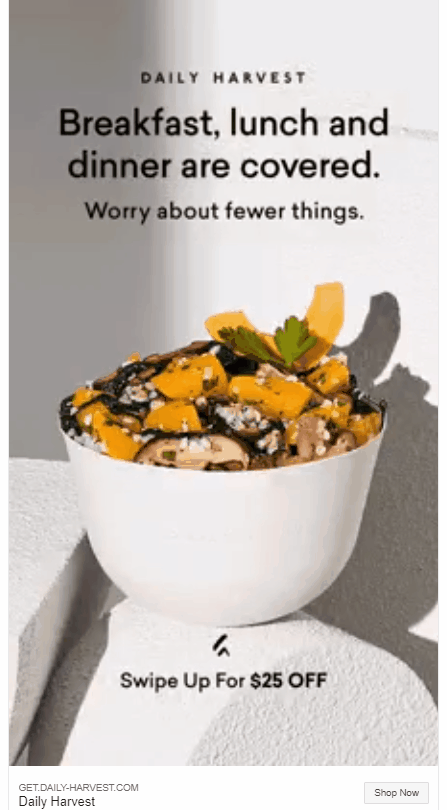 Daily Harvest packs in a lot of critical information but keeps its message concise. Readers can quickly and clearly see that the brand has options for every meal based on the large, bolded text.
Pro Tip: Add an extra incentive for users to take action on your ad. Daily Harvest encourages users to swipe by offering a $25 off coupon.
Here are four crucial questions you have to answer when writing your Instagram Stories headline and copy include:
Is this useful – do people see the value in it?
Yes – there is a valuable $25 off coupon.
Is this unique – does it promise a unique benefit? (Is it differentiated?)
Yes – Daily Harvest offers a variety of options for every meal.
Is this urgent – does it lead the audience to act now?
Yes – users have to swipe now to get the $25 off.
Is this ultra-specific?
While the instructions don't include facts or statistics, Daily Harvest offers detailed product images and very clear instructions for action.
Instagram Stories Examples Bonus #1

In this ad by Maille, a French gourmet-food producer, the brand clearly communicates that you can win a year's supply of their premium mustards, cornichons, salad dressings, and other products. It's straight and to the point, and it gets the job done.
While the rules for text overlaying your image are not as strict as the caption's 2,200 character maximum, it's important to be mindful of how many words you use in your ad. Maille used just a few words to get their message across and left it to the landing page to explain the small details.
Avoid using too much text; it can confuse users, prompting them to swipe away. While text overlay and subtitles can add clarity to your Instagram Stories ads, the cramming or haphazard placement of text can ruin otherwise good creatives.
Generally speaking, you should focus on placing your text messaging toward the center and bottom of the screen.
Avoid the appearance of being spammy or excessively promotional with text that emphasizes benefits over features. In the Daily Harvest example above, the company emphasized how the product could help customers worry less rather than just listing menus or prices.
Because Instagram users scroll quickly through their feeds, your ad should immediately communicate to users what they get for swiping up.
2. Prada — Use the Luxury Strategy
In contrast to Daily Harvest, upscale fashion brand Prada creates a purposefully mysterious air in its Instagram Stories ad, below.
Here, a woman stares into the camera and then runs down a pier while words appear on the screen to expand on the letters of the brand name. The lack of explanation creates an air of mystery.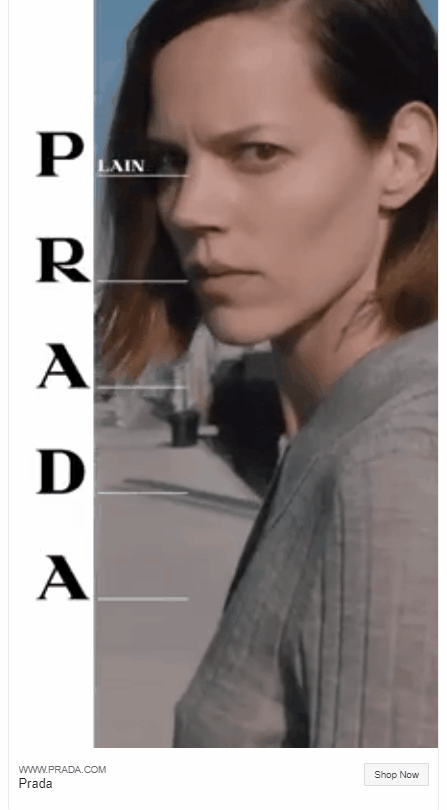 Studies have shown that when information gaps exist, readers experience a sense of suspense, which makes them want more information.
Some of the best Instagram Stories examples, like Prada's, inspire action by not giving the user all the information. Put more plainly: questions make people curious; curiosity leads people to click.
Make your products feel exclusive. Even if you don't sell haute couture, you can use the Luxury Strategy.
Instagram Stories' disappearing nature is great for this; viewers won't be able to bookmark your offerings for future scrutiny or reference unless they follow your CTA.
Pro Tip: To keep audiences engaged in your Stories, don't always give your customers what they expect.
Whether you're targeting an elite audience or everyday people, find ways to make people curious so they want to learn more.
Instagram Stories Examples Bonus #2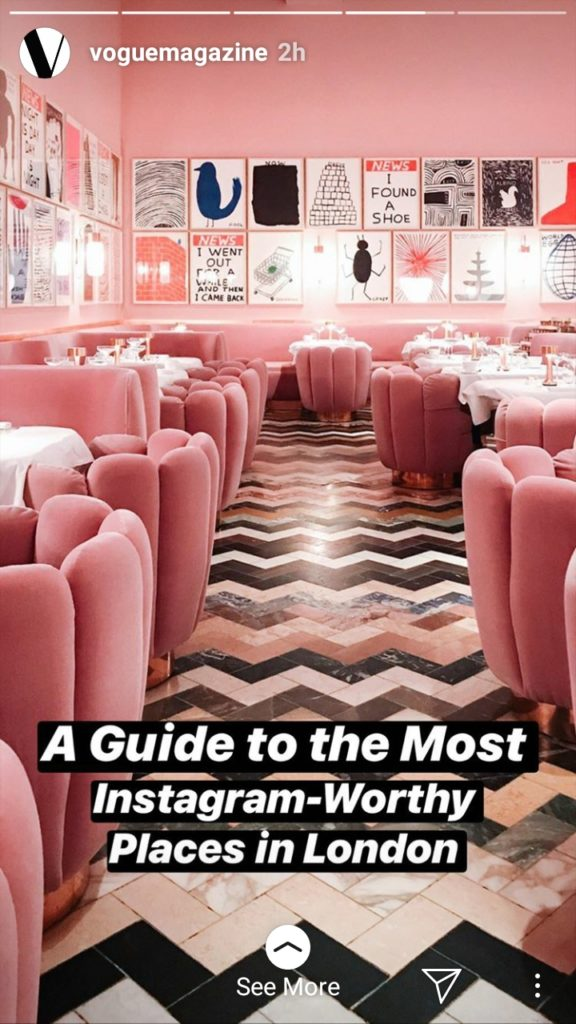 The Vogue ad above featured an attention-grabbing image along with the enticing headline to pique users' interest and a "See More" call-to-action to encourage swipe-ups.
The goal of the Luxury Strategy is to engender users' curiosity and make them feel they are getting unique value from the brand. Prada does this by not offering a lot of information, while Vogue achieves it by offering an Instagram-specific guide. These examples highlight the two main ways to use the Luxury Strategy:
1. Create a Sense of Exclusivity
Exclusivity is fundamental to the concept of luxury because it fits with high-end consumers' desire to seek out things and experiences that are rare. Think about it: if everyone could afford to buy a Rolls-Royce, the auto brand would lose its appeal as something reserved for relatively few people.
Almost any advertiser can create the "just for me" feeling of exclusivity with the following tactics:
Create offers that people can't find anywhere else.
Offer to digitally deliver special offers or loyalty perks to repeat customers.
Present limited-time offers for special products or services.
Find ways to provide personalized experiences.
2. Create Aspirational Ads
One of the most effective ways to generate engagement and elicit action from people is to create ads with honest aspirational content that inspires, informs, and educates Instagram users.
These days, brands that are viewed as the most authentic are the ones that are best able to tap into the emotions of consumers by depicting "relatable" lifestyles and values that connect on a deeper level with the target audience.
Show them that you believe in something bigger than your product or service.
Give them a chance to help improve your offerings by sending out surveys and asking for comments and feedback on social media.
Offer educational content that shows how in tune your brand is with current events and social trends.
Give users valuable content they can use, as Vogue did with their London-based guide.
3. Sephora — Master the Power of Silence
Since around 40% of your audience will watch your Instagram Stories in silent mode, you have to figure out a way to deliver your message visually.
When creating ads for a potentially sound-off environment, it's crucial to use strong visuals that convince people to swipe up. Do that with bold headlines and graphics, powerful imagery, and animations that draw viewers in.
The beauty brand Sephora follows this advice by spelling out their offer in colorfully highlighted text: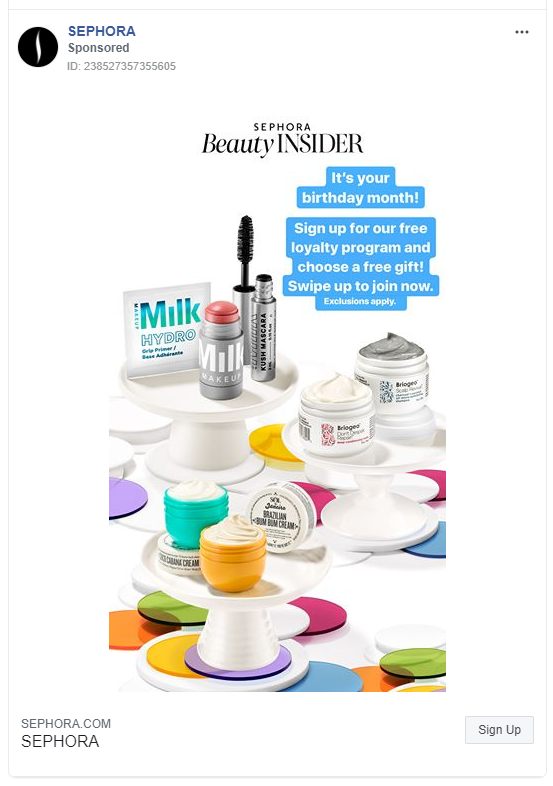 In addition to eye-catching colors and a tempting free offer, this Instagram Stories ad uses interactive content to reach out to the viewer, capturing their attention to drive additional web traffic and increase email sign-ups.
While a lot of hype has been given to interactive content like quizzes, Instagram polls, contests, and calculations, your content doesn't need to be that complicated.
Sephora also incorporates a clear and specific CTA, "swipe up to join now," pointing users in the direction of their free gift.
Pro Tip:
Text that clearly states what the user will gain from the interaction has been proved to drive conversions.
Create compelling headlines and ad content that speaks for itself (without sound), like posting offers that generate interest and encourage engagement from your target audience.
Instagram Stories Examples Bonus #3
Although strategically using text is crucial, since 60% of all Instagram Stories ads are viewed with the sound turned on, audio can be as important as video.
As the Pine-Sol ad above shows, you can dial up the emotions with a catchy tune. Crucially, though, even when viewed with the sound turned off, Pine-Sol's ad makes sense. Design your ad to catch your audience's attention regardless of whether they have the sound turned on or off.
Consider tapping into the power of sound.
Whether using infectious music or interesting dialogue, sound done right can give your videos an additional layer of interest and help set the tone for your visuals. Find ways to use captivating audio, whether sound effects, a musical tune, or a voice-over to draw your audience in and make your ads pop compared with others in viewers' feeds.
4. CPK Frozen Pizza — Make Everyday Moments More Exciting
Boomerangs are another excellent tactic to make soundless videos more interesting.
Boomerangs start with your original clip, take a series of 10 photos, and transform them into a whimsical short video.
The concept is similar to using GIFs on other social media platforms, like Tumblr and Twitter. But because Instagram doesn't currently support .gif image files, Boomerang is your best alternative.
California Pizza Kitchen (CPK) offers one of the best Instagram Stories examples using Boomerang. Here, CPK frozen pizza animates the otherwise ordinary cheese-grating process: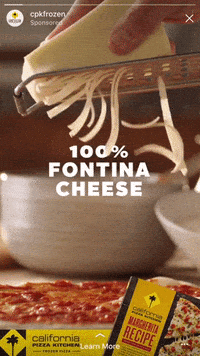 If you've got something that is cute, tantalizing, or even plain and ordinary, use Boomerang to loop it back and forth and enhance it through repetition.
Instagram Stories Examples Bonus #4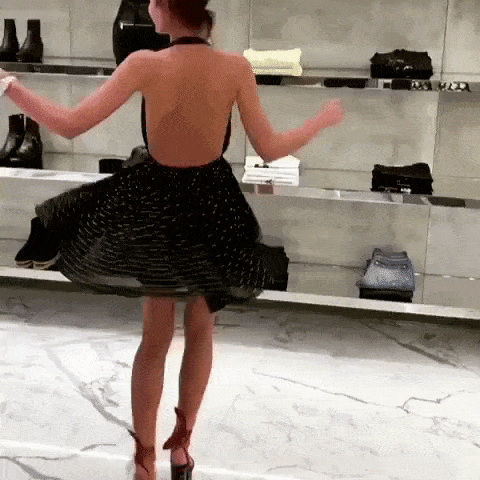 Ukrainian micro-influencer Oleksandra Vaskova used Boomerang to amp up the simple act of trying on a new outfit and taking a twirl, adding a touch of excitement that users would remember.
Boomerang is very popular among influencers and Instagram diehards. The best Instagram Stories examples capitalize on Boomerang's ability to effectively draw attention. To do this in your own Stories, you need the following:
Planning: Boomerang moments don't have to happen spontaneously — they just have to look like it. So plan your composition, angles, actions, and lighting carefully. Record a few takes, then use the best one for your ad.
Steadiness: Successful Boomerangs require a stationary filming position, so use a steady hand (or, better yet, a tripod or a stable surface) so that moving objects stay in focus.
Speed: Because Boomerang functions on the idea of filming an object moving forward and then repeats the action moving backward, be aware of speed when filming. Slow movements will not be as attractive when shown backward, while those that are too fast will appear frantic.
Simplicity: Keep things simple, and let the app do the work by bringing even the smallest movement to life, whether jumping, dancing, or changing facial expression.
5. Noom — Use the Element of Surprise
Catch your viewers off guard with an initial Stories frame that is unexpected or out of place.
The healthy-lifestyle brand Noom uses this surprise-and-delight strategy with unconventional Instagram Stories featuring a woman about to crush a dozen eggs with a hammer: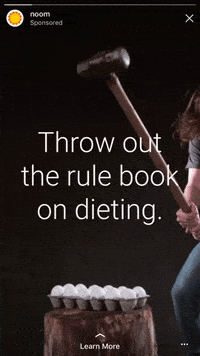 Strange, counterintuitive imagery can quickly grab users' attention and draw them into your ad. Video ads are especially good for this because you can use slo-mo and other movement-based features to add another level of interest to your Story.
Instagram Stories Examples Bonus #5
Electronics company Samsung added a touch of the unexpected to its Stories ad campaign. The ad rapidly takes you through a man's entire life as he holds out the word "long," highlighting the long-lasting battery of the company's latest phone.
Using surprise with the feeling of joy (delight) is a winning ad combination. Samsung depicted happy, momentous occasions to mark the passage of time, creating a feeling of joy for their users. The connection to long battery life came at the end, wrapping up the ad in a surprising and funny way.
The feeling of joy has a huge influence on viewer engagement, video completion rates, message retention, and purchase intent — and thus on overall advertising success. The reason is that people respond more intensely to happy events when they're not expecting them. In fact, a study by Marketing magazine in Canada found that 95% of respondents said surprise and delight experiences increased their positive perception of brands.
Create feelings of surprise and joy in your audience by adding a funny twist to the end of your Instagram Stories ad.
6. Brooklinen — Offer an Easy-To-Get Reward
Instagram Stories are only available for a very short time. You want customers to take action quickly, during the 15 or so seconds your ad is on their screen.
Simply offering a tantalizing reward — one swipe away — can lead viewers to take that (easy) extra step.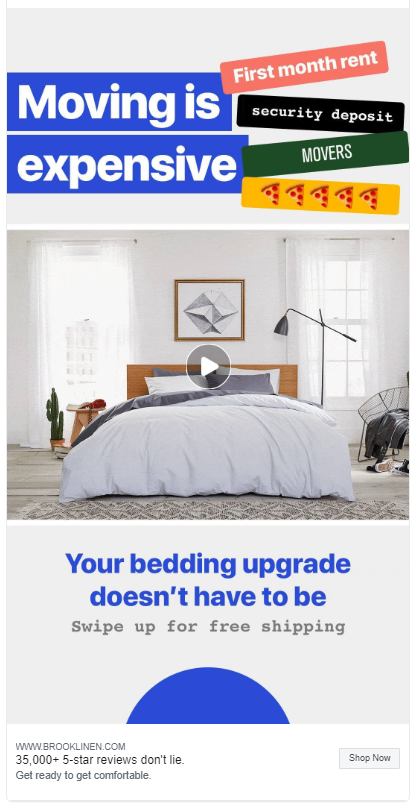 In this case, bedding company Brooklinen offers free shipping when users swipe up from their Instagram Stories ad. The CTA clearly spells out how the user will benefit by acting on the ad, encouraging them to swipe by emphasizing that the small motion will help them save big.
Instagram Stories Examples Bonus #6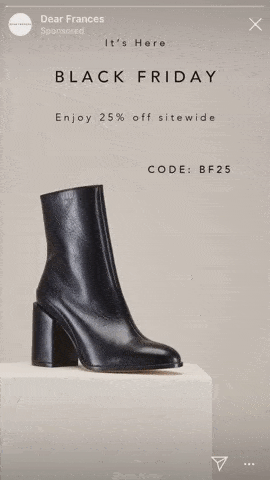 London-based luxury shoemaker Dear Frances uses Stories to highlight a special deal. The company states the offer plainly and adds a clear call to action that urges customers to act to save money.
Dear Frances uses a percentage-off code to draw their customers in. Here are some easy-to-snag rewards you can offer Instagram users:
Percentage-off discounts
Dollar-value discounts
Free shipping
Free gifts
Free downloads (ebooks, white papers, etc.)
Email newsletter subscriptions
Weekly or monthly discounts
Pre-launch offers
Holiday and seasonal deals
Abandoned-cart incentives
Referral incentives
First-time-shopper offers
Minimum-purchase discounts
Customer loyalty offers
Retargeted promotions
Influencer offers
Ecommerce promo codes
In-store coupons
7. M.Gemi — Go Behind the Scenes
Instagram Stories are a great place to showcase behind-the-scenes footage of your company.
Although you're allowed just 15 seconds, that's enough space to provide an exciting sneak peek.
Here, the Italian shoe company M.Gemi uses the Stories format to offer a window into their traditional manufacturing method.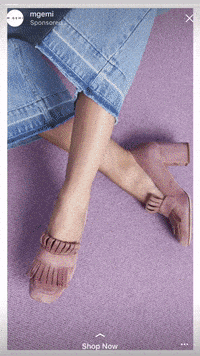 Using the Instagram Stories format to give people an insider's look at your brand will add a new dimension to their understanding of your products and help users feel more connected and knowledgeable.
Instagram Stories Examples Bonus #7
Hulu, a TV streaming service, takes Instagram users behind the scenes by introducing them to the actors in current and upcoming TV shows. In the Instagram Stories ad above, we meet Elle Fanning, who stars in the new TV show The Great.
Though you may not be able to use actors in your Instagram ads, there are plenty of other ways to take people behind the scenes:
Shine a spotlight on your people. Whether it's company employees, your customers, your brand advocates, or the business owner, leverage the power of the human element to wow your audience.
Show them what makes you tick. Do you have a special office environment or manufacturing process or support an important social cause? Use it to show and tell how you stand out from the competition.
Highlight your products or services. Use interesting storytelling and great visuals to showcase your offerings and generate interest with history, methods, and events that show your uniqueness and authenticity.
Give them a sneak peek. Creating or building something new and different? Partnering with a special or well-known partner on a project? Tell your audience about it with compelling visual content.
8. Postmates — Invoke FoMo in Your Instagram Stories
Like Sponsored Snaps, the disappearing nature of Instagram Stories adds an extra level of excitement and urgency, tapping into customers' fear of missing out (FOMO) and prompting them to act before opportunities vanish.
Some of the best Instagram Stories examples offer limited-time deals to increase the urgency of an already short-term format, boosting conversions by encouraging users to act quickly.
Postmates taps into FOMO with an Instagram Stories ad about its seven-day delivery credit offer: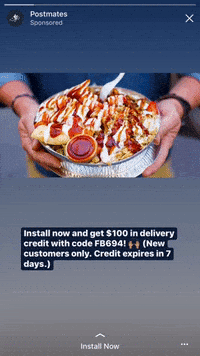 Postmates' Stories invoke FOMO not only because of the short window of time in which the post will play but also because of the enticing, short-lived opportunity it presents.
Increase the pressure to click by offering your audience deals they can't refuse within an already immediate format!
Instagram Stories Examples Bonus #8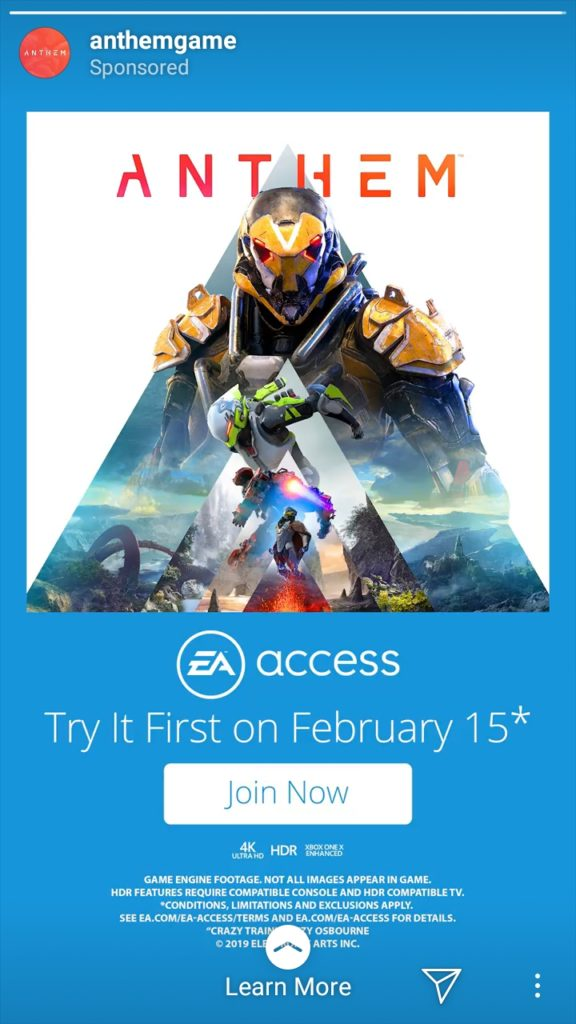 To promote its new Anthem release, game-maker EA Sports capitalized on FOMO by offering Instagram users the opportunity to be the first to try the new action role-playing game, giving them the feeling that they would become members of an exclusive club.
EA Sports uses FOMO to encourage users to try a new game right away rather than wait until their friends have already played it. But even if you're not advertising a specific offer, CTAs that inspire urgency give people the feeling that they could be missing out on something special.
For instance, using "Try It Free Today" or "Call Now" is more effective than "Get a Free Trial" or "Contact Us Anytime."
Effective words and phrases for creating urgency:
Don't Miss Out
Limited Time
Today Only
One Day Only
Final Sale
Hurry
Rush
Last Chance
Clearance
Closeout
Deadline
Going Out of Business
Never Again
Don't Delay
Now or Never
Offer Expires On . . .
9. SHEIN — Use Highlights to Make Browsing Products Easier
Stories are also a great venue for showcasing a series of products and/or a single product from multiple angles. Instead of making users swipe through a series of still images, the Stories format moves through the images automatically.
Thanks to the recently released Highlights feature for Stories, users can browse these multiproduct Stories at their leisure. Highlights allows brands to keep certain Stories visible at the top of their profiles after the 24-hour window has elapsed.
SHEIN, a women's fashion brand, uses their Stories ad to flip through a series of new swimsuit prints: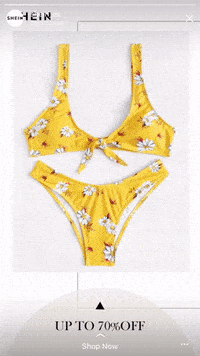 The company is able to quickly show the breadth of their patterns before the user moves on. SHEIN could add this Instagram Stories example to their Highlights reel to make it easier for users to go back, view the swimsuit collection again, and find a product they like.
Highlights for Stories are a great tool if you have several posts that you want to organize for your audience.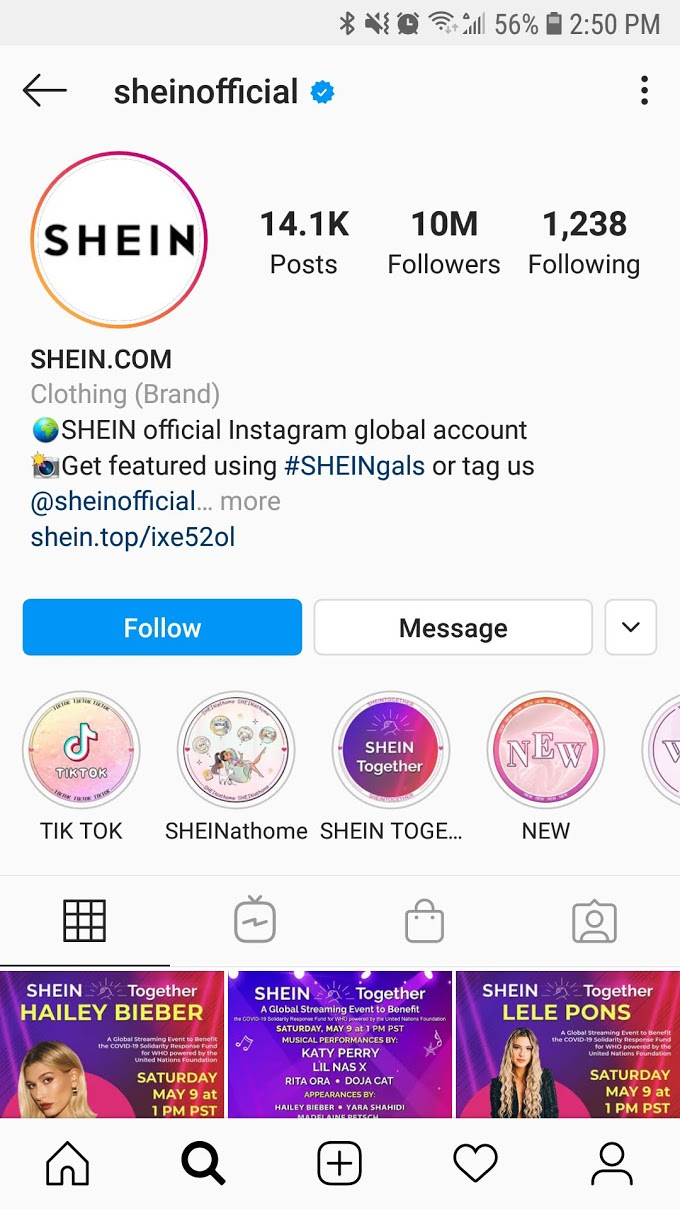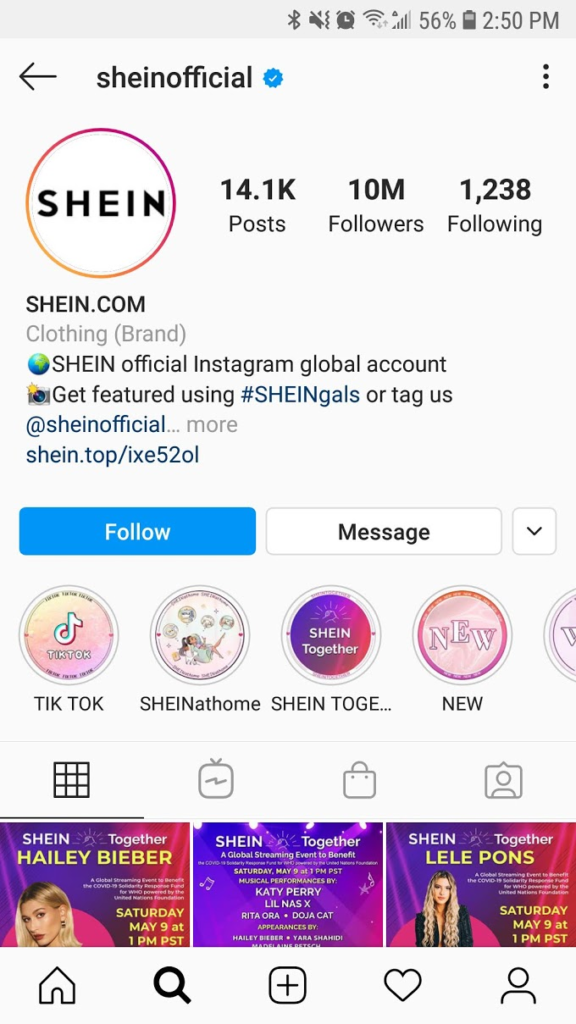 SHEIN uses Highlights to show off their best Instagram Stories examples, grouped into categories like "New" and "SHEIN at home." The organization allows the brand to showcase their best material and help customers discover new products.
Instagram Stories Examples Bonus #9
Wayfair, a discount home-goods store, uses a video to feature the different types of products included in its sale. It punctuates each product with a reminder that the items are "65% off," with a "swipe up to shop" CTA.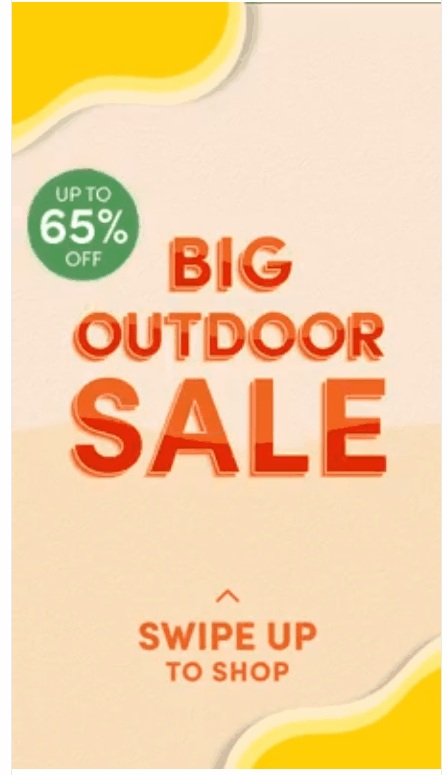 Carousel ads are another great way to highlight multiple products or collections. You can have up to three different cards for Stories ads, and each card can feature a specific product or group of products. The Stories format will turn them into a slideshow that plays automatically for the user. Your CTA will show up across the bottom of each slide.
10. Facebook Messenger — Show Your Audience People They Can Relate To
Inspire users to action by inciting emotion and presenting relatable people and situations.
Facebook showcased the humanity of Messenger with their recent Instagram Stories.
The ad shows friends talking via video chat and zooms in on their happy faces, emphasizing that Messenger will help users stay connected with friends and be social online.
Instagram Stories Examples Bonus #10
Using recognizable faces in your Instagram Stories helps create a sense of connection and familiarity with your audience.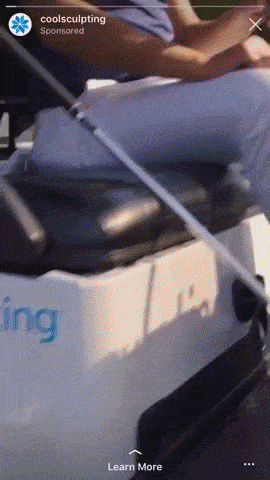 CoolSculpting, a body-sculpting treatment, targeted men interested in golf, featuring pro golfer Ian Poulter in their Instagram Stories—a figure the brand's core audience could identify with.
Make a campaign that resonates with your audience by working with celebrities and influencers that users will be familiar with. Influencer-finding tools like BuzzSumo or Facebook Brand Collabs Manager will help you find representatives who best fit your brand.
What Makes a Good Instagram Stories Ad?
In the end, a great Instagram Stories ad compels the user to act quickly.
You can achieve this in a number of ways, including:
Offering clear text directions
Delivering a slew of lovely products in rapid succession
Creating a sense of intrigue and mystery to elevate your brand
Using keen narrative techniques
Making everyday moments more exciting with Boomerang loops and other video editing tools
When plotting your Instagram Stories strategy, it's a good idea to take a look at some great examples of successful Instagram ads and to be aware of these common Instagram ad mistakes brands make (and learn how to stay clear of them).
You have a range of creative tricks at your fingertips to take advantage of this fast-evolving and increasingly popular ad format to distinguish yourself for better results.
What's your next Instagram Stories ad? And which one did you like the most in our selection? Let us know what you think in the comments!