There's been an ongoing debate about the impact of social signals on a website's search rankings.
The main argument being that social media doesn't directly affect your SEO.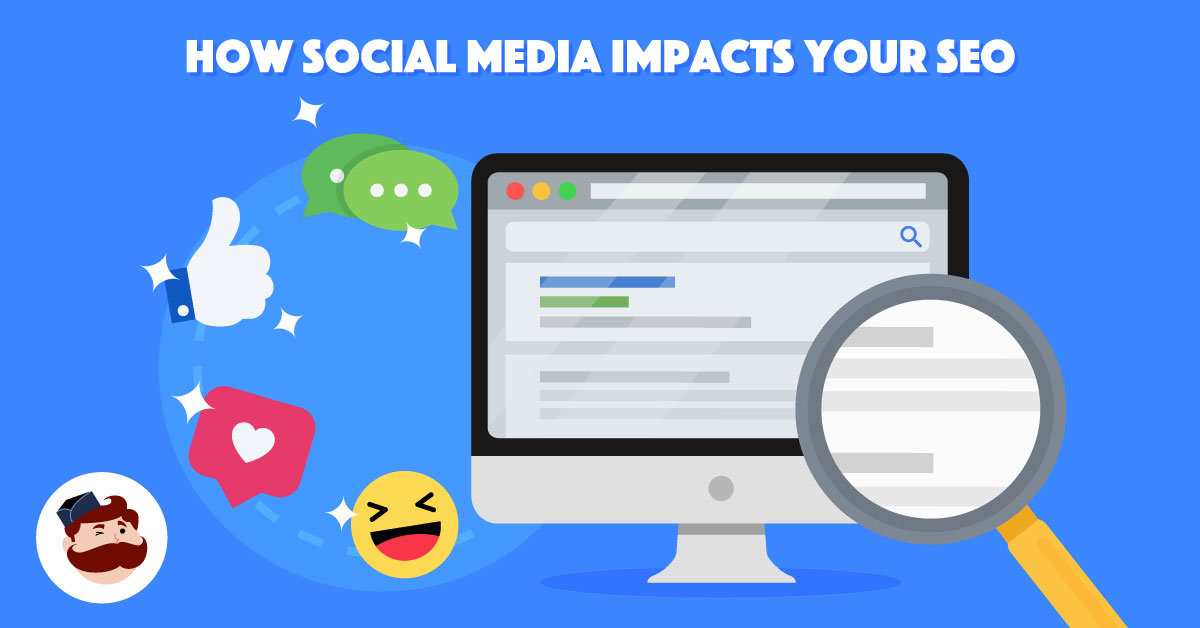 However, it does have an impact on the factors that do affect rankings such as traffic, meaning it indirectly affects your rankings.
In this post, you'll learn some important facts about social media and its impact on your SEO.
#1: Drives Traffic
Traffic has always been considered as one of the major ranking factors. Social media affects your site traffic by providing more visibility to your content.
When lots of people share your content within their networks, they're going to send more traffic to your website and therefore, boost your rankings.
A CognitiveSEO case study found that their ranking for the term, "Google images," rose from the 74th position to the 8th position in just one day. This rapid rise in ranking occurred just after the company saw 20,000 unique visitors from Reddit.
#2: Profiles Rank in Search Engines Results
Your social media profiles aren't just confined to social media; they also rank in search engine results. They are prominently visible in branded search results, often on the first page.
So your brand can increase your search engine visibility and drive more traffic by creating social media profiles and optimizing them.
For example, take a look at how Texas Auto Center's Facebook page ranks just below the local packs in a branded keyword search.
You can also see the ratings of the page and some snippets of the reviews. So if anyone wants to learn more about the company, they may click on this link. A visit to the company's Facebook page will help them get a sense of the brand's personality and help them discover some valuable content.
#3: Improves Your Content Reach
Social media is an excellent channel to ensure that your content reaches as many people as possible. On search engines, people only discover your content when they're searching for a relevant keyword. But on social media, you'll be getting your content in front of people who didn't even realize that they needed your content.
Better content reach translates into high-quality traffic which, again, affects your rankings. Matthew Woodward conducted an experiment to try to rank for the keyword "unhealthiest foods." While he did have a backlink strategy in place, what really made the difference for him were social media shares.
Once someone shared it on social media, it was shared over and over again until George Takei himself shared the post. His share garnered 16,000+ likes and 8,800+ shares. Soon after, the post got a featured snippet for the target search term. This shows how impactful social shares can be, especially when an influential social media personality is involved.
Even if you can't get an influencer to organically share your content, you could still look for influencers who might want to share it. You can use platforms like Influence.co to discover relevant influencers in your vertical. The platform also helps you view their previous brand partnerships to see if they're aligned with your brand.
#4: Social Media Platforms are Search Engines
People don't just use search engines to look stuff up. With robust search functionalities, social media platforms also serve as valuable search engines themselves. There may be people who discover your profile, page, or content through social media search.
As you can see in the following screenshot, some of the search results for the term "content marketing strategy" have captions optimized with the phrase.
That's why it's crucial to optimize your social media pages and content with relevant keywords to boost your visibility. You can use tools like SpyFu to look up the keywords for which your competitors are ranking and which keywords are getting them clicks.
This will give you an idea of which keywords to use to give your content more visibility in social media search results and drive more clicks to your site. You can optimize your social media bios and captions with these keywords.
#5: Local SEO
Social media also affects your local SEO efforts in a few ways.
As you already know, your NAP (the name, address, and phone number of your business) plays an important role in local search rankings.
If you maintain consistent NAP information across all of your listings and website, Google will consider your business as more credible. And that can boost your rankings in local search results. Which makes it crucial to use the same NAP information across your social media profiles, local listings, and website.
Additionally, some social media platforms let you geo-tag your Stories and posts. This is a great way to gain more visibility among a local audience, helping you expand your reach.
On Instagram, for instance, users can conduct a search for content that's geotagged to a specific location. You should be able to attract more local visitors this way.
The reviews on your social media pages also help you attract local customers.
A BrightLocal survey found that 86% of consumers read reviews about local businesses. As you've learned from the previous points, your social media profiles show up in search engine results and display snippets of reviews.
This could entice a curious local audience to visit your social media page.
#6: YouTube SEO
YouTube videos get prominent rankings in search engine results. In fact, popular and relevant YouTube videos will be the first to show up for certain searches.
Take a look at how the following video on how to delete your Instagram account is taking up the entire screen of the search results page.
Besides this, you'll still get video carousels after the top search results as you can see in the screenshot below.
This makes it crucial to optimize your YouTube channel and videos for SEO. All you need to do is optimize the video descriptions and titles with relevant keywords. This will help you gain more visibility not just within the platform but also in regular search results.
Conclusion
As you can see from these points, social media plays a crucial role in your overall SEO strategy even though it may not directly affect your rankings. It mainly works by bringing your brand and content more visibility, which in turn drives more traffic.
Besides, your social media profiles and YouTube videos also rank among regular search results. So optimizing them for the search engines will definitely boost your overall SEO strategy.
Got any more ideas about social media's impact on SEO? Let us know in the comments below.
Shane Barker is a digital marketing consultant for 15 years. He is specialized in sales funnels, targeted traffic and website conversions. He has consulted with Fortune 500 companies, Influencers with digital products, and a number of A-List celebrities. You can get in touch with Shane on Facebook, Twitter, YouTube, Instagram and LinkedIn, or visit his website.