Social media is a powerful marketing channel. But planning and executing an effective social media strategy takes a lot of work. You need to set up goals, plan a content calendar, track your results, run regular audits…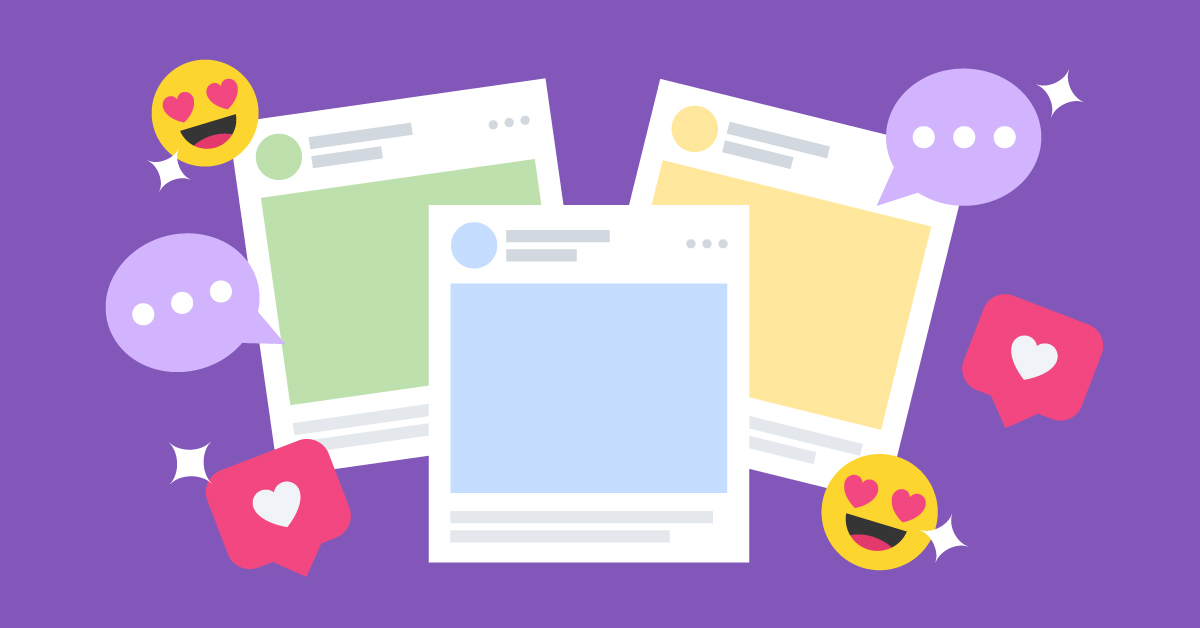 But here's some good news: There's a template out there for nearly every aspect of a social media manager's job. In this article, we'll be looking at 15 free social media templates that will save you a ton of time (and migraines!).
15 social media templates to help you save time
1. Social media strategy template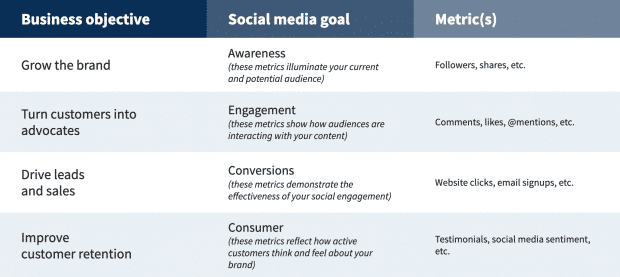 Whether you're a one-person social media team or you have multiple people in charge of your social media marketing efforts, this template will help you plan and/or improve your social media marketing strategy.
The social media strategy template makes it easy for you to:
Set SMART social media goals that contribute to business growth
Create or improve your social media profiles
Target your ideal customers better
See what's working and what isn't
Analyze your competitors so you stay ahead of the curve
Craft an effective social media content strategy and publishing schedule
Sell social media packages to new clients
Measure your progress and tweak your methods accordingly
Get the free social media strategy template.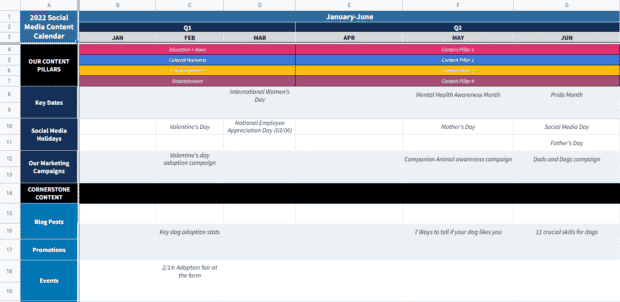 A social media content calendar is a document that helps you plan and schedule social content in advance. This makes it easier for you to meet deadlines, manage your content creation team, and be transparent with your boss and/or stakeholders.
This document is one of the most important things in your social media toolkit.
Every social media content calendar is different, and this template should be customized to fit your own social media strategy. This social media content calendar template will help you:
Find your ideal content mix for the major social media networks (Facebook, Instagram, Twitter, LinkedIn, Pinterest, Snapchat, etc.)
Identify and fill gaps in publishing
Remember important dates and events
Ensure your content is performing well
Collaborate with team members
Allocate resources to the team effectively
Get the social media content calendar template.
If you need help using the template, check out our guide to creating a social media content calendar.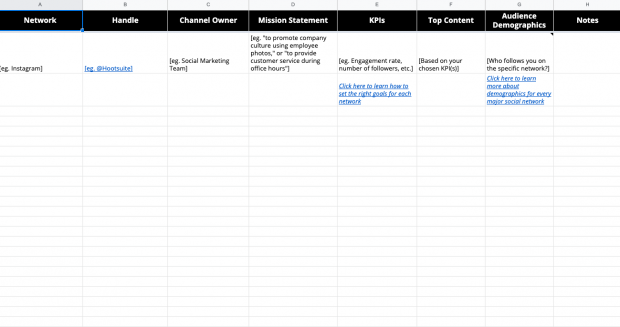 Social media networks like Facebook and Twitter modify their algorithms often. And users are changing their behavior and interest just as fast. So the strategies that worked yesterday might not work today.
To help you navigate these changes, you need to run social media audits from time to time.
This social media audit template helps you know what is working–and what isn't–on social media, and how to proceed with your strategy. This template will also help you identify outdated profiles, impostor accounts, and new opportunities to take advantage of.
These insights will help you ensure that your social media efforts are paying off.
Get the social media audit template.
If you want to learn more about this, read our guide to running a social media audit.


Tracking and analyzing your social media performance is key to growing your business and proving the value of your efforts.
Whether you're measuring your own results or presenting social analytics to a team, you need a repeatable and presentable way to organize the data. Doing this will give you a bird's eye view of your performance and show you how many of your goals you've been able to accomplish.
This social media analytics report template has tabs where you can record the key metrics for different platforms, including:
Followers gained (or lost)
Views
Engagement
Shares
Click-throughs, etc.
You don't have to use these exact metrics, though. If you're tracking different metrics, simply replace the example numbers with the ones you're tracking.
Get the social media analytics report template.
If you're new to tracking social media performance, read this Hootsuite guide to using social media analytics for beginners. This guide also has a list of analytics tools you can use to make reporting easier.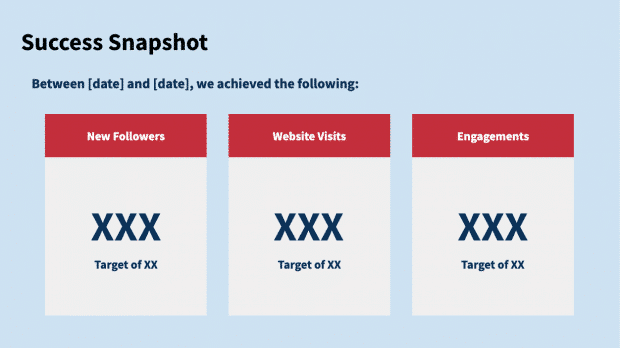 This social media report template will help you consolidate your social media metrics and KPIs in one document.
The document will include the data in your analytics report, as well as space for context and analysis. This data will come in handy when you're presenting your social media results to your boss, teammates, clients, or other stakeholders.
This template also helps you gain insights into social trends while tracking changes in metrics like followers, impressions, reach, and engagement on your social channels.
Get the social media report template.
To learn more, read our guide on how to report your social media results.

While this isn't exactly a social media template, it will help you save time on social media.
Social media platforms are always changing their image sizes and formats. It can be hard to keep up. This cheat sheet contains the recommended image sizes and dimensions for each social network, including profile images, ads, header images, etc.
If you get these right, you'll be able to create stunning images that grab your audience's attention.
Get the up-to-date social media image size cheat sheet.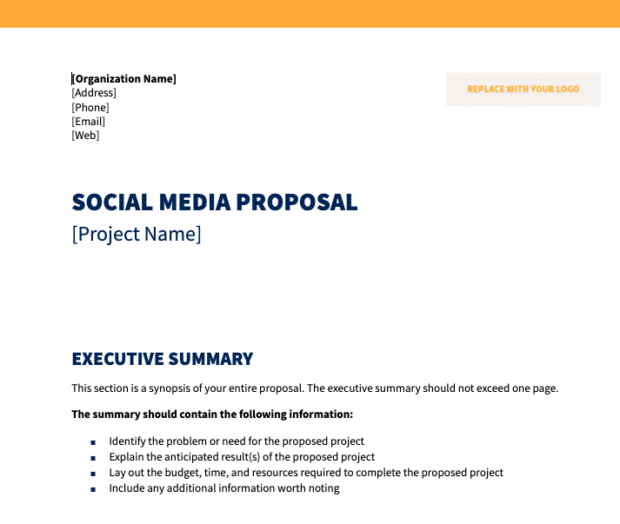 For social media freelancers and agencies, having a proposal to show a potential client plays an integral role in getting the job.
A social media proposal is a document that explains the skills and the services you can offer to a prospective client. In your proposal, you'll outline your ideas and the work you'll do for the client, including the timeline and budget.
With this social media proposal template, you only have to swap out the example with your work specifics.
Get the pre-formatted social media proposal template.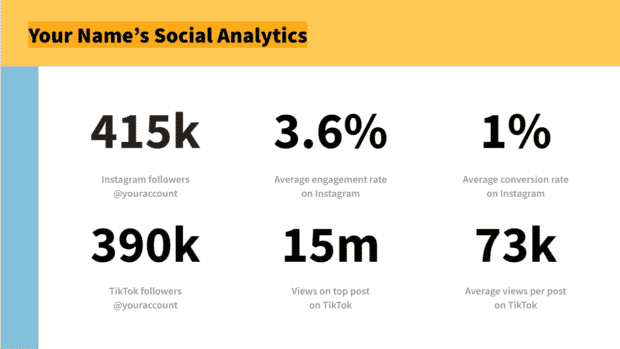 If you're a brand new influencer, the process of getting clients might feel overwhelming. Reaching out to people who have never heard of you before is tricky business.
However, having a great brand pitch email makes things easier.
Lots of brand pitches fall through because they were not thoughtfully written and tailored to the specific brand. This brand pitch template eliminates this problem.
After customizing it, you'll be able to successfully reach out to brands and forge a great influencer partnership.
If you have sent lots of unsuccessful pitches, it's possible you're missing one of the 7 elements every brand pitch must include.
A good influencer marketing strategy helps you target important influencers that can promote your product, service, and/or brand to your target market, or to their own audience.
With this influencer marketing strategy template, you'll be able to leverage an influencer's reach on any social network to achieve your marketing objectives.
Get the influencer marketing strategy template.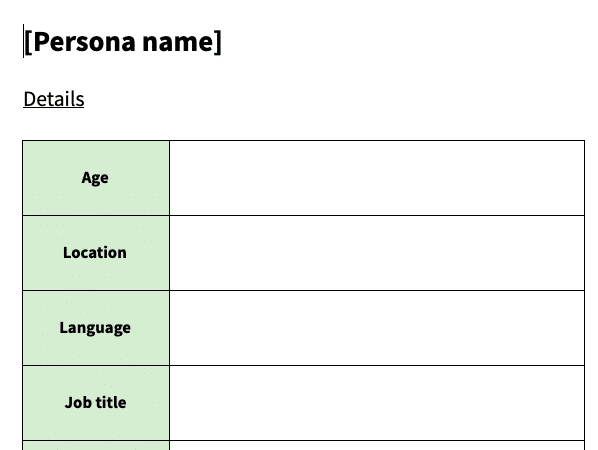 A buyer persona is a semi-fictional profile that depicts your ideal customer based on research and existing data.
Buyer personas help you understand your target audience better. When you know who you're targeting, you'll be able to reach the right people with your marketing campaigns.
This social media template will help you conduct customer research, create buyer personas, and target your audience better.
Get the buyer persona template.
If you're serious about becoming a social media influencer, you need to have an impressive influencer media kit to share with the brands you want to work with.
Media kits are the best way to show what you can offer to brands and how serious you are about your work. It's like a resumé, portfolio, and business card in one!
This influencer media kit template will help you highlight your services so that you can forge meaningful relationships and land lucrative deals.
Get the influencer media kit template.
To learn more, check out this Hootsuite guide on how to create an influencer media kit.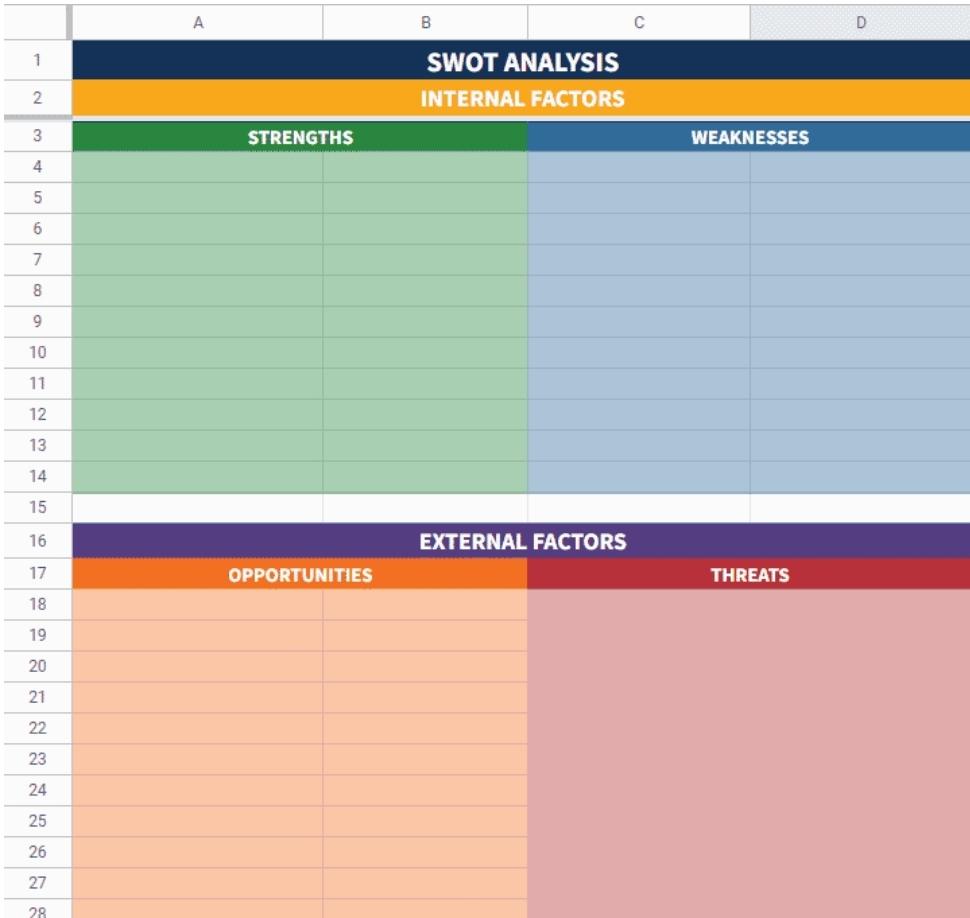 If social media platforms are an integral part of your larger marketing strategy, you need to conduct a competitive analysis to learn how your competitors use social media and how your performance compares to theirs.
This way, you'll be able to identify gaps in your strategy, spot new opportunities, and stay ahead of the competition.
This social media template will help you analyze your competitors' social media presence, and help you identify your strengths, weaknesses, opportunities, and threats.
Get your free social media competitive analysis template.
If you're new to competitor analysis, read our article on how to conduct a social media competitive analysis.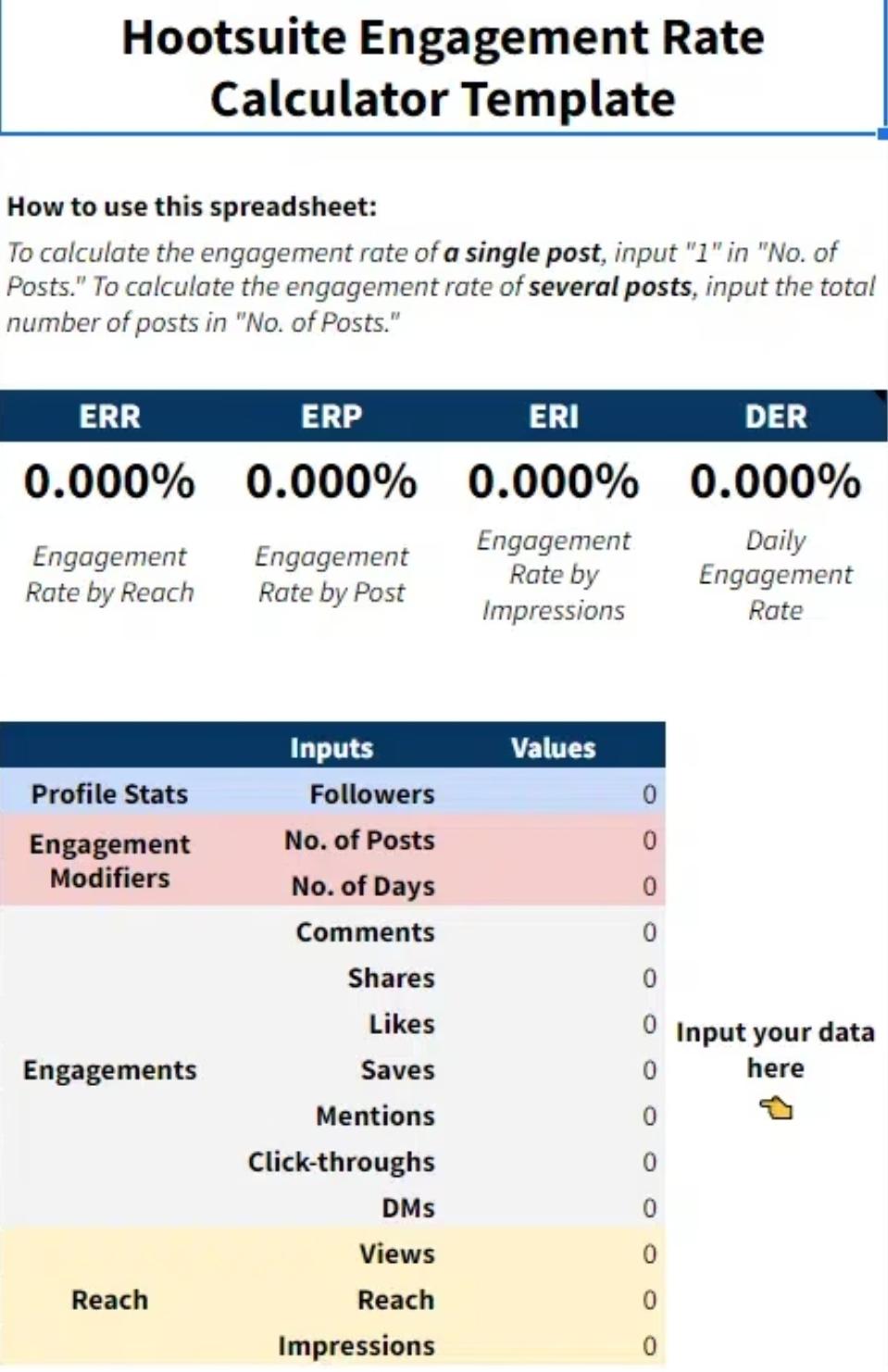 Engagement rate is the best way to see if your target audience resonates with the content you're posting on social media, and what they want to see more of.
This calculator helps you measure your engagement on each post or for your entire marketing campaign on any social network.
Download the social media engagement rate calculator.
Learn more about engagement rates from our guide on how to calculate engagement rates.
Want to build a career in digital marketing as a social media manager?
You're going to need a resumé to get a job.
But you're in luck because the team at Hootsuite has designed several resumé templates that highlight how your work experience aligns with the skills that your organization of choice is looking for.
All you have to do is update your personal details and customize the template to fit your dream job.
Grab the social media manager resume templates.
You might have to download the fonts for these templates. Grab them for free at the links below:
Monitoring social media sentiment helps you determine if your target audience views your brand in a positive, negative or neutral light. With social media sentiment, you'll understand the opinions and emotions behind the things people say about your brand on social media.
This social media sentiment report will help you see how people feel about you online. This way, if the sentiment is negative (or steering towards negativity), you'll be able to correct it before your brand reputation takes a hit.
Snag the social media sentiment report.
Do you love these social media templates?
Well, you can save even more time on social media by using Hootsuite to manage your online presence. From a single dashboard, you can schedule and publish posts, interact with your audience, and track your performance.