Business Insider estimates that 76 million U.S. shoppers will spend $23.3 billion buying products through social networks by the end of 2020. That's a 20% jump from just a year ago.
Facebook Shops—Facebook's newest tool for social commerce—make it possible for even the smallest business to reach that huge and growing market. As Mark Zuckerberg put it, "Facebook Shops gives [small businesses] the same tools to build and operate your online store that global brands have had for reaching their customers."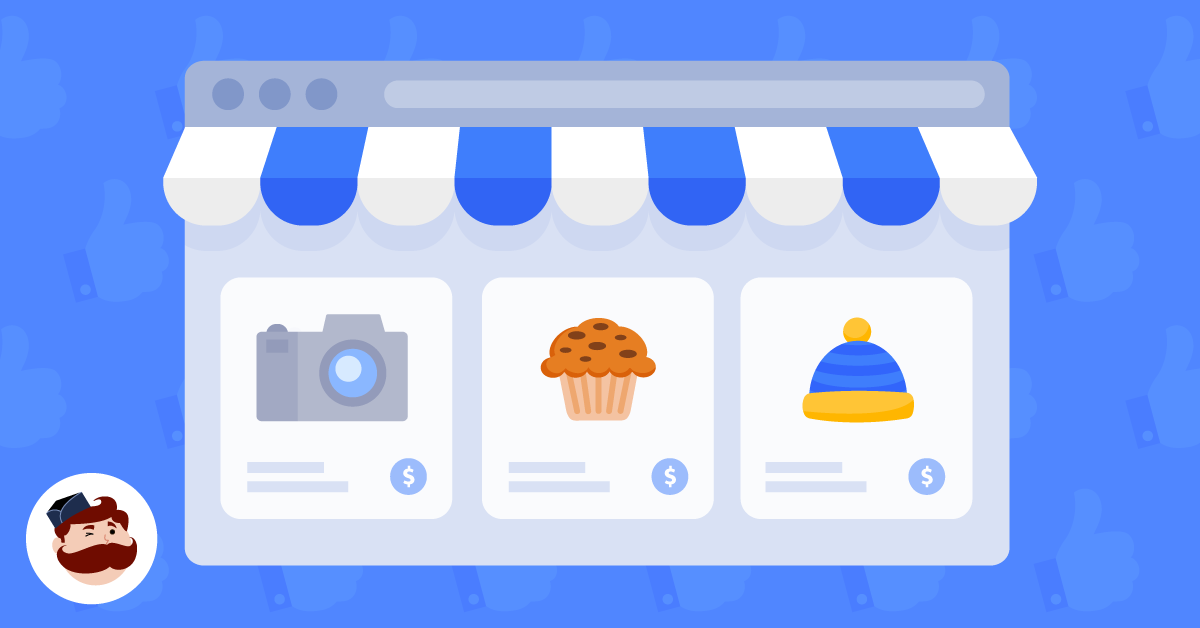 Facebook Shops are an easy, free way to start generating revenue directly from the largest social networks in the world. Here we'll help you understand how Facebook Shops work and how to set up your Shop, and we'll offer some inspiration from three small businesses that are taking advantage of the best features Shops have to offer.
What Are Facebook Shops?
Facebook Shops are virtual storefronts that live natively on your Facebook page and your Instagram account. With a Facebook Shop, your customers can discover, share, and even buy your products without ever leaving the social media platform.
Facebook Shops offer several features to help you easily sell online. For example, with a Shop, you can
create a native shopping experience so your products are discoverable right from your main Business Page;
customize design elements, like color and font, so your Shop matches your brand; and
set up one Shop that appears on Facebook, Instagram, WhatsApp, and Messenger.
You may be familiar with Facebook Page shops. The Facebook Page shop (aka Facebook shop tab) was rolled out in 2016 and is the predecessor of Facebook Shops.
Eventually, all Facebook Page shops will be converted to Facebook Shops. While the old Facebook Page shop offered some of the same features as the new Shop tool, there are also some key differences.
For example, the old Page shop wasn't customizable to fit your brand, and it didn't integrate into your main page (you had to install a "shop" tab, and visitors had to click it to get to your products). Also, you couldn't automatically create a similar shop on Instagram or integrate it with WhatsApp and Messenger.
Overall, the new Shops are easier to manage and offer a more seamless, unified experience for the shopper.
Is there a fee to create a Facebook Shop?
Facebook doesn't charge a fee to open a Facebook Shop. Instead of trying to make money directly off of Shops, Zuckerberg says he hopes that as more businesses create a shop, they'll also spend money on ads.
There are fees if you wish to allow customers to complete their transactions in your Facebook Shop (as opposed to heading to your website). To do that, you'll need to use Checkout, Facebook's payment-processing product, and they'll collect 5% of your total shipment for a flat fee of $.40 for shipments under $8.
The good news is that Facebook is waiving those fees until the end of 2020. So you can give Checkout a try and decide if it will be worth a 5% hit to your bottom line when fees kick in.
Why should I open a Facebook Shop?
Facebook Shops make it easy and cost-effective for even the smallest business to create an attractive online shopping experience for their customers. Here are a few ways a small business can benefit from launching their own Shop.
You can build a Facebook Shop even if you don't have an online store or use an ecommerce platform.
You can display products, answer customer questions, and collect a payment, all from your Shop.
If you do have an online store and use an ecommerce platform like Shopify, you can sync it with your Shop. That way, updates to inventory, pricing, and so on that you make in Shopify will be automatically reflected in your Facebook Shop.
You reduce friction for your customers.
Shopify identifies a difficult checkout process as a top reason people abandon online shopping carts. Facebook Shops removes that hurdle in two ways.
First, after a shopper has made their first purchase through Checkout, their payment and shipping details auto-fill for any other vendor also using Checkout.
Second, shoppers can float from one app to the next and continue their shopping process. So if your customer sees a product on Instagram and places it in their cart, they can complete the purchase later on Facebook.
Customers can find your Shop through popular Facebook app features.
People interact with Facebook and Instagram in lots of different ways. Facebook Shops help you catch users' attention no matter how they use those platforms.
For example, you can display products, collections, and a Shop link on your Business Page or Instagram profile:
You can have links to the products you sell on a Facebook Live Video and Instagram Story:
Your Ads and organic posts can have tags that lead visitors to a product page:
And your products can be discoverable in Instagram's and Facebook's shopping search tabs:
The shopping search tabs are basically the shopping mall of Facebook and Instagram. You don't need to do anything to have your products featured there. Like most things Facebook, their algorithm will surface products that a visitor is likely interested in, based on prior activity.
How Do I Create Facebook Shops?
Facebook wants to make social commerce accessible to small businesses, so the platform made the job of creating a Shop simple. If you already have a Facebook Business Page and products to sell, you can have a Shop set up before your espresso gets cold.
Before you start, make sure you:
Set up your Facebook Shop
Facebook's Commerce Manager is where you'll set up and manage your Shop. Navigate to Commerce Manager to start the process.
The first thing you'll select is where you want customers to complete their purchase: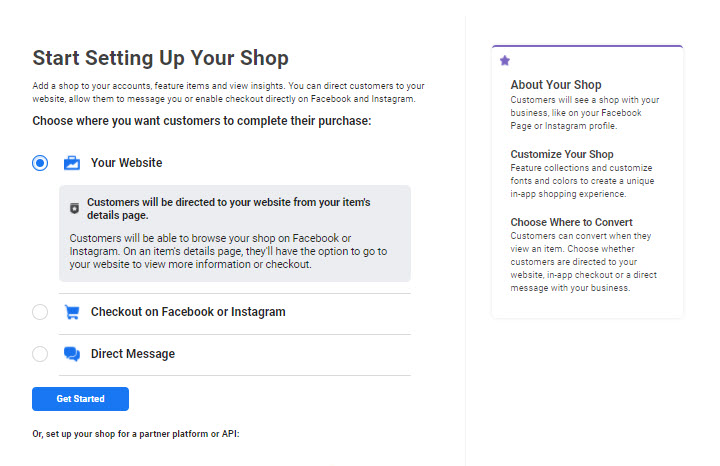 Next up, you'll provide information in three categories. Click "Set Up" to start the process: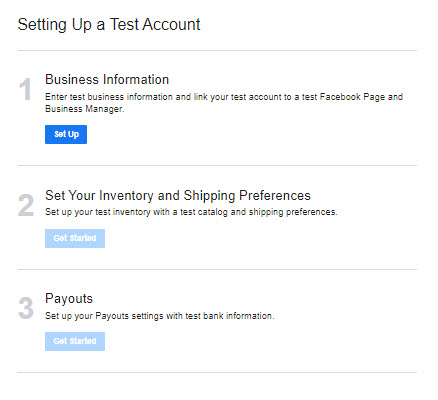 In the Business Information section, you'll give your business a name and connect it to your Facebook Manager account. If you don't have a Facebook Manager account, no worries. Learn how to create and use one.
Continue on to the Inventory and Shipping Preferences section. Here, you'll create a catalog, set delivery options, and add a return policy.
Finally, you'll complete the Payouts section. Here, you'll add your business's physical and email addresses, add a business category (e.g., clothes, services), include your location and tax information, and link your bank account.
Congrats! Your Shop is now set up. It's time to add products and customize your Shop so it perfectly aligns with your brand.
Add products
There are several ways to start building your catalog of products in your new Facebook Shop.
If you're starting fresh, no problem. You can add products to your Shop manually, in bulk, or through an API . Just create a catalog to hold your products. Then, add products to it.
If you already had products loaded to an existing Facebook Page shop or used Instagram product tags, you don't need to do anything. Those products will be available for your new Shop.
If you have an ecommerce store on a platform like Shopify, you'll be able to import your products directly to your Facebook Shop. You just need to set up the Facebook Shop channel in Shopify.
Create product collections
A collection is a group of 6 to 30 products you create based on criteria such as color, seasonality, or closeouts. Your collections showcase complimentary products to give customers plenty of options and encourage them to increase their order size. You can feature your collections in ads and on your Shop.
Here's an example of what a collection looks like from Adventure Cats. When you go to their Facebook Shop, the first thing you see is their featured collections. Each has a header photo and a navigation button. Click one of the buttons and you'll be taken to a list of products that make up the collection.
To create a product collection, head back to your Commerce Manager home page and click "Shops" and then "Collections" on the left-hand menu.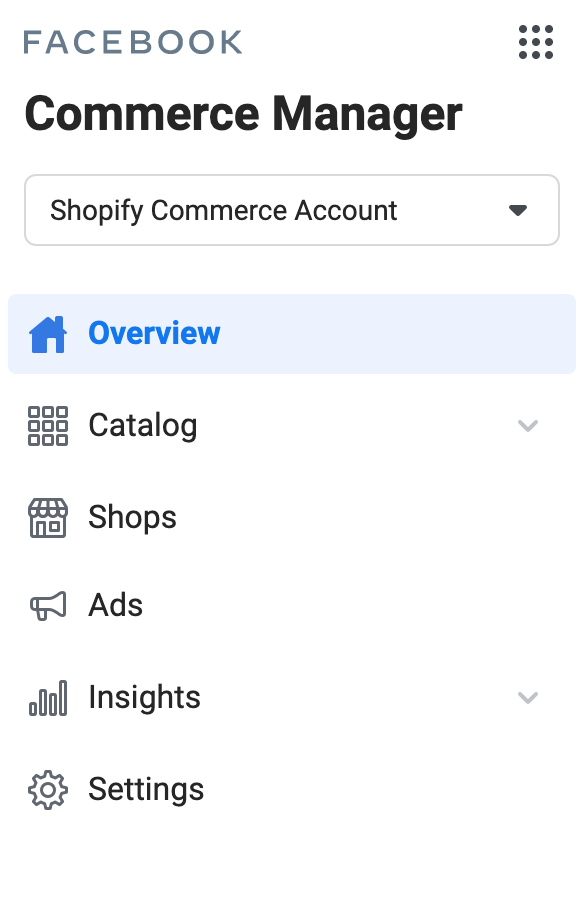 Choose "Create New Collection."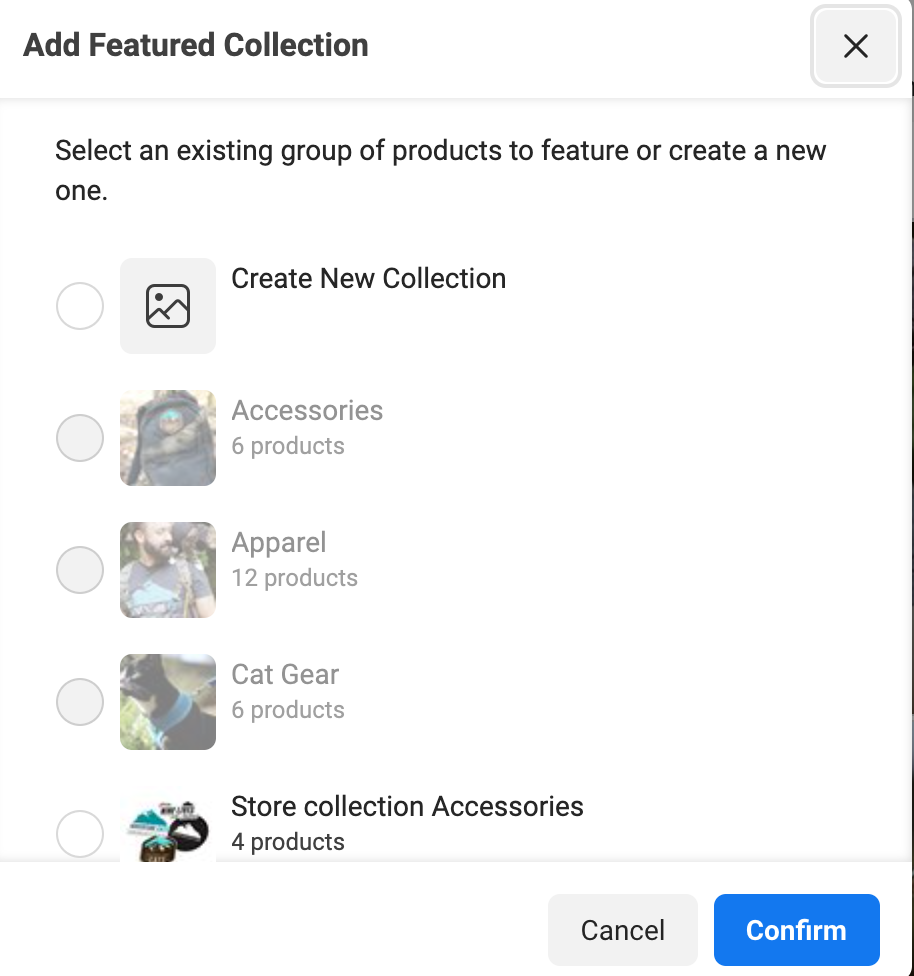 Next, you'll give your collection a name, add a cover image, and add a brief description if you like.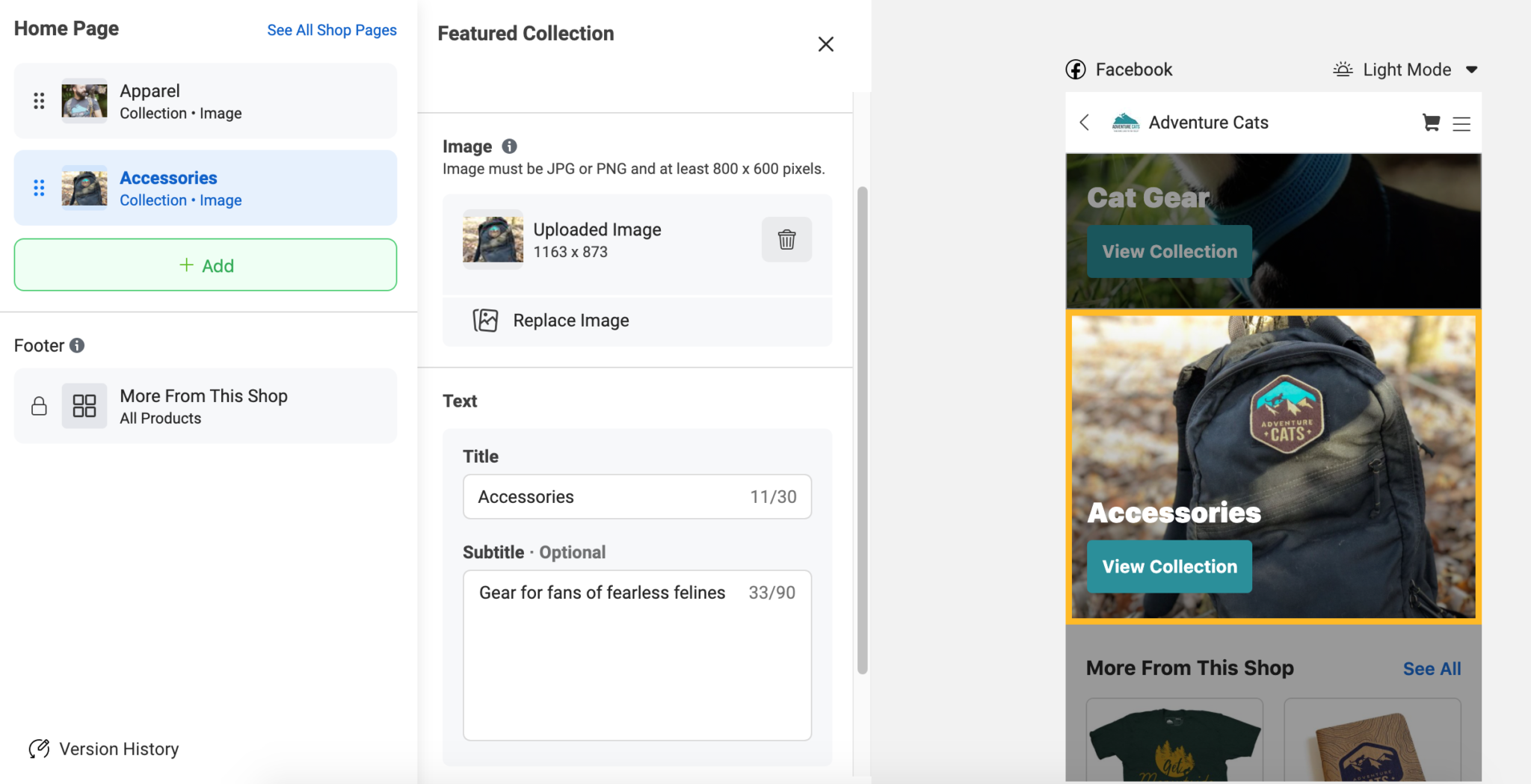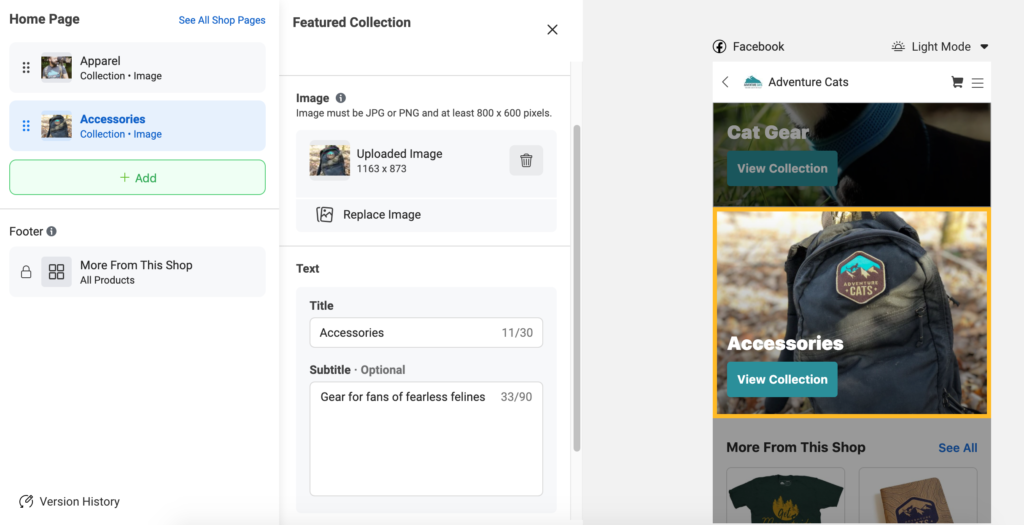 Click "Next" to start placing products in your new collection. You can add from 6 to 30 products in each collection.
Any product in your catalog is available to be added to your collections, and a single product can appear in multiple collections. A ball cap, for example, could be in your "headwear" collection and your "top seller" collection.
Click "Next" again and review your collection. Click "Confirm" to tell Facebook your collection is ready to review. As long as your collection meets Facebook's commerce policies, it should be approved in about a day.
Customize
Until Facebook released Shops, you didn't have many options for branding your Business Page. You were just stuck with the Facebook color scheme. Now, Shops allow you to customize your store's design to give it a personalized feel.
To get started, click "Shops" in Commerce Manager and "Edit" on the right.
On the top left, you'll see a "Layout" and "Style" buttons. Layout is where you'll add, remove, or reorder collections. Style lets you edit the size and alignment of all titles, change the color of the buttons and links, and change the shape and outline of buttons.
3 Facebook Shops Examples
By nature, small-business owners are creative. And many of them are taking full advantage of Shops to get their products in front of the 2.7 billions monthly active Facebook users. Here are three small businesses you can look to for inspiration when creating your own Facebook Shop.
Including multiple products in each post: Gunnar Kennels
Gunner Kennels makes ultra-tough dog kennels to keep your four-legged family members safe while in transit.
Facebook allows you to take more than one product from your Shop in an organic post. Take a look at how Gunner Kennels incorporated an unexpected second item, a branded ball cap, in this organic post.
Also, notice the Shop tag in the original post. That tells visitors they can click and go to an image with more information. From there, the shopper can pick a product from the photo and save it, share it, or buy it from the Gunner Kennels website.
Using collection descriptions effectively: The Tiny Tassel
The Tiny Tassel offers a range of colorful, handmade tassel jewelry, accessories, and garments.
The business has created collections of their products, which are featured prominently in their Shop.
Even better, The Tiny Tassel wrote a brief description of the collection. Visitors will know that each item in the group offers something a little extra special: it was was "handmade by mom."
Creating a seamless path to purchase: Ink Meets Paper
Ink Meets Paper is a letterpress and paper-goods company that makes one-of-a-kind cards on an antique paper press.
The business has done a couple of things to make it really easy for their customers to shop and buy. First, Ink Meets Paper used the button on the front of their Business Page to lead right to the Facebook Shop (many companies use that button to direct visitors to their website.). Then, the company incorporated Checkout so a visitor can make a purchase without leaving Facebook.
And since they've used Facebook's Checkout, Ink Meets Paper's customers won't have to fill out their details every time they make a purchase. That reduces all the friction from logging into different websites or filling out "guest checkout" details over and over again.
Grow Your Facebook Shop with Facebook Ads
Opening a Facebook Shop without advertising it is like throwing a party and not sending invitations. Luckily, Facebook offers several ways to show off your new Shop in ads.
You can feature either a single product or a collection in an advertisement on either Facebook or Instagram. You can place ads in the News Feed or in Stories. And Facebook even lets you place a link directly to your Shop in your ads so customers are just a click away.
To get started promoting your Shop, make sure you have a solid ad strategy. Then, test multiple ad types to see which work best with your audience.