Struggling to find the right platform for launching your online store?
You browse search results for ages. You settle on an eCommerce solution that's okay. You'd love to hire a developer to customize it, but you don't have the budget.
It makes you wonder if a better source for selling online exists.
Well, you could start selling directly on Facebook by opening up a Facebook store.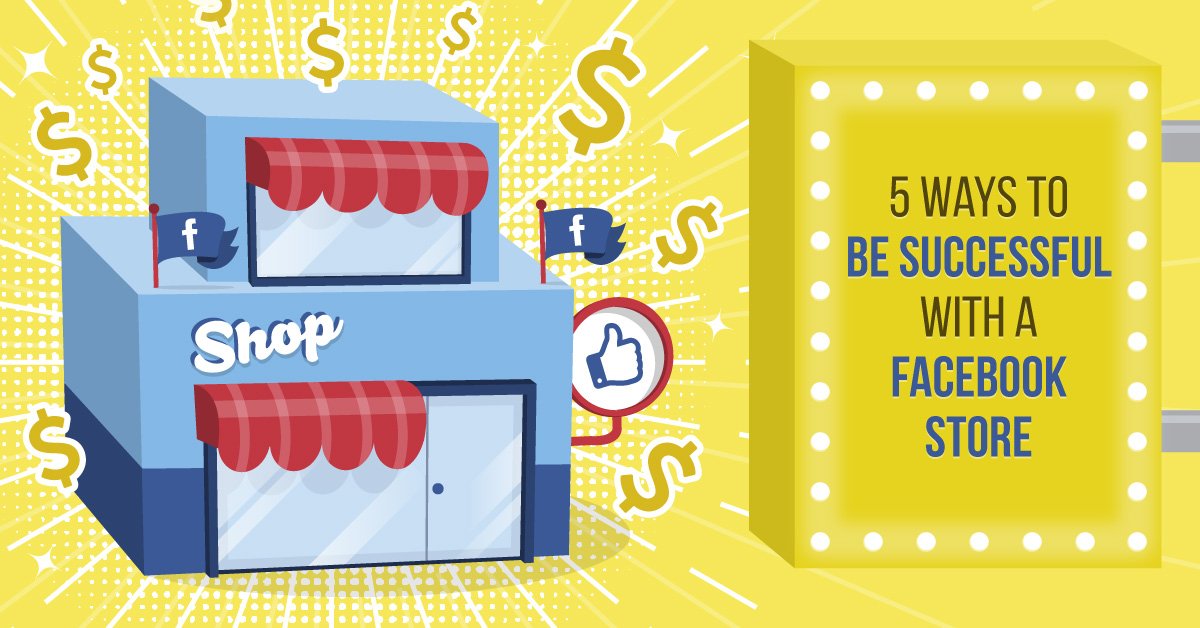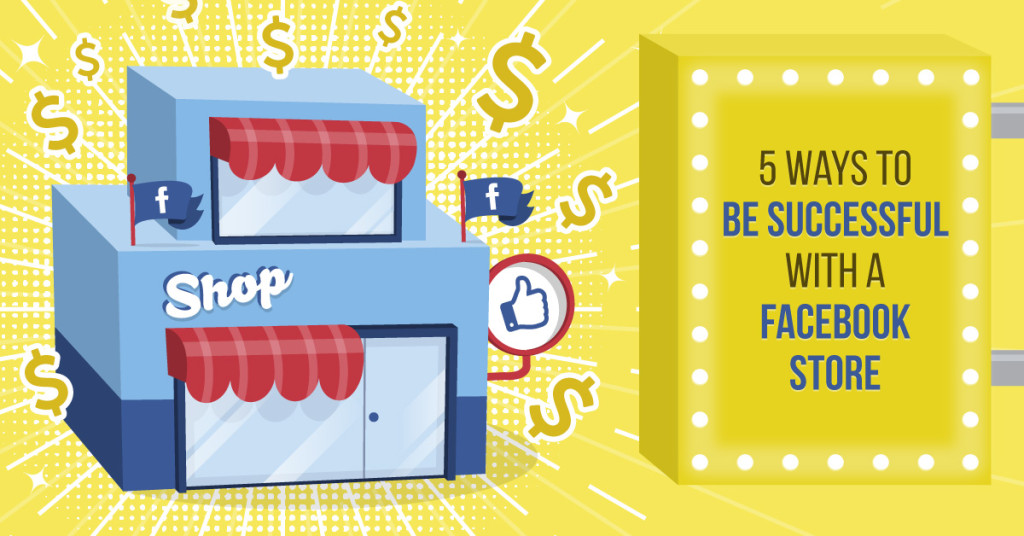 AmeriCommerce reports that Facebook refers 60 percent of all social traffic to retail sites. That's a huge chunk of shoppers using Facebook to guide their purchases. Imagine the impact you can have when customers even don't need to leave the site to make a purchase.
Make no mistake, the social giant offers enormous potential to anyone wanting to sell online. Many merchants are already leveraging 'Facebook Commerce/ F-Commerce' and asking what they can do to enhance their presence and separate their Facebook stores from the pack.
How to open up a Facebook store?
Before anything else, you need to know your options when it comes to opening up a Facebook store. In essence, you can do it by using a third-party application such as:
This application allows you to create a storefront within 15 minutes. It places a separate tab on your Facebook page called 'storefront', and you need a PayPal account to receive payments. The company behind the application charges no fee for providing this service.
To set up a store, you need to visit the application page and follow the directions. Adding products is a simple two-step process – enter item data and upload its image. Other features include the ability to track sales, create multiple product categories, and feature products on the main page.
EasySocialShop is one of the most effective apps for opening an online shop. It includes a simple 3 step process, where you just need to install the app, upload your products and start selling. After you add the tab of the shop from the application page, it will ask you to integrate your store from platforms such as eBay, Etsy, Amazon and Shopify.
In case you don't have an existing store, it will allow you to create one with Wix drag and drop builder and integrate it to Facebook. While basic services are free, you have to pay a price for analytics and other premium features.
This app has preconfigured social buttons that allow you to quickly showcase and share products on a Facebook page. It has the option to create a searchable portable for Facebook customers to help them search for specific products. You can also select from different templates to display your products, as well as highlight and feature new or special items.
The app also adds a 'Buy Now!' button and keeps it in line with the look and feel of other buttons on Facebook. Users can import products from CSV, RSS, Google Merchant Feeds, and other platforms. There are different pricing options, with the best plan offering mobile compatibility and support for 30 different languages.
How to be successful with a Facebook store?
Now that you know how to open a Facebook shop, let's move on and discuss what you need to do to be successful. Below are some of the strategies that should help your quest to be successful in F-Commerce:
1. Promote your Facebook store
To create awareness for your online store, advertise your shop on Facebook to get more prospects. By creating Facebook ads using tools like AdEspresso and boosting posts to existing fans, you'll have thousands of people checking out your products daily. If you're into advertising we recommend to try the new Facebook Multi-Product Ads, they're great for eCommerce!
While creating ads, you can directly insert a link to your Facebook shop so that the targeted audience (some probably soon-to-be customers) are just a click away from seeing your products and making a purchase decision. Use News Feed and mobile ads for best results.
Some applications like Easy Social Shop will offer integrated ad solutions. GoDaddy merchants, for example, can use Easy Social Shop's advertising feature to generate ads that target people based on business information and product data from GoDaddy online store.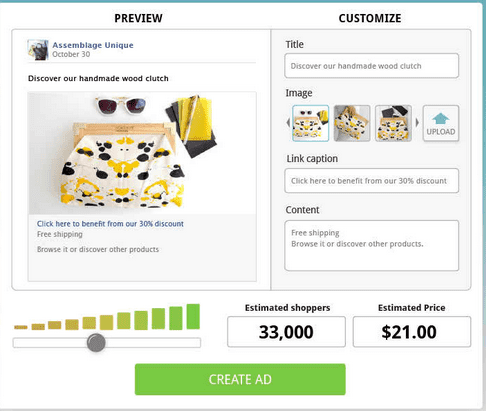 By leveraging these options, you'll be able to drive traffic to your Facebook store.
2. Offer discounts and promos
Fast Company reported that 42 percent people like a Facebook page to get a discount or coupon. So by offering discounts through your online store to those landing on your storefront through your Facebook page, you'll be able to entice consumers to buy.
There are also apps such as AgoraPulse to run contests, giveaways, etc. With such apps, you can create a call-to-action to visit your Facebook store to receive a special offer (either a discount code, or a store-only sale).
If you're using Payvment, you can provide an instant coupon or discount using the Fan Discount feature.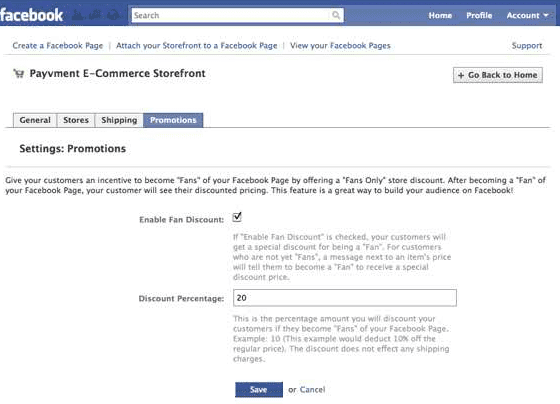 This feature allows you to choose the discount amount to be provided to anyone who becomes a fan of your page and visits your store while current fans are already provided the discount.
3. Keep the content flow going
You might be able to make some progress in getting new customers by implementing the previous two strategies, so make sure you keep driving sales and encouraging repeat purchases by frequently posting about your products.
In case of a Facebook shop, this means updating product descriptions, images, etc. as well as coming up with creative ways to showcase your products. When you do write about products, it needs to be more than just 'buy now'.
Offer more value to your store visitors – Does your product have good reviews? What are the ways in which it can be used? You want to make sure your caption stands out.
Check out this Facebook store of Red Hot Chili Peppers: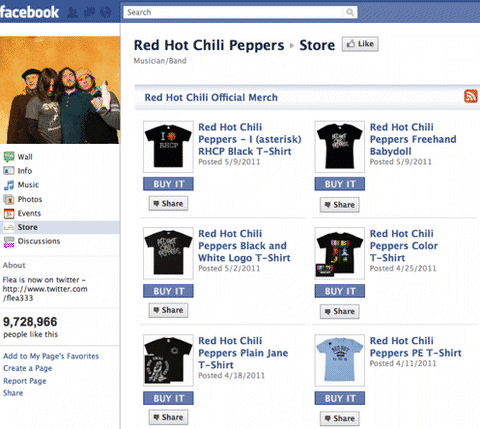 By frequently posting content (products, etc.), you'll be able to get greater engagement for your online store, which should improve your revenue.
4. Encourage social sharing
Want your store to have a greater reach? Activate social sharing options for your storefront so people browsing your products can also share them with their friends and family on Facebook. This will increase fans to your store.
Most applications will offer the social sharing option, which can be placed directly beneath the buy now button, as evident in this example from Lady Gaga's Facebook store: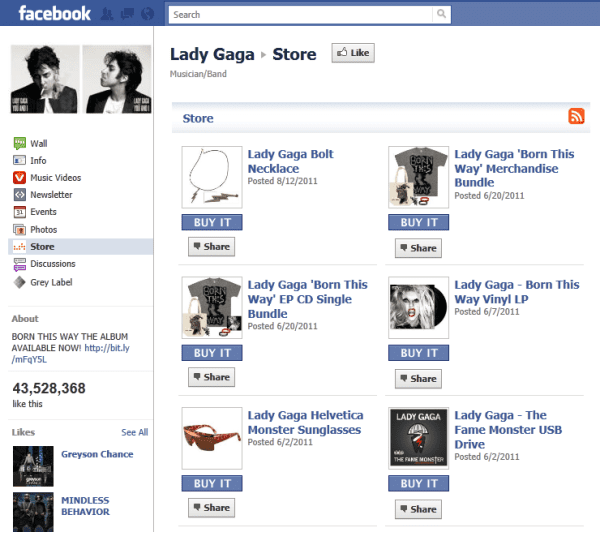 The more shares you'll get, the bigger will be the reach of your Facebook store.
5. Optimize the layout of your store
Just like on other eCommerce platforms, the layout is going to play a big part on Facebook. You'll want to set up a store in a way that eliminates the noise and gives consumers direct access to your products.
That translates into choosing a color scheme that is clean and setting up distinct categories that enables consumers to go to products they're looking to purchase.
See what Liverpool Football Club has done with its online store: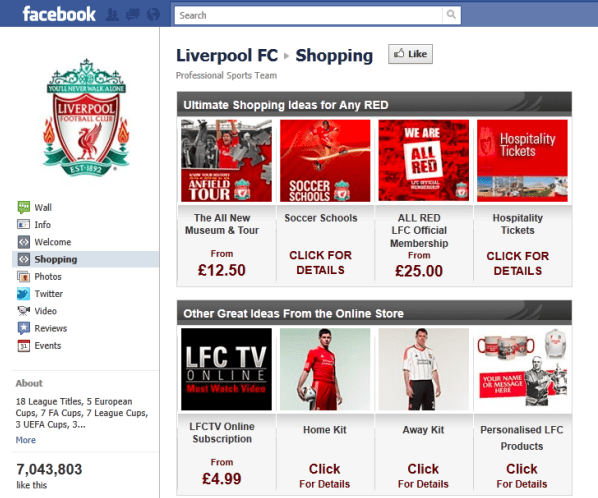 There are no distractions and users have direct product access, which should increase conversion rates.
Your turn to wear the hat
Of course, you do not have the stock as some of these big names in the examples do, but by building on these strategies, you'll find yourself moving up the ladder in the world of Facebook Commerce. If you have any suggestions/questions, feel free to share them in comments below.