So much time and energy go into creating strong, well-thought-out ad campaigns. You test the visuals, the copy, the audience, the offers. But ad creation is only one part of success; you also need to prioritize Facebook landing page creation.
What happens after a user clicks on your ad is just as—if not more—important than the ad itself, because it's what can result in the failure of success in driving a post-click conversion. In this post, we're going to take a close look at why Facebook landing pages are so important, how to create them, and the best tips and examples to give you some inspiration.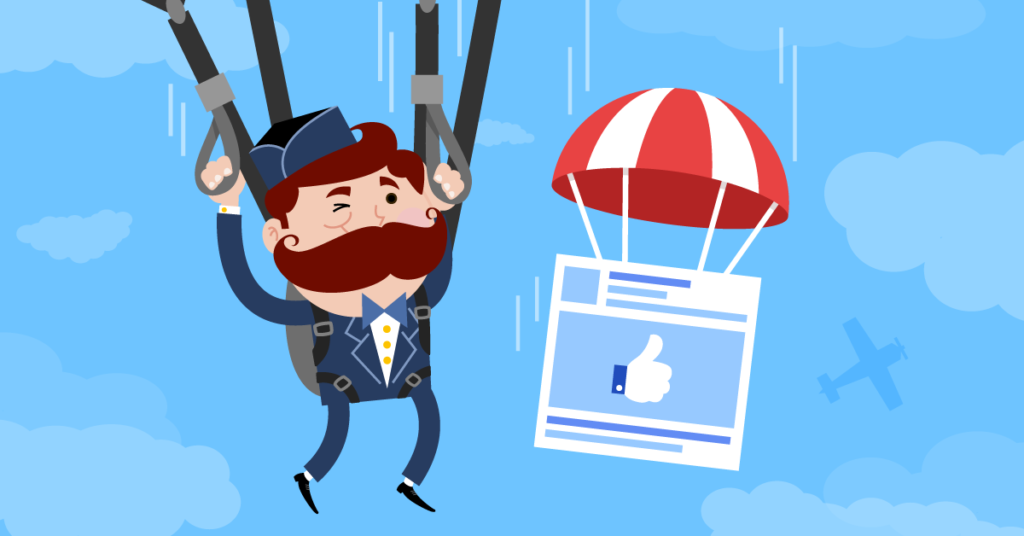 What is a Facebook landing page?
A Facebook landing page is the site page that users land on after clicking on your ad. It's where they can take the action that you've optimized for, whether it's to download a resource, register for an event, view (and ideally purchase) a product, learn more about your business or offering, and more. 
If you click on this ad, for example: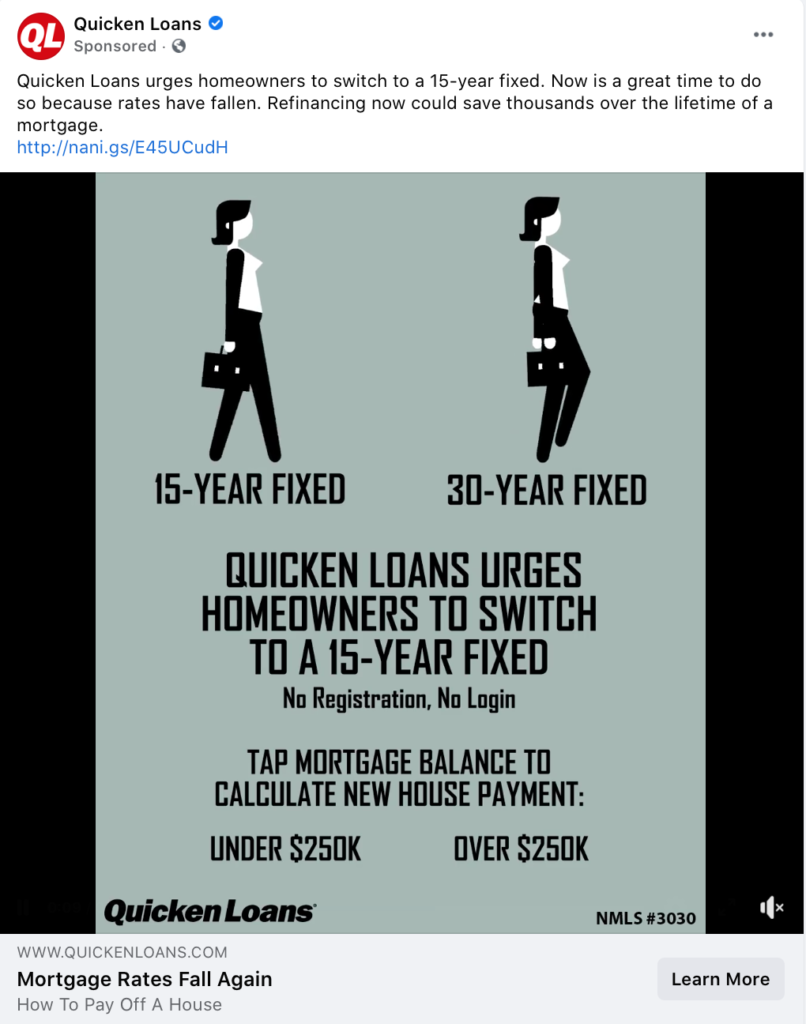 You'll be taken to this landing page: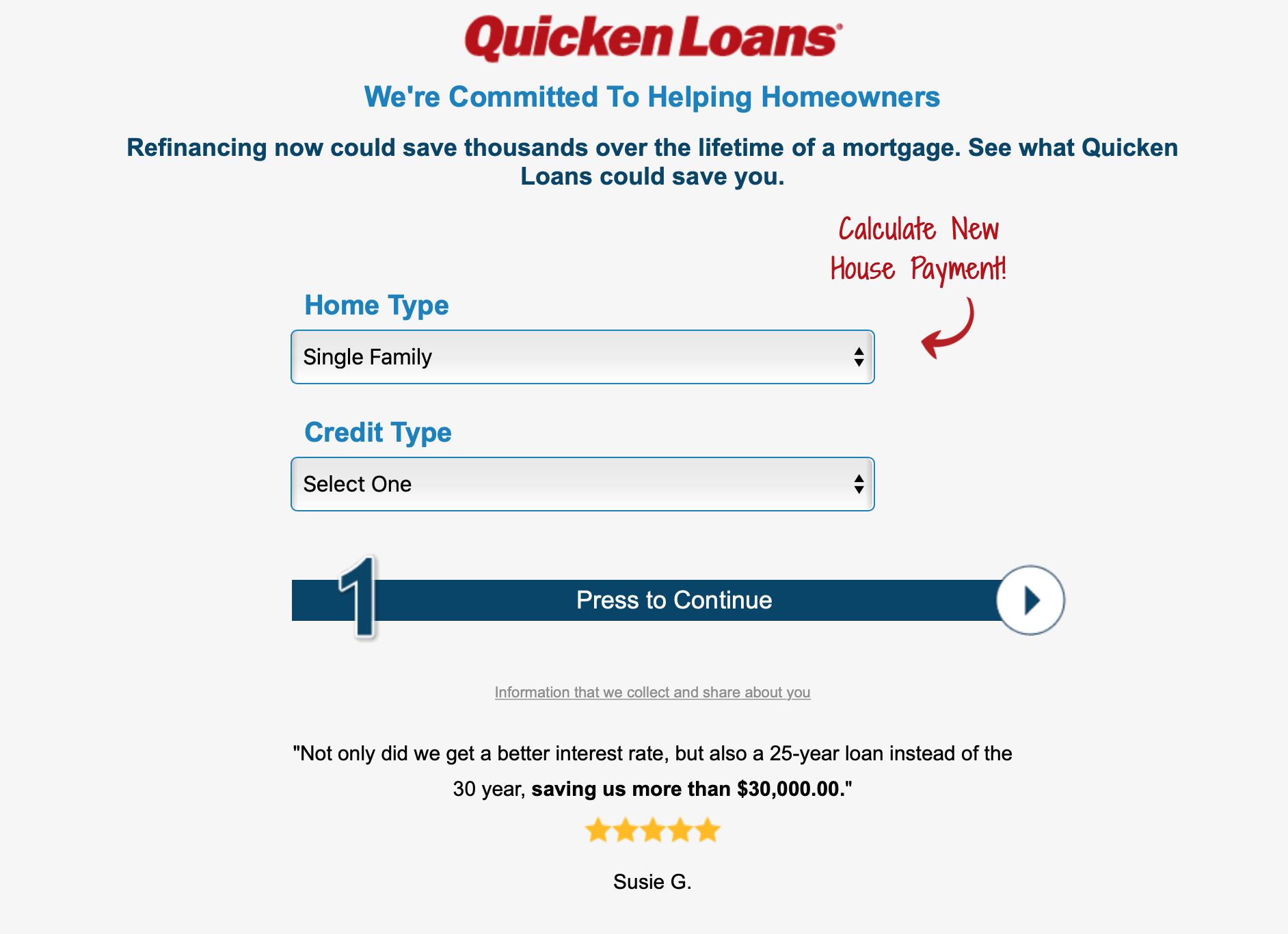 It's a natural progression of the ad process, and it takes users to the next step of the customer journey.
Your landing page can be a tab on Facebook, or it can be an off-site page created specifically for individual ad campaigns.
Why is your Facebook landing page important?
Many advertisers focus almost exclusively on the ad itself when creating Facebook ad campaigns. If a campaign is driving a large number of clicks but not converting, they assume that it's something wrong with the ad itself.
They worry that the copy isn't explaining the offer correctly, or that maybe they're targeting the wrong audience.
While this is always possible, if you're getting decent or even strong engagement and CTR rates on your ads but drop-offs at the landing page, it's essential to consider that it's the landing page that's the problem and not pulling its weight.
If you have a strong ad but a weak landing page, there's a good chance that you'll lose a lot of potential sales you could have otherwise received. This is a waste of your ad spend and it costs you customers.
An ad is limited in space, and the point is really to capture users' interest and intent and push them to the next stage; this is that next stage.
It's your Facebook landing page, after all, that will explain your offer, product, or service in much more detail. You can list out everything that you'll cover in the ebook available for download or better explain the USP (unique selling proposition) of whatever product or service that you're selling. This is where you can translate interest into intent and action, and the importance of that can't be overstated.
How to create a Facebook landing page in 5 steps
The thought of creating a Facebook landing page for each separate campaign can be a little intimidating, but the good news is that it's easier than you think once you know the process.
Keep in mind that even though it is work to constantly create new Facebook landing pages, the major potential loss of conversions that can happen when you neglect this step can derail your campaign performance quickly.
Let's look at how to create a Facebook landing page for business and advertising purposes that will take users to an off-site page.
Add a new page to your site 
The first thing that you need to do is create a new page where the landing page will live.
In this example, we're going to use WordPress, but you can create a Facebook landing page on Wix, Shopify, and just about every other site creation tool out there. You can also use landing page tools like Unbounce (which we'll discuss more in a minute).
When creating the Facebook landing page, you will want it to be visible once you're ready to publish it, but it will not need a parent page or to be displayed anywhere on your site through traditional navigation. Remember that this page has a sole purpose of being a landing page; it isn't necessary for other users to find on their own while browsing the site.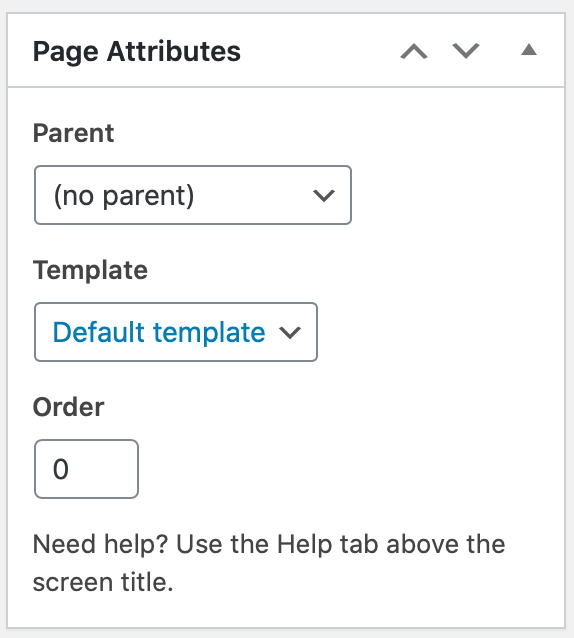 You can use tools to create landing pages that you can embed on your site. These include Unbounce (which is great for split testing and we'll discuss more in a minute) and tools like ShortStack, which are excellent if you want to create and promote a Facebook contest landing page.
You don't have to use any tools, however, to create a free landing page for Facebook Ads; they simply offer advanced features and landing page templates to streamline the process.
Create copy with the target audience and offer in mind 
There's a good chance that you have multiple ad campaigns that are appealing to some combination of the following:
Different audience niches
Different pain points
Different unique selling propositions (USPs)
Different offers
It's essential that your landing page aligns with each individual campaign, so start with an audience, pain point, USP, and offer in mind before you start writing the copy. This helps you focus and understand what information to feature.
Let's look at an example. This might be a rough draft of copy that's designed to appeal to busy professionals who have always wanted to write a book but are short on time, resources, and knowledge. Because it's appealing to CEOs and executives, we stress time as the biggest pain point.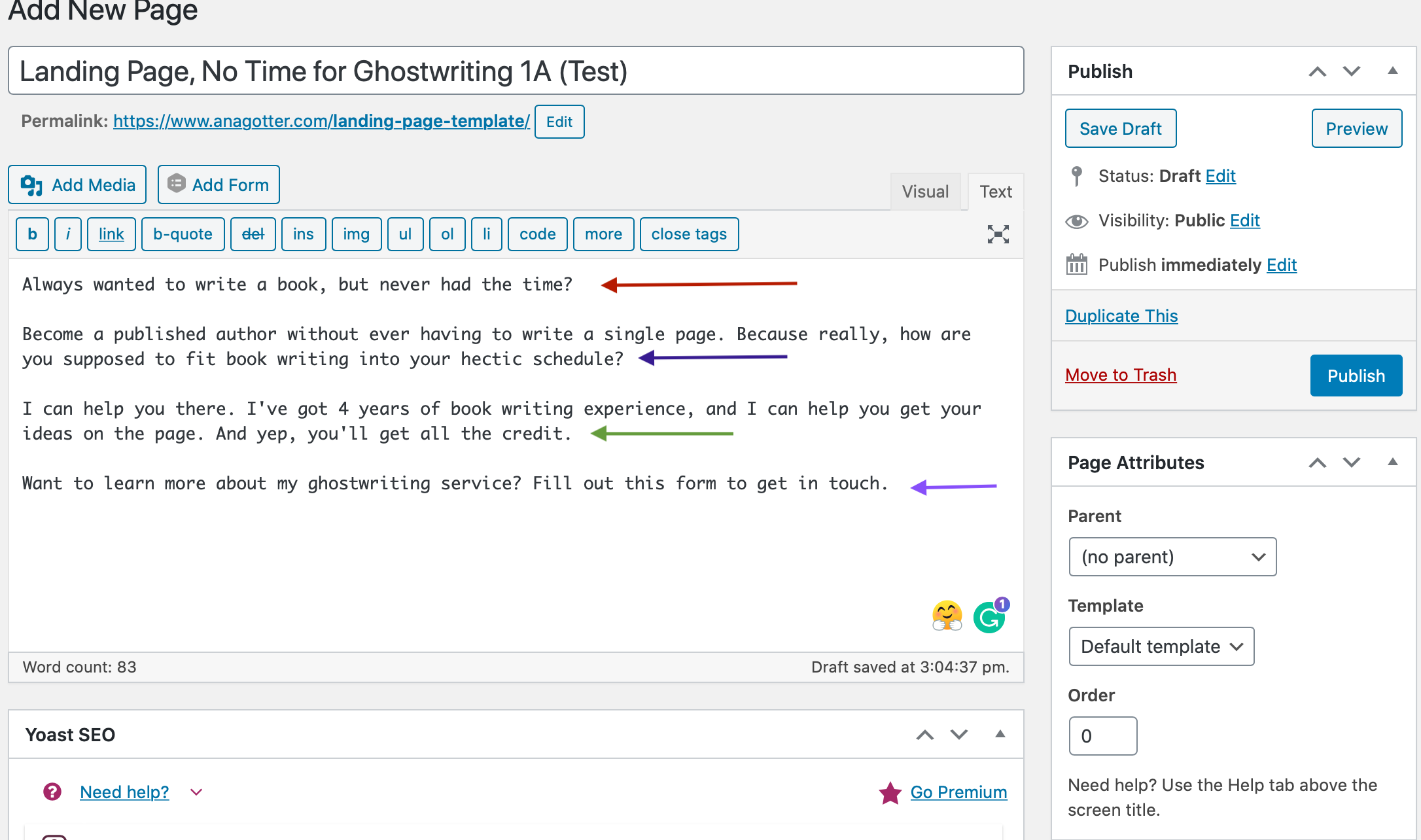 Your copy should always include these elements:
A pain point (the red arrow)
The identification of your product/service as the solution (blue arrow)
USP (green arrow)
A call-to-action (CTA) (purple arrow)
Make sure you're linking to other key pages on your site 
Sometimes when brands make landing pages, they treat it as a standalone page that's got a singular focus to the point where it doesn't even seem connected to the main site. It doesn't even look like it's part of the site, and you can't see the traditional site navigation options like "About Us" or "Contact Us."
This can be a big mistake. Plenty of customers who discover your brand aren't going to purchase or register for an event if they feel like the offer or your brand exists in an echo chamber. They're going to want to learn about your business and see that you're legit first, because even though Facebook does a decent job moderating ads, some scams still slip through.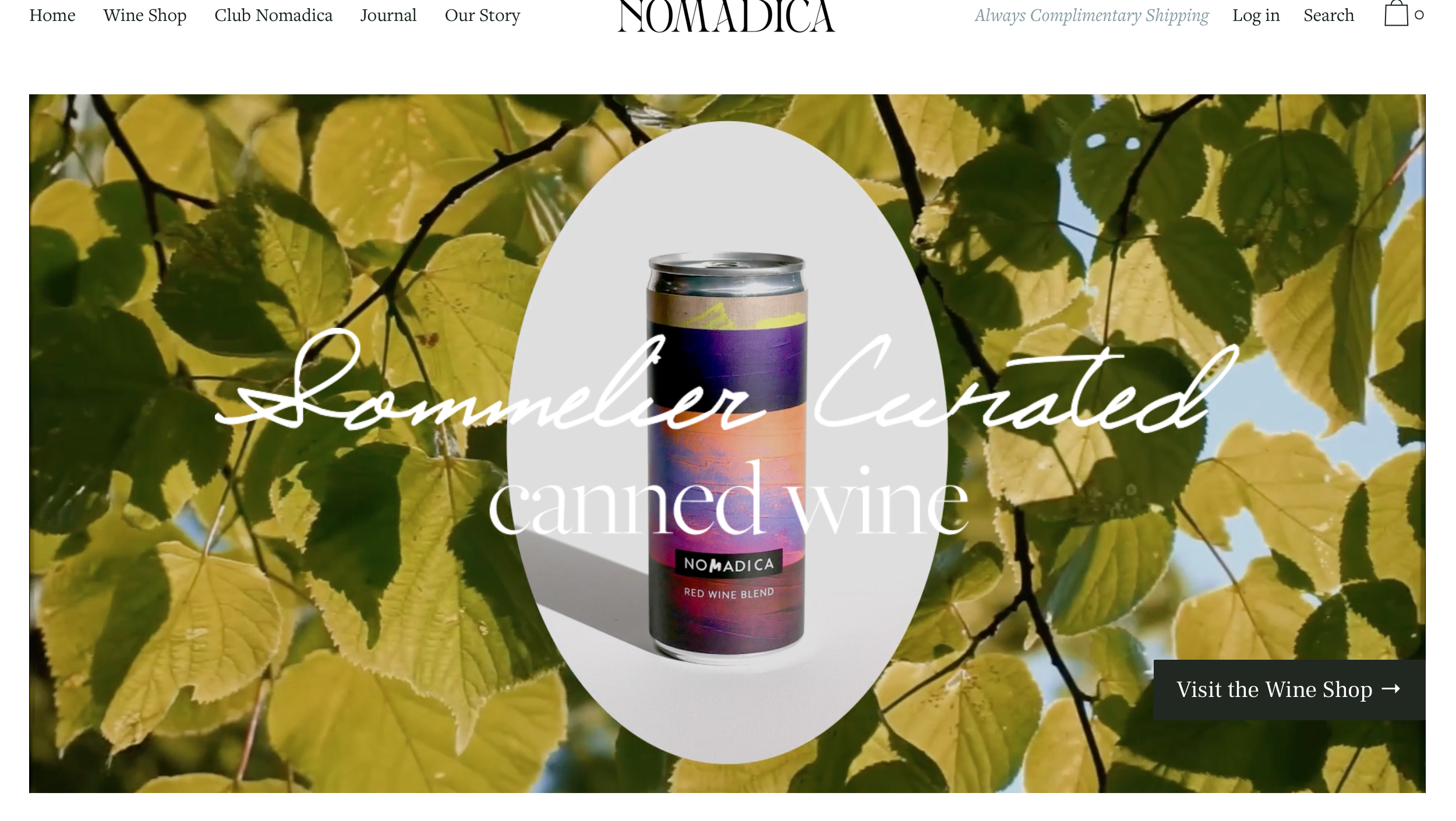 This is a great example; it's a landing page featuring a video that explains what the product is and why it's valuable, but it's connected to the main site where users can shop, learn about the brand, or use a live chat feature to ask questions from sales reps.
At the very least, make sure that a link to your main site is on your landing page along with a link to your terms of service and conditions so that they can go looking for more information if they choose. If you're building your landing page on your site instead of hosting it on a landing page builder exclusively, this likely won't be an issue.
Proof it and double-check the rules 
Before you launch your landing page, do yourself a favor and double- and then even triple-check it.
Make sure that your offer is correct, and that there are no typos anywhere to be found. Using a tool like Grammarly can help catch anything you miss. 
Preview the landing page as it will be displayed, too, instead of only in the CMS system. You may realize that the formatting is off, or that something is visible that you didn't think would be.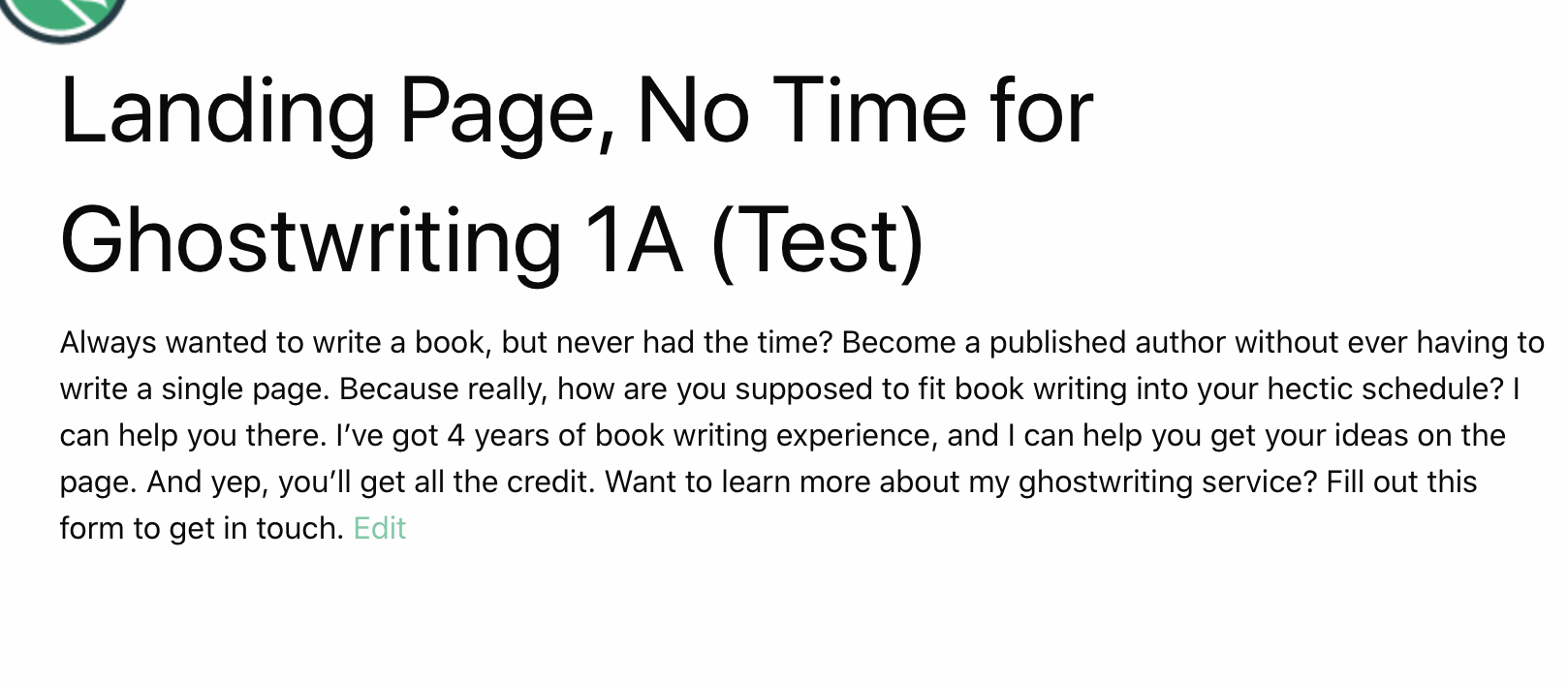 After you do this, it's also a good idea to review Facebook's landing page rules if you aren't familiar with them to ensure that you're following them all. We'll go over these in the next section.
Split test your Facebook landing page 
Most successful advertisers dutifully split test their Facebook ad campaigns, using tools like AdEspresso to run a large number of tests quickly so that they can optimize their ads for heightened performance.
You need to do the same thing for your landing pages.
You can create multiple versions of landing pages on your site even for a single campaign. You can create multiple ads within an ad set that are otherwise consistent except for the Facebook landing page that they'll send users to.
To simplify the process, you can also use AdEspresso, which allows you to enter multiple links for a single ad to split test which landing pages are most effective for each ad. This will change Facebook landing page destinations consistently so you can see the performance of each.
There are also tools you can use like Unbounce, which help you automatically split test landing pages by alternatively sending users to different versions of the same page to see which drives more results. You can place these landing pages on your site so it's all seamless.
Split testing is crucial to determine which format, copy styles, copy lengths, images, videos, forms, CTAs and more are most successful at driving conversions. Even small changes in microcopy or the color of a CTA button can impact conversion rates, so don't skip this step even if your campaigns are performing well.
(One quick note: If you're trying to generate leads, make sure you're testing Facebook lead ads; they sometimes have higher conversion rates than landing pages with lead forms.)
Facebook landing page rules
Facebook Ads has a nice big library of rules that all advertisers must follow. Why would Facebook landing pages be any different?
You can read all of Facebook's landing page policies on their site, but here are the basics:
Your landing page must align with the ad. Not only is this a best practice for performance reasons, it's also a requirement. You can't pull a bait and switch; you need to make the same offer on your landing page that you make in your ad or it could be rejected or shut down.
It must comply with Facebook's advertising policies. Read the rules linked above again if you're unsure. If there are restrictions around your industry, take note of those; this is why you'll notice alcohol companies still ask your age even if you're entering a site from an ad that you had to be 21 or older to see.
It must be fully functional. If your landing page isn't loading correctly or is having technical issues, Facebook might shut down the ad.
It cannot automatically redirect users to another site or automatically download anything. Even if users click on an ad to download something, you need to have them click on a CTA on your site to download it again on your landing page.
You can't have users click through ads to view a landing page. No monetization, in other words. You can't have a mandatory ad blocking the page users are trying to get to.
Inspiring Facebook landing page examples to learn from
Wondering what effective, high-converting landing pages look like?
There are plenty of great ones out there, and we've already looked at a few throughout this post. Let's take a look at four more of the best Facebook landing page examples that are running right now.
1. BARK Bright
BARK Bright's ad used fun copy "paws can't grip toothbrushes" and an offer to entice users to click, promoting a dental kit for dogs.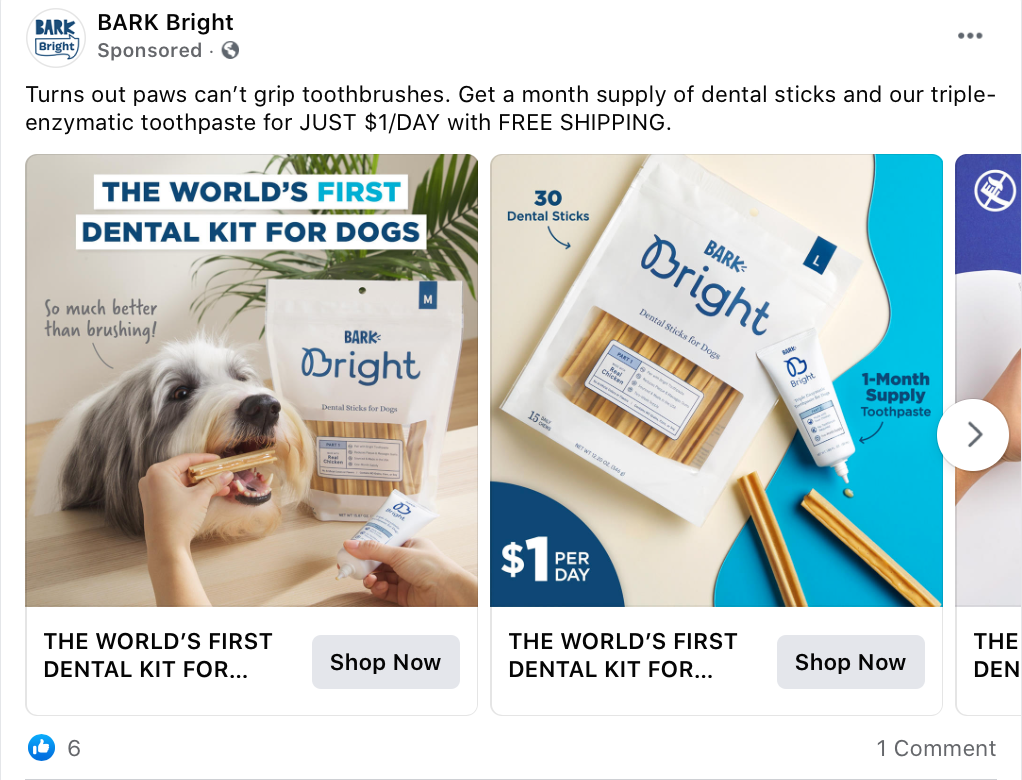 It took users to this landing page: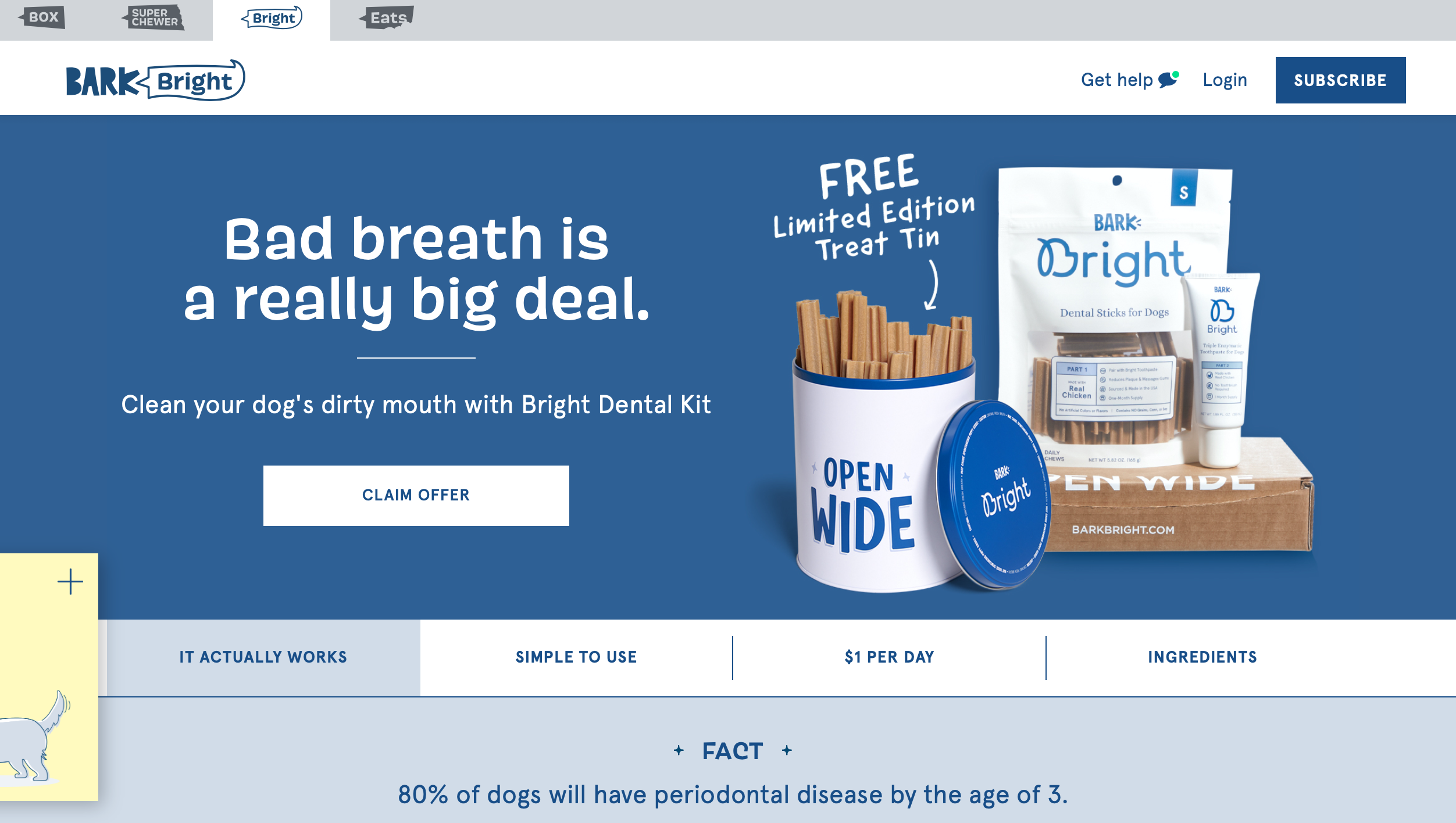 Here are a few things the landing page did well:
Leveraged scarcity with the "Claim Offer" CTA and the "free limited edition tin"
Linked to other well-known sister products and brands at the top of the page, where it's visible
Used a clean design and contrasting colors to emphasize important information
Highlighted USPS and provided information about how it works and why it's so important
2. Molekule
Mokule's ad focused on listing key benefits quickly while also mentioning social proof with the "high demand" and need for restocking.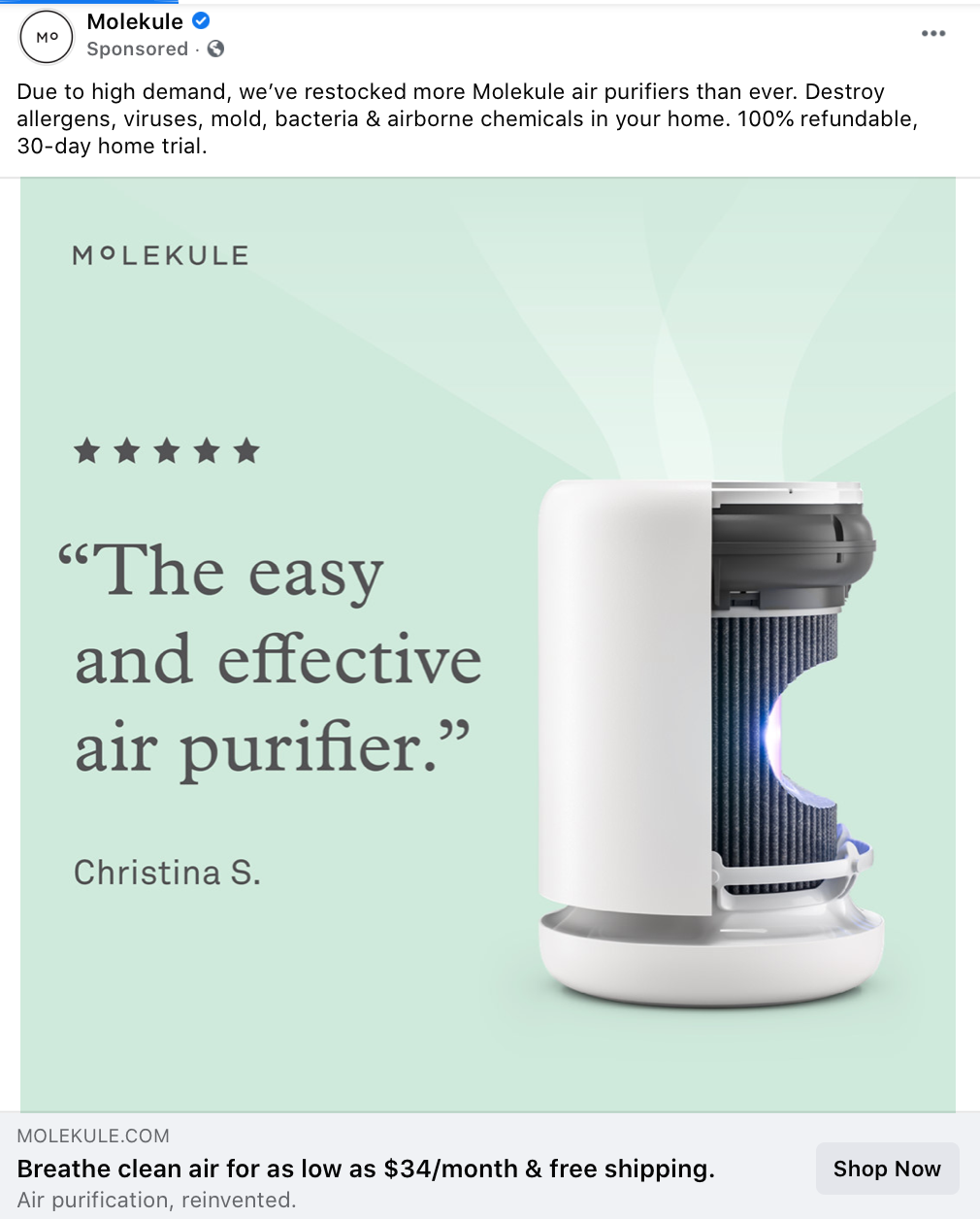 The video ad took users to this landing page: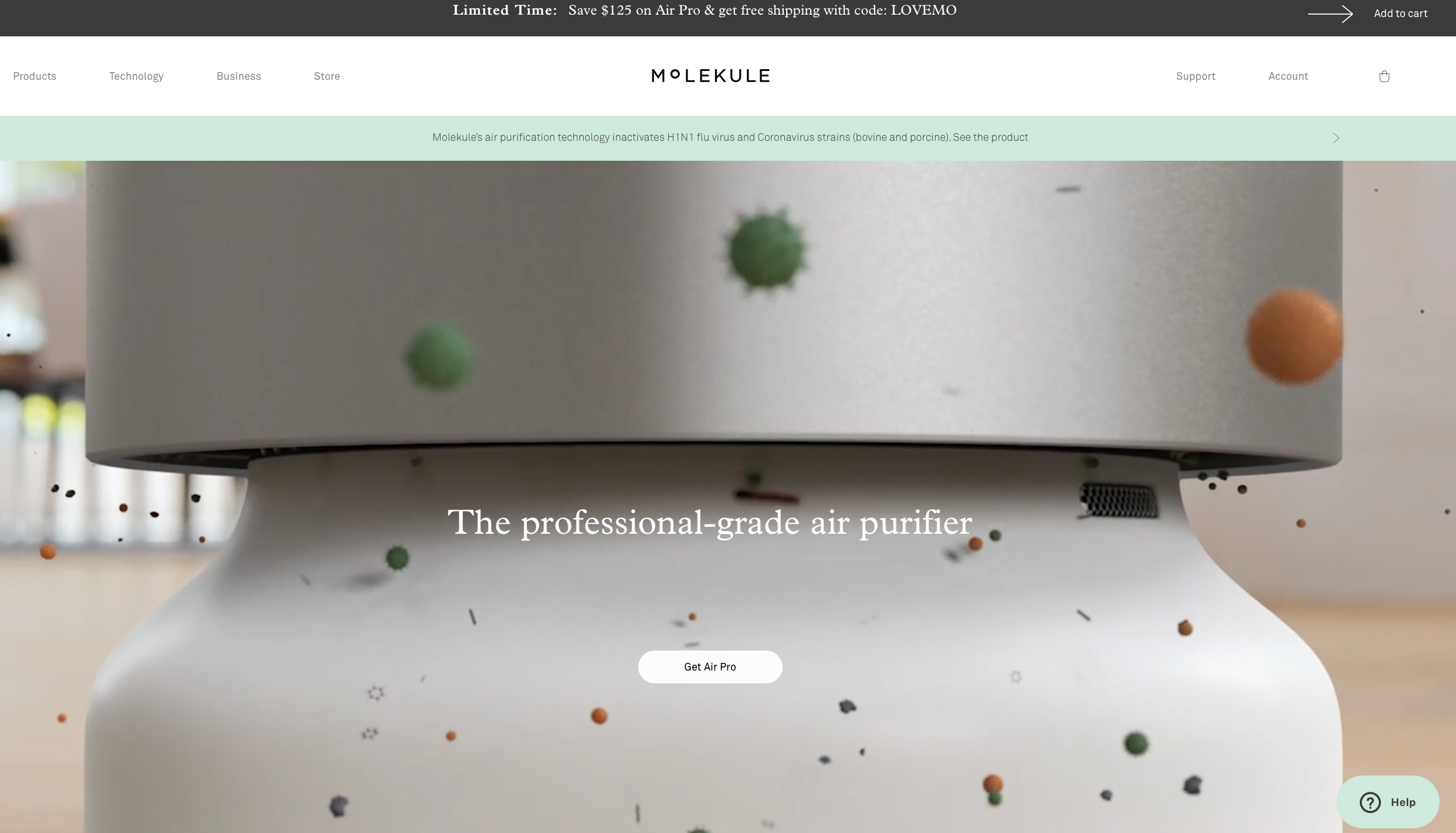 Here's what the landing page did well:
Clean design that focused on a short video showing the product and how it works while using text to highlight features like "professional-grade air purifier"
The color contrast of the green box above the video shares relevant and timely information about how it neutralizes flu and COVID particles
There's a header at the top of the site promoting limited time discounts with a promo code
You can see a color-contrast button for live chat help
3. Mizsei
While you may not be tempted to impulsively buy shower heads on a frequent basis, Mizsei's Facebook ad campaign actually does a pretty great job of persuading users.
They use this video ad and copy talking about it's benefits:

Which takes users to this landing page: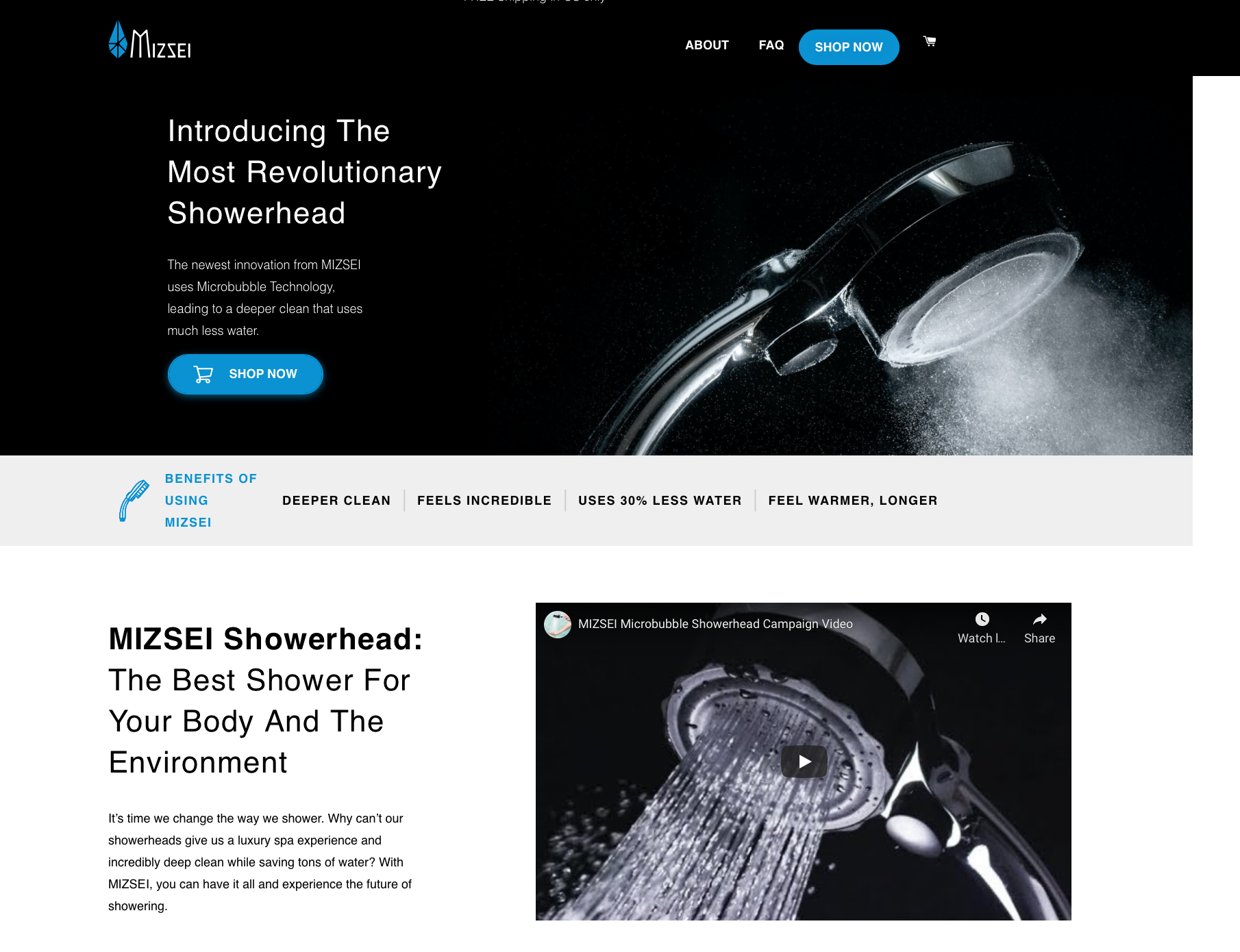 These are the elements to take note of:
The landing page theme and color scheme directly matches the ad for a more branded experience
It goes heavy on USP above the fold, and promotes benefits further down if users aren't ready to convert yet
Below the fold, it's got a video to showcase how it works and it takes more about benefits and functions
It has CTA buttons at multiple points on the landing page so users can convert when they're ready
It uses short, sweet copy and a simple site design
4. Savor Beauty + Spa
So far, we've been looking at dedicated landing pages.
You can also use product pages as landing pages on Facebook, sending users directly to a product that was shown in the ad they clicked.
When you do that, however, it's good to ensure that your product pages are optimized for ad traffic.
Savor Beauty is a great example of what this looks like.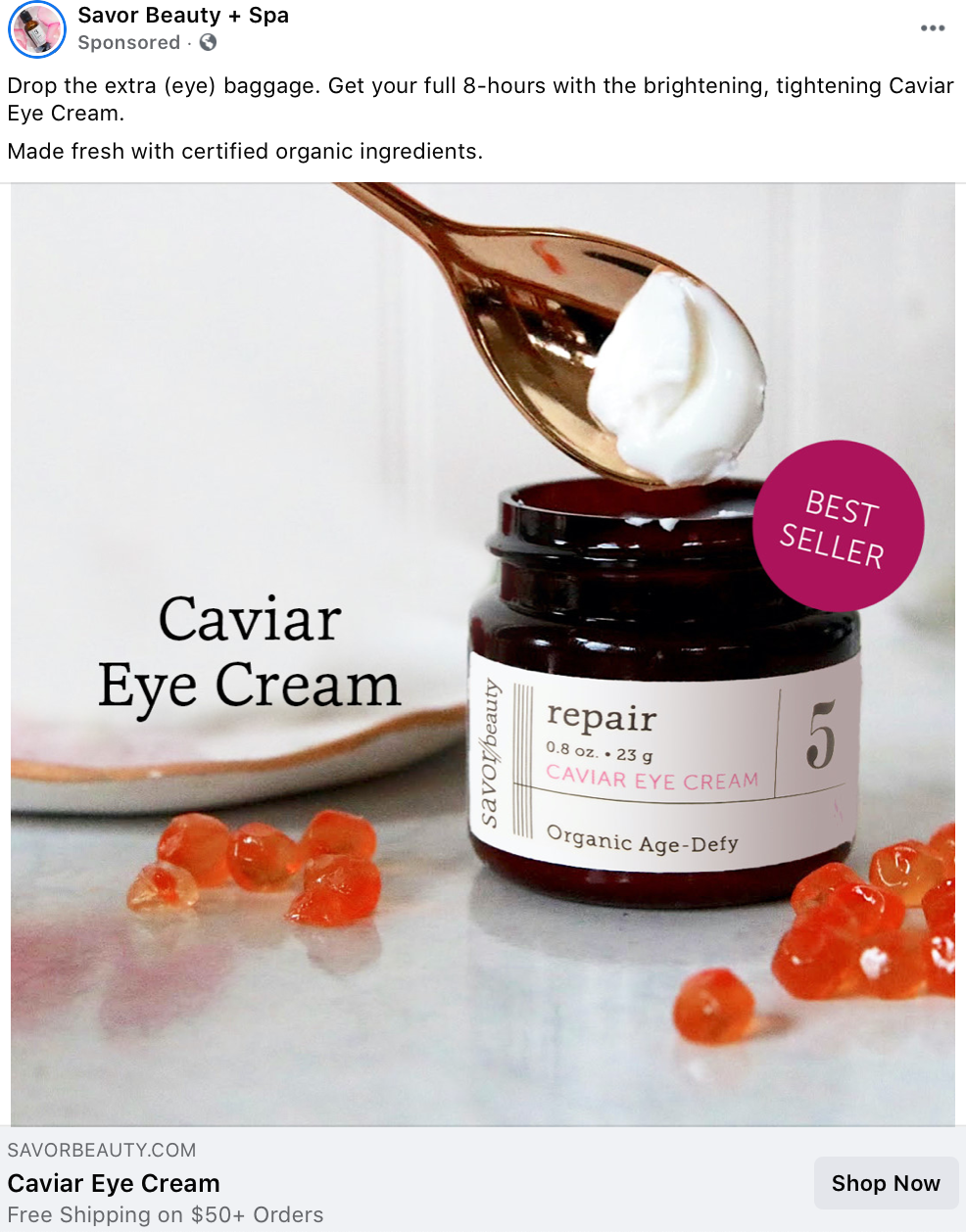 Here is the product landing page from the ad above: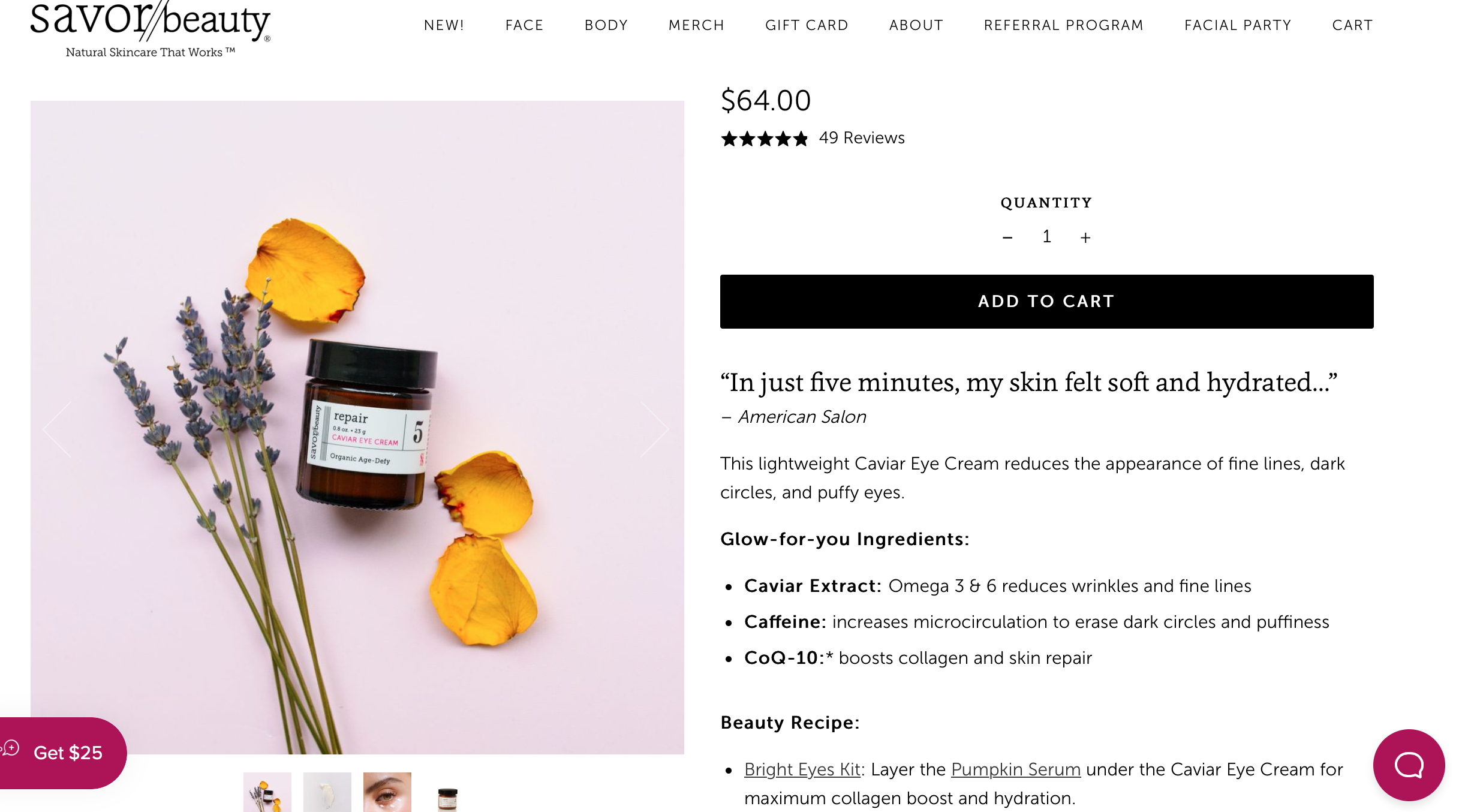 Here's what you can draw inspiration from:
The first thing that you notice is social proof from a big name in the industry; it's a quick snippet of a review, but it's persuasive
It explains what the product does and what ingredients makes it powerful
It lists other products customers can use, increasing the likelihood of add-on purchases that ad-clickers may not have otherwise made
There's a live chat button, and a "Get $25" offer; both buttons are floating and follow the user as they scroll up and down, always staying visible
Final Thoughts 
The importance of Facebook landing pages really can't be overstated.
They're an essential part of the ad and customer journey, and a great ad followed by a weak landing page will likely result in a loss of sales after you've paid for a click or impression.
Following the steps above and drawing on inspiration from the best Facebook landing page examples, take some time to split test different versions of your ad landing pages to see what works for you. AdEspresso can help speed up the process with our split testing and optimization features, so you can start increasing conversions both immediately and long-term once you find the winning combination.
What do you think? Which of these best Facebook landing pages examples was your favorite? How do you create high-converting landing pages for Facebook Ads? Share your thoughts in the comments below.