In the world of marketing, video is no longer the future. It is the here and now. Especially in social media marketing and advertising, where professional video content is the name of the game.
Recent stats back this up: 84% of people say they've been convinced to buy a product or service by watching a brand's video.
And according to a 2020 report:
96% of marketers have placed ad spend on video.

91% of marketers are satisfied with the ROI of video marketing on social media.

93% of brands got a new customer because of a video on social media.
But consistently creating high-quality videos is a tall order. For that, you need a meaty marketing budget or years of experience in shooting and editing videos yourself. Even if there are plenty of great video editing apps you can use without much prior experience, there is a solution that's even easier — stock videos.
However, finding free premium clips isn't easy, as many stock video websites charge a hefty subscription fee. Luckily, there are some platforms where you can download free stock video footage for commercial use.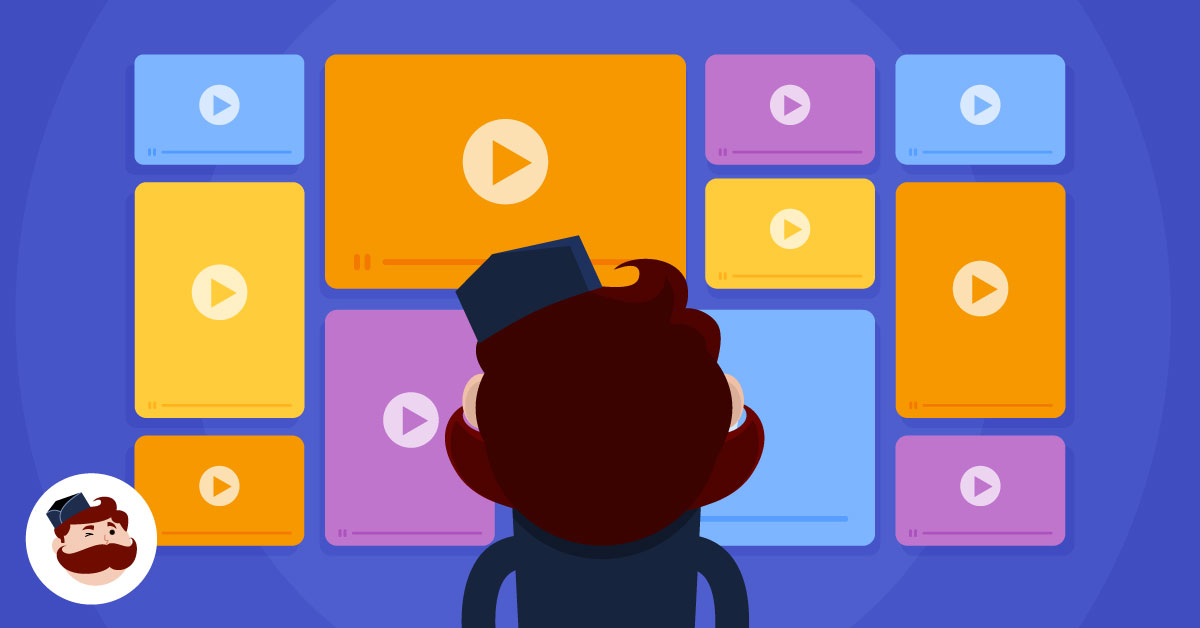 Be it for Facebook video ads, marketing presentations, campaign landing pages, or silent social videos — in this post, we handpick the best royalty-free stock video resources for marketers on a budget.
The best free stock video websites in 2021
There are quite a few websites offering free stock videos. But in terms of quality and variety of selection, the following seven stand out.
Free stock video website #1: Pexels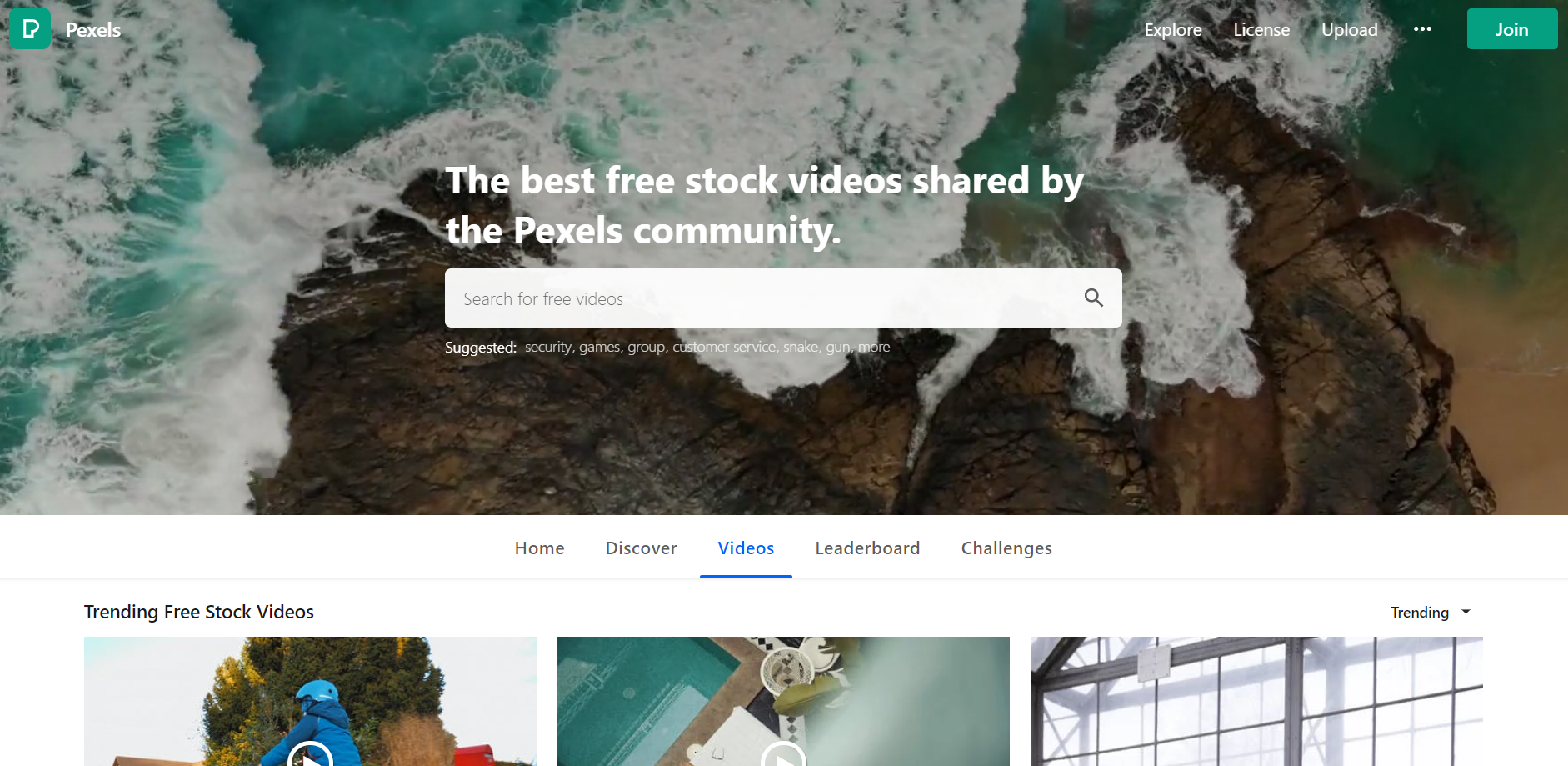 First on the list is Pexels, a website originally dedicated to stock photos. Today it boasts a rather decent collection of free stock video footage under CC0 (the Creative Commons license), meaning you can use them for personal or commercial projects without attribution.
Most clips are around or under 30 seconds and you can find a clip for just about any niche. The time-lapse and GoPro-shot action videos are especially eye-catching.
Pexels also offers "mockup" clips from mobile devices that feature a green screen which you can replace with your own footage. 
Most of the videos on this site are available in MP4 HD or Full HD, though there are some 4K clips too.
Free stock video website #2: Pixabay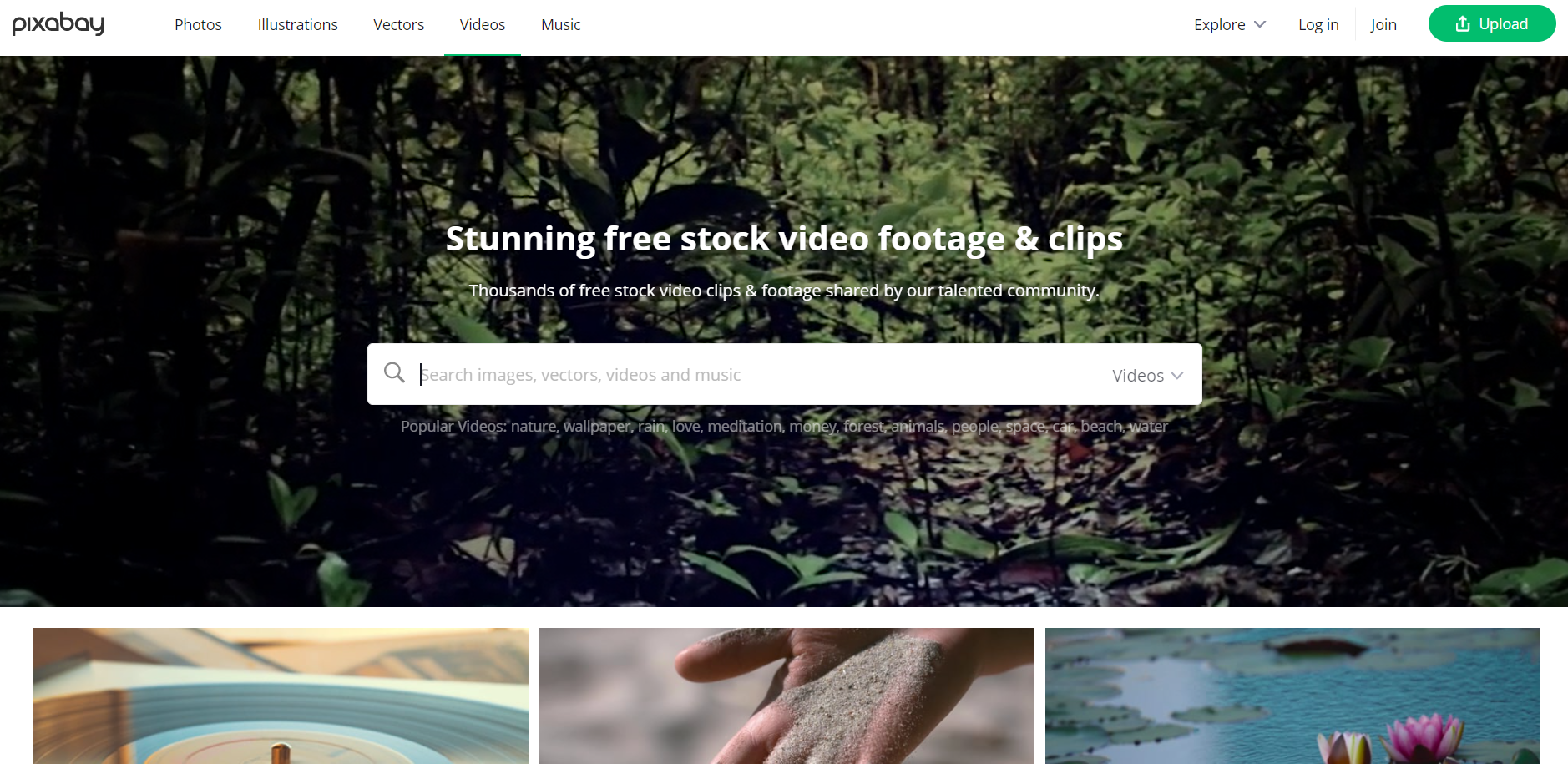 The next one on the list is Pixabay, another website well-known for its free stock photo collection. But the platform is also a good repository of royalty-free stock videos (CC0) that are free to download, use, and modify.
Similar to Pexels, most footage is under 1 minute long and the variety of clips is outstanding — you'll find free clips for nearly every project under the sun, from striking drone footage and nature/wildlife shots to people in a business setting.
You can download clips in MP4 format in the resolution of your choice, ranging from HD to 4K. 
Free stock video website #3: Dareful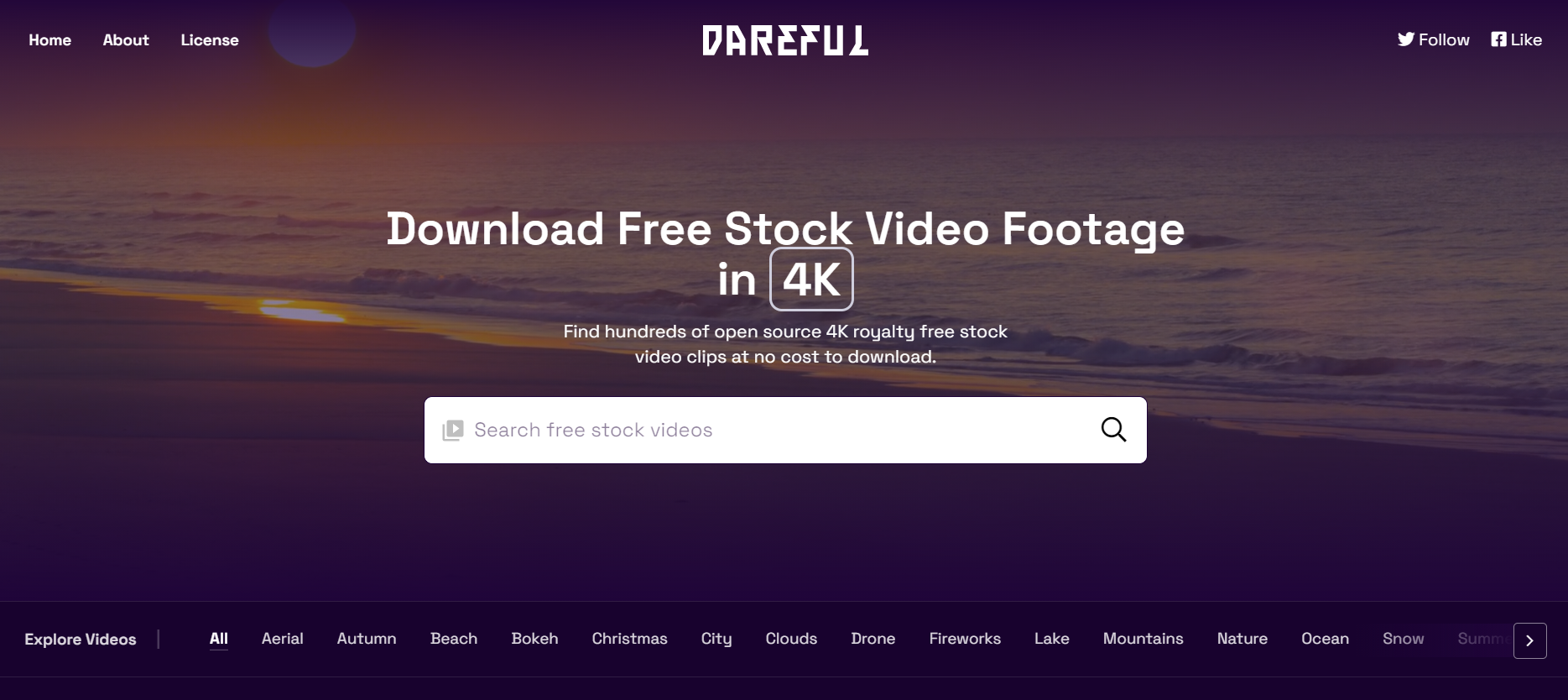 Need high-quality free 4K stock videos? Dareful is the perfect place to find them.
The website has hundreds of 4K royalty-free stock video clips you can download for free and use for any purpose. The drone shots, landscapes, and looping backgrounds — all shot by the site's creator Joel Holland — feel straight out of a big-budget movie studio.
Dareful provides a detailed description for each MP4 clip, so you know exactly what you're getting before starting your download.
All content is free, but it's made available under the Creative Commons Attribution 4.0 International License, which means you need to give due credit, provide a link to the license, and indicate if changes were made.
Free stock video website #4: Videezy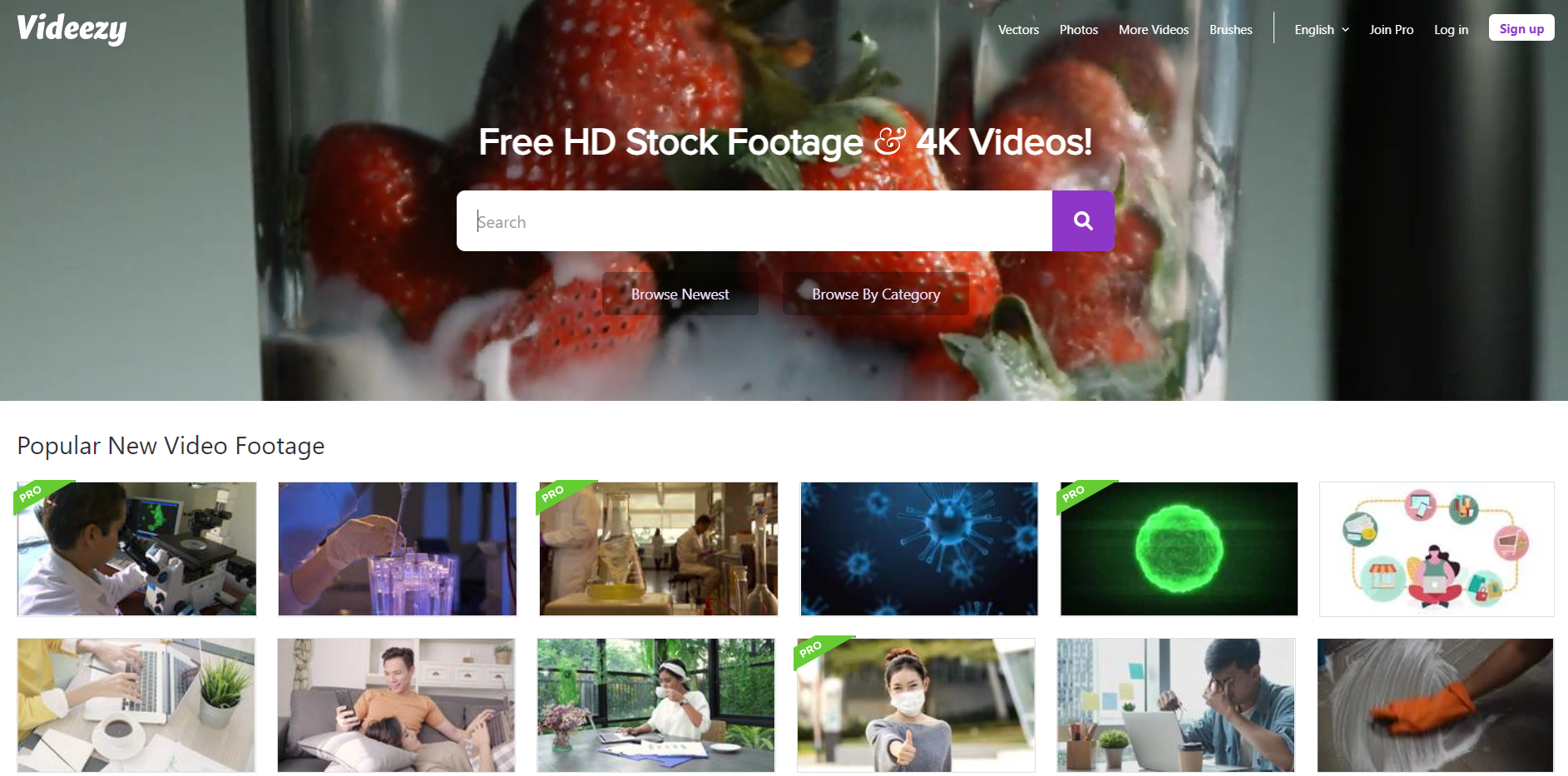 When you think aerial footage, think Videezy. This platform boasts a neat collection of MP4 clips in HD and 4K resolution, along with 4K Adobe After Effects templates.
Not all content on Videezy is free, but you can easily find the free stock video loops meant for personal and commercial use, as the premium clips have a green "Pro" tag on their thumbnails.
If you use free stock video footage from Videezy, you must give the platform credit:
For usage on TV,

YouTube ads

, or a similar channel, you must include "Videezy.com" in the credits.

For usage on your website, you must include a line of code linking to Videezy on your webpage.
You can consider signing up for a Videezy Pro membership plan to download diverse 4K studio content to use without attribution.
Free stock video website #5: Videvo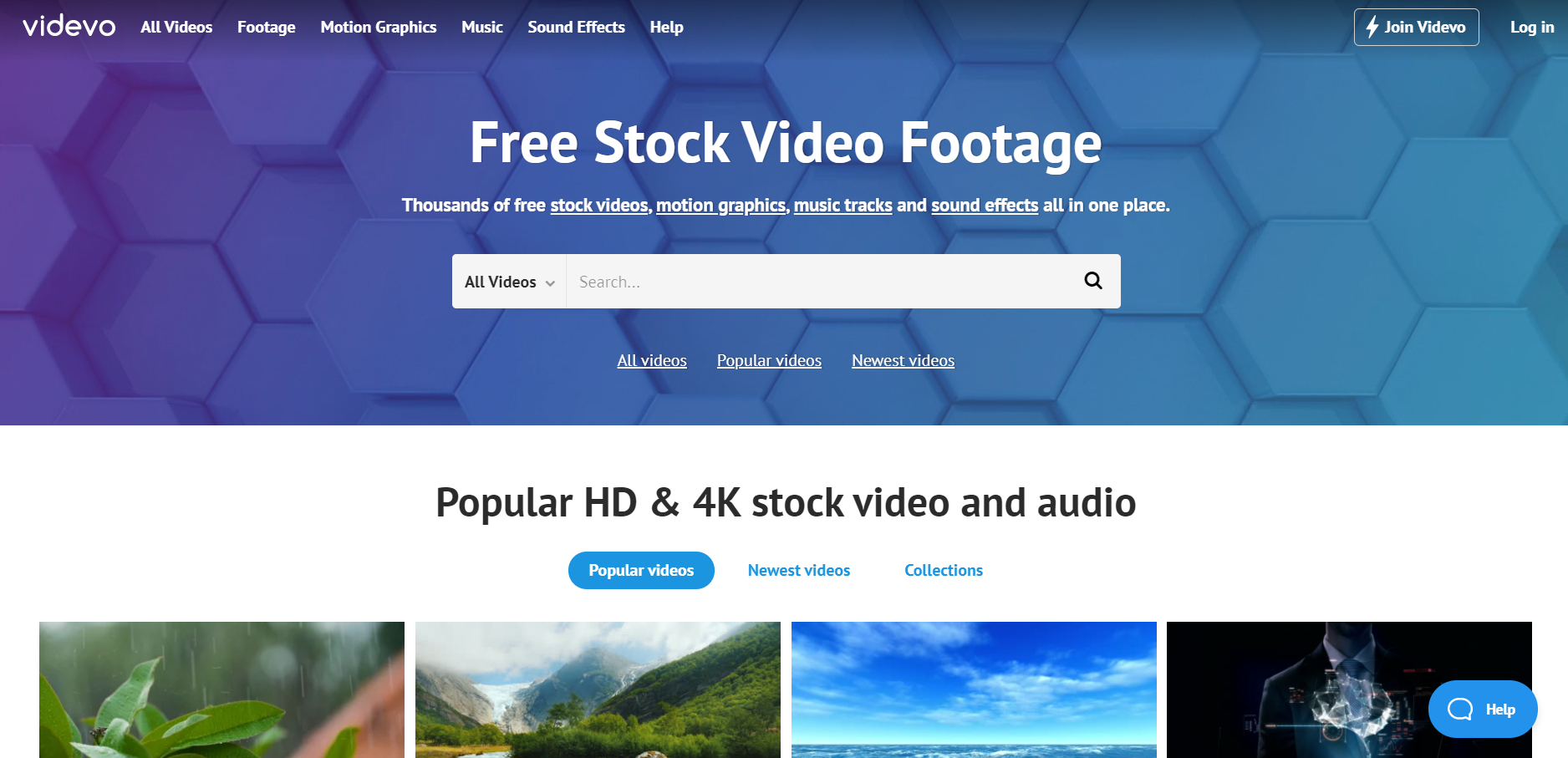 Videvo is another good platform to find free stock video footage and motion graphics contributed by an active community of creatives.
Its content library is quite extensive, mostly filled with HD stock videos along with a small collection of 4K clips. But while there's lots to choose from, the quality varies.
Some clips are professional, while others are evidently shot without a tripod. Some clips are MP4s, while others are in QuickTime format.
The content falls under one of three licenses, so make sure to check which one applies to your selection before you use it:
Royalty-free: Use the clip for free without attribution. 

Videvo Attribution: Same as Royalty-free, but you must credit the creator. See

Videvo's licensing guidelines

to learn how.

Creative Commons 3.0 Unported

: Same as the Videvo Attribution license, but you're also free to distribute (not sell) the clip in its original, unedited form with attribution. You can use the clip for commercial purposes.
There's also a "NASA License" for the use of NASA imagery.
Free stock video website #6: Clipstill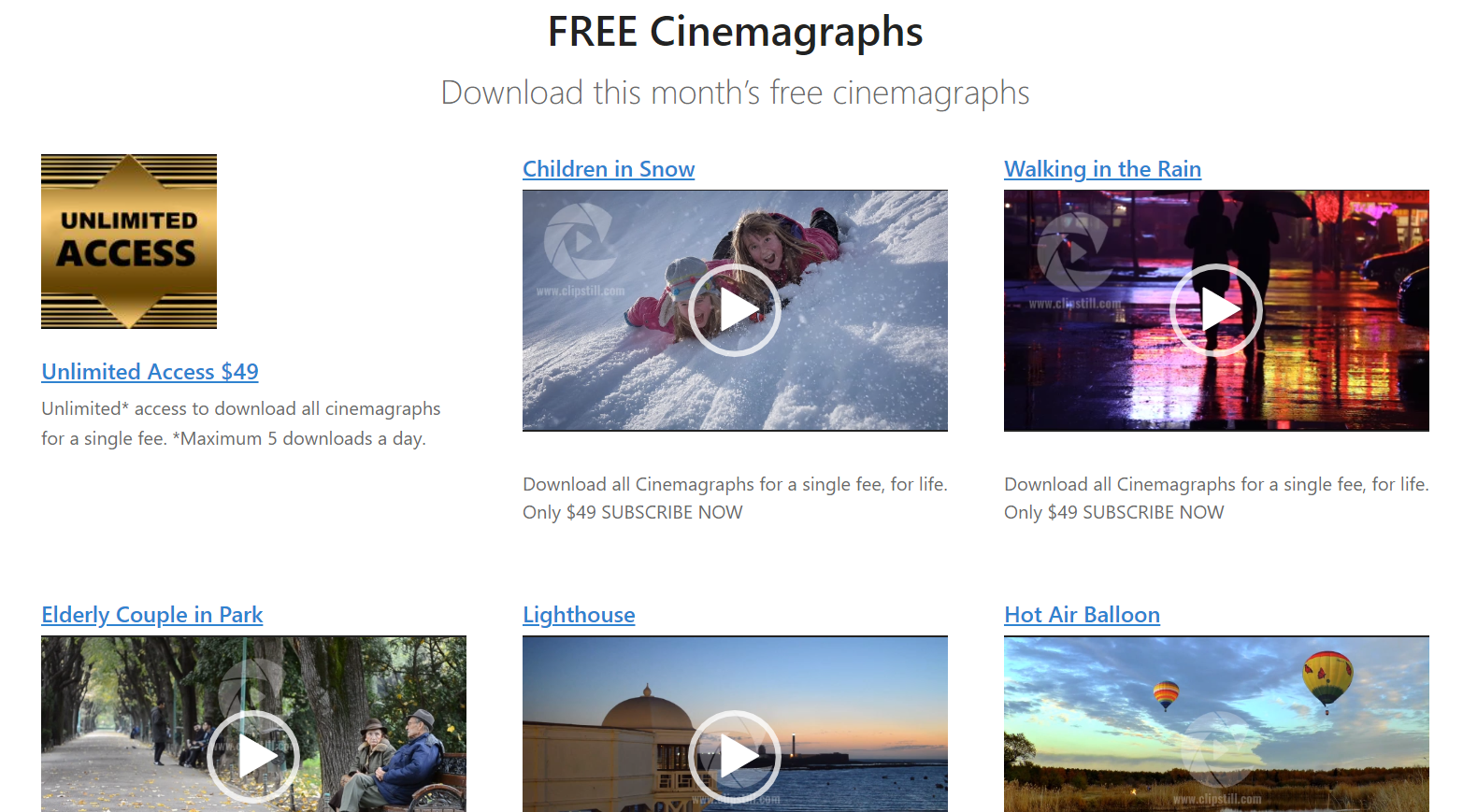 Clipstill is home to a wide selection of cinemagraphs — still images containing a small repeated animation that plays on a loop, creating a captivating cinematic effect.
These can be an eye-catching addition to your Instagram video strategy or elevate your website design.
While most cinemagraphs on Clipstill come with a price tag, the website does have a tiny selection of free clips, which they update every month. So you can bookmark the website and check back frequently.
The site runs on CC0, so you can use the cinemagraphs in any way and for any purpose, including commercial purposes, without attribution. In some cases, you may need an Extended License, and you can learn about that here.
Free stock video website #7: Coverr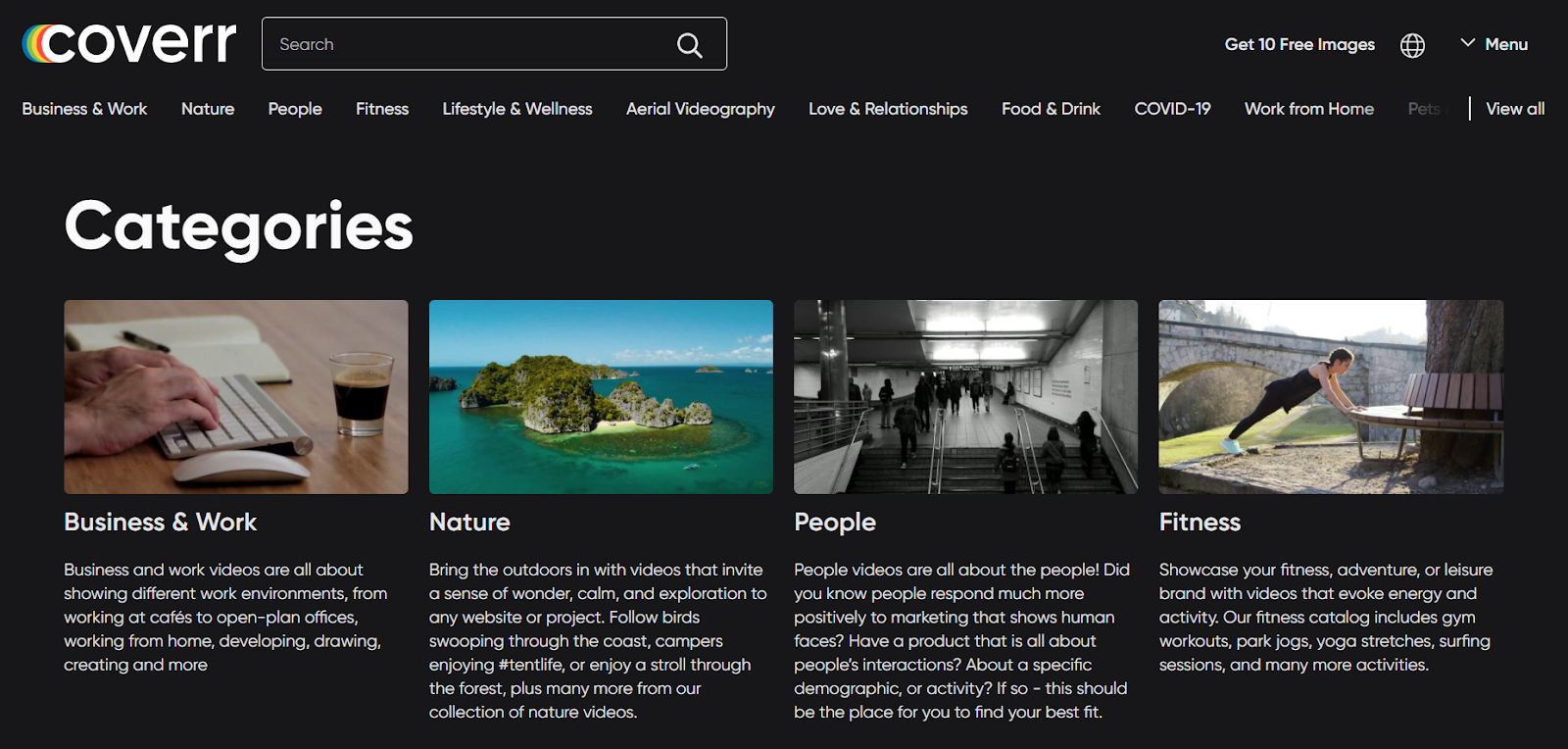 Coverr is another reliable source for cinematic free stock videos you can use in various types of campaigns. You can quickly find videos in any category and download the MP4 without having to create an account.
The website offers a fair mix of drone, time-lapse, and cinematic clips for different projects. The platform also deserves some brownie points for its free virtual Zoom backgrounds.
Stock up on quality videos
There's no shortage of high-quality free stock video footage available for instant use. If you're not sure which website's right for your needs, spare an hour to give each of these a spin, starting with our top picks — Pexels and Dareful.
Be sure to:
So, have you used a free stock video platform before? Which one is your favorite? Drop a comment and let us know!