Social videos are convincing, and they resonate with users; this is good news.
Many brands, however, still struggle to create high-quality, professional videos that they can share on social media as a strong representation of their brand.
But with the incredible technology available today, we have more resources than ever before to make this task more manageable.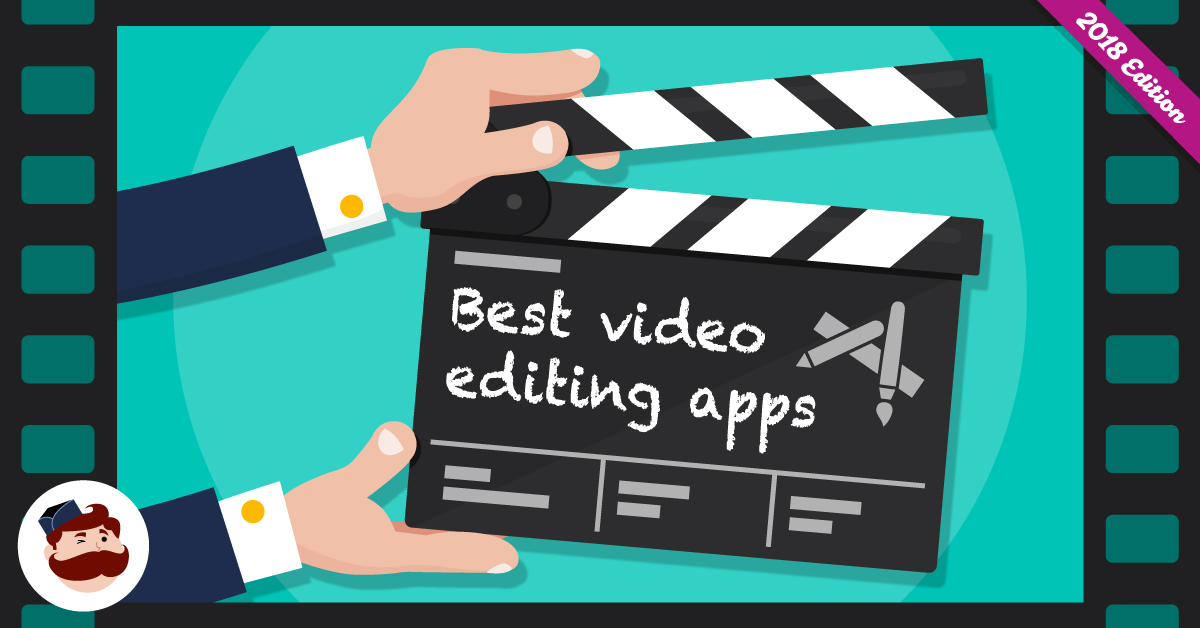 We wrote this post for the first time in 2016; it included only five video editing apps. We updated it last year, adding six new (at that time) apps. But a lot has changed and improved since then– including some of the apps we'd initially written about!
In this update, we're going to look at 16 of the best video apps and software for 2018 that will cover all your video editing needs, along with some best social video practices.
Social video has never been so much essential to online marketing.
It's automatically more engaging and dynamic than plain-text posts or even posts with images, meaning it can more effortlessly grab a users' attention.
Videos can also be more persuasive marketing tools.
This is backed up by statistics, which show that:
The video editing apps and tools on this list offer a wide range of different features.
Some are excellent video editors, while others have unique peculiarities like the ability to create incredible time-lapse videos or play with 50's inspired comedy reels.
We selected both mobile apps and professional-quality desktop editors, and different price ranges (from free to a few hundred dollars).
Between these 16 tools, you'll be able to create every video you've ever dreamed of, even if you have little to no experience.
1. FilmoraGo
Filmora is known for its incredible video editing software, so it's no surprise that their video editing app FilmoraGo maintains that high standard.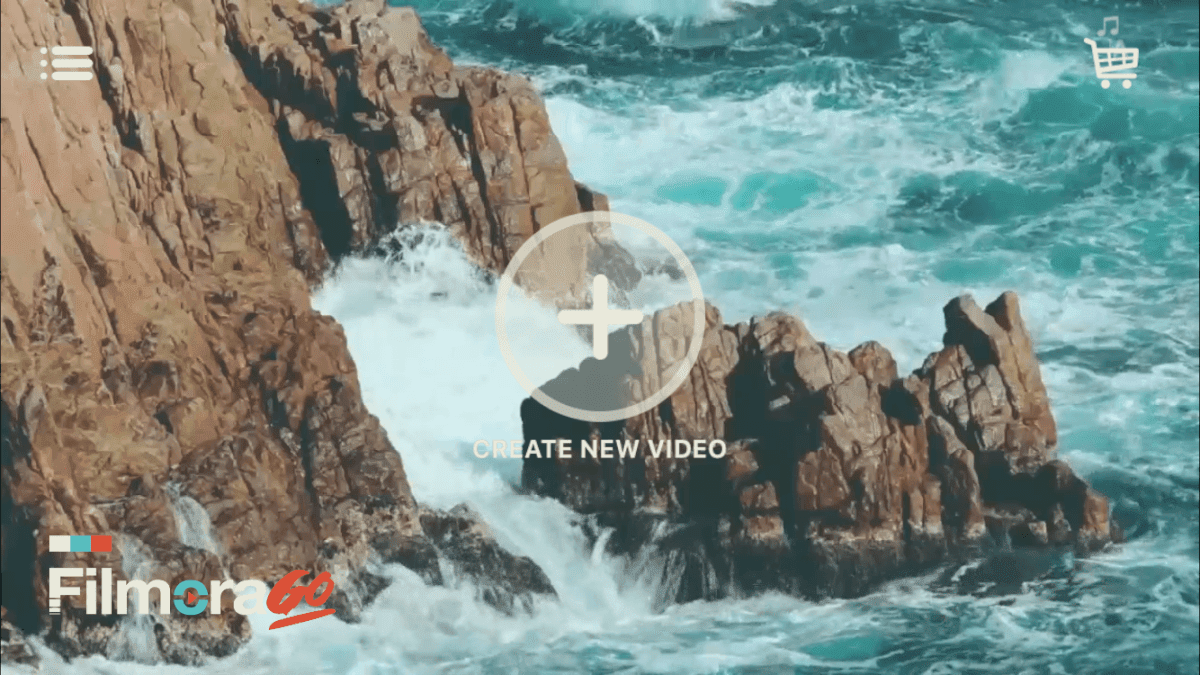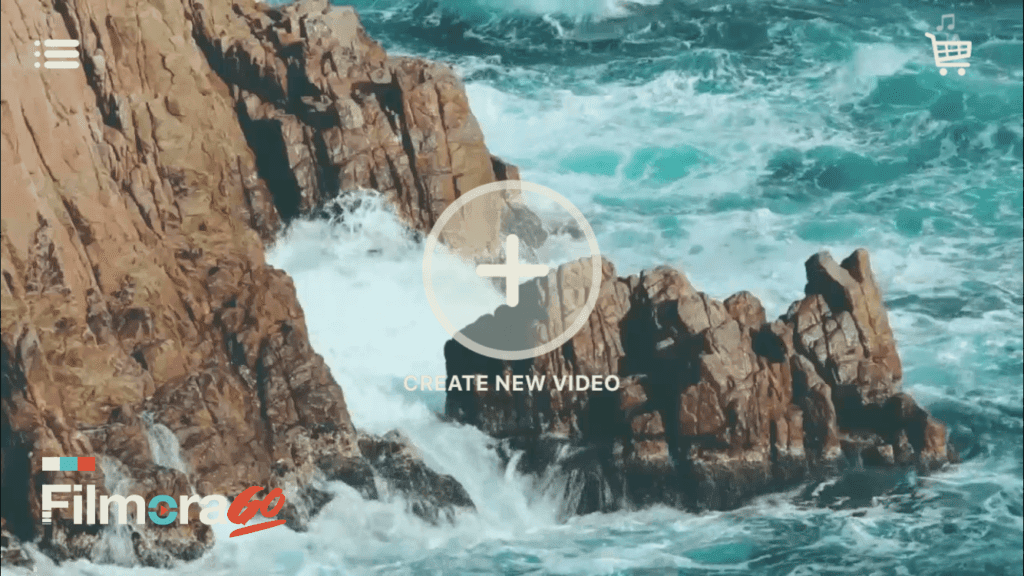 This app allows you to trim a video clip, create subtitles and text, speed up the content, add filters, and add overlays.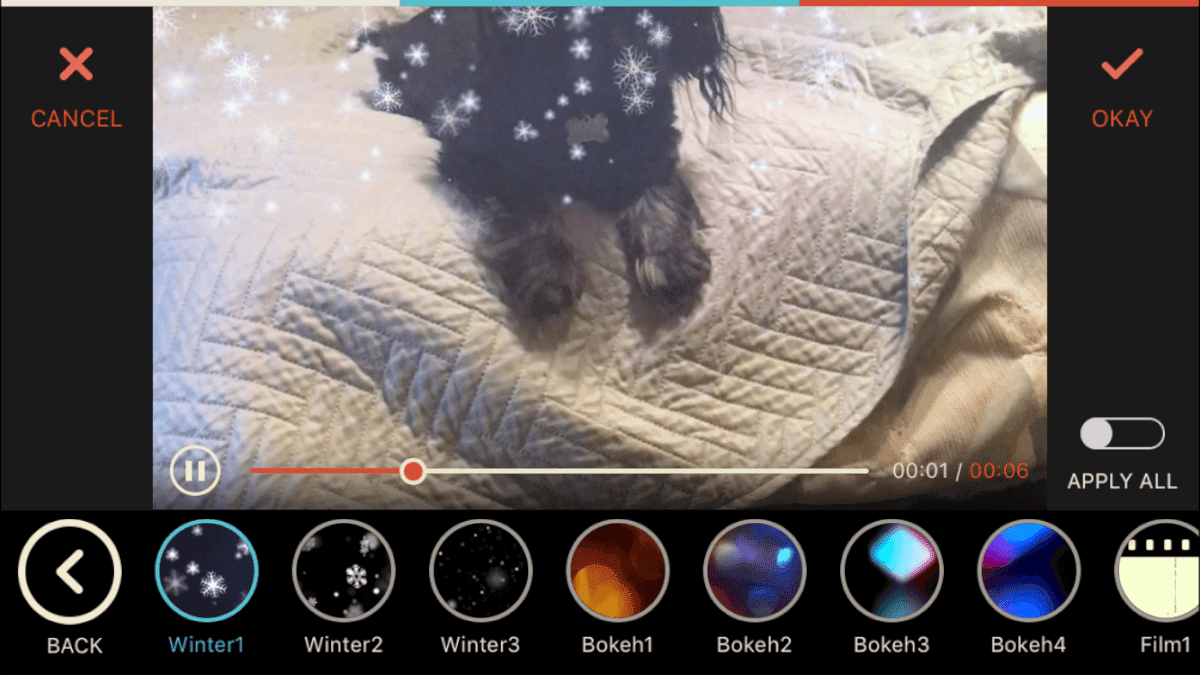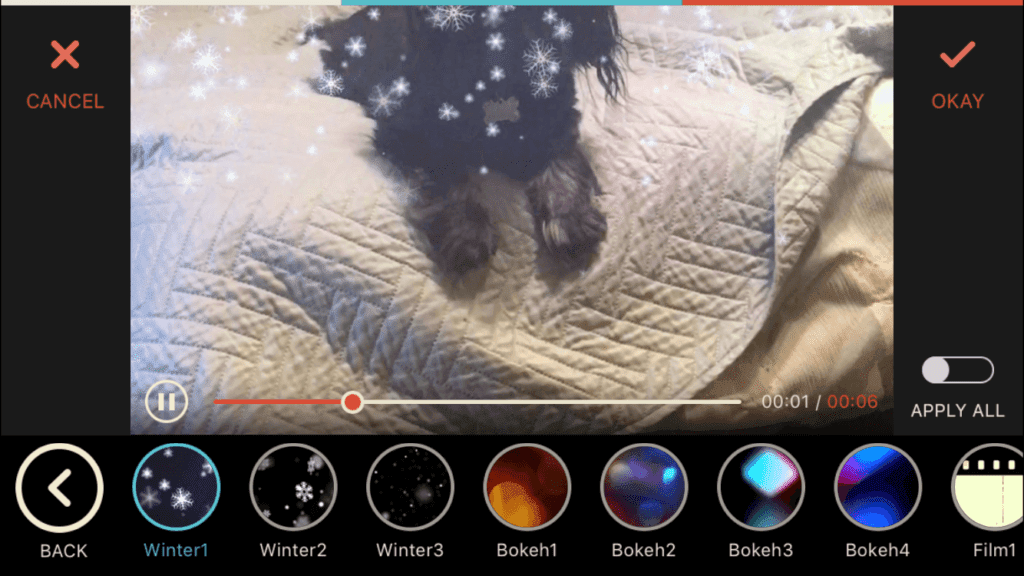 You can add music to the video, which will play in the background. You can also add different themes, like a Charlie Chaplin theme, which adds relevant visual effects and, in some cases, music.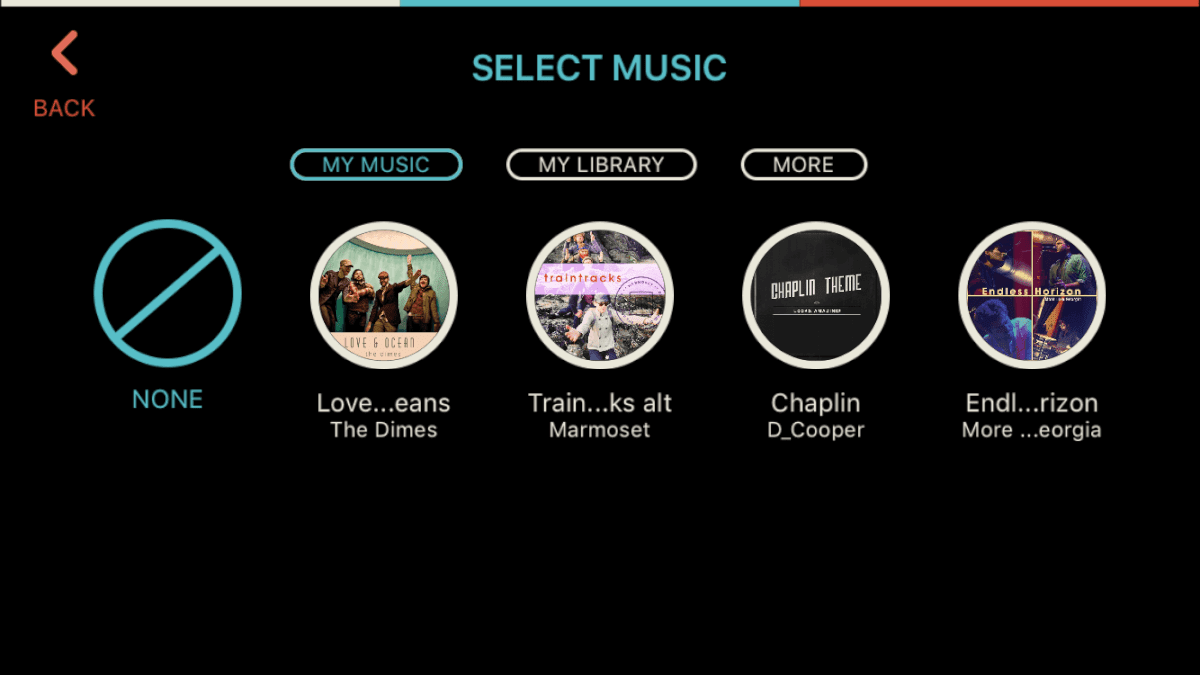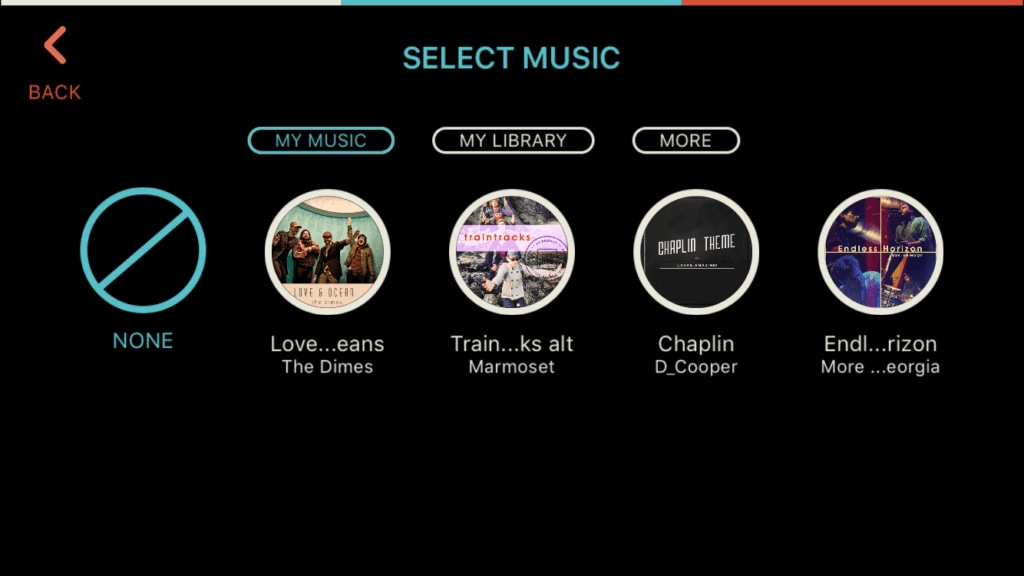 FilmoraGo is free but has in-app purchases you can choose from. It's available for both iOS and Android, and it's easily one of the best video editing apps out there.
2. Magisto
Magisto is an easy-to-use editing app. Their goal is to turn images and videos into stories in just a few seconds. This app can enhance your videos in a few quick clicks.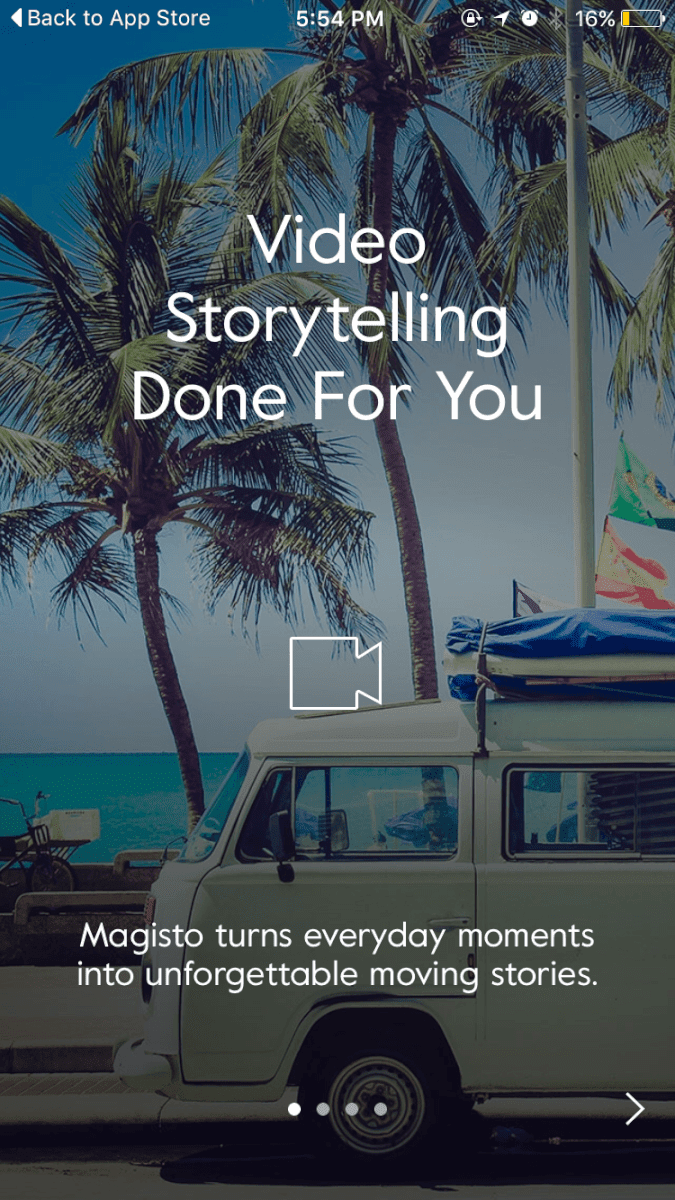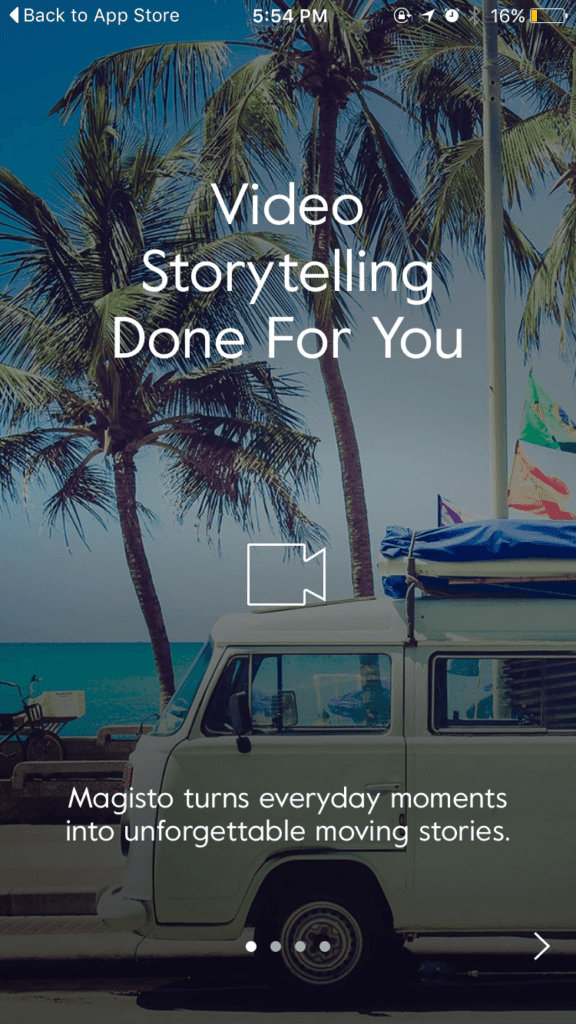 Once you choose an image or video, you'll select an "editing style," with options including real estate, memories, storyteller, dance, and more.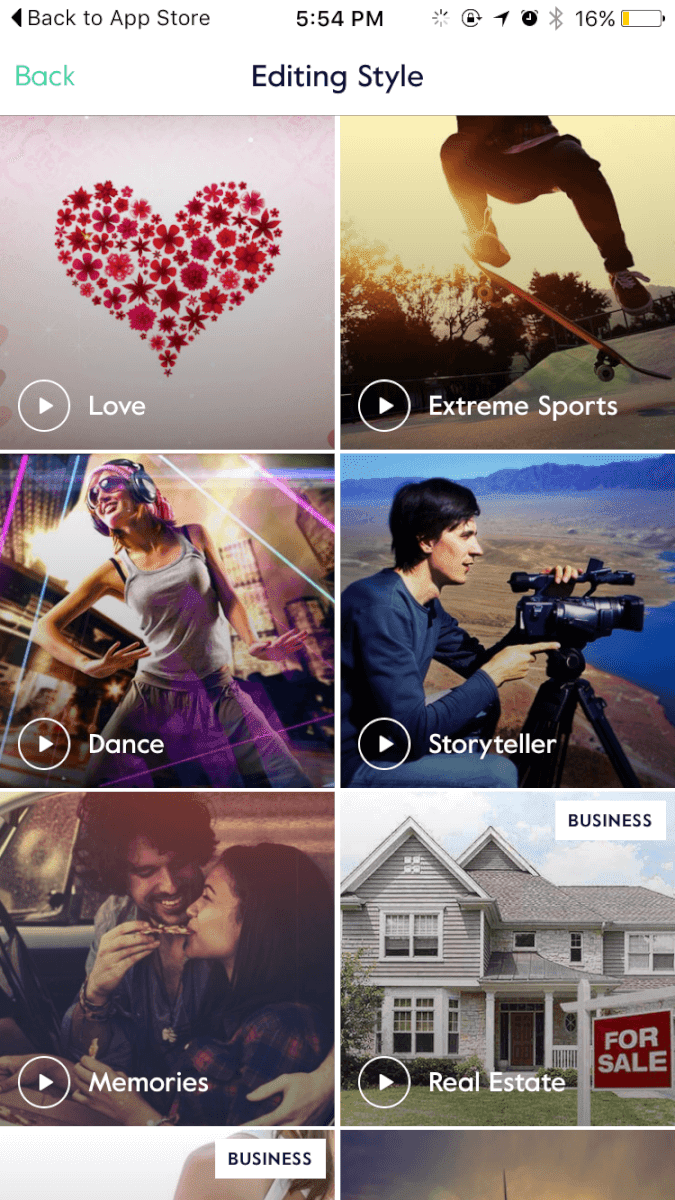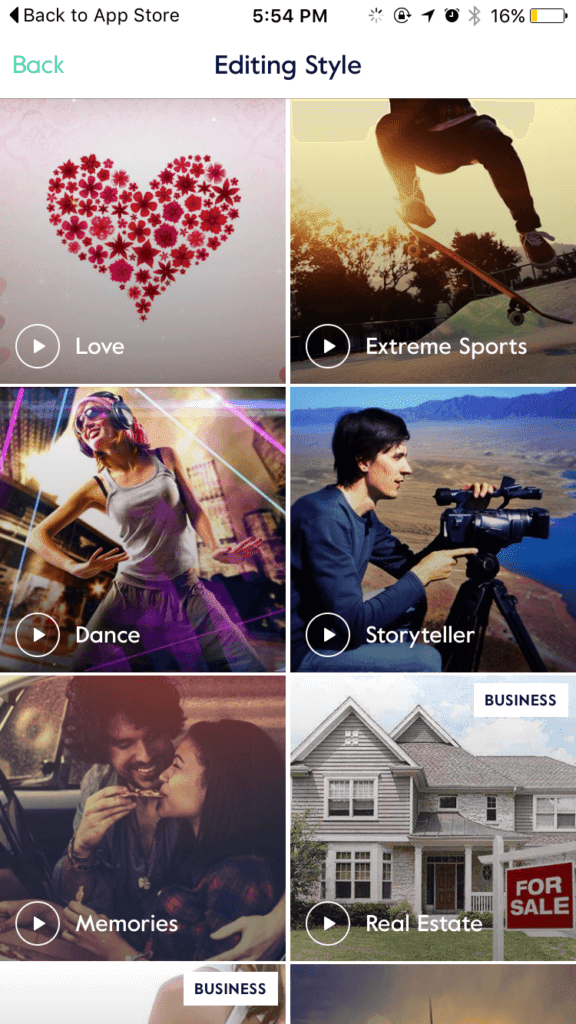 Each will come with music suggestions, but you can add your own music from your library or get music for commercial use. It combines these features with your video to help you achieve the effect that you were going for, giving your video an extra added touch.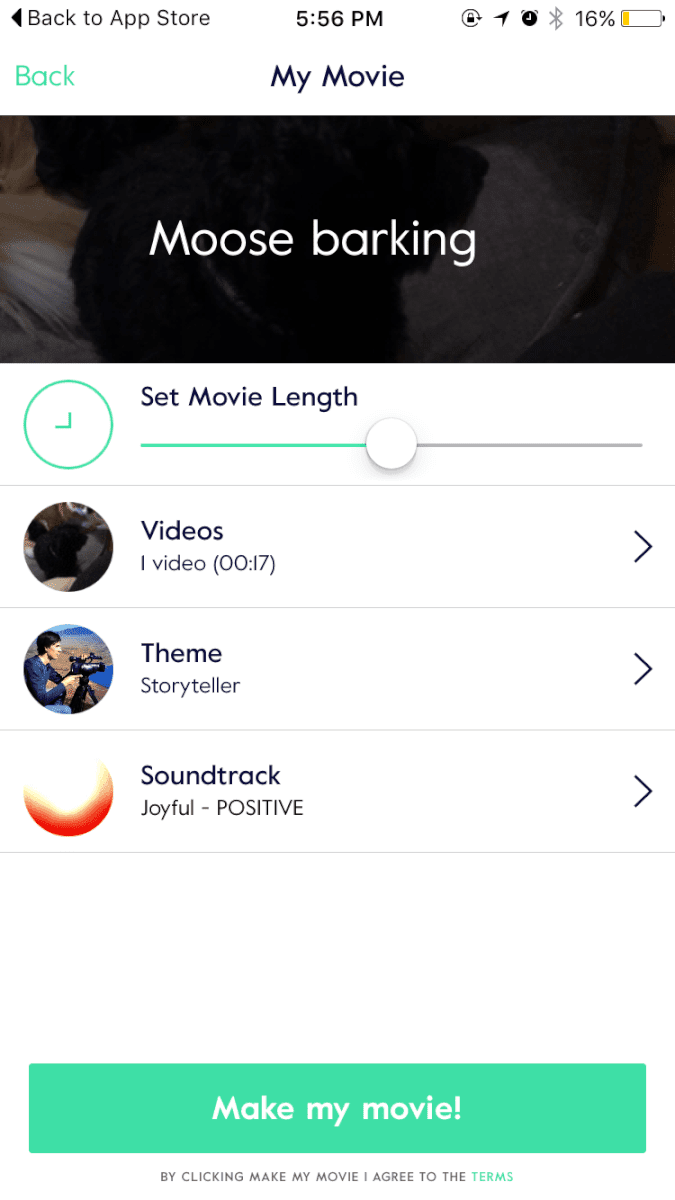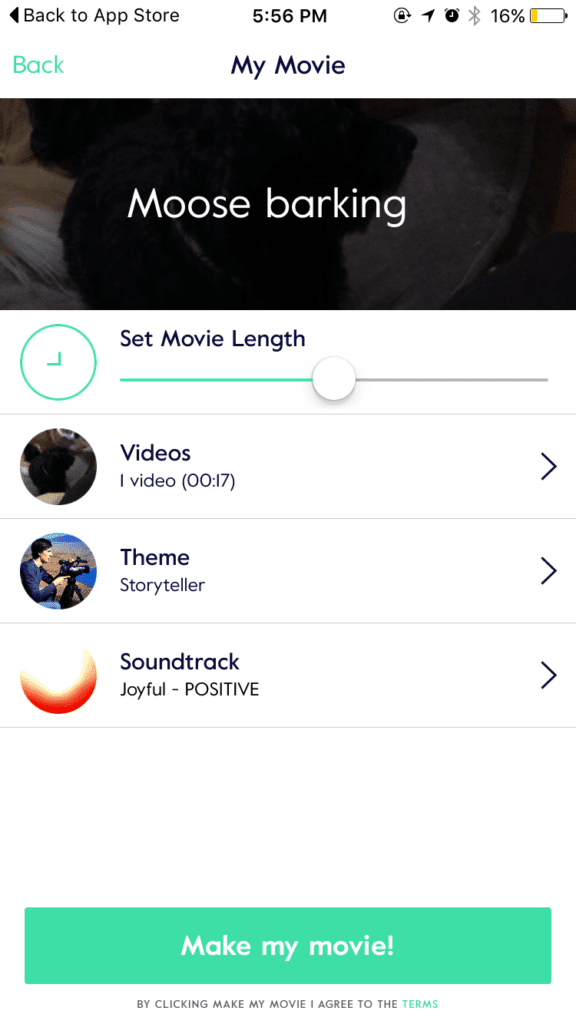 Magisto is free for both iOS and Android users, though they have a business plan that allows you to reorder movie scenes.
3. Adobe Premiere Clip
Adobe Premiere Clip is another one of our best video apps that comes from a big-name editing tool.
Unlike the full desktop version, this app has more simplified features. It still accomplishes its mission to help users "create, edit, and share" videos.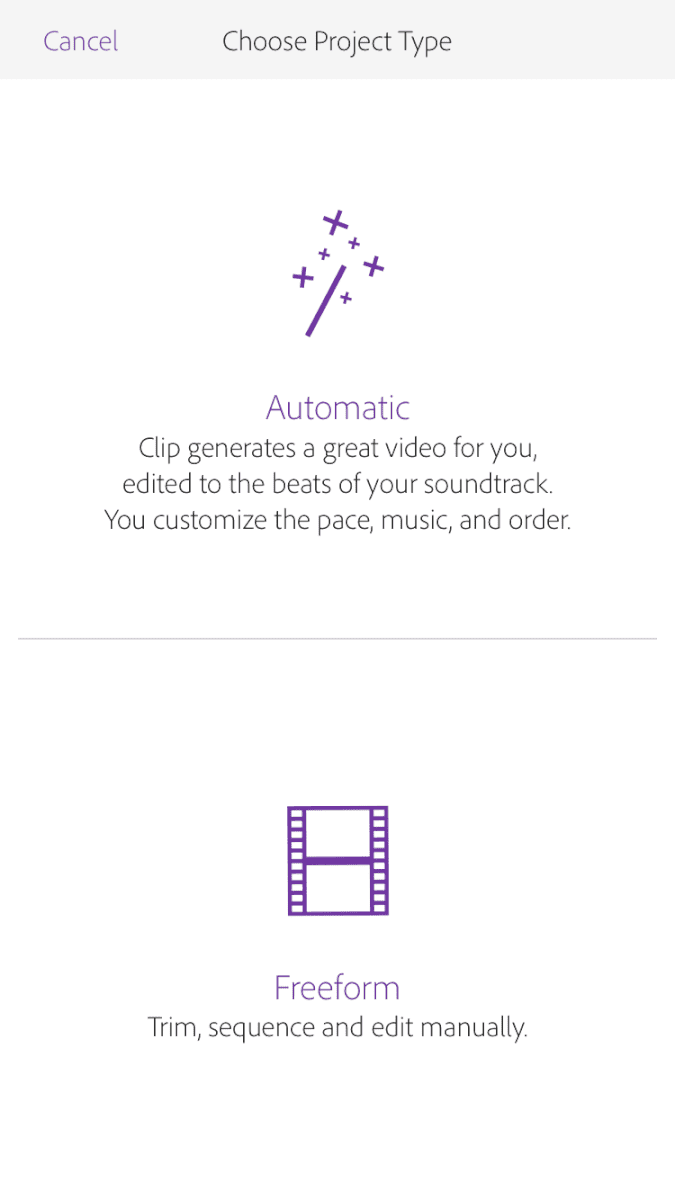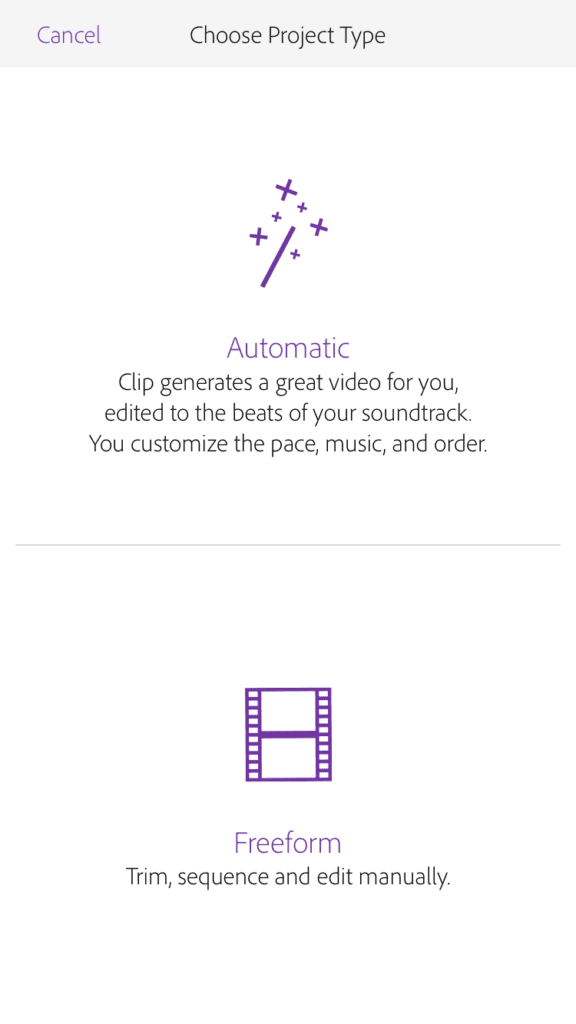 They have two editing styles that you can choose from when you get started.
Their automatic editing option will quickly generate a clip based on your uploaded video, where you customize the pace of the video, the music, and the order of clips.
Their freeform editing lets you trim the video clip, sequence it, and edit it manually.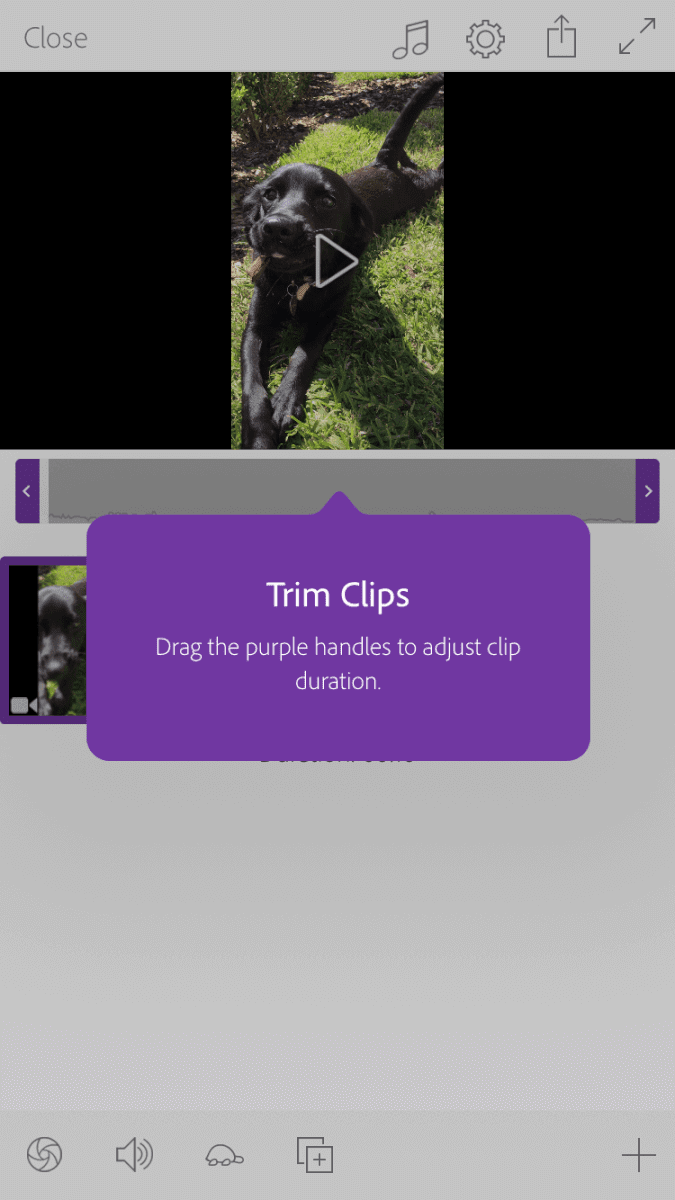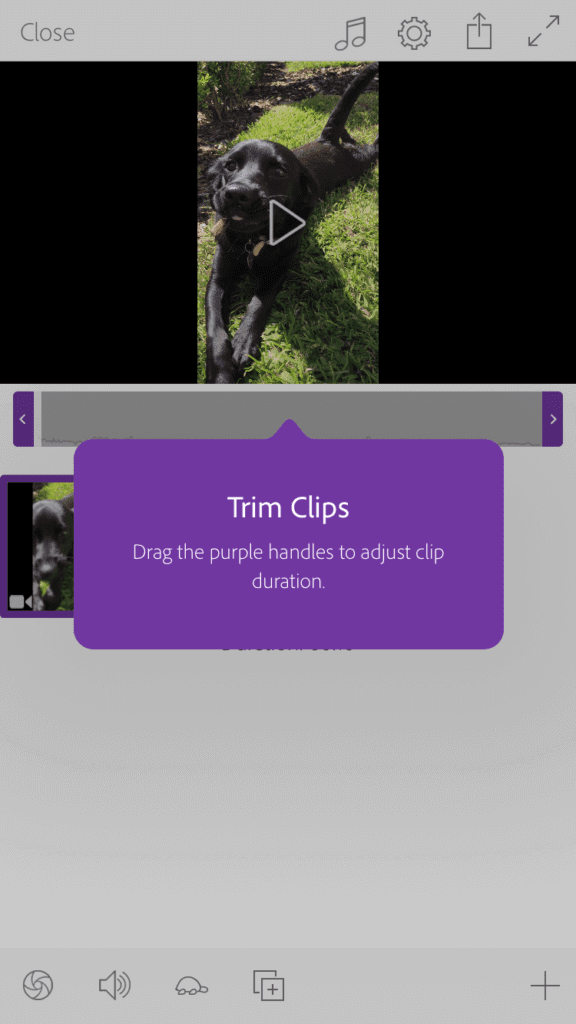 Like other tools on this list, you can add in the music of your choice from your library, and you can share the video with the app's community if you want to.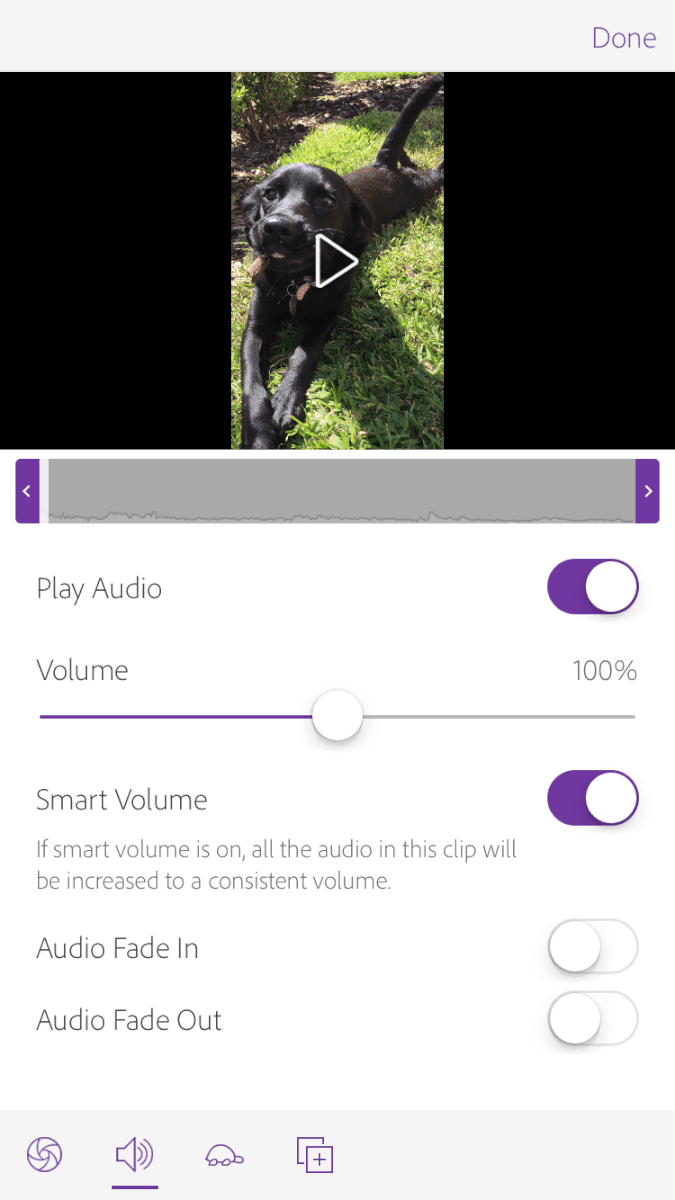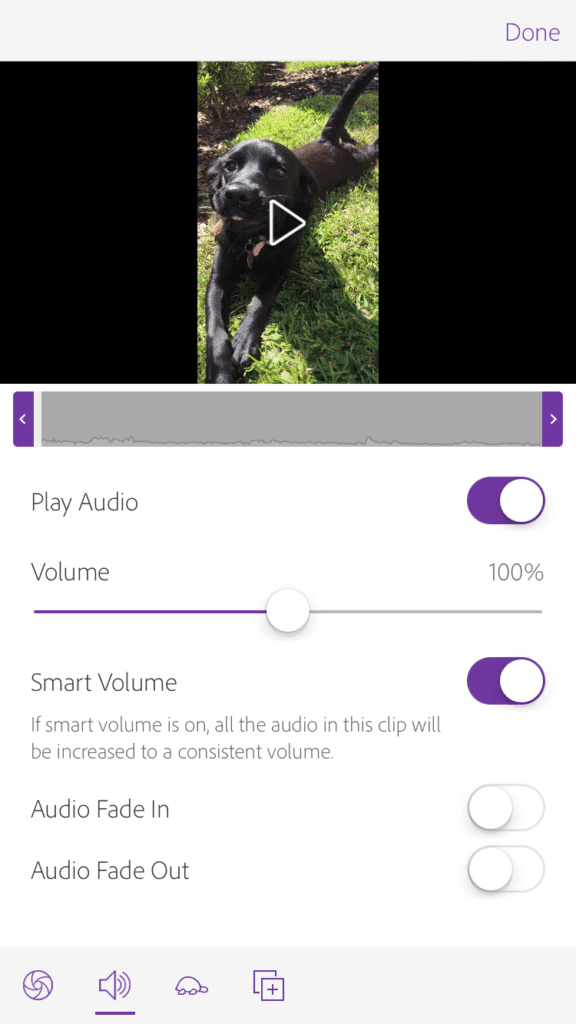 Adobe Premiere Clip is a free app, and I think it's effective without needing to upgrade to any of the paid plans if you're looking for an app that will help you edit easily and quickly.
4. Overvideo
Overvideo is the only video editing app on this list that is only for iOS devices, so Android users may want to skip this one.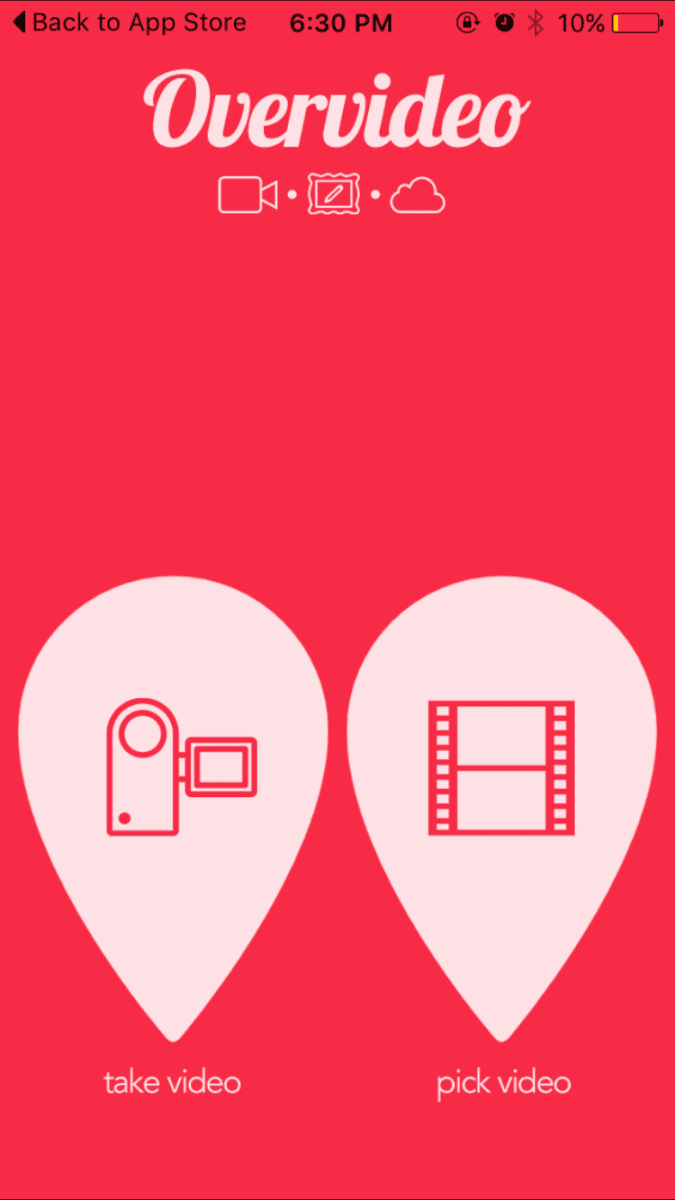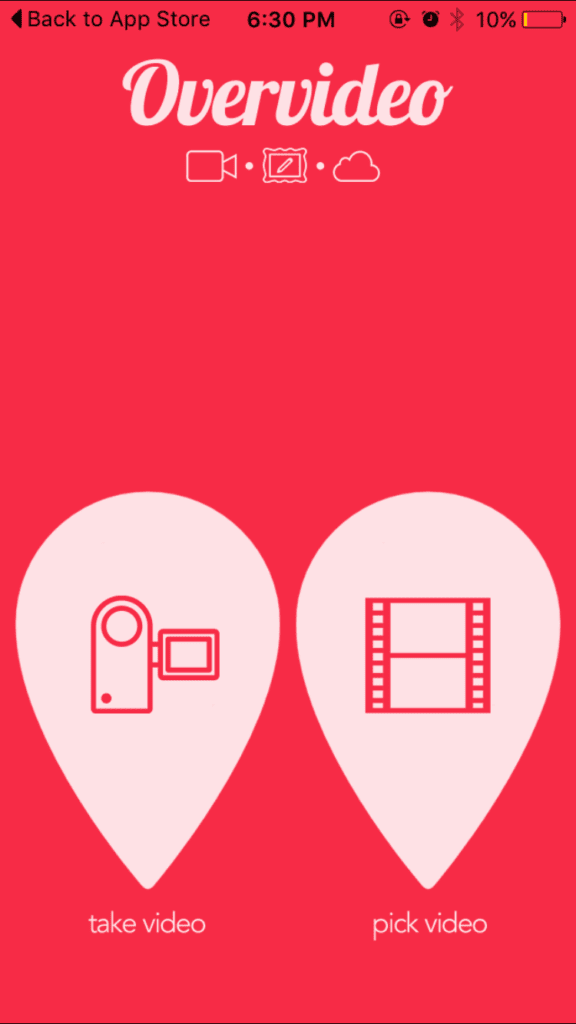 If you want to add subtitles to your video (but don't want to do so on every social platform separately), this app is my best recommendation.
You can add text anywhere to a video, and determine how long it will appear on the screen.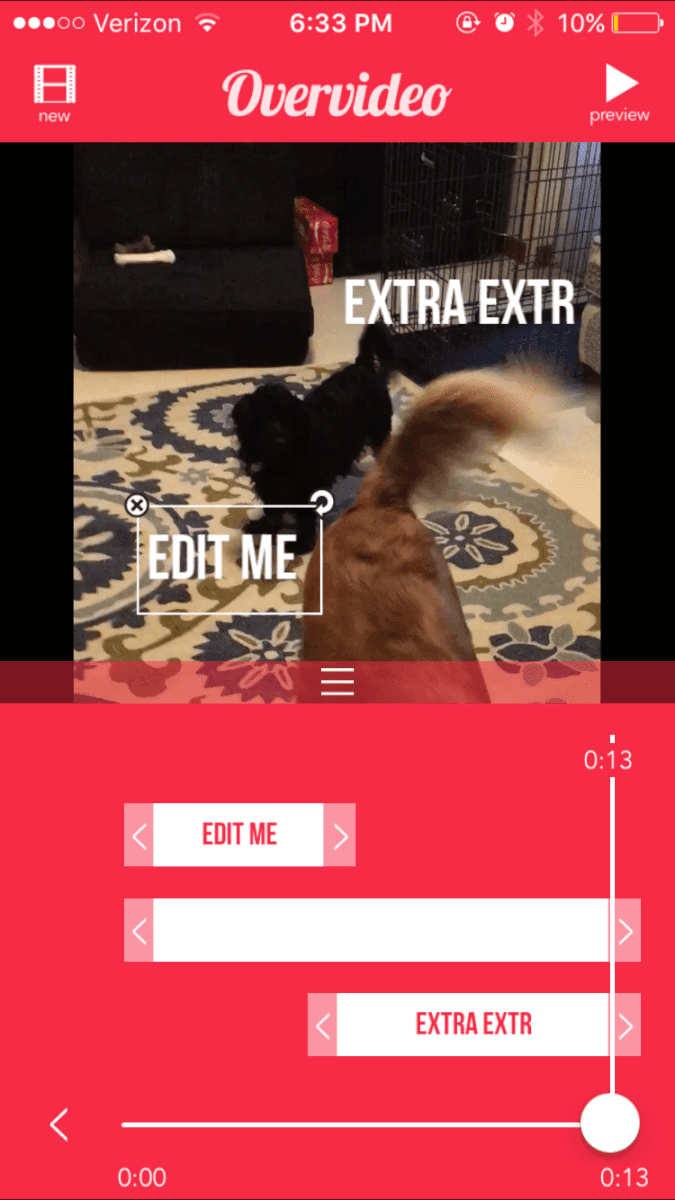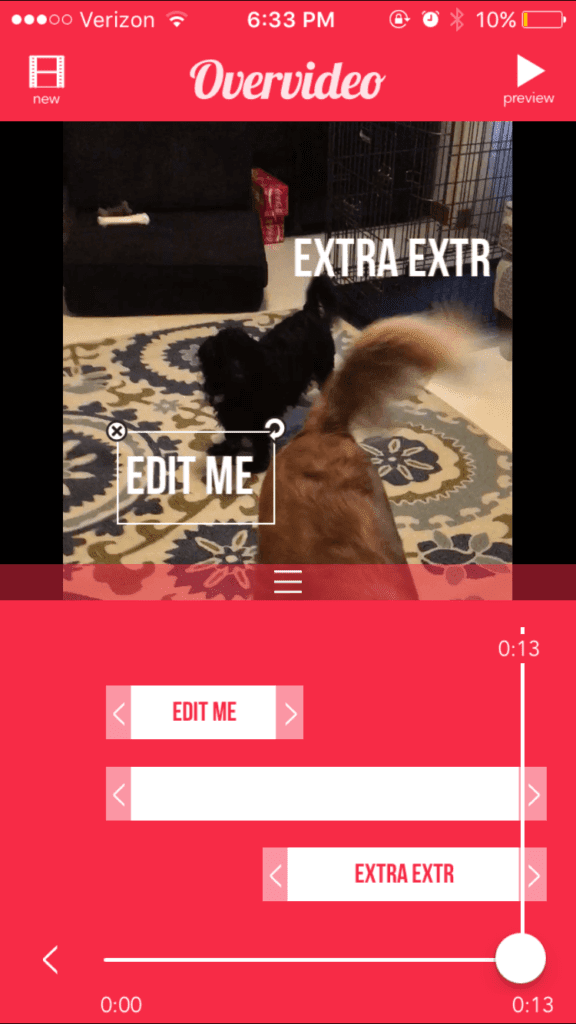 This tool also has some great additional features, like the ability to add music and adjust the text and opacity of the text block.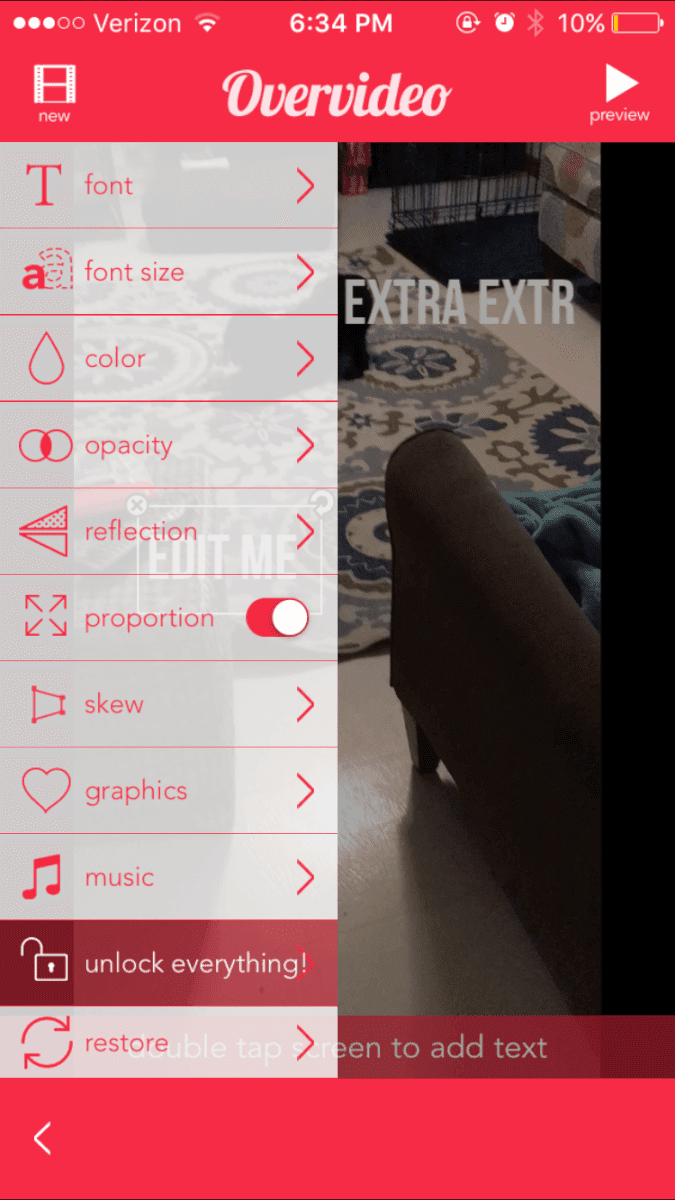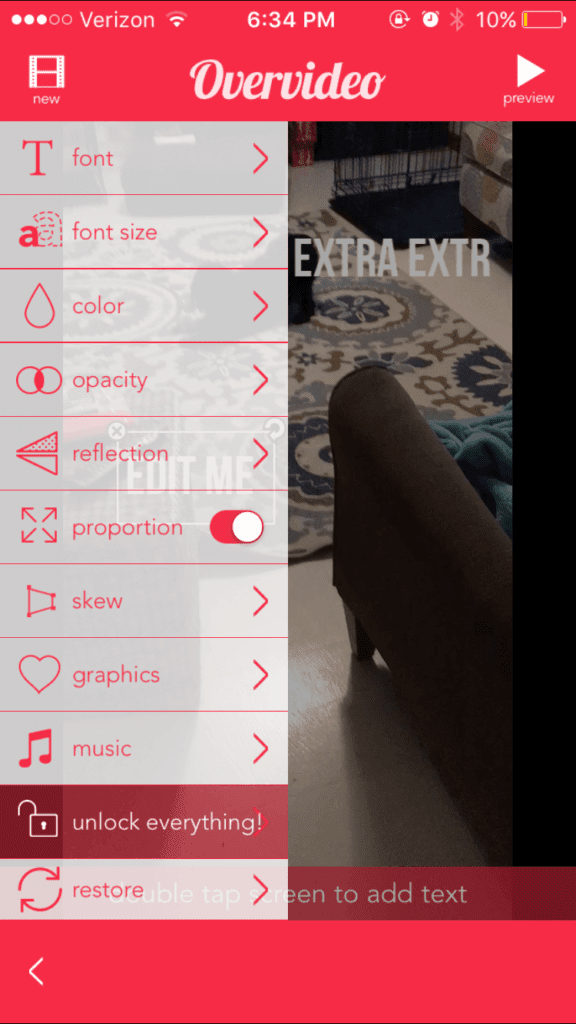 The paid version of this app lets you edit your video a little more thoroughly, including with view cropping and clip trimming.
5. LapseIt
LapseIt is a simple but excellent editing app that I love.
Timelapse videos can perform really well on social media; they grab your eye quickly, and they are effective at showing something that takes space over an extended period of time.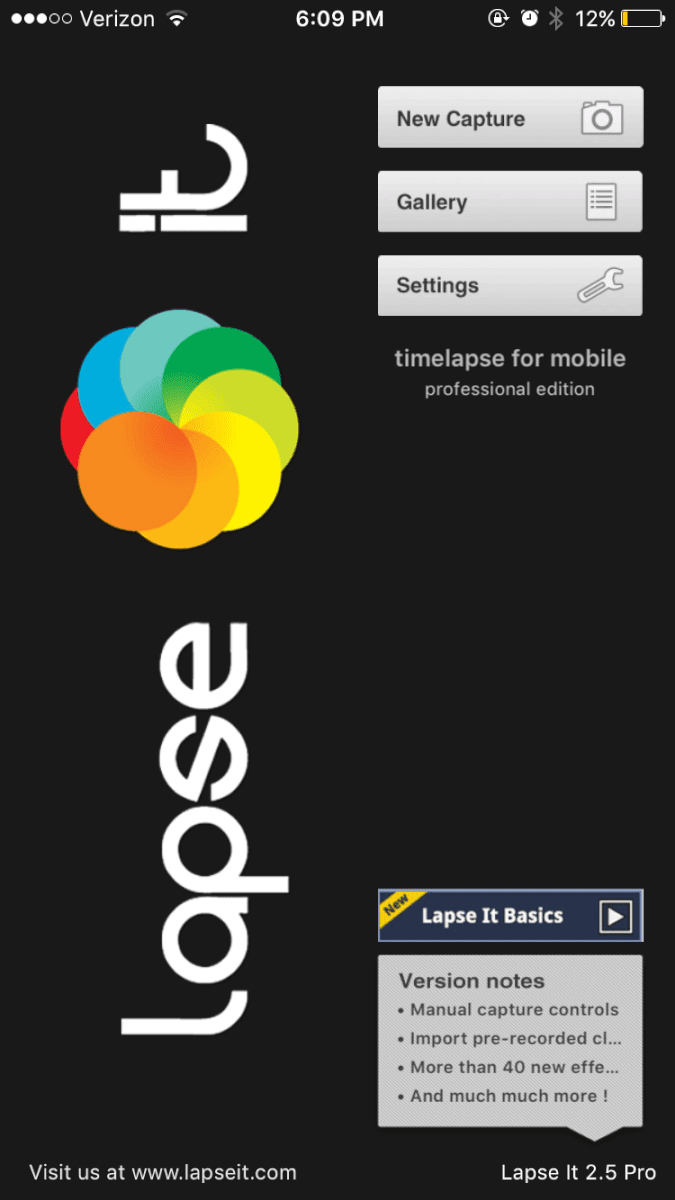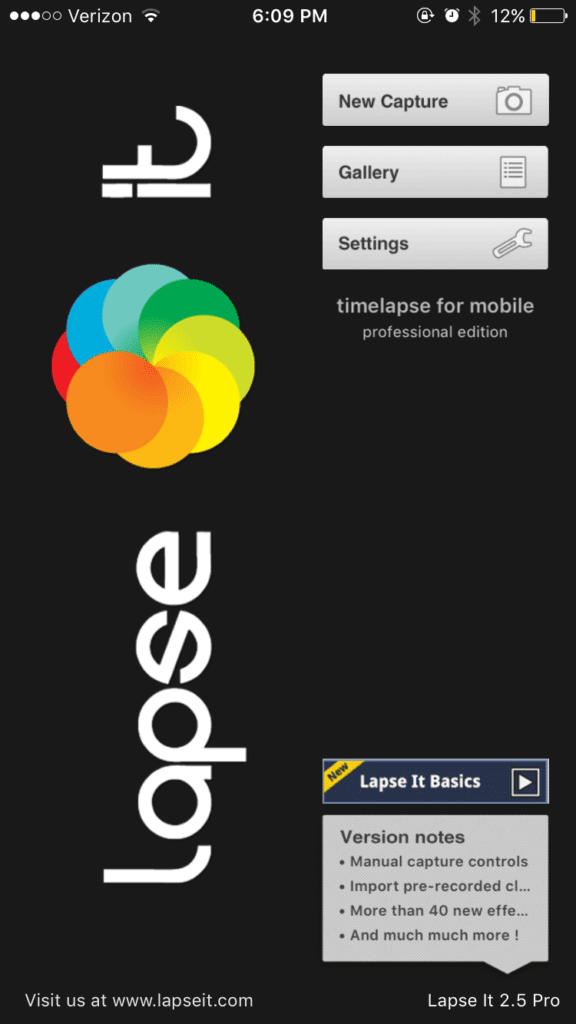 LapseIt lets you shoot a new video through the app or choose an existing video from your gallery.
They have some amazing editing options, including an exceptionally user-friendly clip trimming system.
You can add music and filter effects, and you can also choose how quickly you'd like your video to progress.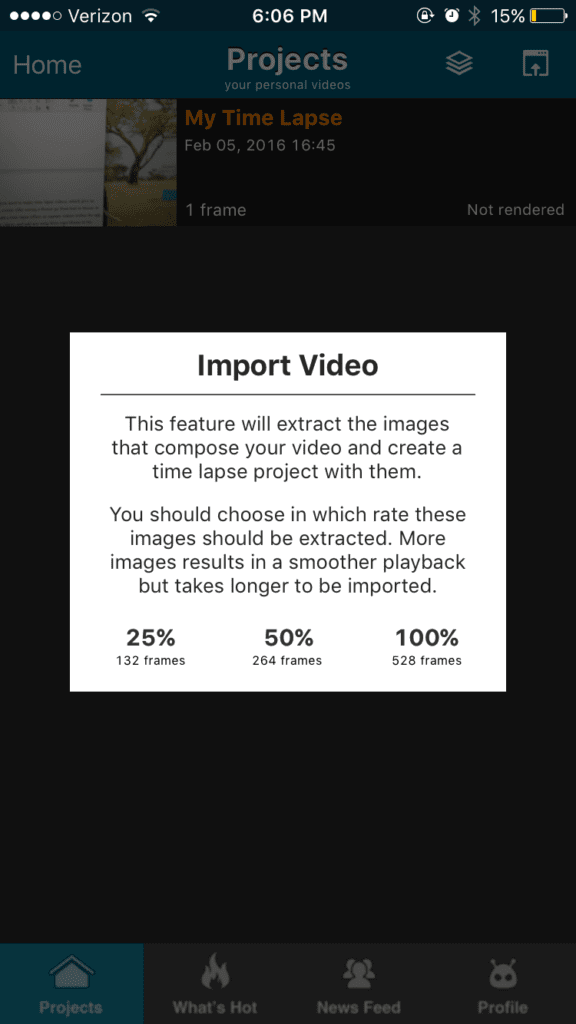 Once you're happy with your video, you can upload it directly to social media sites, including YouTube.
The basic LapseIt app is free for both iOS and Android, but their pro version is only $2.99. This version comes with added features and lets you produce higher resolution videos.

6. Quik
Quik is an incredible video editing software created by GoPro, and makes it easy to create social-ready videos in a few minutes or less.
You can add images (up to 200 of them), videos, and music to your video with just a few clicks.
It even has some great features that you won't see from other video editing apps, like the ability to auto-sync music.
Quick will also automatically analyze the images and videos you've uploaded to select the best moments, but you can also choose to pick them manually.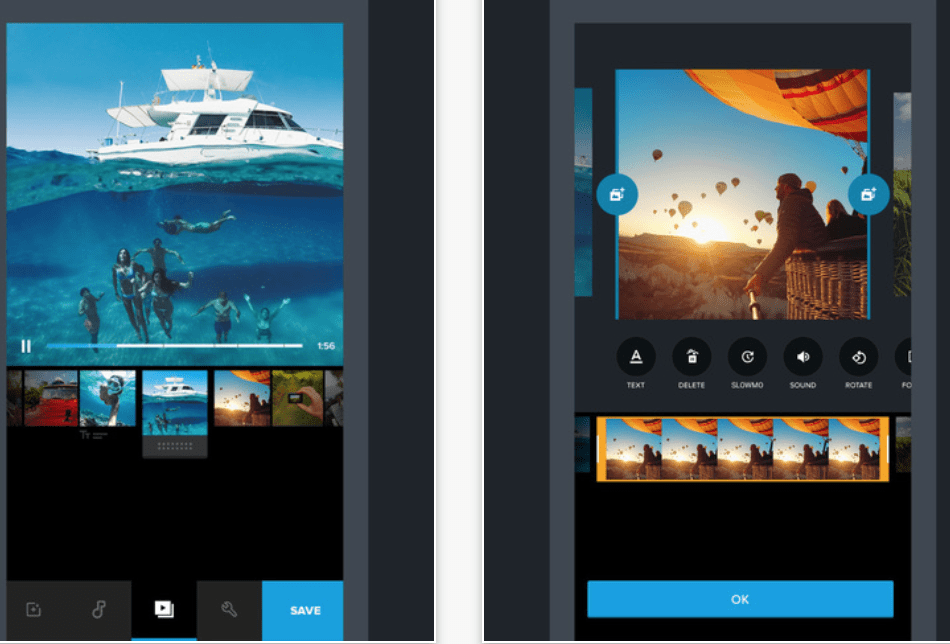 You can add text (with fonts of your choice), emojis, and slide titles.
This is easily one of the best mobile editing apps when it comes to ease of trimming and reordering clips of images and videos.
It's the only mobile app that I always use to edit the actual video content.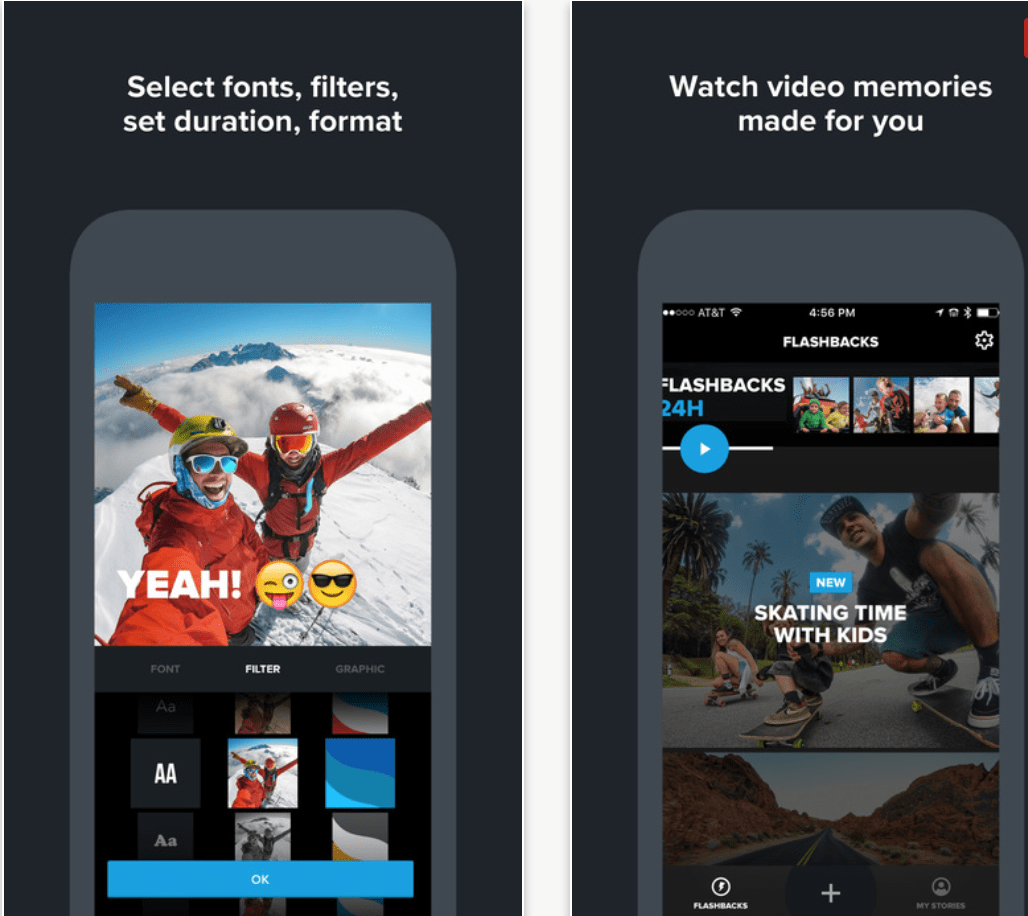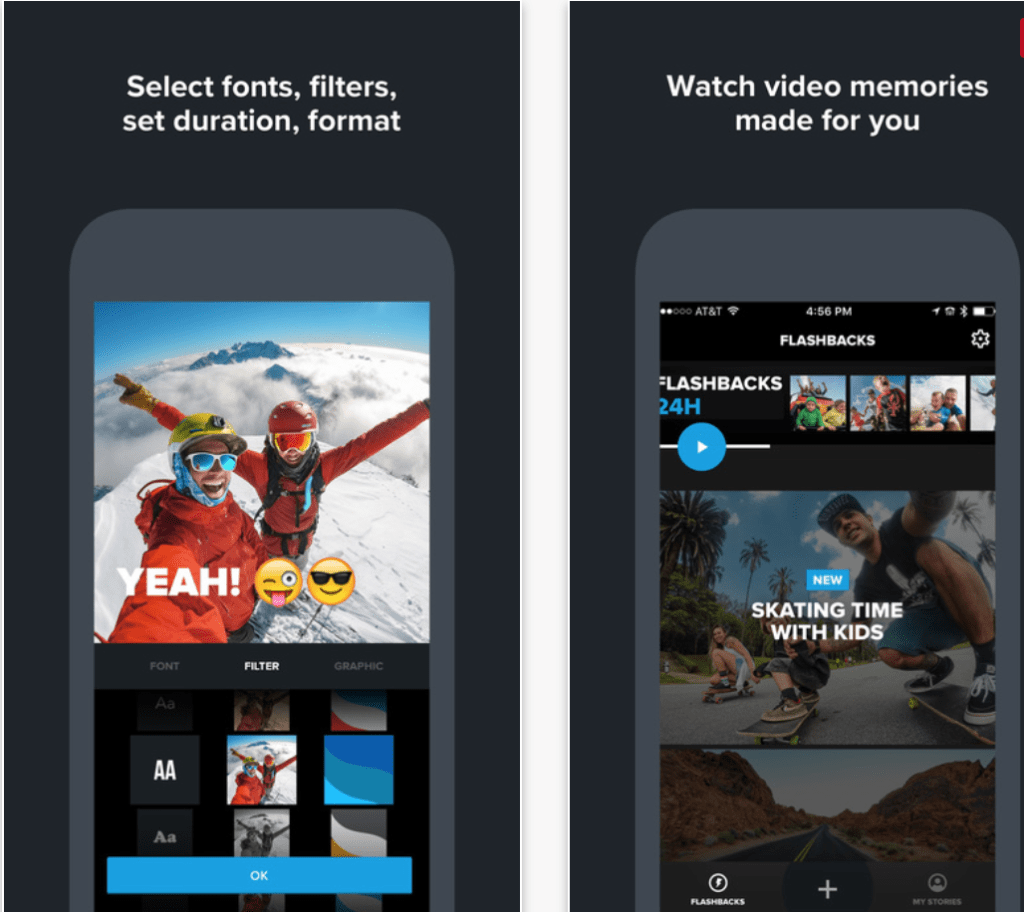 Quik also has excellent social sharing options, along with the possibility to share your video with text or email. It is currently available for desktop, iOS, and Android.
7.  

Vizmato

If you're looking for a quick video editing tool, Vizmato is a good choice. It lets you record videos in-app in HD from either rear or front-view cameras, or use videos from your phone's library.

Vizmato lets you add themes, filters, and visual effects to your videos to make them interesting, exciting, and diverse.

Some of these effects would be particularly helpful for Instagram Story ad creation, especially since you need to have all the video's editing done before you upload it to Facebook's ad system.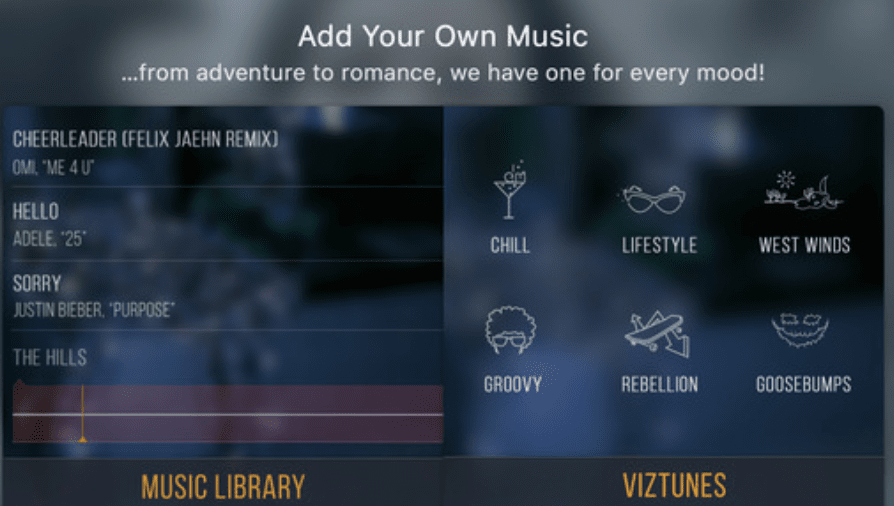 Like other tools on this list, Vizmato has one-touch social sharing to several different platforms, including Vizmato's own video feature portal to help your content gain additional visibility.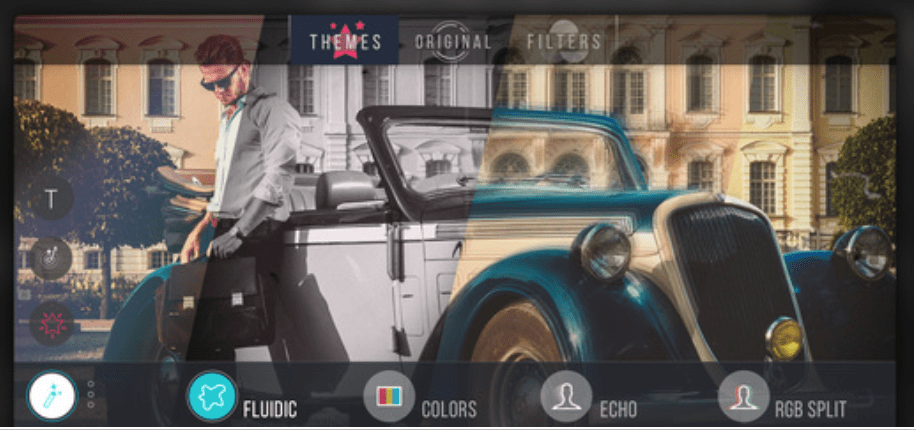 Vizmato starts as a free video editing app, but upgrading gets you additional features. A per-month subscription is $.99 (USD), and a year subscription is $9.99. It's currently available iOS and is coming soon to Android.
8. Cute CUT
I've used Cute CUT when I needed to create Instagram Story Ads quickly (but make sure you choose the portrait view).
It lets you draw right onto the video, and you can add drawings, shapes, and text to only the specific segments of the video that you want. This is extremely helpful.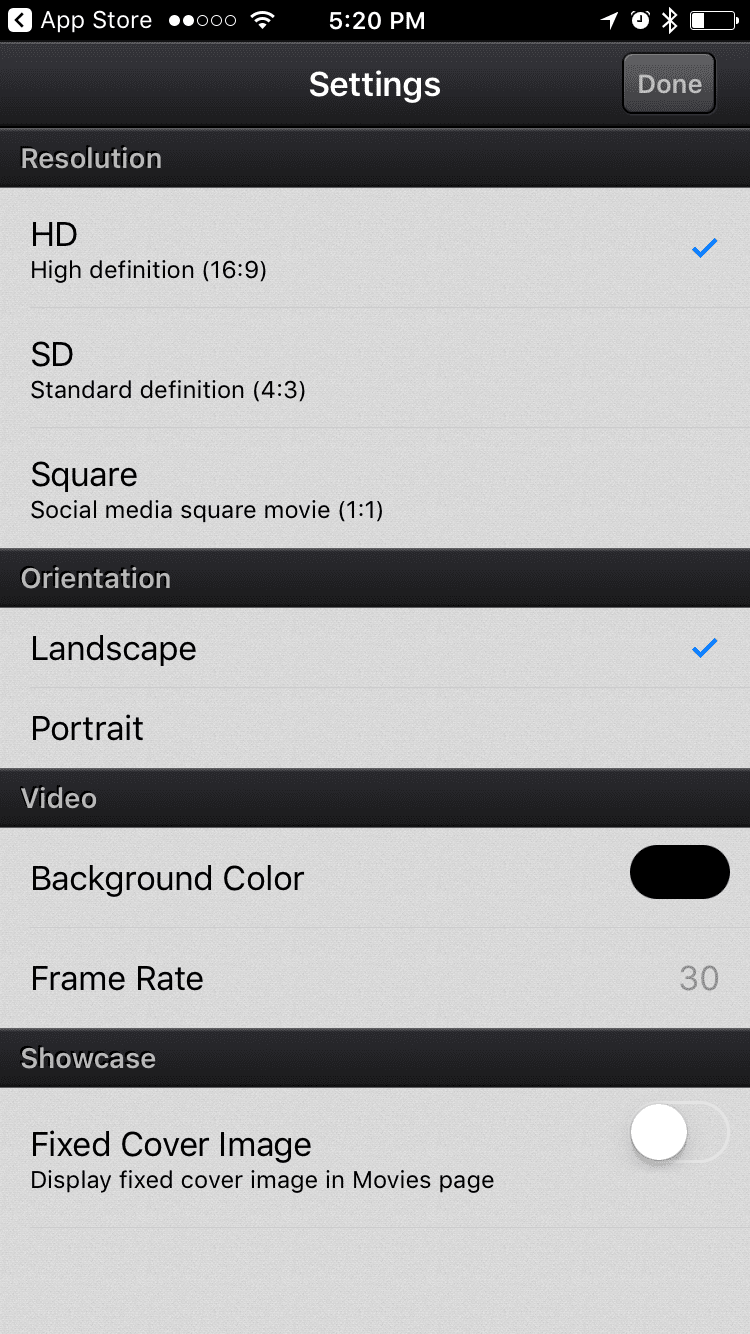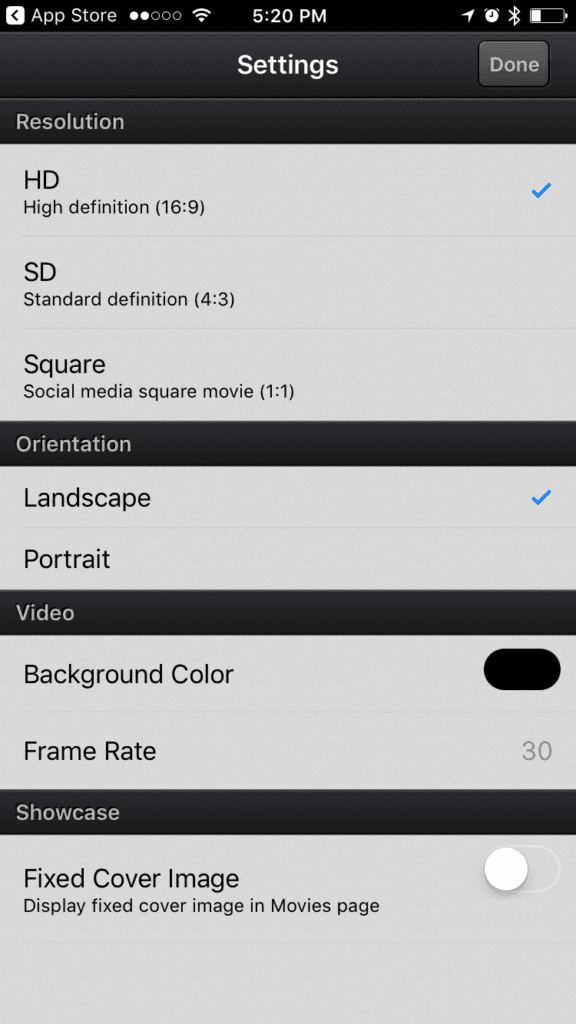 While it does have features that allow you to trim or reorder clips, I've found Quik's to be a little more intuitive and user-friendly.
Cute CUT has excellent drawing features—particularly the pro version—which is what I'd recommend it for.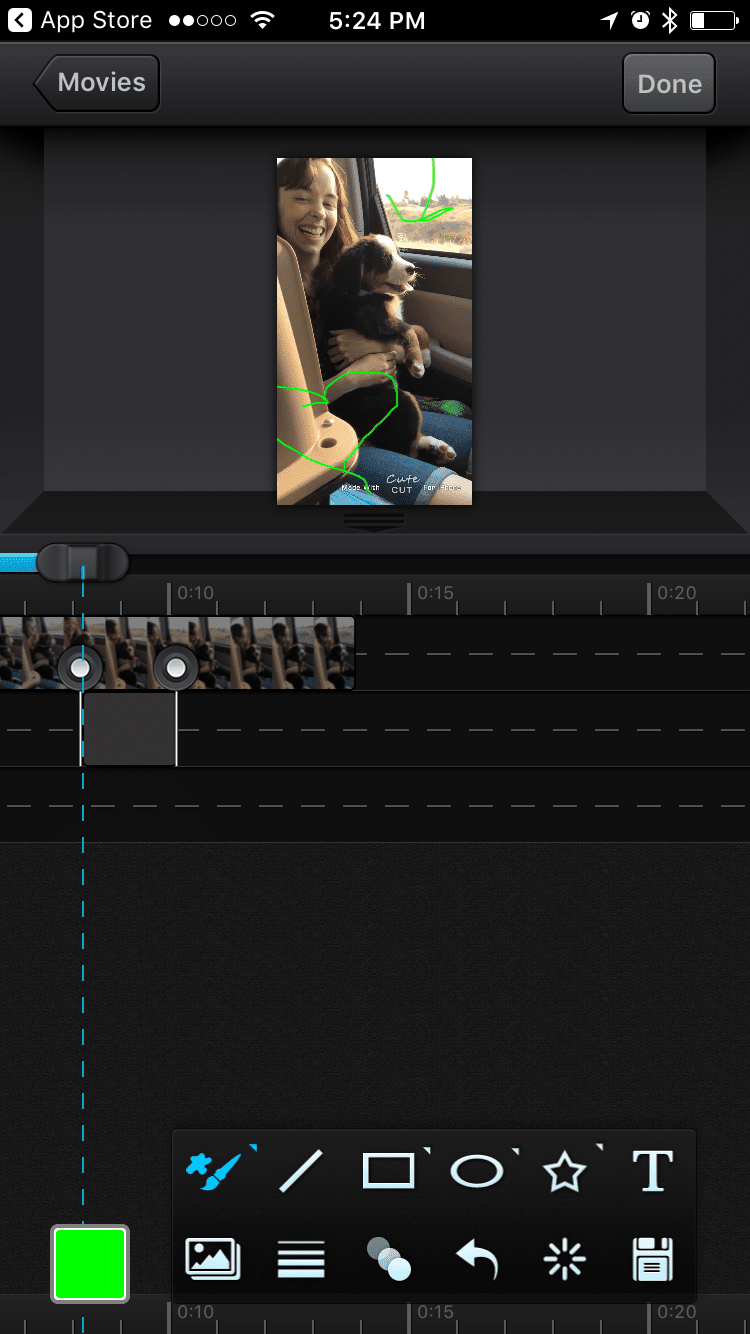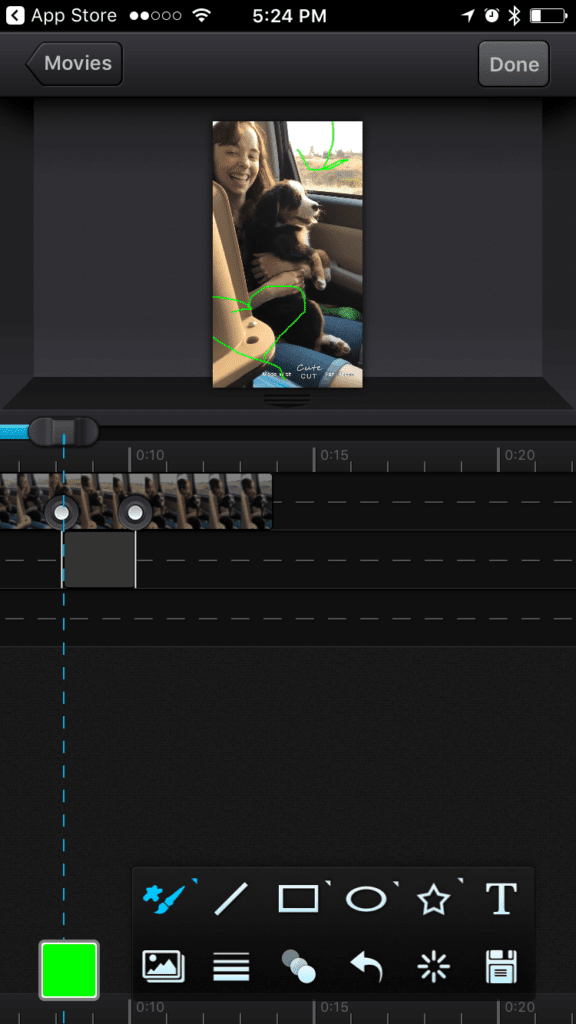 Cute CUT has a Base app (which is a free video editing app) and a Pro app, which is only $5.99. If this is an app that you see yourself using often, go for the Pro version. It's available for iOS and Android.
9. In-Shot App
In-Shot App is another one of those great, easy-to-use video editing apps that you can use on the go.
You can upload videos and then add music, voice over narrations, text and emoji overlays, and time them all to appear at the right time and for the exact desired length.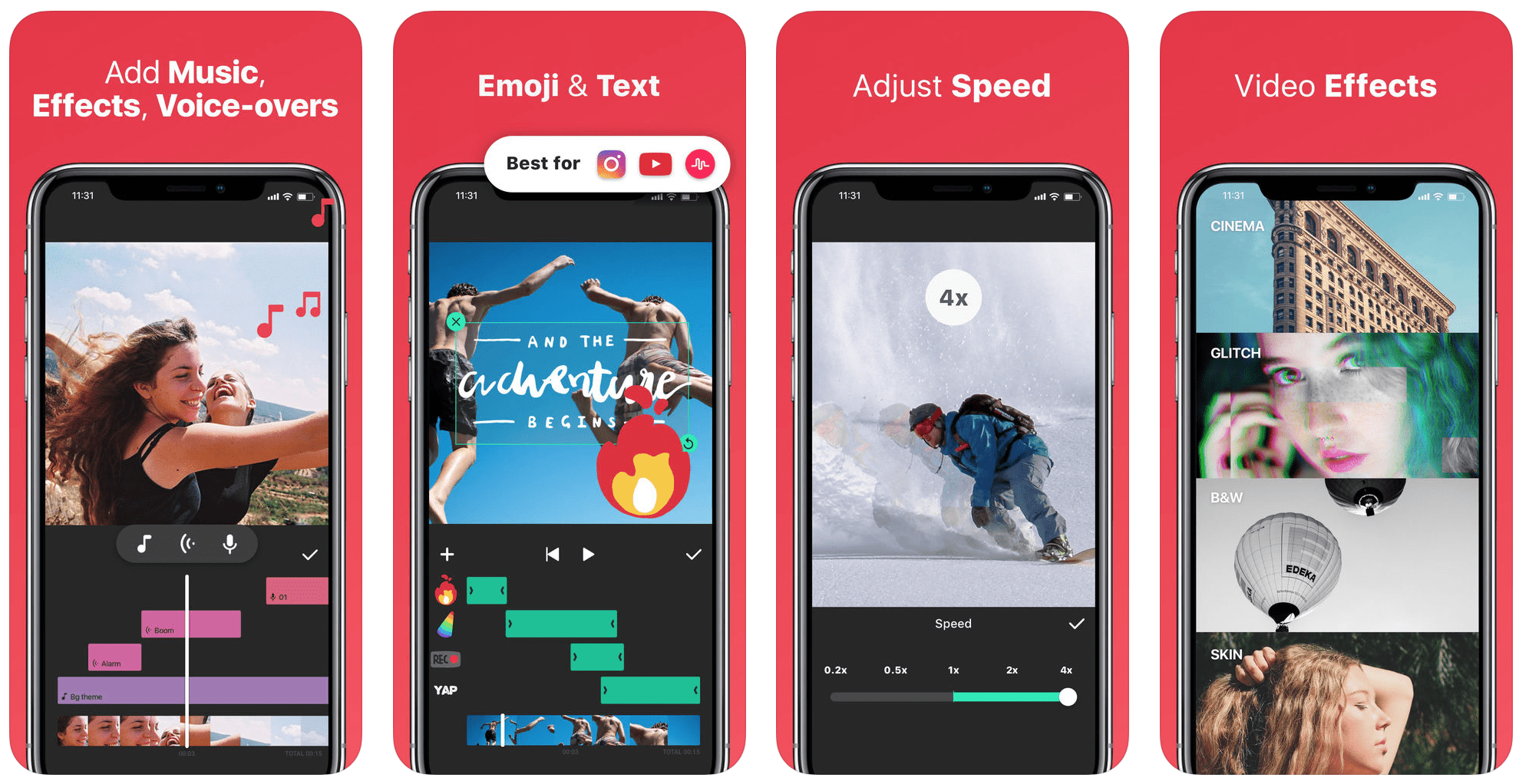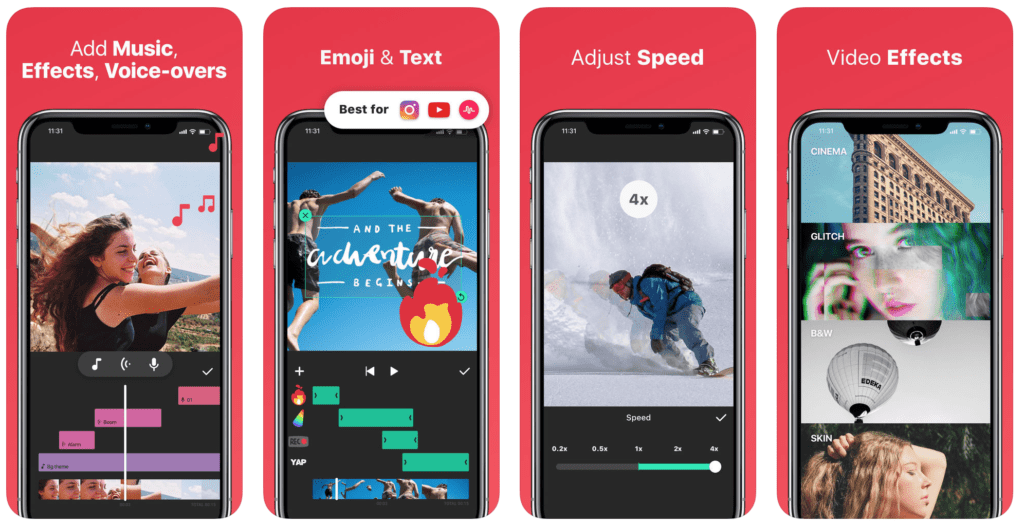 Another advantage of using this one? There's a decent library of royalty-free music that artists have donated, which you can use in your marketing content without paying a penny or worrying about copyright.
The learning curve is not high on this tool, which is nice if you're looking for something to turn content around very quickly, but this also means that the functionality isn't quite as high as other tools on this list.
So, if you're looking for something really simple and fast to say, help create videos for Instagram Stories, this could be a good one. Otherwise, I'd likely recommend other tools on this list.
10. PowerDirector Video App
This GooglePlay video app can do a lot, and it can do so while delivering fantastic quality: including 4k videos with hardware support.
This is something that not a ton of other apps on this can do, so that's a huge advantage.
If you want your content pulled up on YouTube on a fancy big-screen TV, after all, the ability to have your videos show up in 4k will not only make them more enjoyable to watch, but it'll make your brand look exceptional and highly qualified, too.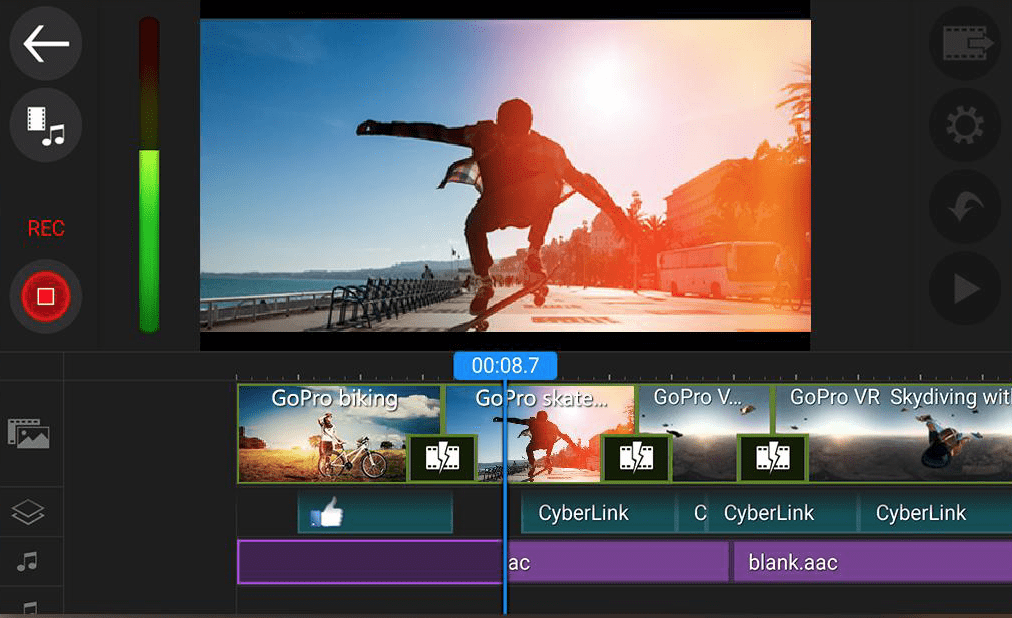 PowerDirector has excellent voice over capabilities that are really easy to use, even for beginners. Also worth noting is their chroma key, which can layer color effects over an entire video to quickly change the color effects and the feel of the video itself.
Their chroma key works better than other "filters" on similar apps, which sometimes don't translate to the HD high pixelation that can make your videos seriously look outstanding.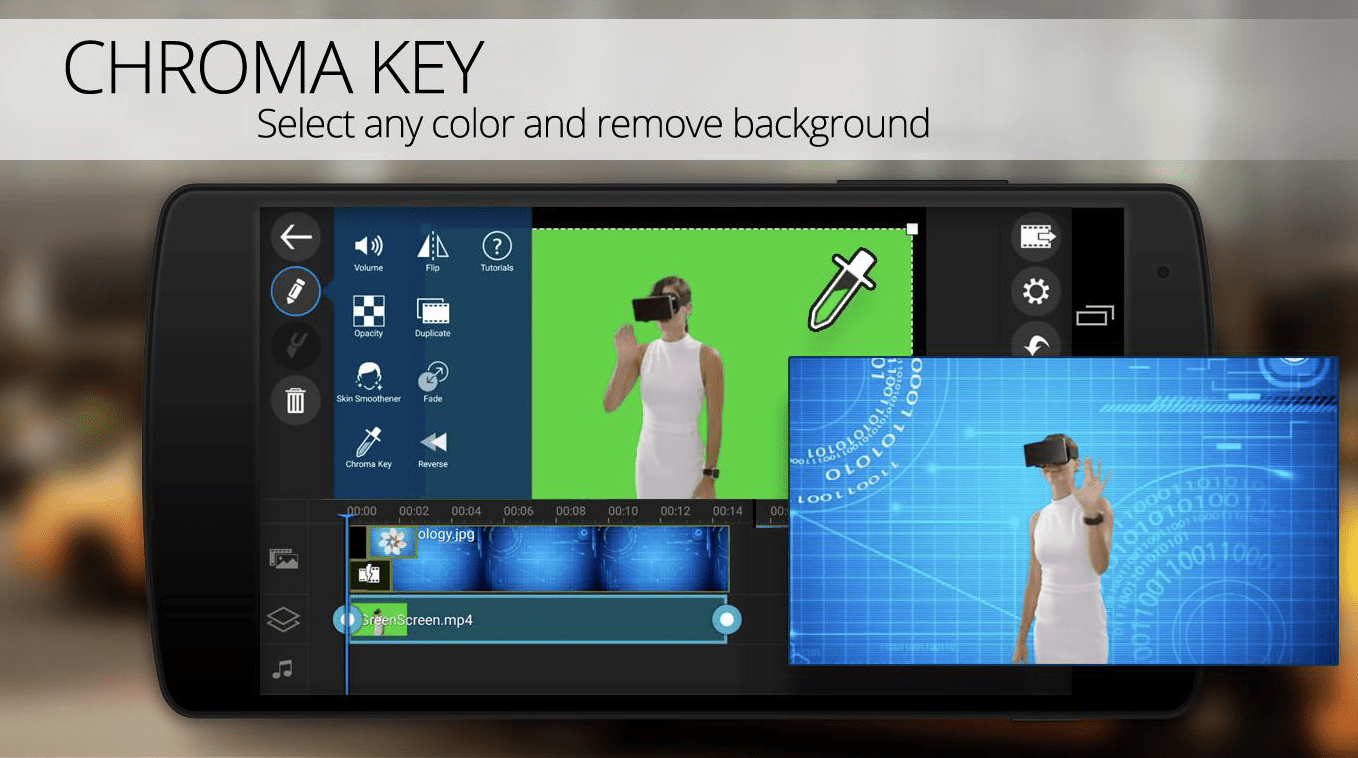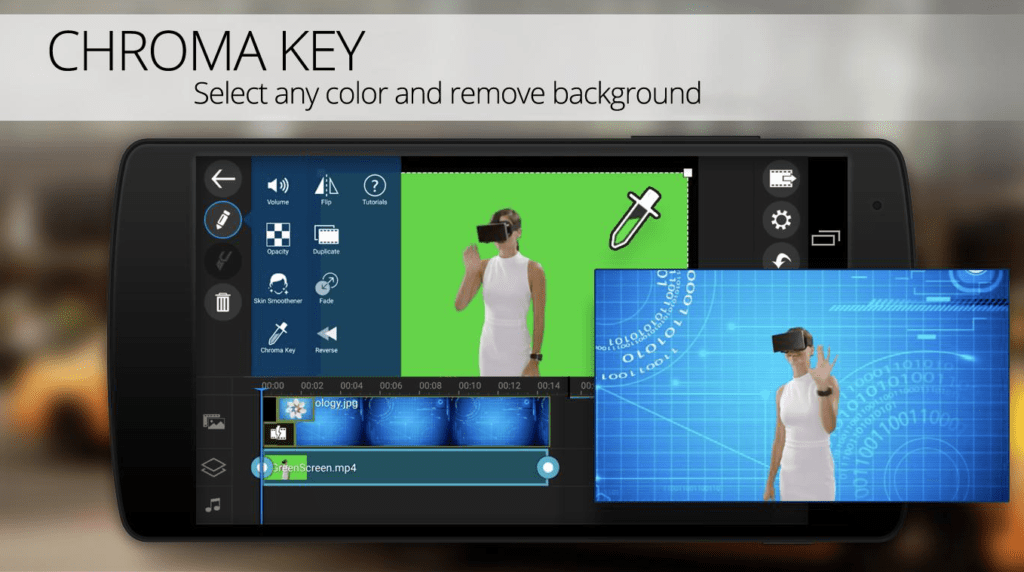 PowerDirector also features fantastic blue screen and green screen capabilities, so you can place yourself in somewhere new and do something exceptional with your video content.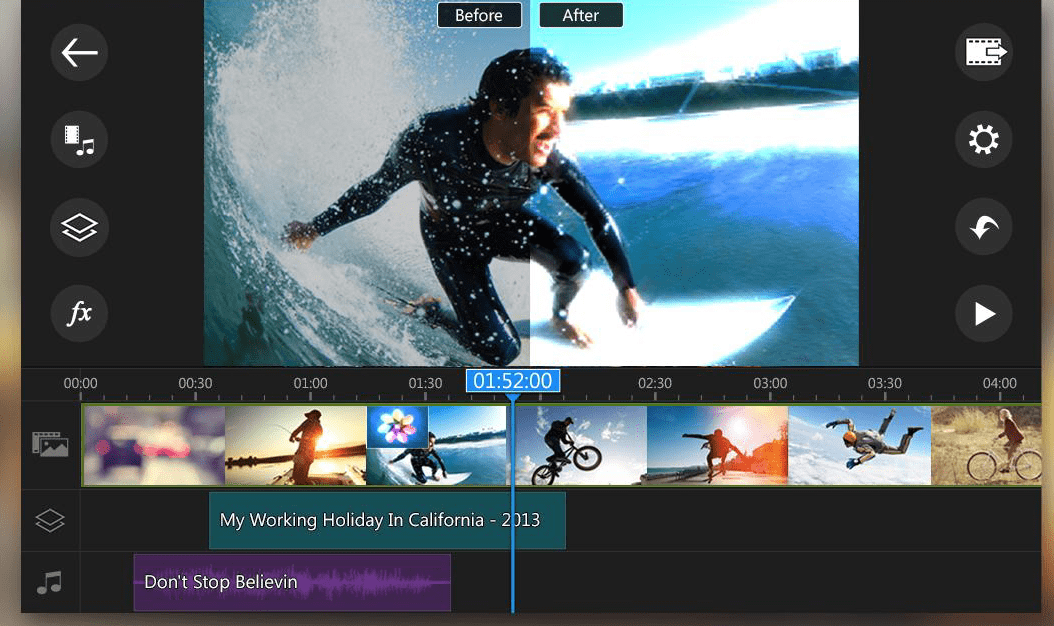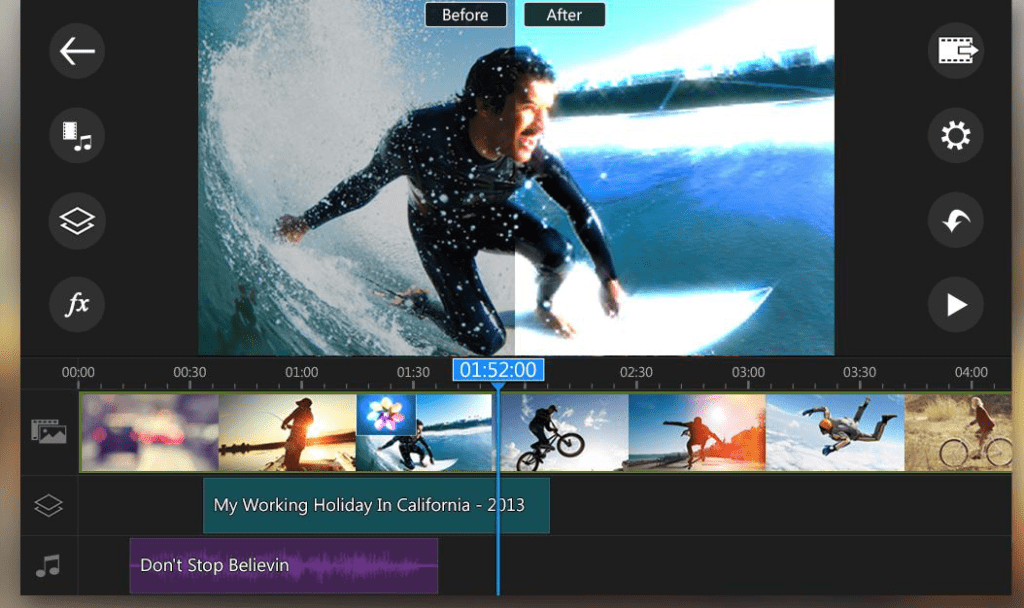 Other cool features include:
Video collages
Voice/ sound fading effects
Advanced background editing
11. KineMaster
KineMaster is all about precision editing, and you can actually trim videos at a frame-by-frame granularity and then immediately preview them to see how they look.
This app also gives you a lot more flexibility with layering than some of the other options here.
You can add layer after layer of text, graphics, images, and even handwriting on top of your videos to get the exact desired effect that you're going for.
This makes design a lot easier in the long run if you're creating more involved videos with multiple texts or graphics.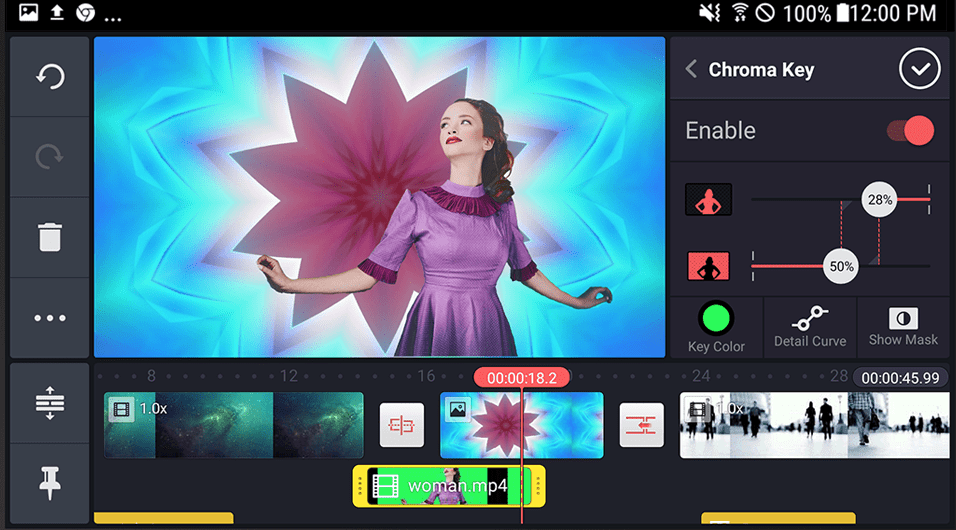 There's also green-screen support, which is extraordinary.
In addition to being able to carefully adjust color, brightness, and the video clips and their speed, you can also fine-tune the audio on your videos within this app.
You can even edit the audio separately from the video itself, giving you more control and making things a little easier.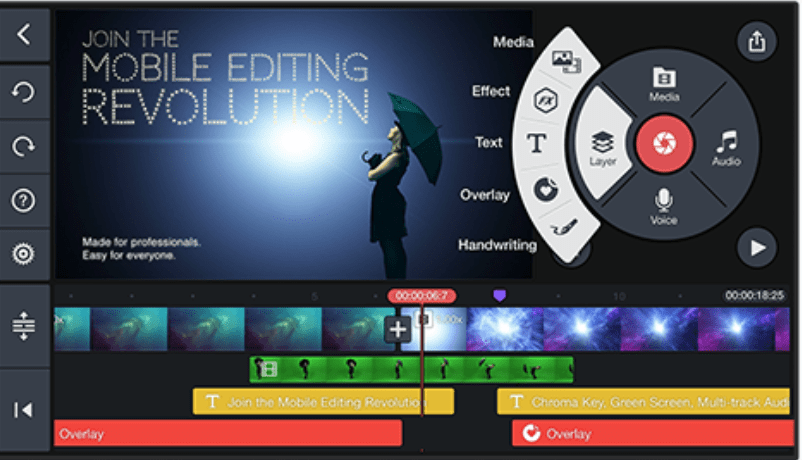 This app is available in both the Apple Store and on GooglePlay. The Pro Edition of the app is $39.99, and well worth it.
12. LumaFusion
I spent a lot of time in writing communities and kept noticing that some of my journalists friends kept mentioning something called "LumaFusion" over and over again. When I asked about it, they told me it was their go-to choice for video editing on the go, mainly when they were in a place they couldn't bring their laptops.
This multi-track mobile video editing app is extraordinary and powerful.
It has undo/redo functionalities (which not all other apps do), and it covers the basics like trimming clips, duplicating content, adding transitions, and more.
You can also stack different images and video clips on top of each other, making more interesting and dynamic videos.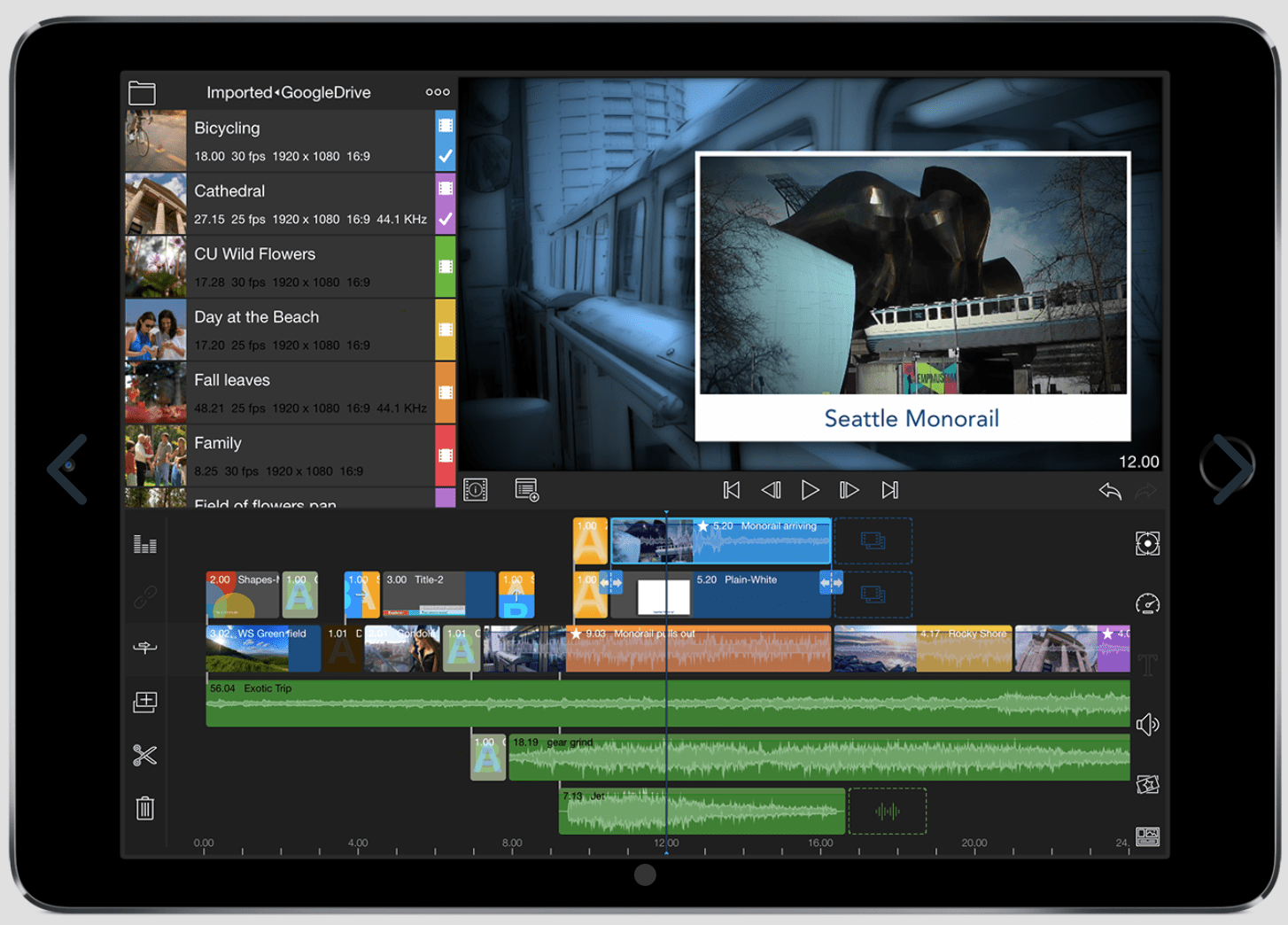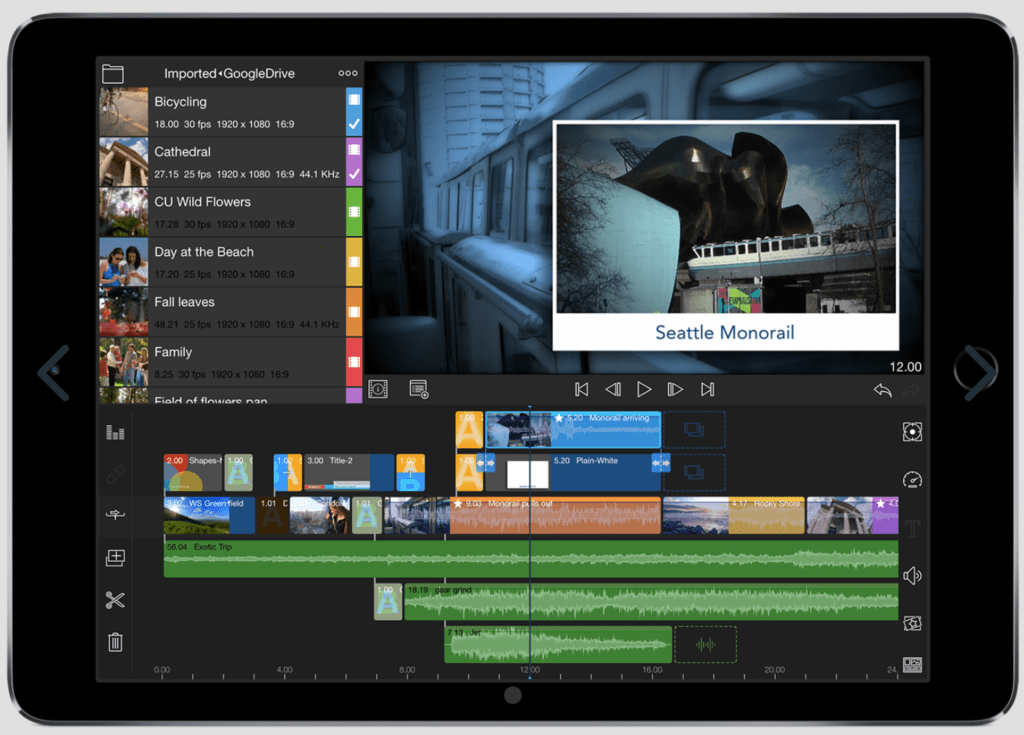 I like that this app also has several different UI layout templates that you can use to more easily create gorgeous, professional quality videos very quickly.
I'm also a fan of the audio features that comes with LumaFusion. My favorite might be the ability to adjust audio levels while you're actually listening to it, which makes it easier to get it right a whole lot faster.
Their royalty-free audio library doesn't hurt either and will save you a lot of time and effort (and potentially lawsuits) while you can improve your video with music.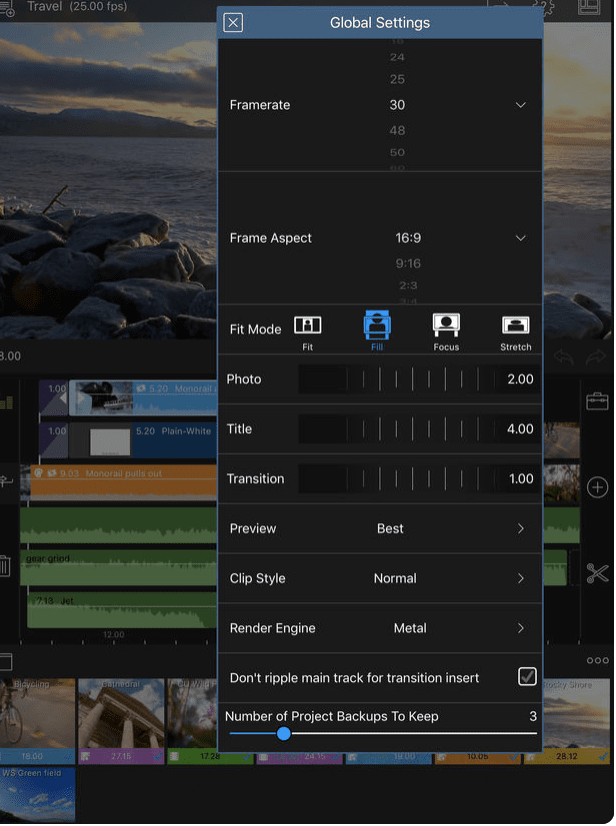 Right now, LumaFusion is only available for iOS, though you never know if that will change. It costs $19.99 (well worth the price) and can be downloaded here.
Best Desktop Video Editing Software
With the increased emphasis on—and necessity for—video in marketing, having reliable, high-quality video editing tools is a necessity.
While the above should have you covered for social posts, there are a few editing tools I also wanted to include.
The following tools will help even amateurs like me assemble professional-quality videos for your social media, product pages, and landing pages so you can represent your brand the way it deserves.
They're all desktop apps for full potential functionality and precision, and though they cost more than a mobile app, they're all worth every penny.
13. Shakr
While some videos like explainer videos may work best when created by a designer who is working on custom animation, most videos that brands use on social media and their landing pages merely need a little help to take it from an "I shot this on my iPhone" look to something that looks professional.
Shakr is the tool I recommend for these brands.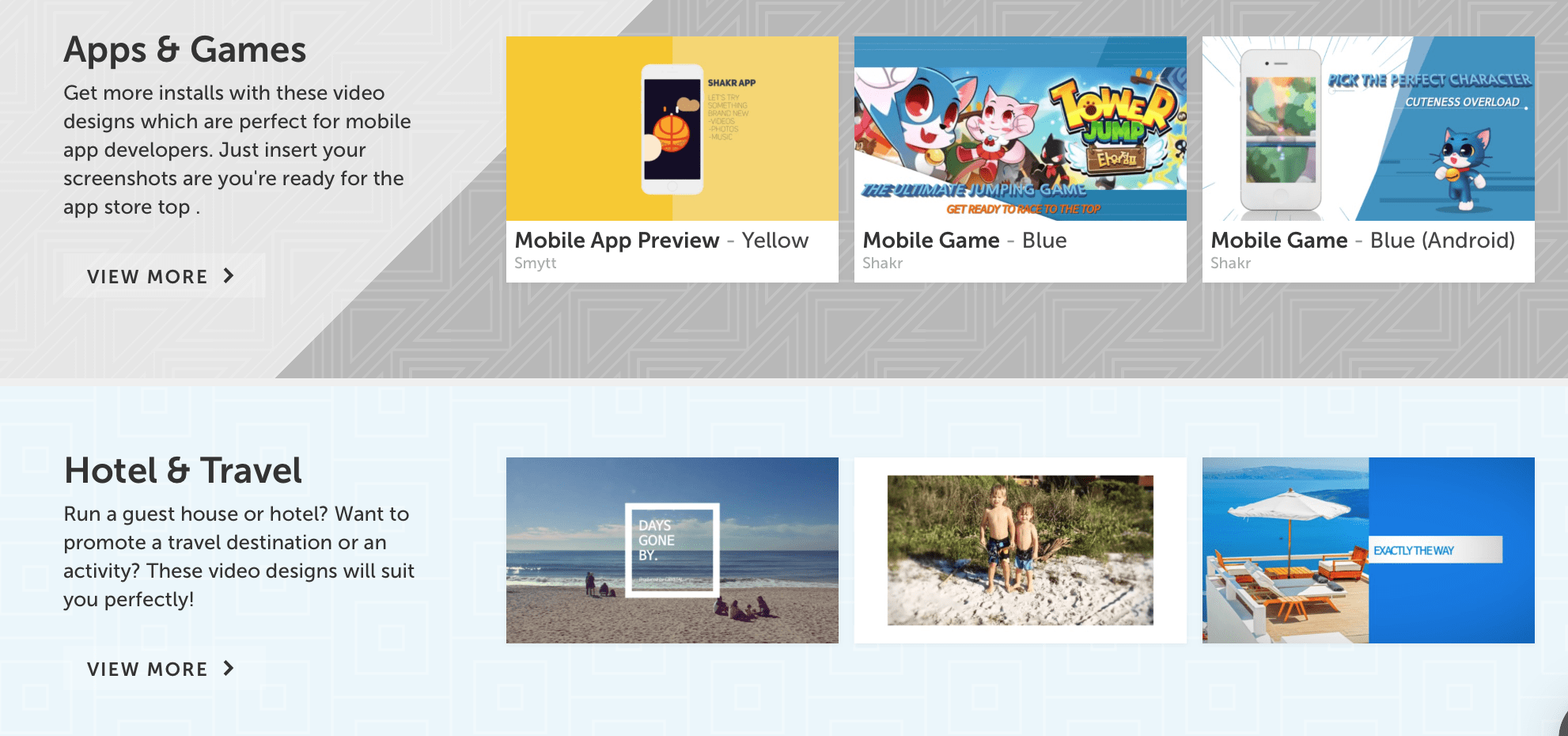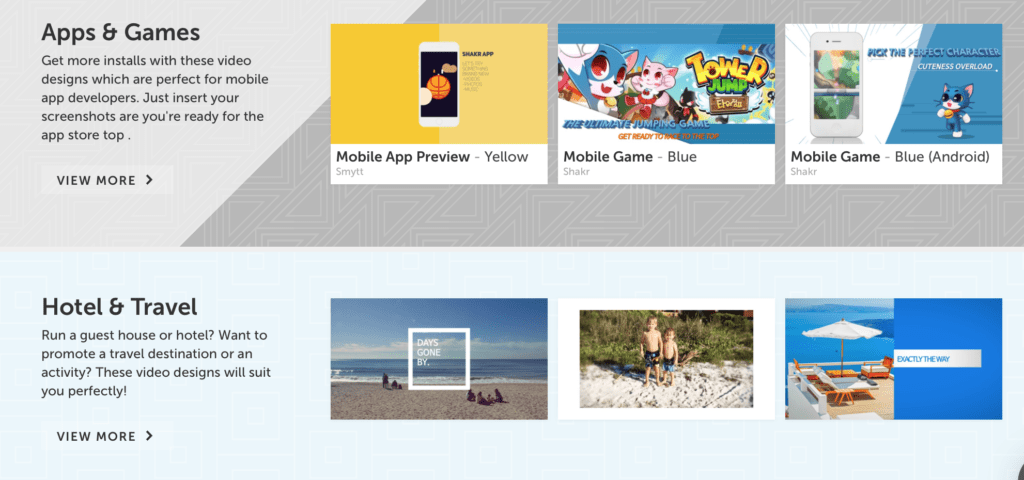 Shakr has an enormous library of video design templates that businesses can use to assemble gorgeous, high-quality marketing videos quickly.
Some of these templates are designed for specific purposes, like Facebook video ads or those geared towards restaurants.
These designs have all been proven to provide high conversion rates, and are fully customizable; you can add your own images, video clips, and text.
A subscription even allows you to use their commercially licensed music for your videos and gives you access to a library of stock photos. Pricing starts at $79 per month.
14. Camtasia
For a short period of time, I was hired to edit and assemble videos for a marketing company. I used Camtasia the entire time, and I just used it a few weeks ago when recording a training video for a new employee.
If you want to record or heavily edit the technical side of a video that you already have, this would be my go-to choice.
You can record videos using screen capture or your computer's camera, and you can edit video files you've already created.
Camtasia has outstanding video editing capabilities, including:
High-precision clip editing and reordering
The ability to remove audio from video and edit them separately, or to add a different voiceover narration
Rich animation features
Camtasia costs $199 for lifetime access (though you may need to pay for upgrades in the future when they're released if you want them). It's available for both Windows and Apple devices, and it's incredibly user-friendly on both.
Bonus use case: I also use Camtasia to record client calls that happen through my computer when my phone's TapeACall wouldn't work. You're welcome.
15. Premiere Elements 15
For those who prefer Adobe photo editing and are digitally and artistically talented, Premiere Elements 15 may be your video editing tool of choice.
It has better visual editing (as opposed to clip editing) features.
You can, according to one of their videos, literally "turn a frown upside down" with their video editing features designed to adjust facial features.
Some of their unique features (aside from the facial feature adjuster) include:
Shake reduction, which can help make a video shot with a shaky hand less noticeable
Dynamic, dramatic effects, including text effects
Effects that will actually move in the video (for example: if you had a thought bubble, it could follow its subject as they move)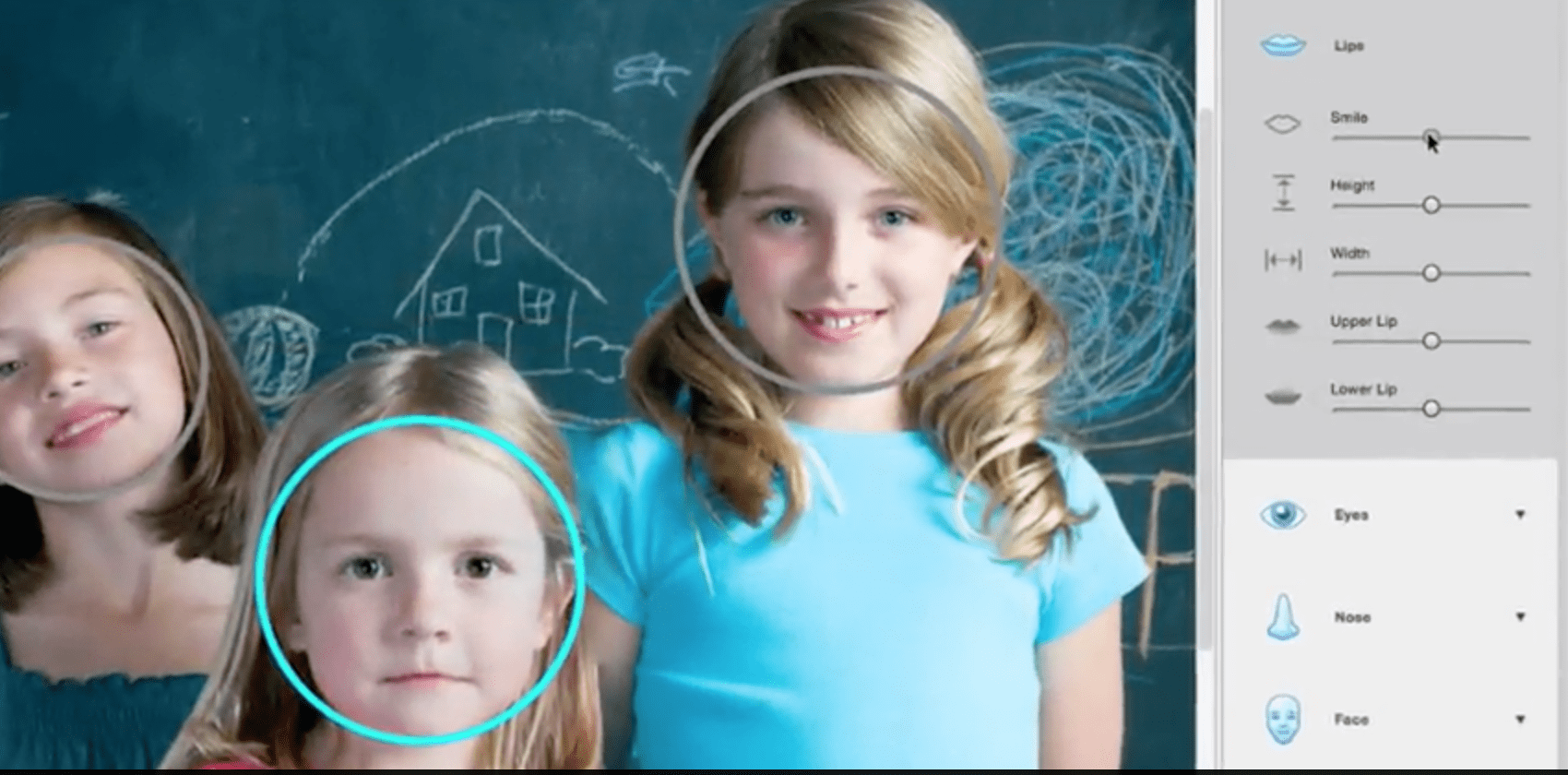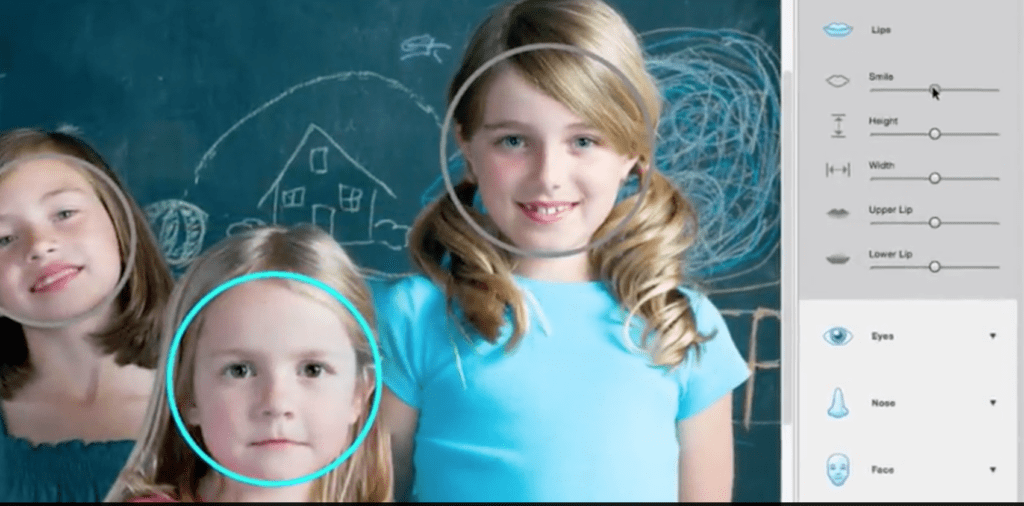 Premiere Elements 15 has a ton of incredible editing features, allowing you to edit every aspect of your video. It's currently on sale for only $89.99, so I'd start your free trial now and invest if you think it's the right fit for you.
16. Final Cut Pro X
Final Cut Pro X has some insanely cool features, and if you're looking for an all-out, does-everything-you-could-possibly-need video editing tool, this is the one to choose.
It's only available for Apple, but if you have a Mac, you need to check this one out.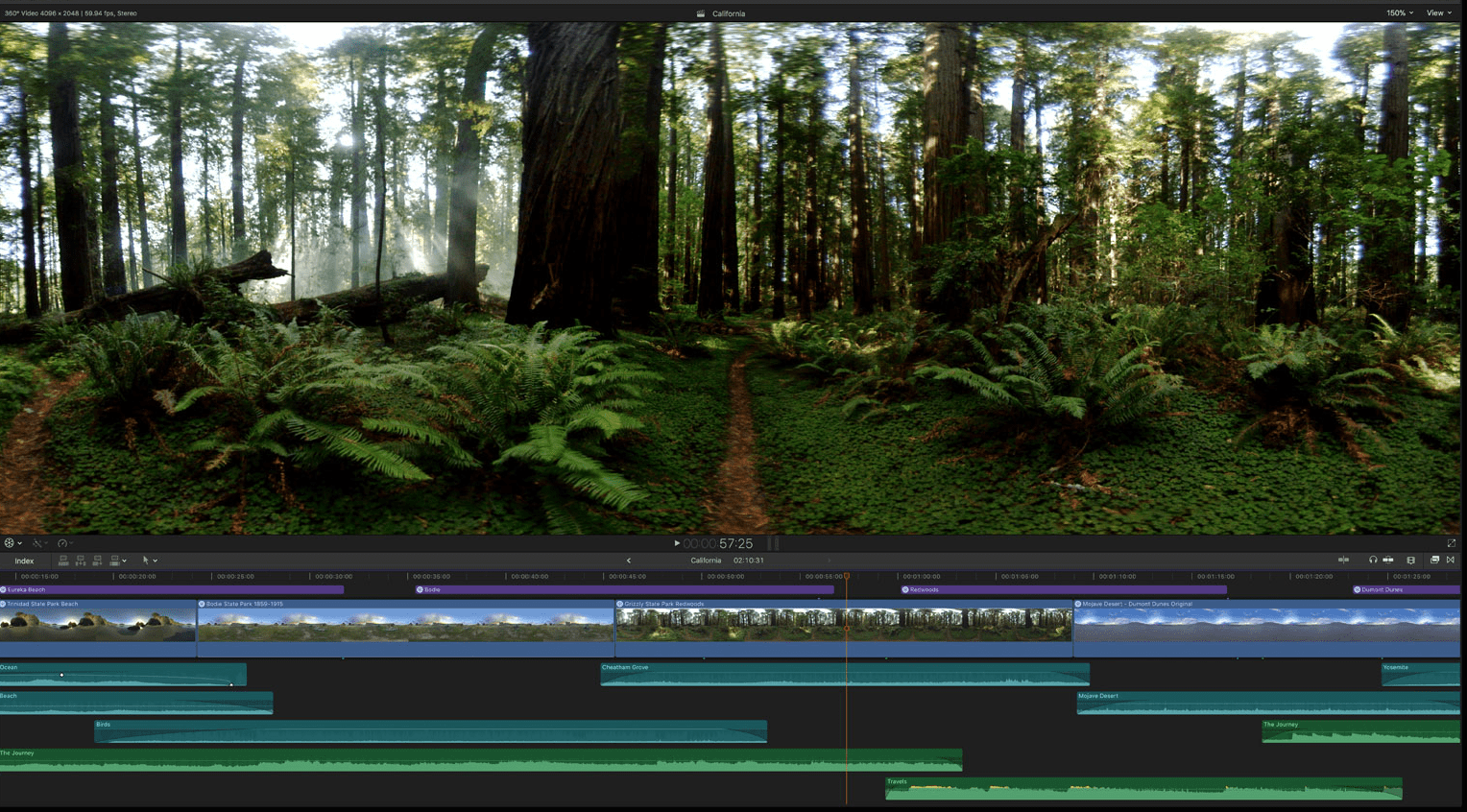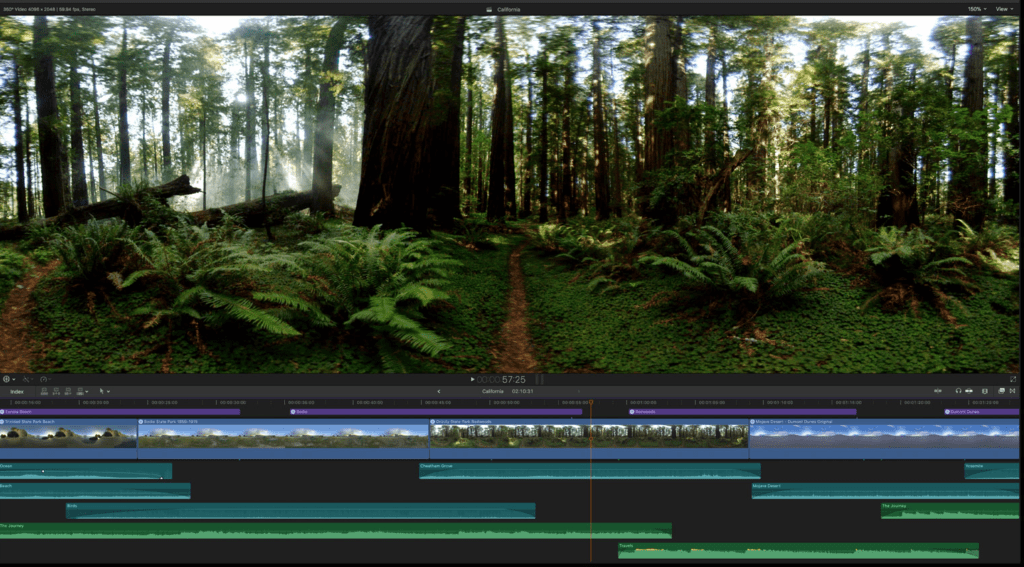 It, of course, can tackle everything that you'd expect like trimming video clips, adjusting audio, adding voice-overs, and editing or creating effects– everything that the other tools on this list can help with, and it does so flawlessly.
This includes advanced color adjusting, and the ability to create closed captions and add them to your video with ease.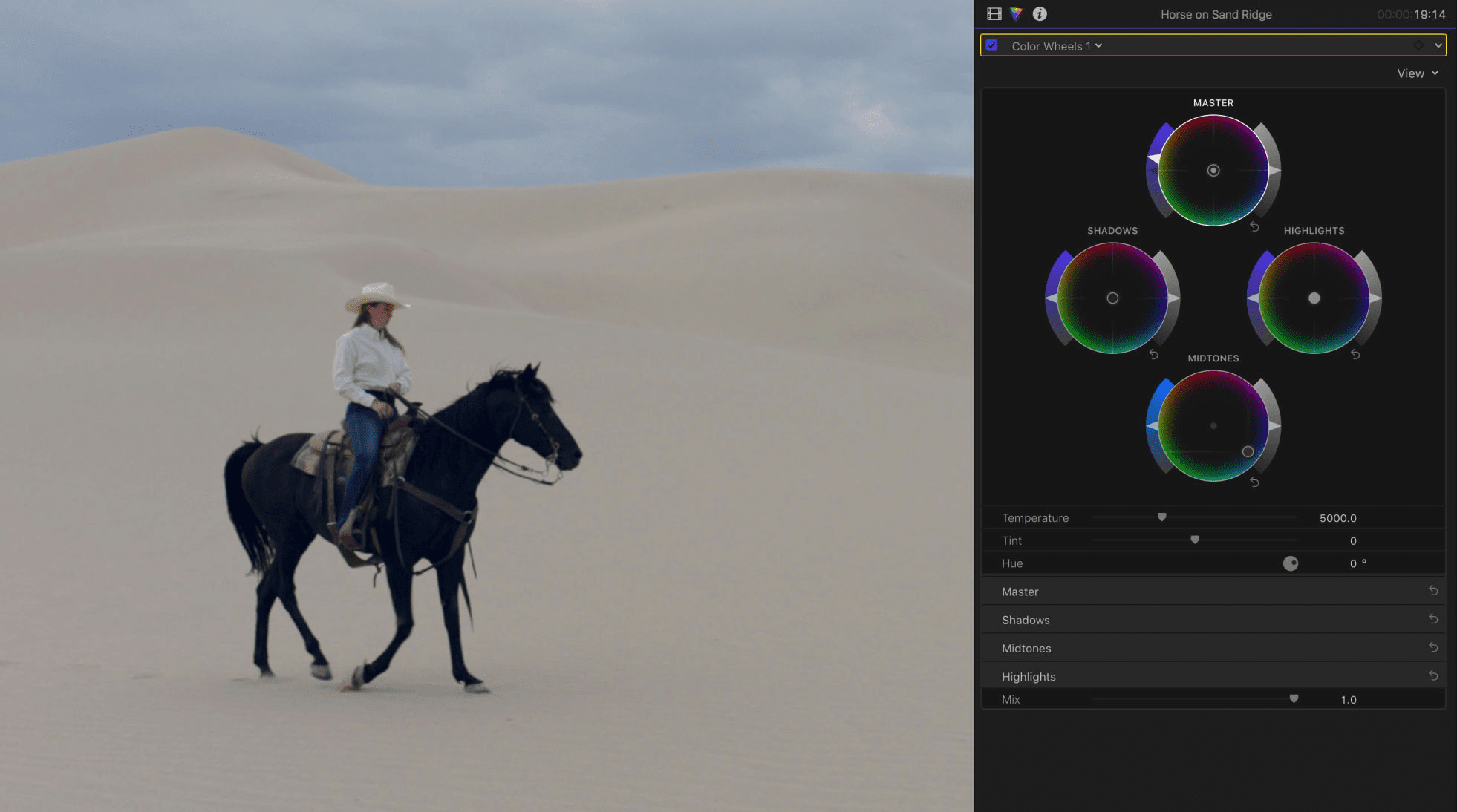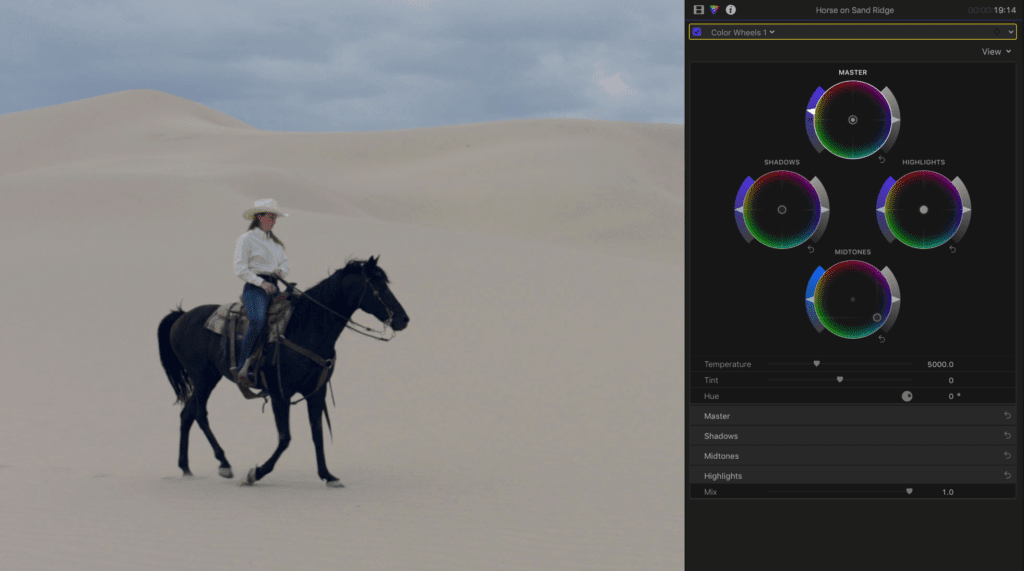 What really makes this tool unique is its stand-out features, including:
360-degree video editing that helps you straighten the horizon, remove camera rigs, and more
Multi-cam editing, which lets you sync up to 64 different angles of video with frame sizes and frame rates.
Studio-quality 2D and 3D titles, which can be added to all videos (including 360-degree videos)
VR headset playback, so that you can watch your 360 videos in real time from your VR headset
Ability to edit HDR (high dynamic range) video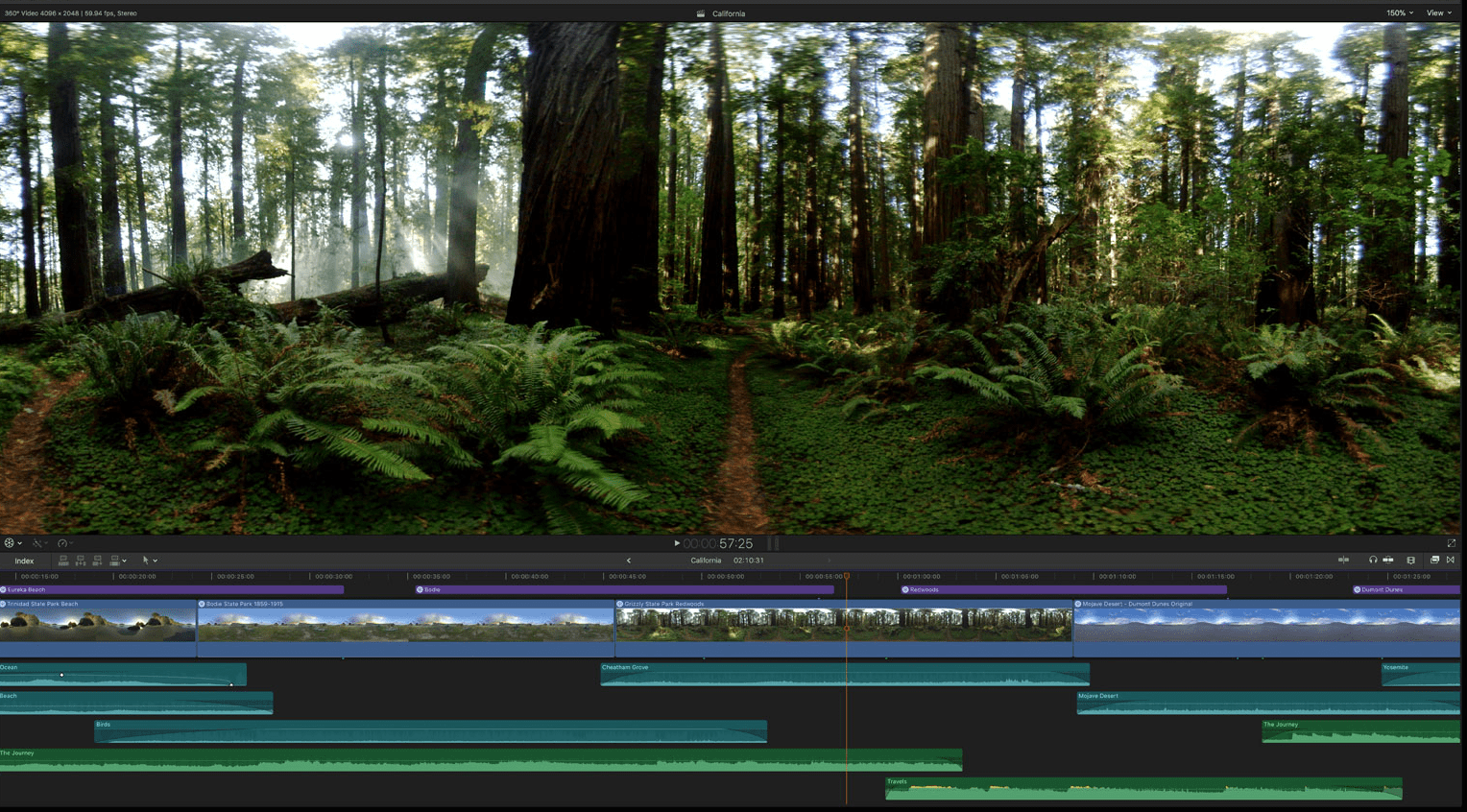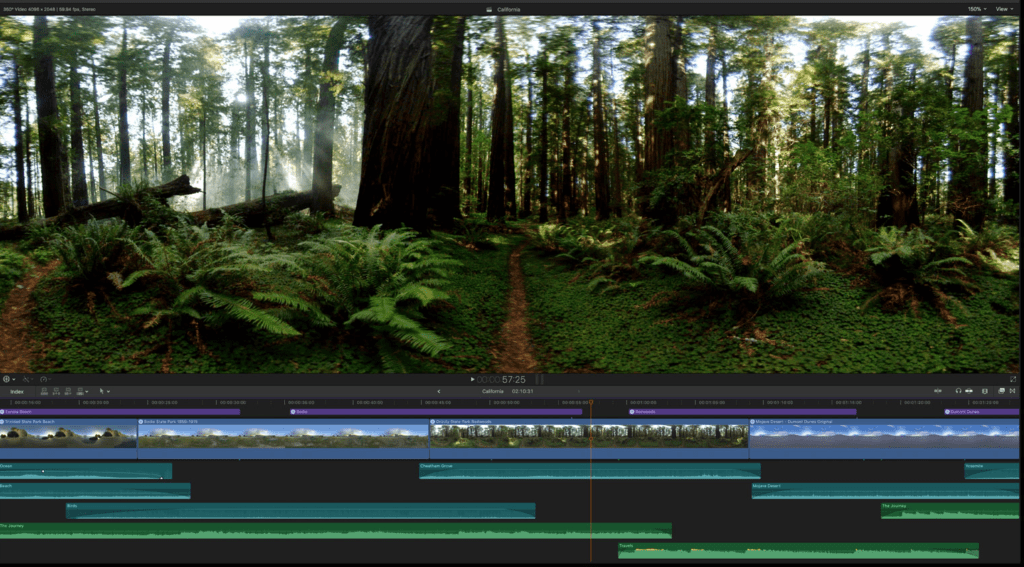 There's a free 30-day trial available for Final Cut Pro X, and it costs $299.99 if you choose to purchase once the test period is up.
Final Thoughts: Social Video Best Practices
The video editing apps and tools discussed above can help brands of all sizes to create social videos that their audiences respond to.
Regardless of which tools you use and what kind of videos you're making, there are a few best practices that can provide better results. These include:
Keep it brief.
Though there are exceptions to this, brevity is preferred for most social videos. Some platforms like Twitter have strict time limits, so keep that in mind.
Always have a CTA.
Each video you create is made to accomplish something. Add a CTA at the end of every video (bonus points if it's clickable!) to encourage users to take that desired action.
Add subtitles.
Some platforms are heavy on autoplay videos, which start without sound, so adding subtitles can help grab their attention. Subtitles are also necessary for users who may have hearing disabilities, or for those who are watching in an area where they can't play the video with sound.
Stick to a single message.
If you want to get your point across, stick to a single, concise, simple message. You want there to be one story, one emotional impact, and one takeaway. Most importantly, there should only be one CTA.
What do you think? Have you used any of our best video editing apps? Did I miss your favorite? Share your thoughts and experiences in the comments below!