Facebook lead ads are the best tool you have for learning more about your customers (and the more you know about your audience, the better you'll be at serving them ads that convert).
Facebook lead ads are a powerful addition to any campaign, and they are also one of the most versatile ad types you have at your disposal.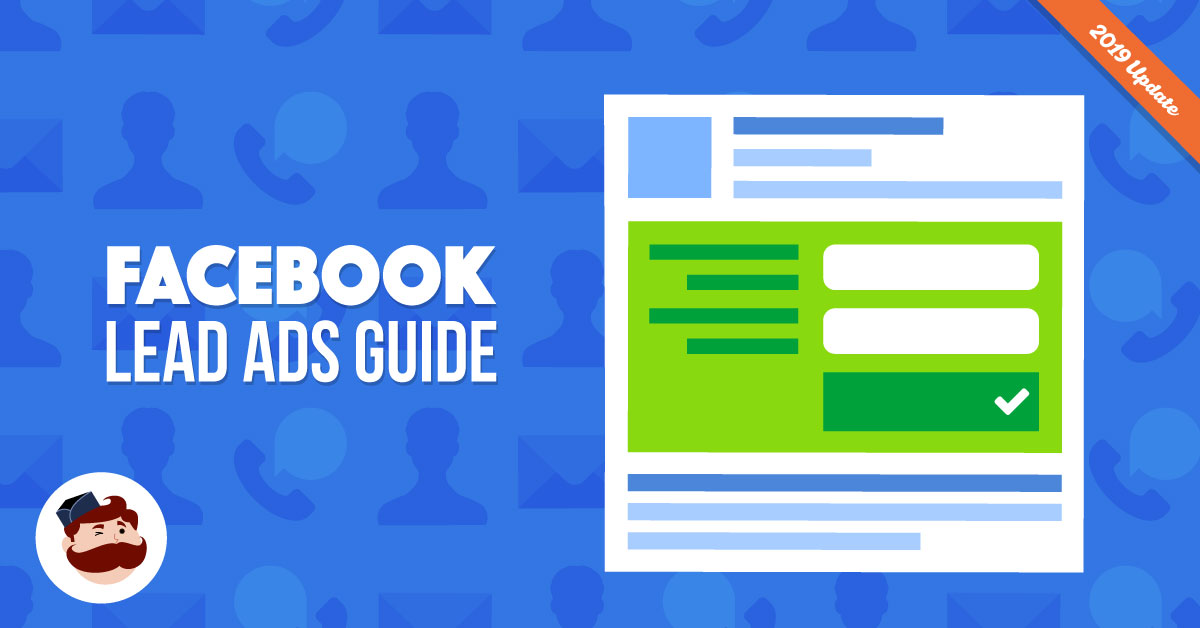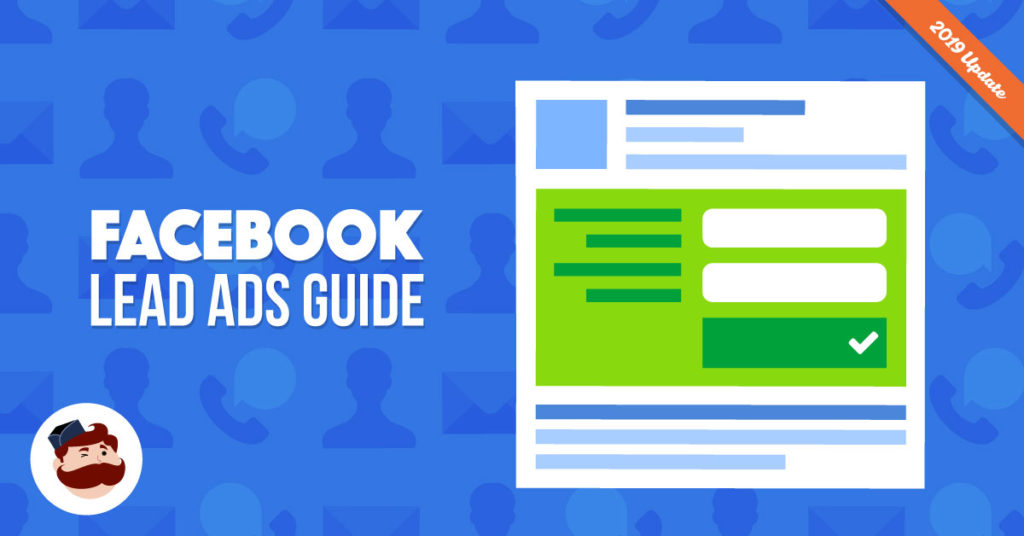 Use lead ads for everything from lead generation and conversion optimization to customer research and audience targeting optimization.
These mobile-optimized ads give you the ability to provide a seamless experience for any objective.
Potential customers can easily sign up for more information about your product or service directly within the News Feed. Think about it — when you reduce the friction of submitting to a form, you're making it easy for people to provide you with their valuable information.
In this article, you'll learn:
What Facebook lead ads are.
Why you should be using Facebook lead ads.
How to create your own Facebook lead ads.
Best practices for producing the best Facebook lead ads possible.
And we also run one of our experiments, analyzing data from 30,000 campaigns, to find some "scientifical" information about how the amount of questions in a lead form relates to the campaign cost per lead and which are the right questions to ask!
Are you ready, let's start!
What Are Facebook Lead Ads?
Facebook lead ads are ads that include an embedded form.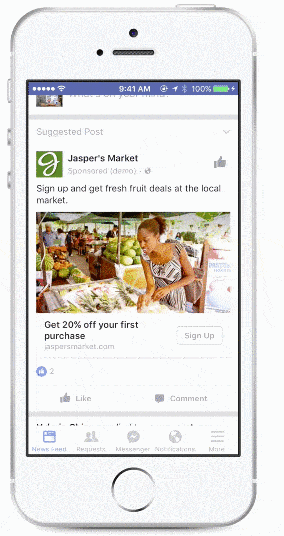 With that form, you're able to gather personal information about your audience in exchange for something of value.
Whether it's just a Facebook user's name and email address, or more specific information about their likes and interests, lead ads help you get to know your audience better.
Lead ads are automatically filled out with the user's contact information, as described in this quote from Facebook.
People can simply tap your ad and a form pops up—it's already pre-populated with their Facebook contact information and ready to be sent directly to you. With just a few taps, they can get the information they want, and you generate a qualified lead for your business."
Take this example from data enrichment service Clearbit.
When someone clicks on the Clearbit ad, the form on the right pops up directly over the promotion. The form is automatically populated with the user's email address, so it's easy for them to submit their information. Clearbit also includes a description of the product on the form, so users understand why they should sign up.
Lead ads can be used by any industry — SaaS companies, e-commerce platforms, real estate agencies — in just about any situation. With such a wide array of functionality, they're one of the most powerful tools you have for building better campaigns.
Why You Should Use Facebook Lead Ads
The #1 reason to use lead ads is to get to know your audience better.
With Facebook lead ads, you collect actionable information about Facebook users that helps you build custom audiences and target them better with ads.
But collecting that information isn't always easy—getting someone to provide your company with their personal data isn't easy—so it's important to make the sign-up process as simple as possible.
Luckily, Facebook lead ads are optimized for mobile devices, which account for 95% of Facebook visits. Using these device-friendly ads ensures that the experience of signing up is as simple and seamless as possible.
Some other benefits of lead ads:
Pre-populated with a user's contact name and email address.

Fully customizable for a number of different situations.

Help you promote valuable pieces of content, like lead magnets.

Information collected is easily added to your customer relationship management (CRM) service.

Can use dynamic ads to tailor the experience to a user's likes and past interaction.
We use these ads at AdEspresso to promote a lot of our ebooks, which both increases awareness of our content and gives the user a concrete reason to sign up.
In exchange for a Facebook user's name and email address, we offer up a bundle of ebooks related to social media marketing and Facebook ads. When someone signs up, they're added to our email list in return for the ebook bundle. Then we can follow up directly with additional information or resources.
This is just one of the many different types of lead ads you have at your disposal, so let's help you get started creating your own!
How To Create A Facebook Lead Ad
Creating your first lead ad is easy. As with any other ad, you create them via either the Ads Manager or the Publishing Tools section of your business page.
First, sign into the Ads Manager and click Create in the top left.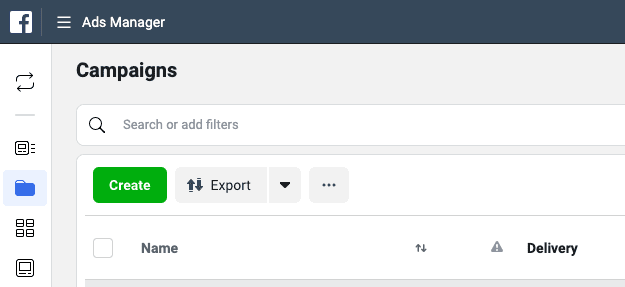 Then, choose the Lead Generation objective.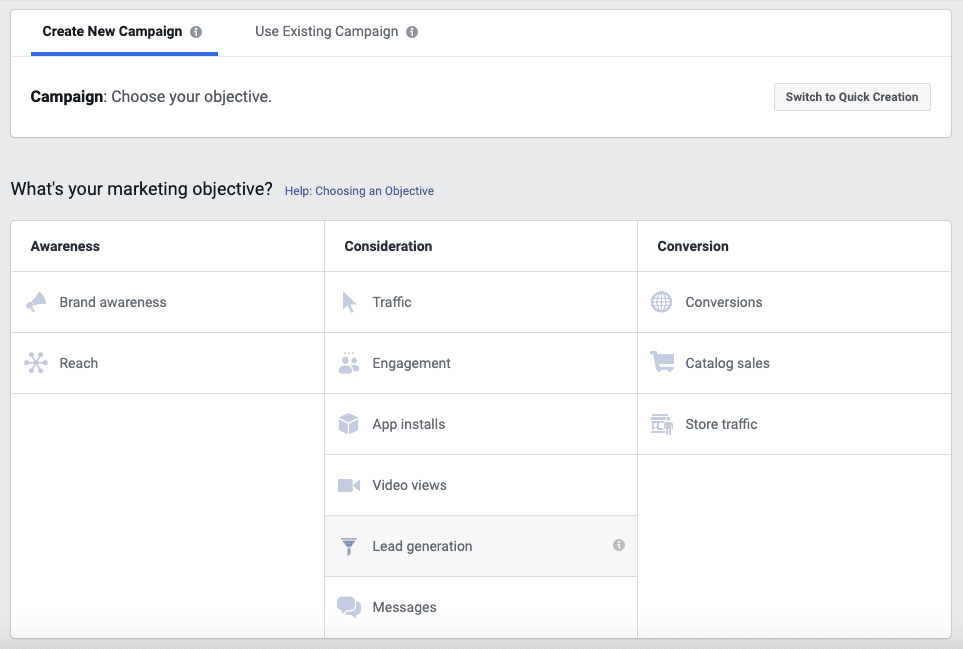 Once you've accepted Facebook's Lead Ad Terms, select the page you want to use for this campaign.

You'll need to define your audience, budget, placements, and schedule for the ad, like any other Facebook promotion.
Once that's complete, it's time to select the format for your lead ad.
You can use a carousel, single image, video, or slideshow. Depending on the type of information you're trying to collect, each can be valuable in their own way.

With a format selected, Facebook will prompt you to design the creative and copy sections of your ad. We've created a guide that walks through that process.
When your design is complete, it's time to create the form users will see on your lead ad.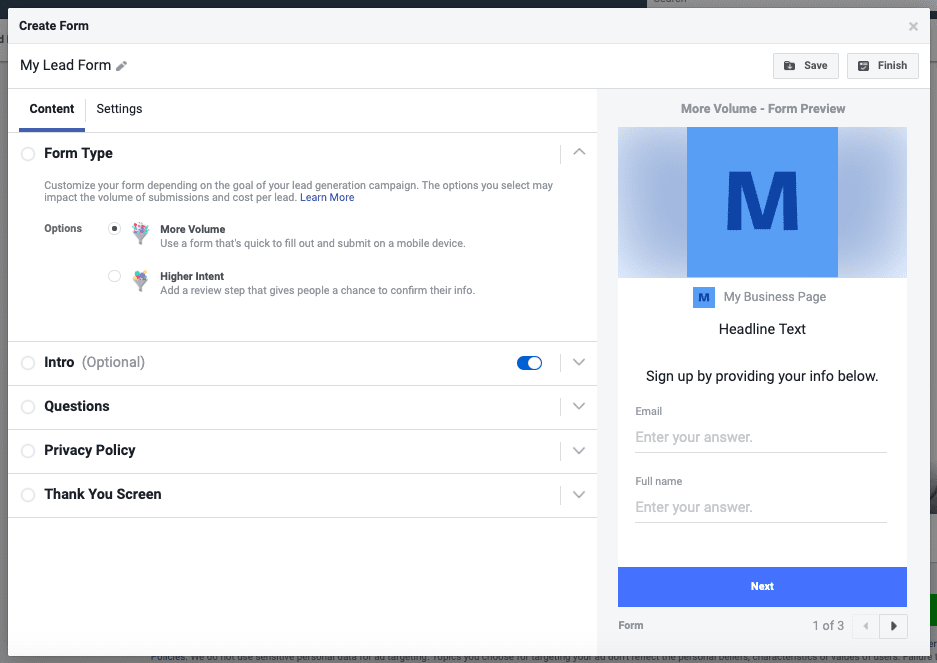 To create a form for your ad, Facebook will ask you about the following categories:
Form Type – There are two options here, More Volume or Higher Intent. If you're just looking to get people signed up as quickly as possible, select More Volume. If you want people who are further along the customer journey, select Higher Intent.
Intro – This section refers to the text on a form that provides more information about what users will receive by submitting their information.
Questions – You have the option of standard questions (like name or email address) and custom questions. A form can have a total of 21 questions, fifteen of which can be custom questions. Users are less likely to fill out the form if you ask them a long list of questions, so include as few as possible.
Privacy Policy – You're required to include a link to your privacy policy in any lead ad you create.
Thank You Screen – This page is where people will be redirected after they sign up. It's a great place to say thanks and includes a download link for your lead magnet.
Once you've defined these parameters based on the goal of your specific ad, click Finish in the top right. Just make sure that you're 100% satisfied with the form, because you can't change it from here on out.
From here, all you have to do is review the form in your Ads Manager and click Confirm to publish.
Facebook Lead Ads Creation Pro Tip
Lead ads can also be created in the Publishing Tools section of your business page. Using that method, you can then port it over to AdEspresso directly.

Just click the Create button and select the type of form you want to create: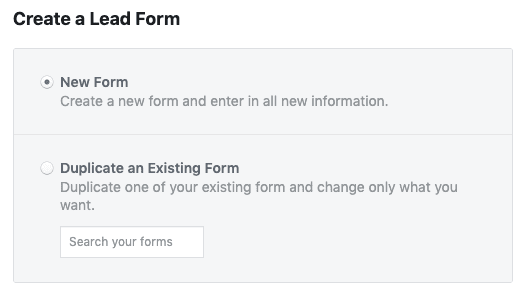 Whether you're creating a new form or duplicating an existing form, this will bring you into the same Create Form section outlined in the previous walkthrough.
Just remember that these forms cannot be edited once they've been finished, so make sure you're ready to go before completing the process.
8 Facebook Lead Ad Best Practices
Asking Facebook users to submit their information is a big request, even if your lead ad is designed with minimal friction. Encourage users to fill in your promotion form by following these eight tips on creating engaging lead ads. The more enticing your lead ads are, the more likely people will be to sign up.
1. Target the Right Audience
Targeting the right audience makes it easier to know which questions are best and cuts down on the potential for unqualified leads signing up by mistake. This helps you drive more conversions for your business and ensures that Facebook users who see your ad are actually interested in your products. Misjudging that audience can lead to a bad ad experience.
2. Ask the Right Questions
Tailor your questions to specific advertising goals; if you're looking for newsletter signups, it wouldn't make sense to ask customers for their age instead of their name. Your lead ads will be more likely to convert if each question speaks to their needs and helps them see the value of signing up. The right questions can also help entice Facebook users to enter their information more readily. This is why building intent into your questions is one of the core tenets of customer and user research.
3. Use a Recognizable Template
Facebook users scroll past lots of ads every day, so your ads not only need to stand out, they need to be immediately recognizable. When you use the right template for your lead ad, it ensures that people know exactly what to do when they encounter it. Creating ads that follow a certain theme also helps you create a more cohesive campaign.
4. Offer An Enticing Incentive
We've said this before, but lead ads are a big ask. Offering an incentive, like a free ebook or coupon code, will help make your lead ads more appealing. Think about what kind of asset will work best for your target audience and offer that up in exchange for their personal details.
5. Make Your Offer Crystal Clear
Facebook users need to know exactly what their information will be used for when they sign up. Privacy is a huge concern from their perspective, so a vague value proposition won't convert. Use the intro section of your lead ads to let people know not only what they'll receive when they sign up, but how you'll be using their name and email in the future. A great place to do this is in your privacy policy.
Don't ask for too much information in your lead ad. It's important to strike a balance between getting the data you need and making it easy for Facebook users to sign up. When you ask too much, it will drive down conversion rates and scare away people who are still early in their customer journey.
What works for one audience will fall flat for another. Always track, test, and optimize your lead ads based on their performance. Using Campaign Optimization with AdEspresso is just the first step! When you understand how each campaign is successful, you can apply that knowledge to improve lead ad performance in the future.
When someone signs up for more information through your lead ads, send them a quick email to say thanks and deliver your incentive as soon as possible.
This helps you continue the conversation and ensure that you're staying top-of-mind. It's also part of providing a good onboarding and customer experience.
Setting up your Data Sync with AdEspresso
AdEspresso's Data Sync tool allows you to automatically send leads into a list of a supported CRM tool.
Instead of exporting your leads file and importing it into your CRM, the Data Sync takes just a few minutes to set up and will keep sending those leads into a specific list in your CRM on autopilot.
Step 1: The first step to setting up a Data Sync includes selecting a data source.
The source can be your Lead Generation Ads to be sent to your list, or it can be a CRM list to be synced into a custom audience.
Step 2: Once you have finalized these settings, we can move on to configure your source for the sync.
Your source can be whichever ad account you are using, or a lead generation form or campaign.
Step 3: Next, we can select your target.
The target for this example is going to be Facebook!
Step 4: Now, we can configure your target for the Data Sync.
After your target is selected, you can proceed to finalize the mapping and save your data sync and ta~da! Your Facebook leads will now be synced into your list automatically.
How Many Questions Should You Ask in a Facebook Lead Ad? An AdEspresso Experiment!
Facebook lead ads let you ask up to 15 custom questions, but how many should you actually use?
To find that out, we analyzed 30,000 Facebook campaigns to see the impact number of questions had on the cost per lead (CPL).
Let's start with some best practices — Facebook says that 3 custom questions is the ideal number, but we think that can really depend on the campaign as well as the audience you target.
Here's what we found:
The more questions you have in your lead ad, the higher your cost per lead will be.

When you remove too many barriers between the user and conversion it puts you at risk of attracting more low-quality leads.
So, what is the right number of questions? Let's take a look at the data to find out
Starting by only asking 1 question, we found a CPL of $0.91 with a conversion rate of 43.58%. That's our baseline.
From there, the CPL steps up in a fairly linear fashion with each additional question as the conversion rate decreases.
Something interesting happens at 5 questions — the CPL more than doubles from $2.52 to $6.74 and conversion rates sees a significant decrease as well.
What does this mean for you?
Based on the audience you're targeting and the needs of your campaign, you should try to never ask more than 5 questions. It'd be even better if you asked no more than 3, as 1 – 3 question lead ad forms have the highest conversion rates by far.
If you're thinking about it from a funnel perspective, the further down the funnel your leads are the more questions you can ask.
Someone at the top of the funnel is more likely to provide you with your name and email address, but ask them for specifics about their interests and they never finish filling out the form.
Optimize your lead forms for the lowest CPL and highest conversion for your specific ad's objective.
Make Sure You Ask The Right Questions
Another consideration when you're building a new lead ad form is the type of questions you're going to ask. This will play a vital role in the success, or failure, of your campaign.
Just take a look at the most commonly asked questions from our survey:
No real surprises here. Email is by far the most valuable piece of information you can get from potential leads, as it helps you continue the conversation in a more one-to-one fashion.
To quote from our Complete Guide to Lead Generation on Facebook by Massimo Chieruzzi:
Getting someone's email is much easier and cheaper than trying to close a sale right off the bat."
After that is Full Name, followed by Phone Number, both with over 10K results.
Then we see the results more than cut in half, with the next most common question (first name only) receiving only 4,730 results.
So, what does this mean?
The more personal information you request from a potential lead, the less likely they are to respond.
But you're probably still wondering, what type of question converts best? Let's see what the data says:
Based on lead ads that requested someone's contact information, Email Only forms were by far the most successful, with more than double the conversion rate and a substantially lower CPL.
We found it interesting that asking for Phone Only had was both the most expensive and the least successful type of lead ad form.
So what's the takeaway?
Ask for only the most important information from leads based on where they are in the sales and marketing funnel. And focus on capturing their email address first, asking for a phone number drives down conversion rates.
The Conversation Doesn't End at Signup
Facebook lead ads are just the beginning of a conversation with your audience.
Once a lead has provided you with their valuable information, start developing the relationship as soon as possible.
An email drip campaign is just one of the ways you can nurture leads along the customer journey.
Think about your lead ads as the first step in an ongoing conversation; there are so many places you can go!
With that in mind, drop a comment to let us know how you use lead ads in your Facebook advertising campaigns. We'd love to hear what you think.