Performance-based marketers typically focus on high-intent interactions coming from Facebook content like clicks and purchases off-platform. It's a mistake, however, to ignore standard Facebook engagement such as likes, comments, and shares.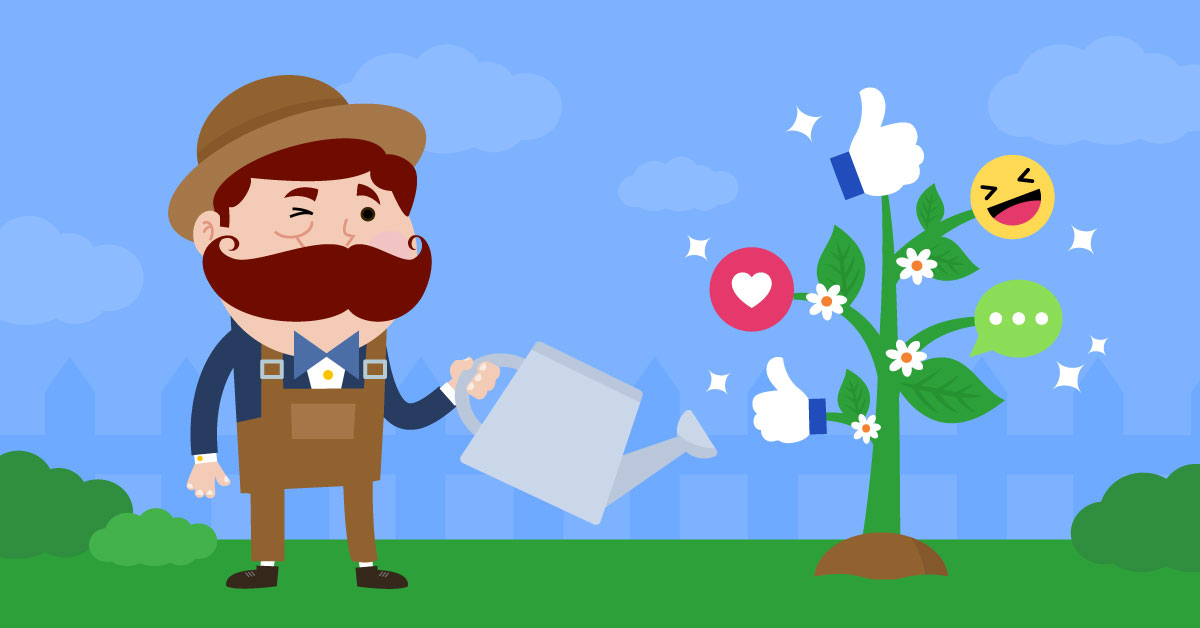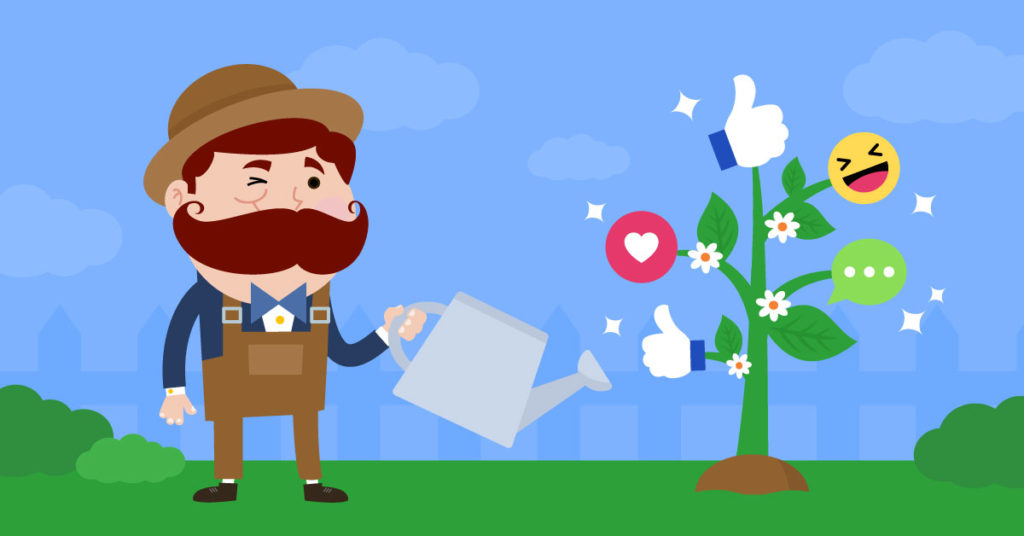 Traditional Facebook engagement may not be quite as high intent as other actions, but it's still inherently valuable. When you increase engagement, several things happen:
You gain the power of social proof. All those likes, comments, and shares are visible to everyone else seeing the post or ad, and something like a great deal of Facebook engagement has higher social proof. People instinctively take note of this content. It's trust-building and attention-grabbing.
Facebook's algorithm pays attention. Facebook's algorithm factors engagement performance into what content the algorithm prioritizes. People who engage with your content regularly will see it more often, and it can also help others see more of your content in their feed, too.
It allows you to gauge how users respond to your messaging. Are you getting love, laugh, or angry reactions? What are the sentiments of the comments? Are people asking questions, or proactively engaging? You can learn a lot from how users are engaging with your content and messaging, and even treat it as a free split testing opportunity.
Engagement opens the door for relationship nurturing. When people comment on your posts in particular, there's a chance to start a conversation that can lead to more long-term relationship building and increased brand loyalty.
It can expand your reach. People can share your content, ensuring a decent share of their own friends or followers see it. And sometimes, even having someone comment on a post is enough to help, as some of their friends and followers can see that in their feeds, too.
These are a lot of good reasons why strong, engaged communities on Facebook are beneficial to brands on the platform whether you're focusing your efforts on organic Page posts, group posts, Facebook Ads, or a mixture of the three.
Let's take a look at what exactly counts as Facebook engagement and steps you can take to increase engagement on all types of Facebook content.
What does engagement mean on Facebook?
Facebook engagement is often defined as any interaction that users are making on your posts, which can include post clicks, mentions, and private mentions.
When talking about Facebook engagement as a metric, many are specifically talking about the public-facing actions that can act as social proof, such as likes, comments, and shares.
It depends on what you want to measure. Are you factoring social proof into consideration, or any actions that users have taken on your content to try to assess its relevance?
Both the post owner and post viewers can see public-facing engagement readily. They can see the number of likes, shares, and comments, even if some comments are hidden or the exact shares are private and won't be displayed when people click to look further. This is where that social proof comes into play, which is applicable for both Facebook Ads and organic Page and group posts.
While all engagement is sometimes regarded as automatically good, keep in mind that that's not necessarily true. If all the engagement you're getting is overwhelmingly negative (with angry or laugh emojis, and negative comments), then social proof backfires.
Facebook may also factor negative sentiments into consideration. So while controversial posts can get a bunch of engagement, for example, you'll want to make sure you're doing what you can to maximize positive exchanges.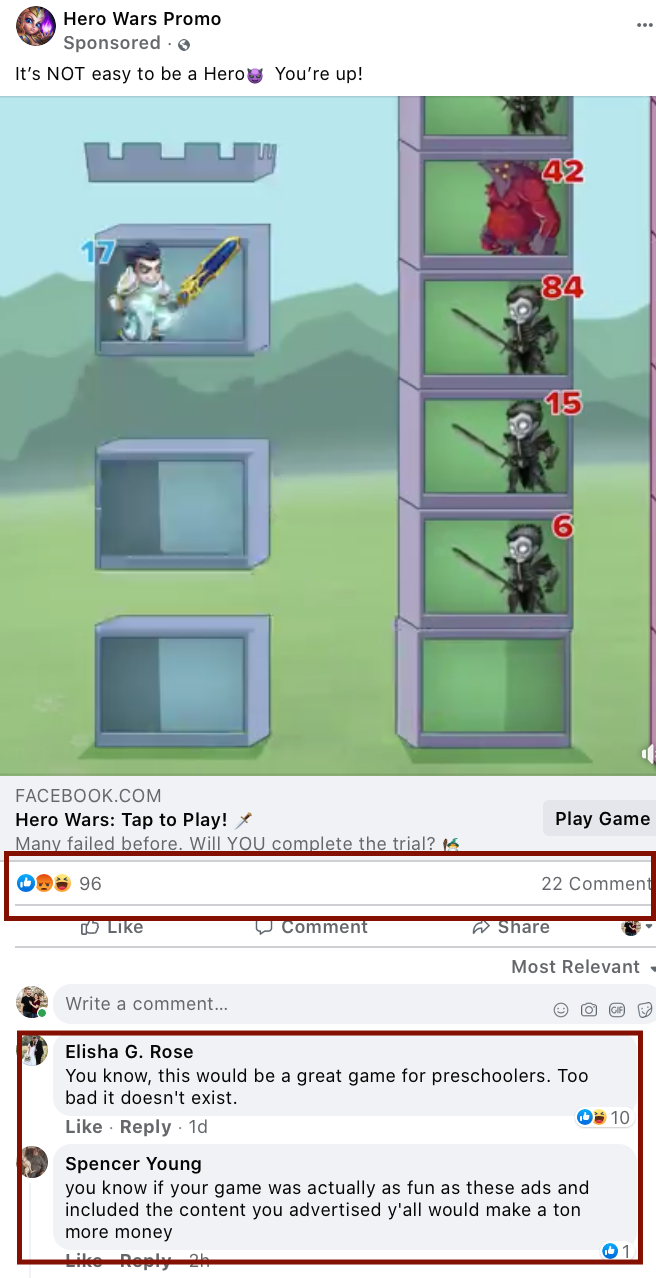 Facebook Reach vs Facebook Engagement
Facebook reach and engagement can be intertwined, but they're two entirely separate metrics.
Engagement is actions taken on your post or ad. Reach is the number of unique users who see the post or ad (note that this is different from impressions, which is the number of times a single post or ad is seen in total).
Reach can be directly impacted by engagement, as we've discussed above. As more users engage with a post, more people see it thanks to a combination of Facebook's algorithm and increased reach from friends seeing comments and shares in their own newsfeed.
It can be a bit of a positive domino effect, too. The more engagement you have, the more your reach goes up. And as your reach goes up, it presents opportunities for more users to engage. While the dramatic version of this is a post going viral, even non-viral growth through engagement can make significant positive impacts on your account.
How to calculate your Facebook engagement rate
Calculating your engagement rate is simple once you determine exactly what it is that you want to measure.
Here are some of the options:
Engagement rate by reach, which tells you how much engagement you received per number of unique users who saw the post
Engagement rate by impressions, which details the engagement rate per number of times your content was seen
Engagement rate by post number, which details how much engagement each post received, on average
Daily engagement rate, which details the number of engagements you're receiving per day
Engagement rate by views, which is useful for video analysis in particular
You can learn more about how to calculate each type of engagement rate here, and you can also use Hootsuite's engagement rate calculator to get all this information in more with just a few clicks.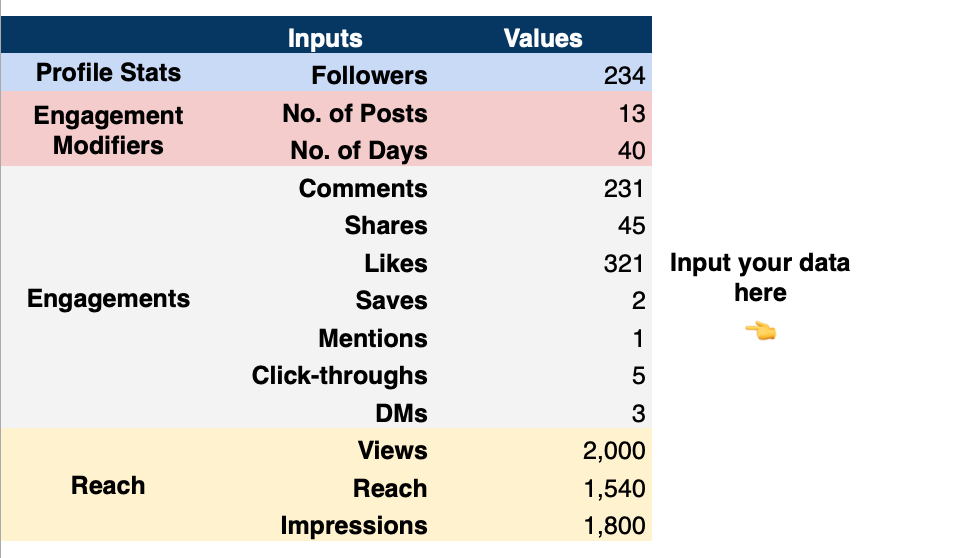 How to Increase Facebook Engagement
Ready to boost engagement on your Facebook posts so you can collect all those amazing benefits? Here are eight foolproof tips that will help right away.
1. Create Content With Your Audience In Mind
Your audience should always be at the center of what you do on social media.
Ask yourself the following questions:
What will my audience find valuable?
What resources does my audience look or ask for?
What will my audience enjoy?
If I'm running a social media page for an eco-friendly, sustainable food company, for example, I know that my audience is probably interested in content about my brand, but also about the following:
Shoutouts to other eco-friendly, no-plastic organic products and brands
Recipes for healthy cooking
Tips on living a more eco-friendly life in general
Funny content about the struggle to eliminate single-use plastic
Shoutouts to timely events like Earth Day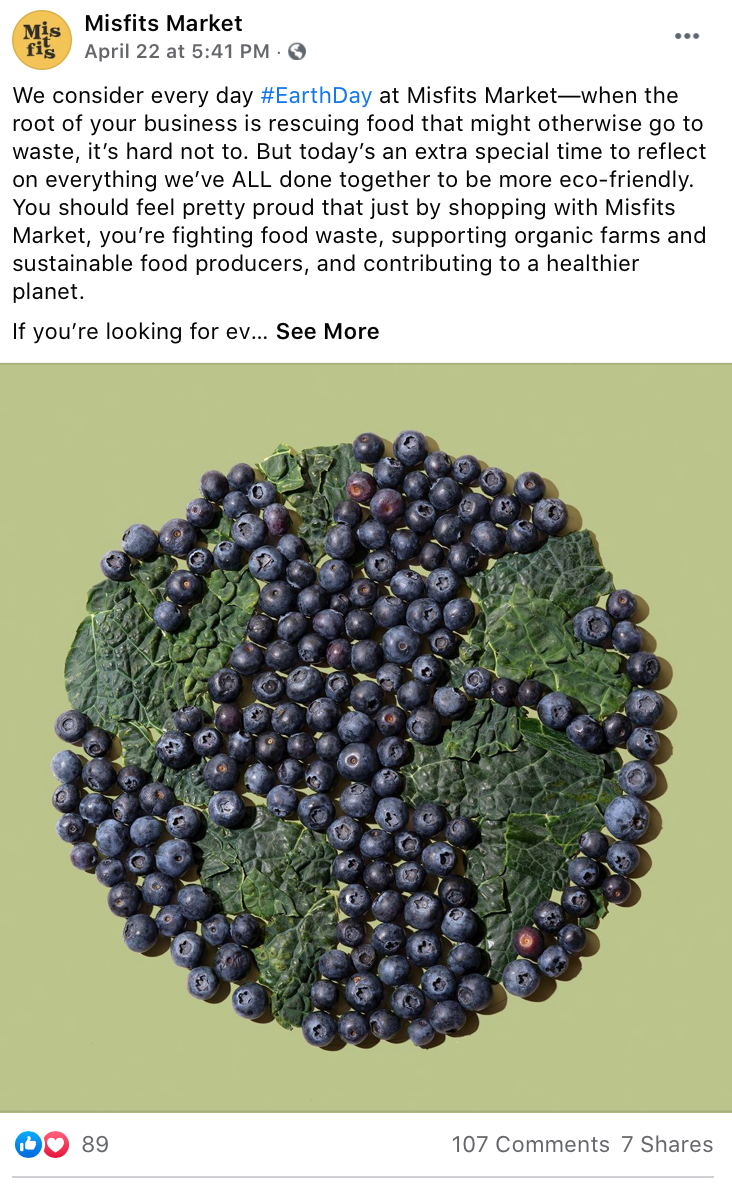 Starting there and branching out is a good way to go.
2. Ask For Users' Opinions & Thoughts
Users absolutely love sharing their thoughts and opinions, both on and off Facebook. A direct prompt for users to share their thoughts, their stories, their questions, and their opinions is a great way to boost engagement extremely quickly.
There are several ways to go about this.
First, you can ask straightforward questions about customer opinions on your products. Which is your favorite? What will you purchase next? What are you most excited for?  You can see that here: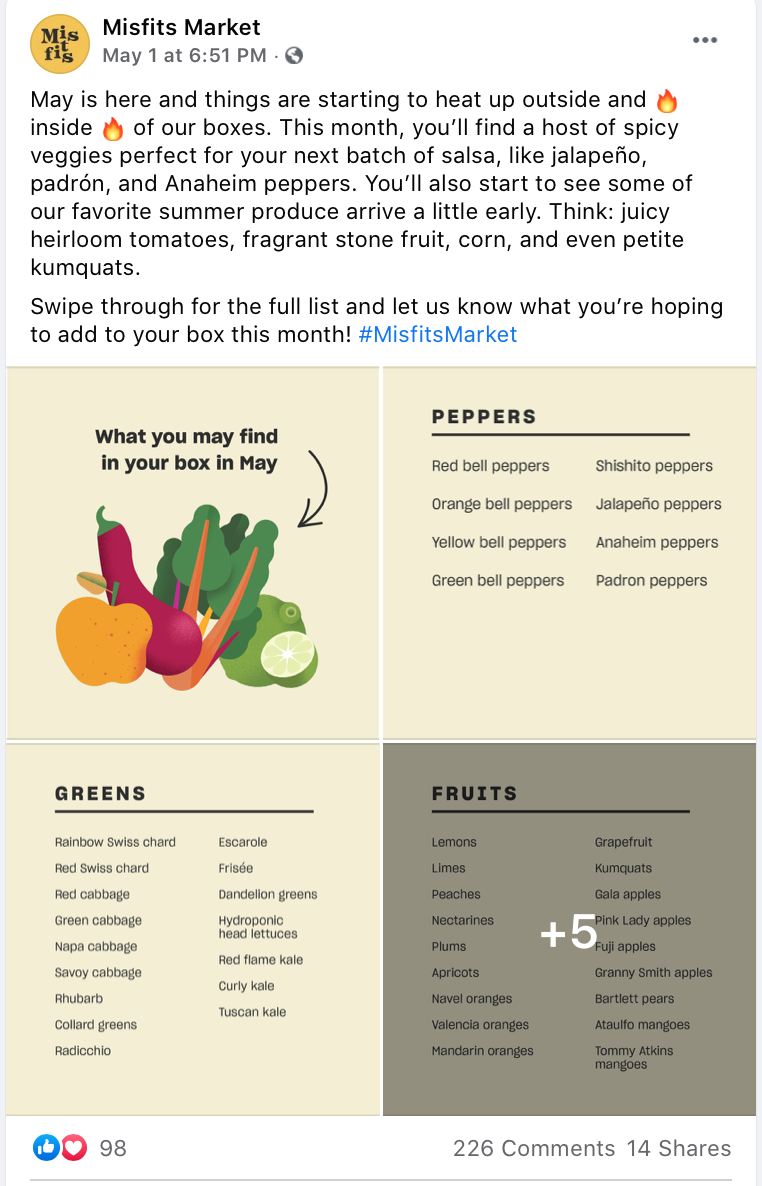 You can also ask users to share their stories with you.
Purple recently held a "heroes" contest where users could comment, share the hero in their life, and get a chance for that hero to win a product. People were thrilled to brag about beloved friends and family who are doing great things for the world, and this is such a positive way to build engagement and establish positive associations with a brand.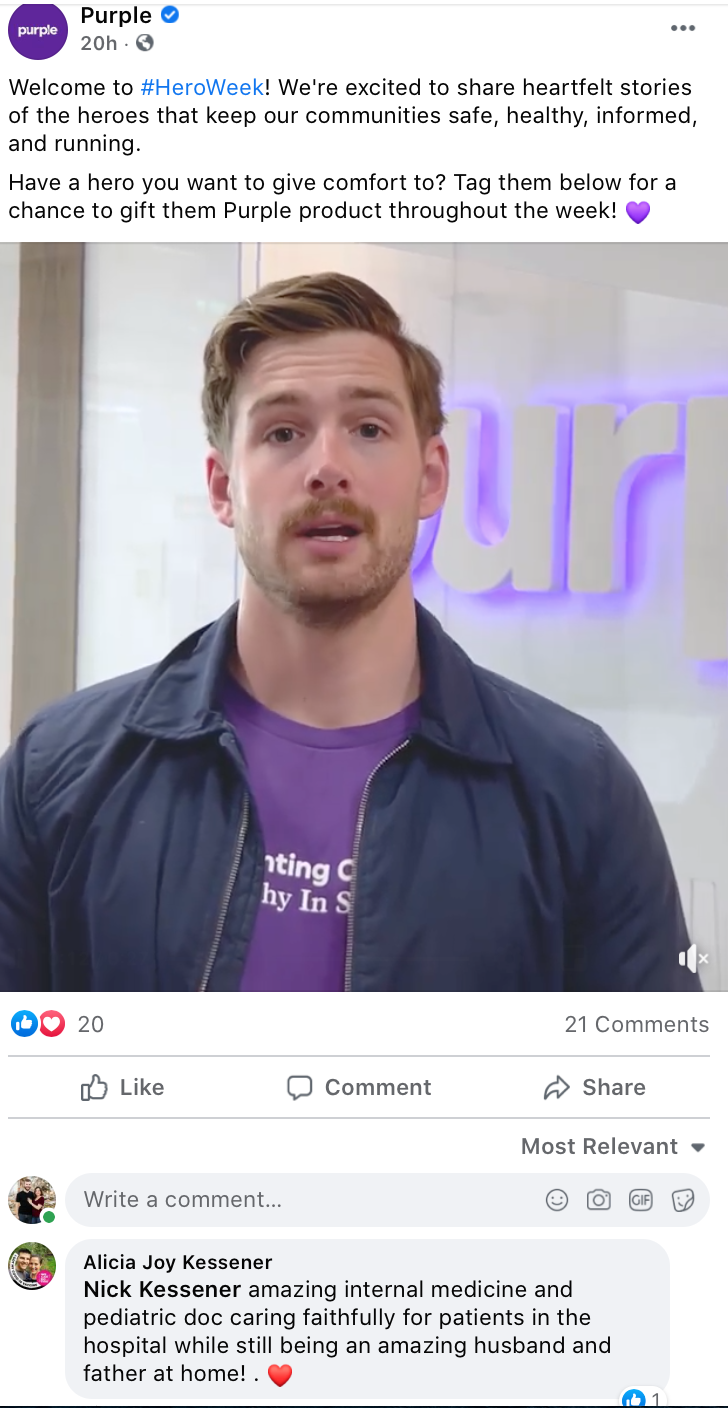 You can also just ask simple questions. What will be on your plate for Thanksgiving? What makes you most excited about summer? And you can even opt for "this or that" formats like "sweet or savory?" in the example below.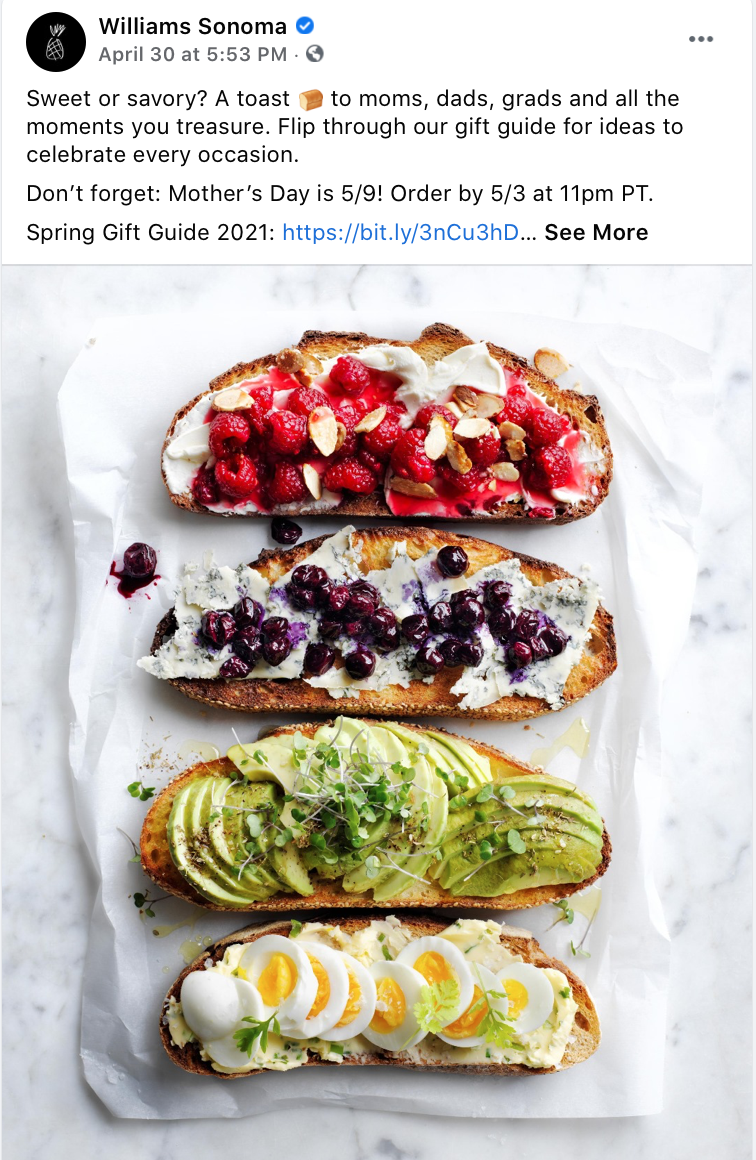 3. Look At High-Performing Trends
Want to start increasing engagement fast with the audience that you already have?
Dive into your Insights on Facebook to look at what content is already crushing it.
You can see which posts are getting the most engagement, and look for trends that may link the highest-performing content.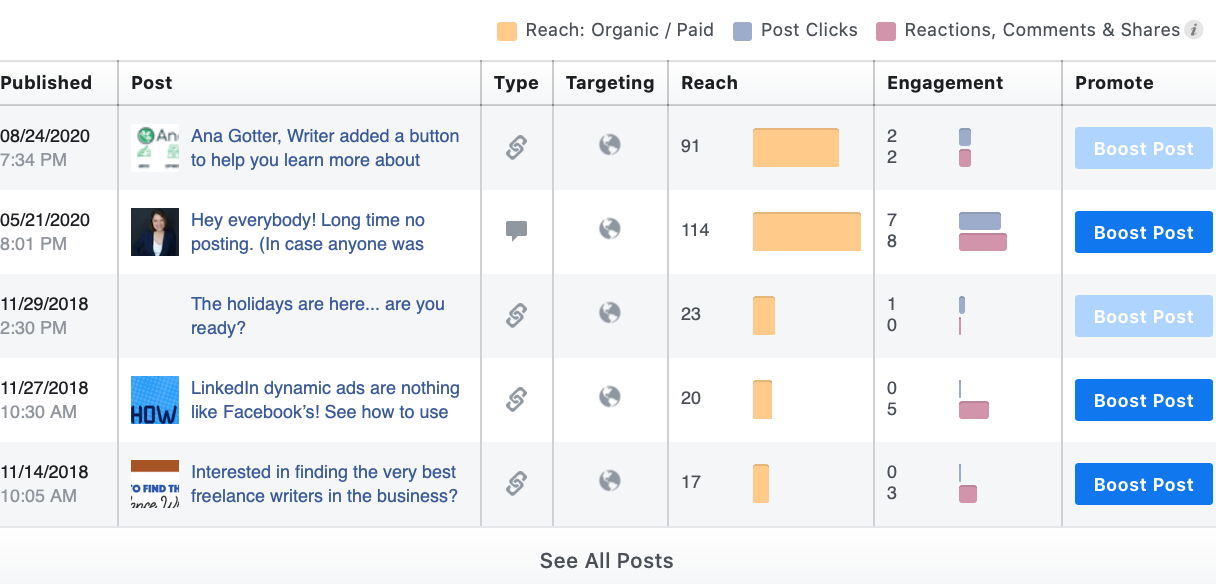 Your top content, for example, might or might not:
Always include images or videos
Not include off-platform links
Be around a certain length
Start with strong call to actions
Use emojis
Discuss certain topics
Include user-generated content
Be posted at certain periods of the day
You'll want to look at all of these factors, because each one can play a part in driving engagement. Once you detect top trends, you can optimize more of your content to adhere to them and run split tests to determine which factors are actually driving more engagement.
4. Go Live
Live videos have a tendency to yield high engagement, which makes sense.
People can get alerts when Pages go Live, and there's a "right now" urgency that kicks in. The Live can be shared later, but right now you have direct access to someone within the brand. You can ask questions, get updates in real-time, and engage directly.
When you're going Live, make sure that you're engaging with what users are saying in the comments, even if you can only do so intermittently. This will keep people commenting and engaging, which gives you more reach. You can also let people know that you'll try to answer any missed comments in the questions later.
5. Respond to Comments
This requires some extra time and effort on the part of the brand's social media management team, but it's such an easy and wildly effective way to boost your engagement rate across most posts quickly.
If you're consistently taking the time to respond to comments on the platform, your audience will notice. They'll engage more right away (responding to your questions and comments, which helps your immediate engagement rate go up), and more users overall will see that and engage later on additional posts, too.
By interacting with users, you can create a thriving community instead of just having a wall where you post things. This is a crucial part of building engagement rates.
While this does take some extra time, keep in mind that social media management platforms like Hootsuite can help. You can manage all of your comments and private messages from a single dashboard so your team can respond quickly. You can learn more here.
6. Include Interesting Visuals
We know that Facebook posts with visuals (which can include images and videos) get more likes, comments, and shares than content without visuals.
Want to really boost your Facebook engagement rate? Be proactive about trying to create interesting, aesthetically-pleasing visuals. Think three-second videos of a product moving around, high-quality photographs, or even graphics with interesting design elements.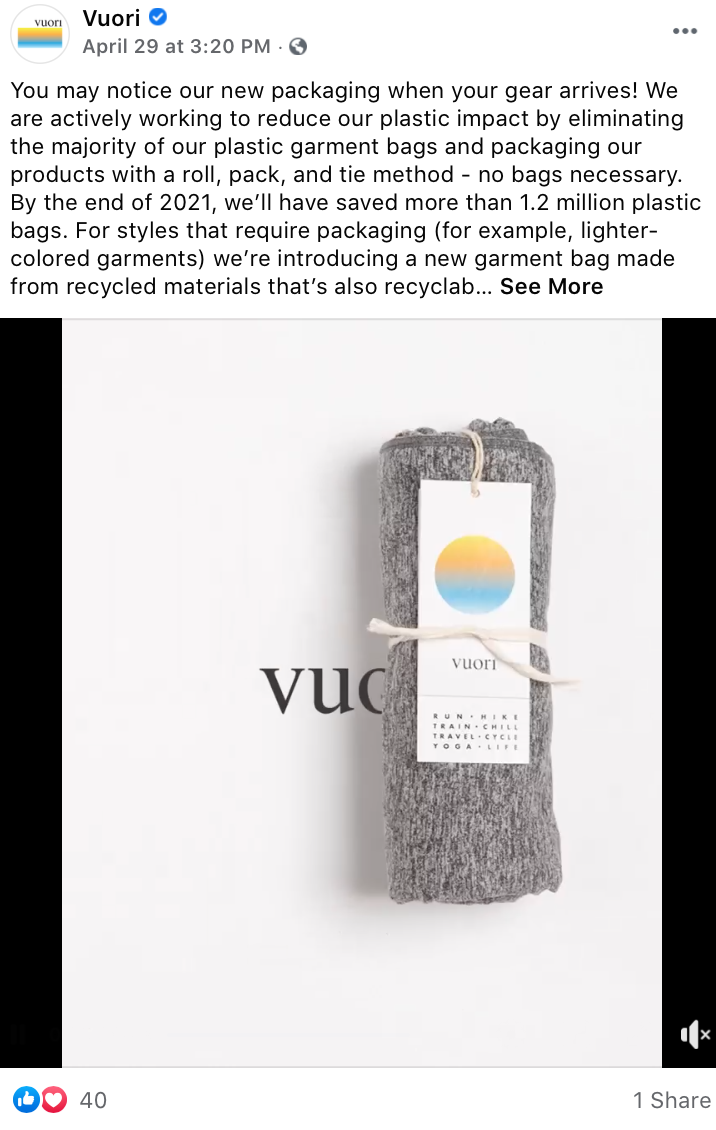 Try to include visuals on most of your posts, if not all of them. As a bonus, this makes it particularly easy when you want to cross-promote content on other platforms, too. Instagram and Pinterest both require visuals, and they help boost Twitter engagement, too.
7. Post When Your Fans Are Online
It's a slight misconception that just because Facebook's algorithm isn't purely sharing content based on recency of posting. More recent posts can get a slight edge in the algorithm. And if you're posting when your followers are most likely to be online, some extra early eyes can mean early engagement, which means more reach and then (again) more engagement.
You've got to work the system to your benefit, so posting when you specific audience is online is crucial.
And good news: Facebook's Insights has an incredibly handy tool that can help with this. It can be found at the top of the "Posts" tab on Insights, and it shows you when your fans are online.
Use this report to determine when the best times to post would be, and use a tool like Hootsuite to schedule your content for those posting times in advance. Hootsuite can also help you find the best times to post on Facebook based on your average impressions, engagement, or click-through-rates.
8. Share UGC & EGC
User-generated content (UGC) and employee-generated content (EGC) are two of the best types of media you can share on social platforms in general.
People love to see that your customers and employees alike are cared about, and that they love your business, too.
Put out regular calls for UGC, asking users to share how they're using your product. You can host contests to collect images, or ask users to tag you in the pictures of what they share on social media. To increase UGC across the board, be specific: "Share photos of your unboxing" or "tag us in the picture of how your tent is right at home in your campsite." This can increase UGC overall quickly.
For EGC, put out a call internally. Ask who would like to share their experience with your brand. Below, there's an example of how StitchFix features their stylists on the platform. It's a great way to include your employees as part of the brand, which is good for job satisfaction, while also adding a human face to your business.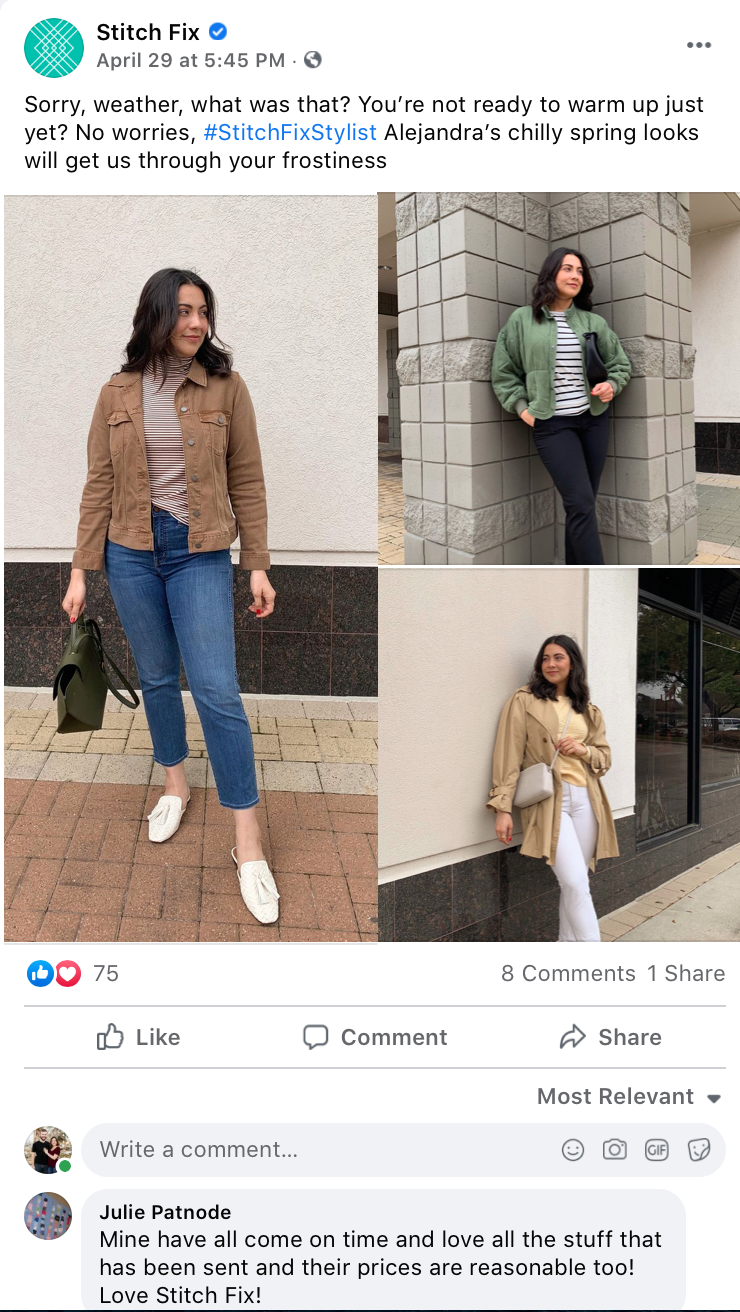 How to Create Engaging Ads on Facebook
Want to boost engagement on your Facebook Ads?
The first thing that we want to address is that you can use the Engagement objective on Facebook but that this isn't the only way to get more engagement.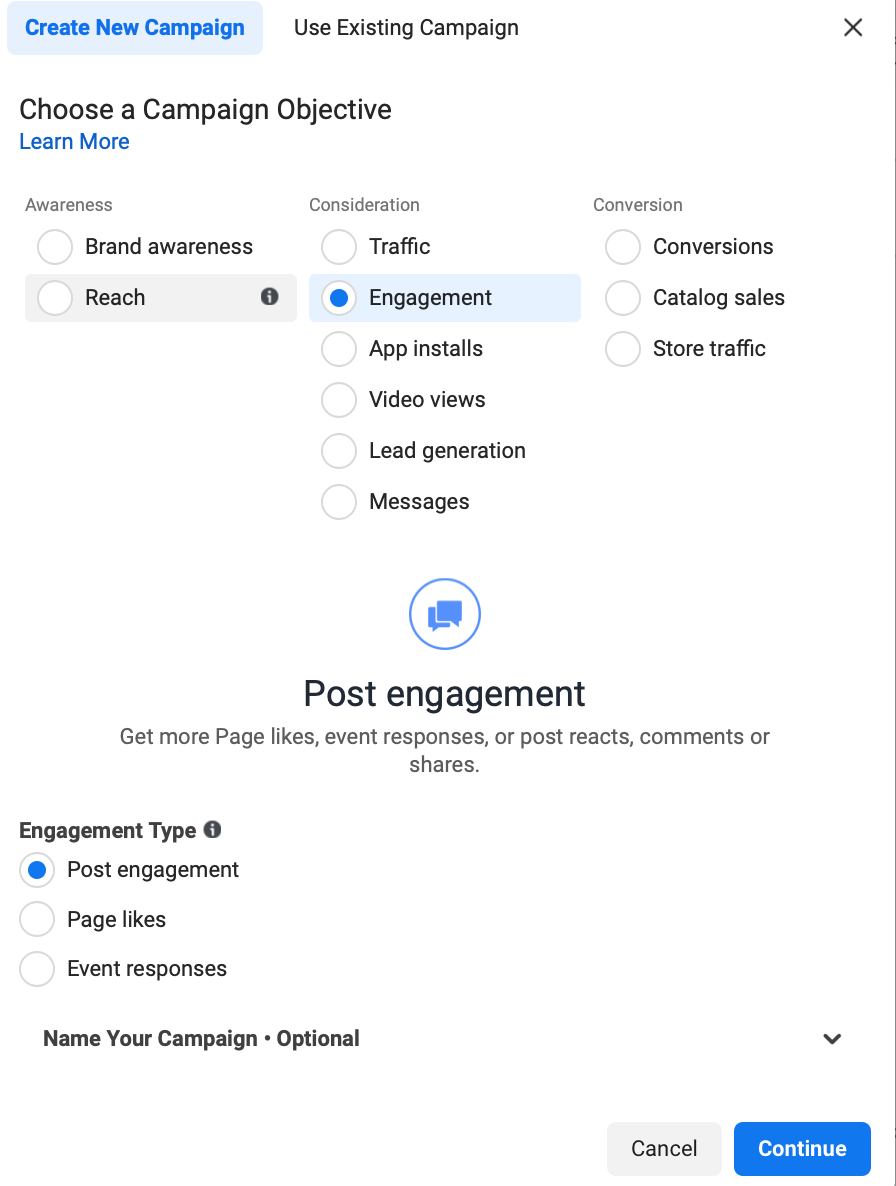 You should only use this when your top priority is on-platform engagement, as opposed to driving traffic off-site, generating leads, or driving sales. This is because Facebook will optimize delivery to show the ad to users most likely to take your desired action. In this case, that would be liking, commenting on, or sharing a post instead of clicking or purchasing.
If, however, your goal is to gain a lot of social proof on an ad or organic post quickly, proceed with the Engagement objective. It's exactly what you want.
If you choose to opt for other objects, there are still steps you can (and should!) take to increase engagement on your Facebook Ads. Let's take a look at those.
Best Practices for Creating Engaging Facebook Ads
You can follow these best practices to create Facebook Ads with higher engagement:
Split test & automatically optimize your campaigns. AdEspresso can help you split test multiple variations of a single campaign to see which attracts the most results (engagement included, since it's a blackbox metric that can increase your quality scores). We can also optimize your campaigns so that those with higher performance can get prioritized delivery.
Answer user questions. When others are seeing an ad, they likely have the same questions other users have, so take time to answer them so sales and engagement can go up. They're also more likely to interact with your ad if they see you interacting with other users.
Consider using different types of formats to see what works best. Carousel ads, for example, often have high CTRs and may drive more engagement because they grab user attention more directly. On the flip side, you could test a video that ends with a CTA for users to share their thoughts. The only way to know is to get creative and run tests.
Final Thoughts
Facebook engagement may not be valued as highly as clicks, lead form completions, and conversions by many social advertisers, but that does not make it unimportant. It's a cornerstone of organic marketing and it can significantly impact your Facebook Ads CPC, reach, and user impressions, too.
Test out the engagement-boosting strategies discussed in this post to see what works for you! Remember that it may take some time for engagement to pick up, but as long as you're consistent and continually optimizing your campaigns, you'll be in great shape.
What do you think? How do you get more Facebook engagement on your posts? Have you tried out any of the strategies discussed above? Share your thoughts and questions in the comments below!