With the introduction of new ad types, advances in custom audience targeting, and an ever-evolving set of rules and regulations, staying on top of Facebook ad options is tough. And you need a mastery of the space to remain competitive.
The Facebook Blueprint certification exams are how you officially gain that mastery.
Becoming Blueprint-certified shows that you have a complete understanding of Facebook advertising, from building a strategy to implementing it and analyzing the results.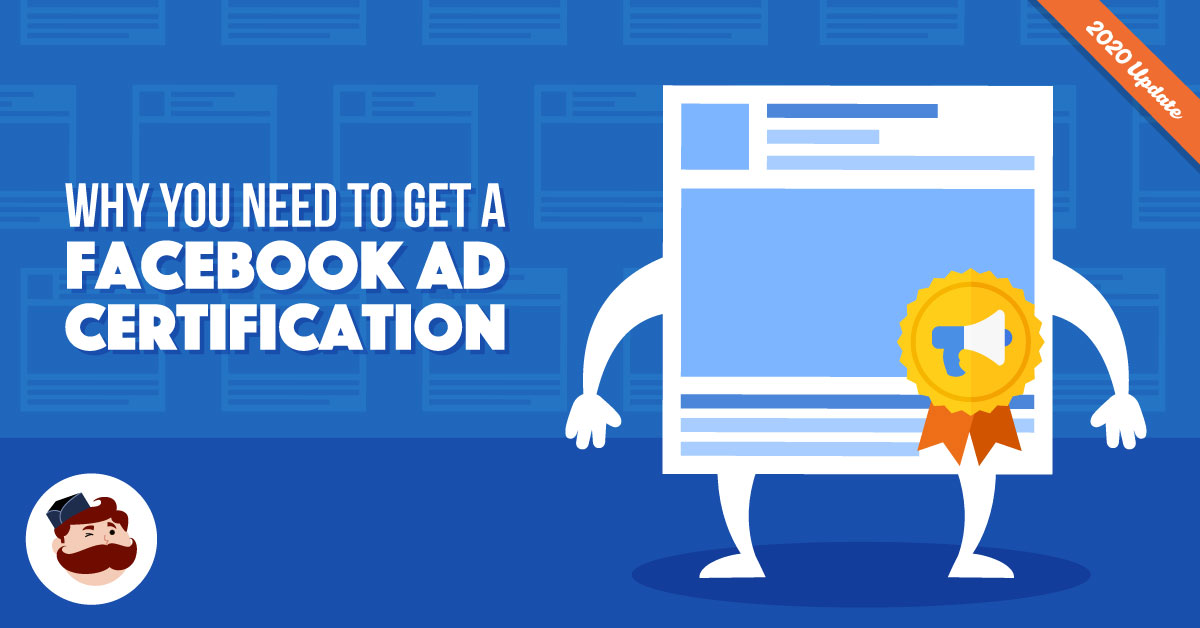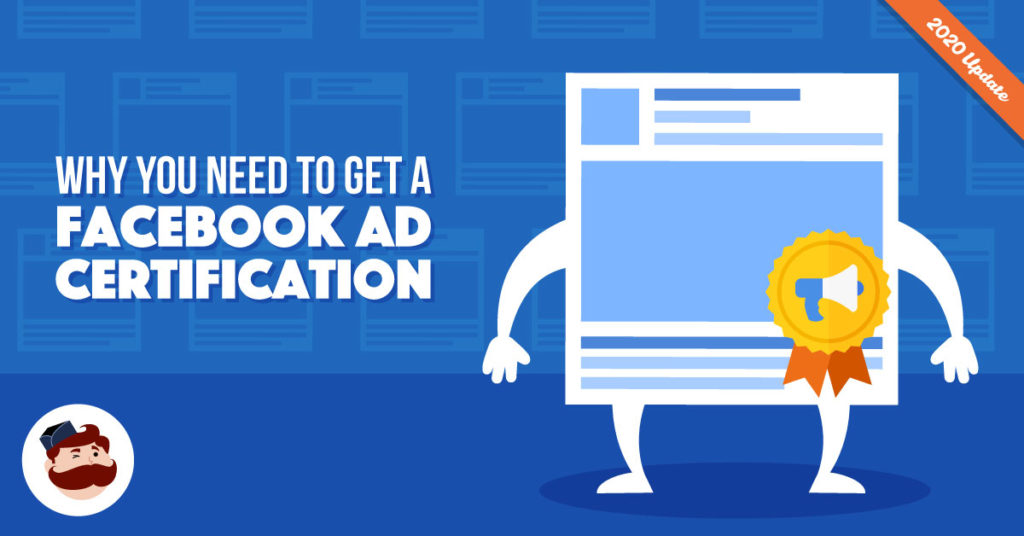 Gaining the coveted badge of "Certified Marketer" proves to your employer, your colleagues, and your customers that you're at the top of your game.
It's no surprise, then, that getting your Facebook Blueprint certification isn't easy — it takes time, experience, and hard-earned cash to complete.
But don't worry, we're here to guide you! We'll show you exactly what to do and where to go to earn your certification.
What Is Facebook Blueprint Certification?
Facebook Blueprint certification measures digital advertisers' proficiency in Facebook, Instagram, and Messenger advertising.
It tests a number of skills, including using Facebook insights to make campaign recommendations and designing an end-to-end Facebook advertising strategy.
There are six core Blueprint exams that cover different aspects of Facebook marketing:
There are two additional exams you can take once you have completed the Facebook Certified Marketing Developer exam: Facebook Certified Advanced Marketing Developer and Facebook Certified Advertising API Developer. These are the only two exams with a prerequisite.
Each exam costs $150 US and certifies you for one year. The test itself is scored from 300 to 1,000, with a 700 required to pass.
To take any of the exams, simply schedule a proctored test online or visit the closest Pearson VUE Professional testing center.
Though you need to pass only one exam to receive your Facebook Blueprint certification, you will need to take an exam every year to retain your status.
The exams are challenging and require studying and preparation as well as experience on all three platforms. The rigorous conditions and overall difficulty are what give the Facebook Blueprint certification its high status.
The Facebook Blueprint Certification in 2020
Facebook has updated the Blueprint certification process in a few key ways.
The biggest development in 2020 is the addition of the new exams, giving you and your team new ways to build your marketing knowledge.
Why You Need a Facebook Blueprint Certification
Blueprint is the only certification that Facebook recognizes, so it's useful for agencies that want to set themselves apart from the thousands of other people running Facebook ads.
You really have to know the course material before taking the test, as each retake has to be paid for, so there's a strong incentive to pass the first time.
As the exam is closed book and taken under proctored conditions, there's virtually no chance of being able to cheat, which sets it apart from just about every online course on the market.

Paul Fairbrother, Facebook Ads Specialist at Hootsuite
The Blueprint certification is the highest accreditation offered by Facebook. It shows the world that you fully understand the intricacies of Facebook advertising at an expert level.
Once you're certified, you can expand your professional network with groups like Facebook Blueprint Professionals.
Passing the Blueprint exam earns you a digital badge that you can share on Facebook, LinkedIn, and Twitter.
This badge is how
your employers, colleagues, and professional network can verify the status of your certification
. It is also
used to verify
the issue date, expiration date, and specific exam taken.
In some special circumstances, a physical Blueprint award is issued as well.
The Facebook Blueprint certification proves your expertise in the field and is a respected milestone among peers, clients, and employers alike.
Preparing for and Taking Your Facebook Blueprint Certification
Taking your Blueprint certification exam requires careful planning and preparation.
Studying the material is vital. You need a comprehensive understanding of the entire Facebook advertising landscape, so you can recall that information during a timed, proctored exam. And remember, every test costs $150 US. If you don't pass on your first try, you'll have to pay the fee again.
There are a few steps you can take to make sure you are ready to ace your exam the first time.
Step 1: Choose the Correct Exam
Each Facebook Blueprint certification exam tests a different Facebook advertising skill. You should choose the exam that most closely fits your career level and the specific skill set you want to master. For example, the associate exam (100-101) is perfect for those just starting with Facebook advertising, but more advanced advertisers should look at the professional level exams.
This is an entry-level exam designed to test basic knowledge of advertising on Facebook, Messenger, and Instagram. It evaluates marketers' ability to create, publish, and monitor campaigns on these platforms. It is the only associate-level exam.
This professional-level exam tests your ability to monitor and analyze data. Some of the main skills covered by the test include assessing current data and KPIs, forming and testing a hypothesis using Facebook or a Facebook partner, and analyzing the results of the test.
This test will measure your skill in making advertising creatives, including how to design mobile ads and how to use Facebook insights to inform your ad creative.
This test evaluates how you design Facebook marketing strategies. Test-takers must design a Facebook advertising campaign, including creating a budget and bidding strategy, choosing appropriate objectives and placements, and monitoring the results of the campaign.
This exam tests marketers on their Facebook ad buying knowledge, including policies, tools, and best practices.
This test evaluates developers' ability to create a Business Manager account, integrate the Facebook Pixel, and troubleshoot issues with Pixel or product catalog integration.
After you complete the Certified Marketing Developer exam, there are two advanced exams you can take:
This exam focuses on installing Facebook SDK for Android and IOS and troubleshooting issues with the SDK.
This test evaluates developers' knowledge of configuring and troubleshooting Facebook API integrations.
Once you've chosen the appropriate exam(s), you can buckle down and start preparing.
Step 2: Explore the Facebook Blueprint Certification Courses
The Blueprint certification exams are rigorous, but Facebook gives you all the resources you need to study.
Start by going through the free online courses offered through their Learn with Facebook Blueprint platform. The courses are organized by subject matter and are clearly labeled as beginner, intermediate, or advanced.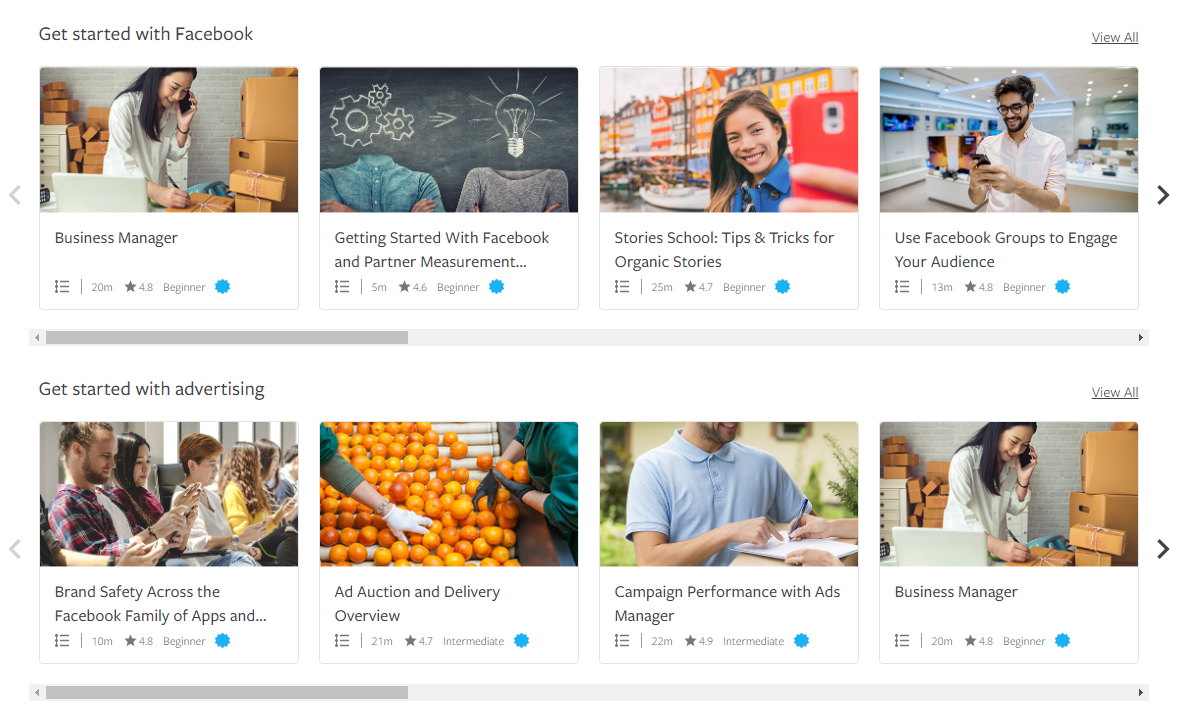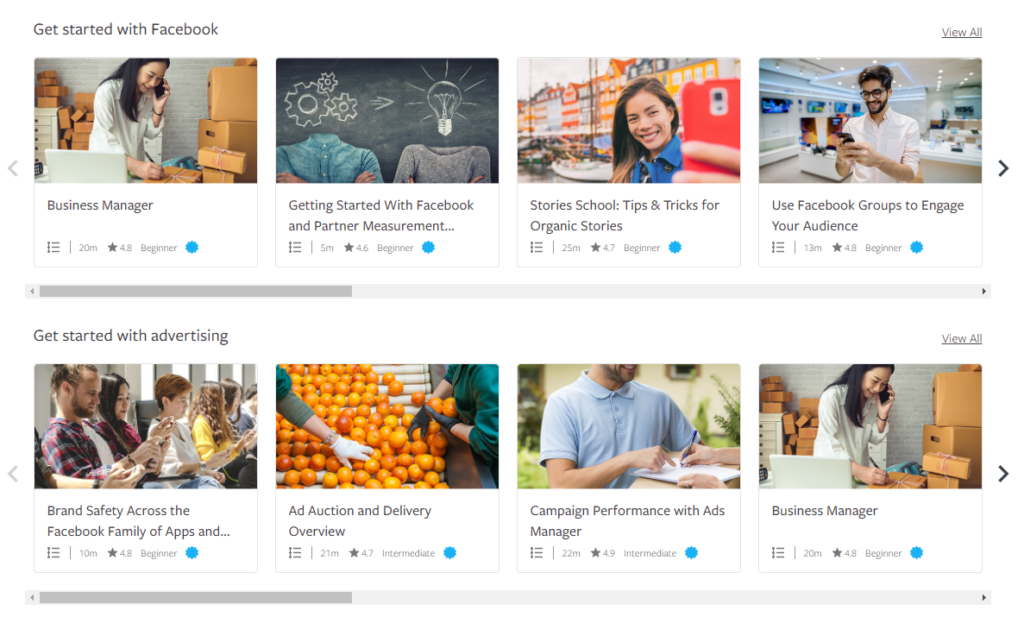 The courses range from 5 to 50 minutes long, so it's easy to fit studying into your schedule.
Each exam has its own study guide, and Facebook provides an exam outline on the main test information page. Use these resources to plan your studying and to help you choose the right courses for your exam.
Step 3: Take the Practice Exam
Before paying for an official exam, take Facebook's practice tests. Each exam has a free 30-question practice test that will give you an idea of the scope and structure of the test. You can find the practice test on the main page for each exam.
Once you've completed the practice exam, Facebook will show you the questions you answered incorrectly. Use your results to determine your weakest subject areas so you know which topics you need to study.
Once you've gone through the study materials and aced the practice exam, you're ready to take the real test.
Step 4: Publish Your Results
You've studied for and passed a Facebook Blueprint certification—congrats! It's time to share those results.
Display your digital badge on professional platforms, such as LinkedIn, so your network can see your hard-earned certification.
The badge lists your qualifications, as well as the issue and expiration dates. Anyone who clicks on your badge will be directed to a verification page.
You can also join the Facebook Blueprint Certified Professionals group to connect with other certified experts, share knowledge, and trade strategies for successful campaigns.
Be aware, though, that this Facebook Group is not endorsed by Facebook, so it is considered unofficial.
Just remember that once a year passes (or two for the associate exam), you'll need to retake the certification exam to retain your status. You can renew your certification up to six months in advance of its expiration date.
Learn More About Facebook Ads with AdEspresso
One of the best ways to learn is by doing. AdEspresso provides tactical insights on your Facebook campaigns that you can use to optimize and refine your skillset in preparation for your upcoming Facebook Blueprint certification exam.
No matter where you are in the studying process, make sure to check out the following AdEspresso resources to help you along the way:
What do you think? Have you received your Facebook Blueprint certification? How has it helped you? Let us know in the comments below.