As of 2020, Facebook has 1.82 billion daily active users and 2.7 billion monthly active users. And while Facebook usage is consistently growing, brands are noticing organic reach in a rapid decline. That's where the Facebook algorithm comes in.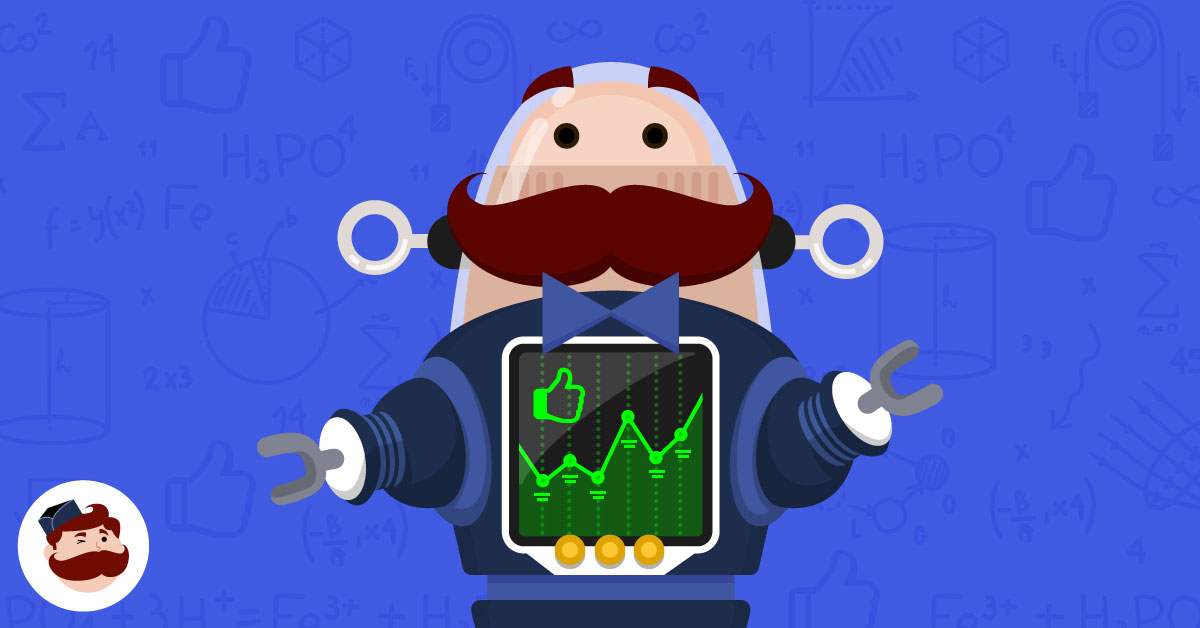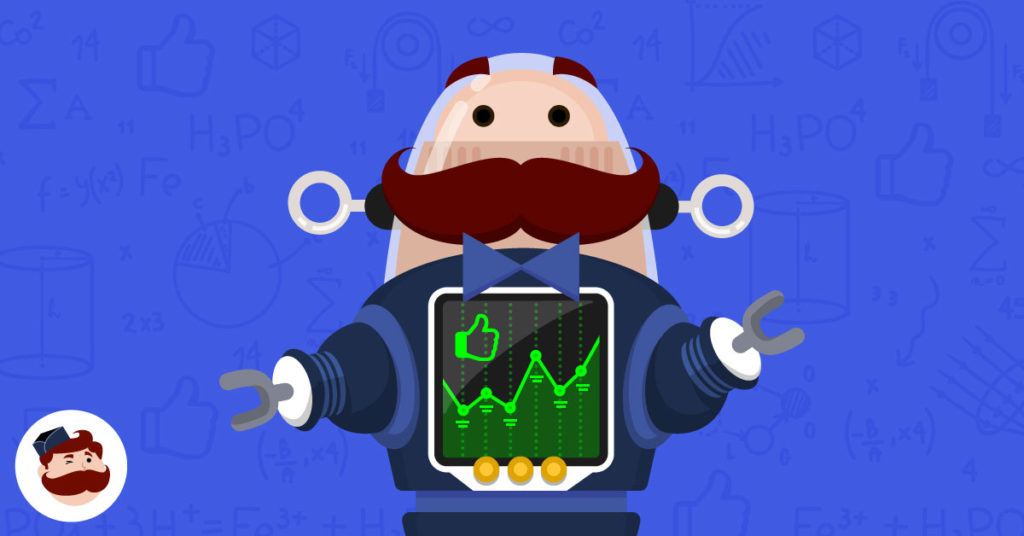 The average reach of an organic post from a Facebook page is only 5.2%.
This is partly due to changes made to the Facebook algorithm that prioritize posts by people over content made by pages.
You can still make the Facebook algorithm work for you, though. Want to maximize your organic reach by appealing to the Facebook algorithm? Keep reading to find out how!
What is the Facebook algorithm?
Basically, the Facebook algorithm is the platform's way of deciding which posts to push in users' feeds, and when those posts appear.
Posts don't appear in chronological order. Instead, the algorithm assesses and scores posts before ordering them based on interest in a user's feed. The algorithm puts the posts they think you'll be most interested in at the top of your feed.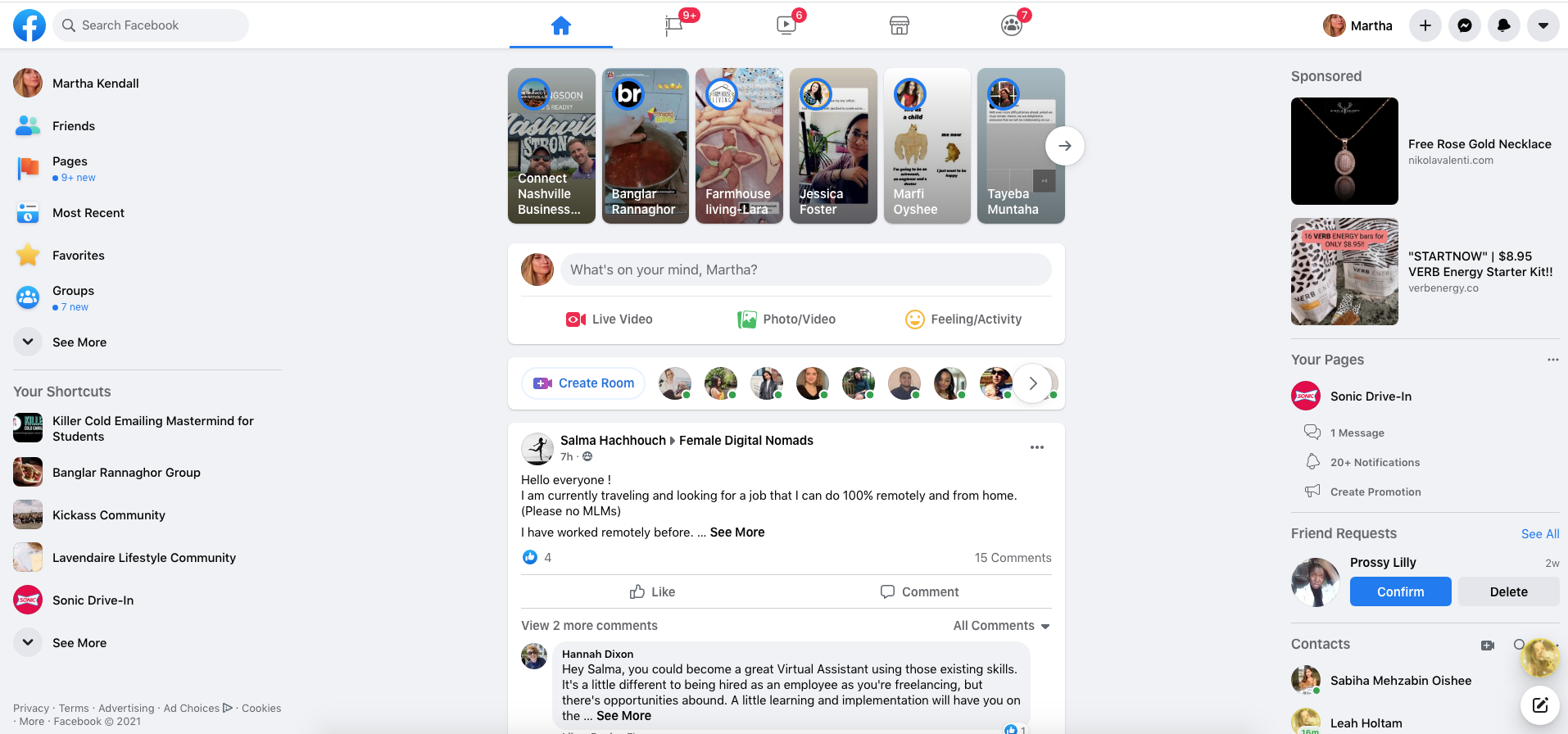 The algorithm is made of a set of calculations, which makes deciphering the details of why and how the algorithm shows what it shows no small feat. What we do know is that it's main goal is to keep you scrolling through posts you'll react positively to.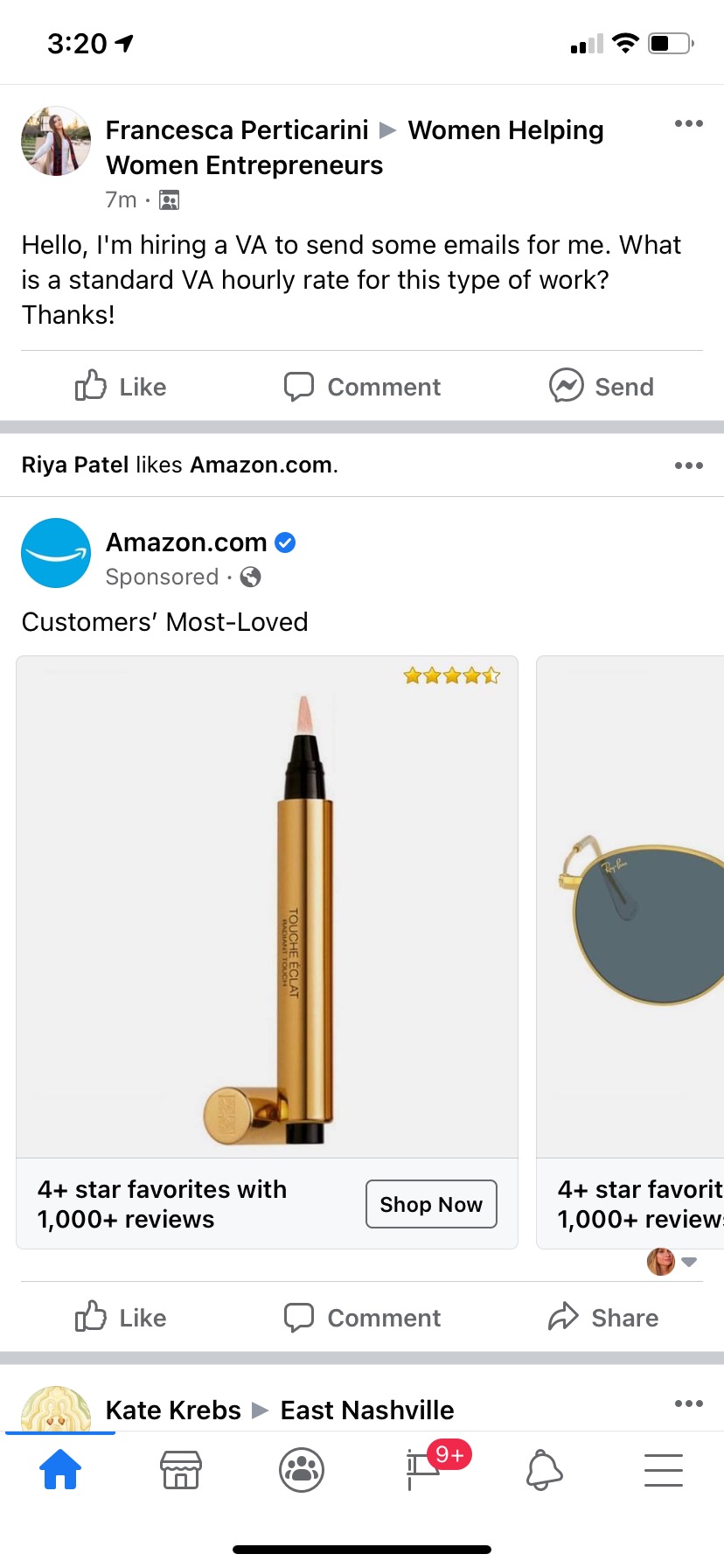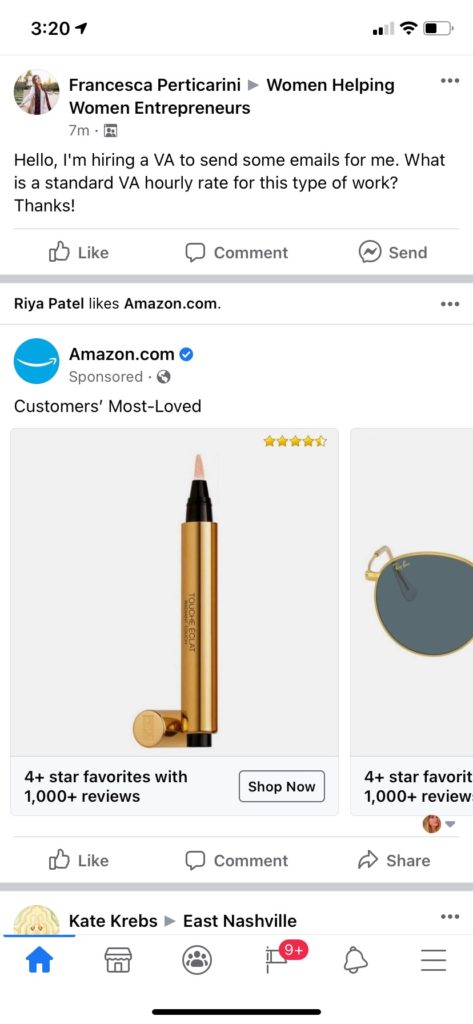 Why you should care about the Facebook algorithm
Small businesses account for 90 million Pages on Facebook. The competition is steep. If you don't have a sizable advertising budget, your small business might have a hard time standing out.
If you work with the algorithm and put out content it's likely to push to the top of your audience members' newsfeeds, you can take advantage of organic reach and get eyes on your content without spending all your budget on Facebook ads.
How the Facebook algorithm works in 2021
The Facebook algorithm works by taking all the posts in a user's network and ranking them based on what that user is most likely to engage with.
It boosts Facebook posts you're likely to be interested in and hides the posts your behavior indicates you won't engage with, then scores and ranks posts based on which posts will be most interesting to you.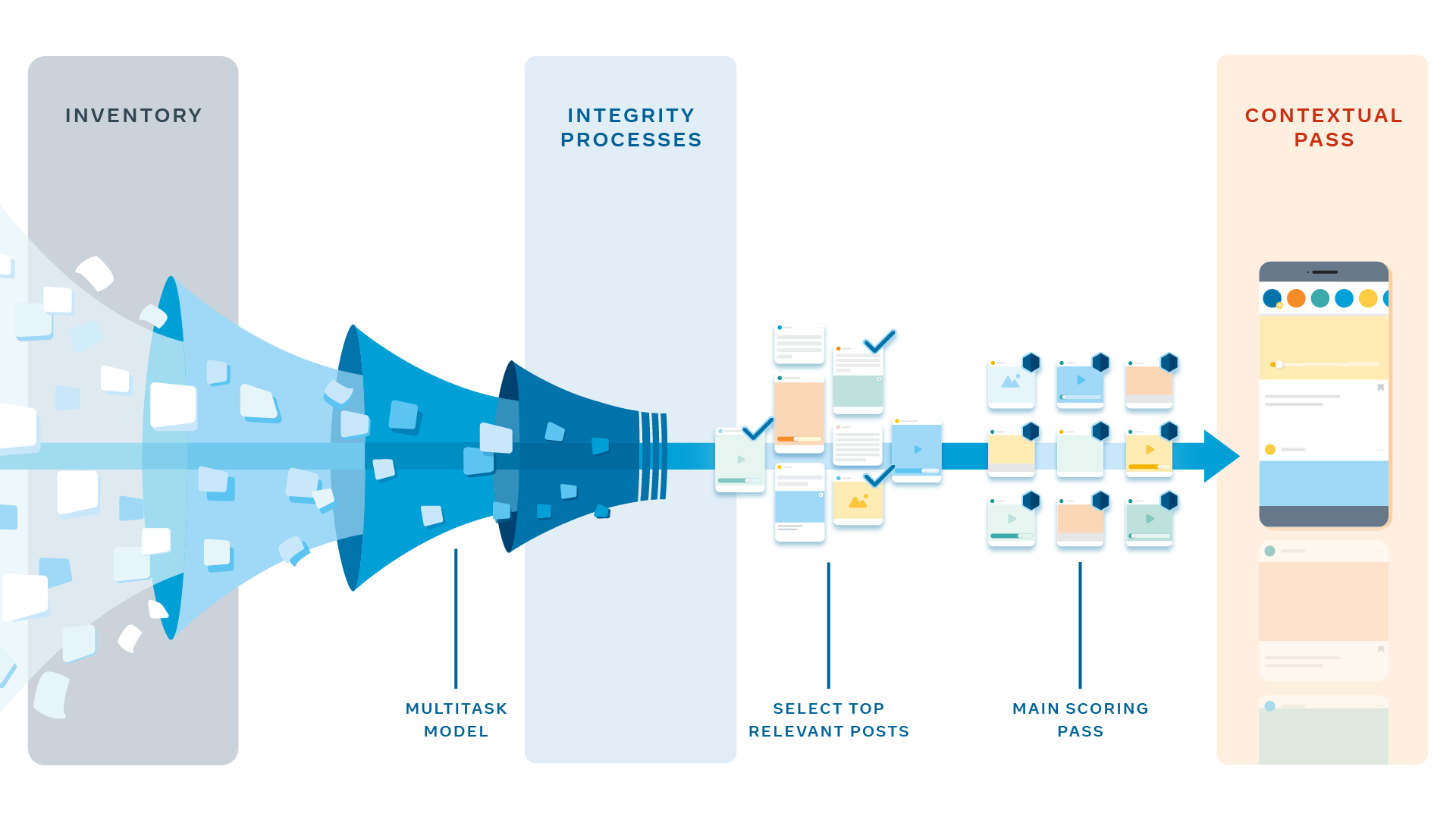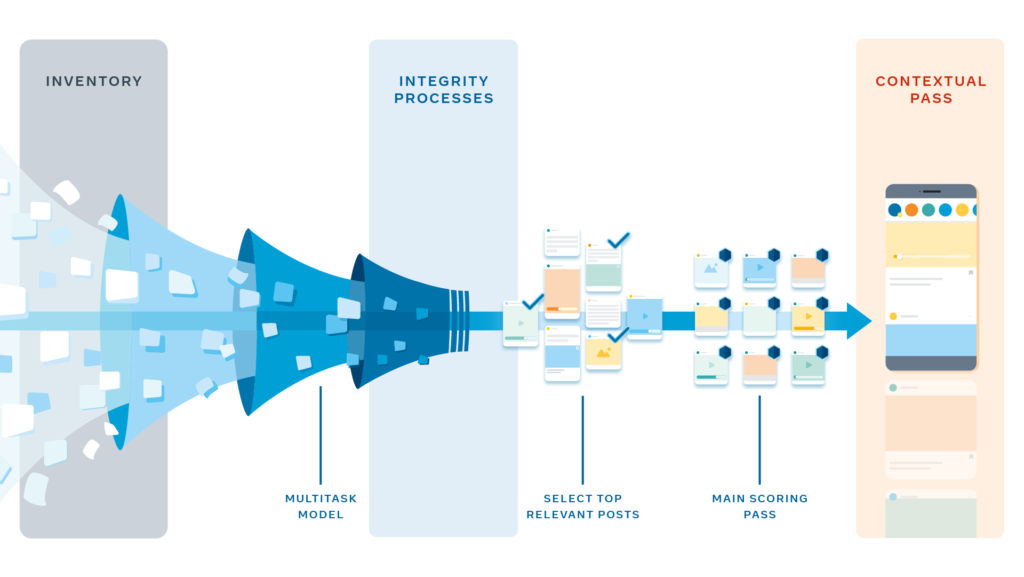 Source: [Facebook]
If you want your posts at the top of the Facebook newsfeed, you'll need to know about the ranking factors and signals the Facebook algorithm uses to make decisions.
4 Facebook algorithm news feed ranking factors
The news feed ranking factors are separated into four groups: inventory, signals, predictions, and relevancy score.
Inventory
Inventory is what Facebook calls all content on the platform. For example, posts from friends and family, groups you join, and pages you like are all examples of inventory.
Major ranking signals
Signals are the only part of the algorithm you really have control over as a content marketer. They're divided into two categories: passive and active.
Passive signals are non-active metrics like view time, story type, and time posted.
Active signals are actions to promote engagement, including likes, shares, and comments.
Recent Facebook algorithm chances emphasize meaningful interactions. Therefore, the algorithm attributes more weight to active signals because they drive meaningful interactions like comments, replies, likes, and shares.
Here are the major ranking signals to consider:
Engagement
Comments and likes
Engagement with Page content shared by friends
Shares on Messenger
Replies to comments on a video
Relationships
Who users interact with
Poster of the content
The profile's percent complete
Interactions between people (interactions between people and pages carry less weight)
Content type
Type of post (video, link, image)
How informative the content
Time spent on the post
Recency
Newer posts shown first
When was it posted
What time is it now
Technology (what type of phone, internet connection)
Only have time to focus on a few Facebook algorithm ranking signals? We suggest these, as they are widely considered to be "meaningful":
Person sharing a link on messenger
Multiple replies to peoples' comments on a video
Commenting or liking on a person's photos or status updates
Engagement with a publisher post shared by a friend
Predictions
POV: you searched "cat sweater" once and your feed is filled with posts and ads showing off all the latest feline fashion. This is an example of predictions hard at work.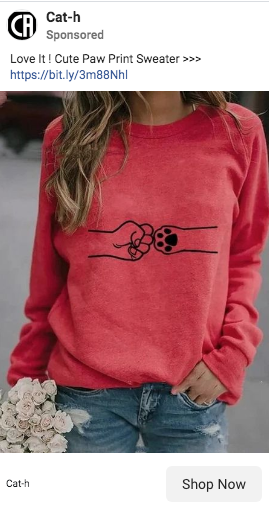 Predictions don't just impact the ads you see. They also assess your profile and behaviors to decide what to show you in your Facebook newsfeed. Predictions aim to understand your likes and dislikes so that they only show you content with which you're likely to engage.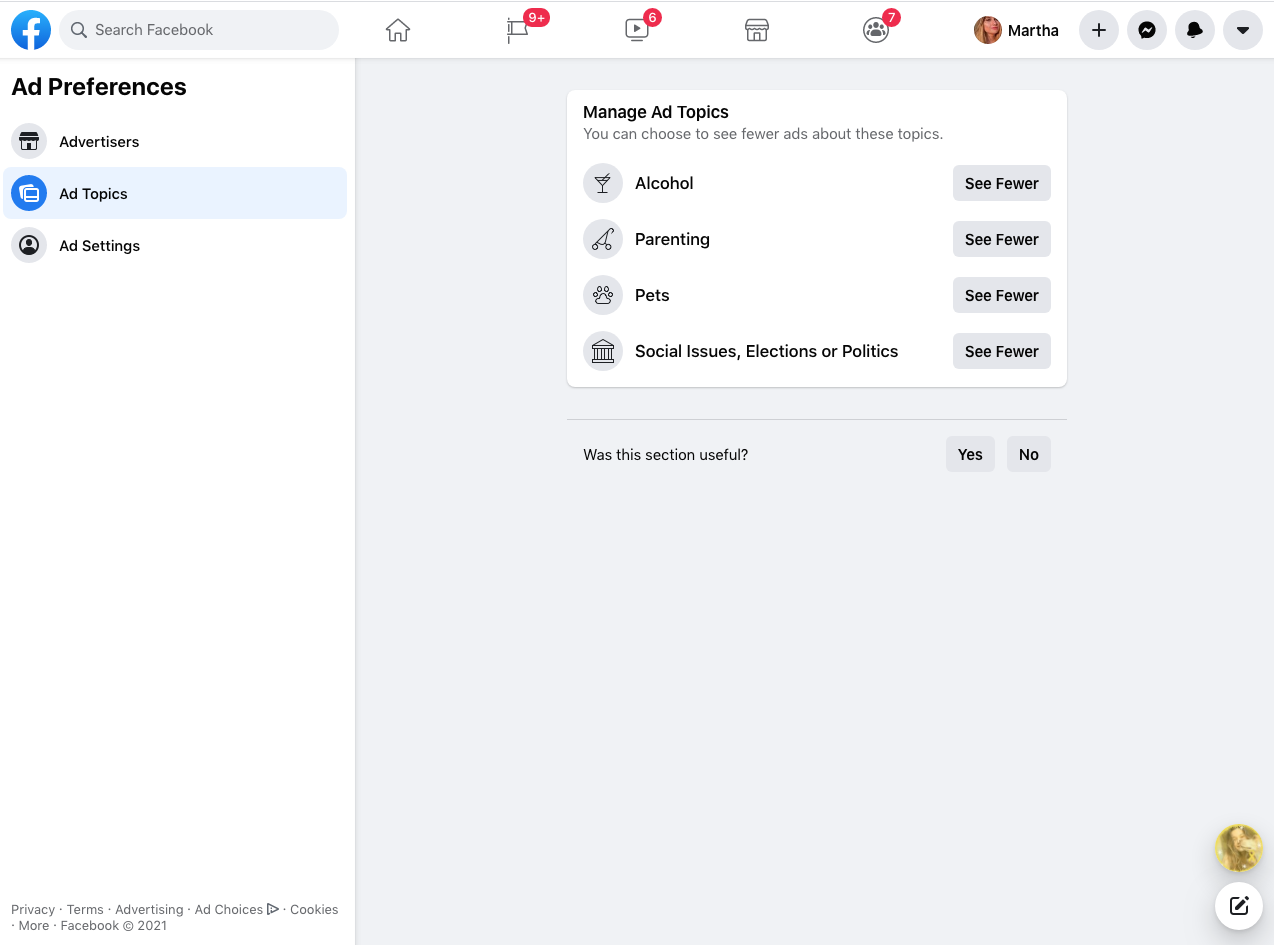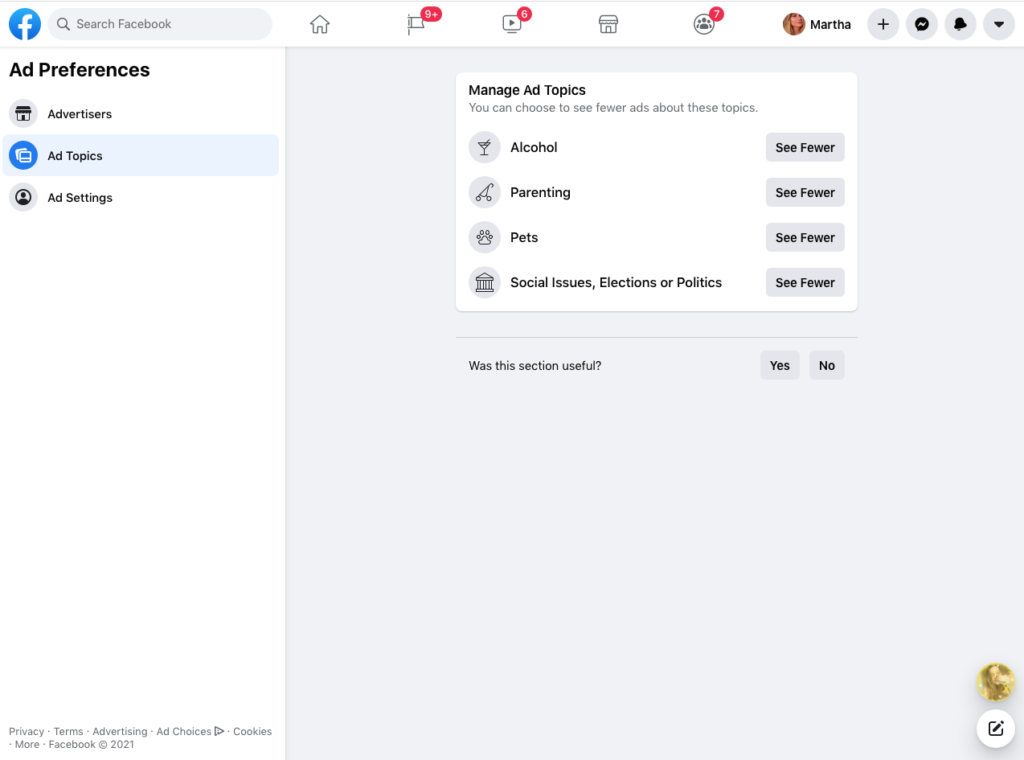 Relevancy score
Facebook gives every piece of content a score that dictates how relevant it is to a specific user. A higher score indicates content will likely be displayed on the feed. Your content will receive a different score depending on the individual user.
Facebook algorithm updates for 2021
While understanding the major ranking signals is your best bet for improving organic reach in 2021, here are some other updates to be aware of:
Feed Filter Bar
Users can use the new Feed Filter Bar to determine what shows up on their news feed. Users can switch between three options:
Algorithmically ranked content
Most recent posts
Updates from their favorite friends and pages they follow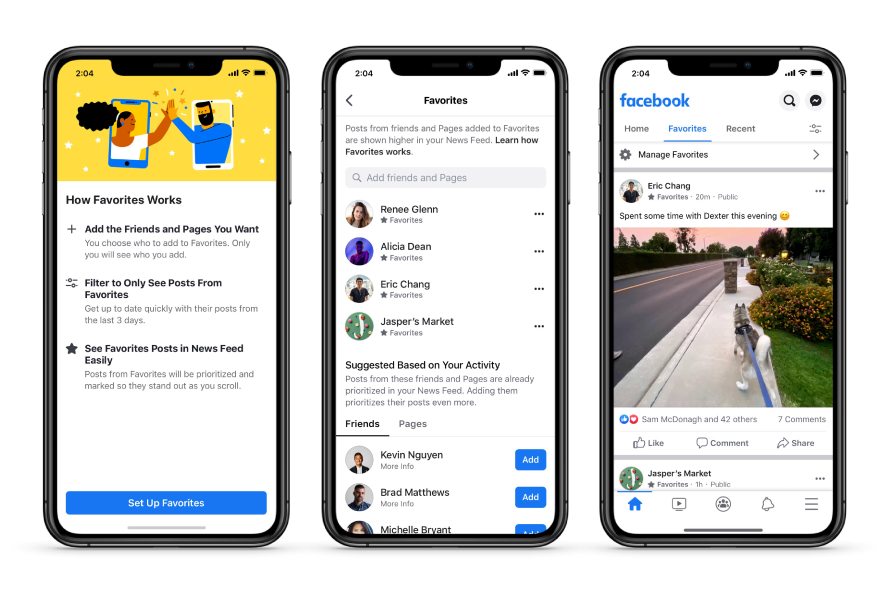 Source: [Facebook]
Prioritizing original sources
Facebook responded to calls for credible and informative news stories by way of updates that prioritize stories content with original sources/original reporting.
Apple's impact on ads
Apple's IOS 14 update gives users the option to opt in or out of data sharing. Facebook studies revealed that businesses saw a 60% decline in sales for every dollar spent on Facebook ads as a result of this change.
Access Your Information tool
The Access Your Information tool helps users understand how Facebook interprets their interests and preferences.
13 tips for working with the Facebook algorithm
The key to working with the algorithm is understanding it.
Here's the gist: if you promote meaningful reactions, focus on your audience, and avoid engagement bait, you'll be doing your best to build organic reach.
Below are some tips to do just that:
Avoid these mistakes
As the algorithm gets more intelligent, it's starting to single out "engagement-baiting" as a way to artificially boost content rankings. Engagement-baiting is when you post content begging for engagement. This includes posts that:
Clickbait (posts that ask for clicks or entice users to click with sensational or false information)
Like-baiting (posts that ask for likes, comments, and shares)
Posts with abnormal engagement patterns (a like-baiting signal)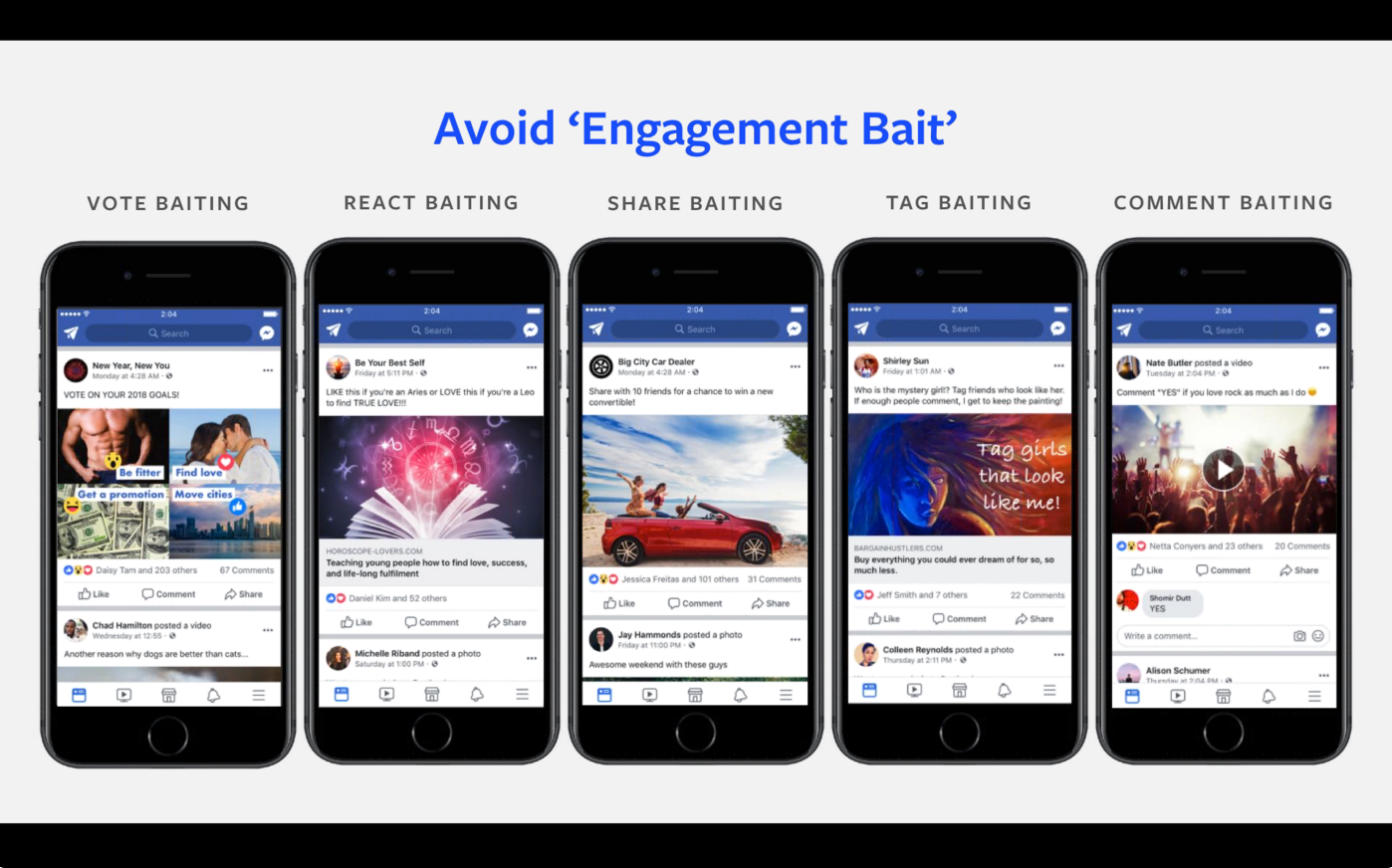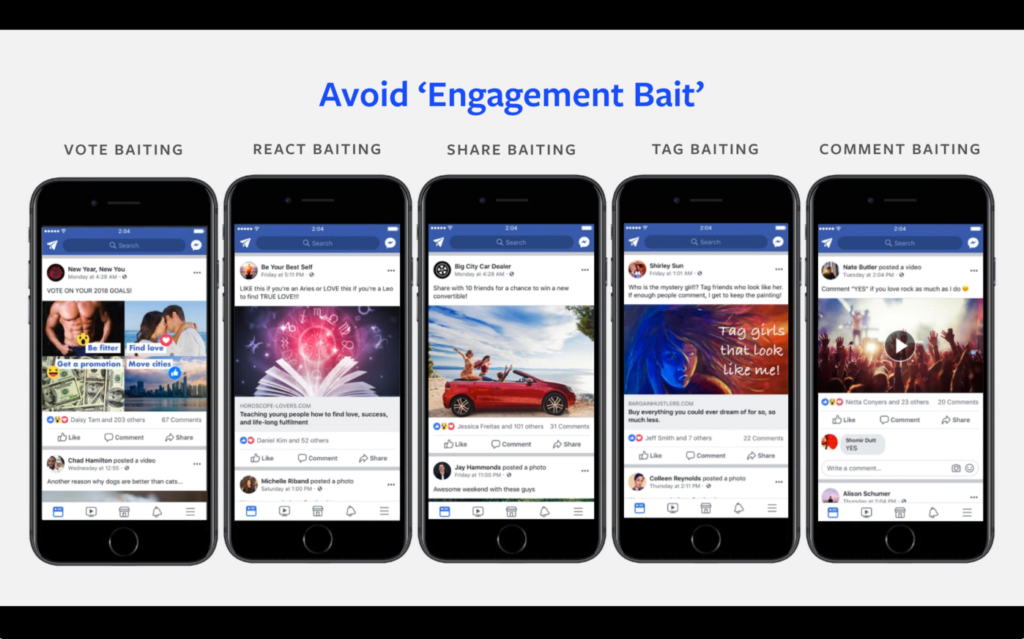 Source: [Twitter]
Here are some other types of content that don't vibe well with the algorithm:
Posts with spammy links (for example, links with a clickbait title that lead to a page full of ads)
Repeated content
Text-only posts
Intensely promotional page content prompting readers to make a purchase
Posts that reuse text from existing ads
Engage with your audience
Posting content to Facebook and waiting for organic reach to spike doesn't cut it anymore. An important step after posting is to spend time engaging with your audience.
Reply to their comments and messages. Not responding to a person engaging with your brand is throwing away the opportunity to foster a relationship with that person (one that could lead to future organic engagement and even conversions).
The Facebook algorithm prioritizes sharing content between people rather than from pages to people, so your goal should be for users to engage with (and possibly share) your content so that it's visible by their friends and family.
Get your audience to engage with each other
Post content that sparks conversations amongst your audience. According to Facebook, the algorithm uses "action-bumping logic" to push posts that spark a lot of conversation among a user's audience.
To take advantage of this extra reach, post conversation-starters. In this example, Imperfect Foods posted informative content about how customers create positive change with every veggie purchase: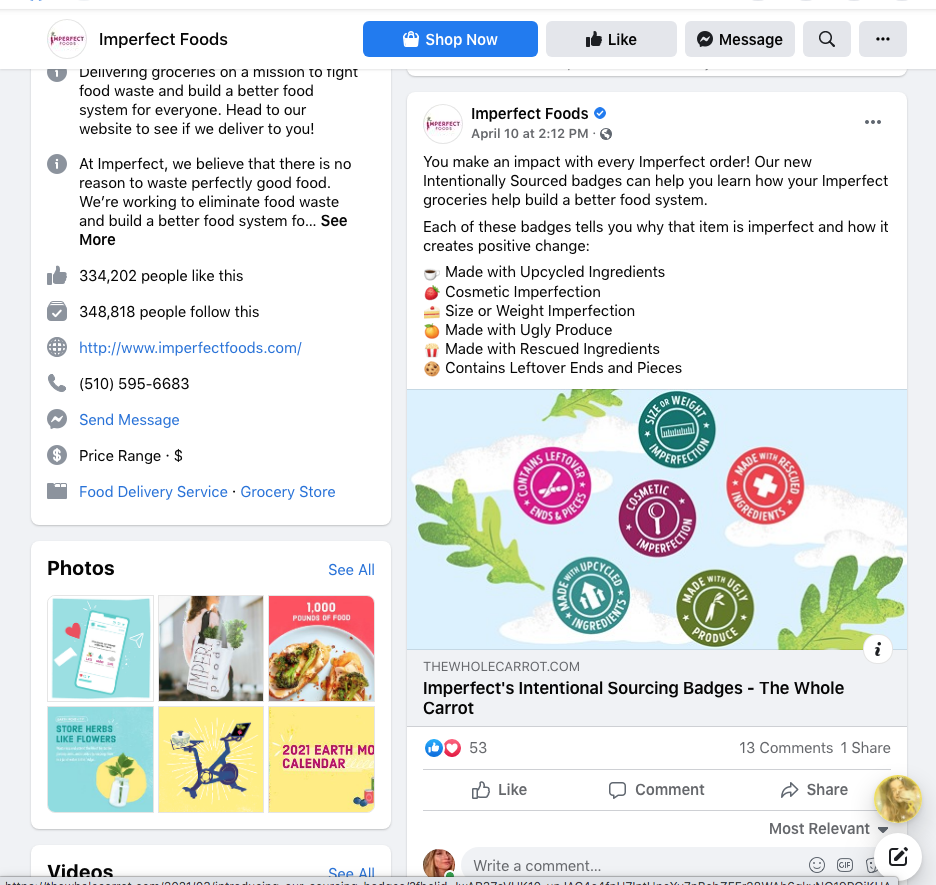 The post sparked conversation in the comments. Imperfect Foods even replied to some of the comments (like in our first tip).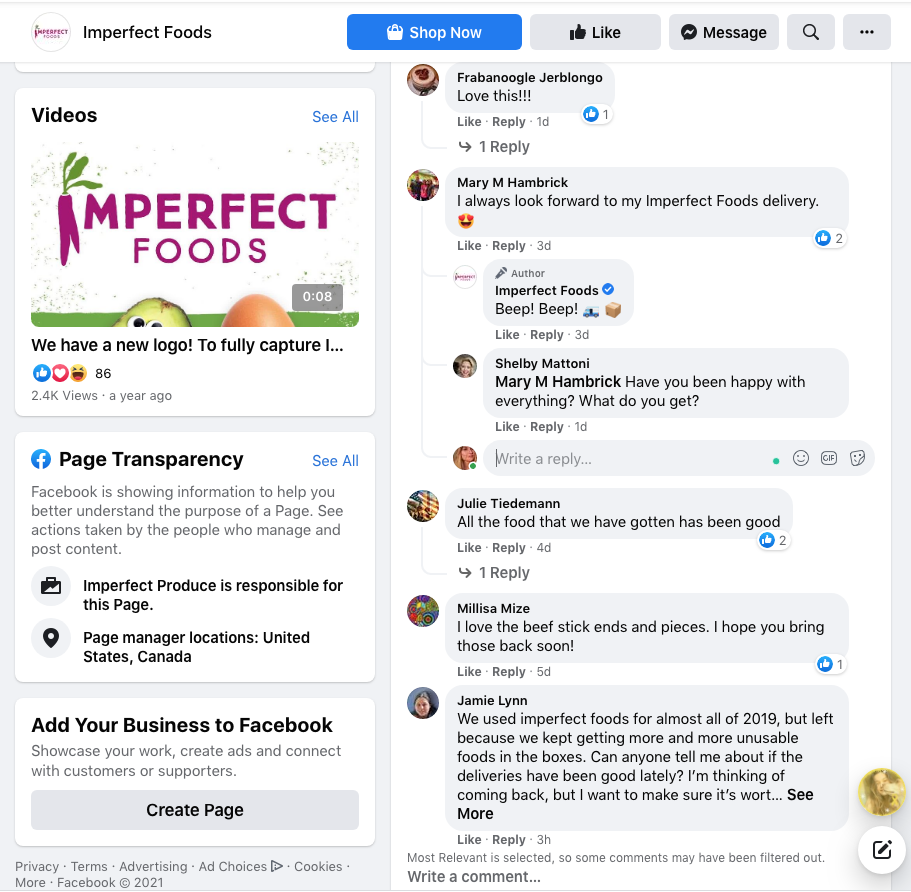 The algorithm boosts posts from person to person more than from page to person. How can you get around this as a business page? By asking your employees to post about your brand. You can expand your reach this way, building brand awareness amongst your employees' networks.
Get reactions over likes
Now that reactions are an option, they seem to carry more weight than likes alone. To trigger reactions from your audience, try to inspire emotion with your content.

Time your posts right
Remember how timing and recency made an appearance in the list of major ranking signals? That was for a good reason. The Facebook algorithm continues to emphasize the importance of recency.
While posts are no longer in chronological order, the newest posts are still the most likely to be at the top of the news feed.
Your audience has the best chance of seeing and engaging with your content if it hits the top of their Facebook timeline while they're online. This is why you should check your analytics to find out the optimal posting times for your audience.
Make sure you check this frequently, as Facebook metrics are rarely stagnant.
Post Facebook Stories
Using Facebook stories is a sneaky way to bypass Facebook algorithm constraints. Stories aren't part of the Facebook newsfeed, so the algorithm rules don't really apply to them.
Facebook gets over 500 million daily viewers on Stories. While they aren't part of the Facebook news feed, they're still effective at driving engagement, making them an incredibly useful tool for boosting organic reach despite the Facebook algorithm's limitations.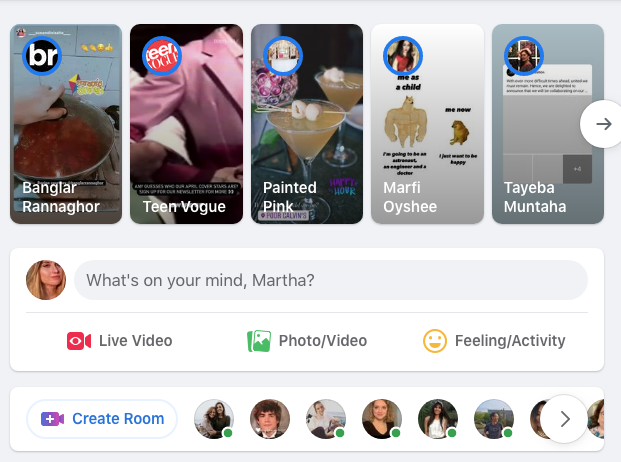 Create Facebook Groups
Groups foster community and connection, which is exactly what you need to develop with your audience to drive those all-important meaningful reactions in the news feed.
A cooking channel called Banglar Rannaghor does this by sharing their recipe videos within a branded Facebook group to drive post engagement and start conversations among group members.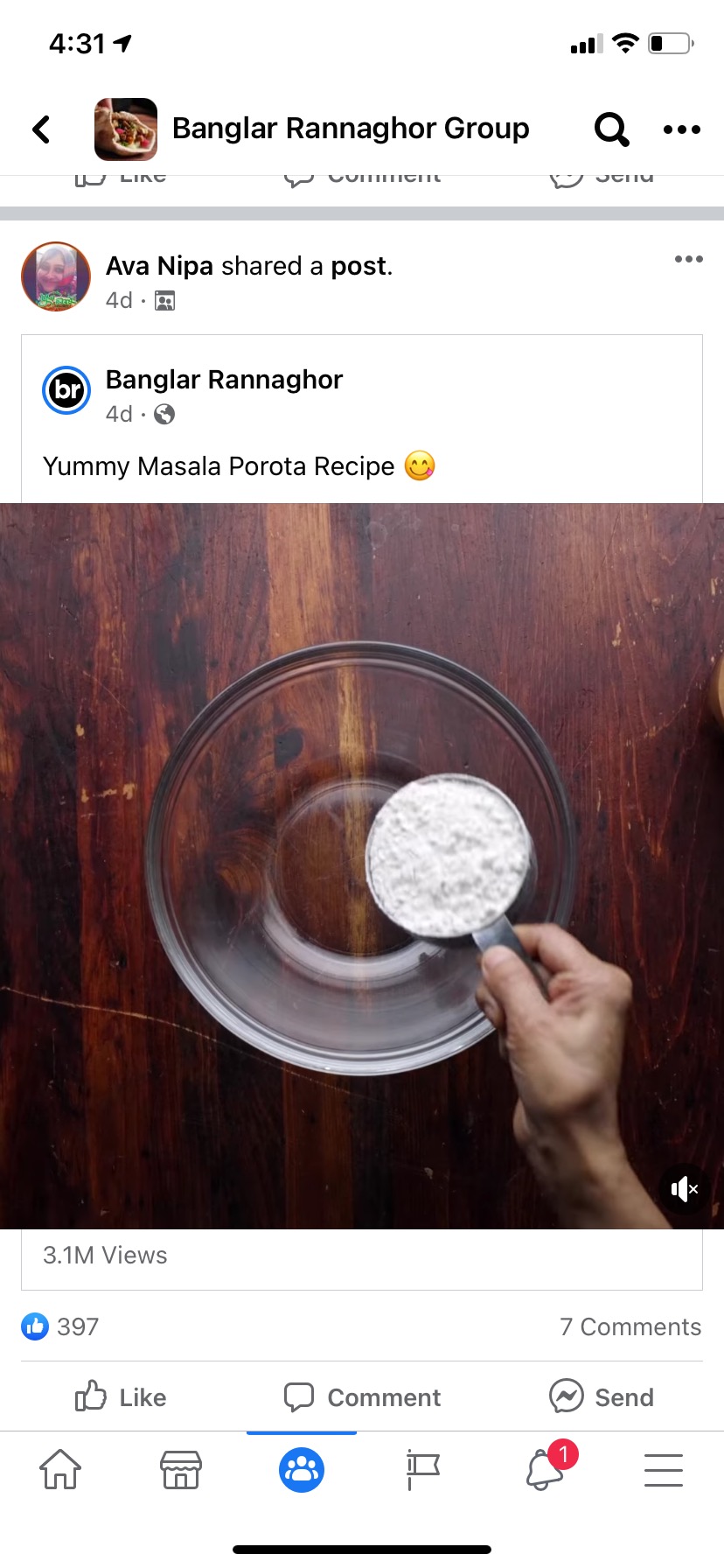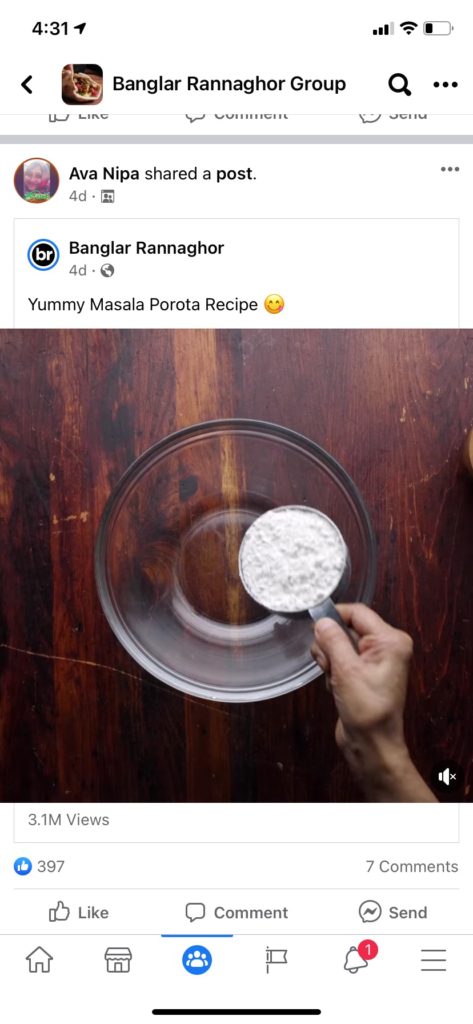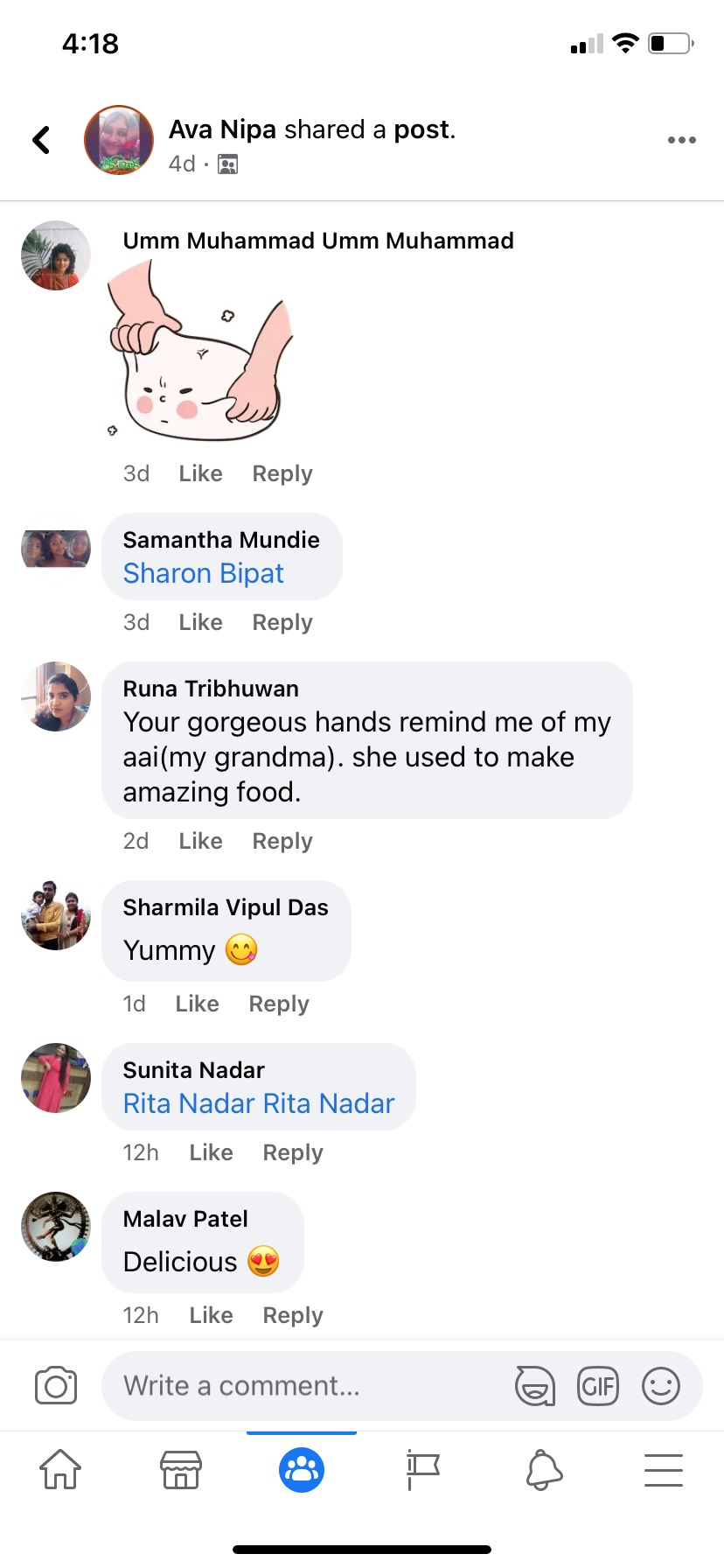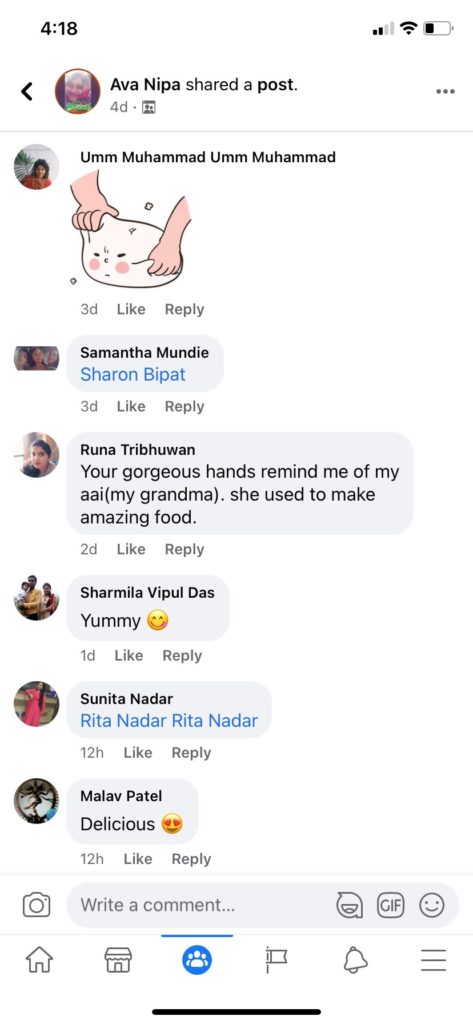 As of 2019, there were over 10 million groups on Facebook with 1.4 billion monthly users.
The Facebook algorithm pushes posts from groups users interact with most, so posting valuable conversation starters in your business's Facebook group is another way to get more eyes on your content.
Go live on Facebook
Live video is one of the most authentic and intimate ways to connect with your audience. Facebook Live video gets 6x more engagement than standard videos on the platform.
It's a great way to get new eyes on your content, as the Facebook algorithm will show lLive Broadcasts that have a good amount of viewers and engagement to users with similar interests and behavior. This hack makes going live on Facebook a fast track to increasing your organic reach.
For an example, check out Tastemade's Live teaching viewers how to make edible cookie dough.
Get on the Favorites list
Facebook gives every user 30 slots for their favorite Facebook pages as another way to let users control what content they see on their news feed. As a brand, you want your page in those 30 slots.
Chances are, your audience members don't know about this feature and their Favorites list looks something like this: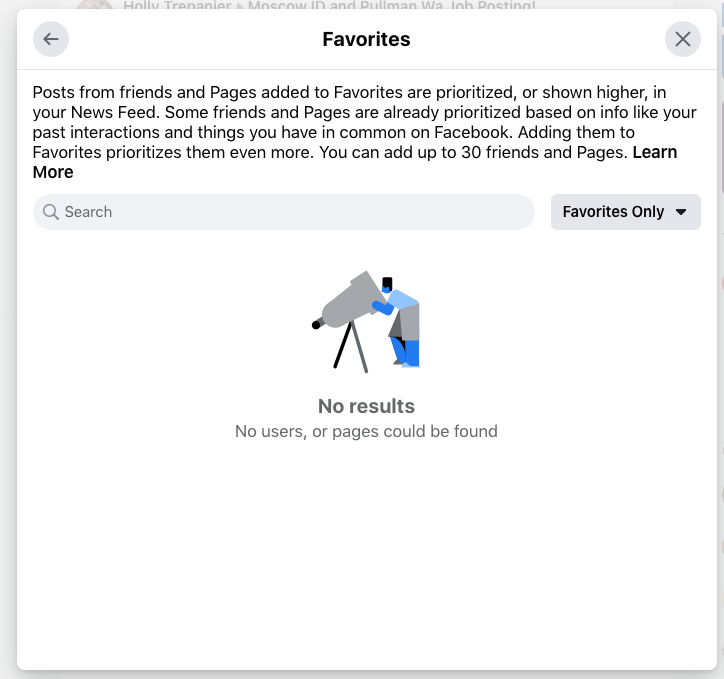 Informing your audience of this option is one way to become a Fave, but this falls a little too close to engagement-baiting.
If you don't want to take that risk, prioritize putting out good content that your audience will want to see first (which is what you'll be doing anyways if you follow these tips).
Post longer videos
The longer users watch your videos, the higher your ranking signals will be. The Facebook algorithm scores videos based on watch time and completion rate, which is why you should prioritize keeping eyes on your videos to the very end.
The longer people watch your video, the farther the Facebook algorithm will push it up in the news feed. Videos will get an extra boost if they are searched for directly, are longer than 3 minutes, and if they are original and posted natively to the platform.
Support organic momentum with ad spend
As the downfall of organic reach pushes Facebook deeper into "pay to play" territory, the best Facebook marketing strategies will support their organic momentum with ad spend.
Organic results reveal what posts perform best with your audience. Boosting these posts expands your reach beyond your own audience (hopefully attracting some new followers in the process).
Final thoughts on the Facebook algorithm
The Facebook algorithm is ever changing. While we might never nail understanding it down to an exact science following these tips is a good place to start.
Here's a parting tip: if keeping up with the Facebook algorithm changes seems overwhelming to you, focus your energy on studying your target audience and developing a content strategy that caters to their wants and needs. Chances are, creating valuable content specifically for your target audience will be enough to get you those priceless meaningful reactions.