What if I told you that the most important element of your Kickstarter campaign isn't your prototype?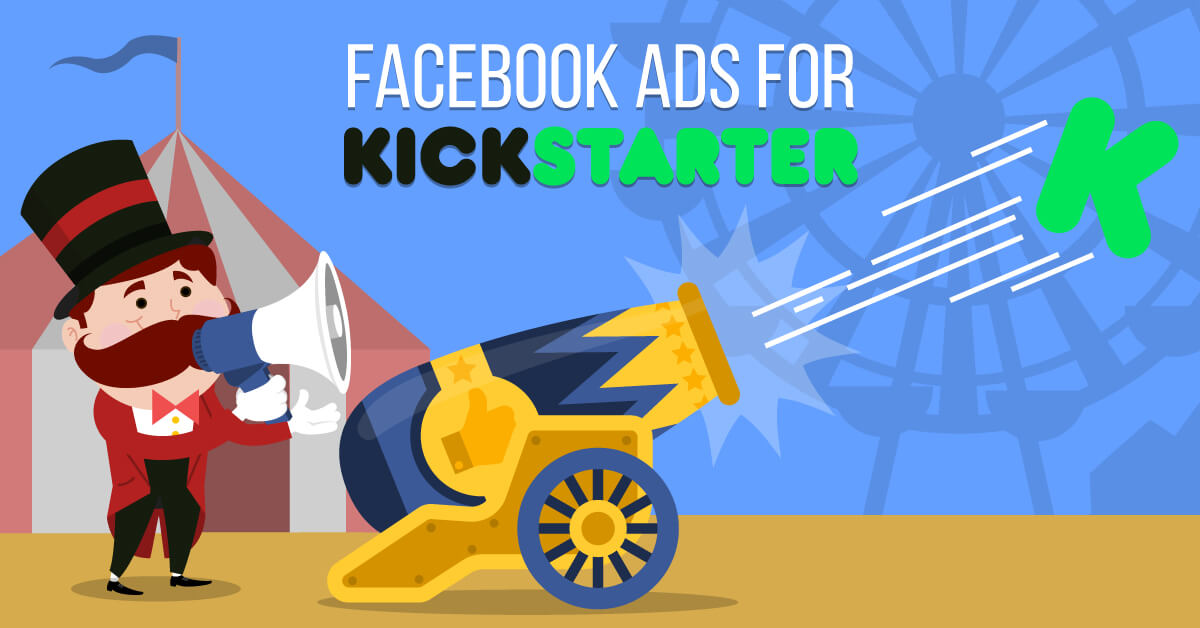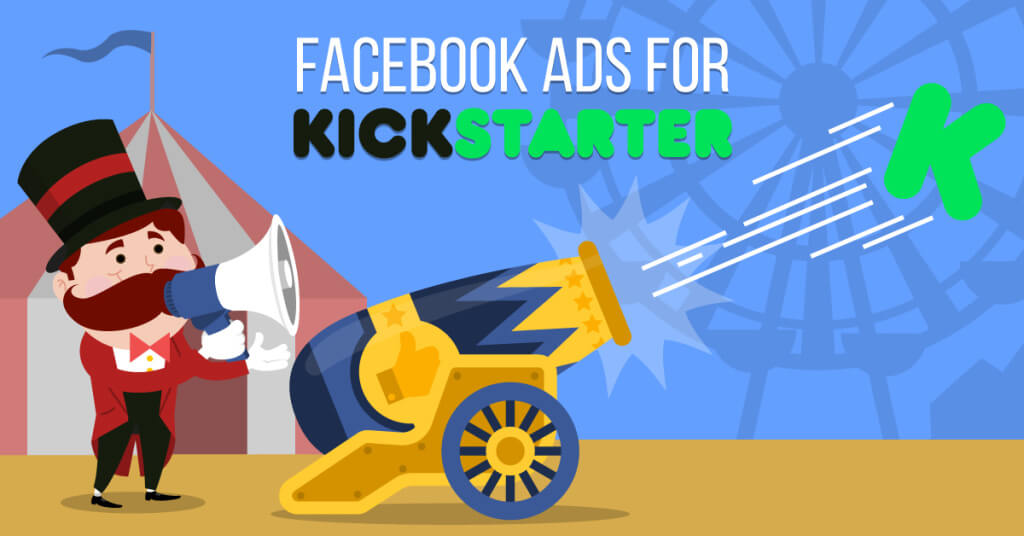 On the all-or-nothing platform of Kickstarter, spending money on Facebook advertisements doesn't just feel overwhelming: it feels downright scary.
With all the horror stories of failed campaigns, the last thing bootstrapped creators want to do is risk money on a doomed project.
But this risk isn't rooted in rationality; it's rooted in scarcity and fear. With this guide, you'll find that Facebook ads will not only fuel your funding goal, but offer an abundance of leads, fans, and loyal backers that no other ad platform can. 
Before you create your Kickstarter Facebook Ads
Your ad strategy doesn't start when your campaign launches: it starts months before it even begins.
Before you craft your first ad, you'll want to have your fundamentals in place:
Pre-Kickstarter Landing Page
Facebook Pixel
Pre-Kickstarter Landing Page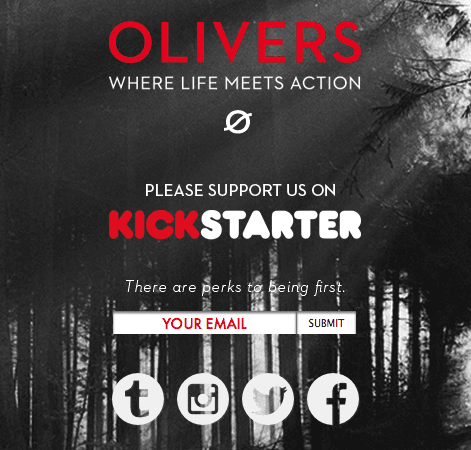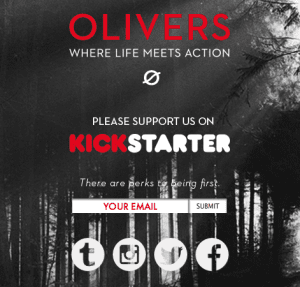 While we cover landing pages in great detail, pre-Kickstarter pages are a time to build up the hype!
Let your backers know that, by being first, they will get best deal. And that by giving you their email, they will get the best deal possible on your Kickstarter.
If you've ever pledged on Kickstarter, you know that the lowest price for the items are always in limited supply. Let them know it!
Still unsure what you can keep a promise on this far out? Try the standard lead magnets: an e-book, guide, or checklist. You weren't expecting to get that coveted email for free, were you?
As you get closer to a defined launch, include a timer that counts down to the Kickstarter launch date.
Facebook Pixel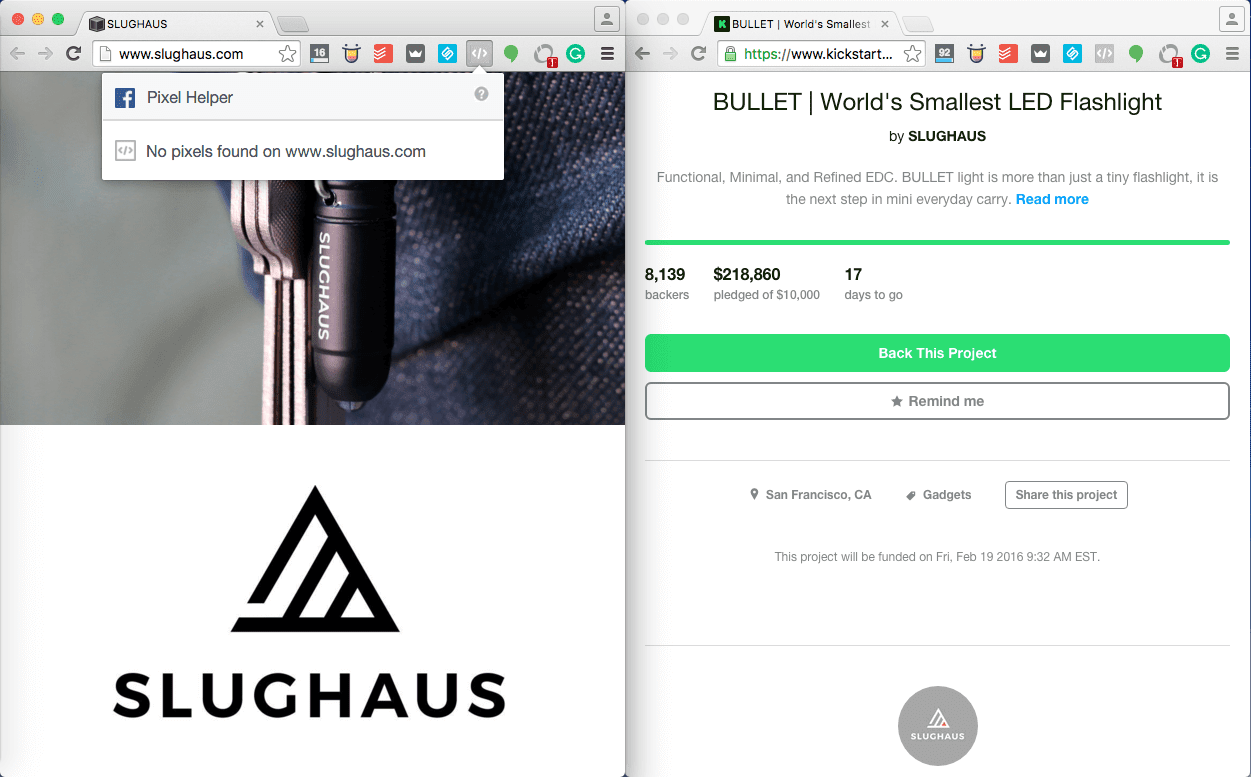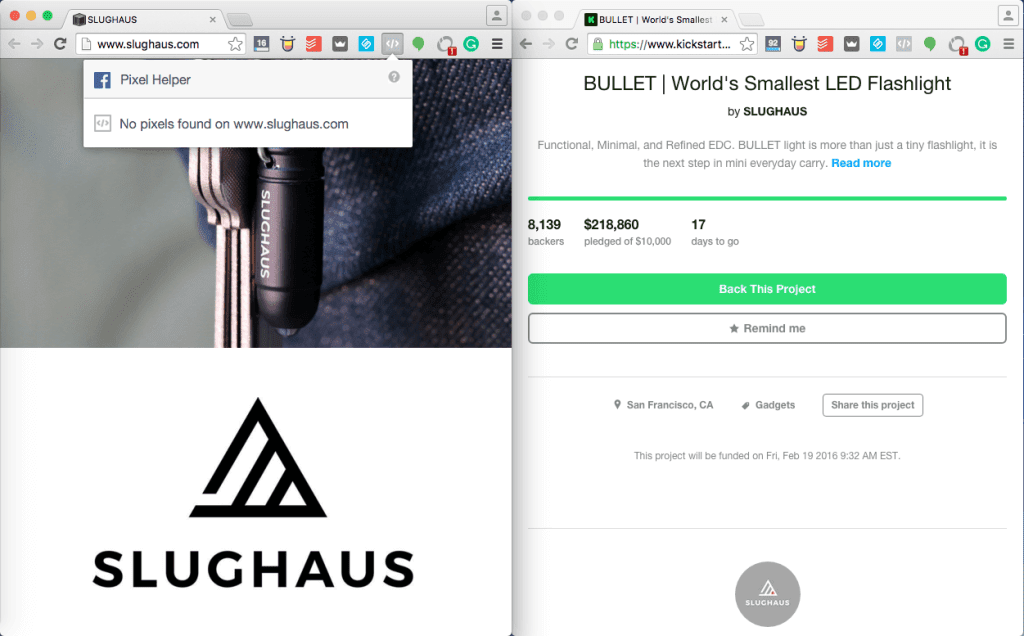 If you go on Kickstarter right now, you'll find that the majority of sites for active campaigns do not have a Facebook Pixel installed.
Pakpod, which installed it's Facebook Pixel before it's Kickstarter began, had an influx of visitors on their website during their campaign: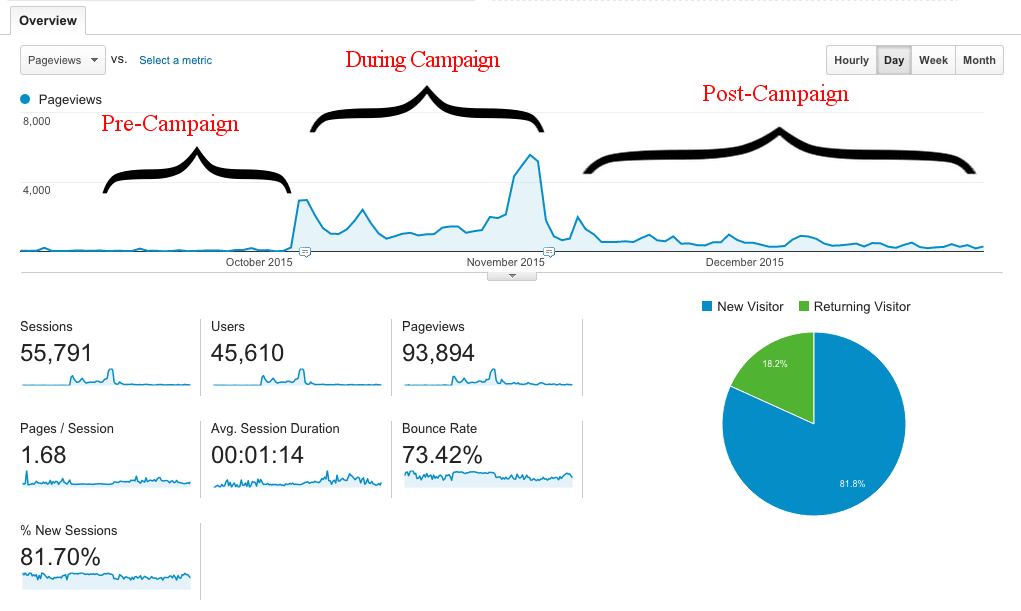 As a result of having the Facebook Pixel installed, every single website visitor with a Facebook could be re-targeted.
If you're feeling generous, share this article with the creators on Kickstarter!
Facebook Ads To Build Your Pre-Kickstarter Email List
Now that you have your landing page and Facebook Pixel installed, it's time to get to the ads themselves.
The primary purpose of your Facebook Ads before the campaign begins is to get the emails of people who might back your campaign!
Yes: market research, testing ad copy, and mocking up images is all good fun, but focus on what counts- the email!
You might be surprised how little you have to spend in order to start building a pre-Kickstarter list!

Self Journal, a campaign that totaled $322,695, spent just $92.89 over several days on Facebook ads for a total of 172 emails.
While you may not have as good of a lead magnet as Tim Ferris, you can still try your hand with a variety of incentives:
Free e-guides – you can use it later as a backer reward too!
Pre-defined "rewards" based for being the first to back
Contests and giveaways
Target Audiences Before the Campaign

The hard part – especially this early – is who to target.
For Self Journal, they chose a broad audience of those who liked public figures in their industry (self-development):

Tim Ferris won (does he ever lose?), but their strategy hit their industry well.
In general, we'd recommend:
Broad audiences of your industry interest
Public figures in the industry
Narrow audience of an interest of "Kickstarter" and the industry or public figures associated with it
Types of Pre-Kickstarter Ads
Self Journal found that the News Feed had the lowest cost per result, and Mobile had the greatest reach.

While this standard testing was effective, you can get even more creative:
Lead Ads

make it quick and easy to nab an email directly without the individual leaving Facebook.

Video ads

are a great teaser of your pre-Kickstarter footage.

Carousel ads

show your Kickstarter prototype in multiple frames of action!
The early campaign also has the secondary benefit of testing ad copy and images for your industry.
And the secret bonus? All of the website visitors who didn't opt-in can be re-targeted when your campaign goes live!
Facebook Ads During Your Kickstarter Campaign
So what's all the hype about? You've just learned that you can get emails before you start… but how about results once you've already gone live?
Pakpod's Facebook Ads were responsible for almost 40% of its total funding.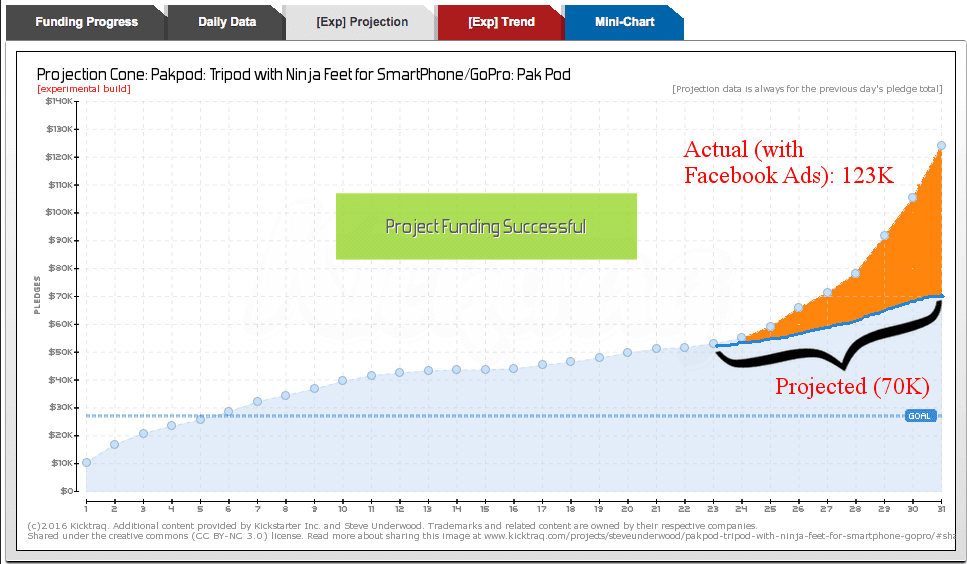 While on track for $70,000, the Facebook Ads drove pledges all the way to the final funding amount of $123,000.
That's a whole lotta moola from ads! But it comes with a catch…
Kickstarter Analytics Are Extremely Limited
Organic meshed with paid? It's a Facebook marketer's worst nightmare.
Desktop, mobile, paid, organic: it's all the same!
Don't bury your head in frustration yet though: a little coding goes a long way…
How to Track Facebook Ad Conversions on Kickstarter
August 1st, 2016: You may need to enlist the help of your web developer to pull off this advanced tracking. If you can't get a web developer to help you (or you don't want to figure it out yourself), I would highly recommend searching for and reaching out to a Kickstarter ad agency. 
Since Kickstarter Analytics only show the site's root domain, you'll need to make sure the link in your Facebook Ad isn't just the Kickstarter page link.
You'll need to make the link in your ads coming from a different source so that it isn't confused with the organic traffic generated by your friends posting your Kickstarter all over each other's Facebook walls too.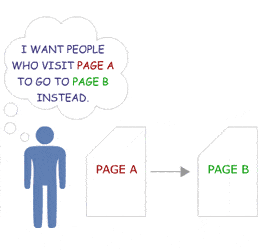 To re-iterate: the link in each Facebook Ad should be a unique (sub)domain.
You will need to create different subdomain folders on your website domain host. To do this, you'll set up sub-domains using cPanel. 30 sub-domains is a good estimate – it would allow 30 different ad variations.
This is the process:
Put the same html code in to each subdomain folder – this is the code that we used (in

red

below). The Facebook and GA pixels are optional but recommended for retargeting people.

<html>
<head>
<!– Facebook Pixel Code –>
/
/ YOUR FACEBOOK PIXEL CODE
/
<!– End Facebook Pixel Code –>
<!– GA Pixel Code –>
/
/ YOUR GA PIXEL CODE
/
<!– End Pixel GA Code –>
<!– Redirect to Kickstarter –>
<meta name="referrer" content="origin">
<meta http-equiv="refresh" content="0;URL=https://www.kickstarter.com/projects/YOURPROJECT">
<!– End Redirect to Kickstarter –>
</head>
</html>

Each Ad within an Ad Set (or Campaign) needs to redirect to a specific subdomain. You can number them 001, 002, 003 etc. For example: 

001.yourwebsite.com

,

002.yourwebsite.com

, etc
The code within each subdomain then redirects to the Kickstarter project! The end result is that the subdomain (eg "

001.yourwebsite.com

") will show up as the referrer in Kickstarter (if they pledge) and "Source" in Google Analytics (shows all traffic including pledges)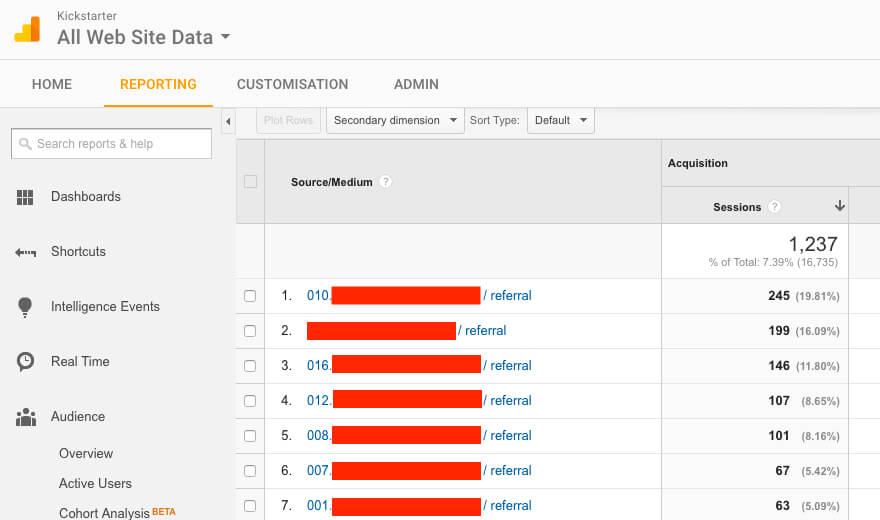 Note that, even with this system, not all traffic will show up from the subdomain – it seems that between 20 and 40% still shows up as direct traffic. So it's not a perfect science but you can still get a good sense of what is working with your Facebook Ads!
Don't want to code?
There are ad agencies out there that specifically focus on Kickstarter (and take anywhere from 15-25% of revenue per pledge), but they require a bit of searching to find.
The agency that I interviewed for this article specifically asked to remain anonymous, but if you use AdEspresso's Ad's Gallery – and search for Kickstarter – you may get lucky in finding agencies that specialize in Facebook Kickstarter ads…;)
CPC and CPA tend to be inversely correlated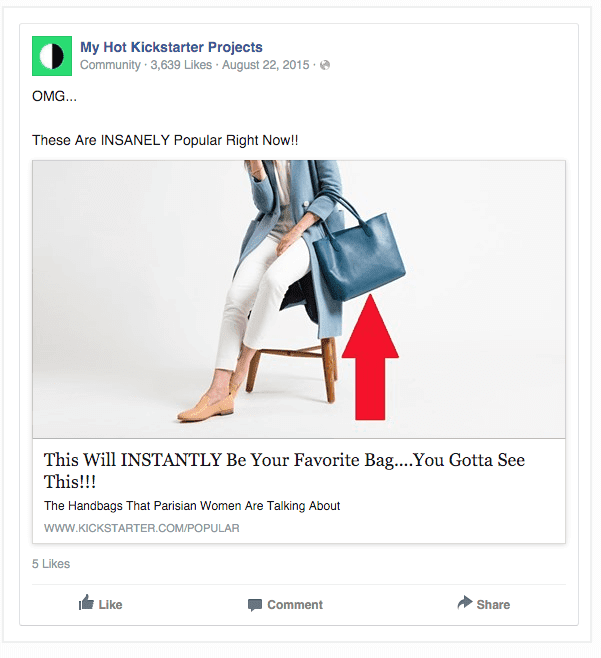 Surprisingly enough, when it comes to Kickstarter, cost per click (CPC) and the cost per acquisition (CPA) are often inversely correlated.
If you follow any of the Kickstarter "aggregators" you may have noticed that they use clickbait copy.
While it might very well be "THE BEST KICKSTARTER EVER," this type of sensationalized ad usually results in a lot of low cost clicks, but higher conversion costs (very high CPA).
Playing with headlines and images to garner Kickstarter backers is definitely a balancing game.
The best result: organic shares of a paid ad.
This is why target custom audiences are so important for Kickstarter…
Target Audiences During the Campaign
To really succeed at advertising during your campaign, you need to have killer custom audiences.
Here are some recommendations:
Those on your pre-campaign email list (run a parallel email and ad)
Re-targeting website visitors who did not opt-in on your email page prior to campaign
Look-a-like audience on your pre-campaign email list
Look-a-like audience of website visitors
With 48 hours to go, re-target all new website visitors that came to your site during the campaign
Types of Ads During the Campaign: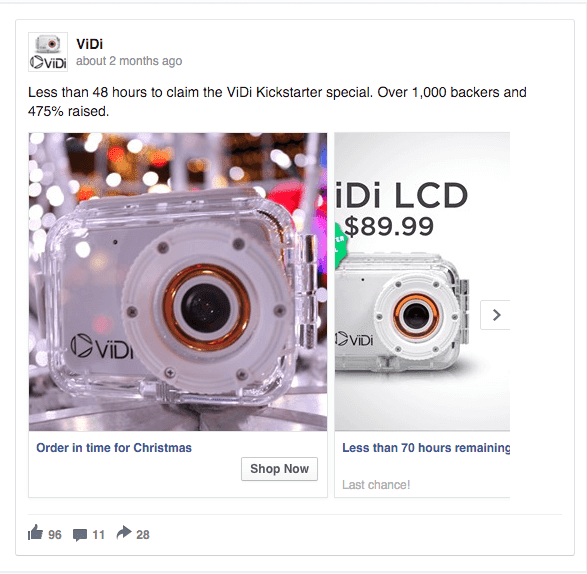 While placement hasn't shown any concrete trends, there are some strong recurring themes through Kickstarter Facebook ads.
Sense of urgency
At the beginning, the copy and imagery of the ad can emphasize being "the first in" on the campaign.
At the end, you can pledge before you "miss your chance," or to "join thousands of other backers while you still can."
Use the display URL to push the urgency- "Ending Soon" and "Act Fast" are subtle reminders under the ad.
Put a clock in the ad (like a timer)
Use a different ad image and headline for your last 48 hours to stress that time is running out
Kickstarter allows people to "star" a project to remind them that when the campaign has only 48 hours left. If you can time a Facebook Ad set in tandem with this automated email from Kickstarter, you can relax as the new-found King of Conversion.
Credibility
If you've done your PR homework, then your Kickstarter launch will be covered in the news or blogs. Many have a PR image in on their campaign page:
Don't be shy to use that in your ads as well!
Kickstarter also gives projects that they are confident will "deliver" a special badge: the Kickstarter Staff Pick.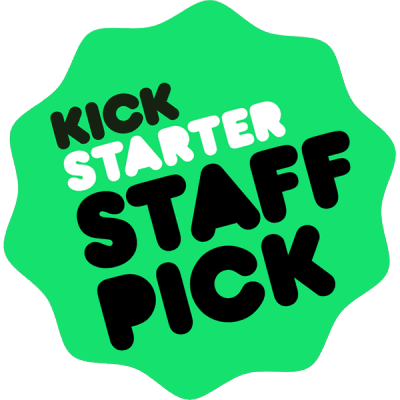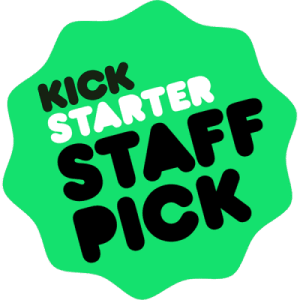 Kickstarter Staff Pick is like an SSL certificate for your campaign.  Security and social proof – on a platform that's mildly notorious for a lack of delivery – will provide that extra bit of click-sauce.
On your ads, make sure to:
Include the Staff Pick badge on your image, or in your Text/Headline
Use a logo of the news industry in your ad imagery
Quote what a blog said about your campaign in your Text/Headline.
State your current funding or backers if you've already hit funding (and are looking for more!)
Uniqueness
Stress the "MOST" unique feature of your product in both the image and copy! Fill in the blank…
This is the best _____ on the market!
Most funded _______ (llama, toothbrush, chair) on Kickstarter!
The only _____ in the world!
Our country's first ______ on Kickstarter!
The first crowdfunded _______
And finally, a pro-tip:
Do not use video ads during your campaign!
This is not the time for brand awareness – your Kickstarter is a ticking clock.
While you can include the Kickstarter link in the "Text" above the video, data from the interviewed agency indicated that Facebook video ads were the worst performing ads for conversions.

Also, who doesn't love a bit of mystery? Don't ruin your awesome Kickstarter video for 15 seconds of glory!
Facebook Ads After Your Kickstarter Campaign
Whether you are drinking champagne as a part of the successful 42%… or wallowing in pity with the other 58%, don't rest yet… it's time to strive for more pre-orders!
Your Backer's Email: The Golden Egg
Backer Kit is the standard platform of fulfillment for your Kickstarter campaign. This is how you'll get the contact details from your backers to ship the product.
Simply upload the Backer Kit email list into Facebook and voila:
You have now have access to your best custom audiences yet – your customers.
Target Audiences After Your Kickstarter Campaign
All website visitors from your early-landing-page days to the present (excluding those who backed your campaign)
Your current email list (excluding those who backed your campaign)
Look-a-like audiences of everyone who backed your campaign
The realm of ad re-targeting is now yours to conquer!
Types of Ads After Your Campaign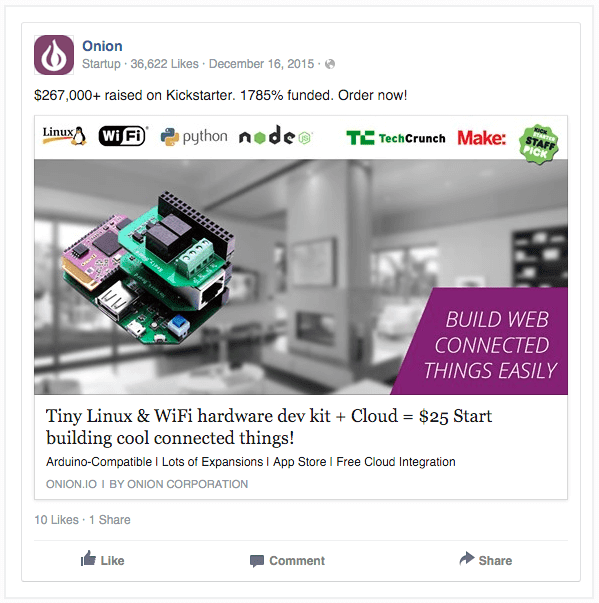 Don't be shy, brag!
Were you successful on Kickstarter? Show it in the graphics and text!
Featured on popular sites? Get a social proof banner going!
Early-backers testimonials? Hell yes!
Onion nailed it in their post-Kickstarter Facebook campaign.
Just remember: don't alienate your original backers in your post-Kickstarter ad campaigns.
Make sure you follow through on all of your initial promises, pledges, and deals that your "first" backers pledged for.
Now that you're finally off the Kickstarter Analytics platform, you can also rejoice in the tracking of Google Analytics. And with the ability to create hundreds of different ad sets to your most relevant audiences yet, it's time to kickstart your Facebook ads to a whole new level!
---
Check out Ascenial's ad creative newsletter.